WHY GO: Four percent of the nations potatoes come from Maine, and of that 4%, nearly all (97%) come from the ground around Presque Isle ME. In the early 1900's the town had 22 one-room schoolhouses so that kids could be close enough to their family farm to help with the harvest. In fact, many Mainers travel north each year just for the 100 lb sacks of cheap potatoes found in a slew of roadside stands.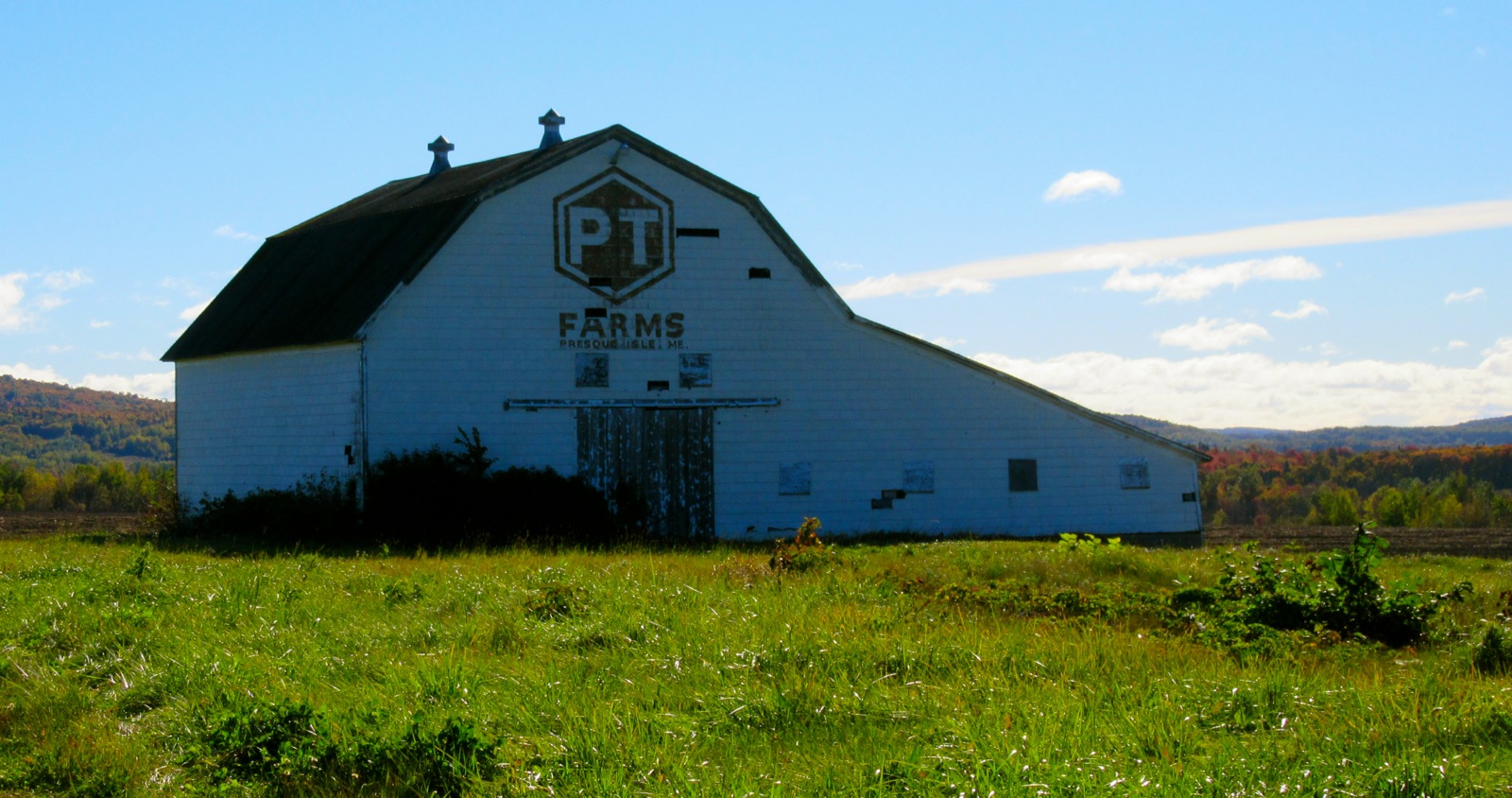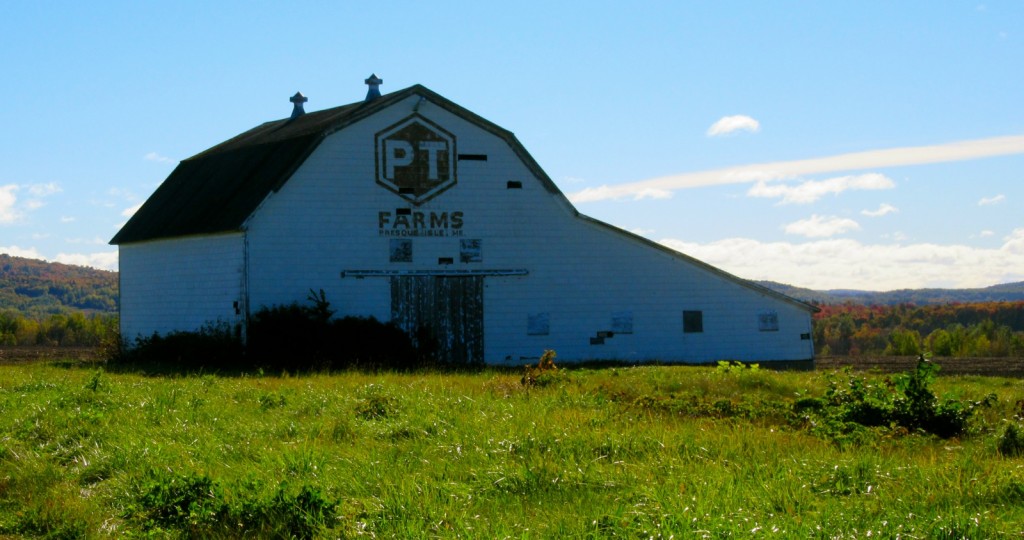 But of course, that's not the only reason to spend a night in this Northern Maine town, in Central Aroostook County, just 15 minutes from the Canadian border. You'll find incredible snowmobiling, great x-country skiing, international ballooning history, a world class Biathlon facility, a famous horse, an unsettling piece of U.S. military history, and the World's 2nd largest to-scale Solar System Model. So, plan a night, have a good meal, and find out why Presque Isle is worth your while.
Things to Do In, to and from Presque Isle ME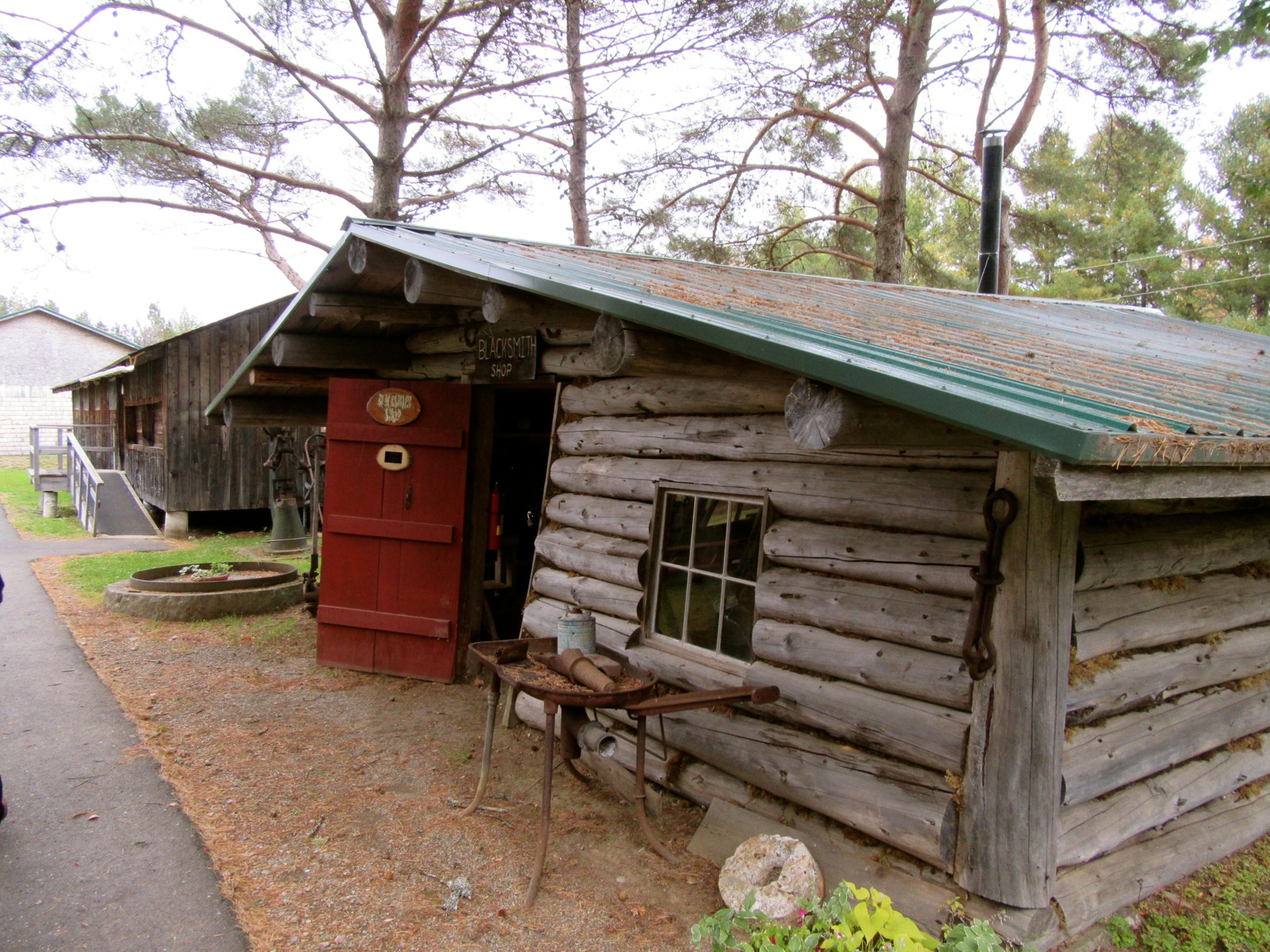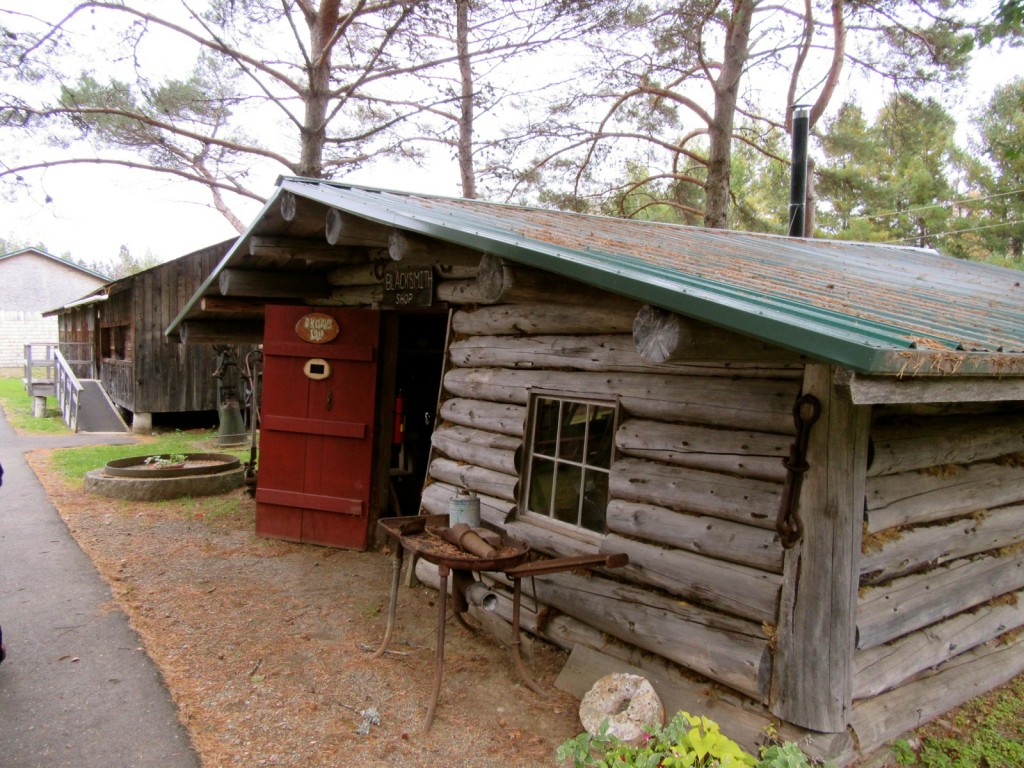 About an hour south of Presque Isle on Route 11, travelers generally stop in Patten on their way to and from Baxter State Park, which lies directly to its west, for last minute camping provisions and a tank of gas. It's a nothing town, except for a cute gift shop (Red Moose Gifts), a convenience store and the Lumbermen's Museum, which has seen better days but still promises to impress.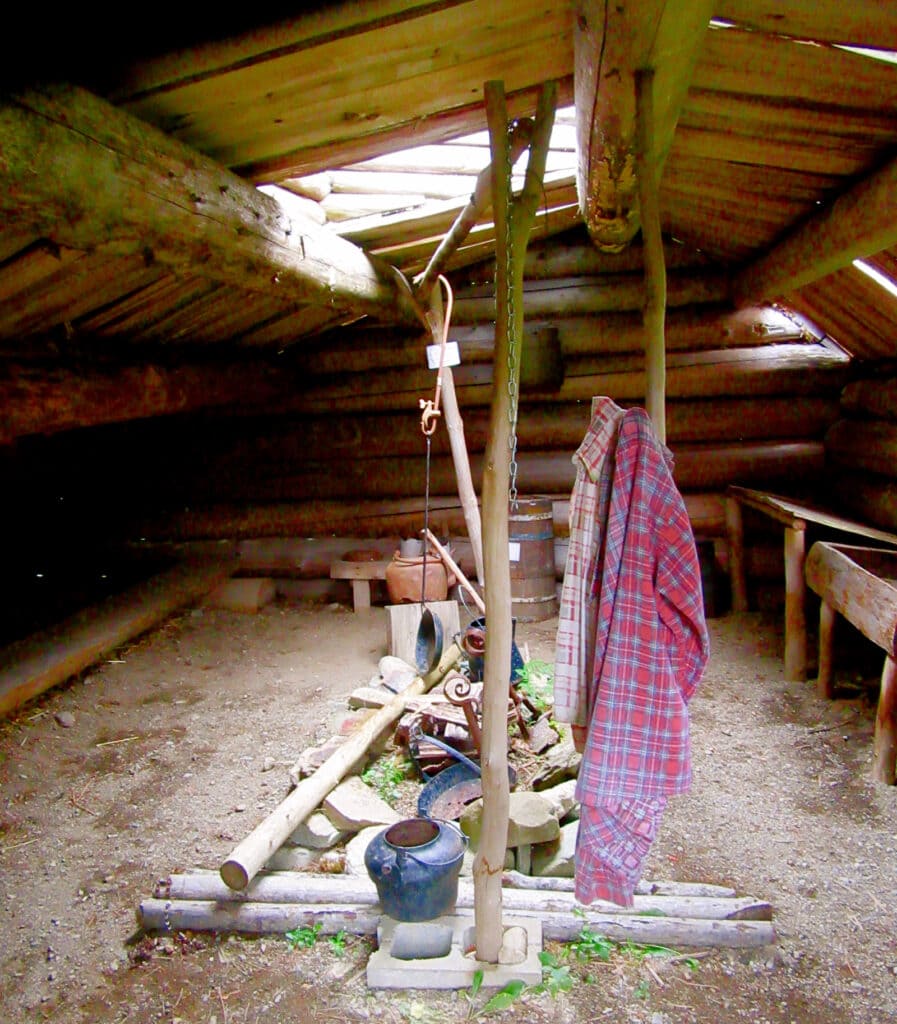 The nine buildings that make up the Museum create a physical time-line of the lumberman's life, from the most rustic 1820 Logging Camp to a larger early 1900's cabin with mess hall and sleeping quarters, and plenty of heavy equipment through the years.
The main log building is completely reconstructed from original hand hewn 1840 house timbers. In the early 1800's all men slept in the same bed under the same long blanket. Clothes were dried over the fire on a "stink" pole, as wet socks and clothing emitted an odor most foul. It was said you could smell a logging camp a half-mile away.
Lumbermen Technology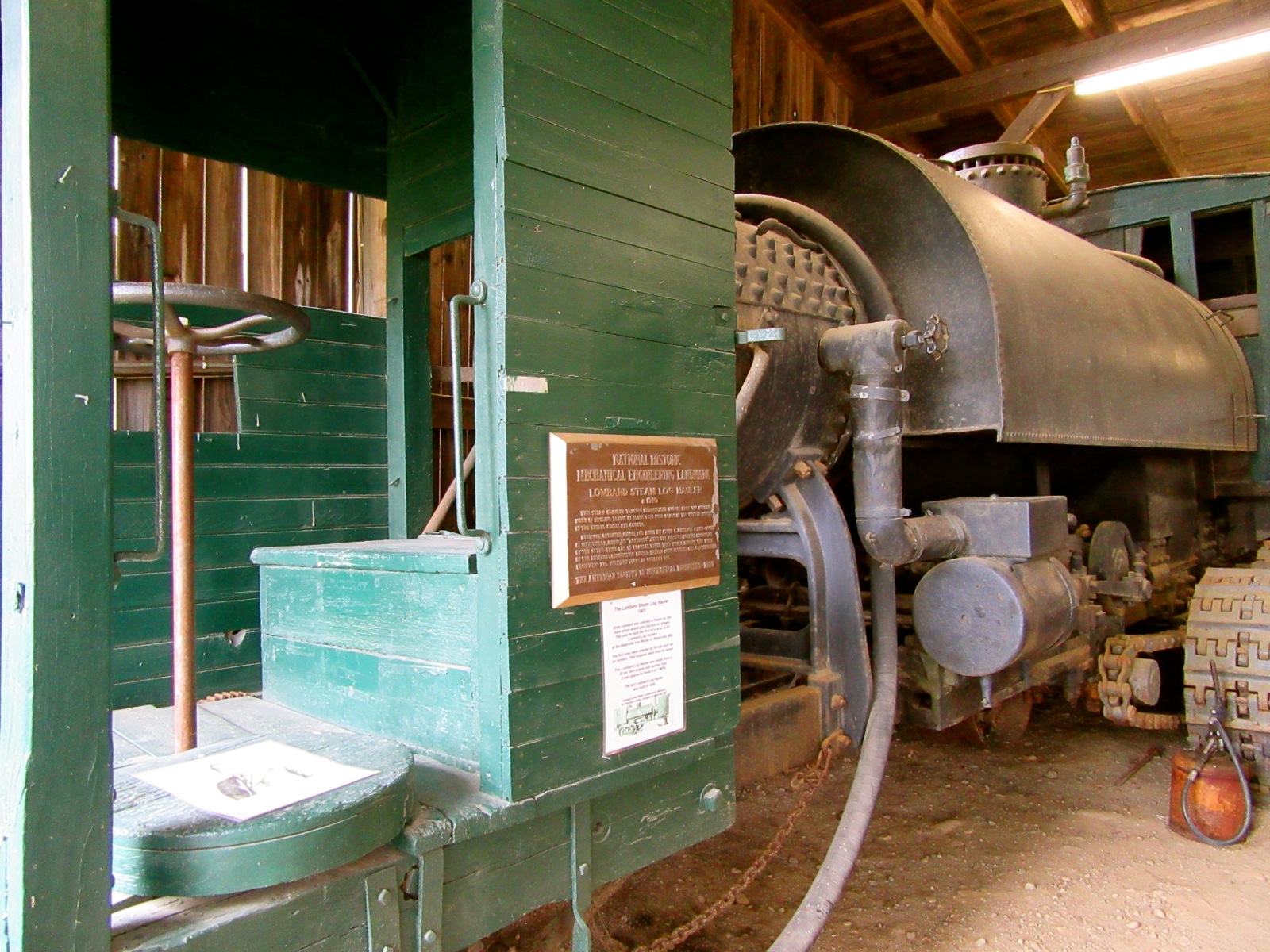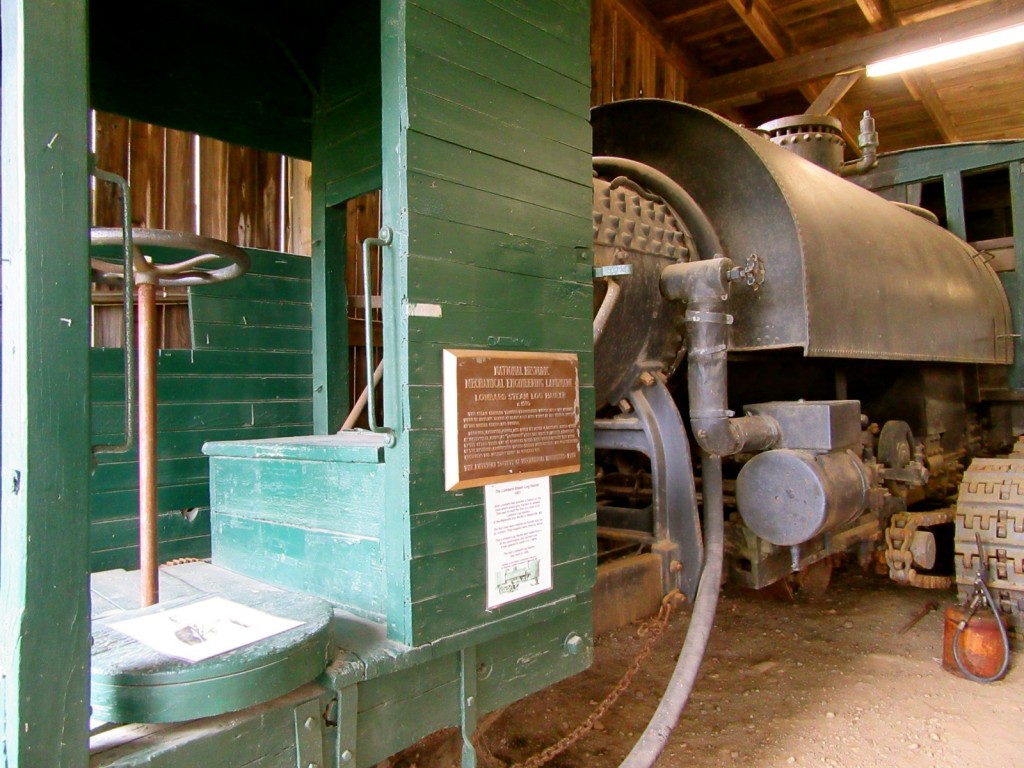 Though not in the best shape, you'll get a gander at the ingenious machinery created to maximize the cutting and shipping of timber. As logging is a year round industry, water buckets atop special carts coated dirt roads to form ice for smoother sledding. Years later, cleat tracks were developed, providing traction to log-hauler wheels.
The Museum showcases the 1910 Lombard Steam Log Hauler – a National Historic Mechanical Engineering Landmark – the first to be patented in the USA.
For now, antique artifacts have been left to age ungracefully. The museum's founders didn't provide an endowment large enough for constant upkeep. So, the Lumberman's Museum relies on visitors and contributions and its wonderful annual "Bean Hole Bean Dinner."
A baked bean dinner prepared the way is was in the logging camps; volunteers dig a deep hole, nest a huge bean pot atop a burning fire, and let it cook overnight. Sign up if your visit just happens to coincide, usually the first weekend in August. Mid May to mid Oct – Fri – Sun 10-4, in summer open Tues-Sun 10-4. $8.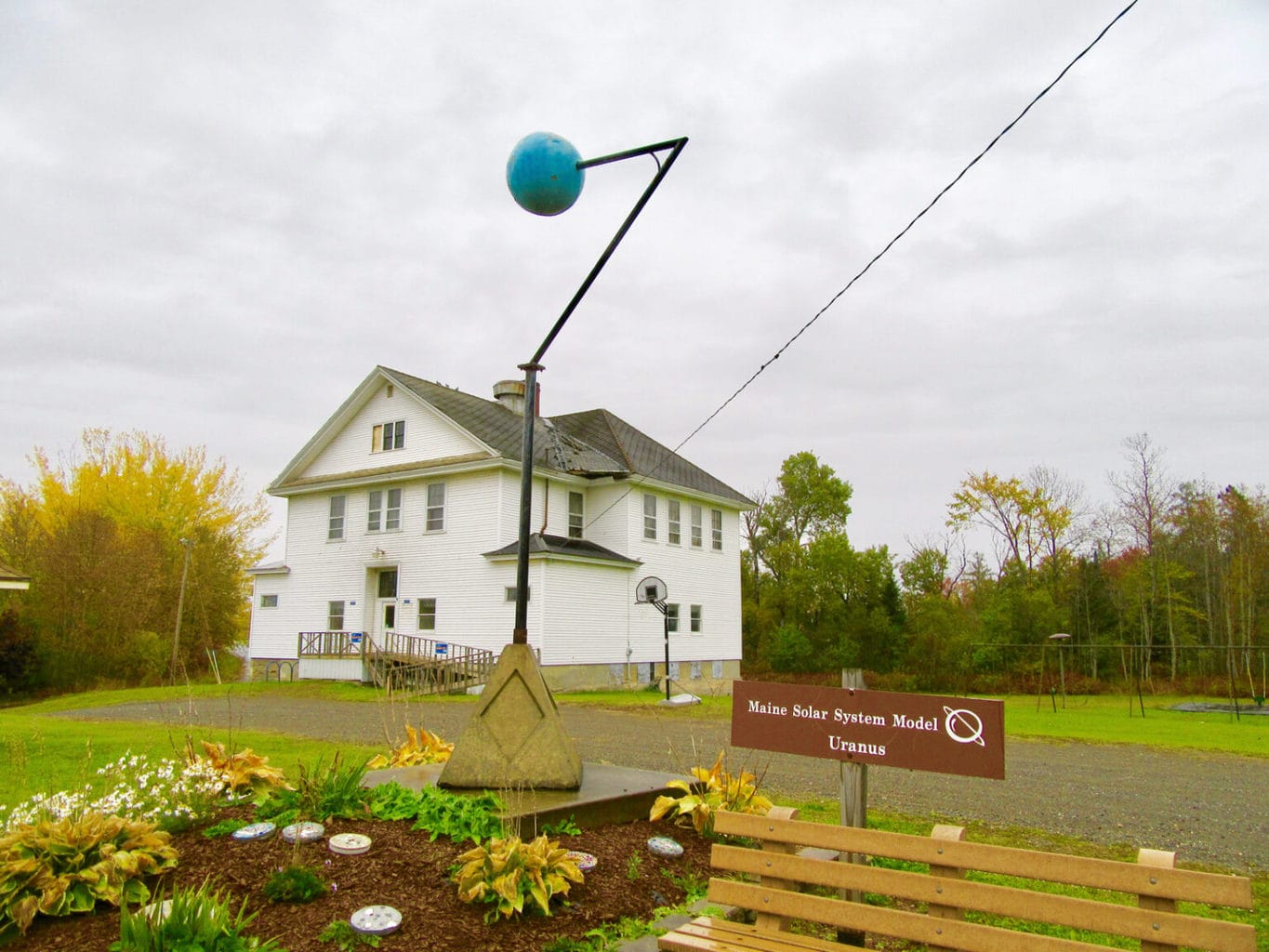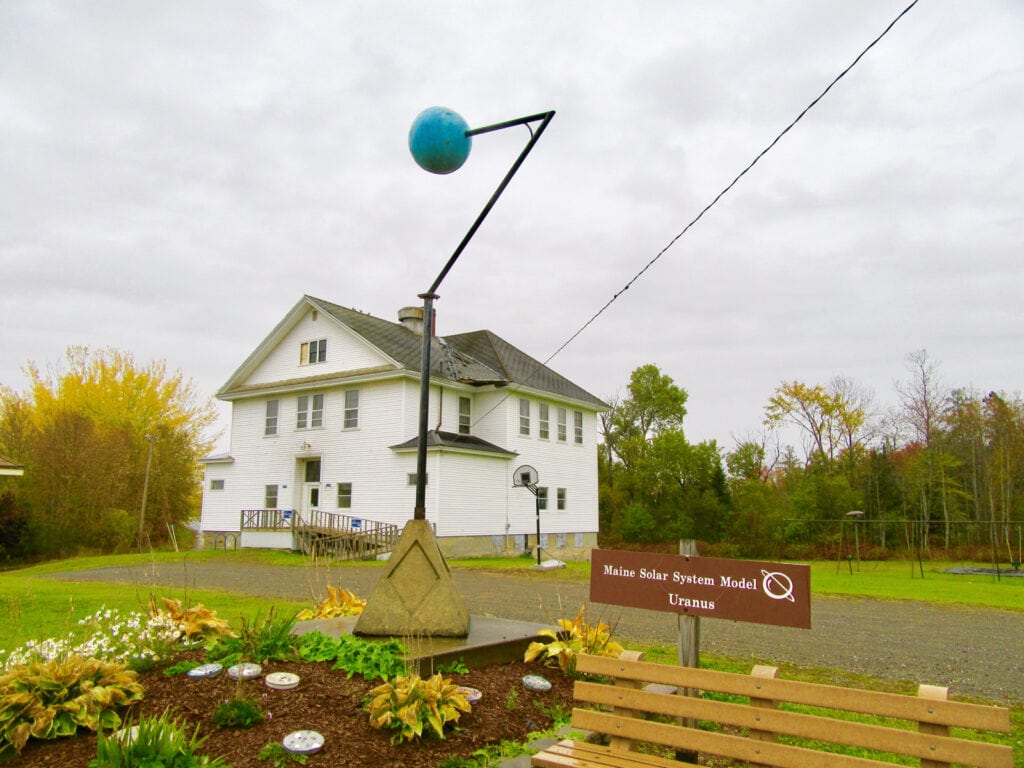 The World's second largest to-scale Solar System Model (the largest is in Sweden) begins at the Houlton ME Information Center (northern end of I-95) and runs 40 miles to the U. of Maine Campus in Presque Isle on Route 1.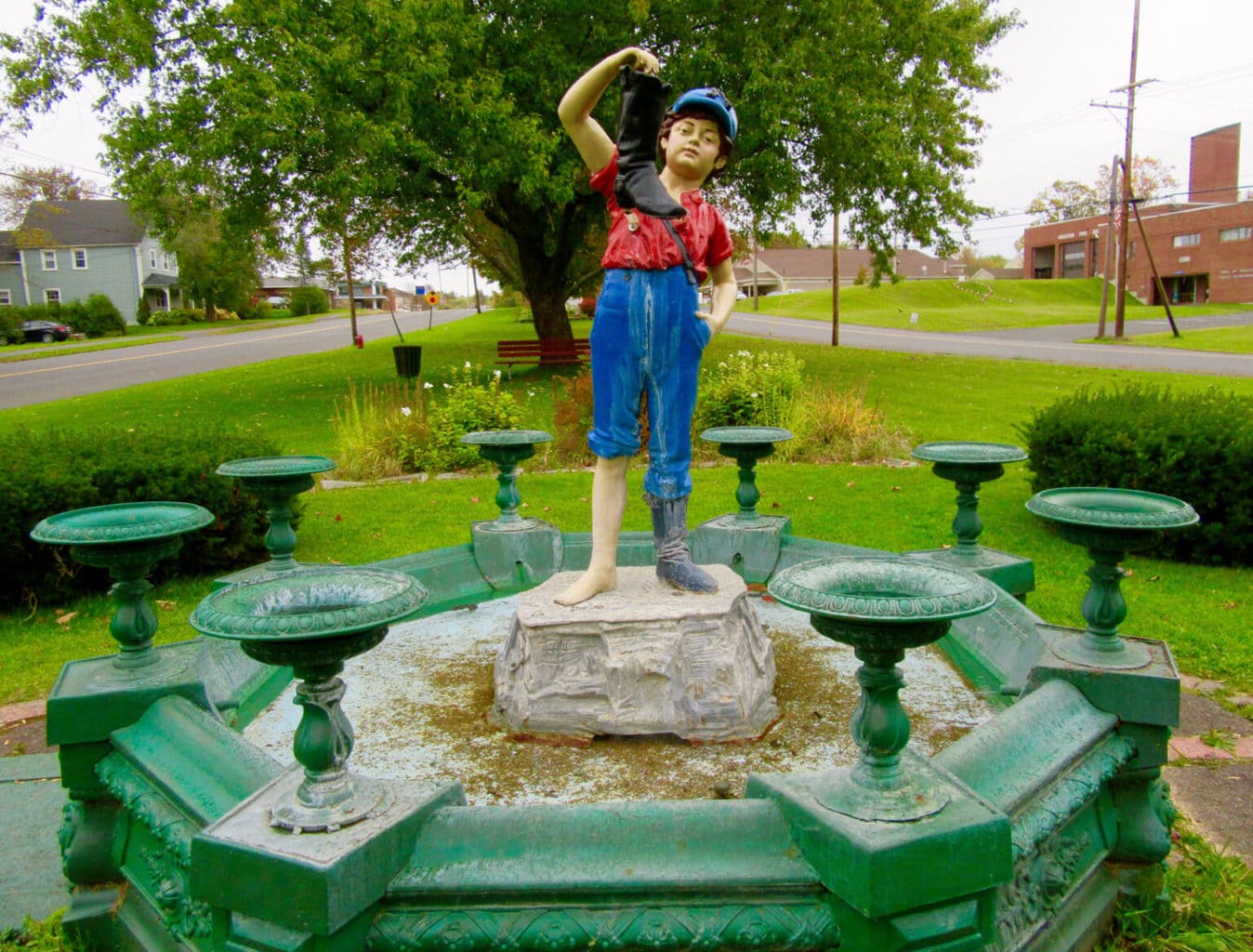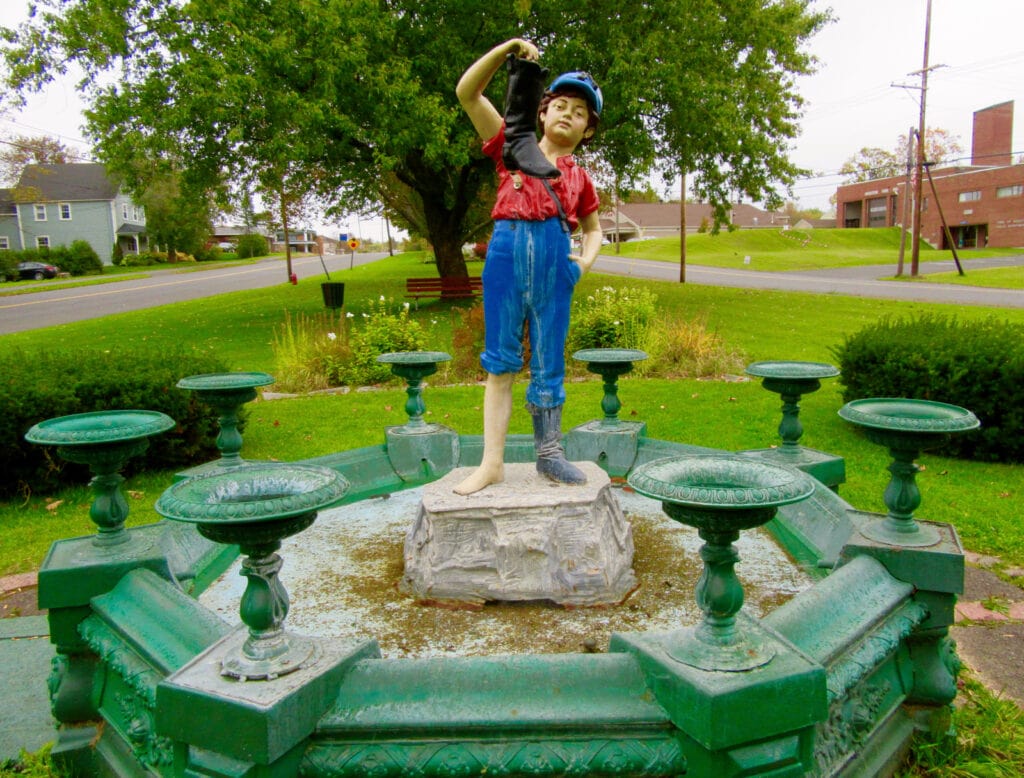 In Houlton, stop for a photo of a strange statue – the Boy and the Boot. It's been gracing Pierce Park for over 100 years.
Driving north on Route 1, keep your eyes peeled for the eight planets that make up the solar system, built in 2000 by the people of Aroostook County in cooperation with the University of Maine at Presque Isle. The actual objects are 93,000,000 times the size of each model.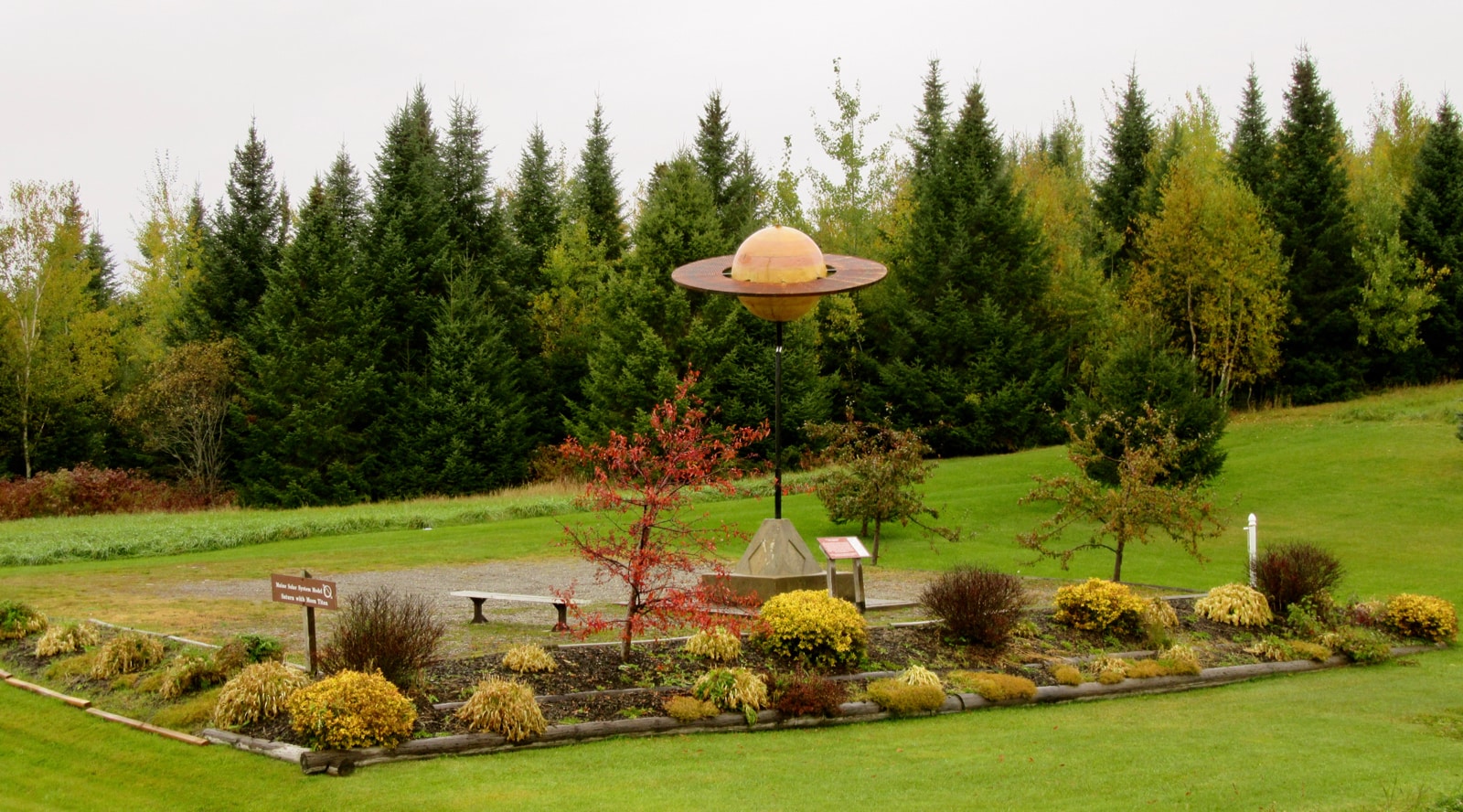 Bigger planets (Jupiter, Saturn), of course, are easy to spot. But the smaller ones, not so much. Given all the hoopla a few years ago around a similar project in the Nevada desert on 7 miles of dry lakebed, this one deserves attention for sure.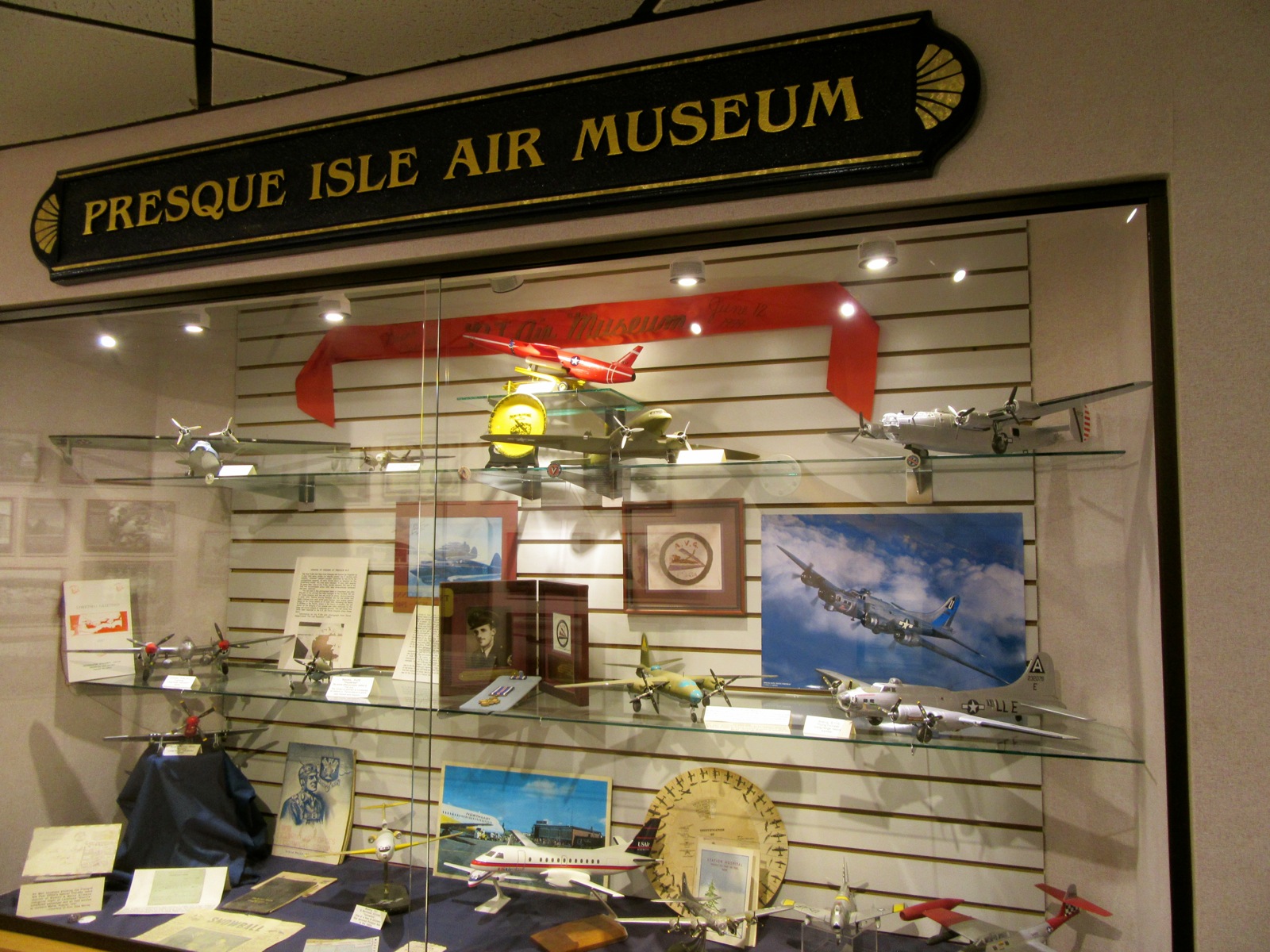 Opened in 1942, right after the bombing of Pearl Harbor, the Presque Isle Air Force Base was the northernmost AFB in the county. As such, it was chosen as repository of the nation's first Intercontinental Ballistic Missiles (ICBM's).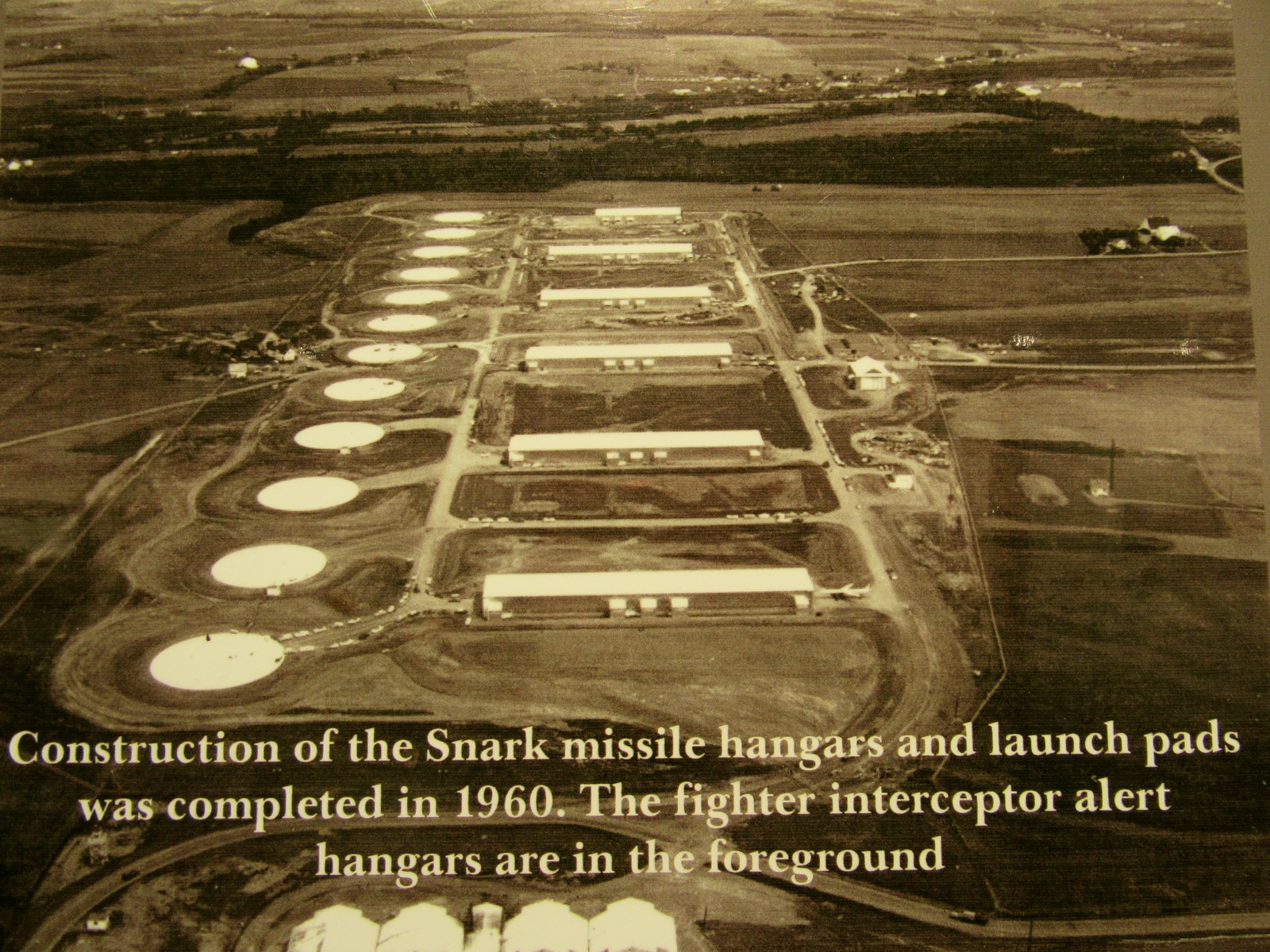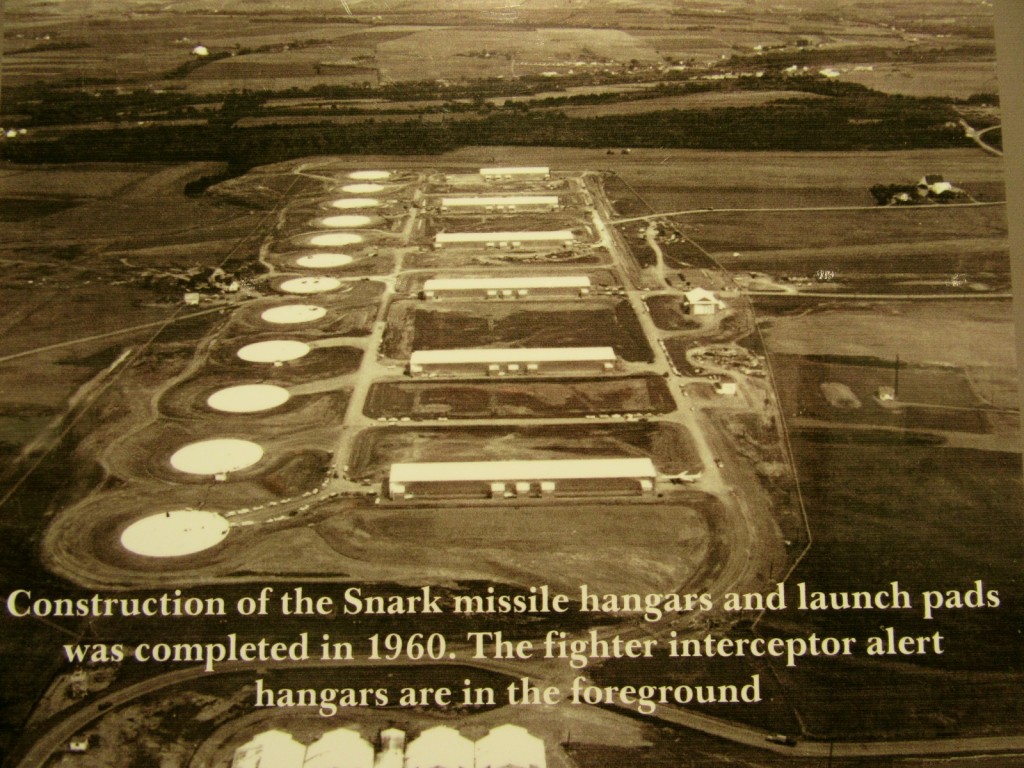 From 1958-1961, the Air Base also housed a cache of Snark Cruise Missiles, stored in low-slung grey hangars and ready for launch on 16-foot launch pads at any time.
Sixty seven feet long with a 42 foot wingspan, the nukes could be land-launched with a range of 6,300 miles – about as far as Moscow.
The Base closed in 1960, but you can still see the remnants of the launch pads, some warehouses and a small museum with declassified documents and photos. Incredible. Open 24/7, free.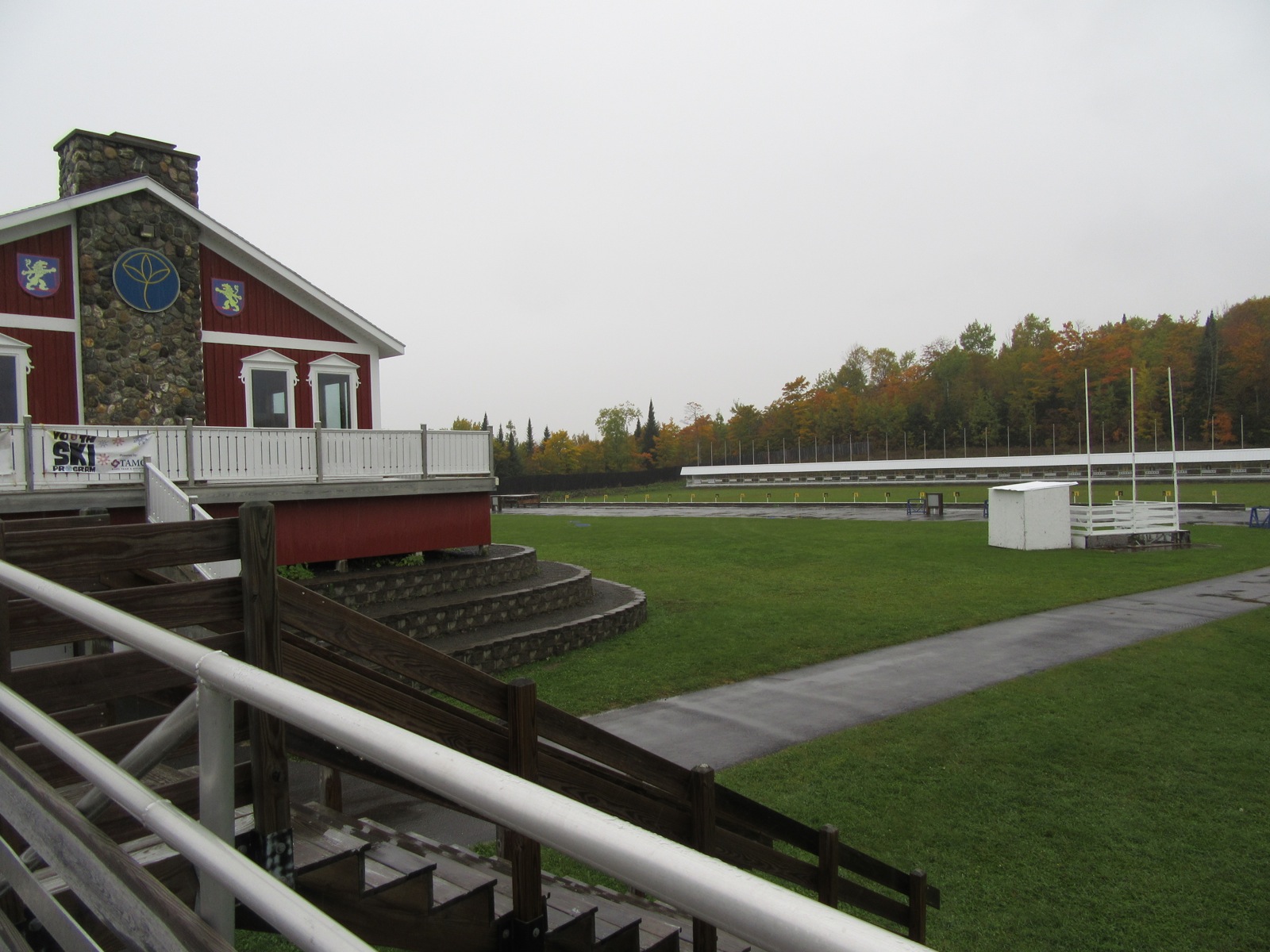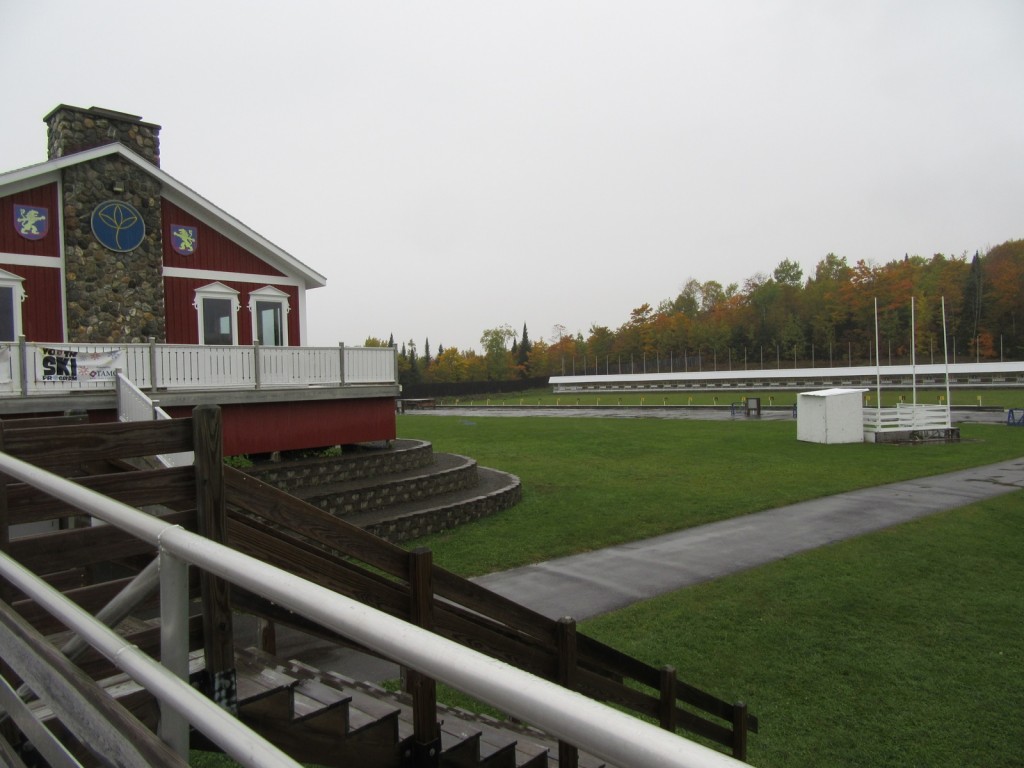 The Nordic Heritage Center is a first-class training facility for Biathlon competitors in x-country skiing and riflery. But guests are also invited to use the grounds during non-competition days to mountain bike in warm months and x-country ski or snowshoe in winter on 22 miles of trails, some lit at night. Lodge hours 6am-10pm, Trails lit in winter 4:30-8:30pm. Ski and Snowshoe Rentals – $10.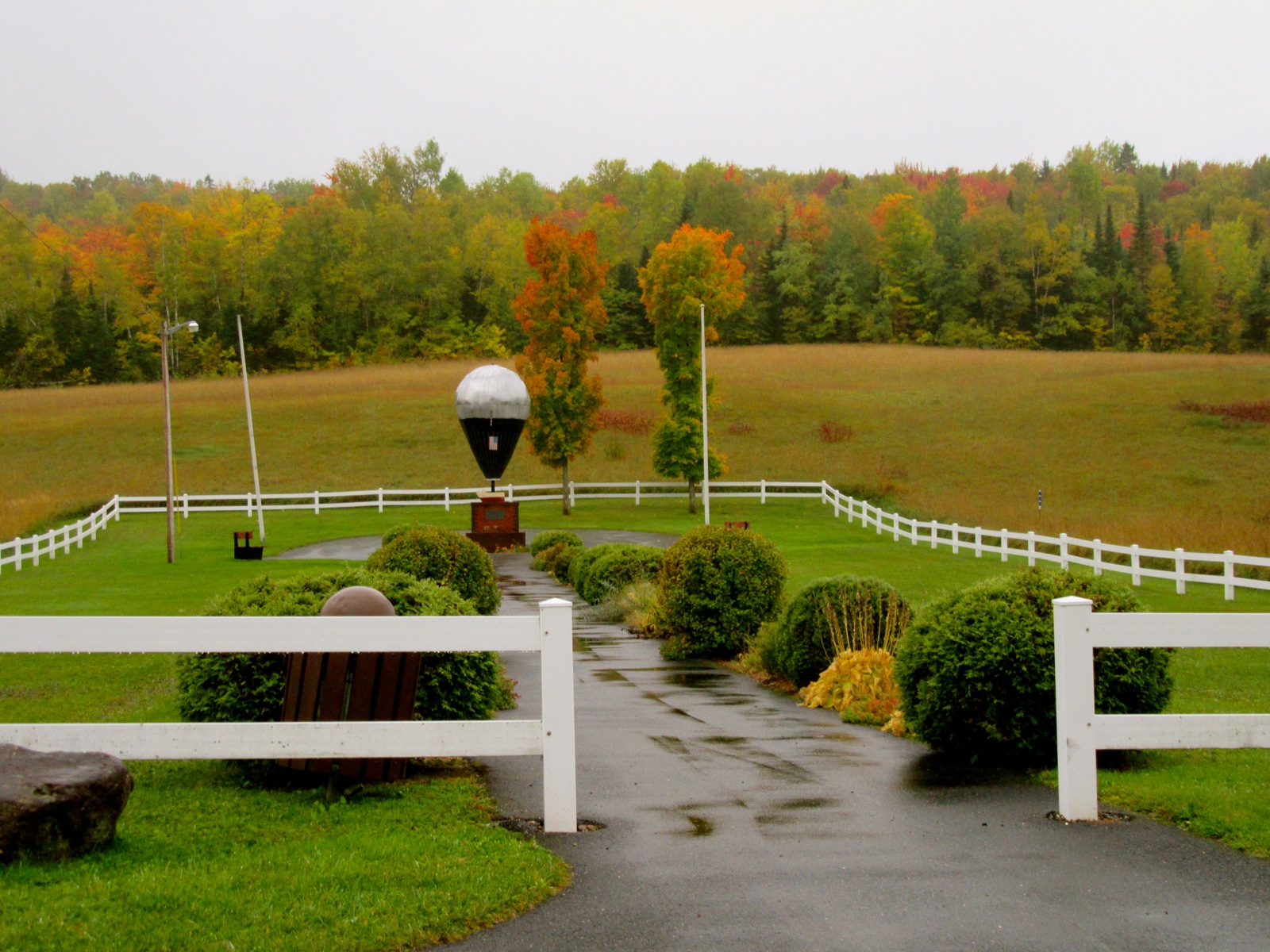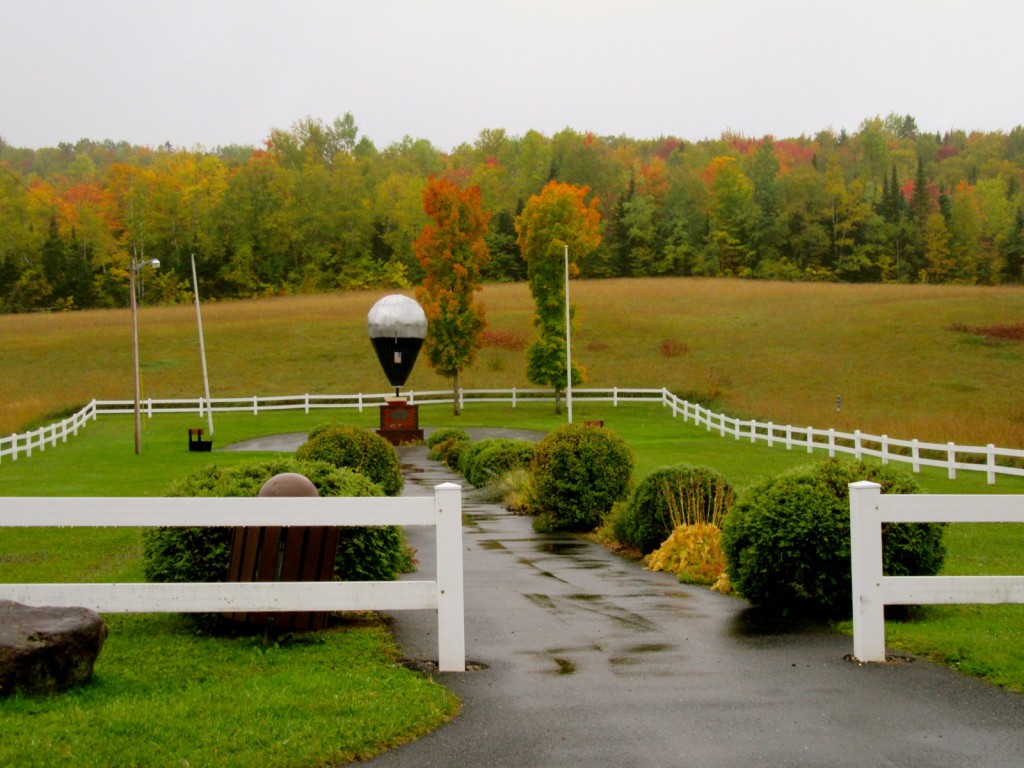 SEE: Double Eagle II Balloon Launch Site
On August 11, 1978, the Double Eagle II took off from the USA,, right here in Presque Isle. The balloon landed just outside of Paris 137 hours later on August 17th, completing he world's first successful transatlantic hot air balloon flight. The news made the covers of Sports Illustrated, Time, and Reader's Digest. A monument marks the spot of this historic flight.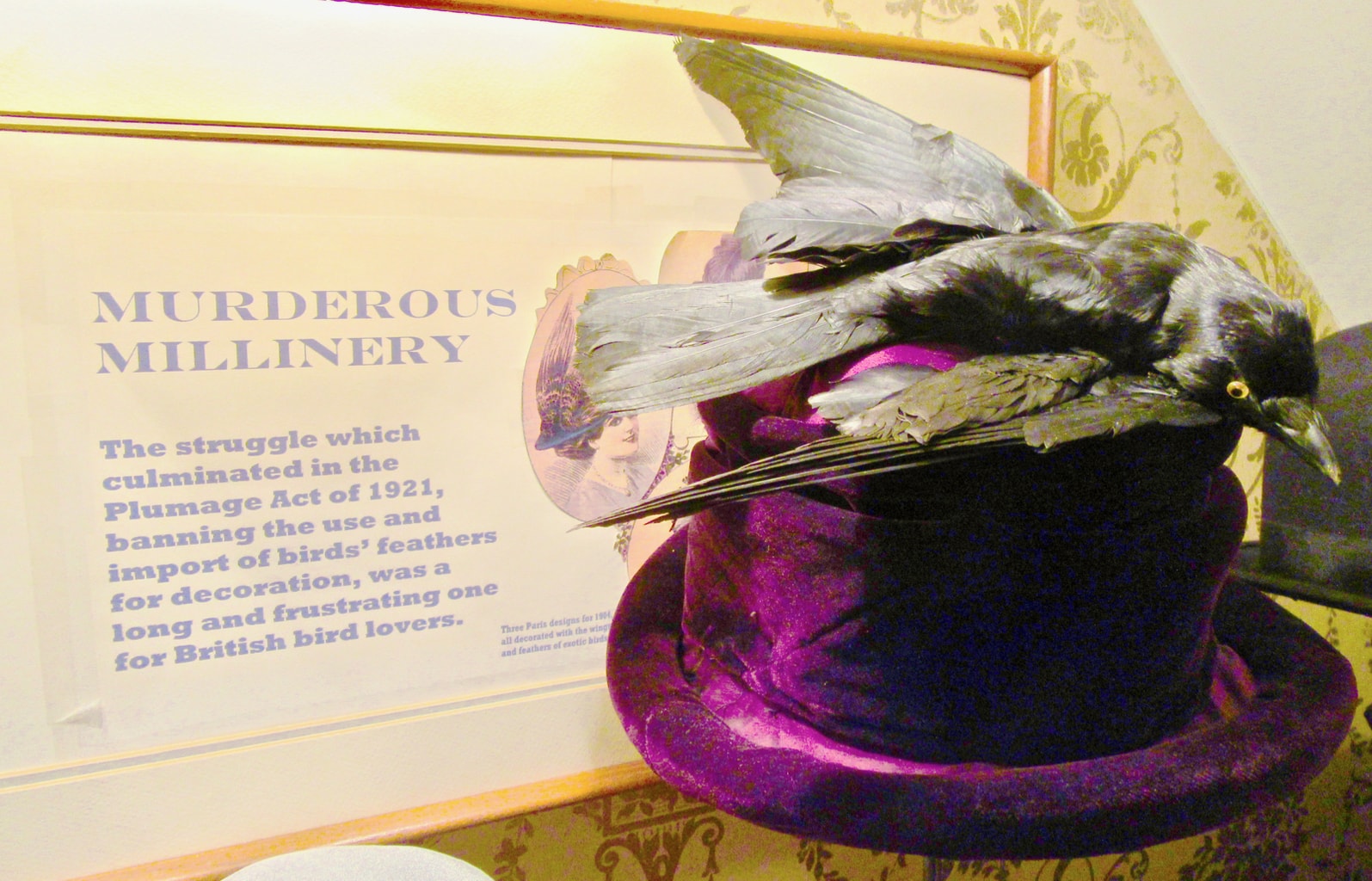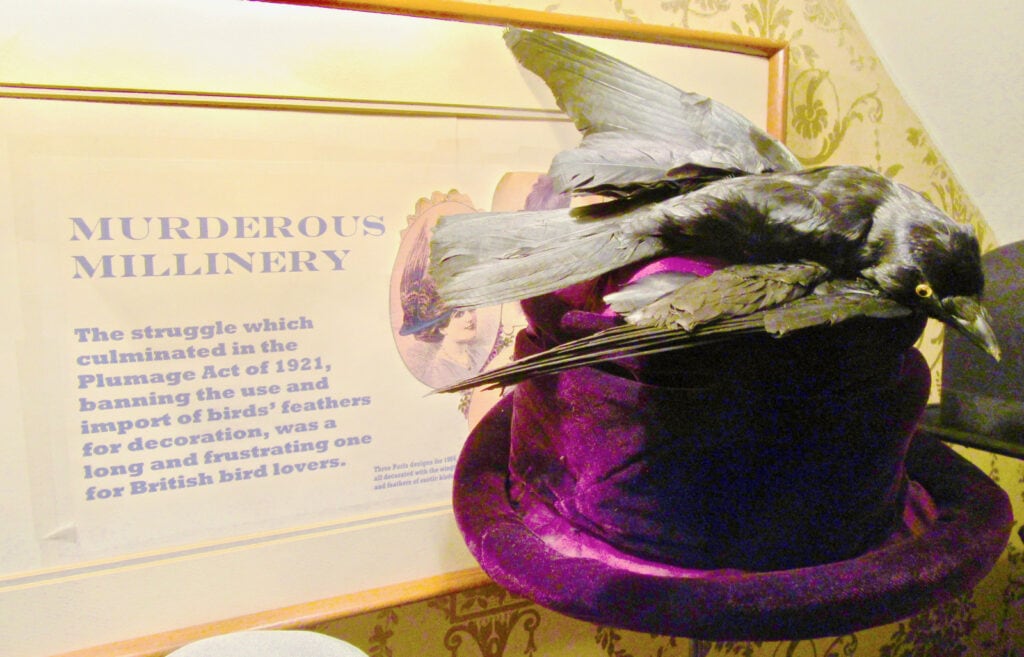 TOUR: The 1875 Vera Estey House, Presque Isle Historical Society
Vera Estey lived in this home in a tony part of town (now called Doctor Row) until her death in 1986 at age 92. An entrepreneur, she grew and sold tulips and lilies to the Boston Fresh Flower Market for a living. Estey never married, and lived a good life filled with travel and fancy dress.
Her home is a storehouse of her top-of-the-line appliances (G.E. 1929 Monitor Top Fridge), clothing (black-bird-topped hat, mink coat, ostrich purse), and furnishings (silk fringed lamps). But it also serves as a museum of many Presque Isle oddities. One of the strangest is a Civil War peg leg worn by an injured vet who had one for weekdays and one for Sunday.
John R. Braden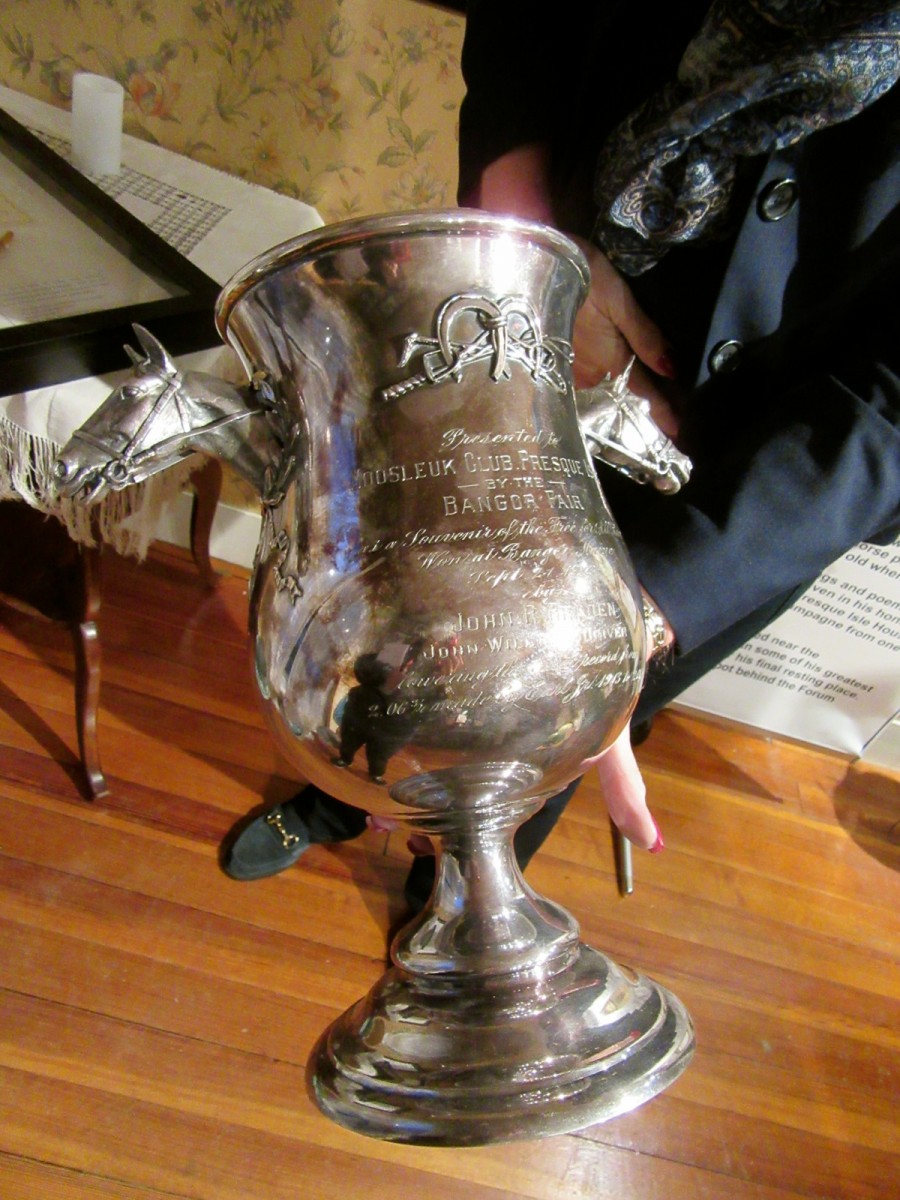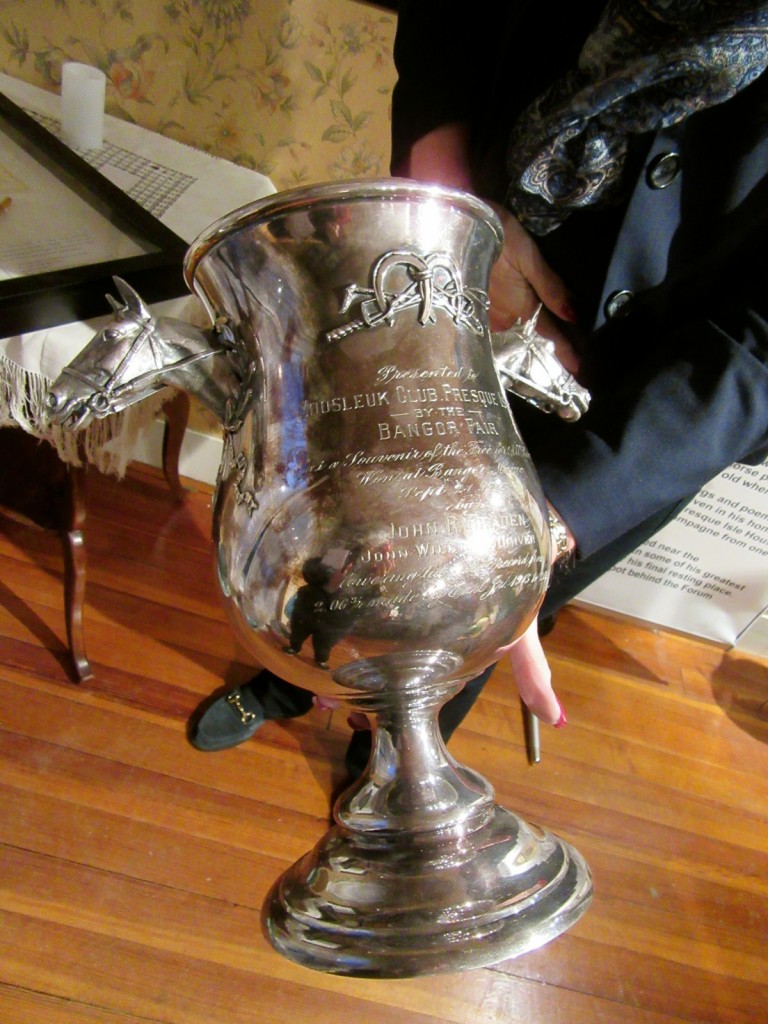 Perhaps the most curious story revolves around the most celebrated Presque Isle resident – John R. Braden. A horse.
In the roaring 20's heyday of harness racing, any community, no matter how remote, wanted some hide in the game. So, the good men of Presque Isle's Moosleuk Club got $4,000 together to purchase a fitting horse, named John R. Braden, from a Tennessee farm.
Beginning in 1921, Braden started in 68 races over 4 seasons, winning 31. During his short career he earned a whopping $48,000, split between the investors and local charities.
The community threw a banquet in Braden's honor, and invited the steed into the hotel where he was allowed to drink champagne from the ornate silver Winner's Cup. Braden died in 1929, much cared for and much loved. He is buried in town. Tours once a month or by appointment, $5.
TOUR: Molly the Trolley
Take a Molly The Trolley Tour or a walking tour through The Presque Isle Historical Society. Docents lead driving and walking tours, as well as historical presentations throughout the year. Check website for information. Tickets $5-$10 depending on event. Check website.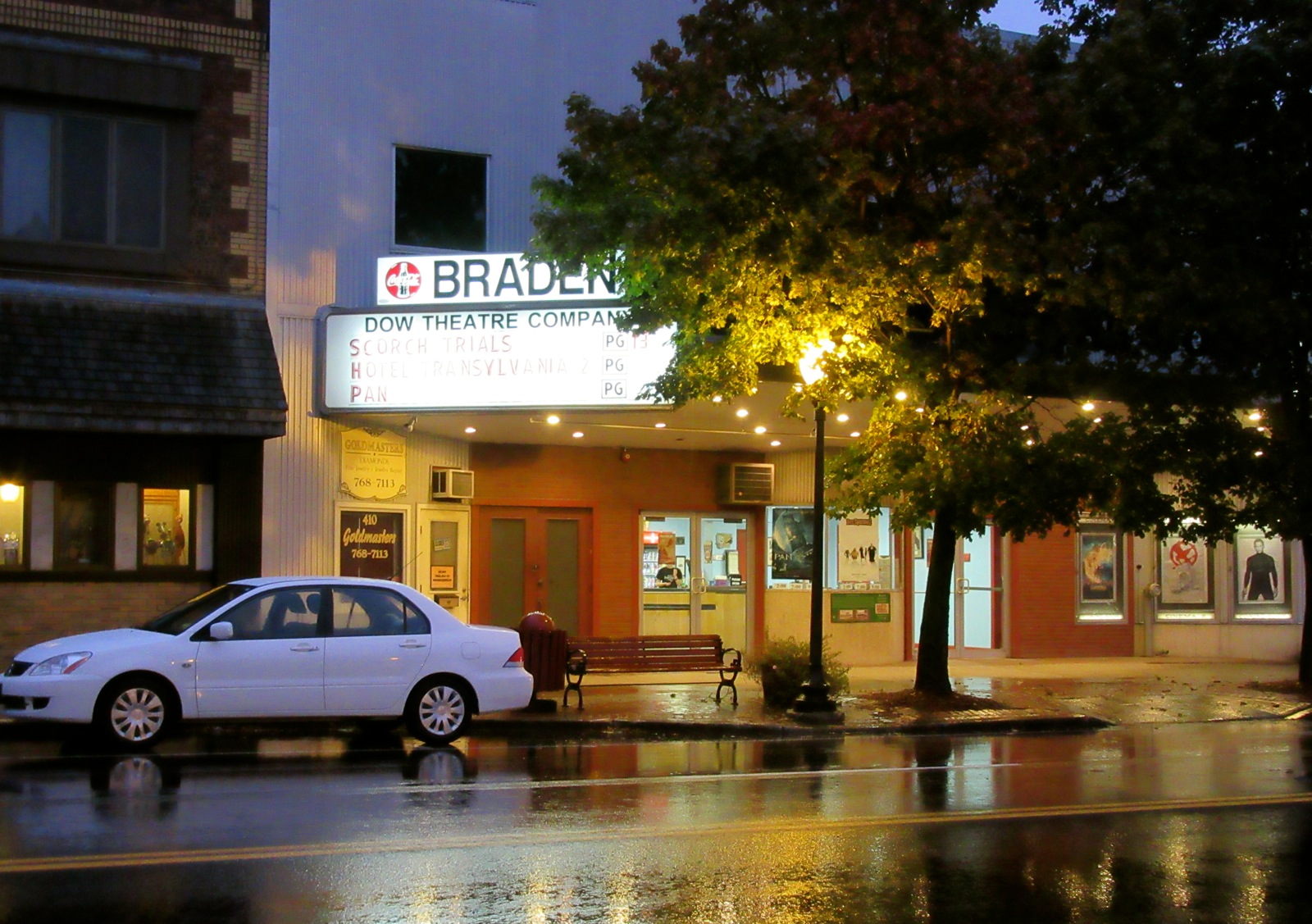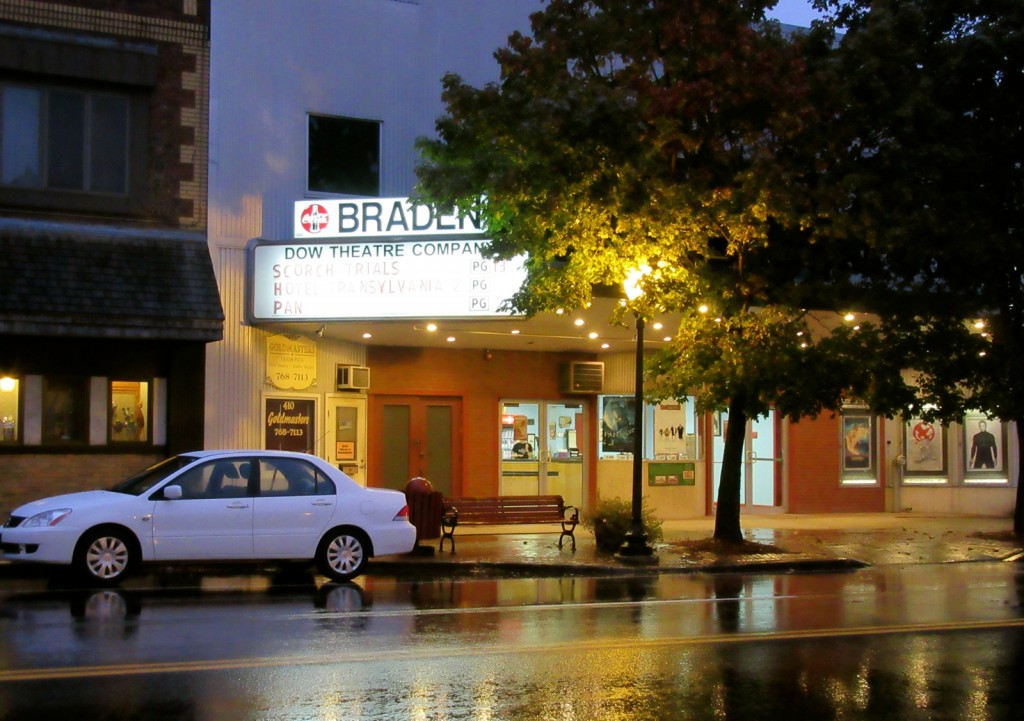 Catch a first run movie in this theater named for a horse. (See above). Look up over the box office window. You'll find a carving of the famous Presque Isle harness racer for whom the theater is named.
Restaurants in Presque Isle ME
EAT: Locals Recommend
Gram Russo's for Italian at the Presque Isle Convention Center and the coffee-shop Riverside Restaurant for no-frills breakfast.
Where to Stay in Presque Isle ME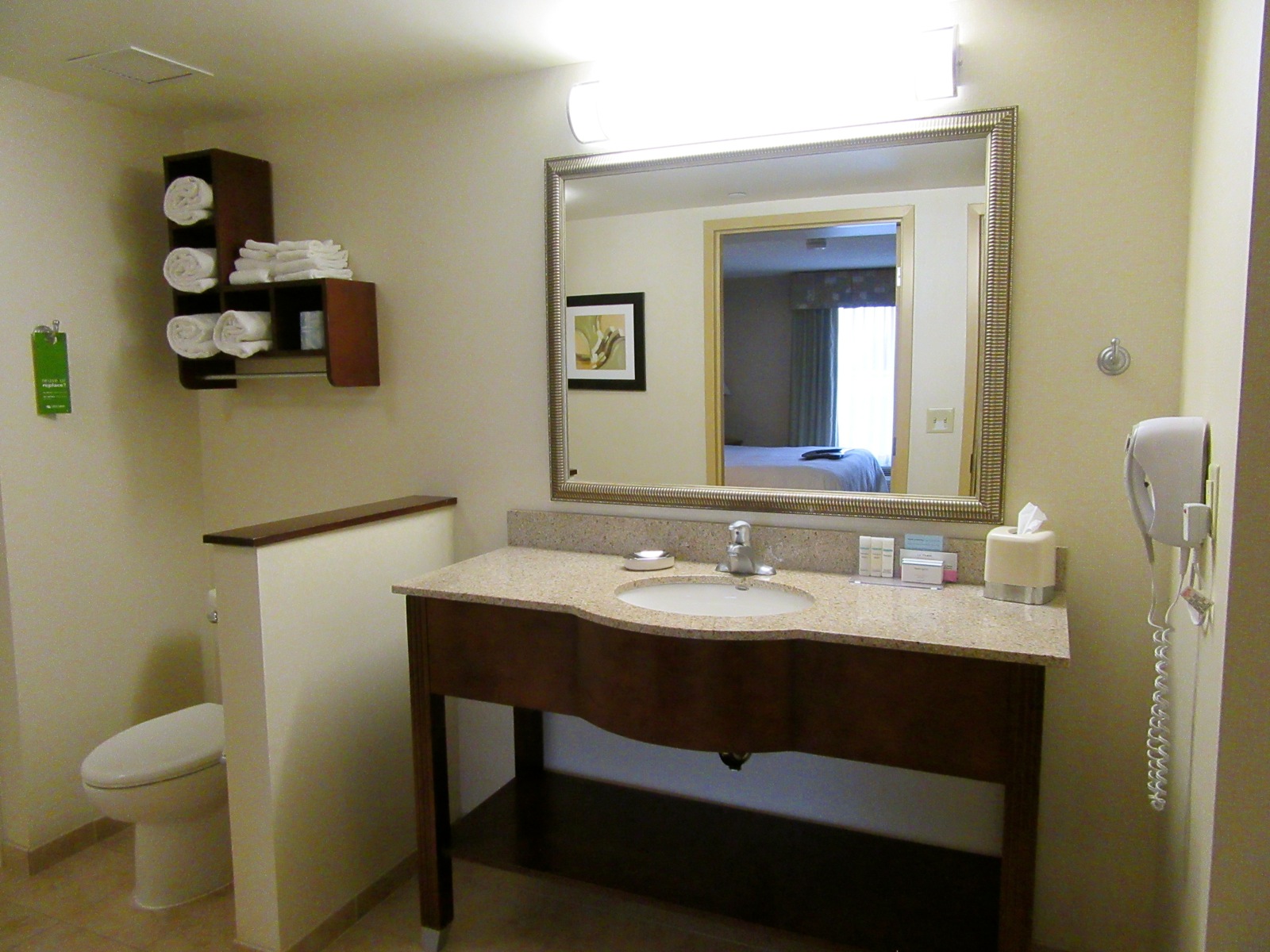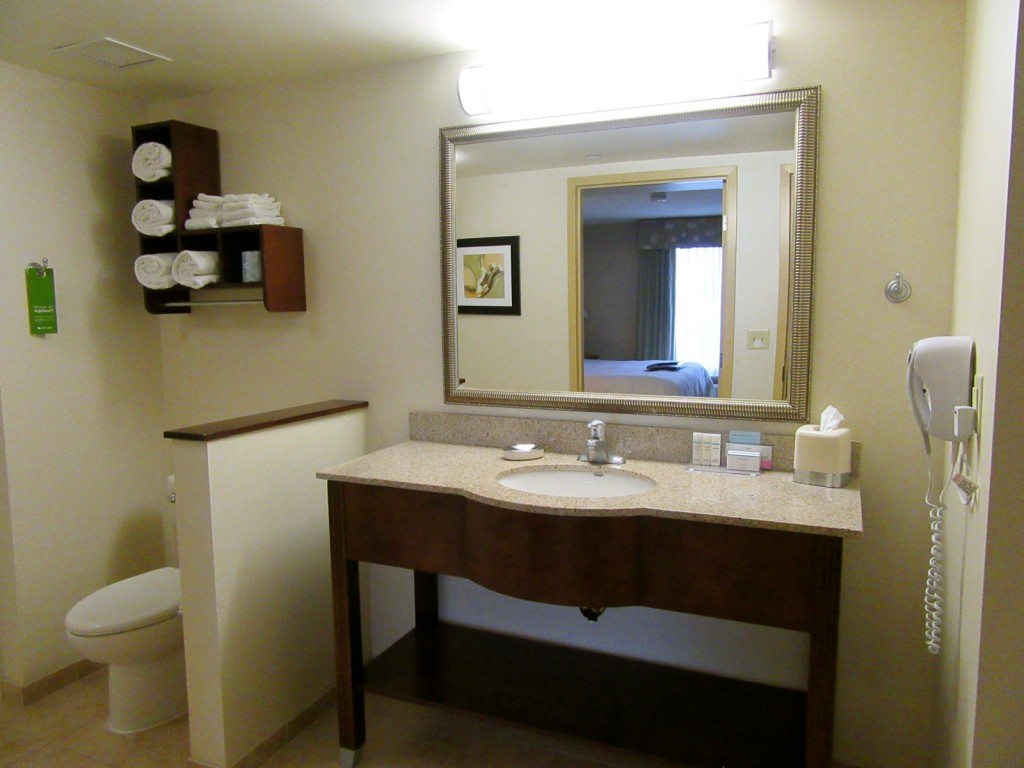 STAY: Presque Isle Hampton Inn
Once again, I must recommend a chain hotel due to the paucity of inns and B&B's in Presque Isle.
This Hampton Inn, however, is full of friendly folk. It's got nice clean rooms, granite bathrooms and a hot and cold breakfast included in the rate. Nothing extra-ordinary, but comfortable, safe and arguably the best place to stay in town. King rooms $109-$170.