Last Updated on September 26, 2022 by Editor
WHY GO: Nova Scotia is a perfect road trip destination. This maritime region of Canada is exceptionally poised for Covid-era travel due to its proximity to the USA. You can actually drive here in your own personal illness-free capsule – your car! Plus, Nova Scotians speak English, so you don't need translation devices to communicate. To top it off, attractions and restaurants are generally less crowded than hyped up tourist towns and resorts around the world.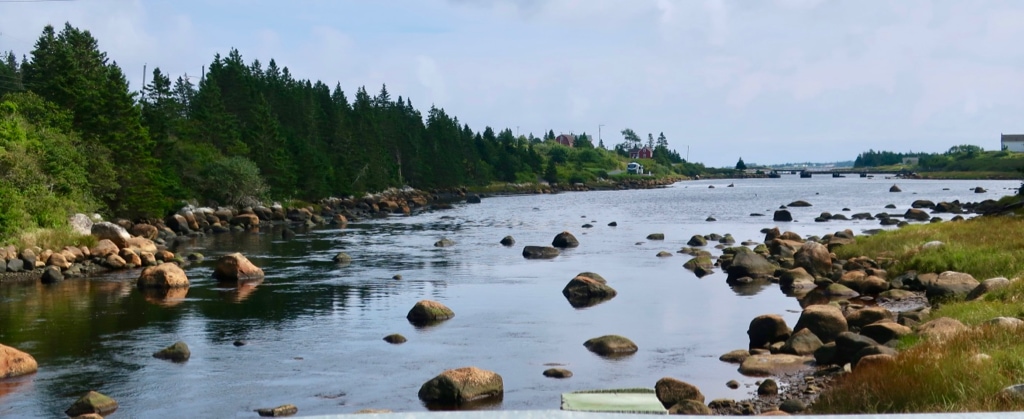 One of the Canadian Maritimes, this North Atlantic Province seems to also be having a moment. With the arrival of a trendy boutique hotel in Halifax (Muir Autograph Collection), Nova Scotia is showing up in a growing number of glossy magazine "Must-Go" lists.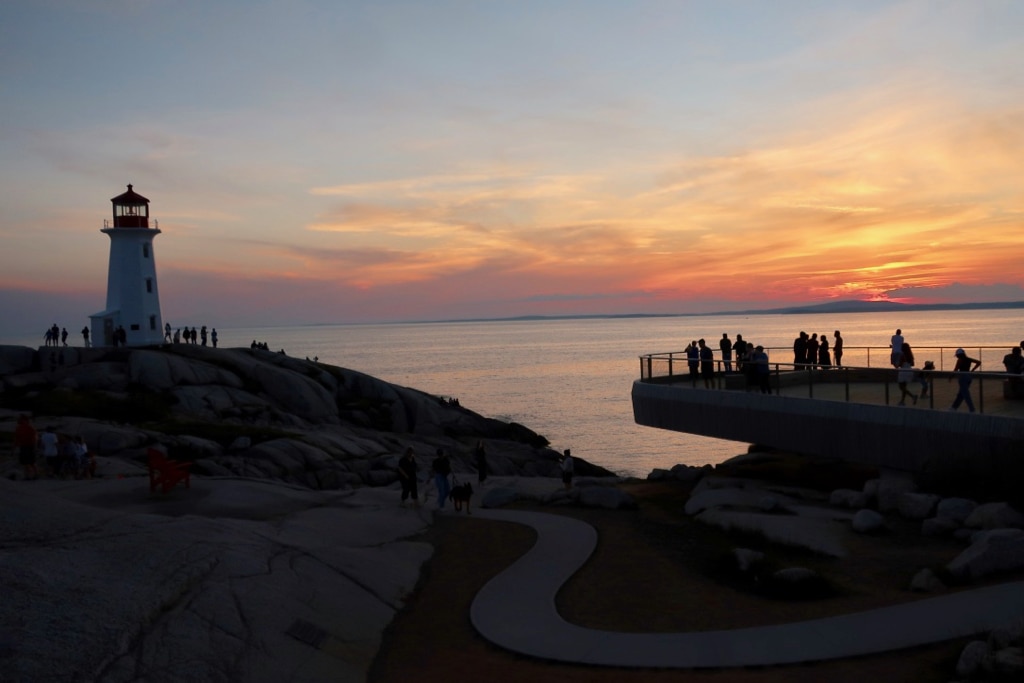 The following Nova Scotia road trip takes you to points on the Bay of Fundy (known for the most extreme tidal swings on earth), points on the Atlantic Ocean Coastline, and then out to Cape Breton (in a separate post).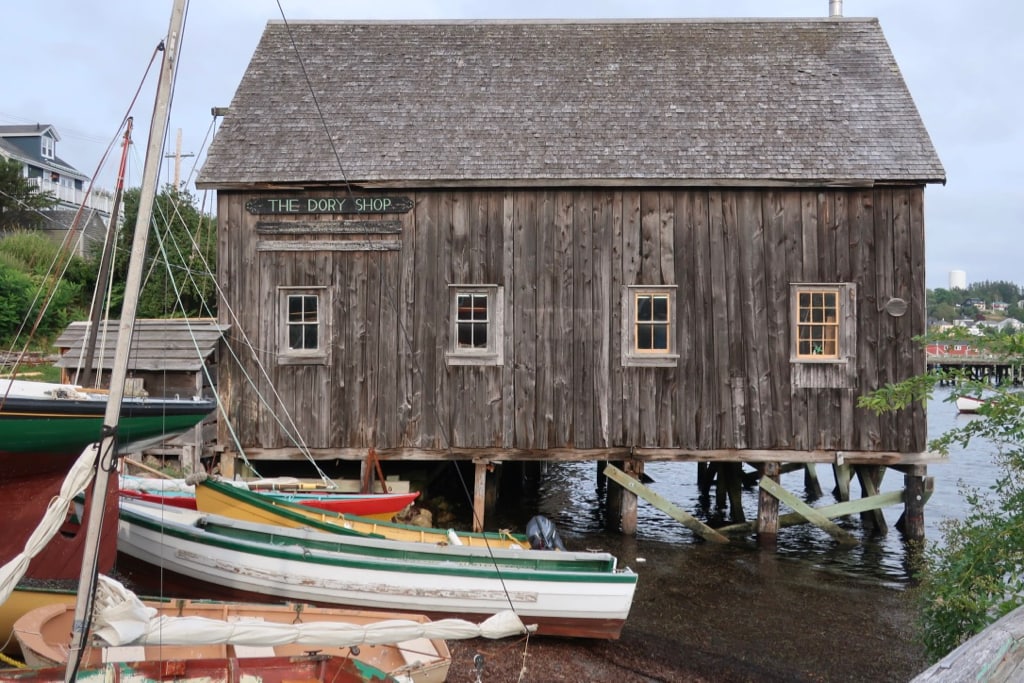 Sure, spend some time in Nova Scotia's largest city, Halifax. But, make sure to discover smaller, untamed, off the beaten track, and yes, more romantic locales throughout the Province.
From New York City – you can get to Amherst NS by car in about 13 hours. From Boston, about nine. Our Road Trip begins below.
Day 1: Amherst NS to Advocate Harbor NS on A Nova Scotia Road Trip
1 ½ Hours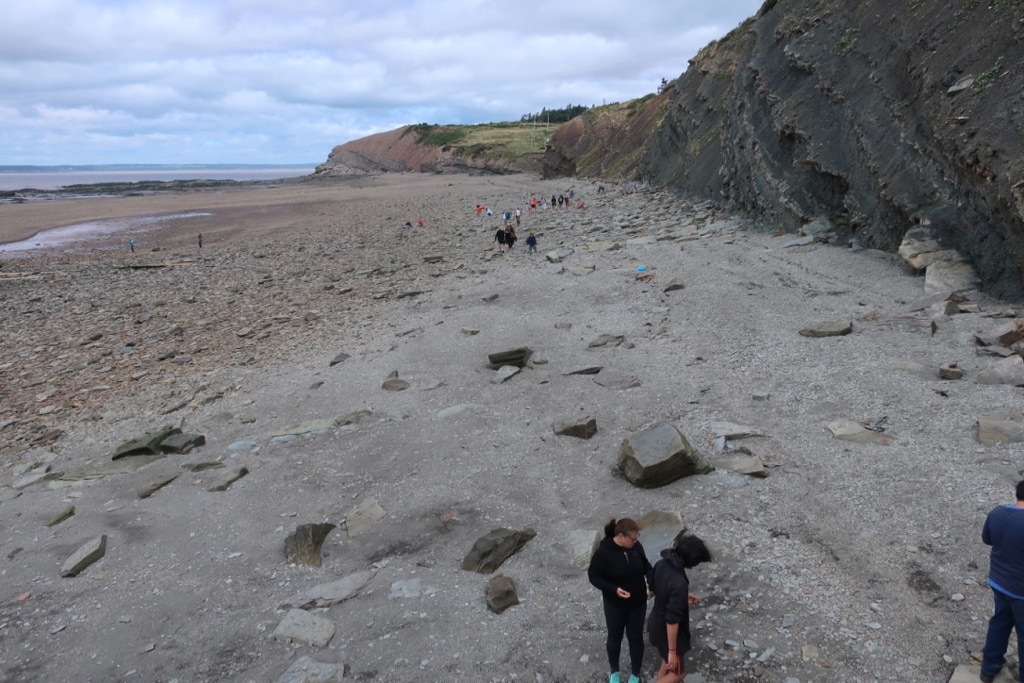 Joggins Fossil Cliffs
It's 30 minutes to the UNESCO World Heritage Site, Joggins Fossil Cliffs from Amherst NS. This area of Nova Scotia, on the Bay of Fundy, was once a coal-mining region, because, unlikely though it seems, it was part of the Appalachian Mountain Range hundreds of millions of years ago. It's also a so-called "hidden gem" as many Nova Scotians have never even been to this Cape.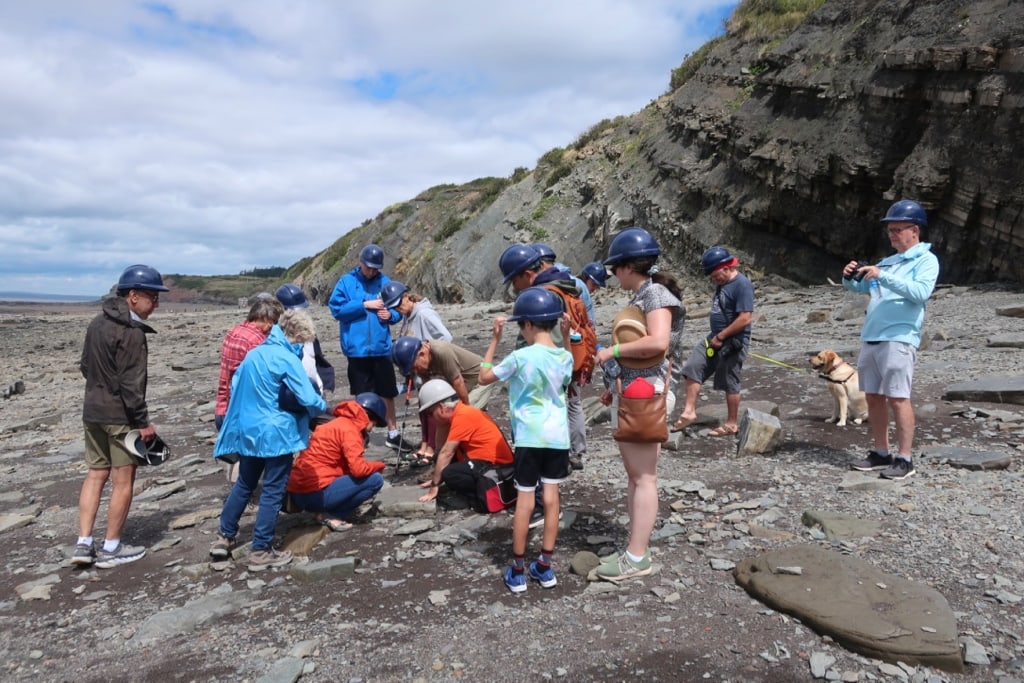 Do yourself a favor and sign up for a 1 ½ hour guided tour of the beach, where you'll don a hardhat and be introduced to fossils galore – and find remains of the coal deposits that defined this region of the country. It will be your first experience "walking on the Ocean Floor" at low tide. By high tide – the water will have risen 30-50 feet.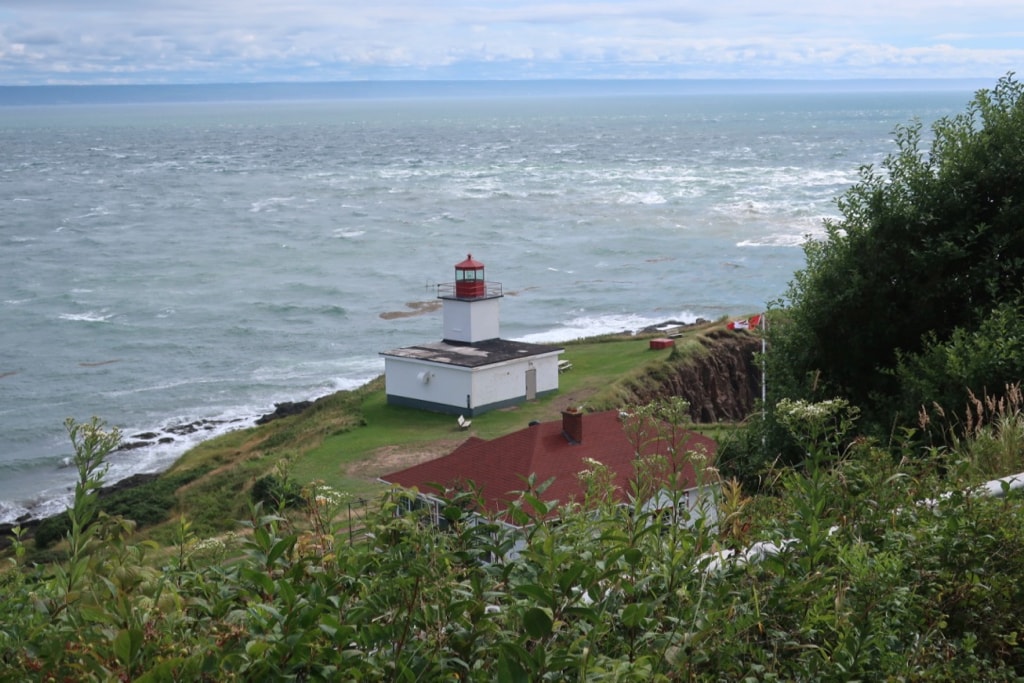 Lighthouse on Cape D'or/ "Dory Rips," Advocate Harbor
You've got to walk down a long steep hill to the Cape D'Or Lighthouse. (Just be aware – you've got to climb back up!) But even though, out on the bluffs, it can get very windy – it's worth getting wind-whipped and facing the uphill exertion just to see the crazy waters before you.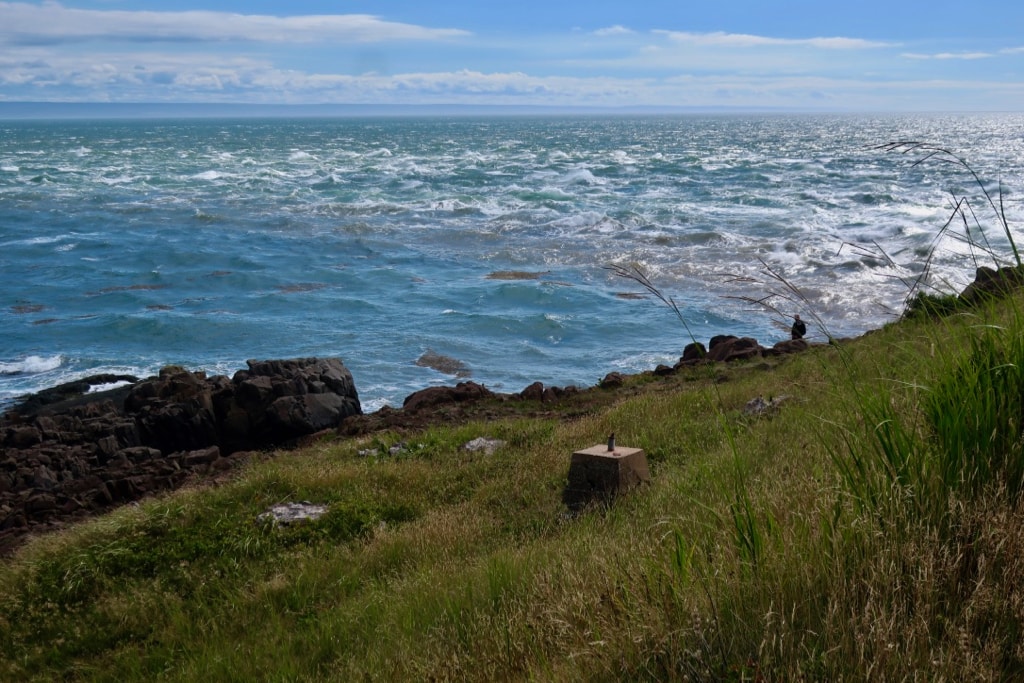 Look out over the constantly churning "Dory Rips" – rip tide waves caused by the energy of Bay of Fundy tidal surge over submerged reef currents. Seeing those wildly roaring whitecaps alone is worth the hike.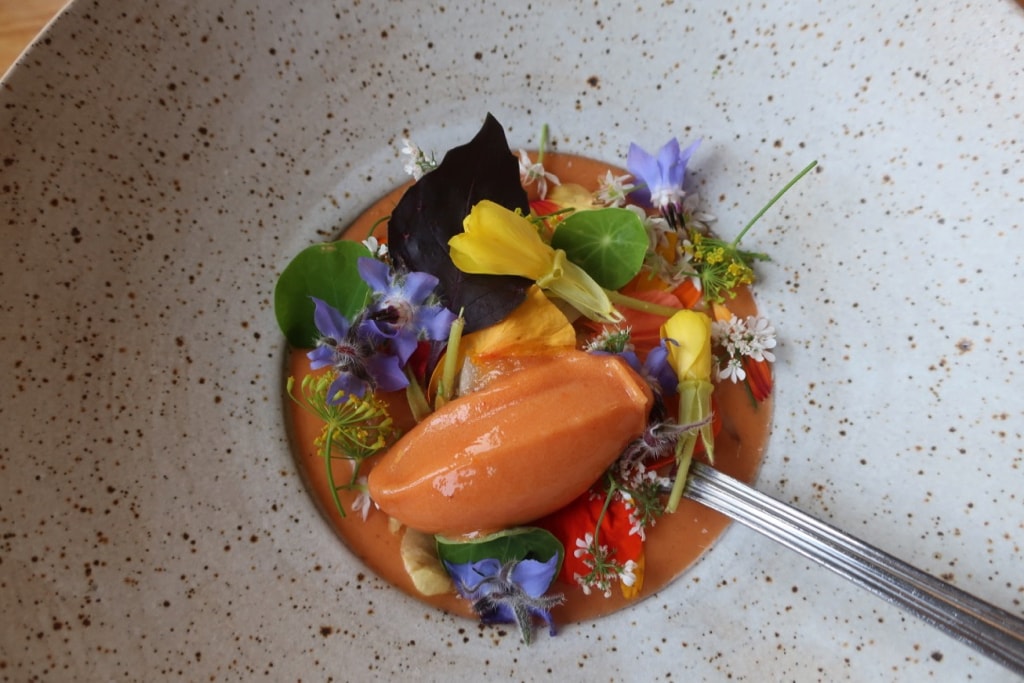 EAT/STAY: Wild Caraway, Advocate Harbour
The two rooms ($150 per night) at Wild Caraway are adorable, but even if you don't stay in this remote Bay of Fundy village on your Nova Scotia road trip, plan to have dinner here. It's exceptional (some say the best restaurant in all of Nova Scotia), and, at $60pp for a four course tasting menu – won't break the bank.
Day 2: Advocate Harbor to Peggy's Cove
3 ½ hours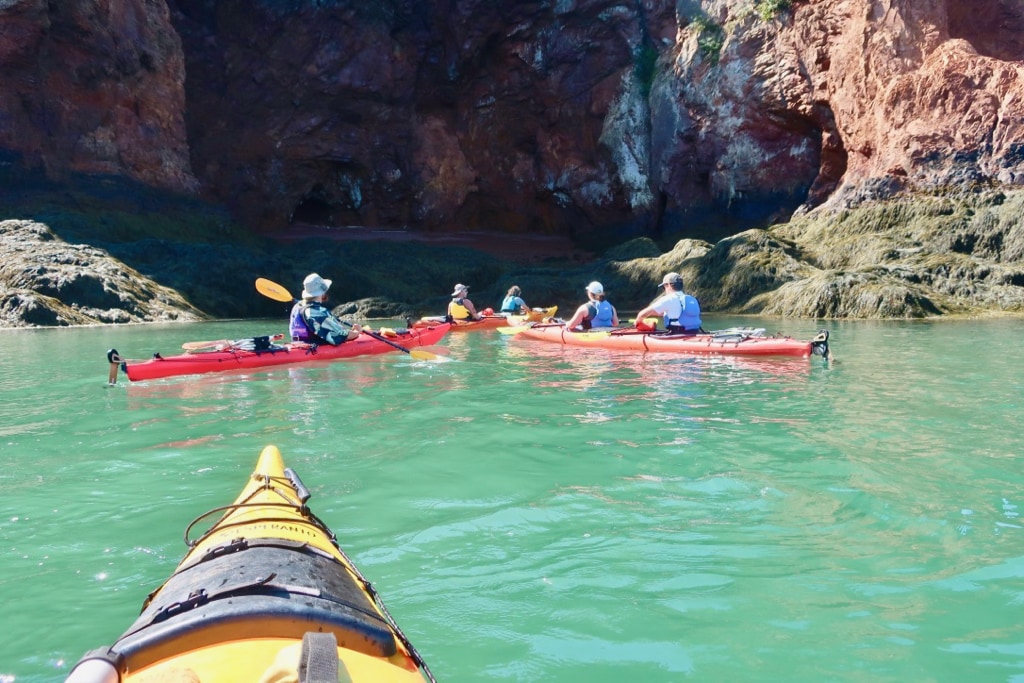 6-Hour Kayak Tour of Bay of Fundy with NovaShores Adventures, Advocate Harbor
Spend six hours paddling along the red, sandy shores of Cape Chigneco Provincial Park to the Three Sisters Rock Formation, with NovaShores Adventures. You'll stop a couple of times along the way to explore caves and eat a healthy, guide-assembled lunch on a sandy beach.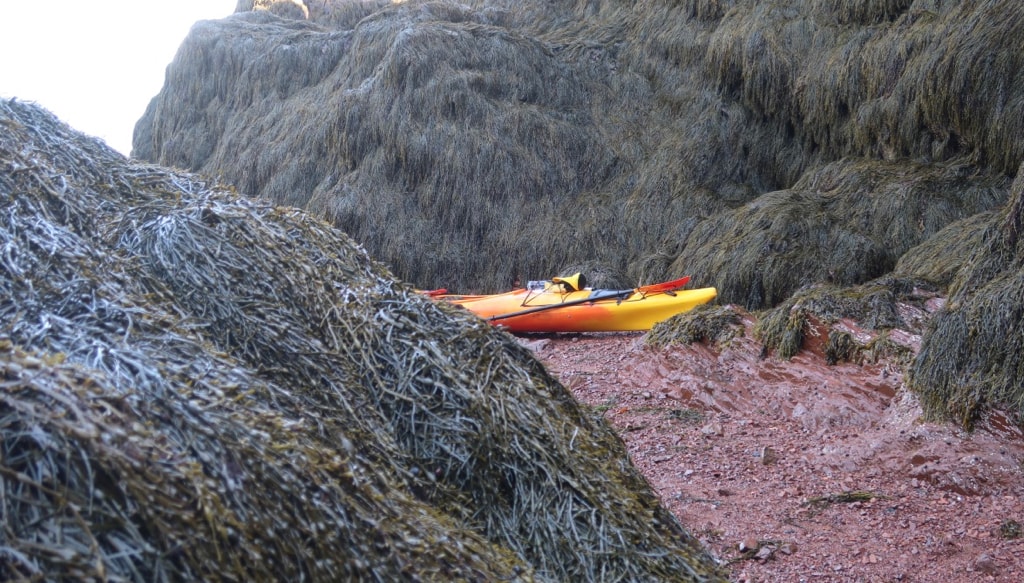 If you don't have days to spend on the water (NovaShores also runs multi-day excursions), this half day, 9am-3pm jaunt will give you an idea of the swiftness of 30-50 ft. tidal swings in the Bay of Fundy.
Afterwards at 3pm, drive to Peggy's Cove – 3 ½ hours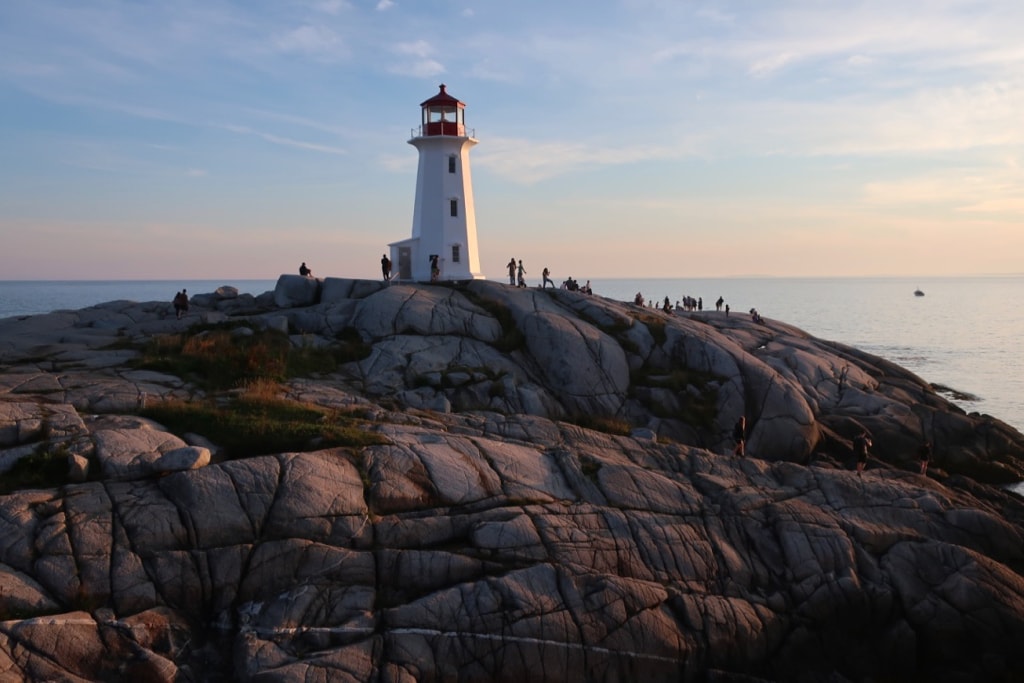 Peggy's Cove Lighthouse at Sunset
Like Delicate Arch in Arches National Park, and Mallory Square in Key West FL, Peggy's Cove Lighthouse brings throngs of sunset fans to its famous rounded rocks. If you miss sunset, you can always try for sunrise the next day, although the crowds won't be as dense.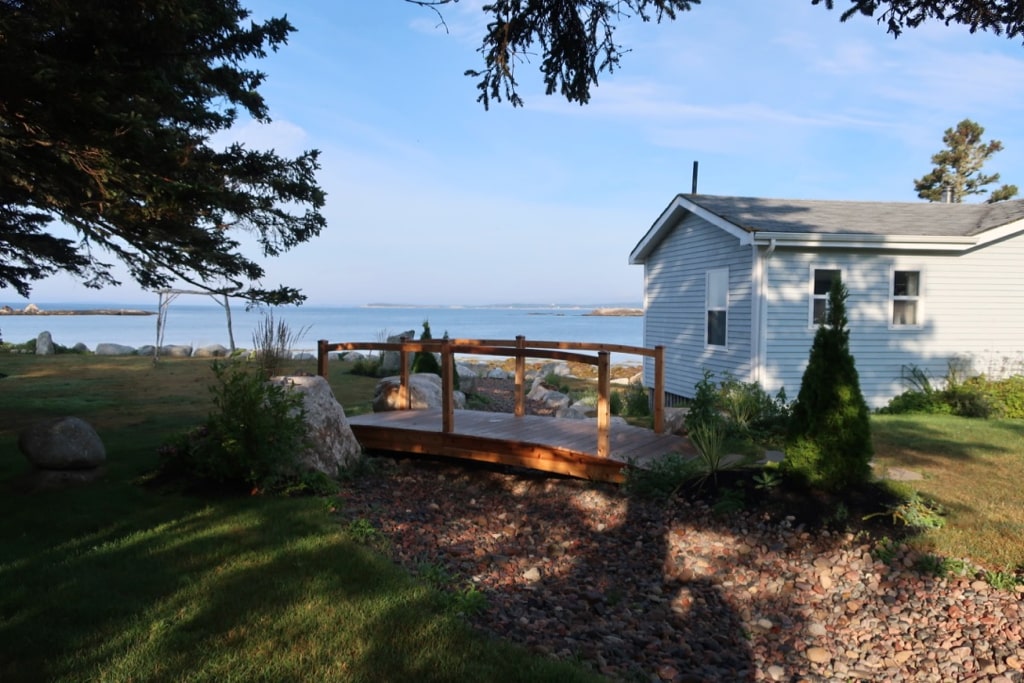 STAY/EAT: Oceanstone Inn
OceanStone is 10 minutes from town in Indian Harbor. On site restaurant, Rhubarb, is considered the best dining in the area.
Day 3: Peggy's Cove to Lunenburg on A Nova Scotia Road Trip
1 ½ hours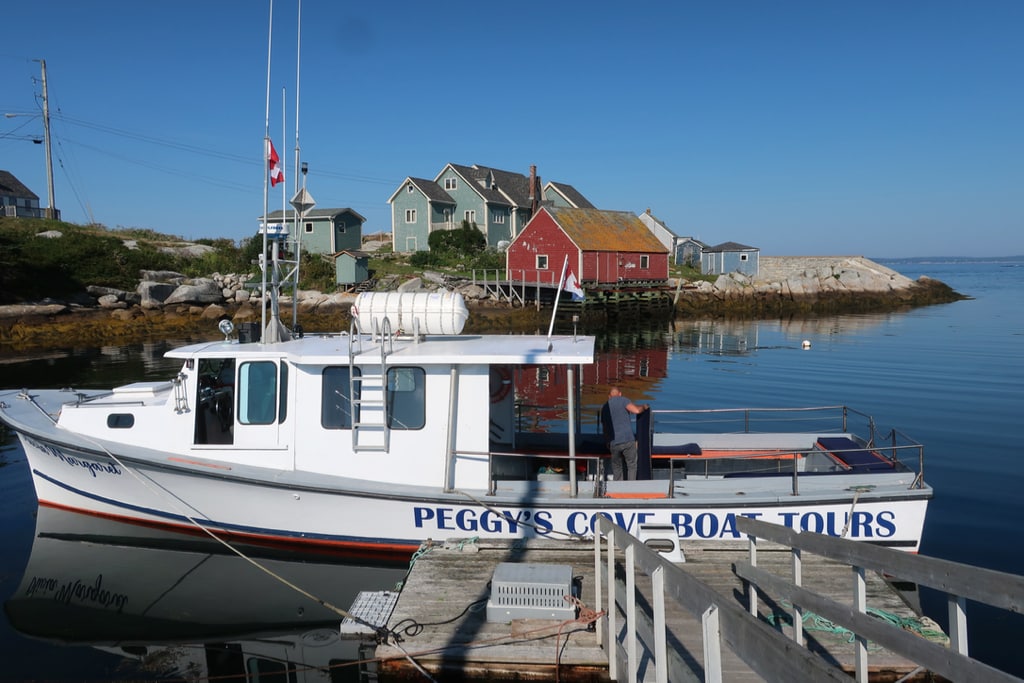 Puffin Cruise, Peggy's Cove
In season (June-mid-August), take a 2 ½ hour cruise at 9:30am to see the elusive, and colorful Puffins that nest on an island about an hour offshore. By late summer, most, if not all, have flown the coop. So, plan accordingly.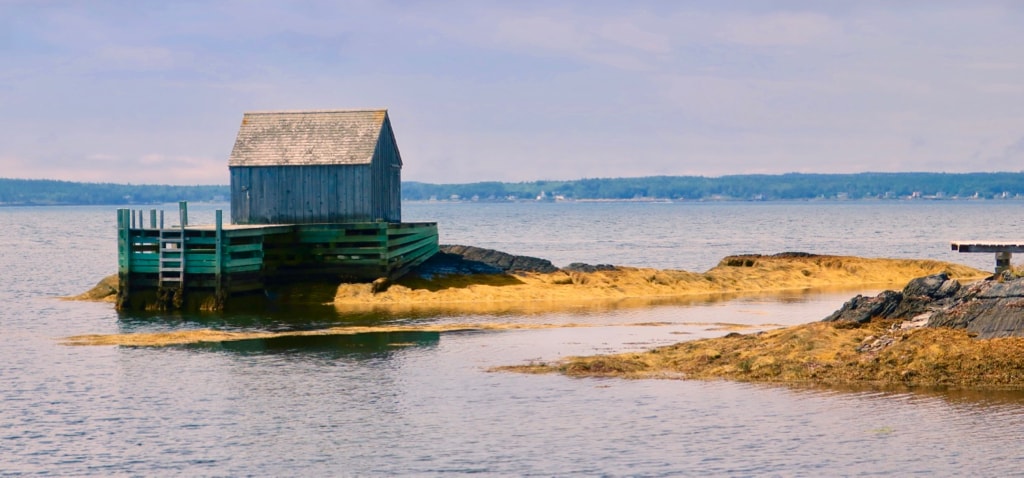 Drive 1+ hours to Lunenburg, hooking around the cute hamlet of Blue Rocks on the way.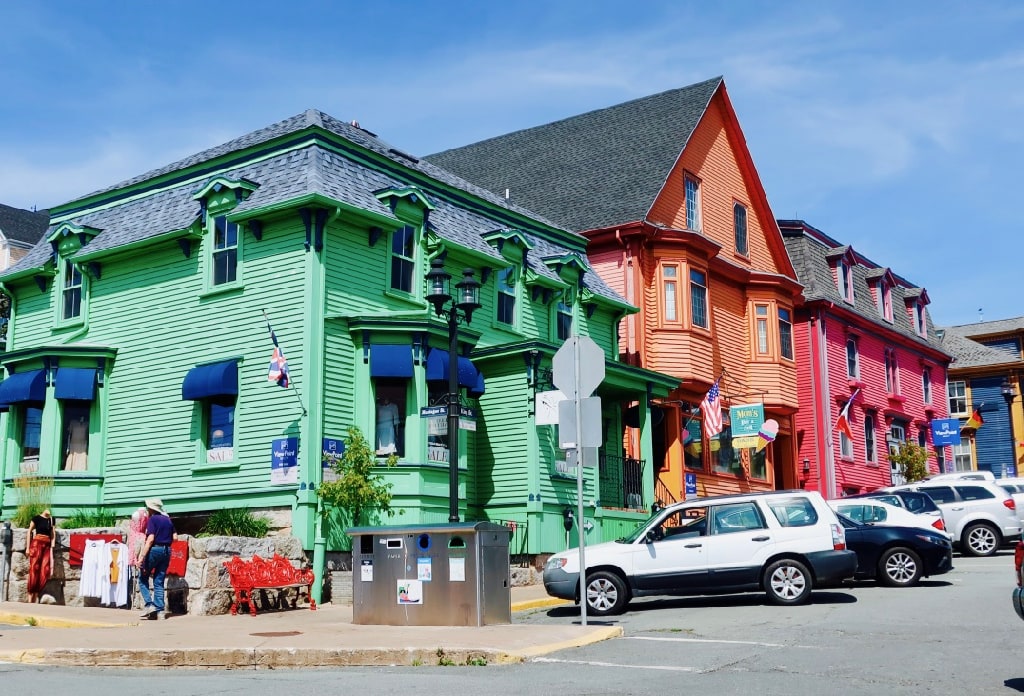 Stroll Colorful Lunenburg Streets
A UNESCO World Heritage town, Lunenburg tells the story of the Canadian Maritimes through its still operating fishing fleet and prismatically colored array of harbor-side homes. And, though it's fabulous Fisheries Museum of the Atlantic.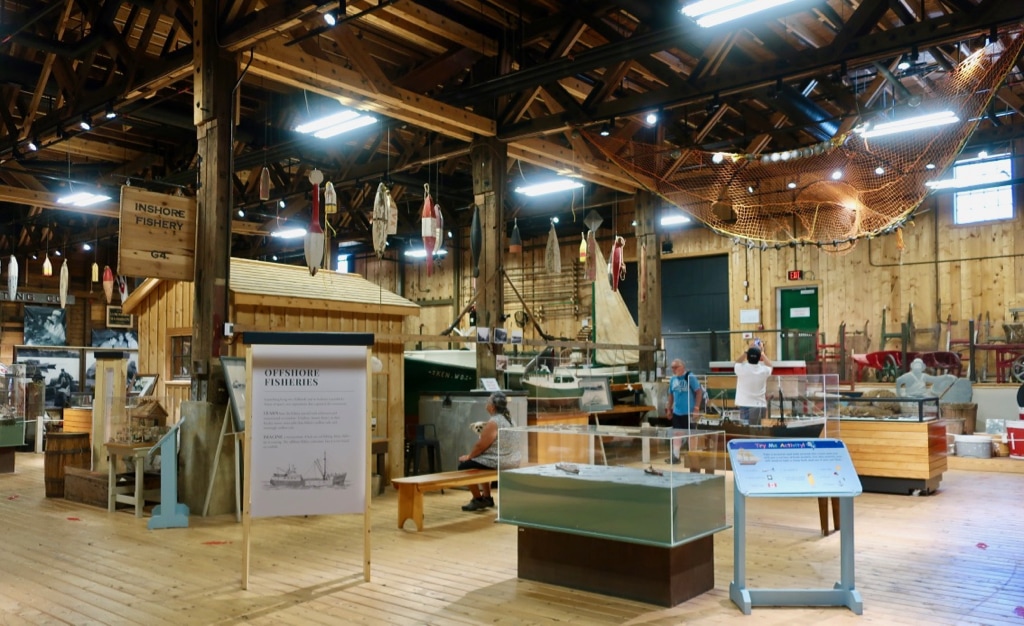 Fisheries Museum of the Atlantic, Lunenburg
Learn how the thrice-built racing sloop, Bluenose, got its name, and how it brought pride to this part of Canada. The Fisheries Museum also covers this vital industry throughout its history in a very engaging way.
Eat and Stay in Lunenburg
Take your pick of foodie favorite restaurants, (Beach Pea Kitchen, Salt Shaker Deli, Savvy Sailor), and bed down in one of many charming B&B's. If you wish to be in the midst of it all, book a cute room at Smugglers Cove Inn – right in the center of town.
Day 4: Lunenburg to Digby By Way of Yarmouth
4 hours if on highway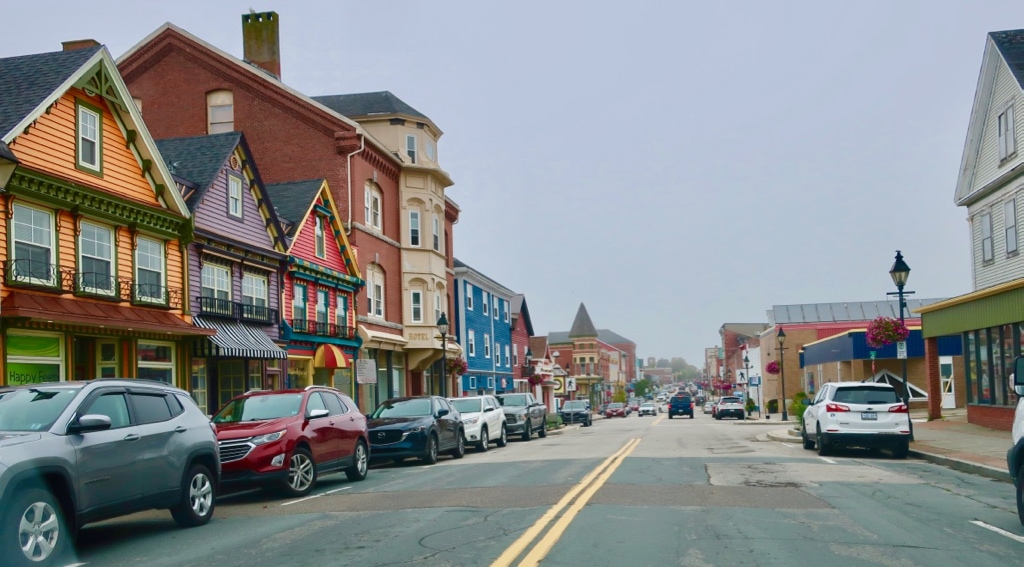 Stop for Lunch in Yarmouth
To cover as much of Nova Scotia as possible, drive to Digby by way of Yarmouth. For those traveling on the Bar Harbor, Maine to Nova Scotia Ferry (3 ½ hour trip), the ship drops you off in Yarmouth – at the Southern tip of NS.
Yarmouth is worth a gander for its unique architecture and comparatively bustling vibe – as would be expected in a ferry terminal town. It's also a great place to stop for lunch given some terrific options.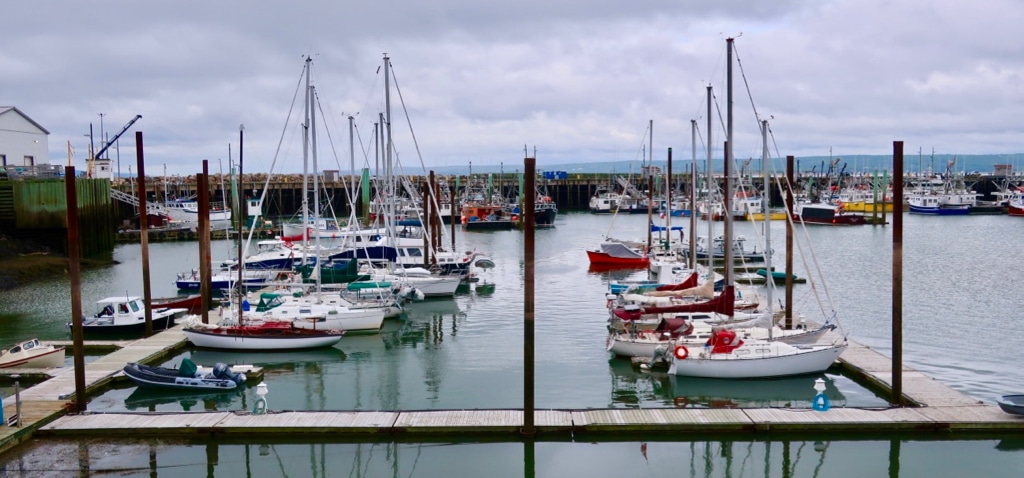 Meander Out to the Commercial Fishing Boats/Private Sailing Yachts in Digby
Stroll the Digby Waterfront in late afternoon to capture the best images of fishing boats and sailboats along the docks, nearly side by side. It's a strange dichotomy, but one that works in this small hamlet on the Bay of Fundy.

Out on Digby's commercial pier, seagulls wait expectantly for the daily catch. And by early evening, the odor of fish permeates the air, as fishermen and women clean their boats.
STAY: Bayside Inn, Digby
Across the street from the waterfront, the sweet Bayside B&B offers unassumingly sophisticated rooms. Ask for one that faces the Bay.
Day 5: Digby to Halifax Through Annapolis Royal and Wolfville
3 hours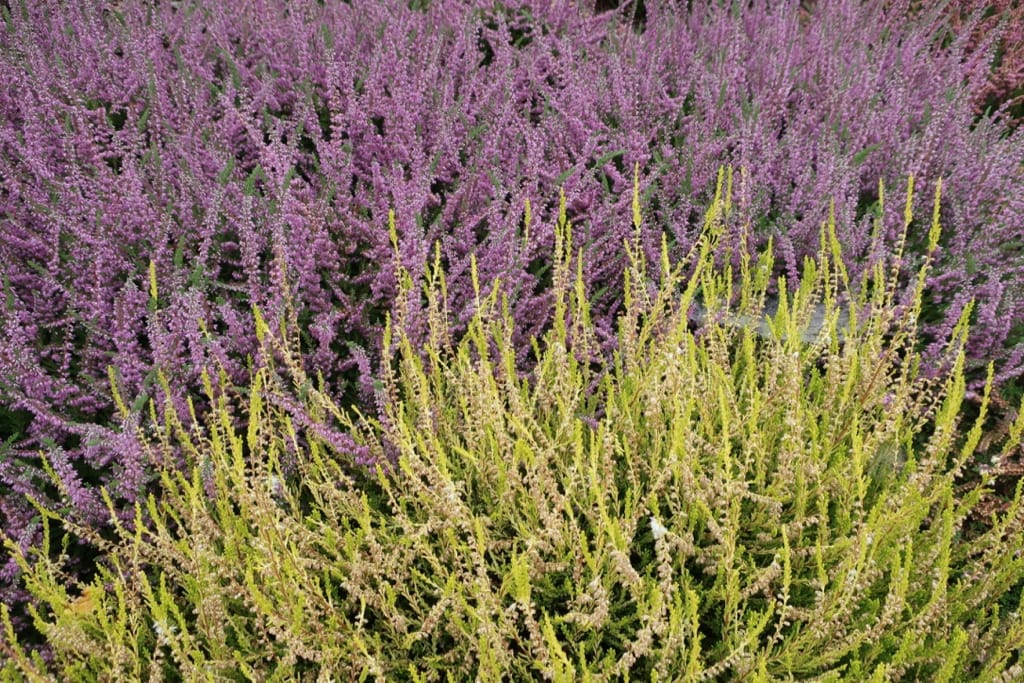 Drive Through Annapolis Royal, Historic Gardens
Drive past well-kept Victorian homes that line the leafy streets of Annapolis Royal. If you're in need of a leg stretcher, stop for 30 minutes at the Annapolis Royal Historic Gardens. It's a modest but pretty spot to smell the roses.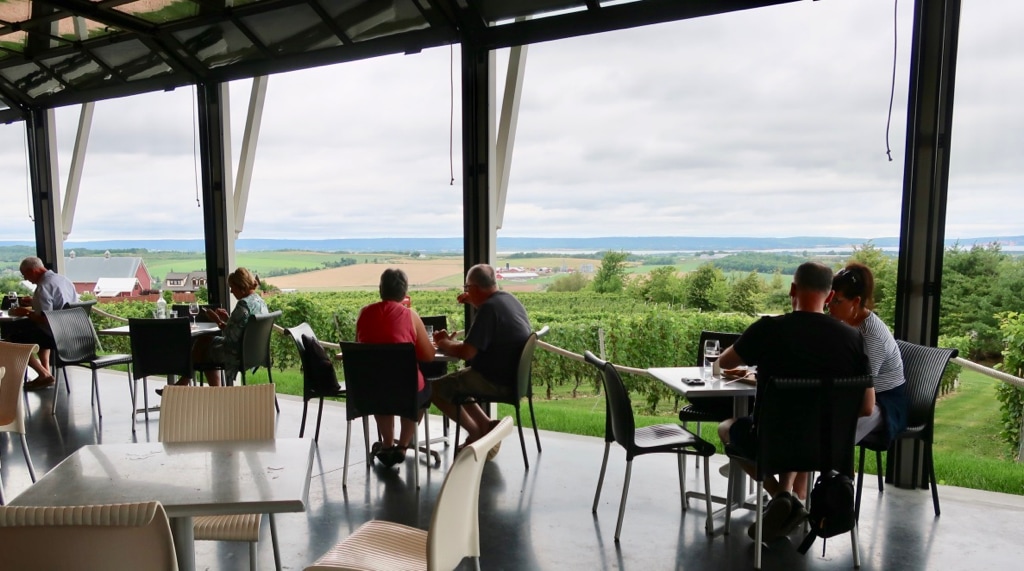 Stop for lunch at Luckett Vineyards in Wolfville
The Annapolis Valley is Nova Scotia's very own Napa, abounding in vineyards. One of the most popular, however, Luckett Vineyards in Wolfville, was founded by an Englishman named Pete.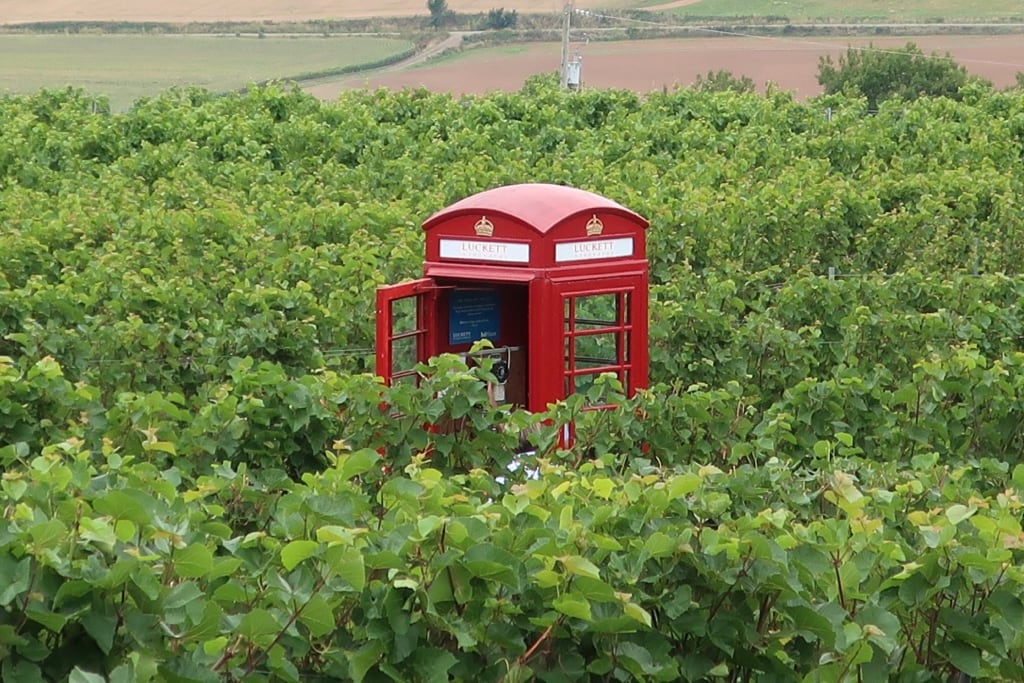 Nostalgic for his UK childhood, Pete requested that a phone "box," slated for the dump as England modernized, be sent to him in Canada. A friend rescued one of these iconic red booths and shipped it to Pete as a surprise. Which is why the defining feature of Luckett Vineyards is its red British Phone Box that sits out in the middle of the vineyards.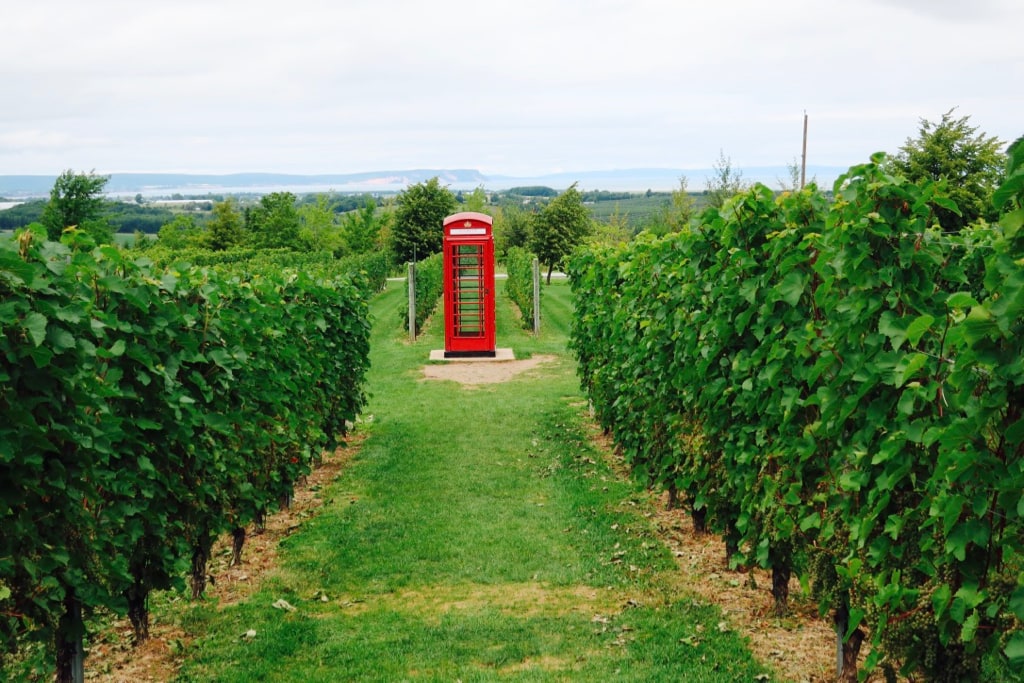 Enjoy a nice lunch overlooking the vines, and then call anyone you want in North America from that phone booth. For free. Yes, it still works!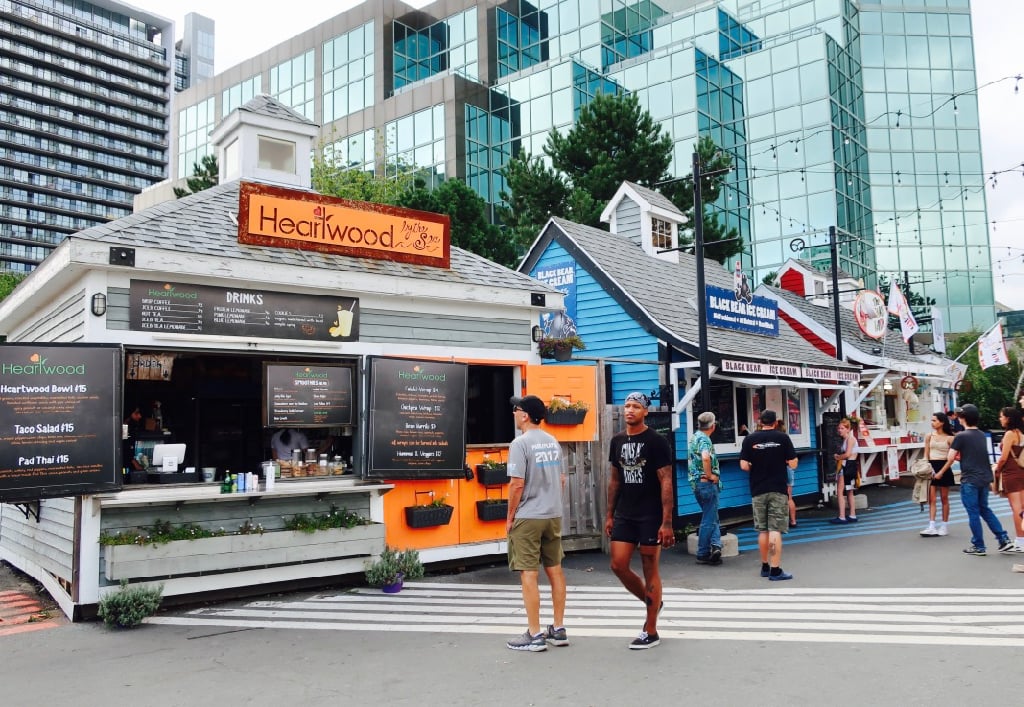 In Halifax, Walk 2.5-mile Waterfront boardwalk
From Luckett Vineyards, it's a mere hour's drive to Halifax. Do what everyone must do – and walk the 2+ mile boardwalk along Halifax Harbor. It's jammed with restaurants, food stalls, places to sit and people watch.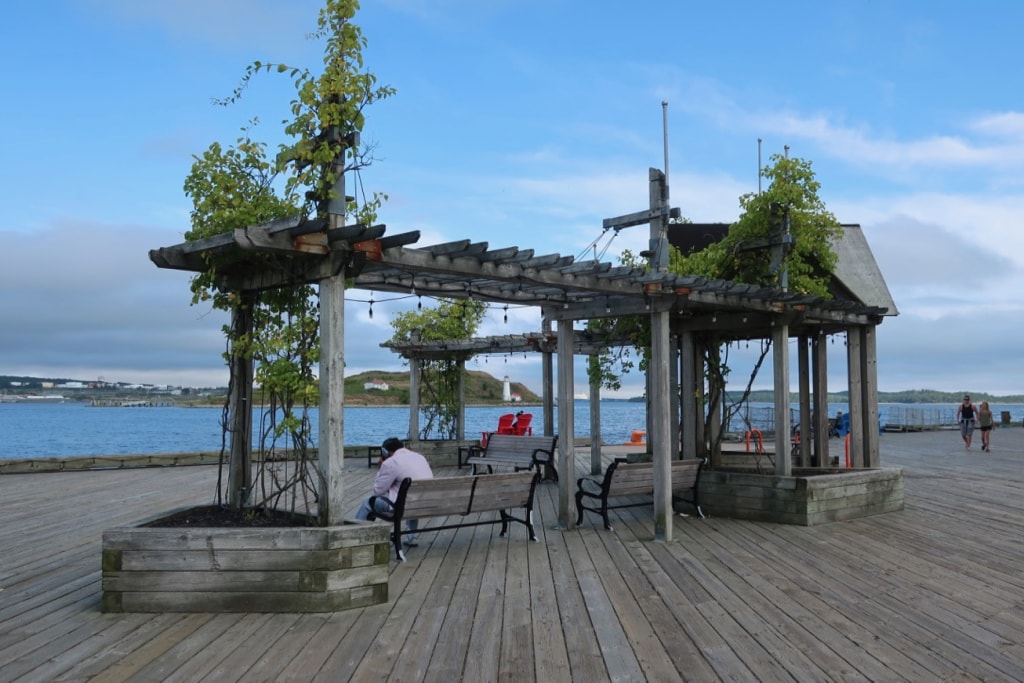 There are arbor-canopied benches and hammocks, art installations, and playgrounds for kids. Stop for a local favorite ice-cream, Cow's, or a bite to eat.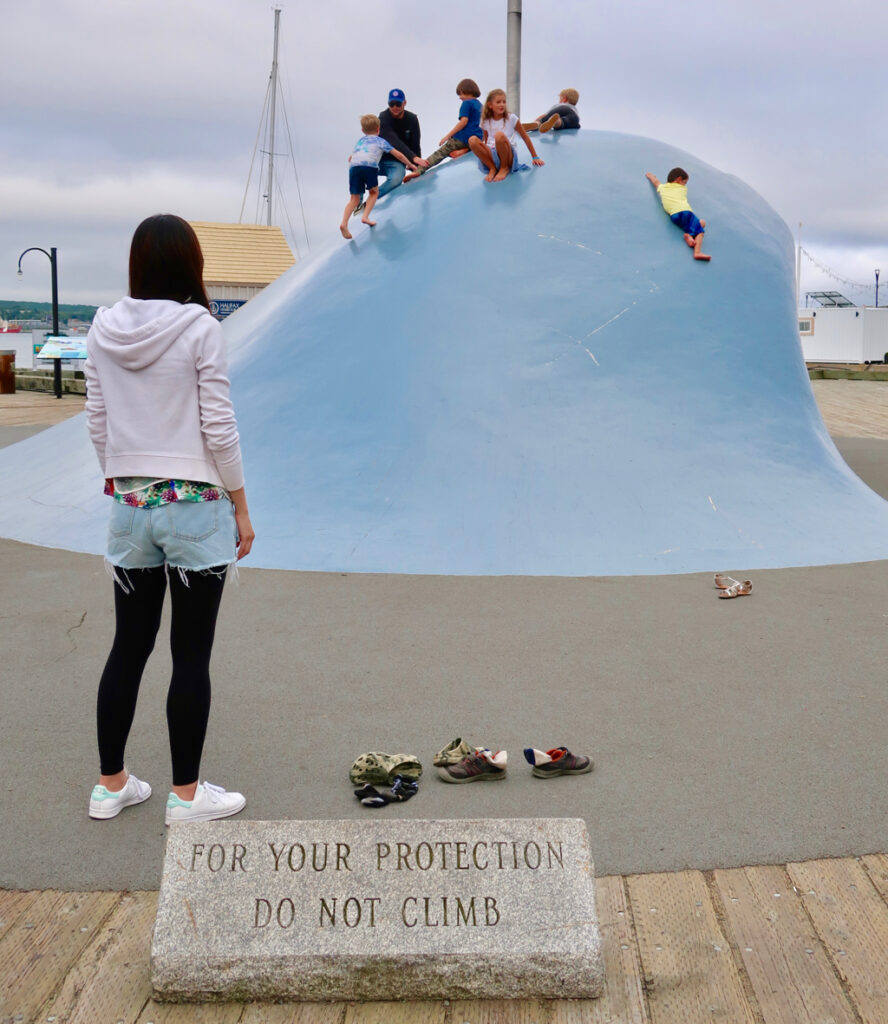 It's where you'll find water sports and rentals, and several museums. Plus, one of the most ironic "Whale Tale" sculptures. Warned off by a "Do Not Climb" sign, it's nearly always crawling with….climbing kids.
STAY in Halifax
You'll find everything from Comfort Inn to Cambridge Suites to the latest luxury boutique – Miur (Autograph Collection).
Day 6 – Halifax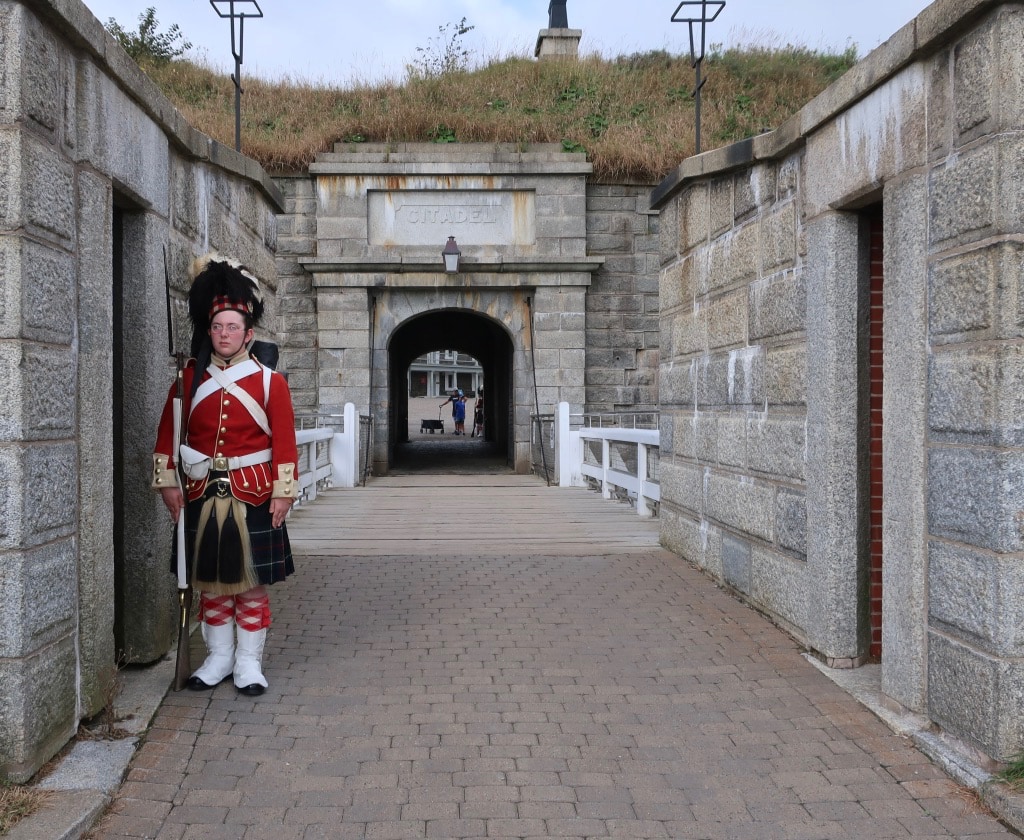 Halifax Citadel National Historic Site
Plan to spend an hour or more at this star-shaped fort perched atop a hill in Halifax. The Halifax Citadel was built to protect the harbor, and now brings to life the mid 1800's 78th Highlanders and the 3rd Brigade Royal Artillery through costumed interpreters.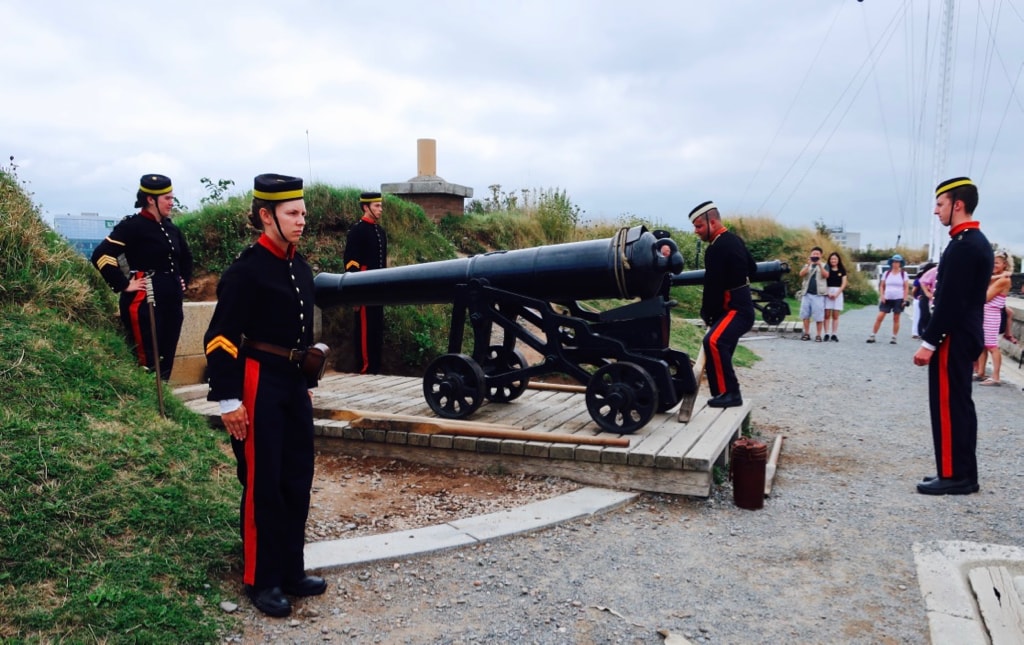 Watch the soldiers muster (with drumbeats). Listen to the boom of canon fire, (the boomiest of all, every day at noon). Talk to the soldiers and their wives for a sense of how they spent their days.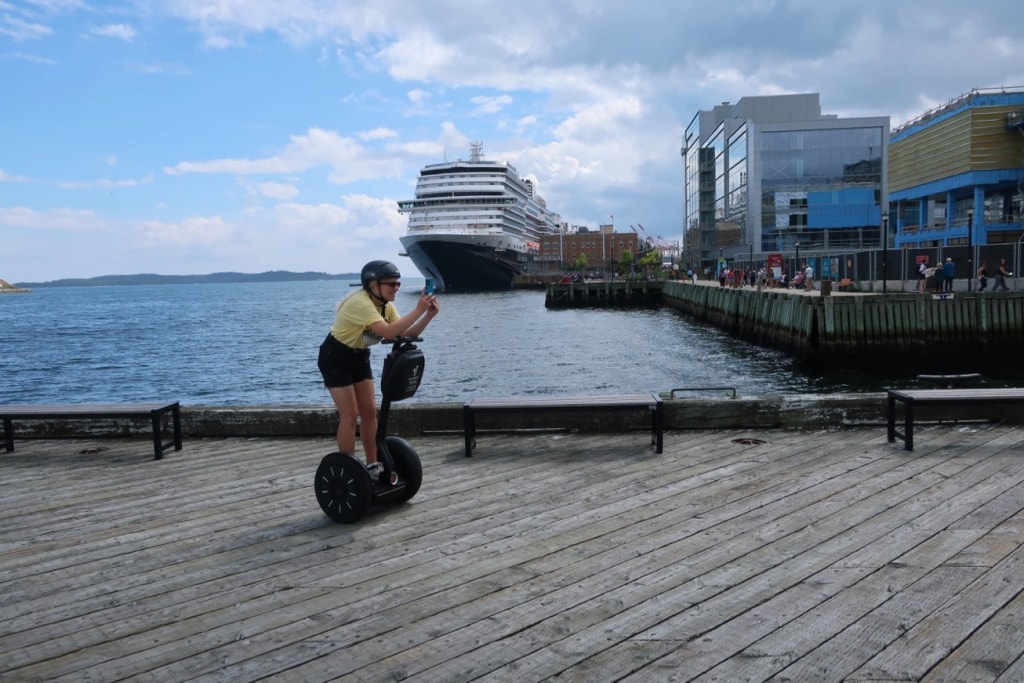 Take A 3-Hour Segway Tour of Halifax with Segway Nova Scotia
This Segway Nova Scotia Tour – a "walking tour in fast forward" – allows you to climb effortlessly up those steep Halifax hills to see a good portion of the city.
First, you learn to drive it, and then you set off – on the waterfront where you begin, and then past attractions, like the Citadel, and to the awesome Public Gardens. The whole experience is a blast – made even more fun with an animated guide.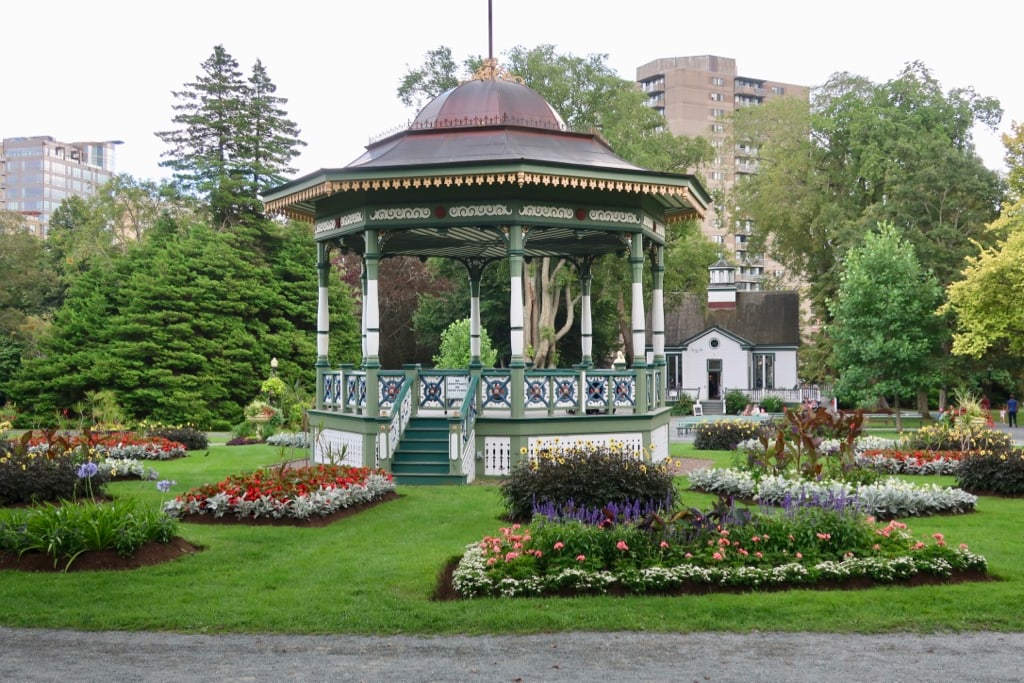 Halifax Public Gardens
If you don't take the Segway Tour – which includes a walk through the Halifax Public Gardens – you should go on your own. It's one of the nicest city gardens I've ever been to, and absolutely free.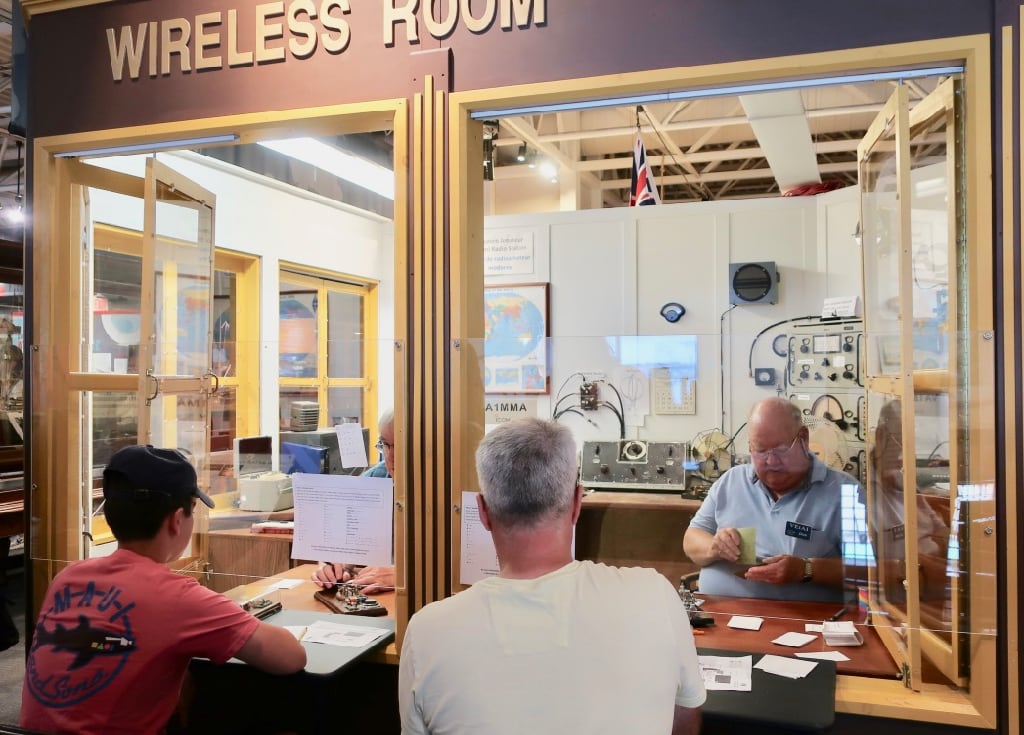 Visit the Maritime Museum of the Atlantic
Interestingly, the two most popular exhibits at the Maritime Museum of the Atlantic center on disasters.
The first – a spotlight on the sinking of the Titanic in 1912. Halifax was the closest major seaport with rail connections, and from where search and rescue missions were dispatched. Over a hundred Titanic victims are buried in Halifax cemeteries.
The second – the 1917 Halifax Explosion. When one steamer ship hit another, filled to the brim with high explosives, in the narrowest point in Halifax Harbor, the effect was likened to a three-kiloton bomb.
Gasses and shards of metal and glass spewed throughout the busy harbor front and town, killing 1,700 and injuring 9,000 people. It's a part of history not many citizens of the USA know about – except for descendants of the Bostonians who took in many Halifax residents left homeless. The city of Halifax still sends a Christmas Tree to Boston every year as a thank you for its kind and compassionate aid over 100 years in the past.
Day 7: Halifax to Eastern Shore Up to Charlos Cove
4 hours along Coastal Road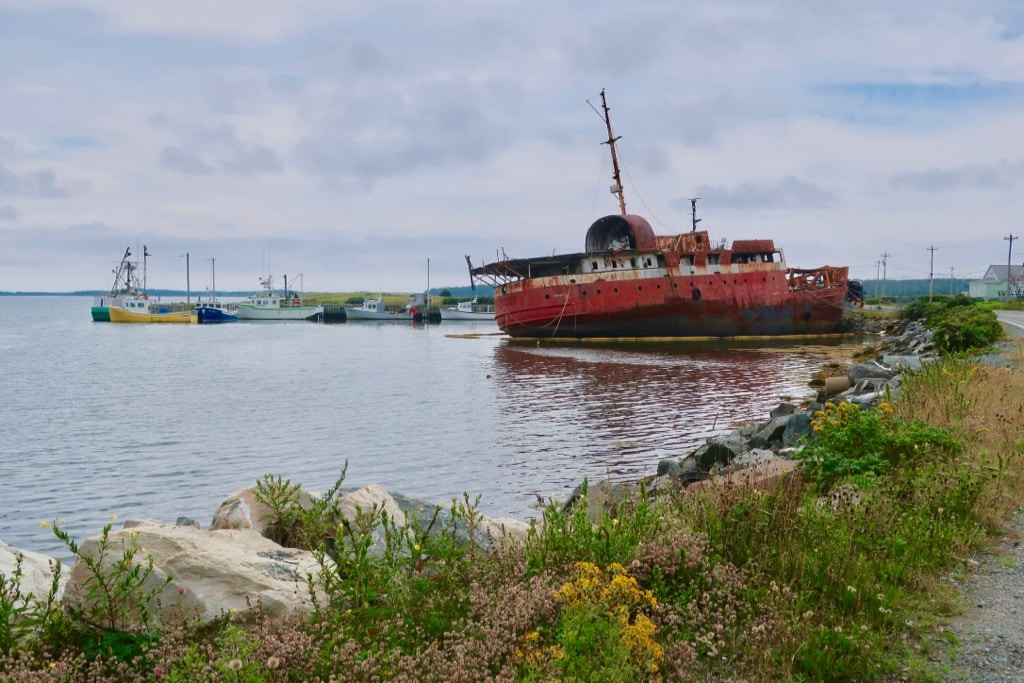 Although you could drive on highways in less time, drive to the upper reaches of Nova Scotia's Eastern Shore along the coast to Seawind Landing Country Inn, Charlos Cove. You'll be well rewarded with romantic Atlantic Ocean views, and other, less bucolic, sights at almost every turn.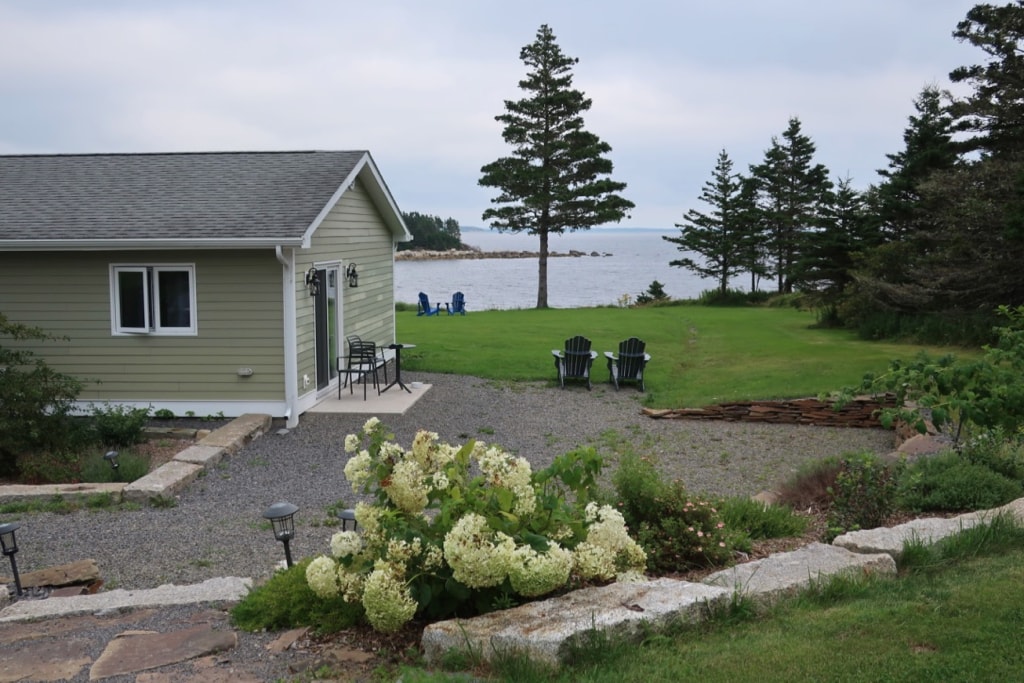 STAY: Seawind Landing, Charos Cove
In season, you'll most likely find fellow travelers from all over the world who are also drawn to edge of the world locales. You'll be fortunate to find a room. The oceanside Seawind Landing is a small place with only about a dozen: each one featuring breathtaking water views.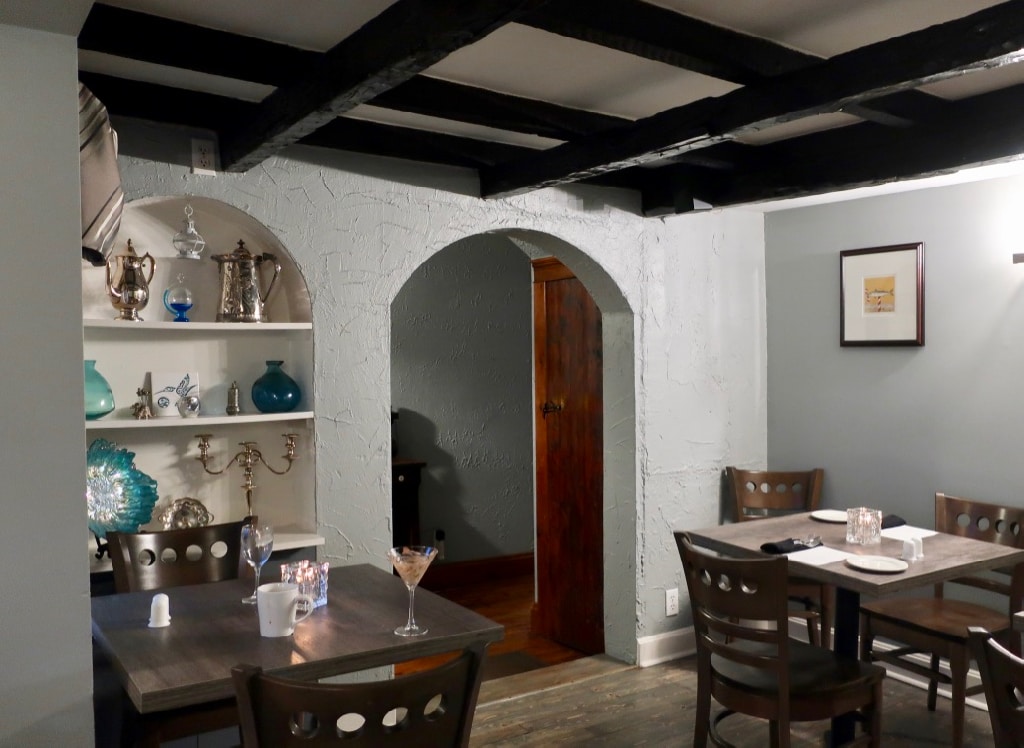 Stay and eat here – the restaurant is so good, it draws locals as well. Book well ahead. This is a special place.
Day 8: Continue on to Cape Breton NS
The fun continues on Cape Breton and the Cabot Trail NS. And, if you'd like to turn this road trip into a 2 week foray around the Canadian Maritimes – add on another 3 days in Prince Edward Island.