Last Updated on September 15, 2021 by Editor
Why did I choose Mid Coastal Connecticut as my first mid-Covid road trip? Mostly because the area around New Haven is just 45 minutes from my home, full of great foodie finds, and, along I-95, easy to get to.
As for the timing: well, on Wednesday, May 20th, Connecticut allowed restaurants to open strictly for outdoor dining. Three days later, I was itching to go.
During the early stage of the pandemic, it was easy to hunker down. Back in late February, early March, outdoor temperatures curbed outdoor pursuits. I had plenty of editing and blog work to do, anyway.
But by the time flower-planting weather rolled around, all this hunkering was getting old. While my own body temp read a normal 98.6, I had Cabin Fever in the worst way.
First Foray Mid-Coastal Connecticut Mid-Covid
So when I proposed a road trip to the members of my Covid-bubble – my husband and NYC refugee son – they enthusiastically agreed. My "other half" – Jeff – is a vegan. So I kept that in mind when choosing restaurants.
My 28-year-old son, Jacob, is a chip off the old Mom block. He's an epicurean explorer, and lover of the serendipitous. He decided to pack a quick overnight bag just in case the trip turned longer than expected, and we needed to pull over at a luxury B&B.
That didn't happen. But we did spend 7 hours hopping from Coastal Connecticut town to town, eating our way through the best of them.
How nervous were we? Not very. That's because every restaurant adhered to Covid-era protocols: masks, distance, outside. People adhered, too. (Which is probably why Connecticut, the hardest hit State after New York early on, has led the country in flattening the curve, and keeping it very low.) We brought along our own hand sanitizer, masks, and gloves – just in case.
Afterwards, when I uploaded photos of our feasts on Facebook, some of my friends were shocked that we left Stamford, let alone drove an hour away. But most comments testified to a desire to follow our lead.
"Names of places, itinerary please!"
So, in this spirit, forthwith find our Coastal Connecticut Culinary Covid Cruise Itinerary. We set out at noon and returned after 8pm.
Restaurants are linked to their websites. And town names link to their respective Getaway Mavens guide.
First Stop: Milford CT (30 minutes from Stamford, an hour from NYC Off I-95 Exit 39) in Mid Coastal Connecticut
Jake's Diggity Dogs
Our first stop was going to be Archie Moore's. But when we pulled into a large Milford parking lot and saw the huge Jake's mural – a mega Austin Powers swimming with sharks – I knew my own Jake and I had to try at least one dog before walking across the lot for the wings.
Jacob and I shared a Hebrew National, loaded, figuring we had to pace ourselves for the full day ahead. It was a good first nibble. The hot diggity dog was perfect.
Jacob is a spicy chicken wing fanatic. So this place, up the hill from Milford Landing, the Milford town dock, was our first choice for a grazing lunch. Of course, it was also important that Jeff could find plant-based options.
Archie Moore's is known for its Buffalo Wings. And they do deserve praise. All crackly skin. Smothered in hot sauce. They've won awards and accolades for good reason. The rest of the menu is the standard repertoire of pub food. Mostly fried stuff, burgers.
But the salads, according to Jeff, the Vegan, are surprisingly varied, fresh and tasty. He happily munched on fresh greens while Jacob and I devoured an order of flavorful, crispy wings.
I have to give props to the masked and gloved Archie Moore's wait staff. They remained efficient, friendly, and accommodating in the unchartered territory of coronavirus-era dining. They sat us far from other tables, and didn't growl when asked about vegan options at a chicken wings restaurant. Our waitress was quite helpful, actually. Between the food and service – a pleasant experience all around.
Two Great Coastal Connecticut Ice Cream Spots
Queuing up for frozen treats is a time honored summer tradition in these parts. We weren't going to let a pandemic ruin that for us. Good thing Milford CT is home to two fantastic ice-cream places. So, you can choose.
Scoopy Do's sits hard by Milford Landing, and is a favorite of boating families. From Archie Moore's it's just a quick amble downhill to this freestanding little shack and its delectable ice cream.
You'll have to get back in your car and drive a few miles to Walnut Beach – a casual, funky, artsy section of Milford. Walnut Beach Creamery, owned by Susan Patrick (wife of sportscaster, Dan Patrick), is a block from a sandy beach. So it tends to draw a sun-screen-slathered set.
In season, lines can stretch across several blocks. On our visit, considerate patrons stood six feet apart in anticipation of this cold creamy treat. We took our cones and slowly walked around the neighborhood and to the beach. An idyllic mid-afternoon snack.
Thimble Islands, Stony Creek in Branford CT (25 minutes North of Milford CT, Exit 56)
I love Stony Creek CT – a section of Branford on Long Island Sound, dotted with the pink-hued Thimble Islands, and wreathed in charm. Not only is this part of Coastal Connecticut lovely to behold, it also has a lost in time and space feel about it. Which was precisely why I wanted to return. Oh, and also for the Curried Chicken Salad at Stony Creek Market – a dish I'd drive a long way for. Even though the Market didn't offer indoor or outdoor seating on that day, we could order and pick up curbside.
Local kids were diving off the docks. The afternoon sun cast long shadows. This was the perfect time to revel in the area's beauty. But not the perfect time for Curry Chicken Salad.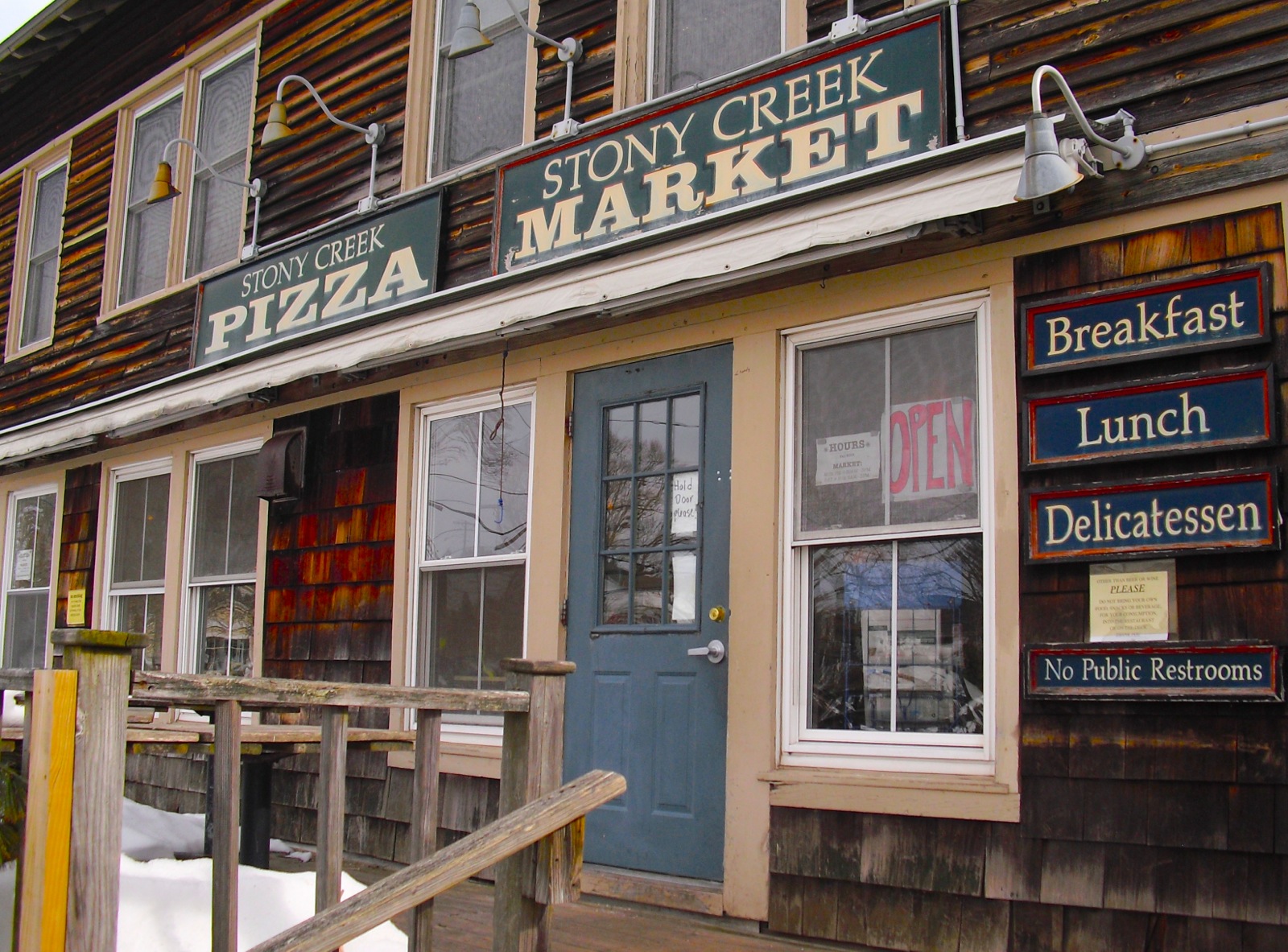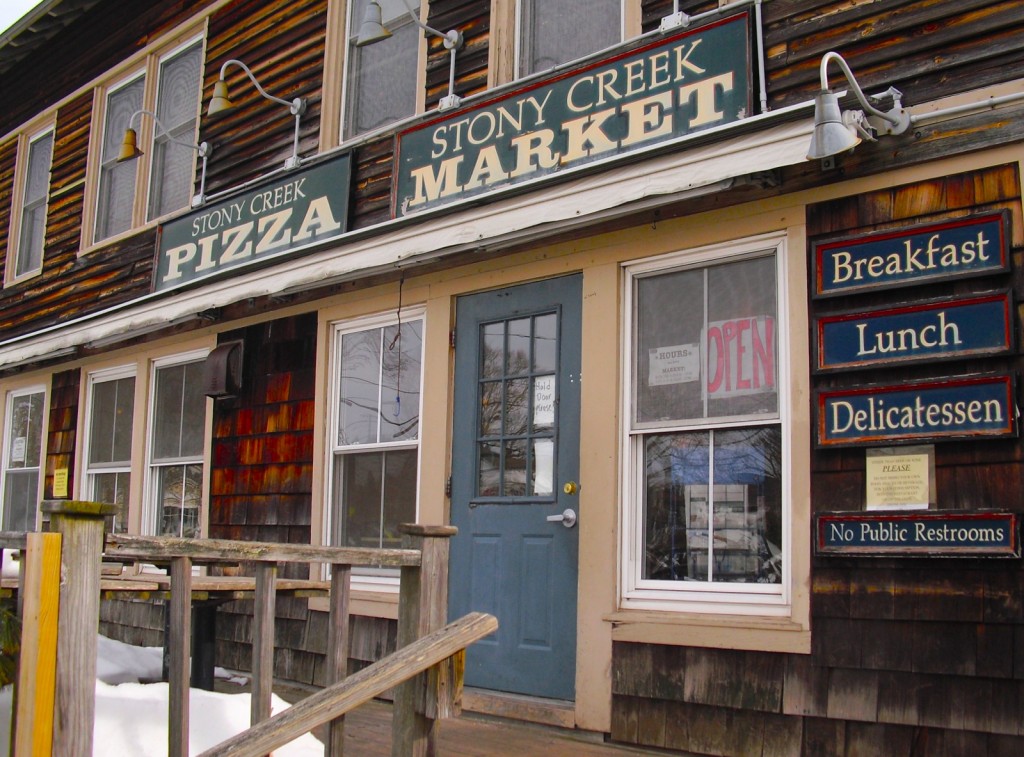 Stony Creek Market transitions into a pizzeria in the evening, so people were picking up pies. I asked about the chicken salad. Nope, they weren't serving lunch anymore. And besides, most of it was gone. "Most of it?" I asked. "Any left?" That's how I scored a small container of the remainder of the famous Curried Chicken Salad. To go, of course. Jacob and I gobbled it up in the car on our way to the next restaurant.
G-Zen, Branford CT (South on I-95, Exit 55)
You're probably wondering about my poor vegan husband right about now. Well, not to fear. One of our favorite upscale plant-based restaurants, G-Zen, is just five miles – ten minutes – from Stony Creek in downtown Branford.
The "G" stands for "Green" – and it sure is. But also colorful. The gardens encircling the building were in full, glorious, bloom. Jeff can order anything there. Inventive dishes are wonderful, even by carnivore standards. Naturally, there's a welcoming Buddha head at the door.
Jacob and I skipped this meal, however. After a hot dog, wings, ice-cream, and chicken salad, our "A Stomachs" were pretty full.
But we weren't quite finished yet.
New Haven CT ( 7 miles South on I-95, Exit 46)
By 6pm, it was time to double back to New Haven, home to Yale University and some of the best pizza pies in the USA. There's been a healthy rivalry between age-old pizzerias in New Haven.
Pepe's opened in 1925. Modern Apizza in 1934. Sally's in 1938. Aficionado's parse the superiority of each like hot chicken wing buffs debate Anchor Bar vs. Duffs in Buffalo NY.
My personal preference is Pepe's (or The Spot – the little building behind Pepe's that shares its kitchen) in its original location. (There are now several outposts).
That's not to say the other two are inferior. Far from it. Those reading this can taste test and make your own choice.
Pepe's has no outdoor seating. We'd called in our order and stood with other masked patrons outside to wait for our name to be called. Of course, Vegan Jeff, sated from his meal at G-Zen, was not about to dig in to a delectable conglomeration of charred crust, tomato sauce, onions, and cheese.
But Jacob and I split a small pie. We carried the box to an empty parking lot, a few feet from Pepe's kitchen window, and chowed down.
It was the perfect ending to a perfect culinary getaway.
If we had a bit more time, and room in our bellies, we would have made reservations at another New Haven favorite – Miya's. (As it happened, Jeff and I returned the next weekend to glory in the gold standard of sustainable food).
I've been writing about Miya's for about 20 years, for several publications. Of all the great New Haven restaurants, Miya's is the dearest to my heart. For many reasons. Most of all, because of the gentle, peace-loving, irreverent, hilarious, genius chef/owner, Bun Lai.
When I first met Bun, he was wielding a welding torch behind the counter: browning the top of a "Chinese Pigmy Rodeo" roll – an addictive potato skin, cheese, and crab concoction. At that time, the Miya's menu read like a novel – pages and pages of strange but masterful combinations of foodstuffs.
Now, that menu has been pared down. Bun, in all earnestness, wants to "help heal our suffering planet" with his combination of plant-based and oddball seafood, assembled for optimum taste and aesthetics.
Order a tasting menu ($50-$165), and for land's sakes, do not miss the Virtue Karma Chickennots – "A box of chicken-less Southern fried chicken made from spore-bearing wild toadstools/farmed oyster mushrooms." They are irresistible.
Bun has been written up in the likes of The New Yorker for his "Invasive Species Menu." To get the word out, he plans to concentrate more on TV and other opportunities that have come his way. Perhaps by the end of this year, early next. So, by all means, visit (or take out) soon. You may not get the chance again.