Last Updated on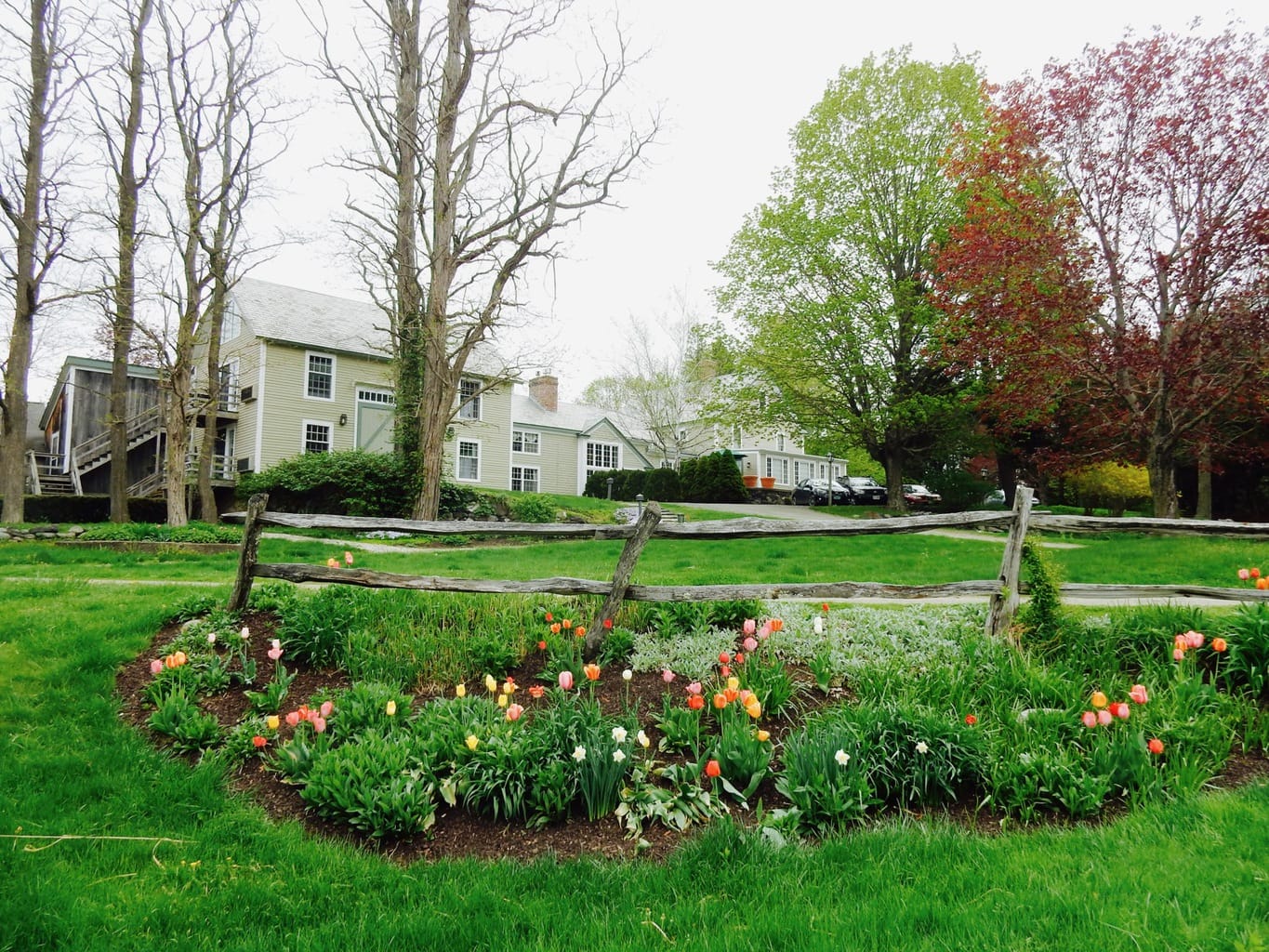 From the fallen bones of 300 year old barns emerged the upscale Chesterfield Inn in West Chesterfield NH. In the early 1980's, a collection of decrepit barns and sheds, first built in the 1700's, were all that stood on this small hill overlooking busy Route 9. In 1984, Pamela Lendzion hired architect Rod Williams, who looked at these tumbling structures and saw….a Luxury Country Inn – much like the one he designed in Dover VT, the Inn at Sawmill Farm – and made it a reality.
Lendzion owned the 9-room Chesterfield Inn until 1987, when Judy and Phil Hueber purchased the ten-acre property, added 6 more rooms in two outbuildings, and never left. They've created a Yankee-luxe home away from home for corporate travelers, parents of students at area colleges (Keene State, Marlboro, Landmark), girlfriend groups, and of course leaf peepers in autumn. "People mostly come from New England, New Jersey and Pennsylvania," says Judy, "but in the fall, it's lots of internationals."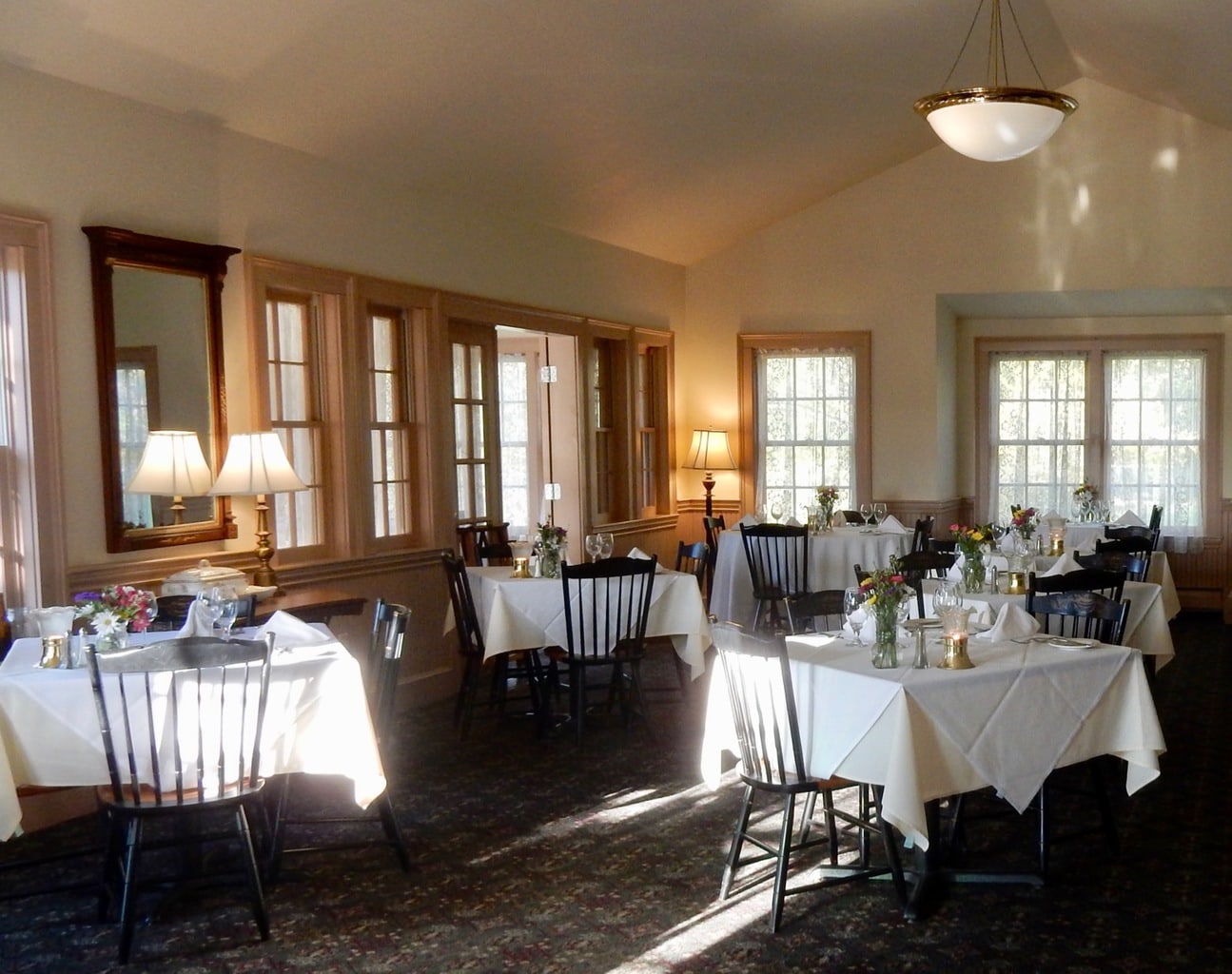 The lush and hilly landscape inspires poetic romance, so it's no surprise that the Chesterfield Inn is a popular small wedding venue, especially for busy couples who want to elope with little fanfare (yes, there's an "Elopement Package!") Many of these couples return year after year to celebrate their anniversaries as well.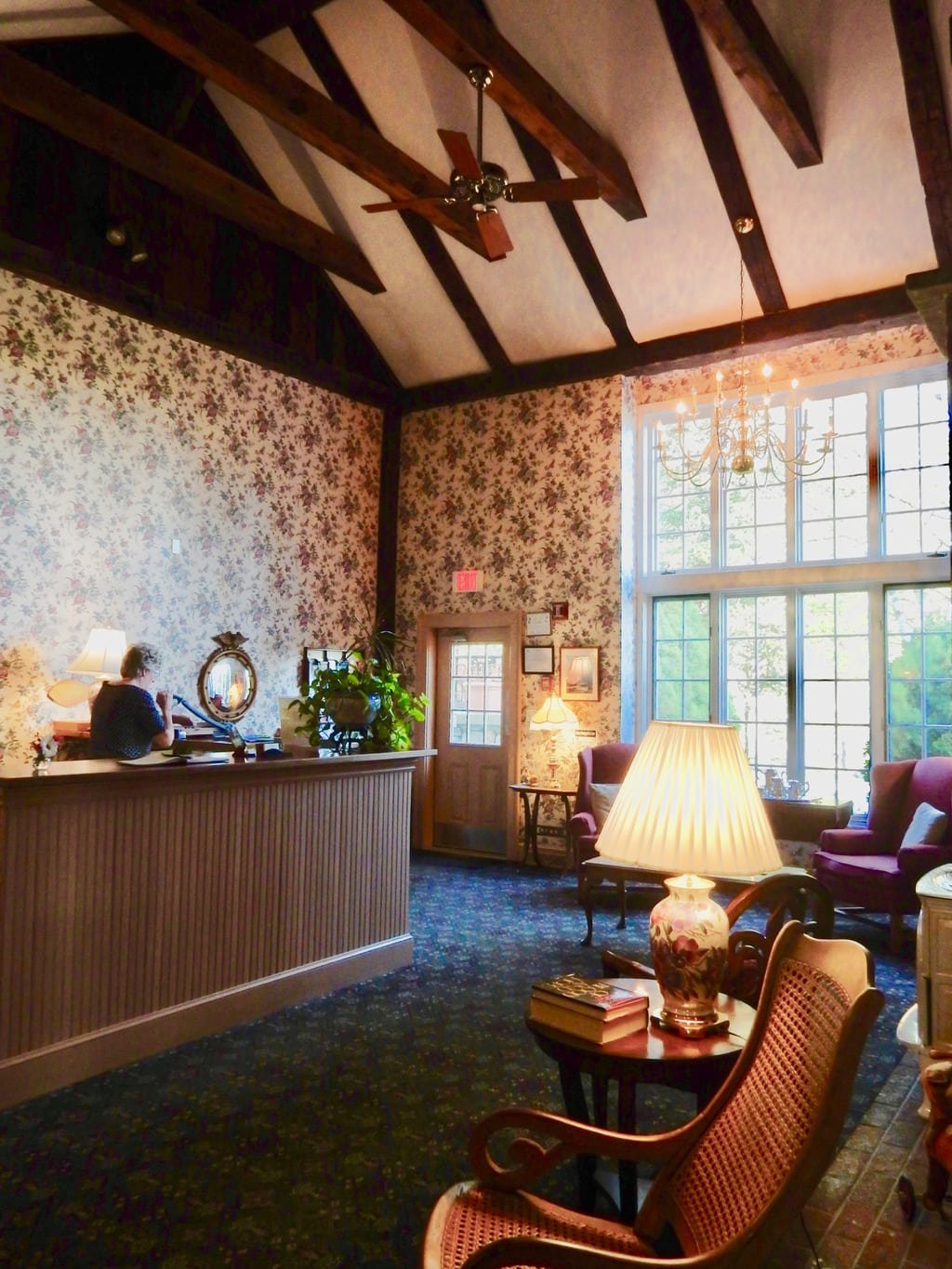 After an abrupt turn off a busy highway, the Chesterfield Inn driveway winds uphill until the sprawling property comes into view. You can tell it's an assemblage of buildings, united in the rambling way that farmhouse additions of yore were stuck on at various heights – here with a tidy contemporary exterior siding that pulls it all together.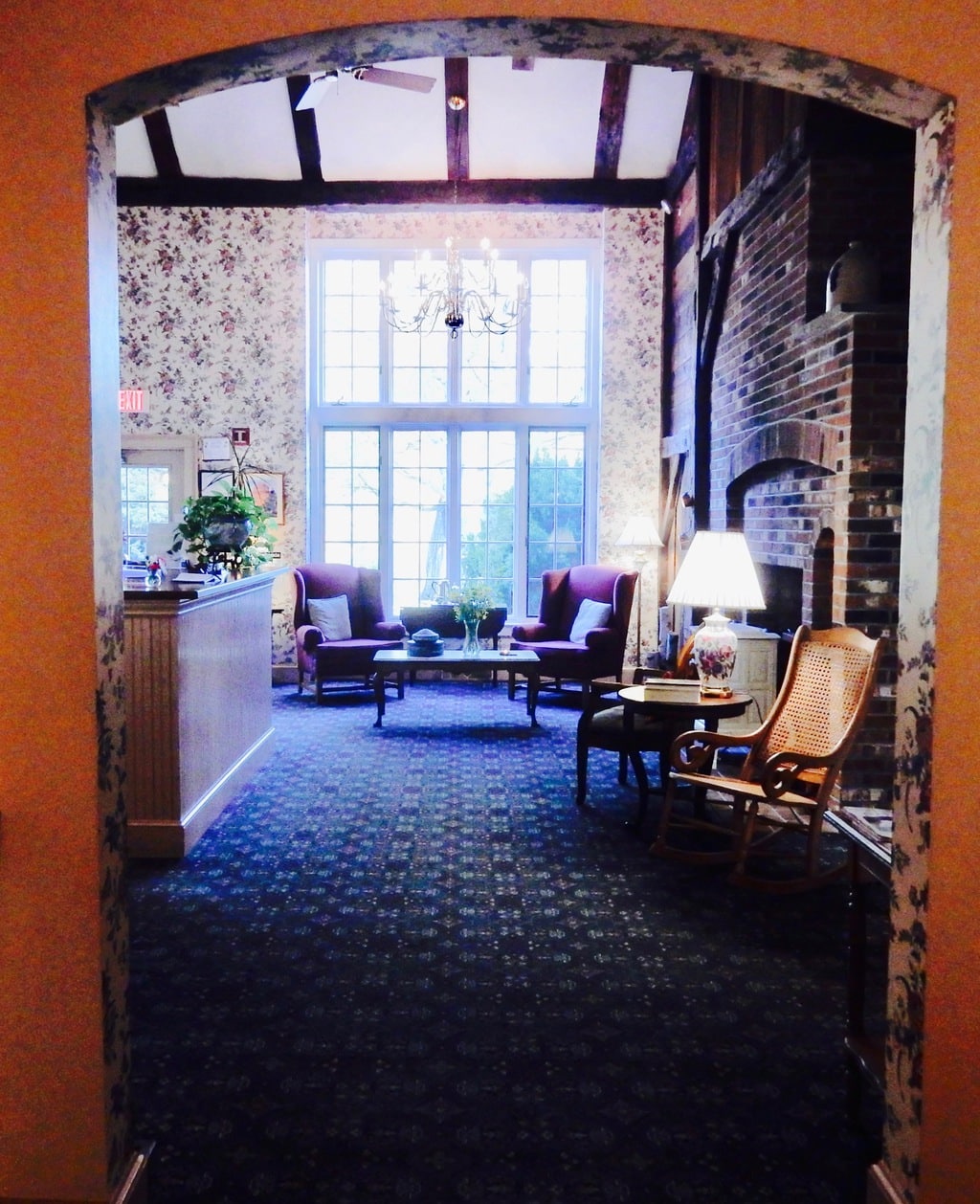 Walk into a great room straight out of a New England guidebook. High cathedral ceiling, soaring brick wall with fireplace-turned-wood stove, floral wallpaper, wing-back chairs – a kind of John-Adams-lives-here look. And the welcome could not be kinder or more down to earth – which is the secret to this place: a genuinely warm greeting by people who are inherently nice sets the tone for the guest experience to come.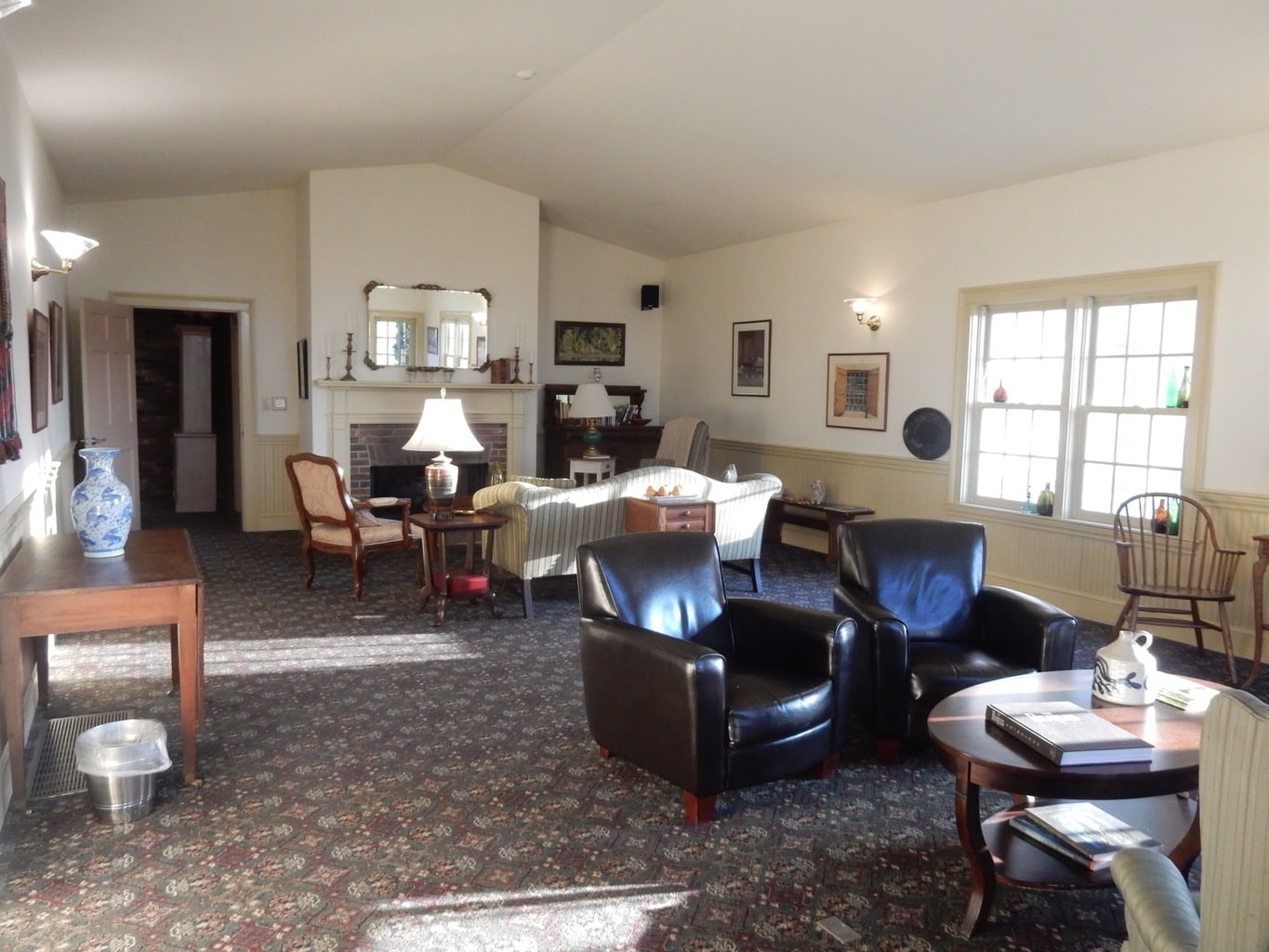 A second large room, with plenty of seating and a second fireplace, serves as a space for guests to hang out and converse over afternoon tea and cookies.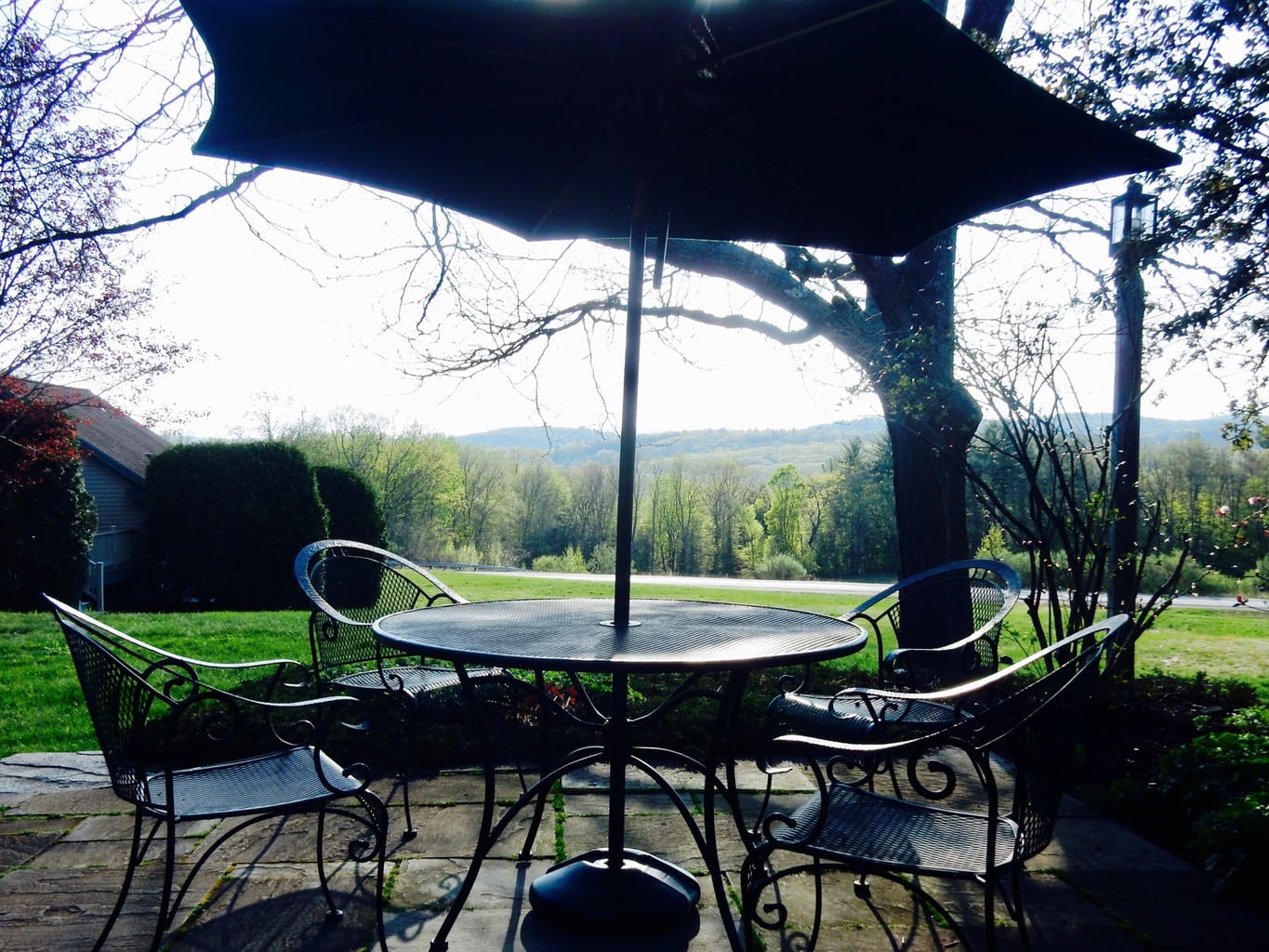 If the weather is yucky, guests will stay inside, but on beautiful afternoons, the patio, set with tables overlooking the green hills of western New Hampshire, is so where it's at, you'll have to wrangle a seat.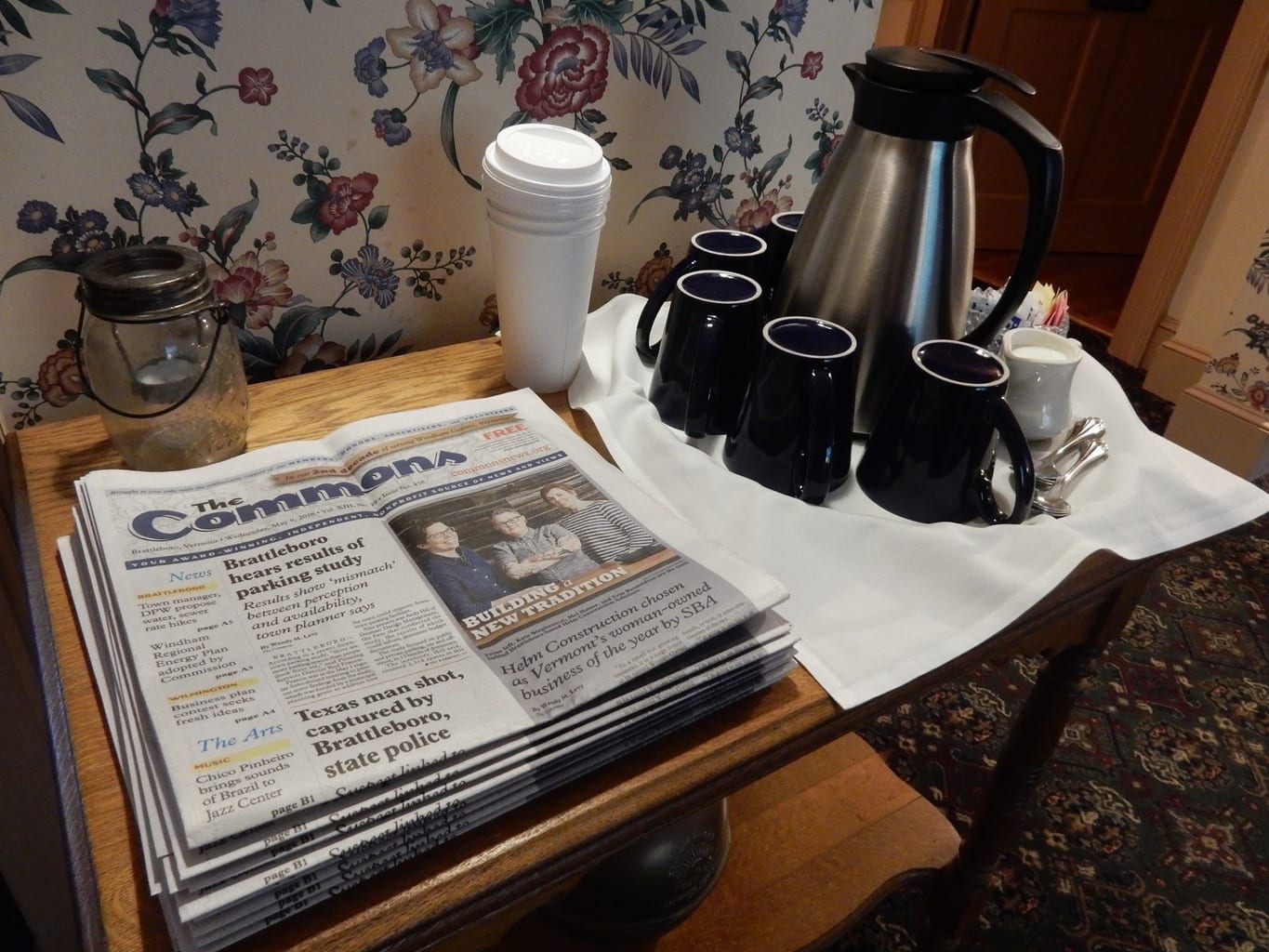 At 6:30 each morning, fresh brewed coffee and newspapers appear magically in the lobby – the perfect start for early risers like me.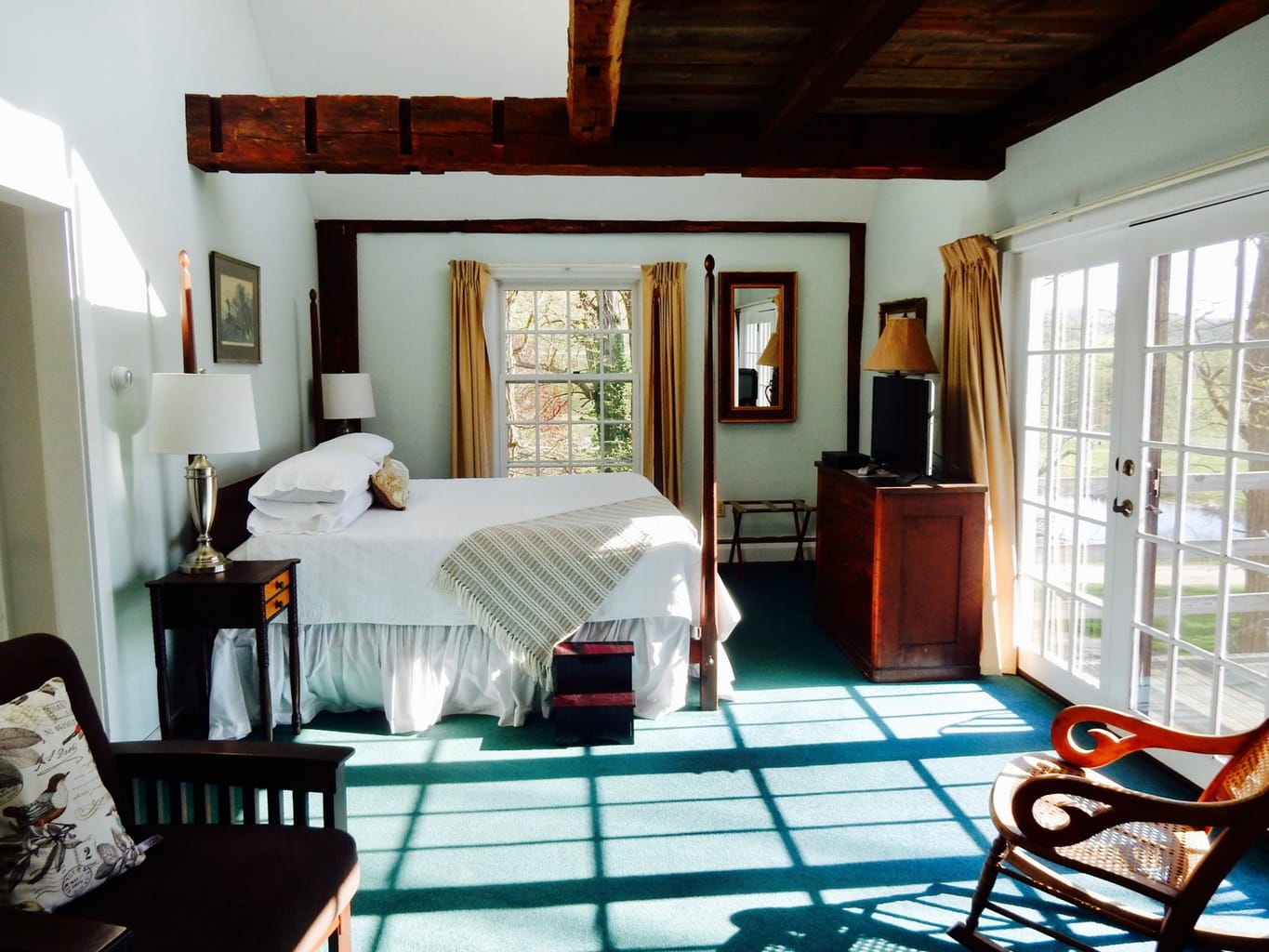 A barn motif runs throughout the inn – starting with whitewashed barn doors opening into each of all 15 country-charming rooms. Ten rooms feature fireplaces, four have patios. The judicious use of floral wallpaper works well with one dark barn-wood wall or ceiling – an eye-catching balance of delicate and rustic.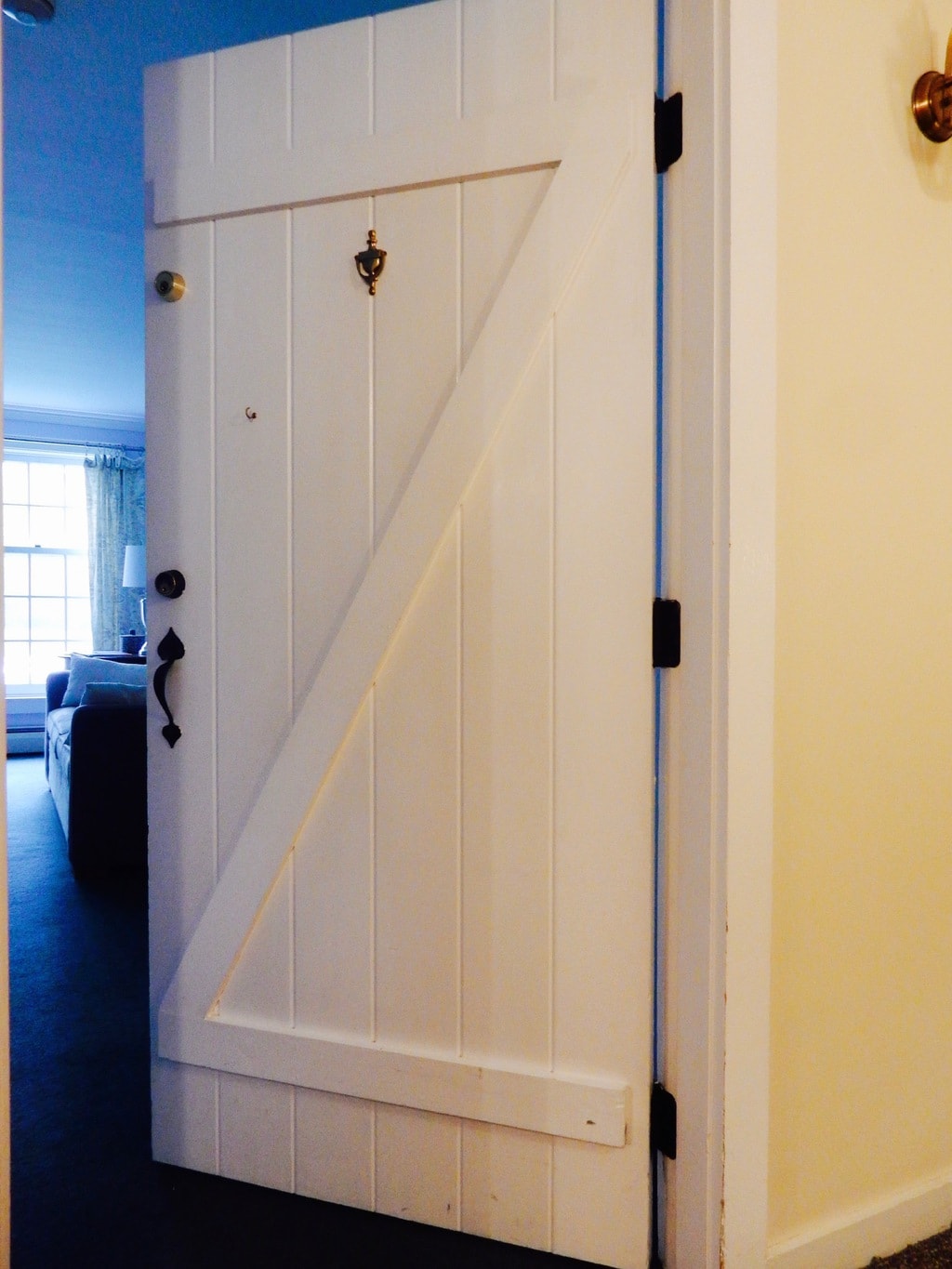 Each wrought iron or four-poster bed is dressed in a white coverlet and warm throw.  You'll find Gilchrist and Soames toiletry products in immaculate, nicely lit marble sink bathrooms.
Dining at Chesterfield Inn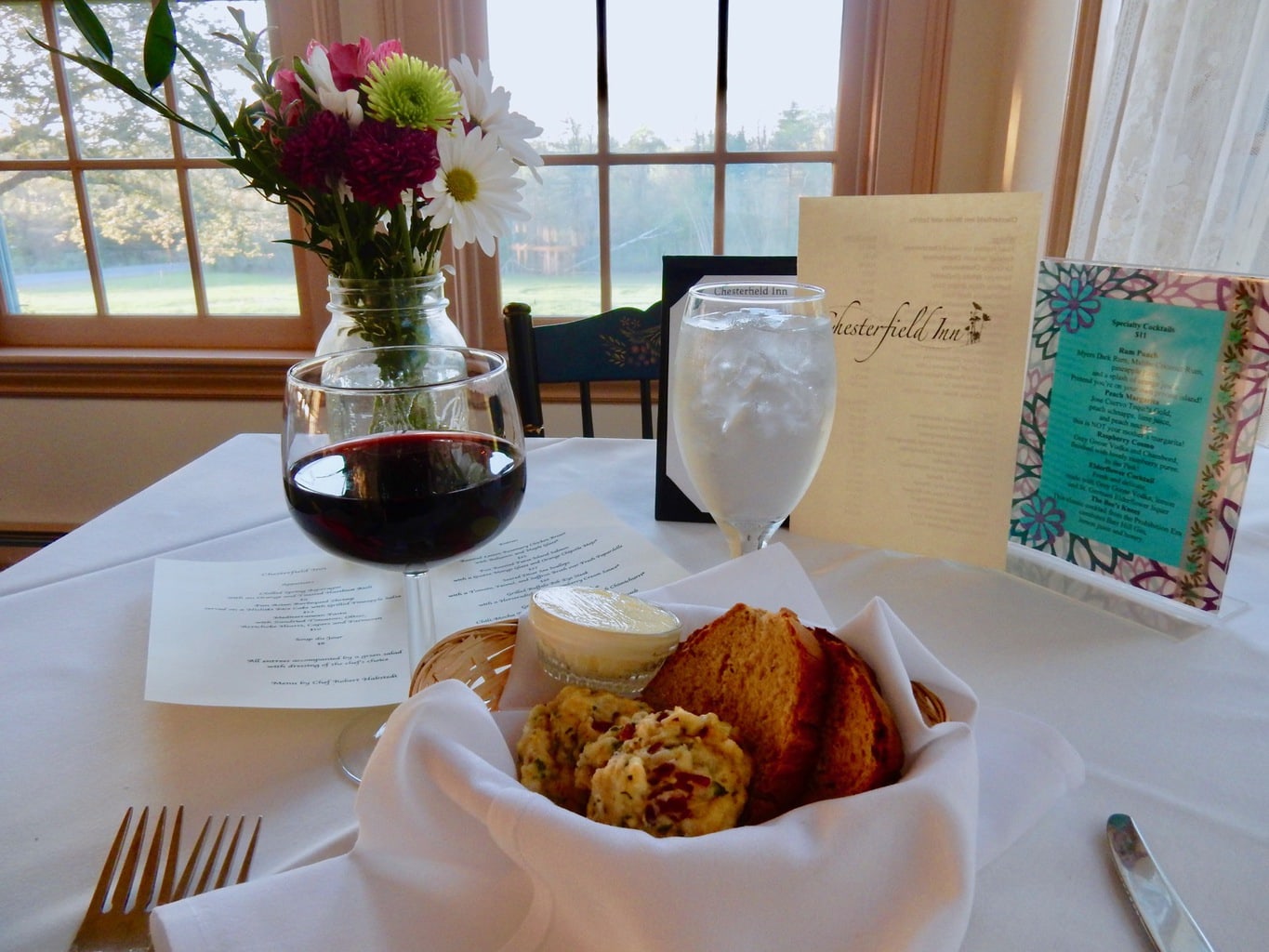 The small in-house dining room is open six nights a week, and draws locals as well. Chef Robert Nabstedt turns out inventive dishes like Pan Roasted Faroe Island Salmon with Guava Mango Glaze ($25), Filet Mignon with Chili Mocha BBQ Sauce and Three Herb Chimichurri ($33), and Baby Veggie Ratatouille over Brown Basmati and Faro Pilaf ($32) for the vegetarians. Your appetite might be spoiled, however, by the sweet/savory Cheese Muffins, flecked with red peppers, that come with the bread course – so toothsome, it's tough to stop at just one.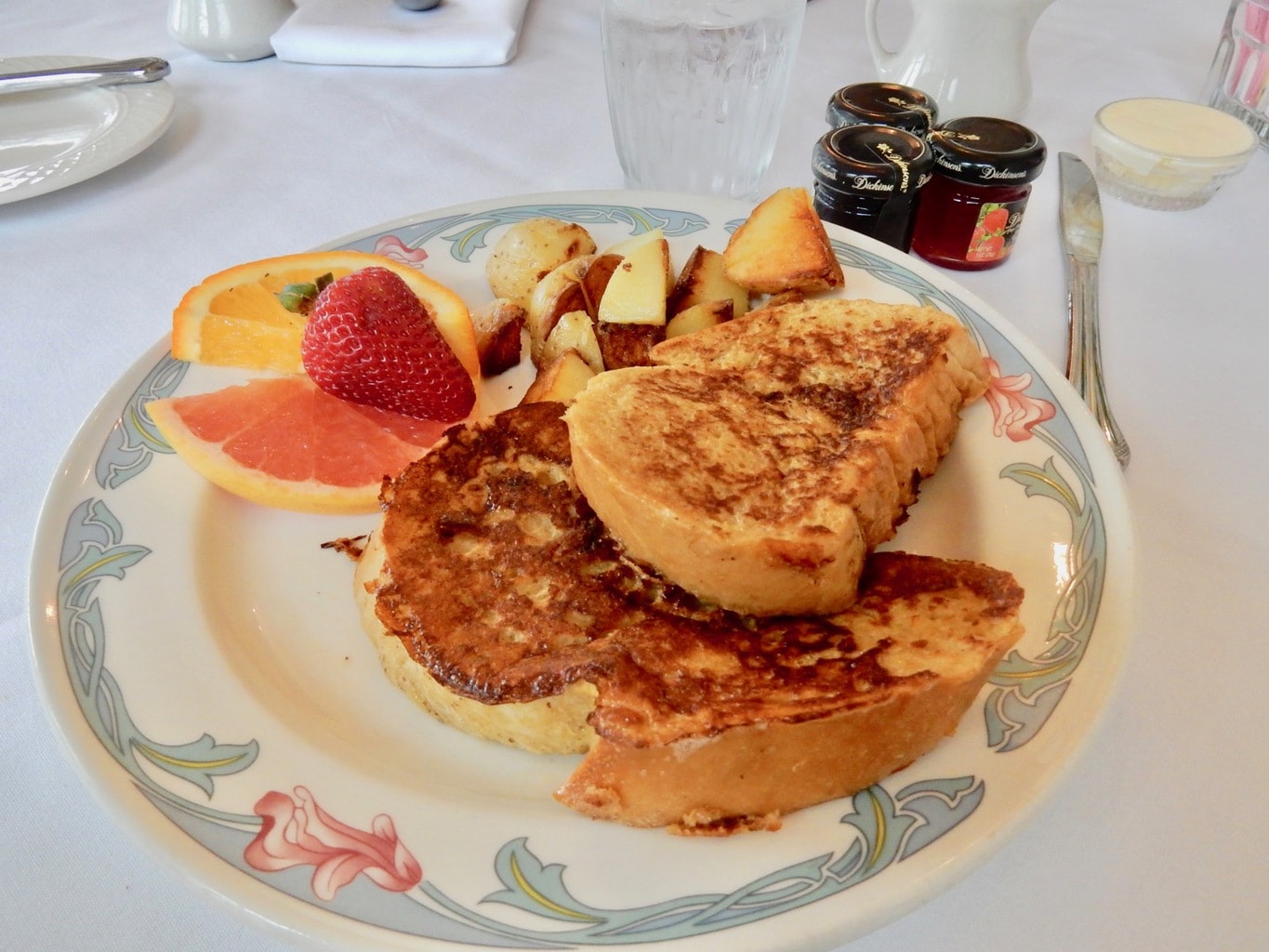 A full country breakfast, made to order, comes with the room. Order everything from omelets to pancakes to French Toast and sides – its all plated and served cheerfully.
Just the Facts
Rooms and suites from $149-$344 depending on day and season, includes afternoon tea and cookies, full cooked to order breakfast, wi-fi, and parking. Elopement Package, $700 for 2, includes Justice of the Peace, Cake, Sparkling Wine, Bridal Bouquet and dinner for two (accommodations extra).