Have you ever noticed how the worst mishaps seem to happen when you least expect them? That's because the best time to prepare for the next road trip mishap is before you travel. Here is what to pack in your complete car survival kit, plus road trip tips to survive anything Mother Nature throws at you.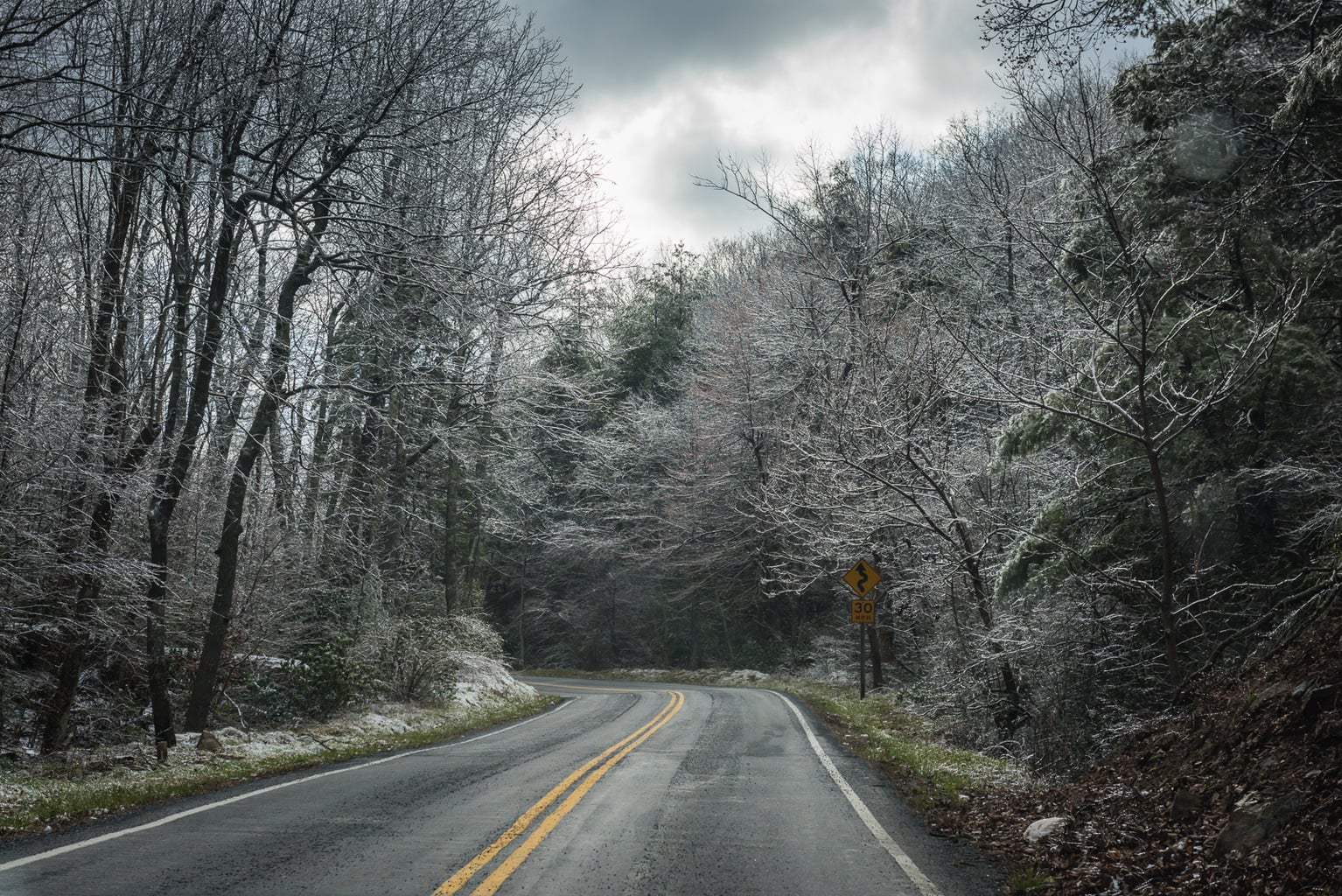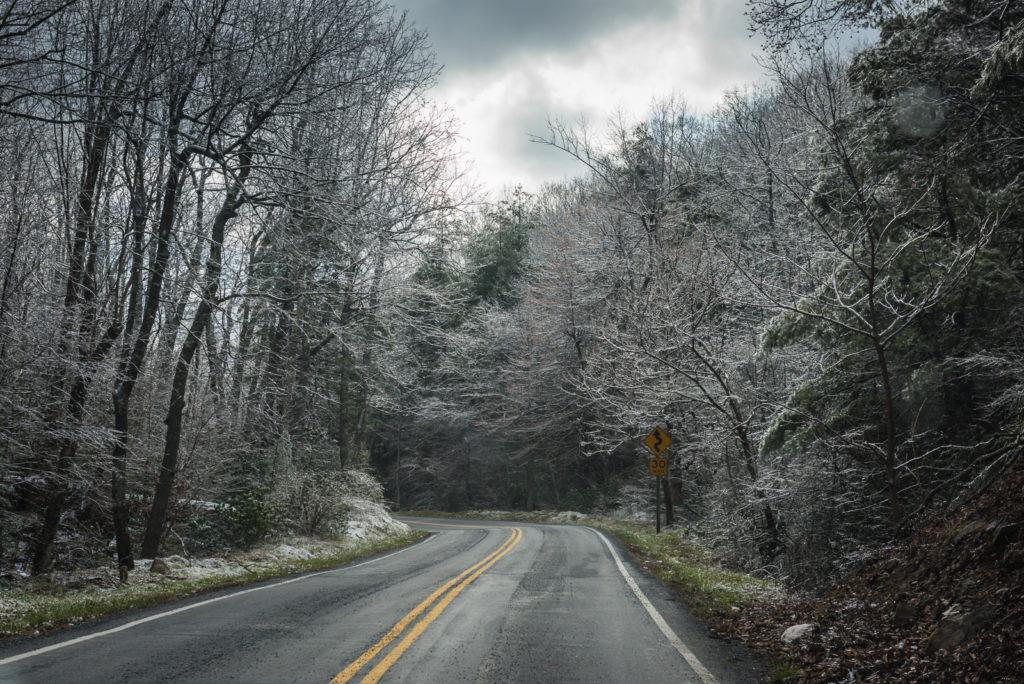 Prepare for any Roadside Emergency
Before any ambitious road trip, like our US Route 6 Cross Country Trip, consider signing up for a class. You can learn First Aid or even how to drive off road or in the most challenging winter conditions. Here are some of the best resources for taking your driving skills and emergency preparedness to the next level:
The American Red Cross offers First Aid and Disaster Training classes online and at local chapters.
FirstAidWeb – self-guided online CPR and First Aid courses.
Online state certified defensive driving courses reduce points and insurance costs.
Compare state laws and sign up for AAA Defensive Driving and safety classes.
AARP Smart Driver Course (for drivers 50+) covers defensive driving and latest auto technology.
"Learn to Anticipate" at Defensive Driving Academy.
Advanced Driving courses go beyond defensive driving, while familiarization courses instruct visitors to the USA (or Americans/Canadians visiting other countries.
Bridgestone Winter Driving School in Steamboat Springs, CO runs programs for everyday drivers and pros.
Find out how to handle rough terrain at the Jeep Off-Road Driving Academy located at the Nemacolin Woodlands Resort in Western Pennsylvania.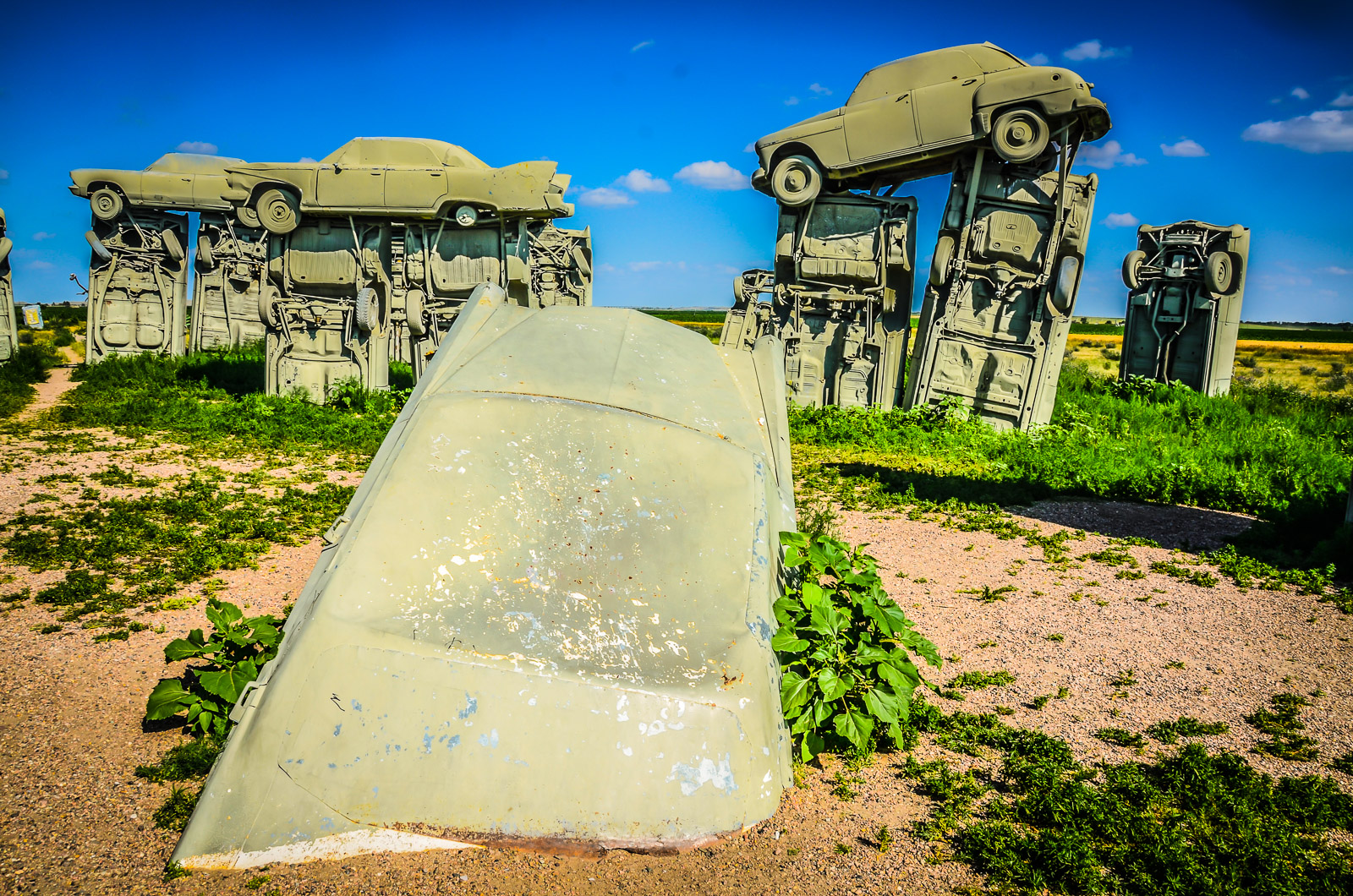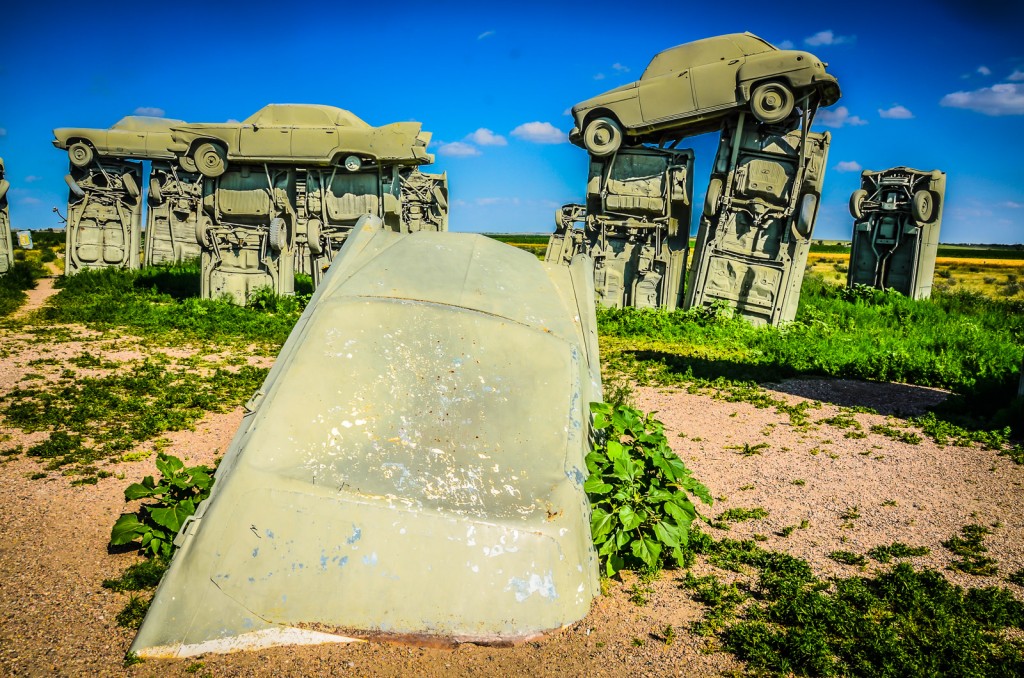 Plan for the Unexpected Emergency
Always let a friend or family member know where you are going when traveling beyond your usual routes.
Roadside Assistance Services are available from a variety of clubs such as AAA or Allstate Motor Club, and even as a credit card benefit.
Call up roadside assistance on Honk, a free app, no membership required. Available nationwide, with 15 – 30 minute ETAs on average, and prices $49+.
Hedge your bets with travel insurance from Allianz or InsureMyTrip.com.
Prepare Your Car for a Road Trip
Get a car check up or perform your own basic car tune up:
Ensure all fluids–including oil, anti-freeze, and windshield washer reservoir– are clean and full. Verify that the oil is the right one for anticipated conditions, and that windshield washer fluid contains deicer in winter.
Test windshield wipers for smearing.
Check tire pressure and tread, and ascertain that you have the right tires for anticipated conditions. Some wintry areas may require studded tires or chains. (Note-be sure to switch out winter tires if headed to a warm climate.)
If the battery is 3-5 years old, get it checked.
If your brakes exhibit any of these 5 signs, get them tested.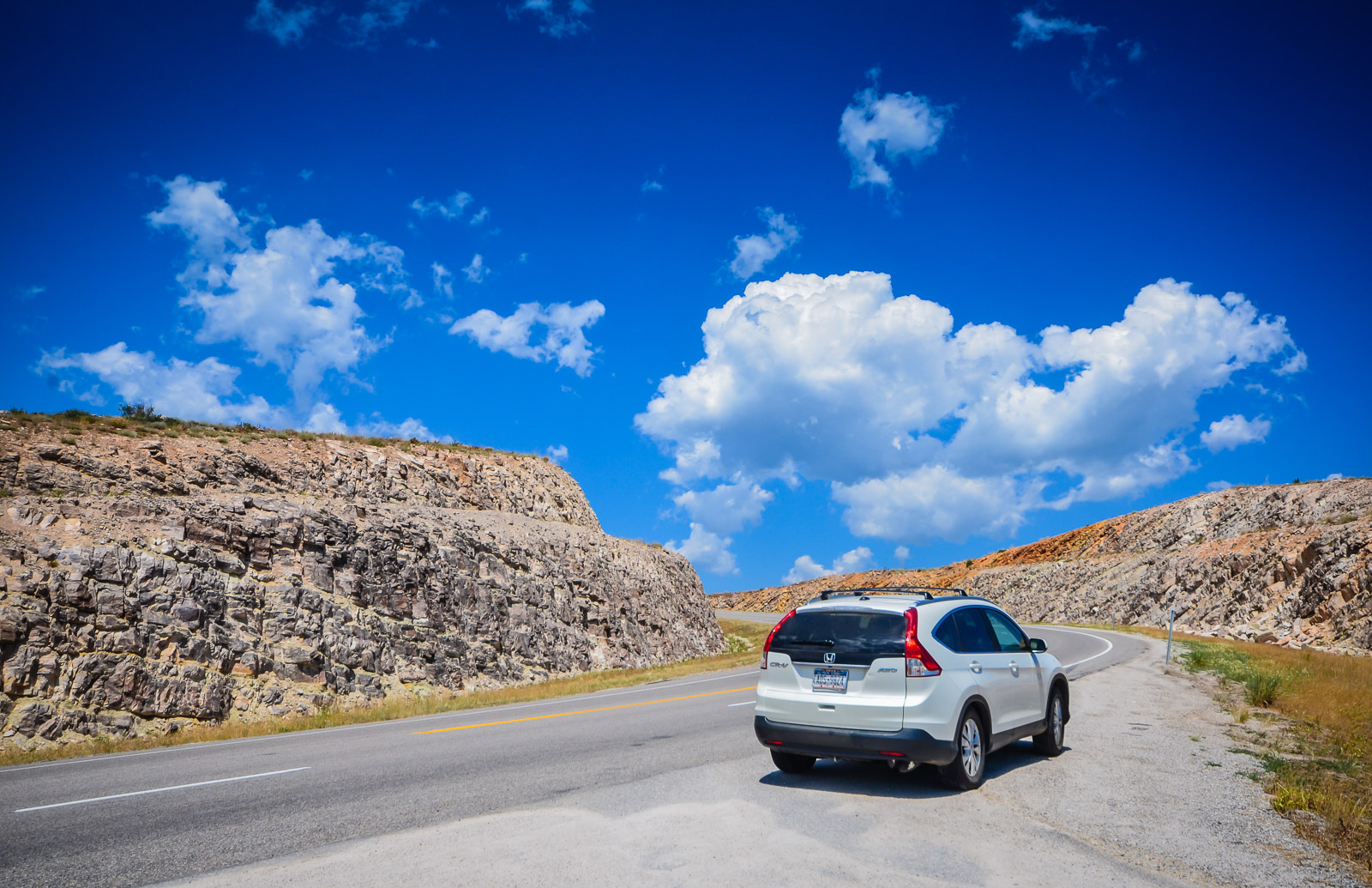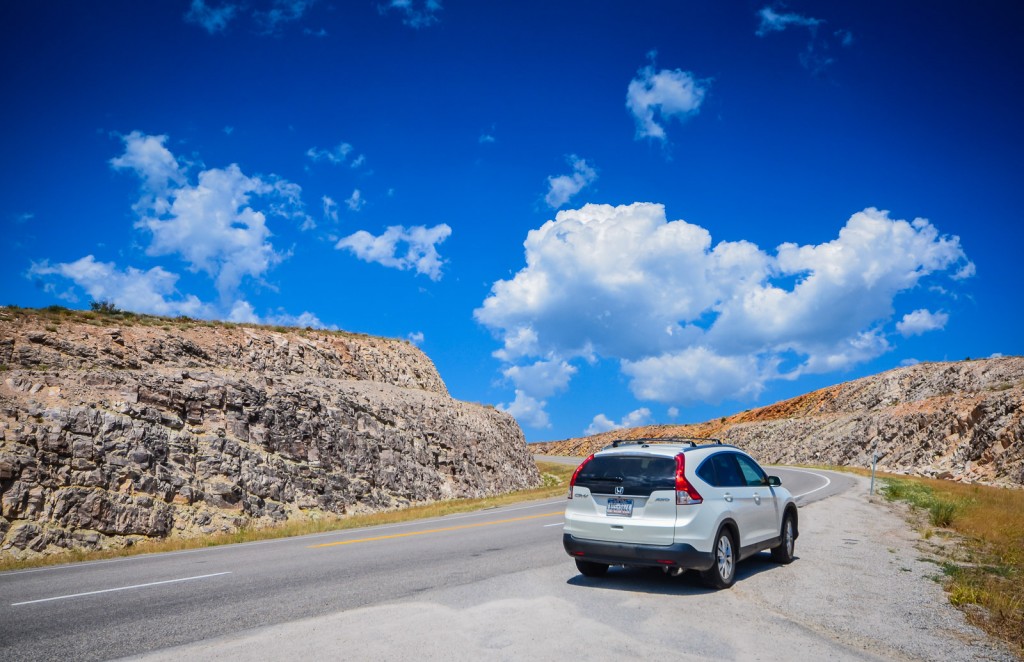 Use Weather Apps to Monitor Road Conditions
Check weather reports on your preferred media before you hit the road, and along the way with these weather apps (free for both iOS and Android, except where noted):
Weather Channel – Breaking news, hourly and 10-day forecasts, personal weather reports, videos, ski conditions, and much more.
Weather Underground – Weather Advisory alerts, finger-friendly WunderMap, hyper-local reports, day/hour and 10-day forecasts, plus filter options for US Fronts, Hurricanes, Active Fires, etc.
Dark Sky ($3.99, iOS only) – weather reports specific to your location, sunrise and sunset times, hour/day and week forecast, precipitation/temperature map, opt-in rain/snow notification.
WeatherBug – GPS localized, Spark™ lightning detector (monitor specific locations with radar map, severe weather alerts and National Weather Service warnings with push notifications, weather and traffic cams, interactive maps, and extended 10-Day forecasts.
NOAA Radar (Free and Hi-Def versions) – the latest information from the National Oceanic and Atmospheric Administration including: hurricanes and tropical storms, extended forecasts, and extreme weather notifications.
Navigate with Traffic Apps
Sigalert.com – provides roadside traffic cameras, real-time road speeds, and round-the-clock traffic reports for 75 metropolitan areas.
INRIX – crowd-sources phones and GPS data from millions of trucks, cameras, road sensors, in-car navigation systems to provide traffic conditions, routing options, and road alerts.
Waze – community-sourced, it's been described as "like Foursquare but for driving" with extremely accurate real time driving directions, maps, and traffic reports.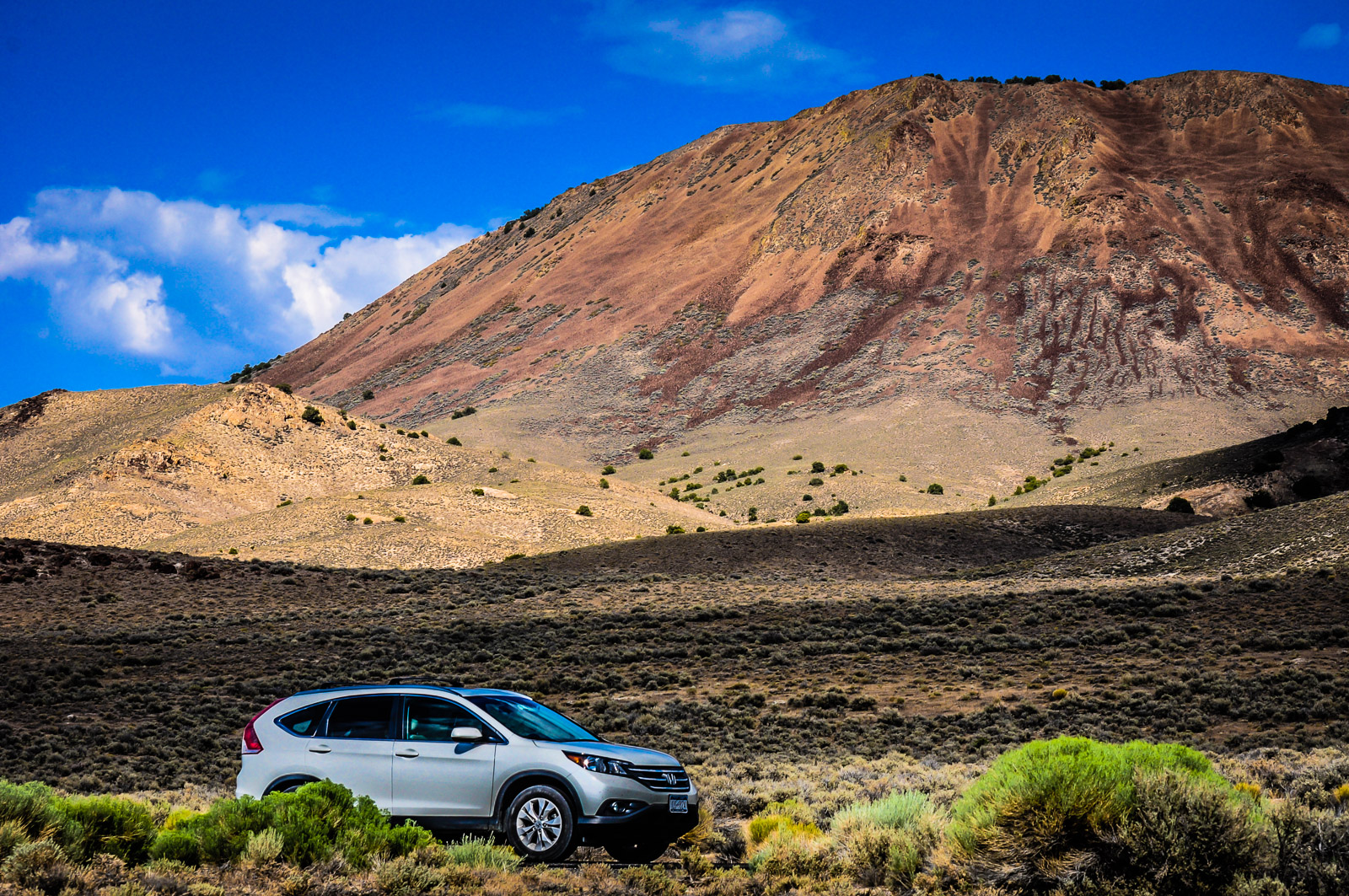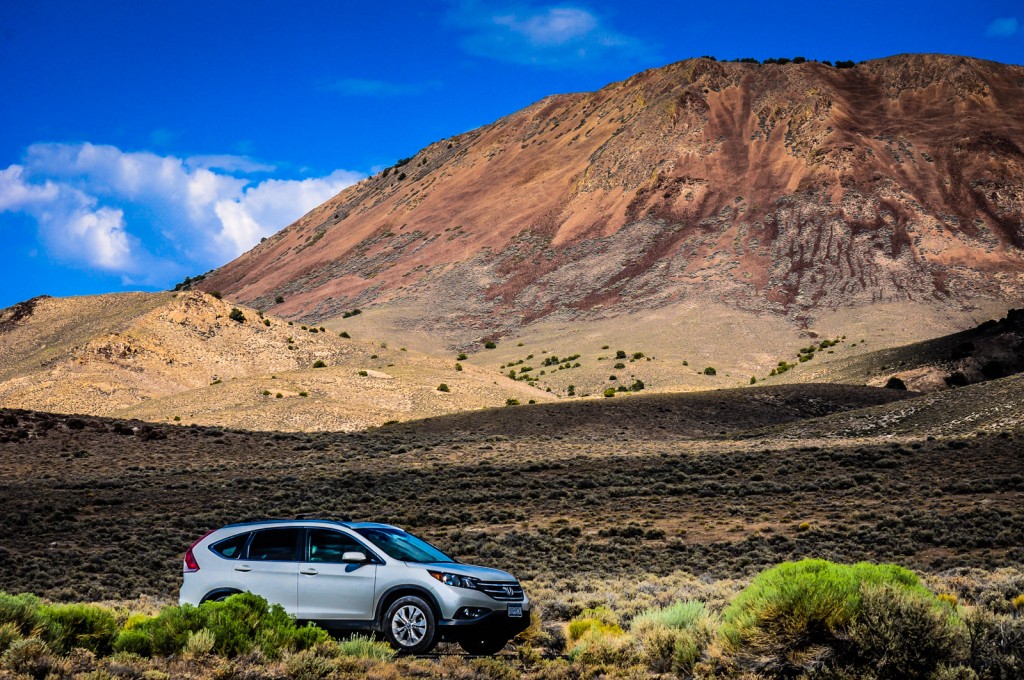 Avoid Dangerous Road Hazards
The safest way to handle extreme weather on the road is to not experience it at all. Find the nearest lodging on your favorite hotel booking app and get some shuteye before getting back on the road.
Car Survival Kit Packing List
Because you never know when you're going to need a lifeline, never leave home without a fully charged cellphone–preferably a smartphone with all the apps listed above. If you're heading out for more than a short distance, pack an extra battery pack. Options range from the cheap Astro Mini to the bulky, yet powerful, RavPower external battery.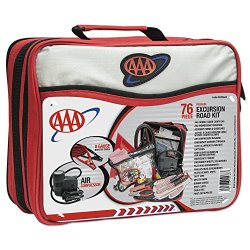 Consider renting or buying a satellite phone if heading to regions with spotty cellphone coverage. We're partial to the tiny but mighty Garmin inReach Mini.
Purchase a car survival kit with all the bells & whistles, or pack you own:
Water (Enough for the #of passengers/length of trip)
High-energy, non-perishable foods (nuts, tuna cans, granola bars)
Blanket
Air Compressor/Tire Inflator
Tire Gauge
Battery Jumper Cable
Emergency Warning Triangle
Flashlight and/or Headlamp with extra batteries
Duct Tape
Matches
Work Gloves
Emergency Rain Poncho
Whistle
Bungee Cords
Cable Ties
Duct Tape
Utility Knife
Portable Radio (with spare batteries)
Tow rope
Nylon cord
Flagging tape
Toilet Paper
Order a First Aid Kit or create your own:

Disposable nonlatex gloves
1 breathing barrier (with one-way valve)
Tweezers
Oral thermometer (non-mercury/nonglass)
Scissors
Hand-sanitizer
1 instant cold compress
Bandaids, Larger Bandages, Cloth Tape, Antiseptic Wipes, Neosporin, Moleskin
Aspirin and Advil (or preferred pain reliever)
Benadryl
Hydrocortisone ointment packets
Personal Medications (Consider carrying a small stash of rescue medications for chronic diseases such as an Asthma Inhaler and Oral Steroids for those prone to asthma attacks.)
Children's version of medications, if traveling with kids.
And last, but not least, FamilyHandyman.com has some brilliant ideas for making your own winter car survival kit.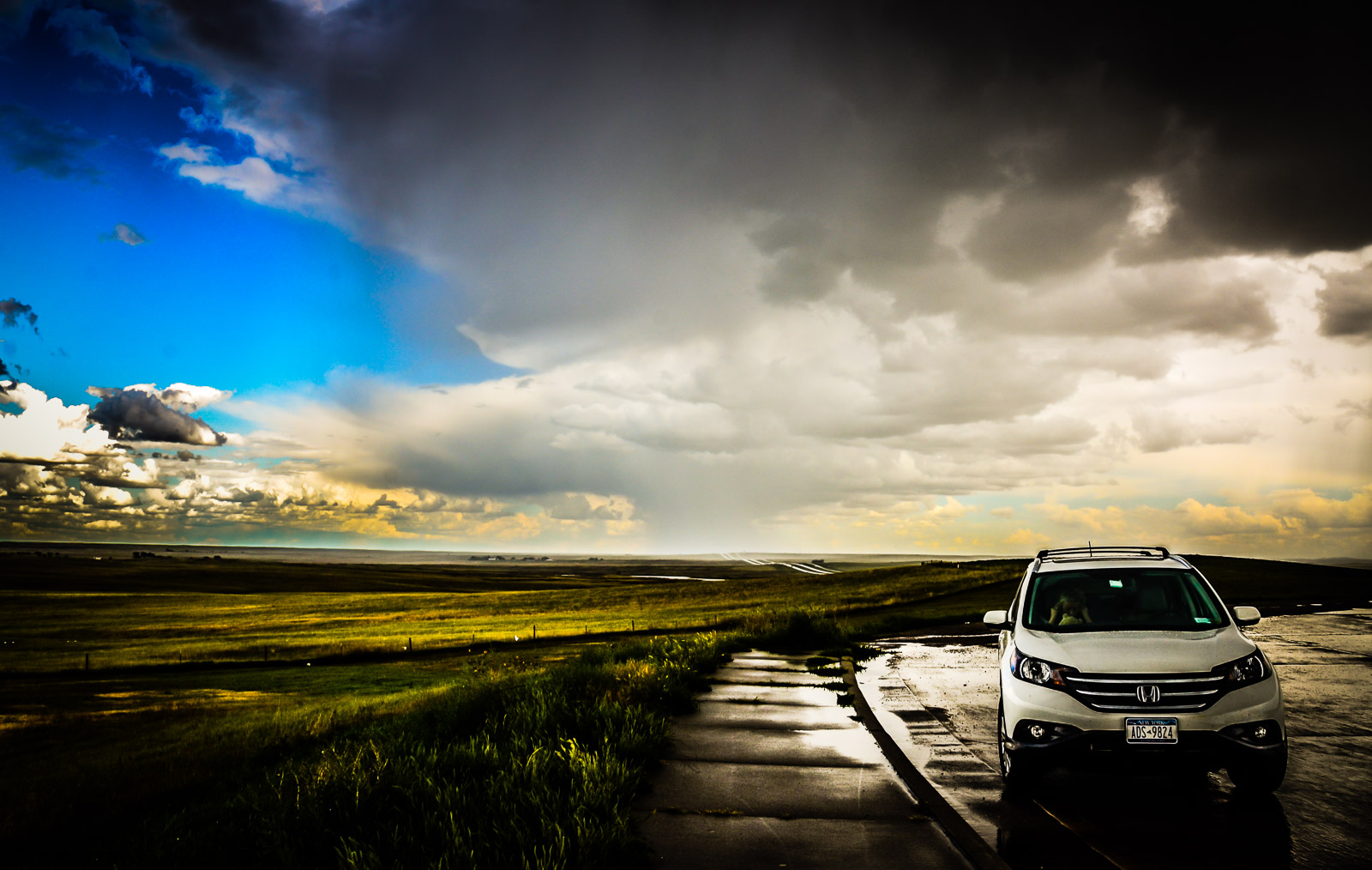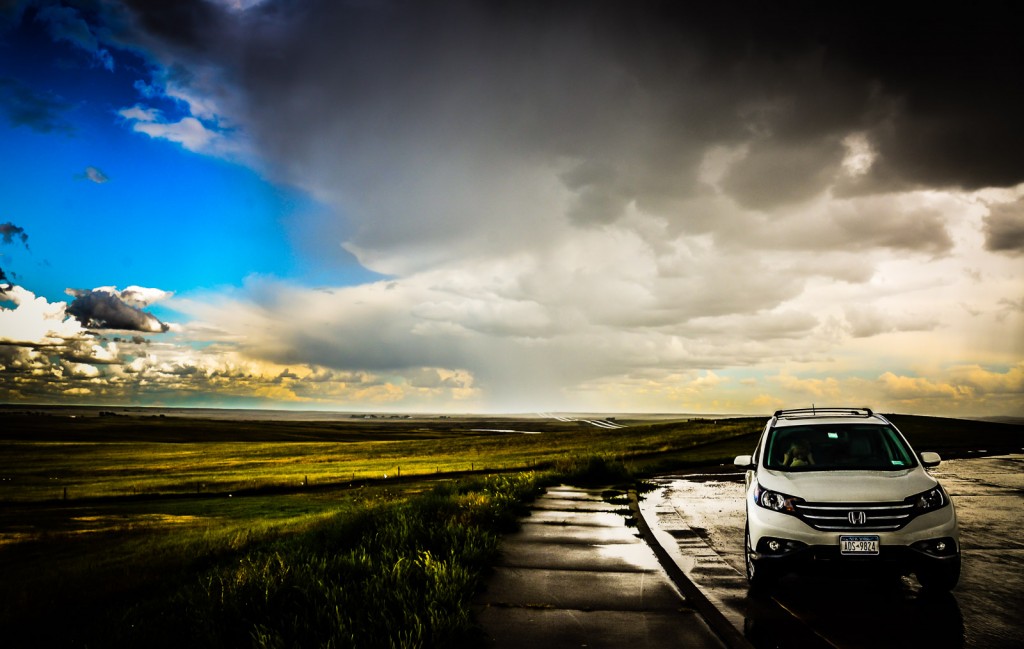 How to Drive In Hazardous Conditions
New York State posts detailed instructions covering special driving conditions from how to drive in winter to how to avoid collisions with deer. Here are tips for handling some of the most difficult road hazards.
Get through heavy rain, fog, wildfires, smoke, and any other situation that lowers visibility.
Drive with lights on low beam (some states require headlights in rain, and daytime running lights don't count.)
Open your window to listen for traffic you can't see.
Switching on defrost (without heat and/or open window to speed up window defog.)
Reduce distractions; turn off radio and cell phone.
Use the right edge of the road or road markers as a guide.
Drive cautiously: slow down (high speeds and/or worn tires can result in hydroplaning,) signal turns well in advance, brake early.
Do not stop on busy road. Signal, pull off as far as possible, and turn on hazard lights.
What to Do When Lightening Strikes
An enclosed metal vehicle–with all doors closed and windows rolled up–is relatively safe, but NOT any open or soft top vehicle.
Pull off the road as a lightening flash can cause temporary blindness.
Be Wary of Floods
Avoid driving through water, as little as six inches can cause you to lose control while two feet will carry away most cars.
Don't drive through standing water if you see fallen power lines or electric wires nearby.
If a power line or electric wire falls on your car, drive away from the wire. But don't turn off ignition, even if the engine stalls. Stay in your car and wait for emergency workers. Don't let anyone other than emergency workers near your vehicle.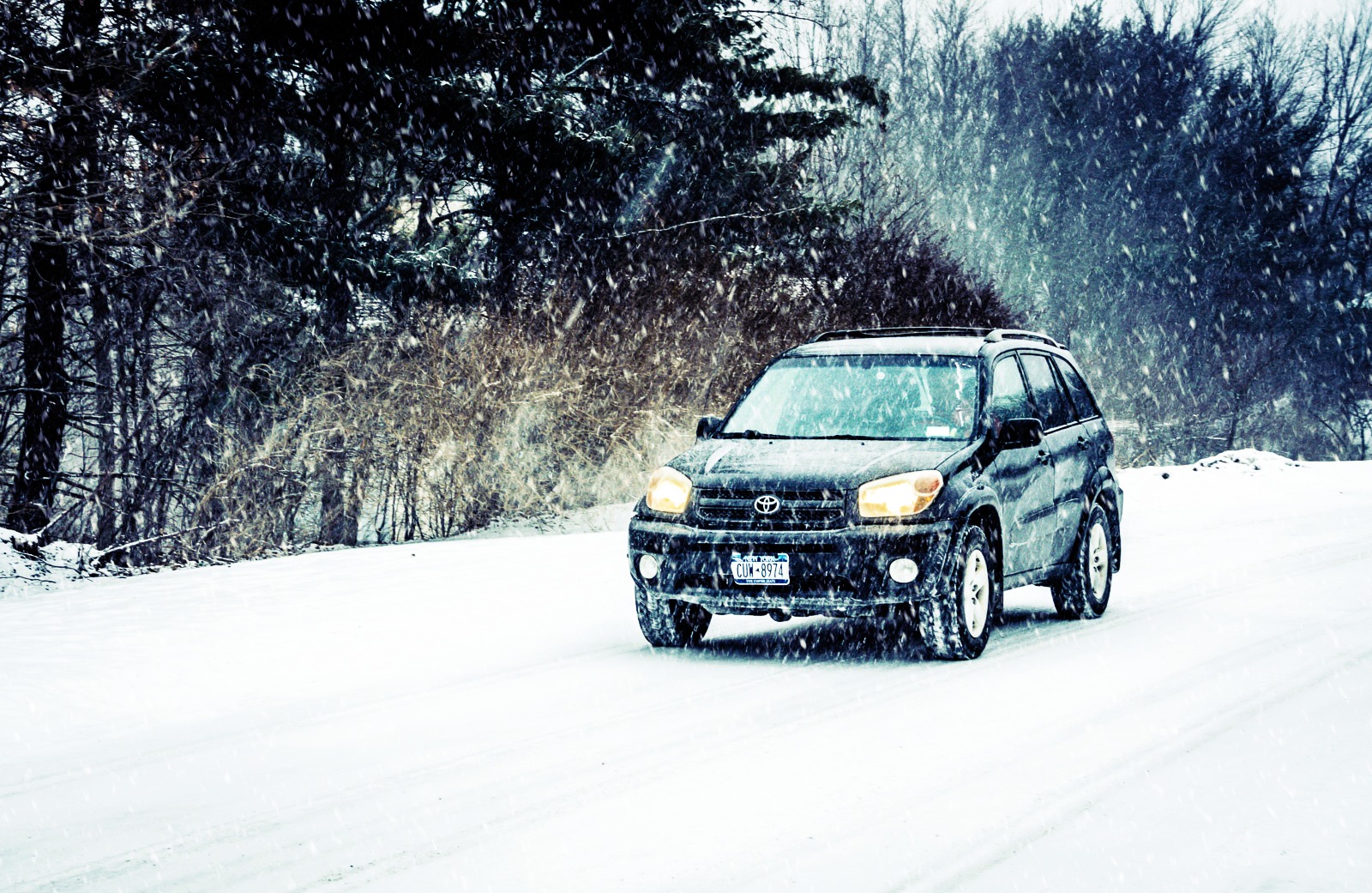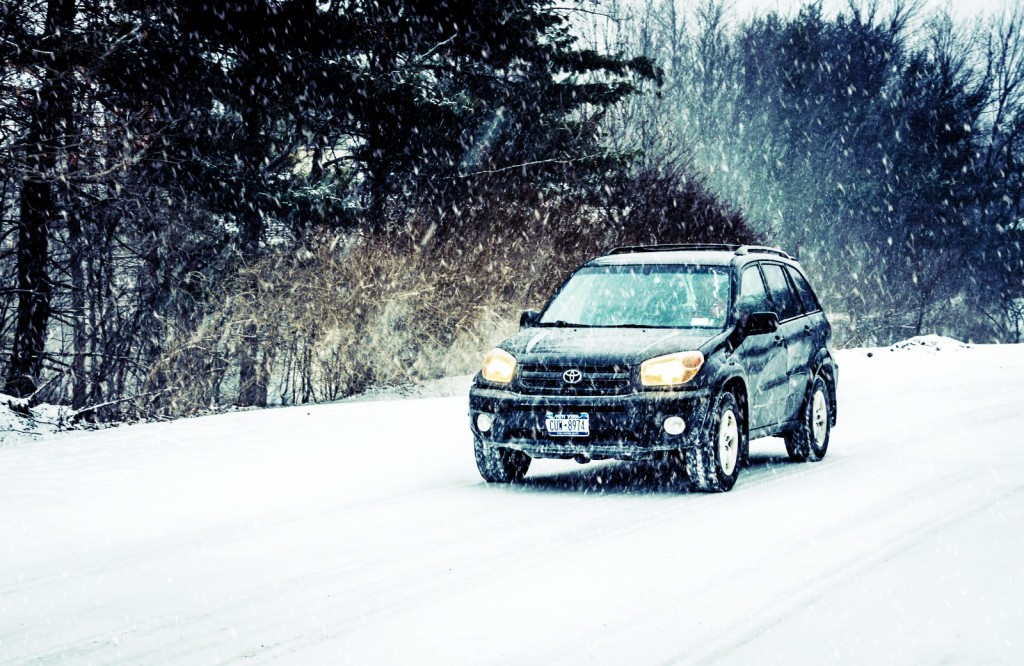 Survive Being Stuck in a Car in Snow
In addition to the all-purpose emergency roadside kit, a few extra items may be useful in winter:
Ice scraper and snow brush
Shovel
Tire chains (where allowed or required)
Rock salt, kitty litter, or sand (for extra traction)
Wear warm clothing and boots (pack a change of clothing, including extra winter coat, mittens, and cap.)
Colander to strain snow, car-kettle to warm it, and large bowl to collect warmed water. Don't drink cold water or snow!
Chemical hand and body warmer packets
If stuck in snow:
Conserve gas, but keep car warm by turning on engine every 15-20 minutes.
Make sure tail pipe is clear to avoid carbon monoxide poisoning.
Stay warm by wrapping up in extra clothes and blankets and moving often.
Hydrate with warmed water (your body can't afford to lose heat on cold water or snow.)
Extreme cold can reduce cellphone battery life, keep cellphone close to body and limit use to stay connected.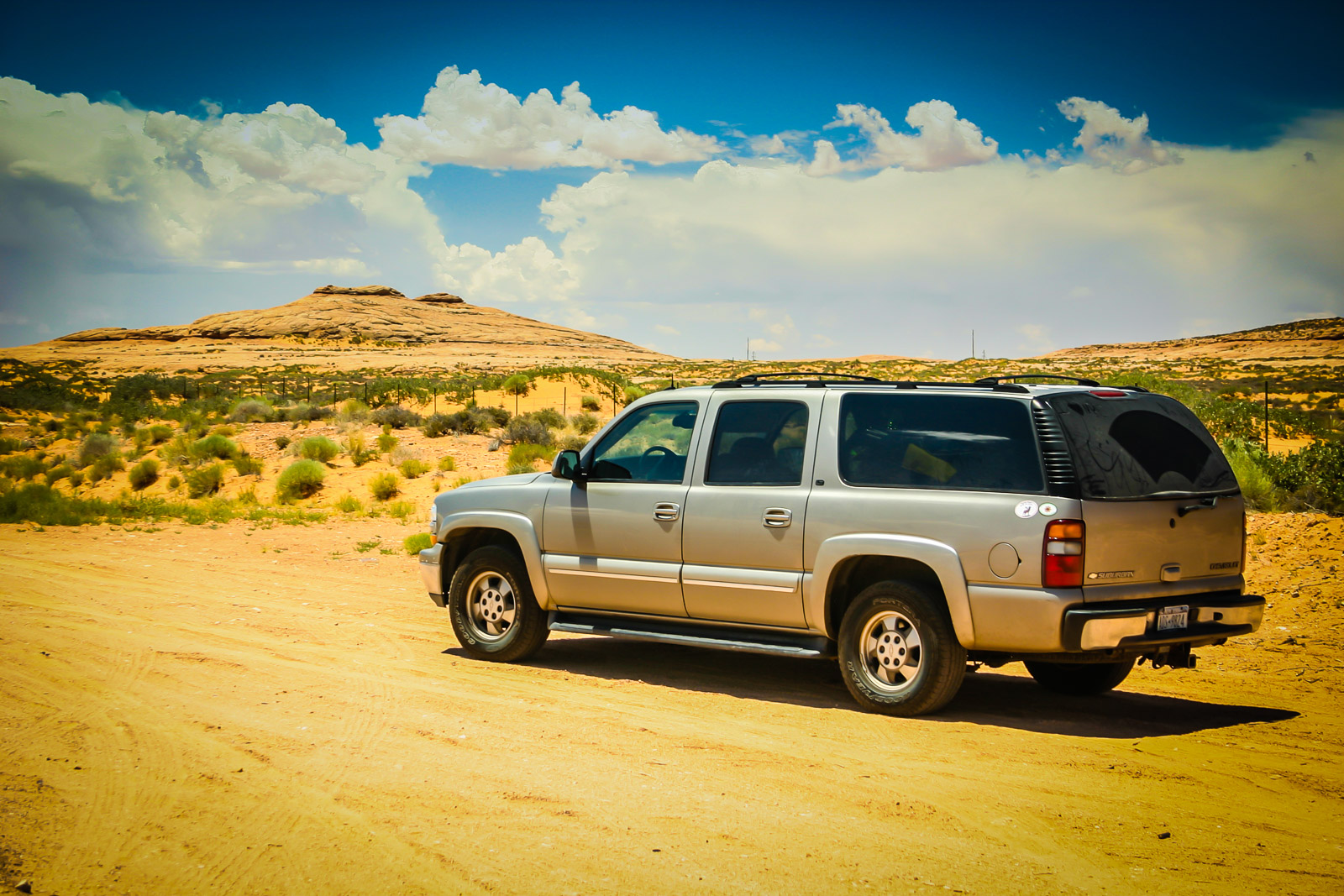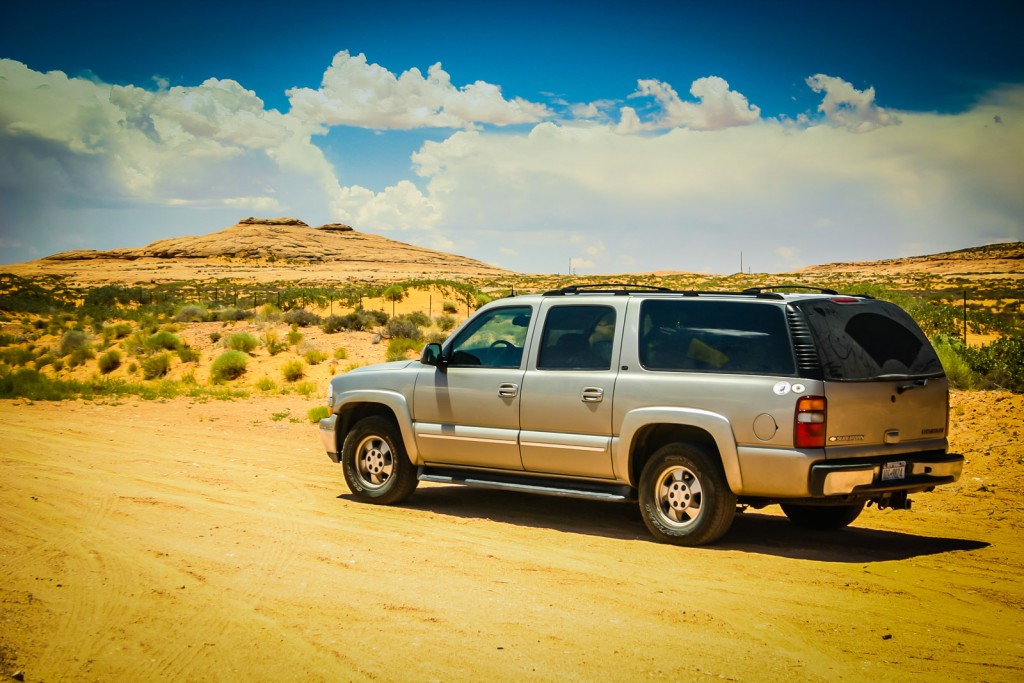 Driving into the Desert
Increase your drinking water supplies if heading into desert or extreme heat conditions. Plan to have 2-3 liters of water per person, per day. 2-gallon water jugs with spigots are handy, as are refillable dromedaries. And one or more windshield sun shades can help keep parked cars coolers. Regardless, NEVER leave pets or children unattended.
Keep in mind that cell reception in deserts is spotty at best. Gas stations are few and far between, so top off fuel tanks when you can.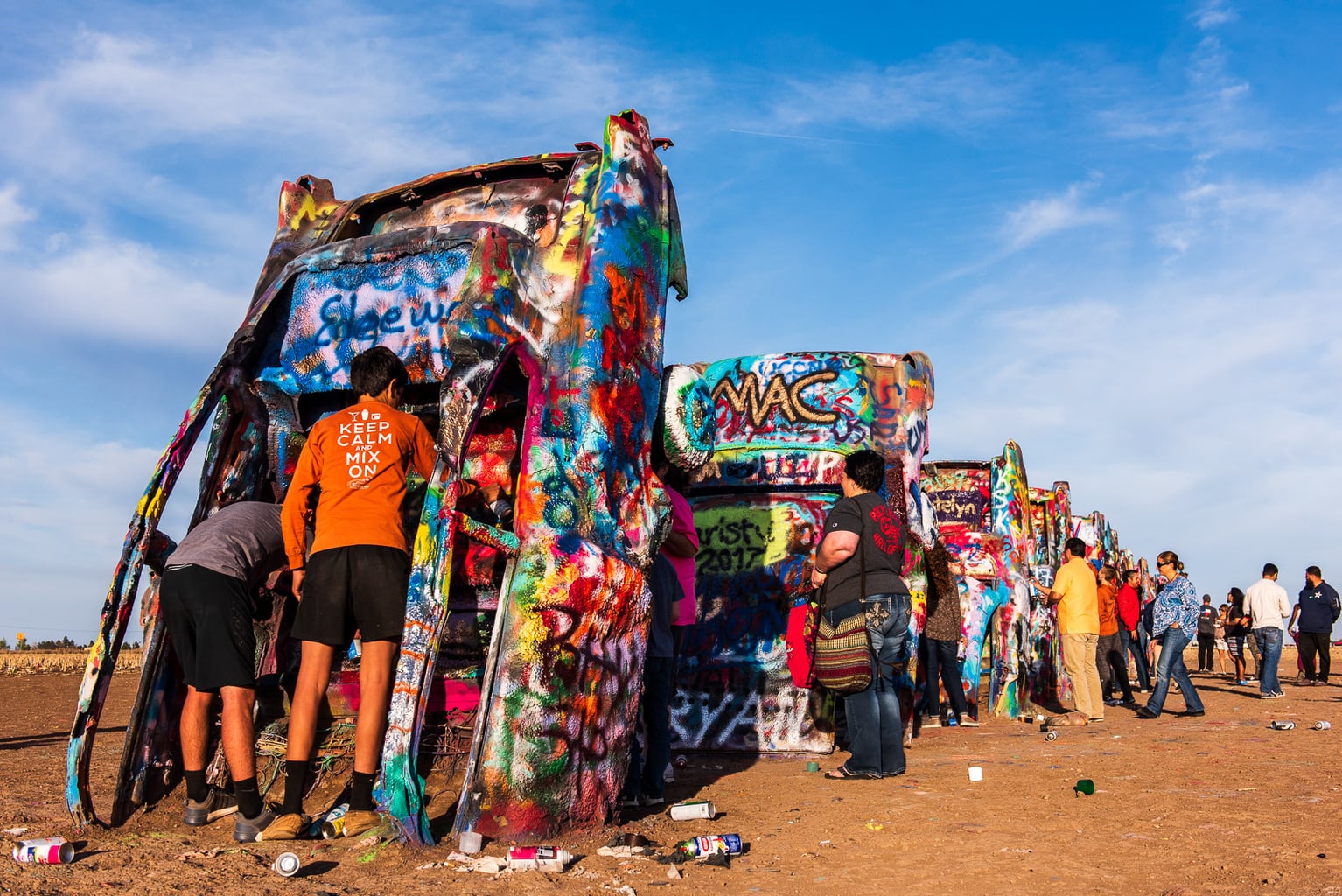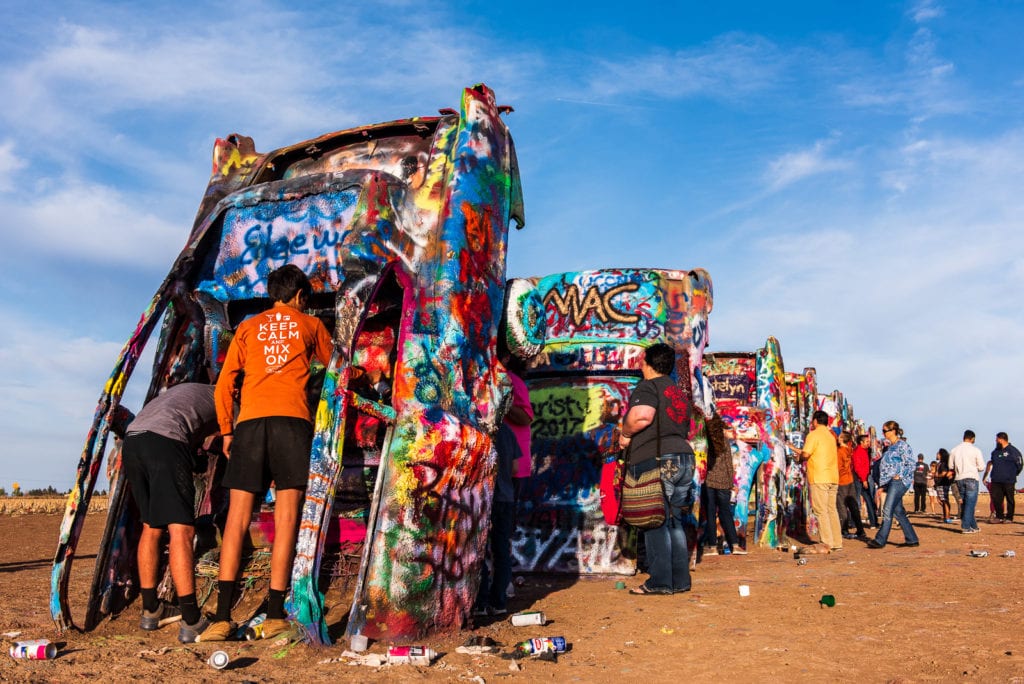 Don't Try to Outrun a Tornado!
If you see signs of an approaching storm or you get a tornado alert, stop your vehicle. Don't try to outrun a tornado and don't park or hide under an overpass (winds are faster there.) Because motor vehicles are easily tossed by high winds, it's best to abandon them. That's your best course of action unless the roadway is the lowest ground you can get to. If that's the case, buckle up, lower your head below the windows, and cover up with a blanket if available.
If you can safely get below road level, leave your vehicle and lie low, protecting your head as best as possible.
Brake for Earthquakes
If you feel an earthquake or you get an alert, stop the car as quickly and safely as possible. Park away from utility poles, overhead wires, and under- or overpasses. Set the parking brake and stay in the car, monitoring the radio or cellphone for emergency broadcasts. If a power line falls on the car, remain in the vehicle until a trained person removes the wire.
Are you ready for a road trip? We've got you covered with road trip travel guides, plus weekend getaway ideas all over the US.