Last Updated on April 17, 2023 by Editor
When the first hotel booking site appeared on the web, it was a godsend. Suddenly, you could look up rates, availability, reviews, AND book reservations all in one place. But now that online travel planning is given, we expect more.
The best search engines not only offer the lowest price but also a variety of usability features that can make all the difference in finding the perfect accommodations for your trip. Which hotel booking site is best for travel planning? You decide.
Then scroll down to our hotel booking tips to get the most bang for your buck.
The Best Hotel Booking Sites
1.) Booking.com
What's to like: Booking.com is an online marketplace owned by Booking Holdings, which also owns Priceline.com, Agoda.com, Kayak.com, Cheapflights, Rentalcars.com, Momondo, and OpenTable. Although Booking Holdings is based in Norwalk CT, Booking.com is headquartered in Amsterdam.
Booking.com has one of the largest listings of properties, with the greatest variety. It even includes villas, apartments, hostels, and entire houses. It's the leading hotel booking site in Europe.
Easy to use interface online and on mobile platforms with one of the most comprehensive lists of filters and interactive map. Filters include sustainable properties, fun things to do (ex. beach, pool, jacuzzi, golf course, and beach access, room service, plus a whole more.
Added value: Free cancellations, 24/7 customer service, and vacation packages. Also offers a booking search engine for flights, car rentals, attractions, and airport taxis.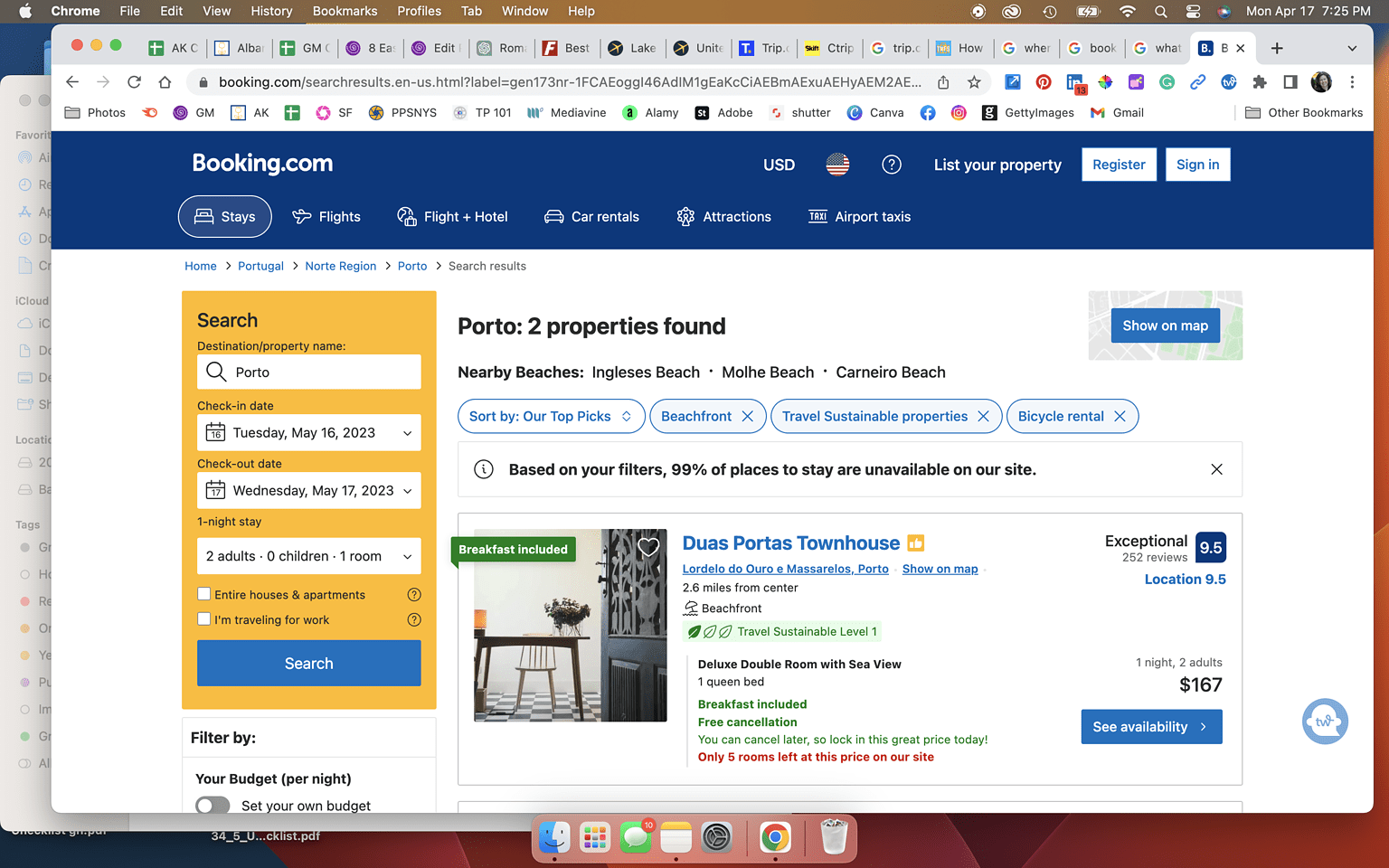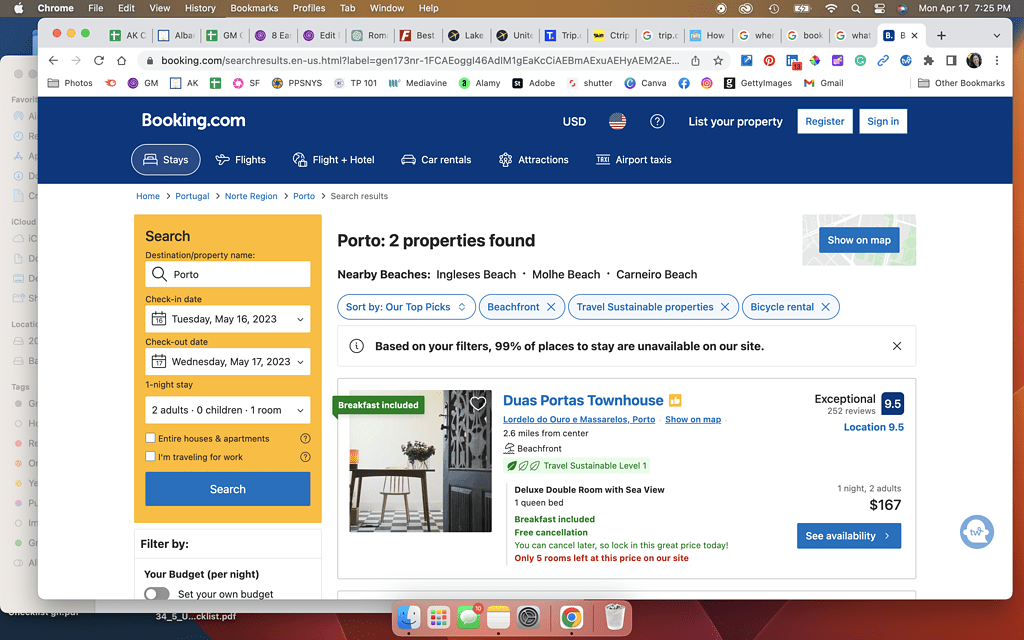 2.) Expedia.com
What's to like: Expedia.com is an online travel agency owned by Expedia Group, which, headquartered in Seattle, also owns Hotels.com, Vrbo, Travelocity, Hotwire.com, Orbitz, and Trivago. It's the undisputed leading hotel booking site in the United States.
Easy to use interface online and on mobile platforms with a good list of filters that work well with an interactive map. Amenity filters include: ocean view, pet friendly, pool, hot tub, spa, and electric car charging.
Added value: Expedia rewards program provides point-based discounts and special deals for members; Customer Support by phone 24/7. Booking search engine covers flights, car rentals, packages, things to do, and cruises too.
3.) Agoda
What's to like: Owned by Booking Holding, Agoda lists over 3 million properties, including homes, hotels, hostels, and resorts. With operations in Singapore and Thailand, Agoda is the leading hotel booking site in Asia.
Excellent set of search filters includes ryokan, balcony/terrace, private pool, and pet allowed in the room.
Added value: PointsMAX enables point accumulation with your favorite loyalty program. The search engine lists coupons & deals, flights, airport transfers, car rentals, and activities too.
4.) Google Hotel Finder
What's to like: Not surprisingly, Google Hotel Finder makes full use of its sophisticated search algorithms and Google Maps. So, instead of working through the sorting filters, you can type in "four star hotel in New York City under $400 with WiFi connection." Of course, you can still use the available search filters: price, star rating, user rating, amenities (room service, spa, beach access, all-inclusive, etc.,) and brand.
Added value: Track price alerts and receive travel tips by email.
5.) Trip Advisor
What's to like: TripAdvisor is always worth checking out if only for its database of brutally honest reviews. It's the world's largest travel site, partnering with many of the other travel sites listed here, and booking searches are sourced out to other travel sites.
TripAdvisor may well have THE most comprehensive set of filters including bar/lounge, bikes available, hot tub, lazy river, rooftop pool, bridal suite, and much, much more.
Added value: TripAdvisor is a helpful resource for planning the entire trip; in addition to hotel reviews, it has restaurant and attraction reviews as well as area guides.
6.) Hotwire
What's to like: Hotwire offers big savings with "Hot Rate" purchases where the hotel name isn't revealed until after booking, these are deep discounts on hotels looking to fill inventory. Easy to use interface online and on the mobile platform with a 19-item amenities list of filters that work well with interactive maps.
Added value: TripStarter helps you find the best to visit; use Trip Watcher to set up price drop alerts.
7.) Priceline
What's to like: Priceline will often turn up more results in any given city, although not necessarily the cheapest options. But with the option of Express Deals and Name Your Own Price,® where the hotel name is not revealed until after purchase, rates are competitive with Hotwire.
Added value: VIP Loyalty Program; Trip bundle deals; Tonight Only deals in app; heavy discounts with Express Deals and Name Your Own Price® where hotel name is not revealed until after purchase; Customer Support by phone 24/7.
8.) Kayak
What's to like: Comparing multiple travel websites at once, Kayak draws on the databases of hundreds of hotel comparison sites. It's great for getting an overview of what's available before heading to the individual booking sites.
Added value: Price Alerts – Receive email updates and notifications of the latest hotel prices. The Mobile app provides a number of handy add-ons, including a trip agenda, flight tracker, and augmented reality bag measurer.
9.) Hotels.com
What's to like: Hotels.com claims "hundreds of thousands" hotel listings in over 200 countries. A great list of filters includes a spa, hot tub, outdoor space, casino, and water park.
Added value: Last-minute deals. Customer Support by phone 24/7. Loyalty program – earn one free night for every 10 nights stayed in more than 85,000 partnering hotels worldwide.
10. HotelsCombined.com
What's to like: HotelsCombined.com is a hotel aggregator that is reputed to find the lowest rates on hotels; only Google Hotel finder consistently beats it on price. Its filter list is comparable to Hotels.com and includes spa, hot tub, golf, casino, and more.
11.) CheapOAir
What's to like: Featured deal hotels on CheapOAir can be cheaper than even the mystery choices on Hotwire or Priceline. The comprehensive filters list includes theme hotels, but not the most visually appealing interface.
Added value: Deal alerts for members (free email listing.) The Mobile app provides a number of handy travel tools, including a currency converter, baggage fees, and thematic packing lists ranging from corporate to romantic. Customer Support by phone 24/7.
12.) Hotel Tonight
What's to like: Get an outstanding deal on same-day unsold luxury hotel inventory at Hotel Tonight, both online and on the app. Some availability up to a week in advance. Note that due to the nature of this service, the stock is limited as are filters and reviews. Best to use this in larger, more popular, destinations.
Added value: 3D Map View; extra perks and credits with ongoing use.
13.) Trivago
What's to like: Trivago compares prices of more than 1.8 million hotels in over 190 countries on over 400 booking sites. Clean interface with the usual filters, although not as comprehensive as others, it does include vacation homes.
Added value: Inspirational travel magazine and attractive spokesperson.
14.) Momondo
What's to like: Colorful Momondo may well be the brightest of booking websites. After search, book hotel on one of a number of booking sites. Comprehensive filters list includes themes and amenities. Euro-centric, Momondo may be limited on US searches (although it was fine with our searches.)
Added value: Inspirational travel guides for popular destinations. Best price guarantee (but only for UK customers.) Carryon bag checker.
Hotel Booking Tips
1.) Get local advice.
Ask a friend, the visitor's bureau, or your favorite travel blogger for hotel recommendations.
2.) Check TripAdvisor rankings.
Knowing the top-ranked luxury or boutique lodging (or whatever category appeals to you) gives you a point of reference for comparing what is available.
3.) Compare search engines.
Consider using the TripAdvisor, Expedia, and Hotwire trifecta. One gives hotel rankings and reviews, the second shows availability, while the third lists the cheapest options.
Compare findings to what's available on your favorite hotel loyalty program, plus it pays to check the hotel site for special offerings.
Check our hotel booking sites list, some search engines are better for finding accommodations outside of the US. While others might be better for vacation rentals or other special requests.
4.) Realize that star ratings are subjective.
I've often used Hotwire.com to book rooms of a certain star-rating value when I wasn't particular about the specific hotel. That usually works out fine, except that I've learned to ask for higher-rated digs. Their 4-star hotel sometimes turns out to be what I (and other travel websites) would rate 3 stars.
5.) Deep dive into the reviews.
Do go through the reviews on hotel booking sites, digging until you've gathered a good sampling. Seek out specific details–firm bed, thin walls, etc.–rather than empty superlatives; consider looking for special amenities such as hotels that offer free drinks.
6.) Take reviews with a grain of salt.
Given the prevalence of fake reviews and the likelihood that the same reviews will appear on multiple search engines, don't believe everything you read. Generally, assume that a hotel won't be as bad or as awesome as they say.
7.) Loyalty has its rewards.
Before you book, keep in mind that you may forgo member rewards–including points accrual–when you use a hotel booking site. Sometimes members get better deals and better rooms booking directly, or even by phone.
8.) Know your bottom line.
If you know you won't be happy without turndown service, don't settle for anything less than a 5-star hotel. But if you do reserve a 2-star motel, don't complain when there's no complimentary water bottle.