WHY GO: The typical tourist comes to Pennsylvania's Brandywine Valley to see the world-famous Longwood Gardens, and then leaves. But you know by now that The Getaway Mavens don't do "typical tourism." So, come to see the gardens, then stay to tour and mingle with the stars at the world's most popular home shopping studio, enjoy a movie where The Blob was filmed, eat some fungi in the Mushroom Capital of the World, and step into the newly opened "inner sanctum" of one of the nation's most famous artists. Of course, all while staying in amazing inns and eating the best cuisine this spectacular region has to offer.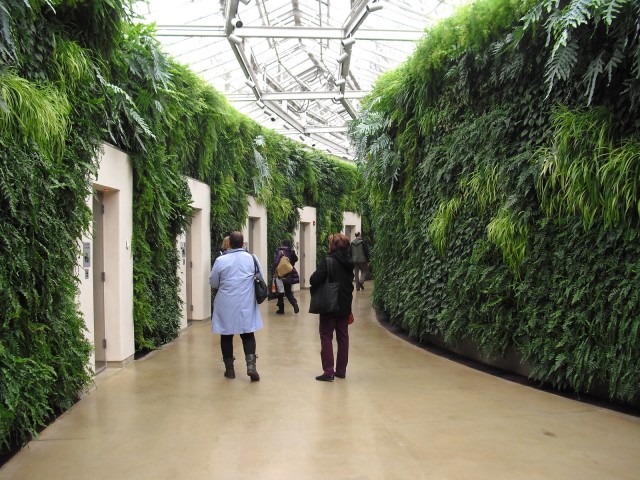 Things To Do In Brandywine Valley
VISIT: Longwood Gardens. With 11,000 plants on over 1,000 acres, and programming to make a media executive humble, Longwood Gardens has been called a "wildly extraordinary place" and is Brandywine Valley's biggest draw, bringing in over a million visitors a year.  In the main sundrenched Conservatory room, flower beds change weekly. As does Mother Nature, Longwood Gardens transforms with the seasons, so even if you come often, you'll never see the same flowers twice.  The Visitor's Center houses quite possibly the most exquisite restroom area on the planet; creeping vines that form the "Largest Greenwall in North America" frame the doors to each of a dozen private privies. If you have to go, you'll want to go here.  $18 adults, $8 kids, open in season 9am-6pm Sun-Thurs, 9am-10pm Fri./Sat. Check website for hours other times of year.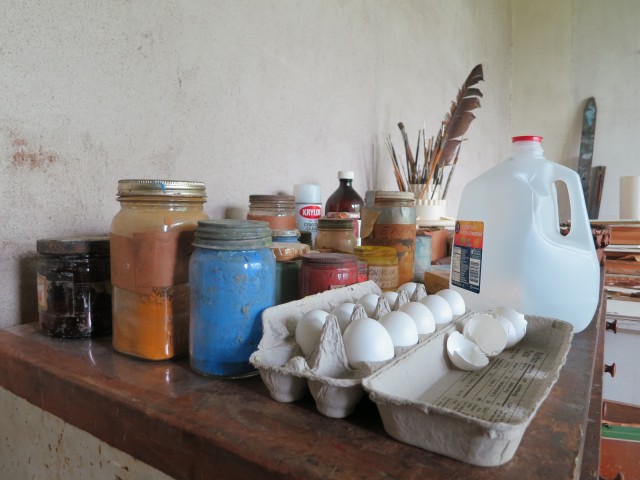 VISIT/TOUR: Brandywine River Art Museum and Wyeth Artist Studios, Chads Ford. The Brandywine River Valley is ground-zero for the prolific Wyeth family. Compare the work of all three generations of Wyeths in one place – NC's cruder, prop-driven oils (he did not consider himself a "fine painter"), Andy's photo-like detail with an almost tactile aspect, and Jamie's stunning and whimsical work (he painted a portrait of Nureyev on corrugated cardboard and his portrait of Dr. Helen Brooke Taussig – done when he was 17 and called "witchy" and "evil" at the time by her co-workers – will be included in a 60 year retrospective of his work at Boston Museum of Fine Arts).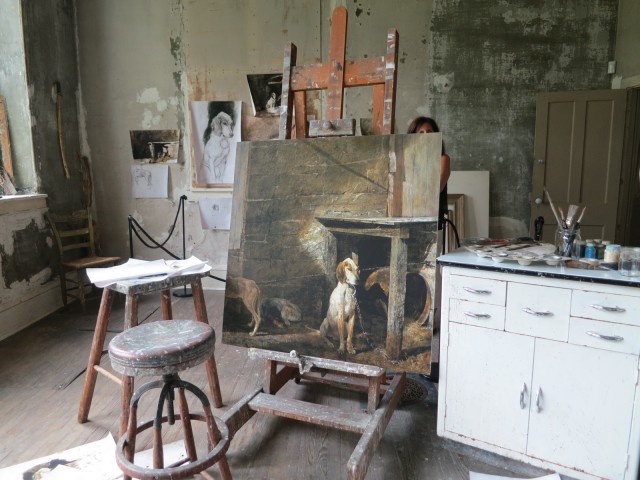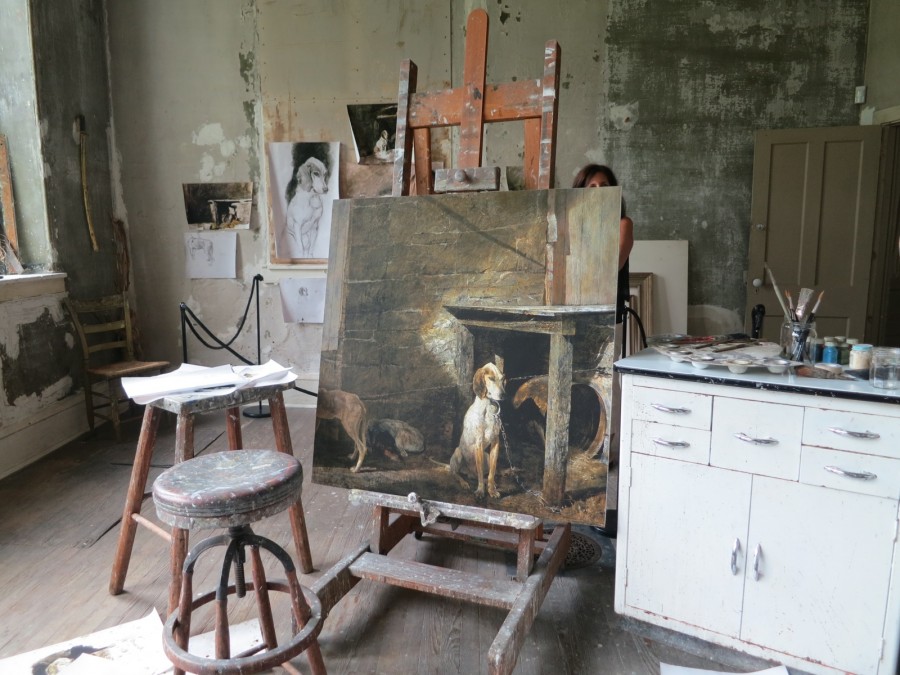 Don't miss independent tours of NC's Home and Studio (built with commissions earned from illustrating Treasure Island, Last of the Mohicans and other books for Scribner Publishing), Andrew's home studio, and the Kuerner Farm – the subject of many an Andrew Wyeth painting. Andy's hideaway home/studio, a repurposed schoolhouse – was his "inner sanctum," opened to the public after he died in 2009. Take the tour for an intimate look at his working process and home life with wife Betsy (still alive in her 90's) and two sons, Nick and Jamie.  Andrew's studio is just as he left it;  large windows cast natural light on watercolor studies scattered beneath his easel, a dozen cracked eggs indicate the type of tempera paint he used (egg tempera, one of the toughest paints to mix and apply), and the wall above his phone is covered with penciled-in names and phone numbers – some still in use. Museum open daily 9:30-4:30pm, Adults $12. Studio and Kuerner Farm tours cost an additional $8 each.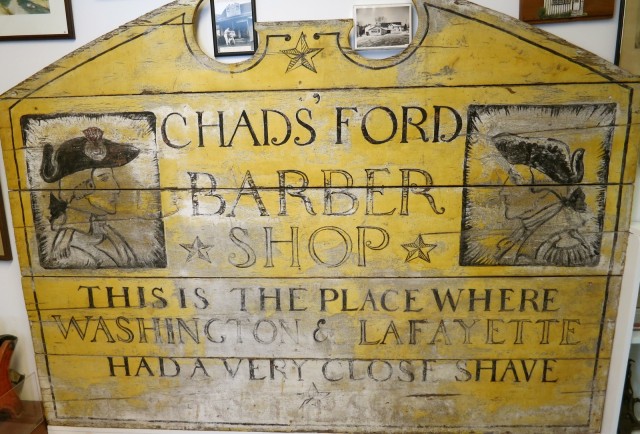 VISIT: Sanderson Museum, Chadd's Ford. These days we'd call itinerant Chris Sanderson a hoarder; he kept everything that came into his possession. But NC Wyeth took a liking to this young man who taught school for years in what was to become his son Andrew's home and studio, and found this place for Sanderson and his mother in 1937. Now one man's obsession is crammed into eight rooms with everything from maps to historical posters, cannonballs and other memorabilia from the Battle of Brandywine, an extensive autograph collection including those of Queen Victoria, Babe Ruth and Woodrow Wilson, and portraits of Sanderson painted by NC Wyeth.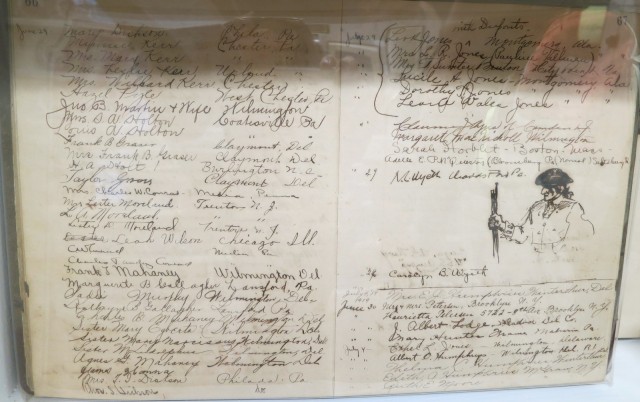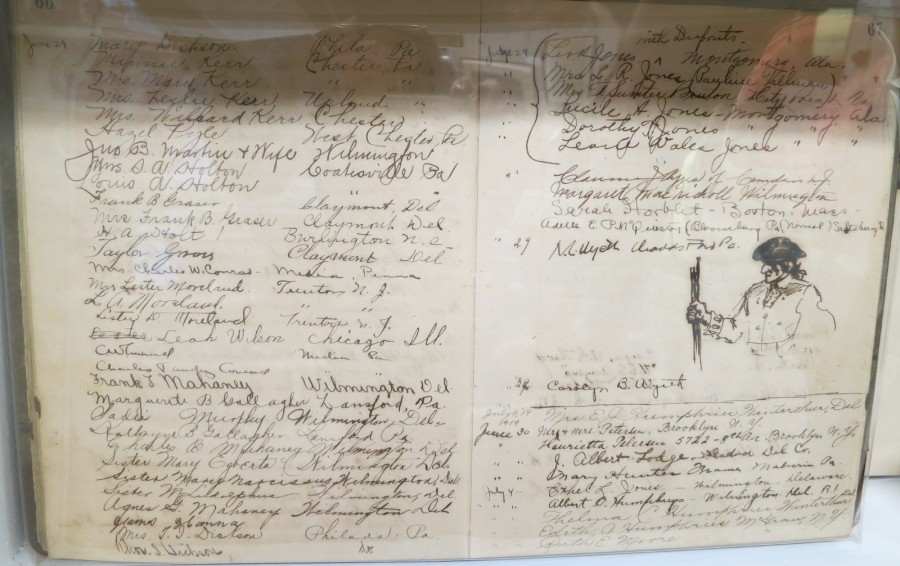 Billed as "A Man's History; A Nation's Heritage," be sure not to miss the very first "museum guest" register with doodles by both NC and Andrew Wyeth. Open March to November, Saturday and Sunday 12-4.  $5 adults, kids free. You can purchase a Limited Edition (only 5,000 printed) Chester County Tourist Map designed by Andrew Wyeth for  $95 to support the museum.
TOUR: QVC Studios, West Chester, PA QVC (Quality, Value, Convenience) is the world's leading multi-media retailer, streaming to about a hundred million homes in the US 24/7, selling $8.5 billion worth of goods every year.  With 20,000 sq. feet of space, it's the largest television studio on the east coast and the largest live studio – truly live, with no delays – in the country. Every so often, a major celebrity (like Justin Beiber, William Shatner, 50-Cent) will sneak in to personally sell their own products. The one-hour guided tour introduces you to what goes on while the cameras roll, taking you though observation galleries above the network of sets and within reach of NASA-like production rooms.
Presenters not only have to know their stuff and look good while conveying it, but they have to do that while updated information is constantly streaming into their earpieces. You will leave with a newfound respect for these special TV personalities. For the ultimate QVC experience, Getaway Mavens recommends that you not only go behind the scenes but in them.   A one day a week three-hour "All Access" tour brings you down to live studio sets, into one of several Green Rooms, and ends with lunch with QVC presenters in the commissary ($75, rsvp required). One hour tours daily at 10:30am, Noon, 1pm, 2:30pm and 4pm $7.50. Three hour all Access Tours Fridays from 9am-noon and noon – 3pm. $75 pp includes lunch and reservation required.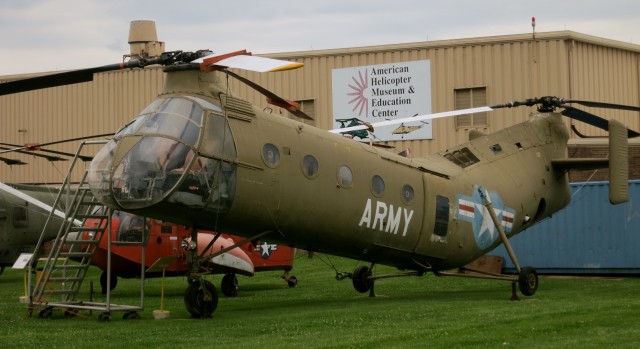 VISIT: American Helicopter Museum, West Chester. You'll see Bells, Hughes, Sikorsky's and other rotary-wing aircraft – 35 in all – representing civilian and military helicopters, autogiros and convertaplanes. In fact, this is America's largest collection of helicopters and why on any given day you'll find excitable kids and, let's face it, Dads, in this former chopper-manufacturing hangar. Wed-Sat. 10am-5pm, Sun 12-5pm, $10 adults, $8 kids.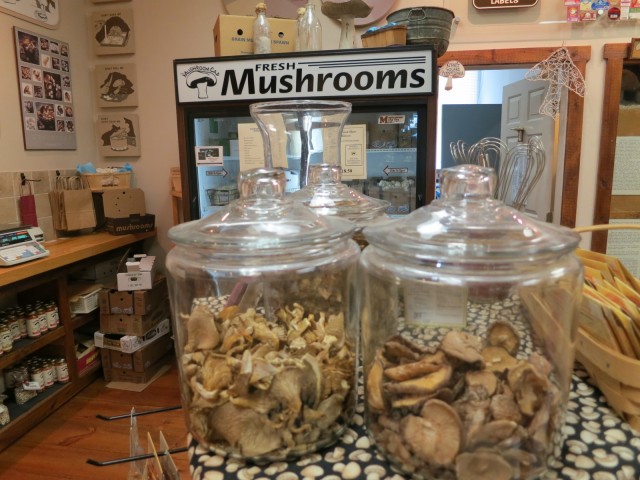 VISIT/SHOP: The Mushroom Cap, Kennet Square.  Over 500 million pounds of mushrooms, representing 55% of the nation's total, come from Chester County, PA. In fact, Kennett Square is called the Mushroom Capital of the World, so it behooves you to discover the mysteries of the 'shroom by stopping in to the Mushroom Cap, which serves as both emporium and museum. Sit on a toadstool (of course) to watch a 12 minute video and discover that mushrooms are the largest cash crop in PA, pound for pound they have more potassium than bananas, and are the only produce that contain Vitamin D. Sure, mushrooms are grown indoors in manure, but the poop is sterilized, so order the freshest 3 lb box for $18.50 or spring for a year-round Mushroom of the Month Club (12 months for $189 plus shipping), or at the very least try "the Cap's" proprietary dehydrated "Snack 'N Shrooms" for $6.75 a bag. Tasty!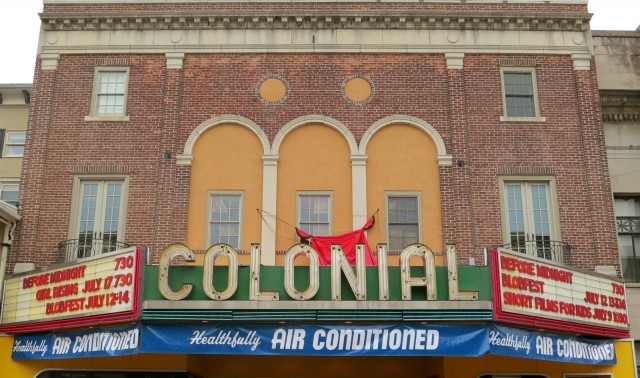 VISIT: Colonial Theater, Phoenixville. The movie theater is packed.  Suddenly, a ball of icky goo murders the projectionist and starts after the rest of the gang.  Mayhem ensues. Moviegoers run from the theater; a young Steve McQueen among them.  The Blob, as memorable as a B-movie gets, was filmed right here in Phoenxville, PA. To raise money for the theater that by the 1990's was in its final frames, the newly formed Association for the Colonial Theater screened The Blob – and the event was a hit.  Now, every year over a weekend in July, BlobFest takes over Phoenixville, drawing Blob lovers from all over the world.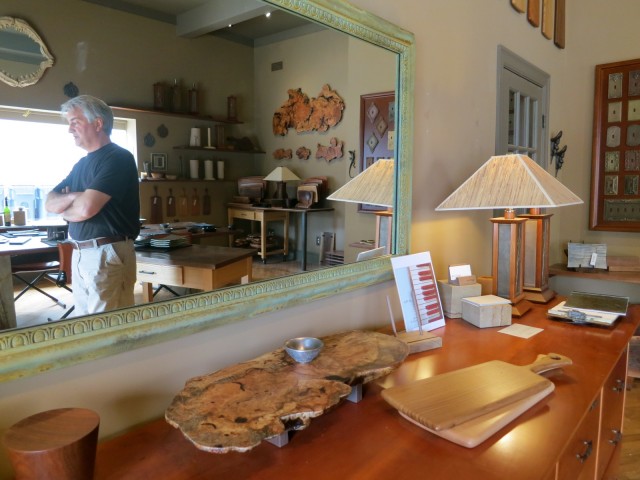 What To Eat In Brandywine Valley
STROLL/SHOP/EAT: Downtown Phoenixville.  What was once a steel foundry town has been reinvented as an arts and epicurean hot spot. Have a cup of joe amid the vibrant paintings and ceramics at Artisans Gallery and Café, where people sip specialty espressos after catching a flick at the Colonial Theater.  Try a few vintages at the Black Walnut Winery Tasting room or a custom Italian Soda at Steel City (a venue for local and regional musicians nearly every night).   If you can snag a seat, try for one at the newest little BYOB restaurant sensation, Andrew Deery's Majolica or Black Lab Bistro (see recommendations below). And definitely plan to spend more time than you originally allotted for a perusal of the Diving Cat Gallery (named after owner Markels Roberts' philosophy to just dive into life the way cats dive after prey). Roberts considers her store as "one big sculpture," and you'll loose yourself amid the ceramic cats, Buddha's, clothing, scarves, jewelry and thousands of can't resist impulse purchases. Before leaving town, you'll have to make one last stop at  Artifaqt, both a factory and artist studio. It's not generally open, but if you press the buzzer, owner/craftsman John Luttman will let you into his world and work, which includes designing for Disney, the Bronx Zoo, Longwood Gardens (cheeseboards made from Longwood's fallen trees), star chef and restaurateur, Jose Garces and others. Great chefs and Disney bigwigs make pilgrimages here to see the artist at work and discuss their newest projects, but you can, too.  Just push the buzzer.  "The curious are always welcome."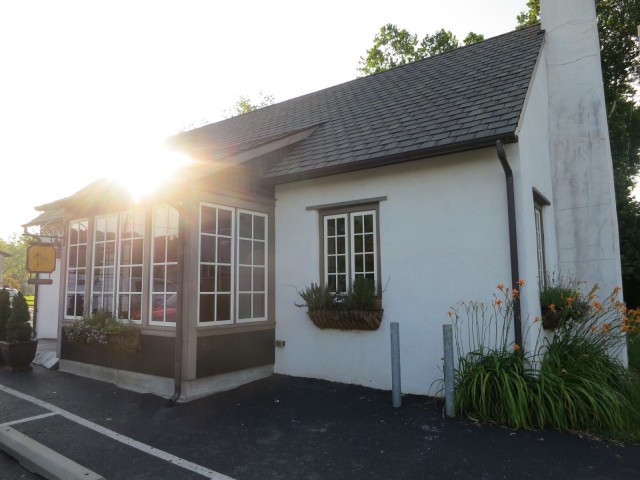 EAT: The Whip Tavern. Formerly a run-down biker bar, you'll find this Brit-i-sized pub at a crossroads far from town, surrounded by undulating hills as green as the Emerald Isles. Do you crave Scotch Eggs, Bubble and Squeak ($6.99), Bangers and Mash, Welsh Rarebit ($7.99), Shepherd's Pie ($12.95) or a bit of Curried Lamb to go with the most refreshing hard ciders (and beer) on tap? You're in luck! Save room for the house-favorite dessert, Sticky Toffee Pudding, which is sure to make you forget those pesky Weight Watchers points.
EAT: Half Moon Restaurant, Kennett Square. If camel, kangaroo or buffalo meat is to your liking, by all means indulge.  Otherwise enjoy specialty beers, exotic mushroom dishes and great (regular beef) burgers up on a roof enclosed by unique garage-door glass windows that open fully on beautiful days. Experience the Sautéed Exotic Mushrooms cranberries, walnuts, demi-glace, over Gorgonzola ciabatta ($9) – and you'll crave this dish for life.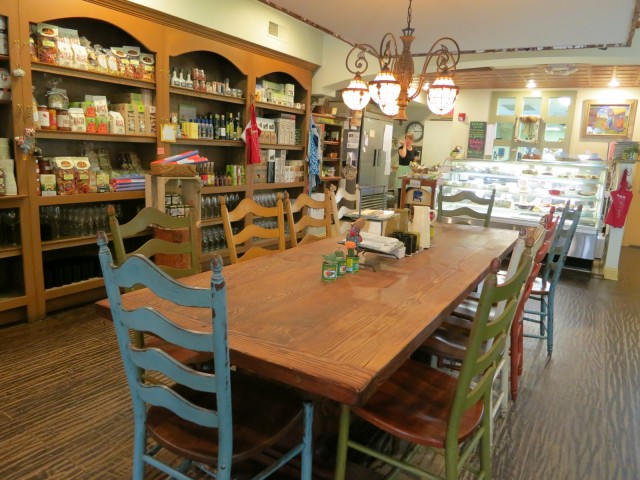 EAT: Talula's Table, Kennett Square.  By day, grab fresh baked breads, cheeses, soups and other locally sourced prepared food to either take out or enjoy at one of the butcher block tables.  At 7pm, however, Tulula's transforms into hotspot for a special "Farm Table Dinner." Only ten people can indulge in this exceptional 8-course meal per night; just don't expect to get a seat for at least a year. This nightly event, costing $105 per person, is more coveted than tickets to Book of Mormon on Broadway.
EAT: Black Lab Bistro, Phoenixville.  Highly rated, often cited as the "best restaurant in town," accolades are well deserved. Try the warm sushi-rice and seaweed salad topped Tuna Tartar ($12) with a texture/flavor combination that leaves a gal wanting more. The menu is inventive and the room cheerful – and not a Blob in sight.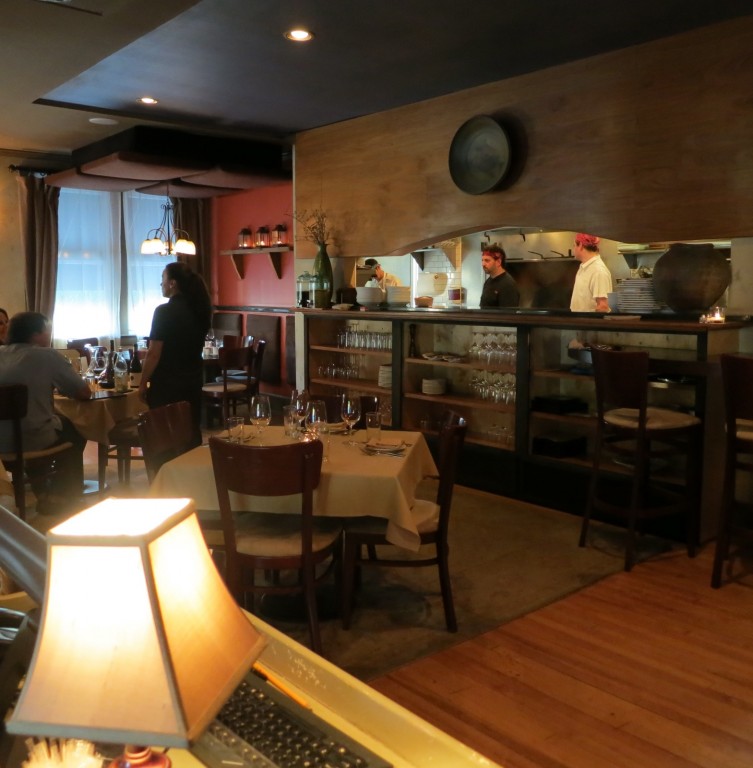 EAT: Restaurant Alba, Malvern. Chef Sean Weinberg, a James Beard darling, dedicated to high quality, locally produced foods, opened up this big city caliber eatery in the blink-and-you'll-miss-it town of Malvern a few years ago and the great reviews are never ending.  Go local for the Wood Grilled PA Trout, Arugula, Pickled Onions, Almonds and Pesto ($20), or small bites with 5 inventive Bruchettes for $17.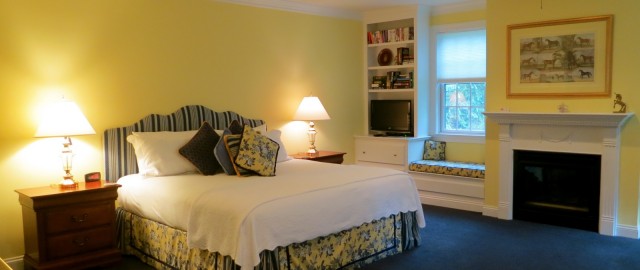 Where To Stay In Brandywine Valley
STAY: Inn at Whitewing Farm. Guests adore this place in the country with good reason. Blue-blood-luxe rooms and suites with pastel yellow walls, wingback chairs, window seats, and horsey décor, are situated in former stables and tack rooms. One can just imagine Fox Hunt horsemen tally ho'ing right outside your door. Snacks and soft drinks are complementary any time of day – owners Lance and Sandy Shortt think it's outrageous to charge – which makes everyone happy.  There's a pool, a pond (for swimming and catch and release fishing – just not at the same time), Har-tru tennis courts and plenty of land to stroll and explore. In the morning, a hearty country breakfast is served in the immaculately renovated 1796 hay barn.  One note, however; there is no internet connection in any of the ten rooms, though you are welcome to settle into a comfy chair in the ole hay barn and connect there. Rooms and suites from $135-$269 includes free wi-fi (in common area), made-to-order breakfast, parking, soft drinks and snacks.
STAY: Desmond Hotel, Malvern. Though the hotel itself is sized for a corporate clientele, rooms at the Desmond are nevertheless charming, with four-poster canopy beds and Federalist furniture.  Three on-site restaurants assure that you'll find something as casual or as fine as you'd like, and in fact, the service and dishes in the formal Hunt Room are very fine indeed. Rooms and suites from $169-$289.