WHY GO: West Chester PA's main streets are shaded by old growth trees. The town is so achingly charming, in fact, it stole a whole scene in the movie Marley and Me. The center of Chester County, one of three counties established by William Penn in the mid 1600's, West Chester (not to be confused with Westchester County in NY), has plenty to occupy a weekend.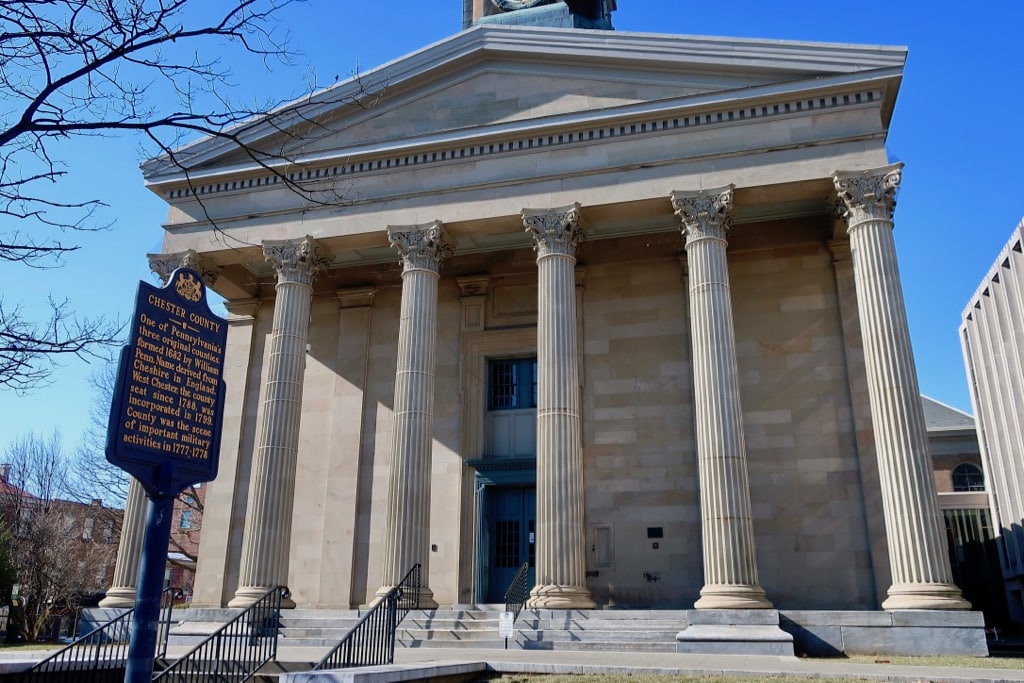 Stay in a repurposed movie theater, learn about the Ice trade, shop the food and wares made by budding entrepreneurs, visit a great helicopter museum, eat at world-class restaurants, and, when the pandemic subsides, experience the nightlife like the local University students do.
West Chester is a great jumping off point to explore the rest of Brandywine Valley – which we cover in this post.
And, for more far flung Chester County PA charm (including The Blob theater and gorgeous private gardens), consult this Hidden Gems of Chester County post.
West Chester PA also made it on to the Getaway Mavens 20 Most Popular Romantic Getaways in the Northeast US 2021 list.
Things to Do in Greater West Chester PA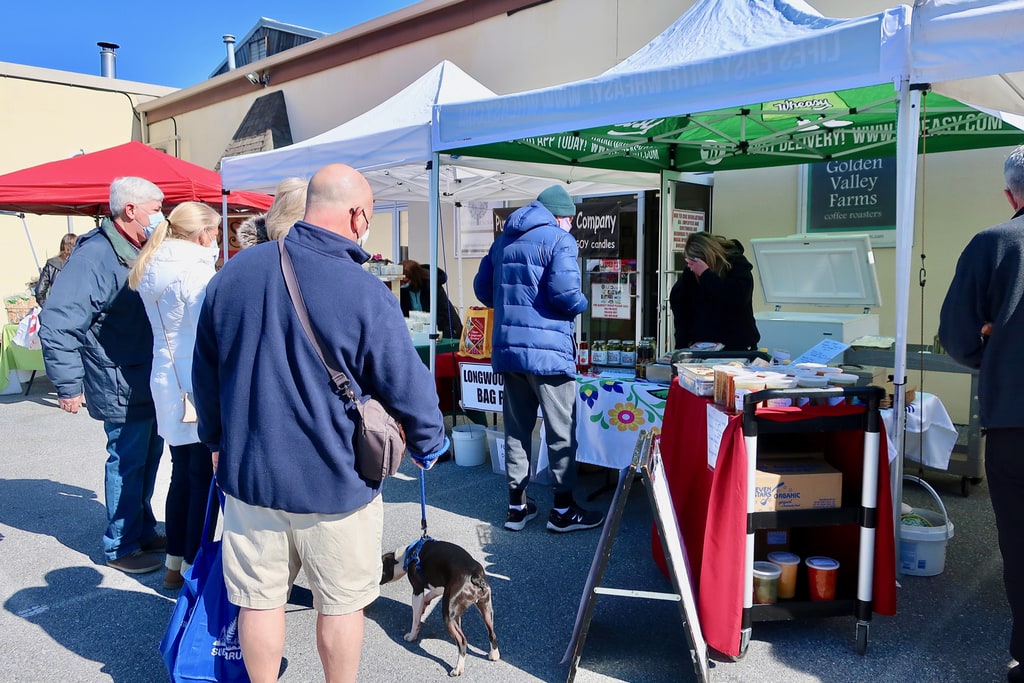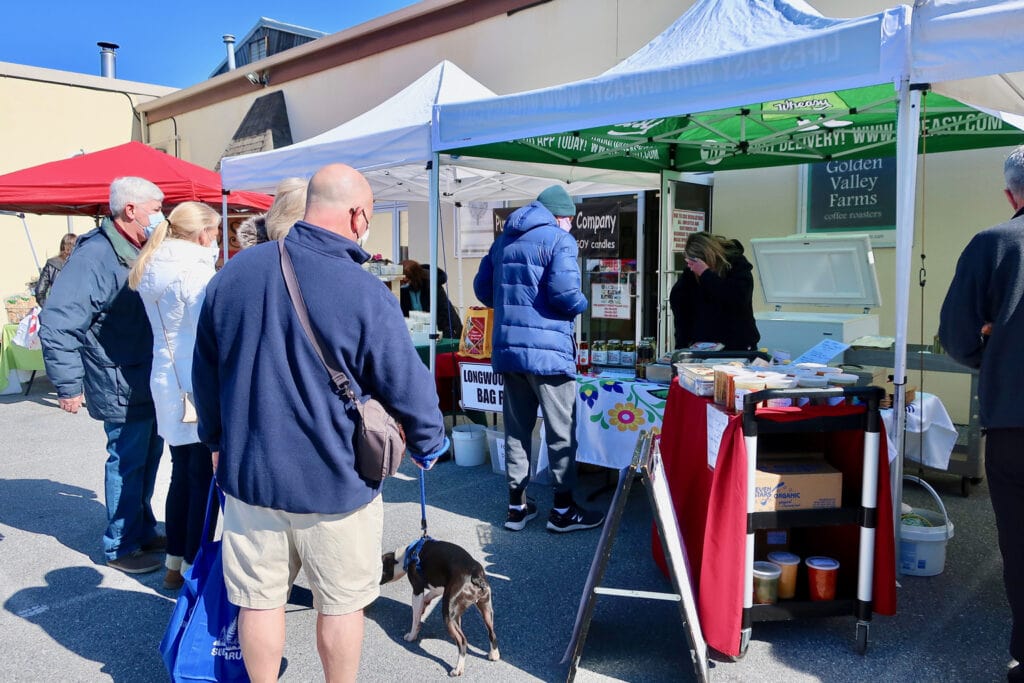 VISIT: Artisan Exchange at Matlack Industrial Center, West Chester
Have your friends told you that you could sell your sublime gluten-free cheesecake to the masses? Are people constantly gushing about your version of the cake that your great-grandfather's baked for Irish royalty?
Corporate types with a passion for something other than office work – a product, an heirloom recipe – can build a business at the Artisan Exchange without risking their retirement nest egg. And fans of home-made, artisanal foodstuffs will find nirvana here.
History of Artisan Exchange
The brainchild of Maryanne and Frank Baldassarre, the Artisan Exchange, next door to Levante Brewing, is a Small Business Collaboration and business incubator, focusing mostly on food. Maryanne started Golden Valley Farms Coffee 35 years ago. One of the few organic, fair-trade companies, Golden Valley sources from 20 countries and was "triple certified before people even knew about organics," says Frank.
With a background in banking and finance, Frank came onboard to analyze profit margins on various products sold by his wife's company, which owned 30,000 sq. ft of space in an industrial park. "We were loosing money on lids, cups, and sugar," Frank admits. "So, when we eliminated the product lines that were not performing, we had a lot of empty rooms."
Incubator For Chefs and Bakers
After six months attempting to attract renters with no bites, the Baldassarre's came up with the idea of a "food hub." They'd rent space in increments of 130 sq. ft. to "home and basement" artisanal chefs and bakers who wanted to sell their products to the public. Expanding product sales to the public required proof of sanitary food prep. The Baldassarre's installed "Sanitation Stations" for every ten vendors, allowing entrepreneurs to keep their costs low.
According to Frank, "If you love what you do, we help you do the rest."
Professional Kitchens For Food Entrepreneurs
The low cost entry point (130 sq ft @ $620 per month) includes electric, cleaning area, a loading dock for two tractor trailers – everything to be compliant with food handling regulations. With the sharing of knowledge and resources, this model promotes a sense of camaraderie and community.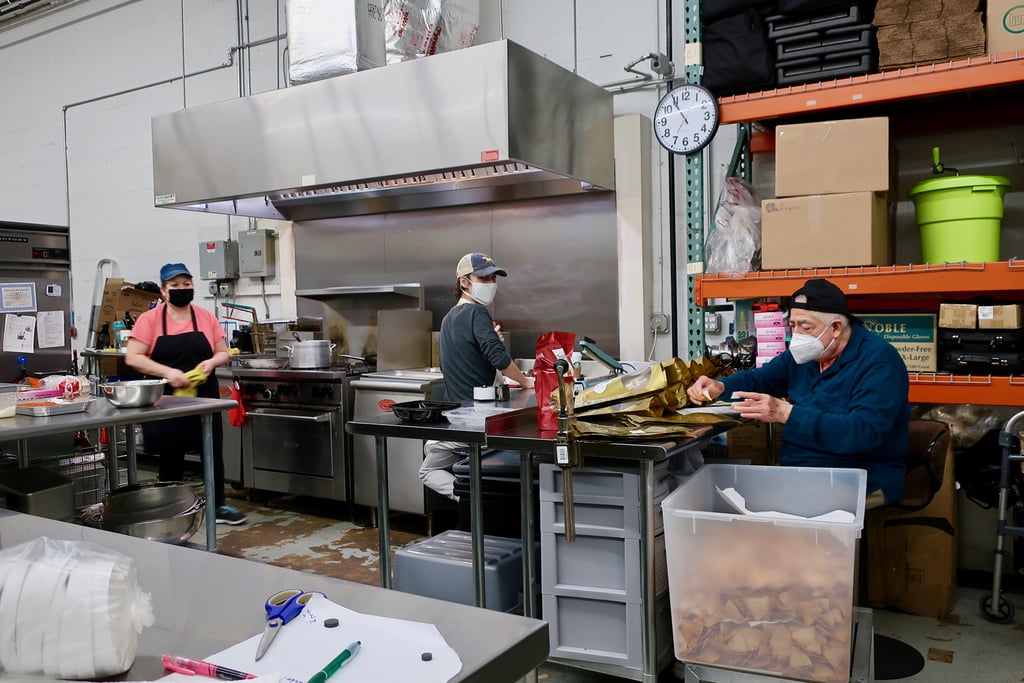 The Baldassarre's have so far helped launch over 130 small businesses (60% women owned) with purveyors from 24 countries – including Russia, Argentina, N. Africa, Ireland, Mexico, Germany, France. Right now, there are 50 companies under one roof.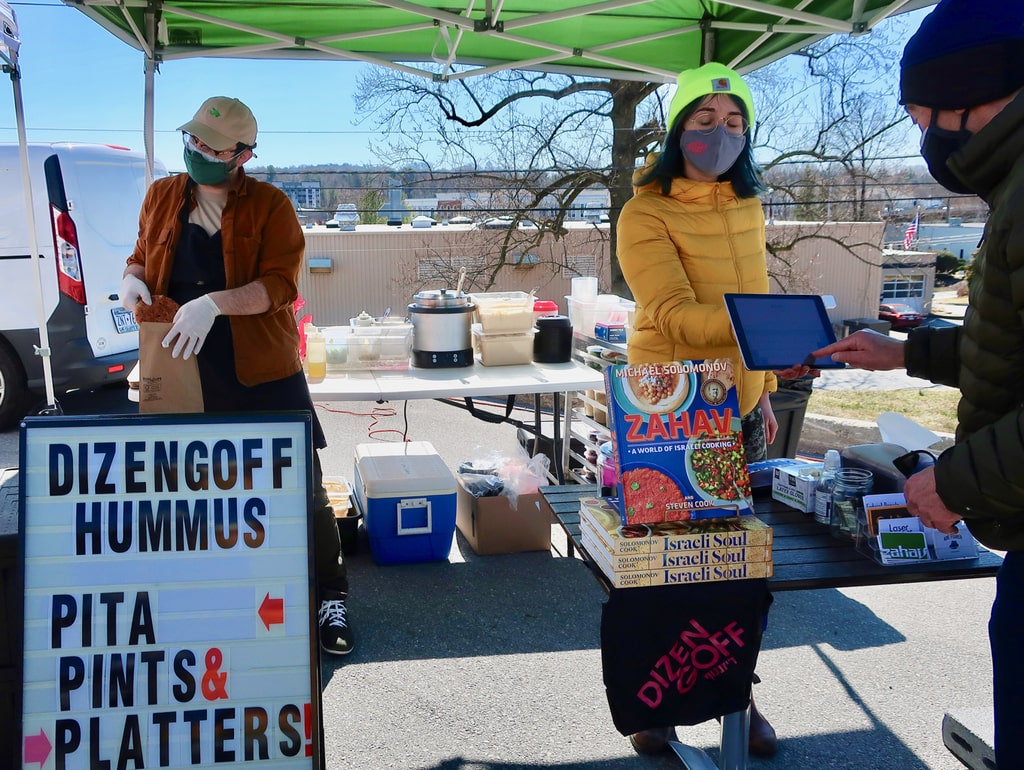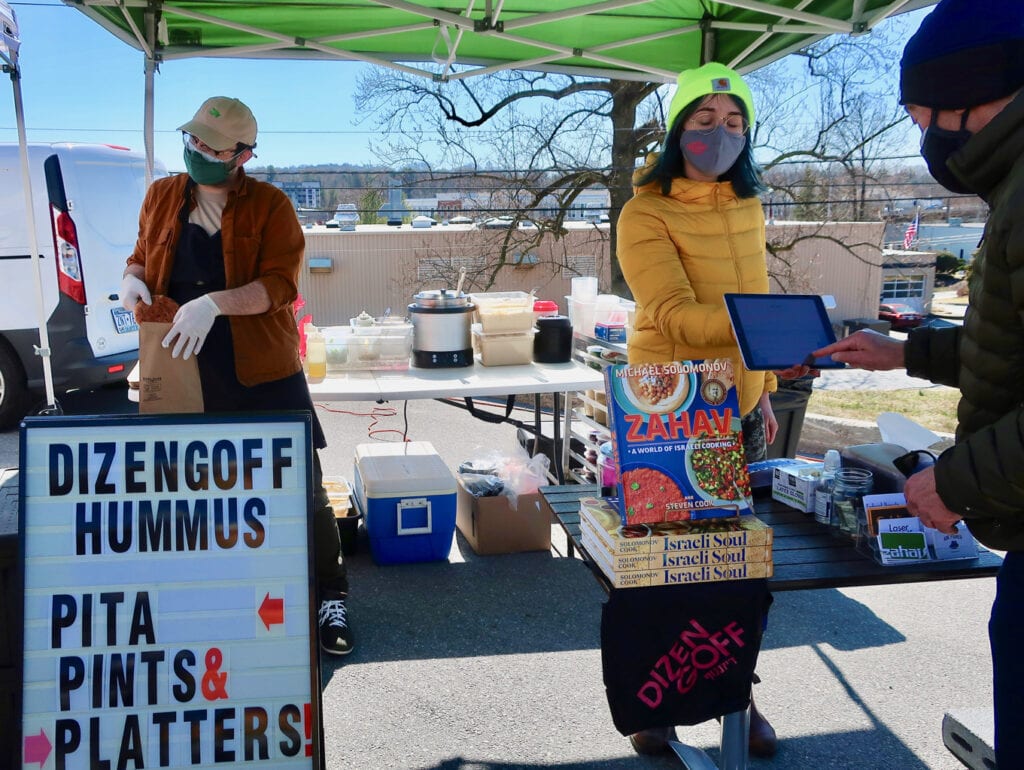 "So many multinationals are taking over, we're loosing the personal touch," says Frank. "Here, we're trying to revive the entrepreneurial spirit of our immigrant ancestors who had nothing when they came here and built businesses out of necessity."
The Artisan Exchange also encompasses an on-site 950 sq. ft. commercial kitchen for chefs who need to ramp up production. The kitchen is available to all (for a fee) who require more space for a limited amount of time.
In addition to offering space and equipment, Frank has added Wholesale Distribution Services; sending goods to Whole Foods and other purveyors of high-end artisanal products (for a fee).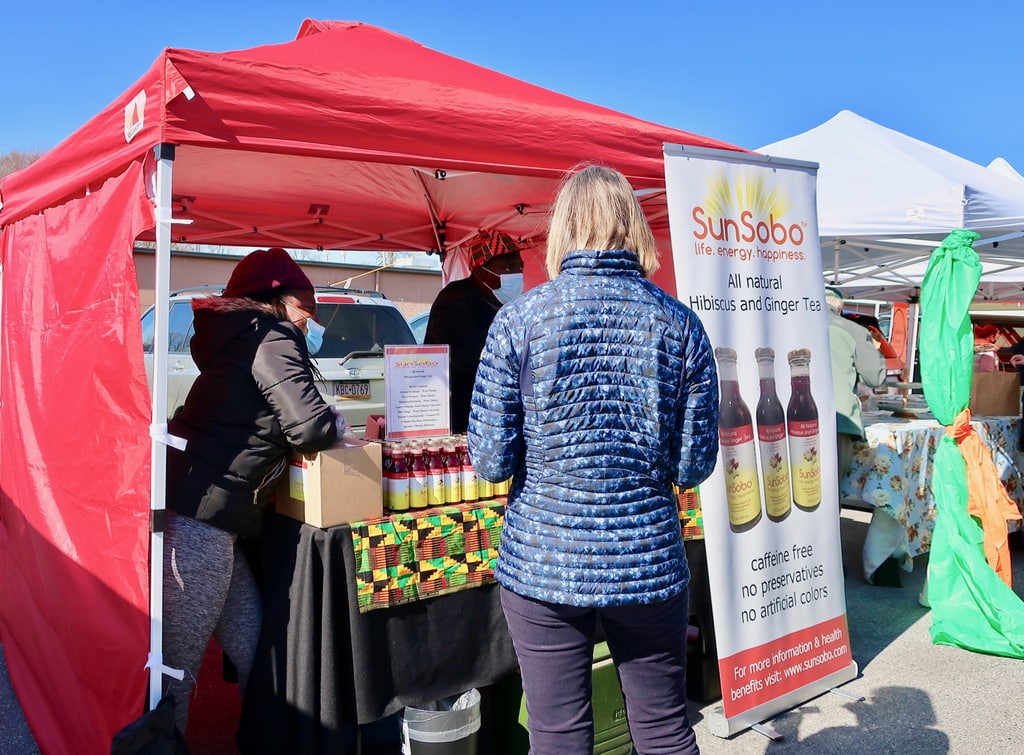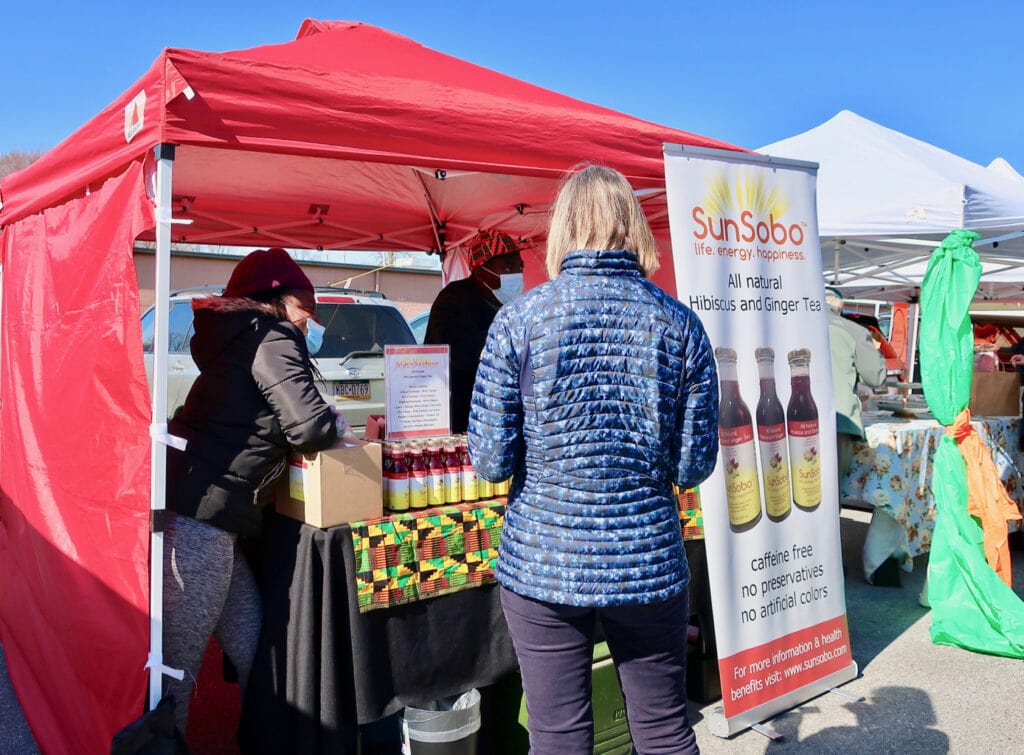 Last year, just as Covid hit, the Baldassarre's brought their 25 year old daughter, Jackie, onboard to create a new business they hoped would sustain them through the pandemic: Home Delivery packages. Using her coding skills, Jackie designed an easy to use website. It's made all the difference in sales this past year.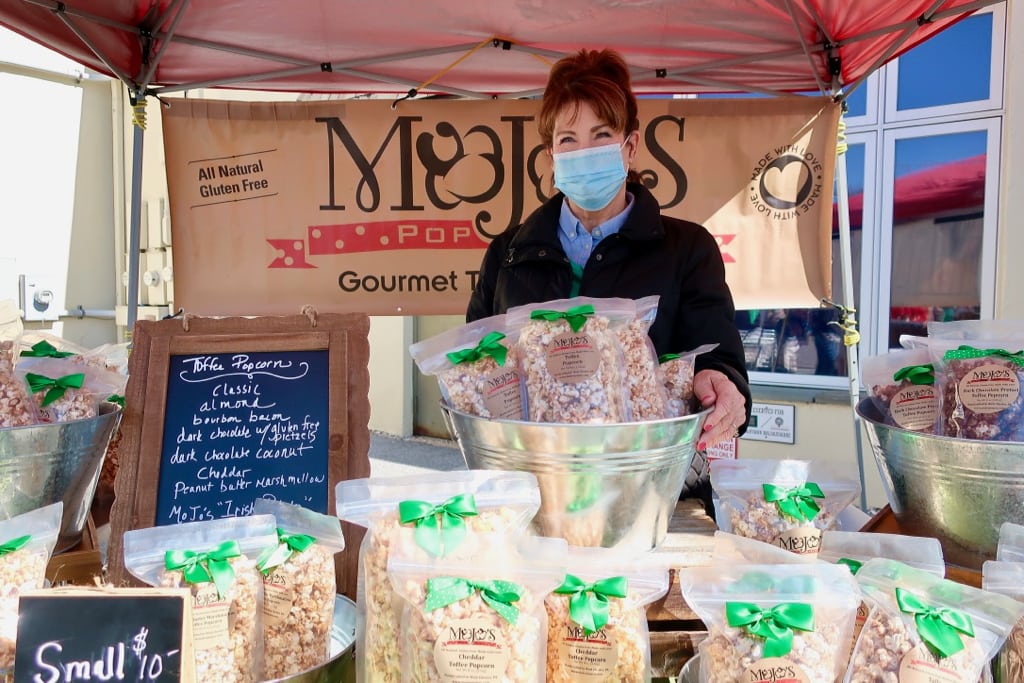 Until 2020, vendors sold directly to the public indoors every Saturday from 10-1. But, Covid forced the Saturday Market outside (still every Saturday). Due to its new visibility, this one move has increased traffic and sales, much to Frank's delight. Plus, "It's a great way to meet the person who made your food," Frank enthuses. "Each with a story to tell."
Meet the Makers
Come on a market Saturday, and you might find the sweet owners of lip-smacking SunSobo ginger/hibiscus tea, the brains behind Gary's Hot Sauce, Cheryl's Southern Style (catering, Vegan Chili, Collard Greens), and MacDougall's Irish Victory Cakes (the vintage butter pound-cake recipe her great-grandfather baked for Irish royalty.)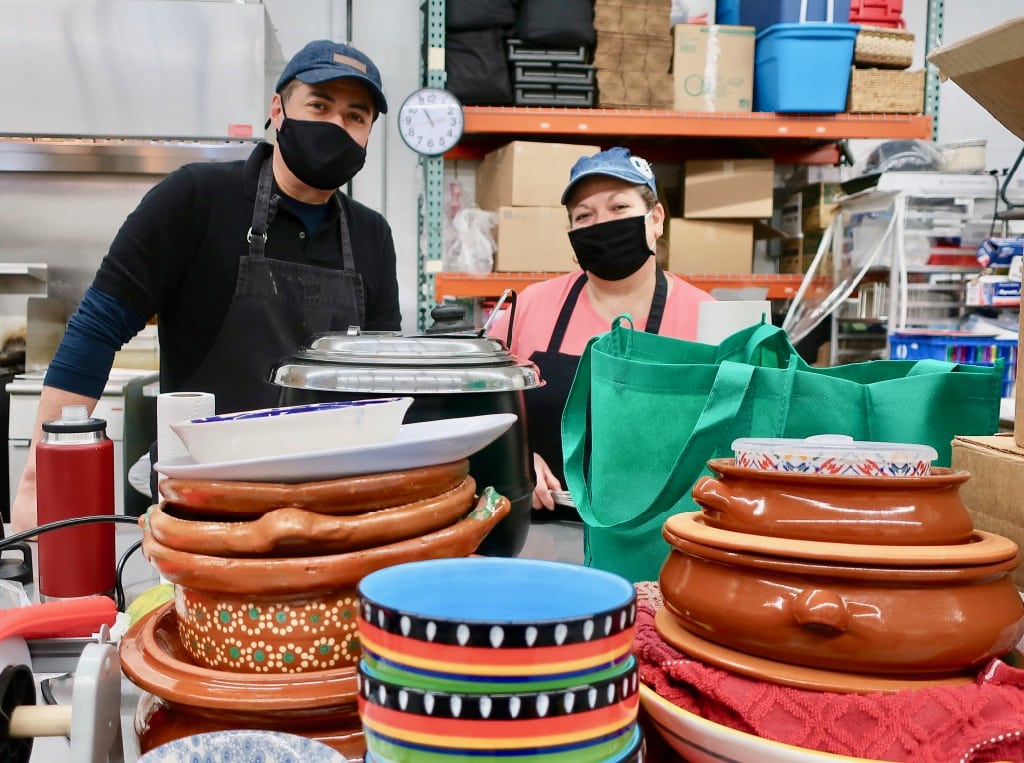 Also look for Wilson's Curiously Good Foods ("My pot pies don't have peas"), Flavors of Jalisco (owned by Jose Orozco, sister, Maria and father, Jose Sr. who make incredible chunky guacamole and pico de gayo, and other Mexican food), Mojo PopCo (Toffee Popcorn, and the fastest biz to get up and running – from query to set up – 2 weeks), and Pure Scents Candle Co. There are really too many more to mention here. If you're in West Chester on any given Saturday from 10-1, the Artisan Exchange Outdoor Market is the hottest attraction in town.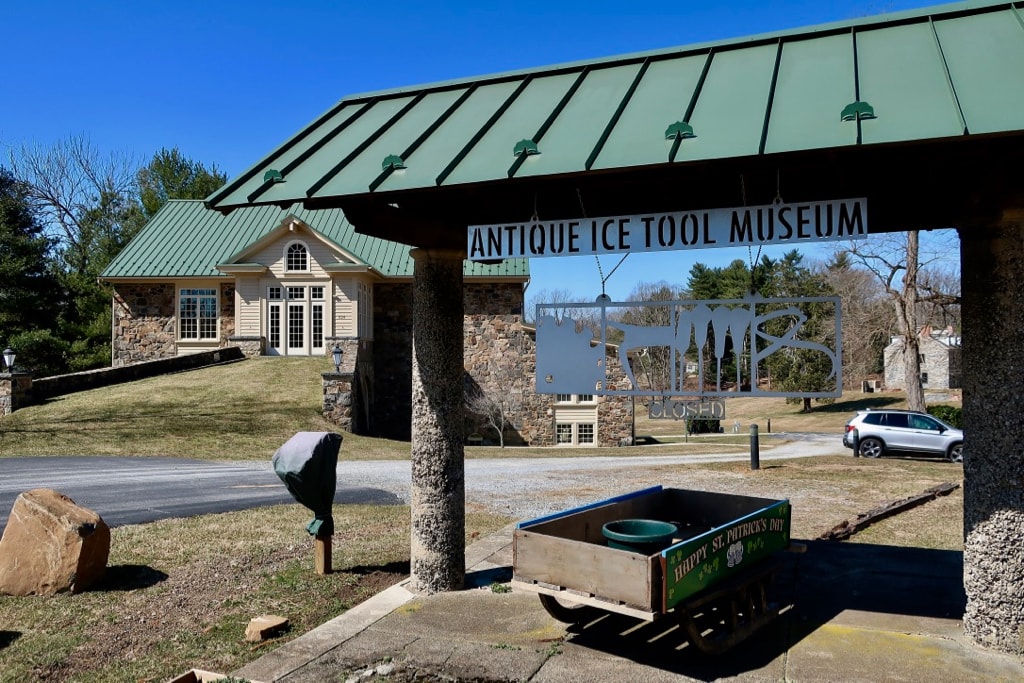 I've never met anyone so emotionally invested in the Ice Business as Pete Stack, founder and owner of The Antique Ice Tool Museum in West Chester. He called the use of ice for food, medicine, and occasionally, human body, preservation a "life changing innovation." Beforehand, the only options for preserving food involved salting, smoking, or canning.
Stack proves how important ice was to human civilization in the museum he established to house the antique tools, iceboxes, trucks, and memorabilia that he collected over the years – the largest collection of ice industry artifacts in the country.
Chances are, even if you live nearby, you might not know about this place. But this is as quirky and interesting a slice of life as you'll find in an area dominated by world-class gardens and DuPont mansions. The immaculate and tidy museum is small, but worthy of a 1-½ to 2 hour tour.
Pete Stack, Iceman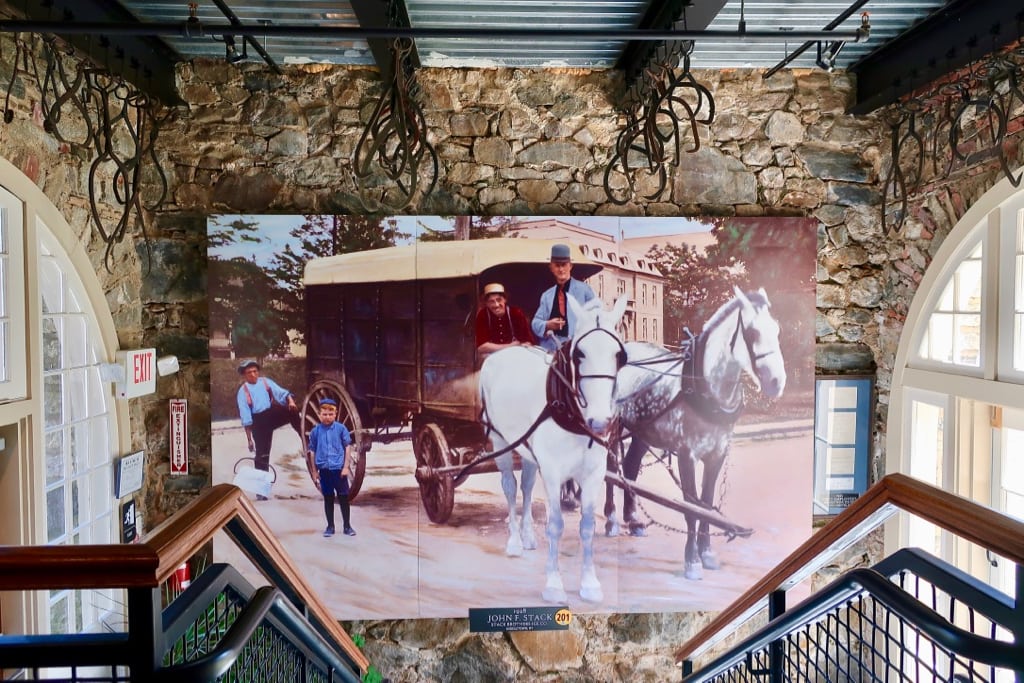 Stack grew up in the ice biz. (His father established Stack Bros. Ice Company). But Pete departed from the family business for a while to work for DuPont Chemical before starting his own manufactured ice firm. At its height, Stack's company made 500 tons of ice per day, distributing bags of cubes to 7-11's and Wawa's all over the country.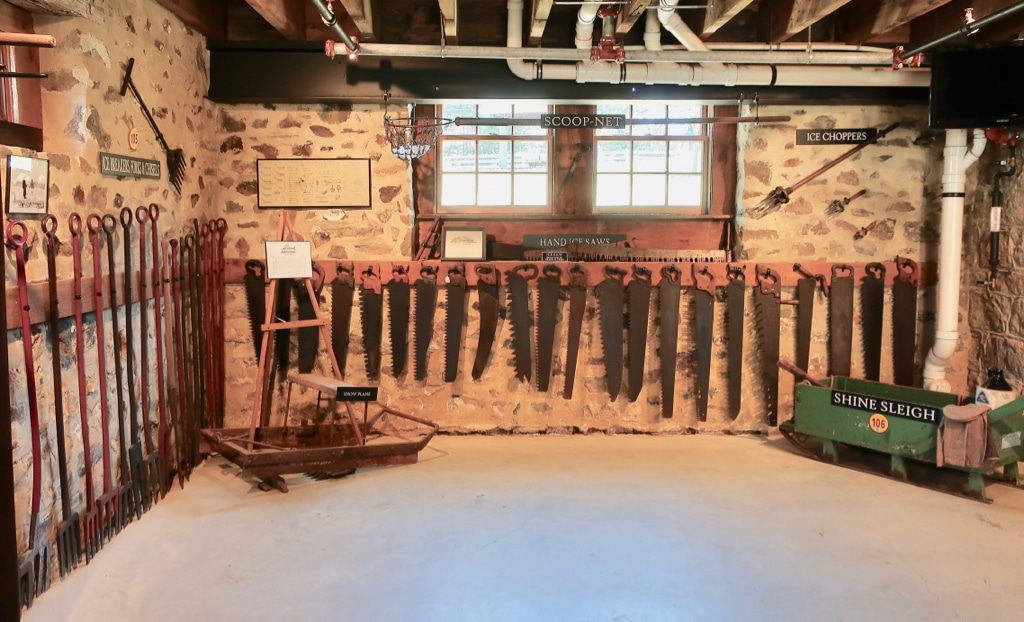 After selling his business, Stack required a repository for his ice tool collection. In 2009, he found an abandoned, circa 1834, stone bank barn that had once housed the Darlington Seminary for Young Ladies, a girl's finishing school (1880-1933). He gutted and renovated the building to lovely effect, opening the museum in 2012.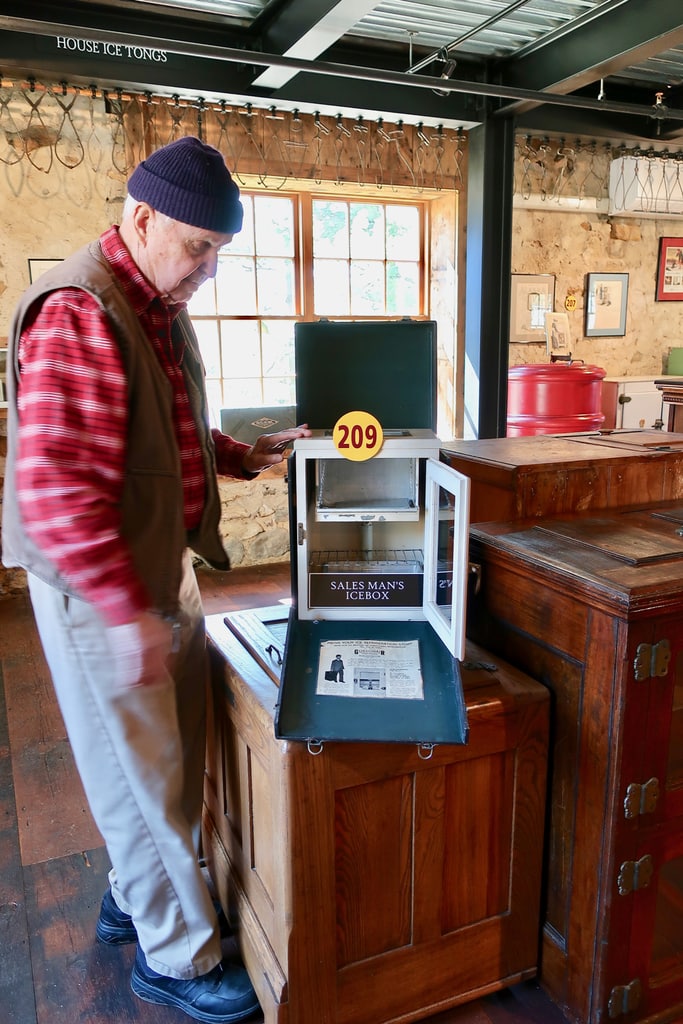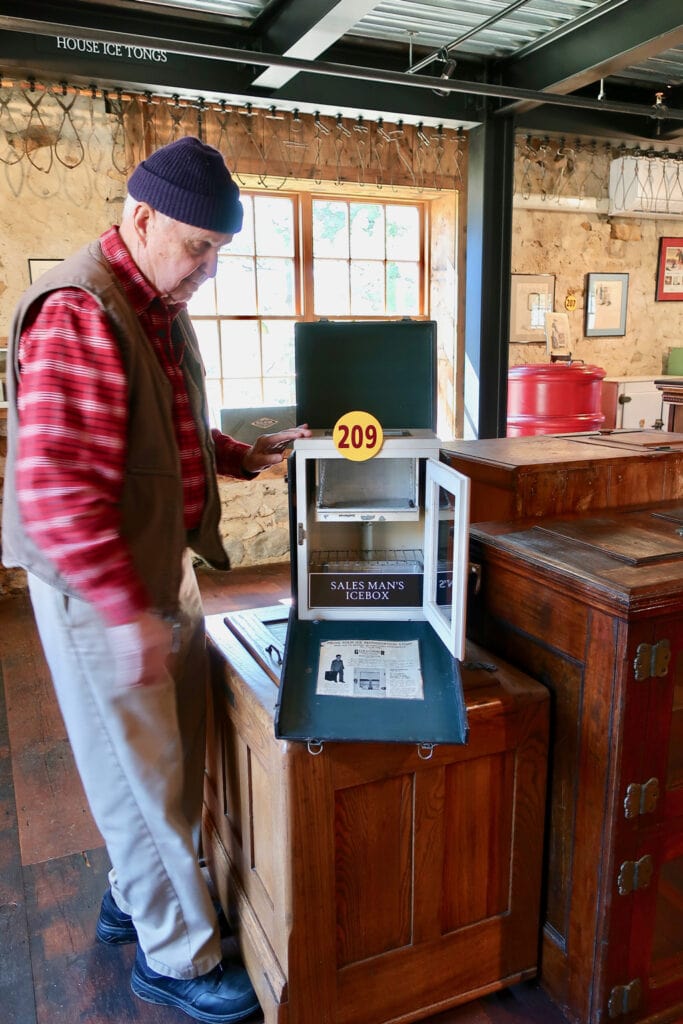 Tour the Museum
Your tour begins in a detached orientation room, where you'll see a short video and nicely designed time-line of the use of ice since 1802, when the first refrigerated ice box was invented by wrapping a metal container in rabbit fur. In 1825, Nathaniel Wyeth (ancestor of artists N.C., Andrew, and Jamie Wyeth) invented a tool to cut pond and lake ice in uniform chunks, revolutionizing the harvesting of ice.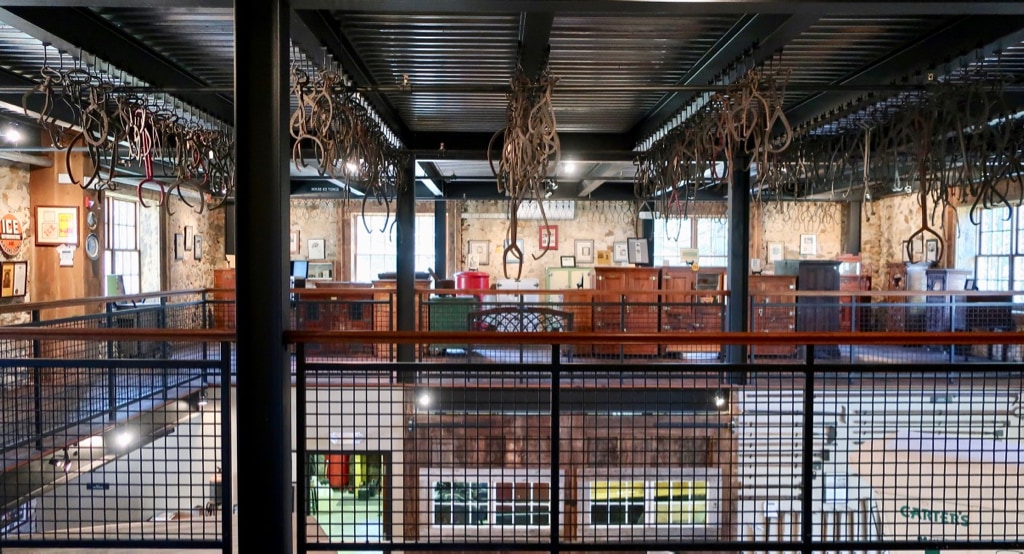 In 1865, the first ice-cooled rail cars began shipping food across the country. This allowed, for example, small mid-west towns to open grand Oyster Bars and Restaurants, like the Hotel De Paris in remote Georgetown, Colorado.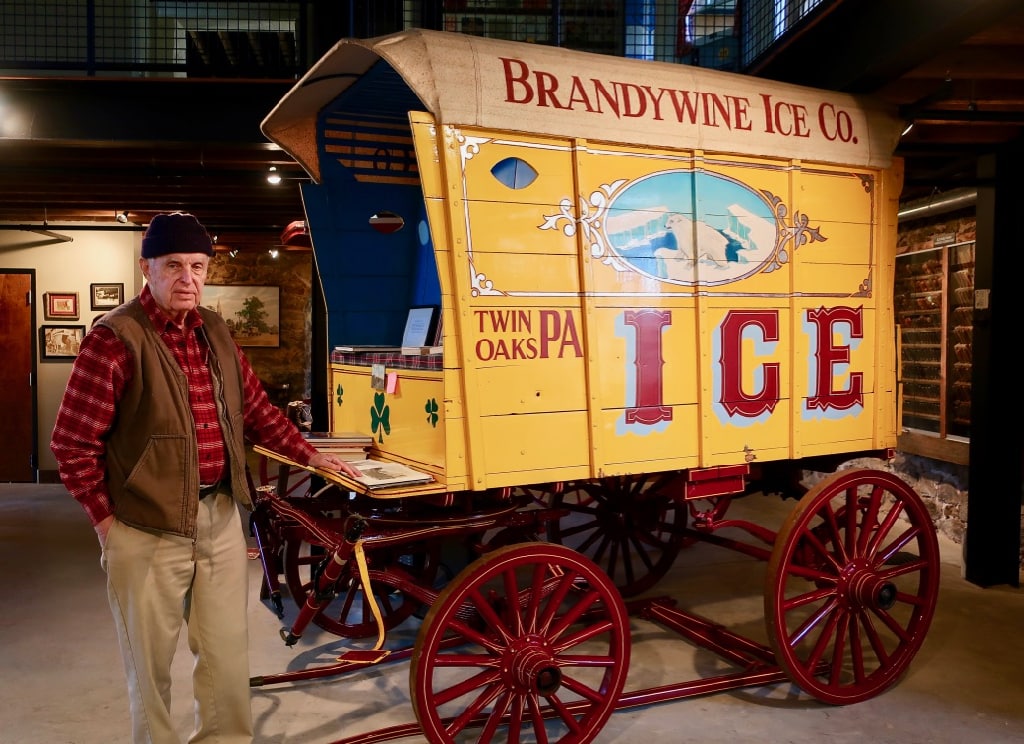 By the 1920's, the ice industry was roaring. Over 4,800 ice plants employed 160,000 people who harvested 40 million tons of ice annually. The delivery of ice was so ingrained in American culture, in fact, Eugene O'Neill's The Iceman Cometh, first staged in 1947, and then off-Broadway in 1957, was a huge hit.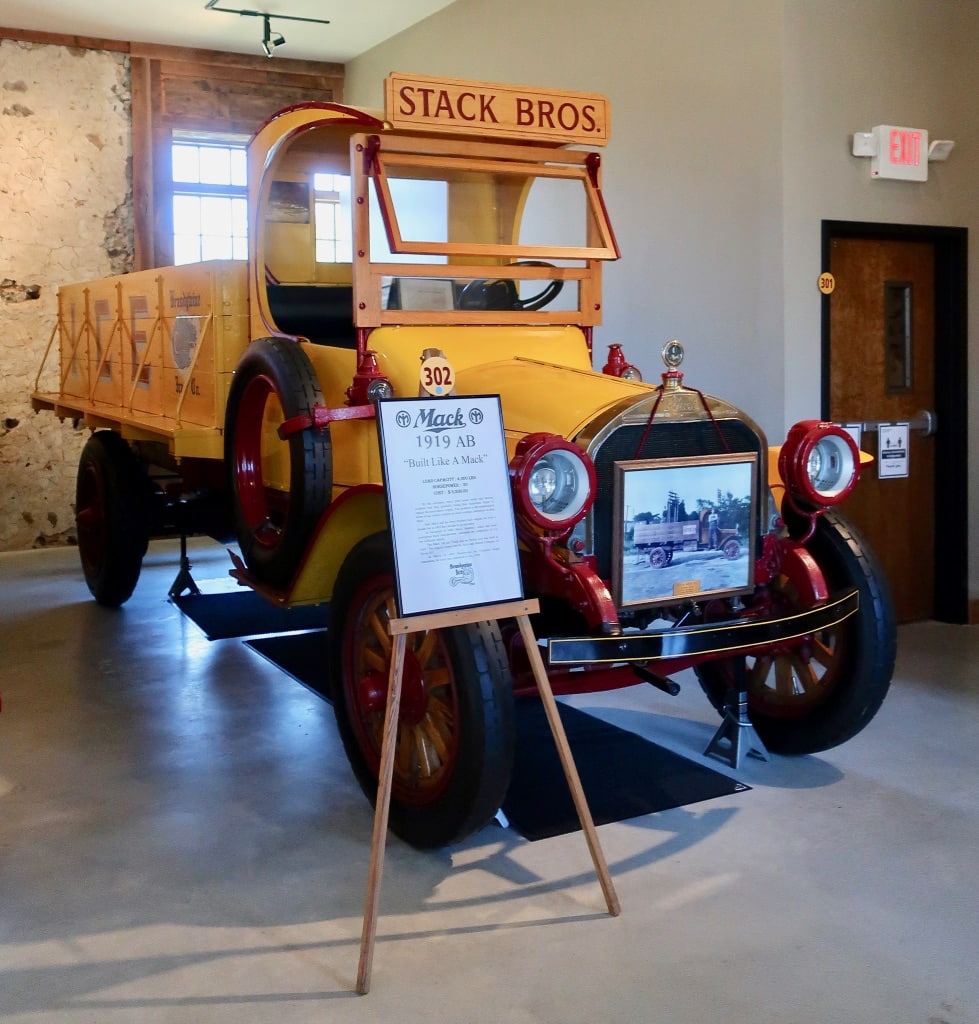 Exhibits in the 3-story museum follow the process of the ice business: from harvesting tools, to ice-picks, plain and elaborate iceboxes, to impeccably restored ice wagons and six still-running Mack Trucks: the oldest a 1919 AB.
You'll learn the difference between "natural" and manufactured ice, and how technology impacted the industry.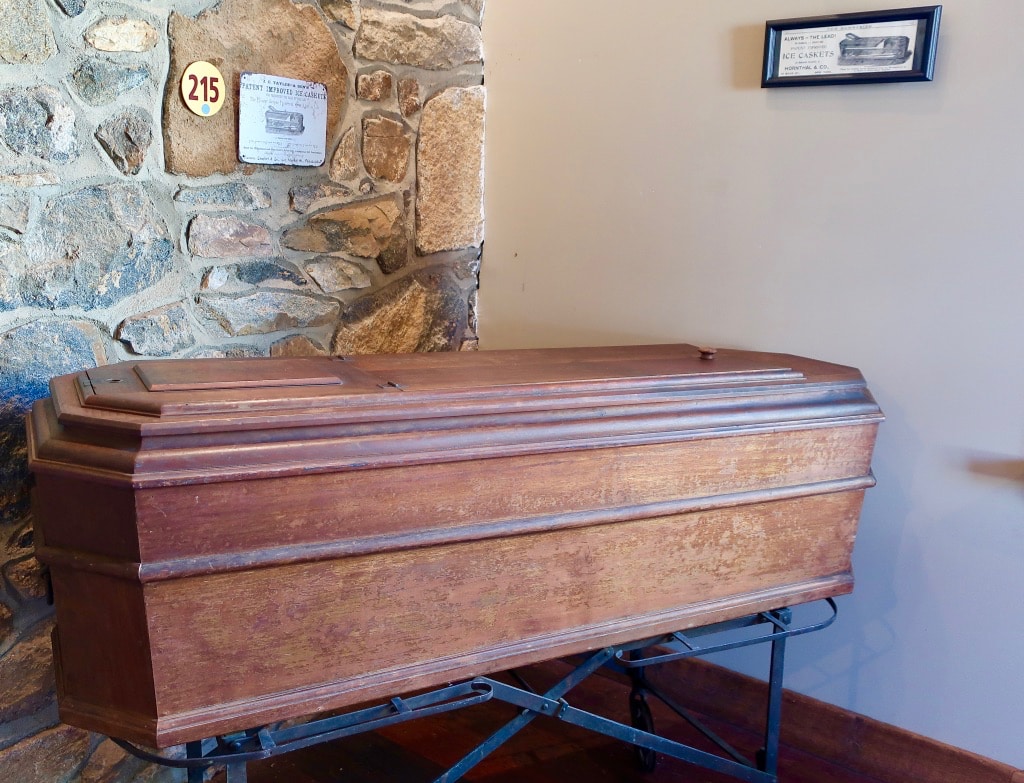 There are ice company catalogs for the trade, and a huge blown-up photo of Pete's Dad at work. But perhaps the most poignant artifact is a Civil War era "Ice Casket" – used to transport the bodies of fallen soldiers prior to embalming. "The bodies of Ulysses S. Grant and Jessie James were both sent this way," says Stack. In that regard, ice was not only life changing, but death changing as well. Museum open March through November by appointment only until further notice.
You'll see Bells, Hughes, Sikorsky's and other rotary-wing aircraft – 35 in all – including civilian and military helicopters, autogiros and convertaplanes. In fact, this is America's largest collection of helicopters in one place. And why, on any given day you'll find excitable kids and, let's face it, Dads, in this former chopper-manufacturing hangar. Wed-Sat. 10am-5pm, Sun 12-5pm, $10 adults, $8 kids.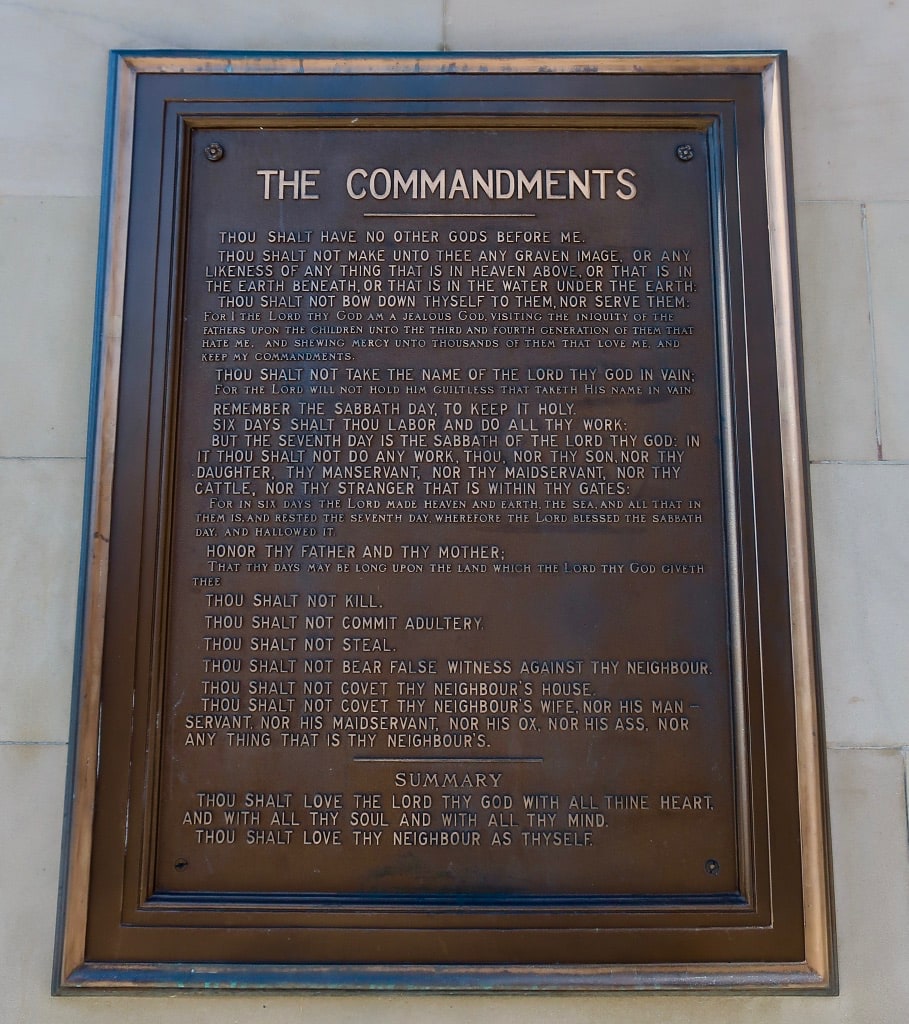 PHOTO OP: Ten Commandments – Old Historic Courthouse
This was what all the brouhaha was about in 2002, when the Freethought Society brought a lawsuit against Chester County for promoting religion in a public venue. At issue: a plaque of the Ten Commandments on the exterior of West Chester PA's (historic – and no longer in use ) Chester County Courthouse. The suit made it to the 3rd Circuit Court of Appeals before being struck down. The Commandments were commanded to remain.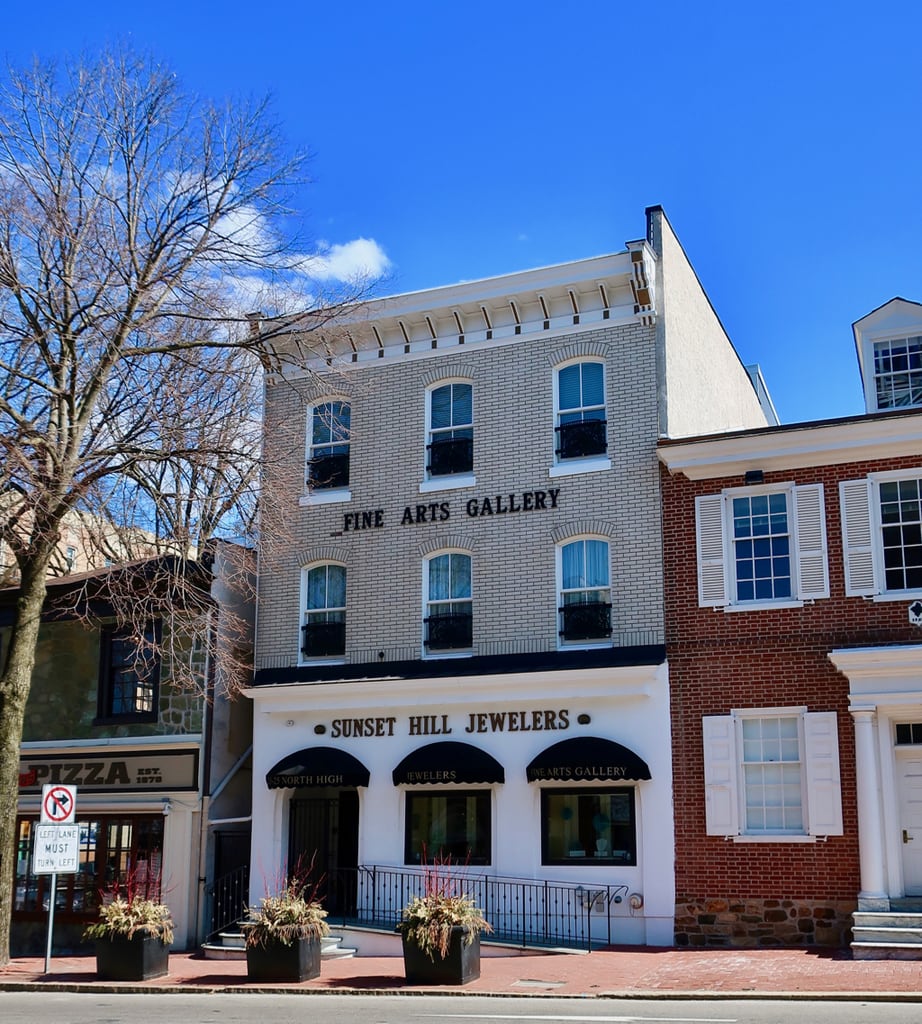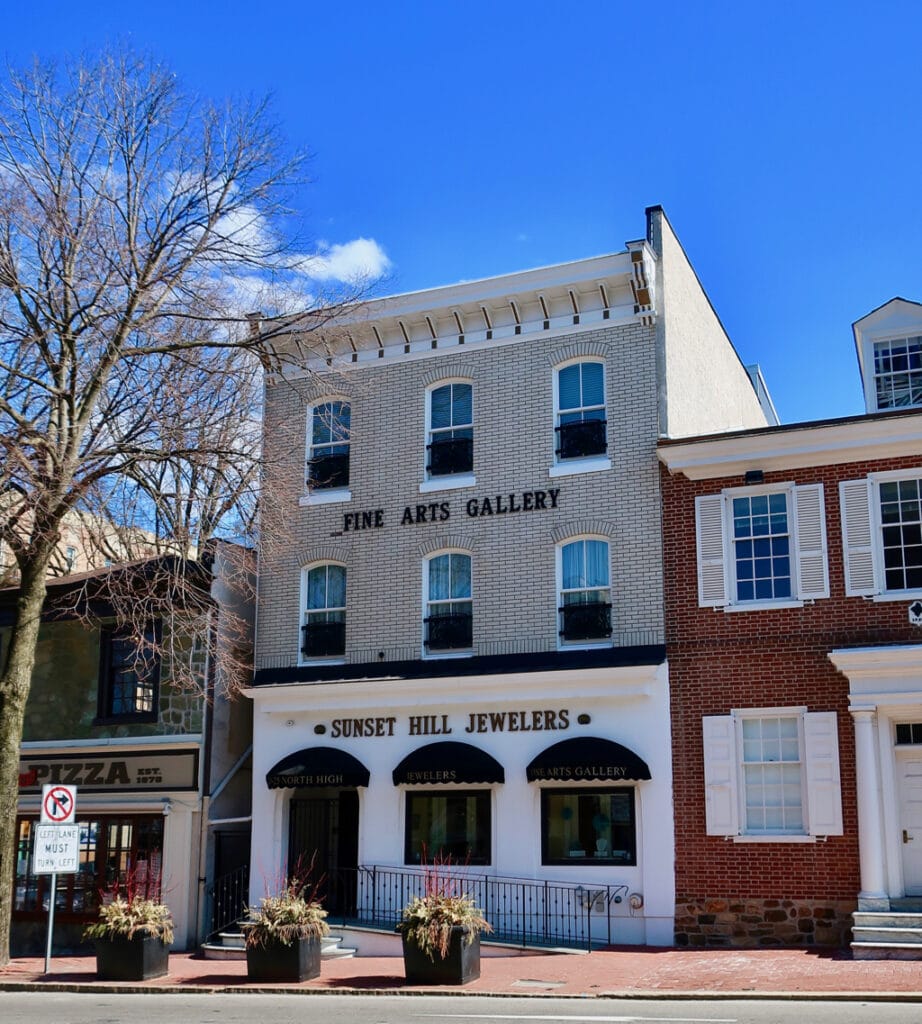 This small 2nd floor art gallery hosts 4 shows a year. But you'll find the work of Harry Dunn on permanent display. This West Chester native is best known for creating the NBC Color Peacock, other commercial logos, and several covers of the New Yorker Magazine.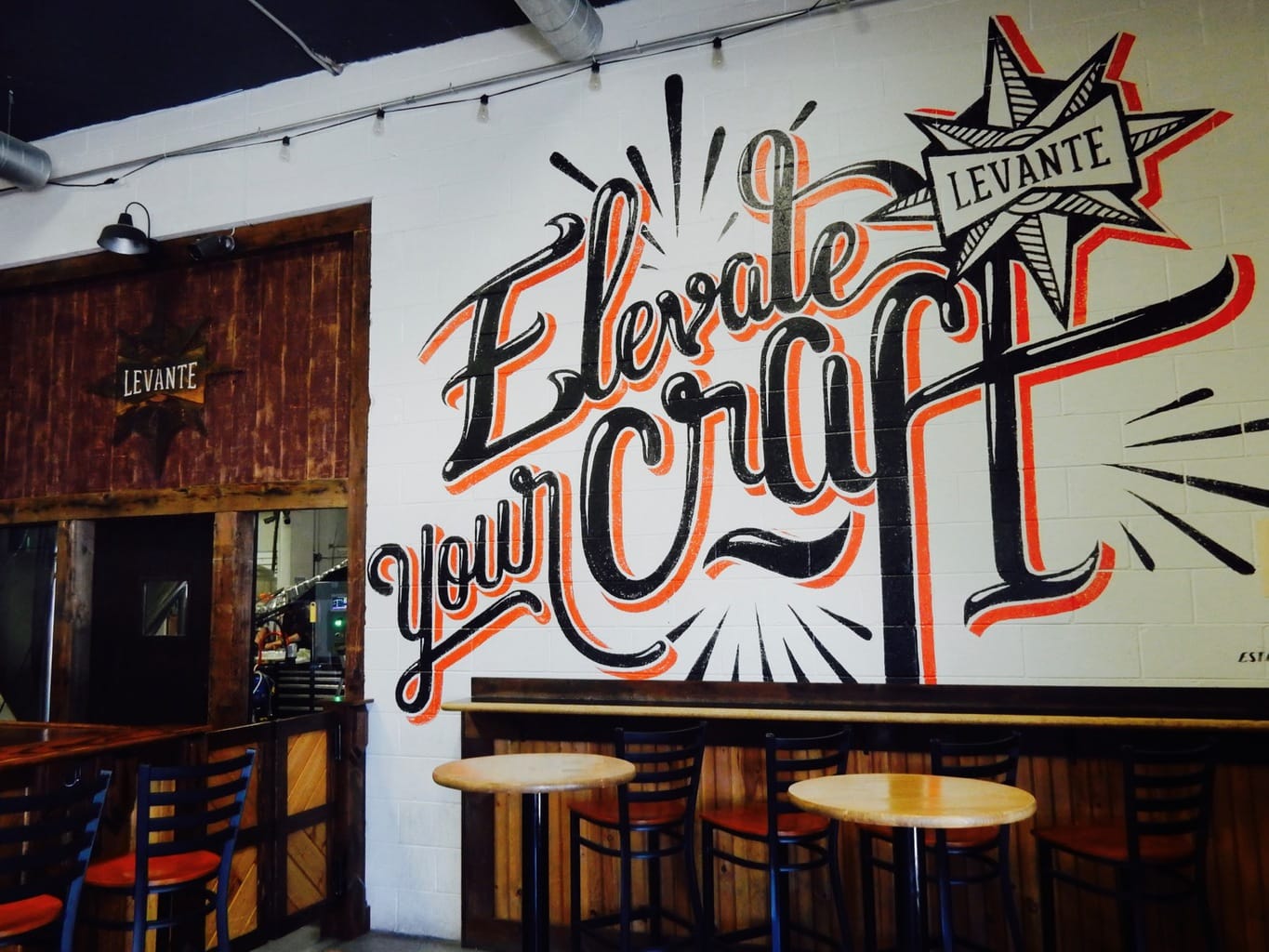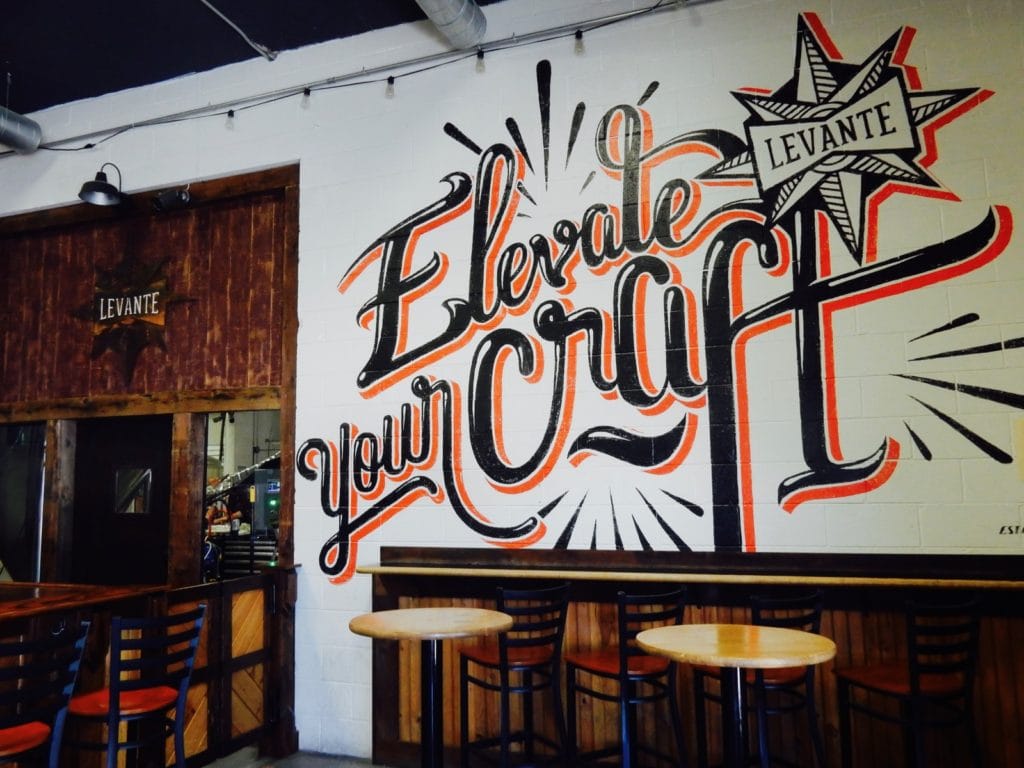 Try Fluffy Stuff (a snappy "lactose IPA"), Dewdrop Mornings, Decadent Tourist, Functioning Call, sweet Fruit Fetish (Lactose and fruit puree), and more of the 20 beers on tap at this merry tasting room. Levante invites 30 food trucks in rotation (one per day), has live music, and outdoor seating for people and their dogs. Open Wed – Fri 4-9, 10, 11 as the week progresses. Sat 11-11 to coincide with Artisan Exchange open market next door.
Best Restaurants in West Chester PA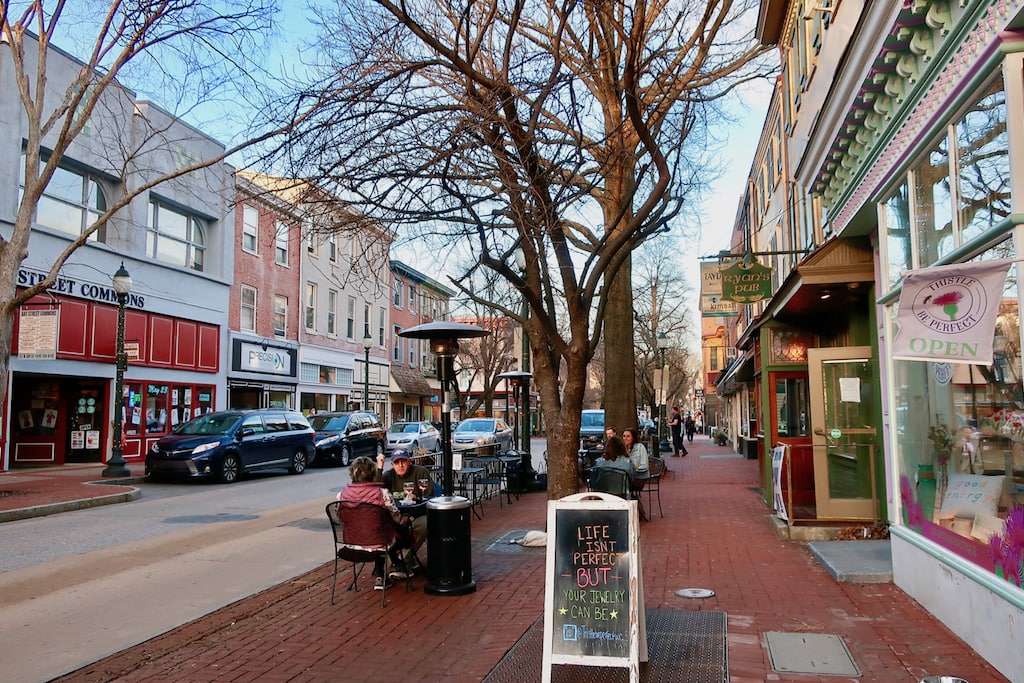 Andario opened in late 2019, and has been winning raves ever since. It is, according to most foodies, the hottest thing to hit West Chester in years. Right now, "Dinner Series" only is available. $75 gets you the table and tasting for the evening. A tough ticket, as to be expected.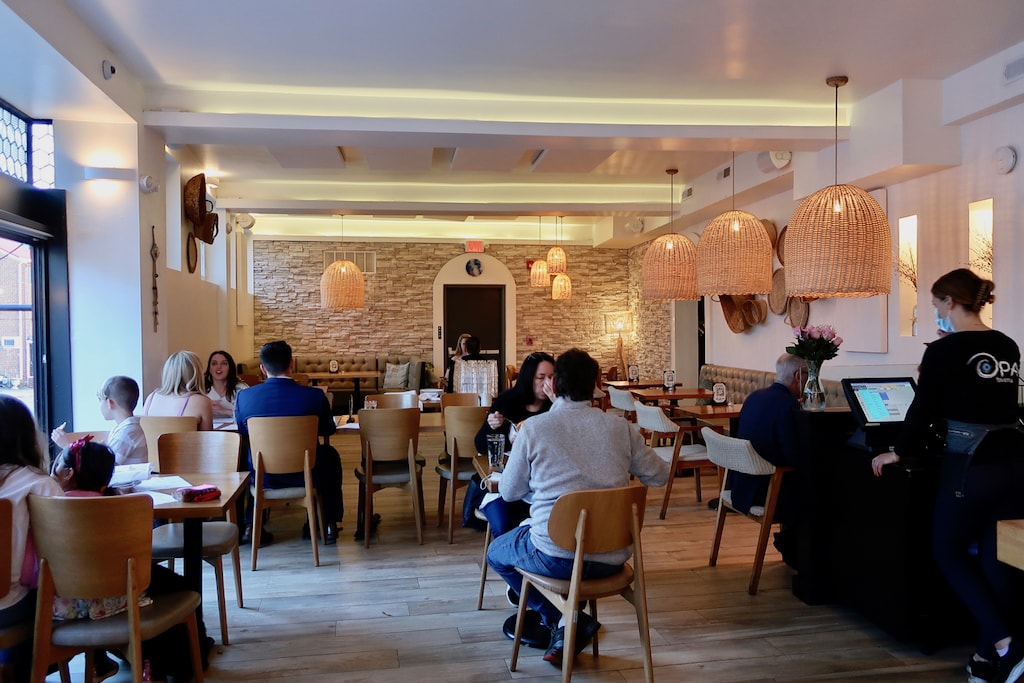 Get your Gyro's, shish-kabobs with lemon potatoes, tzatziki and other Greek delights at this obviously popular spot.
College towns love brew-pubs and West Chester's Iron Hill Brewery proves that point. Its massive dining room is as full as can be at the Covid moment, with regulars scarfing up tweaks on pub-grub. The burgers are great. And those include Falafel Burger ($14) and Pimento Cheeseburger ($14). Also find salads from Strawberry to Quinoa ($8-$11), and a selection of Hearth Baked Pizzas ($13-$15). All go down well with a flight of Iron Hill's best brews on tap.
Sure, you can buy a slice of one of the best Tomato Pie's in the country. Or order a wedge of Gouda from the largest cheese selections outside of Philly. But even if you don't intend to purchase anything, just walk in the door of this family–run market and take a deep breath.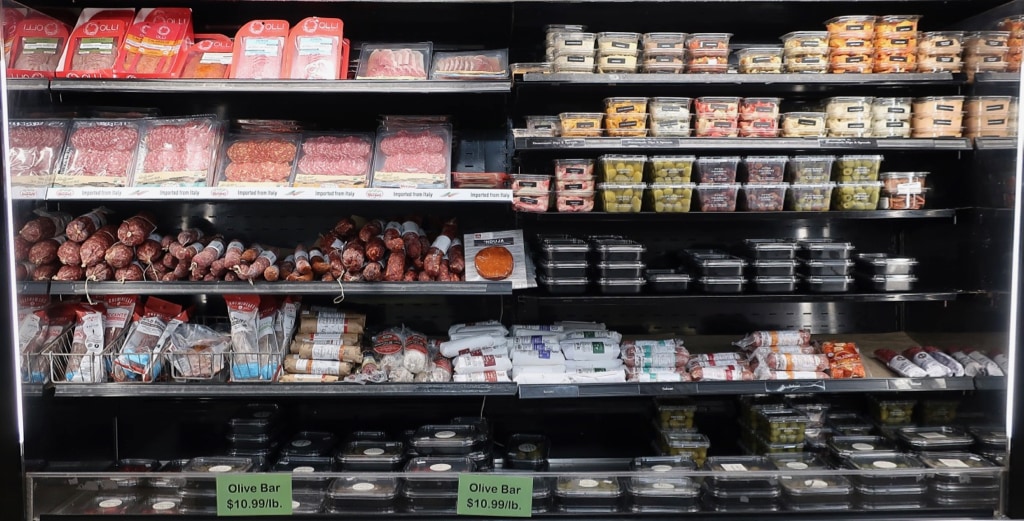 The aroma from the combination of fresh baked breads and pastries, olives and olive oils, dried meats, pastas, and salads, will impel you to walk out with at least a crispy warmed slice of pizza. Or, you can do what those who work nearby do nearly every day. Pick up a square of incredible lasagna or salad from the salad bar and eat at one of a few tables.
Get your ice cream cones and milk shakes at this independently owned shop. Even when outside temps are the same as that of the ice-cream, people still line up for the frozen creamy stuff. The mark of a great place.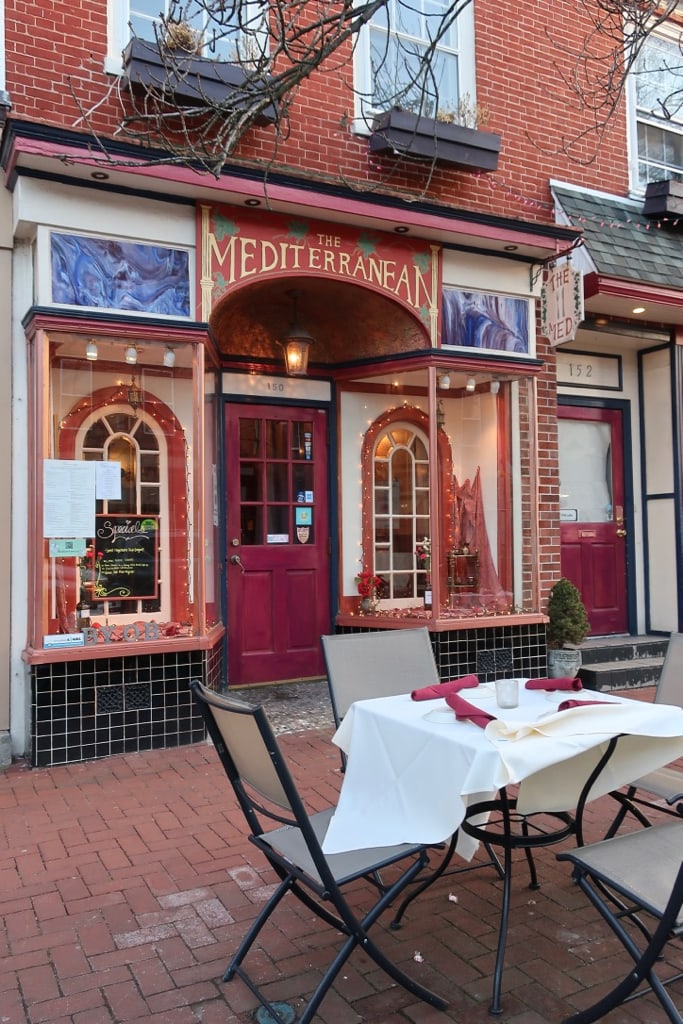 EAT: Locals recommend
West Chester has plenty of other decent (and sometimes spectacular) dining options, which is one huge reason why downtown bustles on mild evenings – even during Covid. Try Limoncello and Mercato for good Italian, The Mediterranean for healthy platters, Spence Café for find meat and seafood, Roots Cafe for organic vegan options, Sterling Pig Tap Room for great craft beer, The Social for scratch Cajun, Kooma for Sushi, and Bar Avalon.
Best Hotels in West Chester PA
When visiting your student at West Chester University in West Chester PA, check out Faunbrook B&B. Why settle for a cookie cutter franchise hotel when you can stay in the charmer of a Bed and Breakfast. The home was built in 1860 by PA Congressman and oil and banking tycoon, Smedley Darlington, a name that conjures up the hero (or villain) of a Victorian melodrama.
The Darlington Family – Smedley, his wife, five daughters, and a son – all lived in this three-story home. The six B&B rooms are now named after the Darlington children. One daughter, Isabelle, graduated Carlisle Law School in 1895, and though prohibited from taking classes there, snuck into University of Pennsylvania to attend lectures.
A woman way before her time, Isabelle was legal counsel and attorney for Pierre Du Pont and his wife when they purchased Longwood. Later, she became the first female President of the West Chester Bar Association (in 1941). Fittingly, the Isabelle Room is a popular one.
First Impressions
The brick mansion, with black shutters and filigreed wrought iron adorning a wrap-around porch, would fit nicely in New Orleans. Inside, common rooms, the essence of Victorian-era finery, have been arranged much as they would have looked when the Darlington's lived there. In fact, some of the furniture is original to the Darlington Family. These pieces were left when the home was converted into a B&B in the 1980's, and incorporated into a subsequent restoration by innkeeper, Lori Zytkowicz.
A bit out of town, but near the West Chester University campus, Faunbrook attracts visitors who want a home-style stay. Zytkowicz (who purchased the property in 2008, after it was renovated in 2007) is a gracious host, providing complimentary wine before (and/or after) dinner in town, and a gourmet breakfast in the morning.
Lori gives each guest a short tour. She takes you through the parlor where she arranges corporate meetings, teas, murder mystery dinners, showers, and weddings for 2-100 people. She'll show you how the Monticello Windows work: the top window portion opens up, and two wall panels below it swing out like Dutch doors, creating a convenient passage onto the porch outside – a very clever and unusual architectural feature.
Guests generally make themselves at home in a smaller parlor room. Or on original settees in the whimsically colorful "Winter Porch" – set with wine glasses and several bottles of wine that guests can pour for themselves (complimentary) at their leisure.
The Rooms at Faunbrook B&B
My room, Elizabeth, features Laura Ashley style floral wallpaper and bed quilt, carved wood headboard, and a claw-foot bathtub (set up as shower as well) in a bright bathroom with black and white tile floors. You'll find antiques in all 7-guest rooms, some original to the home and the Darlington family.
The three suites have TV's, though the four regular rooms do not. However, internet access is free and fast in all the rooms, and there's a communal TV in the living room downstairs.
Breakfast at Faunbrook BnB
"I've been doing farm to table before farm to table was a thing," says Lori. She sources her eggs from a neighbor, and other ingredients, used to cook her morning meals, from local farms.
Enjoy a candle-lit (and in cooler weather, fireplace-lit) breakfast every morning on a formal dining room table. Guests converse over stuffed French Toast, Asparagus-Herb Egg Bake, and other delightful offerings. It's communal, friendly, and a fantastic experience for solo travelers who seek company while dining.
Rooms from $141 – $209 per night. Includes parking, wi-fi, glass (or two) of wine, gourmet breakfast.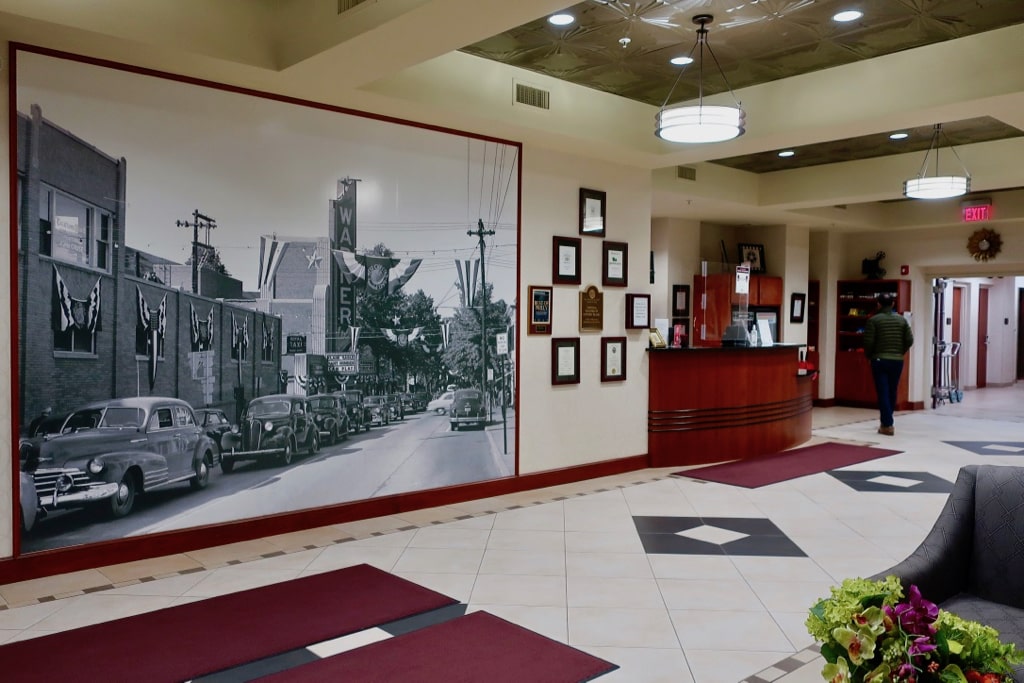 The Hotel Warner began as the grand art-deco Warner Movie Theater, built in the depths of the depression in 1930. In fact, according to its website, the theatre was considered so grand that it was rumored to have been intended for Westchester New York and put in West Chester, Pennsylvania by mistake.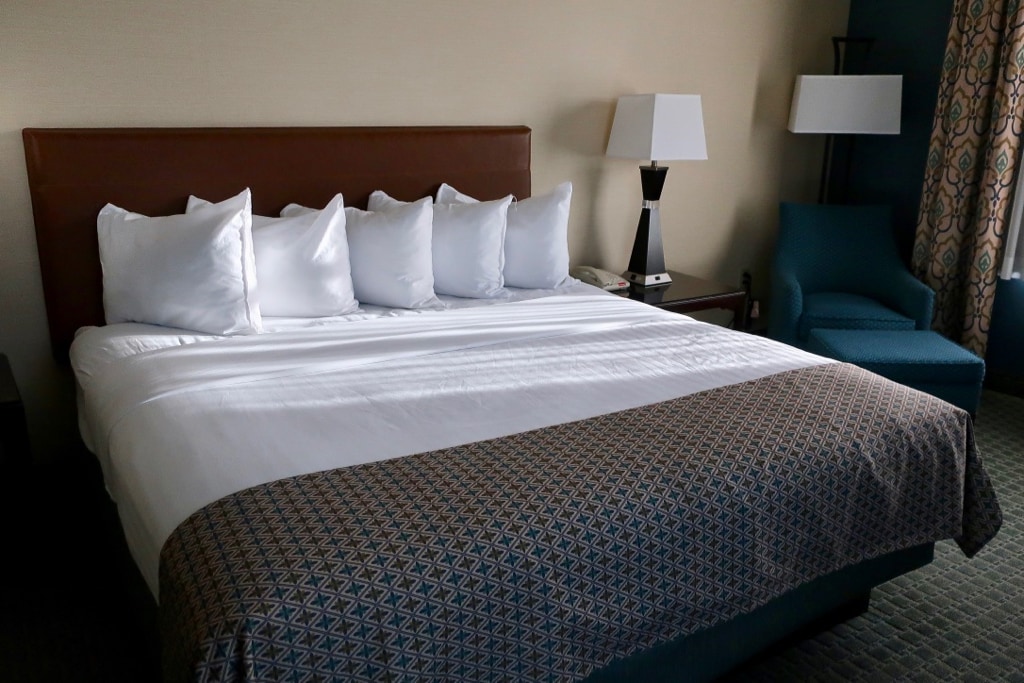 Now, the Hotel Warner is an Historic Hotel of America on the National Historic Register. Though it's not luxurious in the posh, chic sense: with its traditionally decorated guest rooms, granite bathrooms, small indoor pool, and workout room, The Warner is a reasonably price upscale option in West Chester. Just steps from the action on Gay and Market Streets – it's one of the best-located hotels in town. Rooms from $109 per night.