Last Updated on
WHY GO: Once upon a time, Atlantic City was the "place to be" on the East Coast with what's been called "the most historic pedestrian promenade in the world." Top bands and stars appeared here, sun worshippers flocked to the Boardwalk and the wide, clean beaches, Bert Parks sang "There She Is, Miss America" as a newly crowned beauty sashayed down the catwalk, and even the astounding Diving Horses had their moment of fame (before the ASPCA completely harnessed that breathtaking act). Atlantic City became tarnished by corruption (see "Boardwalk Empire") and got even seedier when the casinos moved in during the late 1970's.
Yes, there are still some unappealing parts of town, and some large casinos have shuttered, but The Miss America Pageant has returned from L.A., major celebs are headlining again, sections of the city are gentrifying, and the boardwalk is still very much intact.  So, even if you are not a gambler, come here for some of the reasons our ancestors did. Sun, fun, excitement, hot bands and cool nights. Here's the Getaway Mavens way to see Atlantic City.
Things to Do in Atlantic City
TRANSPORT: Jitney. No need to drive in AC. Short busses will transport you to both the Boardwalk (most casinos) or Marina (Borgata) side. Just be sure to get on the right one. $2.25 per ride, $2.00 for"Frequent Rider" program. Exact change or ticket required.
DO: Stroll the Boardwalk.  Originally built in 1870 to keep sand out of the resort hotels and shoreline trains, the Atlantic City Boardwalk was widened and lengthened over the years (now 4 miles long) and is the best people-watching way to get your exercise. Or not.  You can opt for a human-powered rolling chair to get you where you want to go.
GO: Steel Pier. This was the famous Steel Pier that from the roaring 20's until the 1960's saw hot bands, hotter celebs and the Diving Horses. Al Jolson, Frank Sinatra and even the Beatles played on its planks. Rebuilt by Donald Trump after a fire destroyed the original, the 1,000 foot long Steel Pier served as The Donald's helipad until Anthony Catanoso and his brothers began managing it as an amusement park and purchasing it outright in 2011. Since then, the Catanoso's have sunk millions into the pier, adding twelve new rides, including 150 ft. tall The Mix – "the big one at the end of the pier that goes over the ocean."
For a treat, head to the pub at water's edge. "It's the only place you can have a drink 1,0000 feet out in the ocean without being on a boat," says Anthony. Open daily June 13-Labor Day, weekends till October 31st.
VISIT: Borgata. Notice I said "visit" and not stay, as this is a "no-gaming" getaway and over the top Borgata houses a slew of slots and tables. But anyone interested in ritzy décor will want to at least walk through this gaming palace. Go for the reasons I outline below: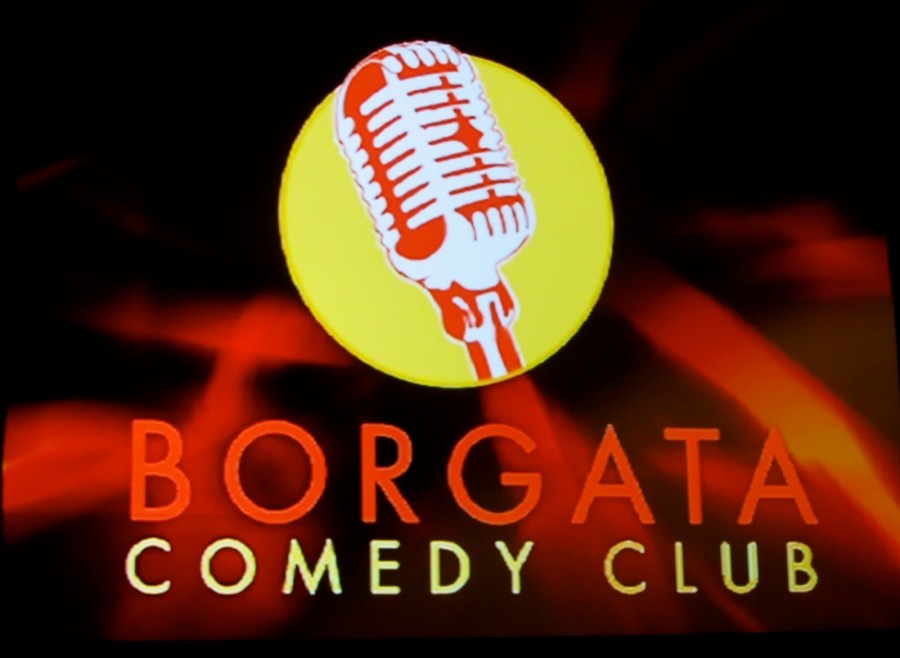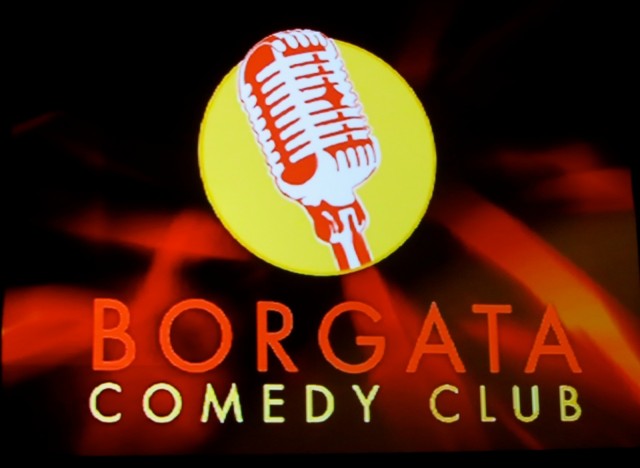 SEE: Comedy Club at Borgata. What the Catskills were to Jewish Humor, the Borgata is for Italian, and you'll find the same range of funniness here that you would in any New York City comedy club. Midweek in April saw a full house and hilarious Maureen Langon slaying the audience (figuratively of course, ish).
SEE: Pick A Show, Any Show. On any given night, there's something – many things – going on. Nightlife in AC proves to be an embarrassment of riches – with a tab that can run from zero to thousands. On the zero end, gather with the crowds on the boardwalk to see the 3-D Lightshow on the Boardwalk – with truly remarkable special effects that turn the façade of Boardwalk Hall into a crumbling pile of stone– an 8 ½ minute spectacle that will impress even the most lightshow-savy traveler (every night, every half hour beginning at 8:30PM).
BUY: Souvenir Box Fralinger's Salt Water Taffy. When Philadelphia fishmonger, Joseph Fralinger, took over a taffy shop on the Atlantic City Boardwalk in the 1880's, he perfected his recipe and started stuffing oyster boxes with the freshly made confection for tourists who wanted to take a bit of Atlantic City home with them. Nearly 130 years later, you can still purchase a pound of Fralinger's Taffy for $8.99 – making it one of the least expensive, relevant and delicious souvenirs you can buy.
Where to Eat in Atlantic City
EAT: Bobby Flays at Borgata. It's loud and busy in this top-notch steakhouse, with cuts of meat and other menu items on the pricy side. You can't miss the "Lobster Bar" – Flay's version of an oyster bar with whole, fully-cooked crustaceans poised on ice to entice. These turn into the "Shore" portion of the "Strip and Shore" ($125), a combo Kobe Steak and Lobster Tail dish. But you don't have to cash all of your winning chips here: "Rack of Pork" is $34 and even a Philly Strip Steak is $46. Start off with signature "Stacked Onion Rings" salad ($13), which is a salad like ketchup is a vegetable. But still – outrageously fried-delish.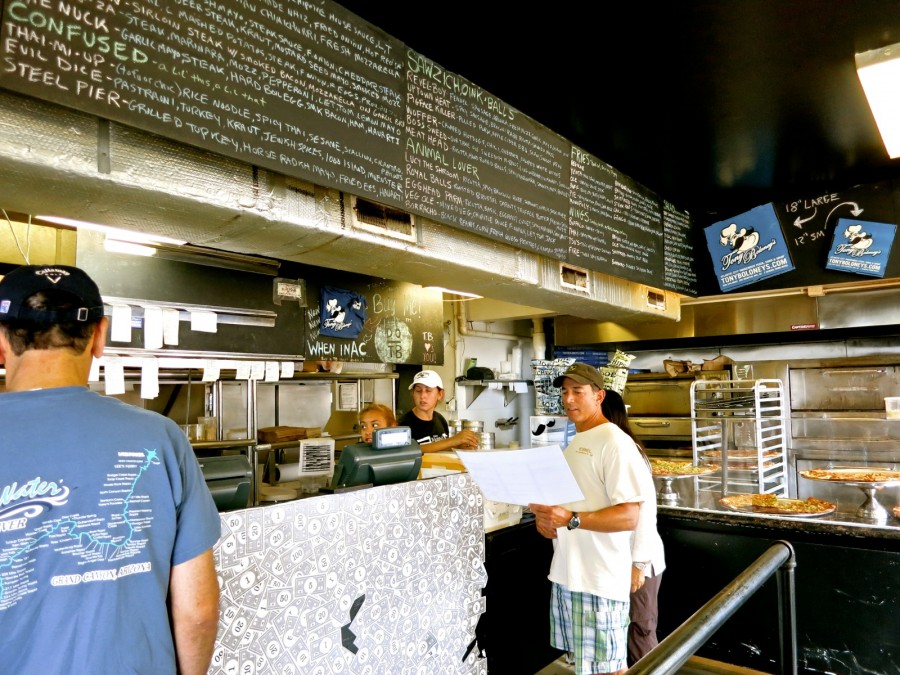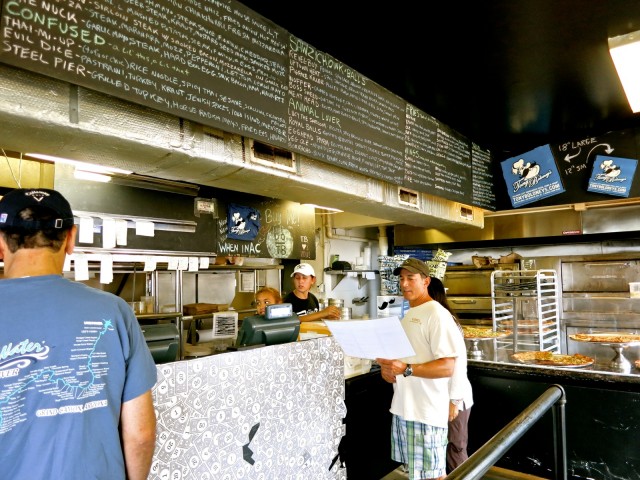 EAT: Tony Boloney's. Opened "for the Revel construction workers" in the middle of the "aughts", this sub and pizza dive is more inventive, fun and tasty than any run of the mill pizza joint in town. Though a bit remote, fans don't mind – the food is that good.  The new "Let My People Go" – is a whole "Passover Seder" on a hoagie roll – barbecue brisket, charoset and horseradish among other ingredients. Or try the Shanghai Shuffle Pie – a white version with sweet and sour Asian fried chicken with scallions – among dozens of crazy options. Ironically, though Tony Boloney's opened during Revel construction, it might outlast that bombastic casino.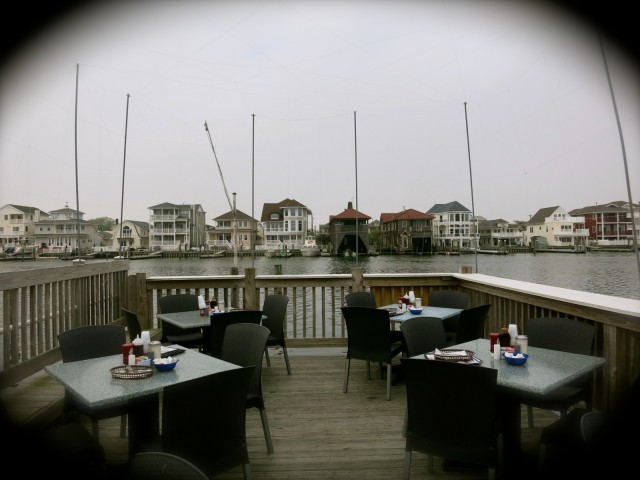 EAT: Gilcrist Offshore Restaurant. You'll find this little shack on the canal side of AC, adjacent to a row of commercial fishing boats tied up to the bulkhead. It's the anti-AC, no glitz whatsoever, and you may question where you are exactly. If it's a nice day, sit on the deck overlooking the canal with casino hotels in the distance. Get the "Short Stack Hot Cakes" – a fan favorite – two unadorned pancakes the size of a dinner plate. Nothing fancy , just good, hearty fare.
DRINK: Landshark Bar and Grill. Sure, it's hokey. But with the palm trees on the sand, you can pretend its Key West, and after a few drinks, you won't know the difference. Within eye-shot of Steel Pier, you won't have to go far, either, for some of the most daring rides around.
STAY: Sheraton Atlantic City Convention Center. One of the benefits of staying in this Starwood Hotel, especially for non-gamblers, is the fact that it's one of the only upscale hotels in AC without a resident casino. Off the main drag, with an impressive circular drive, you could be pulling up to a resort out-of-town if it weren't for the huge Convention Center and mall-like block of big box stores nearby. A small statue of Bert Parks holding a Miss America crown greets you in a lovely entry garden, and inside the lobby, you'll find a small exhibit of well-known Miss America winners with their gowns and other accoutrements.
Rooms are spacious and redone in earth and sky tones – nothing wildly outlandish, but aesthetically appealing. If you are hosting a party or celebrating a special occasion, spring for the VIP Suite – a trio of rooms with curved walls of burled and inlayed wood, colorful art, and floor to ceiling windows overlooking the AC Expressway and beyond. There's room for two to spread out in the red-granite and glass spa-shower, and two sinks for late night or early morning toothbrush conversations. Standard room rates begin at $100, VIP Suite $1000 per night.