WHY GO: The northern Jersey Shore town of Long Branch NJ, with the Atlantic Ocean, beaches, and incredible sunrises, shares all the benefits of a "Jersey Shore Experience" with its southern sisters of Atlantic City and Cape May. But it's so much easier to get to.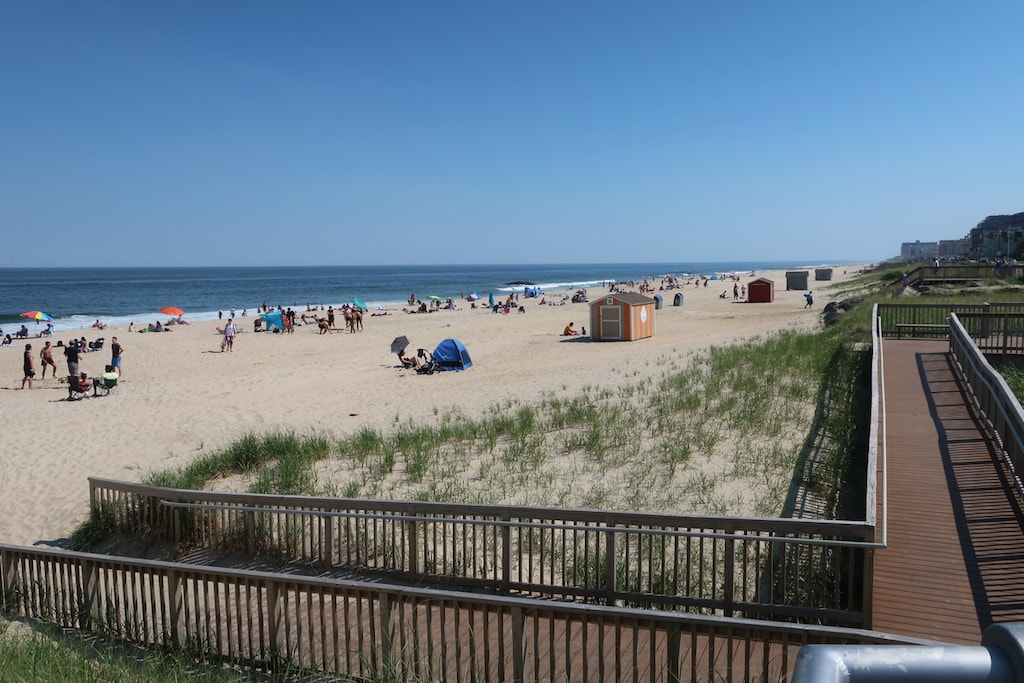 Long Branch is the first stop on the NJ Transit Bayhead Line from Penn Station, and is just an hour's drive from Midtown Manhattan.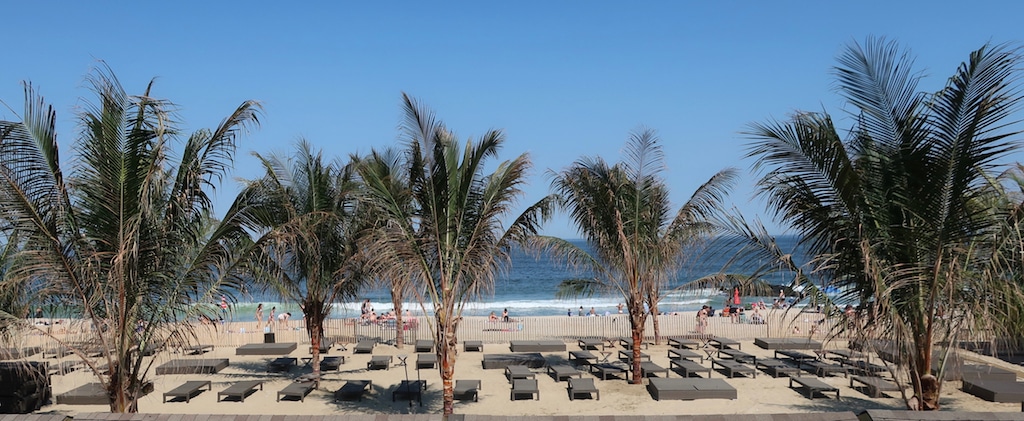 Long Branch has been a resort town since the Victorian Age, but fell into decline in the 1950's. About 15 years ago, a blighted section right on the beach was seized by eminent domain and developed into the luxury mixed-use Pier Village complex: with condos, apartments, restaurants, shops, and several boutique hotels
When I first reported on Pier Village four years ago, it was still in development. Now, in mid 2021, it's a full-fledged beachfront neighborhood, with a 7-Eleven and everything. There are more restaurants, more condos, and more people.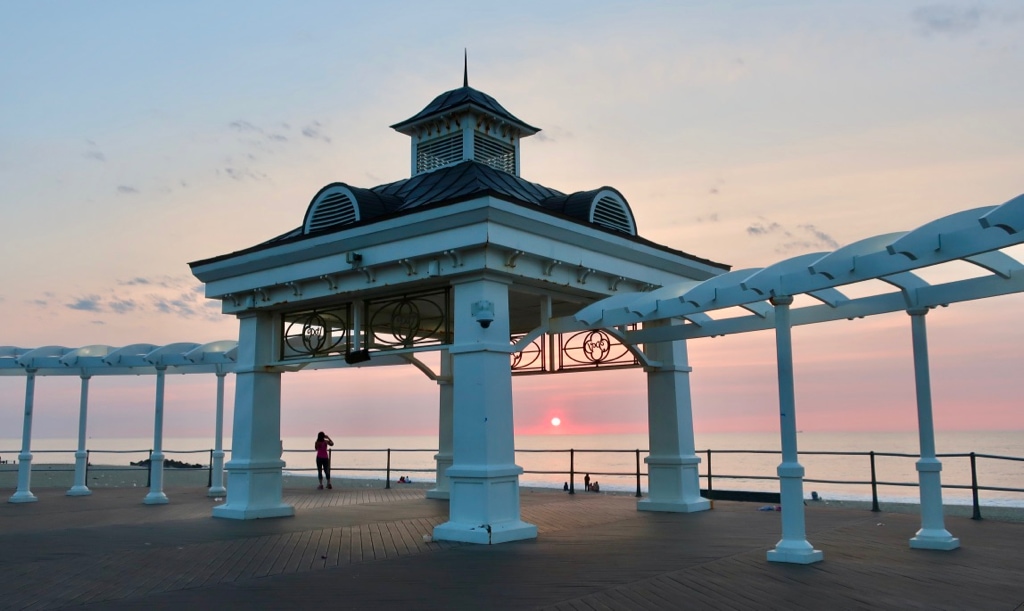 And yes, sunrise is still as revered. 
Besides The boutique Bungalow Hotel, there's now WAVE Resort – right on the boardwalk – with Miami-style pool on the roofdeck overlooking the beach.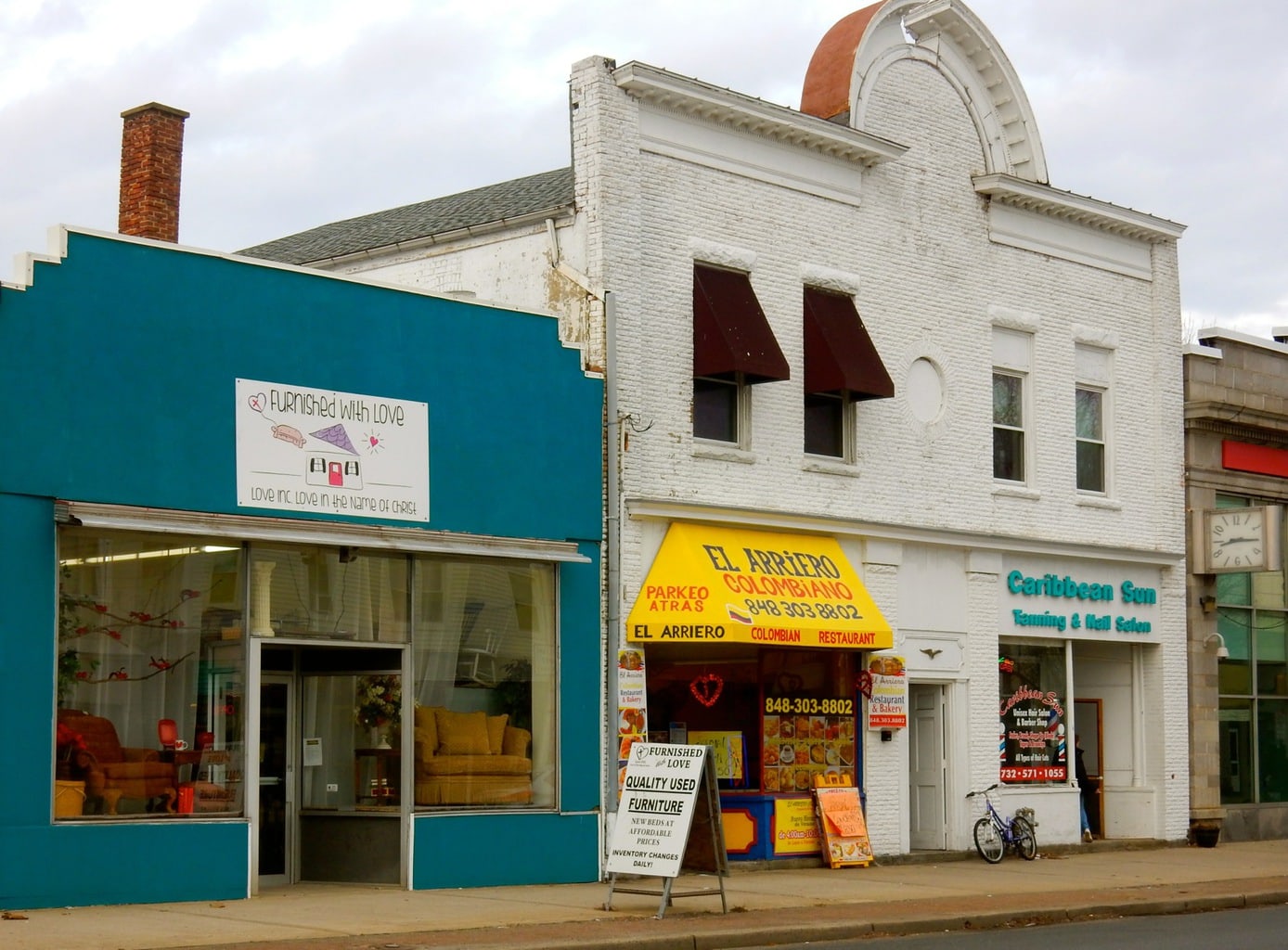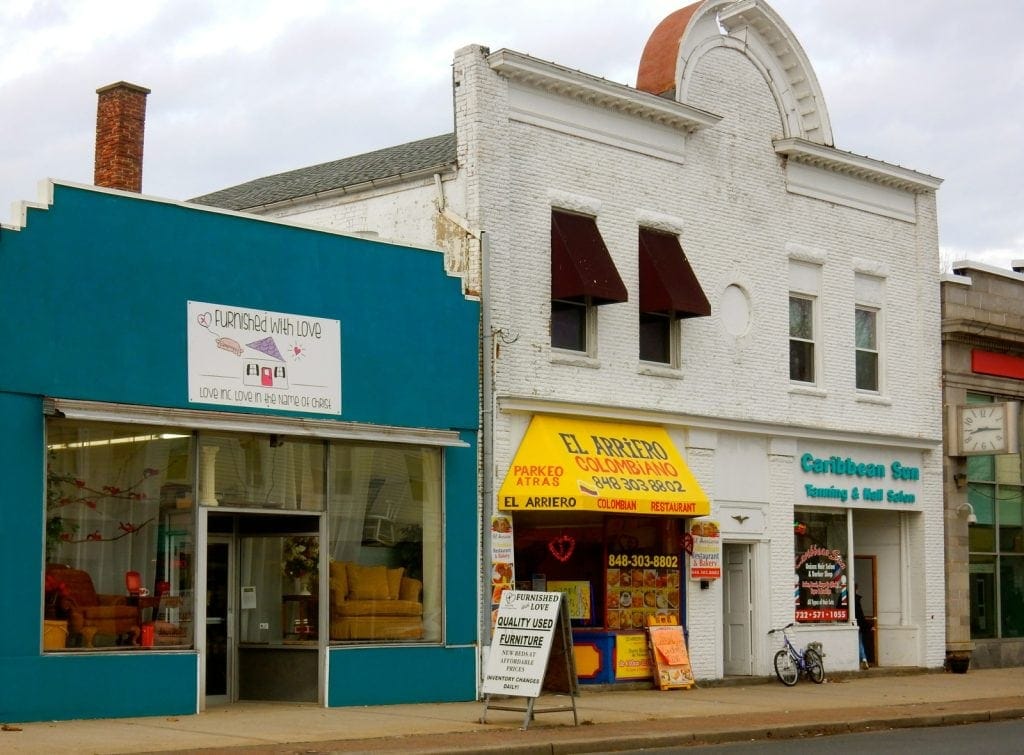 Though you might feel inclined to stay "on campus" while visiting, plan a foray south on Ocean Avenue to catch a glimpse of the grand mansions along the waterfront. And then head west to West Long Branch, home to Monmouth University and a Brazilian- Portuguese enclave peppered with fun clothing shops and South American markets.
The Getaway Mavens included Long Branch on our "12 Romantic New Jersey Getaways" roundup here. Check it out for more to do in the Garden State.
Things to Do in Long Branch NJ Off Season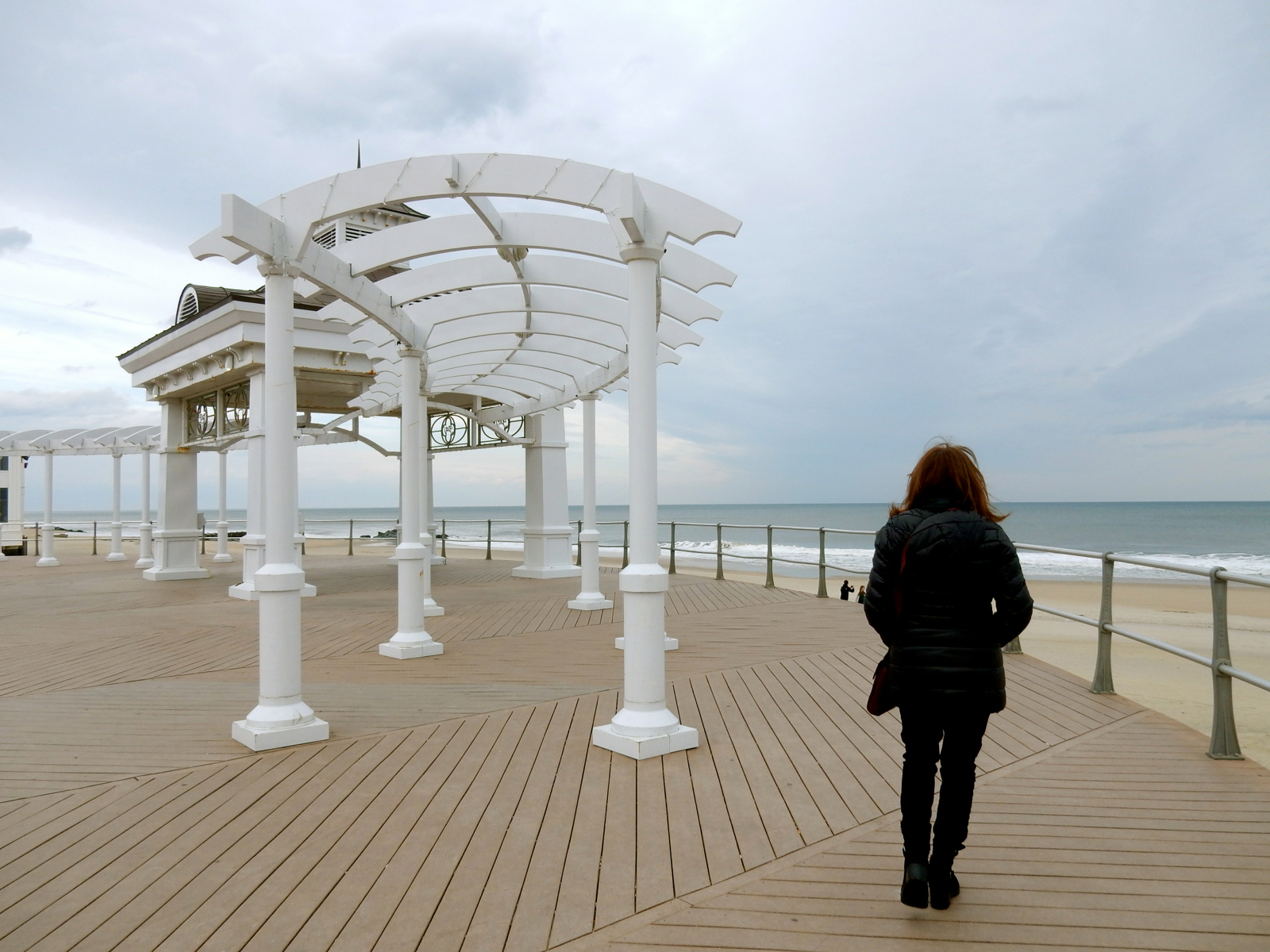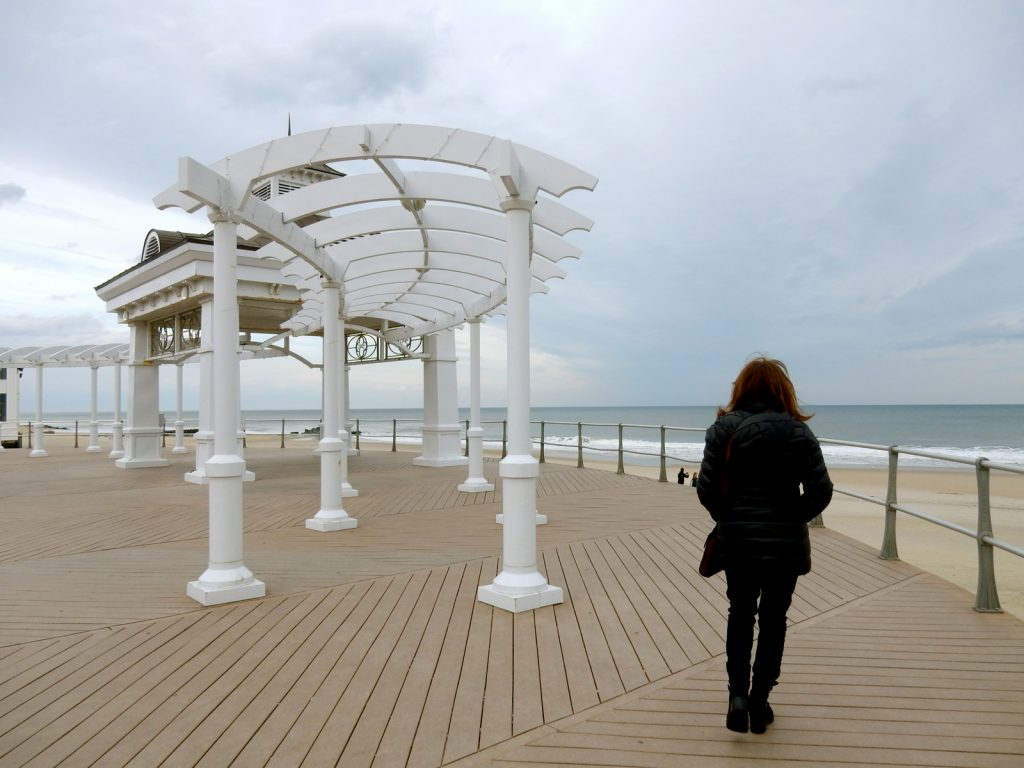 WALK: The Atlantic Ocean Boardwalk
You'll find joggers and walkers on the boards during all seasons. Of course, it's especially bracing during the coldest days of winter. Just bundle up and move.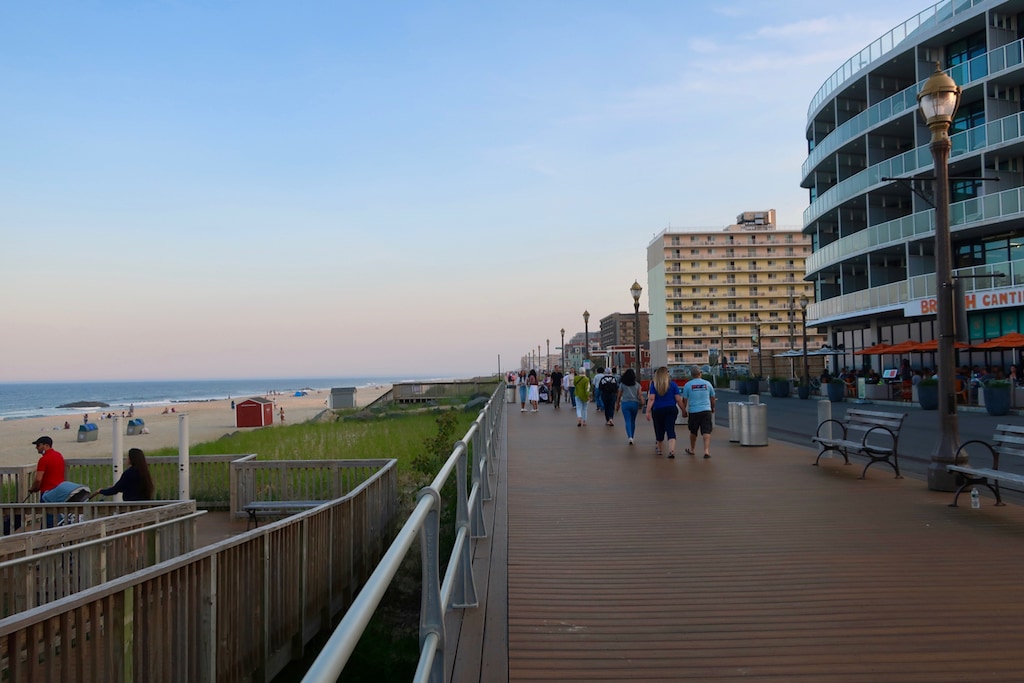 Be prepared for a more crowded experience when the weather warms.
SURF: Atlantic Ocean
OK, so these are not Pacific Ocean waves, not even close. But for cold season surfing, Long Branch is a great option. Wear your comfiest wetsuit and join your friends. You won't be alone.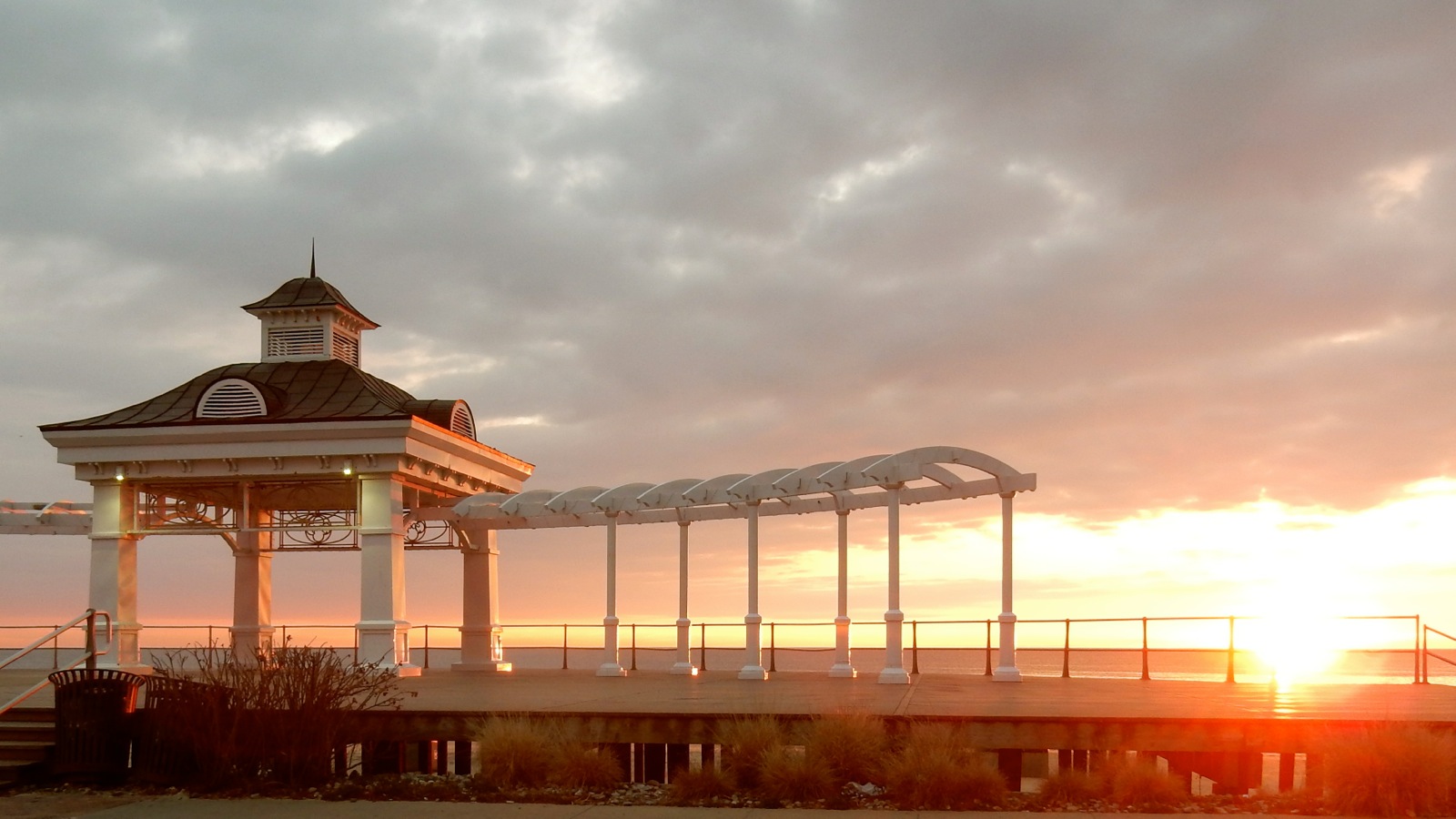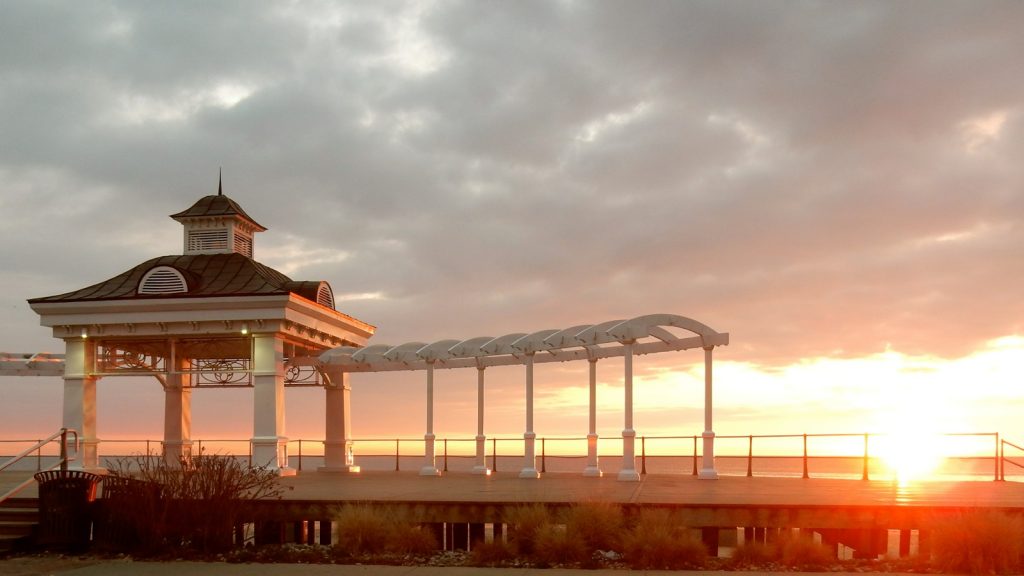 SUNRISE: Long Branch Beach or Boardwalk
You'll be surprised how many people salute the sunrise at 5:30 or so (6:30 in winter). Watch that ball of fire emerge from its watery bed with others. It's the best show of the day and a reason those who move here will never leave.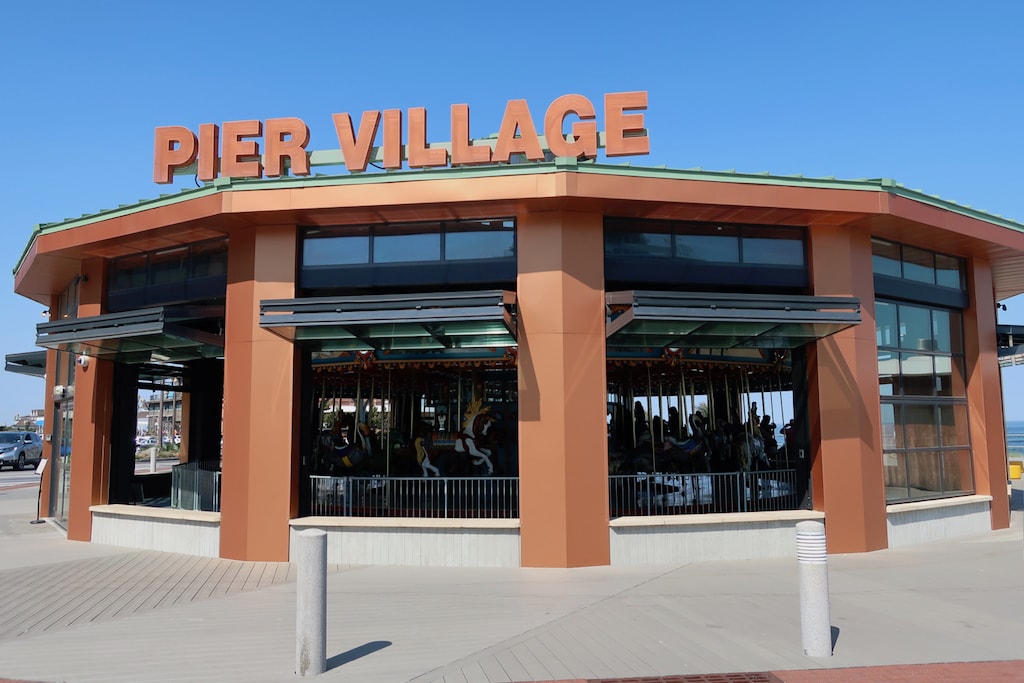 RIDE: Pier Village Carousel
Take advantage of this warm weather pleasure on balmy Spring days. In Winter, the center of Pier Village turns into a skating rink.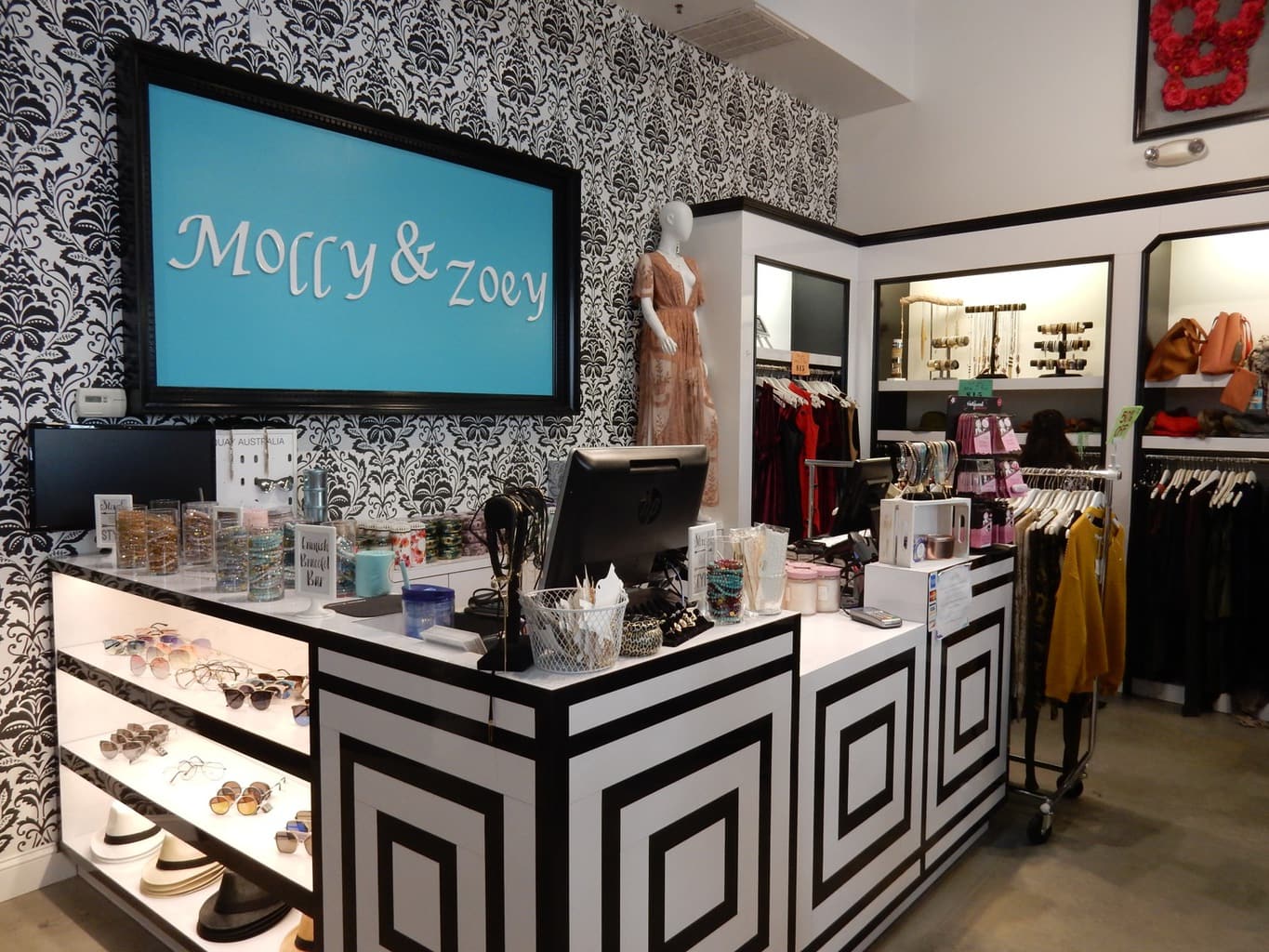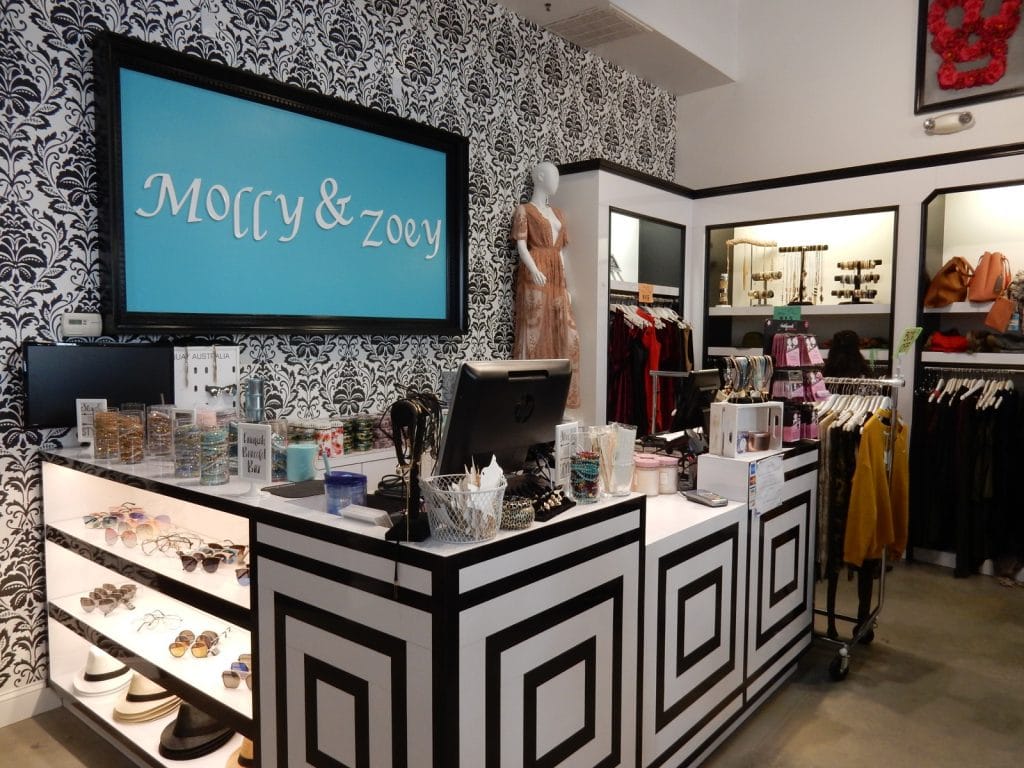 It's so delightful to find non-franchise boutiques in a sort of commercial development. I spied funky, tiny jeans (mostly for Junior size) and other youthful wear at Molly & Zoey, and found everything for you feet at Charleston Shoe Co.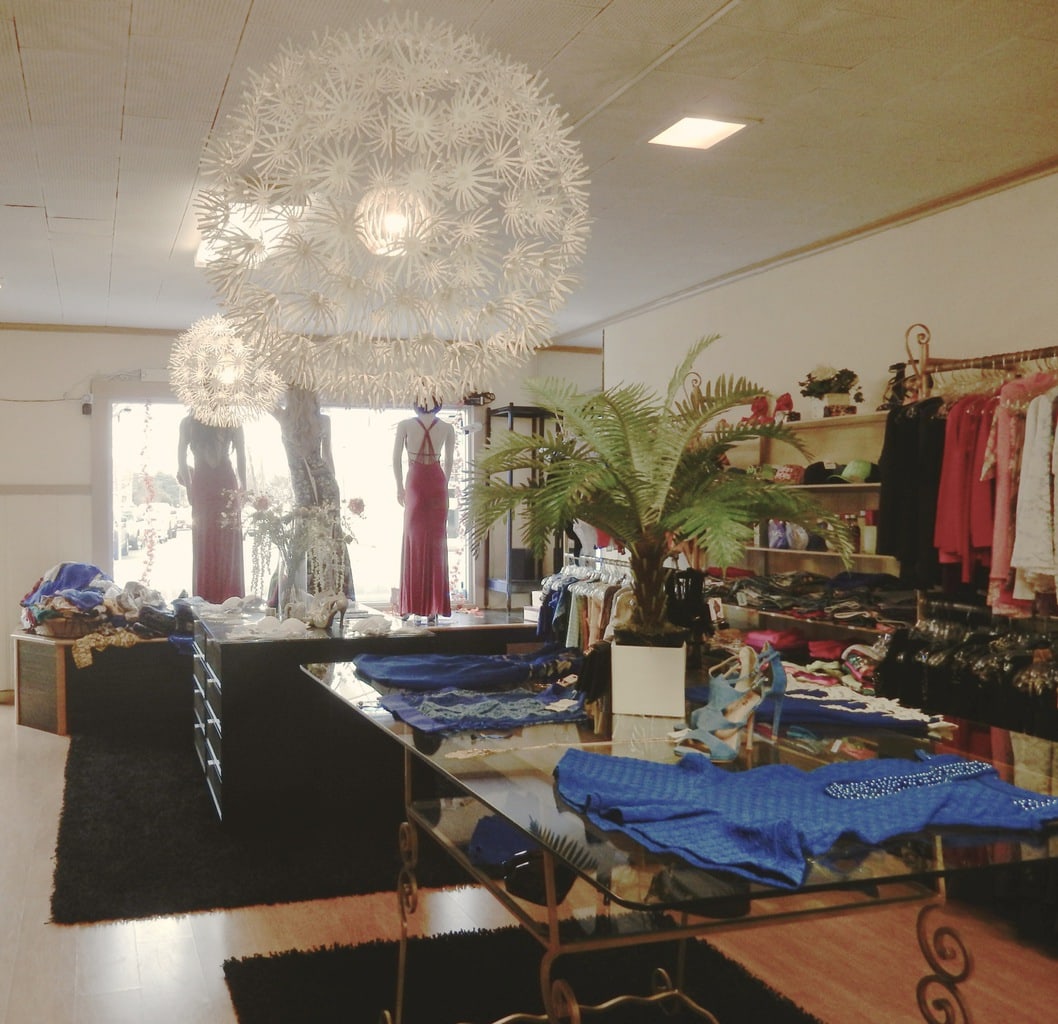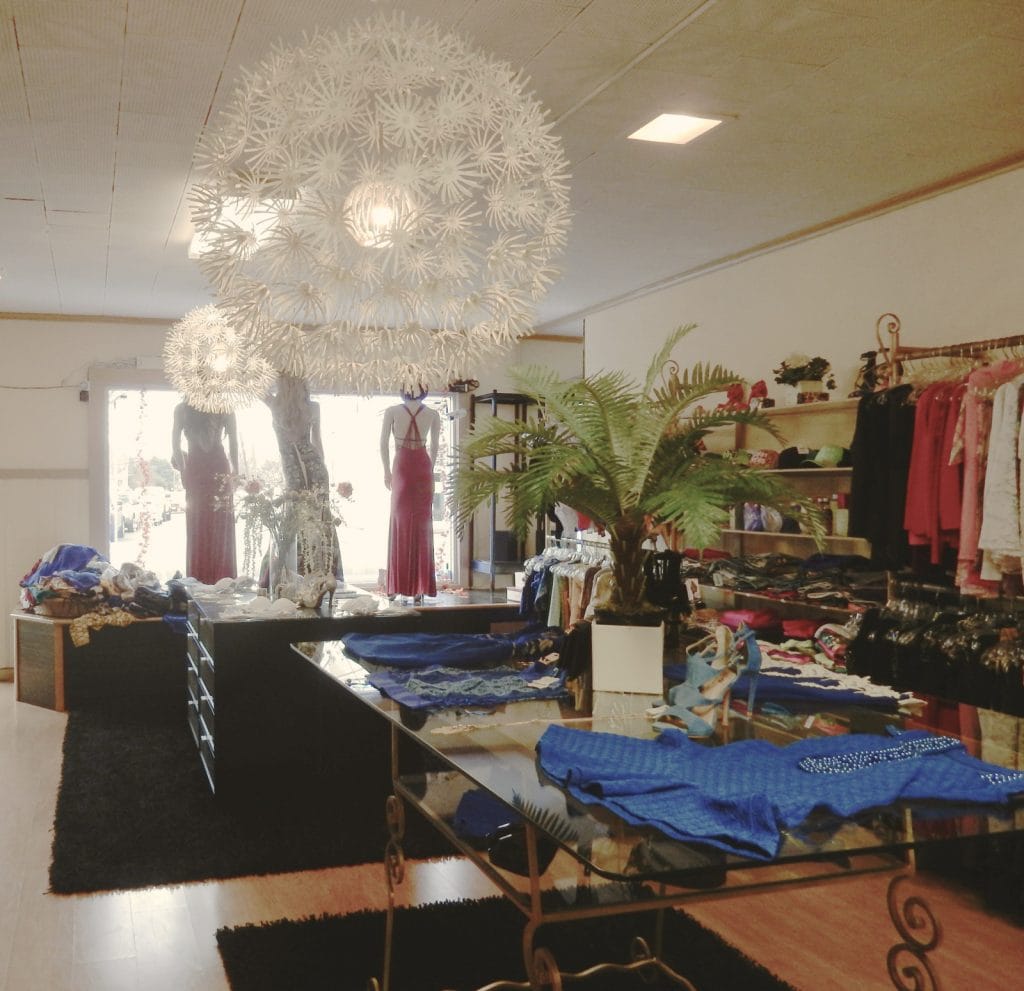 DO/SHOP: West Long Branch
Head here for the fun Brazilian shops on Broadway, most colorful among them Ta Chic (574 W. Broadway)– stocked with clingy " club dresses, spiked heels and sparkly earrings.
Over the past 17 seasons, this modest Professional Theater has produced over 100 plays – 61 of them World Premiers. If you plan to be in town Thursday-Sunday, check out the website to see if the current performance suits your fancy. If so, GO.
Restaurants in Long Branch NJ
Lobster Rigatoni and Spicy Tuna lead the hit parade at 100 Ocean, where you can people watch to your heart's content while while chowing down on some of the best food in town. A "hotel restaurant," 100 Ocean is situated on the ground floor of WAVE Resort (see below).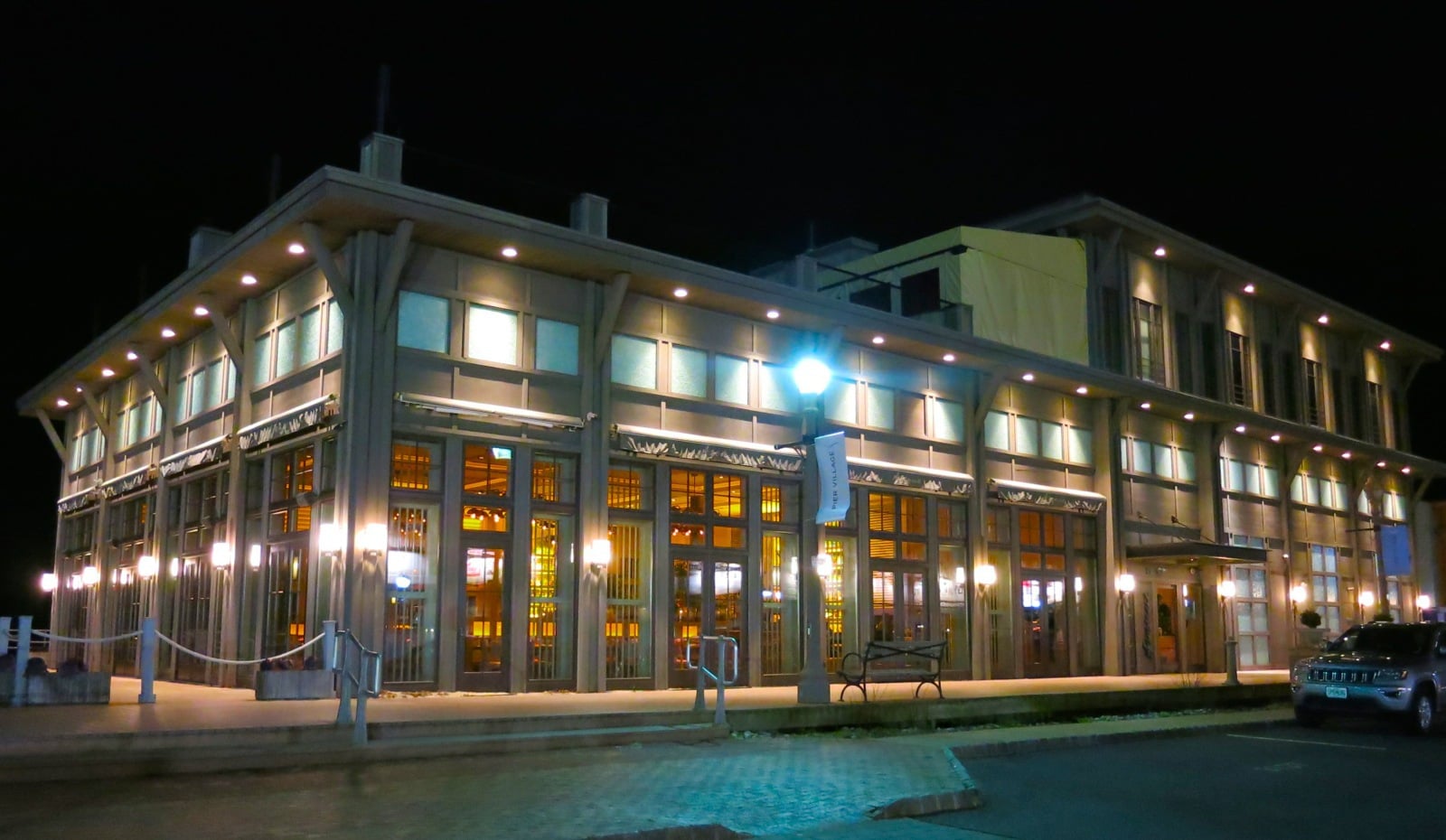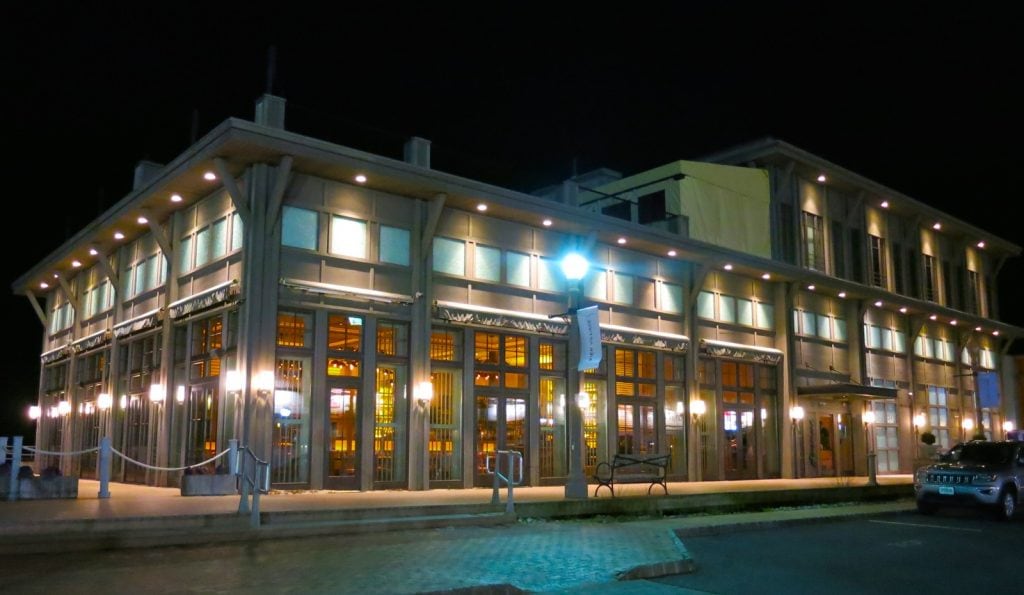 Right on the beach, this upscale eatery turns into a crazy-busy club in the summer, with dozens of palm trees imported from Florida lining the outside deck and a hipster pool on the roof. But in the off-season, a fireplace warms the large white room, turning the vast mosaic floored space into a cozy escape from the cold.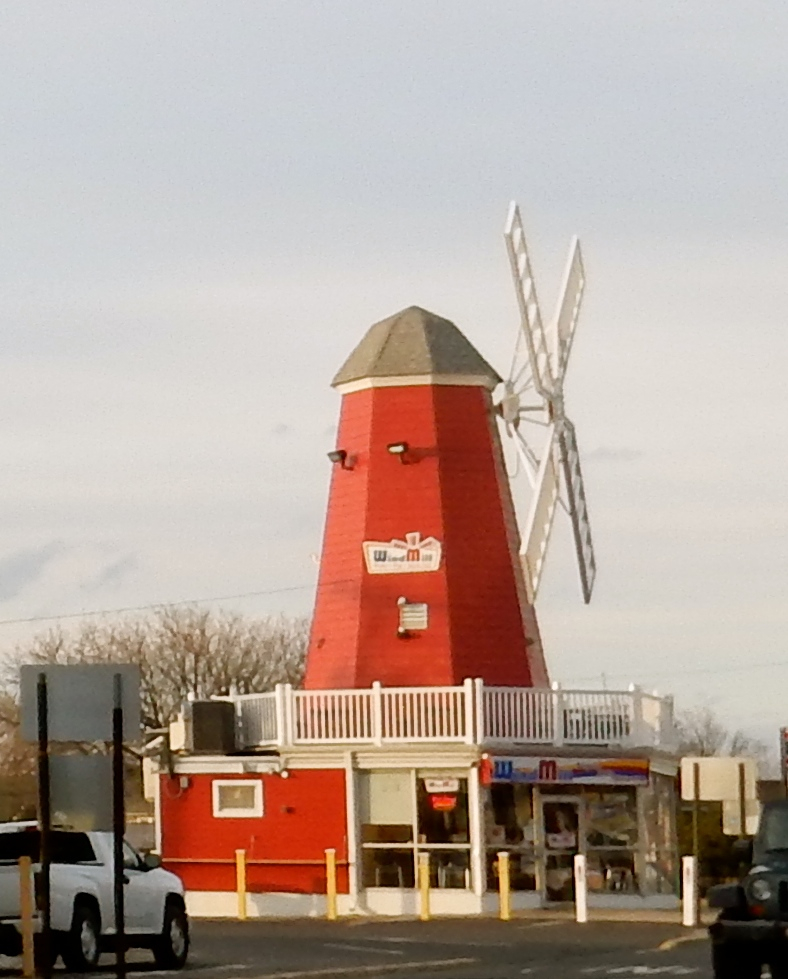 You can't miss this iconic structure on Ocean Avenue. The hot dogs are so good, Windmill ships their own brand around the country.
EAT: Locals Recommend
Choose your own "slab of meat," at the innovative Butcher's Block.  Norah's Irie for fresh fish and fantastic Caribbean food. And, The Whitechapel Project for fresh-brewed beer and great pub food in a cool space.
Where to Stay in Long Branch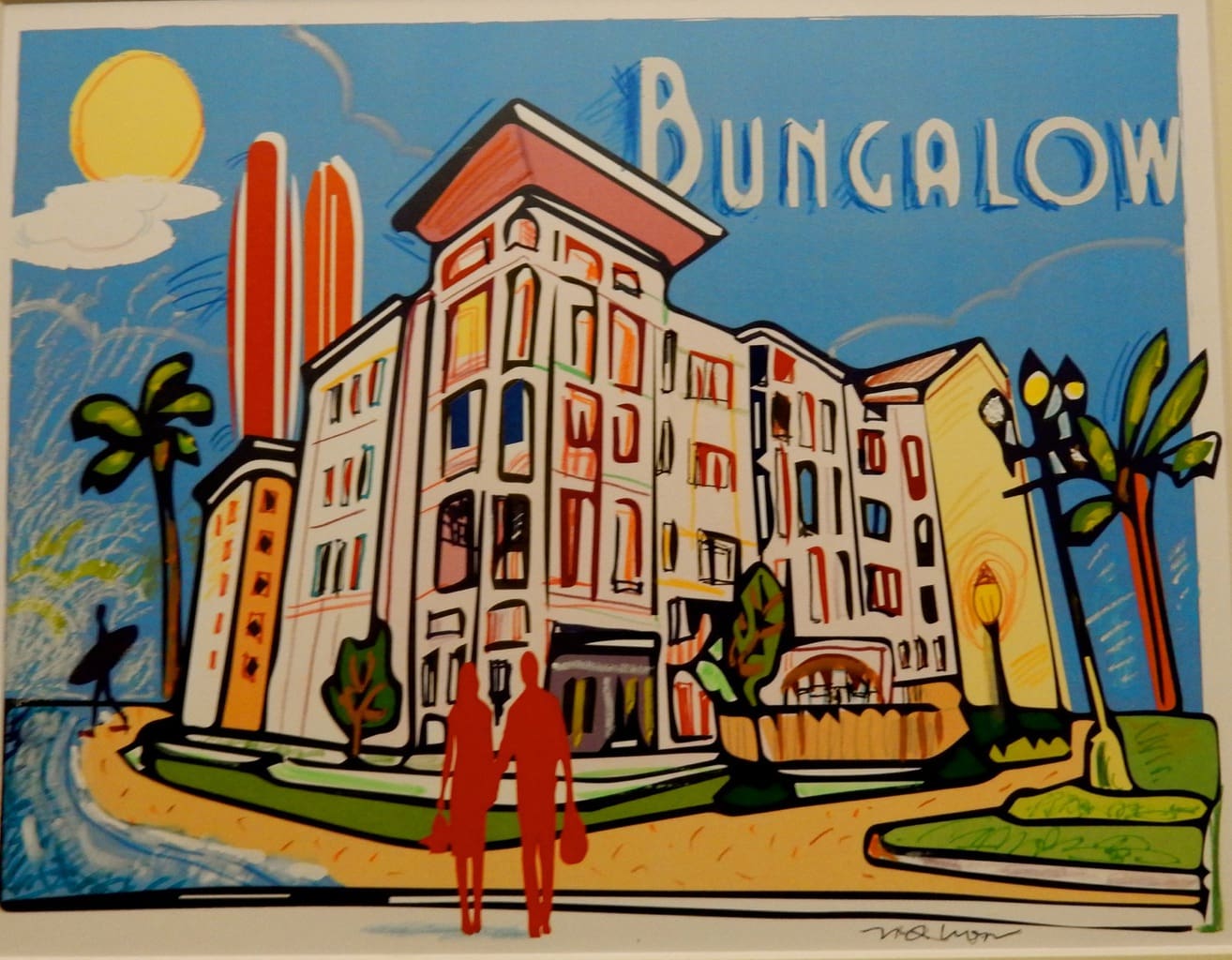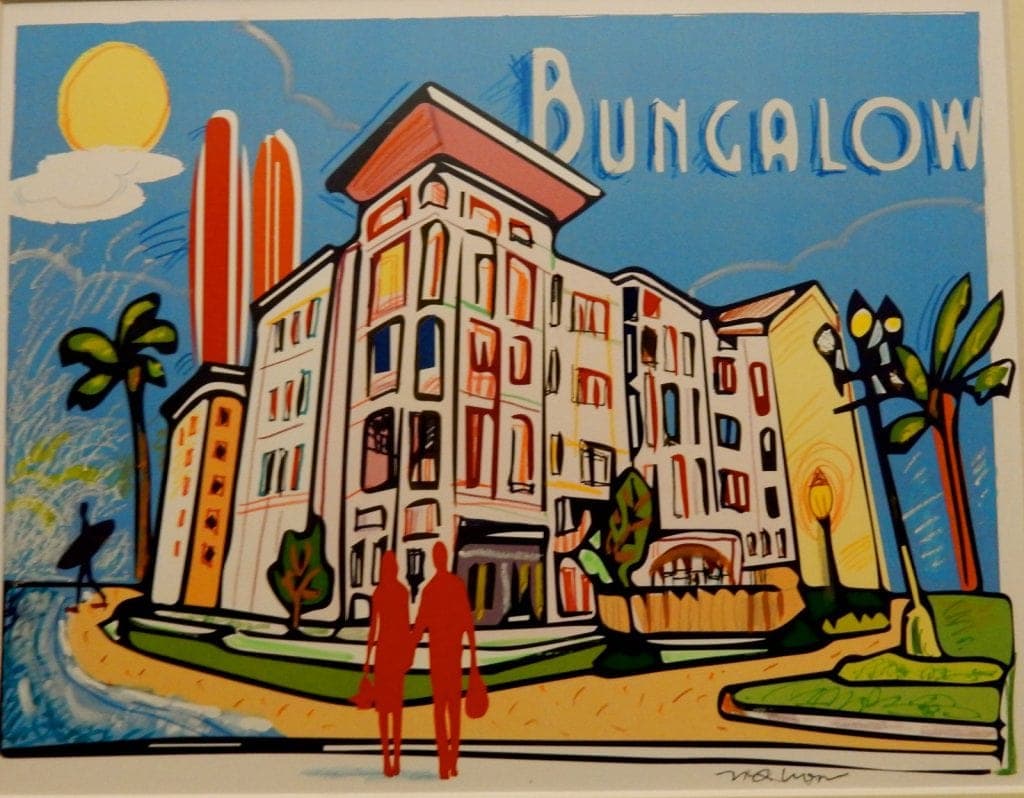 With an interior designed by the HGTV darlings, Robert and Cortney Novogratz, The Bungalow Hotel, in Long Branch NJ is a delightful, whimsical, colorful and eclectic alternative to your basic franchise beach getaway.
There are just 24 units on three floors ranging from standard to 2-bedroom. And though not directly on the beach (and hence, no water views), these rooms are large. And I mean: BIG.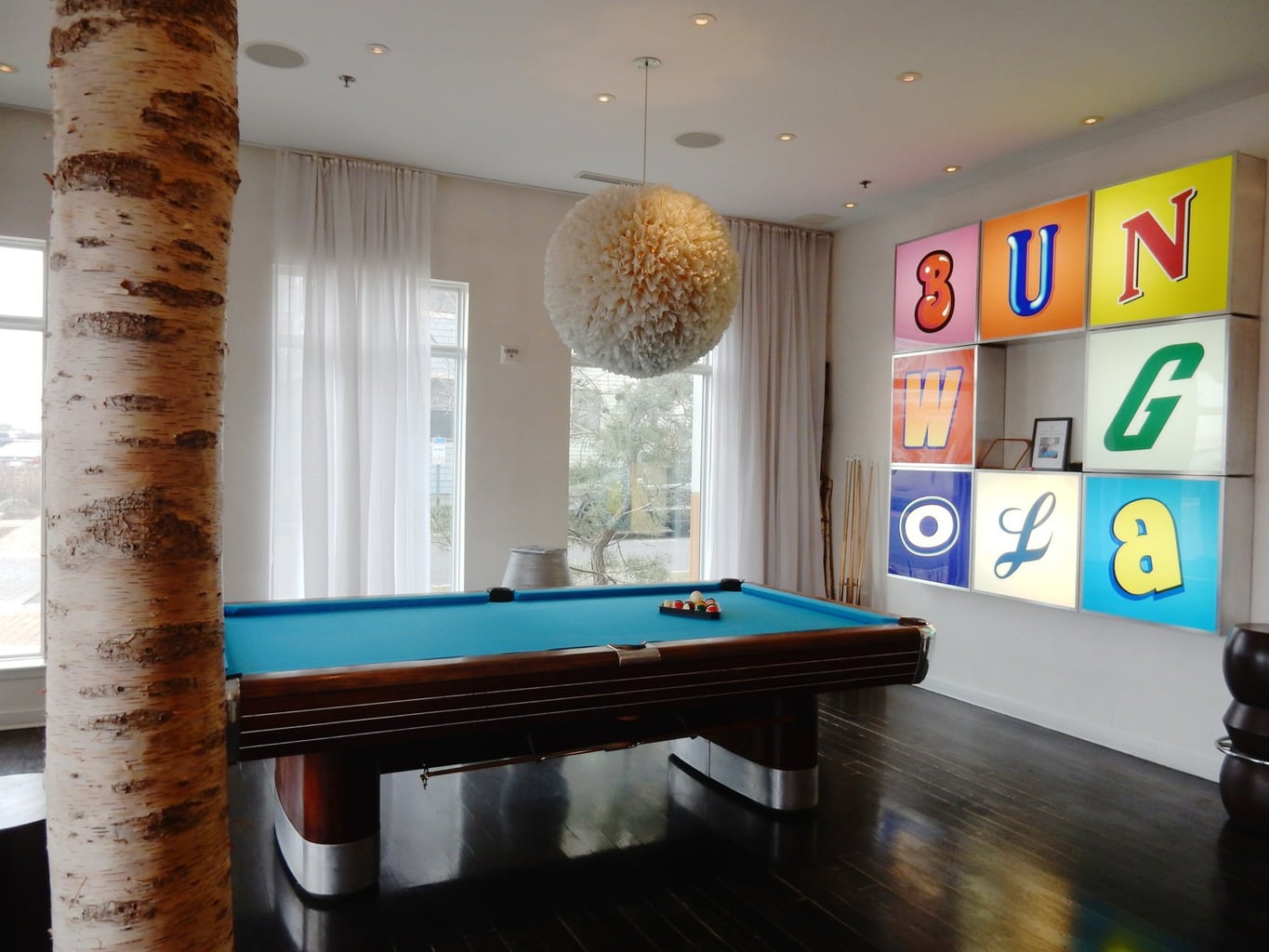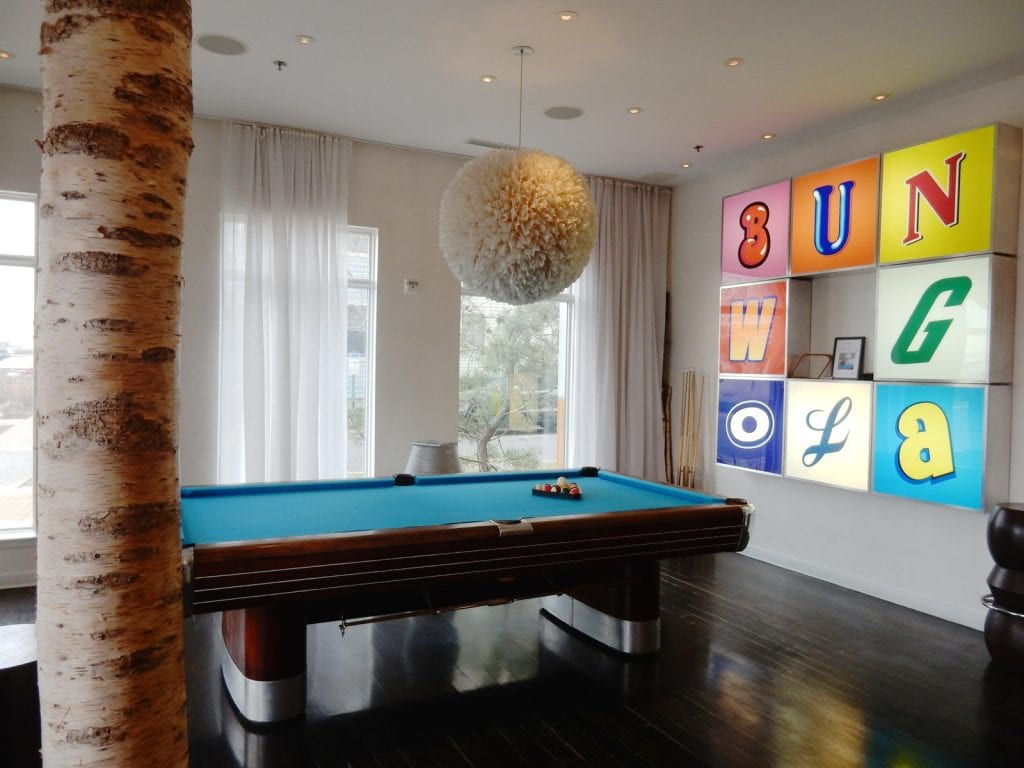 The roomy rooms and unique style sets the Bungalow apart from the much larger and taller Ocean Place Resort and Spa next door.
Ocean Place and WAVE Resort might have the ocean views and beach right outside, but The Bungalow has more than enough inside to entice discerning Gen X and Millennial travelers who are used to certain amenities, as well as an appeal to Boomers looking for offbeat and witty luxury.
First Impressions of Bungalow Hotel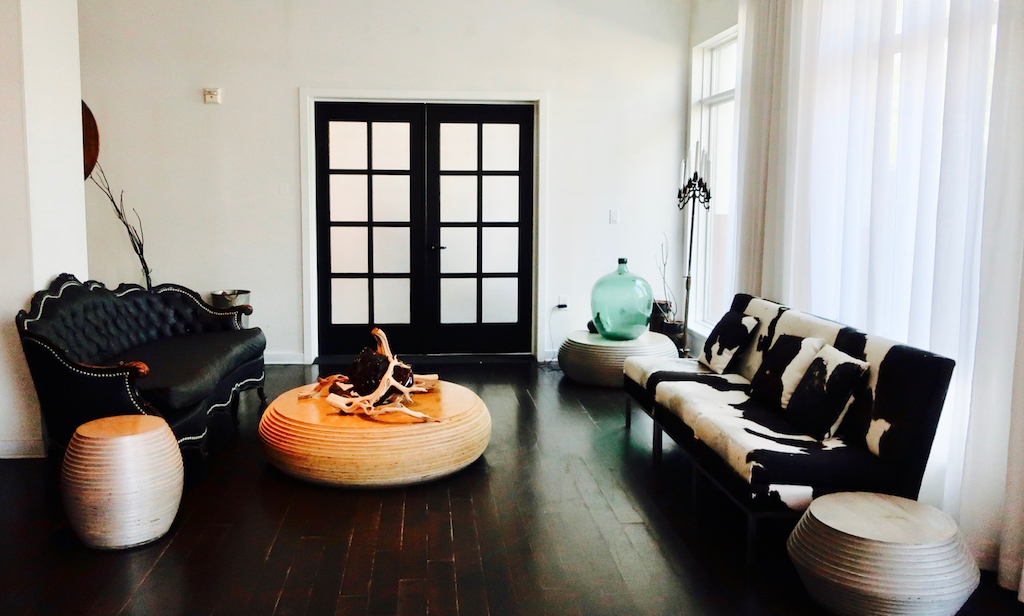 It might take a few minutes to find The Bungalow, set as it is among condo buildings. But drive around a bit to get the lay of the land, and you'll see it.
Once inside, see how disparate doo-dads can meld into a captivating whole. The greeting is warm, friendly, and chill. I was up in my room within a minute of check-in.
Rooms and Suites at The Bungalow Hotel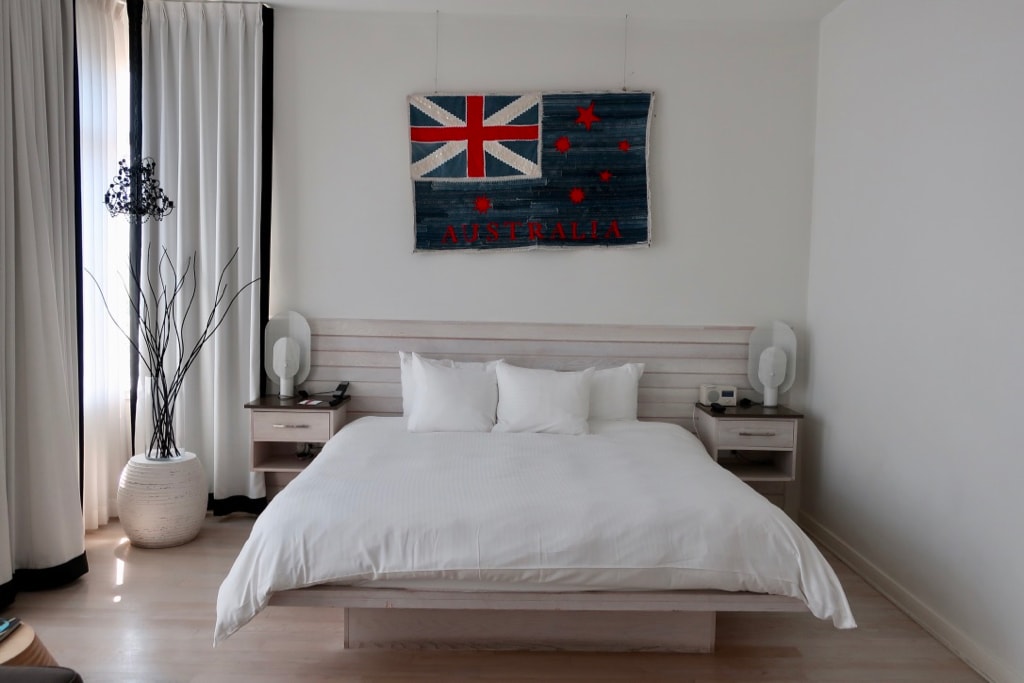 Each bright room features stained-white hardwood floors, glass fireplace, eclectic art on walls, banks of soundproof windows, flat screen TV's, kitchenette area with under counter fridge and comfy beds with crisp white duvet.  Pop art and contemporary quilts punch up the walls.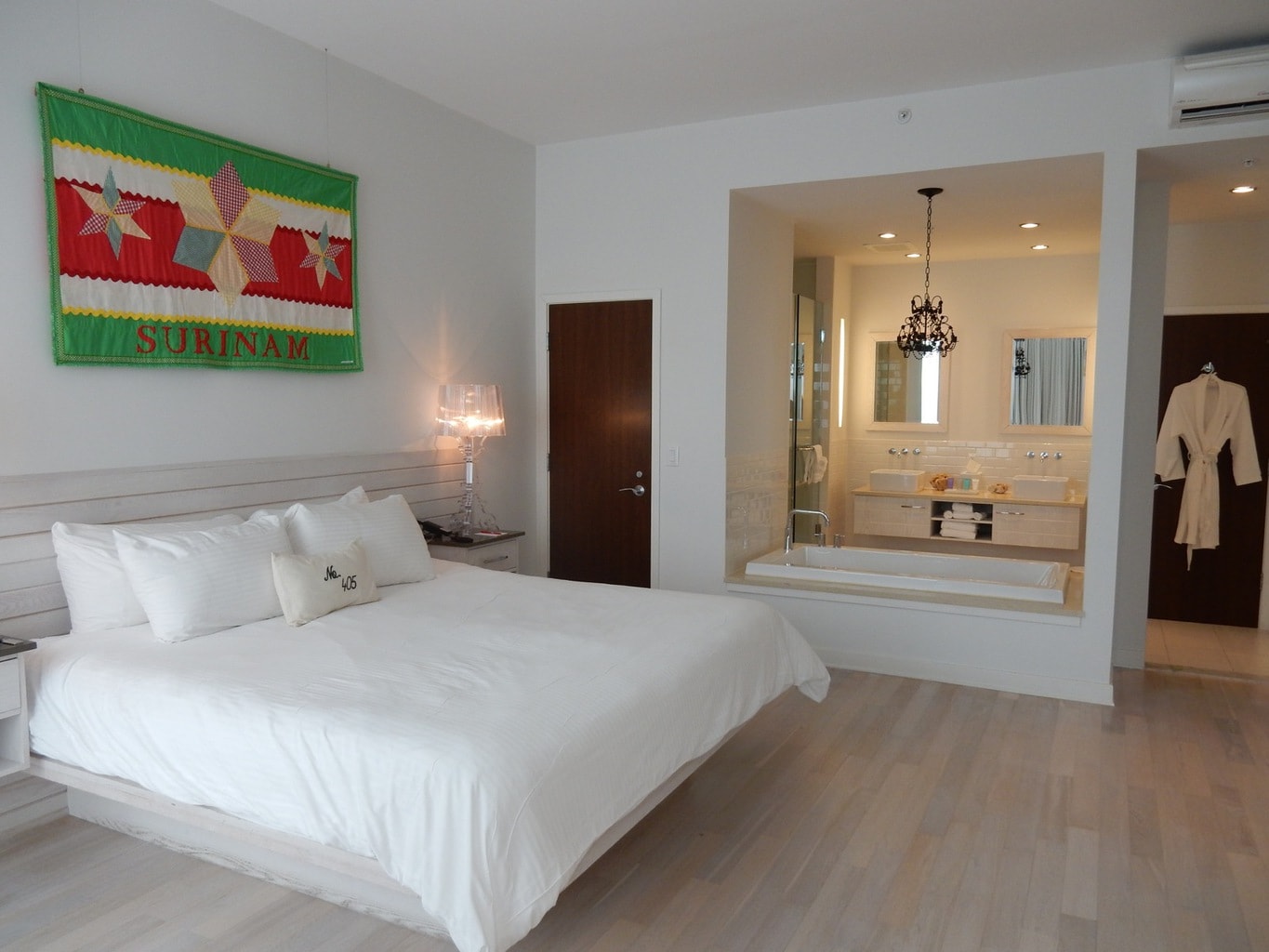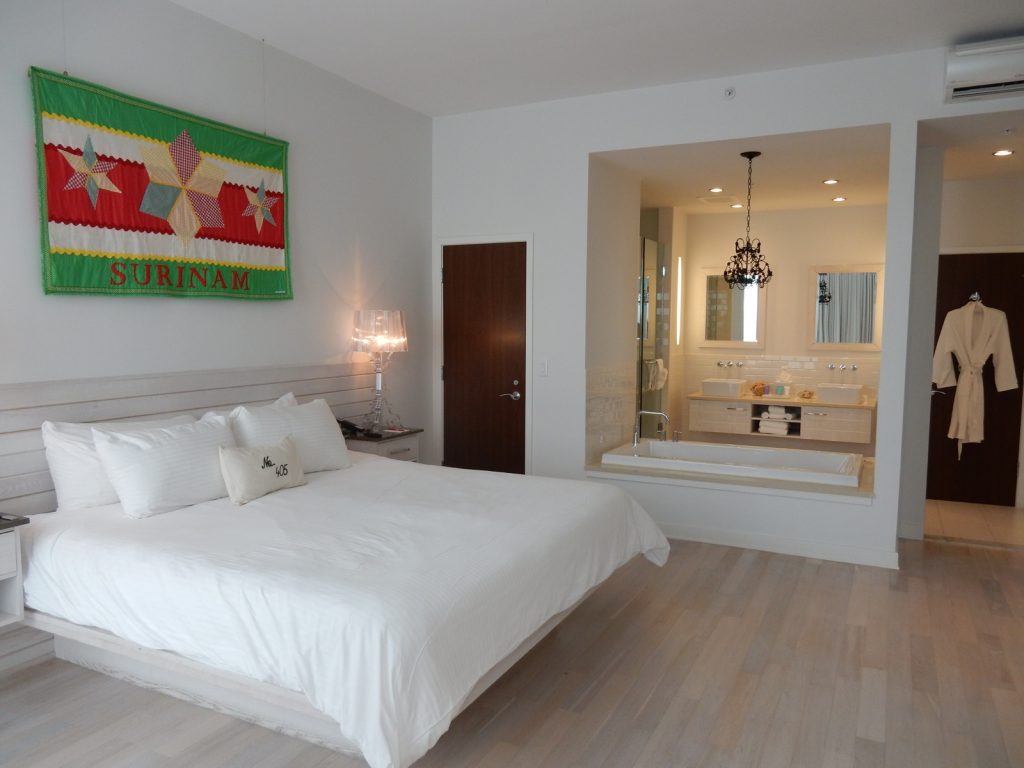 One and two bedroom suites sport a cool open white subway tile bathroom in the larger bedroom. A gleaming white soaking tub separates the sleeping quarters from the off-white granite sink and glass rain shower area. Aromatherapy of London products befit this stylish space.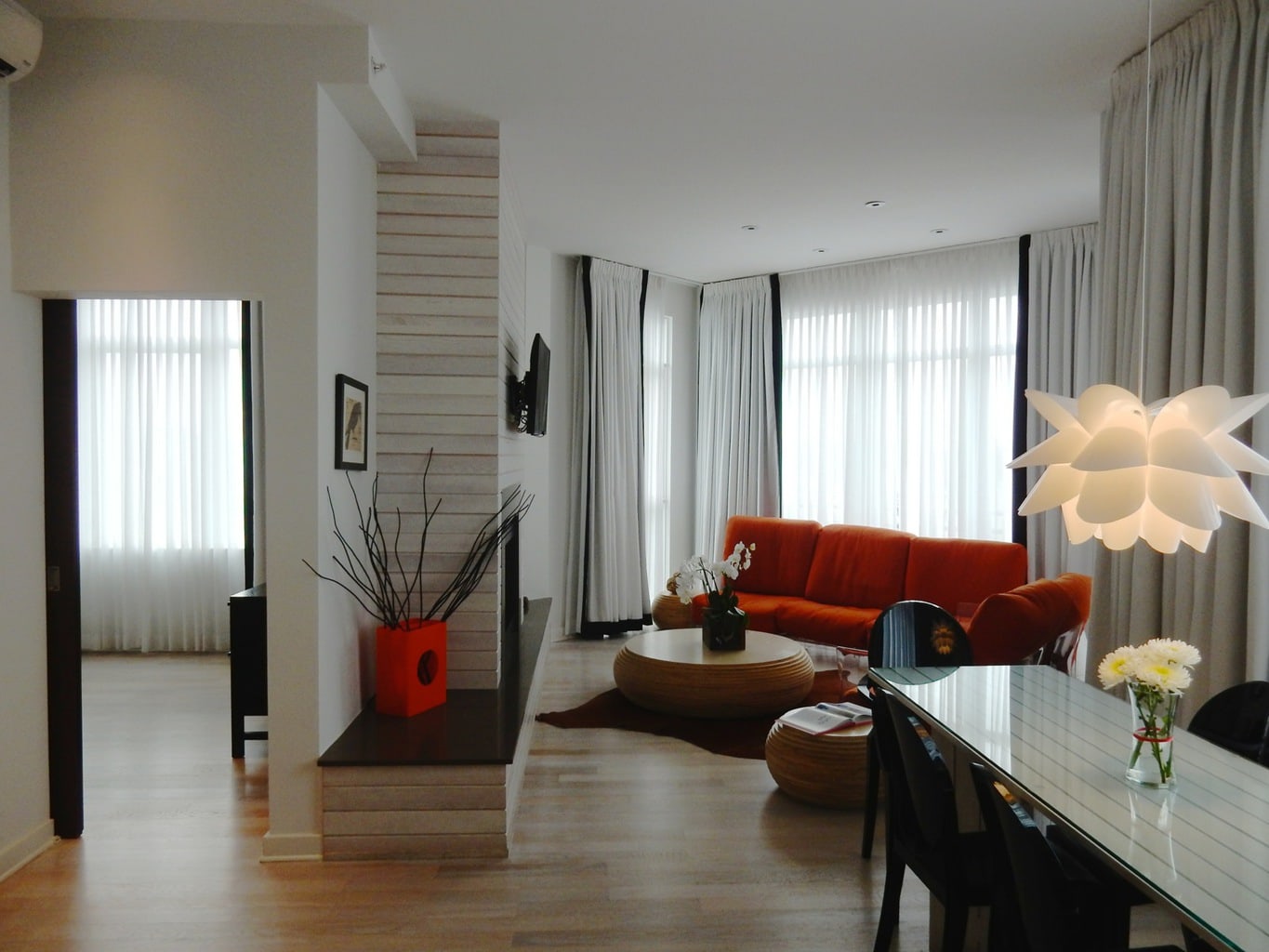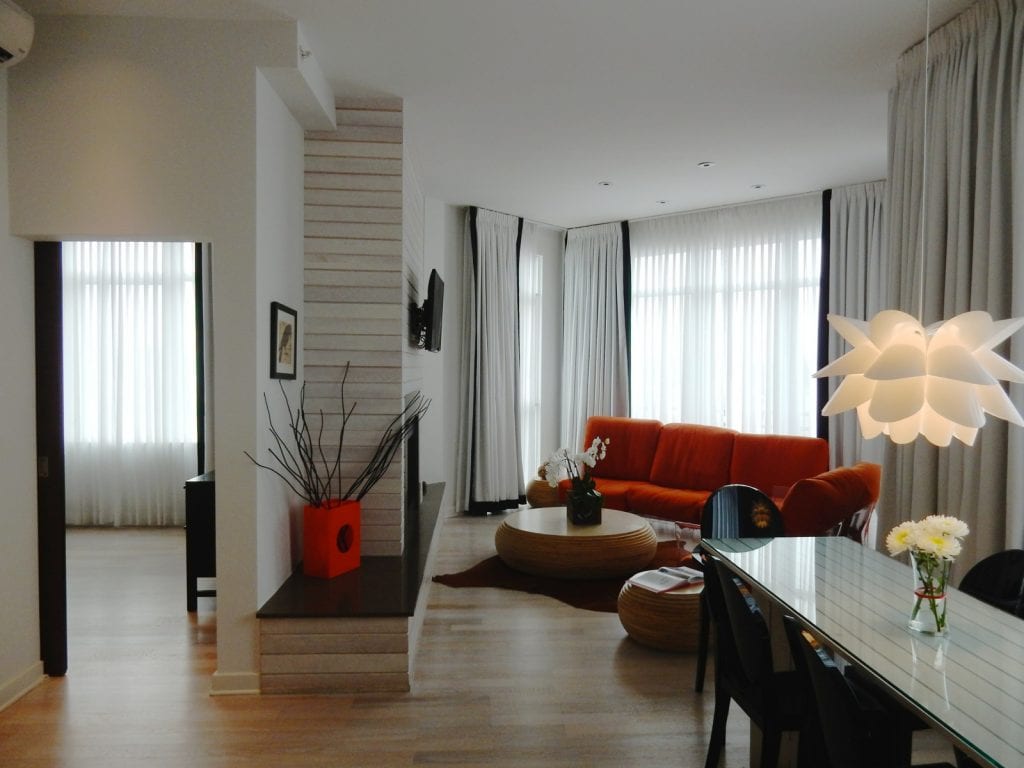 Lucite couches with orange cushions in the suite sitting areas make a great presentation but are not very comfortable. Better to snuggle in bed and watch in your room.
Amenities at Bungalow Hotel
Bikes and surfboards to use, Pool table.
Gold's Gym right next door.
Access to Beach Club
Wi Fi
Parking
Rooms to 2-bedroom suites from $120-$350 off season to $450-$1500 in season include parking, wi-fi, bottled water, use of surfboards and bikes. Resort fee of $25 per person allows use of pool, chaise lounge and beach umbrella at Avenue Le Club, $10 day pass to Gold's Gym next door. You can also find fantastic off-season packages online, bringing rates down even lower.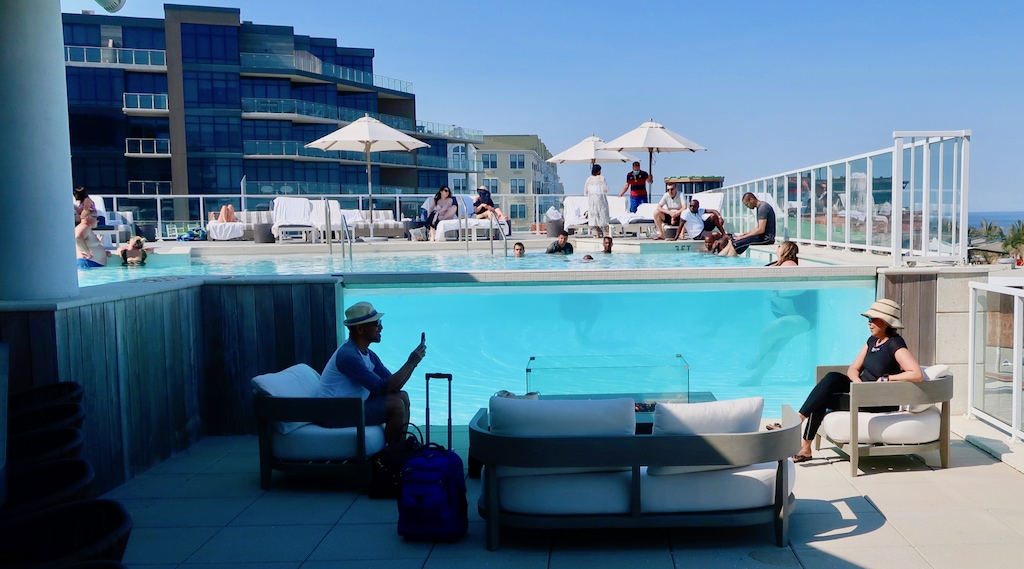 WAVE Resort, right on the Long Branch Boardwalk, seems more "Miami Beach" than Jersey Shore. Its curvy design, modern accouterments, excellent restaurant (100 Ocean), and that partly transparent pool places it in the hot new thing category of lodgings. Rates from $220 in January climb up to over $800 per night in summer.