Last Updated on November 20, 2022 by Editor
Airwell B&B VA Review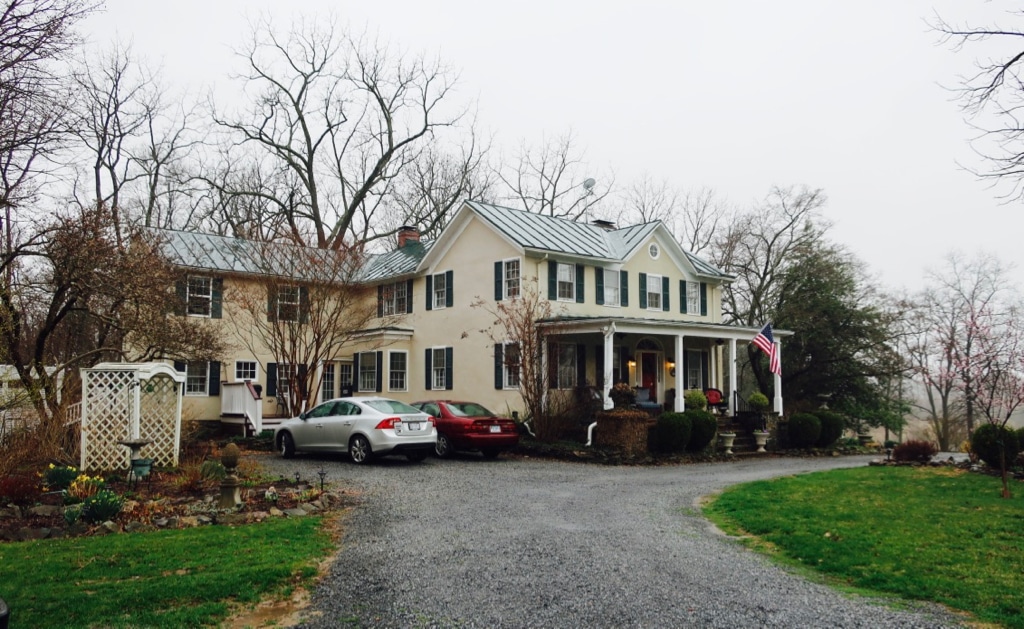 In 2010, when retired teachers, Todd and Lisa Peterson, walked into the 1876 Airwell home, they instantly "fell in love with its uniqueness and beauty."
Once owned by landscape artist, Lucien Powell (until his death in 1930), both the main house and his art studio cottage had fallen into decline, and then were restored in the 1940's.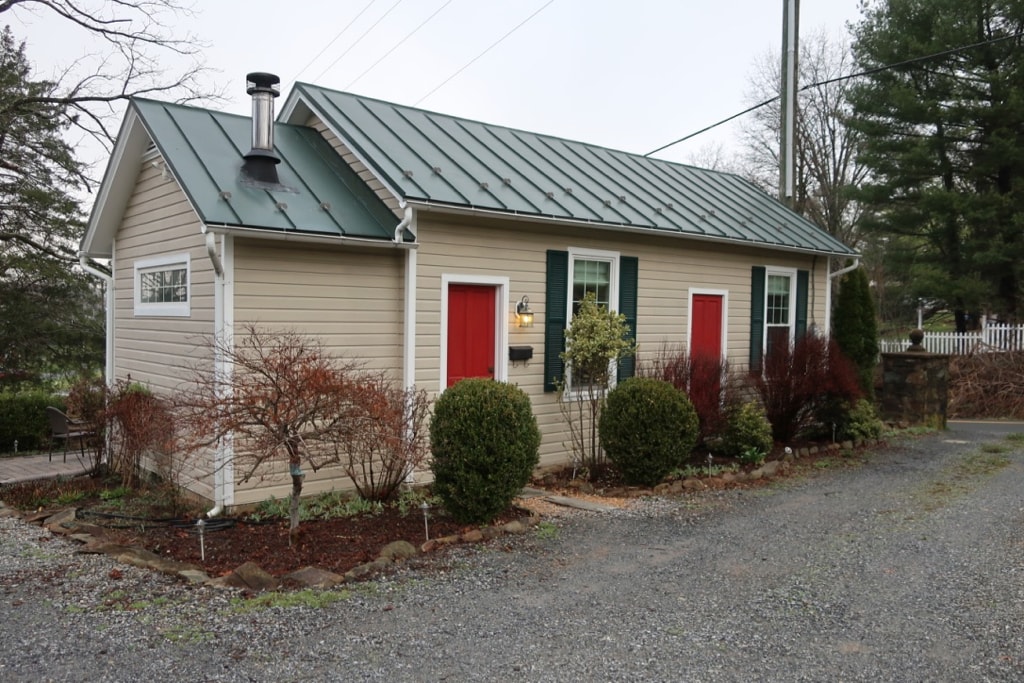 Powell was born in Loudoun County VA – his father, Levin, founded Middleburg – and studied at the Philadelphia Academy of Fine Arts. He purchased the home as an escape from the city, calling it "Airwell" for the fresh air here. It's where Powell did much of his painting, including the Venetian landscape that the Petersons purchased at auction in 2011. The watercolor now hangs in the main house foyer.
Todd and Lisa set about updating two bedrooms to luxury B&B standards (hardwood floors, Oriental rugs, handsome drapes), and completely renovated what was Lucien's art studio, and a second cottage, both just steps from the house.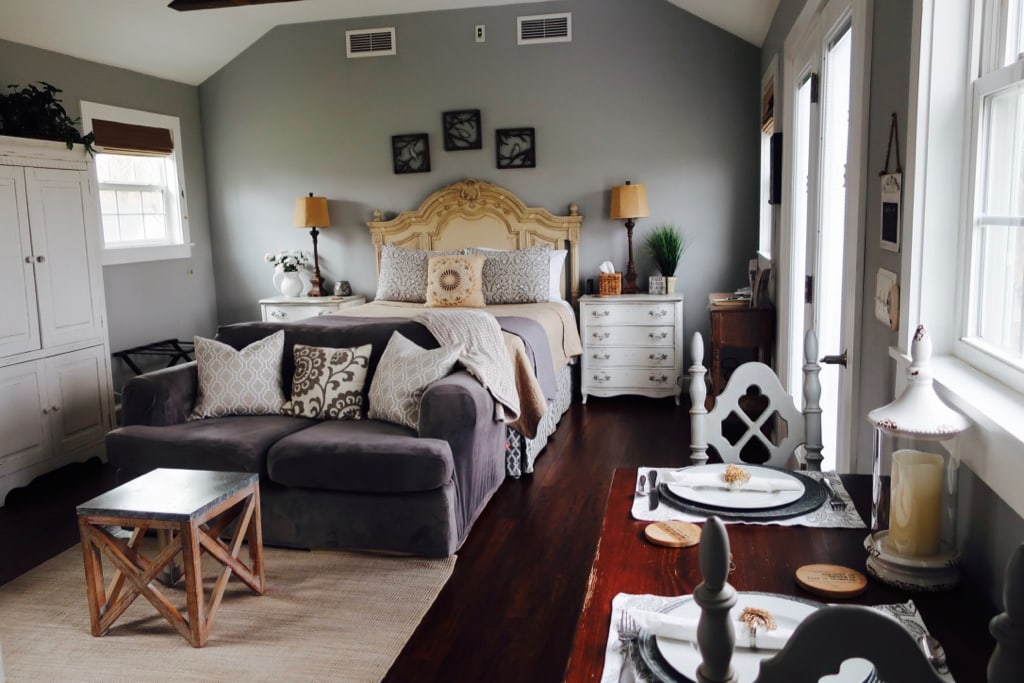 First Impressions of Airwell B&B
Airwell B&B's main house and cottages sit on five acres of lush gardens, trees, and stone fences, which presumably haven't changed much since Powell's time. No doubt the stunning and serene landscape was his muse. And the reason many guests return.
Visitors can luxuriate in the tranquility of Blue Ridge Mountain views; ponder life with a glass of wine (purchased from a vineyard nearby) on one of the patios; soak in the main house hot tub; or winery-hop nearby.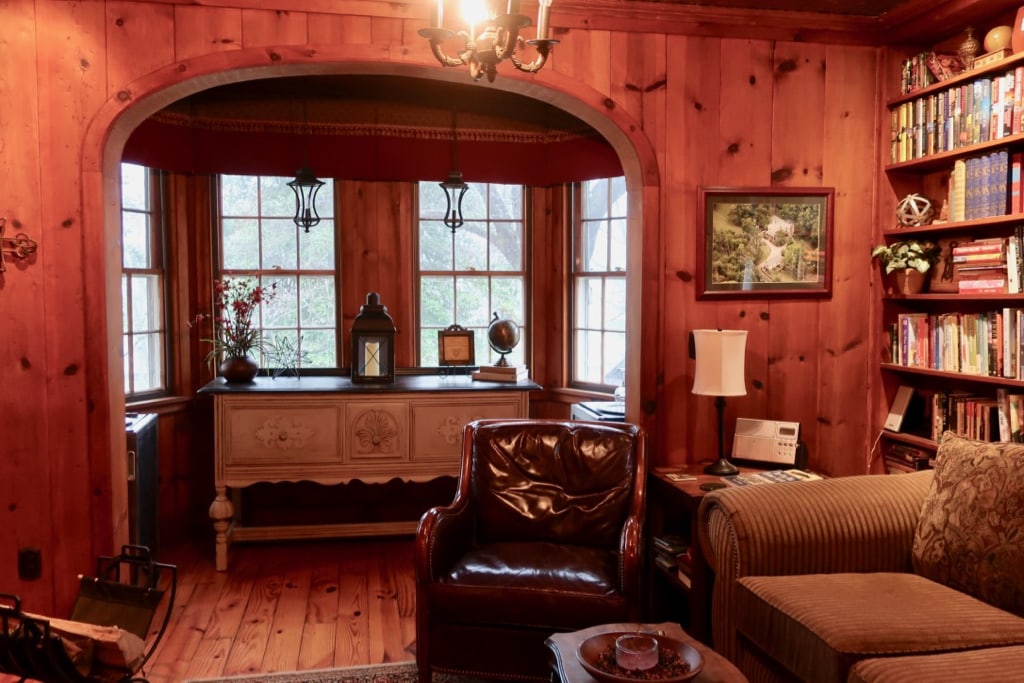 Inside, sitting rooms, a dining room, and a wood-paneled library are elegant and cozy. They make optimal reading – or snuggling – nooks when it's nasty or cold out.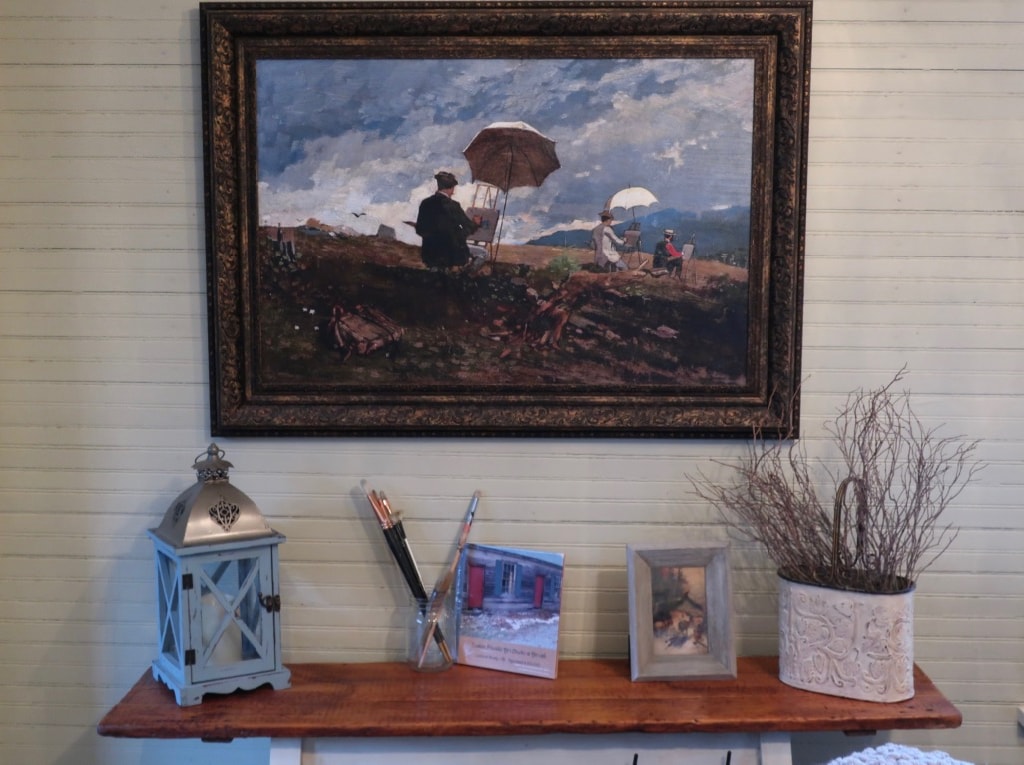 Guest Rooms
While the two rooms in Airwell's main house are "more elegant," according to the Petersons, both cottages are incredibly lovely in their attention to detail, and in my case, the history.
I stayed in Lucien Powell's former studio. When they renovated the property from 2010-2015, the Petersons had to jack up what remained of the shack. It had deteriorated nearly beyond repair.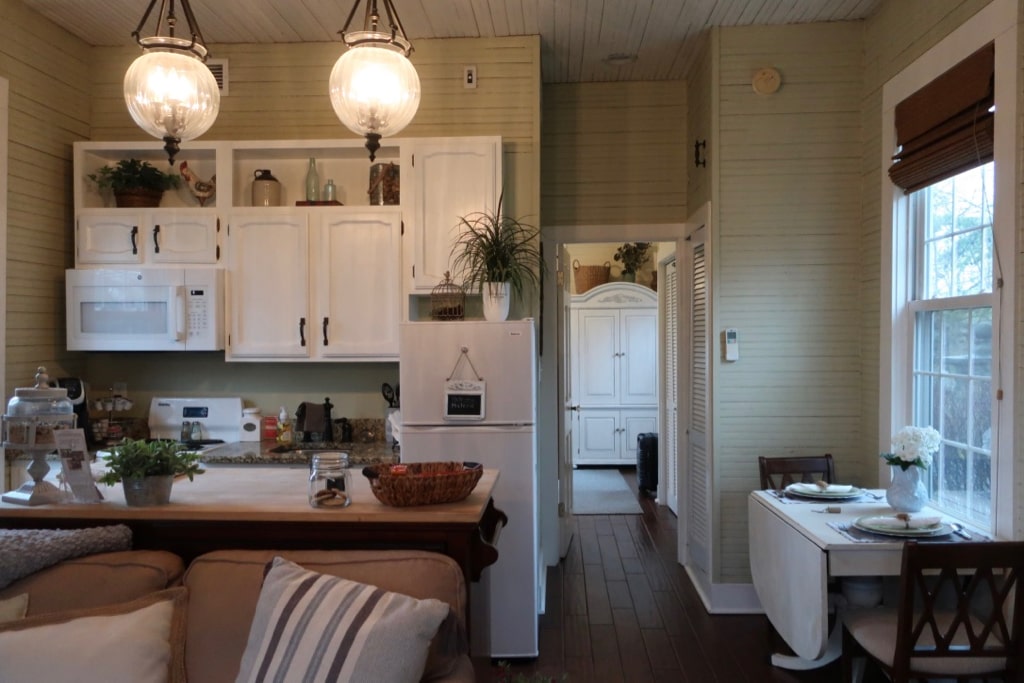 Underneath, in the dirt, they discovered a whiskey jug, two etched glass bottles and a wooden palette knife flecked with paint. "It very well could have belonged to Lucien," Lisa told me. All these artifacts are on display in the main home.
The studio, now a meticulously designed French-Country-chic cottage, features a full kitchen, wood fireplace, and a flat screen TV in separate sitting room. It's a prime example of the Peterson's hospitality, with water and soft drinks in the fridge and fresh baked cookies and snacks set out on the counter.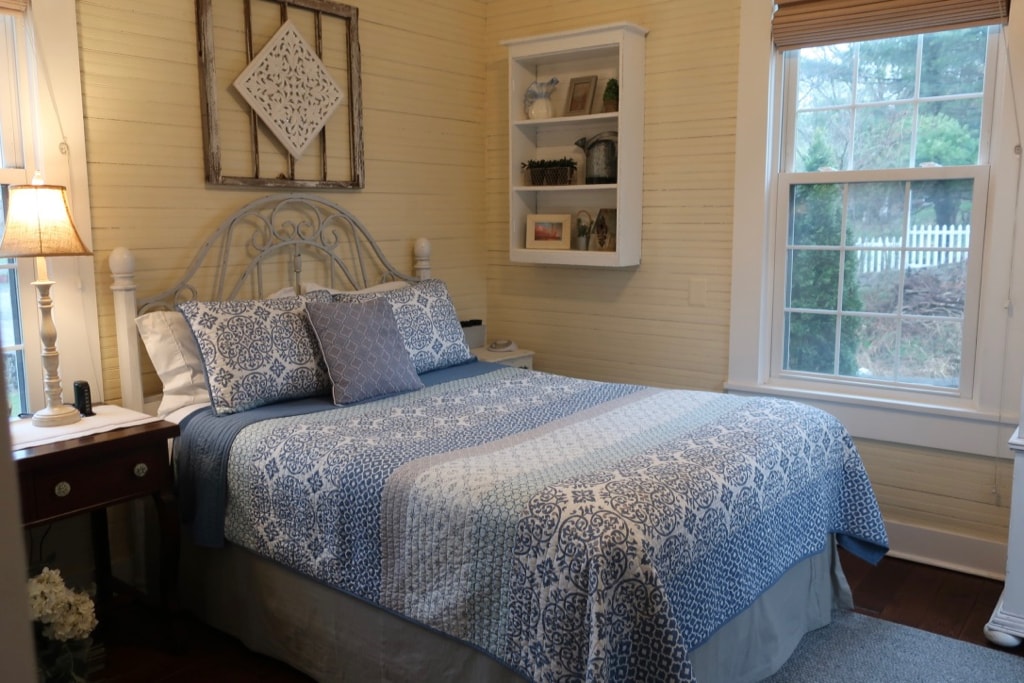 The stylish bathroom sported a pedestal sink and black and white mosaic tiles. My bedroom, painted in soft yellow, with delft-blue patterned bed quilt, made for a most pleasing, and easing, cocoon. The cottage was close enough to the house to feel safe, and private enough for a perfect romantic getaway.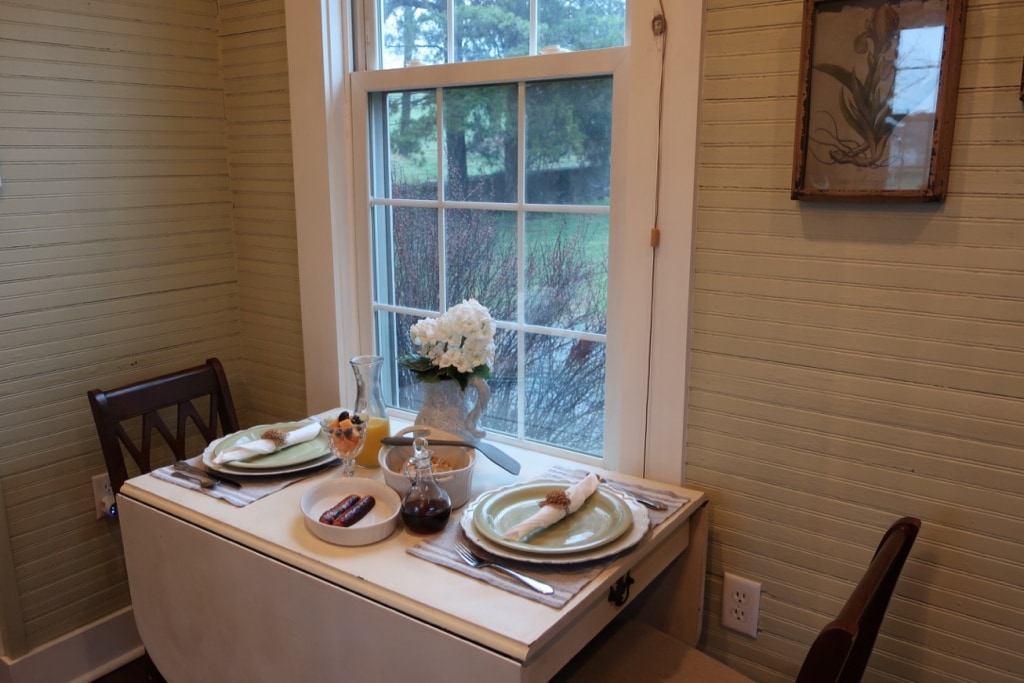 Breakfast
Each morning, Lisa and Todd deliver a hamper stuffed with a 3-course gourmet breakfast to each of the two cottages. "You never have to step foot in the main house if you don't want to. We were set up for Covid even before the pandemic!"
Although I could have unpacked the food and eaten it outside on the patio, the wet weather forced me inside. Conveniently, table for two had already been set in eye-pleasing, Pottery Barn fashion. The fresh fruit parfait, perfectly cooked Asiago Chicken sausage, and wonderfully fluffy Caramel-Pecan-Apple French Toast made my taste buds jump for joy.
Cottages from $185-$245, Suites from $155-$215 include wifi, parking, soft drinks, water, snacks, and a 3 course gourmet breakfast.
(Airwell B&B was included on Getaway Mavens Best Romantic Hotels in the Northeast US 2022 list.)