Last Updated on July 24, 2022 by Editor
WHY GO: US Presidents and Hollywood celebs love Marthas Vineyard MA, namesake of Vineyard Vines preppie-wear,  just a few miles off the coast of Massachusetts.  And apparently, so did missionaries in the 17th Century.
The very first Bible in what is now the United States was printed, not in English, but in the tongue of the local Native Americans – the Wampanoag – in 1663.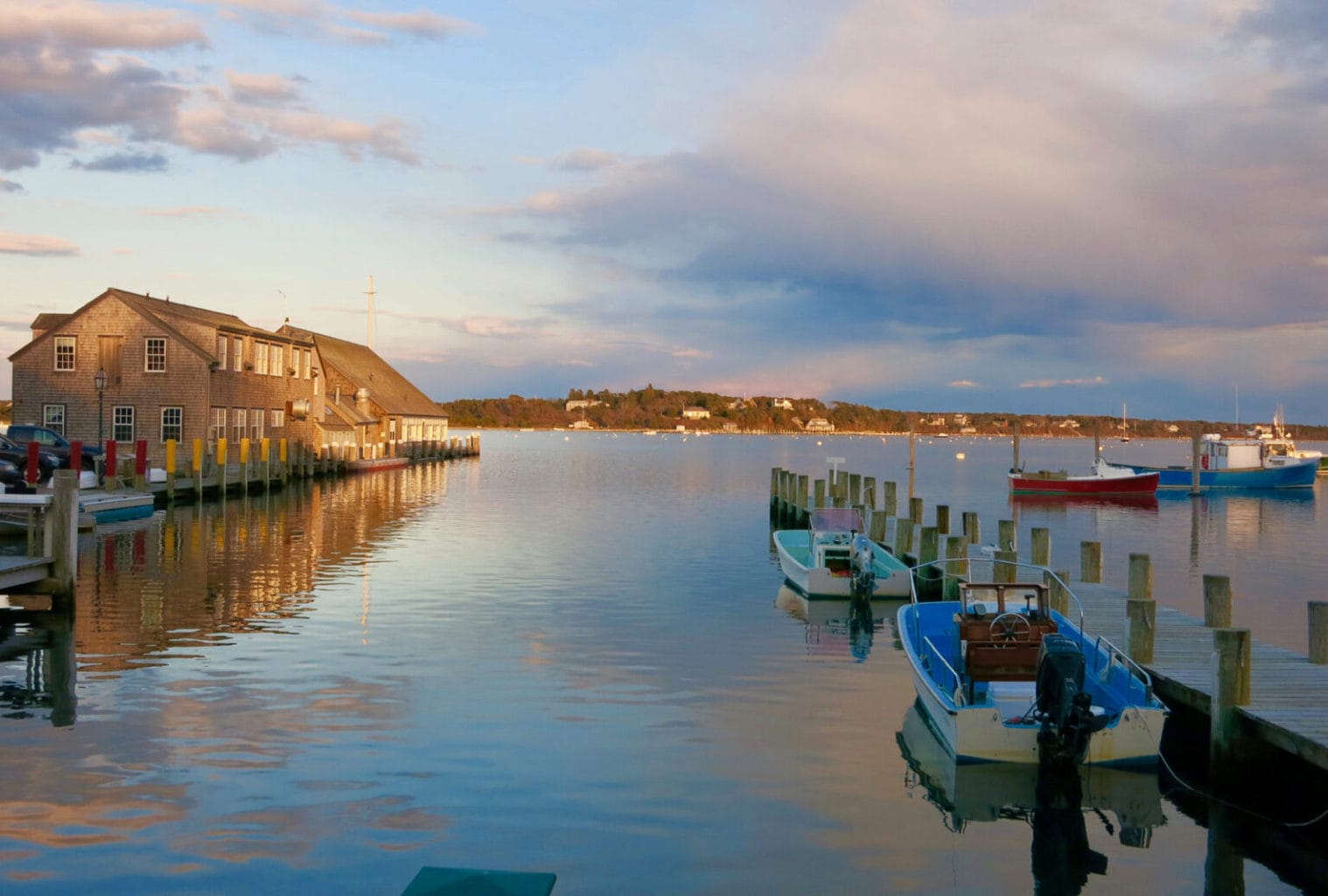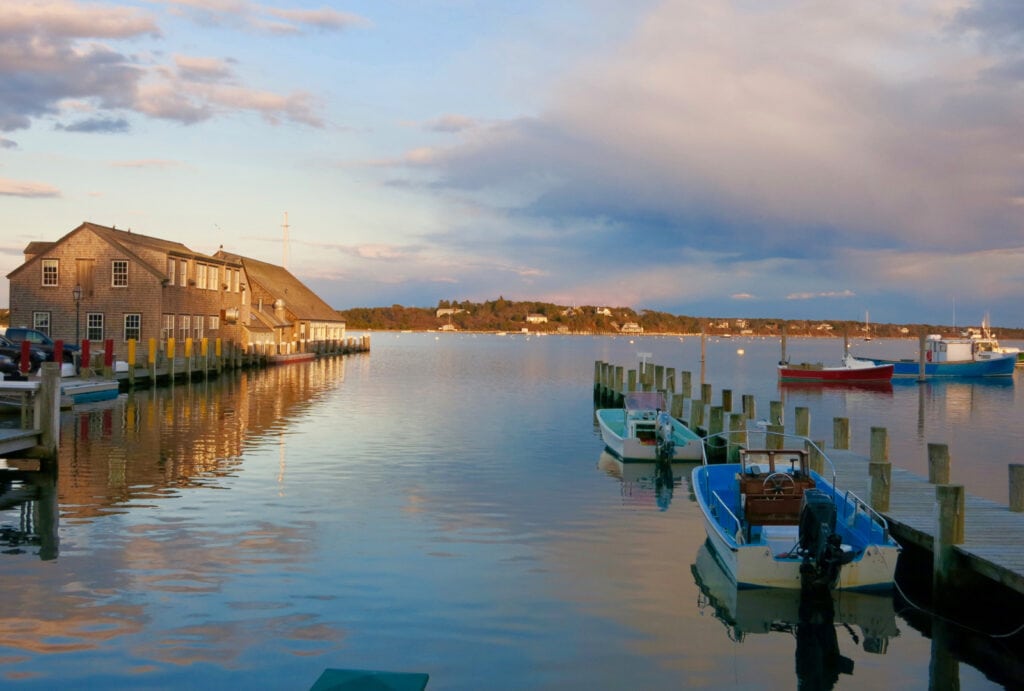 There are six towns and numerous beaches to explore on this 24 mile long by 9-mile wide triangle of land, and it's worth at least a weekend (if not a whole week) to unwind and do it justice. Inhale Eau de Pepe Le Pew (skunk), "the perfume of the island," and enjoy terrific restaurants and casual-luxe spots to bed down.
Things to Do On Martha's Vineyard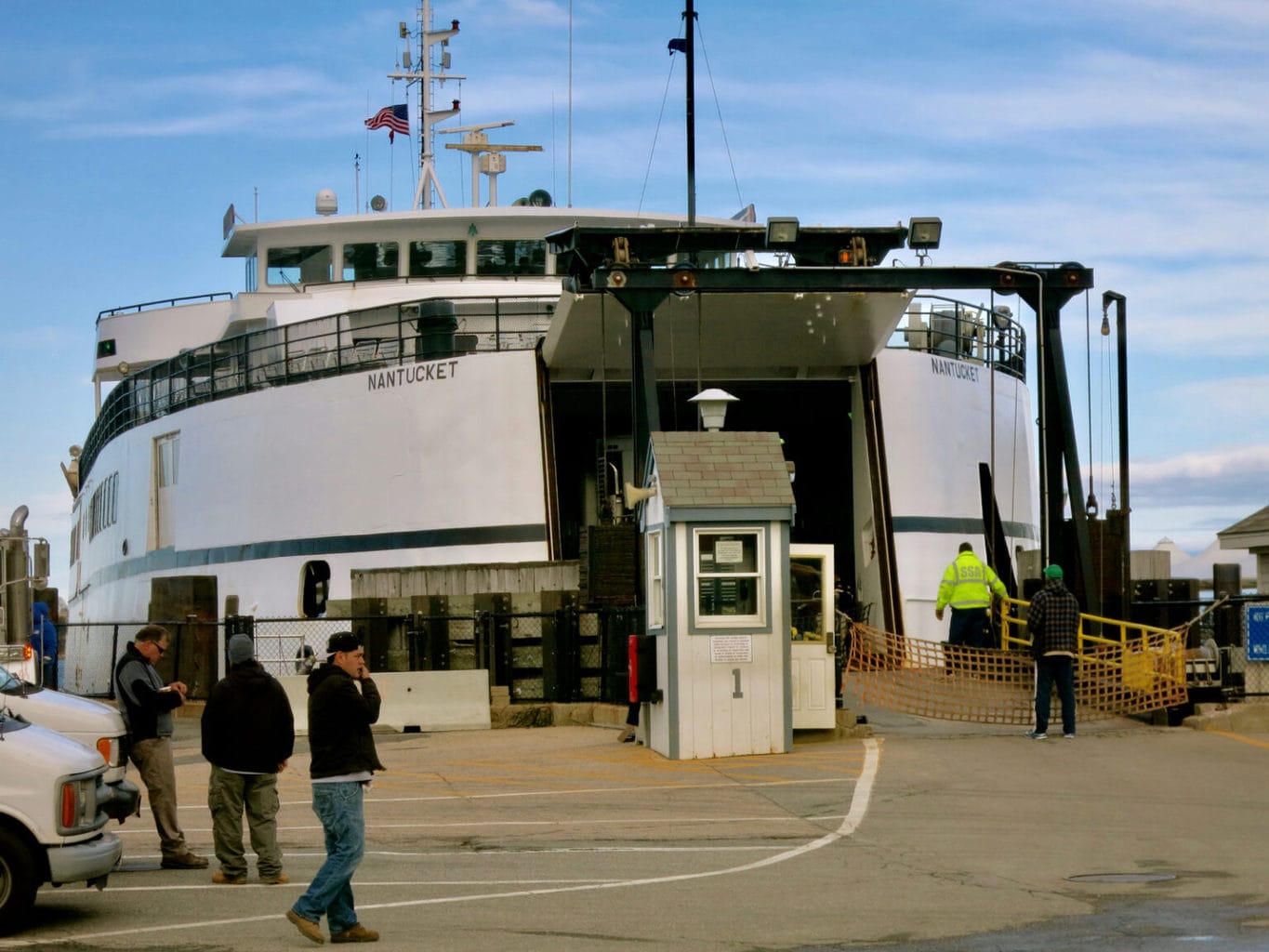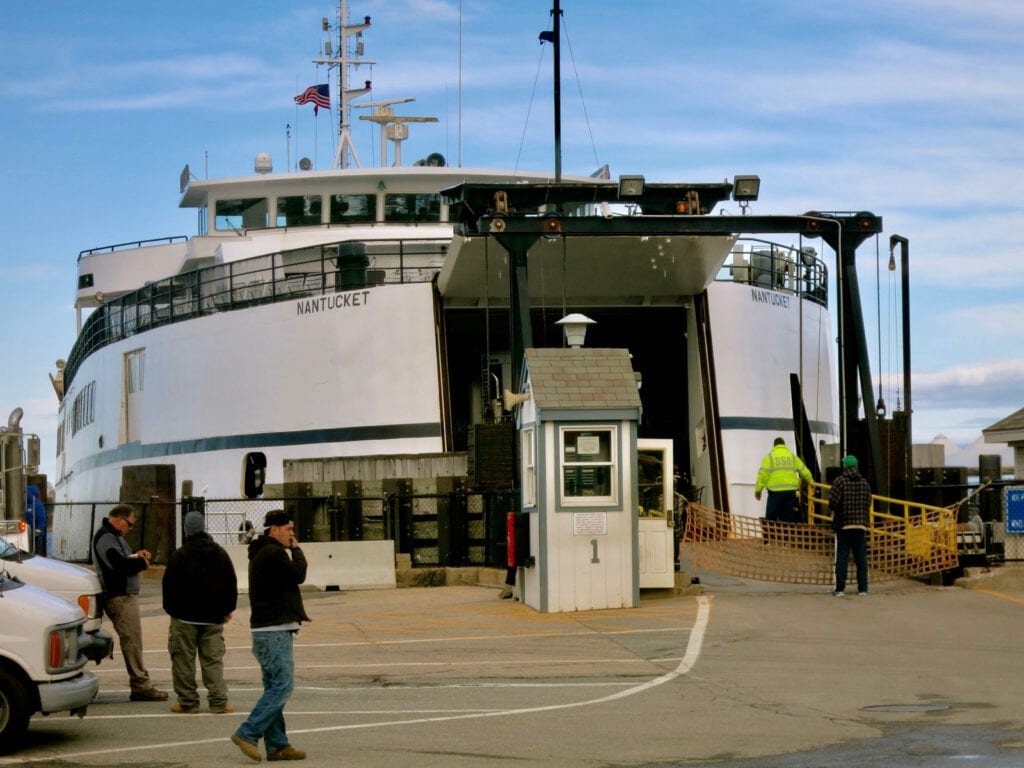 Forget flying and travel the old fashioned way. You can catch car ferries from Woods Hole to Vineyard Haven ($16 Round Trip, $137 RT with car), and foot/bike ferries from Falmouth, MA and Quonset Point, Rhode Island to Oak Bluffs.
There are even 5-hour ferries from New York City. Savor the trip – you'll feel as if you are on vacation once you leave the mainland.
TRANSPORTATION: Rent a Bike or Scooter. Or Take A Bus
With several routes, a day pass costs just $10 for unlimited rides.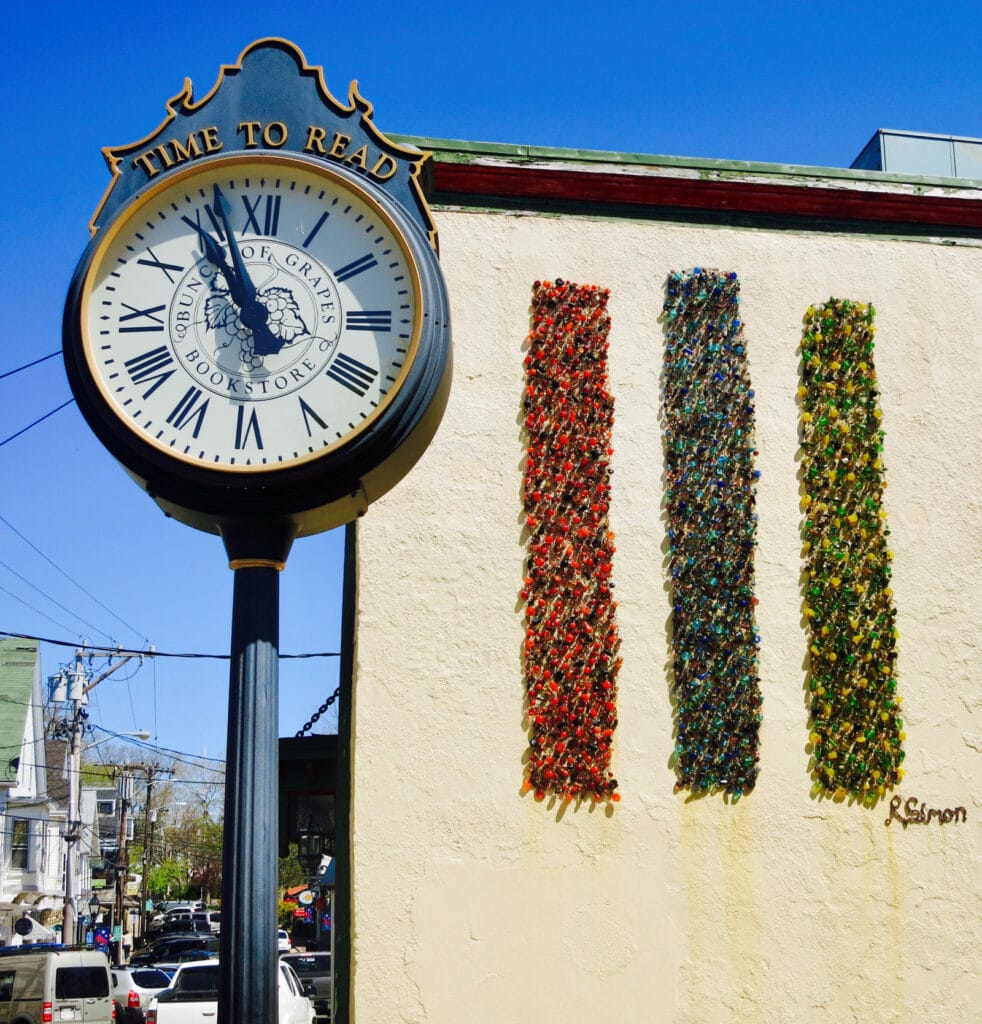 EXPLORE: Vineyard Haven
Vineyard Haven is so arts and crafty,  you'll stumble on the kind of knickknacks that trendsetters find appealing. Check out Rainy Day, and Night Heron Gallery, which features one of a kind goods made by local artists.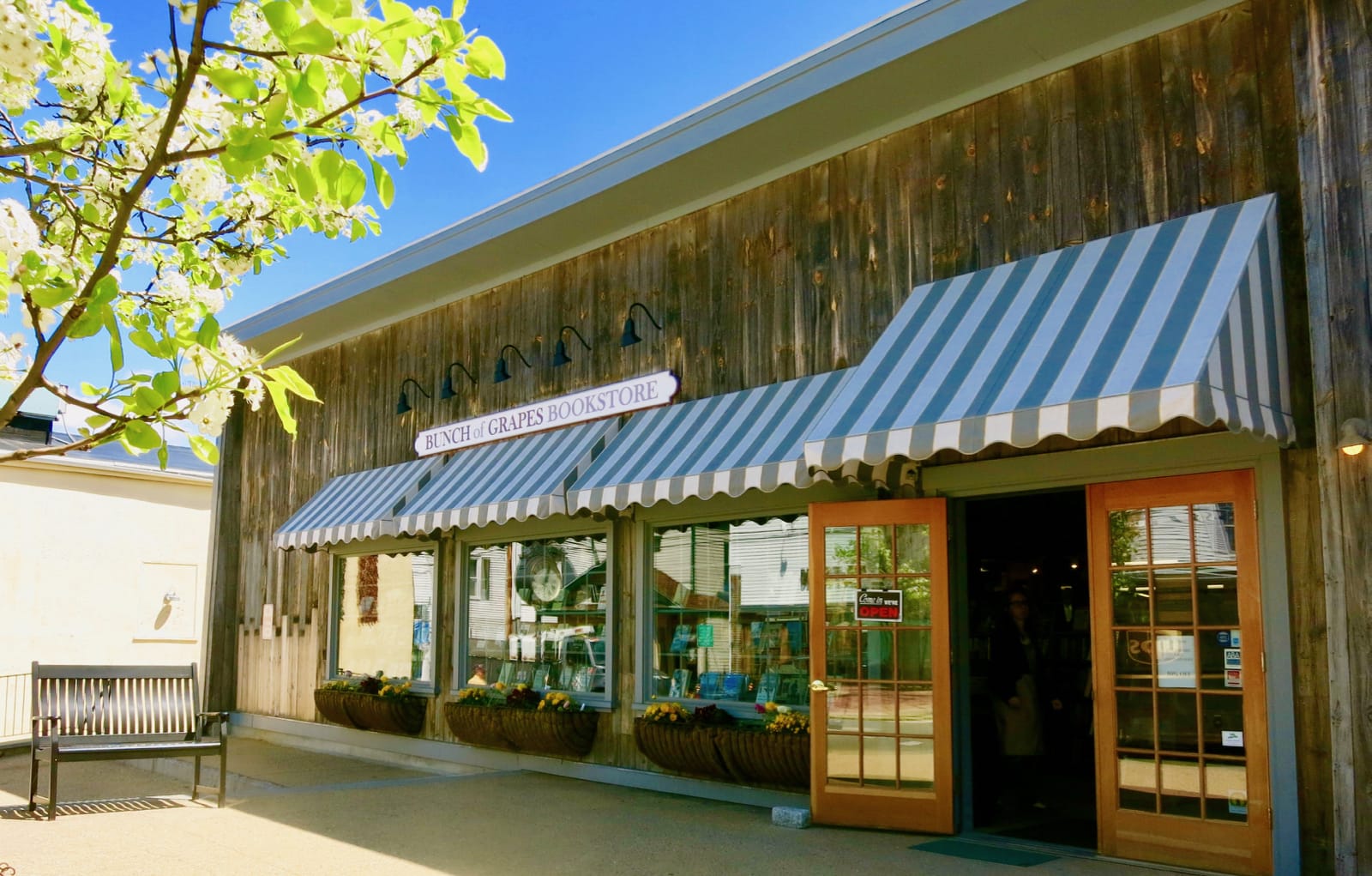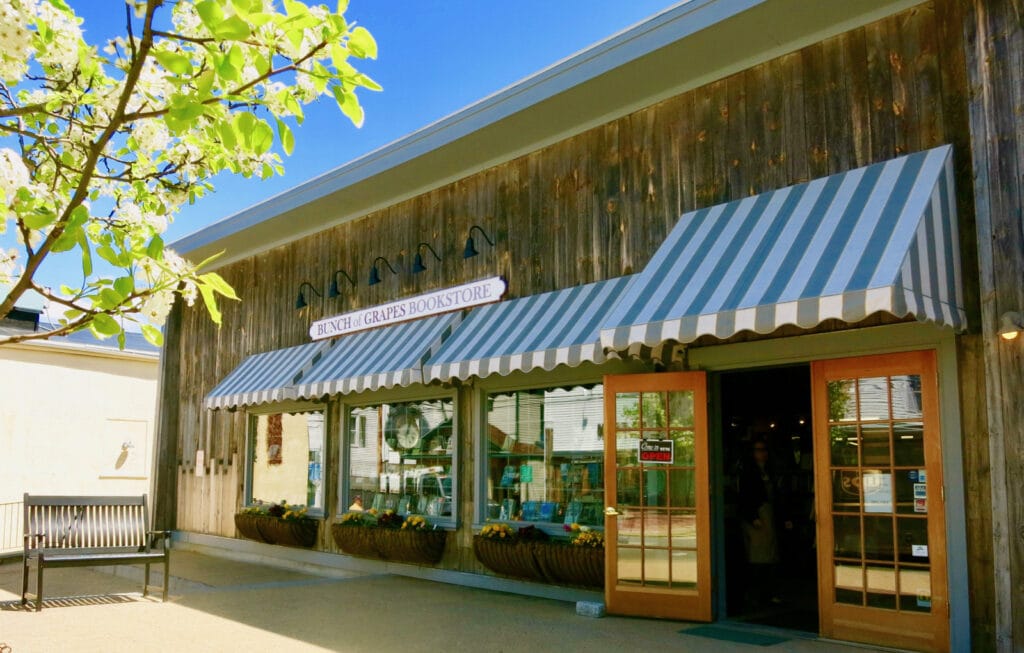 Pick up a bestseller at indie Bunch of Grapes Bookstore – an Obama family favorite .
Here's an insider tip for celeb sighting (if that's your thing. Warning – paparazzi are highly frowned upon here, and any expression of celebrity worship is considered overly gauche). Check out Martha's Vineyard Playhouse on summer Monday nights at 7:30. New play readings draw entertainment notables who show up to support their friends. Ticket $25.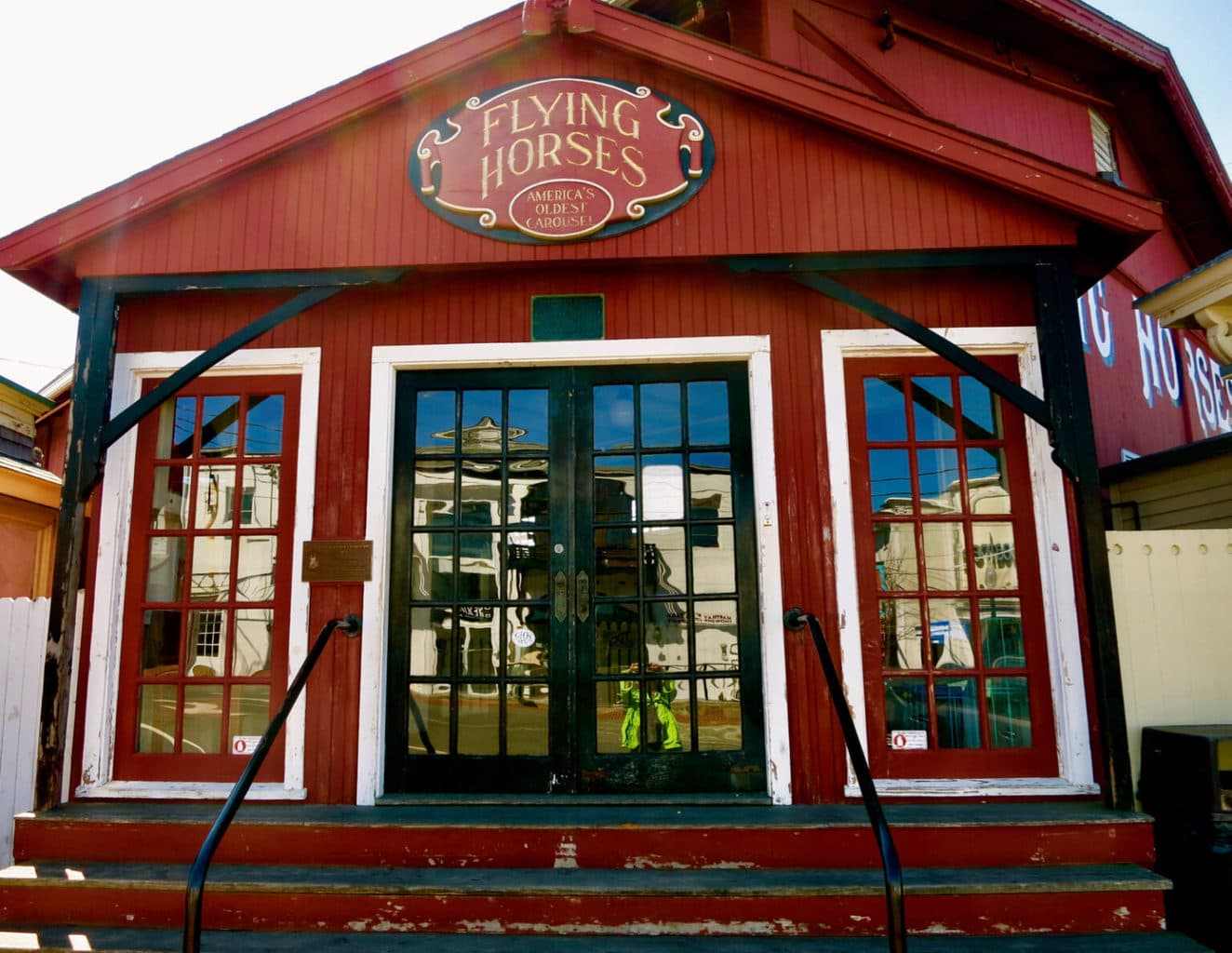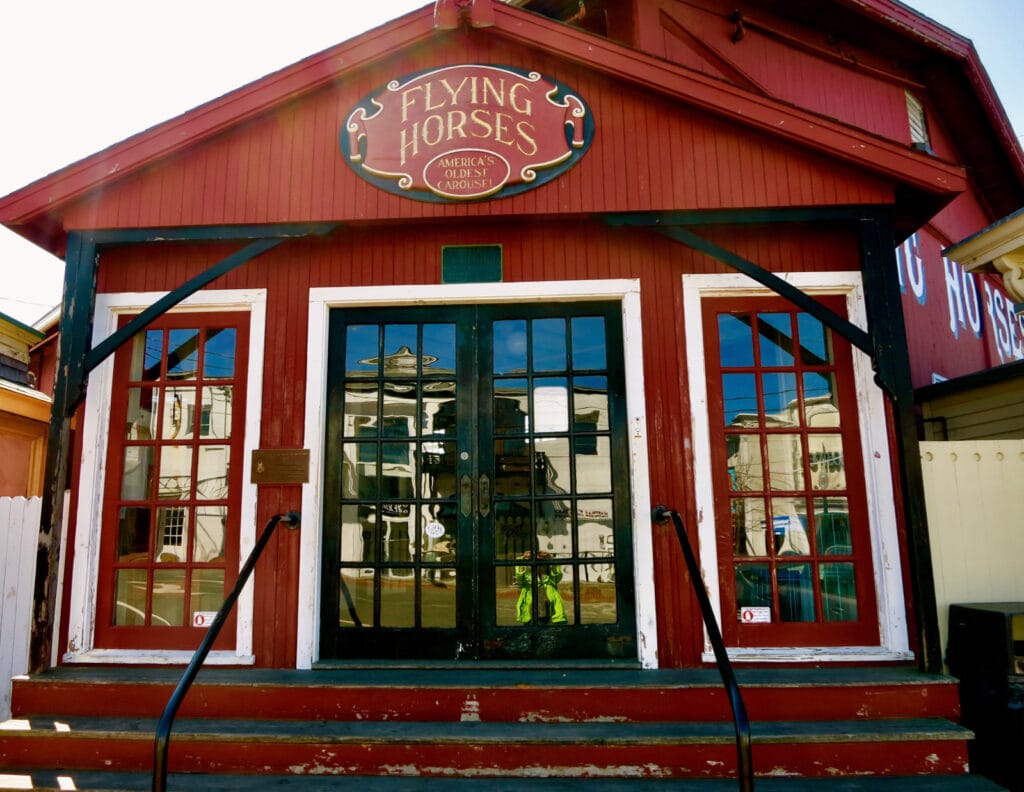 EXPLORE: Oak Bluffs
Funky and boisterous, Oak Bluffs is Home of the Flying Horses, the Oldest Platform Carousel in the United States. Ride it and try to grab the brass ring!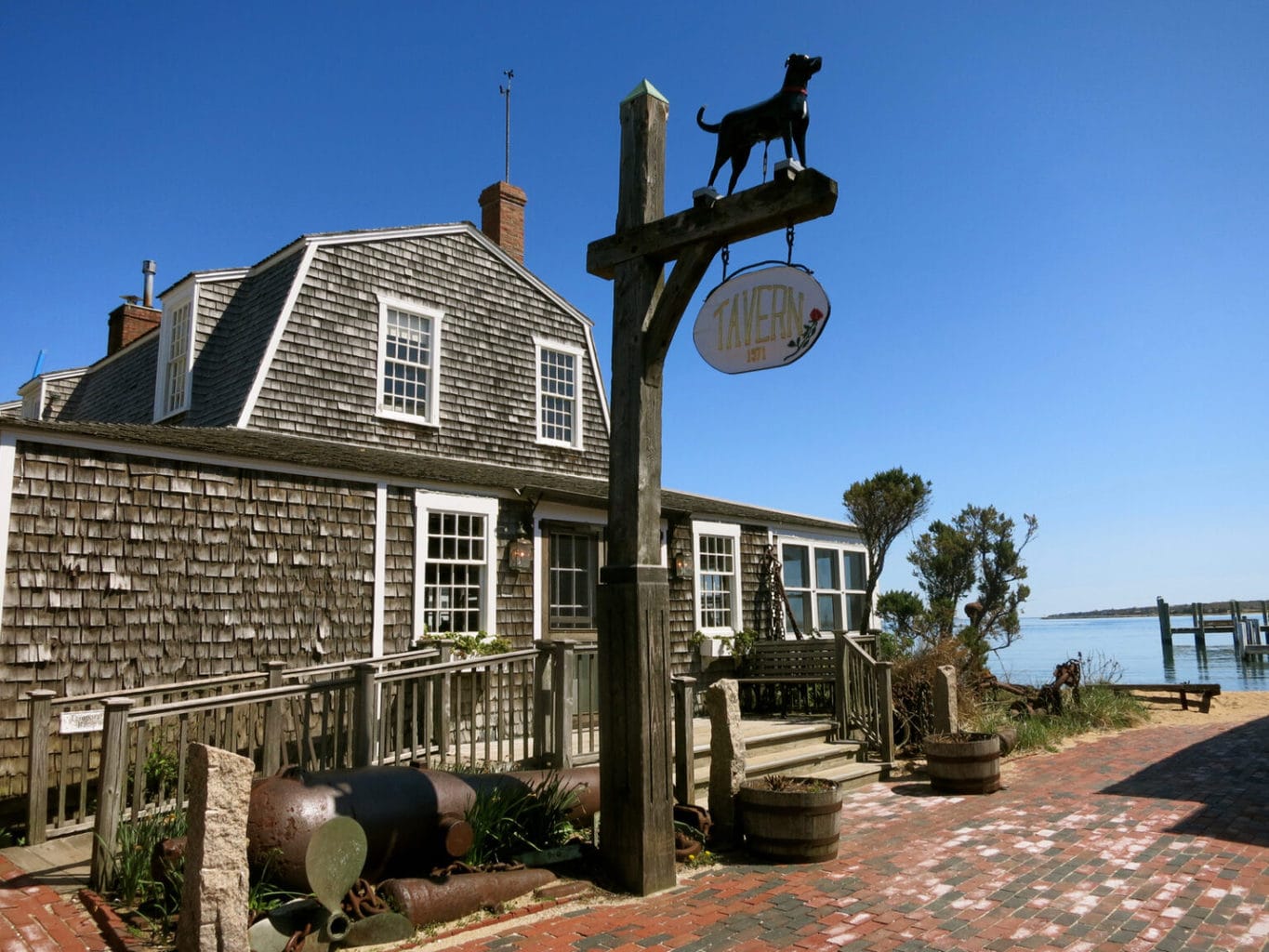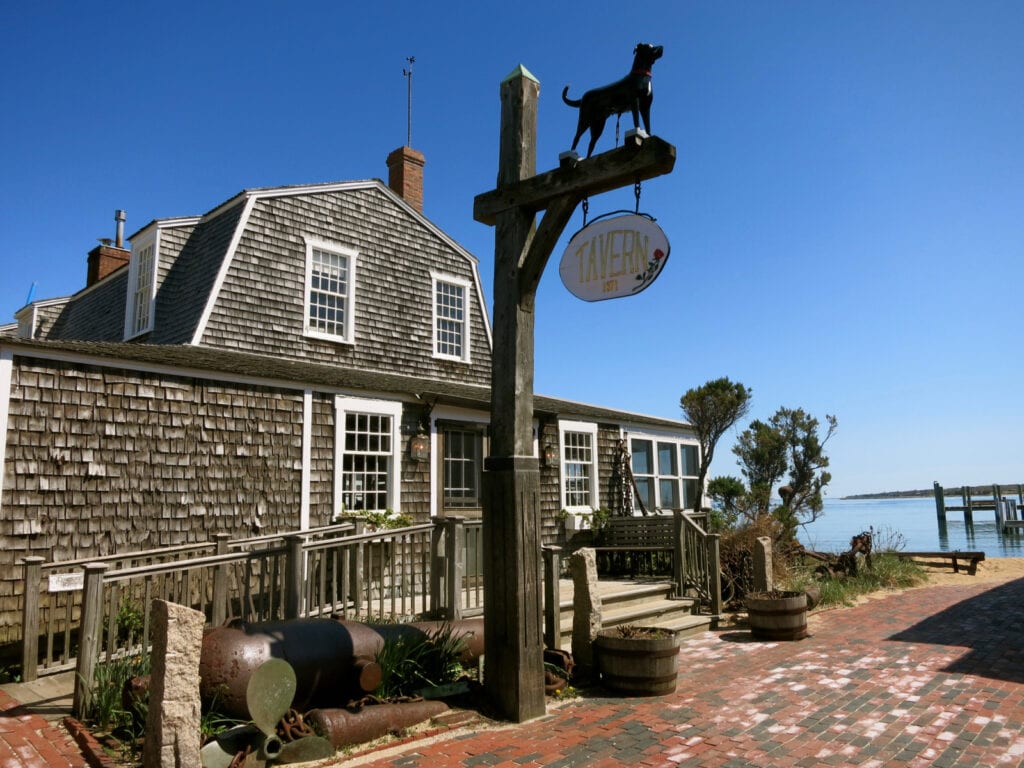 Also find the largest Black Dog accessories shop. The original Black Dog Tavern, opened in Vineyard Haven in 1971, and due to its popularity with tourists (and fantastic location), it's still going strong.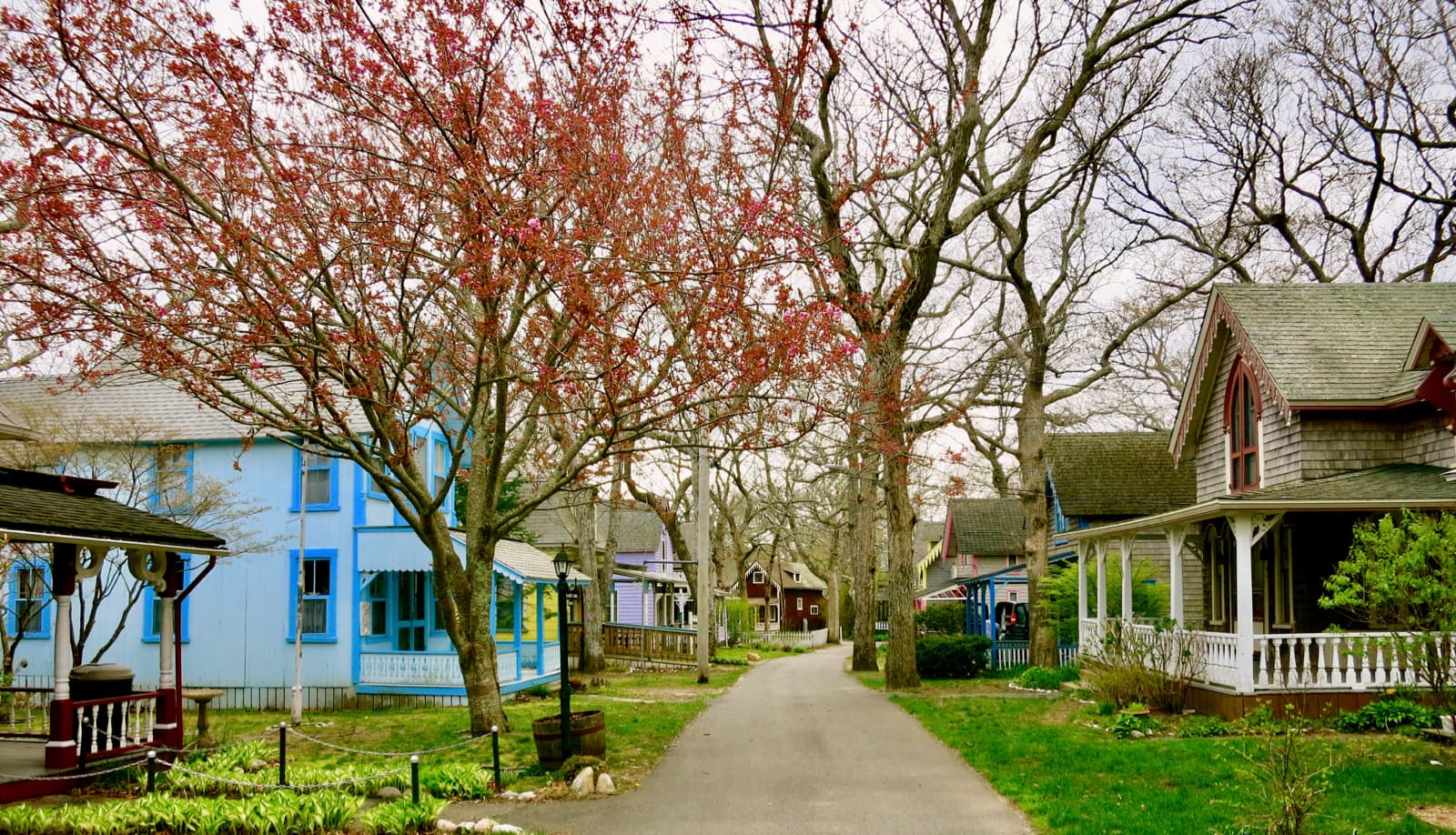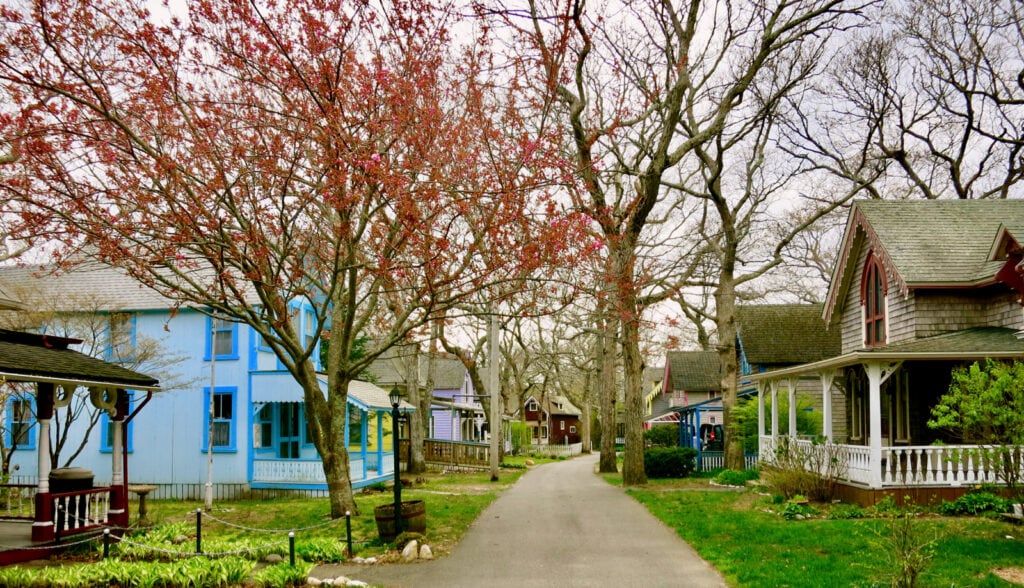 And discover the neighborhood that draws quirky/charming architecture fans. There are over 300 whimsical Gingerbread cottages in Martha's Vineyard Camp Meeting Association.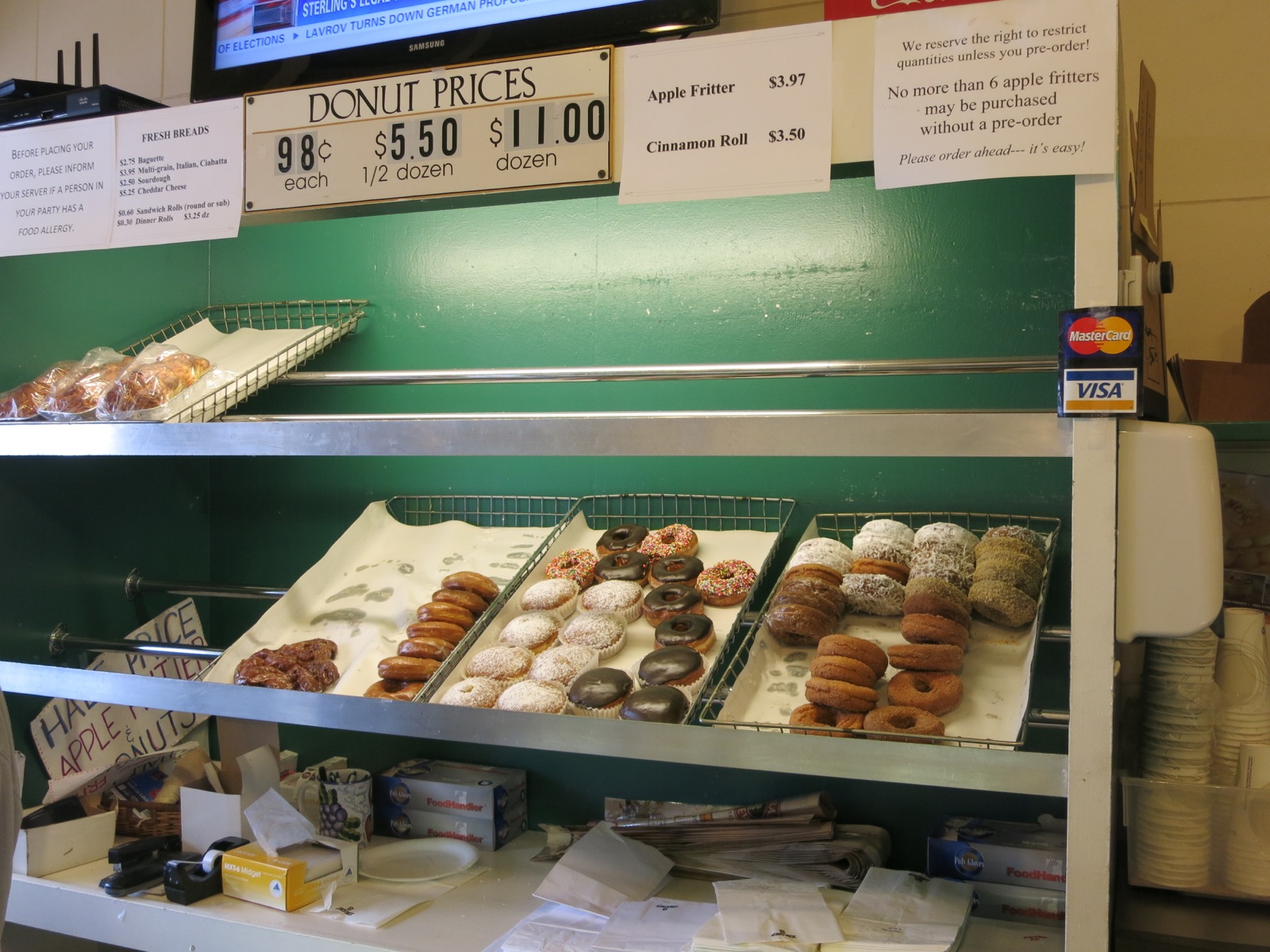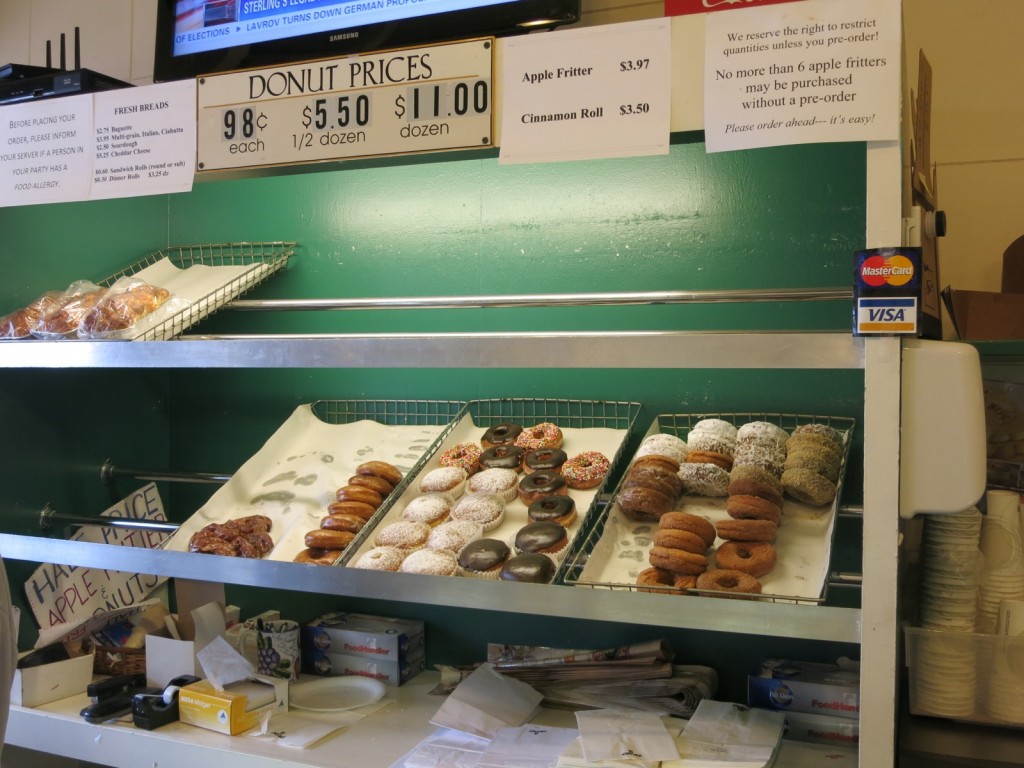 On a sun-dappled summer's day, appreciate these colorful works of artisanal construction, and then at night, stand on line for one of the best donuts ever at Back Door Donuts, open 7:30pm to 1am. A straight up Café & Bakery by day, at night, a "crew of 10 keeps making the donuts until 1am" and sells them at the back door.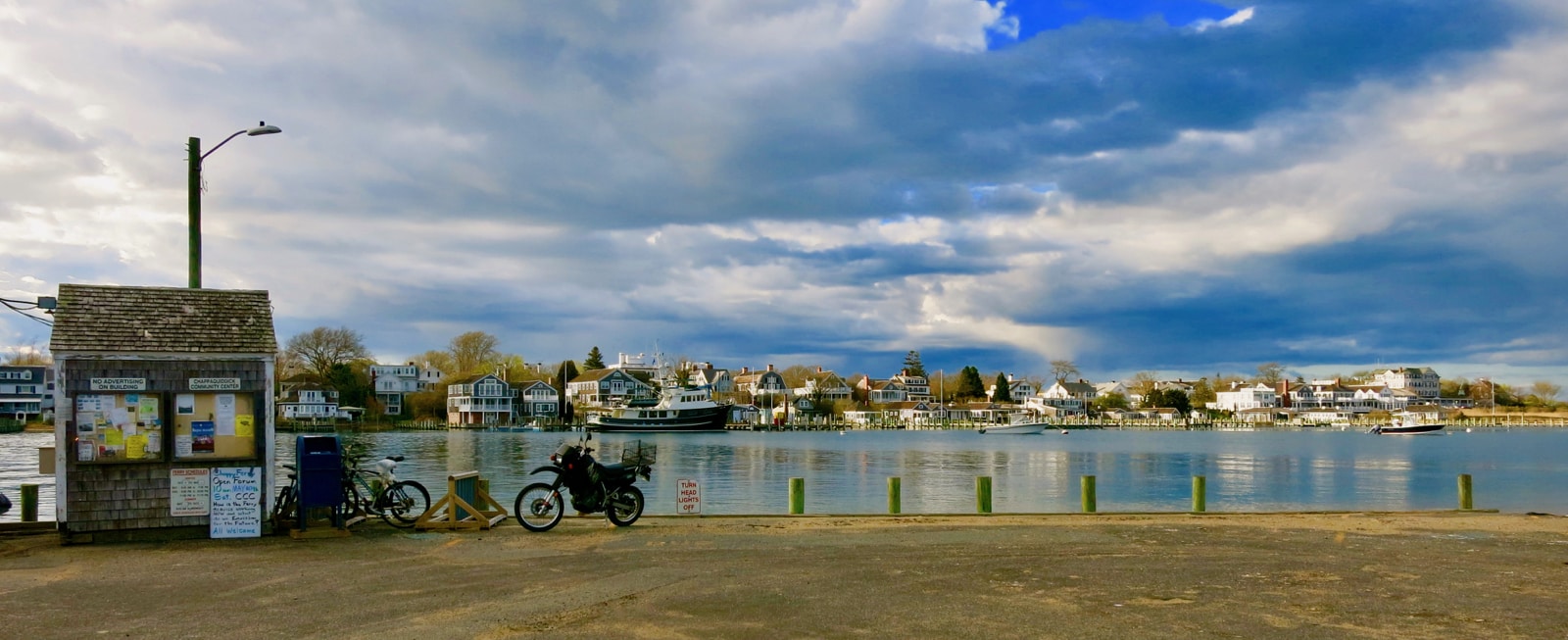 EXPLORE: Edgartown and Chappaquiddick
Well-heeled whaling captains built many stately white mansions along the leafy lanes of Edgartown. So, this town remains the preppiest one on Martha's Vineyard.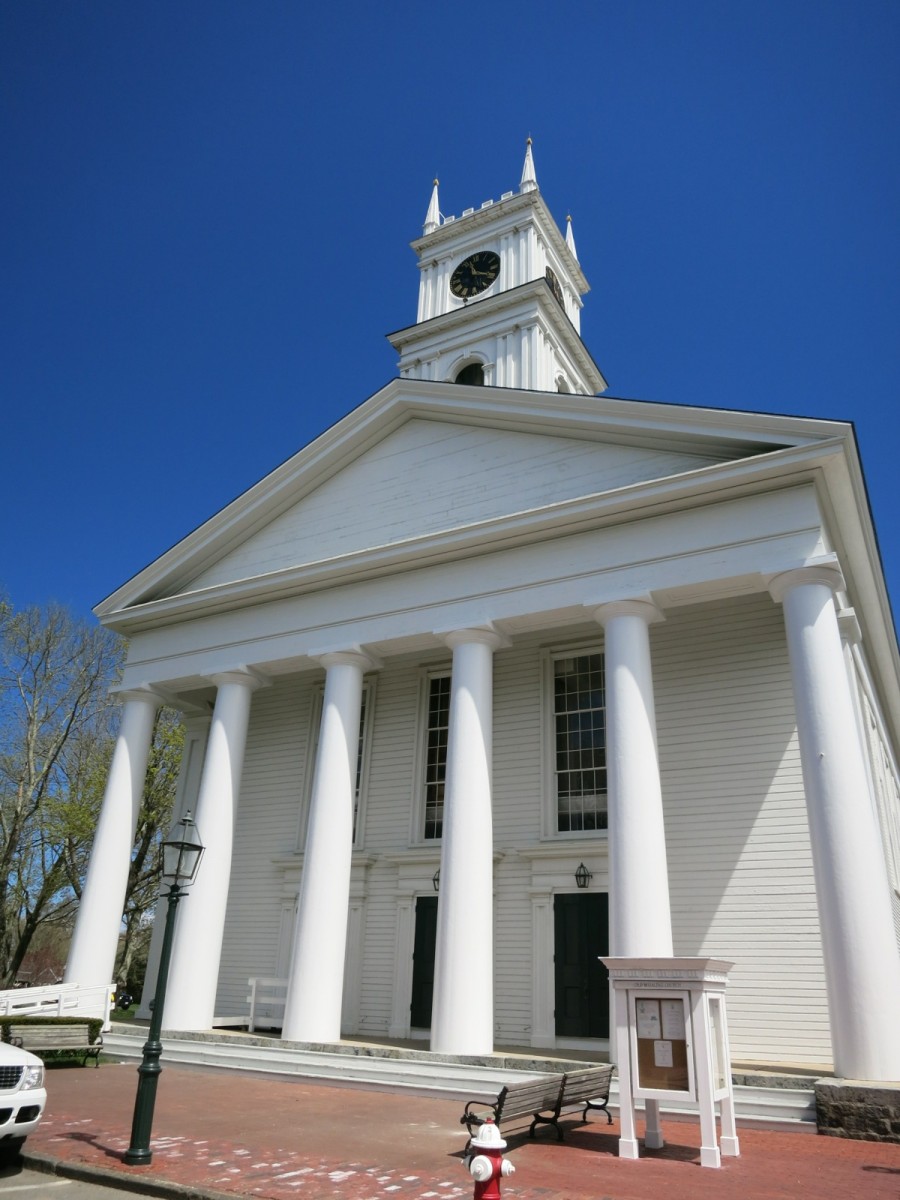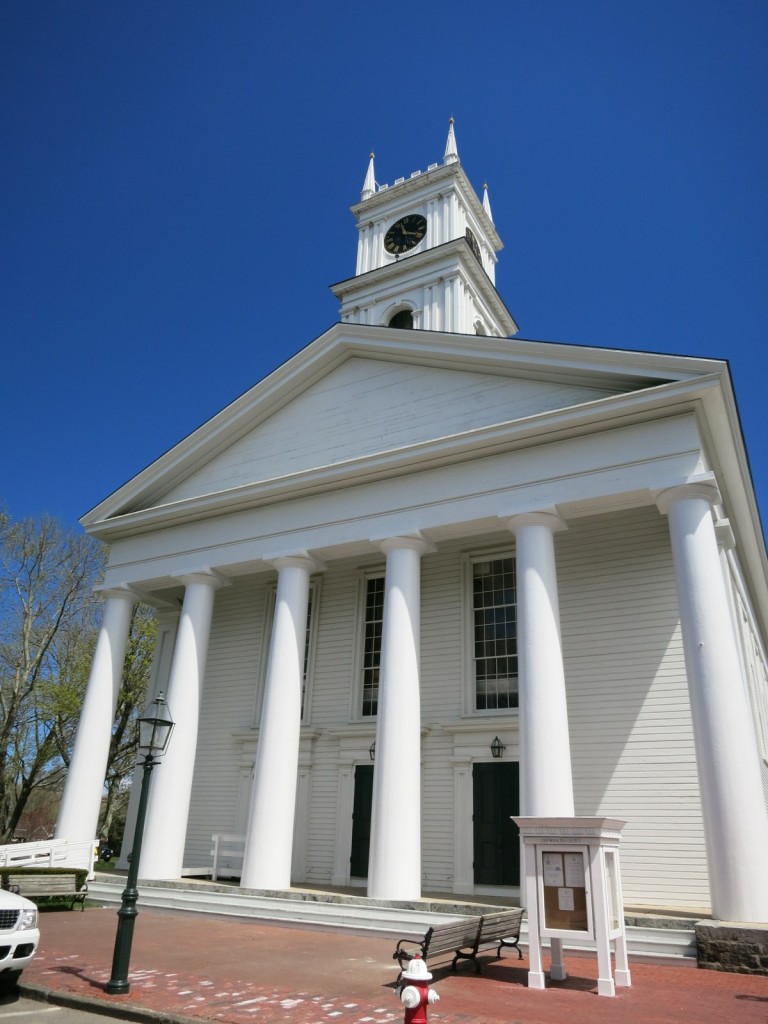 In the late 1700's Sea Captains established a house of worship where ministers would lead quick one-hour Sunday services rather than the long-winded ones of other island churches. The 1843 Greek Revival Old Whaling Church with its six massive columns, is still in use and remains a much-photographed Edgartown spot.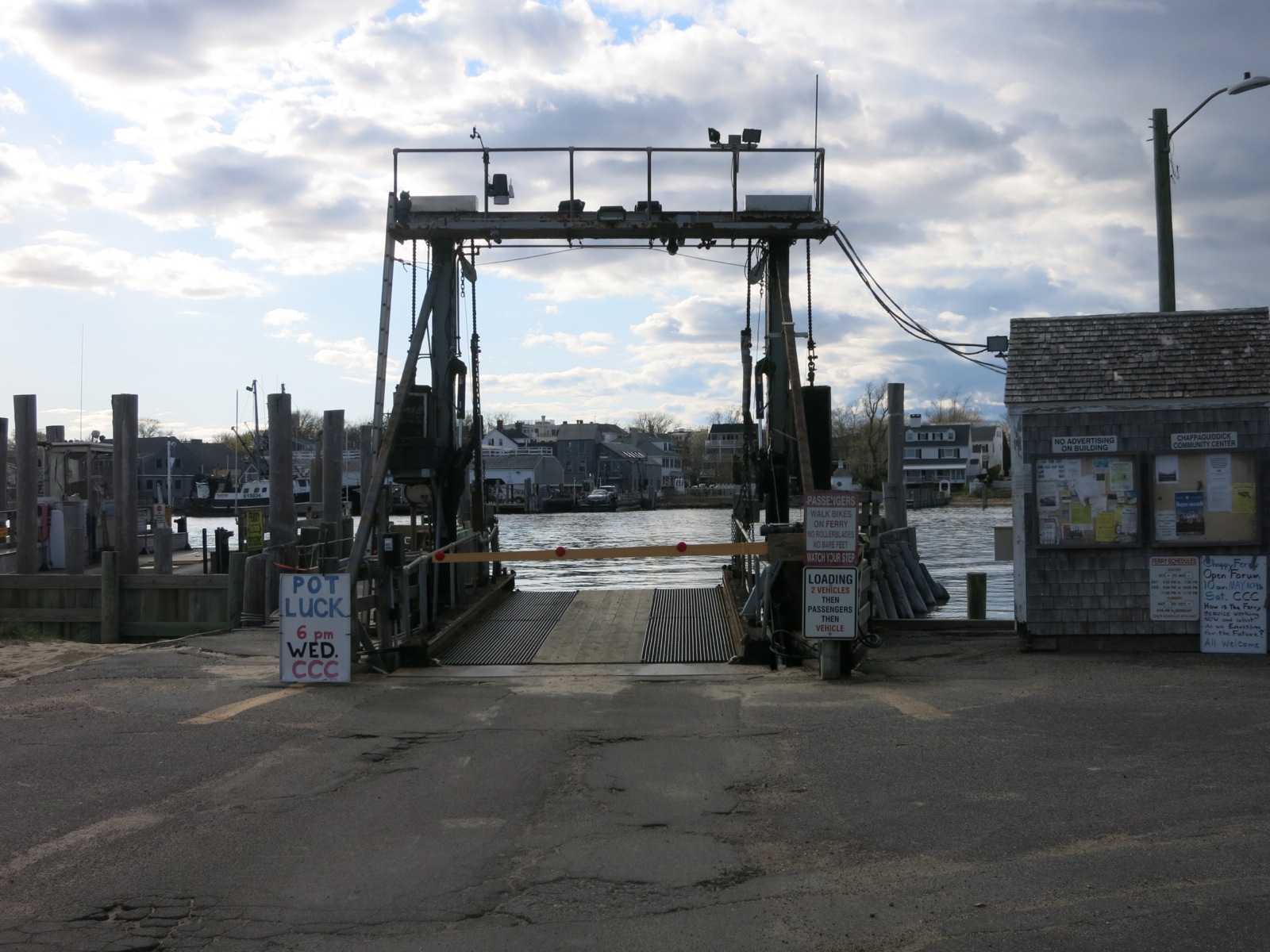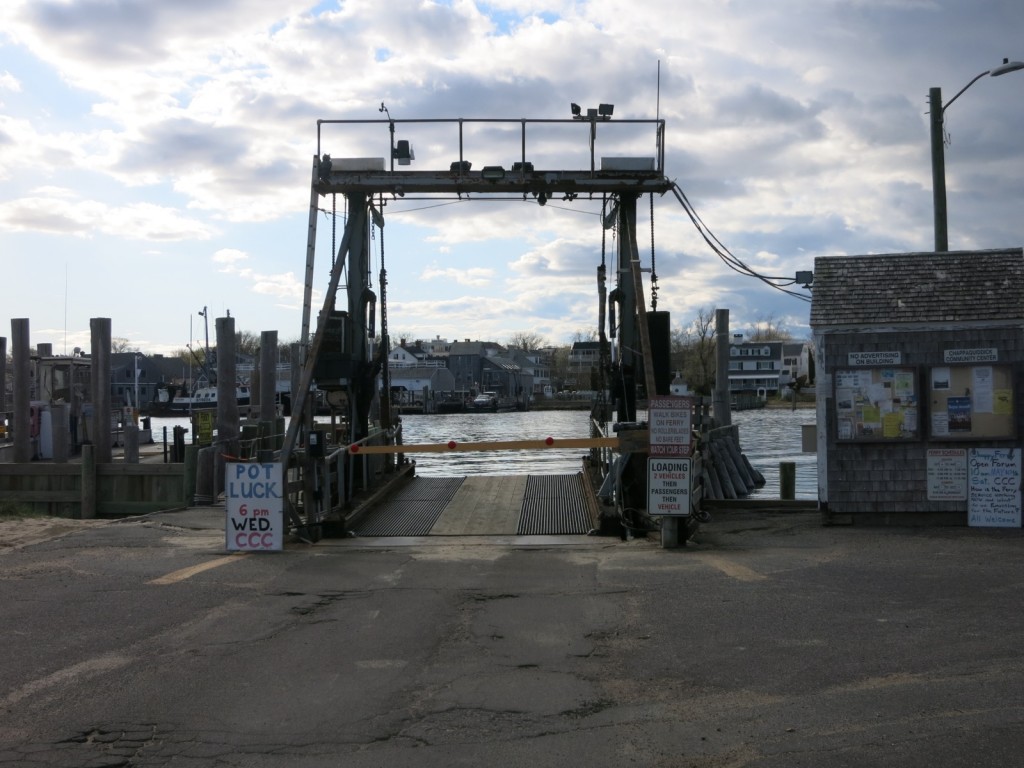 Known for the scandal that nearly took down Ted Kennedy, Chappaquiddick is a large track of land separated from Edgartown by a few hundred yards. Take the 3-car, 3-minute "Chappy Ferry" (round trip $4 per person, $6 person with bike $13 for cars), drive about 2 miles (on the only road you can), and at a slight bend, keep your eyes peeled for a small green sign on the left.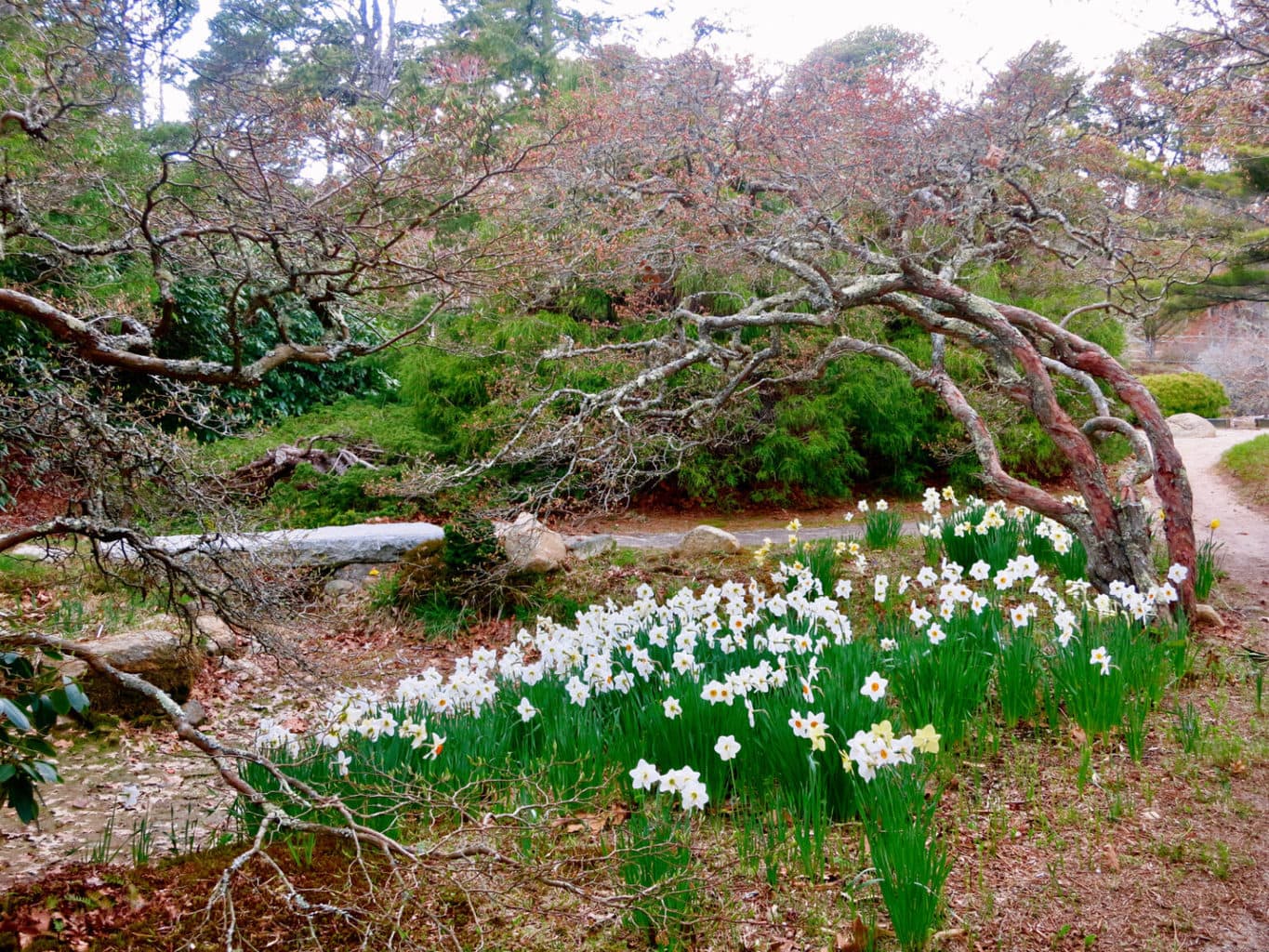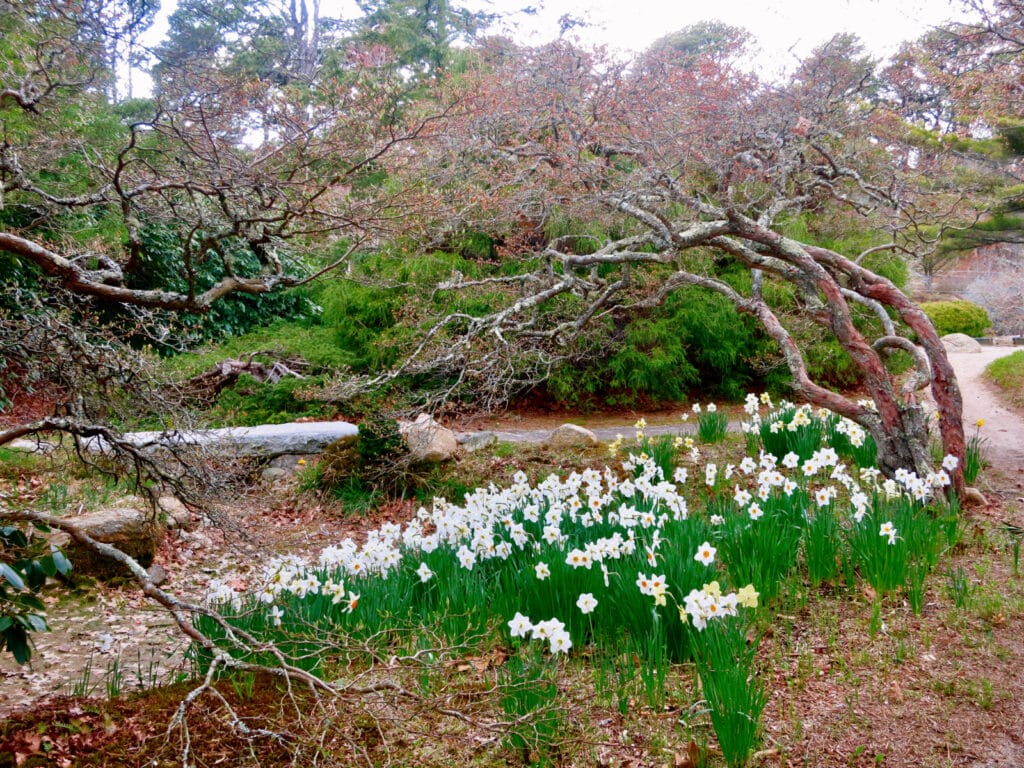 Take that dirt road to Mytoi, an enchanting 14 -acre Japanese garden with walkways, drooping Cherry trees, wooden bridges and the most vocal (some would assume, happy) birds on earth. It is Zen-serene relative to the tourist ruckus in Edgartown.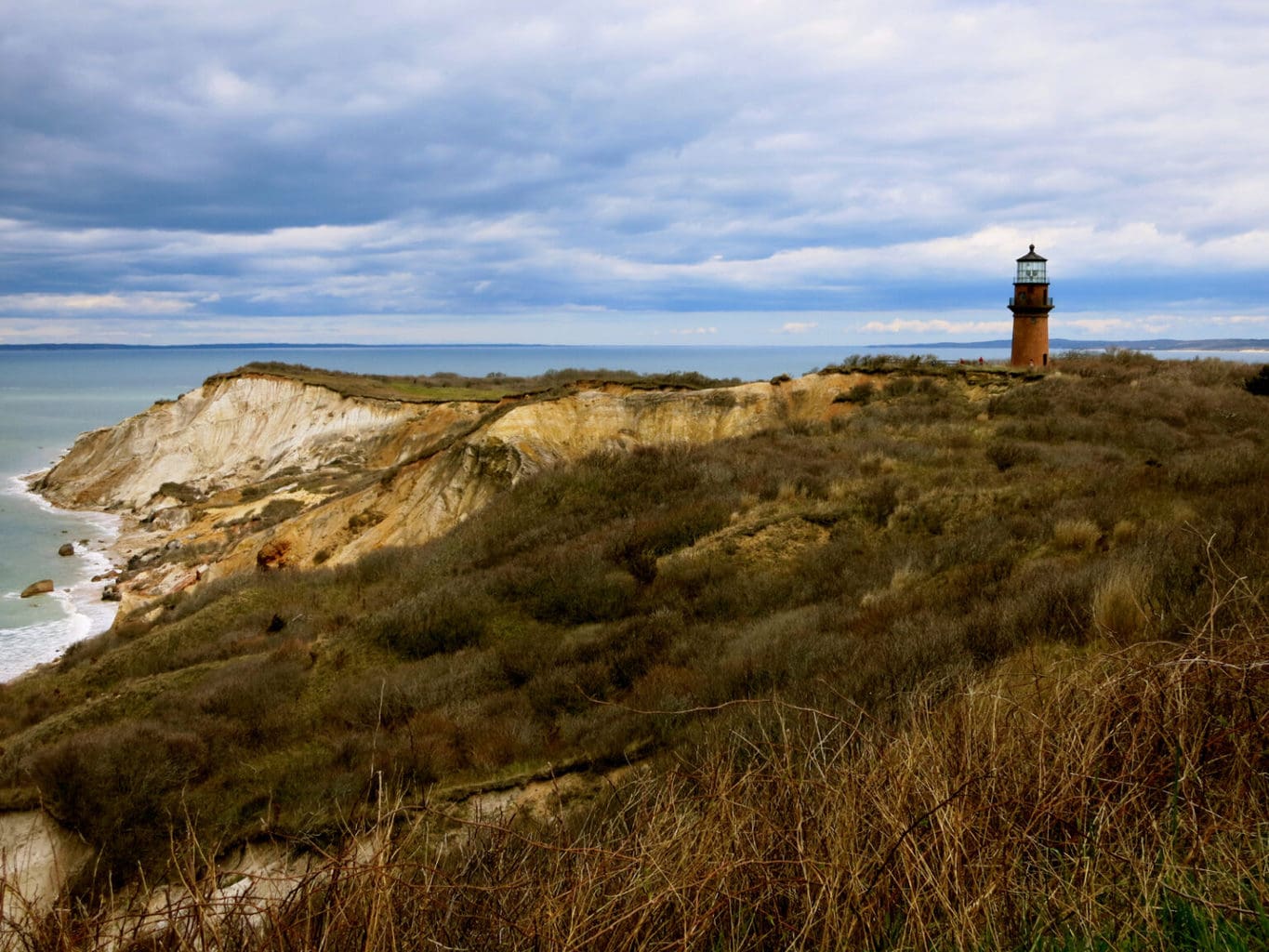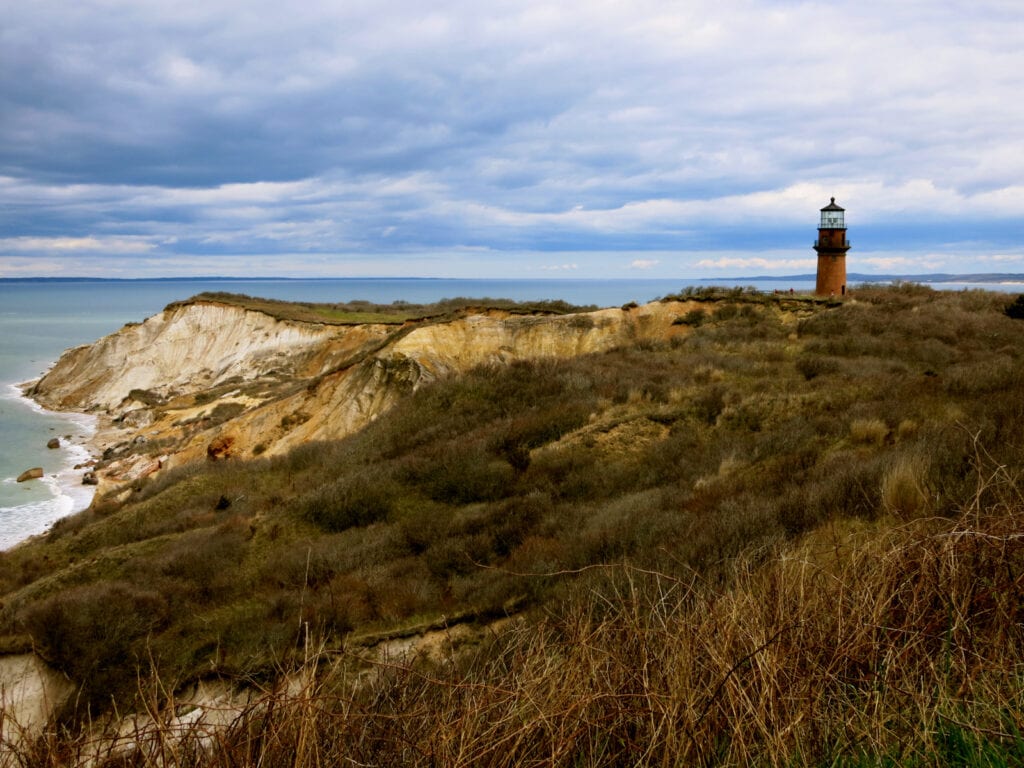 TOUR: Western Part of Martha's Vineyard aka "Up-Island."
This is the portion of the island that most day tourists don't see. Bike or take the bus to West Tisbury or Chilmark on pastoral rural roads lined with old stone walls, forsythia and honeysuckle, passing long-horned steer and farm signs advertising "Feta," and other locally grown and made products.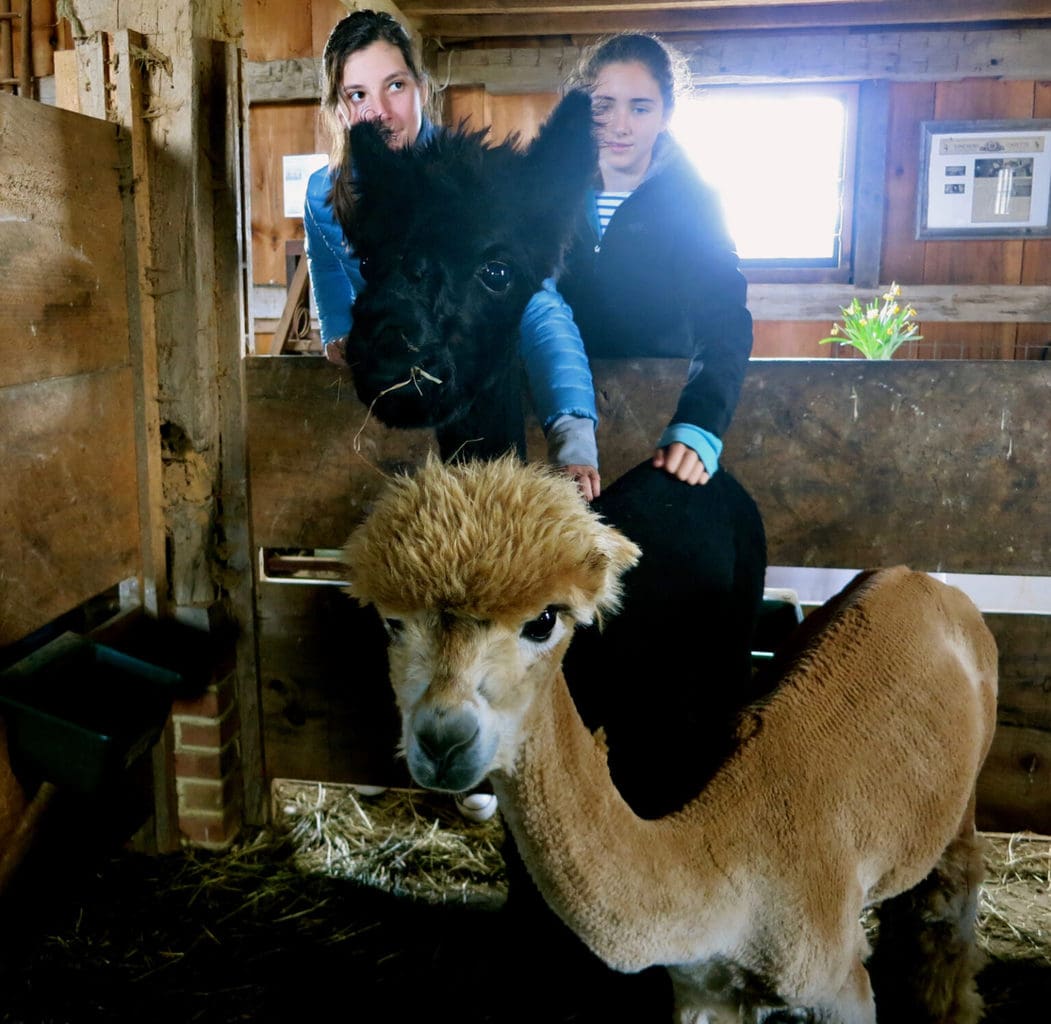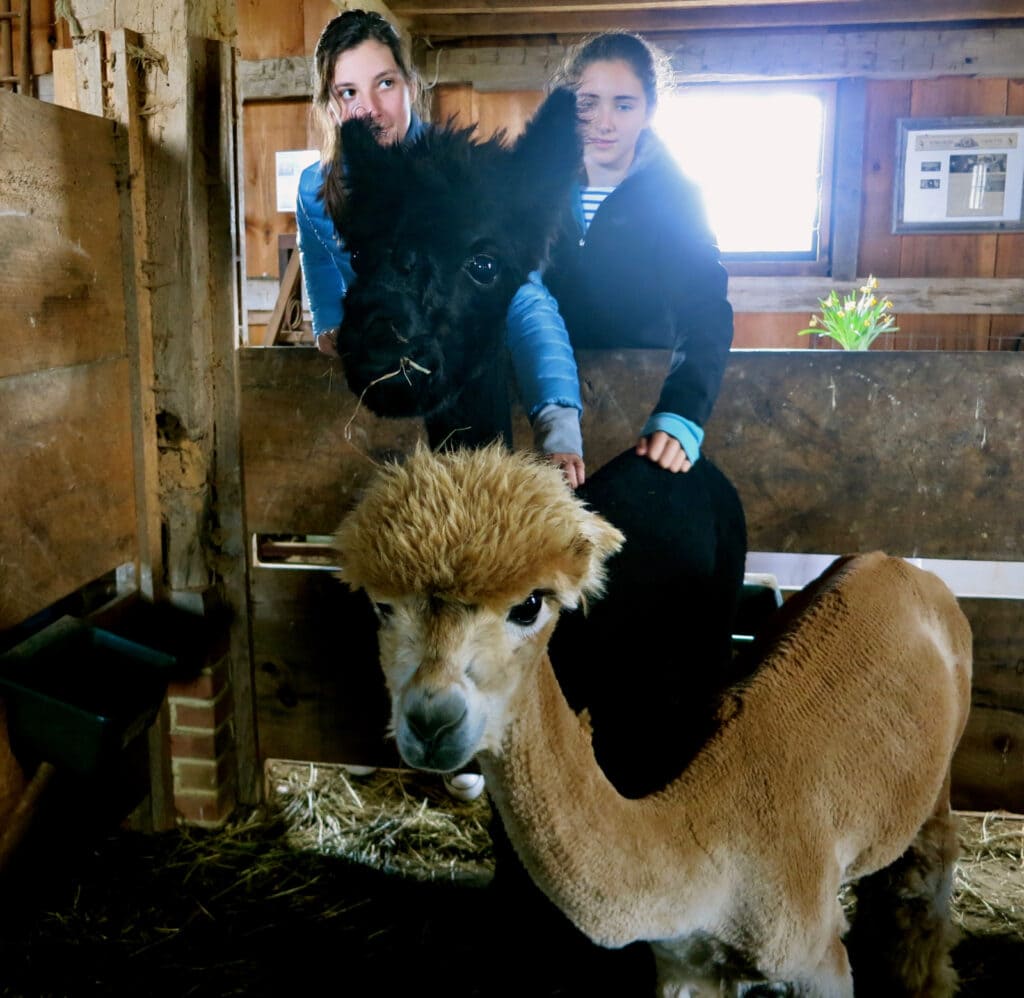 These adorable creatures are used for "Fiber Farming," and this Alpaca Farm is open for tours (and hugs). Two miles from Vineyard Haven, it's a quick ride to the lush-lash big-eyed stares of 78 alpacas. With necks like swaying stalks, they are both a tad awkward and delicate after shearing. Owner Barbara Ronchetti is more than happy to introduce you. Open daily 10-4, $5 adults.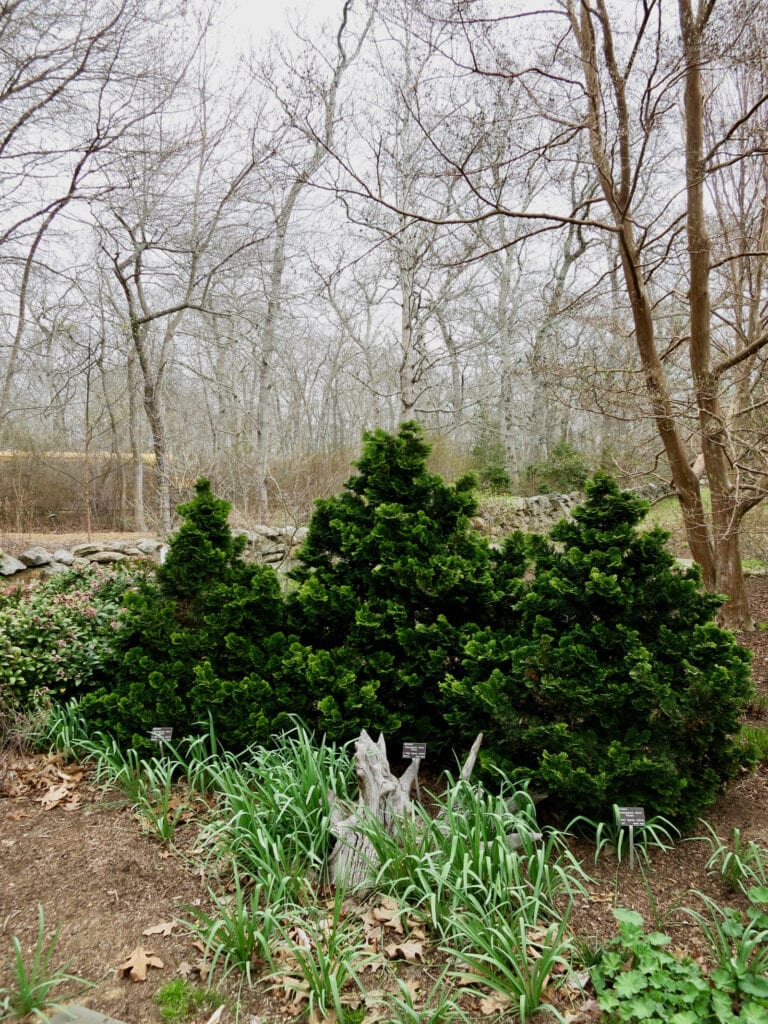 At age 50, in 1957, Polly Hill yearned to create her own tree sanctuary, and so she sent away for seeds from all over the world. Experimental yet pragmatic, Hill planted non-indigenous varieties in the shelter of hearty plants that could protect seedlings from the mighty island winds.
Although no longer with us, Hill left behind a beautiful legacy. These 40 acres of woodlands, and 20 acres of trees and gardens, can be shared by all. Grounds open all year sunrise to sunset. Visitor's Center 0pen seasonally beginning Memorial Day. Tours at 2pm, $5 adults.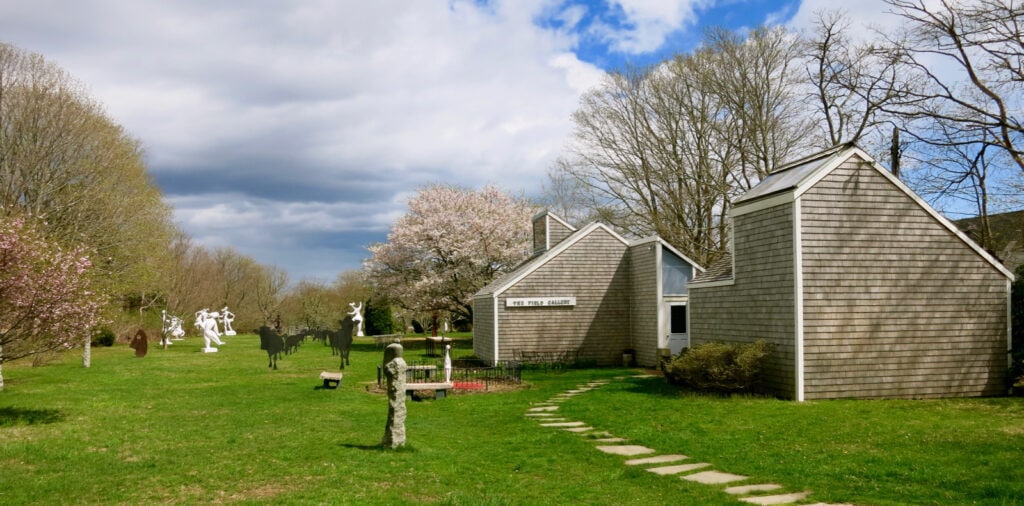 This indoor-outdoor art gallery features the work of extraordinary local artists. Far from major Vineyard towns in West Tisbury, the Field Gallery is a great place to contemplate the juxtaposition of art and nature.
A Funny Thing About Chilmark
Most of the original Saturday Night Live cast have homes in affluent six acre zoning Chilmark, where "everyone who doesn't want to be seen lives" (e.g. Bill Murray, Dan Aykroyd), and where John Belushi is buried.
Chilmark is also the "Birthplace of American Sign Language" – born of necessity. In the 1700's through the end of the 1800's, one in three people here were deaf.
If you're biking the 18 miles (each way) from Vineyard Haven, stop in with others for a surprisingly good pizza at the Chilmark General Store before heading to Aquinnah (formerly Gay Head), owned by the local Native American tribe of that name.
Stop in at the Aquinnah Wampanoag Cultural Center open Memorial Day to Labor Day to explore Wampanoag history (open Wed, Fri, Sat. 11-4)
Don't Miss the Lighthouse
You'll want to capture the grandeur of a sunset from either the red brick Gay Head Lighthouse or the spectacular terra cotta colored clay Gay Head Cliffs overlook.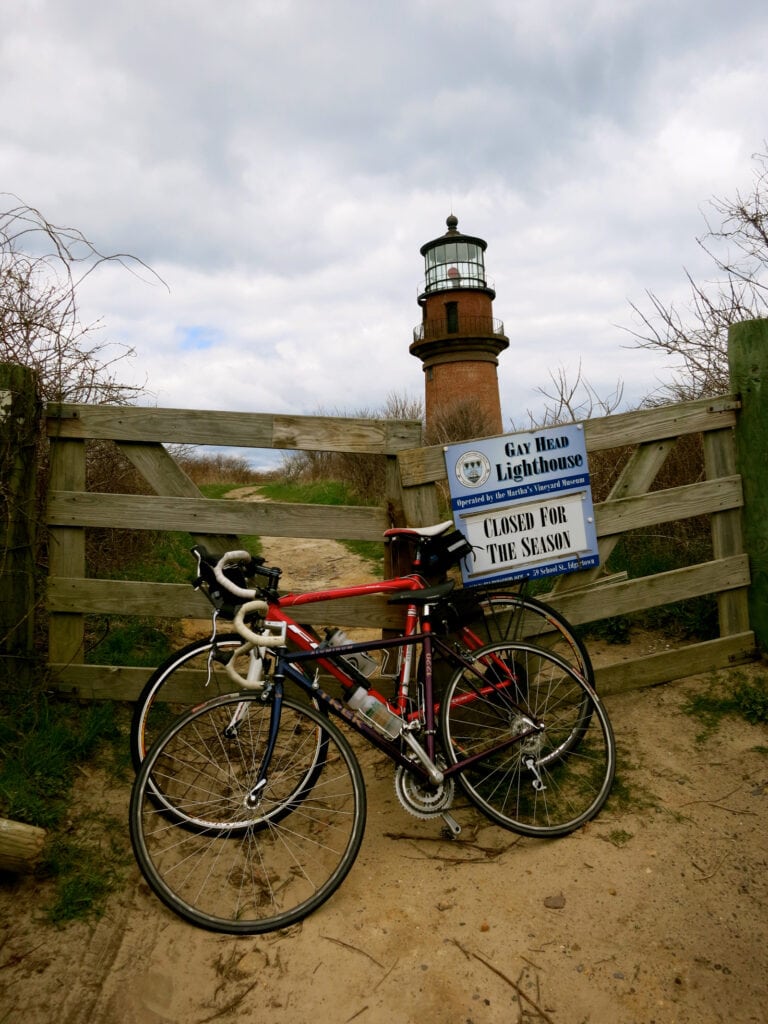 FYI – the Lighthouse is on the country's list of "Most Endangered Historic Places" due to extreme erosion. Unfortunately, it's in imminent risk of falling into the sea unless it is moved back immediately.
You'll find locally fashioned purple and white "wampum" jewelry, sculpted from Quahog shells at Stony Creek Gifts right on the path to the overlook. These are authentic, but beware of the hawkers of "Indian Bead Necklaces" made in China.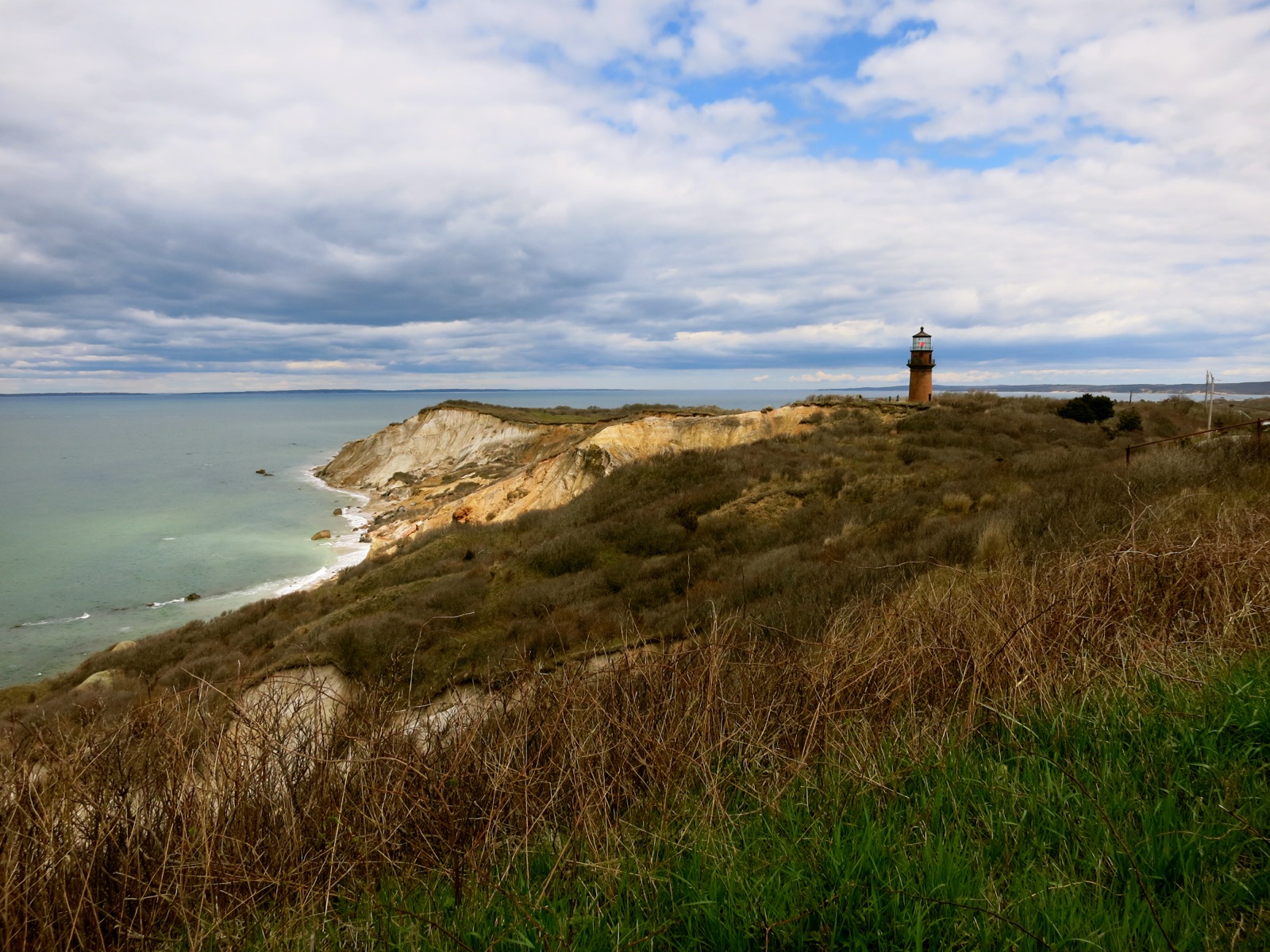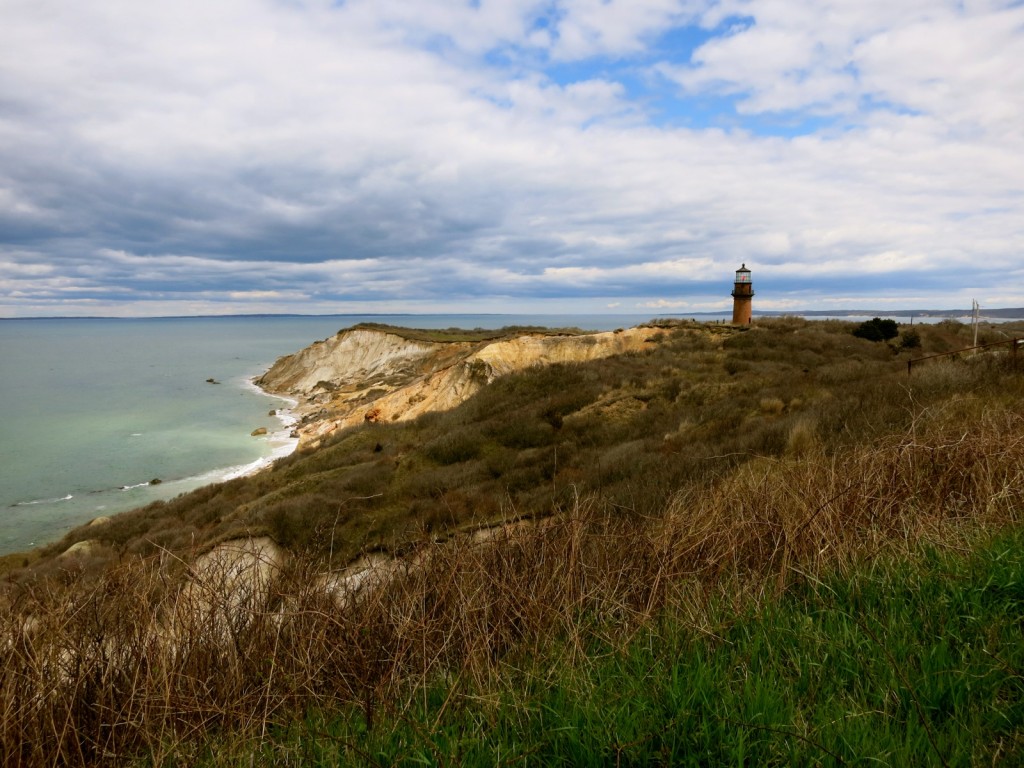 The land you see offshore belong to the string of 16 Elizabeth Islands that extend from here to Cape Cod, the largest of which is Cuttyunk, a speck of oyster-farmers, fishing charters and scrub-brush with 49 full-time residents. From there, the next landmass is Ireland.
Menemsha
For some of the freshest off-the-boat seafood, peddle over to Menemsha. Not only is this place the poster-perfect New England fishing village, it also made an appearance in the movie, Jaws. Both Larsen's Fish Market and Menemsha Fish Market are good bets.
There's no place to sit inside these fresh seafood markets. So, order your stuffed or steamed clams, lobster and broth-like chowder, and then take your meal to the docks out back, hard by the rusted clamming boats. Alternately, walk a block to the beach for yet another unbeatable sunset.
Restaurants On Martha's Vineyard MA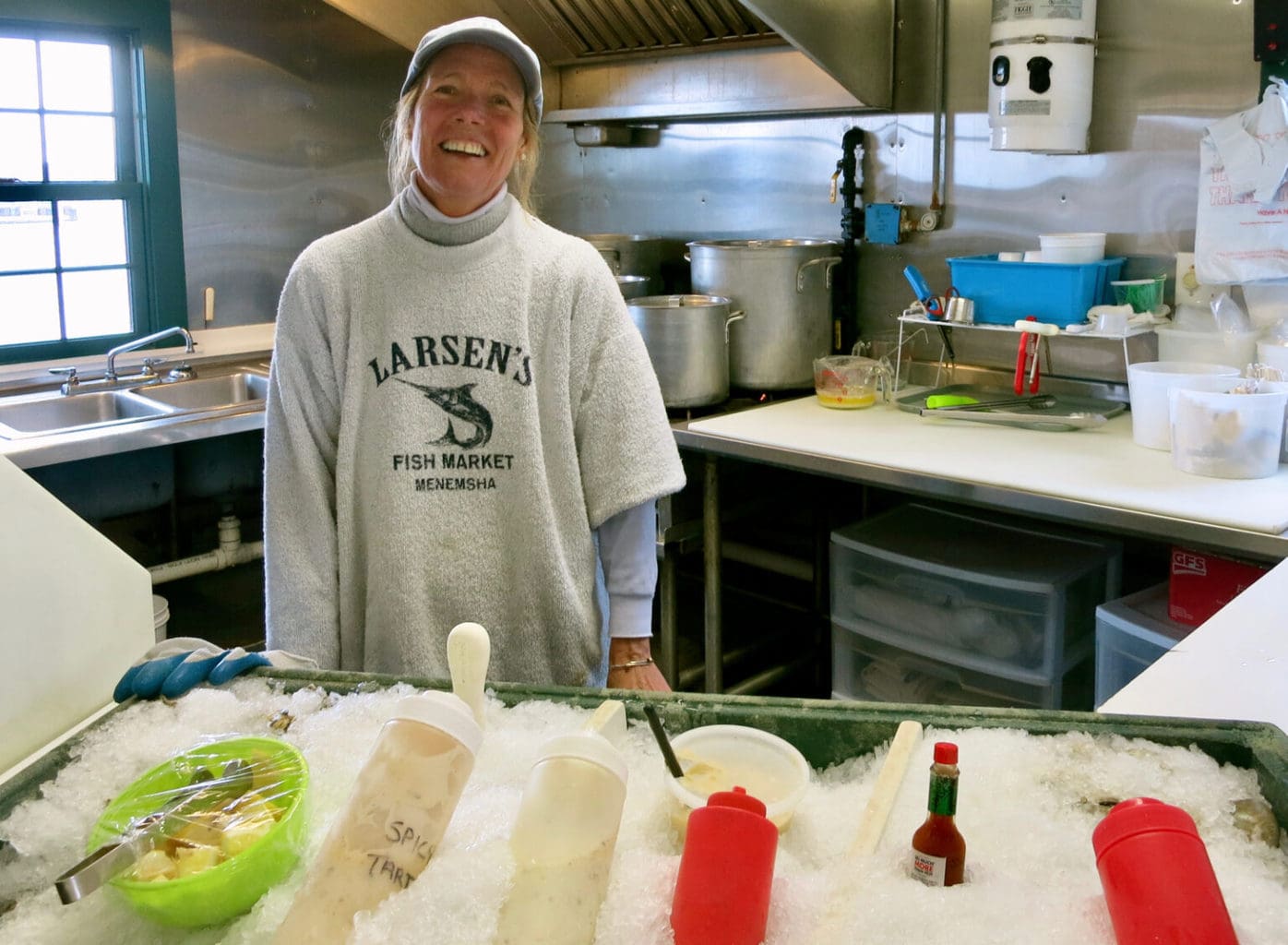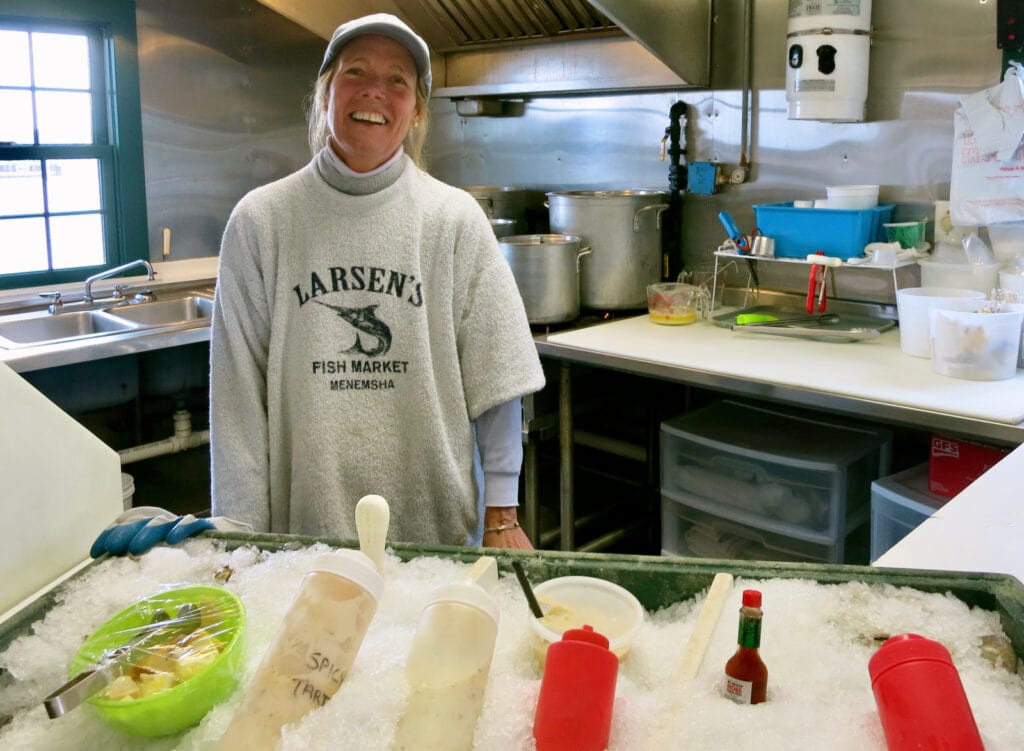 See above – Larsen's always wins raves for its just pulled from the water seafood. And for its award-winning chowder. Ambience is fish-market rustic. Take your scrumptious eats to a patch of dock or grass or sand.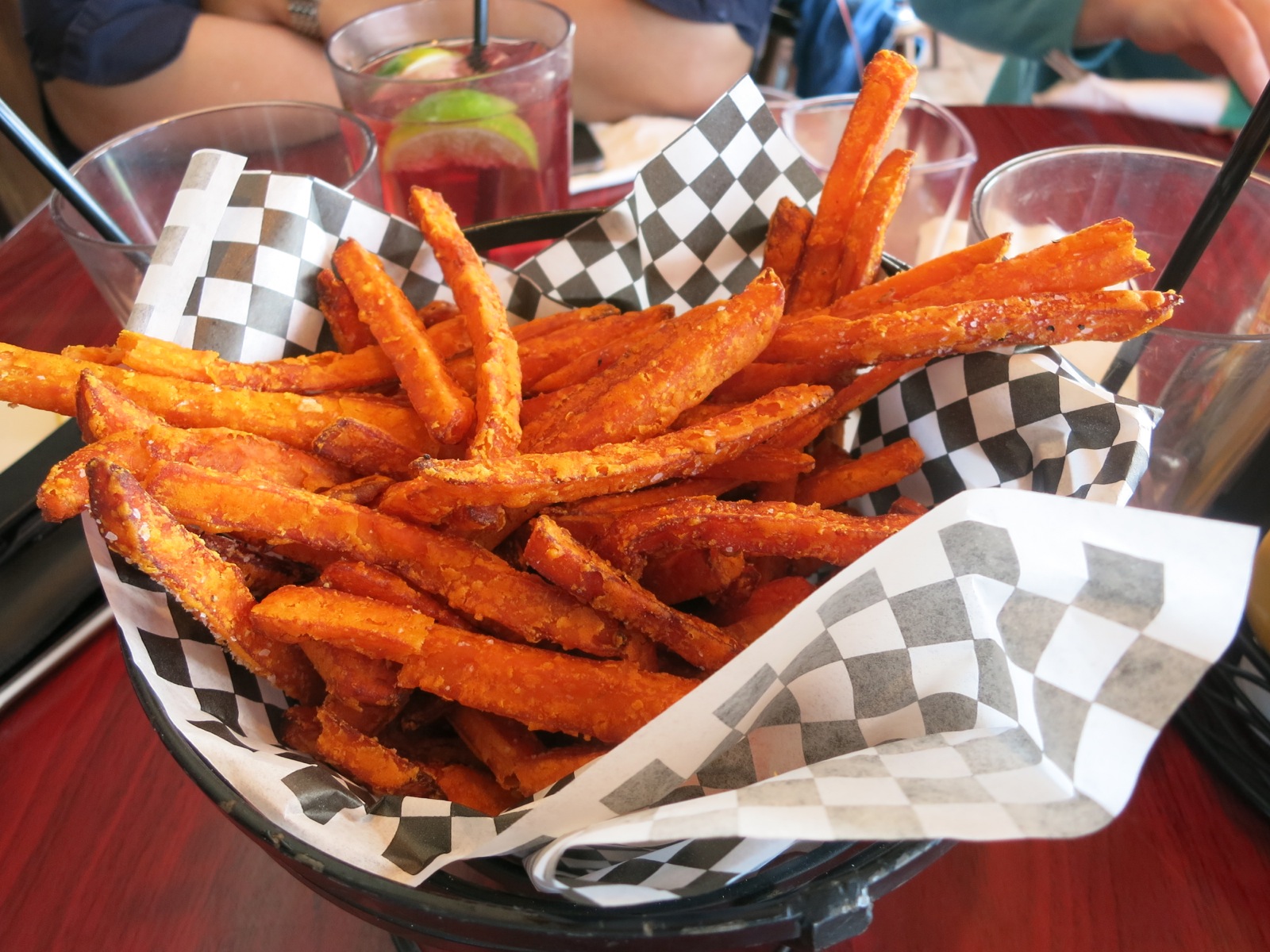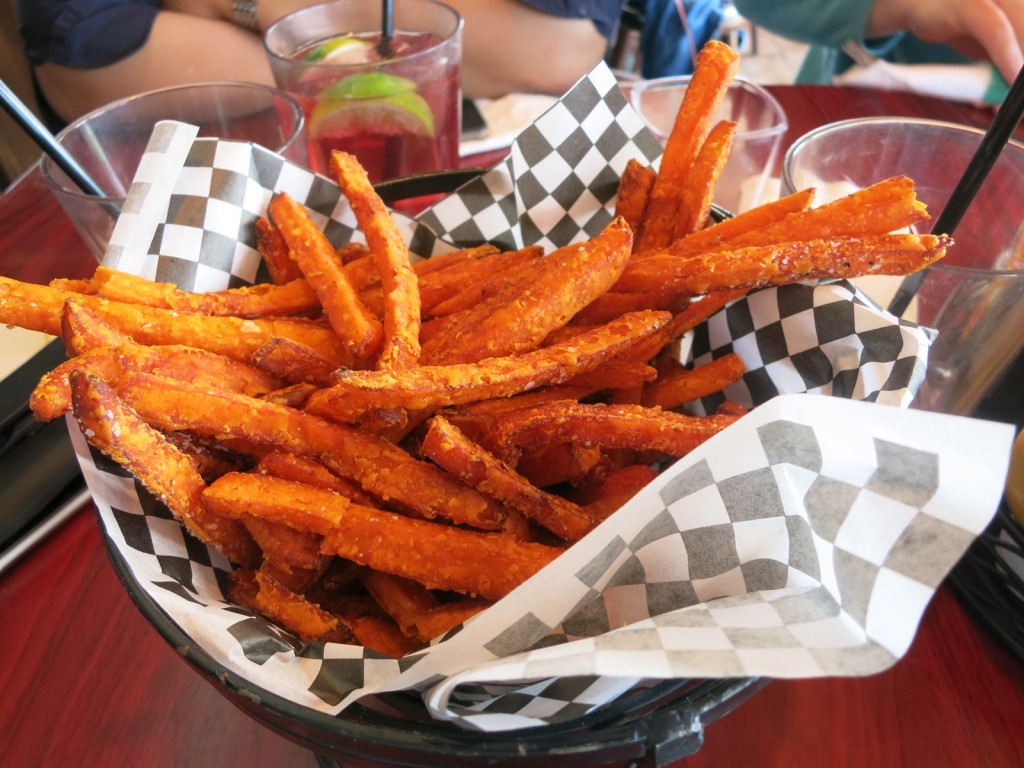 This back-deck like restaurant/bar looks out over the Oak Bluffs ferry landing, and overflows with bar crawlers each warm evening. By day, you'll be sober enough to appreciate the double-crisped Sweet Potato Fries and pretty decent sushi ($17-$24 for 3-roll special Maki Combos).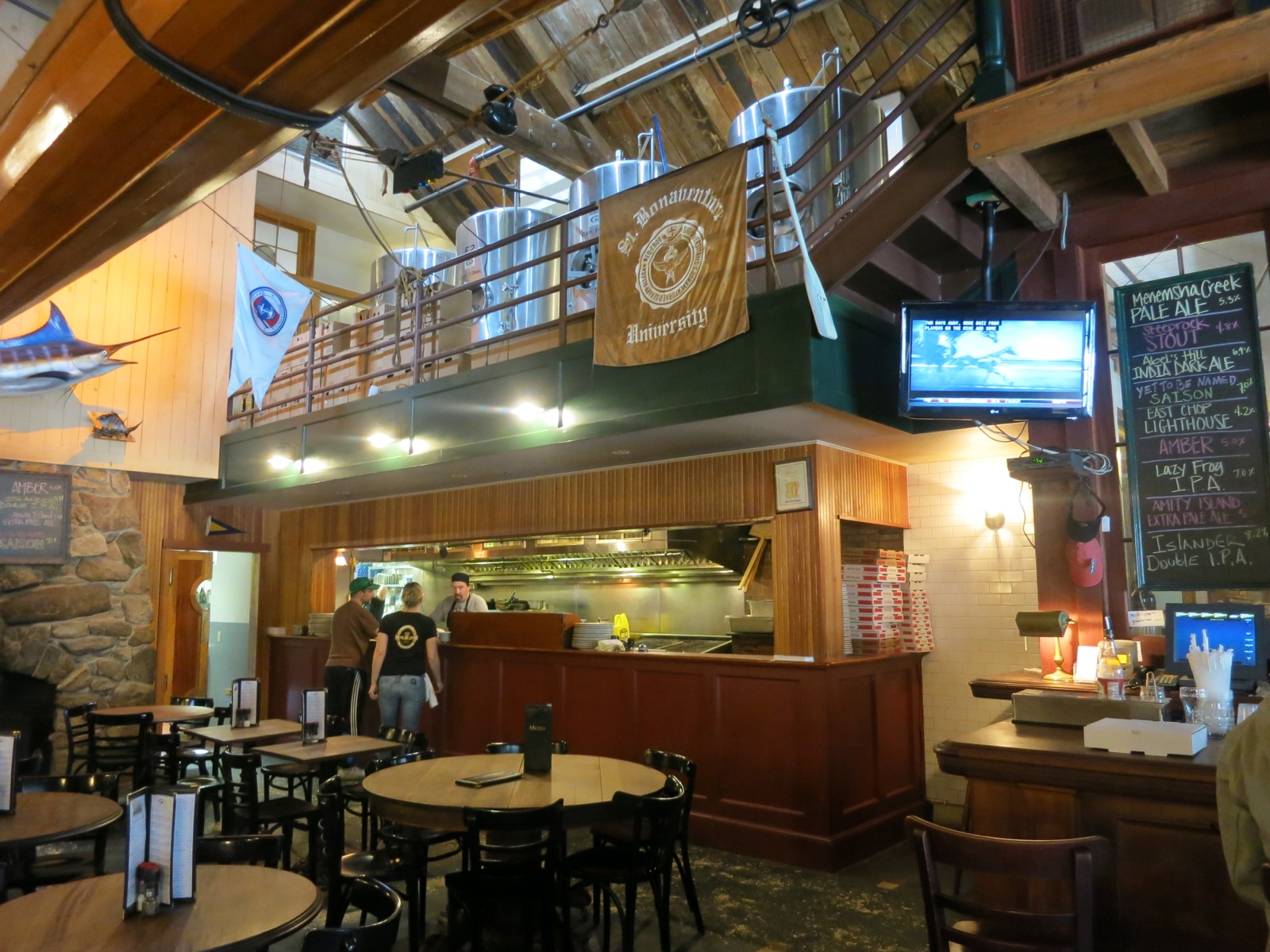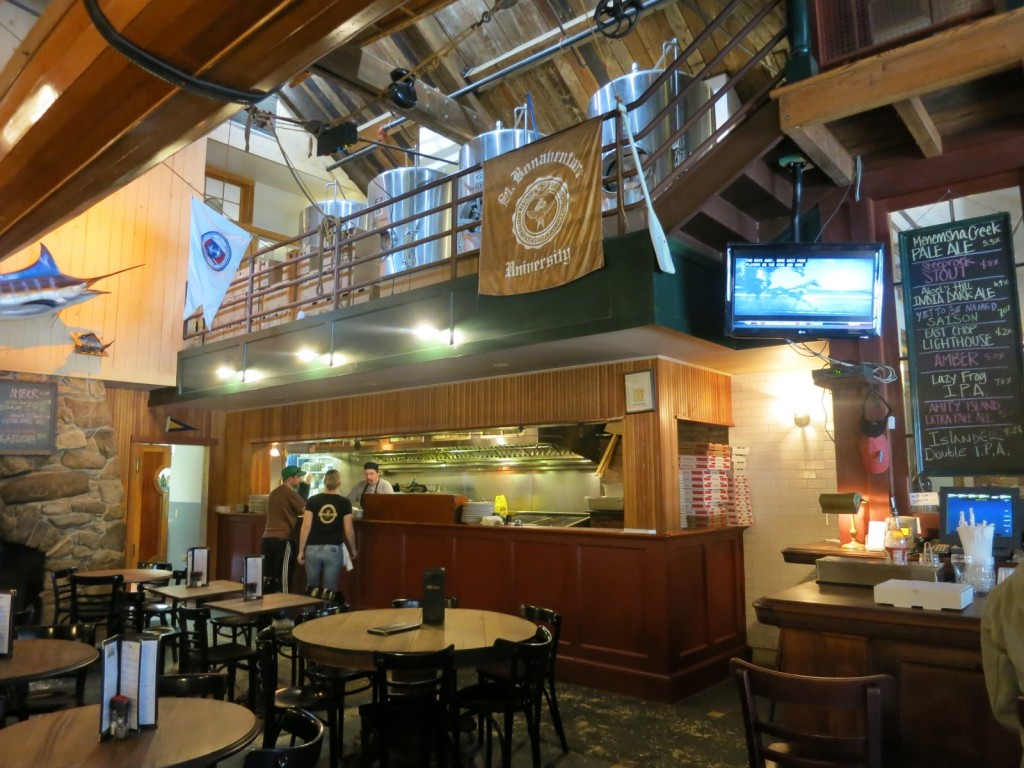 Grab a handful of peanuts in the shell, then sample a variety of house-brewed beer.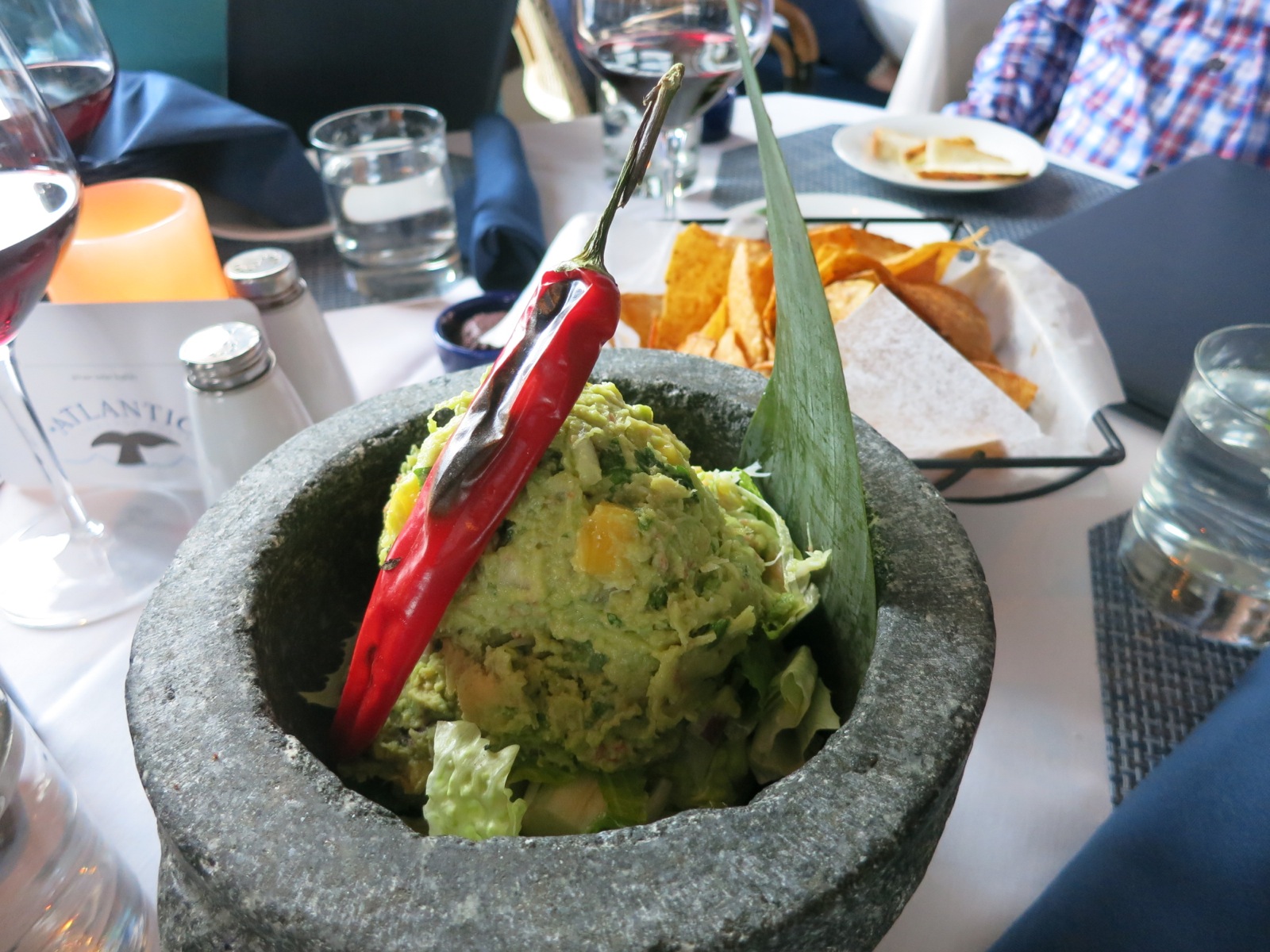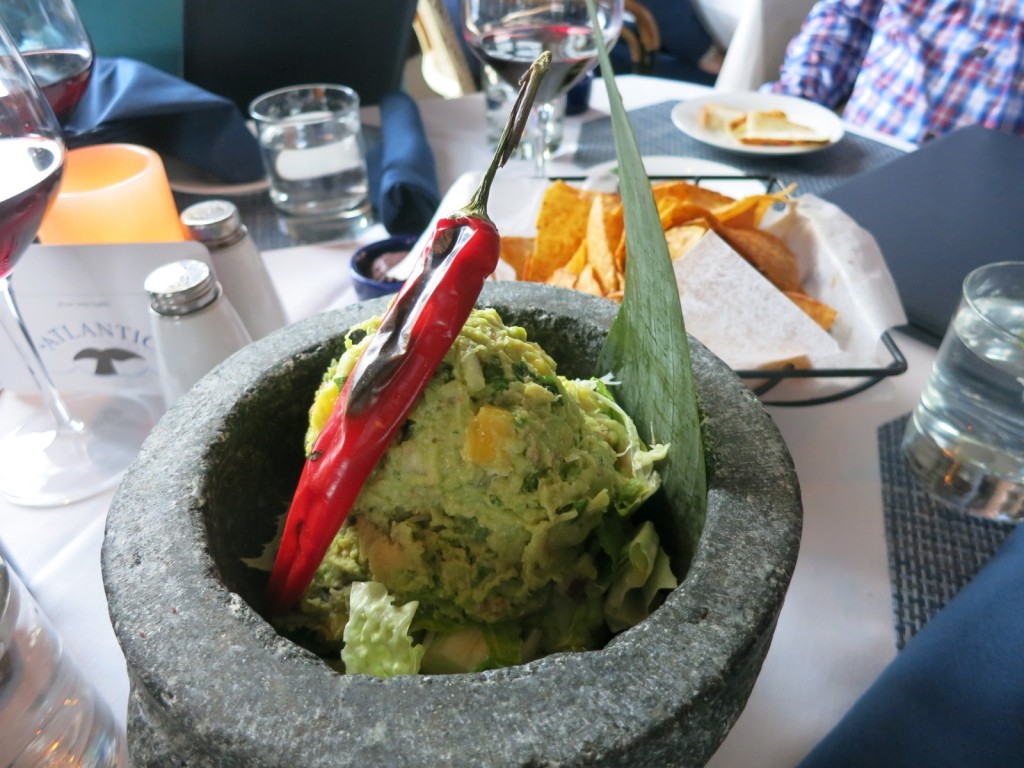 Right on the Edgartown docks, great seafood, basic and delicious, is enhanced by stunning harbor sunsets. Order the New England seaside version of Guacamole – with crabmeat – and you might just have to order a second one five minutes later.
With French-Born Chef Patrice Martineau at the helm, Bettini has become a destination unto itself. Martineau honed his craft in his home country, NYC (Restaurant Daniel), and Montage in Beverly Hills before working his magic here. Cuisine is a "fresh take on Vineyard Style." To that end, Chef sources everything from area farms, boats, and foragers for the freshest and most innovative dishes.
Hotels On Marthas Vineyard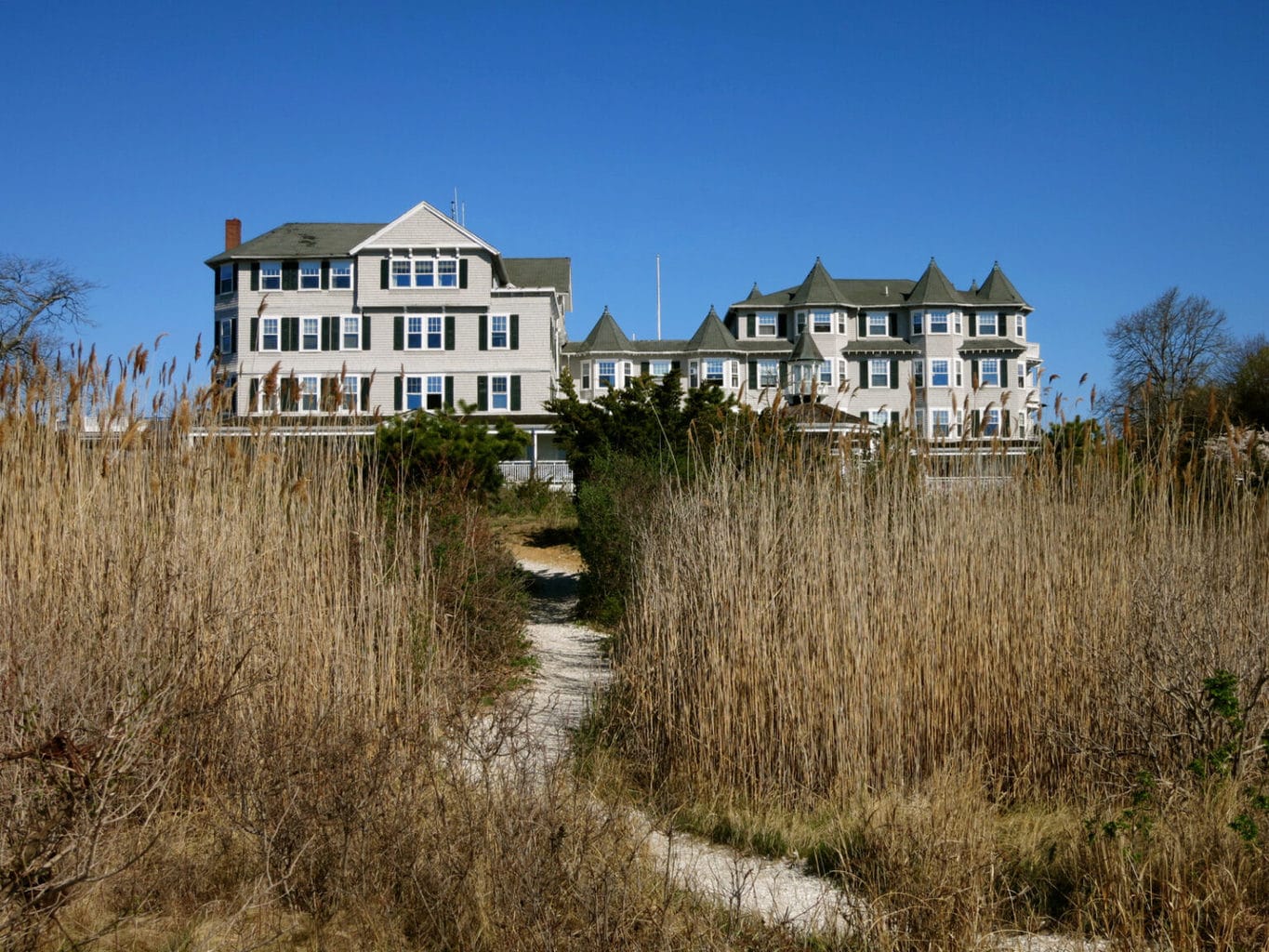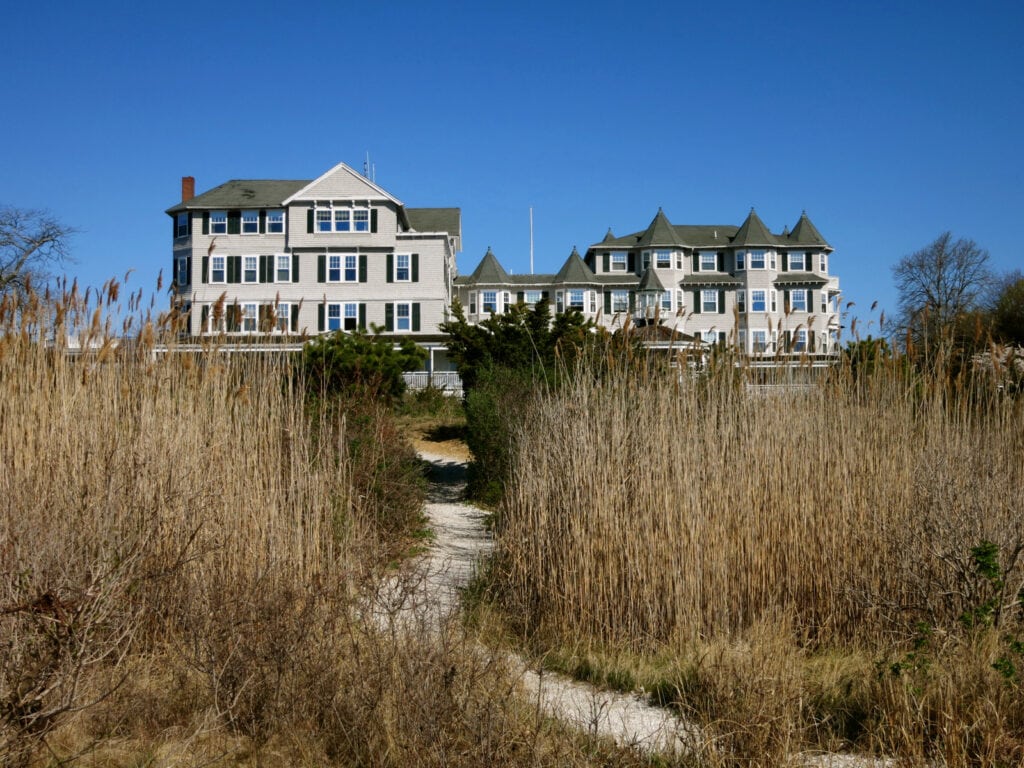 You can pitch a tent on this exquisite site and be happy. But the Harbor View Hotel is of course far from camping or even glamping. By virtue of its recent renovation, it has risen to the level of luxury "Beachy Chic."
The Edgartown Lighthouse, a dancer's leap from the Inn's wide whitewashed wraparound porch (complete with rocking chairs), glows in the setting sun while boats return to harbor.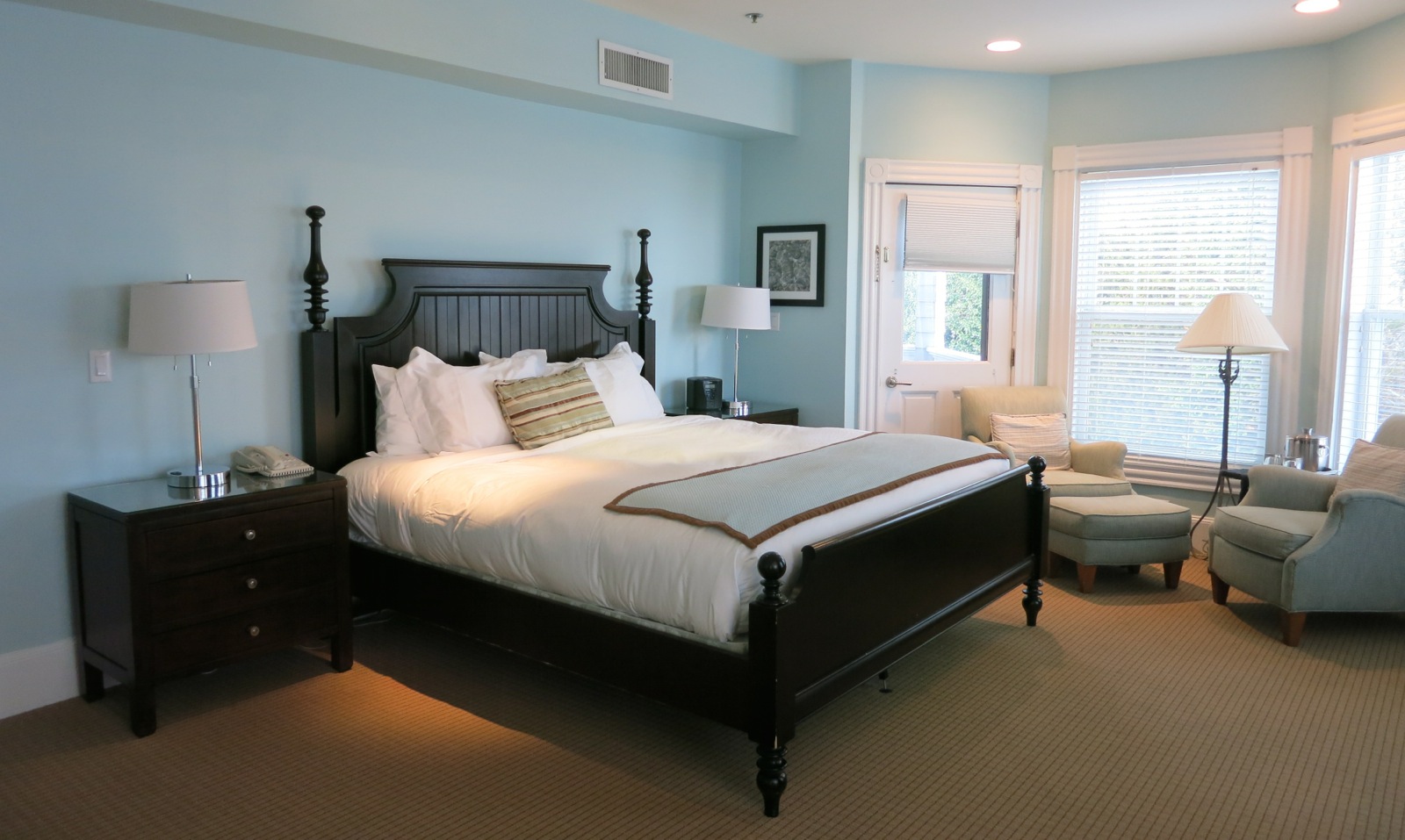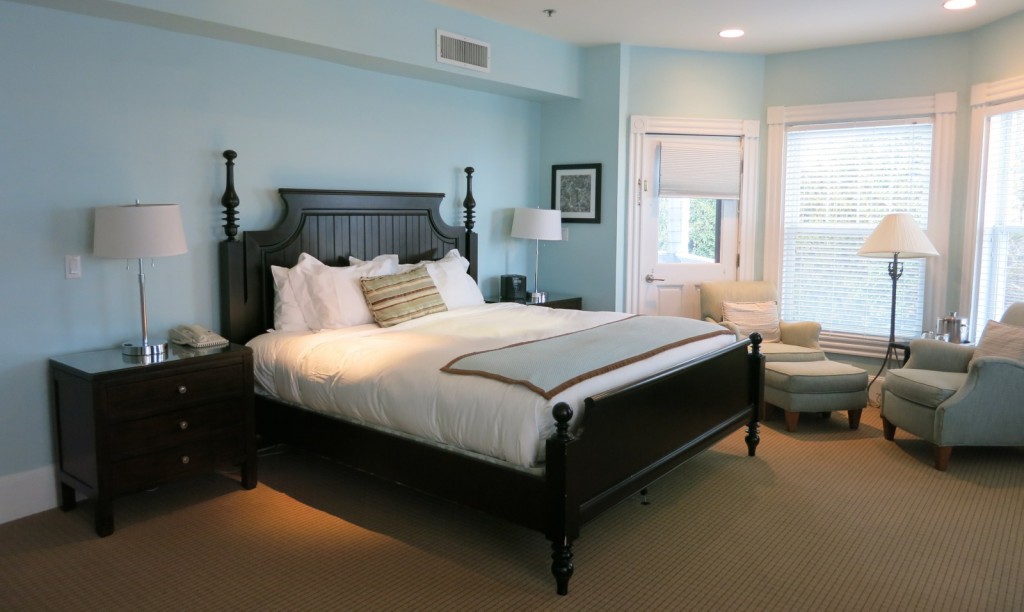 Ask for a sizable, beautifully designed Harbor View room in the main building, and you don't even have to leave your chamber for outstanding pink sunrises and golden sunsets.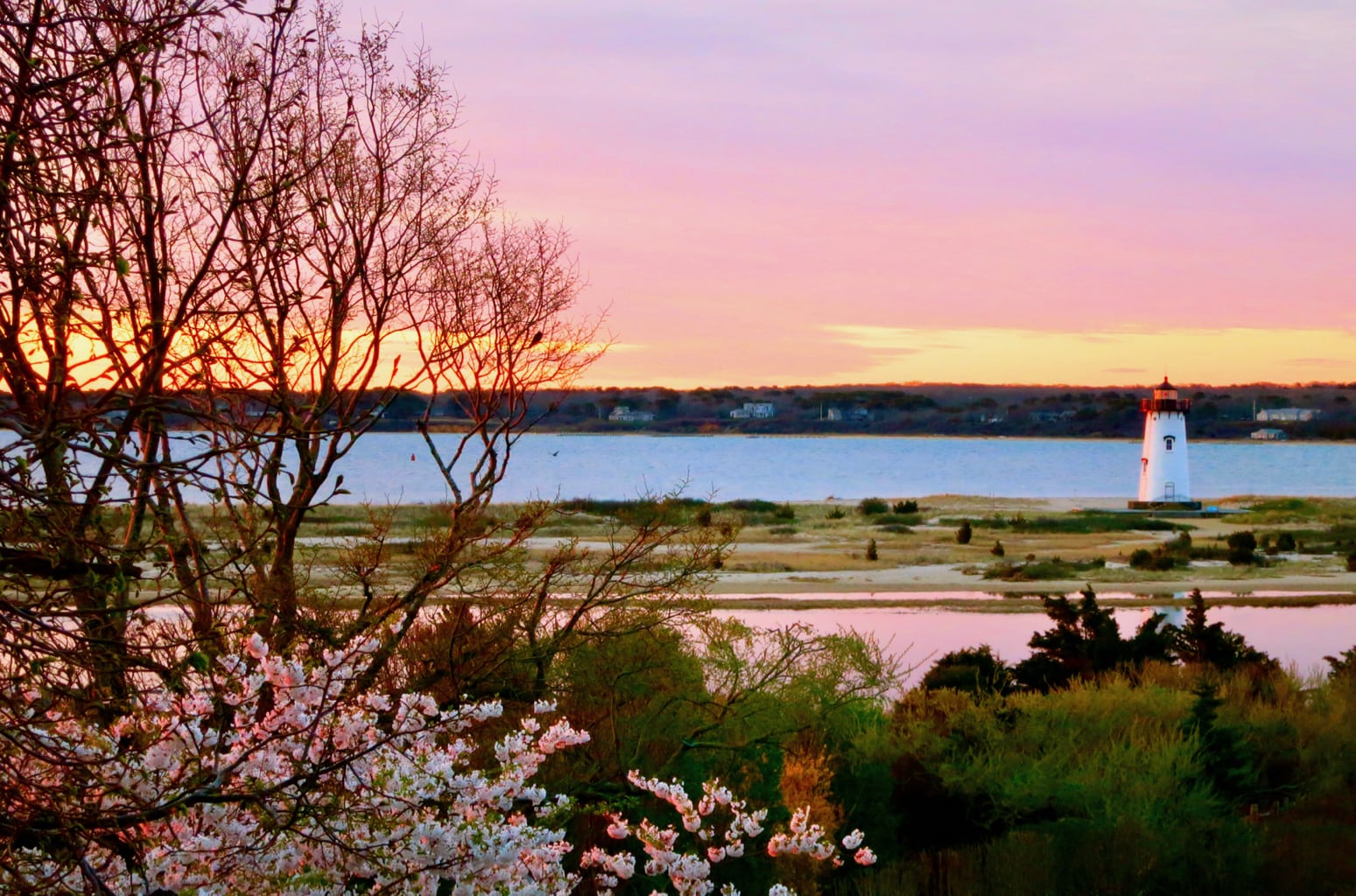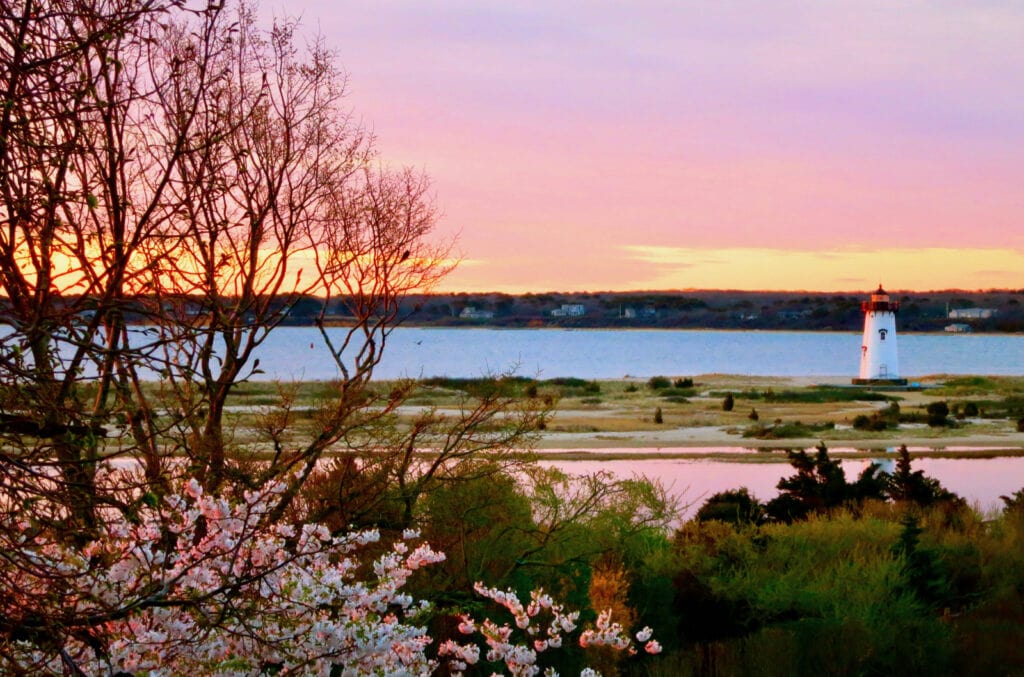 Suites in private Captain's Quarters behind the main building include knock-out bathrooms, galley kitchens and sitting room. Rooms and Suites from $140 (midweek-offseason) to over $2000 (suite, summer weekend), with most in the $500-$600 range in summer.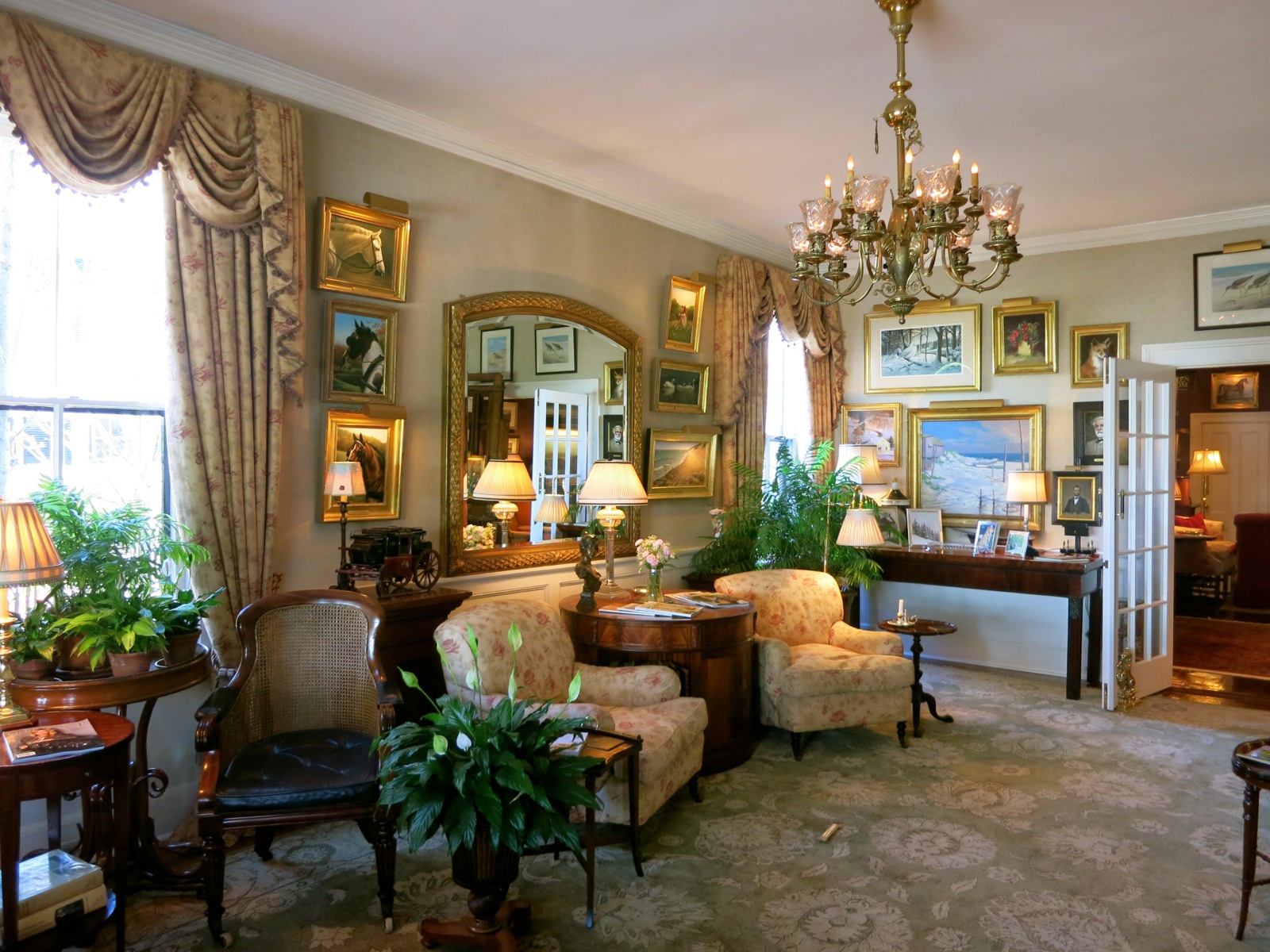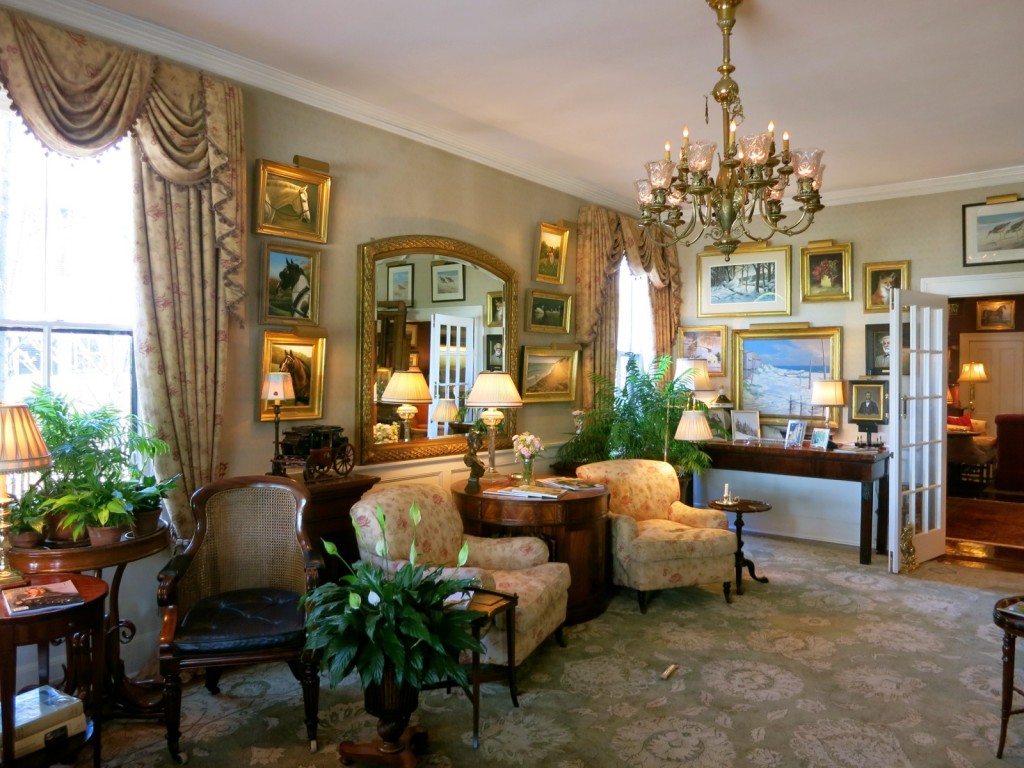 The Charlotte Inn is the only Relais & Chateaux property on Martha's Vineyard. On a side street, it doesn't offer water-views. But if you wish to vacation like a 19th century whaling captain, this is the place. Enter into what amounts to an intimate art museum, where exquisite rooms showcase English antiques. Relish American cuisine with French and Italian influence at one of the best (albeit pricey) restaurants on the island, The Terrace. Set within an enclosed conservatory it is "a stunning dining experience," according to many guests. Rooms $350 and up per night.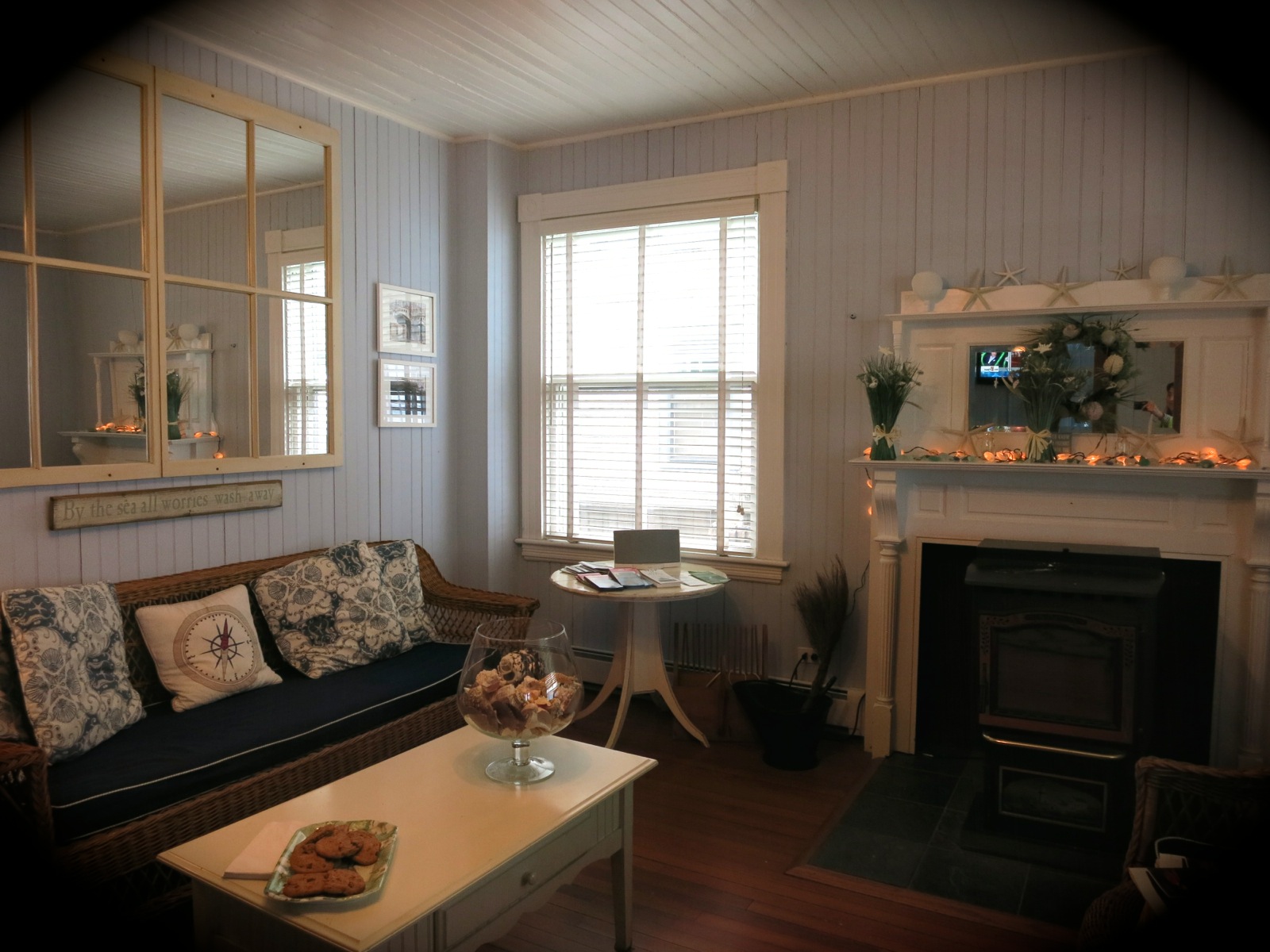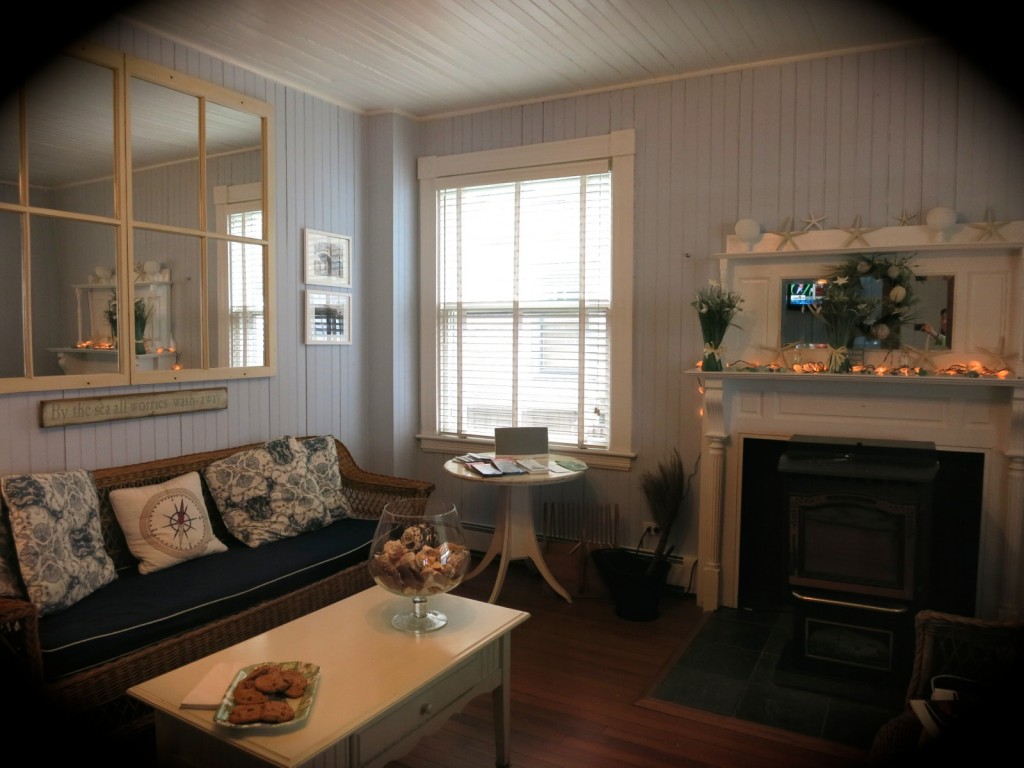 Across the street from Oak Bluffs Beach, this Victorian-era waterfront guesthouse is as cheerful, friendly and as easy-peasy-breezy as it gets. Rates for pretty, pleasant rooms are relatively reasonable for the island – ranging from $150 offseason to the low-$300's (with three night minimum) in the summer. All include afternoon snacks, hot breakfast buffet and unlimited views of Vineyard Sound.
For last minute lodging ideas and deals, check out mvy.co