Last Updated on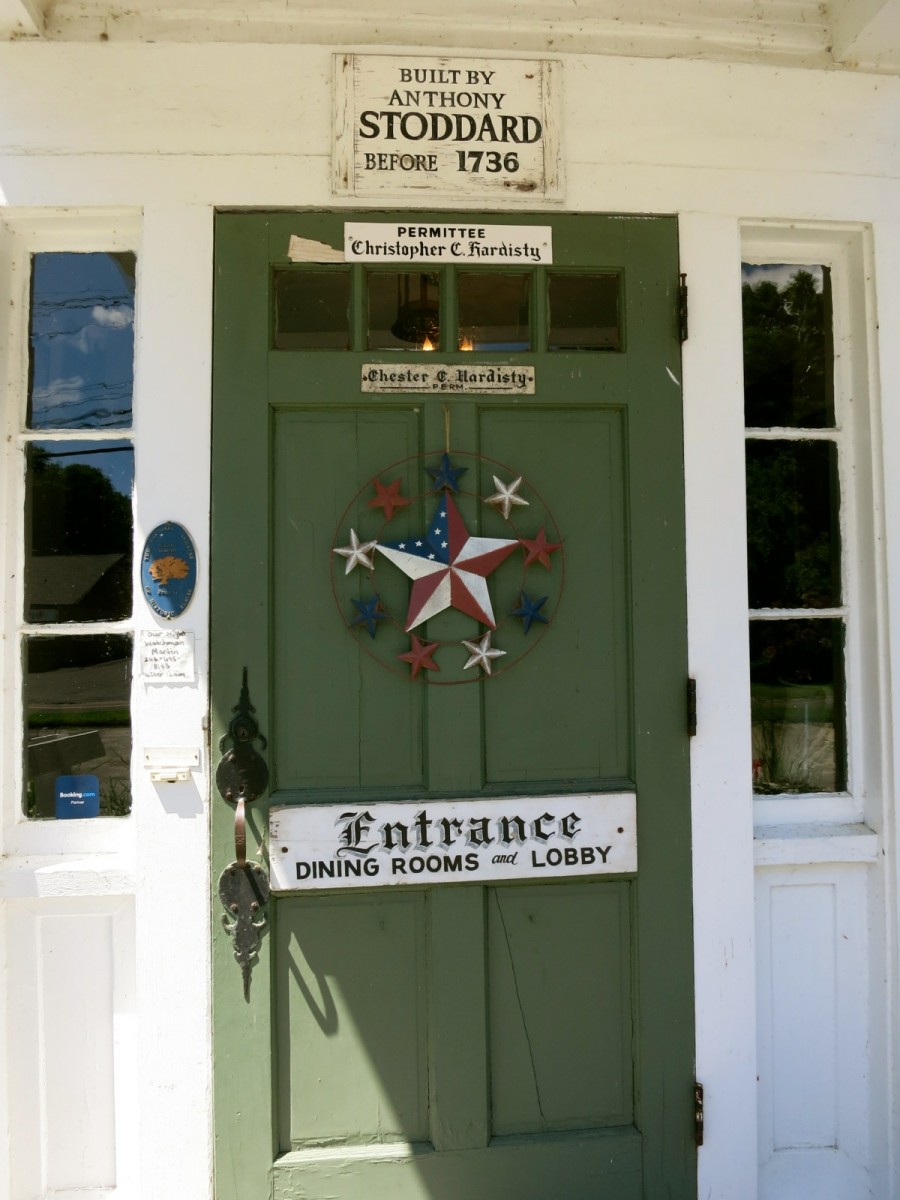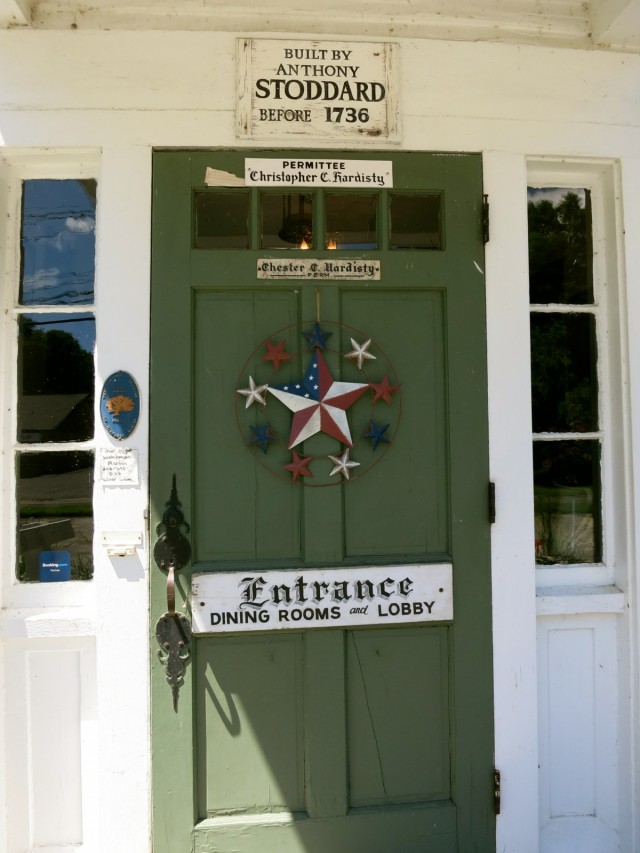 WHY GO: Woodbury, CT and its bordering towns, the "Bury's, make up what is considered to be the region's first established Antique Trail. Old colonial homes line Route 6 (Main St.), which was laid out along an ancient Indian trail when the town was established in the 1670's. Main Street saw the advance of Generals Washington, Lafayette and Rochambeau during the early struggles of our new nation, and with one of the country's only pewter factories, and the country's oldest inn (though not continuously operating), it caters to travelers who yearn for an authentic "Colonial American" experience. But there's more, including a family owned lakeside amusement park, a mysterious Russian Village dating back to the 1920's, the birthplace of the US Episcopal Church, and a brand new spa concept (salt). So read on and come to the "bury's of CT.
Things to Do In Woodbury, Middlebury and Southbury CT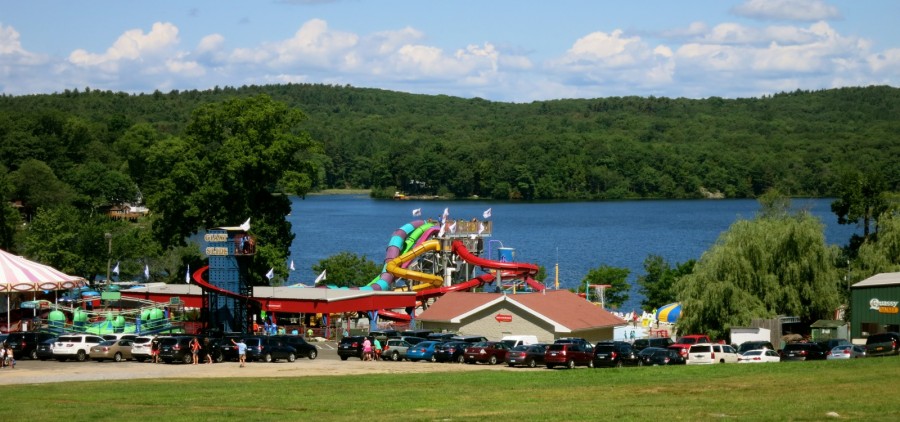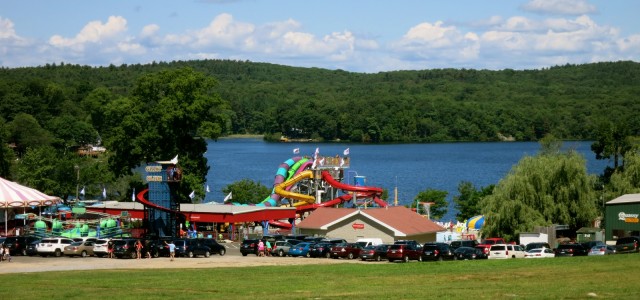 VISIT: Quassy Amusement Park, Middlebury. Scenically set on a lake, this small-scale, family owned amusement park, three miles from Woodbury center, has both dry and wet rides. The swoopy wood coaster, The Wooden Warrior, was rated among the Top 25 Wooden Roller Coasters in the world in 2012. Spend hours on the beach, on super water slides, or watching your kids or grandkids have all the fun. It's wholesome and small – you can't get lost. $26.50 adults, $22 for all day rides. Seasonal, so consult website for hours.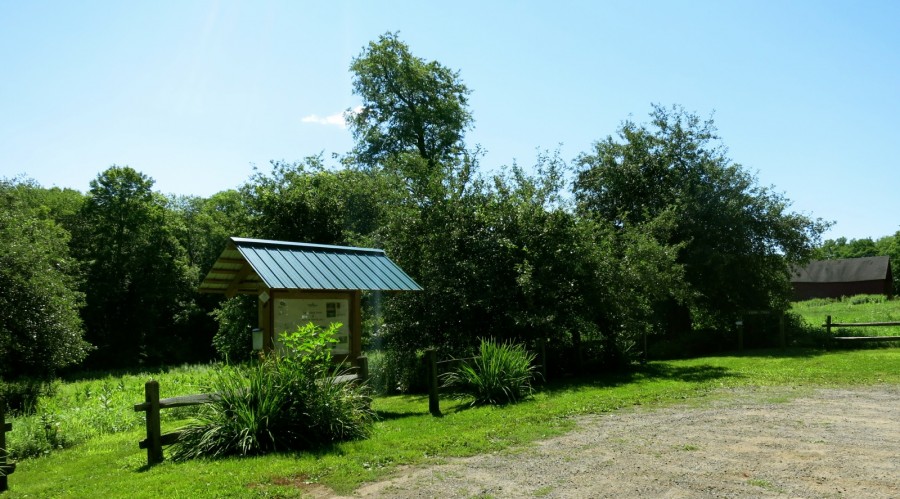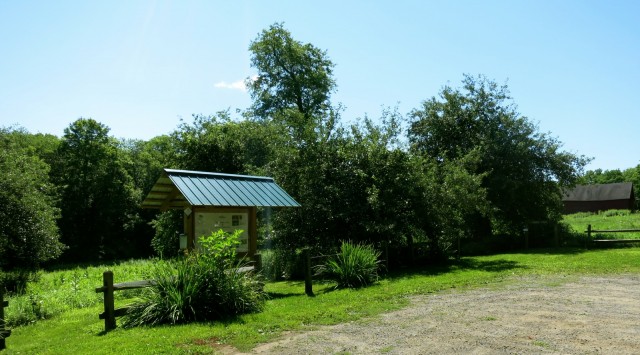 WALK: Flanders Nature Center, Woodbury. The 2,300 acre Flanders Nature Center is made up of six hiking preserves and nearly 50 Land Trust Parcels. The most well known being the 200-acre Van Vleck Farm and Nature Sanctuary where you can stretch your legs on a 20 minute to one hour loop that takes you through meadows, ponds, marshland and old forest – a diversity of habitats all in one place. The 700 acre Whittimore Sanctuary is distinguished by a bog as well. The Nature Center was founded by Natalie Van Vleck (1901-1981), a single, never married heir to the Macy's Department Store fortune who dressed as a man and lived in Manhattan. She was passionate about art, traveled solo all over the world, and got into land conservation quite by accident – and oddly. After winning a live turkey at a turkey shoot, she required land on which to keep it, purchased acreage up here and, in addition to turkeys, began raising prize-winning sheep, purchasing more and more land as her flock grew. Since Van Vleck had no children, she left her property, plus some, to the community. Definitely worth a half hour stroll.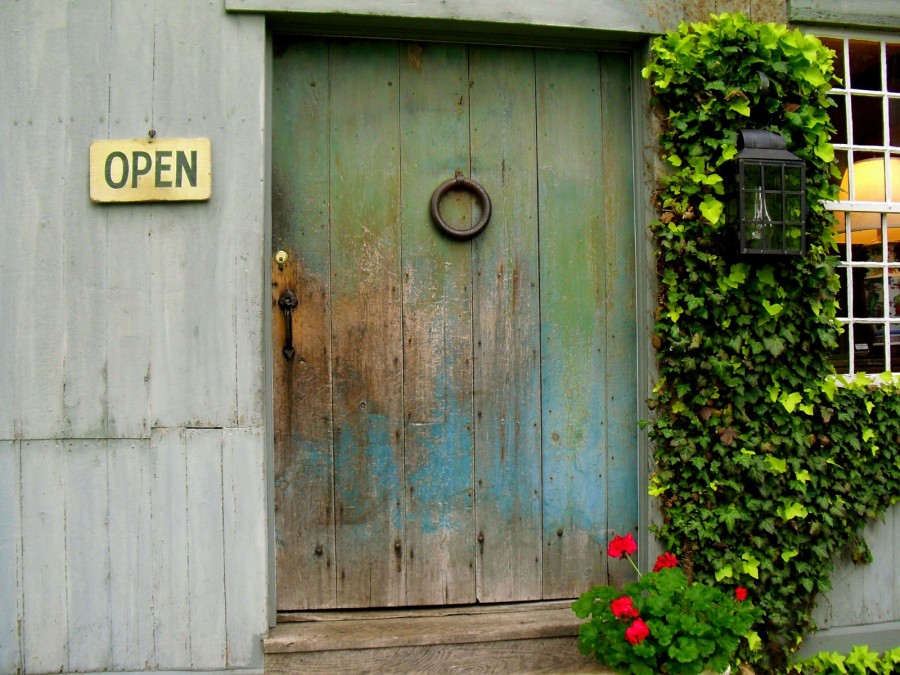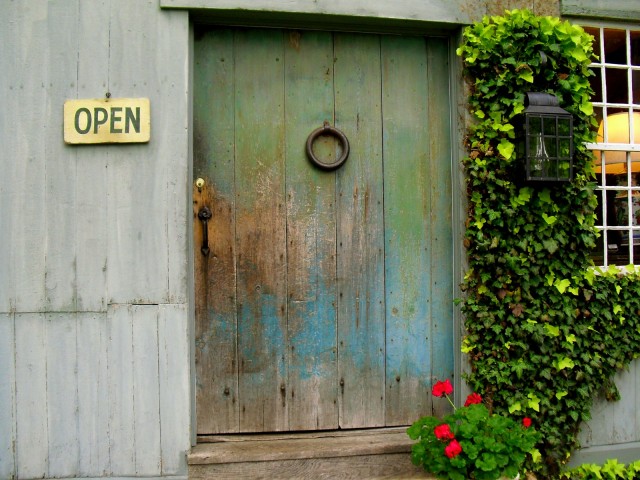 SHOP: Mill House Antiques, Woodbury. Even if you aren't particularly interested in old furniture, pay a visit to Mill House Antiques, a purveyor of fine 18th and 19th Century French and English pieces set within the hunched, rough-hewn rooms of a 1700's gristmill. Walking through the large "hatchet door" (so named because double-strength wooden planks were laid both vertically and horizontally to prevent Indian hatchets from penetrating) you can smell the burnt wood from centuries old fireplace fires.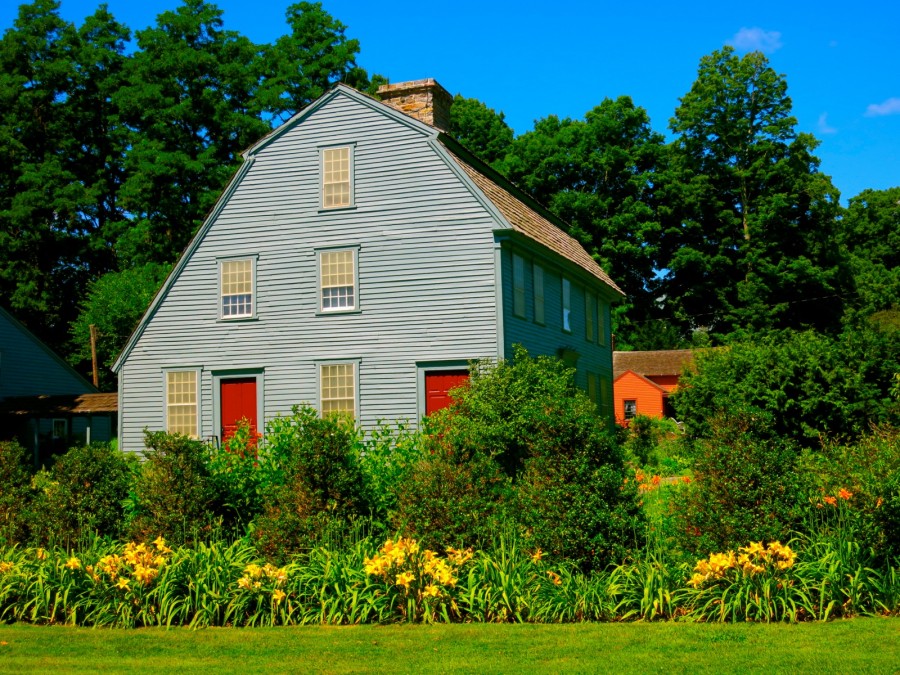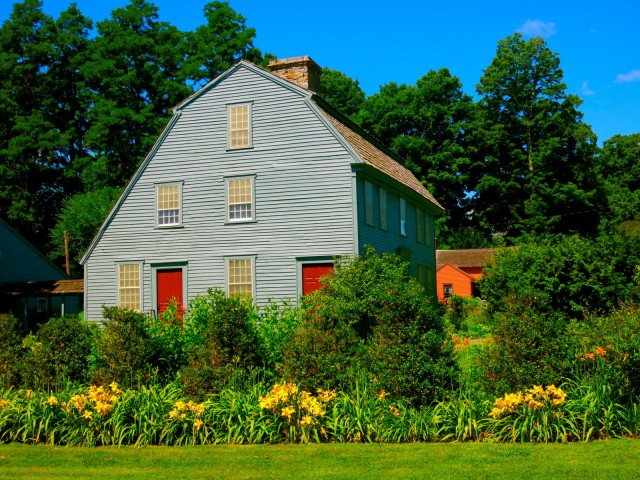 VISIT: Glebe House Museum and Gertrude Jekyll Garden, Woodbury. Episcopalians and serious gardeners make pilgrimages to the Glebe House Museum and Gertrude Jekyll Garden, which is considered the birthplace of US Episcopal Church. This elegant and simple blue farmhouse, rimmed by the only authentic English Country Garden in the USA designed by famed British horticultural designer, Gertrude Jekyll, is indubitably the most photographed building in the area. Plans for the garden were found in California in the 1980's, with flora replanted exactly to original specifications. May – October: Wed – Sun 1:00 – 4:00, November: Weekends only 1:00 – 4:00,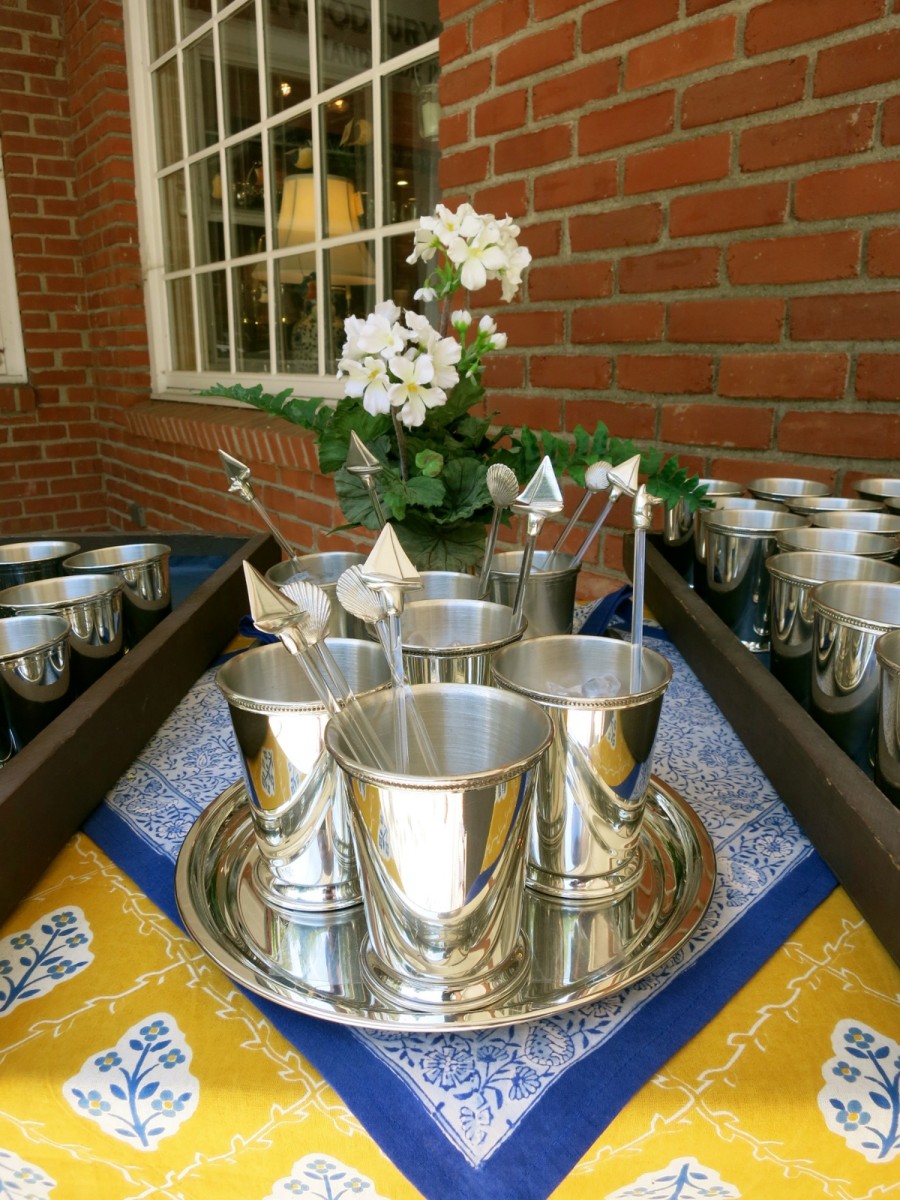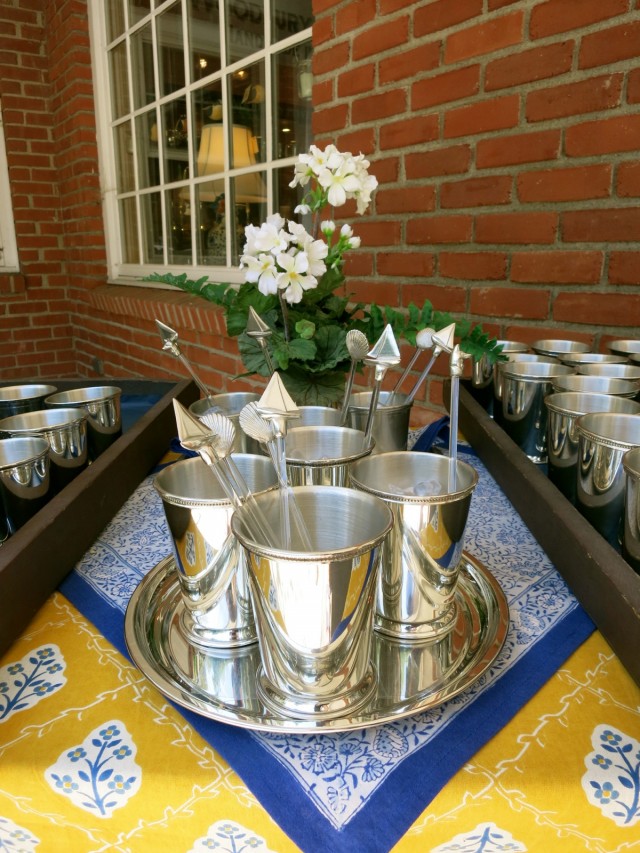 SHOP: Woodbury Pewter Outlet, Woodbury. One of the only pewter factories in the United States, Woodbury Pewter, sits right on Main St. Think Colonial-era kitchen and these irregular matte-grey plates and mugs come to mind. Though mostly a coach-bus-favorite gift shop now, you can watch artisans pour glistening molten pewter into molds. Seeing this might invoke memories of required Middle-School reading, Johnny Tremain. A pewter apprentice, Temain botched a pour, melding his fingers into a fleshy web. Dangerous work. Open daily 9-5.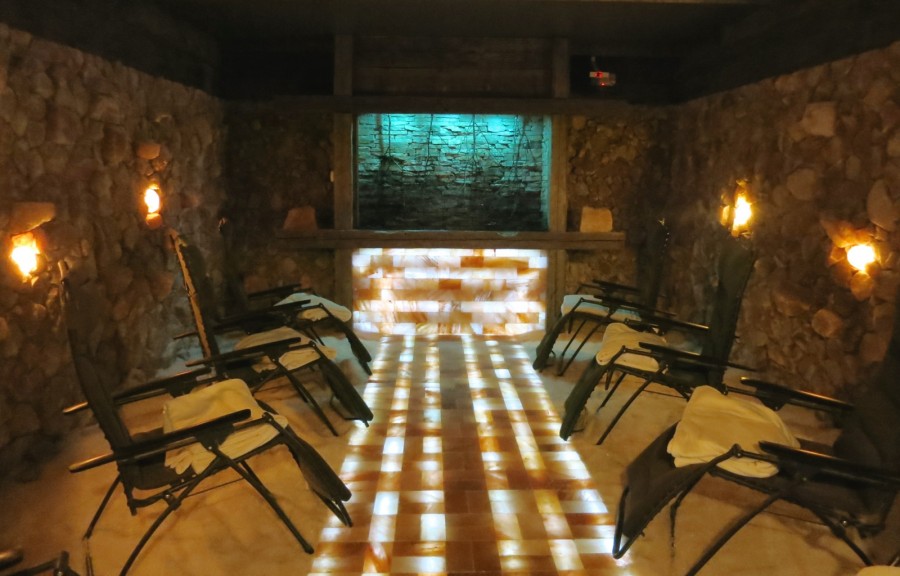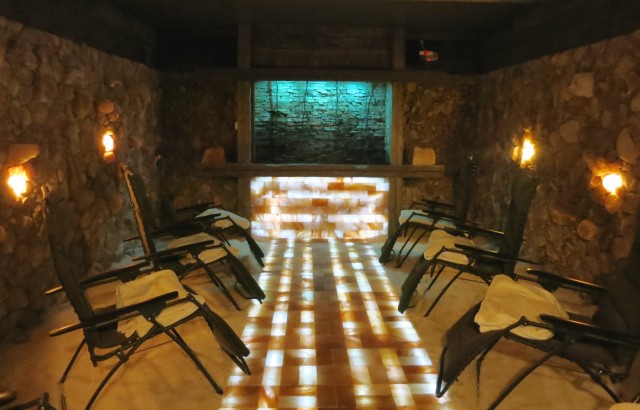 SPA: Salt of the Earth Spa, Woodbury. Sit in a "salt cave" on a "zero gravity chair" and breathe in the health benefits of one of "three elements that create a life force for the human body" (besides water and light). Surrounded by salt (granulated on the floor, infused into the air, and salt blocks walls), a 45 minute session will help alleviate sinus, allergy and repertory problems, and quite possibly other ailments. $40 for 45 minutes. Just relaxing in the room alone is worth the price. The Spa also offers massages in salt rooms, salt chamber beds, a Lagoon Room for families, yoga classes and other therapies. Salt Cave open Tues-Fri 12-7pm, Sat 11-5, Sun 12-5.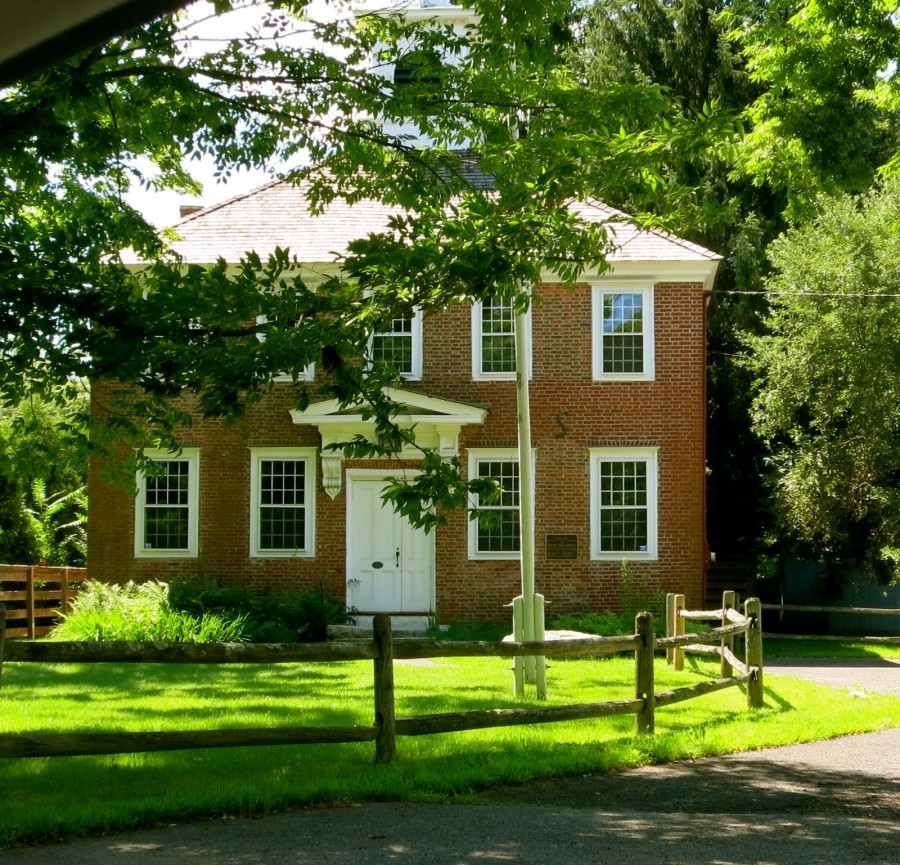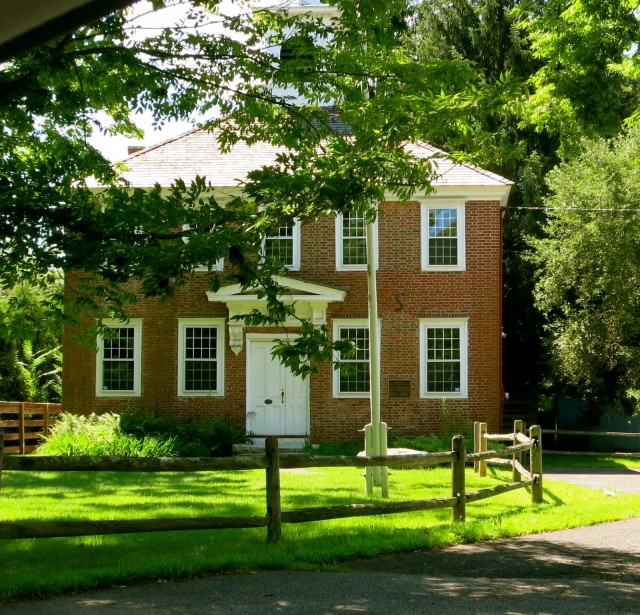 PHOTO OP: Bullet Hill School, Southbury. Built in 1789, The Bullet Hill School is one of New England's oldest surviving brick schoolhouses. Earlier known as the brick school, it is thought to have acquired its name from a hill in Southbury where bullets were cast during the Revolutionary War. Classes were held here until 1941, and it is now used for local school programming.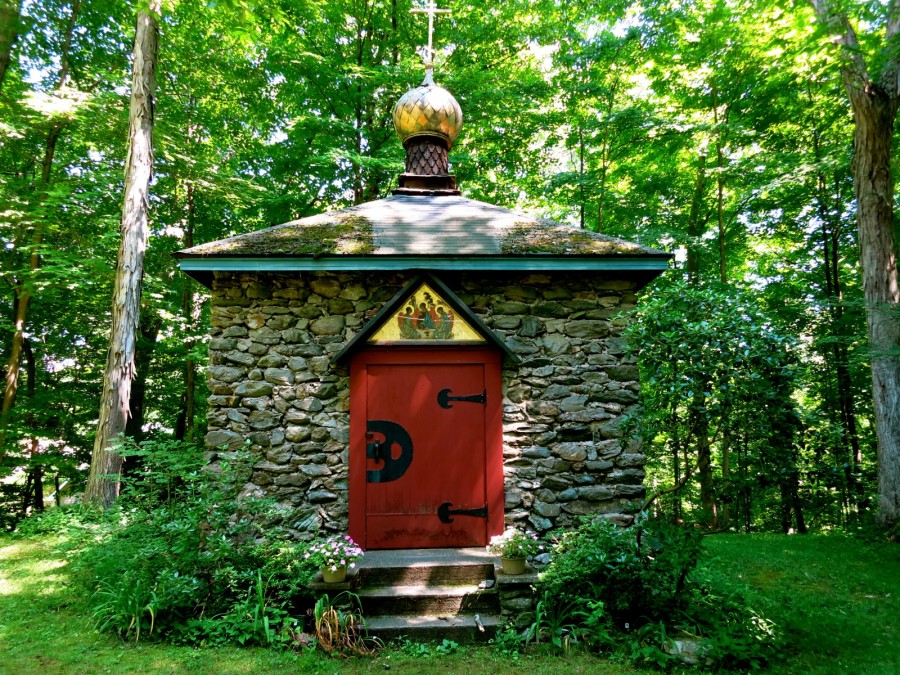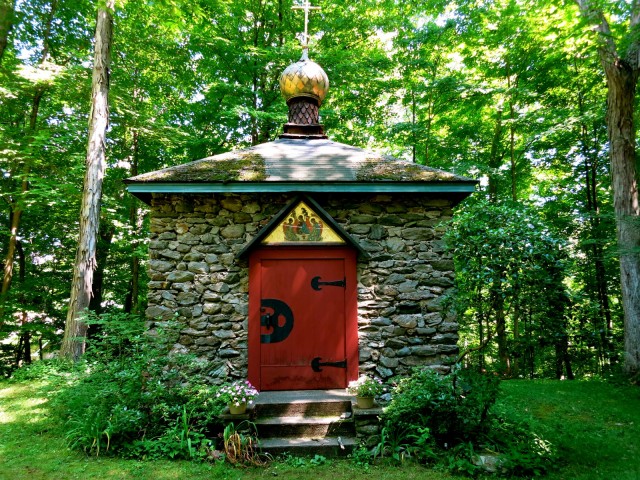 STOP: Russian Village and St. Sergius Chapel, Southbury. Established by two Russian writers, Count Ilya Tolstoy, the son of Leo Tolstoy, and Siberian novelist George Grebenstchikoff in 1925 as an artistic community for Russians who fled to America after the Revolution of 1917, the Russian Village calls to mind a fairy tale town hidden in the woods. Though it's unlikely that any descendents still live in this quaint, vaguely mysterious community (where every street is a dead end), and those who live here dissuade tourists from ogling, you can still stop by to see the exquisite chapel that sits behind trees off to the left as you first enter the neighborhood. If it's open, you can ask to see it. If not, take a picture and politely move on.
Where to Eat in the 'Bury's CT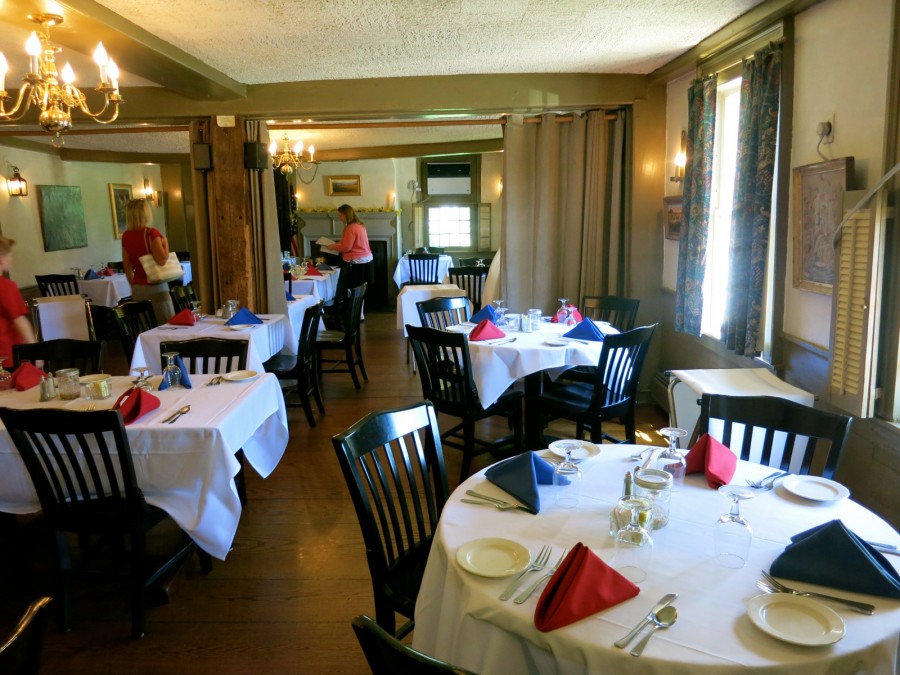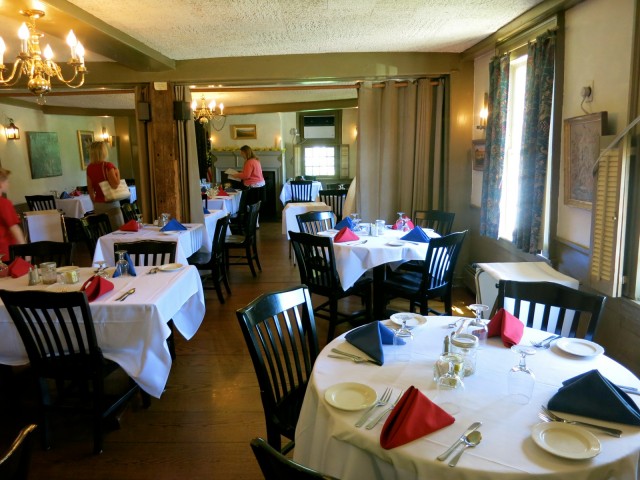 EAT: Curtis House, Woodbury. To underscore how dyed in the wool the New England menu is here – and how opposed the locals are to changing it – just mention Gordon Ramsey. The Celebrity Chef came to the Curtis House on Mother's Day 2013, and attempted to update the traditional fare. The owners tried, but the regulars protested. So, you'll still find salads, burgers, Old English Style Fish and Chips ($13), Calves Liver ($16), and Yankee Pot Roast ($21) to accommodate the regulars and foreigners looking for an authentic New England meal, and a few updates like the very good Grilled Stuffed Portabella Mushroom plate. Come for lunch and an unbelievable deal: three courses just $13.
EAT: Locals recommend Carol Peck's Good News Route 6 Café – a funky contemporary "local and organic" restaurant and John's Café, which has won over no less than jaded New Yorkers.
Where to Stay in the 'Bury's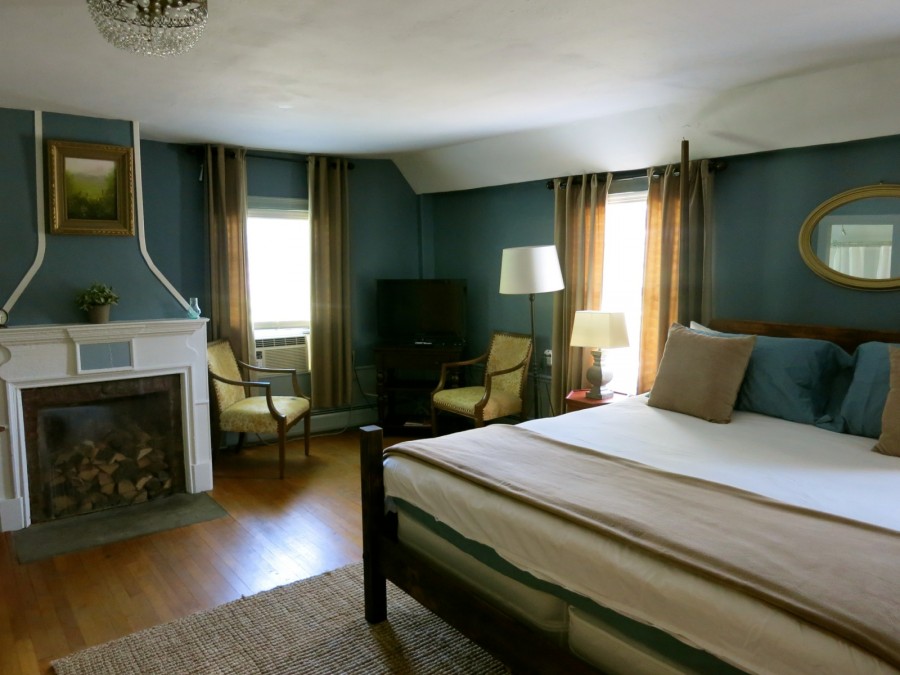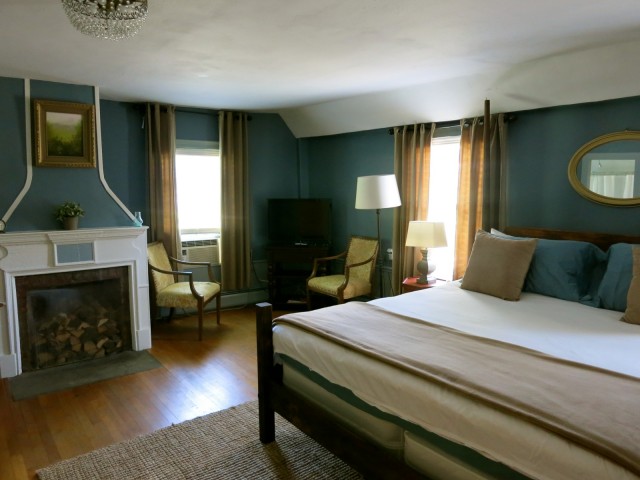 STAY: Curtis House, Woodbury. If all this antiquing and pewtering and eating is getting you tired, and/or if you're in need of an inexpensive place to stay the night, book a room at Ye Olde Curtis House Inn. Built as a home in 1736 and turned into an inn in 1756, it claims to be the Oldest Inn in Connecticut, but of course has been modernized over the years. Newly updated rooms with shared bath start at $80 per night and go up to $155  for lovely redone chambers with private bath.
STAY: Millstone Inn, Woodbury. Renovated roadside mom and pop motels are experiencing somewhat of a renaissance, and that goes doubly for this "inn." Yes, it's a motel, but with pillow-top beds, wi-fi, Keurig coffee makers, flat screen tv and fine furnishings, it's more "boutique" than "roadside." And the price is so right. Rooms starting at $89 per night.