Last Updated on January 6, 2020 by Editor
WHY GO: What? You don't have a lake house? Well, here's your chance to dip your proverbial toe in the water for a drop in the bucket.
All figurative cliché's aside, this family-friendly Poconos PA Getaway isn't posh or particularly upscale, unless you consider spectacular sunsets, lakeside heated pool, sailing classes, pro tennis instruction, lazy-day fishing, artisanal toiletries, and fine, solid folks to be as "this is the life" as it gets.
The Poconos may not be hip or trendy, but a visit here is as satisfying and soothing as chicken soup on a cold afternoon. And sometimes, that's all a soul needs.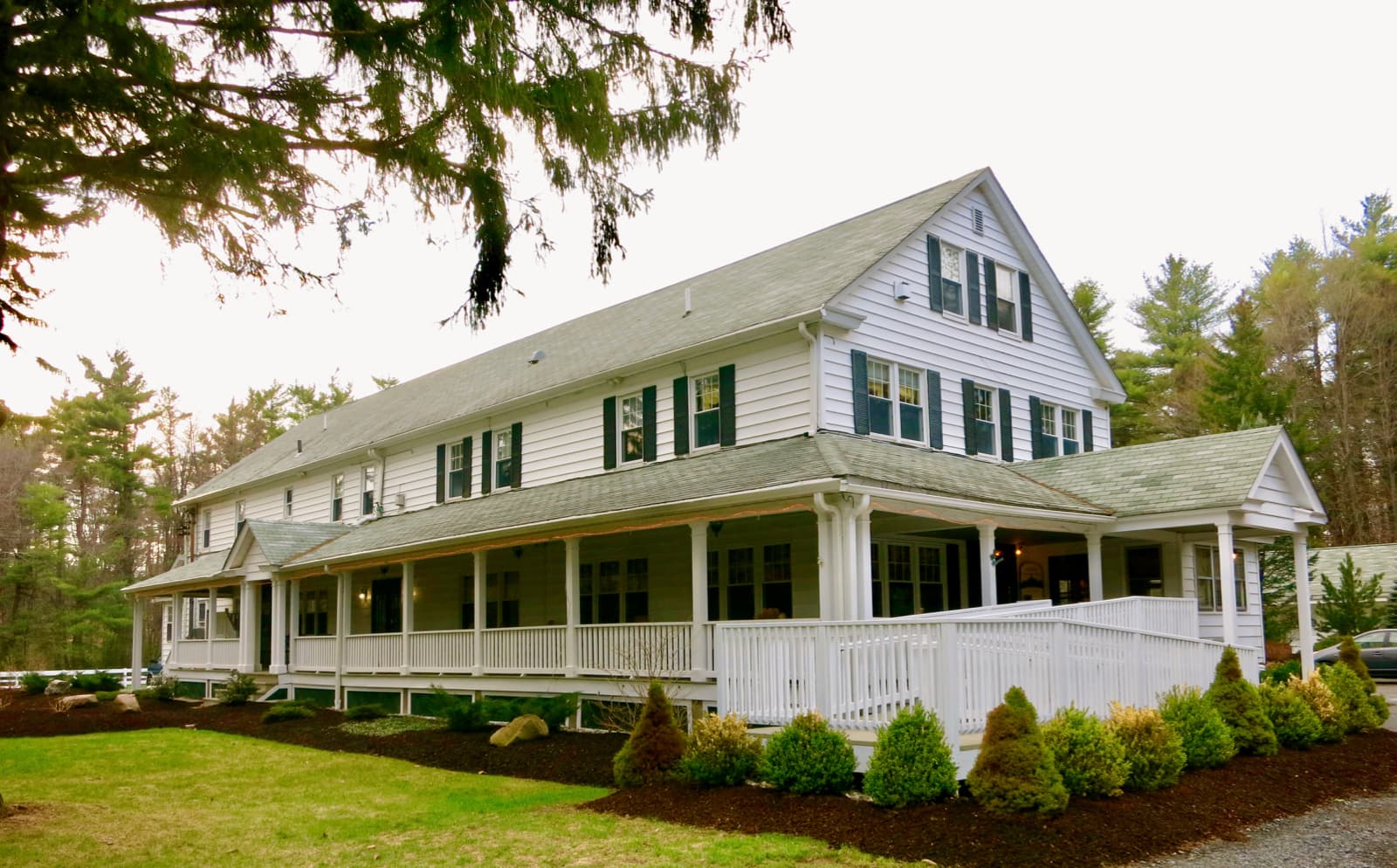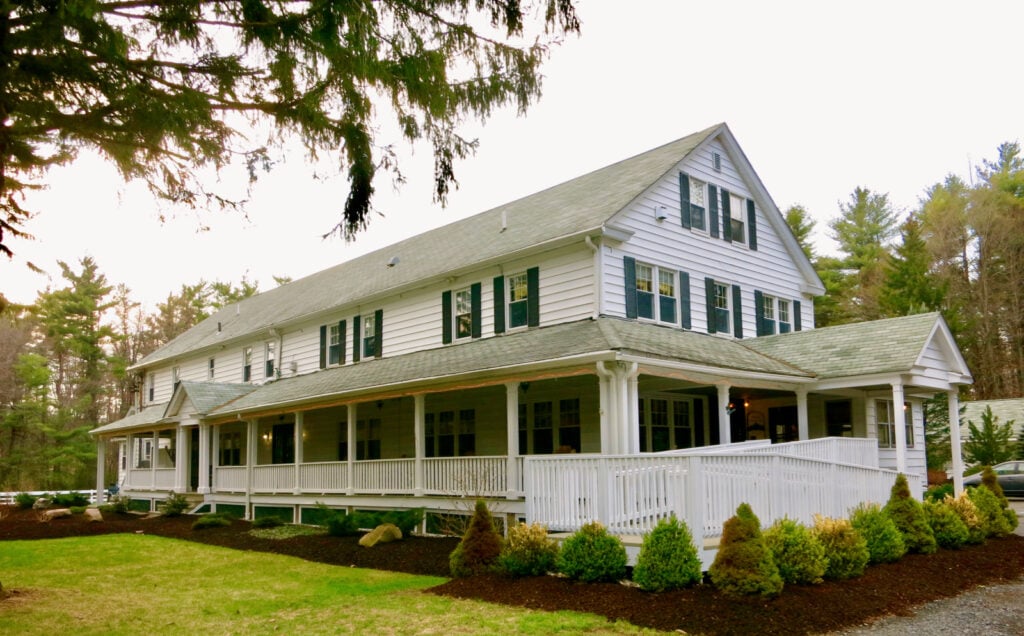 With a name like Mountaintop Lodge, you'd expect this inn to be, well, on a mountaintop. So you might be startled to see this rambling old place smack dab on busy Route 940; more stagecoach stop than hidden inn.
No glitter, no gentrified Ralph Lauren interpretation of what a fishing/ski/sports/kid friendly cottage should be. The Mountaintop Lodge is the real deal.
And here's the true and wonderful surprise. This lodge supports local artisans, from purveyors of flavored-honey to furniture builders (all tables and chairs were crafted by a "guy down the road") and custom-made products in guest room baths.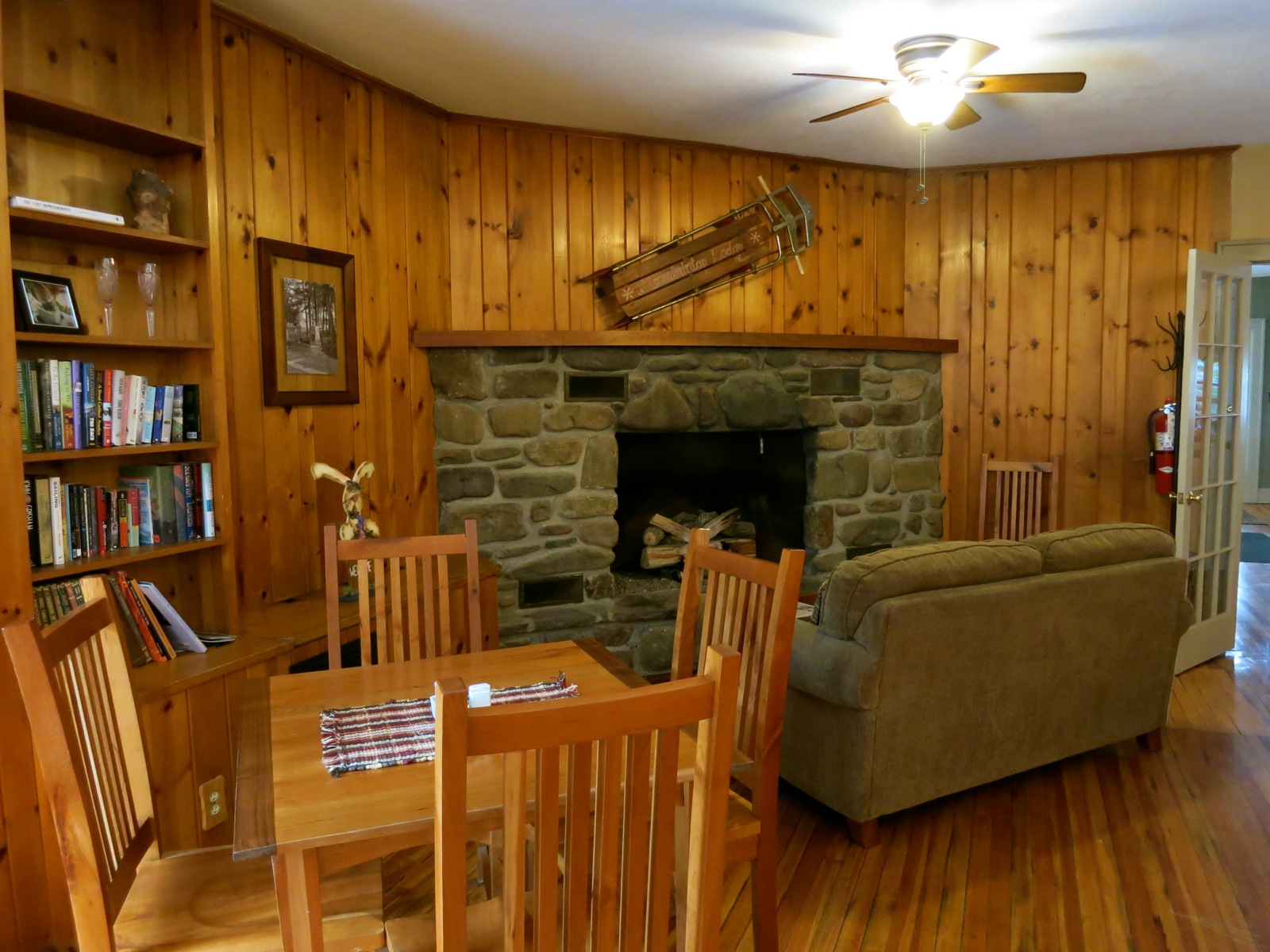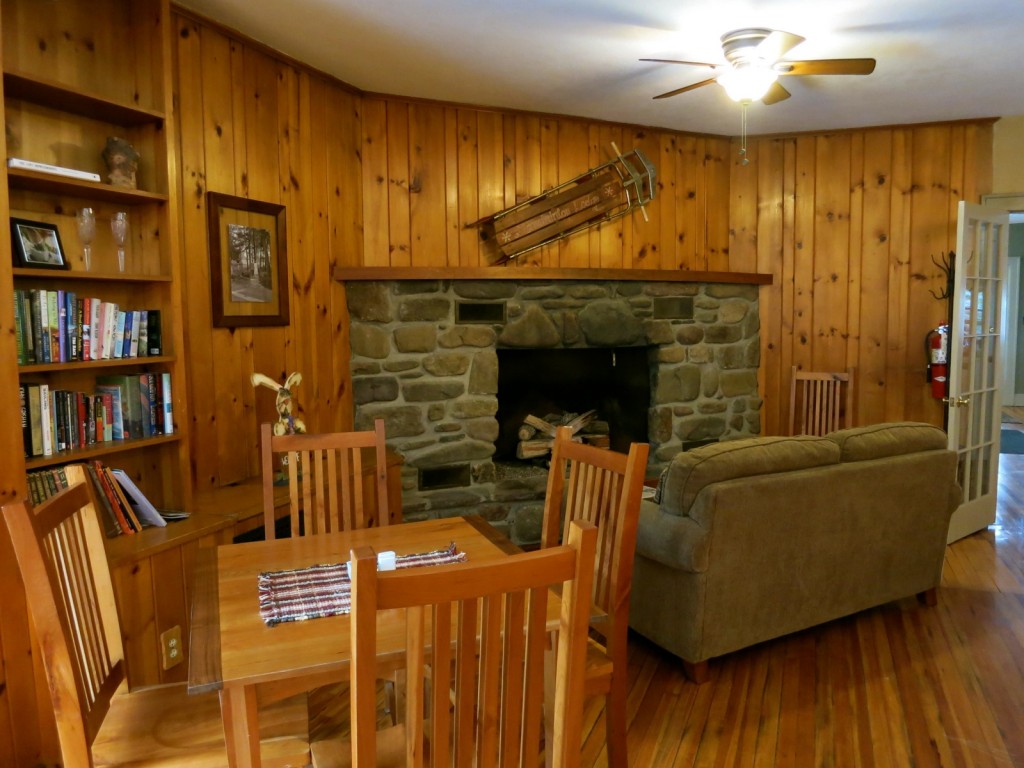 Walk up the steps of a sloping front porch that has surely born the weight of many generations and into a true ski-lodge. Wood paneled walls, Craftsman-style furniture, old skis mounted on the walls, and stone fireplace speak to the inn's original intent.
Built in the 1920's for vacationers who came to the Pocono mountains to escape the city, the Mountaintop Lodge fell into disrepair until the Lake Naomi Club purchased it in 2012. In 2013, it was restored and reopened as a comfortable, well-tended inn.
In addition to a cork-chained room key, you'll receive a personalized pass for the Lake Naomi Club and a map to all amenities and hiking trails.
Food At Mountaintop Lodge, Poconos PA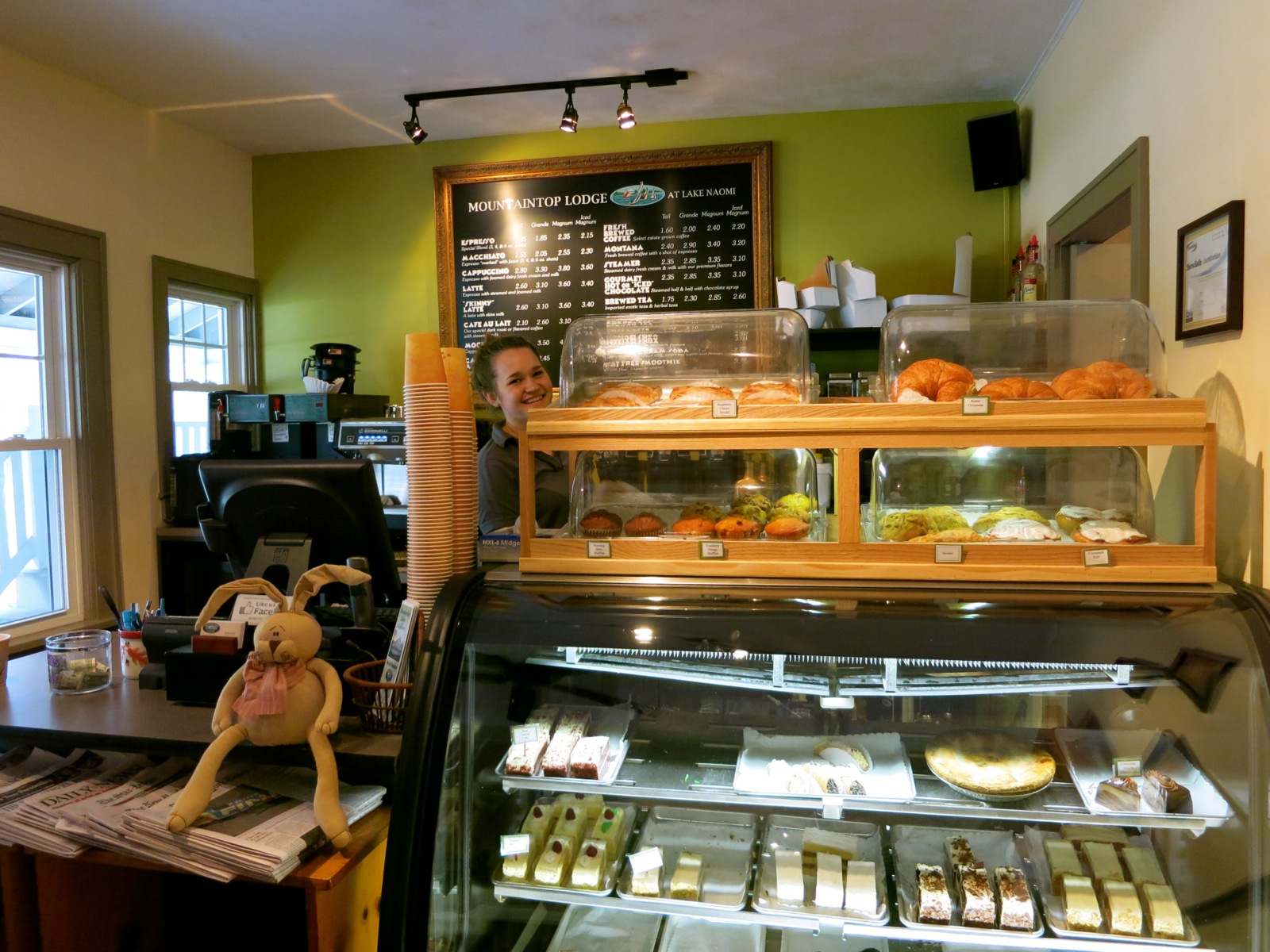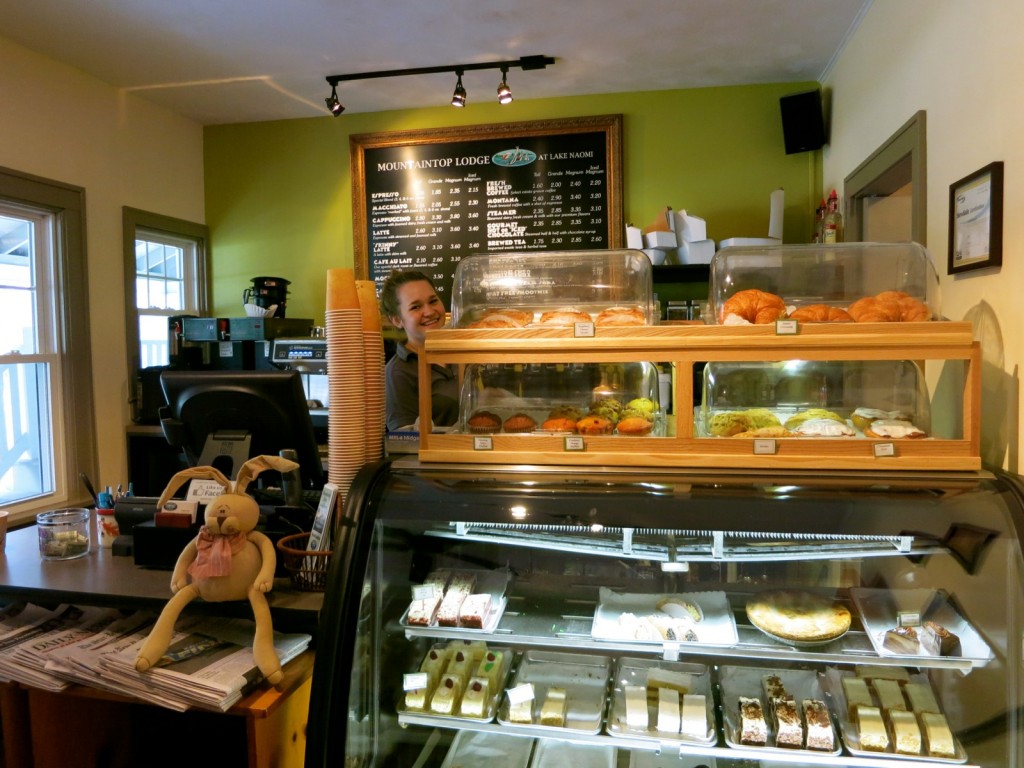 Though there is no full-service restaurant on premises, there is an upscale Coffee Shop. It dispensed everything from Cappuccino to Italian Sodas, sandwiches, and homemade soups that are in a class of their own.
The very versatile Naomi Club Dining Room Chef has created quite a following with his outstanding broths and chowders. Locals call in the morning to ask about Soups of the Day and to put in orders for pick up.
Even out-of-towners are beginning to make pilgrimages just to delight in his spur of the moment creations. I can personally attest to the richly flavored Southwest Chicken Soup, that, paired with a house-made hard roll, makes for a perfect lunch.
The Lake Naomi Club has a fine dining room, with a selection of wines, brick-oven pizzas and more upscale fish, meats and vegetarian options in the $19-$27 range.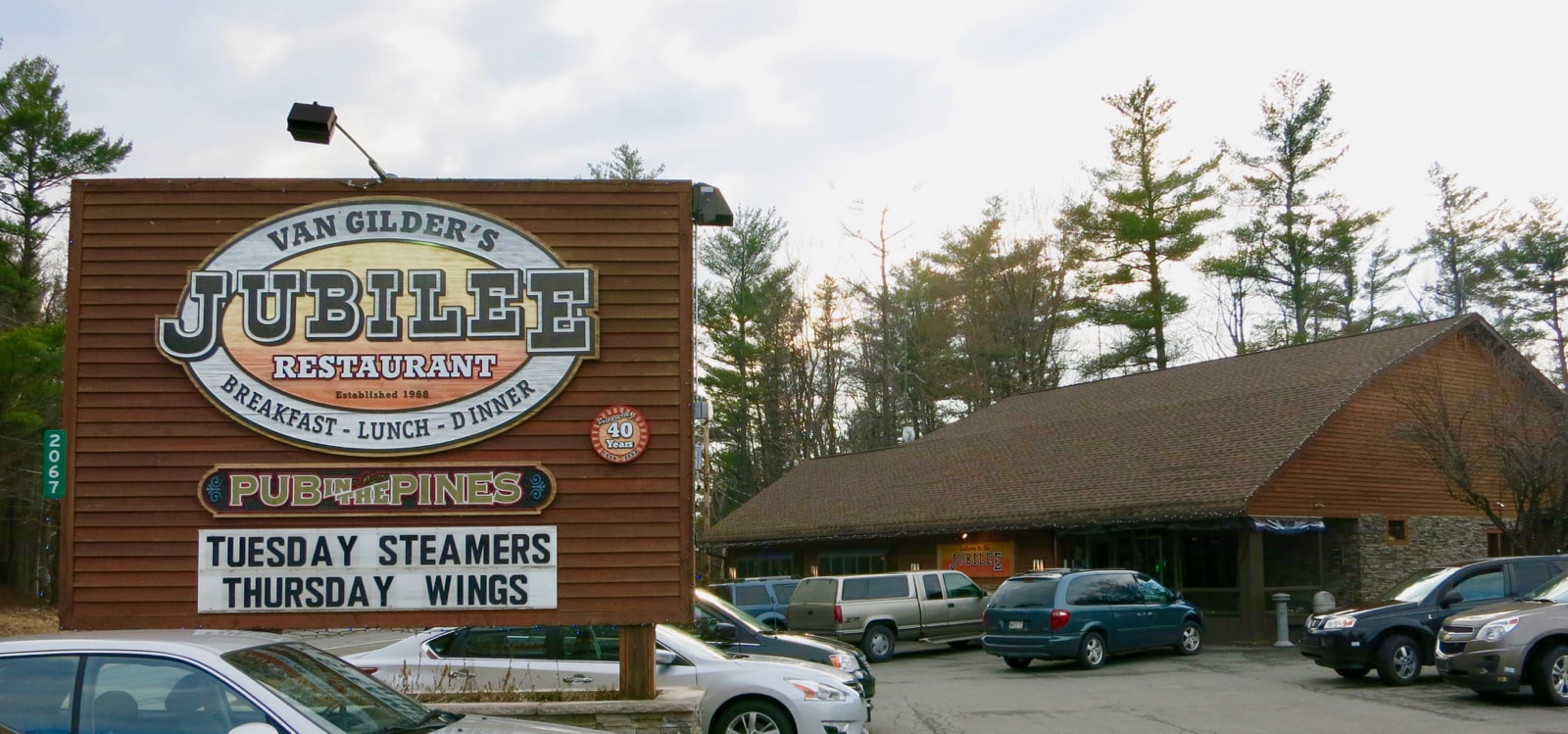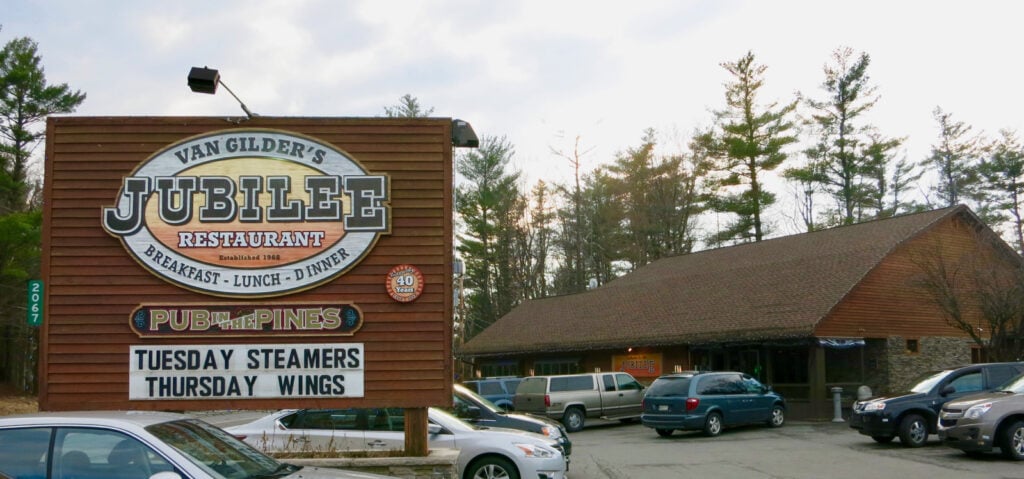 Van Gilder's Jubilee – known hereabouts as "The Jube" – is a block from the Mountaintop Lodge. It's the quintessential nothing fancy "family restaurant" with dinner prices we haven't seen since the 60's. Prime Rib is $24, and it's $14.50 for Vegetarian Ravioli. Locals swarm here on Thursdays and Sundays for the "Award-Winning" Wings.
Rooms At Mountaintop Lodge, Poconos PA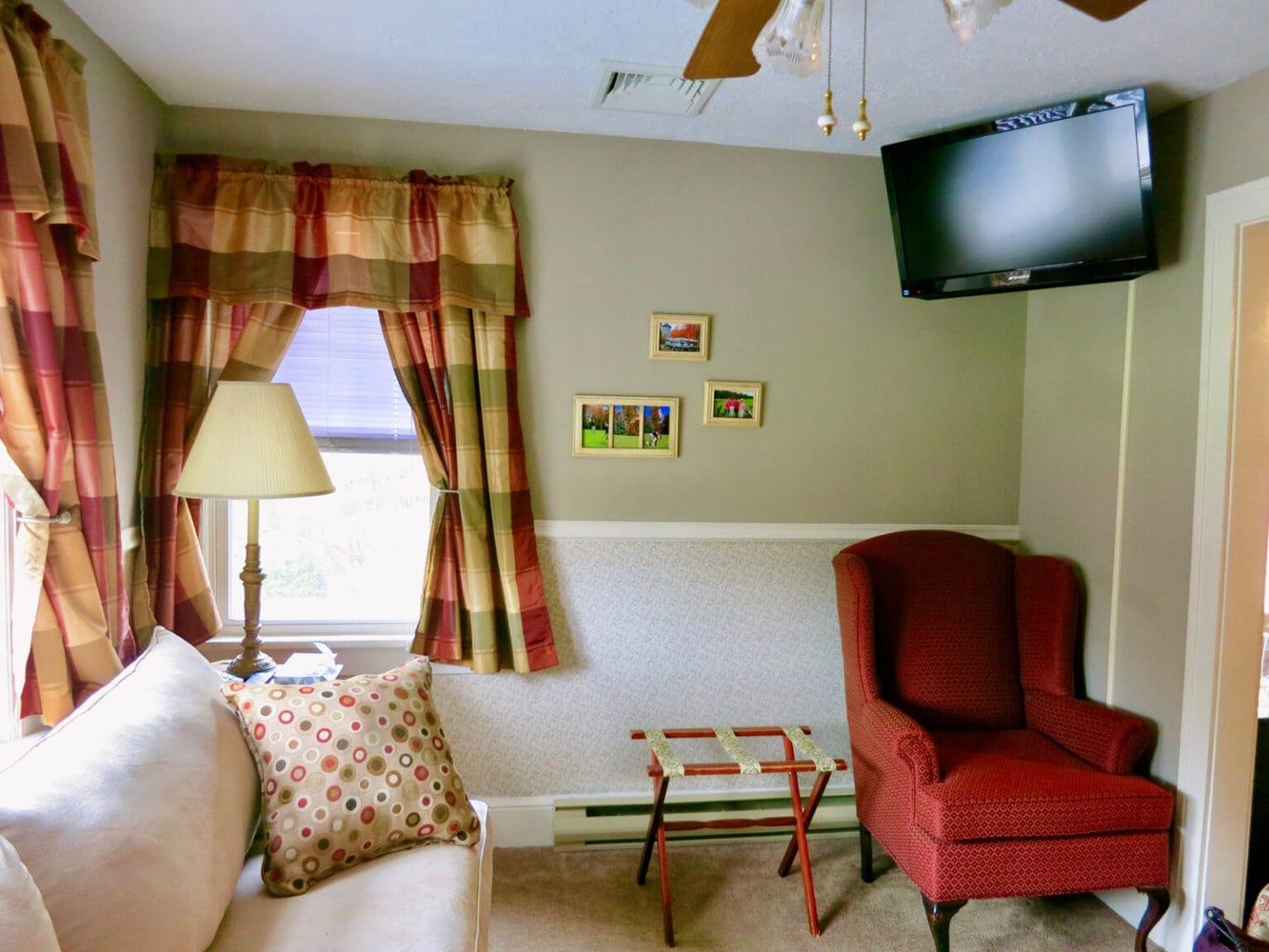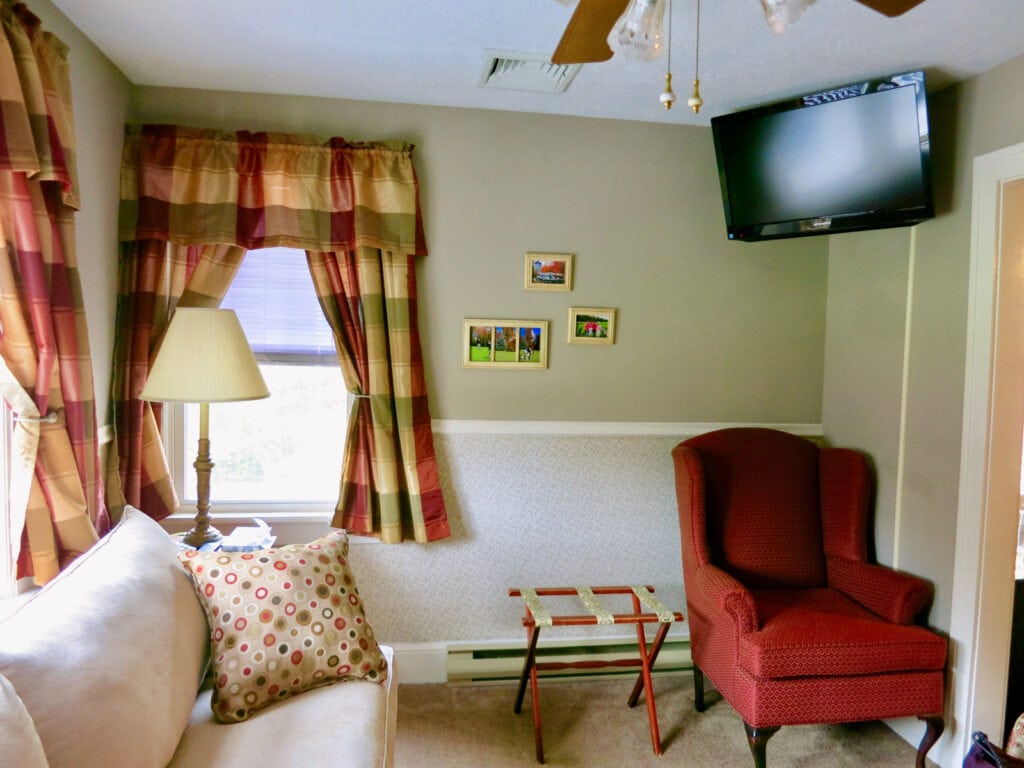 The palette is described as "Woodlands" but I'd call it "Aunt Jo doesn't mind you tracking in dirt" browns and sticky-lollipop-fingers-beige.
Furniture is eclectic antique with wall décor that not-so-subtly illustrates local recreational opportunities. (Room #8, a Queen Suite, featured a trio of old golf clubs mounted on a distressed window shutter).
If you're expecting marble baths and Frette linens, this isn't your place. But if you're looking for restorative and peaceful retro comfort, you've found it.
Packed with Privileges at Lake Naomi Club, Poconos PA
The adjacent Lake Naomi Club is a residential community that incorporates Lake Naomi and Timber Trails homes built up around the 277 acre Lake Naomi. The Club has so much going on all year round, the program book is nearly an inch thick.
Tap into all this fun at the the Club-owned Mountaintop Lodge. A stay provides all guests with a temporary membership pass. To be a year round member, you must own a home in the area (Lake Naomi or Timber Trails developments), so this temporary pass is quite the coup.
Spend a summer afternoon lounging on a beach or by the largest heated lakeside pool in Pennsylvania. Sign up for a tennis lesson at McKee Tennis ($35). Play a round or two on the 9-hole golf course ($15 weekdays, $20 weekends). Take a sailing lesson ($35), go fishing (Trout, Perch, Bass), test your mettle at archery, or rent a kayak or canoe.
Even in winter or during inclement weather, swim, play tennis or use the golf simulator indoors at the well appointed Lake Naomi Community Center. Here you can also take aerobics and spinning classes, use personal trainers in the well-equipped fitness center, and attend a slew of fun parties, events and festivals.
Lately, adult Cocktails and Cupcakes, and kids Pie Baking workshops are big hits. There's a reoccurring Monday Night "Stitch and Sip" for crafters, Wednesday Night Acoustic Jam Sessions, and other amusements. Management here just loves to create happy times.
Even doing nothing is an event, when Mother Nature puts on shows like this: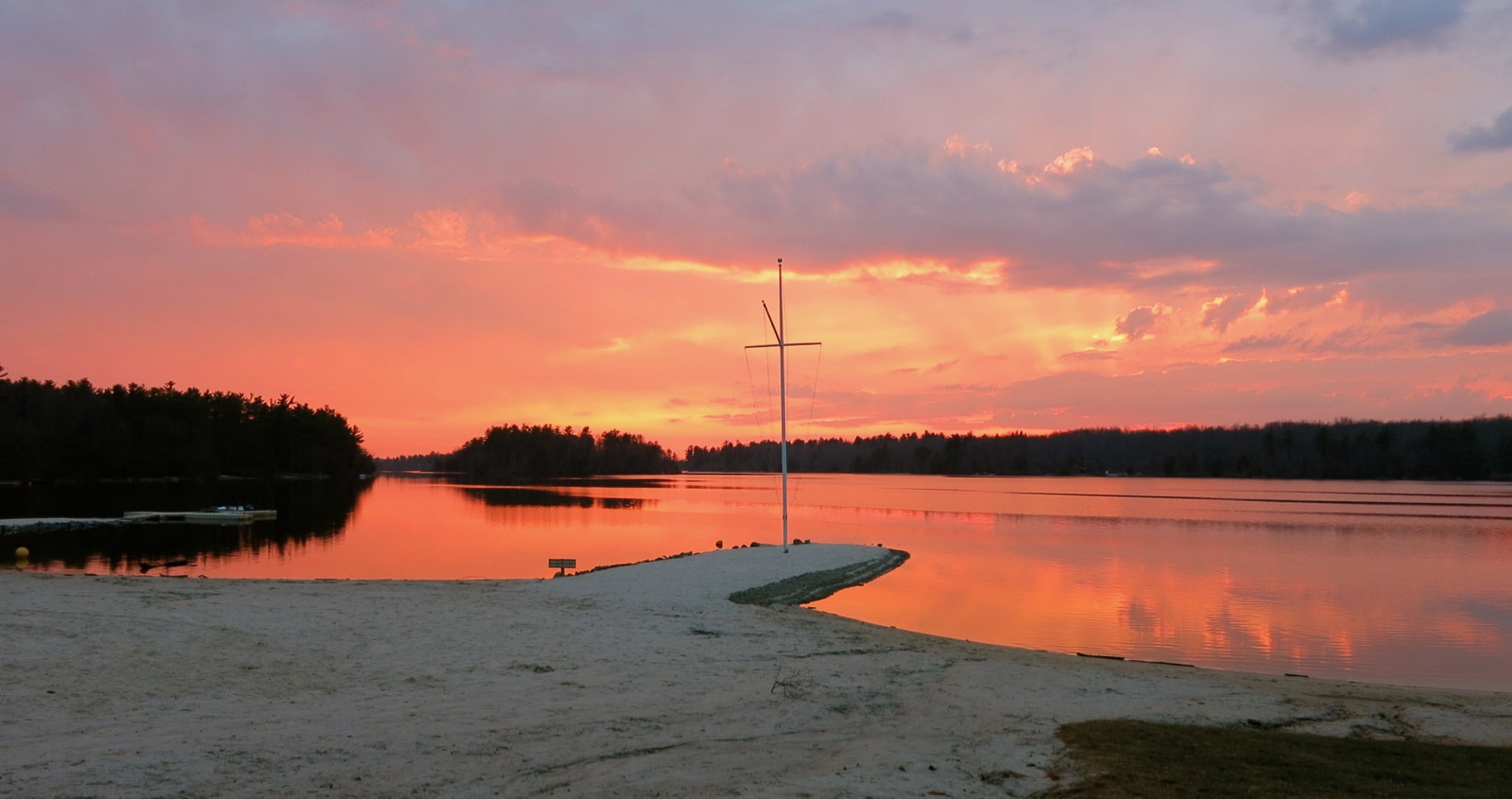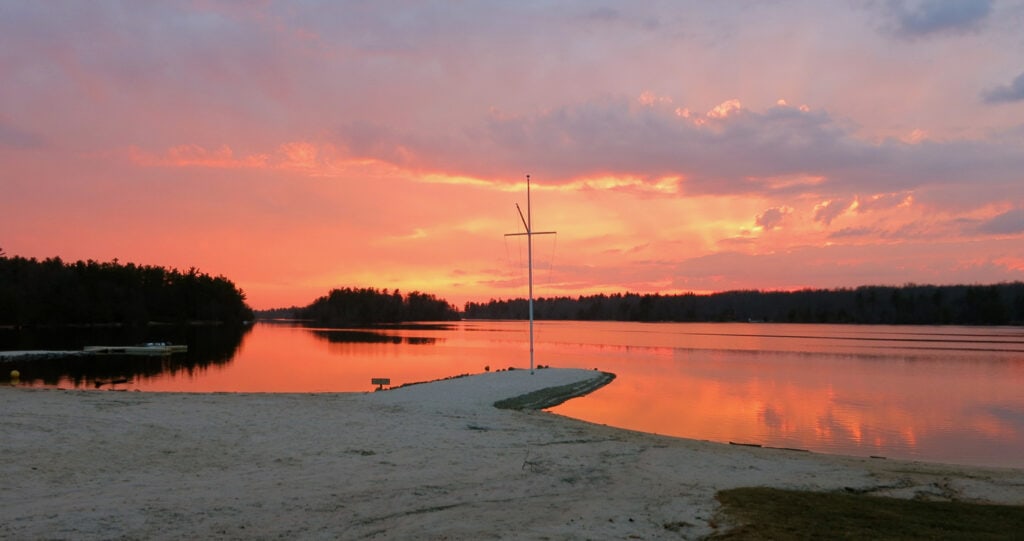 Mountaintop Lodge at Lake Naomi Room Rates
Rooms and suites range from $140-$260 per night depending on season and include welcome biscotti, wi-fi, parking, hot multi-course breakfast, and access to amenities at the Lake Naomi Club.
* Malerie Yolen-Cohen was hosted by the hotel for purposes of review. All opinions are hers alone.