Last Updated on
WHY GO: A fishing village turned rock 'n roll hub, Somers Point NJ was the drinking nightlife counterpoint to dry Ocean City – a bridge away – and still is. Though 50's/60's rock venues like Tony Mart's (mythologized in the movie Eddie and the Cruisers) have shuttered (headliners moved ten miles away to Atlantic City), Somers Point is still the place to go for surprisingly good grub and cocktails, as Ocean City remains a dry town. In fact, there's a large liquor store at the Somers Point foot of the new bridge, which is considered the "last stop" for booze before entering OC.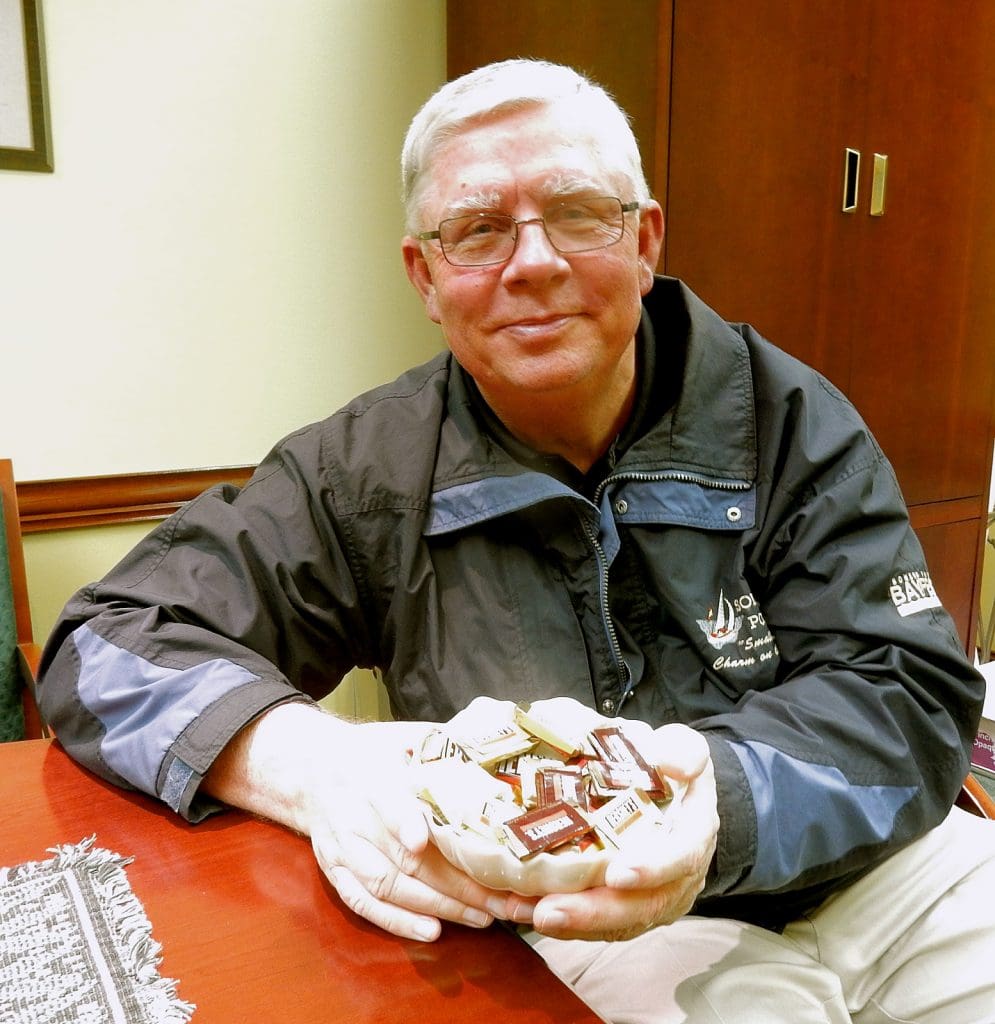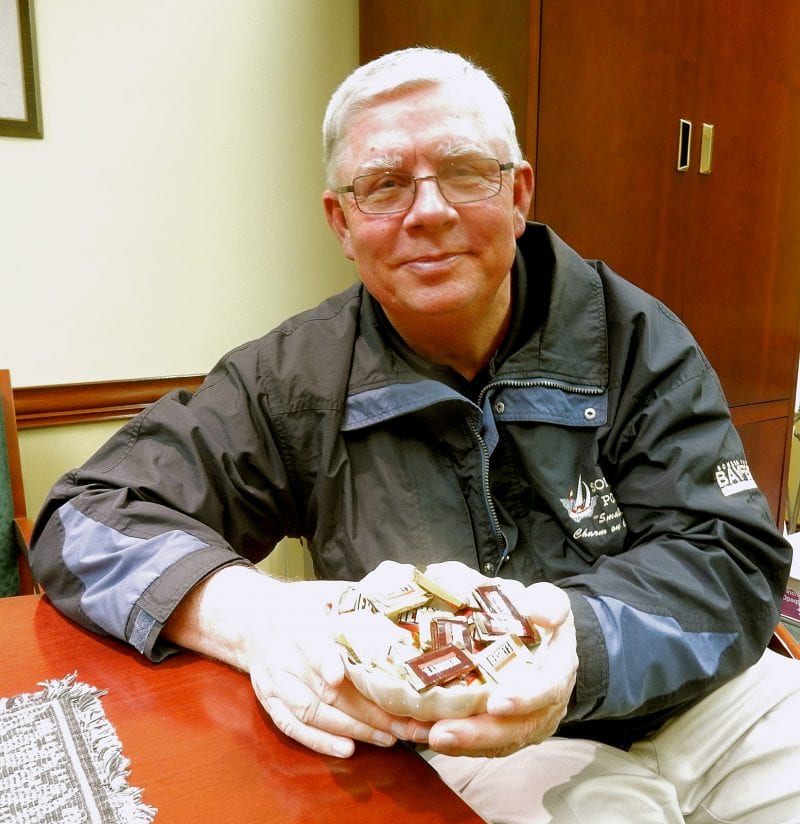 But that's the half of it, especially for visitors. Somers Point has managed to keep current without a hint of gentrification. It's the kind of place where the Mayor, Jack Glasser, is so proud of his burg and its constituents, he's willing to take time out of his busy day to escort a travel writer to his favorite places. Which includes his office (where he'll offer visitors a bite of chocolate).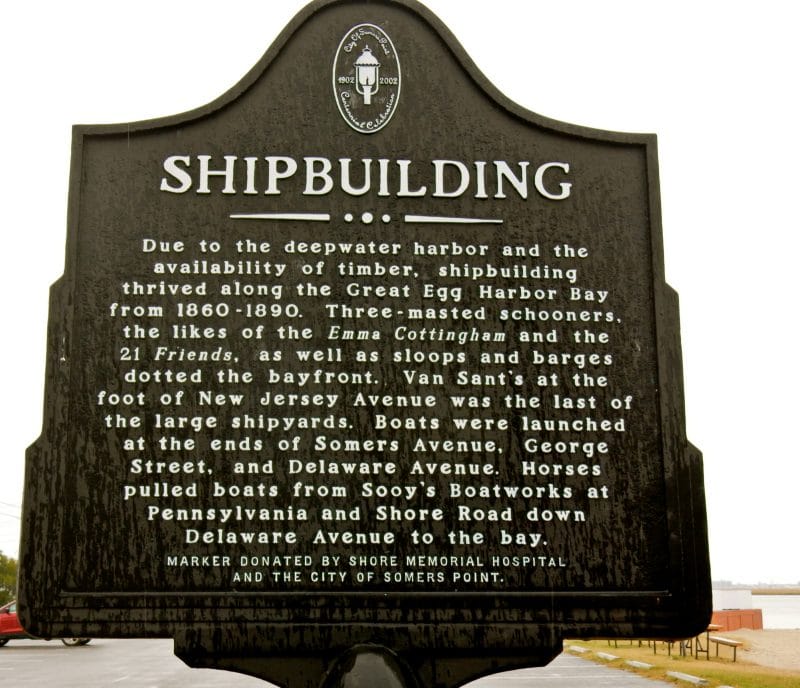 Glasser would be the first to tell you that Somers Point continues to seek ways to improve the quality of life in town: Fishing and crabbing are still big here, biking the new rail to trail path is a blast, Friday Night Beach concerts are a major deal, the new live theater will be opening again soon, and at least three of the hottest restaurants have been hot for decades. And though not a "tourist attraction," if by chance you are in need of medical attention, Shore Hospital – a Mayo Clinic affiliate – dominates the bayfront.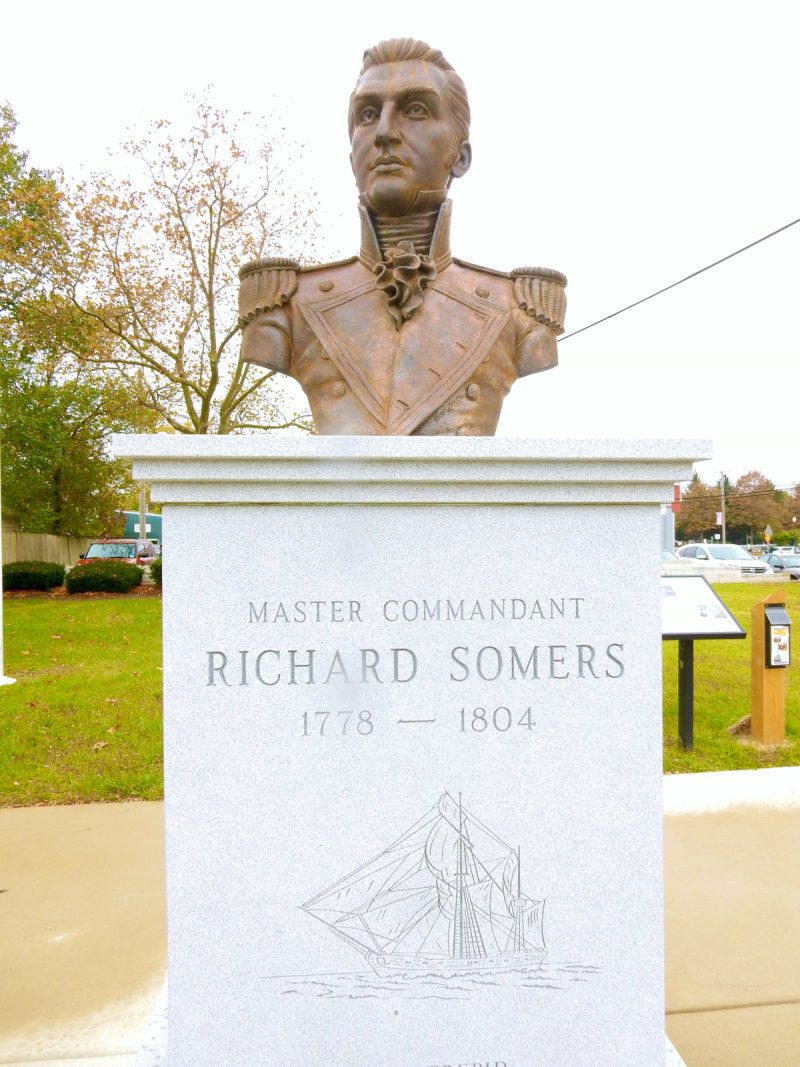 Somers Point history touches on Tripoli, Arnold Palmer, Bob Dylan, Bill Haley and the Comets, Diners Drive-Ins and Dives, and more – and with great restaurants and nice hotels, makes for a unique and cool getaway.
Things to Do in Somers Point NJ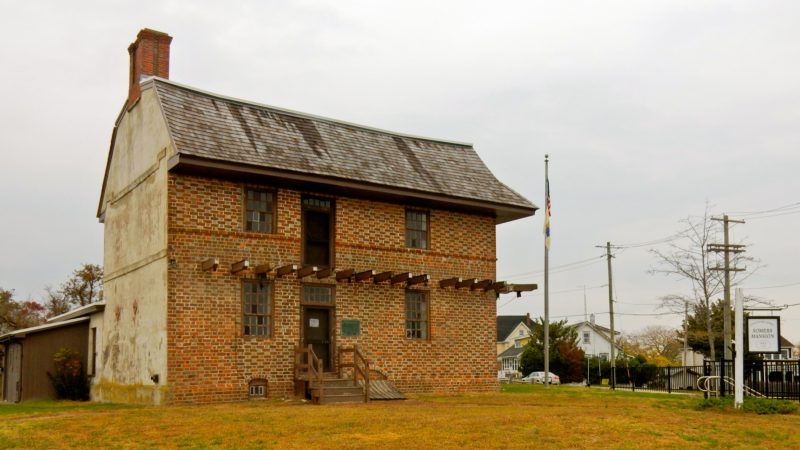 TOUR/PHOTO OP: Somers Mansion. Built by the grandfather of Richard Somers in 1725, this 3-story brick home finished in the Flemish Bond pattern, is the oldest in Atlantic County NJ and overlooks Great Egg Harbor. Namesake of the town, Col. Richard Somers was a Revolutionary War Naval hero who was born here and died fighting pirates off the Barbary Coast in the Mediterranean Sea. Open Sat/Sun 9:30-3:30.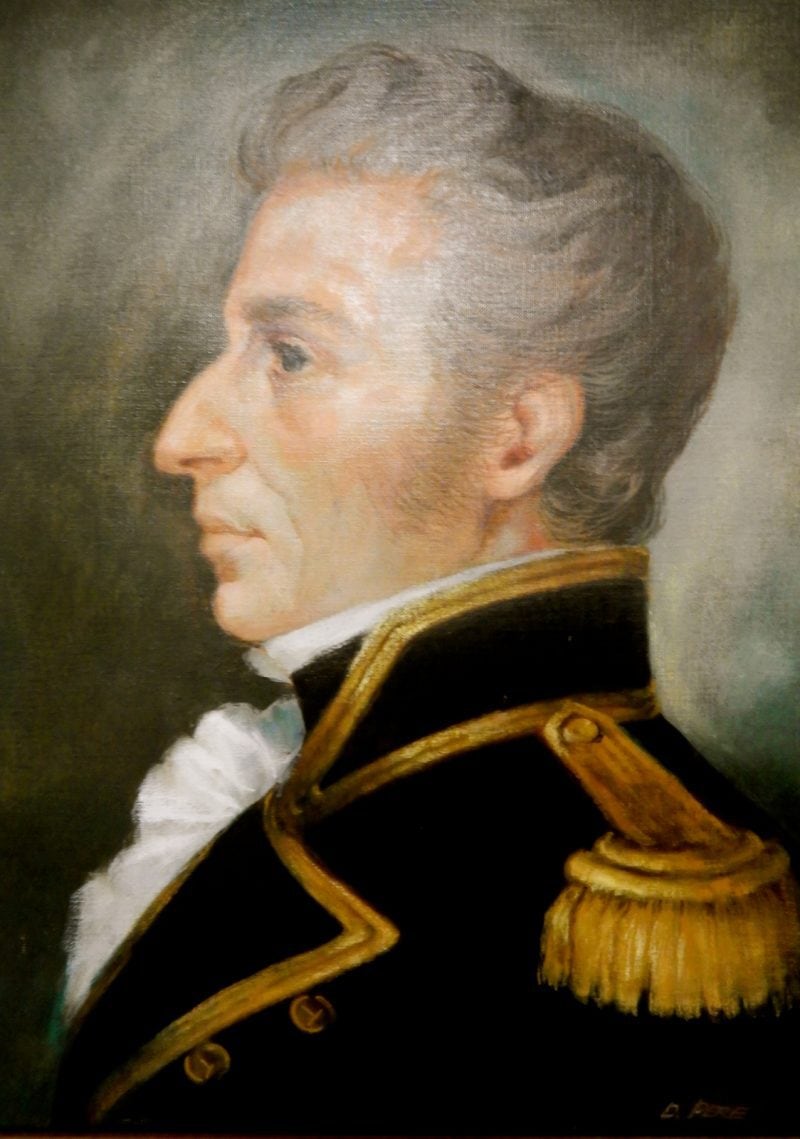 VISIT: Somers Point Historical Society. You're all invited to "dig up your family tree" in the repurposed 1886 West Jersey Baptist Church where you'll find a good amount of information about this small bayfront town. Of course, there are documents and publications about the town's namesake, Richard Somers, who, in 1804 at the age of 26 commanded the "fire ship," Intrepid– a maritime Trojan Horse rigged to explode with a hundred barrels of powder near a flotilla of pirate ships– during the First Barbary War. Somers was on the ship as it snuck into Tripoli Harbor and blew up prematurely – killing him and his men. He is still buried in Tripoli, though Somers' descendants and locals have been working hard to repatriate his remains.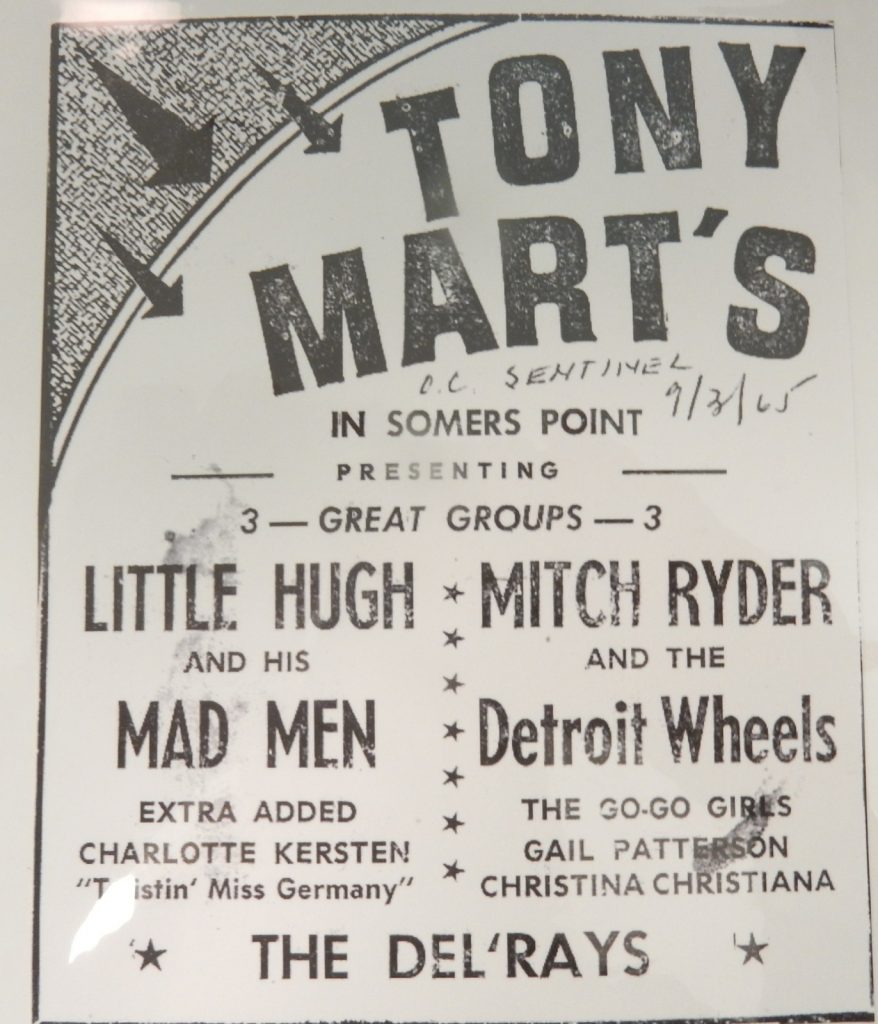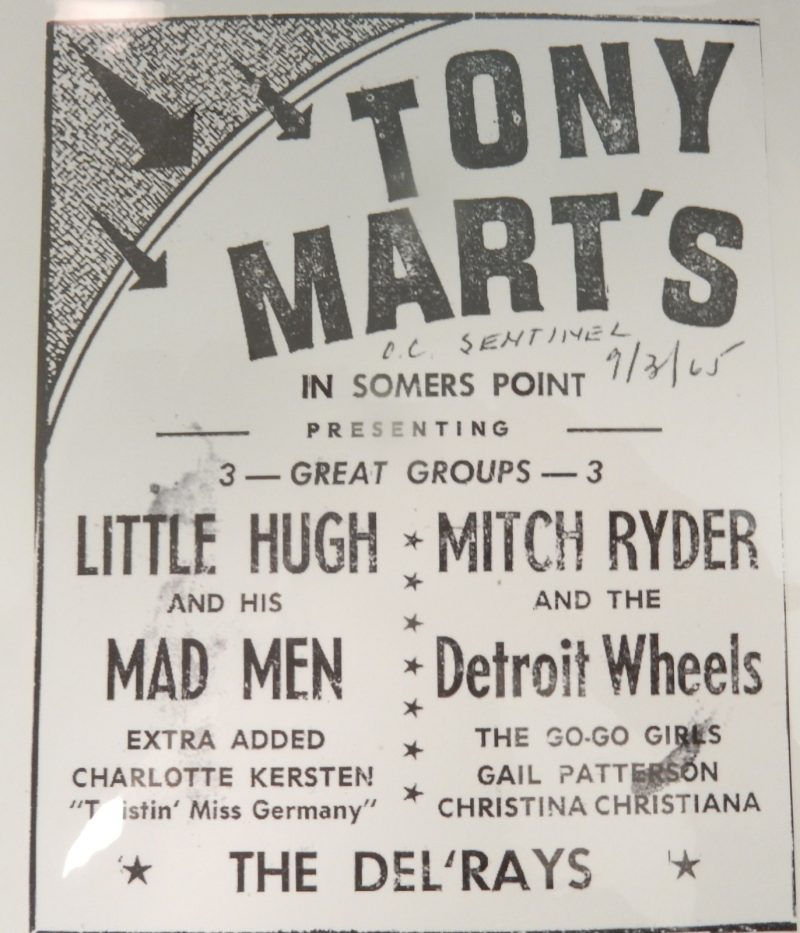 The Historical Society also keeps stacks of loose-leaf binders, categorized by theme and crammed with thousands of historic pictures. "Lots of people come in just to reminisce about the old times," says Director Sally Hastings. "Sometimes they spend hours with notebooks and recorders. These organized photographs are what make this museum unique." Most entrancing, the book of ad clippings from Tony Mart's Club, one of the most prominent music venues in town– promoting Haley and the Comets, Levon Helm, Mitch Ryder and the Detroit Wheels, Conway Twitty before he went country, and other rock legends.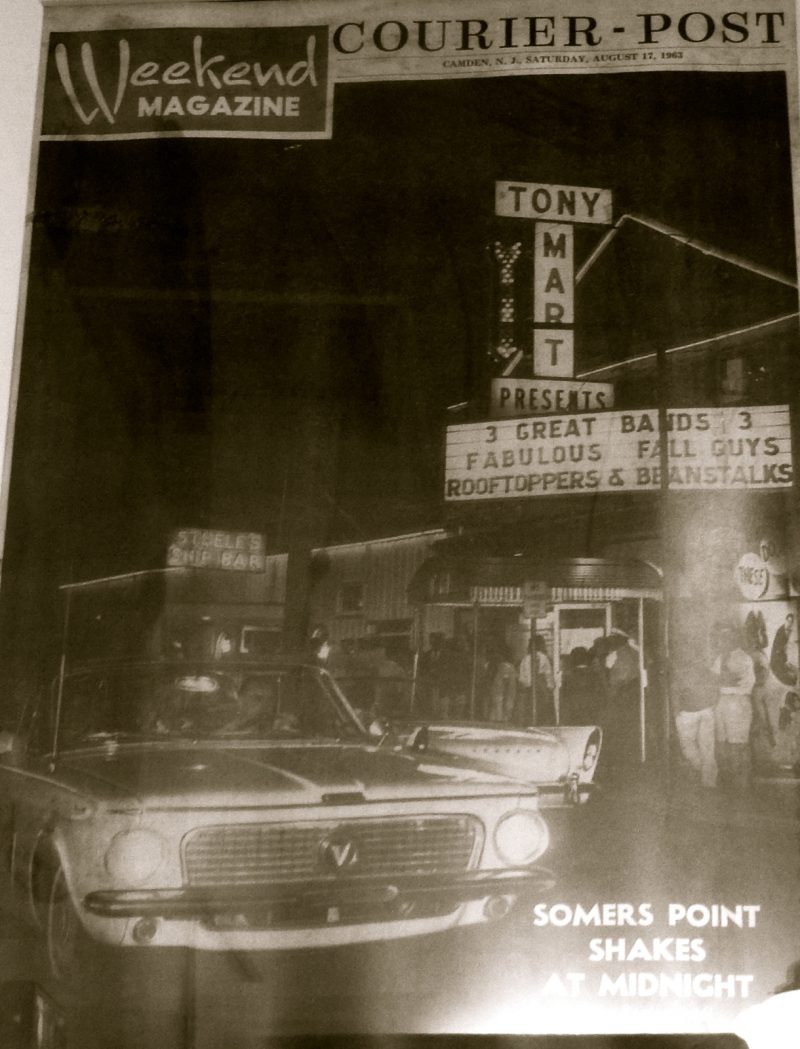 After WWII, Somers Point, which had always been a drinking town, became a rock and roll hub. "In the 50's and 60's you couldn't walk down Bay Ave without bumping into hundreds of college kids going from nightclub to nightclub." Tony Mart house-band, The Hawks, often opened for other acts. Though he never came to Somers Point, Bob Dylan heard about the Hawks, and later hired them to be his band, subsequently known as The Band. Open Wed-Sat 10-3:30.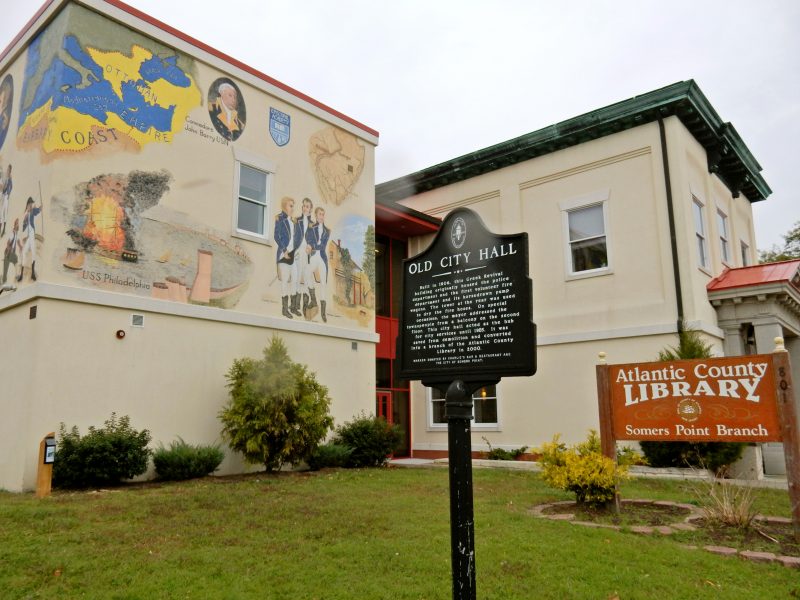 VISIT/PHOTO OP: Somers Point Library. The 1906 Town Hall/Police Station had fallen into disrepair by the time concerned citizens banded together, forming the Somers Point Historic Preservation Commission, to save it in the late 1980's. Builder/Historian, Kirk Gerety, appealed to locals for funds and then reached out to casino owners in Atlantic City. Most, including Merv Griffin, helped rescue the building (one exception –  Donald Trump, according to fundraisers).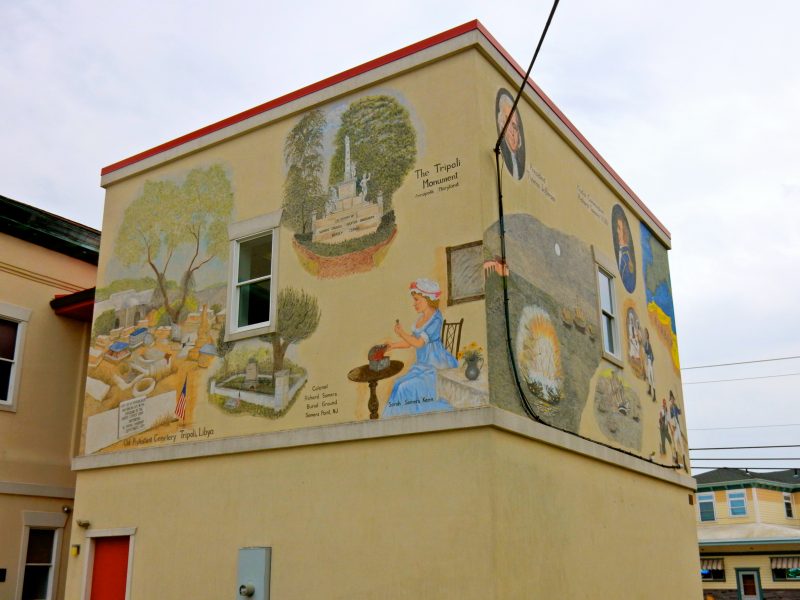 The result? A stunning redo, and wonderful town library, its exterior cloaked in a fantastic mural depicting the story of Richard Somers, who perished while fighting in the little known Barbary Wars (protecting trade routes off of North Africa where merchant ships from the newly established USA were being hijacked by pirates).
DO: Go Crabbing in Patcong Creek. Somers Point is surrounded by water on three sides – Patcong Creek is the waterway on its "back side." Crabbing is so rewarding here, the sport now has its own tournament, "Assault on Patcong Creek," sponsored by Bass Pro Shop, which brings crabby people to the area from all over the country on the third weekend in June. If you'd like to try crabbing, especially if you have kids, enlist the experts at Fun Time Crabbing charter.  $45 for 3 hours could "net" you in the neighborhood of 50-75 crabs.
DO: Duke O' Fluke. Fish for flounder in the Bay on this 30-person pontoon "party boat" – which is a party inasmuch as guests celebrate catching fish, and not by getting blind drunk. To catch flounder, after all, "you've got to drift – quietly," says a local. The Duke takes you out for 3 ½ – 4-hour jaunts (8am, 1pm). Nature Tours, sponsored by the Wetlands Institute, leave the dock on Wednesday evenings at 6:15 in July and August. $27 per person for fishing includes bait, parking and experienced crew. $23 for nature tours.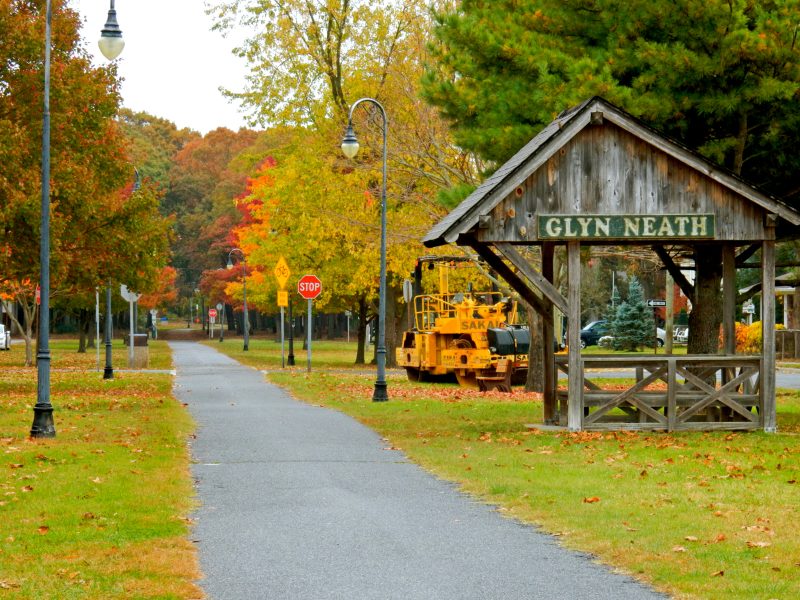 DO: Bike Path to Pleasantville NJ – about 8 miles. The tree lined scenic path cuts through mostly residential neighborhoods mostly alongside First St., and is beautifully maintained.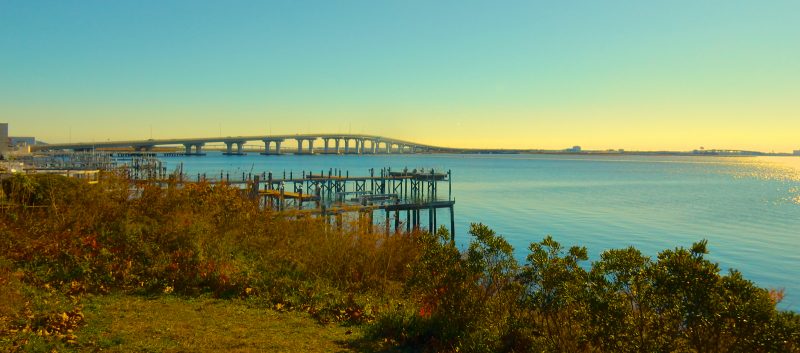 WALK/BIKE/SUNSET: Route 52 Causeway. Brand new as of 2014, this stunning 2-½ mile span linking Ocean City to Somers Point has exits to fishing piers in the midst of Great Egg Harbor Bay and an OC Visitor's Center on one of its center islands. But it's also turned out to be a popular walking and biking trail (separated from traffic by a barrier), and a "Key West-like" gathering spot to watch the sunset over the bay.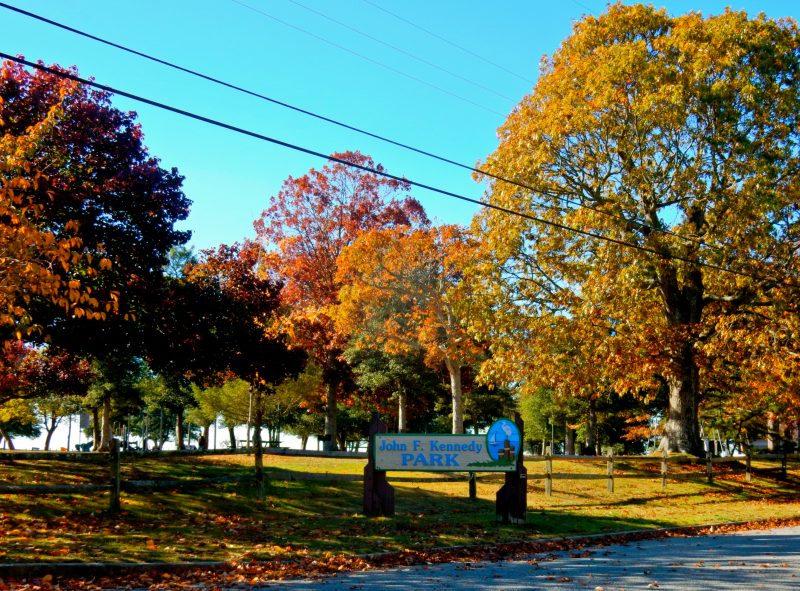 DO: Kayak. There are so many places to "put in" in Somers Point. Chief among them: from the fishing pier island in the middle of the Ocean City Bridge span, and from a boat launch at the pretty Kennedy Park.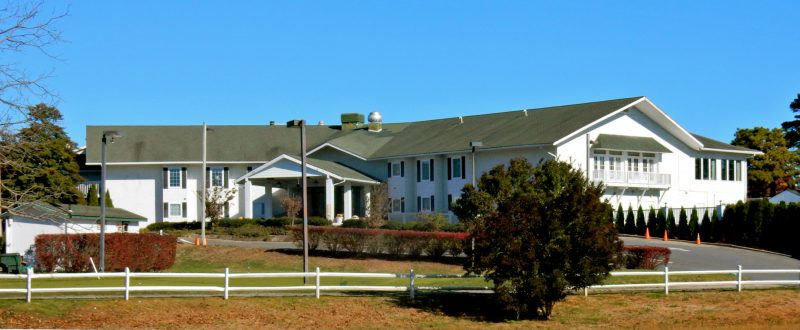 DO: Golf at Greate Bay Country Club. In the early 1950's while serving as a physical fitness instructor as Yeoman in the Coast Guard, Arnold Palmer would drive from his post in Cape May to play golf at the Greate Bay Country Club.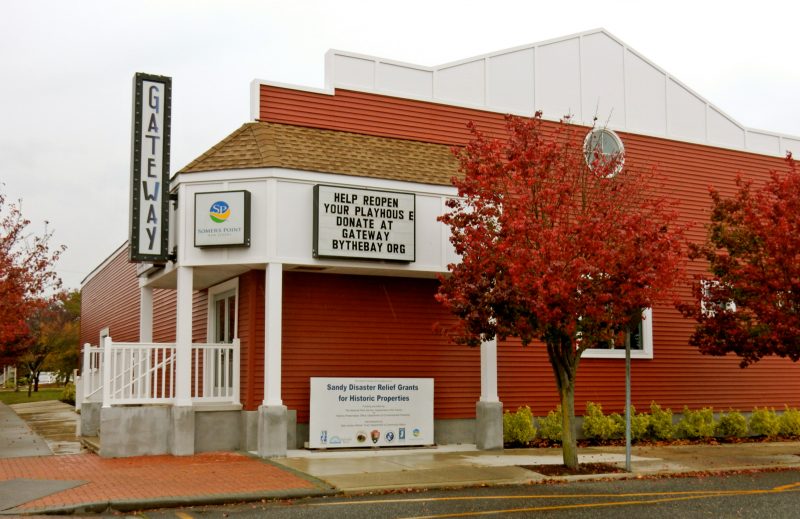 GO: Gateway Playhouse. Built in 1912 as a warehouse and serving as a live and movie theater from the 30's until 2006, this regional theater opened in Spring 2017 after an extensive renovation. Check website for performance schedules.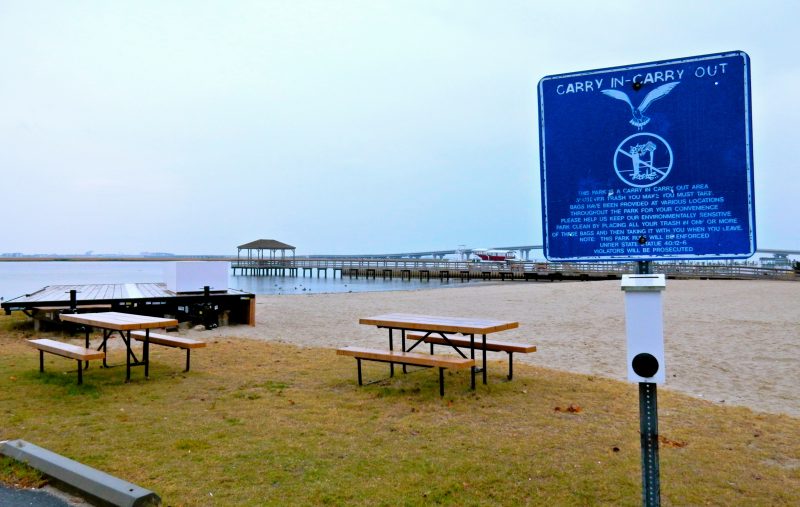 GO: Friday Night Beach Concert at William Morrow Beach. If you're here on a Friday night in summer, this small "pocket" beach turns into a swarm of humanity when musicians take the stage. It's family friendly, with no alcohol permitted, and draws over 1,000 locals and visitors every week.
Where to Eat in Somers Point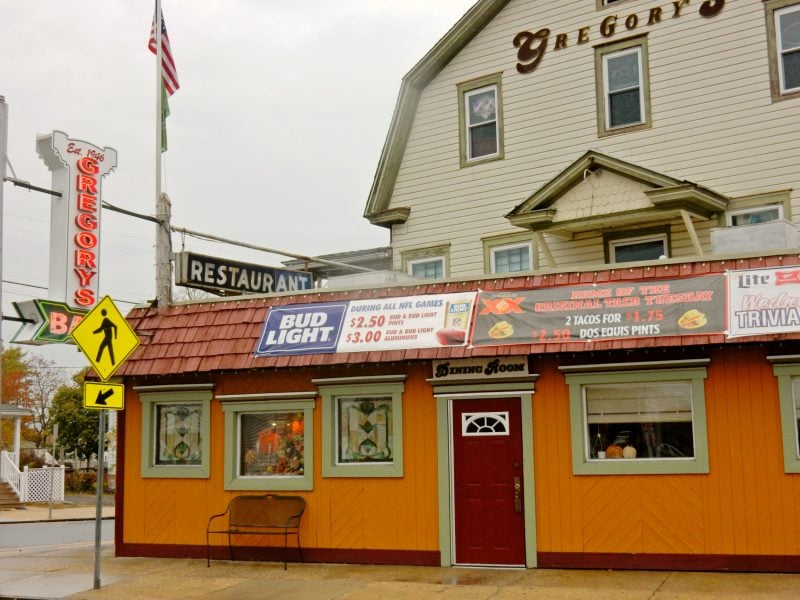 EAT: Gregory's Restaurant and Bar. Do you ever wonder who invented the phrase and concept, Taco Tuesday? Look no further: it's humble Gregory's in Somers Point. From the outside, the place looks like your typical old-school neighborhood bar, but Gregory's has a couple of surprises inside. First of all – décor is updated and beautiful, and the food, well, lets just say that Chef Paul was recently asked to appear on Top Chef (but declined due to family duties), so you won't find your ordinary tavern grub here.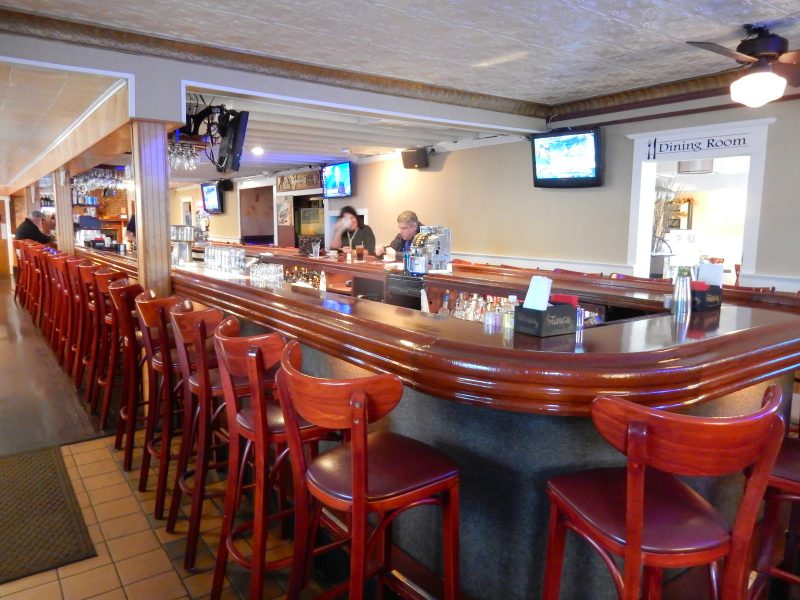 Brothers Walter and Elmer Gregory had just survived the battles of WWII, and returned to Somers Point to fish and drink the rest of their lives. They eventually took ownership of a 1908 hotel building (purchased for them by Dad, Walter David Gregory) and turned it into a tavern, installing an 80 ft. long horseshoe mahogany bar. Each had kids, their kids had kids, and now the third Walt (I know, very confusing) – 2nd Walt's son, and Gregory – Elmer's son (yes, oh boy, Gregory Gregory) both run the place with Gregory's son, Chef Paul, commanding the kitchen, and other various and assorted Gregory cousins running about.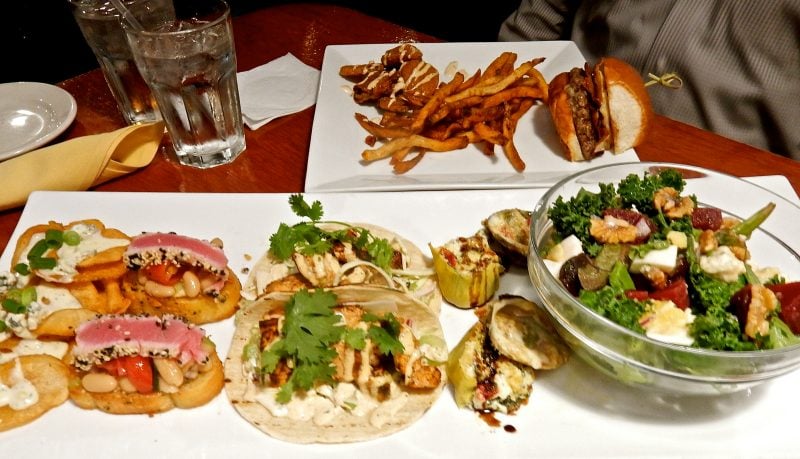 Though the locally sourced, nothing frozen menu includes the likes of Formica Bros. bread and rolls from Atlantic City, Ahi Tuna with Humus and White Bean Salsa, Clams Casino with whole clams (not chopped) smothered in cheese, the signature Crispy Seared Panko Encrusted Crab Cakes ($23.50), and its award winning Breakfast Bacon Burger, Gregory's has kept its rather gamey Snapper-Turtle Soup ($4), based on a 1935 Bookbinder Restaurant (Philly) recipe, on the menu. Yes, it's made with real turtle meat.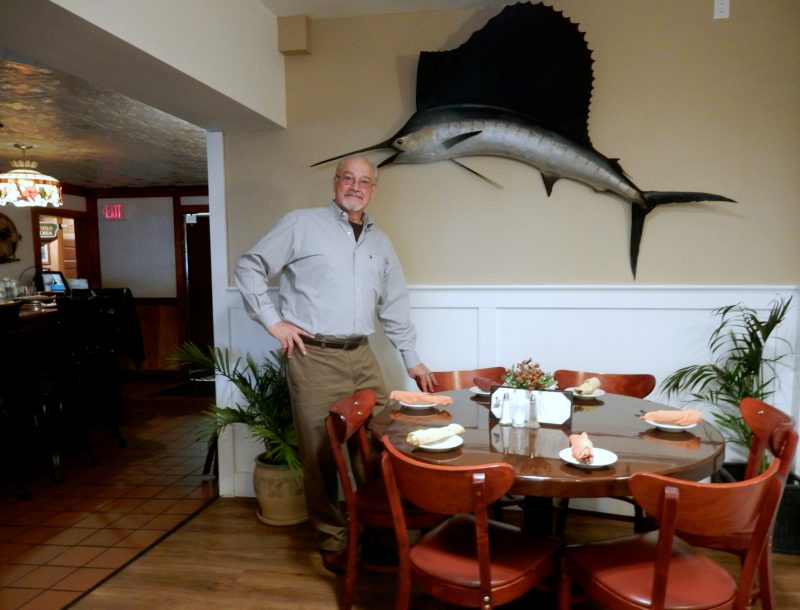 And what about Taco Tuesday? In 1979 when Walt and Gregory took over the business, they instituted what turned out to be a very popular "Taco Tuesday." They trademarked the name, but unfortunately not nationally, so, in 1982, Taco John's claimed the phrase. But those in Somers Point, especially those who came to Gregorys to eat Tacos on Tuesdays in 1979, know better. And now you do, too.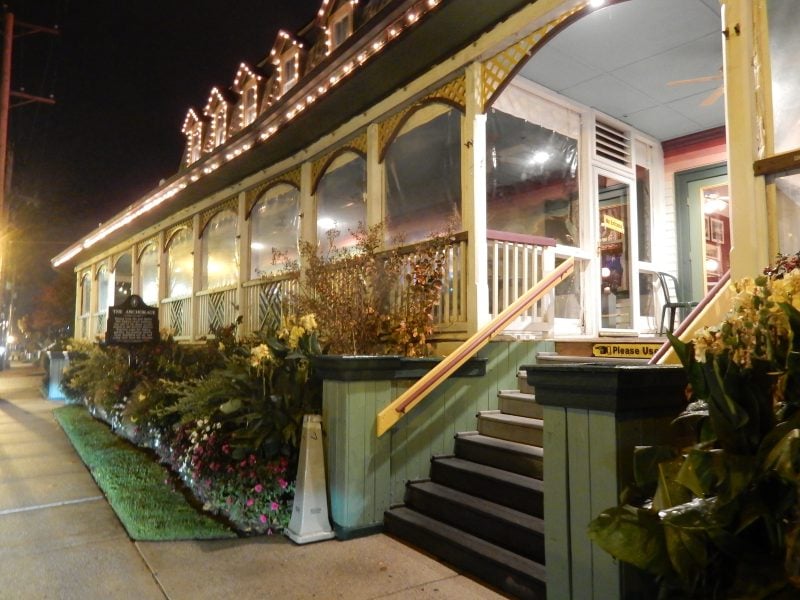 EAT: Anchorage Tavern. The Anchorage has been a town landmark since 1874, when it was the Trenton Hotel, catering to seasonal visitors and "bird gunners." By the 1970's, the bar was best known for its "7 Beers for $1," which gives you an idea of the establishment's clientele at that point. But in 1999, Culinary Institute of America- trained chef, Don Mahoney, purchased the aging icon, and despite a devastating fire on 9/11/2006 that closed it down for a year (angel-soul Mahoney continued to pay his employees anyway), the Anchorage recovered and then some.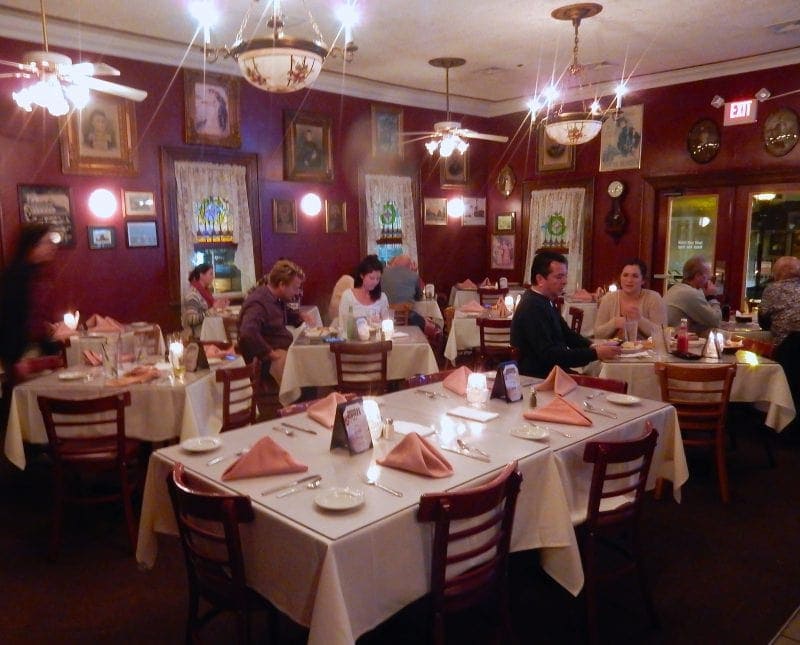 There's typically a two-hour wait for a table in the summer, when the bar is in full swing and patrons come from dry Ocean City and far beyond. The popularity might have something to do with its 15 minutes of fame on Diners, Drive-Ins and Dives two years ago, a gift that keeps on giving as the episode keeps on repeating. This popularity evidently extends to off-season, too. The warren of clubby rooms were packed on a cold midweek November night, with locals and repeat customers ordering the signature Gorgonzola Flounder with Lump Crab Stuffing ($23.95), Bourbon Street Mahi ($21.95) and Danny's Favorite Meatball Ricotta, which is now favorite of mine, too.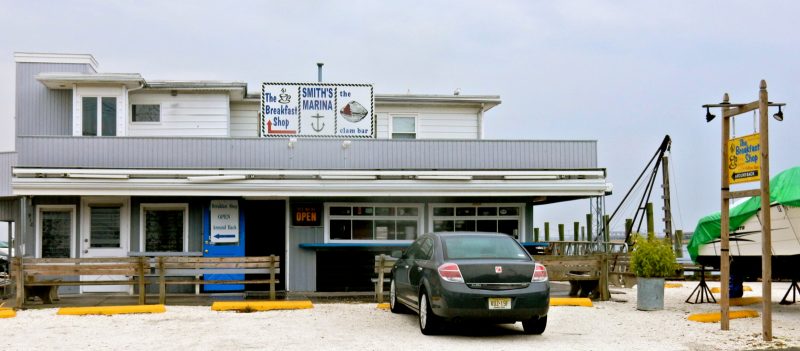 EAT: Other recommended eateries include The Crab Trap for seafood (tending to draw an "older crowd," the parking lot is "never empty"– even people who don't know where Somers Point is know this place), Crabby Jack's – the open air shack behind Crab Trap – a favorite of boaters who can pull right up to it, Charlie's Bar for "best wings," and The Clam Bar right on the Bay for great Clam Chowder.
Where to Stay in Somers Point NJ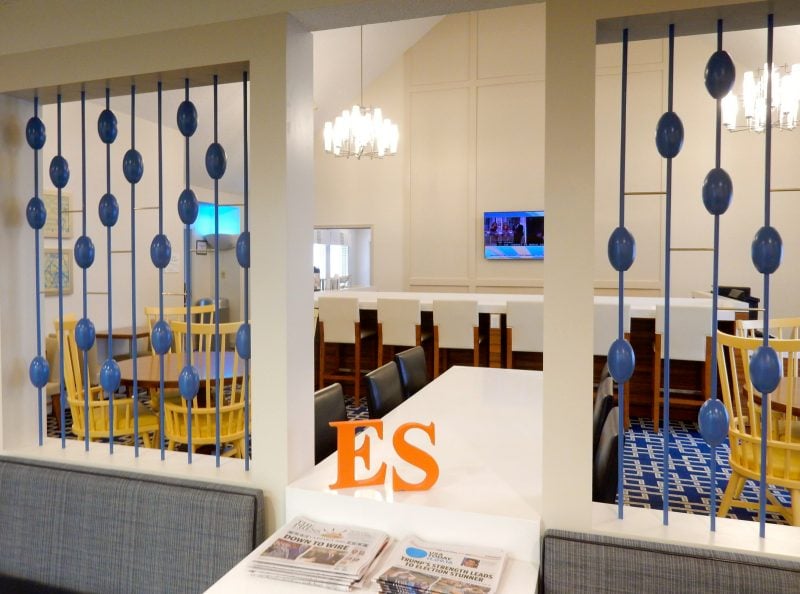 STAY: Sonesta ES Suites. Formerly a Marriot, this sprawling apartment-like hotel, overlooking a salt marsh a mile from town (across from the Greate Bay Golf Club), was recently renovated and rebranded.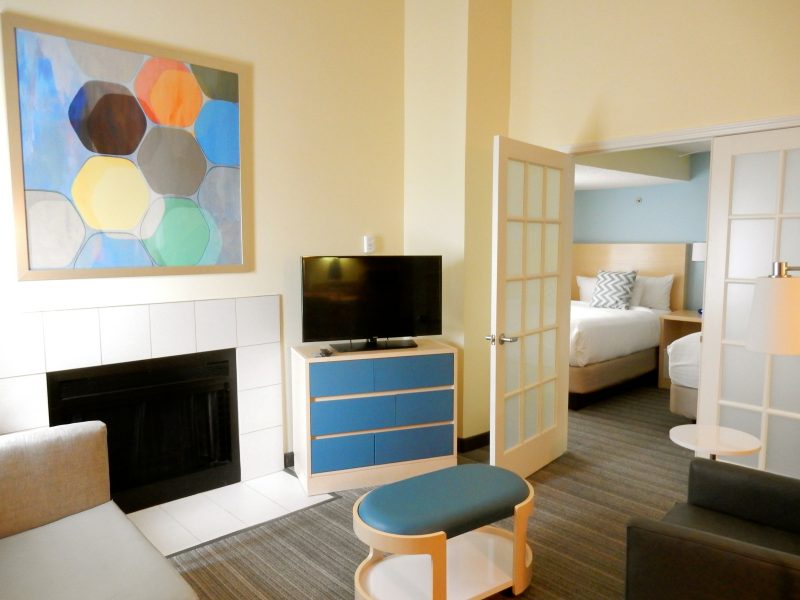 Rooms are clean, cool, and contemporary, with punches of color and updated granite sink bathrooms.  New bedding is crisp and clean. Full updated kitchens are stocked with tableware, tools and utensils. And in the morning, a cold breakfast buffet comes complimentary with the room. Rates $99 standard room off season -$309 for suite in summer (3-night minimum in season weekends) includes parking, wi fi and breakfast.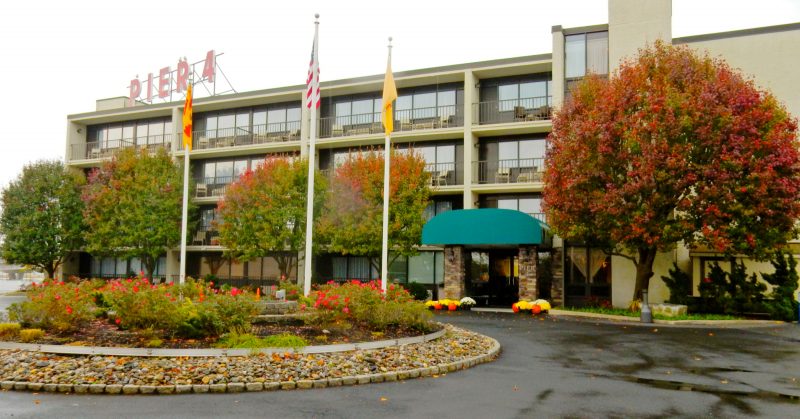 STAY: Pier 4 Hotel. With 69 newly refreshed traditional rooms, this waterfront hotel offers great views of the bay.