WHY GO: Point Pleasant Beach NJ has been catering to generation after generation of sun-worshippers and boardwalk babies.
The mile-long esplanade is lined with renovated summer homes and typical jersey shore enterprises like custard shops, pizza parlors, cotton candy kiosks, sausage and pepper stands, sand-floored bars, tee-shirt emporiums, miniature golf, and amusement park rides.
In warm months, this state of New Jersey town typifies a dyed-in-Coppertone culture that families crave.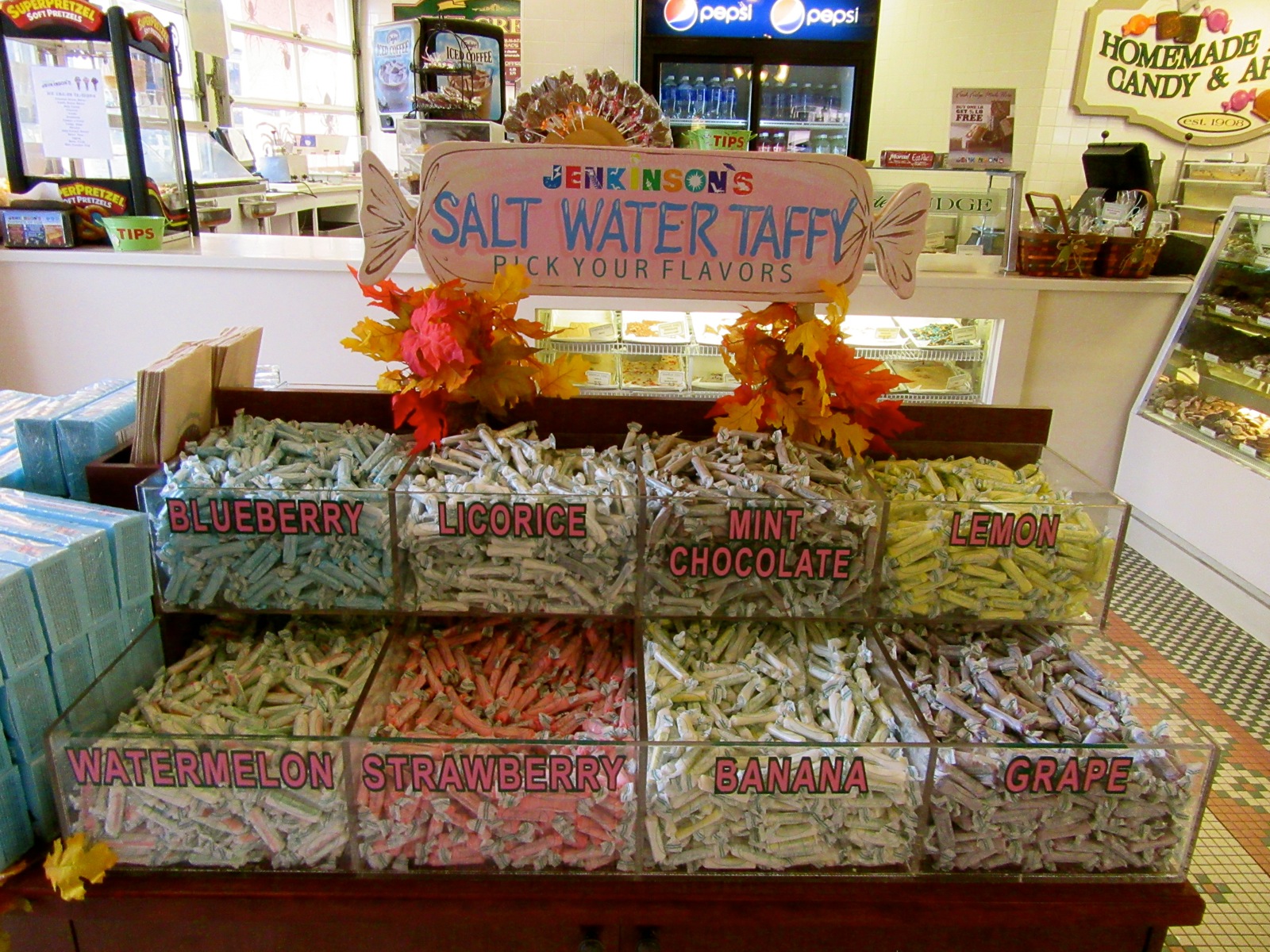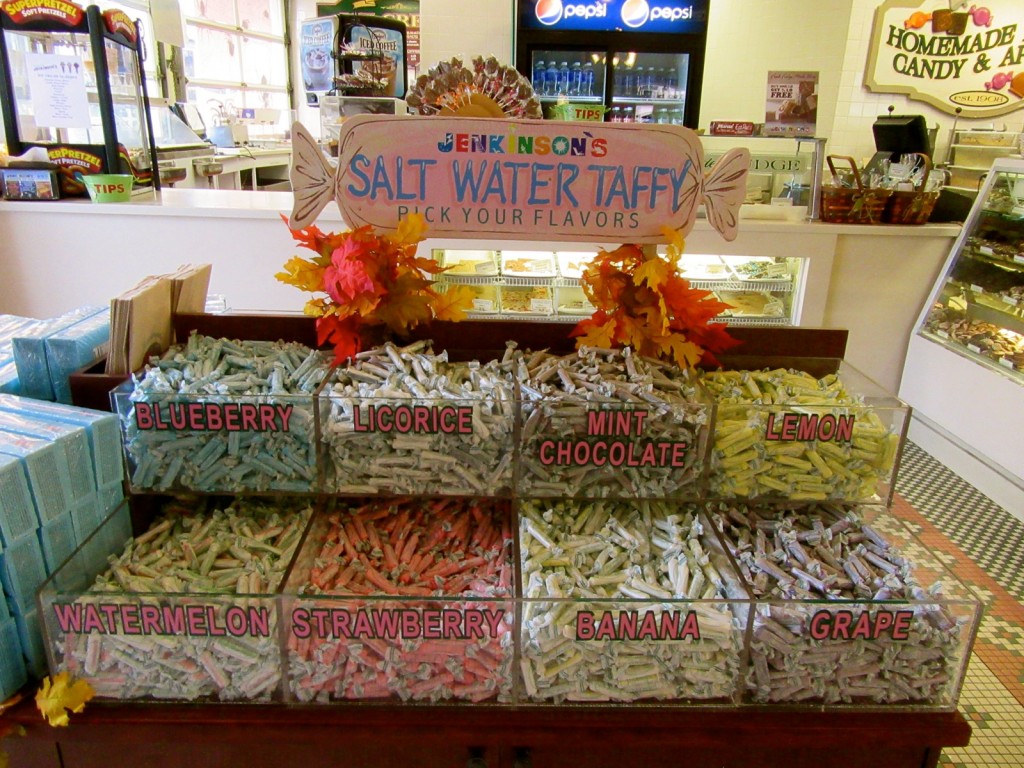 The Point Pleasant Beach population quadruples over the summer. Many visitors are just day trippers. But more are "weeklies" or "seasonals" who have been coming here since they were kids. A good number now bring their own children and in many cases, grandchildren, to the shore.
Come offseason, though, and Empty Nesters hold sway. You can get into the best restaurants, shop without hassle, fish in peace, and stay in one of New Jersey's most romantic B&B's. Read on, and we'll show you how the Mavens do Point Pleasant Beach right.
The Getaway Mavens included Point Pleasant Beach on our "12 Romantic New Jersey Getaways" roundup here. Check it out for more to do in the Garden State.
Things to Do in Point Pleasant Beach NJ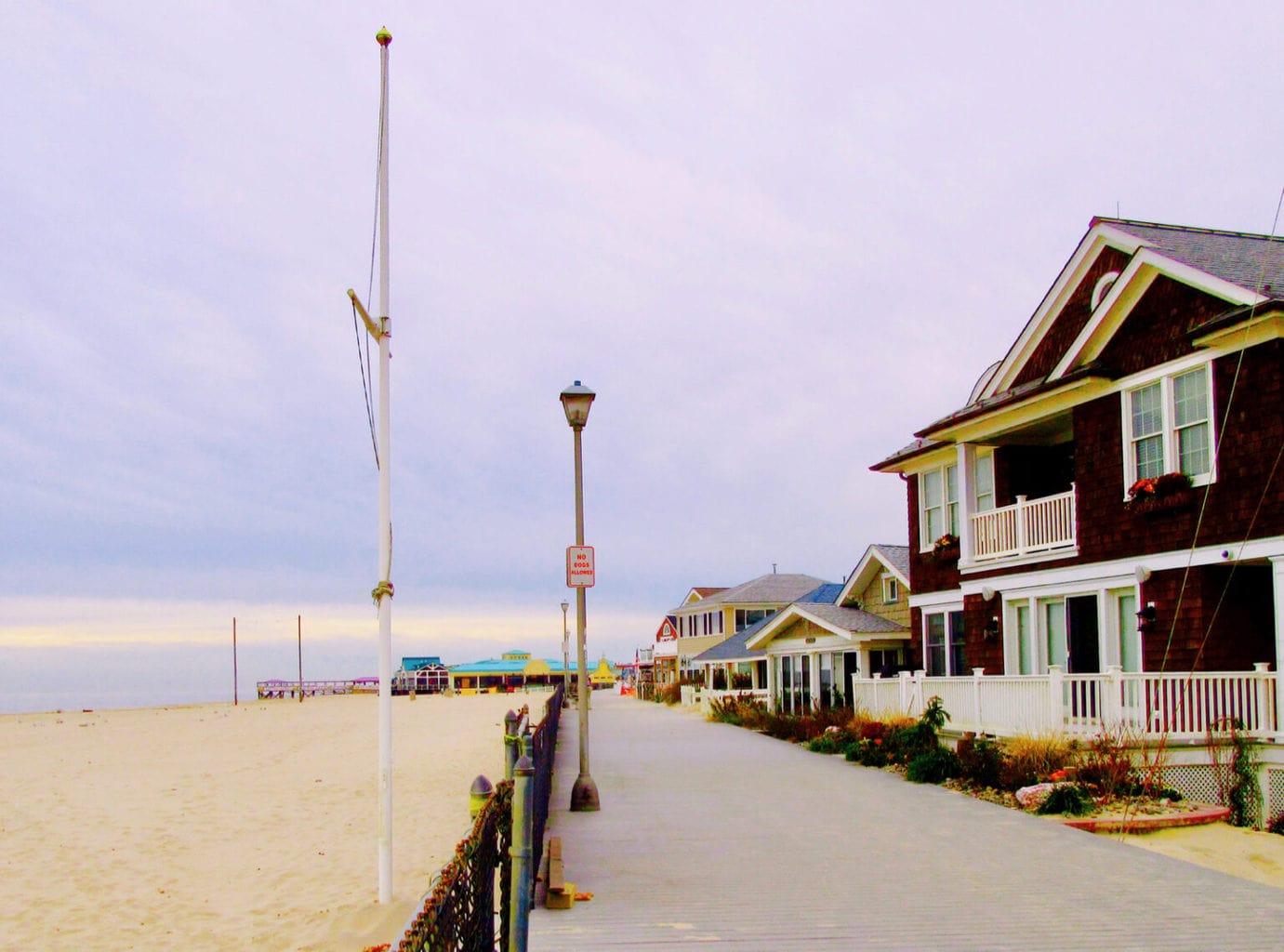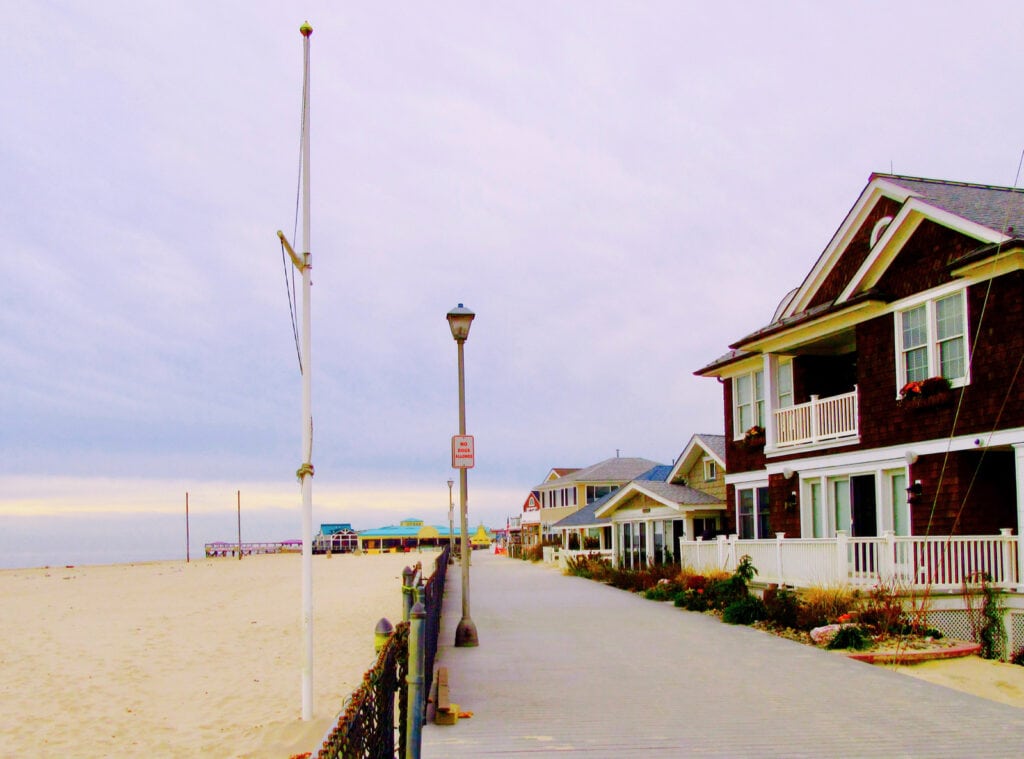 GO: The Beach
In summer, the focal point for anyone coming to Point Pleasant is the sandy shoreline. Ever since our ancestors came up with the idea of putting planks of wood over sand, creating a pedestrian walk and shopway, people have been making their way here in droves.
In summer, odors of damp lumber, fried dough and coconut oil co-mingle in a familiar seaside resort kind of way. Children just barely out of the birth canal to those with raging acne and braces stroll the boards with their ATMs, er parents, in tow.
But off season, the crowds thin considerably. The fried dough stands are closed and the scent of coconut is replaced with bracing salt-sea air. The boardwalk offers peace and quiet. The ocean remains in all of its glory.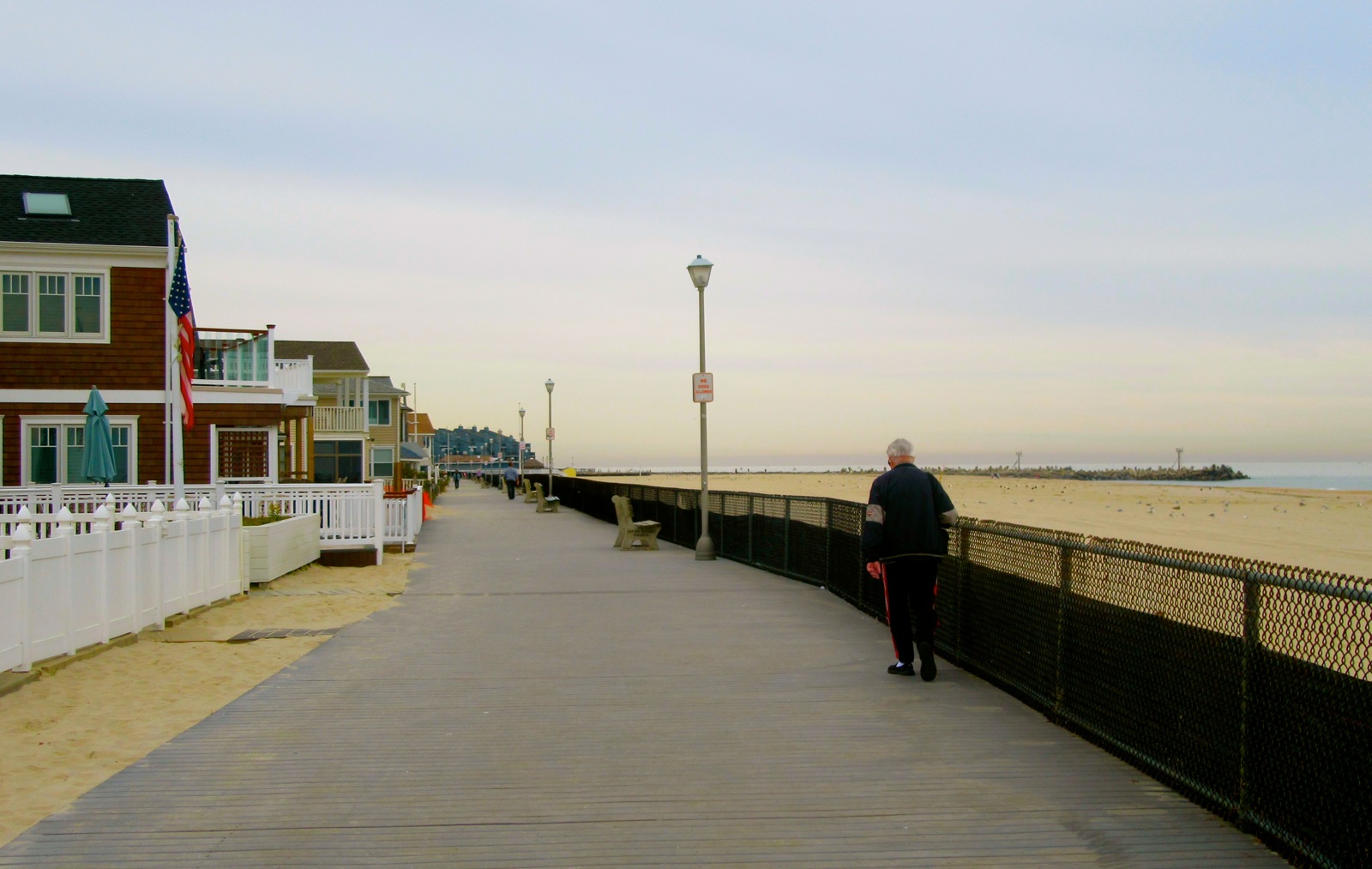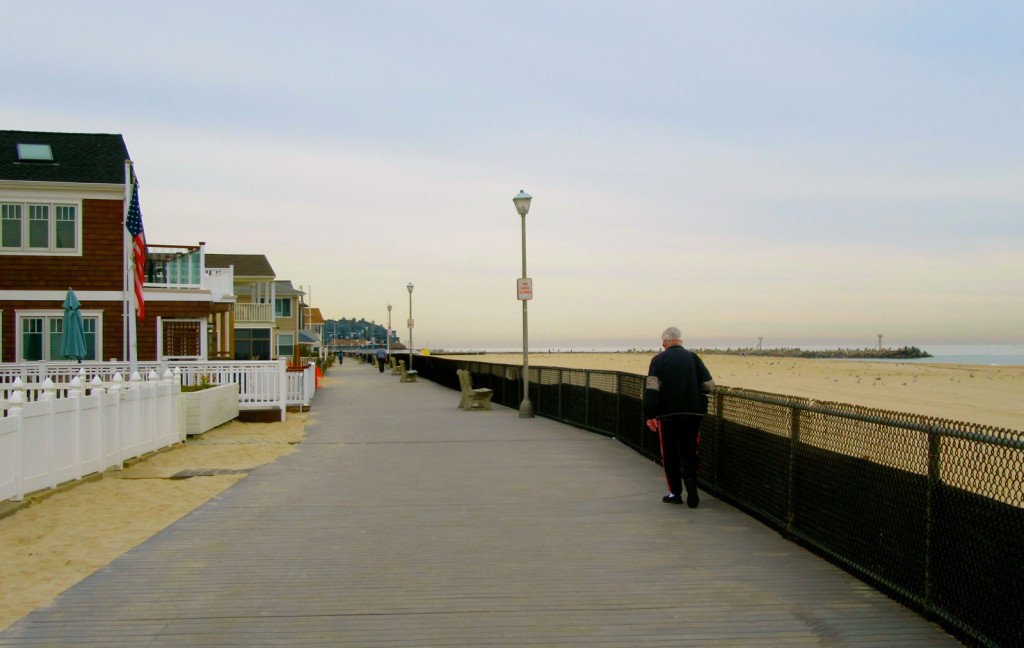 In 1927, Charles Jenkinson constructed a pavilion and pool on this beachfront property. By 1977, after he had amassed quite a franchise, Jenkinson sold his properties to Pat Storino. Storino consolidated ownership of most boardwalk commercial holdings and kept the Jenkinson's name.
Meander past all the concessions and rides, past Martell's Tiki Bar, past the wonderful and diverse Jenkinson's Aquarium – Northward towards the inlet. Shops thin out and homes, whose decks and terra-cotta patios abut the boardwalk, take their place.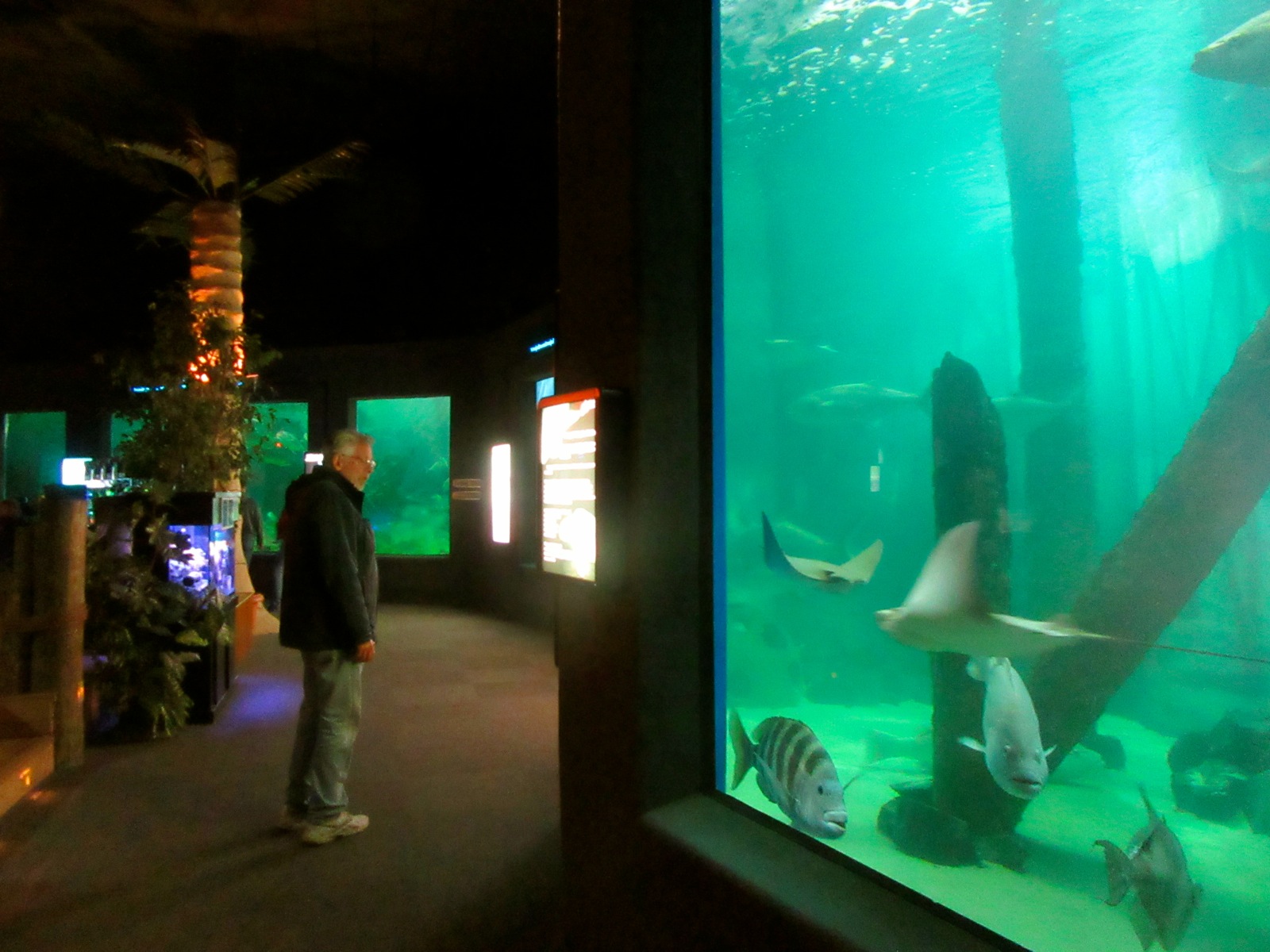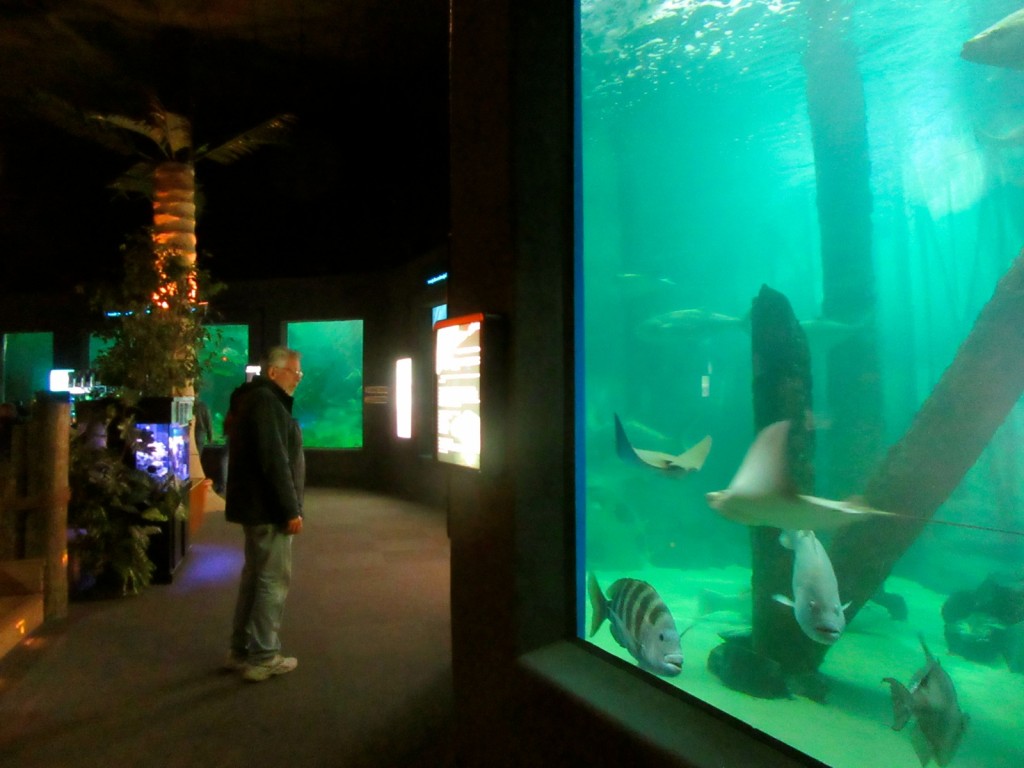 As small living creatures museums go, this one is exceptionally well designed and worth visiting. Even without kids. (Though it does seem to be a favorite outing for grandparents with small grandchildren).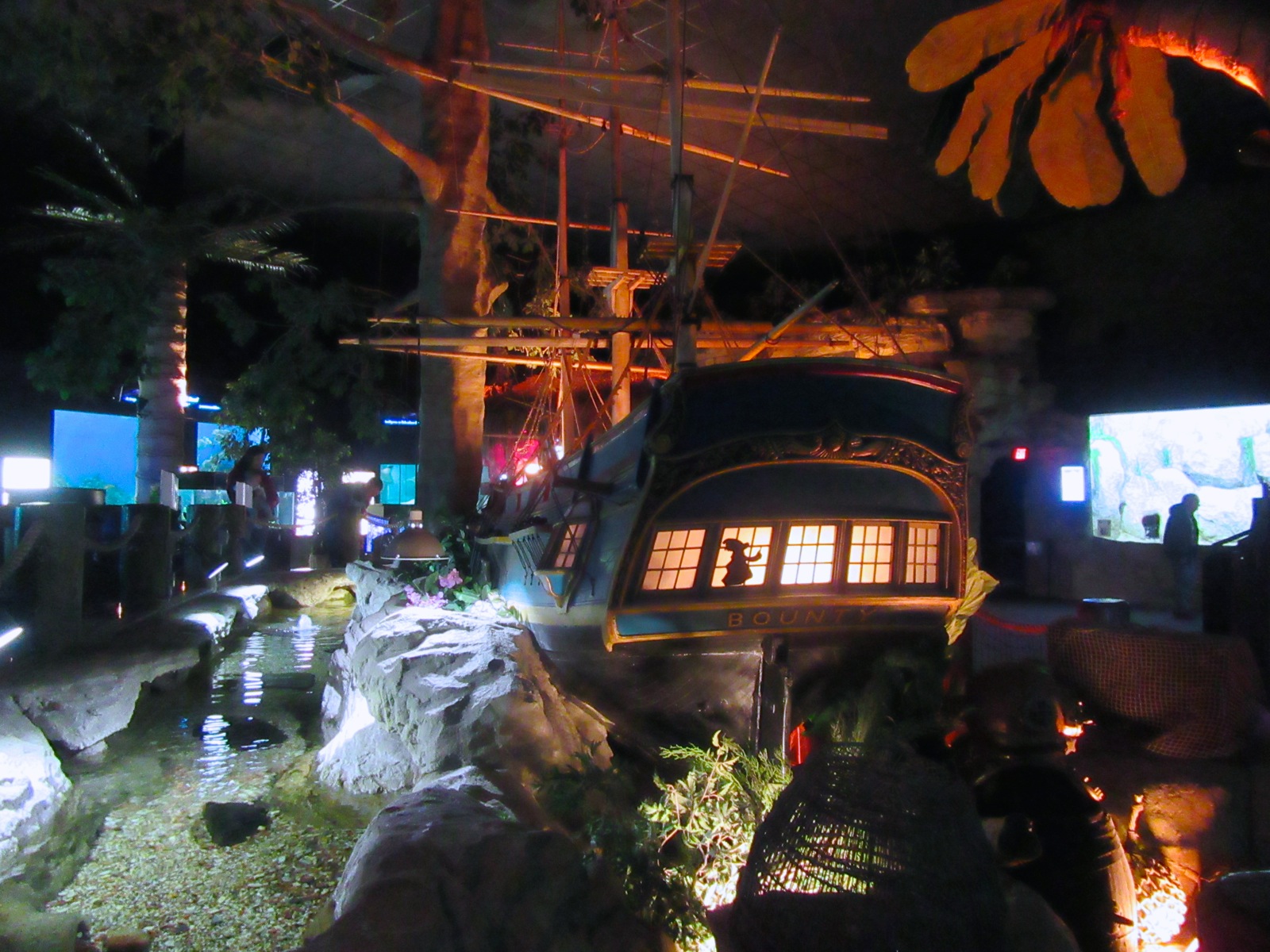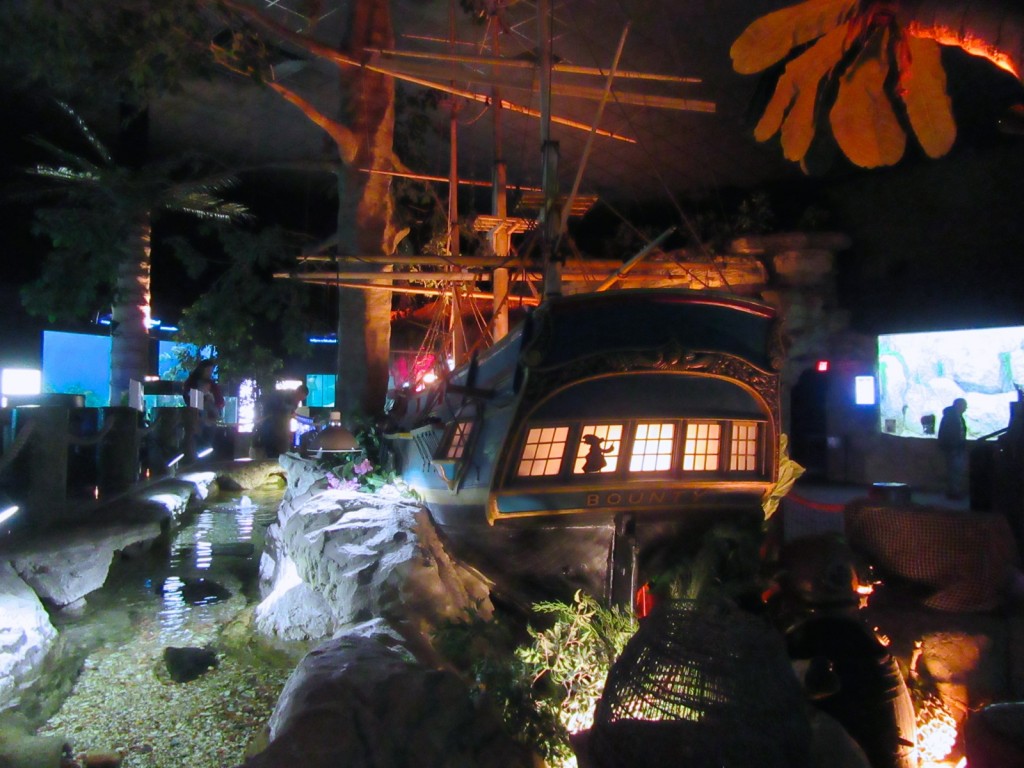 On two floors, you'll find sharks, penguins, seals, sea rays, and other sea and land life found in and around the Atlantic and Pacific Oceans. The Shark Tank is appropriately chilling, stocked with those sharp-teeth swimmers and schools of large indigenous fish.
Two seals frolic in a deep tank with a small "faux beach" enclosure up top. And four large tropical parrots preen and snuggle each other behind glass.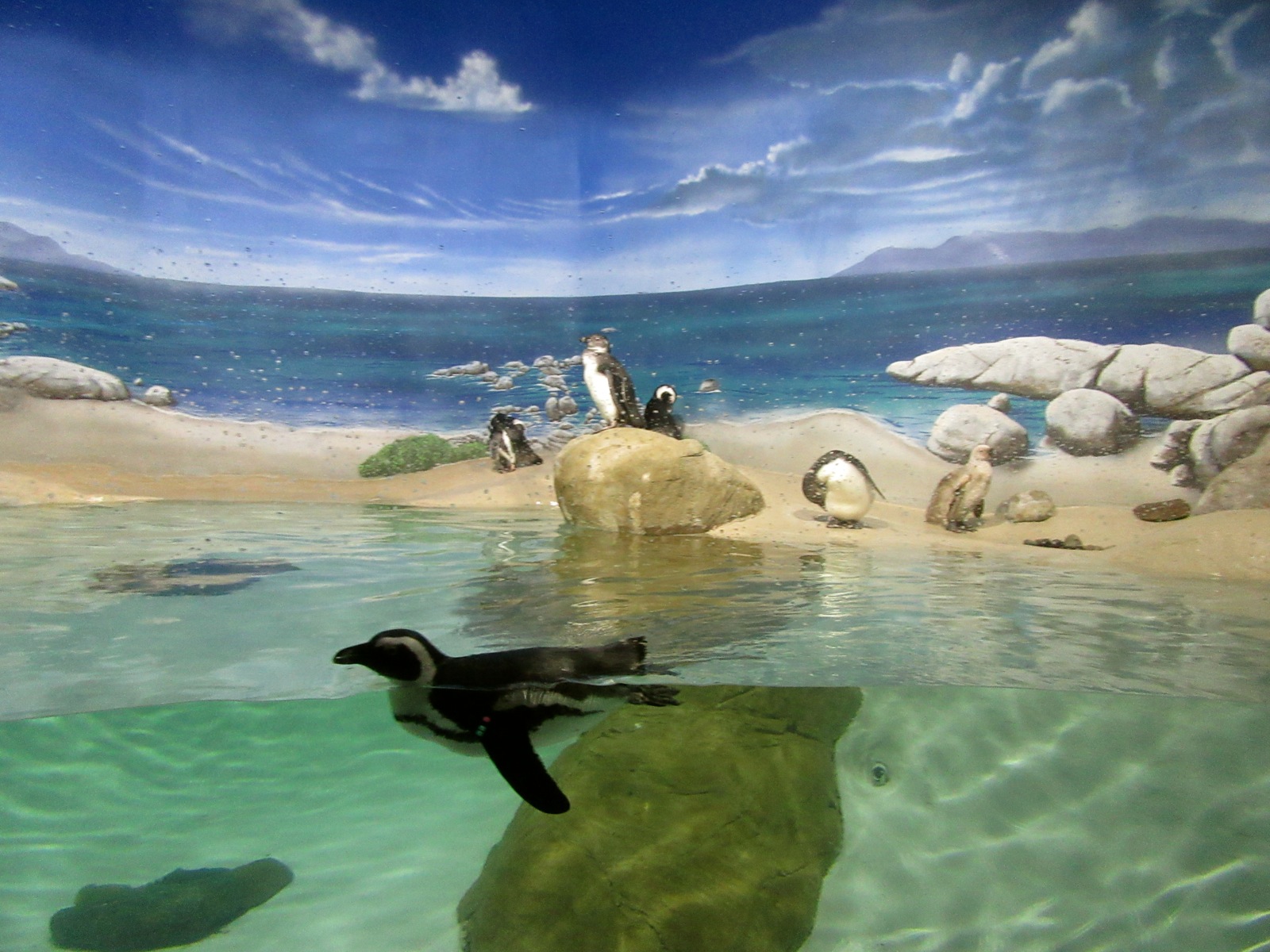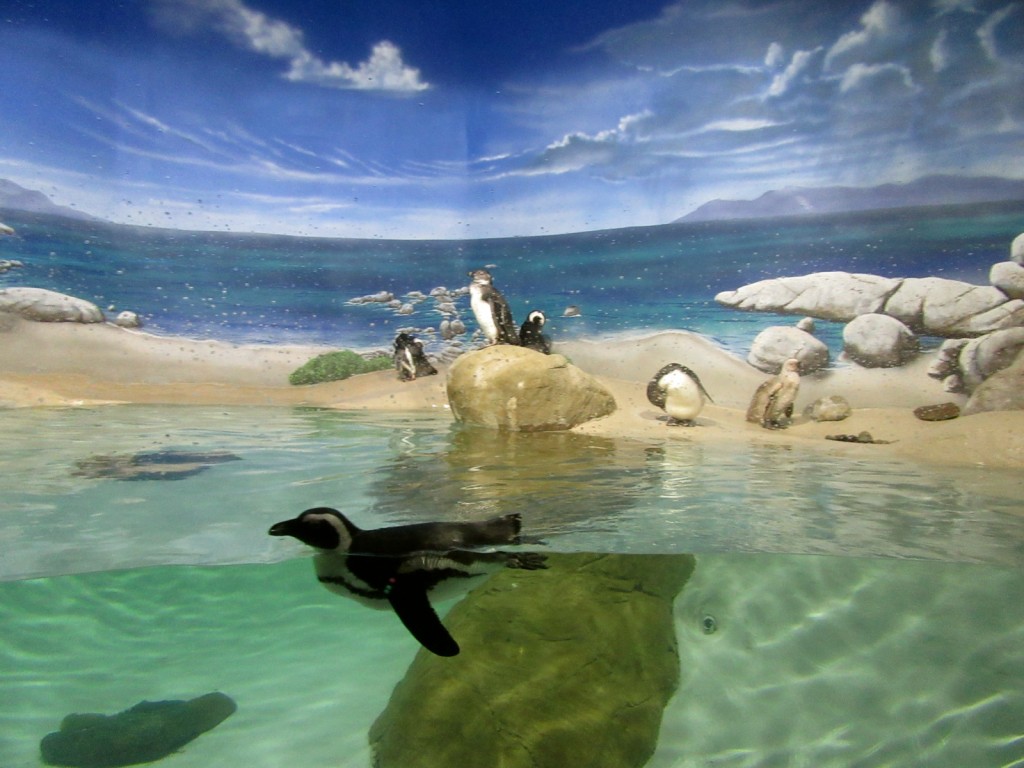 The Penguin Habitat, featuring a North Pole diorama, allows you to watch the antics of these tuxedo'd fellows from just inches away. I could have stayed for hours just watching them. $15 adults, $9 kids. open daily year round 10am-10pm in summer, 10-5pm off season.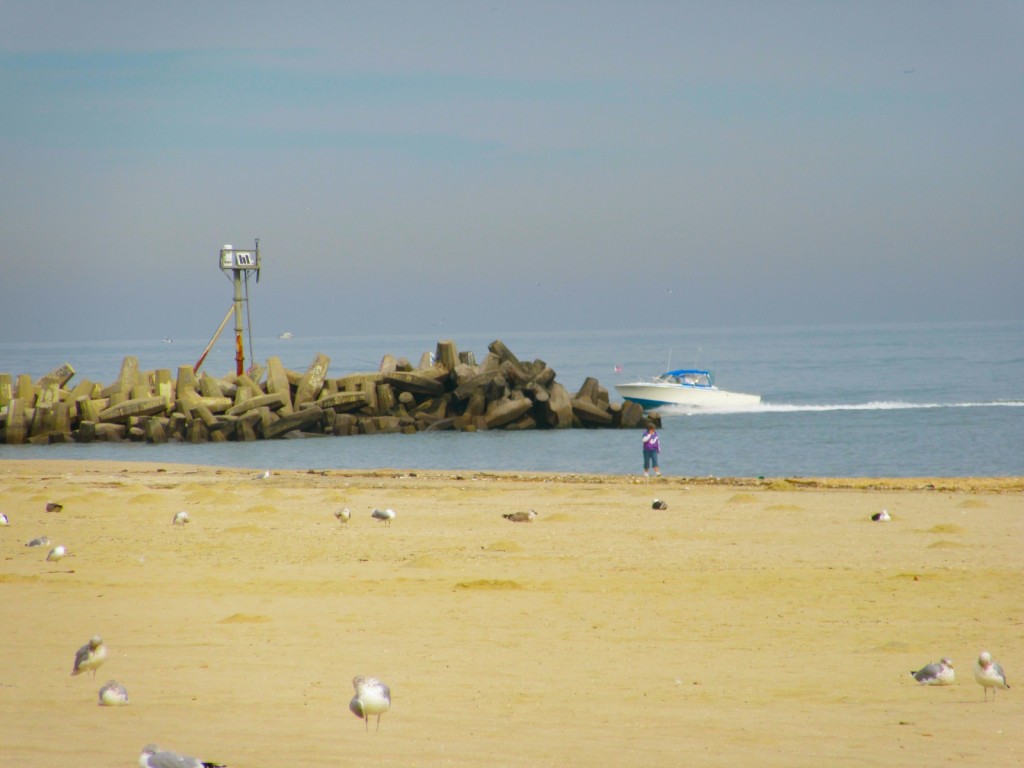 GAZE: The Jetty
At the end of the esplanade join other people sitting on benches overlooking the jetty to watch commercial and pleasure vessels pass by. While almost half a mile from the screams and clackity clacks of the amusement park rides, this part of the walkway holds its own mellow appeal.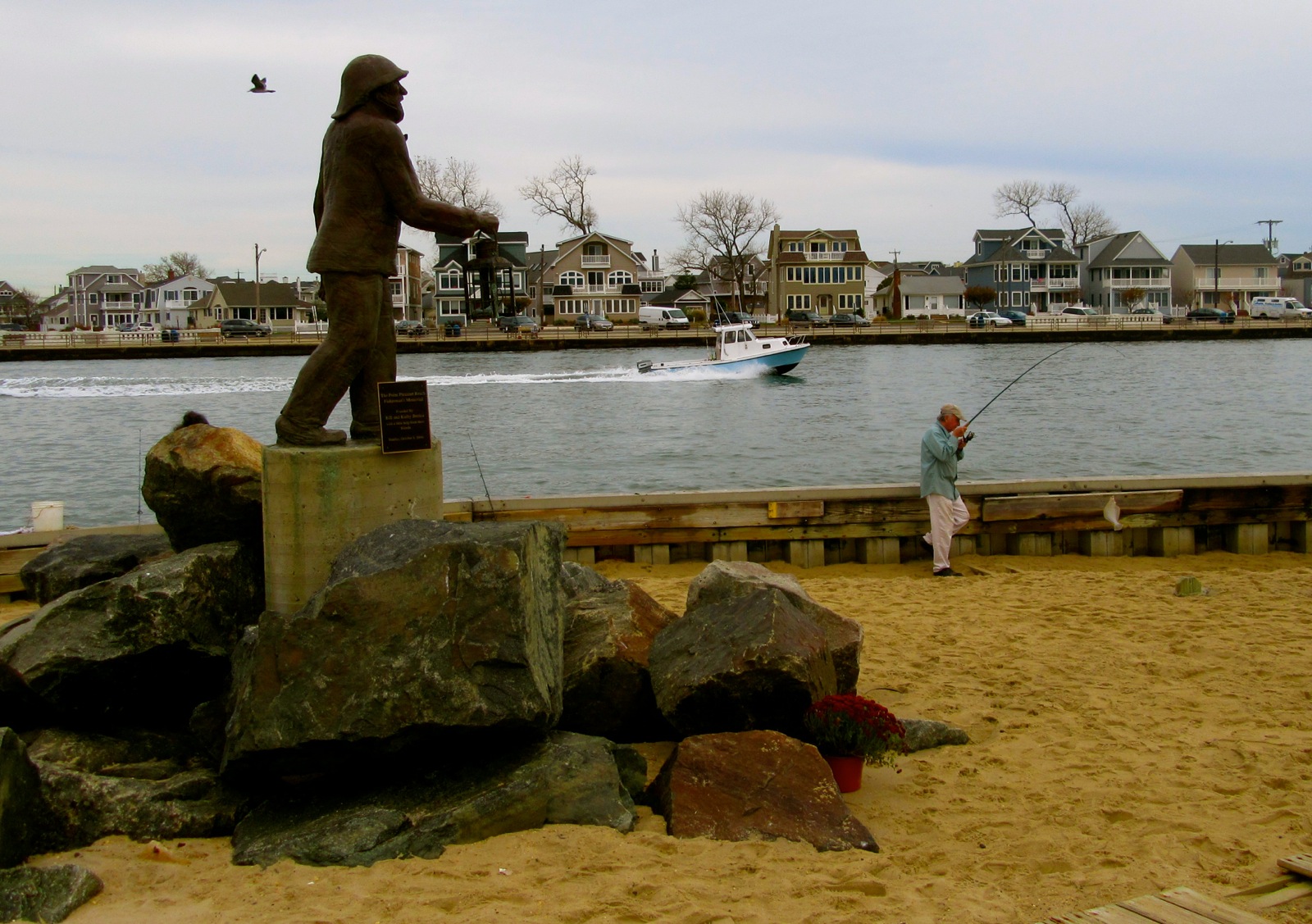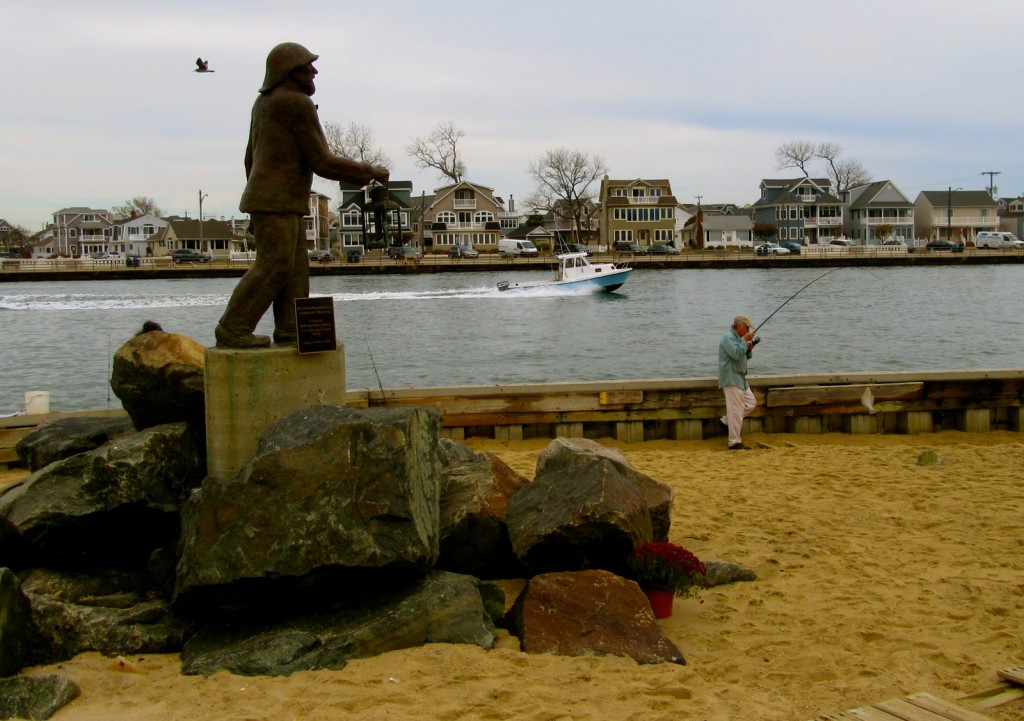 SEE: Fisherman's Memorial
Point Pleasant's most poignant landmark is the one likely overlooked by the swarms of people who take party boat charters, lick ice-cream cones and ogle hunky lifeguards on the beach each year.
The Fisherman's Memorial, a small bronze sculpture of a man in full foul-weather gear holding a lantern, stands expectantly on a pile of rocks near the inlet jetties, waiting for the men who will never return from the sea.


DO: Go Fishin'
Avoid the drunken party boat hordes and troll for a variety of swimming species from a smaller, more personalized 31' craft, Andreas' Toy Charters, or with other land-based anglers at the entrance to the Intracoastal Waterway on the Manasquan Inlet.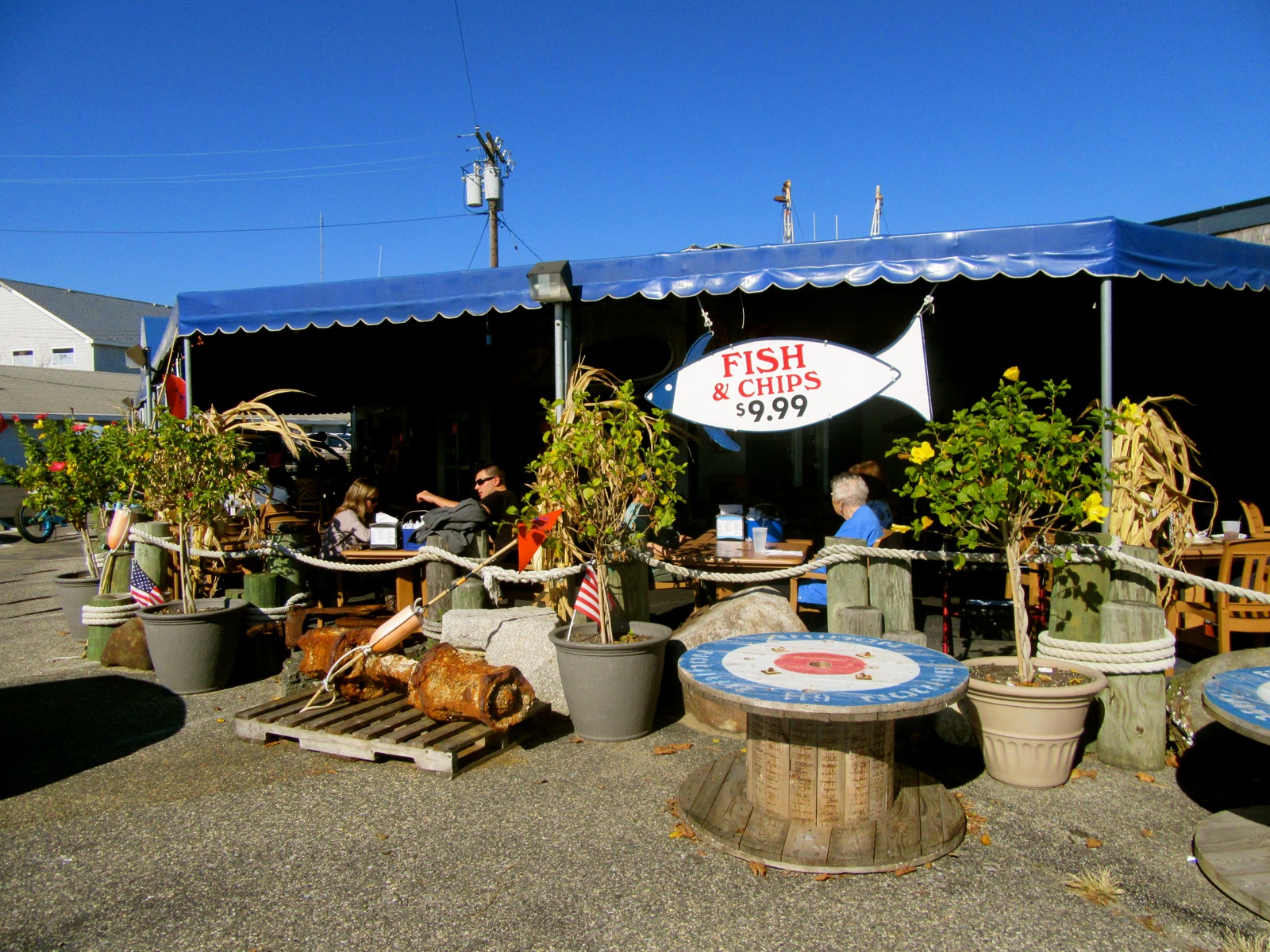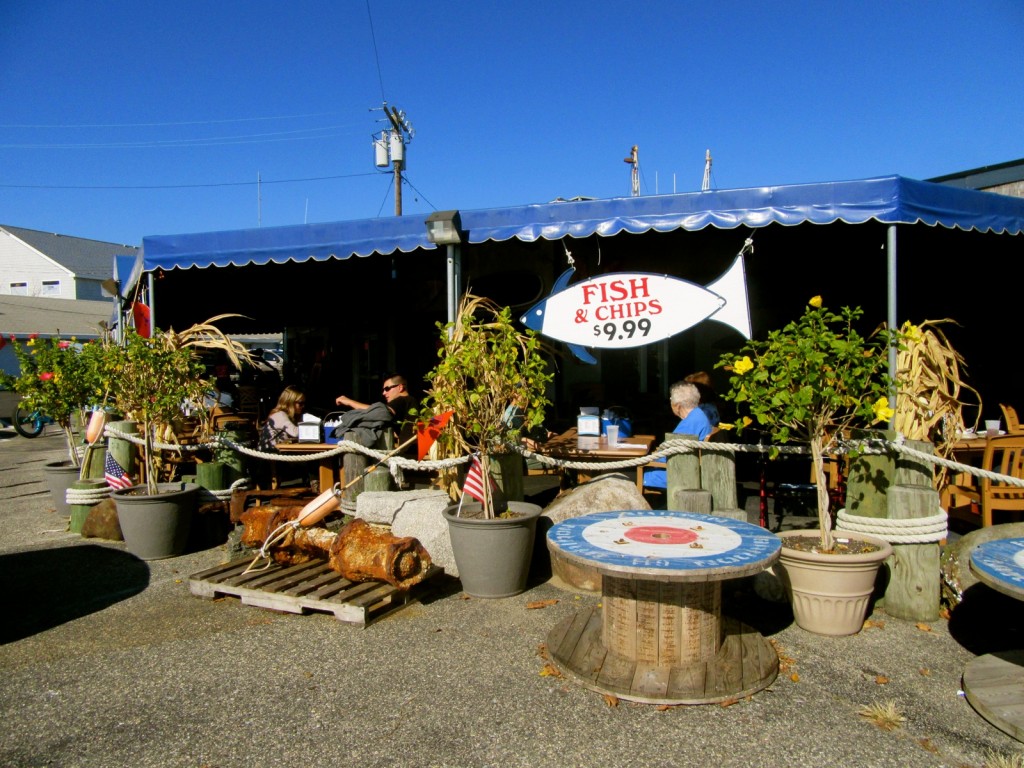 Fishing trawlers, nets still dripping from the days work, haul ass into Cook's Creek off the Manasquan Inlet, twirl around then dock proficiently behind a dozen other "draggers."
Crews, dressed in electric-orange rubber overalls, offload each catch into a dockside warehouse. Most visitors to Point Pleasant have no idea that this town is the third largest commercial fishing port in New Jersey (behind Cape May and Atlantic City).
Before it's shipped off to New York and elsewhere however, visitors can purchase fish, lobster and other seafood fresh off the boat here.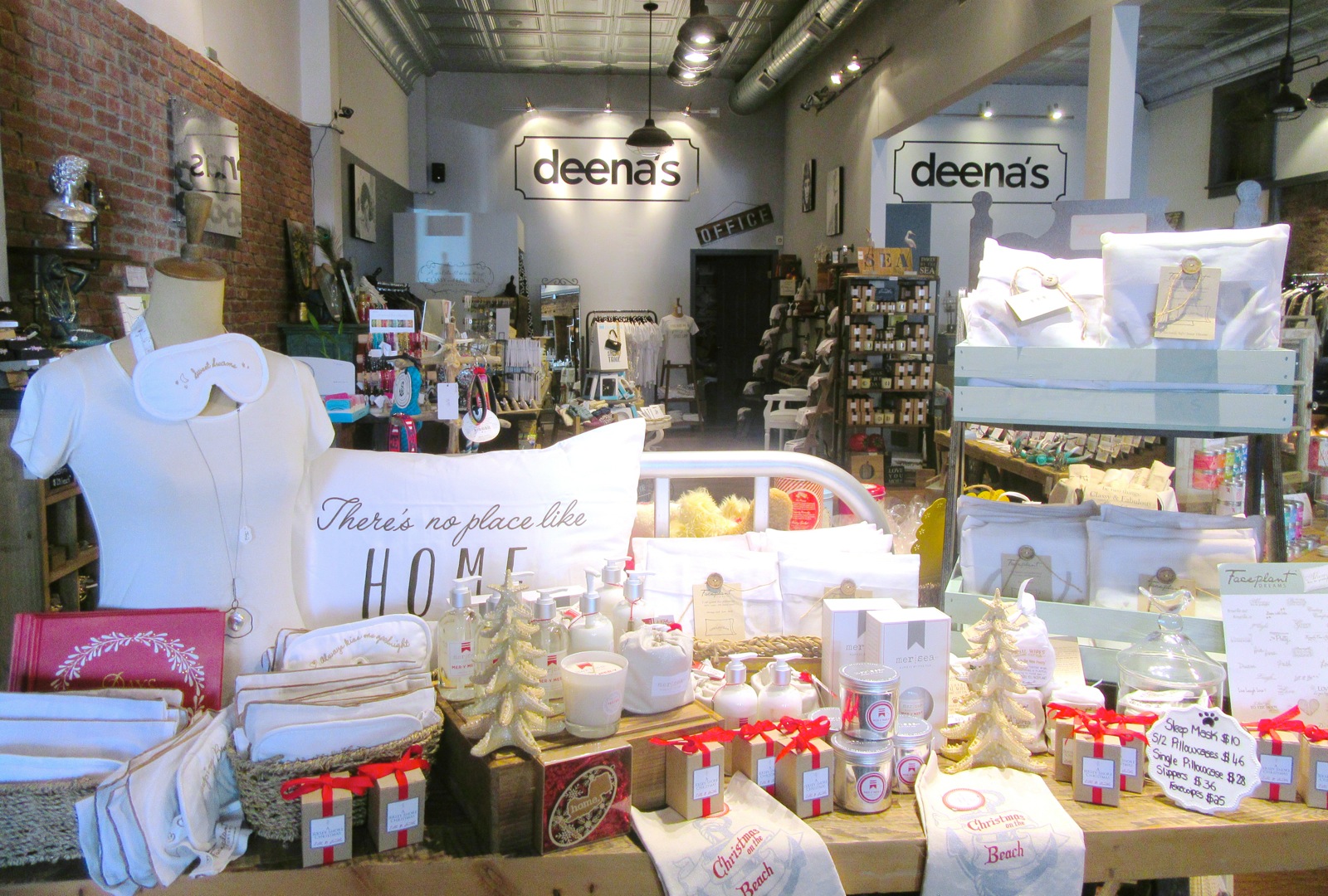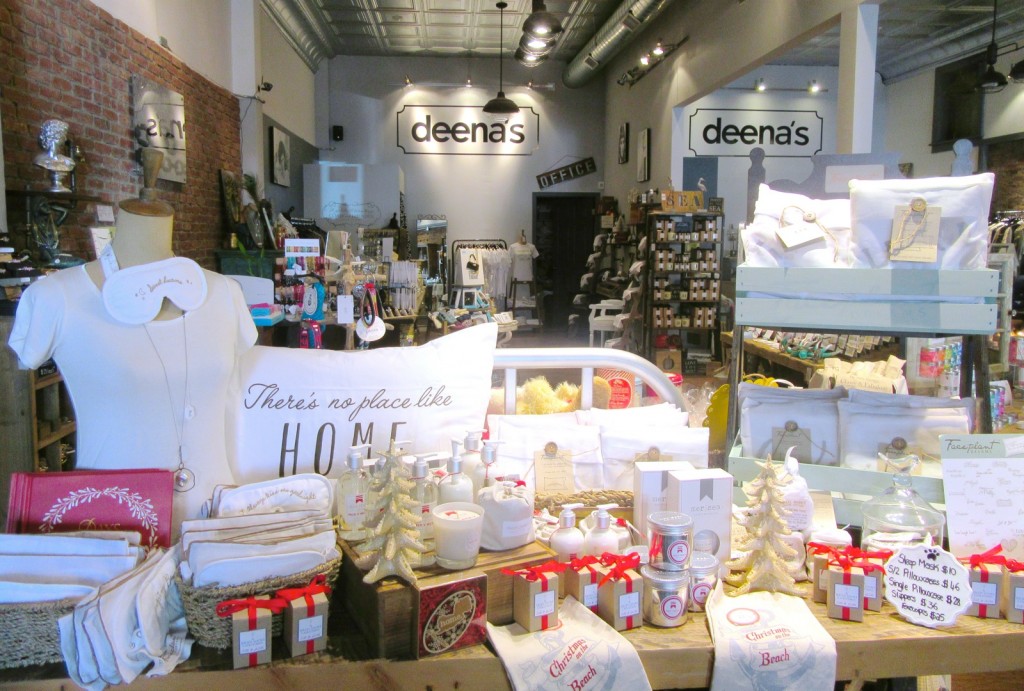 Certainly not your Mother's Gift Shop (but perfect for your potty-mouth Grandma), Deena's offers an irreverent take on women's rights, wine consumption, offbeat holiday stuff, and trends of the day. You'll find tea towels and socks stamped with profanity-laced wisecracks interspersed with well-priced kitchen tools, clothing and jewelry. A joy to browse.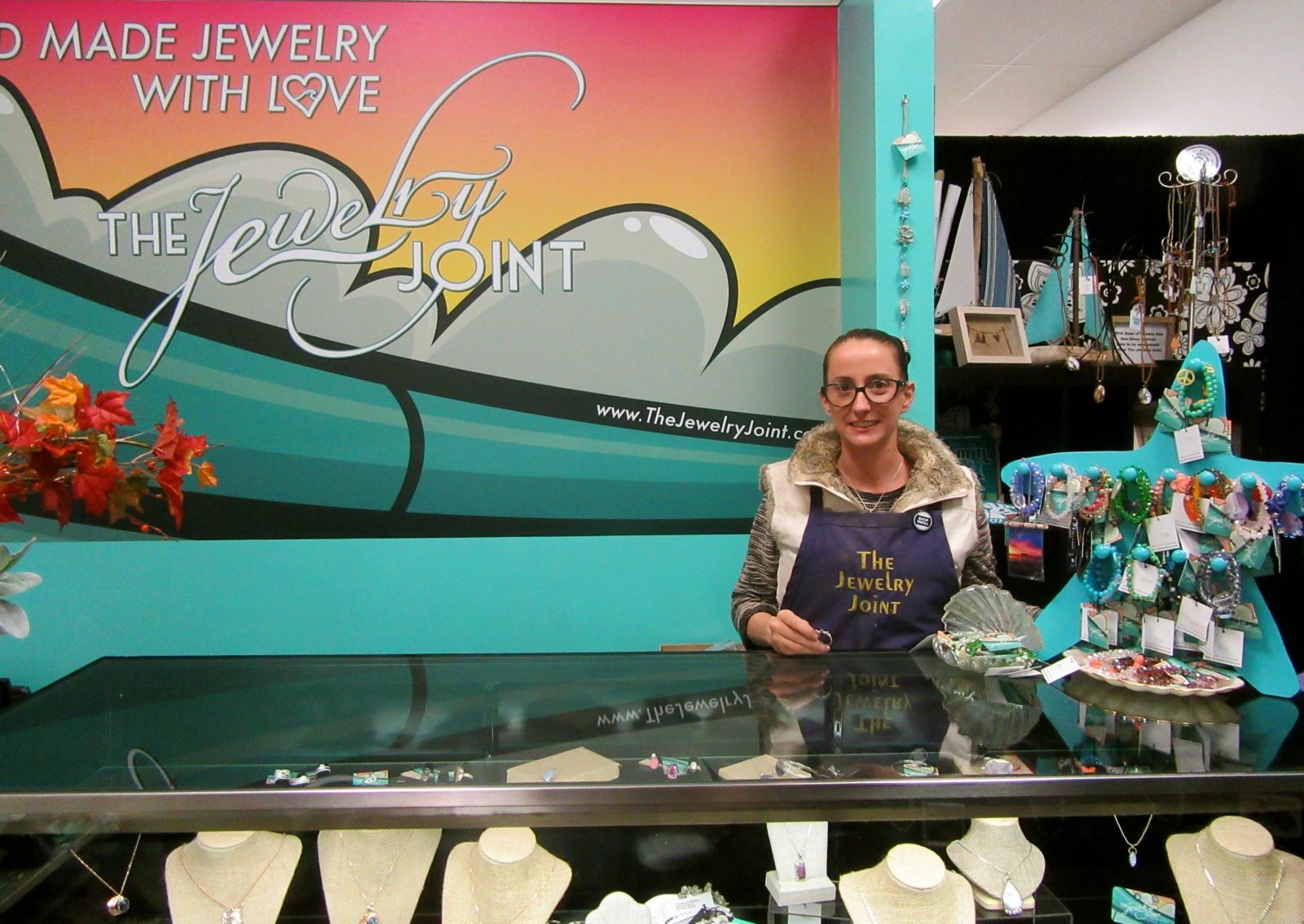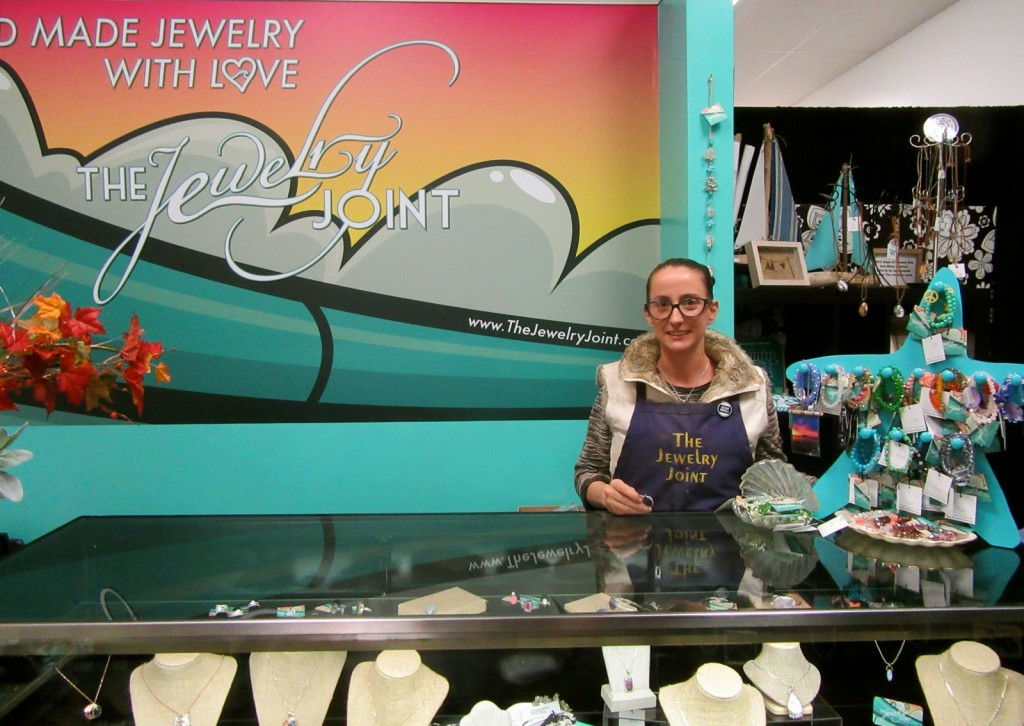 SHOP: The Jewelry Joint
Young Kelly Previte is the owner of this adorable handmade-jewelry boutique. Soliciting the help of her Mother and husband, she turned it into a true "family business."
Kelly and her husband fashion earrings, bracelets and necklaces from sterling silver, sea glass, shells and other found beach objects on workbenches in back, while Mom tends the shop in front. Ask for a peek behind the curtain – Kelly loves showing visitors how she crafts her works of wearable art.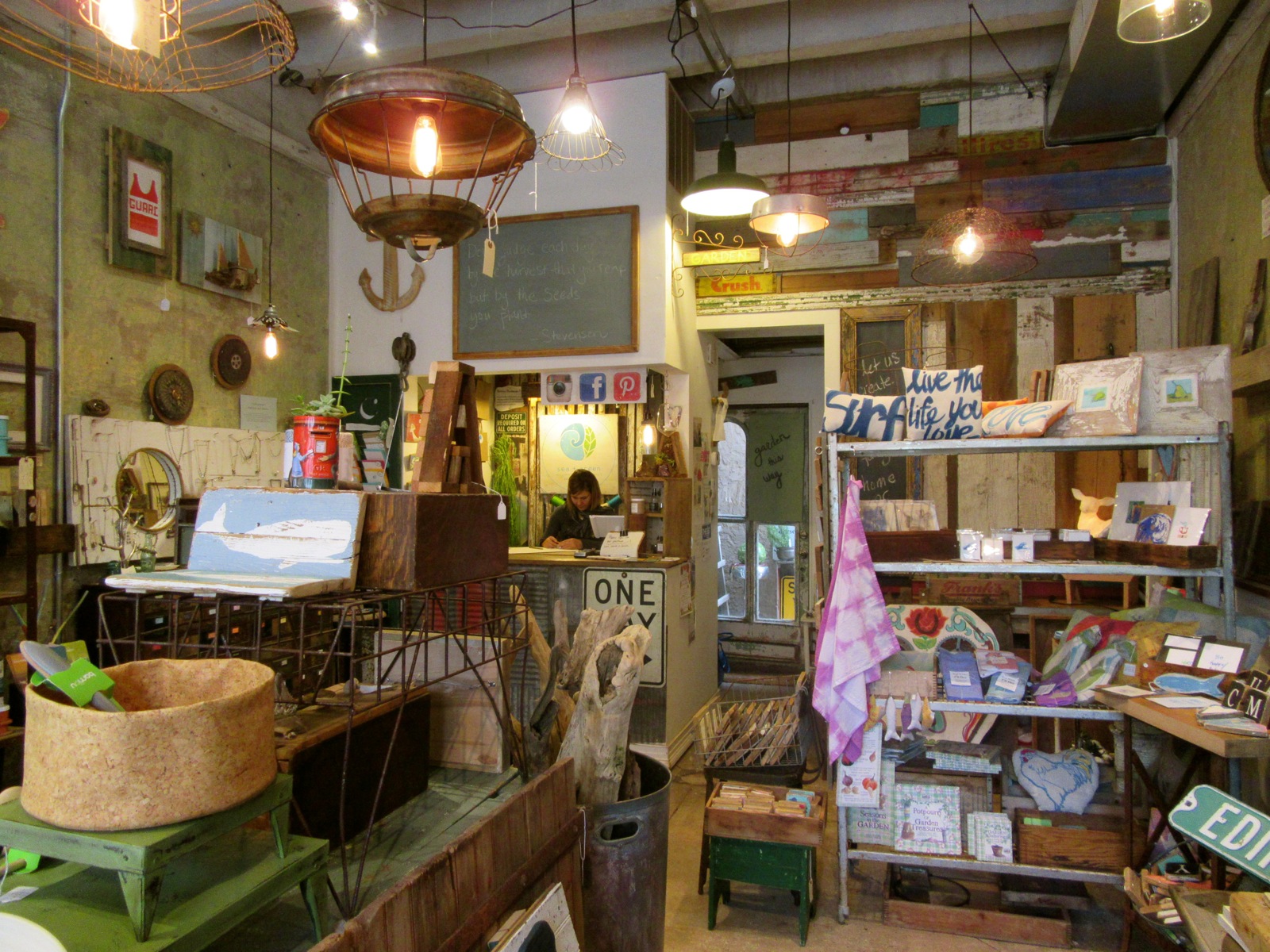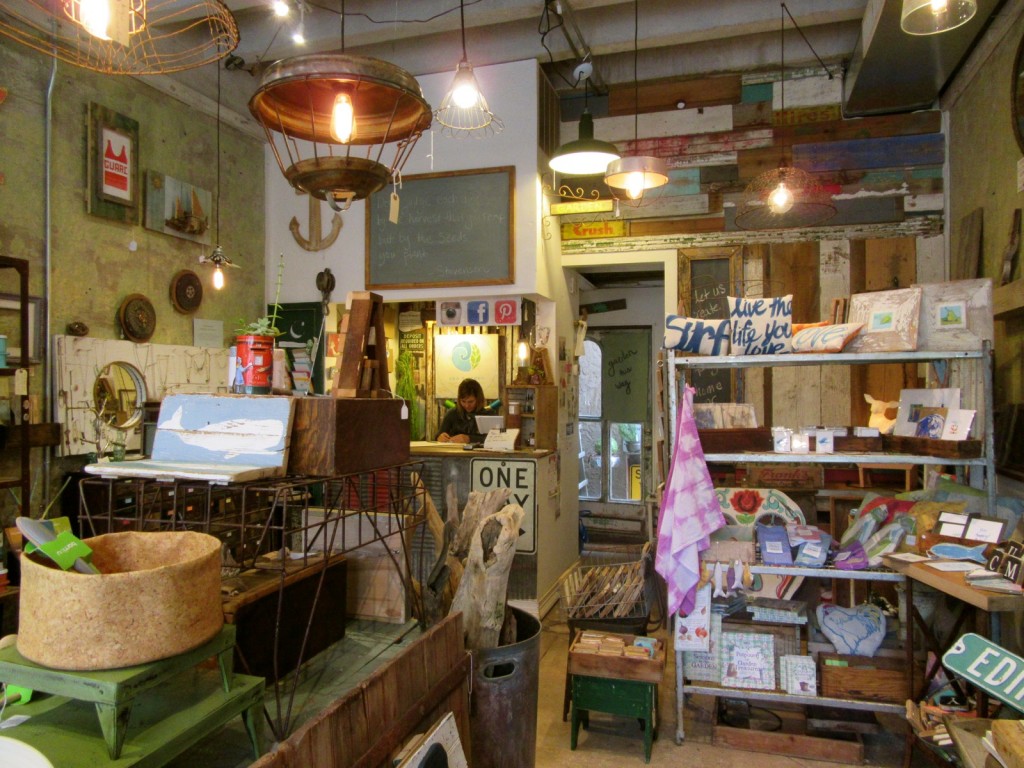 Distressed barnwood never looked so good. This "recycled materials only," environmentally conscious shop supports local craft artists. Does the rustic look appeal to you? Sea & Green will design walls for home or office using reclaimed wood.
Where to Eat in Point Pleasant NJ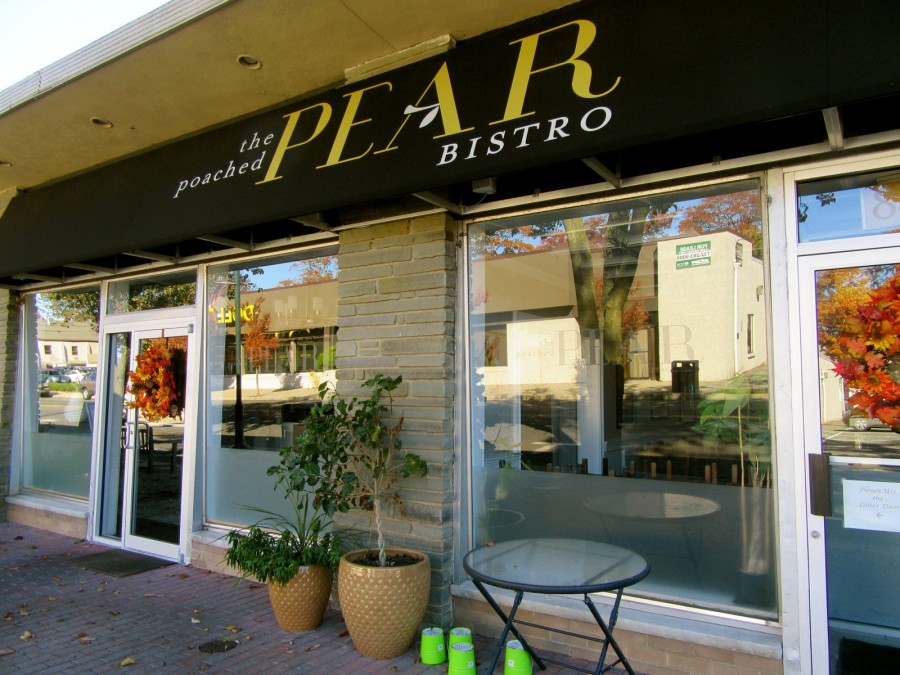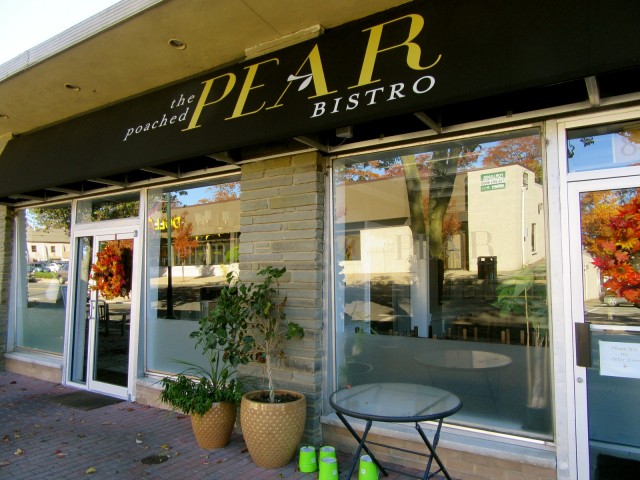 EAT/UPSCALE
For a fine, top-shelf meal, locals go to B2 Bistro+Bar for garden to plate creations, and The Poached Pear and Daniel's Bistro for innovative, trendier fare.
EAT/CASUAL
Spano's always tops the list for great Italian food. And, you can also eat at Shore Fresh before or after you take home just-caught seafood.
EAT/GREEN
Point Pleasant has been developing better alternatives to fried boardwalk food. Try Local Urban Kitchen for farm to table breakfast and lunch, and Green Planet Coffee for, yep, your a.m. cuppa joe.
EAT/DONUTS
Top That! Donuts. Donuts are the new cupcakes, and Top That! on the boardwalk joins the artisanal holey-cake crowd with better-than-franchise-donuts you have to see (and eat) to believe.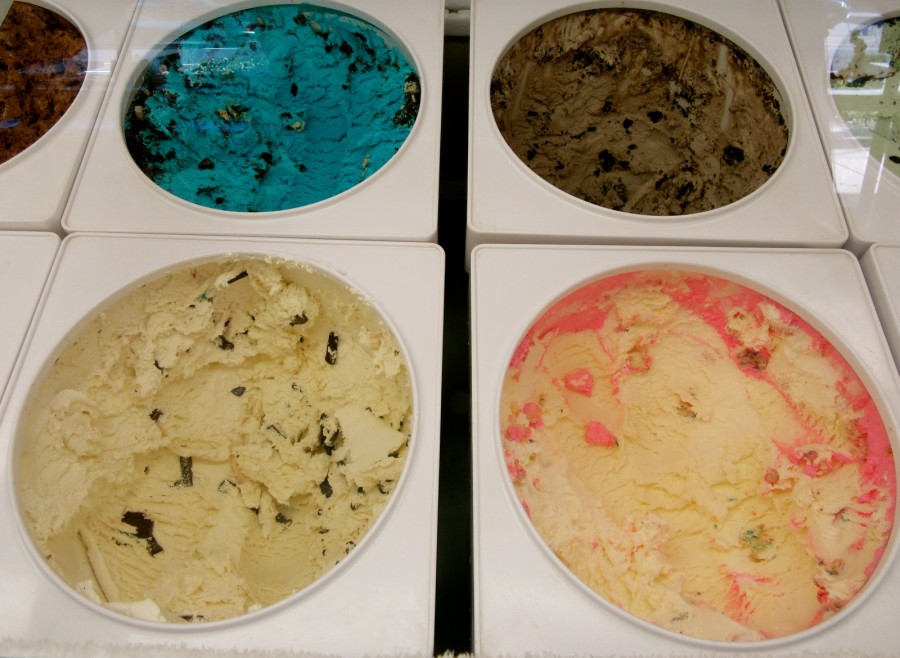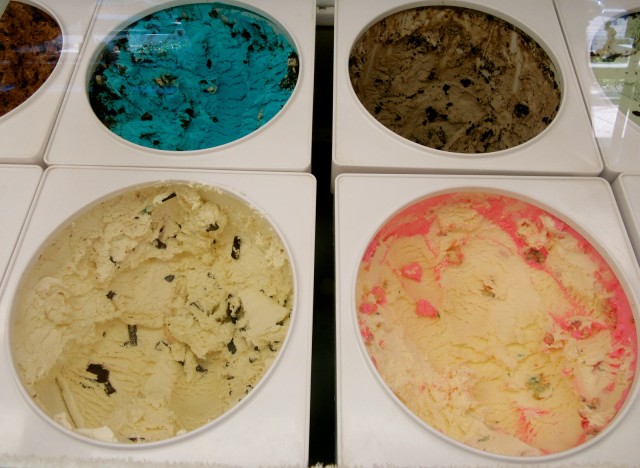 EAT/ICE CREAM
Hoffman's. Every summer resort town has one ice-cream shop that stands above the rest. In Point Pleasant, lines form out the door for Hoffman's creamy delights, which are made in huge tanks that you can see right through a viewing window.
Where to Stay in Point Pleasant Beach, NJ
For the most part, visitors stay with family or in rental homes. There are several motels and one pricey resort on the beach. But Point Pleasant Beach doesn't have much of an upscale lodging or "boutique hotel" presence. With one huge exception.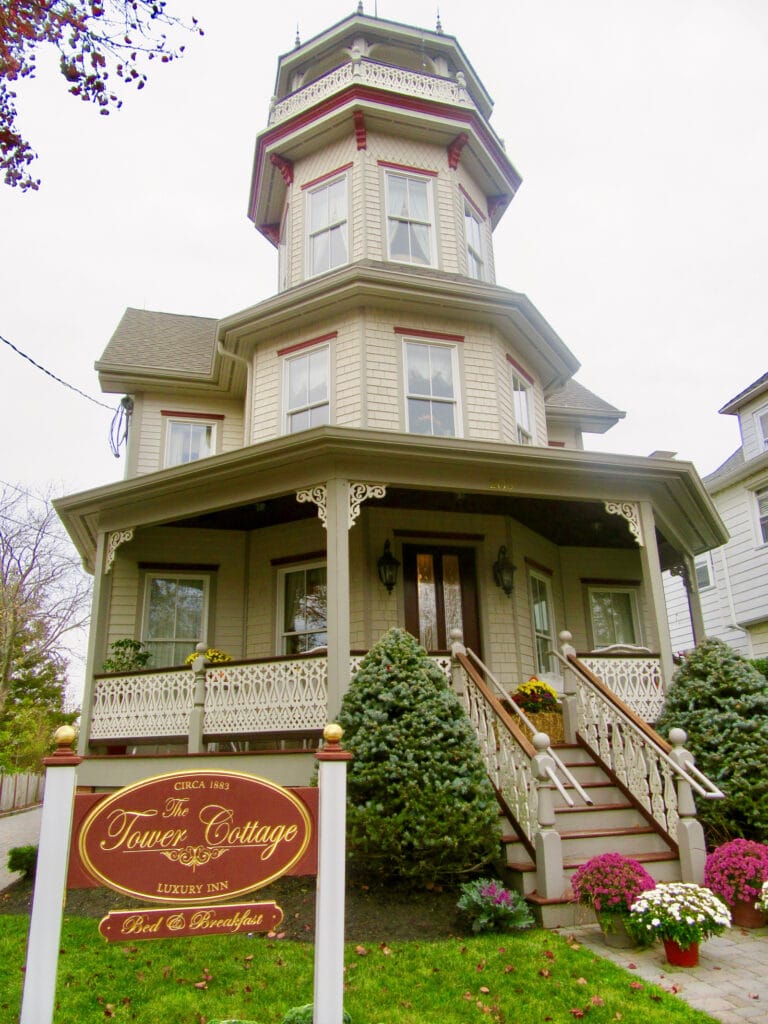 Housed in the tallest and oldest home in Point Pleasant Beach, Tower Cottage B&B places you, the guest, squarely in an English Manor or Italian Palazzo. Rooms are so royally appointed, you can be somewhat disoriented when walking out the front door to a neighborhood of small and tidy homes. Featured in a past issue of Victorian Homes Magazine, and winner of New Jersey Magazine's Best B&B, The Tower Cottage just keeps getting better each year.
First Impressions of Tower Cottage B&B
Originally built in 1883 a couple of blocks from the beach, The Tower Cottage was a Point Pleasant Beach landmark in the early 1900's. By the time Tony and Maureen Haddad purchased the rooming house that had been in Tony's family since the 1970's, it had lost its former luster and its distinctive turret tower.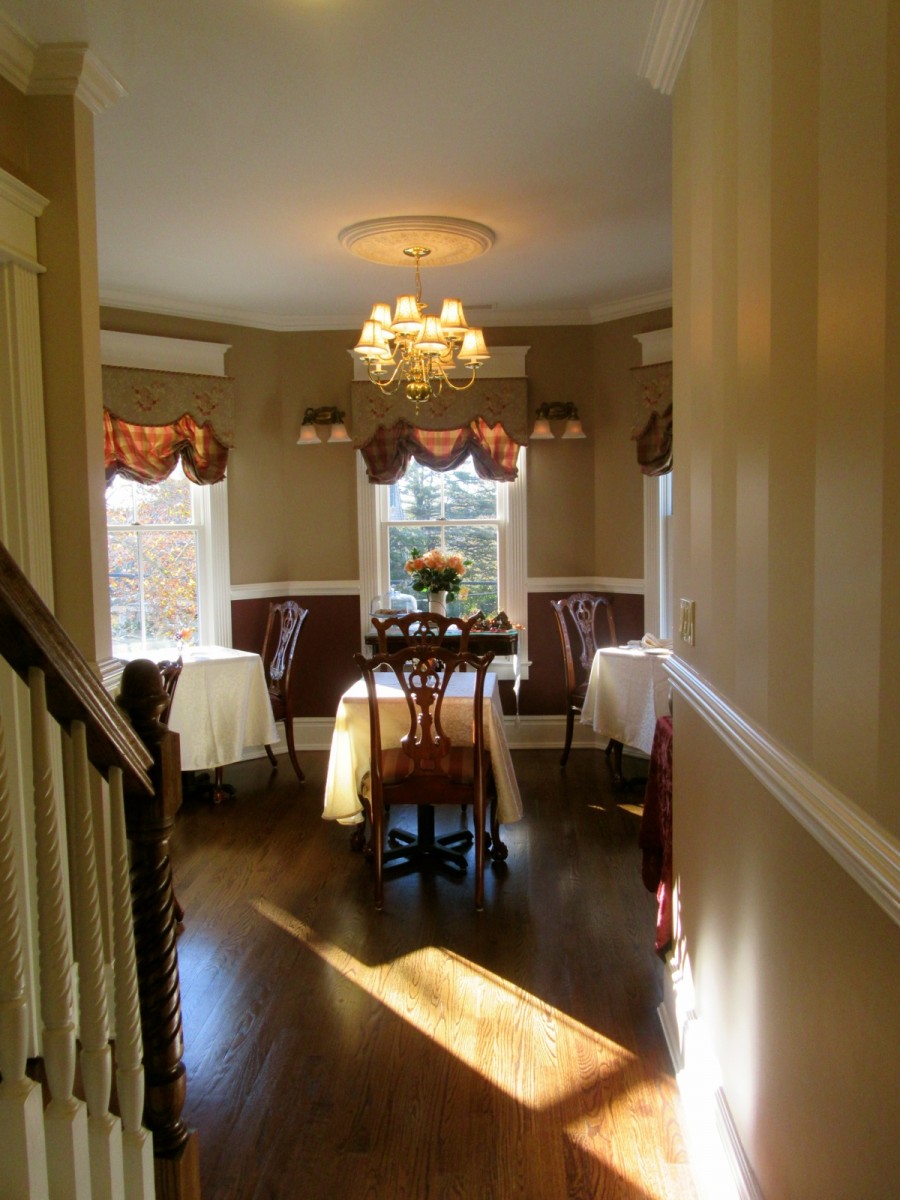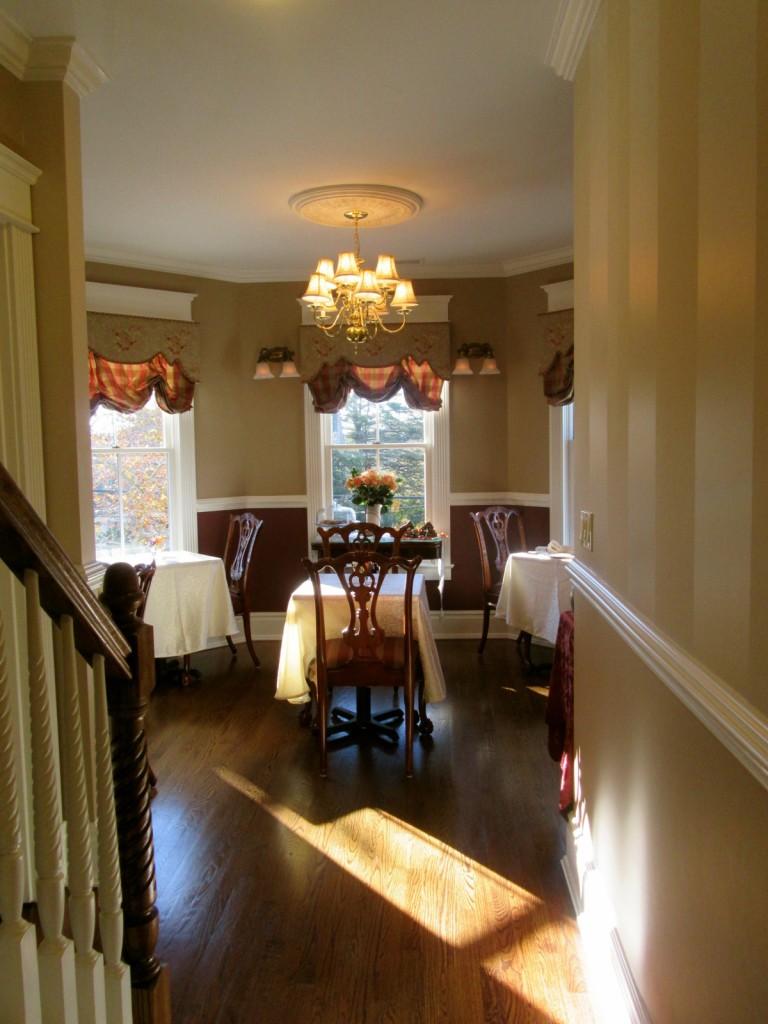 In the early 2000's the Haddad's turned the property into a premier luxury B&B through a top to bottom gut restoration and rebuilding of the namesake tower.
(Much to Maureen and Tony's surprise, a 70-something year old guest requested the Tower Suite. Apparently, it was his mother's bedroom, when his grandparents owned the house in the early 1900's-1930's. He brought a trove of photos from that era for the Haddad's to keep).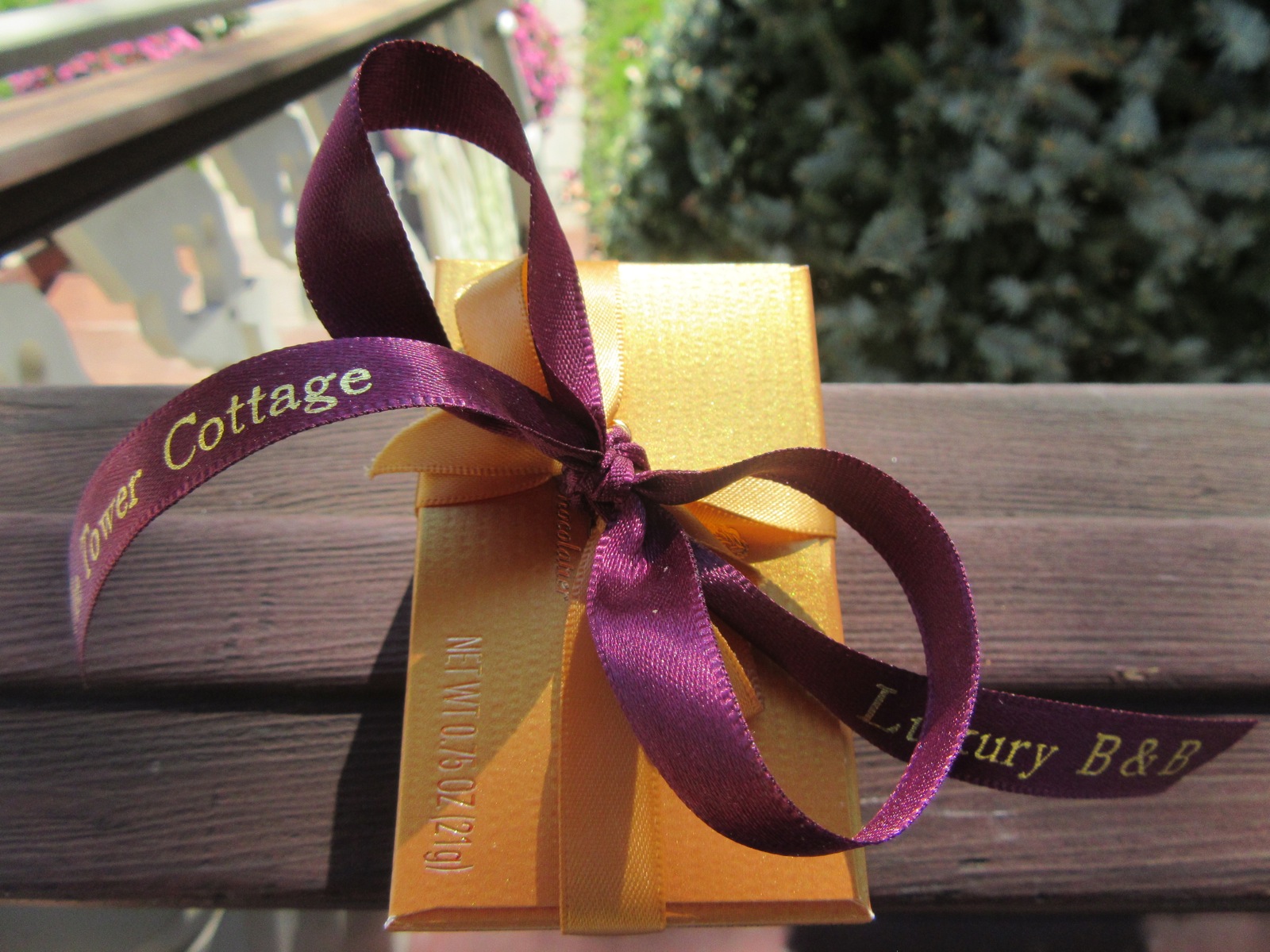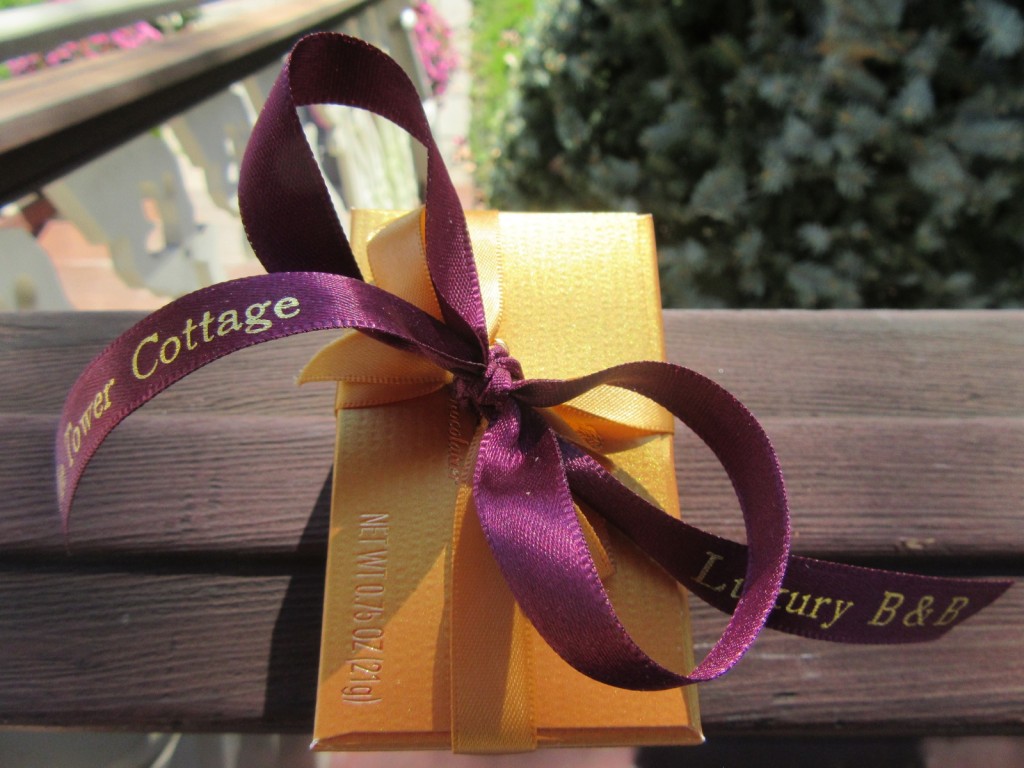 The exuberantly friendly Maureen is unabashedly romantic. She's got a penchant for crystal chandeliers, which hang in every one of the five guest rooms and bathrooms.
Tableware and ultra-soft towels are Lenox. Bedding is high-thread count Sferra with Hungarian goose down comforters. Maureen places fresh flowers in each room every day.
Rooms at Tower Cottage B&B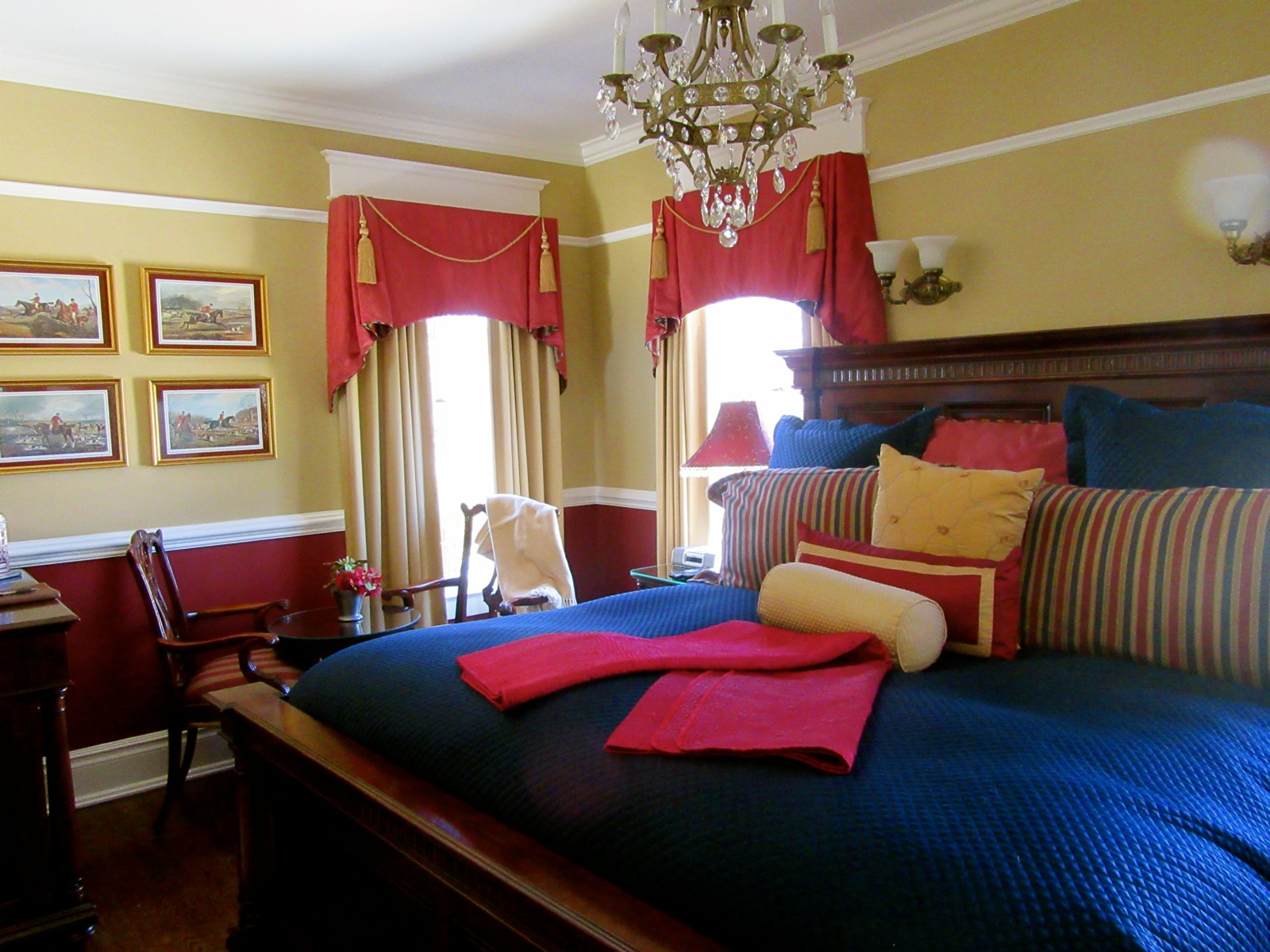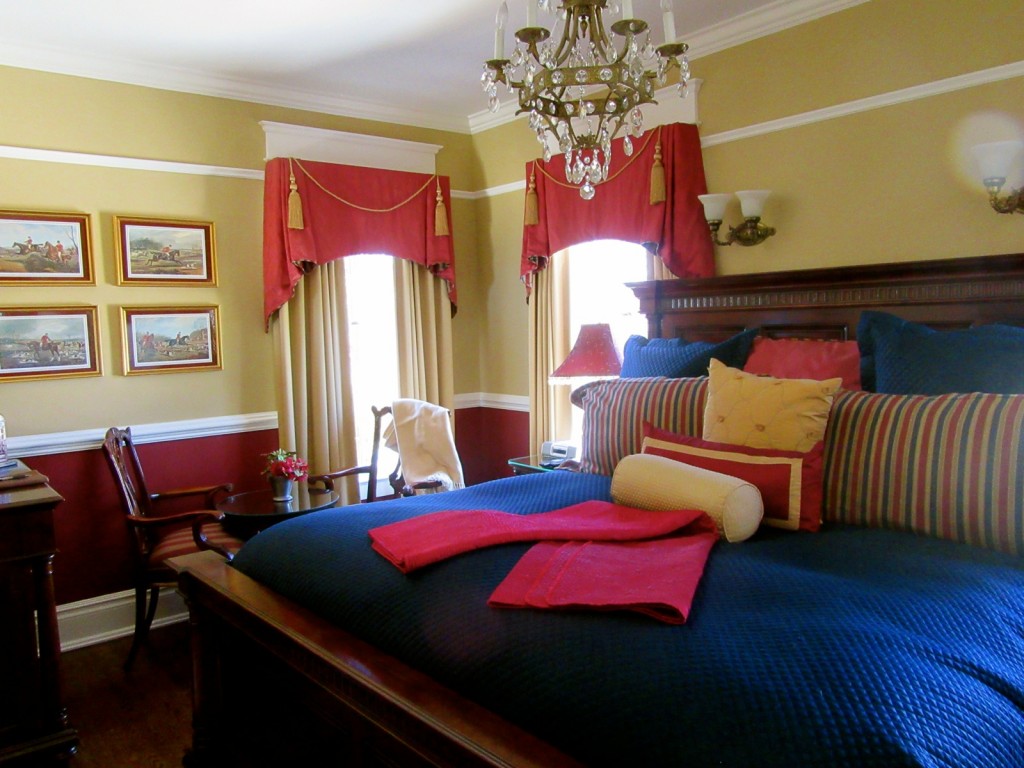 The Tower Suite within the third floor turret is the largest and most dramatic of all the rooms. The elevated bed, topped with equally lofty bedding, is rimmed by windows and capped with a crystal chandelier.
The large bathroom has a 2-person Jacuzzi and five massage spray shower. But every single room – each with a different European theme – is the height of luxury and cleanliness.
There is not a mark on any wall, a speck of dust on polished wood floors, or a smudge of dirt in the marble bathrooms. Maureen is mercurial when it comes to keeping the tubs and showers clean. She triple washes them after every use.
Dining at Tower Cottage B&B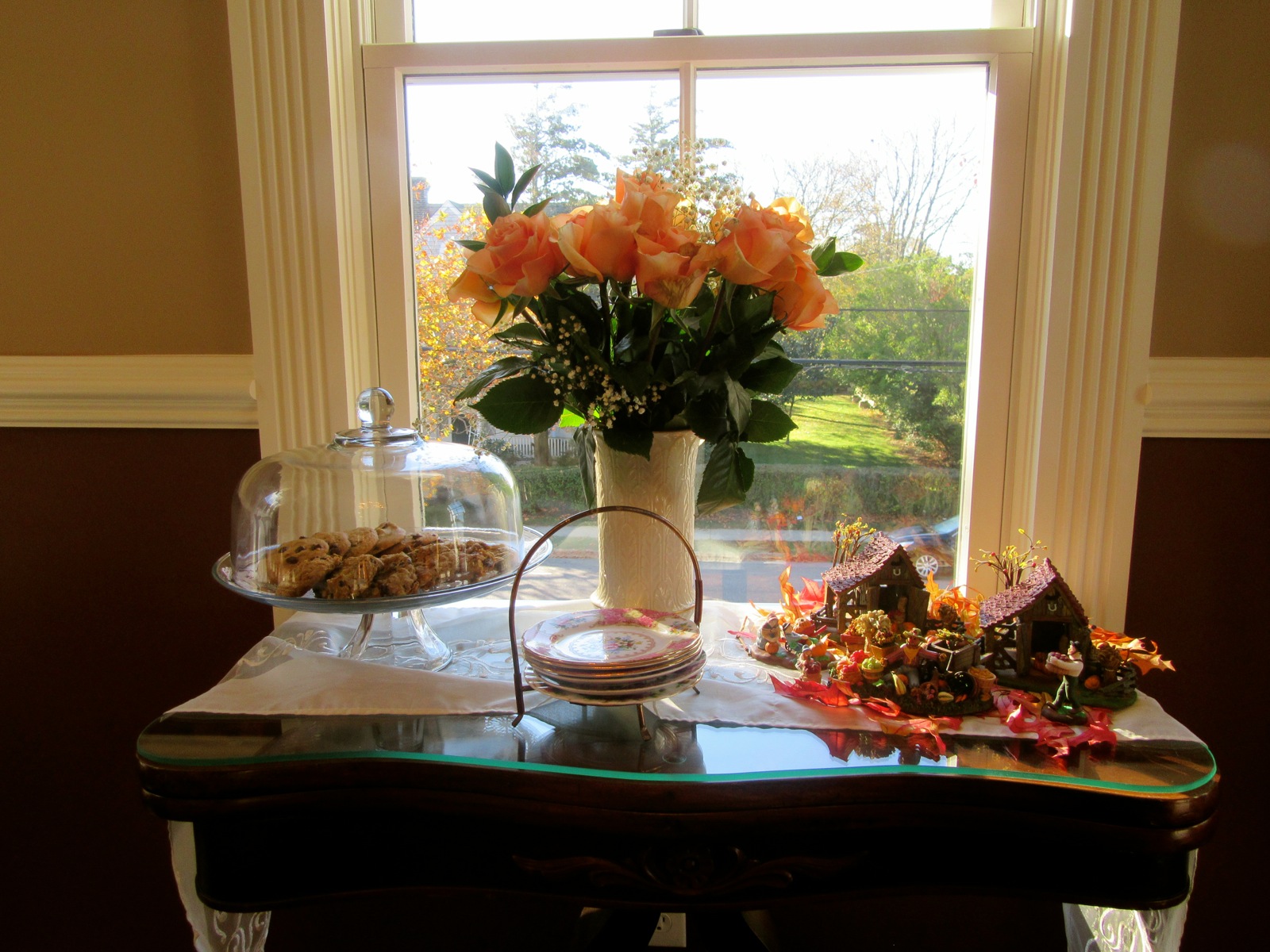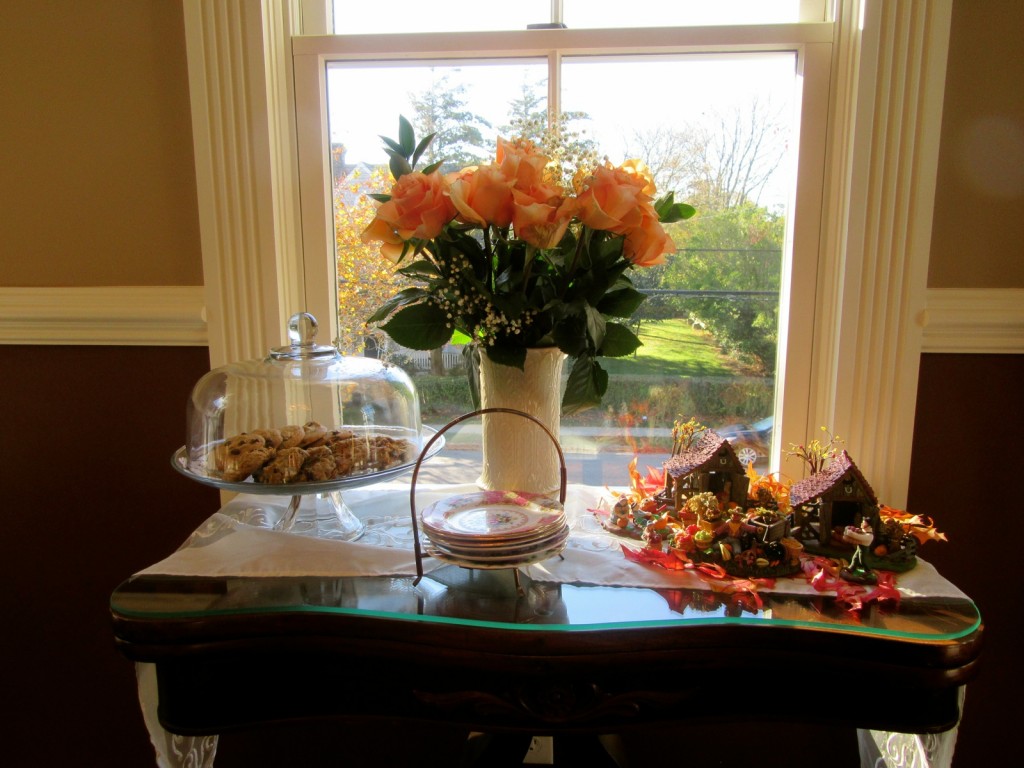 There is no on-site restaurant here, but, foodwise, Maureen has a lot of Jewish and Italian Mom about her. She welcomes each guest with a small fruit and cheese plate. A couple of hours later, she whips up scones or other baked delights for afternoon "tea," served on elegant gold-rimmed Lenox China. After dinner, fresh-baked cookies await.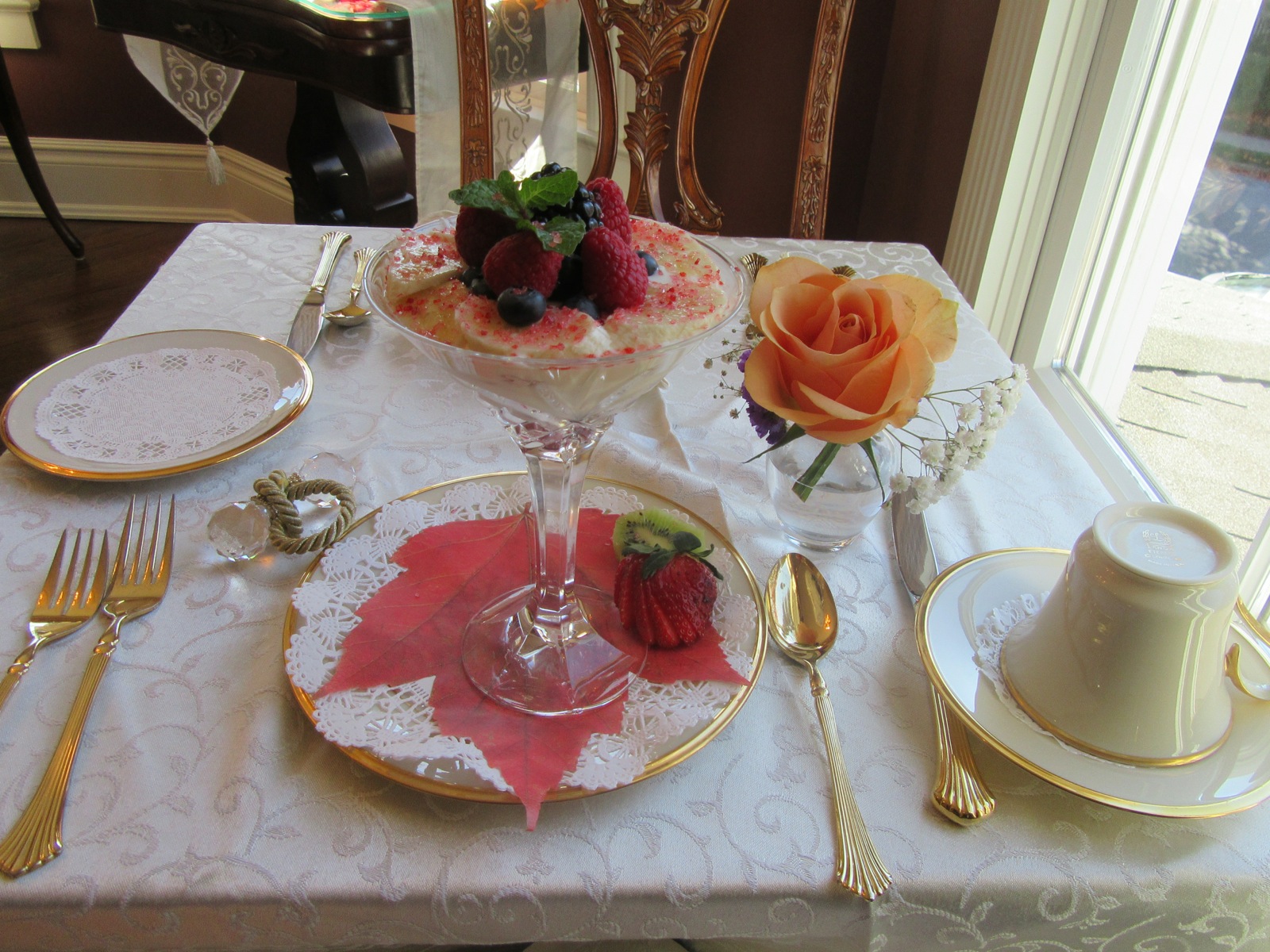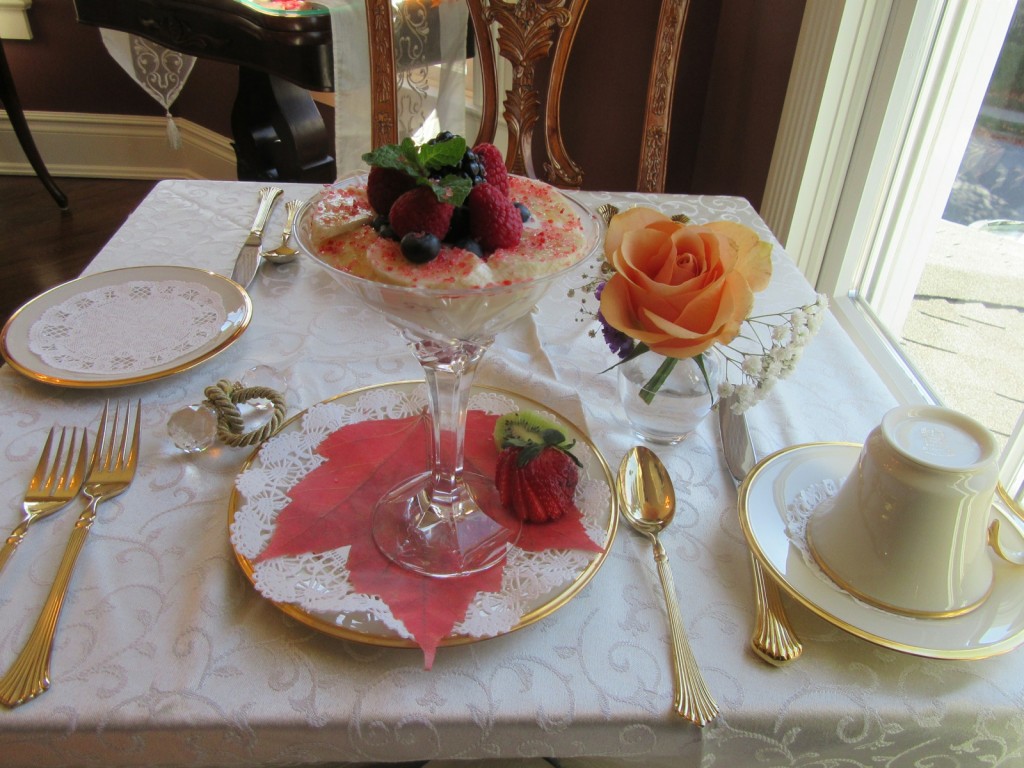 But Maureen's sumptuous breakfast are what puts Tower Cottage on many "Best Of" lists. Maureen grows her own herbs and tomatoes, which end up in her omelet specialties.
The fruit and yogurt first course is a work of art. And dishes like Eggs Benedict on flaky croissants will force you to blow your diet for sure.  Plus, i you have any dietary needs – vegan, gluten-free, kosher – Maureen will see to it that you can start your day nurtured and sated per your needs.
Rooms and suite range from $275-$495 per night depending on season. Includes cheese plate, afternoon "tea," cookies at bedtime, several course gourmet hot breakfast, beach tags and bag stuffed with (borrowed) beach towels and bottled water, and lots of TLC.