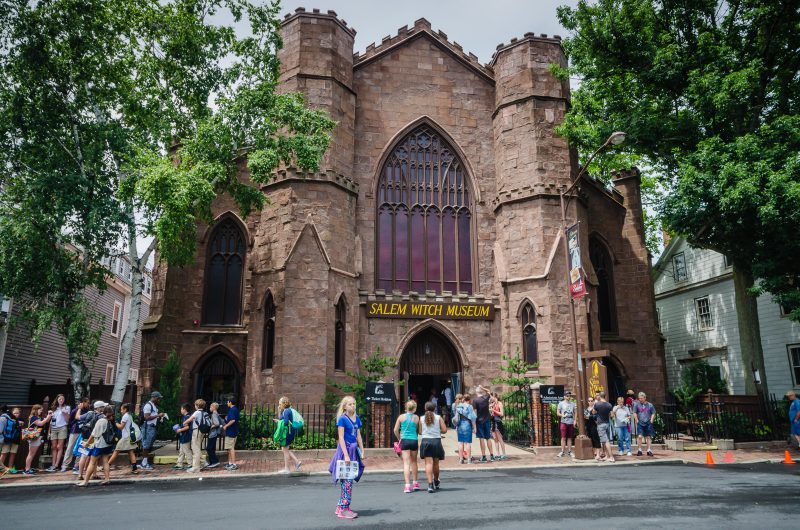 WHY GO: The Salem Witch Trials will forever be held up as a cautionary tale about mass hysteria, religious fundamentalism and unbridled power run amok. In January 1692, accusations of witchcraft and Devil worship began in the home of contentious (and unpaid) Reverend Samuel Parris and by September, as he felt more and more affronted and his sermons grew more and more sinister, nineteen residents were hung and one pressed to death beneath stones for these "crimes." Hearing the story, and the tragic consequences in the very place it happened is one (but not the only reason) to visit Salem, MA. To avoid crowds, come during shoulder season and try to keep away in October when Salem brims with broomsticks and pointy hats.
Things To Do In Salem, MA
DO: Pick up a Salem City Guide and Map at the Visitor's Center.  Well written and stuffed with information about town trivia, happenings, and sensible answers to oft-asked questions about the Trials, it's a starting point for visitors who want to make the best of their time here.
VISIT: The Witch House; The Witch House is the only surviving structure from the period, and though it's been painted black (from a nice pea-green), and no witches were ever accused or brought here, its has some ties to the trials; it was the home of Witchcraft Trial Judge Jonathan Corwin.  A guided tour will bring you through rooms decorated as they would have been in the 17th century. Each room provides information on the Witch Trials, superstitions, midwifery, and offers a good idea of women's lives at the time.
VISIT: The Salem Witch Museum. A coach-bus favorite, but for Salem newcomers interested in an overview of the Witch Trials, this museum accurately depicts what happened here in 1692 via an absorbing multi-media presentation.  It seems a bit like payback to locate this tragic tale of religious and gender persecution in a former Church, but the setting makes for a riveting performance.  A new exhibit, about Witch Hunts in our own time (McCarthyism, Japanese Internment during WWII and blaming the AID epidemic on the gay community) adds another dimension.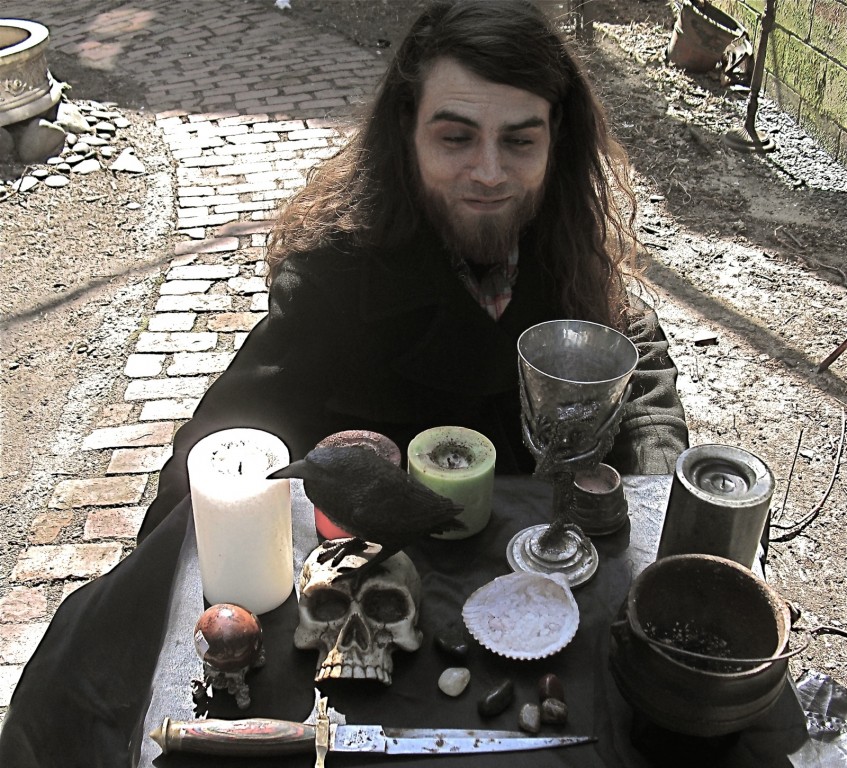 TOUR: The Witch Walk. Tom Vallor AKA "Tom the Tour Guide," who asserts that one is born a witch and after coming to that conclusion, must "come out of the broom closet," is one of many who live in Salem.  Appearing like an Amish rocker with hair to his waist and a healthy chin beard, mild-mannered Vallor begins his 90-minute walking tour asking, "why would real witches want to flock to a place known for executing women and men who were not witches at all?" The answer comes slowly, circuitously, over the course of the tour, which begins with a quick ritual – a Circle of Magic ("Like a Star Trek force field") using burning sage, a sword and magic words – and ends after a visit to the 1637 Burying Point and Salem Witch Trials Memorial. Along the way, he tells tales about Salem in the 1600's, habits of the Puritans, and stresses the fact that real witches have been vilified wrongly throughout history.  Part of the tour is a lesson in tolerance and levelheadedness.
The Witch Trials were all about regular people caught up in an insane lie, pointing fingers at each other to stay alive. (In the Devil's crazy calculus, if you were accused, but then accused someone else, you'd save your own skin.) Where did the objects and stereotypes of witchcraft originate? During the Middle Ages, everyone cooked in caldrons; "eye of newt" and "wing of bat" were most likely plants used for medicinal purposes – a fact lost on readers of Shakespeare. And why is Salem now Witch Central? Blame the TV show Bewitched.  Elizabeth Montgomery and her twitchy nose filmed 8 episodes in Salem in the summer of 1970, which garnered great public interest in this New England town. Laurie Cabot – the first "official Witch of Salem" saw a burgeoning tourist market, and opened Salem's first Witch Shop in 1971. Now, the flying witch is the town's emblem, the football team is, yep, the Salem Witches, and even cop cars sport the crone-on-broomstick.
SEE: The Bewitched Statue. Due to a mysterious studio fire in Hollywood, production of the hit TV show, Bewitched, moved to Salem for three weeks in 1970.  Known as the "Salem Sagas" the show's presence here brought national attention to Salem and kicked local tourism into high gear.  It's been high-flying ever since.
FAMOUS FESTIVAL: Salem Haunted Happenings. If you don't mind elbow-to-elbow crowds, join thousands of visitors for thousands of events from October 1st to Halloween, including Ghost Tours, Pirate Forays, and other ghoulish attractions.
SHOP: Pamplemousse Kitchen Store.  Stock up on your mead (the drink of witches) here.
SHOP: Wynott's Wands.  Are you an aspiring Harry?  Need a specific wand?  Choose among the largest selection of wands (most cost $19.95) this side of Diagon Alley.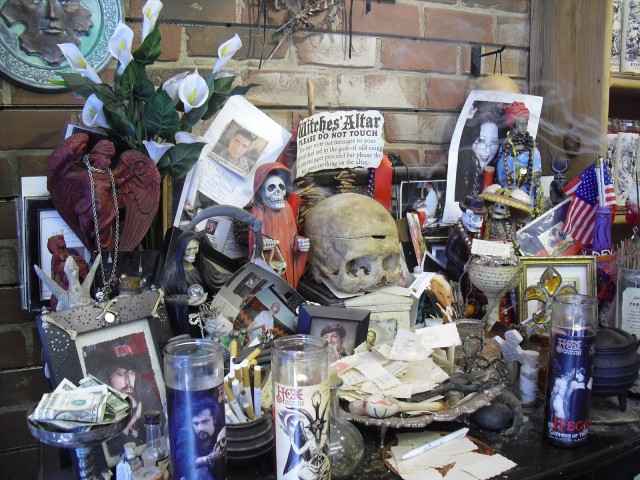 SHOP: Three shops offer everything an amateur or professional witch may need.  Crow Haven Corner, Hex Old World Witchery, and Omen are all witch-approved. There are  potions, spell kits, crystals, alters, and poppet dolls galore.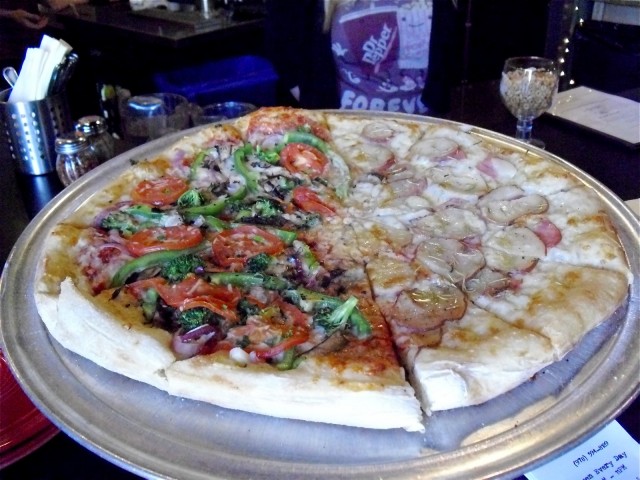 EAT: Flying Saucer Pizza Co.  So, it's not quite witch food, but will Star Trek, Aliens and Pugs in astronaut suits do?  Find sustainable locally sourced chewy-crust pizzas, fourteen local beers on tap, and inexpensive wine in this funky space. Monday night is "Nerd Trivia Night," just in case you were wondering. Gourmet pizzas $11 – $22.
Looking for hotel and restaurant recommendations? Check out our companion piece, Salem MA Without Witches.