WHY GO: What are the best things to do in Waynesboro VA? Where is Waynesboro VA, you ask?
That you don't know speaks to this Shenandoah Valley town's mellow appeal.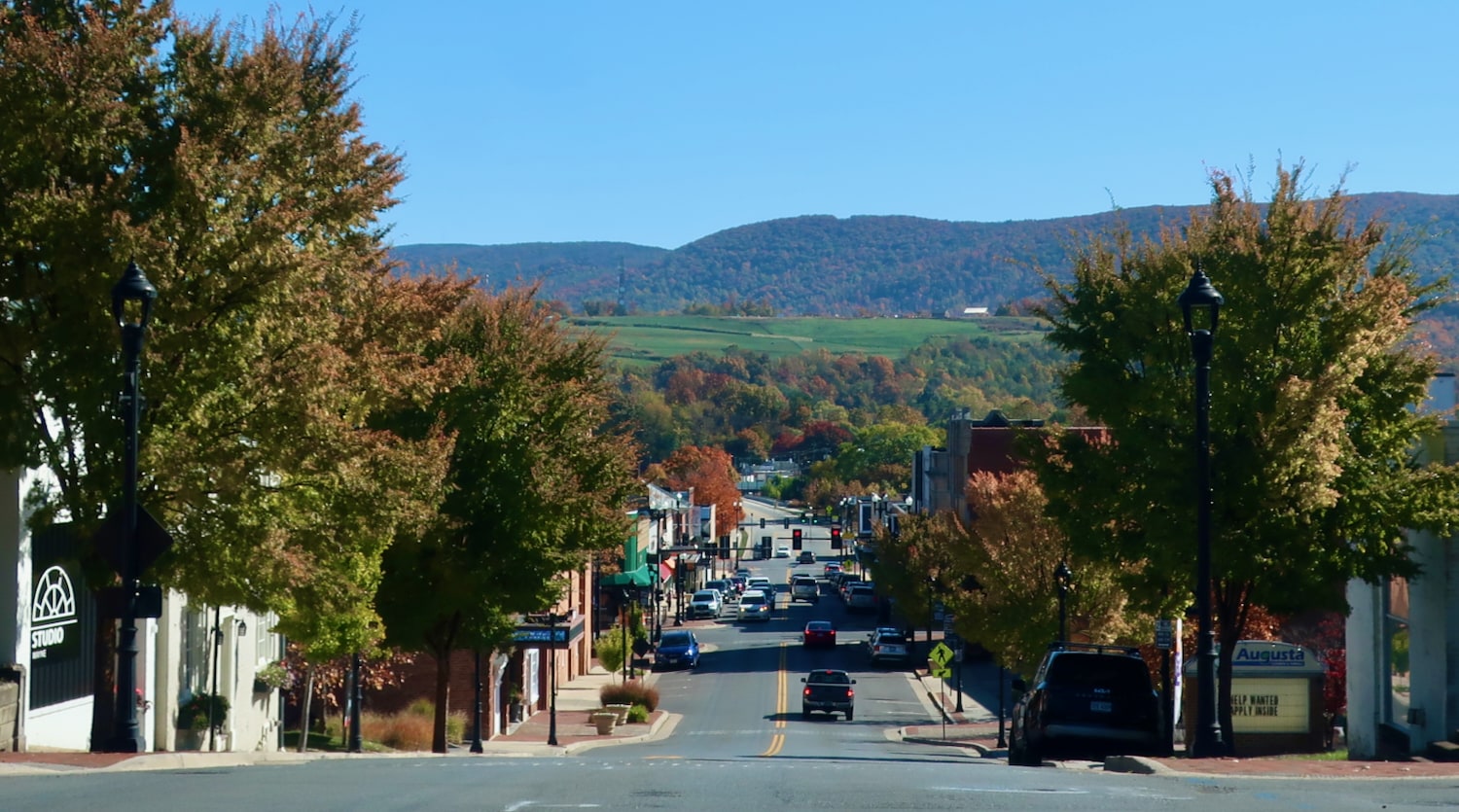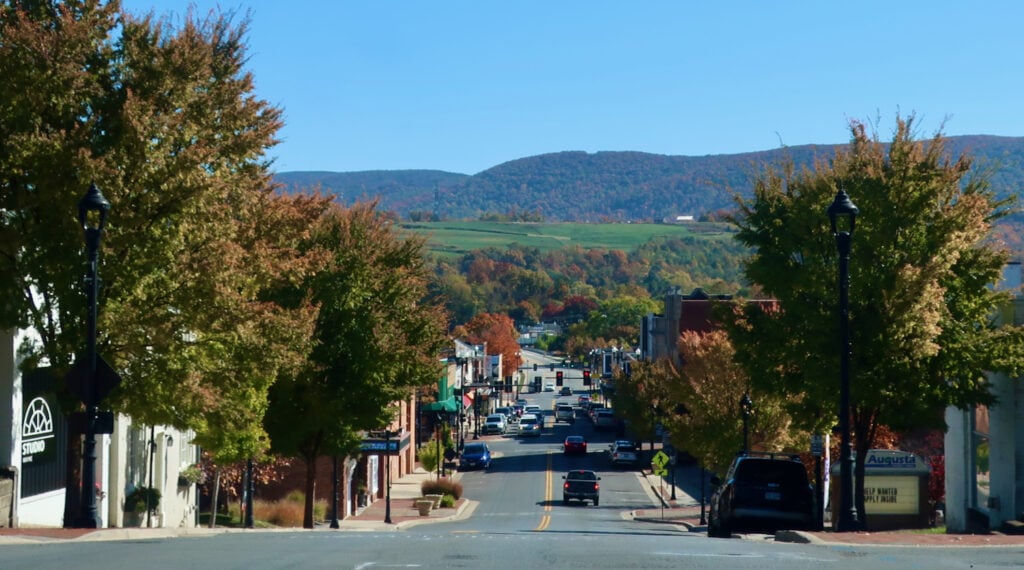 Say you really want to rendezvous in a place not many people know about. It isn't particularly fancy, or full of nightlife, or even crawling with chase-the-trend Gen Z's. But what it does have is so much better. Serenity, natural beauty, an artsy entrepreneurial spirit, and an endearing sense of community. Visiting here is like being wrapped in an Appalachian hug.
To be honest, though, we ARE a bit surprised that Waynesboro VA is not more well known, as it sits where the Blue Ridge Parkway, the Appalachian Trail, the Shenandoah National Park, and Skyline Drive meet.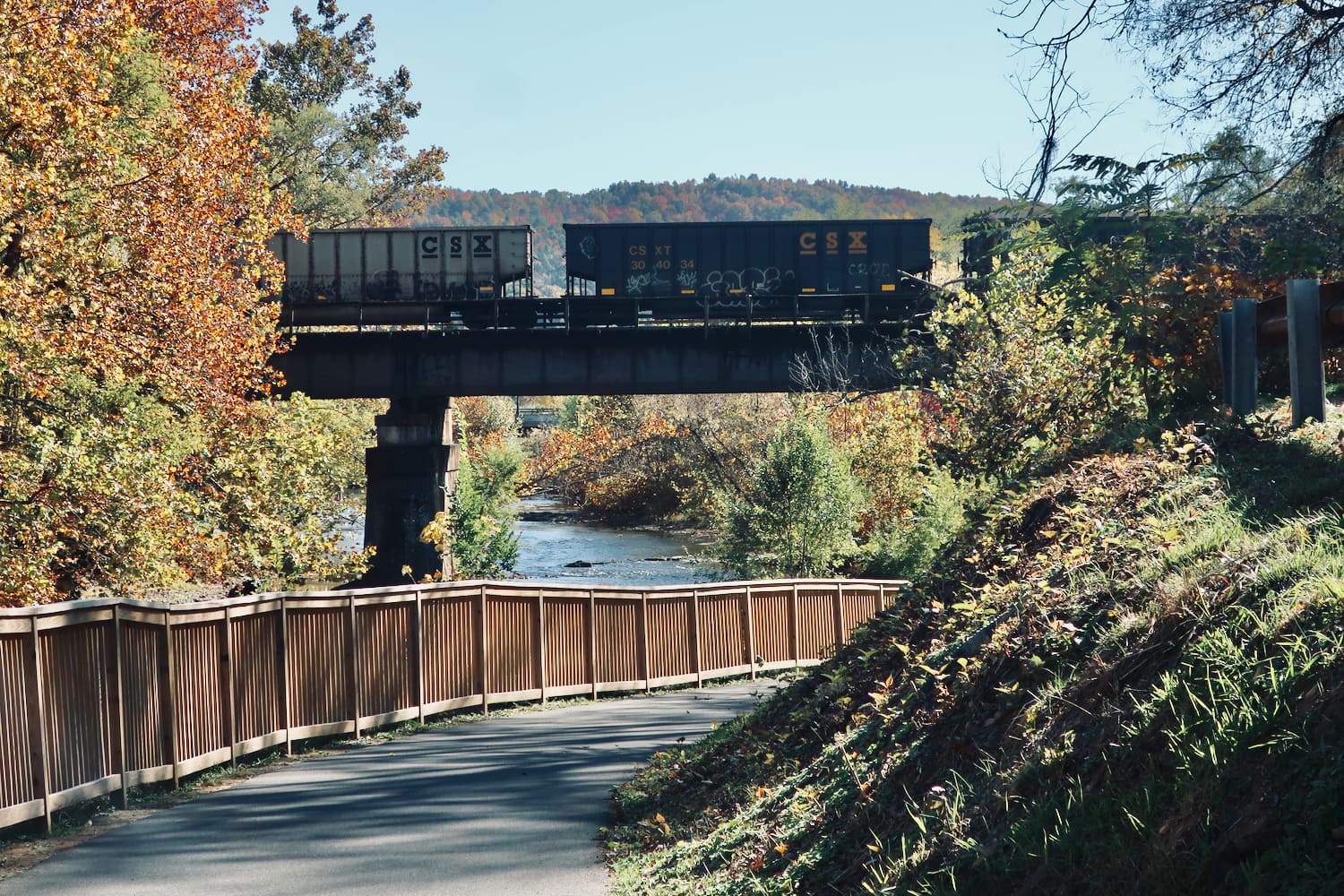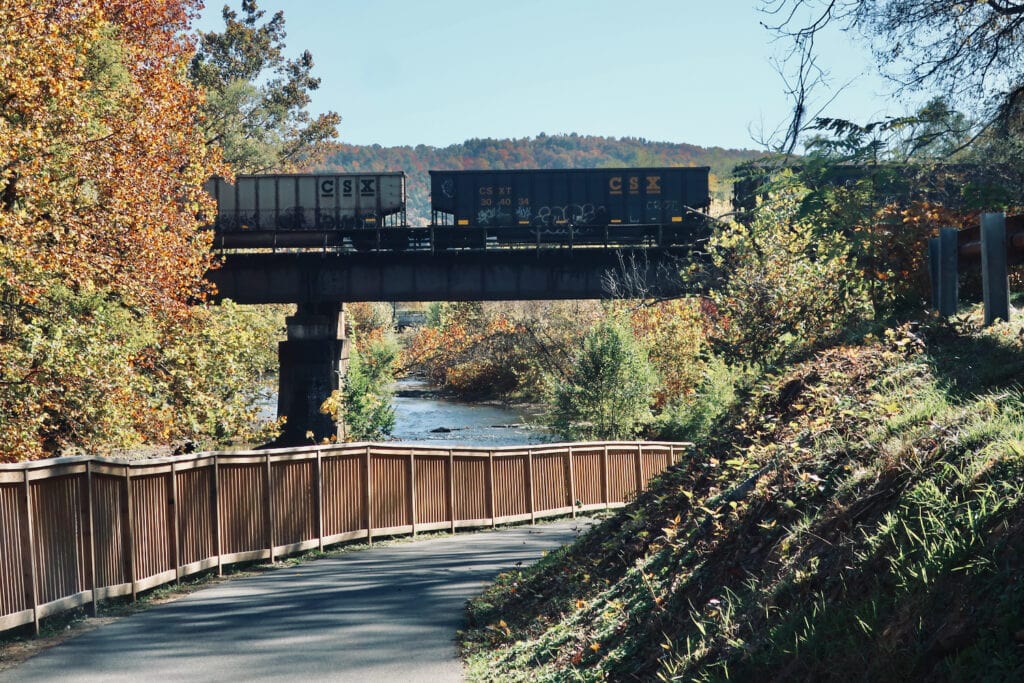 The Getaway Mavens have always attempted to be ahead of the curve, finding romantic spots before they're overrun with tourists. So, in the following post, we'll let you in on fantastic restaurants that locals would love to keep secret, how to hike into a .8-mile-long railroad tunnel built over 150 years ago, where to fly fish in the middle of town, a cool regional theater that presents some eclectic shows, a brewery jam-packed with weekly events, main streets full of cool indie shops and incredible restaurants, and much more. Just read along.
Add on a Getaway to Staunton VA (just 15 minutes away) for an optimal romantic escape.
And, if you need any more inspiration, check out more Romantic Getaways in Virginia.
Where is Waynesboro Virginia?
Waynesboro is in central Virginia, in the southern Shenandoah Valley, off of I-64 near I-81. An Appalachian Trail Community in Augusta County, Waynesboro is 15 minutes from Staunton VA.
Things to Do in Waynesboro VA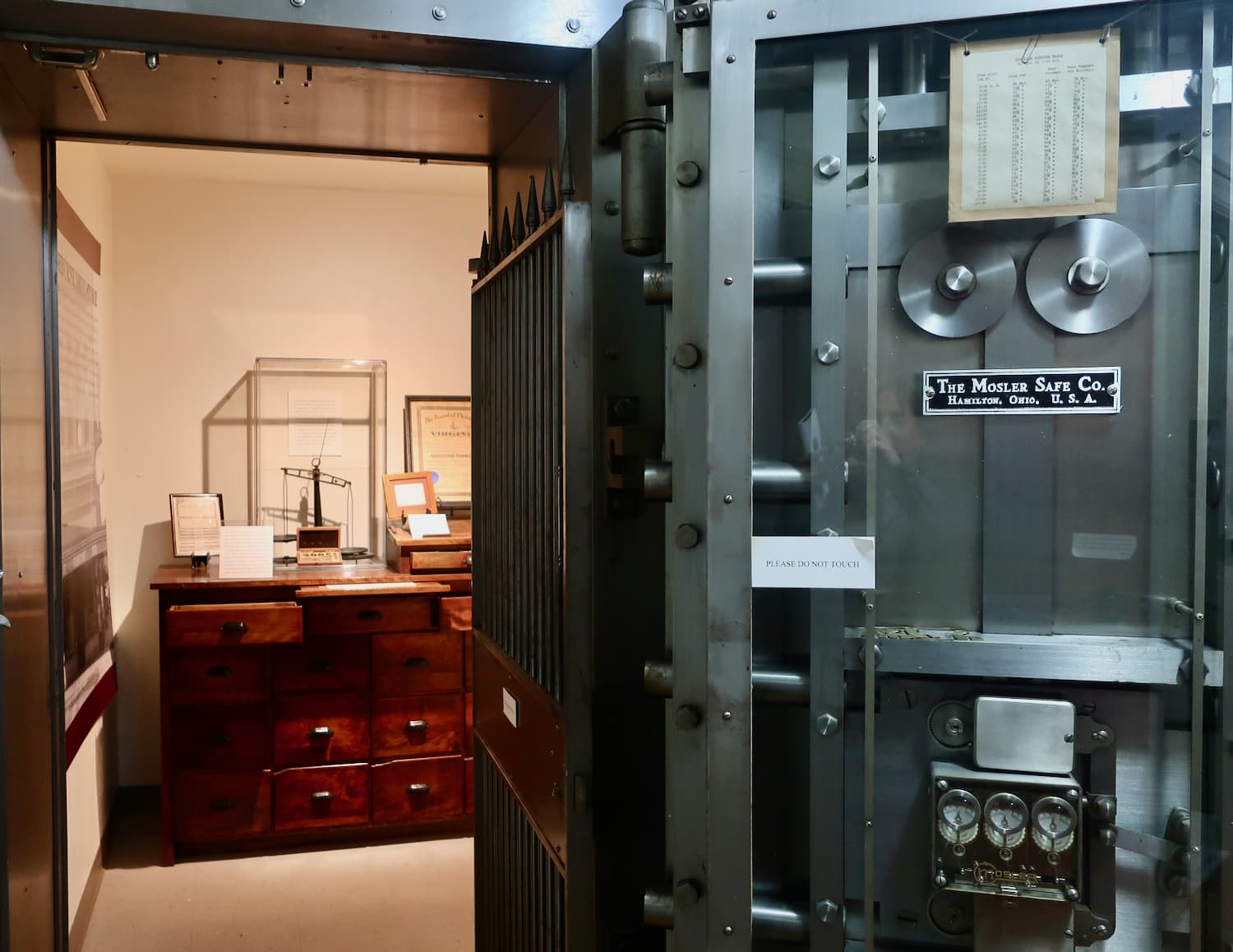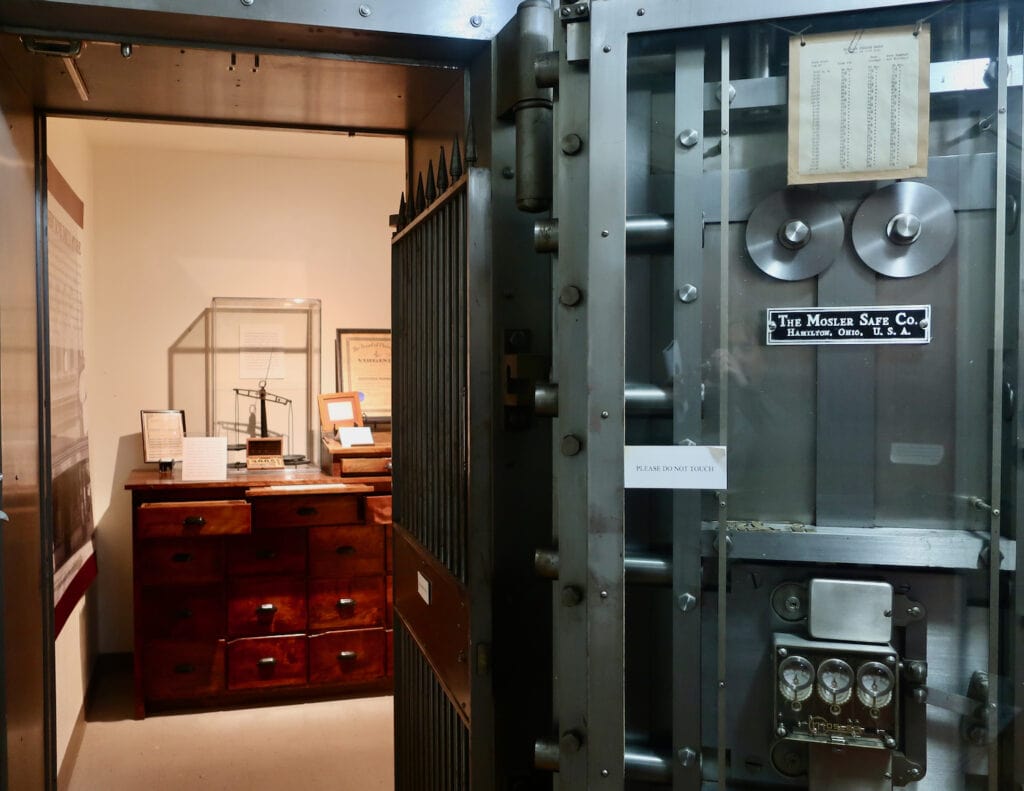 TOUR: Waynesboro Heritage Museum
Get your bearings at the finely curated Waynesboro Heritage Museum, set inside the First National Bank Building. Find out about the lost city across the river, one of the first independent schools for African Americans in the segregated South, the Civil War battle of Waynesboro, the local Fishburne Military School (founded 1879), and more, among 13,000 artifacts, documents, and photos in rotation from the permanent collection.
On a self-guided tour, you'll learn that there was a whole other city across the South River that lost its identity when it became part of Waynesboro in 1923. It was Basic. For real. It was called Basic City – an odd name for an important railroad boomtown.
Home to the "Iron Cross," where the N&W and C&O lines intersected, and the Blue Ridge Tunnel – a marvel of pre-Civil War era engineering – Basic City VA was far from your basic city. Although the name was subsumed by Waynesboro, you can still find Basic City reminders – the most popular of which is Basic City Brewing Co.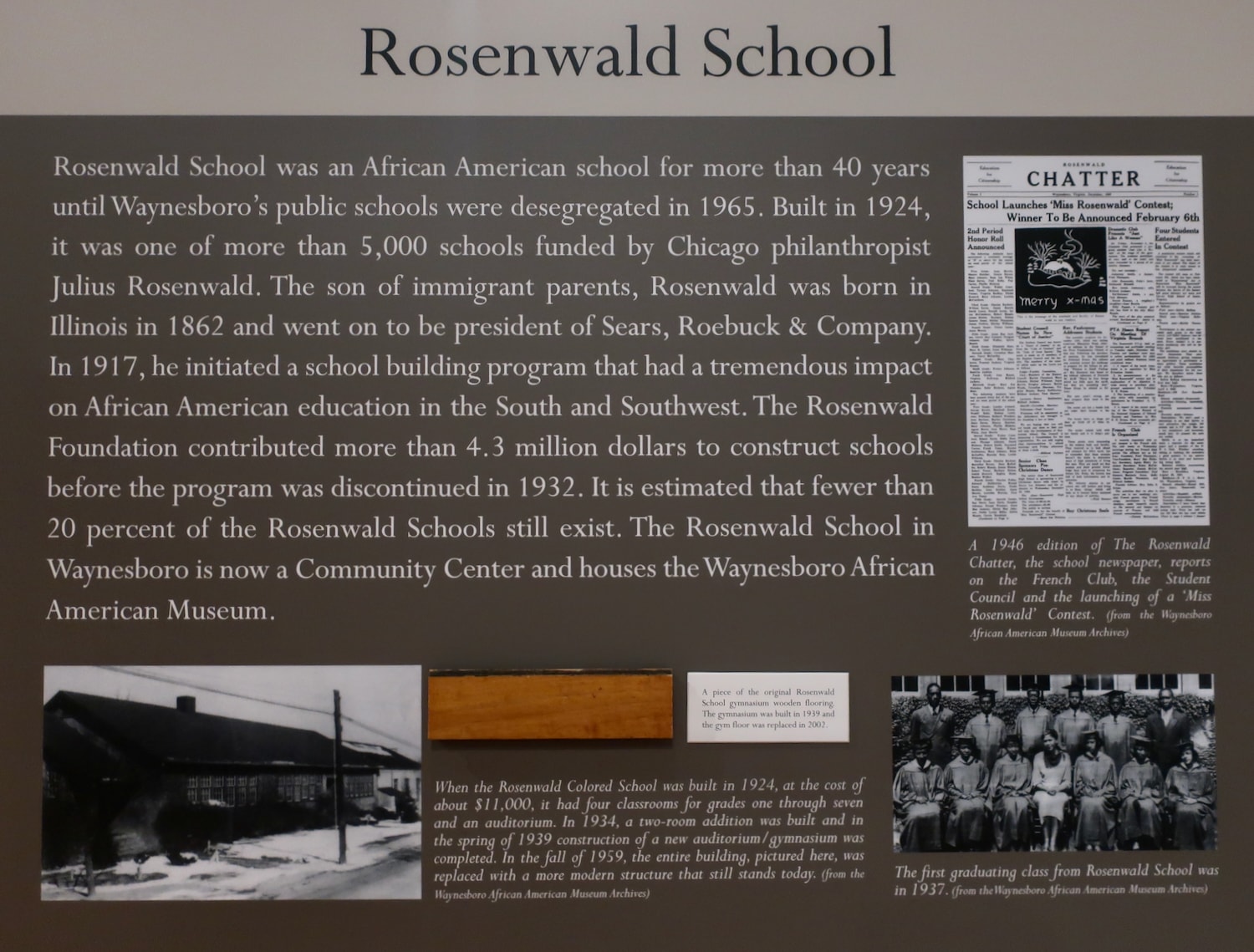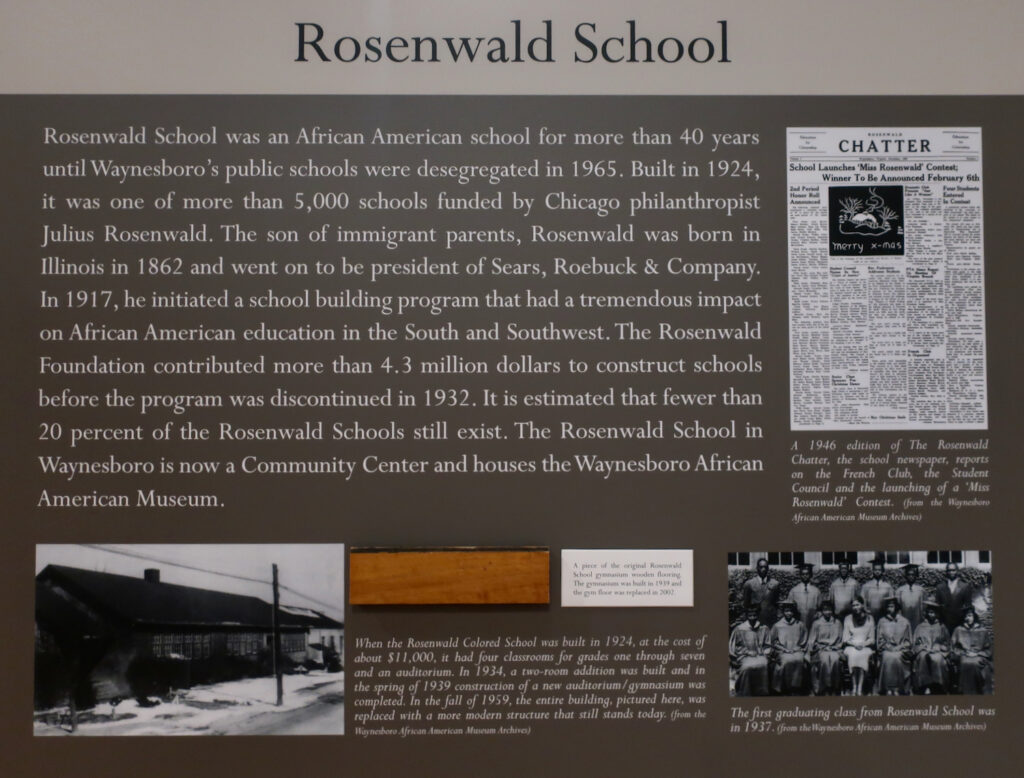 There's an exhibit about Waynesboro's Rosenwald School, one of the thousands of Rosenwald Schools that sprung up throughout the segregated south at the turn of the 20th century. Dispelling the antiquated notion, during Jim Crow, that African American children weren't worth teaching, philanthropist Julius Rosenwald (part owner and President of Sears, Roebuck) partnered with Booker T. Washington to open and run these independent schools, offering young people of color an education on par with their white neighbors in the early 1900's.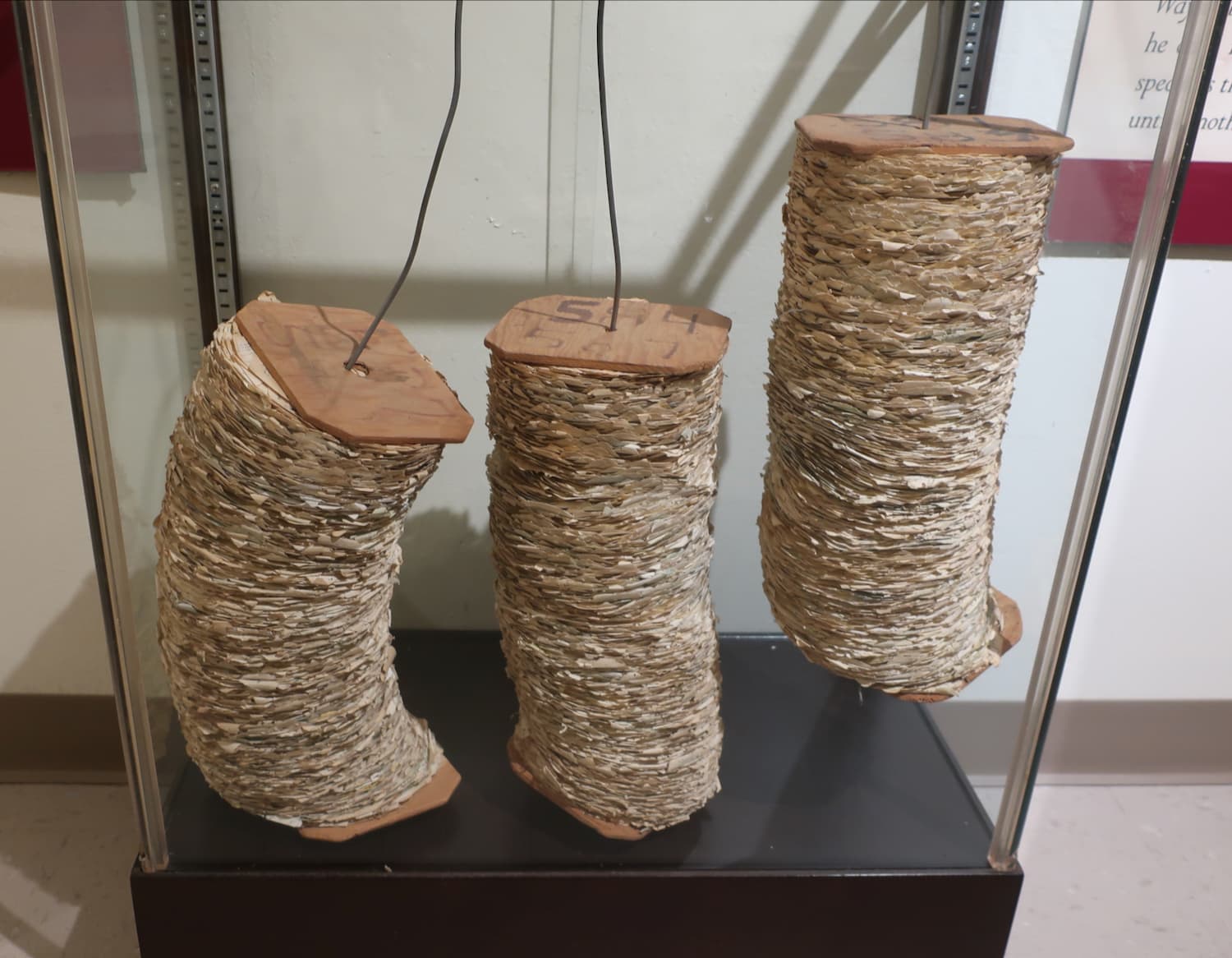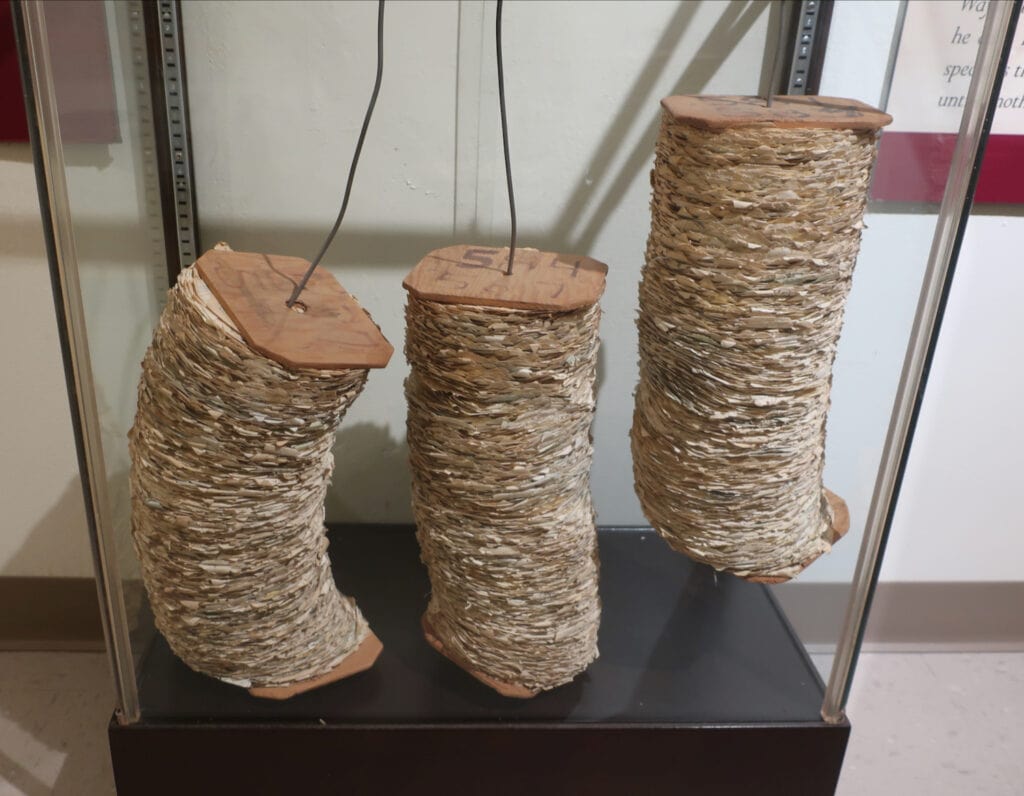 Don't forget to peek into the two bank vaults. One contains the contents of Fishburne Drug Store where pharmacists saved every prescription script they ever filled. Thousands of them are stacked like shawarma on wires.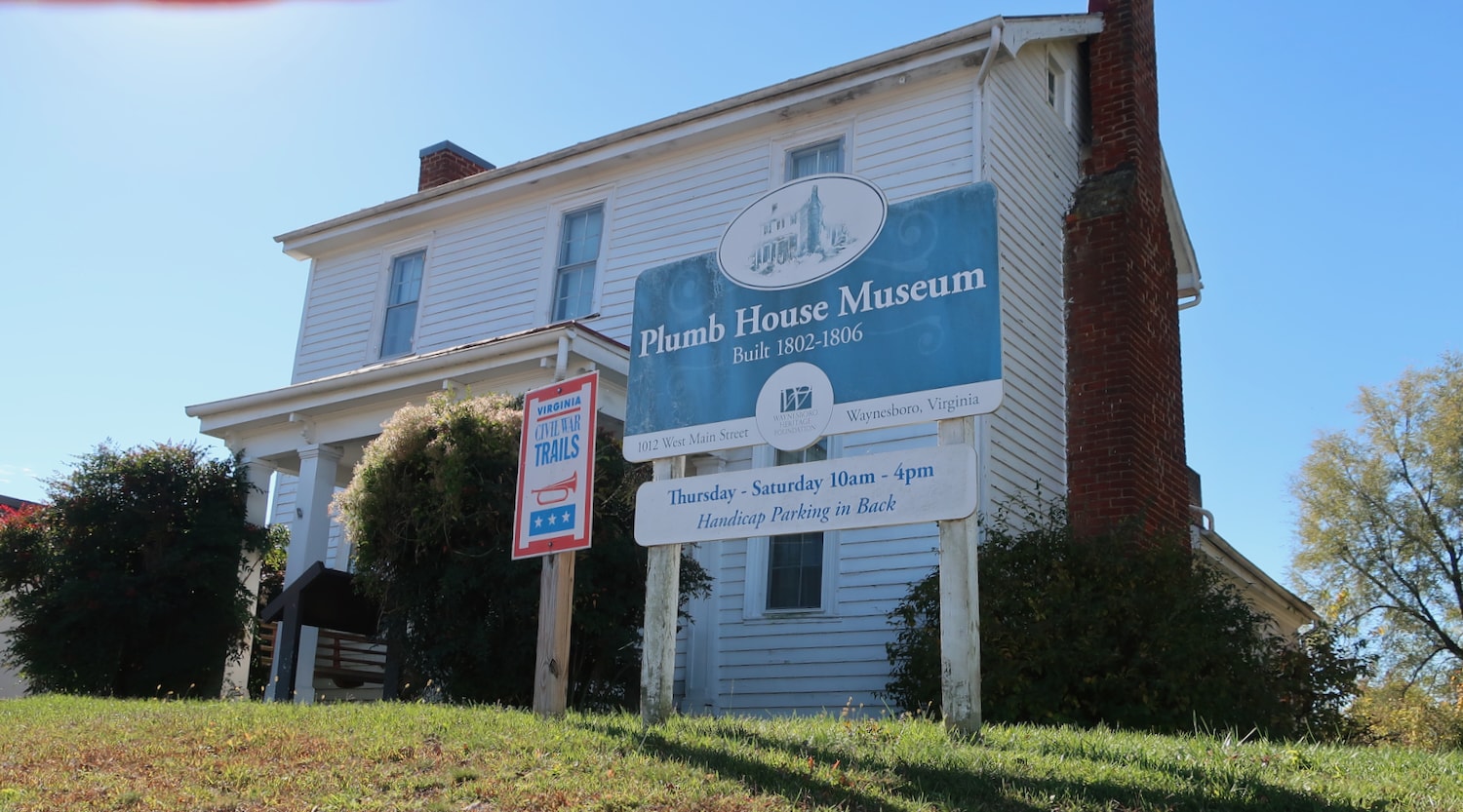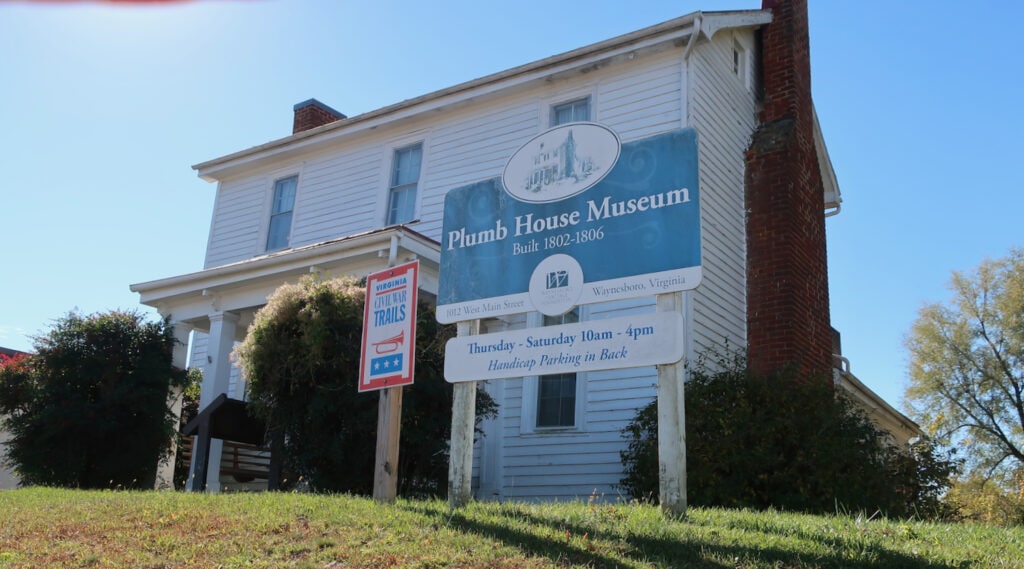 GO: Plum House – Affiliated with the Heritage Center
The Thomas Jefferson-era Plum House features Civil War and Native American artifacts, a summer kitchen, and historic garden. On a busy main street – it's open by appointment only. So, ask for assistance at the Heritage Center Museum.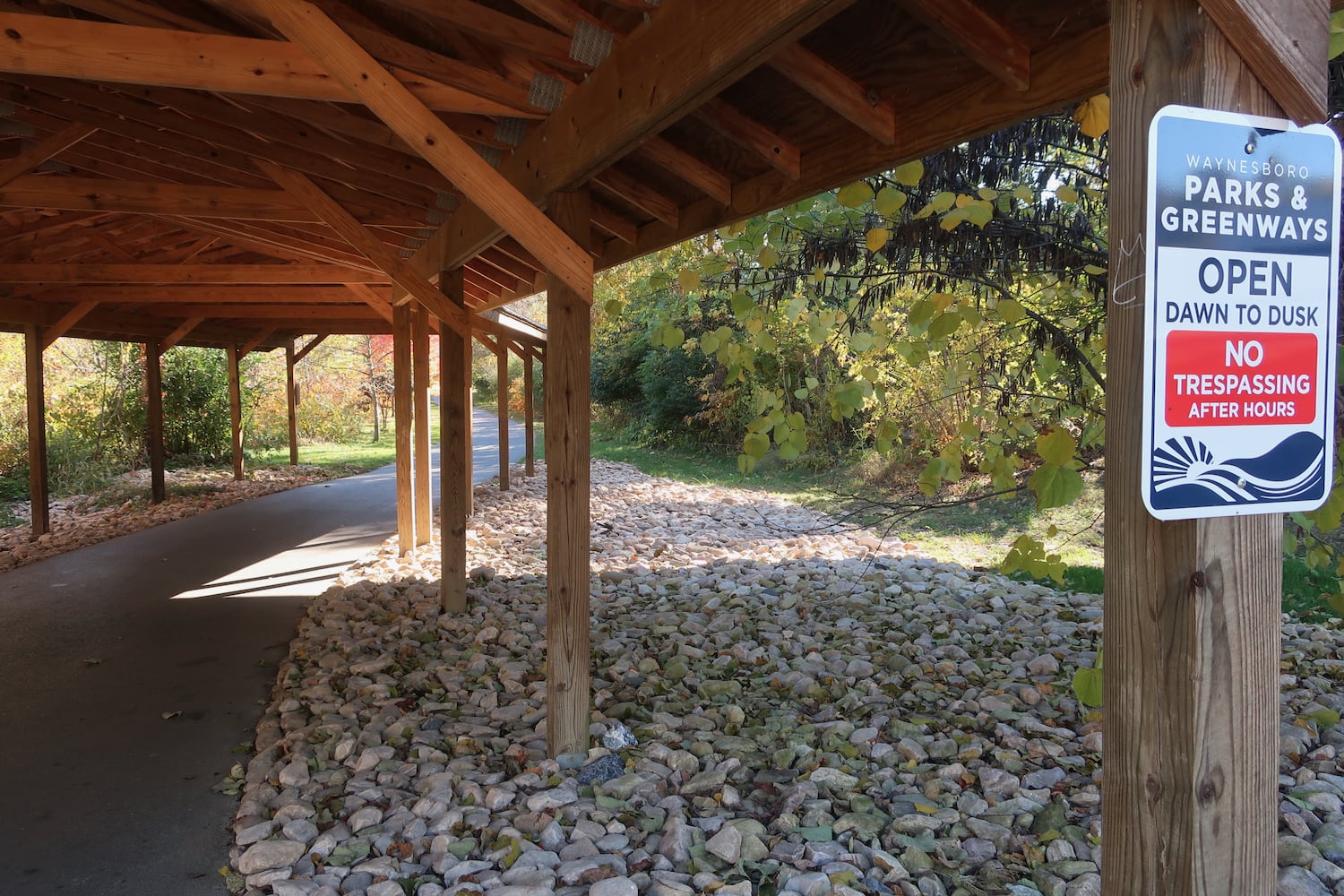 WALK: Along the South River Greenway
You'll most likely witness kayakers and a fly fisherman or two as you walk the paved path that meanders along the pristine, spring-fed South River through Waynesboro.
The 2-mile Greenway Trail connects three city parks. It's central one, Constitution Park, is where townies gather for "Groovin on the Greenway" at the Stage@Constitution Park in summertime.
Join other bikers, joggers, and Moms pushing strollers – or overseeing wobbly toddlers – as you amble along, ducking under railroad trestles and looking out for murals on park buildings.
KAYAK: 4-Mile Waynesboro Water Trail on the South River
Bring your own kayak, put in at Ridgeview Park for a calm, meandering paddle down the South River on the 4-Mile Waynesboro Water Trail to the pull-out at Basic Park. Allow about 2-3 hours. You'll pass through residential neighborhoods, by fly-fishermen/women, under train and car bridges, and several Waynesboro Parks. Expect, at the most, Class 1 riffles.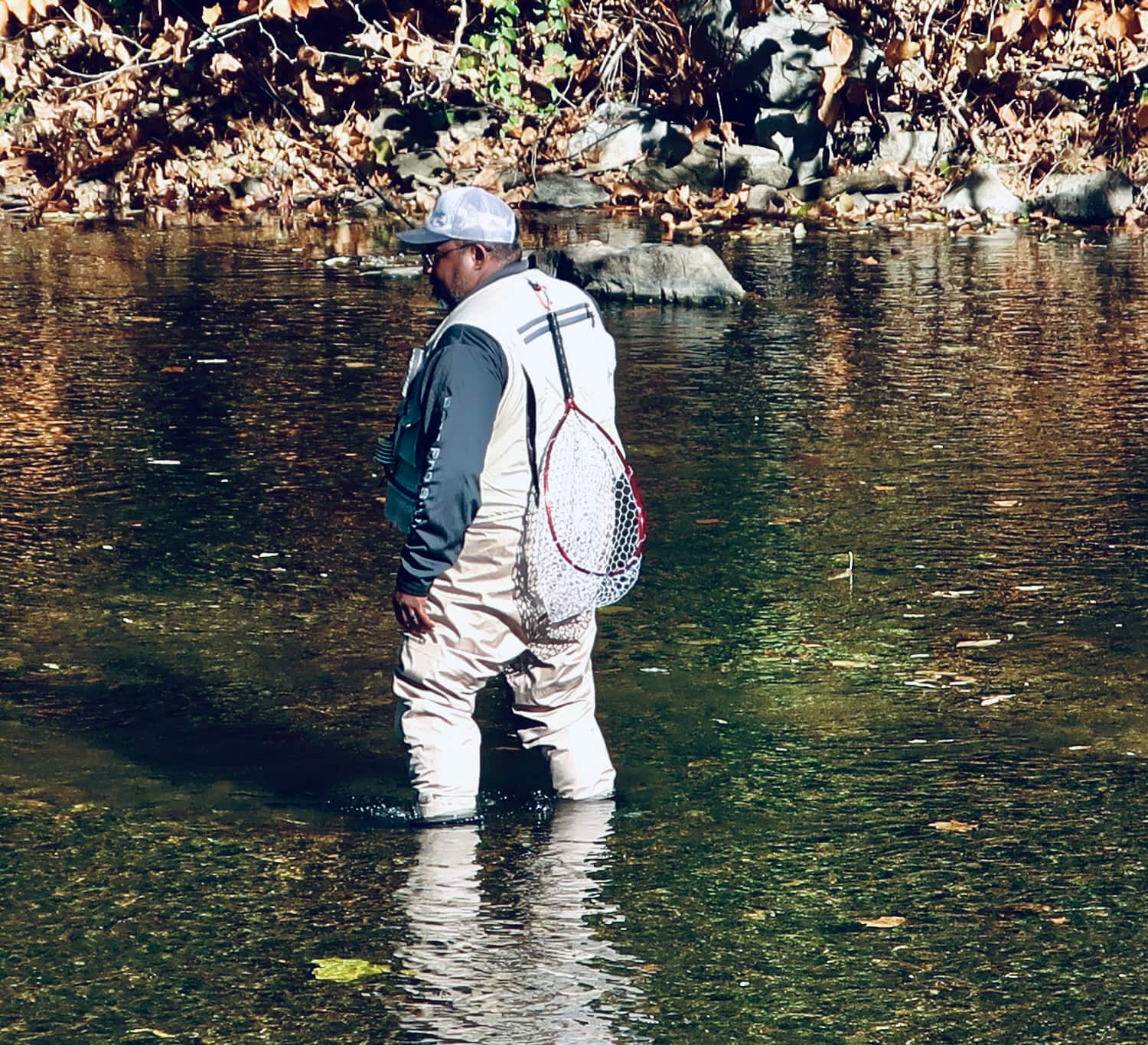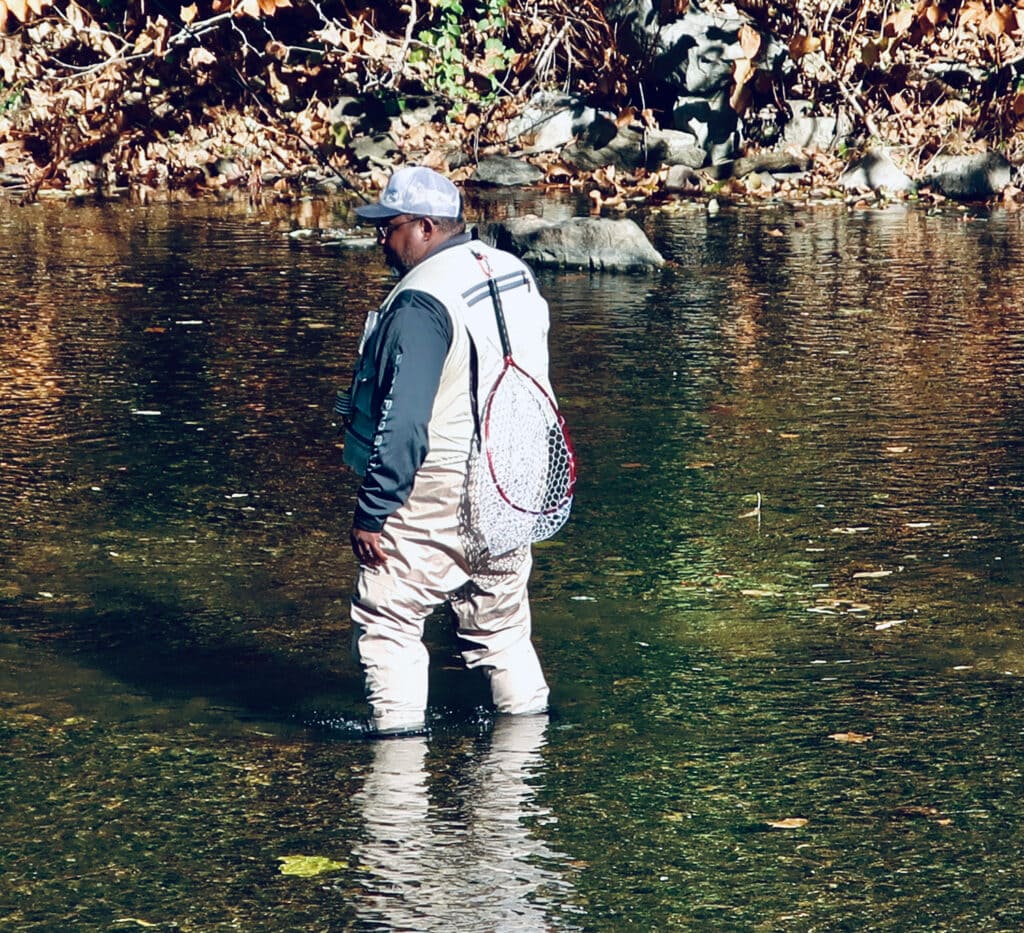 HIRE: Fishing Guide From South River Fly Shop
If you need some help, want to learn how to fly fish, or wish to have a professional along on a guided float bass trip, stop into the South River Fly Shop on Main St.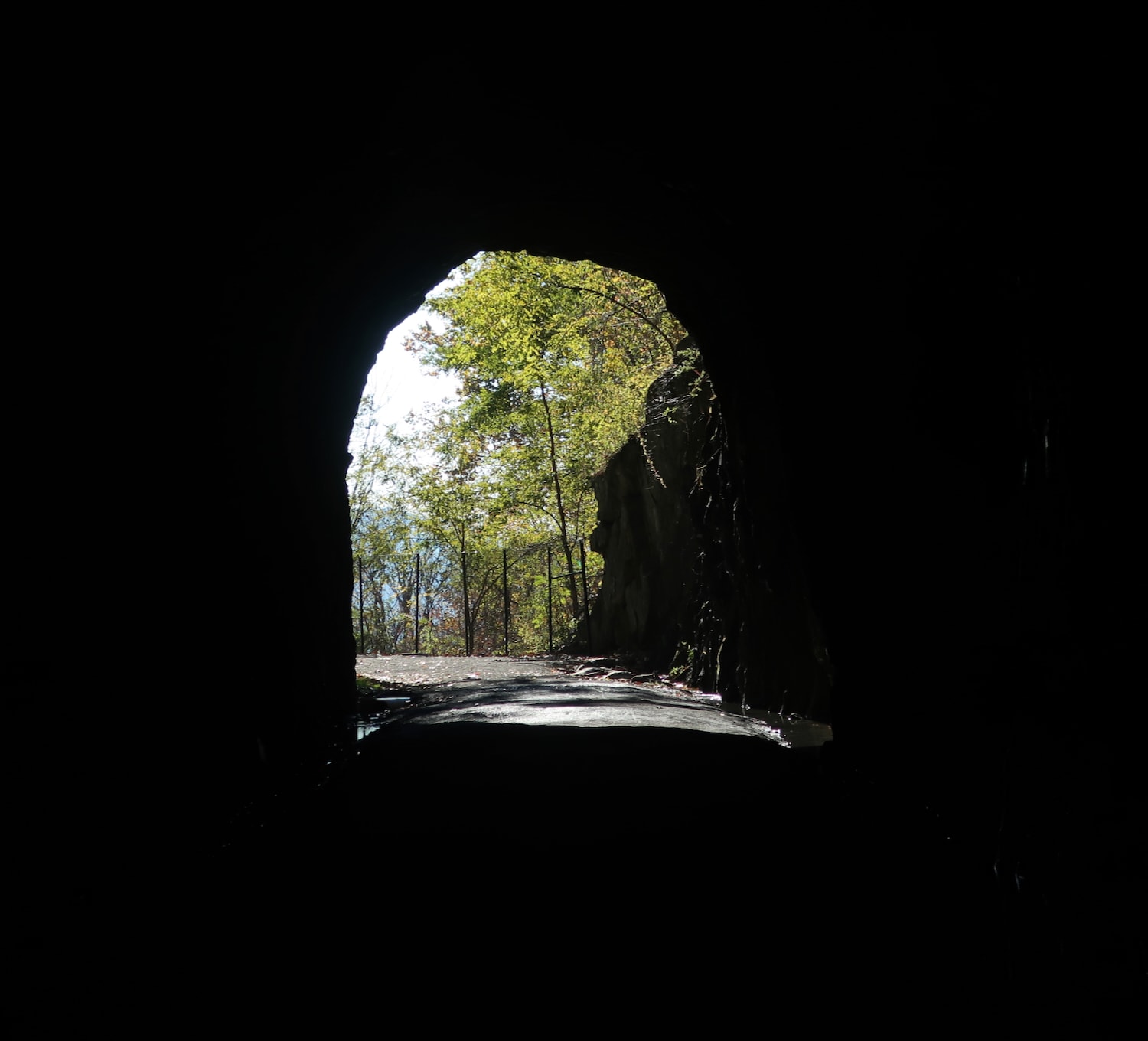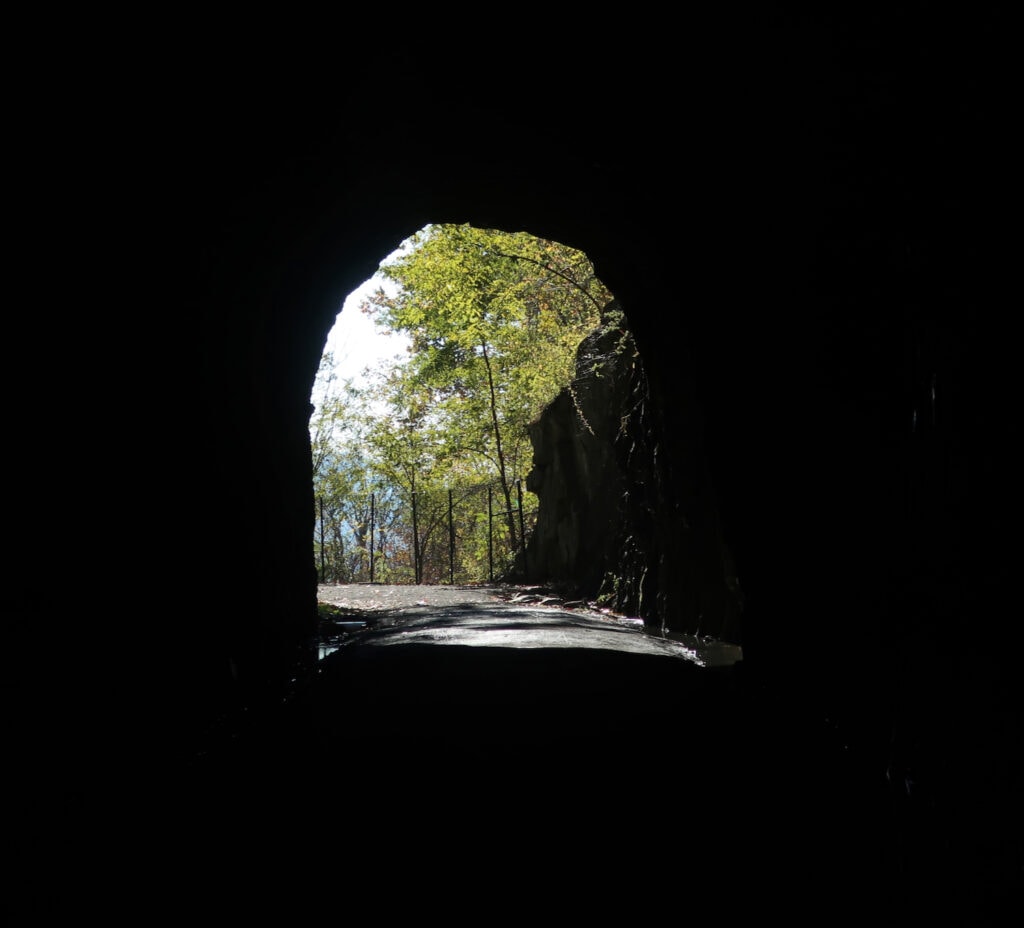 WALK: Into the Blue Ridge Tunnel From the ADA Accessible East Trailhead (217 Afton Depot Ln)
Carving out the mile-long Blue Ridge Tunnel through a mountain in the 1850's was both an engineering marvel and a death-trap. Over 7 years, Irish immigrants fleeing the potato famine and enslaved workers, for the most part, did the grunt work and paid for it with their lives. Living in shanties along the tunnel's path, and overcome during a cholera outbreak, 190 Irishmen alone died due to illness and accidents.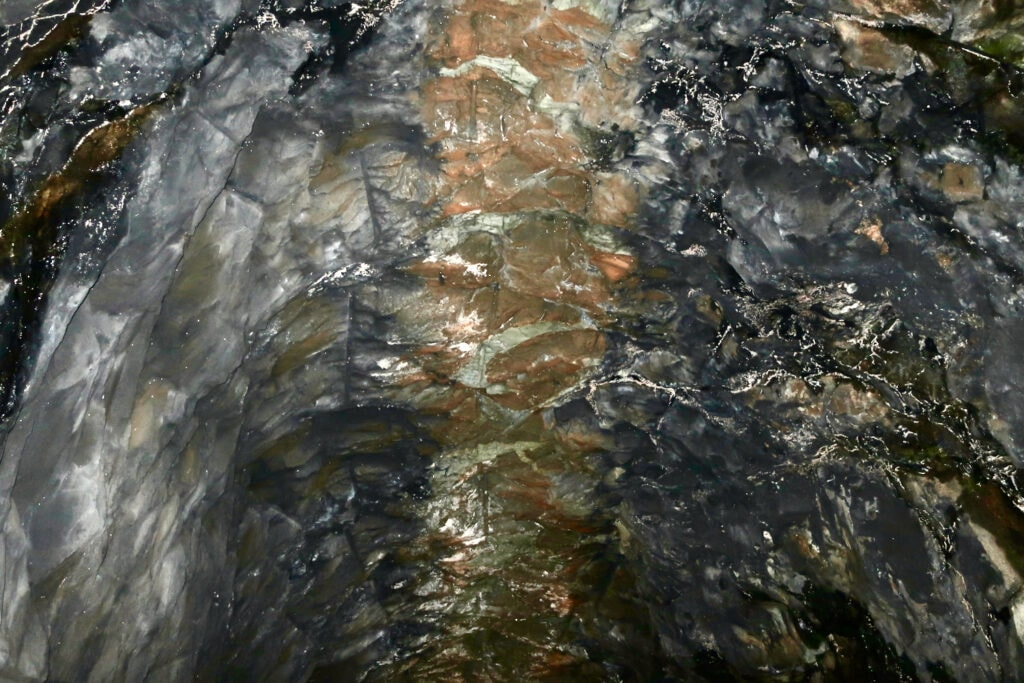 Today, decommissioned and managed as a Historical Park – Virginia's newest in the heart of the Blue Ridge Mountains – the tunnel lies beneath Rockfish Gap, where I-64, US Rt 250, Skyline Parkway, the Blue Ridge Parkway, and the Appalachian Trail converge.
Its entrance is a pleasant .63 mile walk on a gravel path from the parking lot.
Along the way, informational panels tell the story of the unprecedented construction from concept to completion. Be sure to wear closed toe, waterproof shoes, bring a flashlight and wear a raincoat. Even when it's sunny, it's wet and "rainy" inside as water seeps from the top of the mountain into this cave-like space.
For a tougher hiking trail, try the West Trailhead, (483 Three Notched Mountain Hwy) which is nearly a mile from parking to tunnel entrance on steep grades.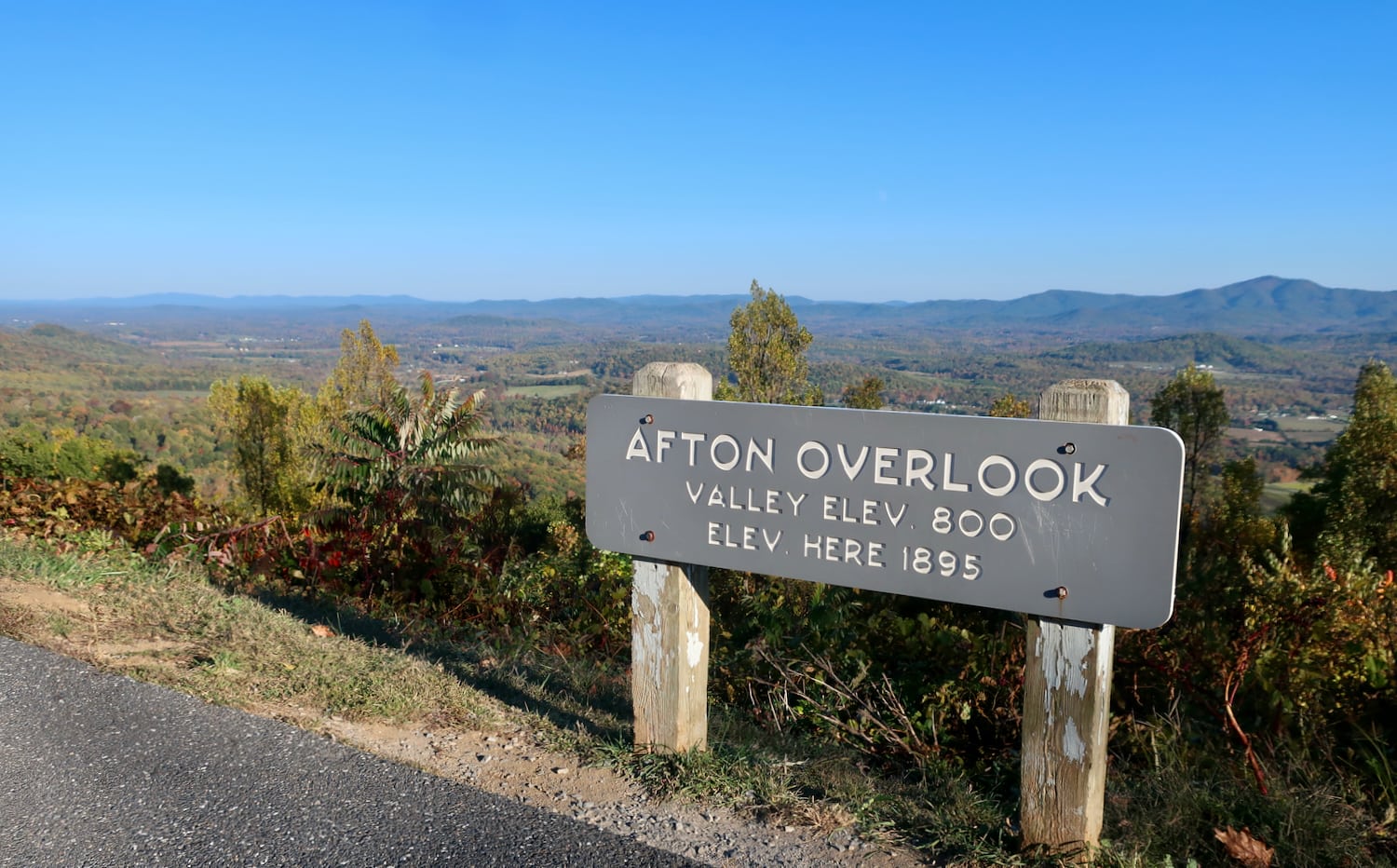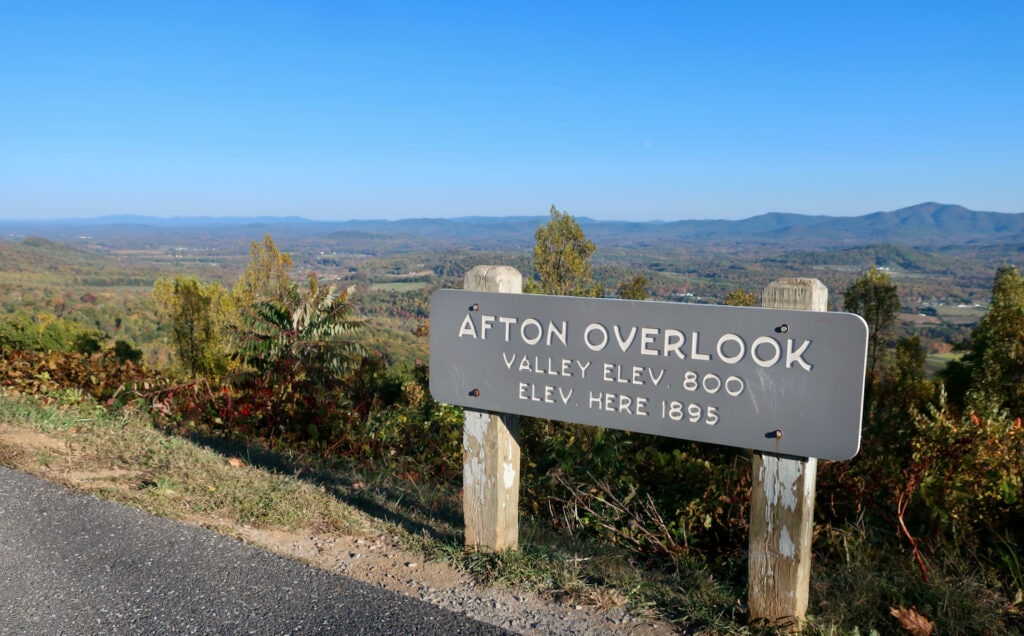 Drive: Blue Ridge Parkway
You're here – so take advantage of driving on the Blue Ridge Parkway – at least for a few miles. Stop at the Afton Overlook – with expansive views of the valley below. It's breathtaking – particularly at sunrise or late afternoon.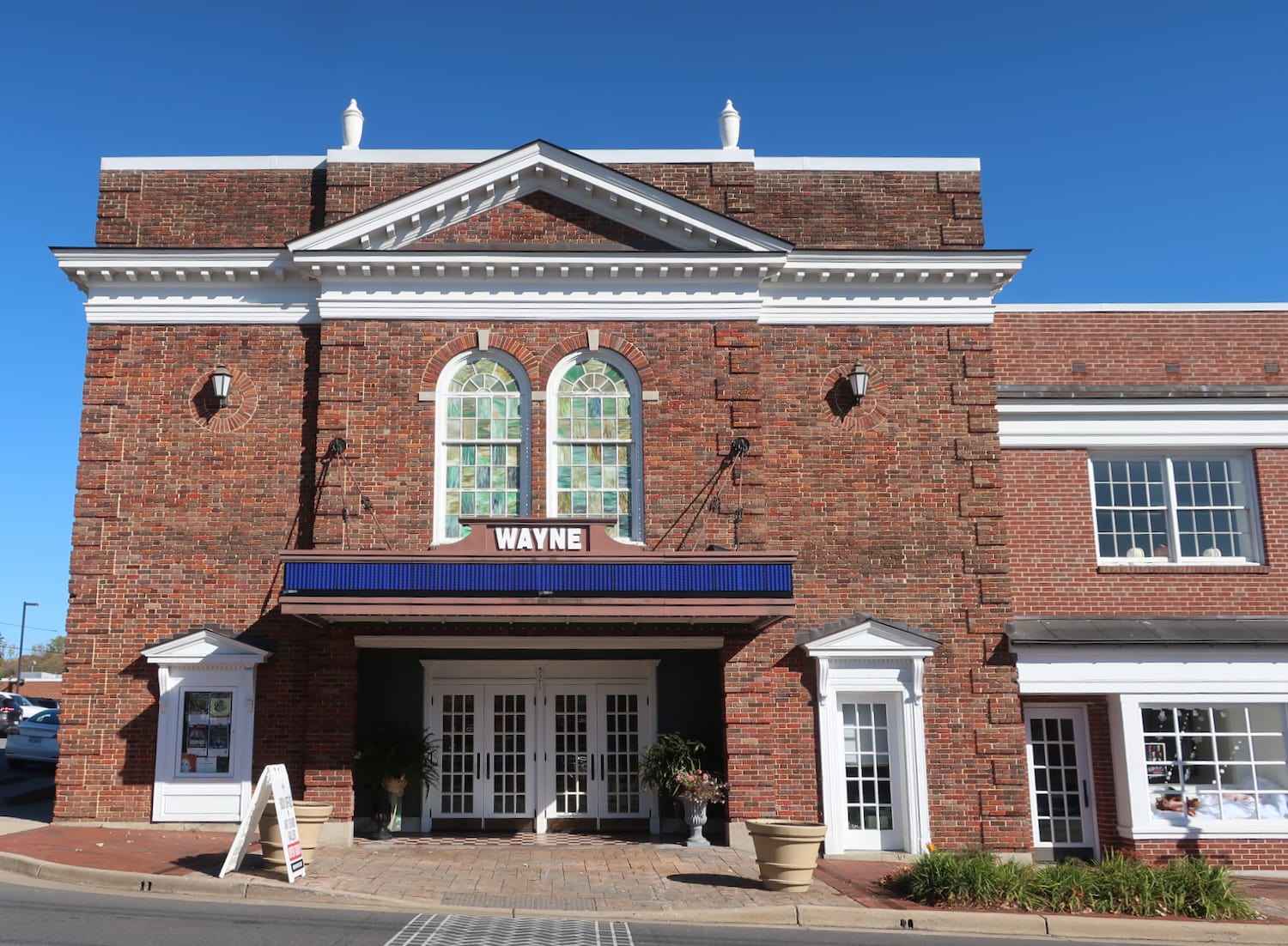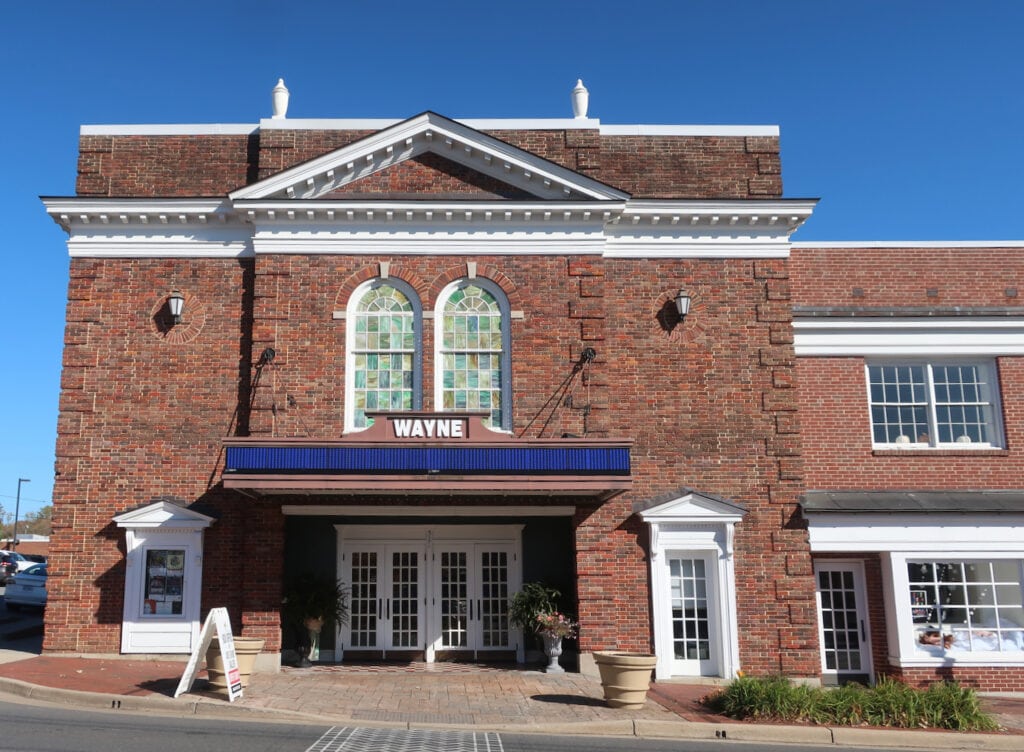 SEE A SHOW: Wayne Theatre
For a small town, the Wayne Theatre is quite the surprise. And the fact that it was built in 1926 as a vaudeville theater for such a modest population is even more surprising.
Nearly every night, something is going on there – with regional and nationally known musicians, magicians, comedians, and live theater productions. Sometimes, the Wayne serves as an indie movie house, another perk for residents and visitors. Find out what's on the stage or screen during your getaway here – and, if a big name, buy your tickets sooner than later.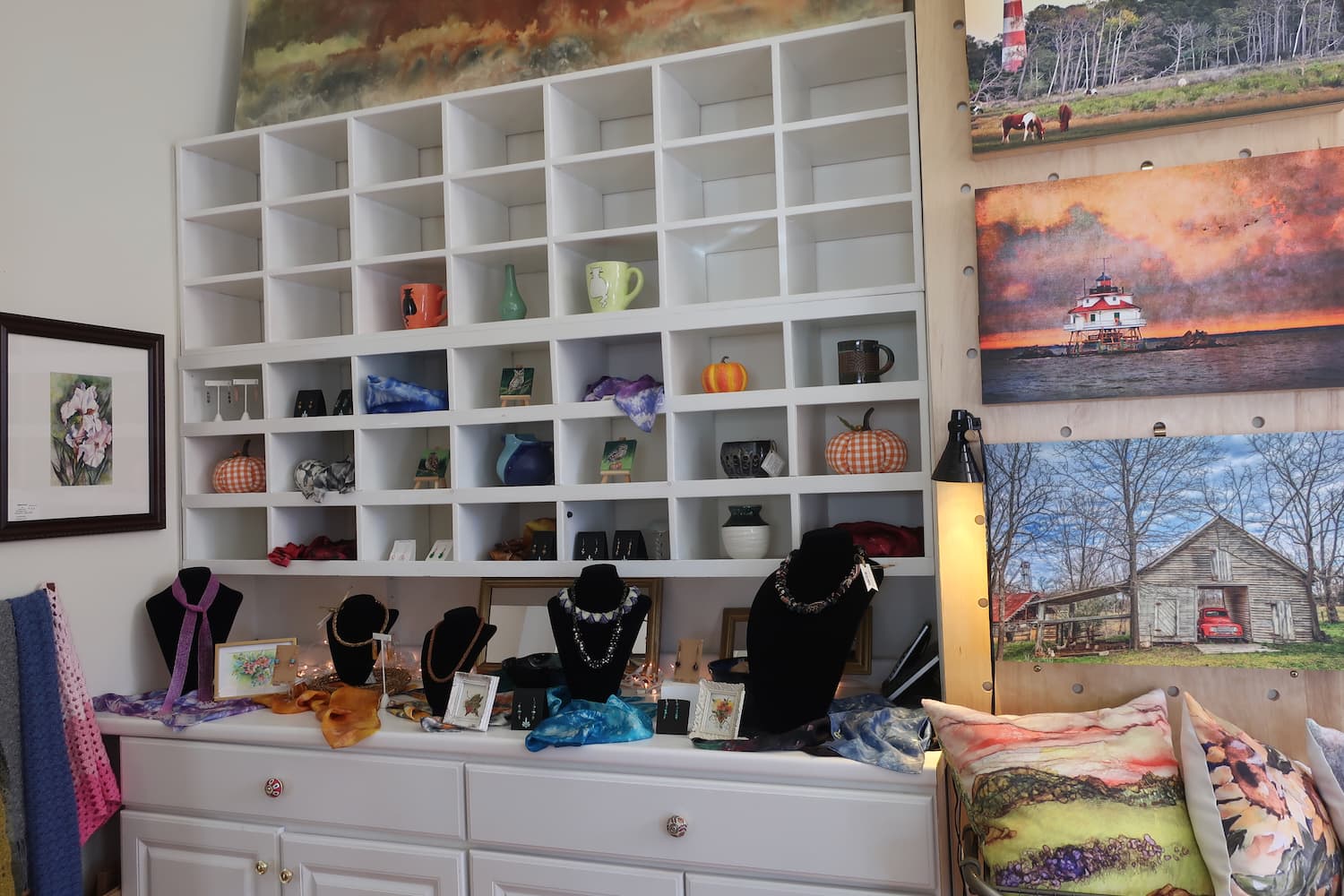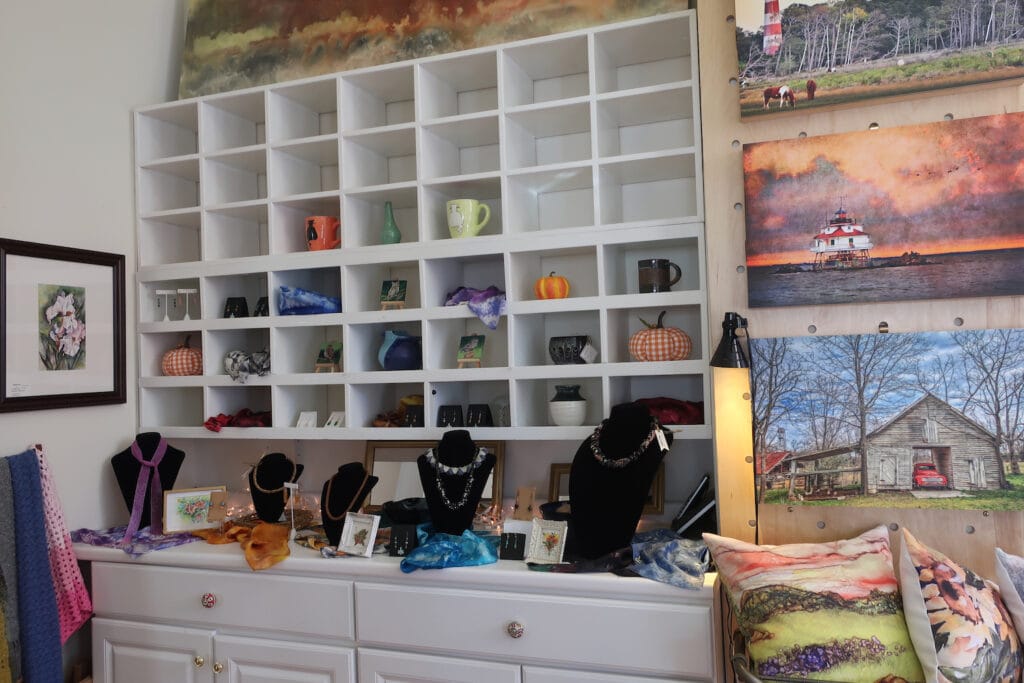 VISIT: Shenandoah Valley Arts Center (SVAC)
Peruse the Shenandoah Valley Arts Center gallery, visit local artists working in their studios, and then purchase a one of a kind piece of art straight from its creator.
If you're short on time, and just want to pick something up quickly – stop into the impressive SVAC gift shop for an article of clothing, a piece of jewelry, or something funky for the house (or as a house-warming gift).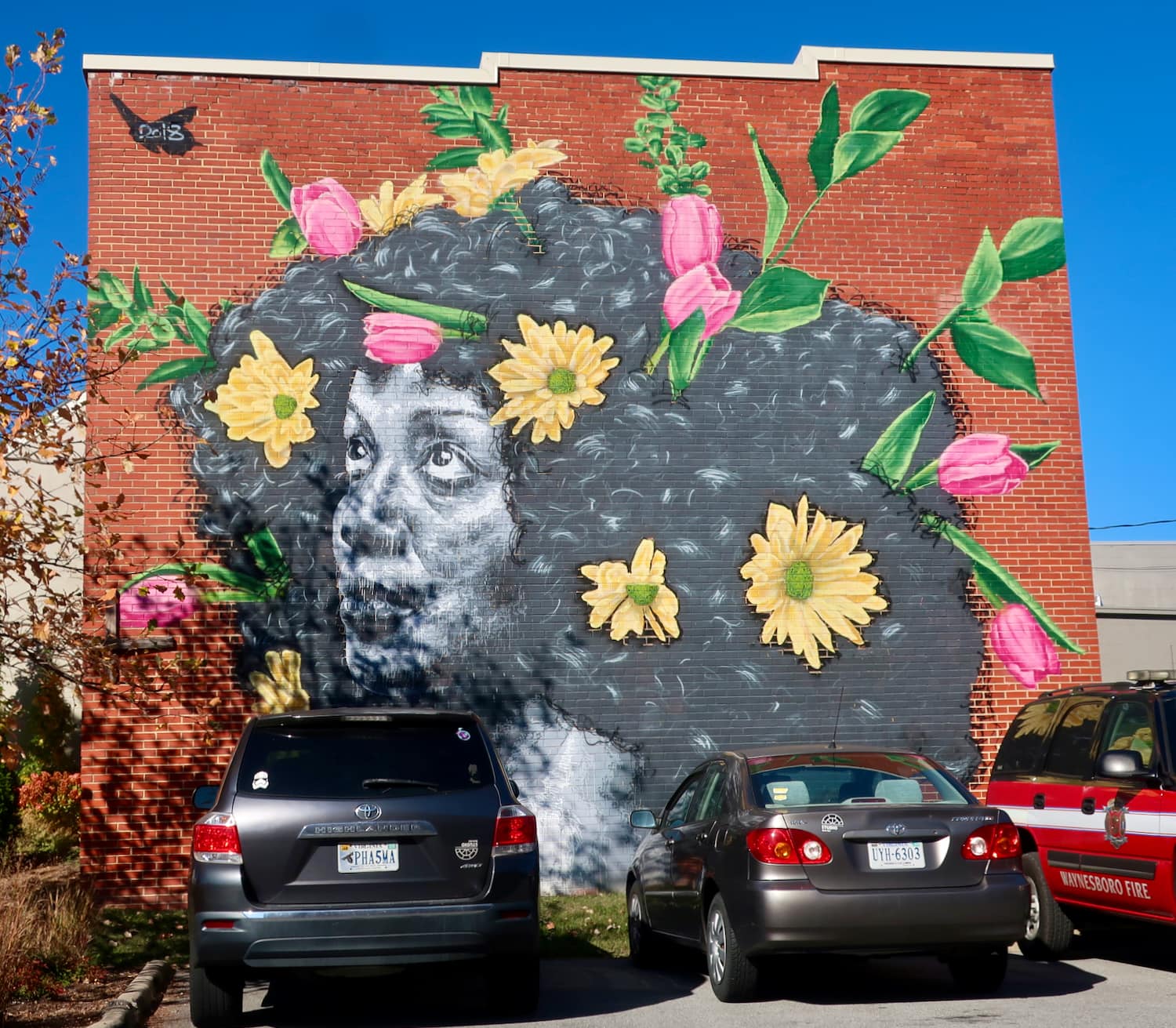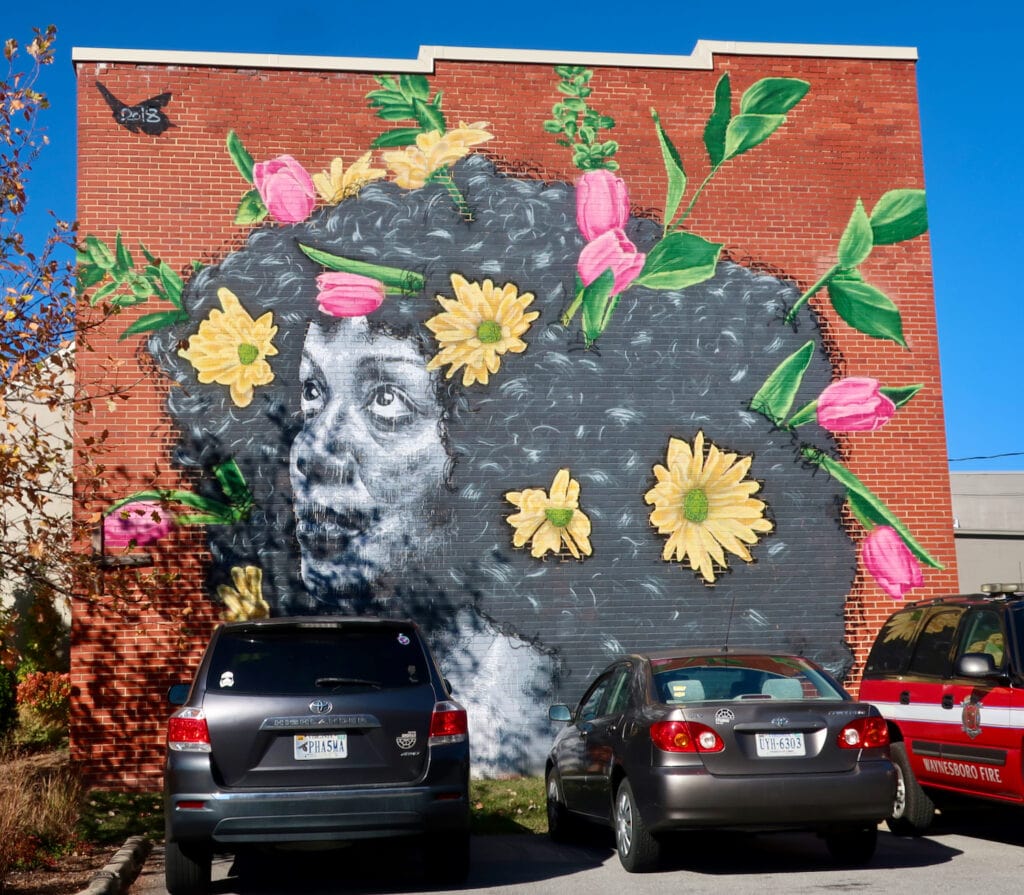 DO: Walk or Drive the Waynesboro Street Art Trail
Waynesboro's outdoors art is quite dramatic: 20 significant, professionally painted works of art on sides of commercial buildings. One large and vivid piece, Kiya – by the prestigious, world-famous, muralist, Nils Westergard – covers the side of an old ice-house building.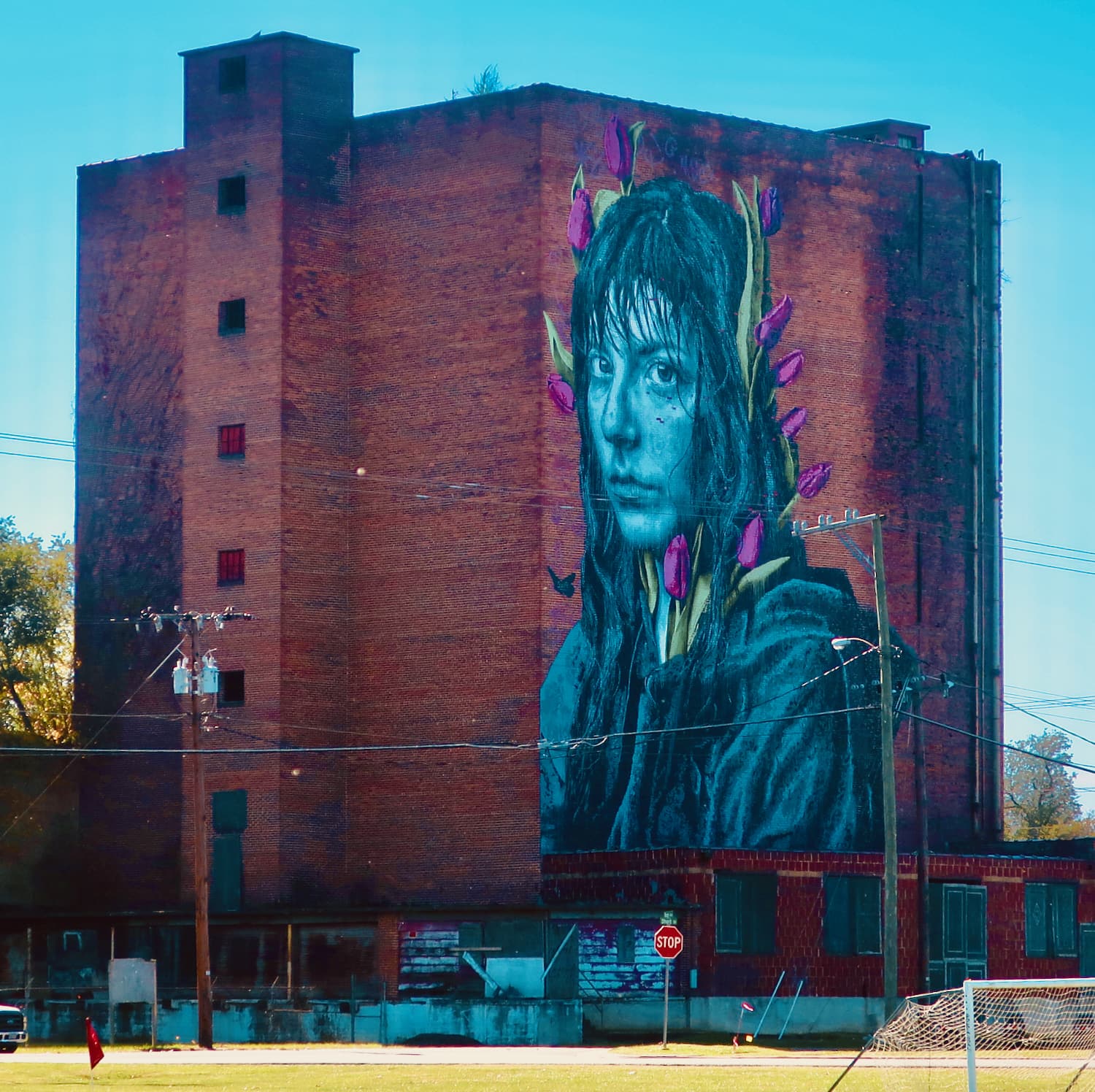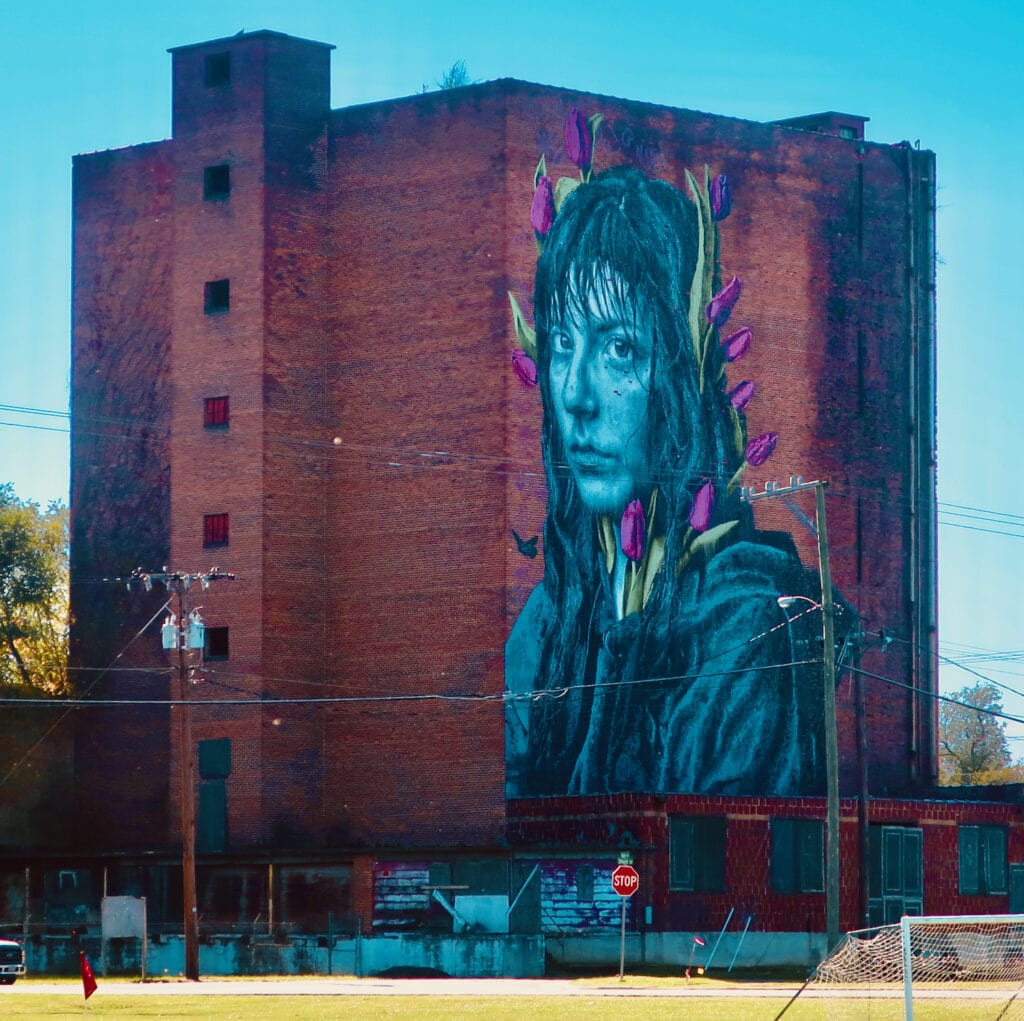 How to find them all? Pick up a brochure at the Visitor's Center – or download this Traipse Ap, that will guide you to every one of them.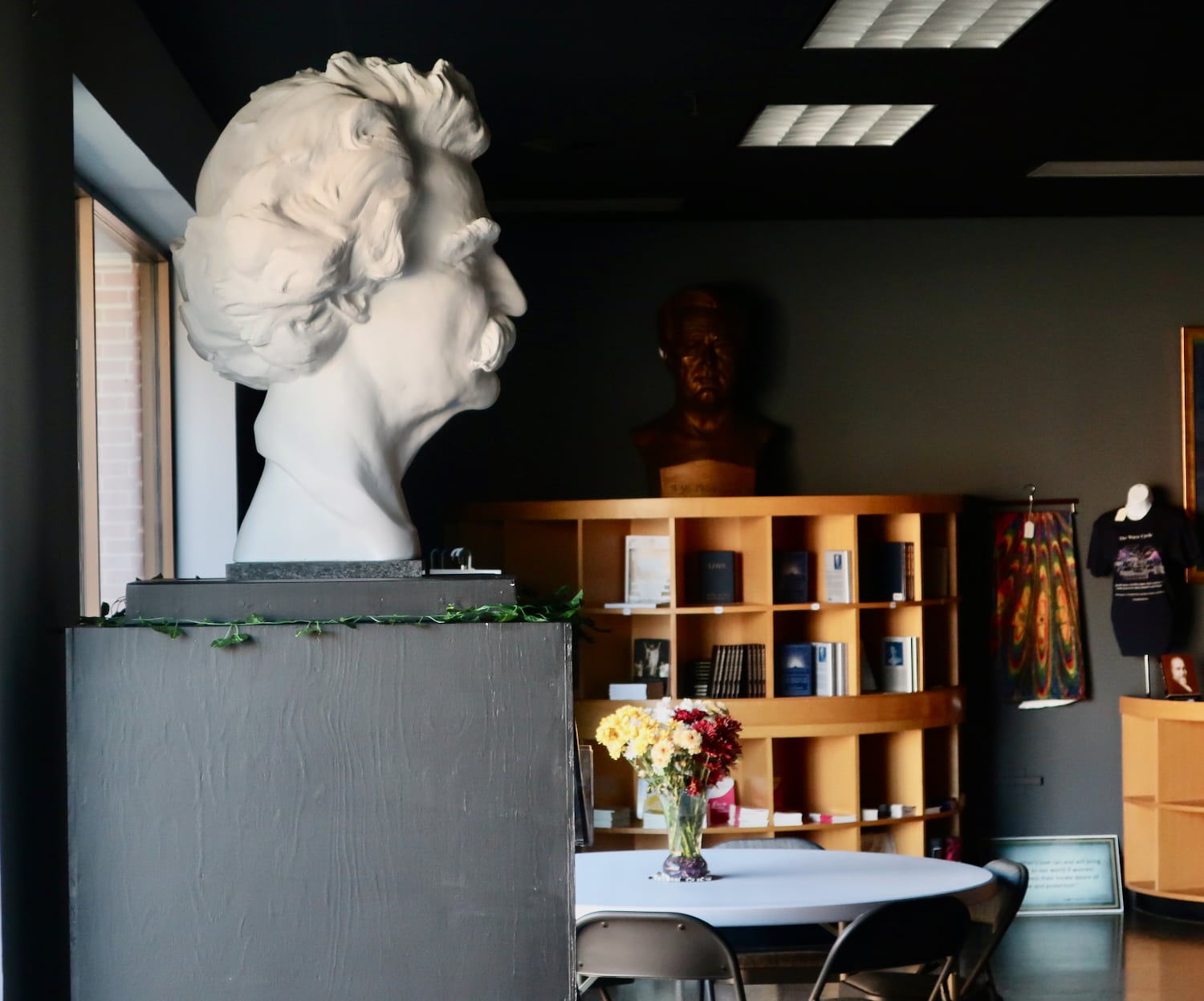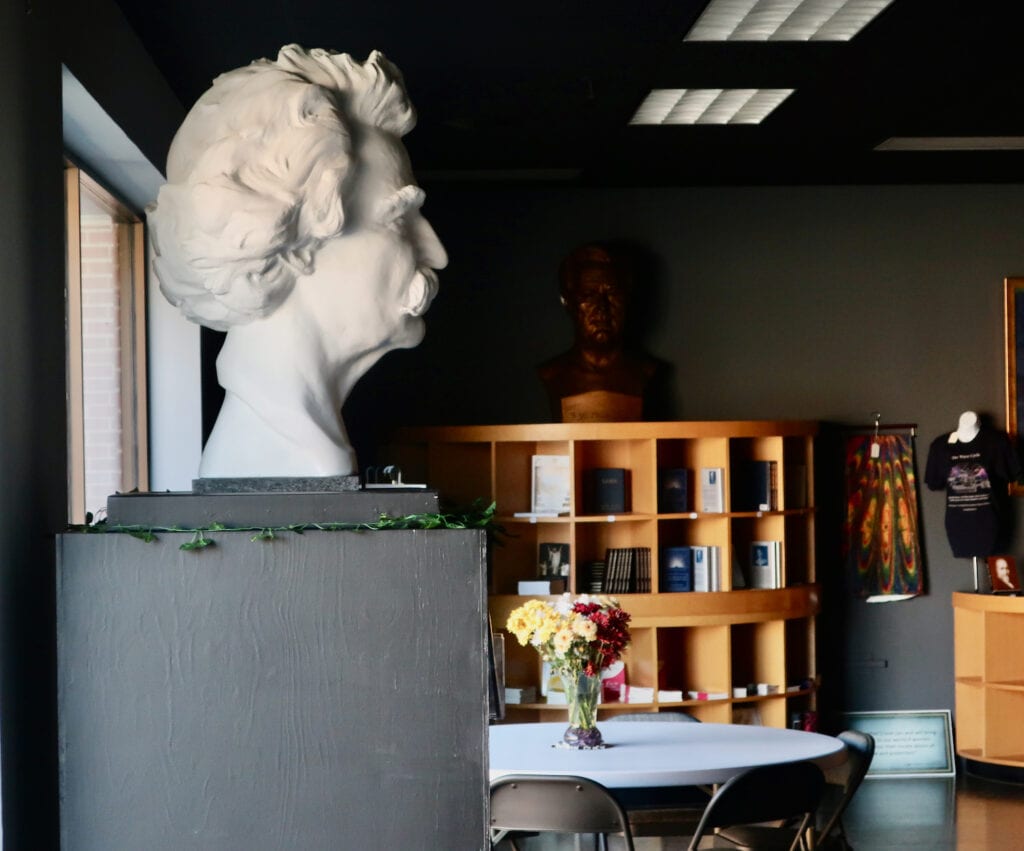 GO: Russell Museum
This establishment does double-duty as both an art museum exhibiting the sculptures and paintings of Walter Russell, and the headquarters of the University of Science and Philosophy, a remote-learning institution, founded in 1957, by Walter and his wife, Lao.
GO: P. Buckley Moss Gallery
Pat Buckley Moss was born in New York City, raised her children in the Shenandoah Valley, and at 90 years old (in 2023), lives in Florida. Her art gallery offers an extensive selection of her bucolic country scenes, quiet Amish folk, and birds. Look for a dollhouse populated by miniature Amish people in the front window.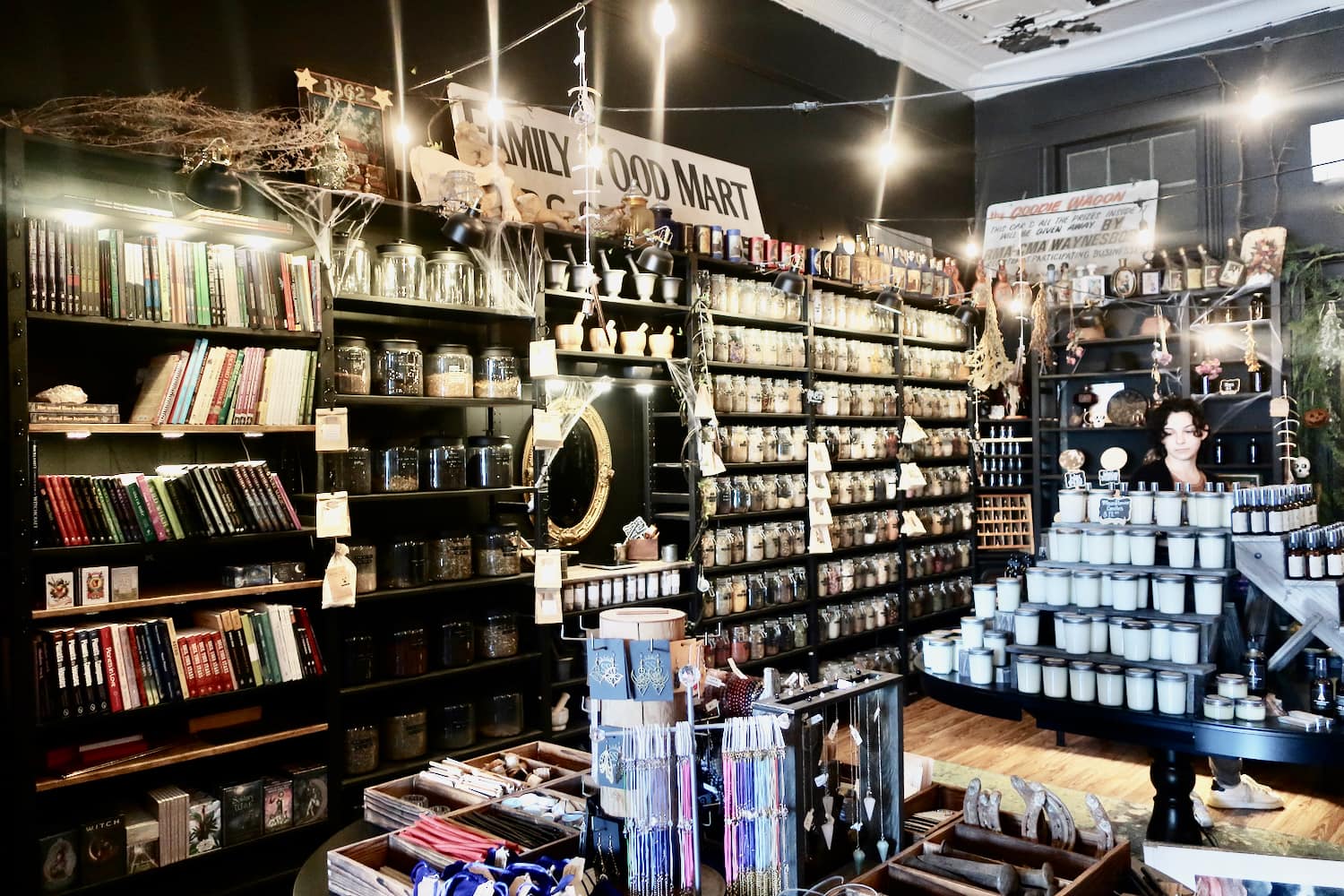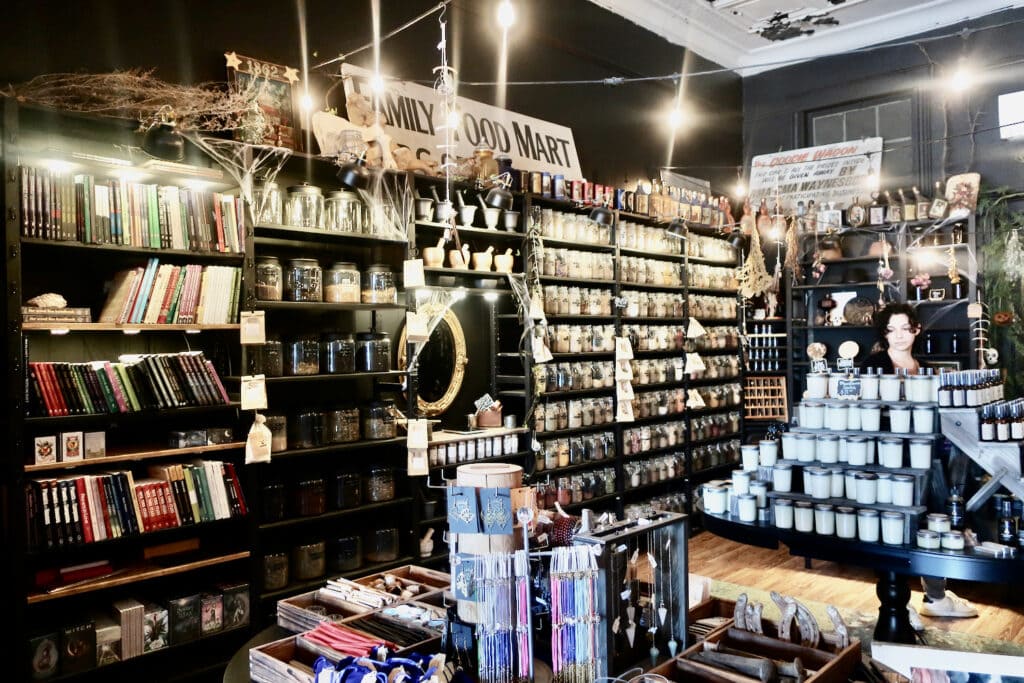 SHOP: Favorite Waynesboro Independent Stores
I found some of the coolest, prettiest, independent shops in Waynesboro. Just another reason to hang out here for a few days.
Adorn
I entered this newly opened, uncluttered, chic women's clothing and shoe boutique, Adorn, and found nirvana. Nearly everything fit me – which is unusual these days for someone who is not 21 or Barbie-proportioned. No wonder there's a growing fan base both locally and from out of town.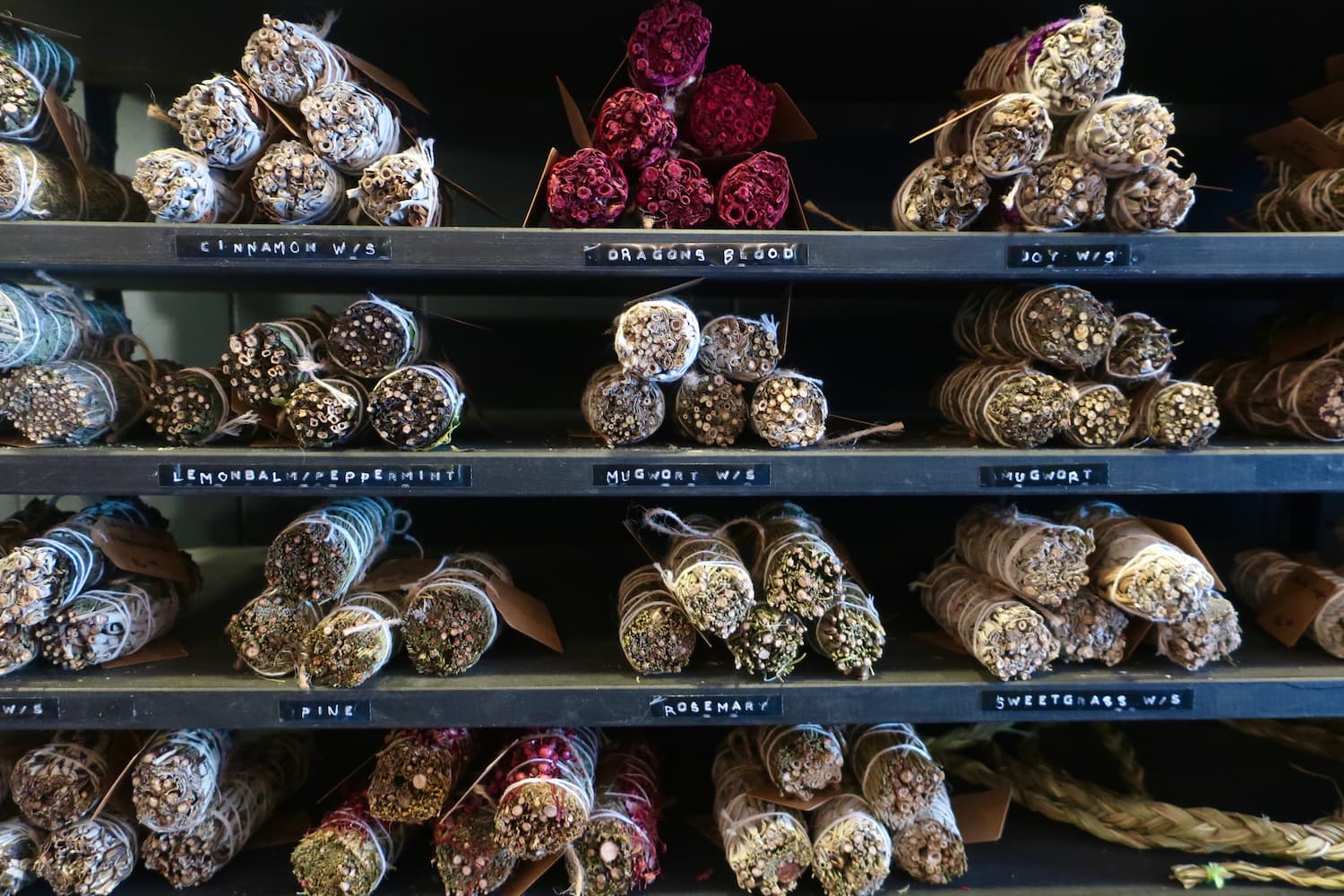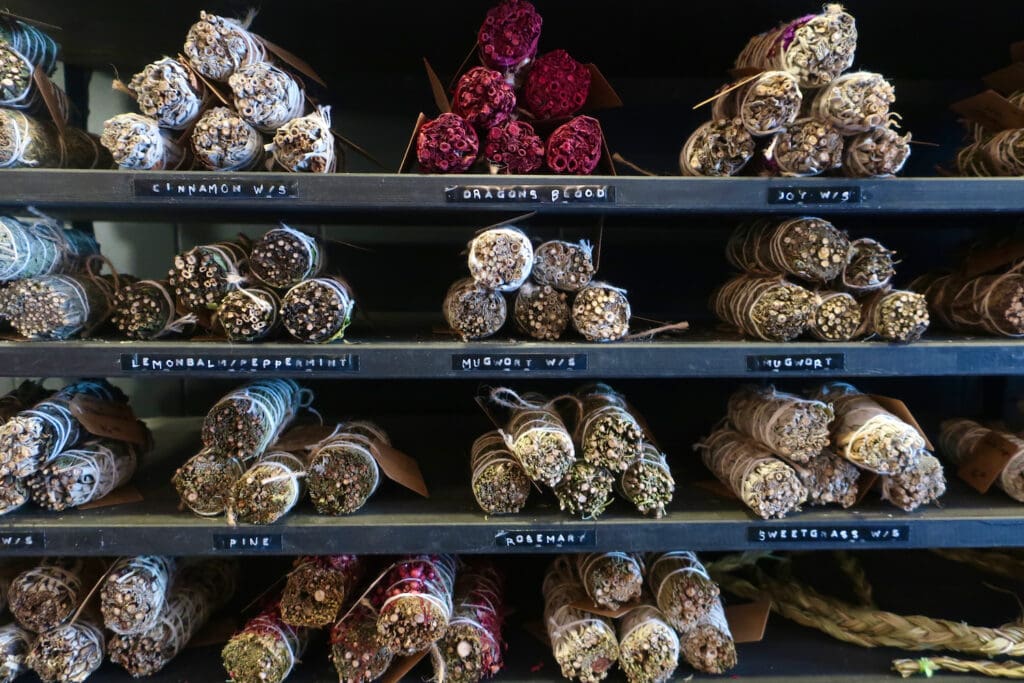 Pyramid: Appalachian Magick + Remedy
Pyramid, a Harry-Potter-magic-meets-Chinese-Herbal-Medicine establishment, attracts even those who aren't into smudging and other mystical woo-woo stuff. (Although for people who are into that stuff, you can buy smudge sticks of many scents – like pine and peppermint – if you're tired of the same old sage).
Jars of loose-leaf teas and other herbs line multiple shelves. There are books, candles, and jewelry galore. The store is so handsomely curated, you feel compelled to buy something. I couldn't leave without a beeswax candle in birthday cake scent!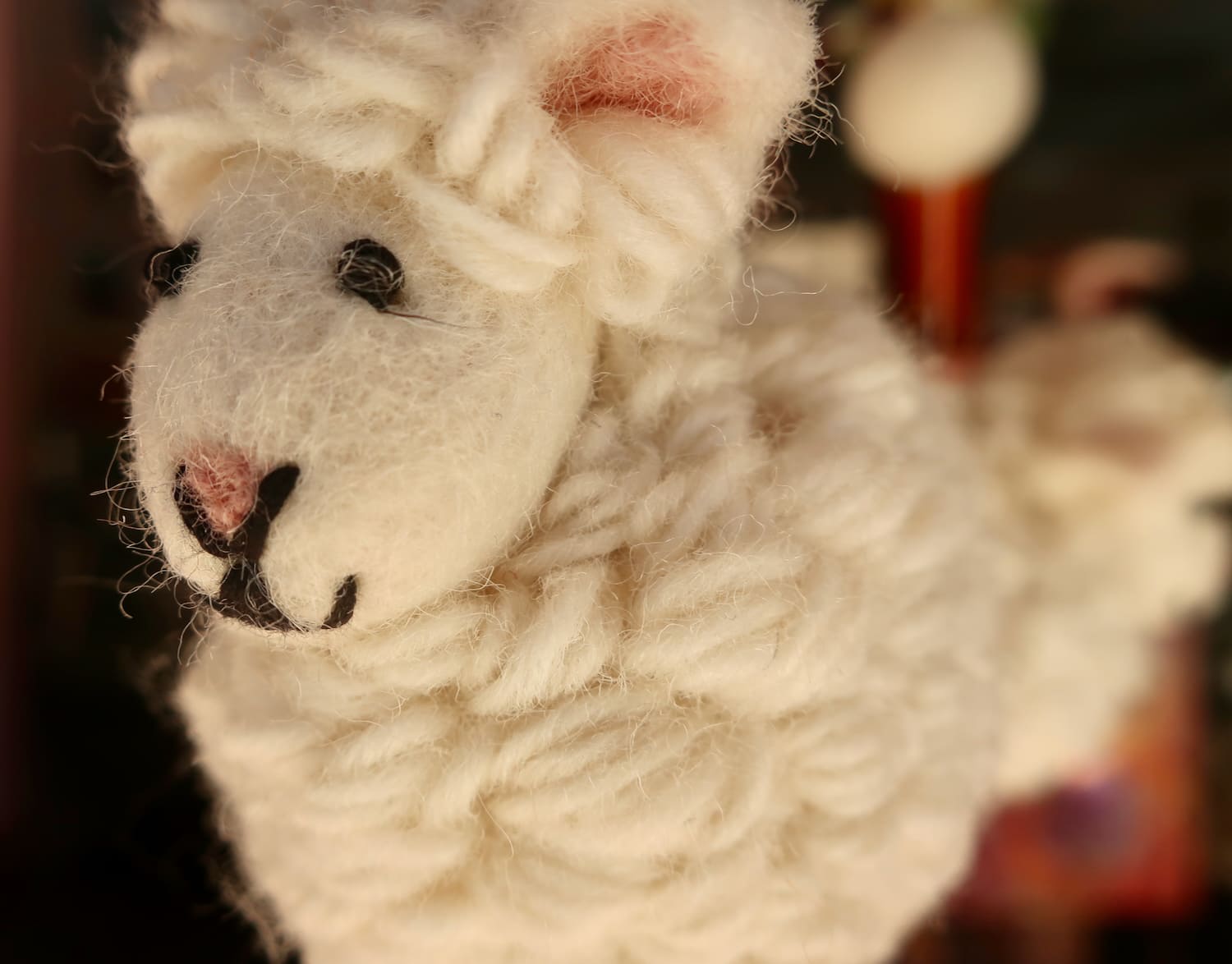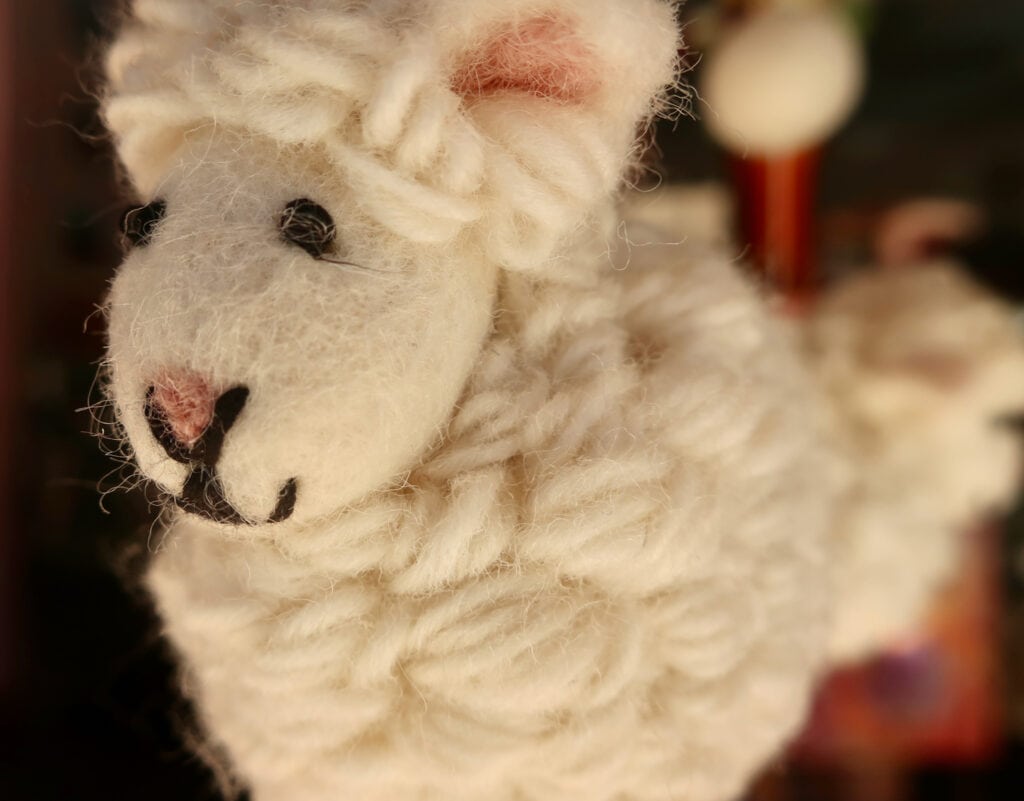 Magnolia Rose
Providing opportunities for survivors of human trafficking and sexual exploitation, Magnolia Rose enables women to be gainfully employed and learn a skill – such as craft-making. So, come in and choose a hand-made item that calls to you – and do a good deed at the same time.
Initial Inspiration
Evidently, anything can be personalized or monogramed – as you'll see in this indie shop – Initial Inspiration – that hit Main St. like gangbusters. Find everything from baby clothes and accessories to wooden platters, handbags, and so much more.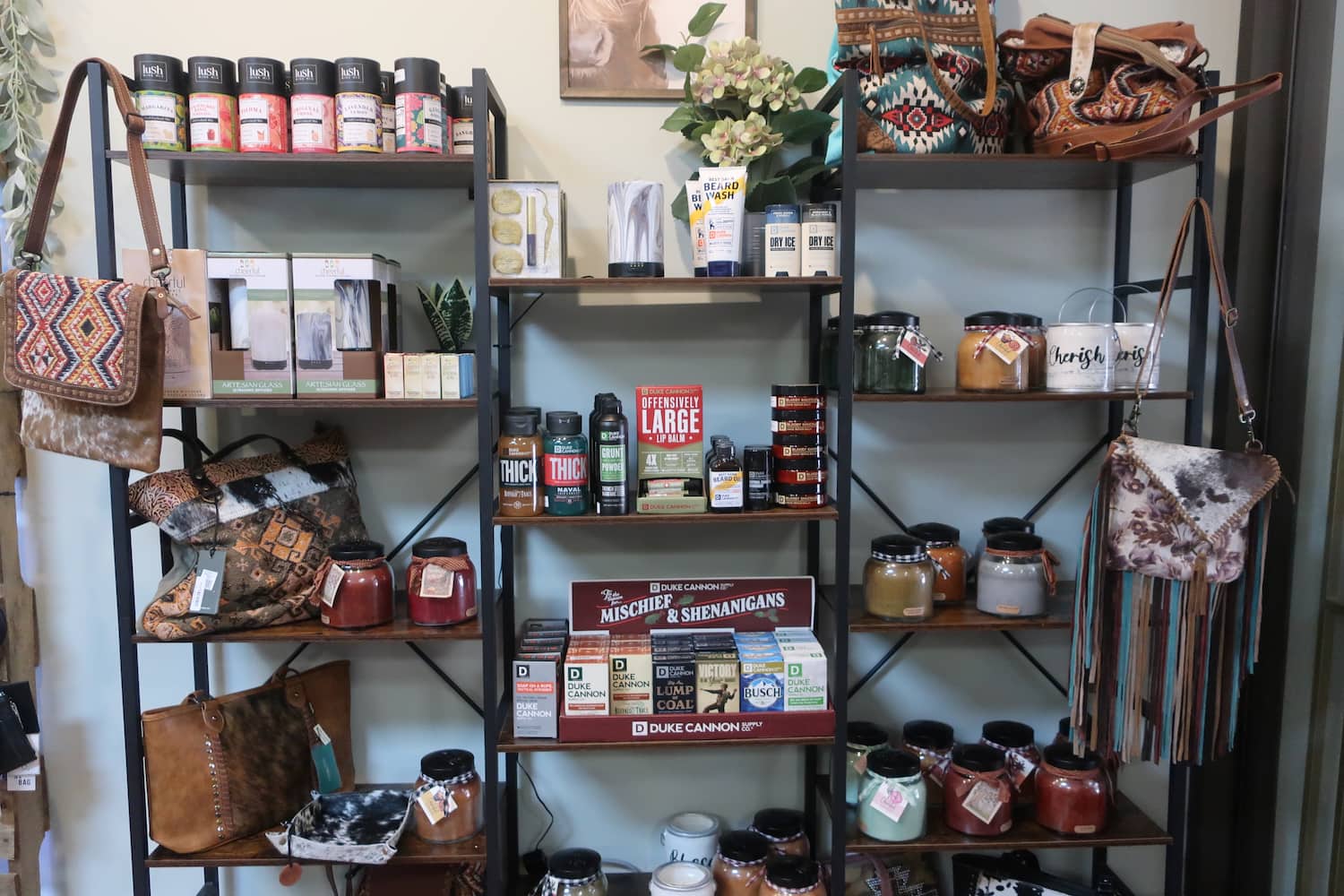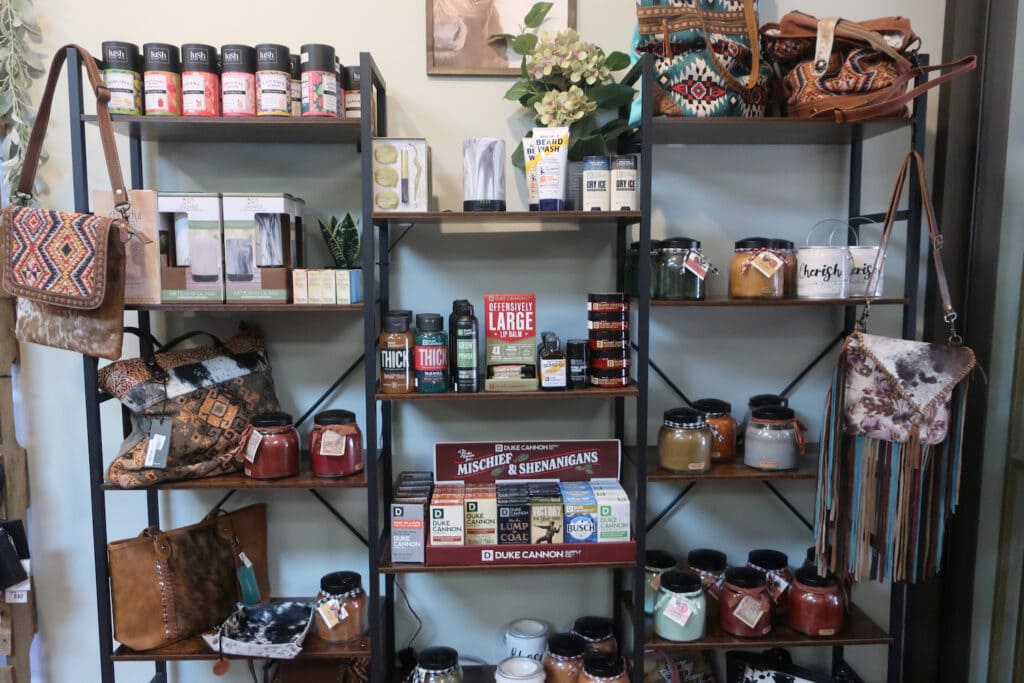 Boutique in the Boro
Boutique in the Boro has a Southwest vibe – from stacks of jeans to cow hide rugs and purses. It's also got local flair – and some items you may never have seen before: Always a plus for holiday gift-giving.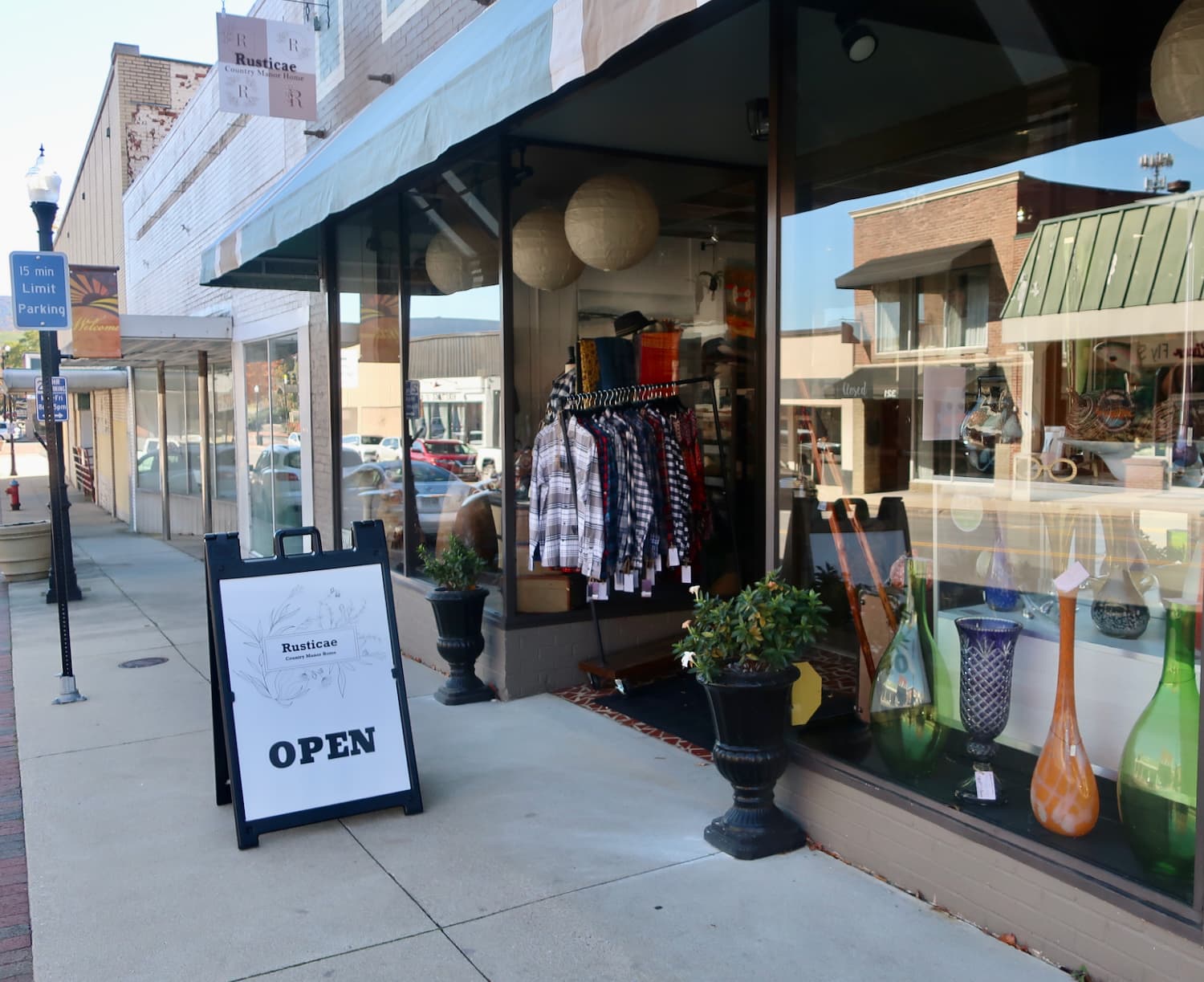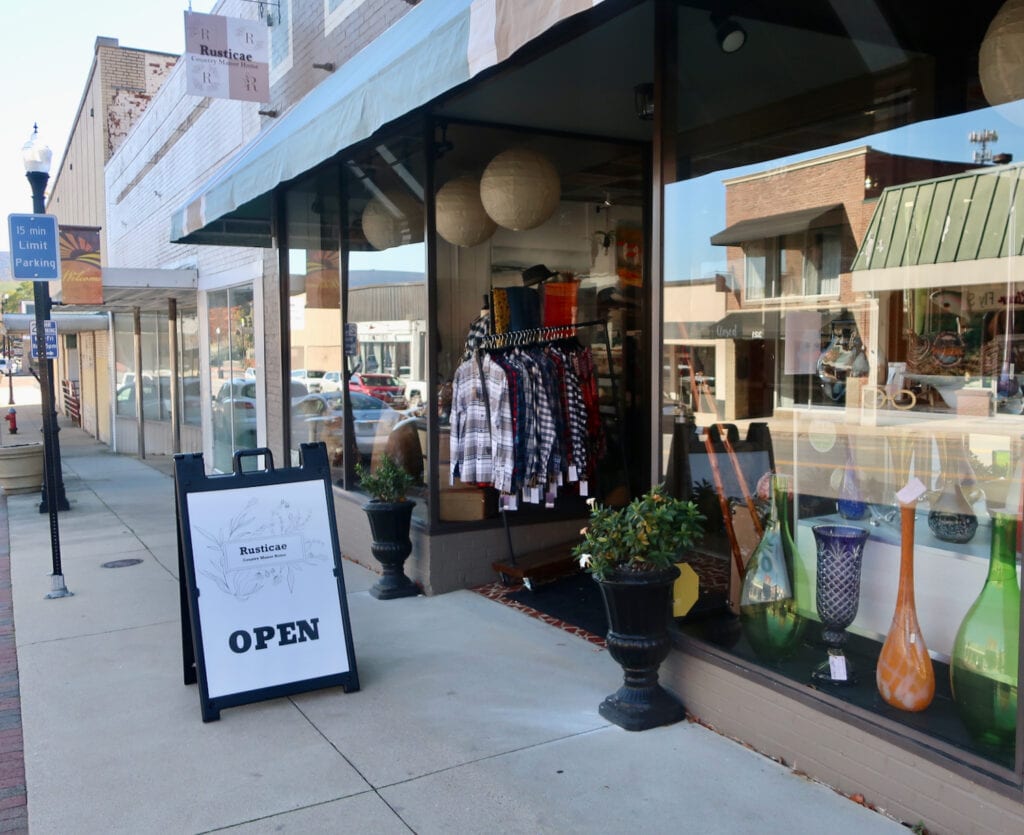 Rusticae-Country Manor Home
Get your kicker boots, cowgirl-chic duds, and rustic-country housewares just perfect for a barn dance party at Rusticae Country Manor Home.
Where to Eat and Drink in Waynesboro VA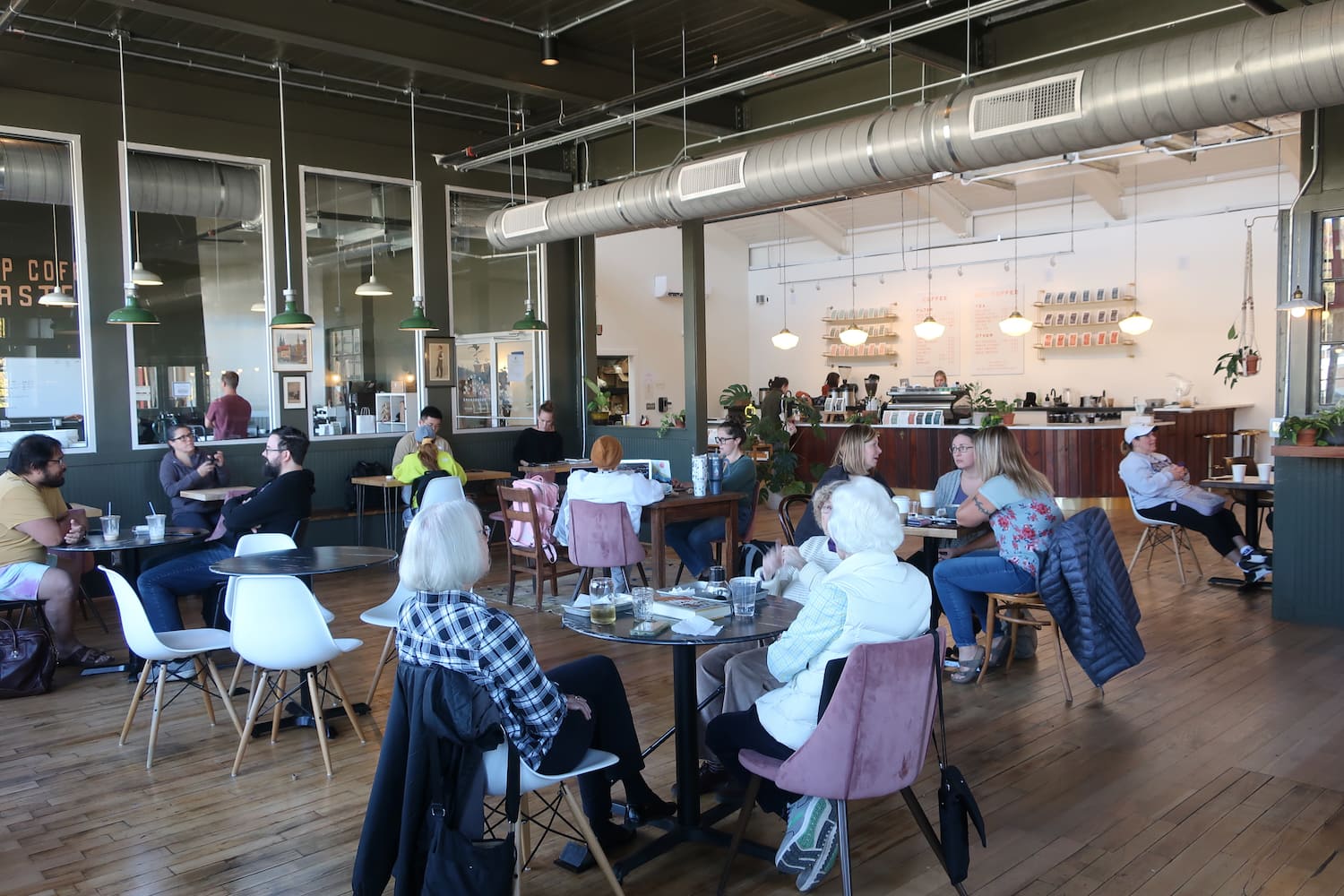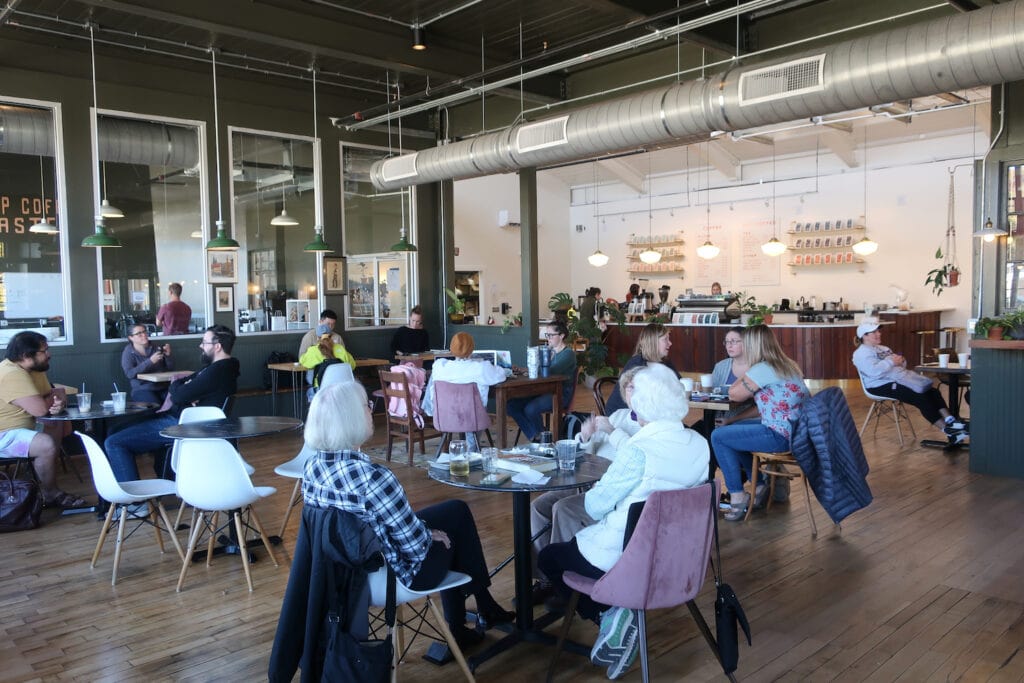 COFFEE: Happ Coffee
Happ Coffee owners are all about sustainable farms and fairly paid coffee farmers around the world – so the quality of your morning java there is top notch. In the repurposed and airy Virginia Metalcrafters Building (next door to Basic City Beer), Happ Coffee's voluminous eating/drinking area jams with lots of locals sipping their first cup of the day. Or – downing an energizing smoothie.
The building itself is contributing to a Waynesboro revival of sorts.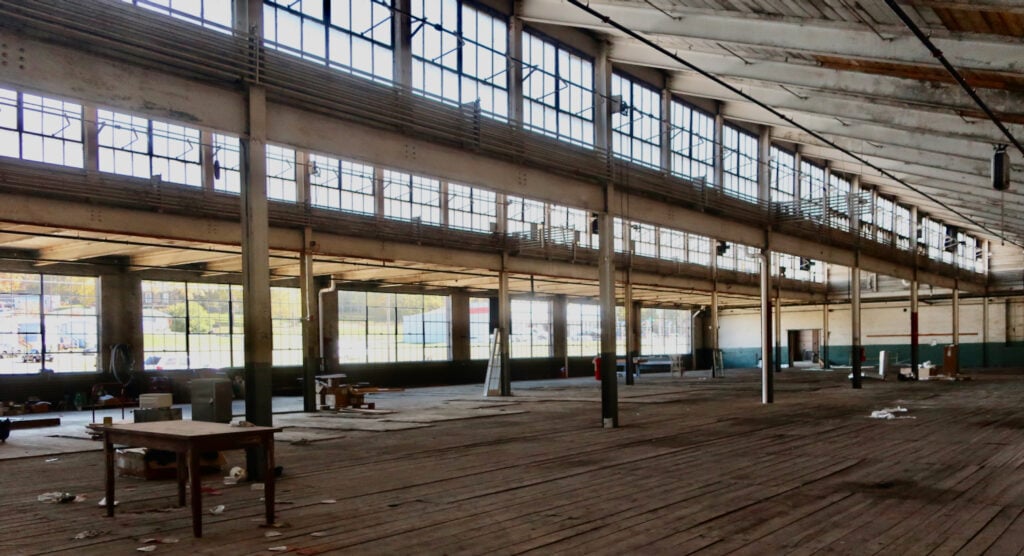 Metalcrafters Building
Over the next few years – the Metalcrafters Building will add more and more businesses as it builds out and divides up its vast former factory space. Creative individuals and companies of all kinds will love the banks of windows that bathe these new spaces in soft light and sunshine. If you're local, you can watch as the shell morphs into a bonafide indie business center.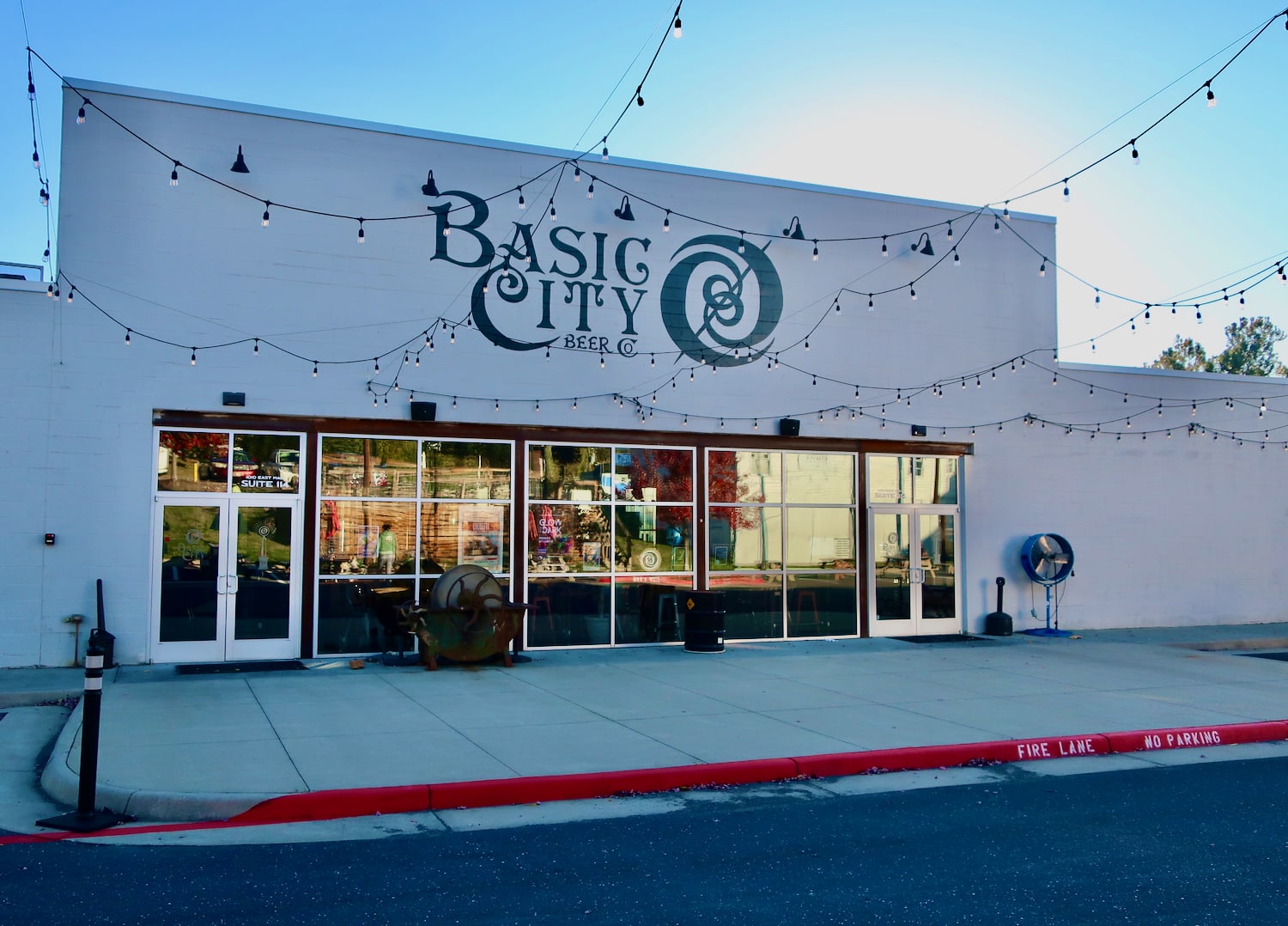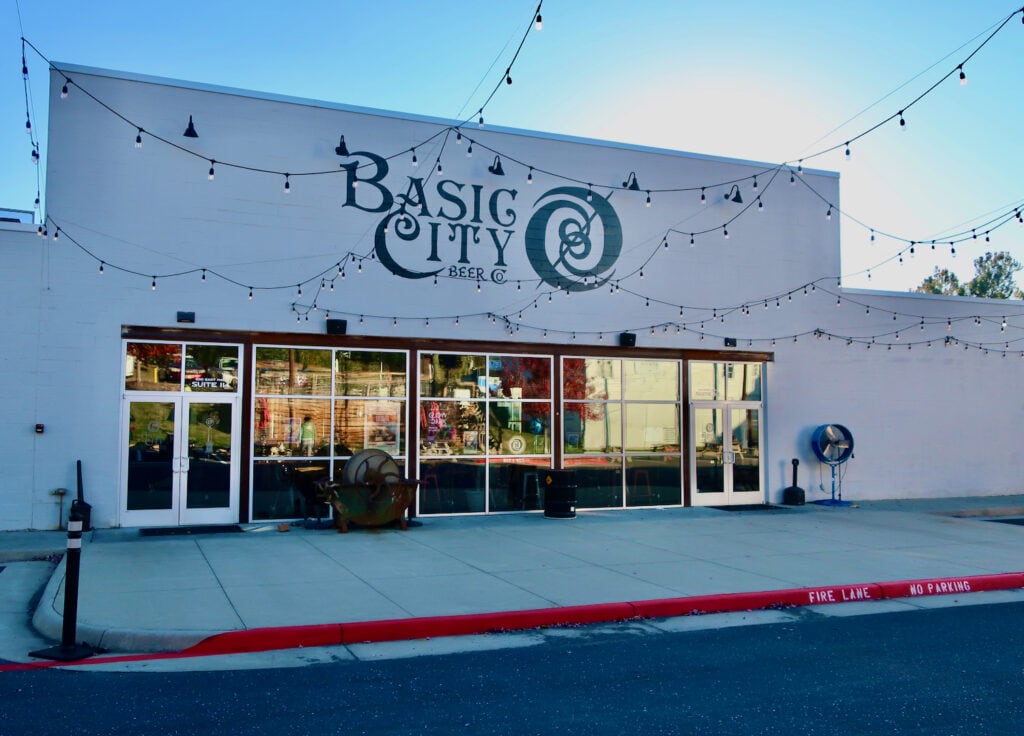 BEER: Basic City Beer
As Basic City Beer is just a few miles from the junction of the Blue Ridge Parkway and Skyline Drive – it's a favorite of Parkway drivers and area hikers. And locals, of course. Basic City has transformed one section of the Metalcrafters Building into a tantalizing beer hall, restaurant (Patina), and event venue – The Foundry. If you're looking for something to do at night – check the roster of happenings here.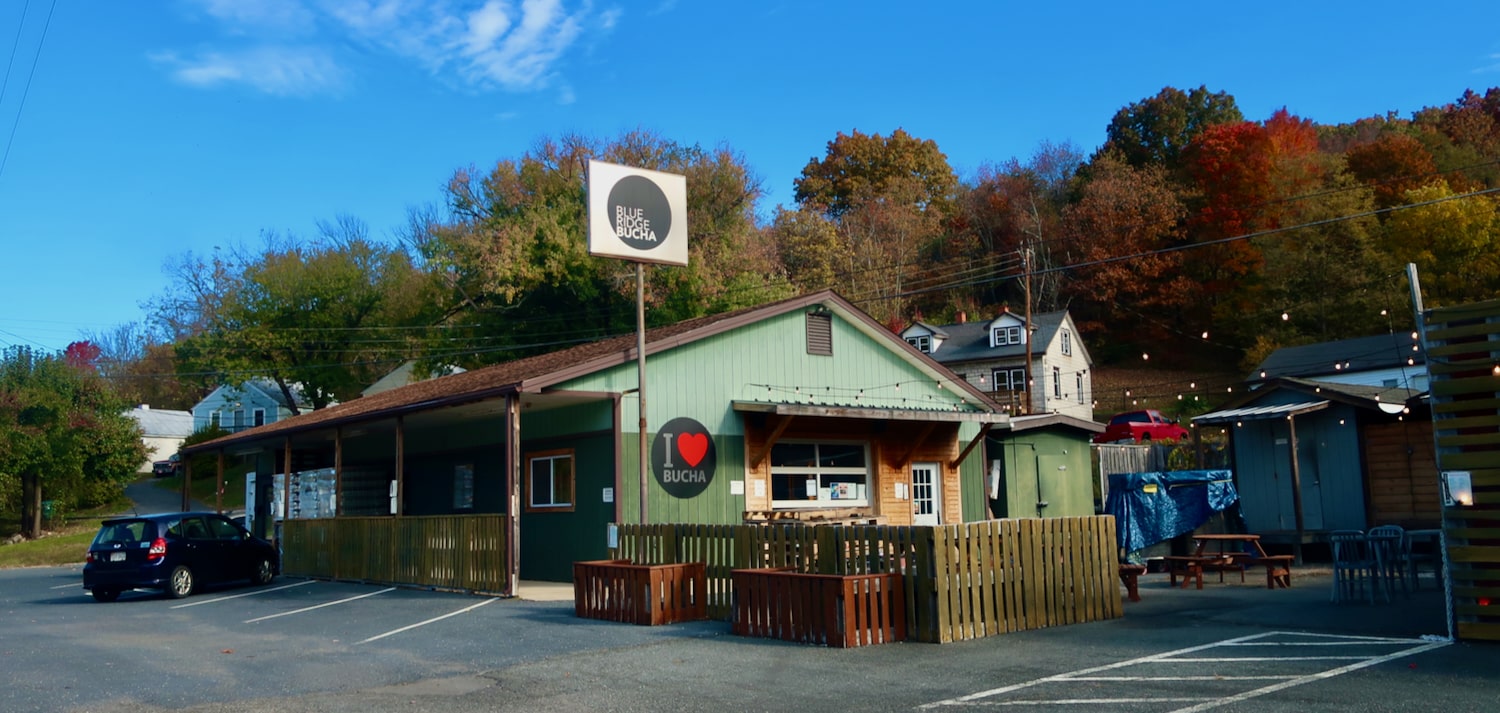 KAMBUCHA: Blue Ridge Bucha
An establishment dedicated to kombucha might seem kooky to some, but it's an idea whose time has obviously come. You've had your coffee, you've downed your beer. Now, it's time to sample this fermented health drink. Blue Ridge Bucha is one of the very few kombucha tasting rooms on the East Coast. Their handcrafted brew blends organic ingredients with the same culture they've been using for over a decade.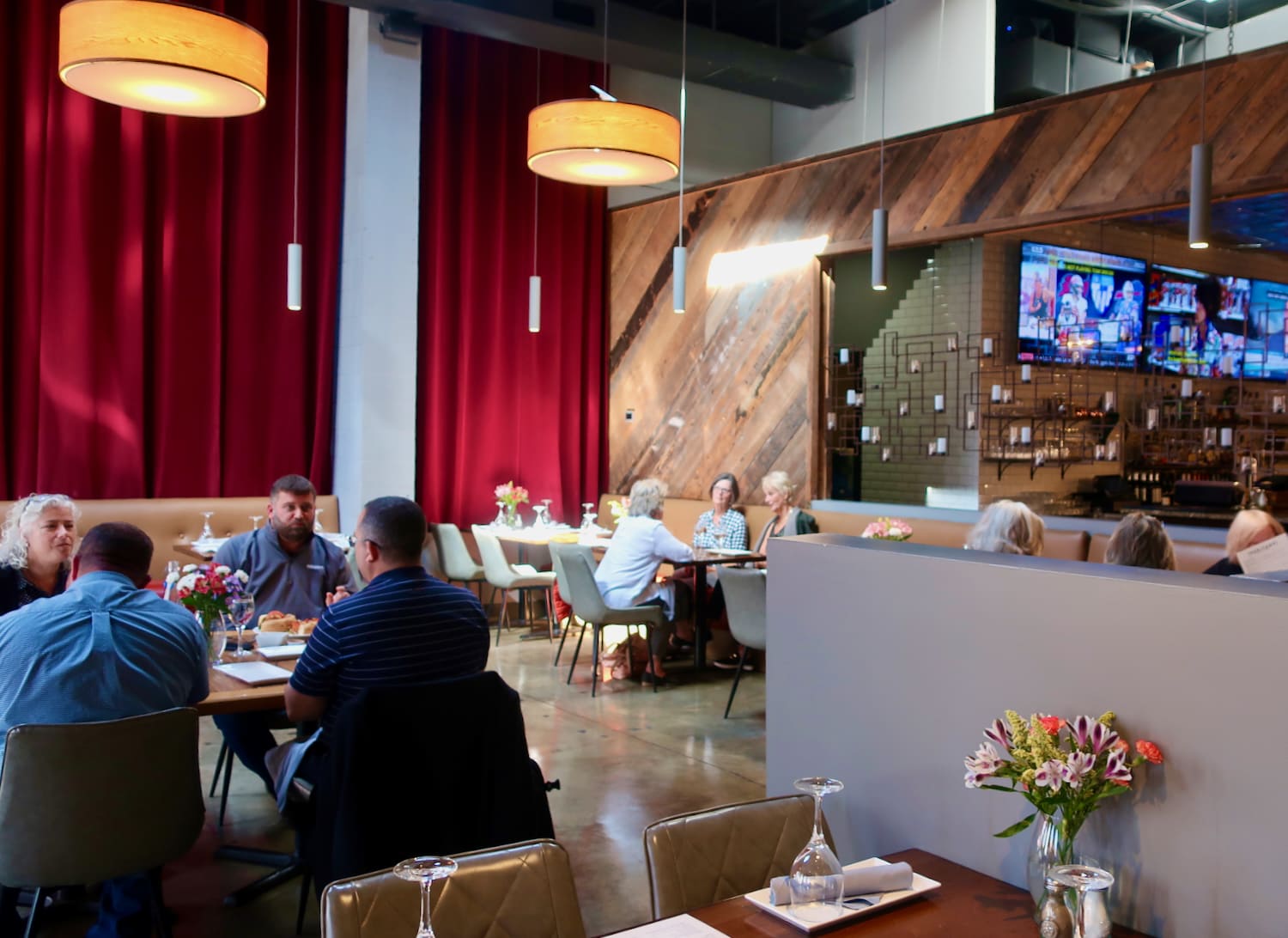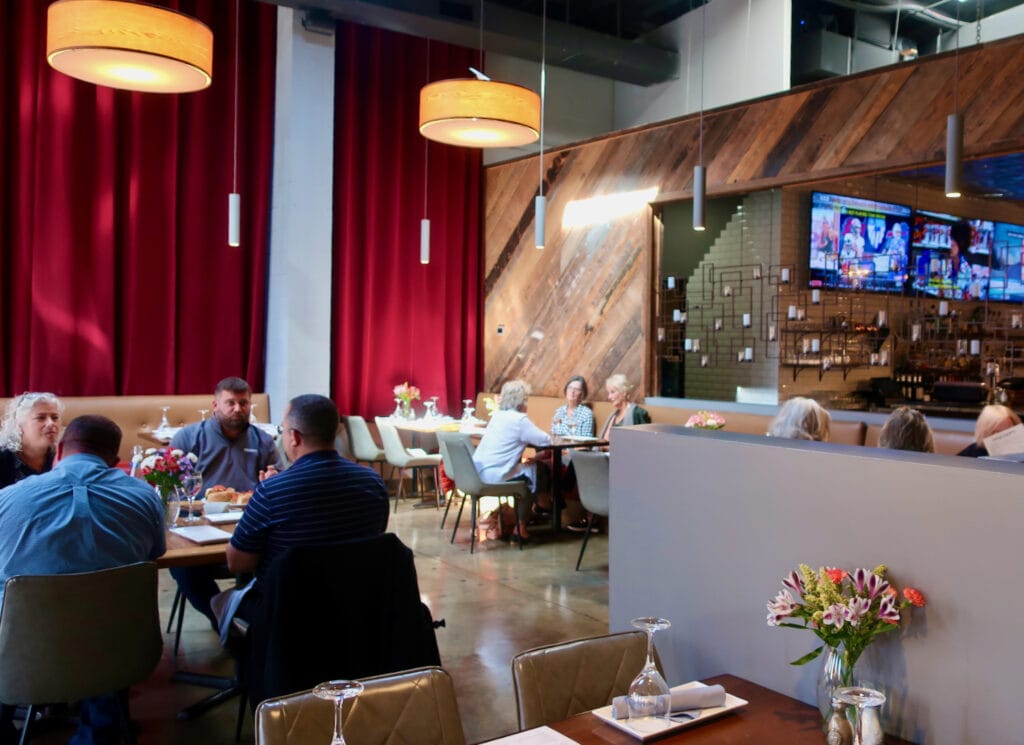 EAT: Heritage on Main
How do you create a sexy, cozy romantic vibe – just perfect for Date Night – out of a former Corner Hardware warehouse building? You suspend a ceiling from high above the bar area with chains, and make sure you've got plenty of candles and flowers to soften the industrial aesthetic.
It's worth it just to step inside Heritage on Main to check out the interior design, but stay for some drinks and a bite. By day, the kitchen turns out sandwiches and burgers. By night – surf, turf, and pastas.
EAT: The River Burger Bar
Ironically, The River Burger Bar is owned by a female vegetarian, Mandi Smack, who is also co-owner of local Blue Mountain Brewery, Blue Mountain Barrel House, and South Street Brewery. So, expect unique burger combinations, innovative menu items made with locally sourced ingredients, and of course, plenty of craft beer on tap, in a place thronging with patrons every day of the week.
EAT: Patina
If you like your pizza and other Italian delights in the glow of arcade games – AND with fresh-brewed beer through the door at Basic City Beer – you'll love this very casual, but ultra fun Patina restaurant.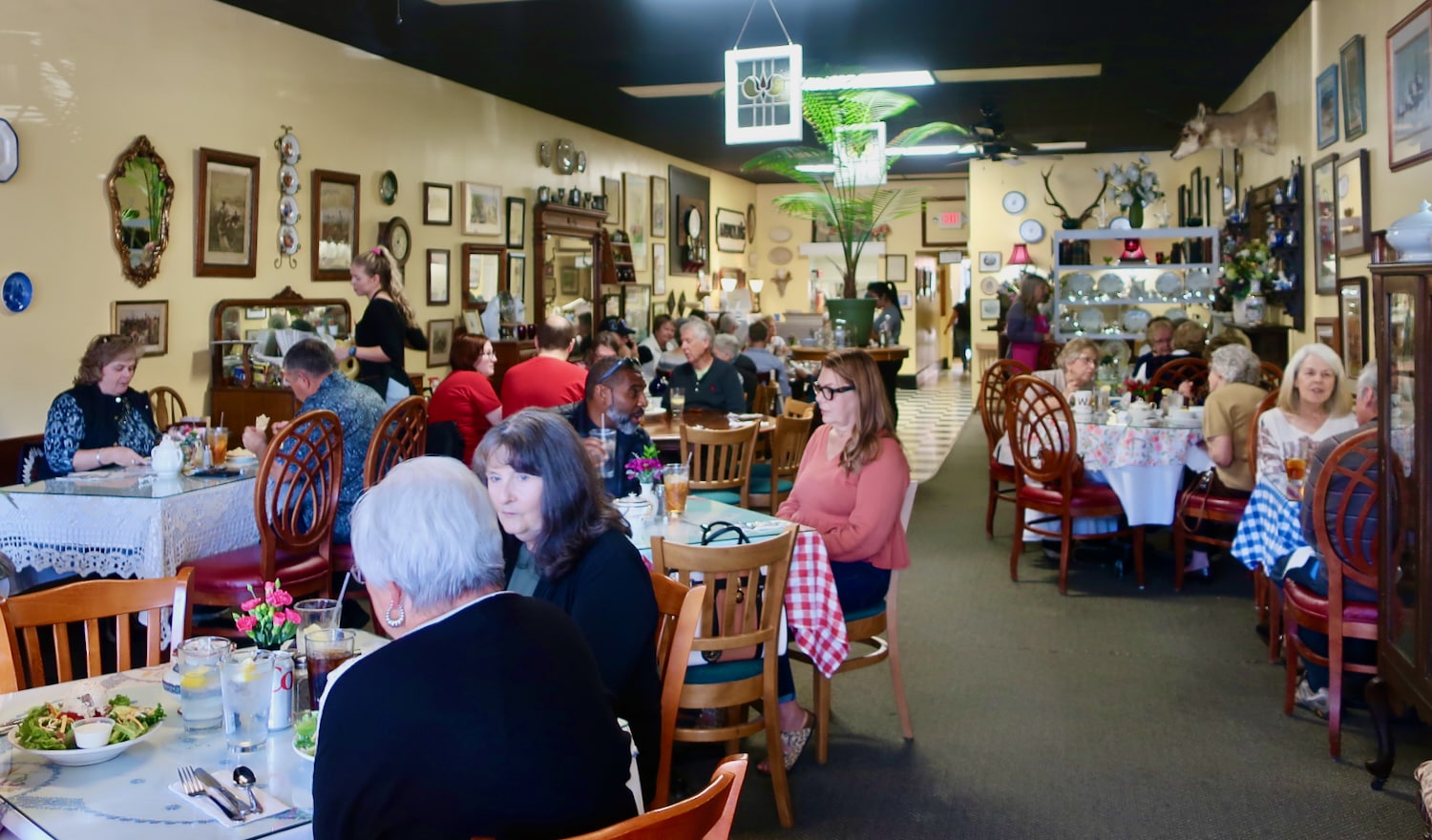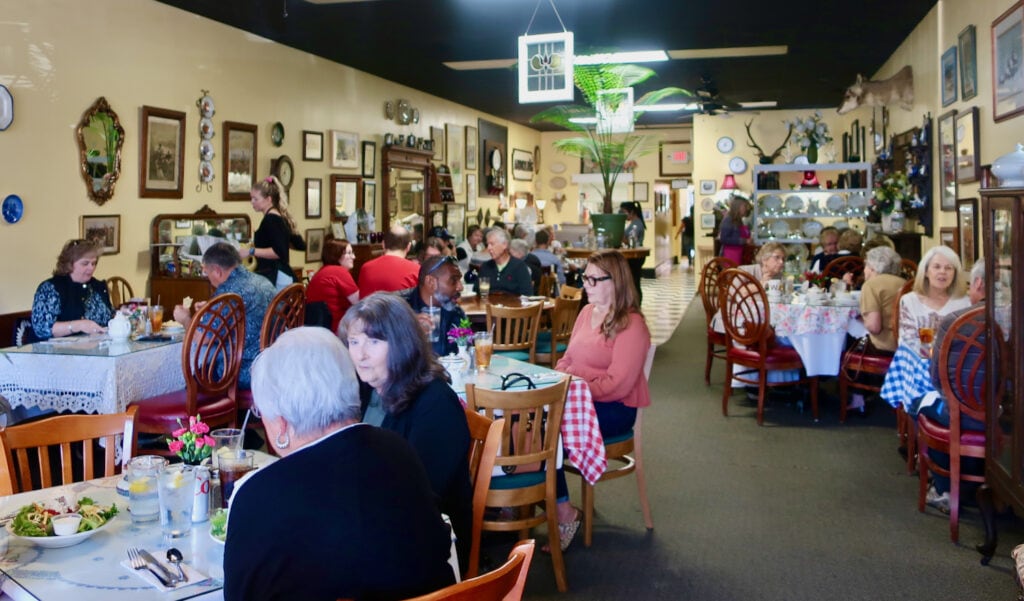 EAT: Stella, Bella, and Lucy's
Lines were out the door to get into Stella, Bella, and Lucy's Café – a tea-house lookalike – for lunch on a weekday. Named for the owner's dogs, the café's dishes hark back to a ladies-who-lunch menu (Chicken Salad on Pineapple Wedge, anyone). But there were plenty of guys here at the noon hour.
Where to Stay in Waynesboro VA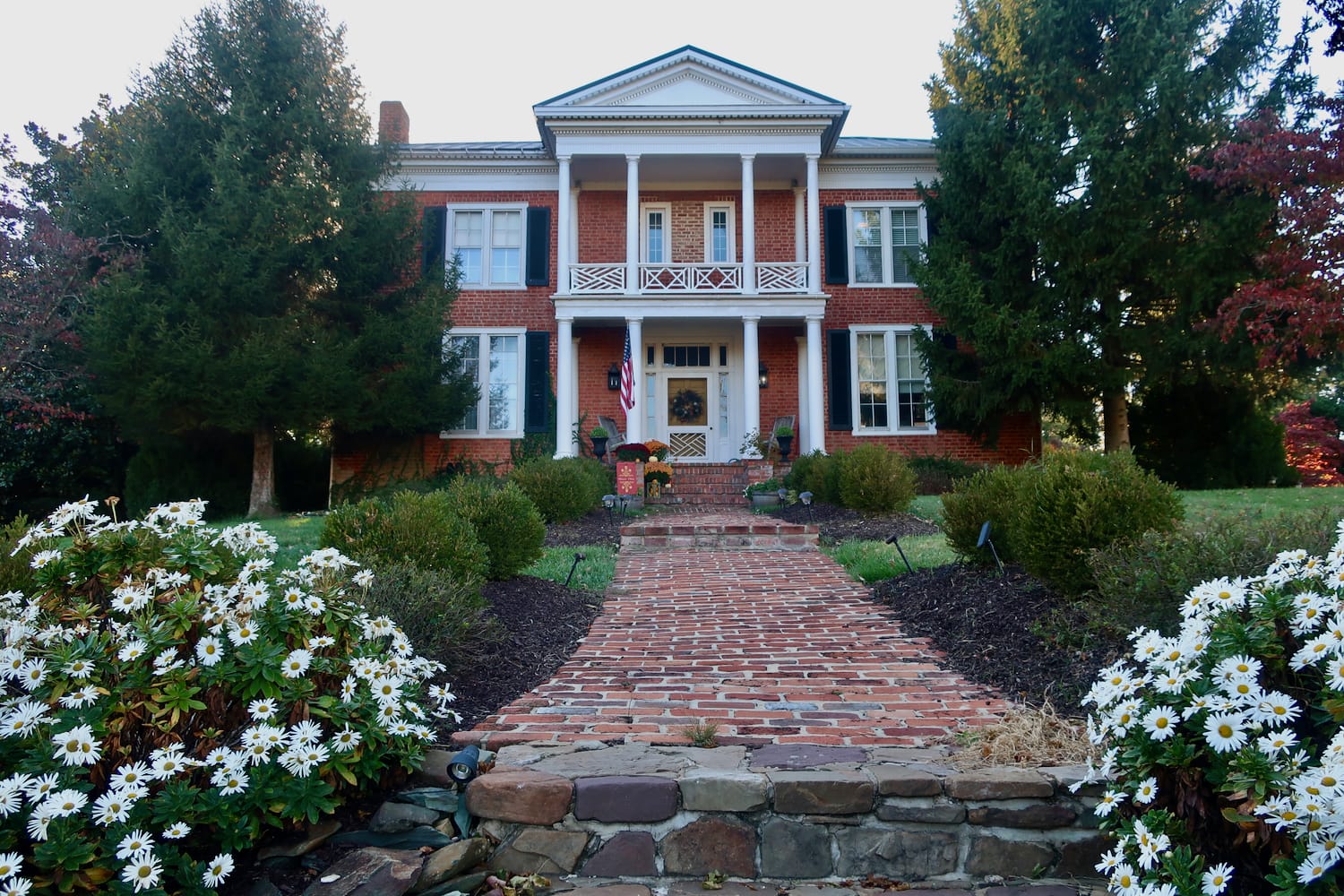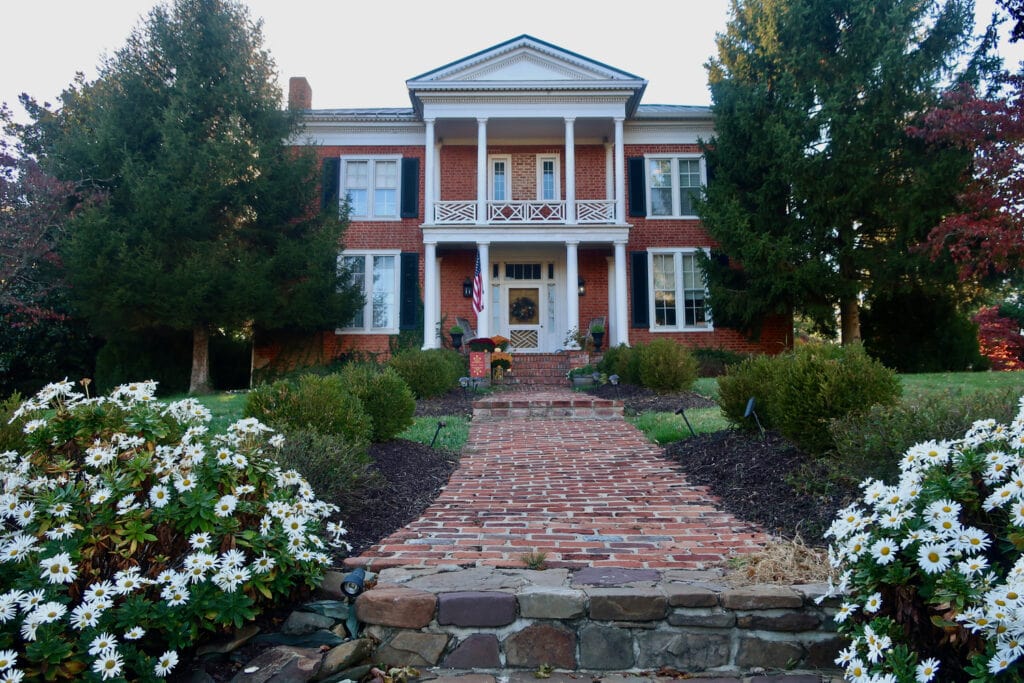 STAY: Heritage Hills B&B
In 2017, Dana and Scott Mares took one look at this brick mansion on a hill – just a five minute drive from downtown Waynesboro VA – and decided then and there to buy the 1847 private home and turn it into the romantic three-room Heritage Hills B&B.
Not only is the antique-filled home imbued with romance, the setting itself, with its undulating lawn overlooking the Blue Ridge Mountains, is stunning enough to attract a growing number of wedding parties.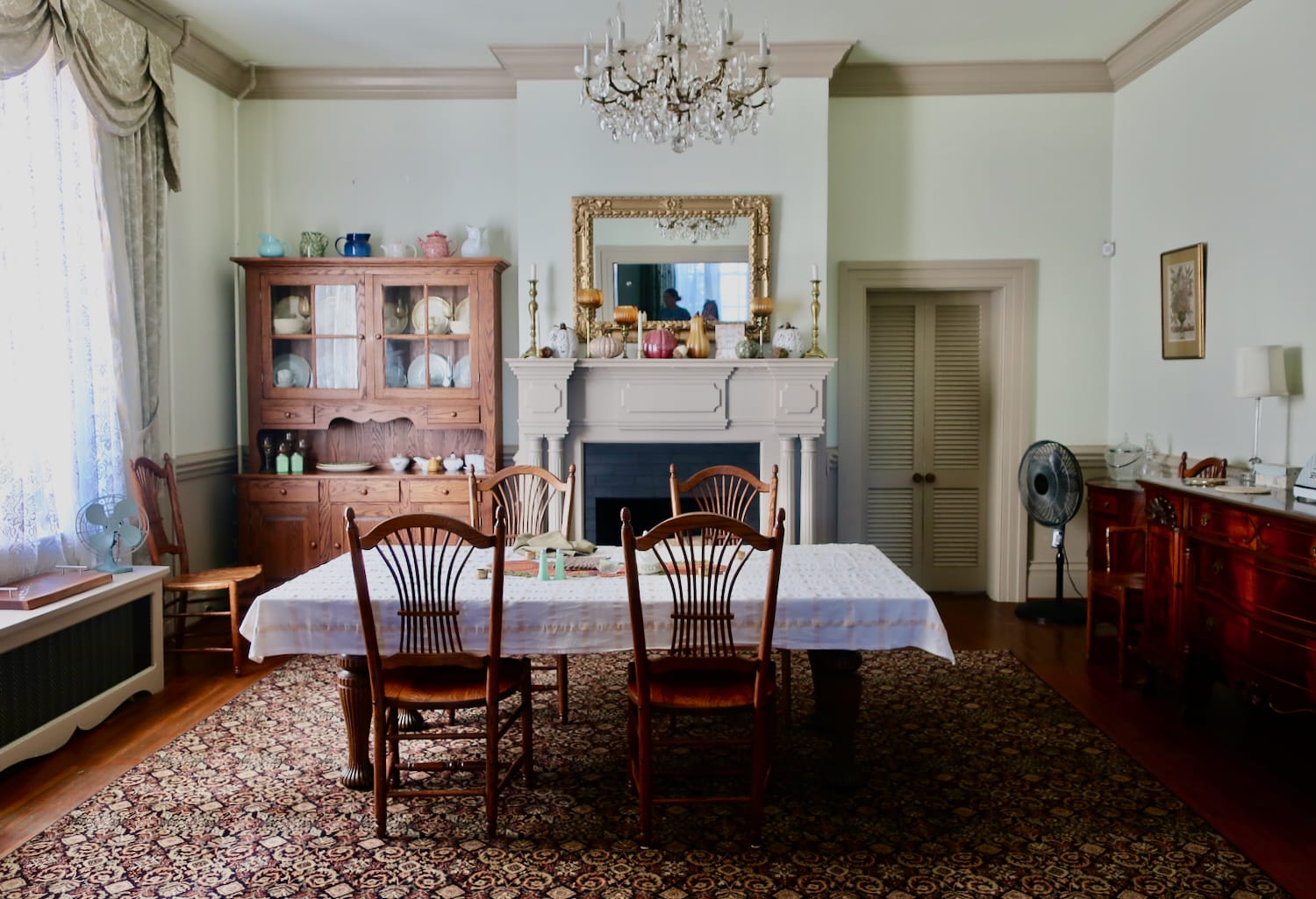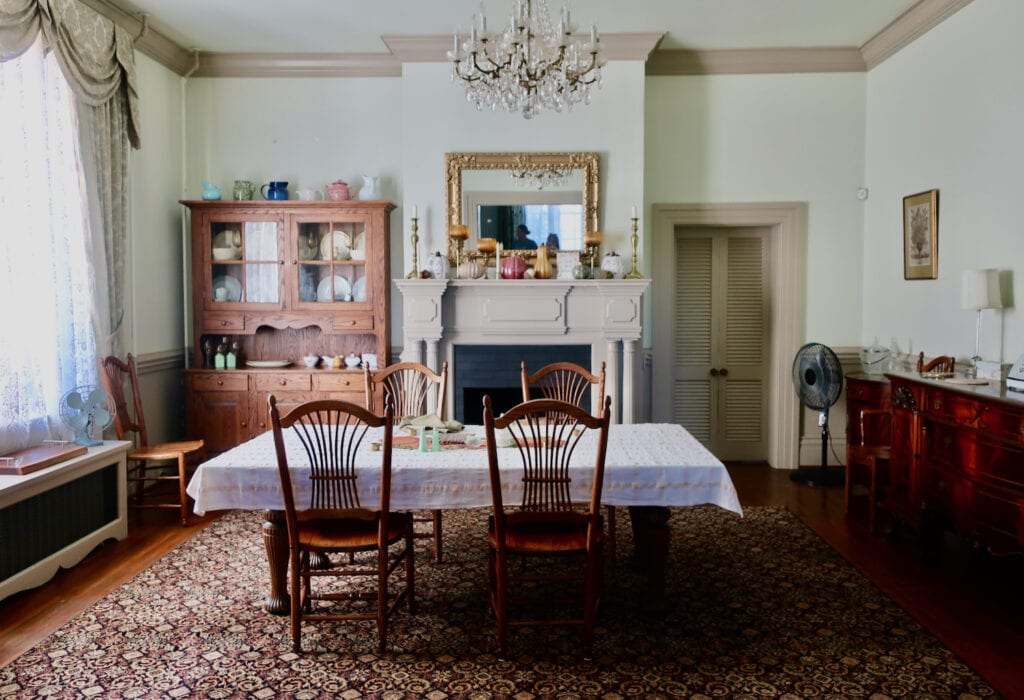 First Impressions
As you drive from downtown Waynesboro through residential streets you may wonder how a luxury inn can fit in amongst these tidy, but small, homes. Turn a corner, however, and there it is: a brick columned mansion set on acres of mountainous land. Gardens surround the mansion and the cottage that the Mares built on site to live in – just steps from the back door.
Dana greets guests kindly, with incredibly delicious chocolate chip cookies and a tour of the inn. Downstairs each sitting room is warmed by a fireplace.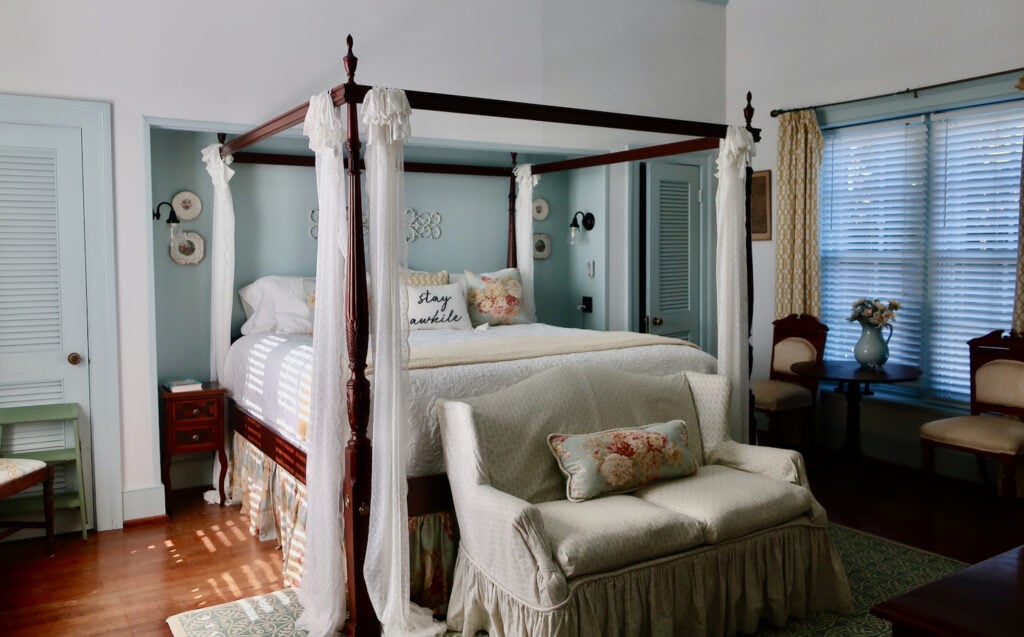 Rooms at Heritage Hills B&B
All three chambers – the Gold Room; the Red Room; and the Blue Room – are spacious, bright, and infused with Victorian antique charm.
For honeymooners, or serious romantics, book the sunlit Blue Room with its canopy bed and mountain views. However, if you prefer a fireplace room, book, the Red Room.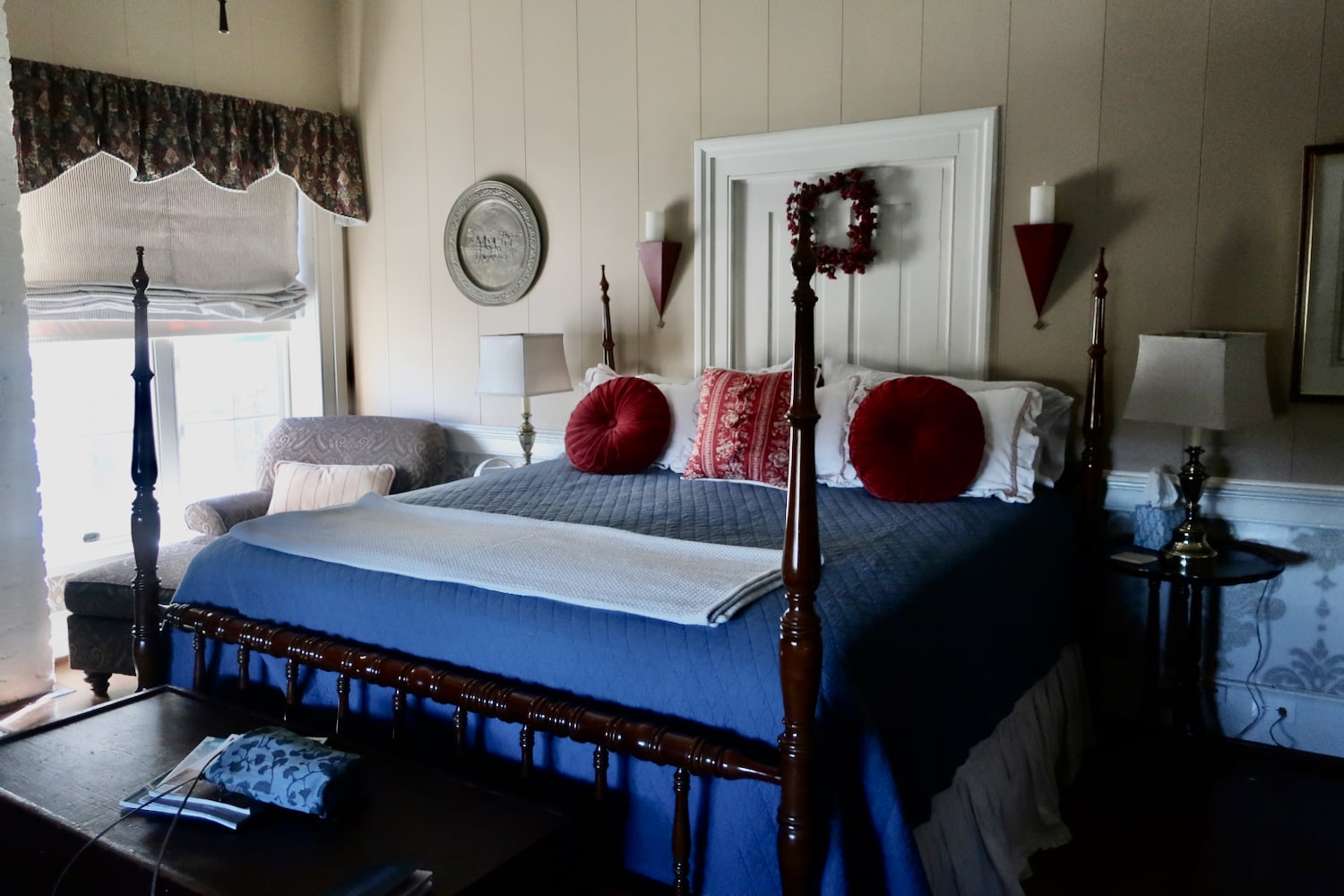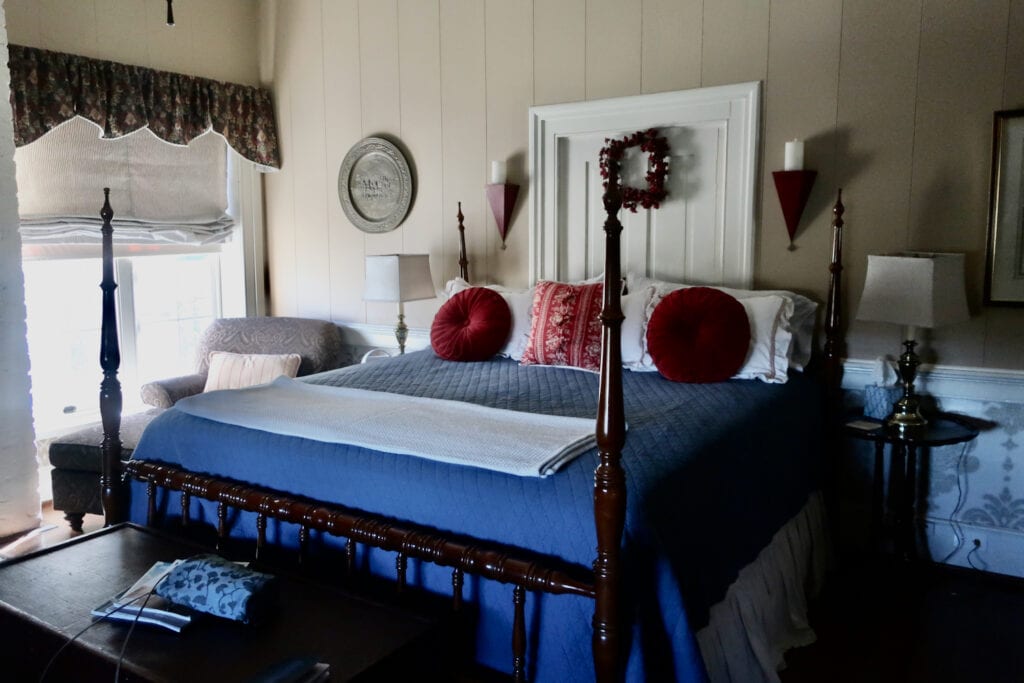 I stayed (solo) in that room, with its hardwood floors and wainscoted walls, sporting a fireplace, a four-poster King bed, a sleeping couch perfect for reading and writing, a new marble-tiled shower, other antique knick-knacks, and, surprisingly, a flat-screen Roku TV.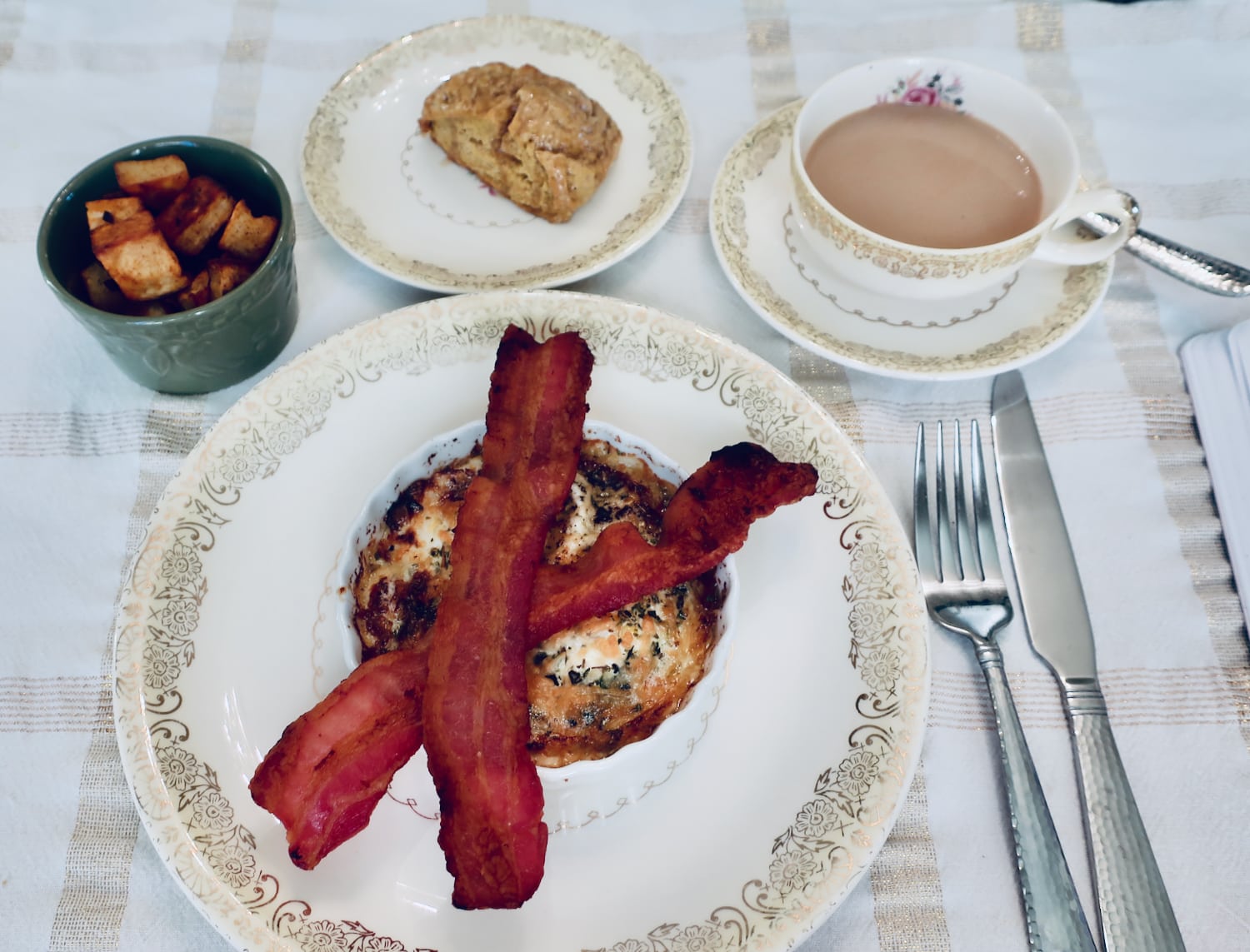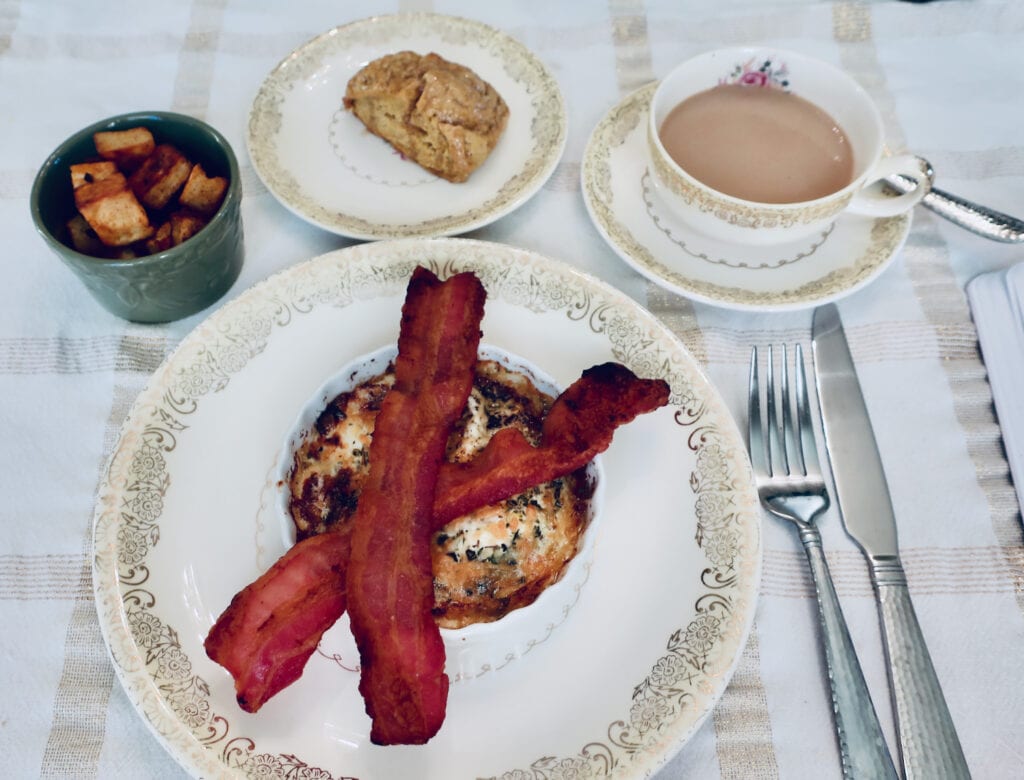 Breakfast at Heritage Hills
Dana serves her marvelous several-course gourmet breakfast on a dining table framed by the room's stately appointments. Although it changes daily – and with the seasons – the morning meal might begin with a fresh-baked scone and berry salad with candied pecans, followed by an egg dish – like quiche with bacon, and well-done home fries with onions.
Weddings and Workshops
In the future, the Mares intend to increase the number of weddings on their breathtaking hilltop. It's perfect for smaller parties, as they'll rent out the whole house for up to 12 people for two nights.
And, as the Mares keep bees – they intend to run some beekeeping workshops during the year. Check the website, or call, for more information.
All articles belong to Getaway Mavens LLC, and all photos belong to us as well, unless otherwise noted. It's all copyrighted. Please don't repost anything elsewhere without asking us first. All rights reserved. This site uses cookies to enhance your experience.
We make no guarantees of any price listed on our site. We're not responsible for content on external websites linked to ours, including linked resources, an external blog post, any partner site, hotel property sites, or affiliate sites. We only write about places we have vetted, but can't guarantee that your experience will be exactly the same.
Posts may contain affiliate links at no cost to you. Several of our trips are also compensated by the respective tourism boards for the city or state we are visiting. This never impacts how we share the destination with you – opinions are always our own and we pride ourselves on that. We do not sell links or accept unsolicited guest posts under any circumstances. Don't even ask.
United States Copyright, Getaway Mavens, LLC