WHY GO: In 2012, the City of Rio de Janeiro was named by UNESCO as the World Heritage Site of Cultural Landscapes. It's got the Bossa Nova, cool clubs, and one of the three South American hotels on Conde Nast Traveler's 2018 Hot List.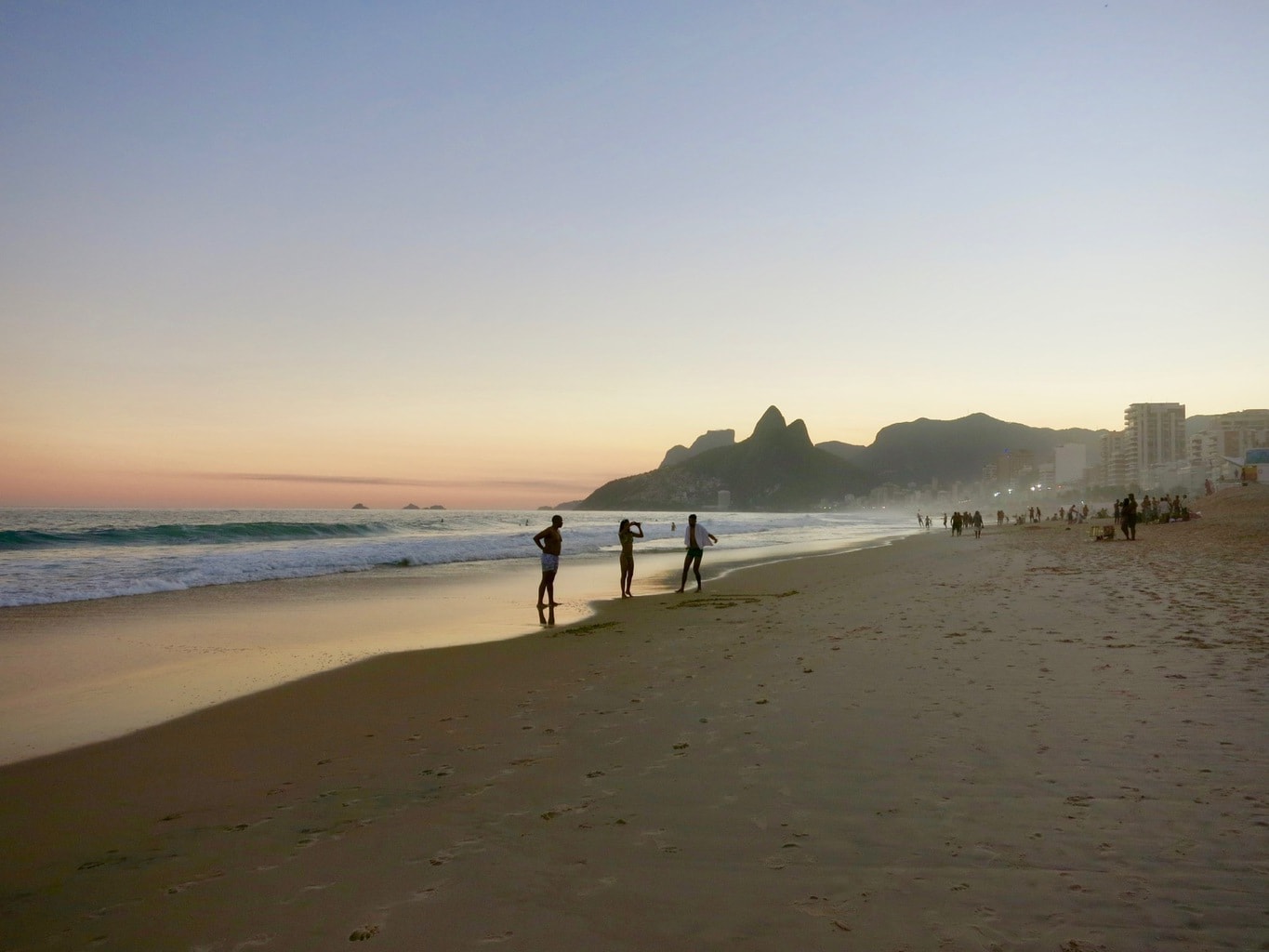 Ipanema Beach at sunset, Rio Brazil
Don't you want to sing Girl from Ipanema on the very beach that inspired that song? Or be whisked atop a rock formation that protrudes from the sea like a giant breaching whale? Or pretend to grab the 125 ' tall Christ the Redeemer's outstretched hands? You can do all that here.
FYI – Visitors to Brazil must obtain a Visa, and must be vaccinated for Yellow Fever.
Things to Do in Rio de Janeiro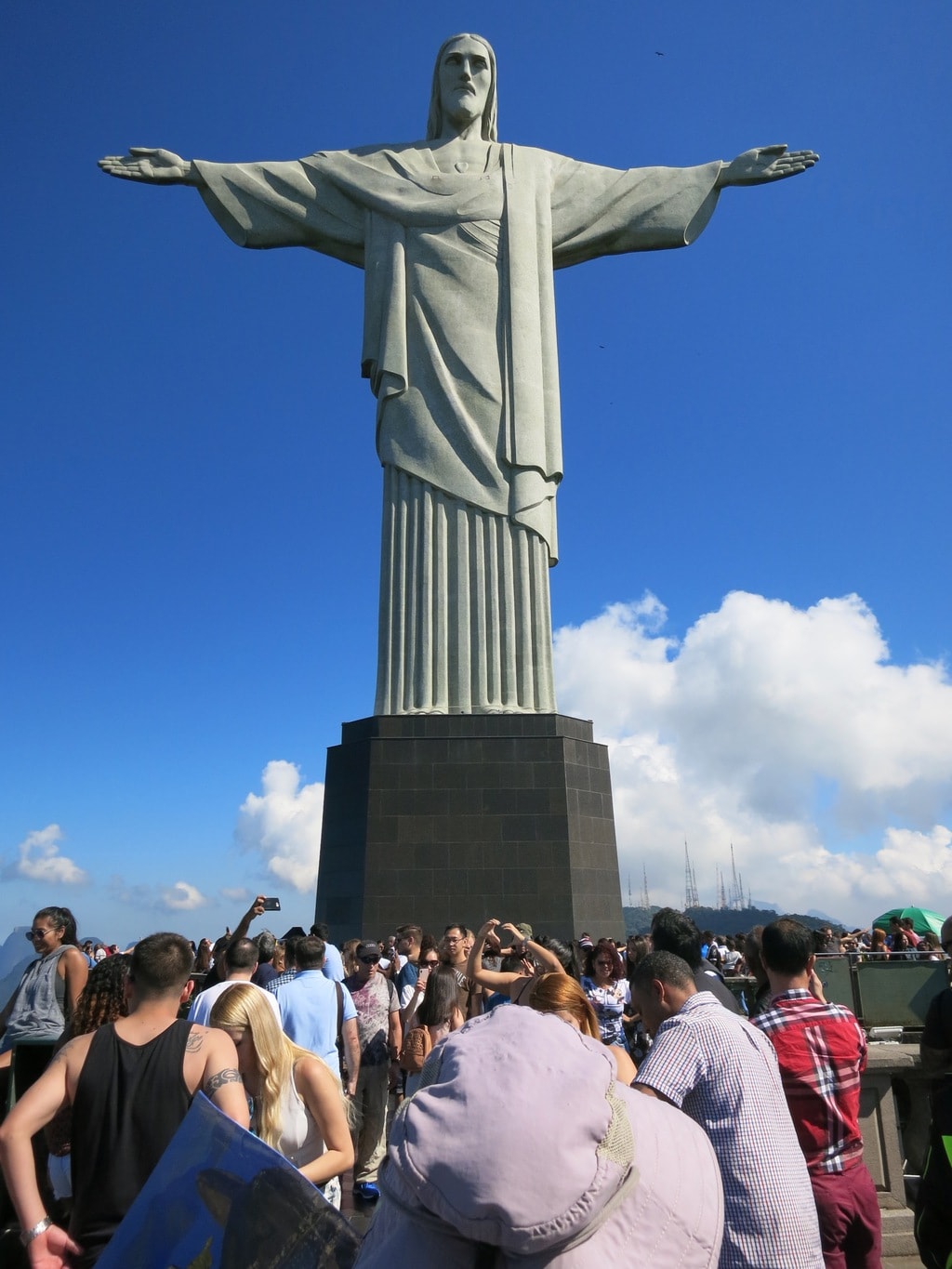 VISIT: Christ the Redeemer
The 125 foot tall Jesus is the symbol of the city – which can be accesses by train and then licensed vans at the entrance. Escalators shepherd crowds up quickly to the base of the statue – where you'll see plenty of Instagrammers absorbed in capturing the strange and humorous perspectives of friends grasping Christ's outstretched hands. Sundays are chaotic – so come midweek if you're crowd-averse.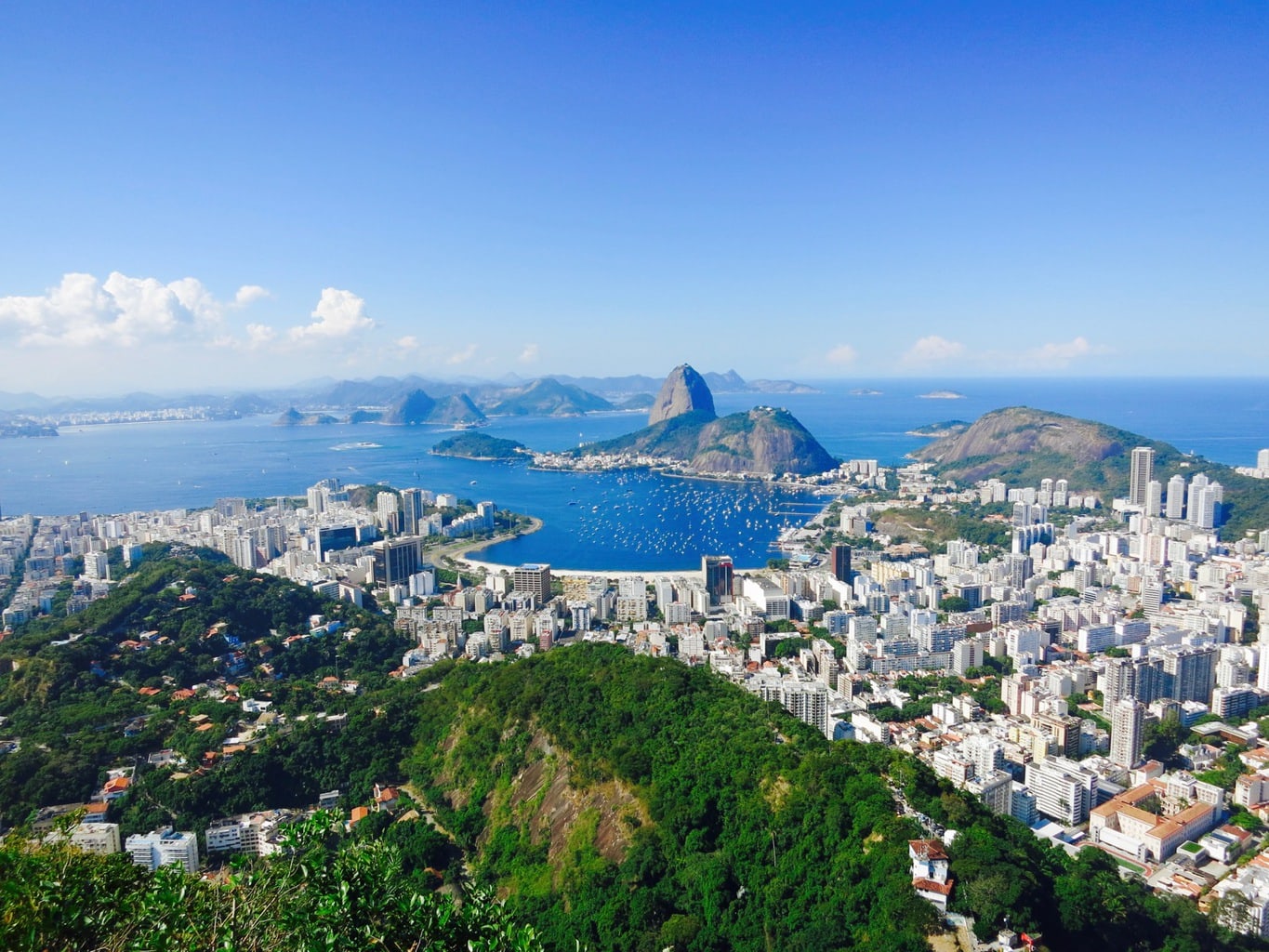 High atop the mountain, vistas of the surrounding city and ocean are unparalleled. Spend some time drinking it all in.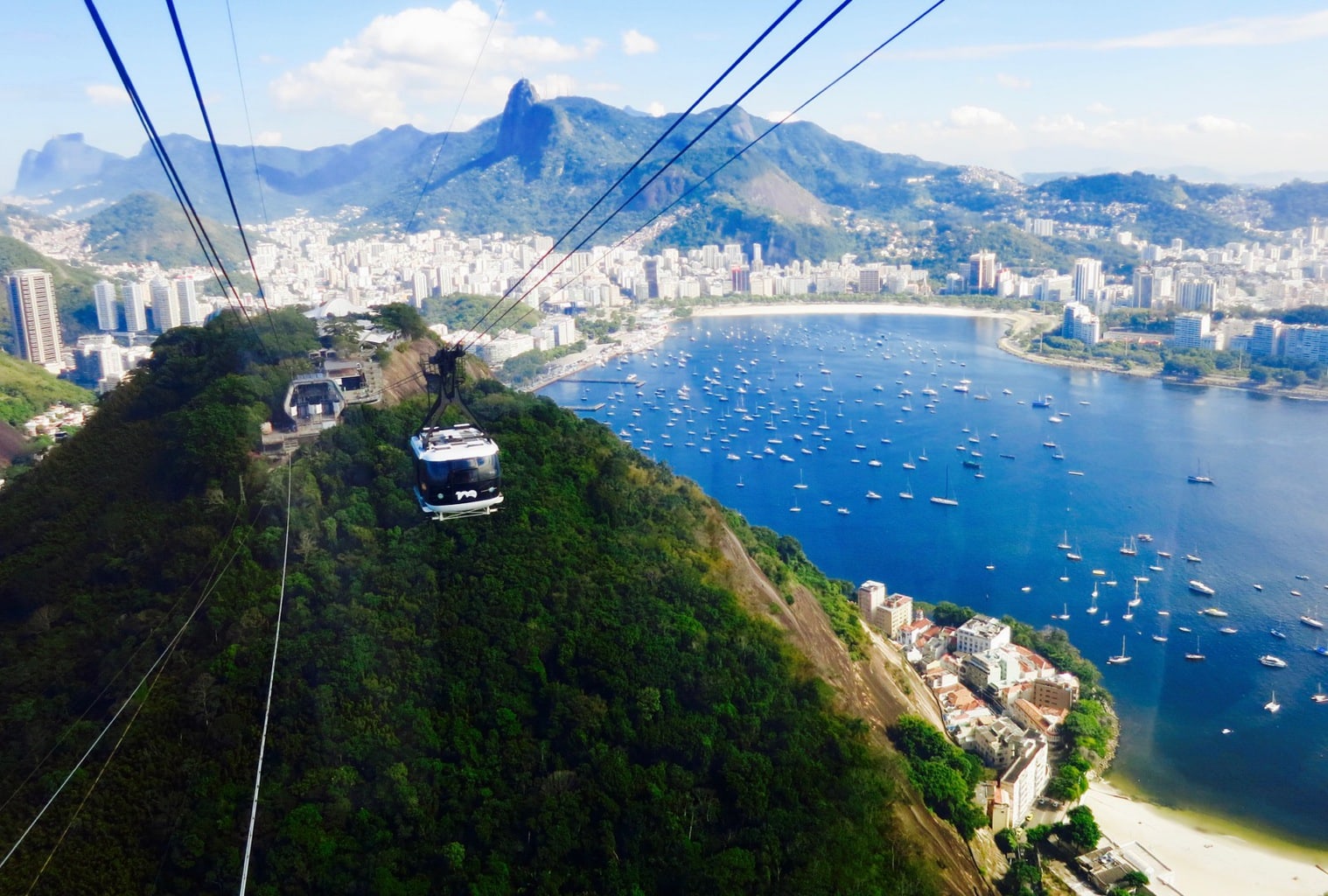 TOUR: Sugarloaf Mountain
It takes two cable car rides to get to the top of this loaf-shaped landmark mountain, where you can then take your time climbing up and down stone stairs, enjoy a beer, and stare agape at Rio from other vantage points. Fans of 007 will recall Roger Moore squaring off with Jaws in Moonraker – the villain biting through the cable to get to James Bond. A bit of trivia: the cable was really just licorice.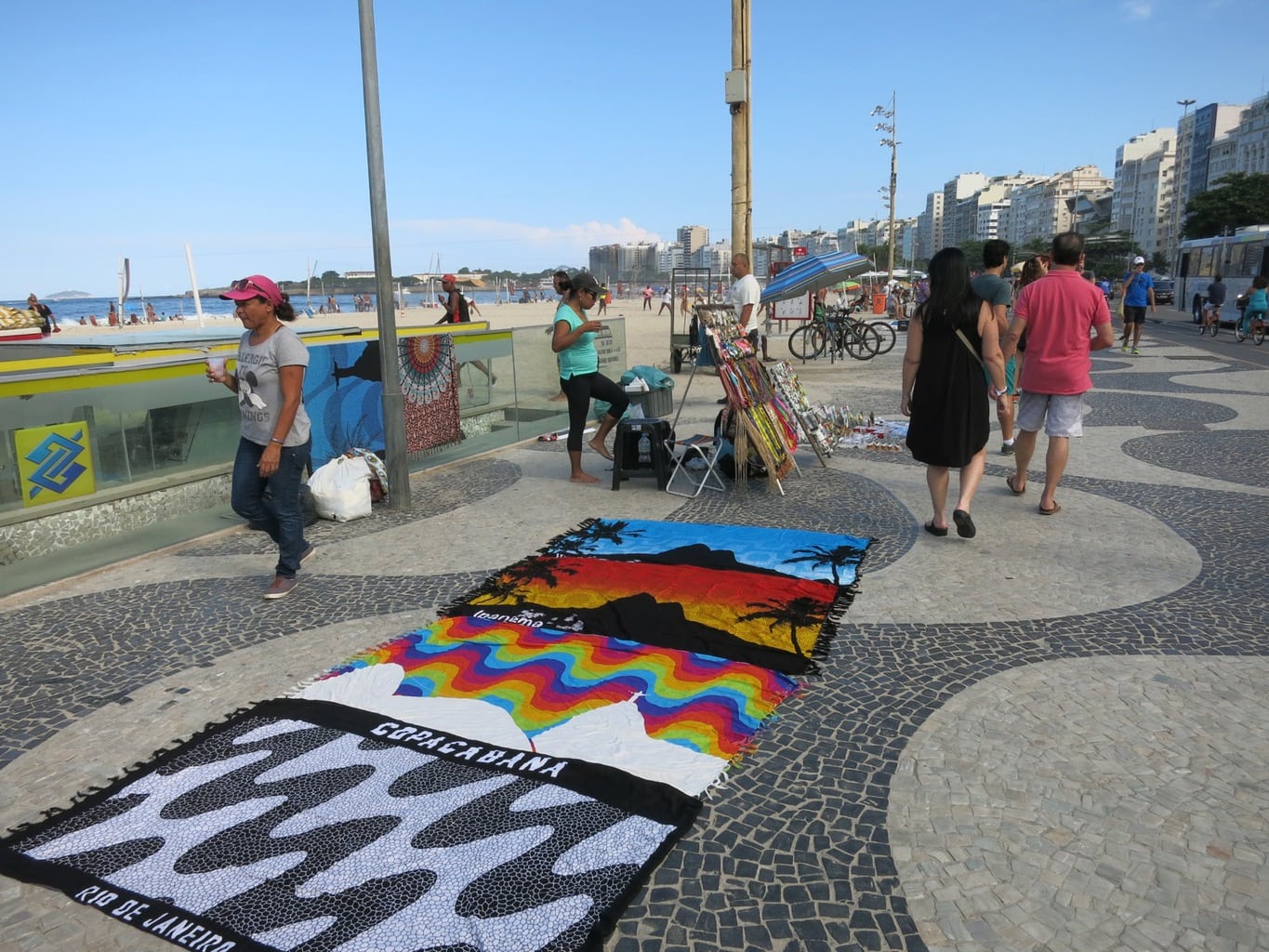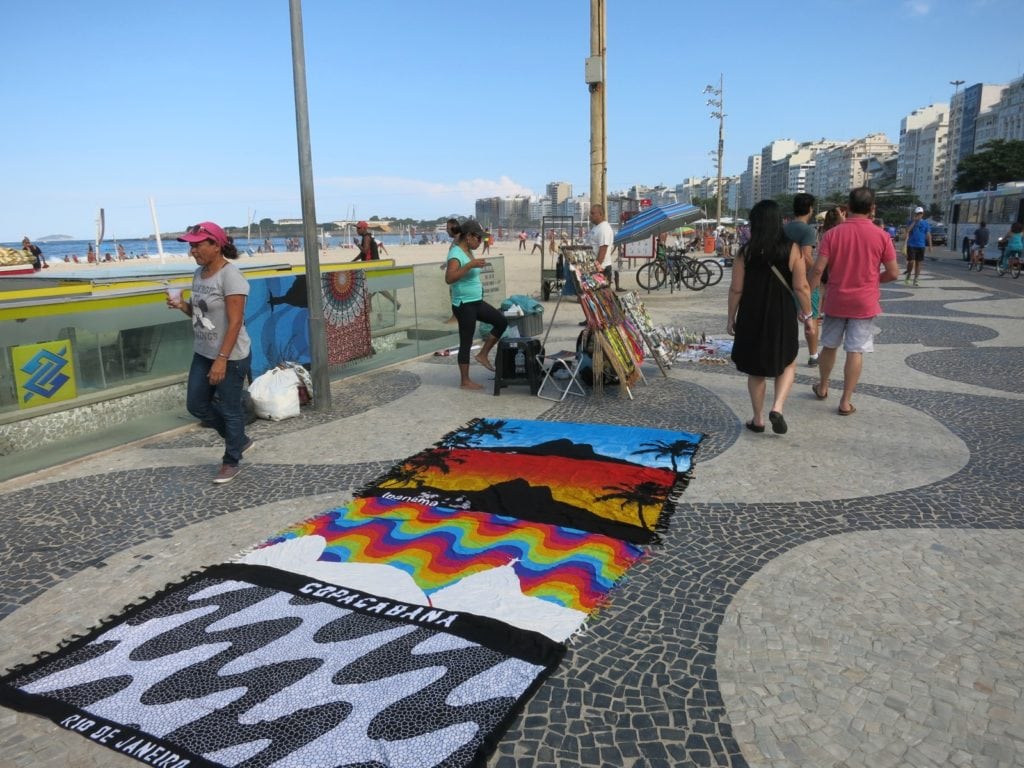 WALK: Copacabana Beach
The sidewalk, peppered with tourists, beach babes, and food stalls selling everything from alcoholic beverages to full meals, is paved with Portuguese stones in a wave-like pattern. Join the party on the beach – rent a cabana, buy a beach bauble, or just watch volleyball or soccer players doing their thing.
GO: Hippie Fair, Ipanema
If you're in town on Sunday, head a few block from the beach to General Osorio Square for a cool craft fair that began selling "hippie" head-shop stuff but has morphed into a decent venue for local crafts and art.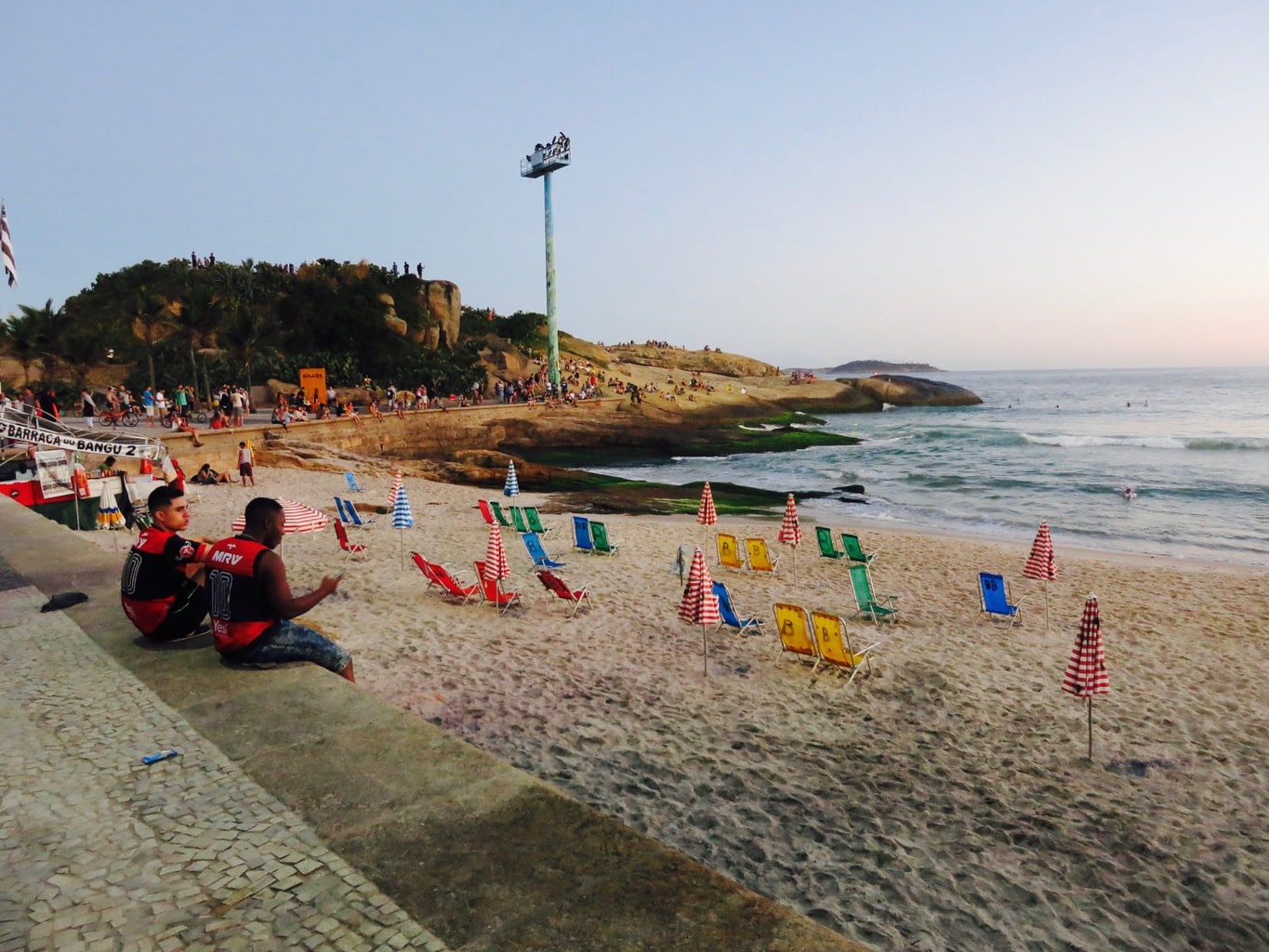 SUNSET: Ipanema Beach
So, this is what six of us did. We had to. And I'm sure it's done multiple times a day on this very beach. One of us Googled the English lyrics to Girl From Ipanema and then walked on the sand and filmed ourselves while singing it. (I will spare you the result). Next, we joined hundreds of other spectators on the Ipanema side of the Copacabana Fort (separating Copacabana Beach from Ipanema Beach) to watch the sun set: a ritual you don't want to miss.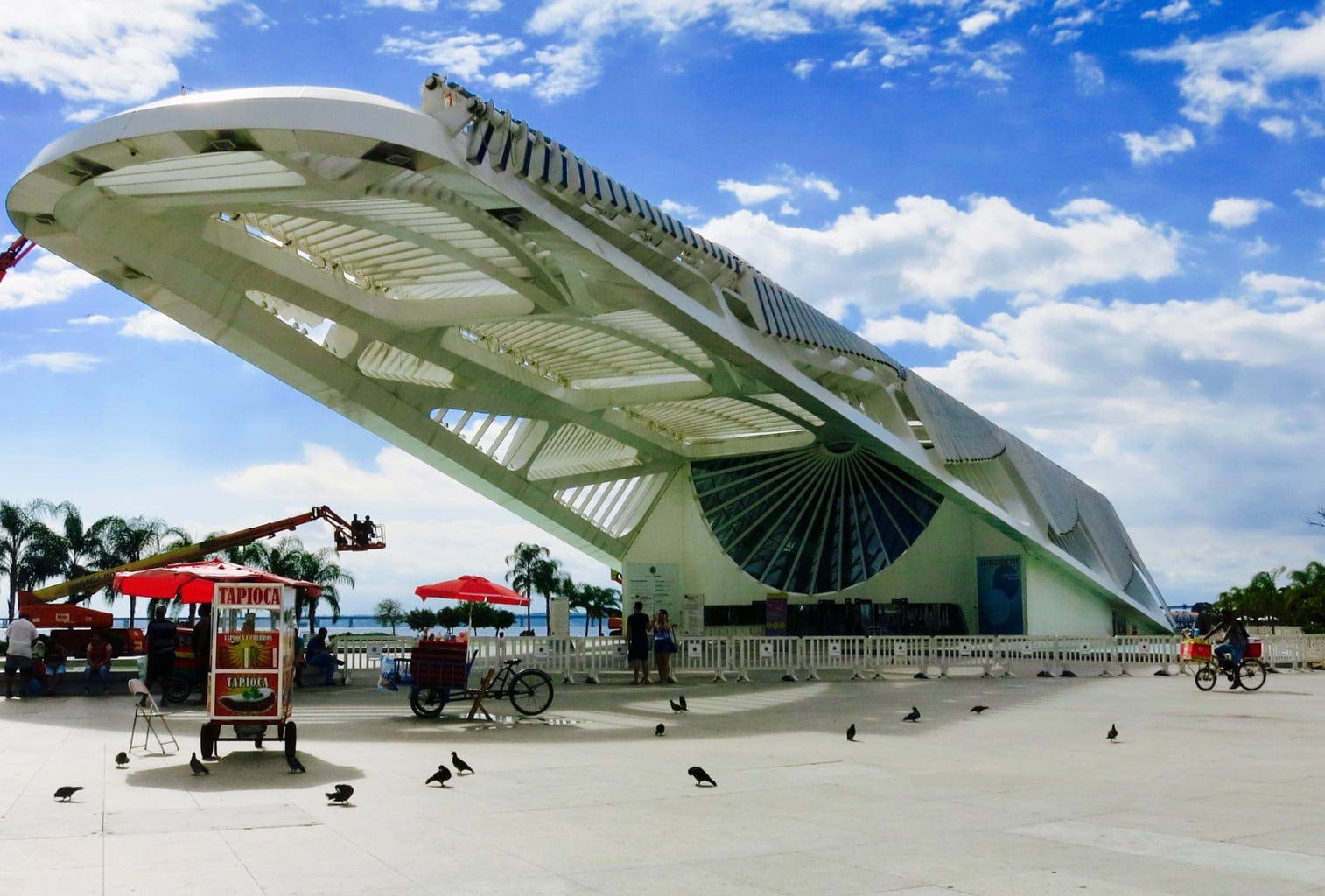 EXPLORE: Wonder Port, Rio De Janeiro
Revitalized for tourists, the Port area was once the main point of arrival for black slaves from Africa. Rio does not scrub this shameful history, but incorporates it into the area, with historical archeological sites. The most dramatic structure seems to rise like a falcon over the edge of the water – The Museum of Tomorrow, designed by Spanish starchitect, Santiago Calatrava. Even if you don't go inside, it's a sight to see.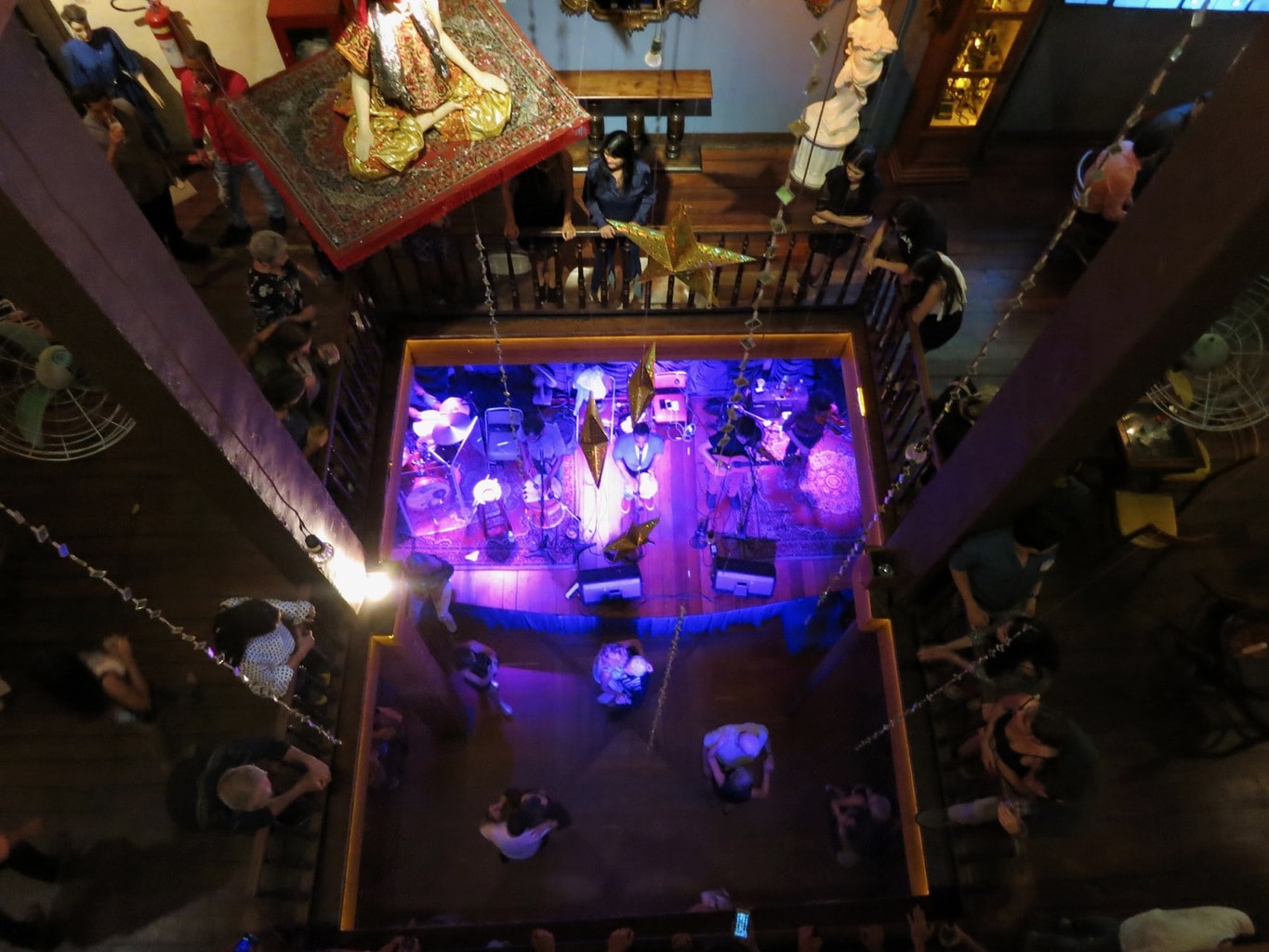 NIGHTLIFE: Lapa Neighborhood, Rio De Janeiro
Though you'll find many clubs here, arguably the funkiest is Rio Scenarium – a three-story extravaganza of curio items, samba bands, and general-store-ish drink counters. Be sure to try the Brazilian national cocktail – Caipirinha – served everywhere around the place.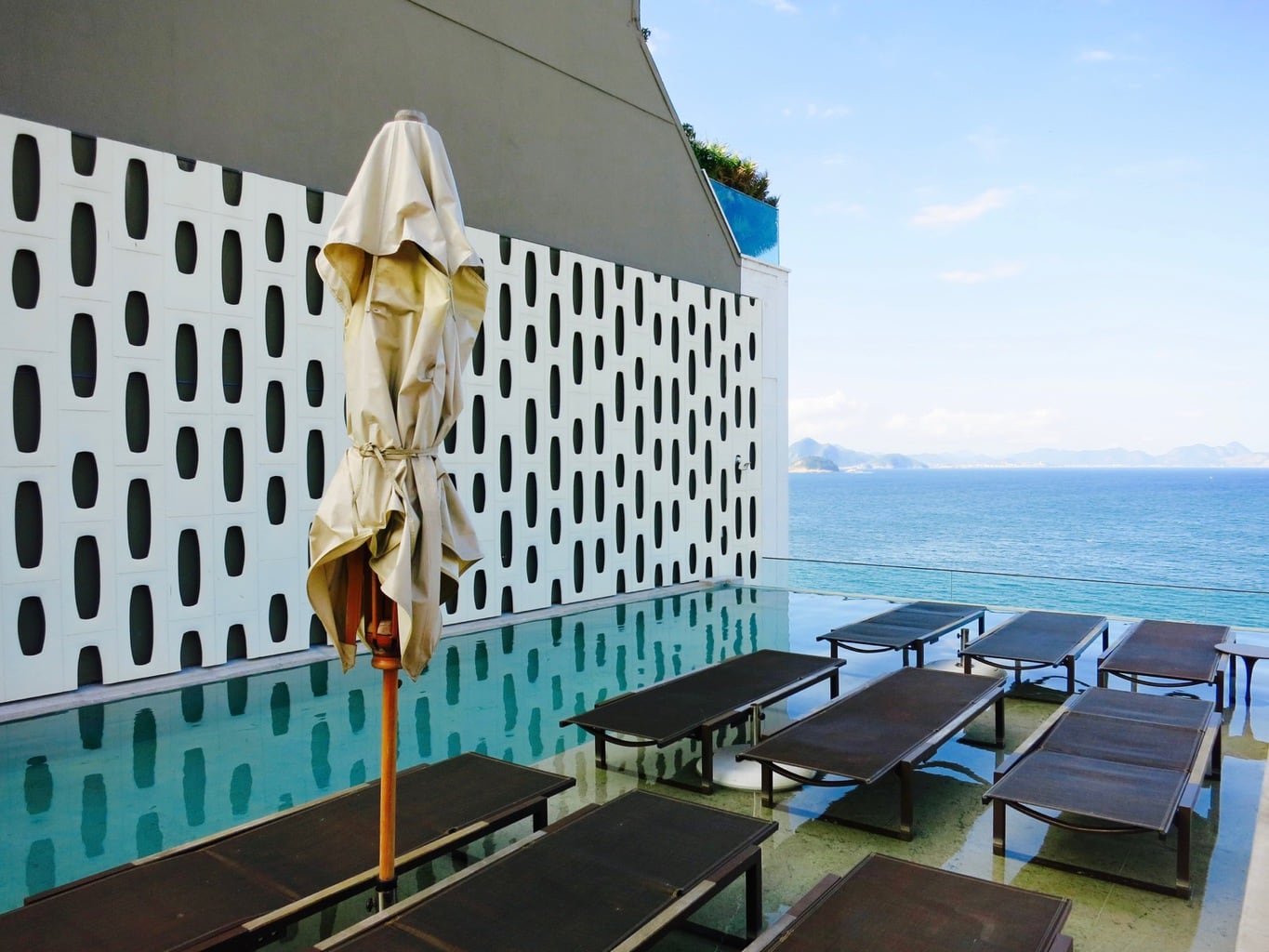 This mod beauty sits right on Copacabana Beach – with direct sea-views from your balcony. Lazer-cut shutters that open like closet doors do double duty keeping the sun out and creating a unique, abstract hotel façade. In fact, these shutters are the Emiliano's most identifying feature.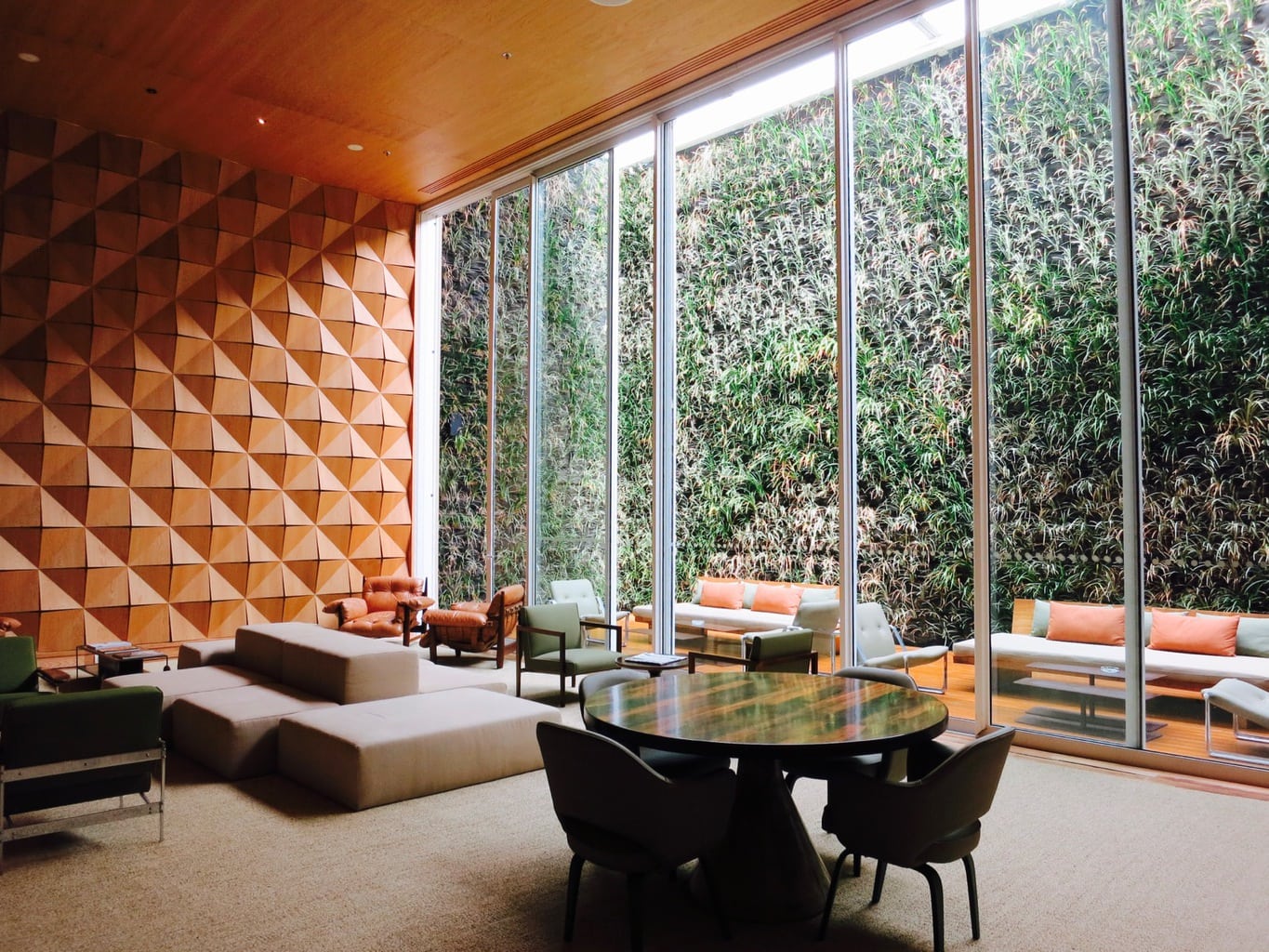 The small lobby is deceivingly simple. You might wonder what's the big whoop. Just head around the corner to the "library" living room – with sculptural wood walls and soaring living wall patio. Everything is styled to the max.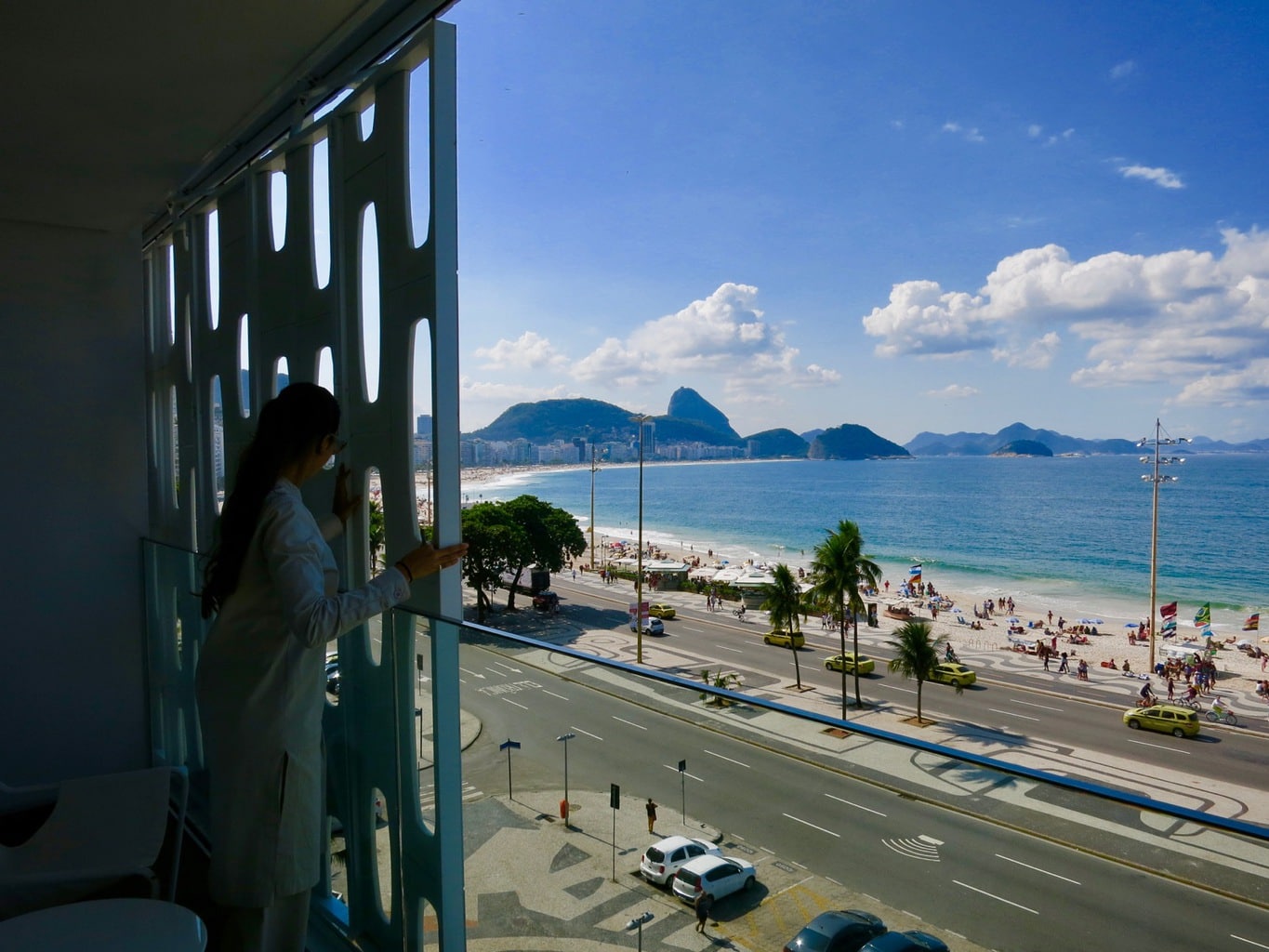 But the cool-kid aspect doesn't end there – the Emiliano Rio wasn't placed on Conde-Nast Traveler's Hot List 2018 for nothing. The roof-deck infinity pool–bar has got to be one of the most romantic spots in all of romantic Rio, especially on a clear, full moon night. It's for guests only – a great perk that keeps the throngs out.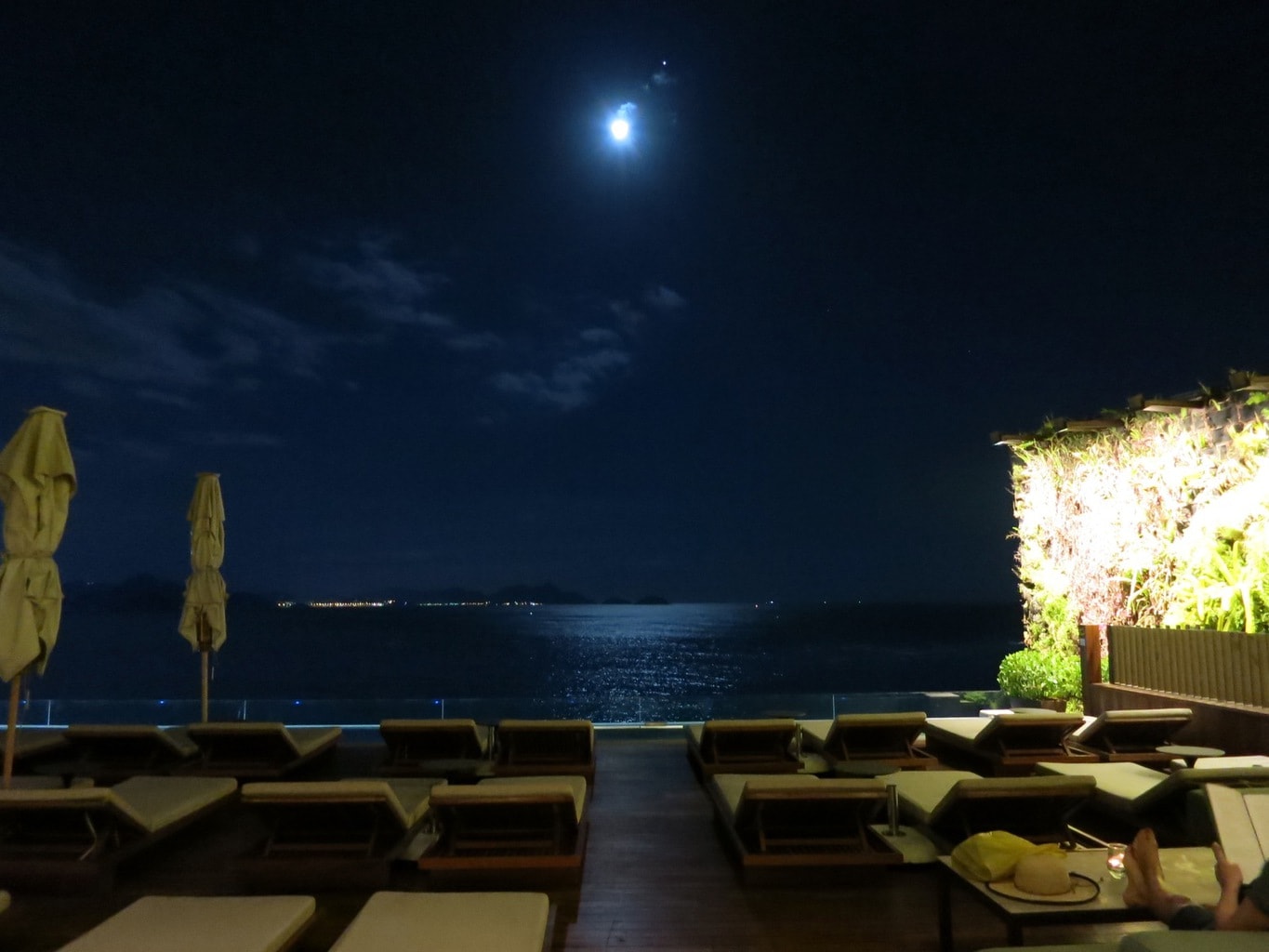 Rooms are beach bright – in hues of white midday sun and sand. Turndown includes yet another perk – a pair of Havaianas flip flops, in your size, to take with you when you leave.