Last Updated on November 15, 2020 by Editor
How to Get to the Peruvian Amazon
It's one hour from Lima to Cusco, then another half hour flight to Puerto Maldonado in the Peruvian Amazon Basin.
Check out the Mavens Best of Lima on this post.
Find your Guide to Machu Picchu, Cusco, and The Sacred Valley here.
It takes just 30 minutes from one of the highest elevation cities in the world to the bright green, dripping, muddy world of the Rain Forest.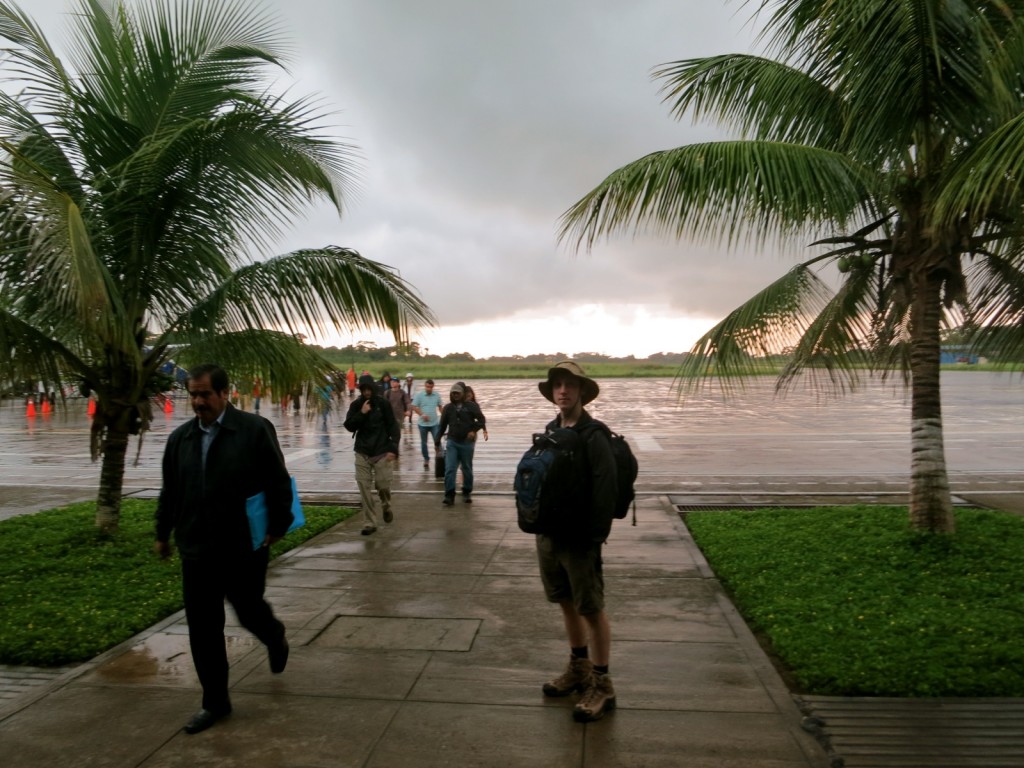 There's a good chance you'll land inside a whipping, monsoon-like storm cloud, especially if it's mid-December – the start of the rainy season.
You'll forget the pain and fear, though, when you see your first nut-bombing monkey in the jungle. But that's a few hours away, and you still have to get there.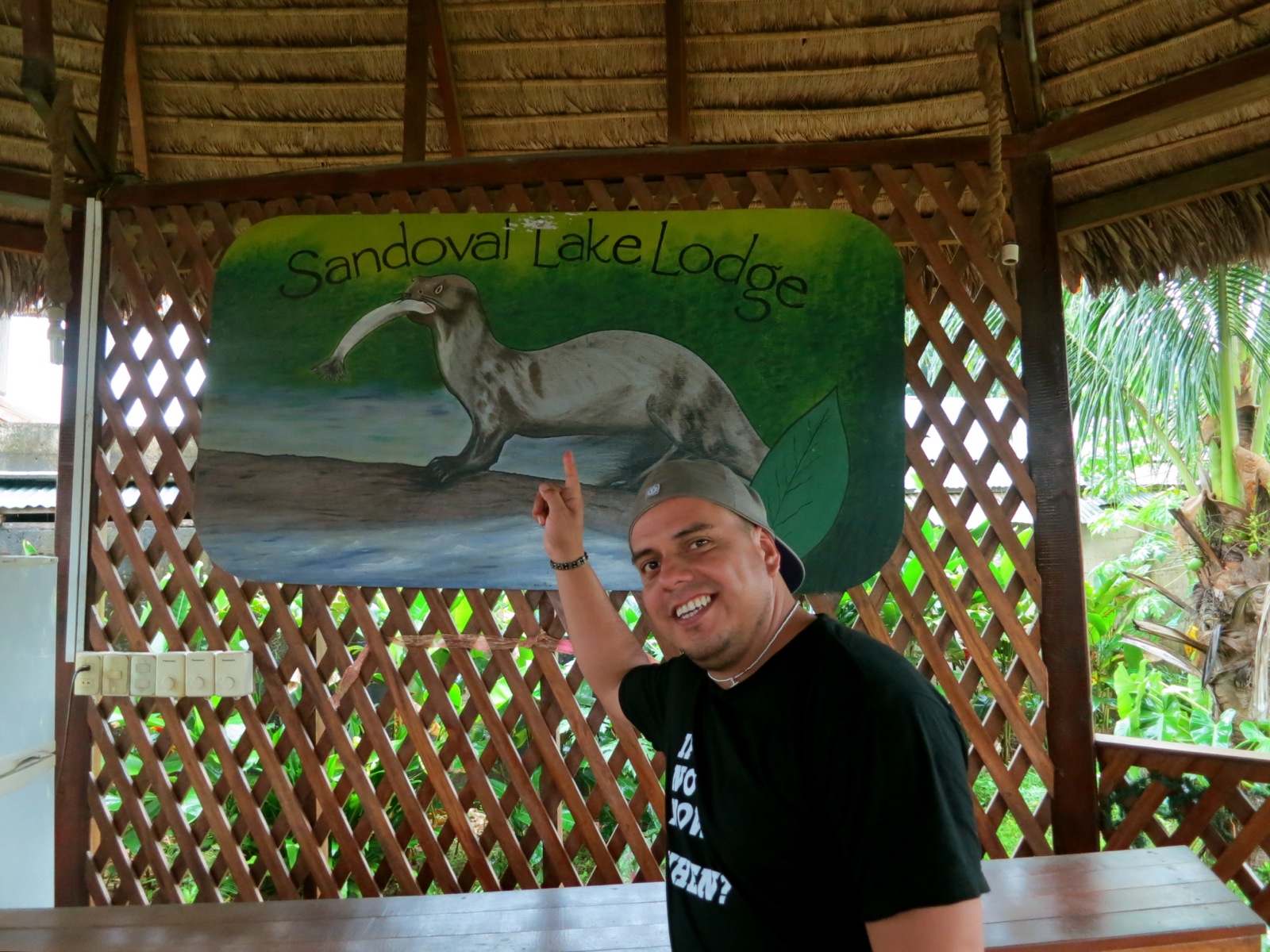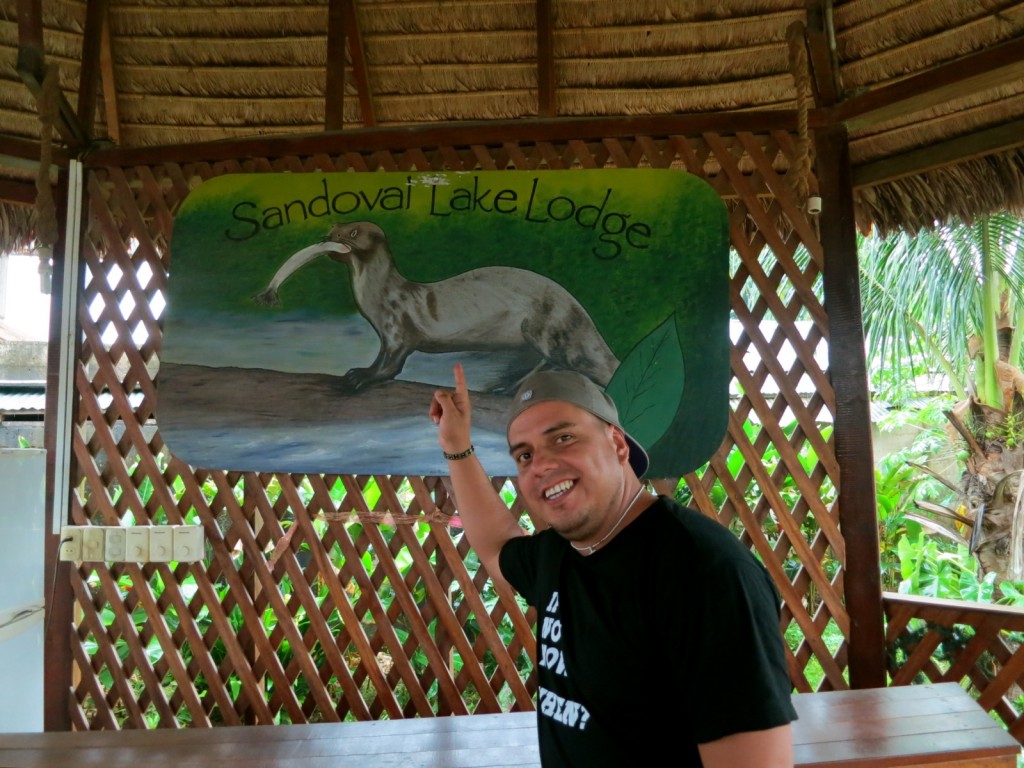 There are over a dozen eco-lodgings on the Apurimac River (the river that becomes the Amazon River in Brazil). Most are as luxurious as your basic rustic summer camp.
However there is only one on the mind-blowingly beautiful Sandoval Lake.
All are within the 1,000 square mile Tambopata National Reserve – one of the most wildlife rich conservation areas on the planet.
Sandoval Lake Lodge Transportation
It will take a variety of transports to get to Sandoval Lake Lodge.
First, a van from the airport to the Lodge's Puerto Maldonado office. Here, you're issued a small duffle bag into which you must stuff three nights/four days worth of necessities. You'll store the rest of your belongings.
No need for dressy apparel. Bring lots of bug spray, a flashlight, binoculars and your malaria meds, though. You'll receive a pair of "Wellies," which you must wear, at least for this part of the trip. Soon, you'll see why.
It's another van ride to the river, where you'll meet a motorized longboat that will take you on a 45 minute journey up-river.
If you're lucky – and it's mid-day – you can expect a lunch of veggie fried rice wrapped in banana leaf as you putter along. Peruvians love Chinese food, and they've tweaked it with Latin flair.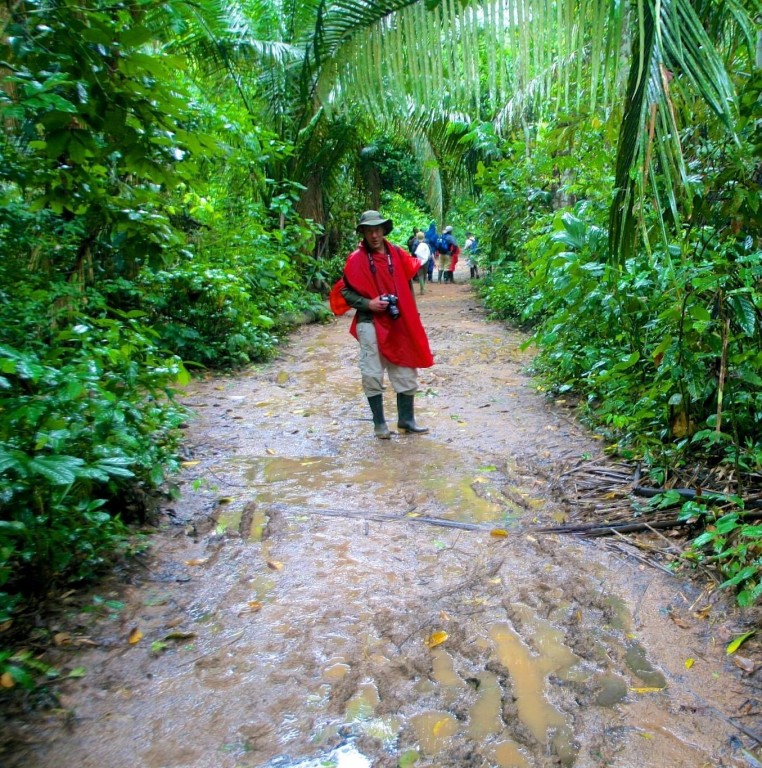 Dropped off at the Tambopata Reserve trailhead, you'll hike about 3 miles on a flat, muddy, goopy lane. Every so often the earth will attempt to suck you in or make you slip.
Yes, the Wellies do come in very handy here.
It averages 95 degrees with 100% humidity in the "summer" – e.g. December. Plastic ponchos feel like saunas in the equatorial sun.
You will think that your rain gear has a massive hole somewhere, as condensation from your sweaty body creates as much moisture inside as out.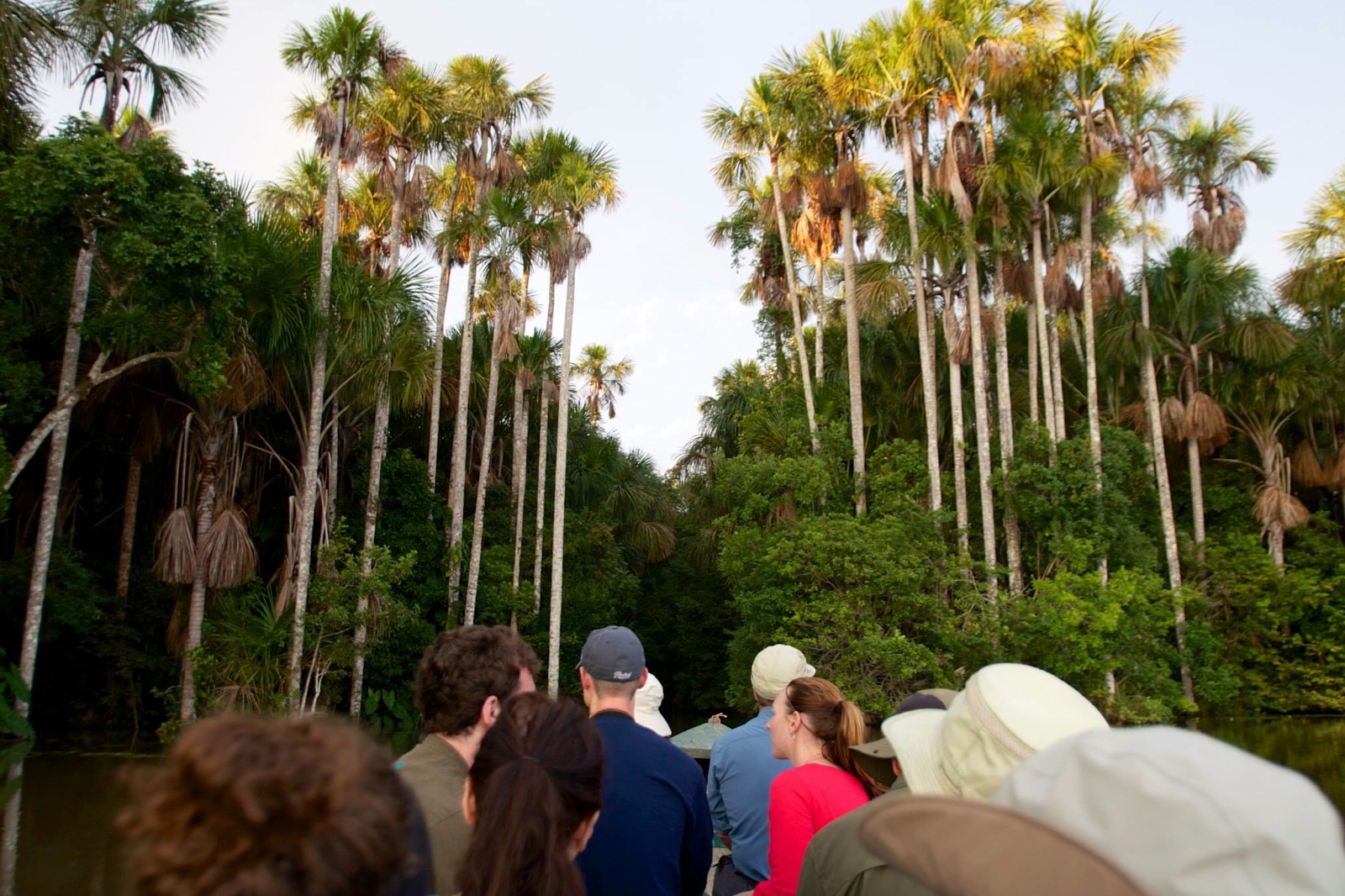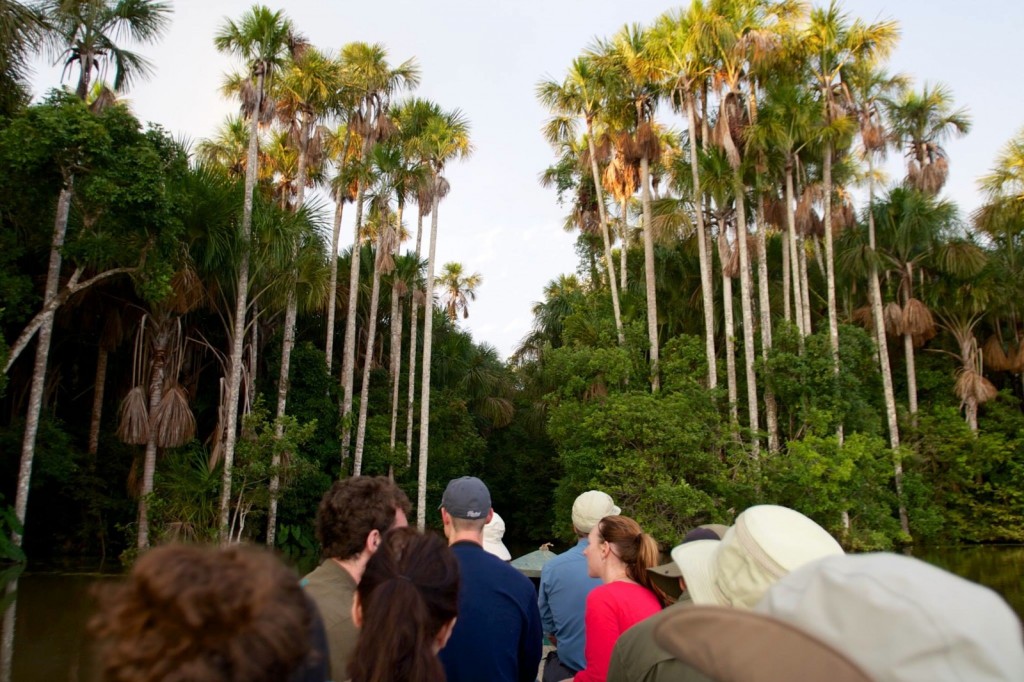 Time for another canoe – this time a human-powered version due to environmental restrictions banning any type of oil or gas fumes on pristine Sandoval Lake.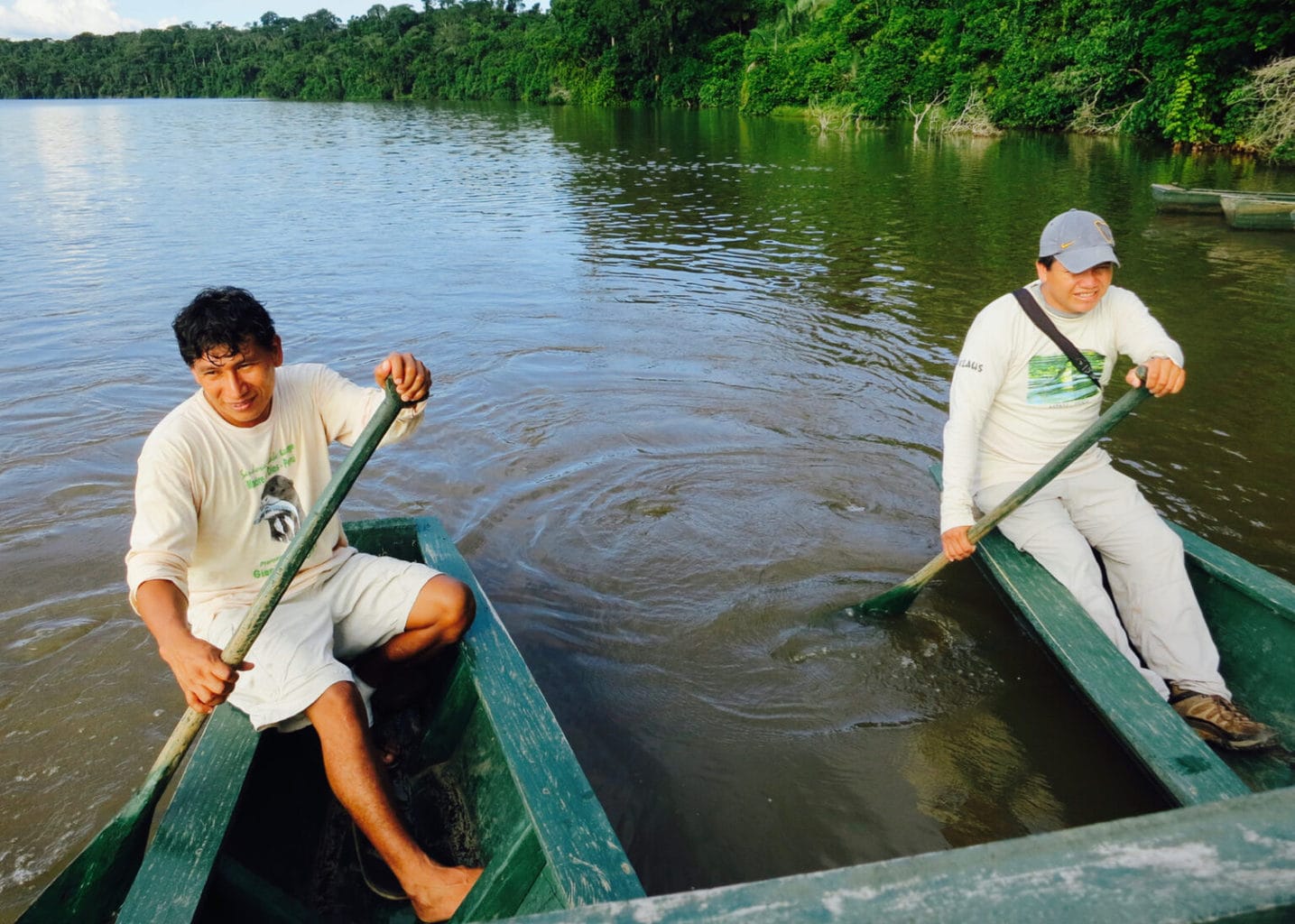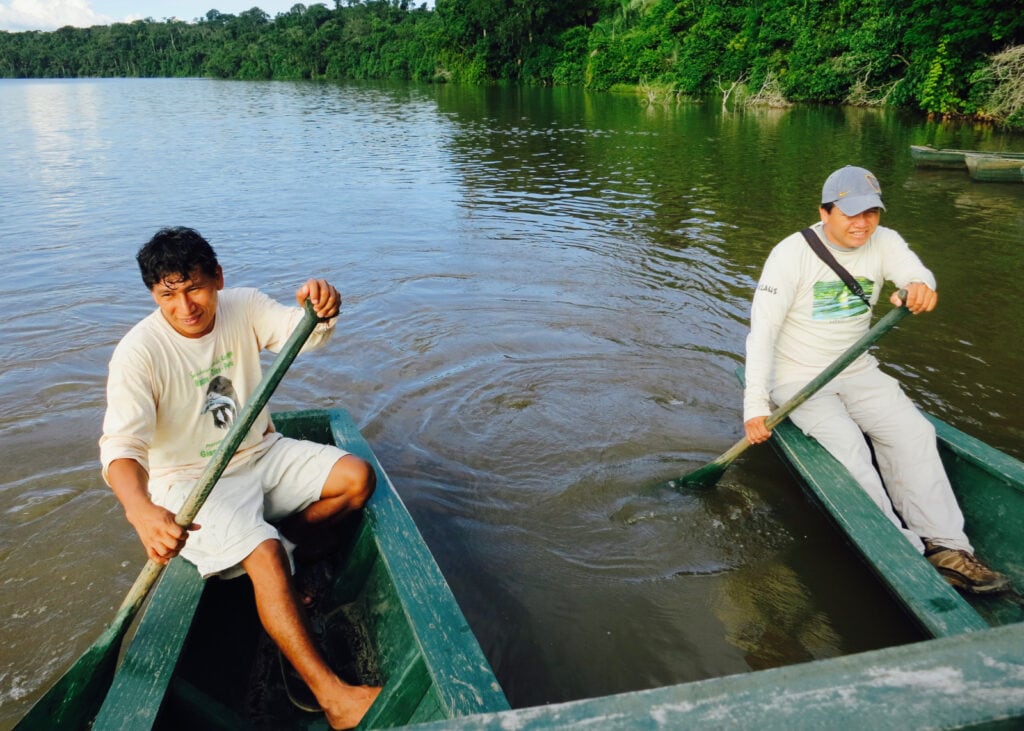 Squeezing through a narrow inlet on your way to the lake, you'll spy your first few monkeys. These primates, generally Squirrel and Capuchin, eat and then toss down the nuts they find in the dense trees. You'll spend those first few minutes ducking every time you hear a tree rustle overhead.
It's another 30 minutes to get to the Lodge. But first your guides may try to find the elusive Giant Otter family that lives in this lake. Many visitors come here just for those otters.
Arriving at Sandoval Lake Lodge in the Peruvian Amazon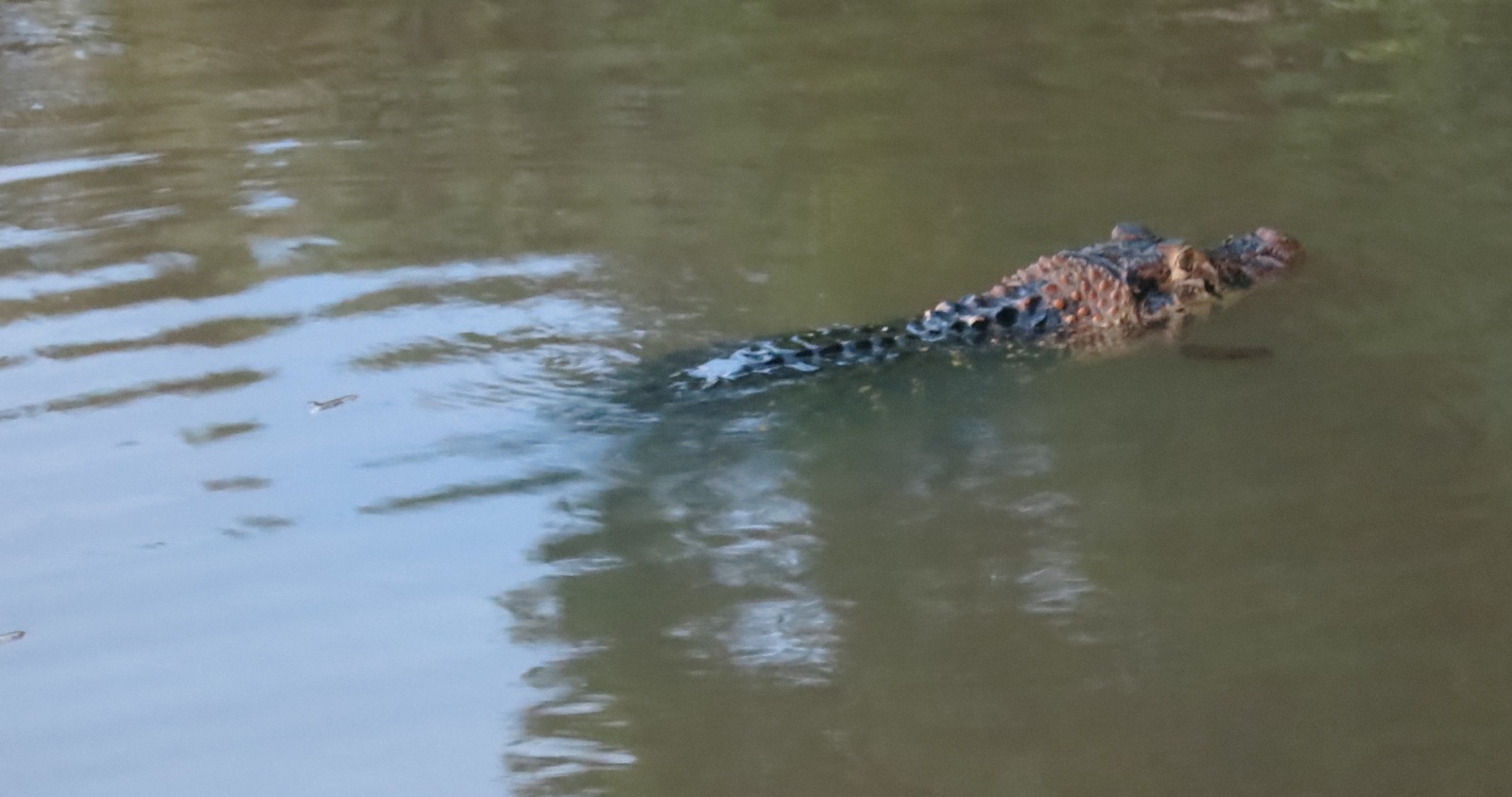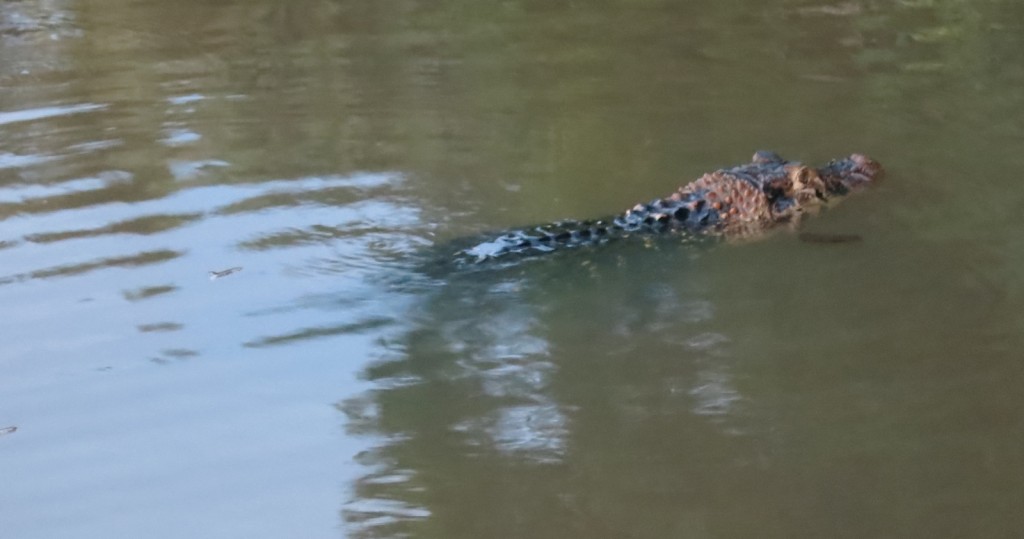 When you get to the Sandoval Lodge dock, you may see the head of a caiman – an alligator – floating languidly in the water. Though it stays immobile and looks fake, throw one stone, and you know it's dangerously real. Sandoval Lake residents have nicknamed this one "Cocoa."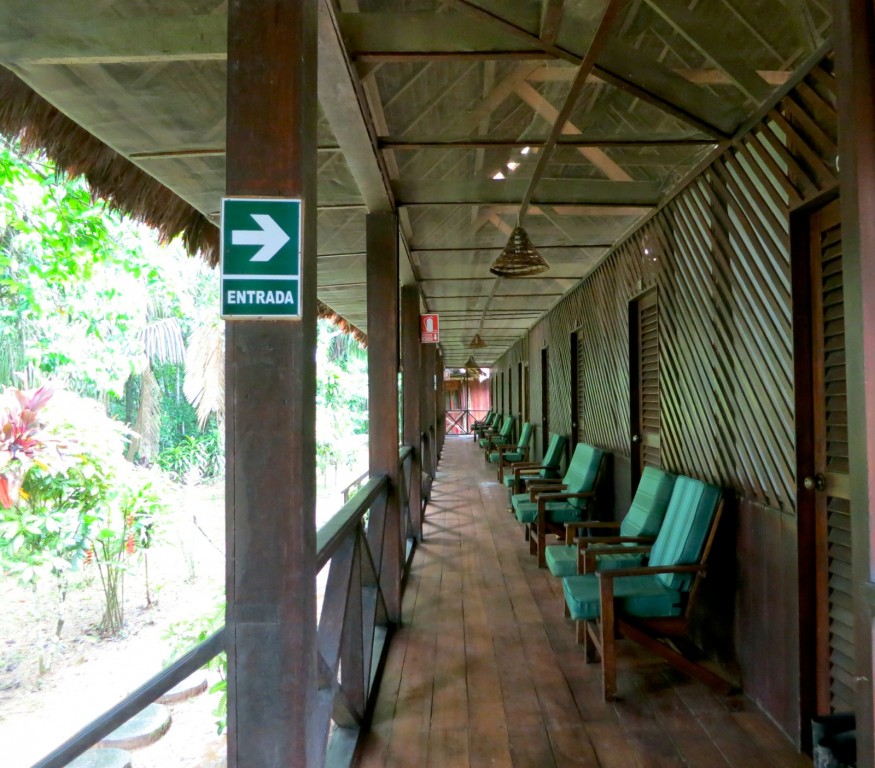 The lodge itself is up a big hill – lots of stairs to get to the couple of dozen connected rooms with mosquito netting over the beds and bare bones décor. The common area is comfortable – and you'll find yourself swinging in one of the four hammocks in the dining hall several times during your stay.
What to Do At Sandoval Lake Lodge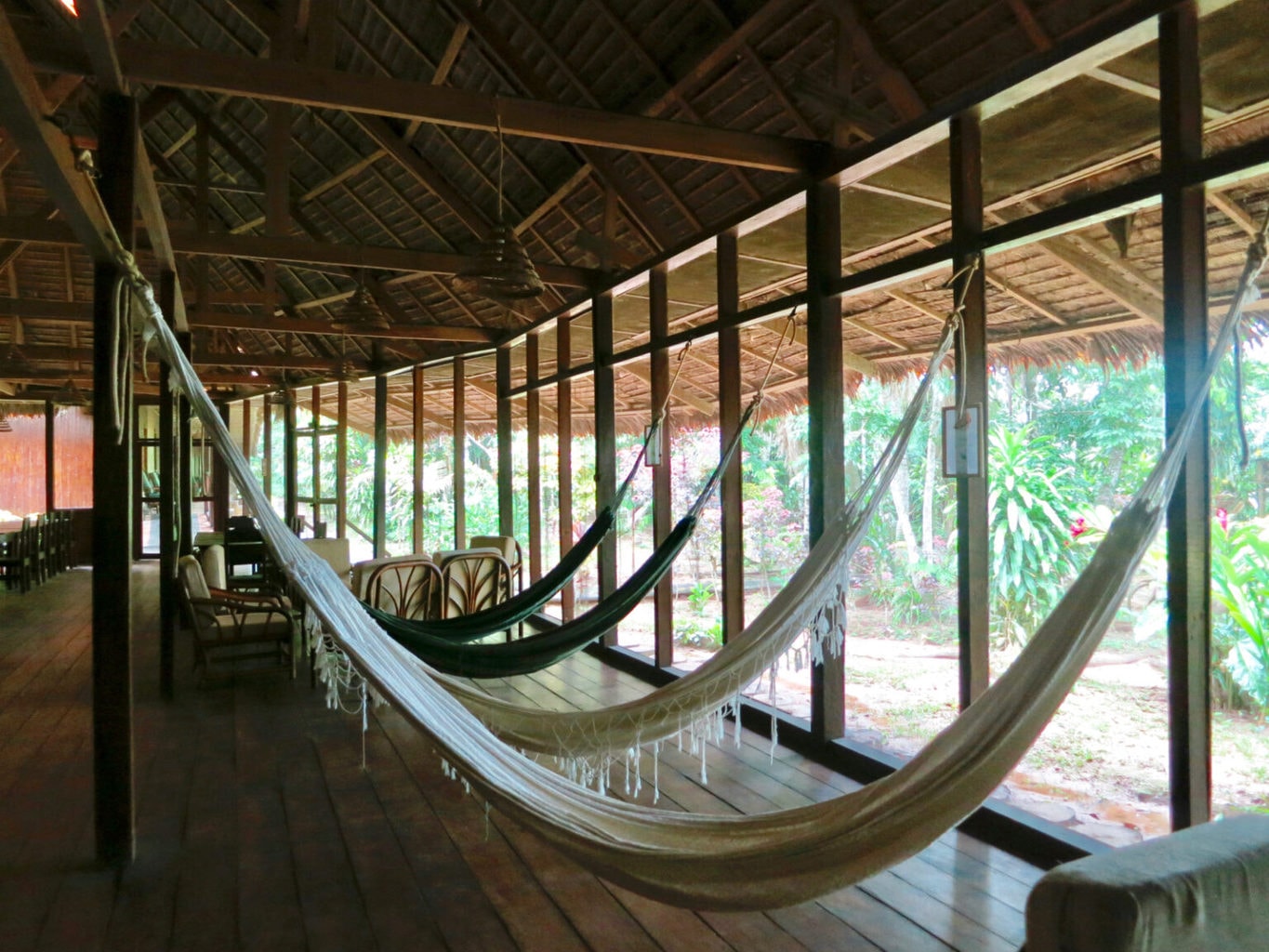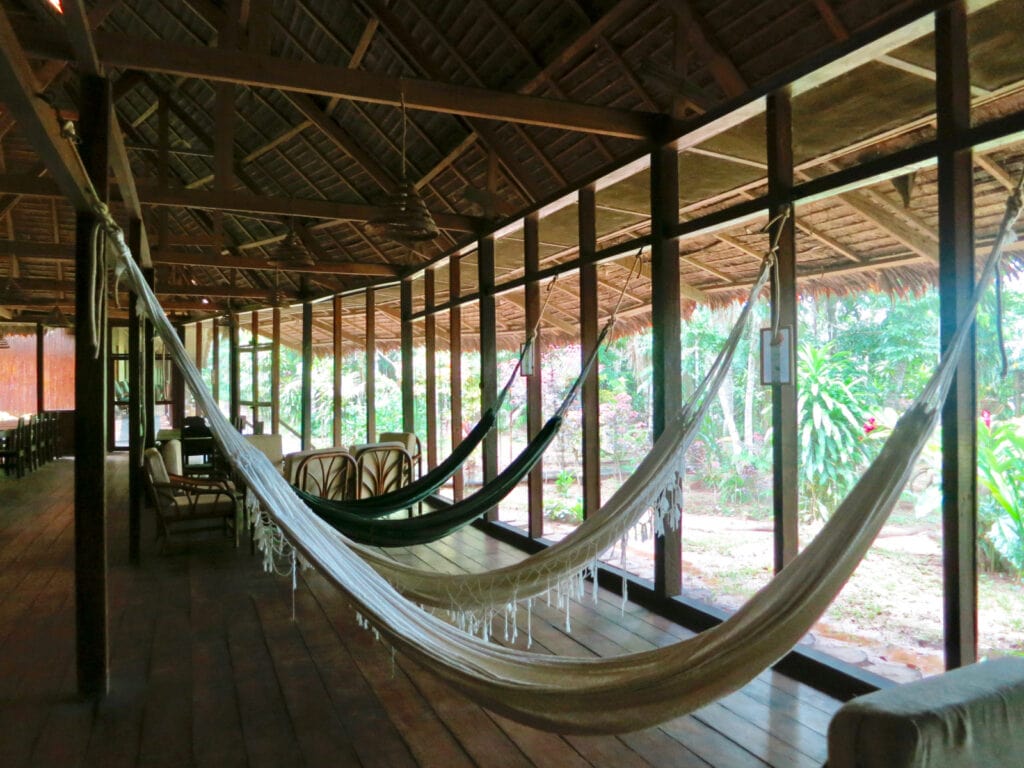 Sit on a bench overlooking the lake at sundown, listen to the sounds of insects, monkeys and birds competing for attention. The noise rivals New York City at rush hour.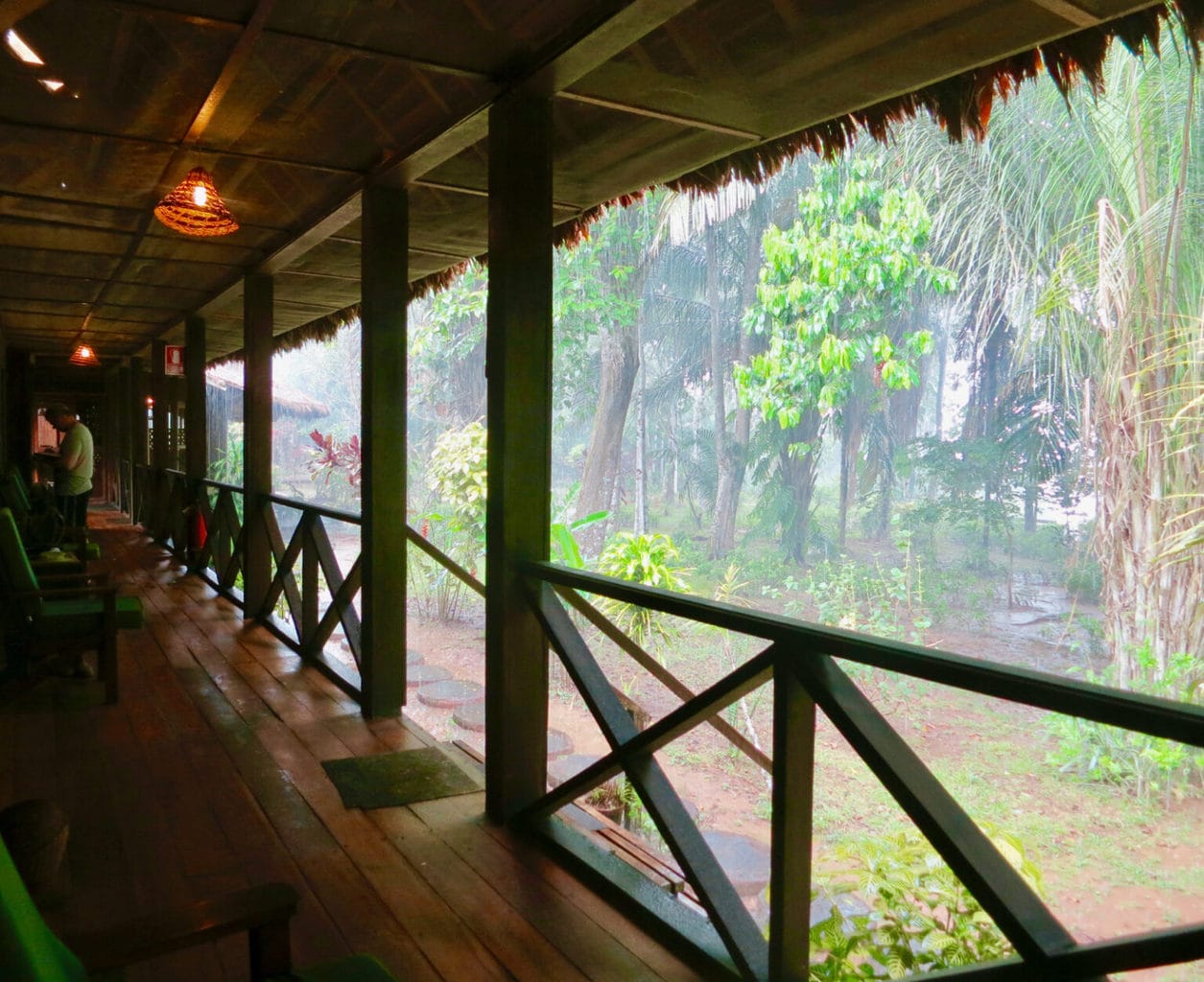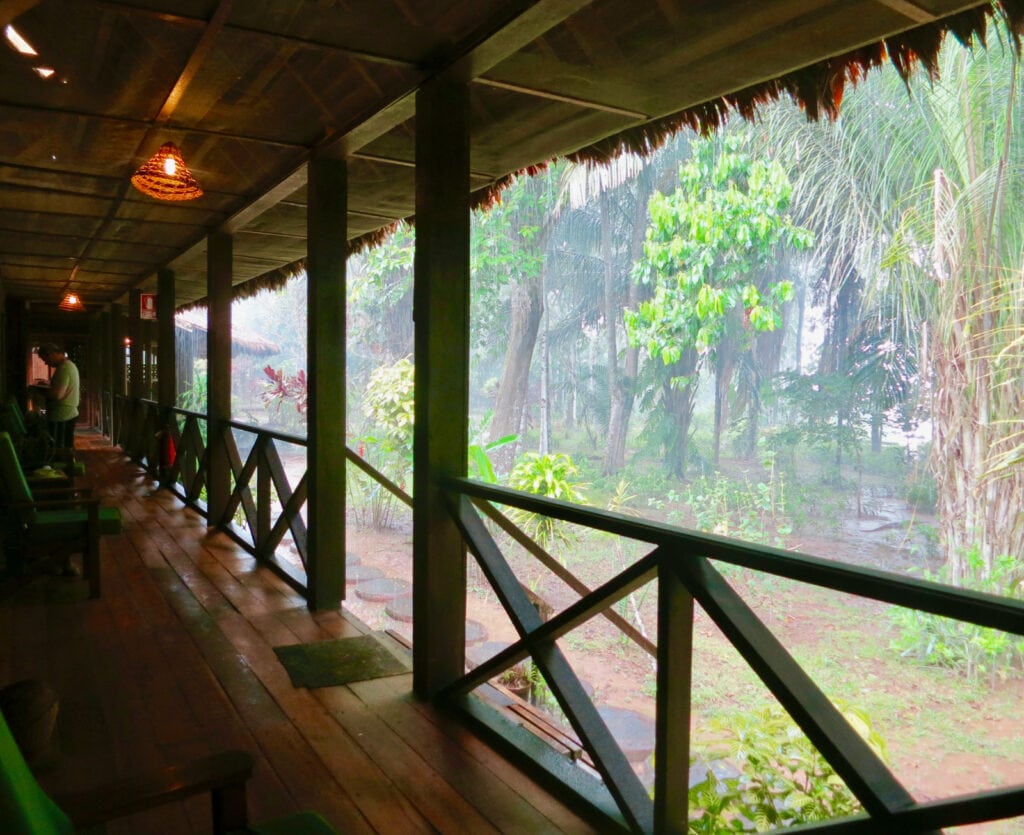 Opt for a hour long night tour on a trail around the lodge. It's cool and refreshing (and dark) as you discover spiders at work, colorful crickets and "night monkeys."
Dining at Sandoval Lake Lodge Peru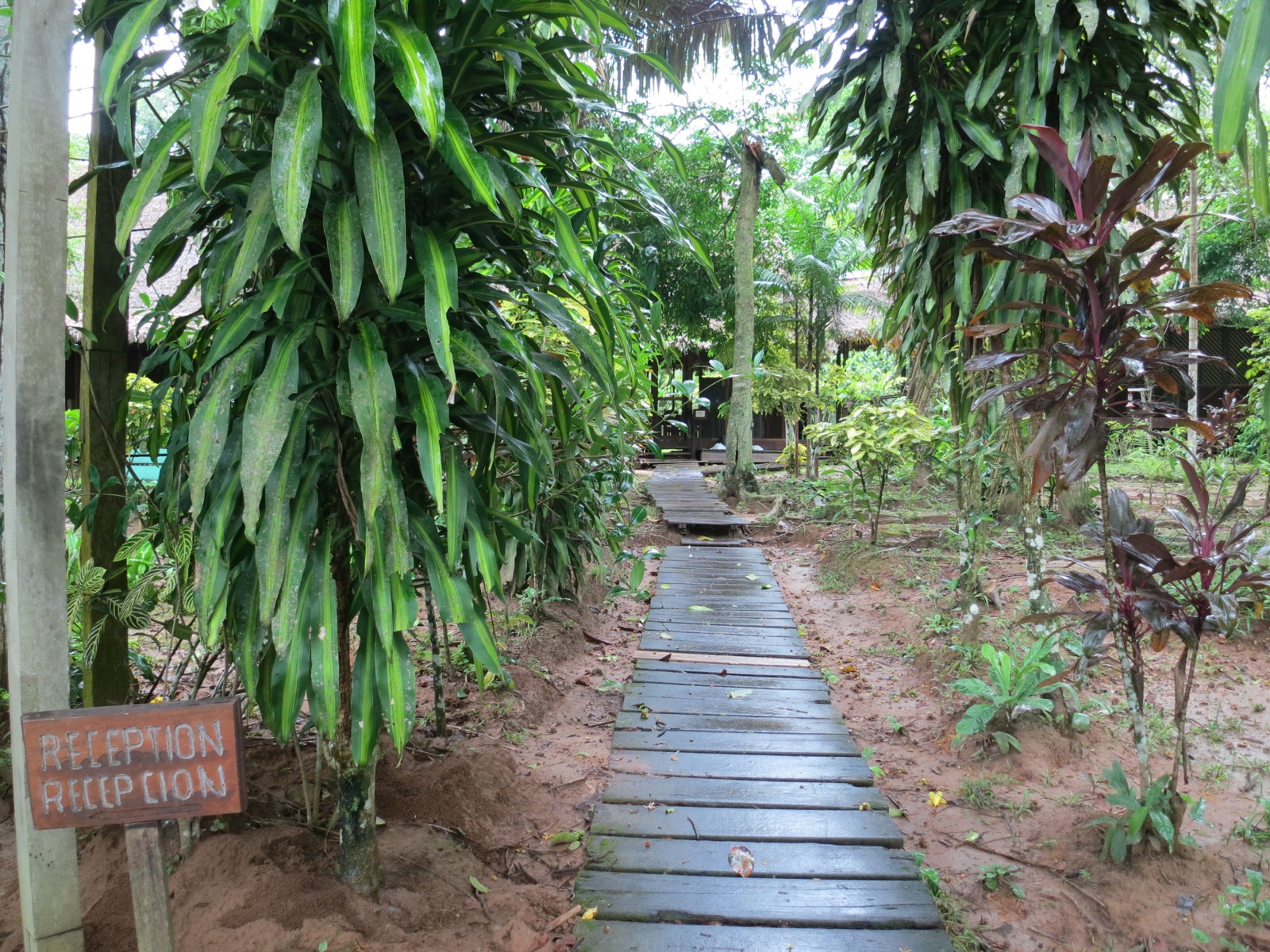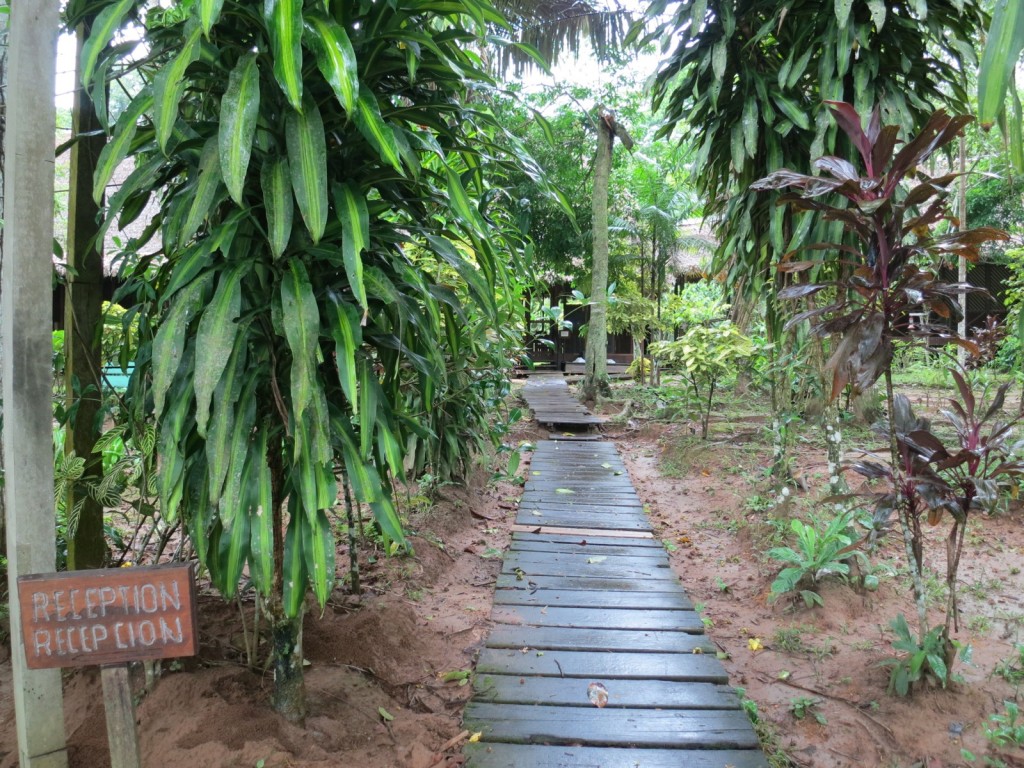 Family-style meals are served in what we'd call a "mess hall" – and you'll sit with your own group. Each of three meals per day varies from day to day, and though not what I'd consider "gourmet" – it's fresh and hearty.
Pancakes and eggs in the morning, cheesy potatoes and catfish for lunch, beef stew, chicken, fried plantains for dinner. Here – you eat to live rather than live to eat.
There's a makeshift bar where you can order Pisco Sours or other drinks, but at exactly 10PM, the lights are turned off. If you need to get anything done (besides sleep), make sure you've got a flashlight.
December is Rainy Season in the Peruvian Amazon
In December, it's the rainy season in the Rain Forest, so you can expect the occasional downpour. If it's too torrential, your guide will wake you up at 5:30am to tell you to go back to sleep.
Rain gives you an excuse to grab a cup of muddy coffee and sway in a dry, protected hammock, watching (and listing to) the gentle drops hitting the palm trees and bushes outside.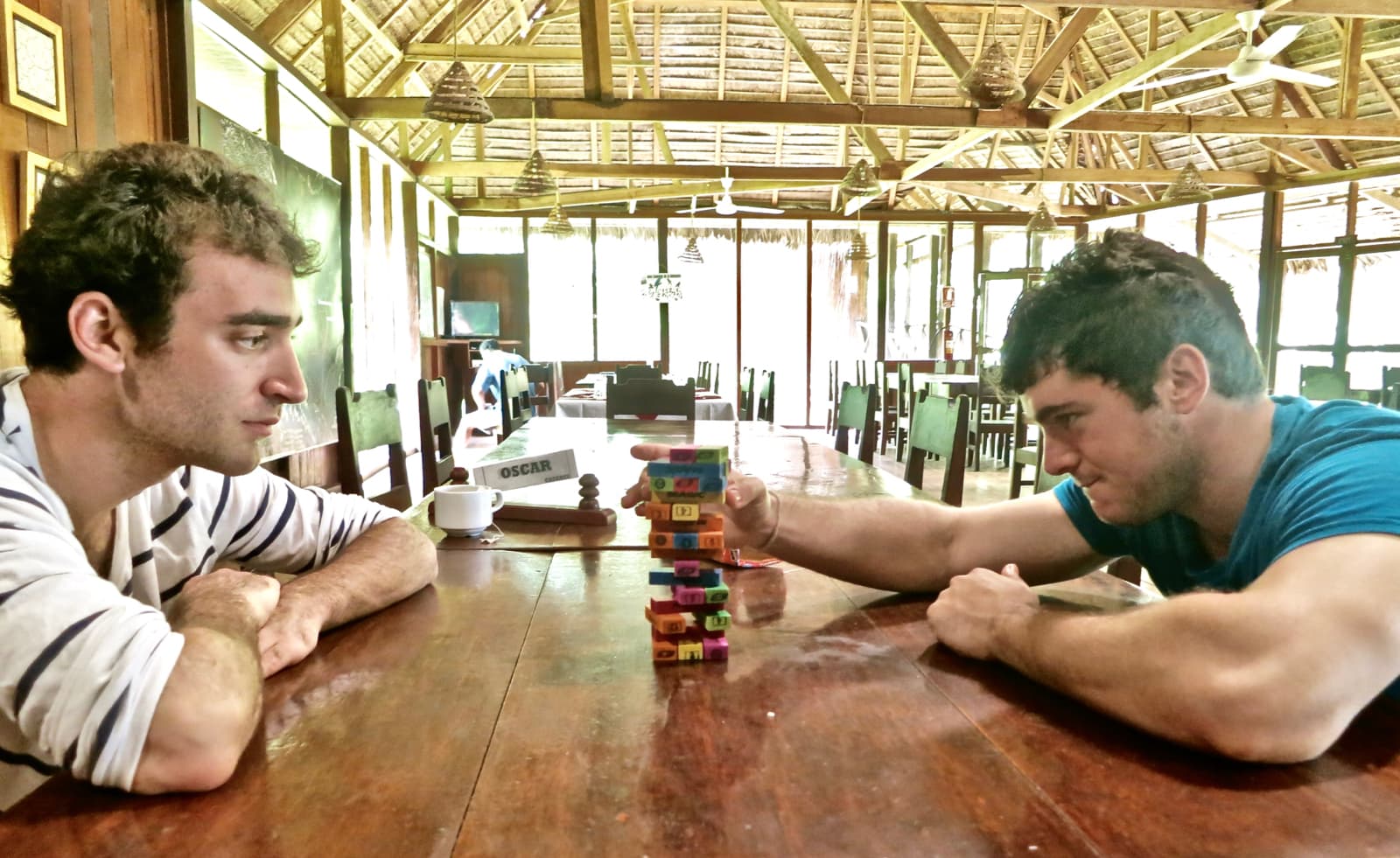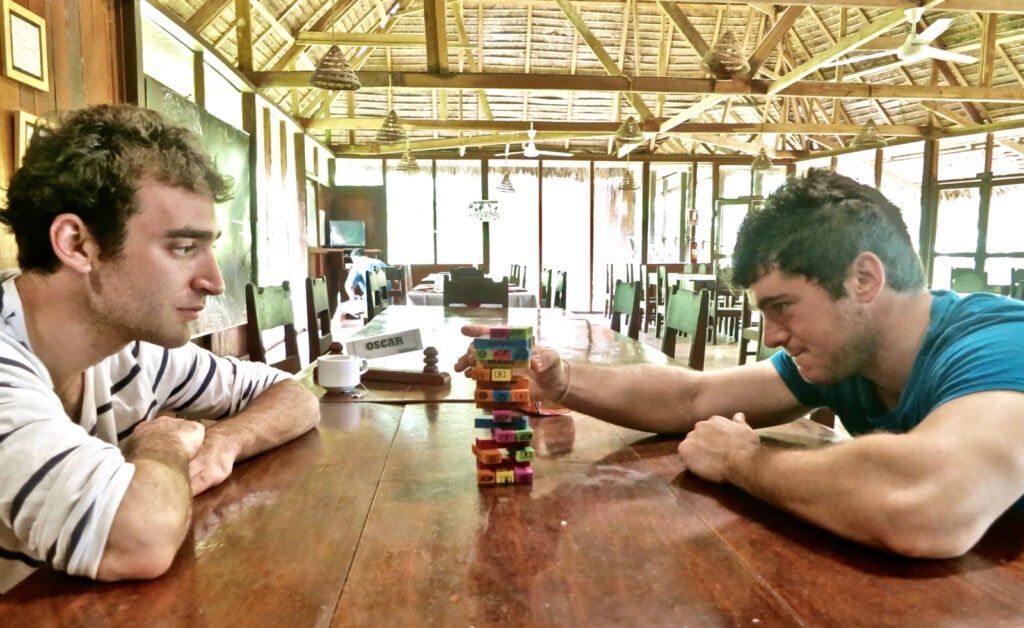 Be sure to bring card and other games to play. You may just make friends with other guests looking to pass the time.
Sandoval Lake Lodge Excursions
5 A.M. is not too early if you are eager to see dozens of large, rainbow colored Macaws gather, fight and canoodle each other in one place.
You've got to take a canoe to the muddy trail you hiked in on and walk, once again, on the Wellie-sucking path, but once you get to the particular dead tree that your guide knows as an early morning Macaw meeting place, you'll be riveted to the spot for over an hour.
Macaw couples rub heads and feed each other. Alfa males squawk and fight for tree dominance. Your guide will have to pry you away. (I wanted to caption these photos, "We'll always have parrots.")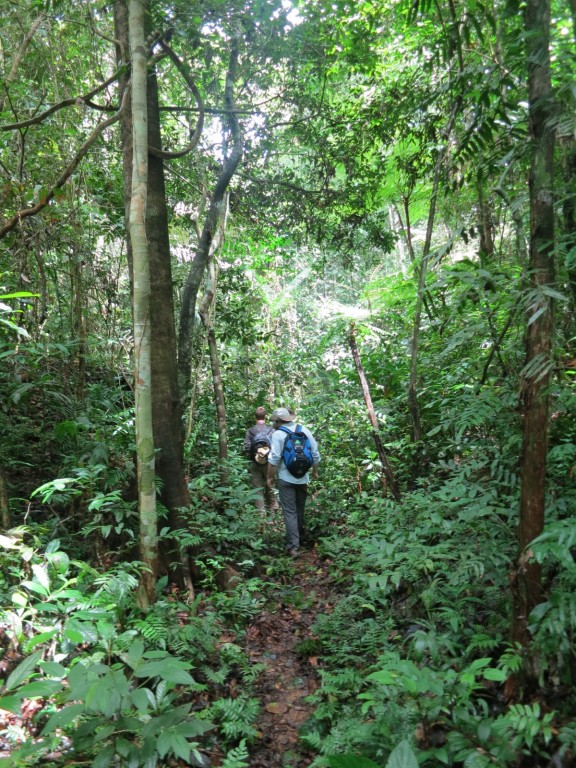 When the rain clears, you'll be treated to a wonderfully engaging 10am nature hike.Taste a bitter splinter hacked from the Quinine Tree (used locally to treat malaria), observe "leaf cutting ants" carrying three times their weight in constantly moving lines, ogle distorted, tumor-like tree trunks – the work of termites – see cicada towers and plenty of other exotic plants.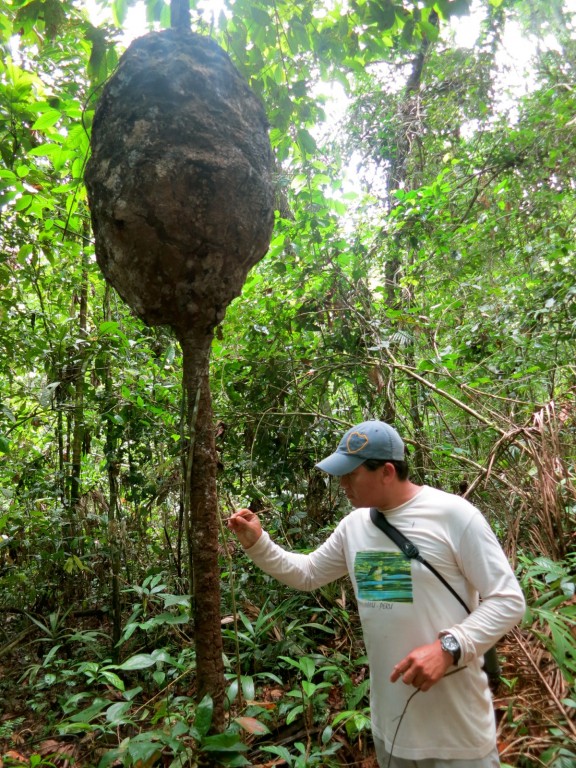 The rhythm is mellow here. Have lunch then rest until your next activity at 4pm.
Sundowners at Sandoval Lake Lodge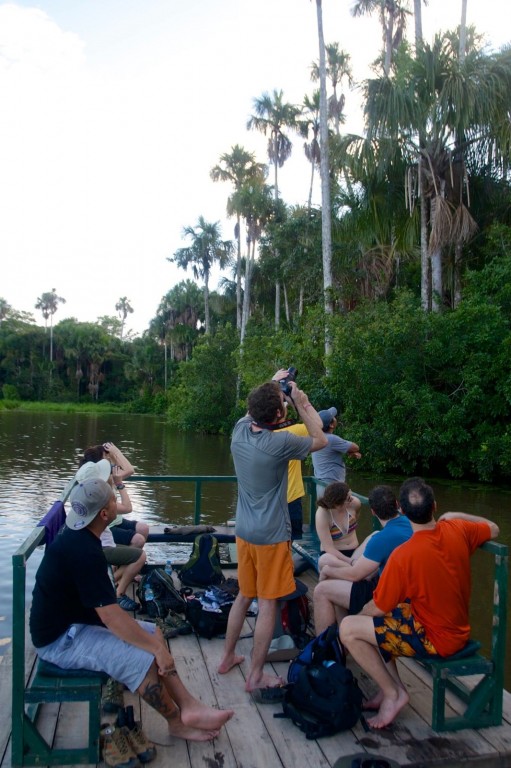 Jump aboard a platform set atop two canoes. This is the sundowner "catamaran" used to circumnavigate Lake Sandoval. The caiman, maybe Cocoa, maybe not, might follow along – his tail swooshing lizardly as he comes unnervingly close to the boat.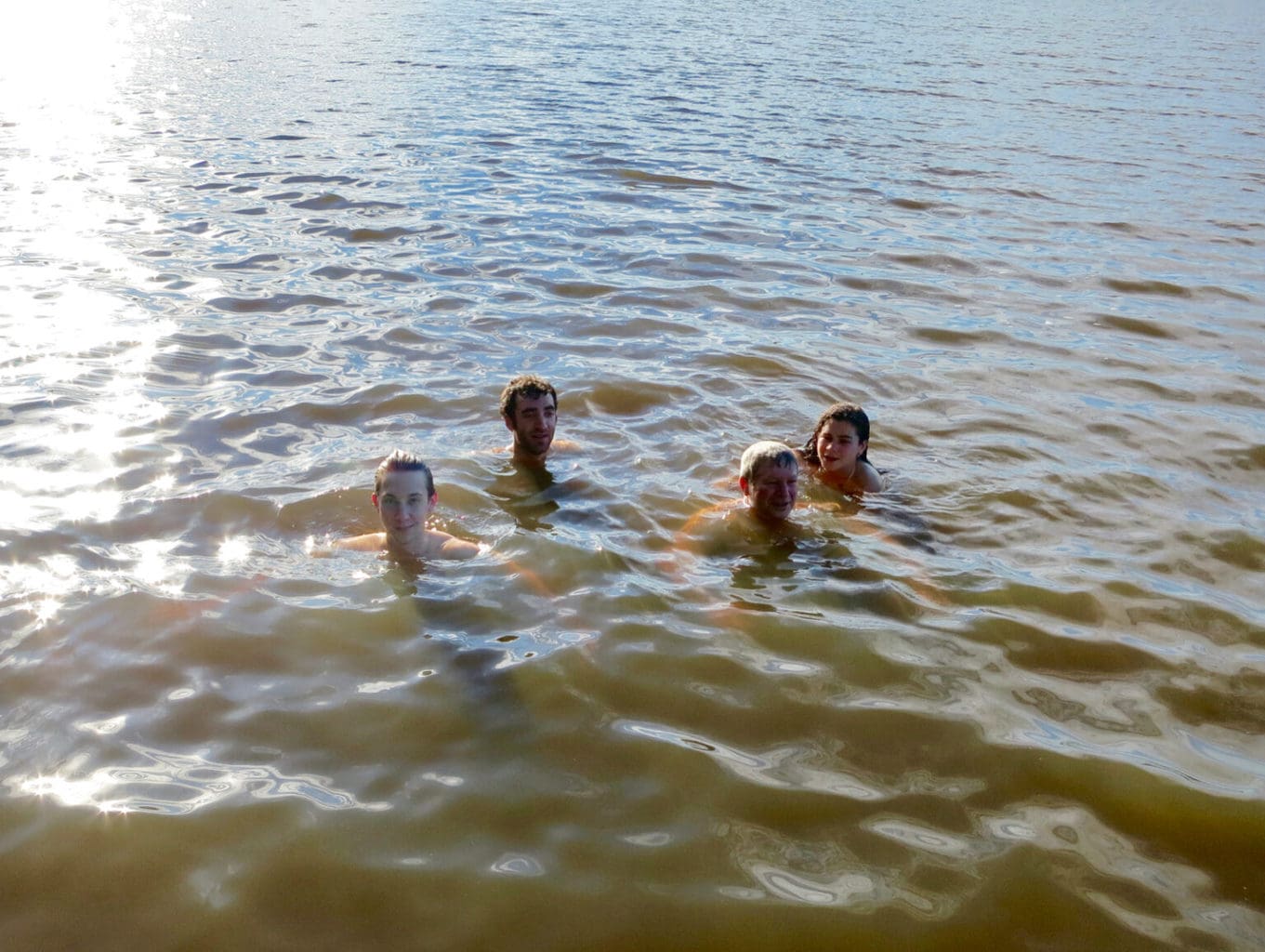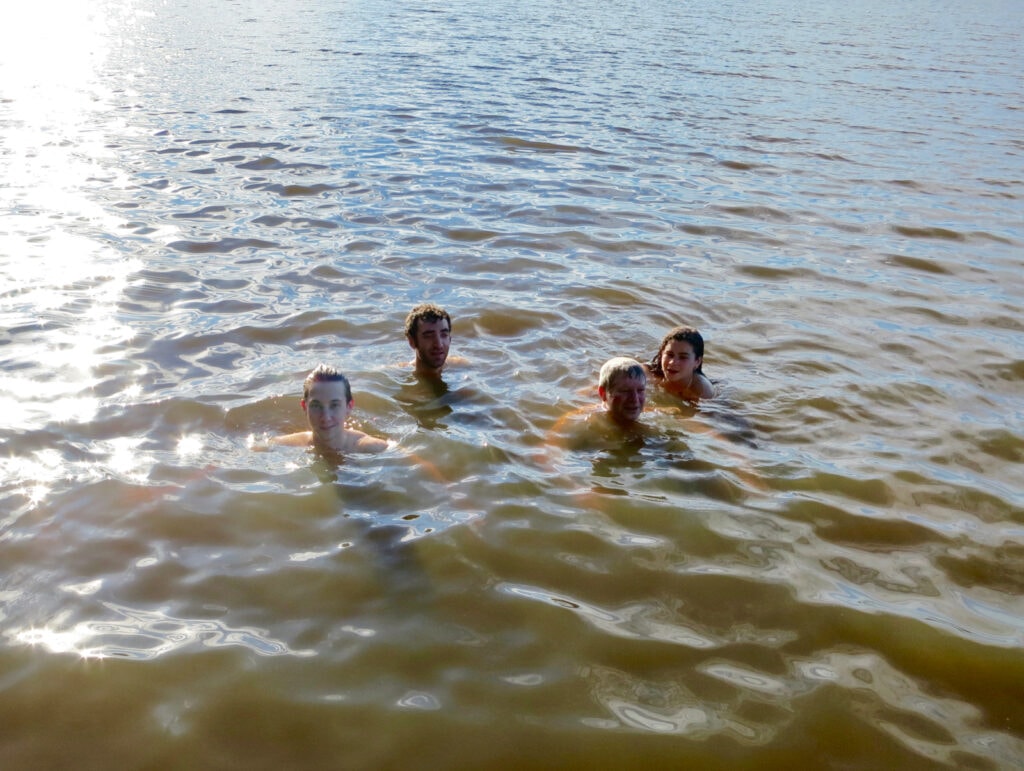 Though there are piranhas in the lake, you can swim in certain sections of it. "There are two kinds of piranhas," a guide explains. "The red and the blue." One eats people, one doesn't. You hope that only the non-human eating piranhas are in the lake.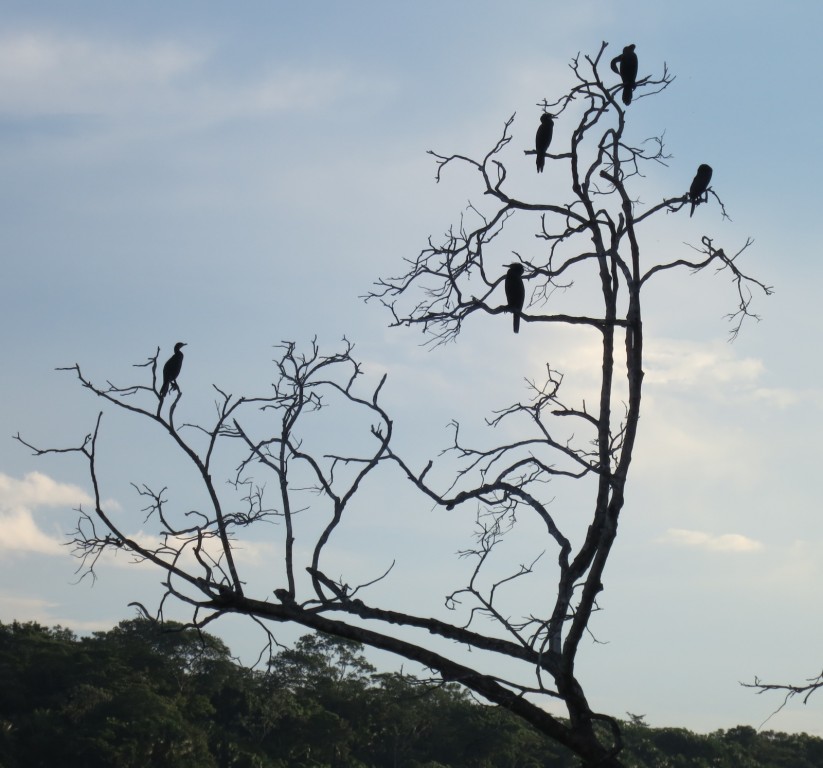 Even if you don't see the Giant Otters, you'll see plenty of birds in dramatic poses. You might even be lucky enough to spot one or two sloths – a species so slow-moving, they make turtles seem hare-like-fast in comparison.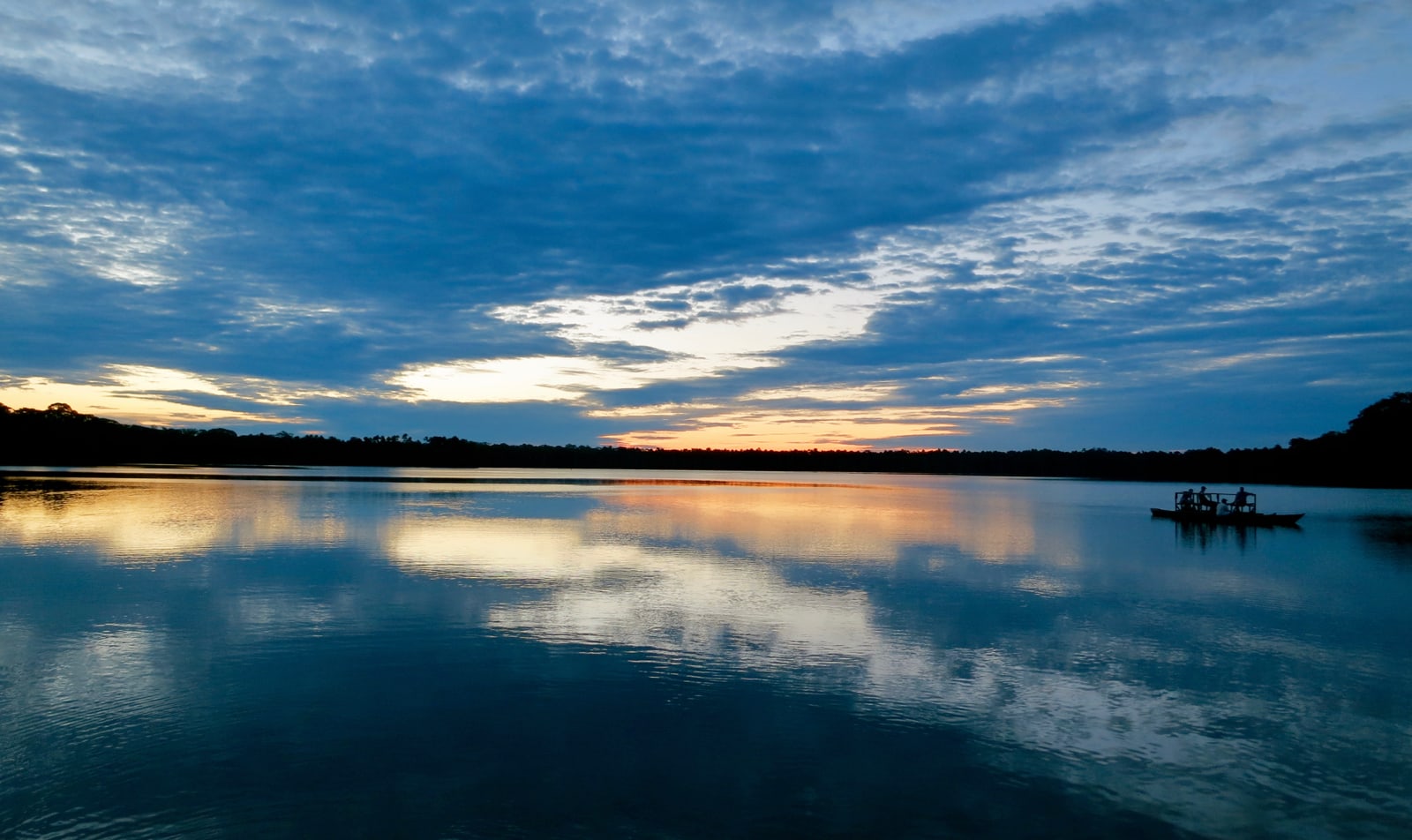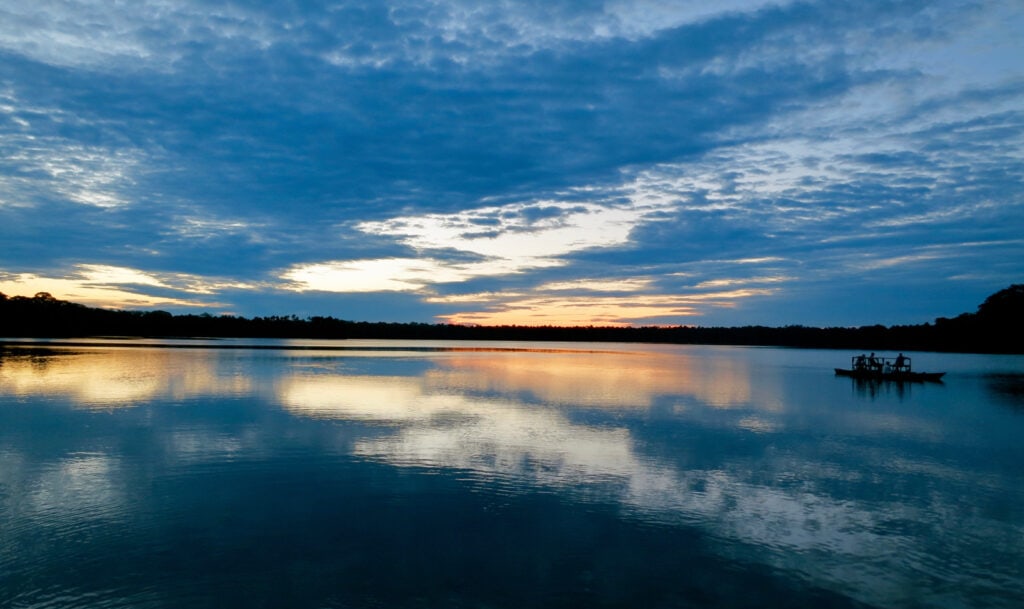 There is nothing like a sunset in the Amazonian Rainforest on Sandoval Lake Lodge. You'll just have to see it for yourself.