Last Updated on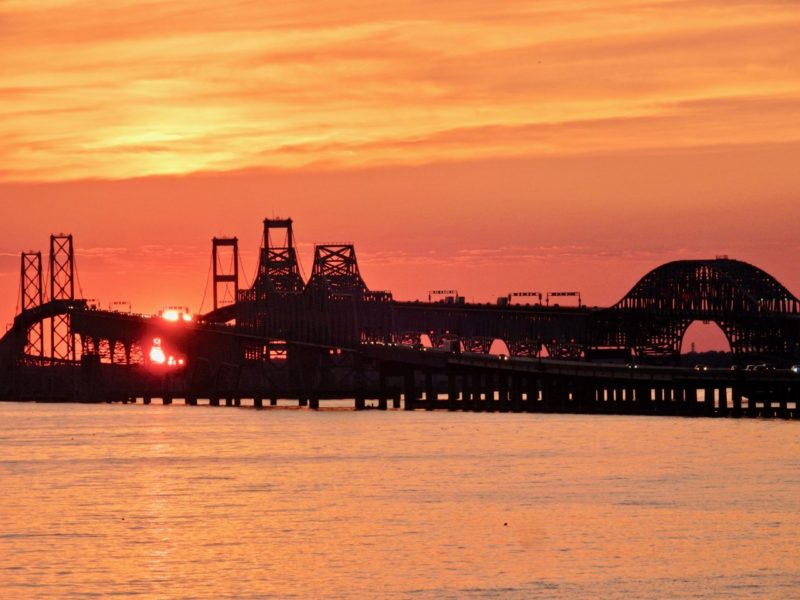 WHY GO: Queen Anne's County MD has the distinction of sitting almost within reach of the Chesapeake Bay Bridge, offering one chief reason to stay: a sunset the likes you've never seen before. But of course, there's so much more.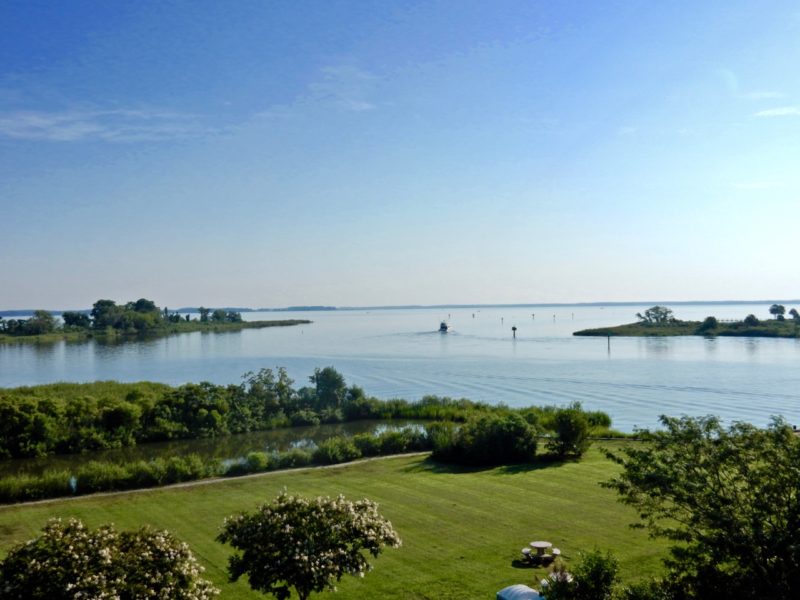 Queen Anne's County is carved out of the easternmost part of the Delmarva Peninsula, and includes the 7 miles long and 4 miles wide Kent Island (which is not in Kent County, as would be assumed). Kent Island is often overlooked (and driven over) by travelers heading to the ocean on the western side of Delmarva. For a mellow, quick escape, stop, stay a night at a lovely new boutique hotel, check out one of the region's last oyster shucking houses, kayak through unusual sea grass, and of course, dine on crab cakes overlooking the Chesapeake Bridge at sunset. Discover Queen Anne's secrets on this low-key but glorious Getaway.
Things to Do in Queen Anne's County MD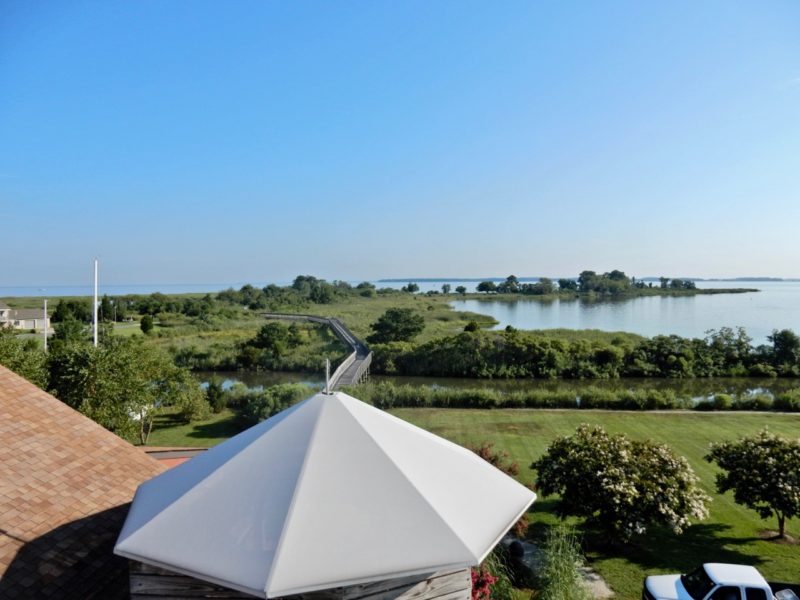 VISIT: Chesapeake Heritage and Visitor's Center, Chester. Get your bearings, grab some brochures, peruse the small museum, and climb the observation tower for a bird's eye view of Ferry Point Park. There are several cool things to see in this tiny exhibit that highlights a rare collection of Duck Stamps, decoys, and the products that put this area on the map: pumpkins, corn, crabs, oysters, sea turtles, ducks, tobacco, and rockfish.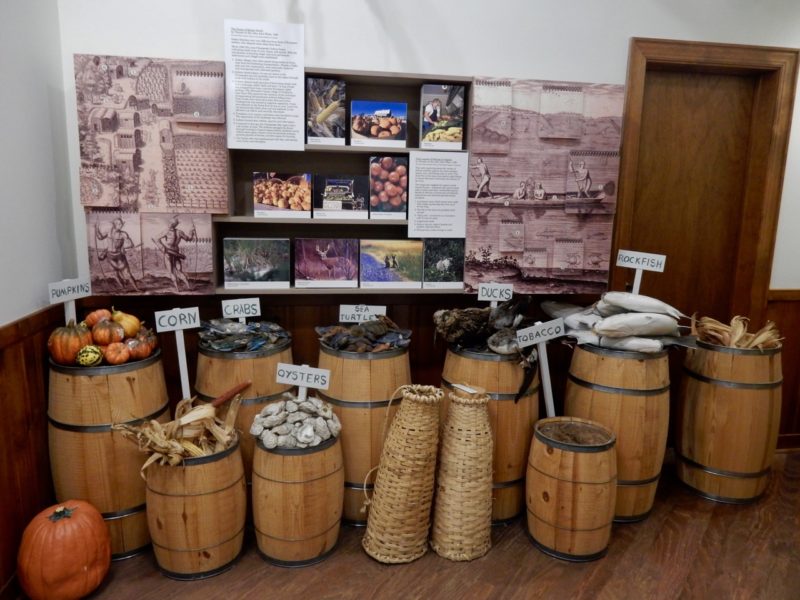 Next, climb the spiral staircase to the observation platform for great views of Chester River, which separates Kent Island (in an area called The Narrows) from the Delmarva Peninsula, Grasonsville, and Ferry Point Park. Open daily 10-4, free.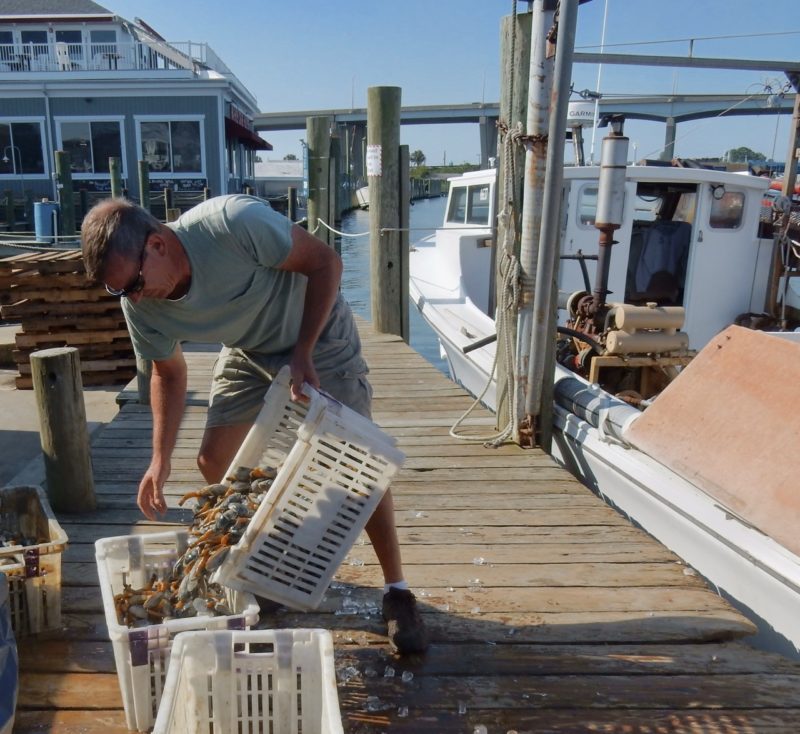 TOUR: Harris Seafood, Grasonville. (Next door to Harris Crab House). A tour of wholesaler, Harris Seafood, is an under the radar and unscheduled, but educational, few minute traipse though a working seafood processing and distribution facility. This unofficial "tour" (if owner, Jason Ruth, is around, he'll take you around), is really a behind the scenes look at people working hard, and a hard look at how we get our crabs, oysters, and soft shell clams.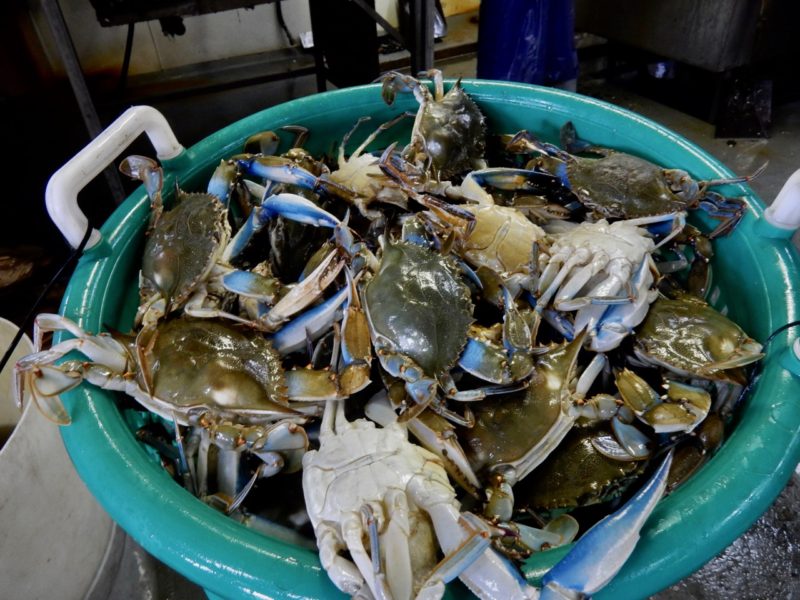 Jason Ruth started hop-to-ing here when he was 13 years old – when it was W.H Harris Seafood – and purchased the wholesale business (but not the property, which also extends next door to Harris Crab House) when W.H. retired in 2004.
Since then, Ruth has expanded the business; buying oysters from companies all over the East Coast, shucking, and selling them to grocery stores and restaurants. In fact, his is one of the very last "shucking houses" in Maryland – and watching dozens of these master shuckers in action is something to see.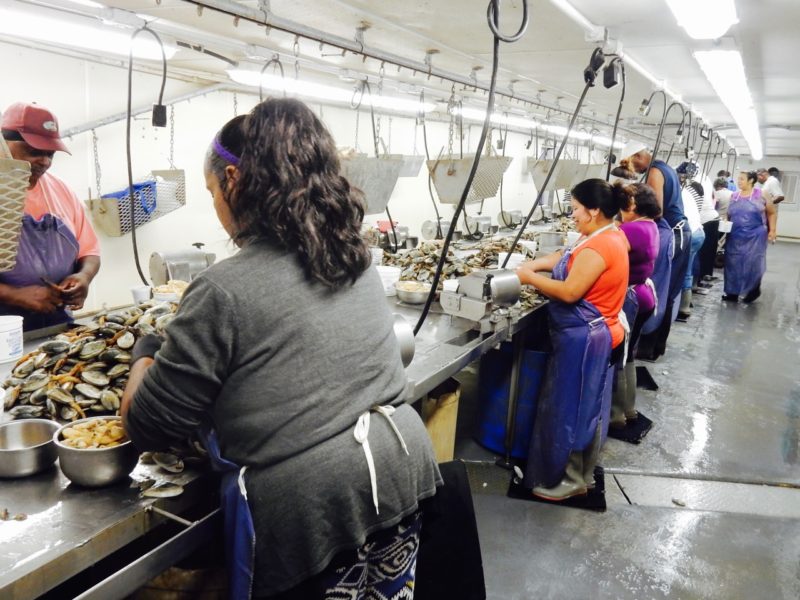 "There are only two native oyster species in the United States," says Ruth. "It's the salinity levels of the water that makes them different." For instance, Ruth purchases Blue Point Oysters from Bloom Brothers in Norwalk CT for customers who prefer a mid-level of salinity (Chincoteague Oysters are the saltiest, Mid-Chesapeake Bay,the least.).
About 65 watermen deliver a total of between 300-400 bushels a day to the back dock, where chairs are provided for tourists who want to watch the boats. Along with oysters, Harris Seafood also sells crabs (some cooked, to grocery stores like Wegman's), and soft shell clams. Even if Ruth is not here, find your way to the back deck and watch the watermen at work.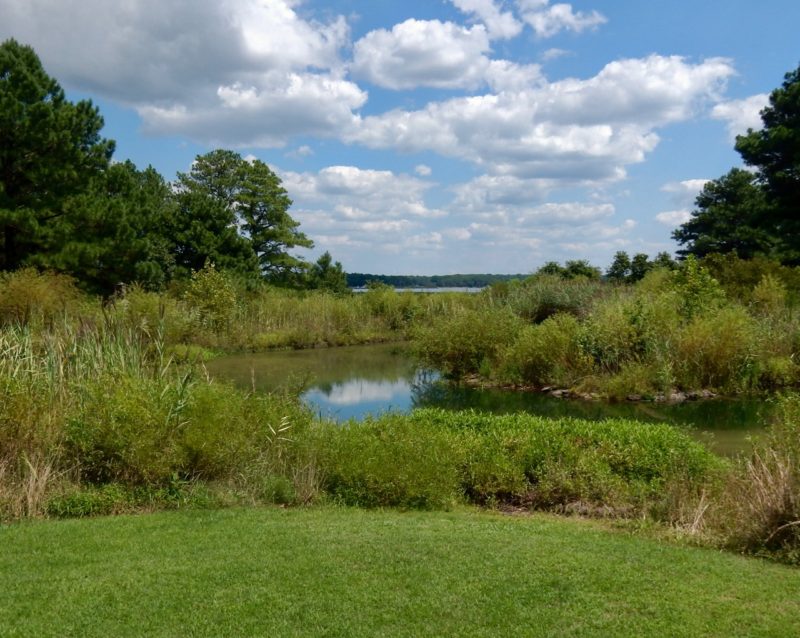 HIKE/KAYAK: Chesapeake Bay Environmental Center (CBEC), Grasonville. With 510 acres on a migratory route, CBEC turns into a waterfowl wonderland in the fall – a magnet for wildlife photographers. (In fact, the Wildfowl Trust of North America is CBEC's governing agency).
Taking up the whole of a peninsula "in the shape of a horse head," CBEC used to be Horse Head Environmental Center but was renamed to better reflect its location. Primarily an educational research and restoration organization, CBEC also features a new "Green" Classroom and Visitor's Center and acres of land open to the public.
There are four miles of flat, though muddy, hiking trails, with observation towers and duck blinds and a Raptor Rehabilitation Center on site, but if you really want to experience "Marshy Creek" – plan to rent a kayak ($20 per day, some hauling involved) or take a guided kayak tour ($20 for about 2 hours).
Marshy Creek is brackish, inviting both salt water loving jellyfish, and fresh water ducks and geese to feed and float among its unique water grasses. With no development around, this is a tranquil paddle.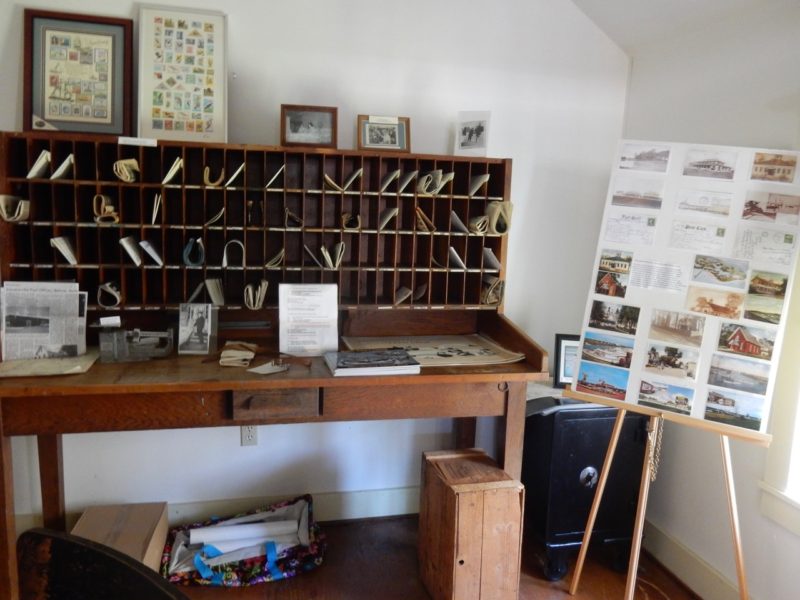 VISIT: Historic Stevensville. Enter the circa 1877 Stevensville MD Post Office, now owned by the Kent Island Heritage Society, and you'll receive a letter from a P.O box, set up as it would have looked when the post office was in operation.
The letter highlights the history of this mini-town, which you can also learn on a walking tour, led by the sprightly Nancy Cook, on request. Most people come to Historic Stevensville to dine Italian at  Rustico, or for the adorable bakery, Peace of Cake, but stay a bit to learn something.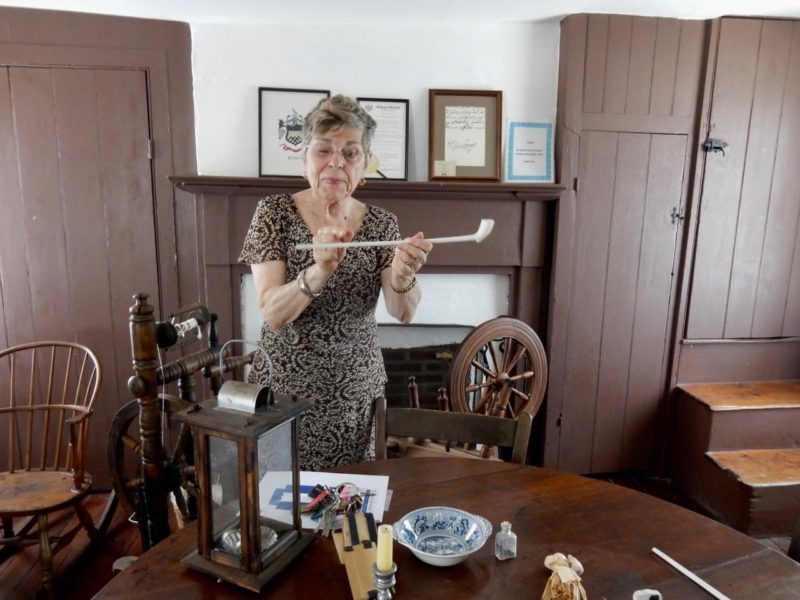 After the Post Office, you'll head over a couple of blocks to the "Cray House," built in 1809 by a ship's carpenter named Denny (Cray was the last to live here). When the preservationists took over the Cray House, they discovered that termites had demolished most of the wood. So, in 2003, the home was rebuilt exactly as it had been the first time – with unique Post and Plank construction specific to the Tidewater Region.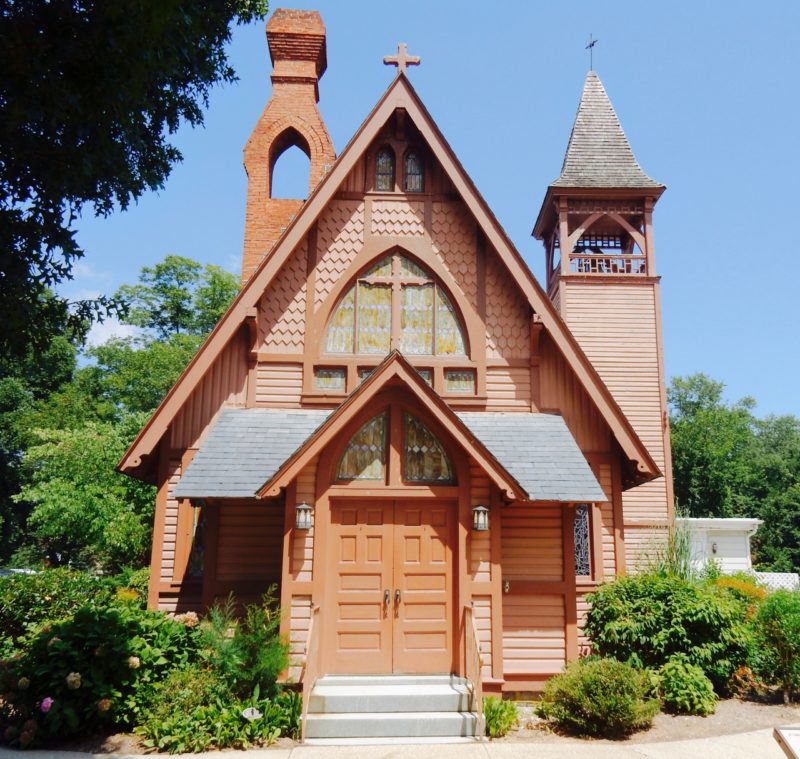 The Historic 1880 Christ Church served a community of immigrants, many from Germany and Spain. Its mish-mash of Queen Ann and other architectural styles is worth seeing, and though no longer operating as a church, it can be used as such for weddings.
EXPLORE: The Kent Narrows. This is the name given to the ribbon of water that separates Kent Island from the Delmarva Peninsula, and where you'll find a concentration of chain hotels and restaurants (see below for both).
HIKE: Terrapin Nature Area. There are three miles of trails in this 450 acre park on the Bayfront – taking you through tidal marsh and beach front – where you're likely to see waterfowl, muskrats, and other marine life. The view of the Bay Bridge from here is stunning.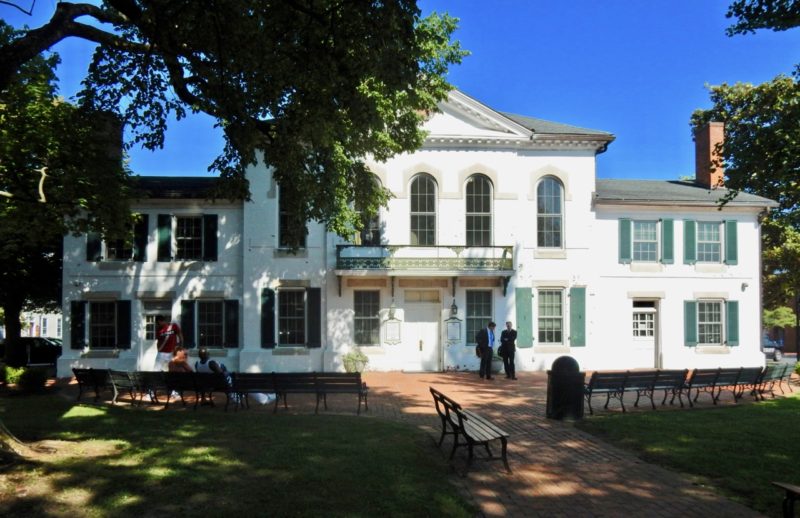 STOP/PHOTO OP: Queen Anne's County Courthouse, Centreville. The oldest Maryland courthouse in continuous use sits on a pleasant town green surrounded by historic buildings, and is worth a stop on your way out of town.
Where to Eat in Queen Anne's County MD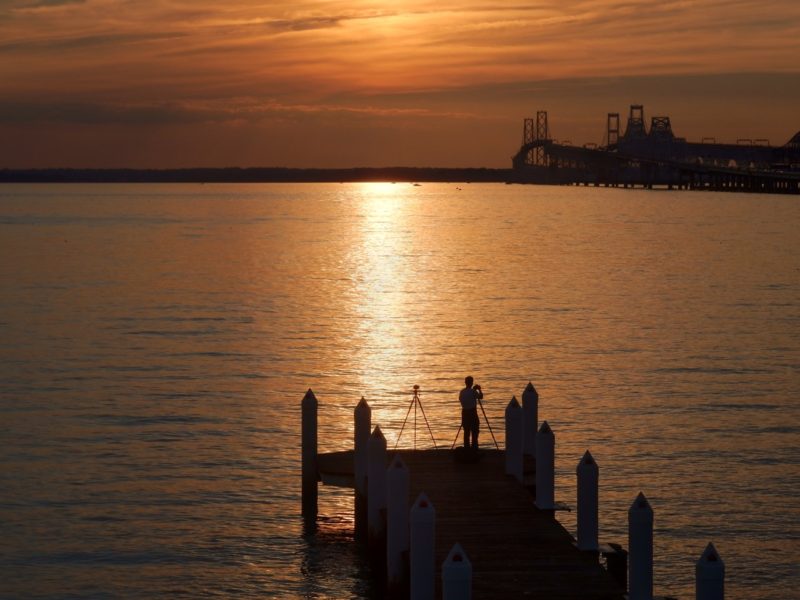 EAT: Hemingway's Restaurant. It's the first building you see as you cross the Chesapeake Bay Bridge, and therein lies its popularity. Yes, dishes like Grilled Sweet and Spicy Mango BBQ Salmon ($24), Pan Seared Rockfish ($33), and the Chef's Famous Seafood Alexandra ($27) are good and tasty, but it's the sunset that will knock your socks off. When that ball of fire descends down through the bridge girders, the whole Bay seems aflame. No wonder photographers come here just for this reason.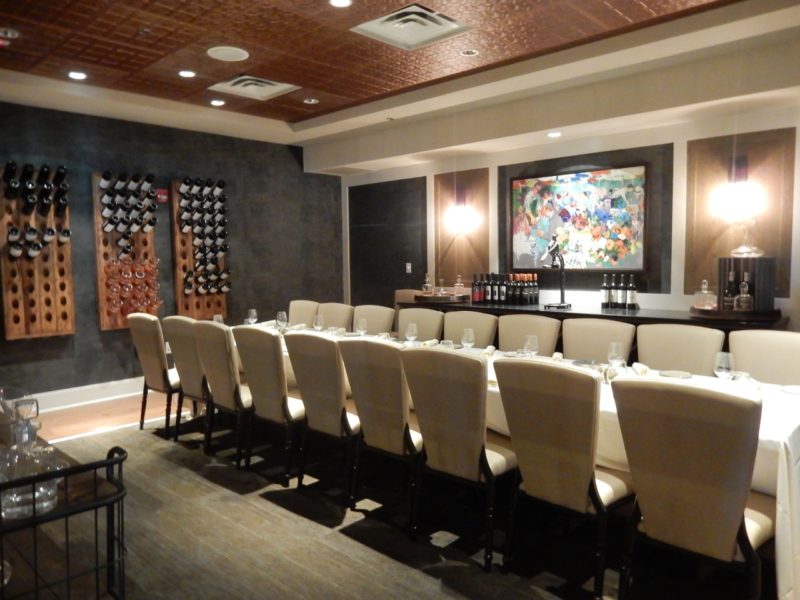 EAT: Knoxie's Table. Located at the Inn at Chesapeake Bay Beach Club, Knoxie's is the haut-cuisine standout in a crab shack world. With patrons coming from DC and Annapolis, it's a destination restaurant on it own, with innovative, well-plated dishes like Baked Wild Rockfish with Crab Risotto ($28), Free Bird Chicken Picatta over Spinach Linguine ($22), and great craft cocktails. If you're a large group, you can fit 24 in the stunning "Decanter Room" at no extra cost.
EAT: Kent Narrow Restaurants: Annie's Steak and Seafood House, Red Eye's Dock Bar, Harris Crab House, Big Owls Tiki Bar, The Narrows Restaurant, Fisherman's Crab Deck, Fisherman's Inn Restaurant, Bridges Restaurant and the Jetty Restaurant and Dock Bar all offer variations of crab-dining in a popular boating and marina area of Kent Island.
Where to Stay in Queen Anne's County MD
STAY: The Inn at Chesapeake Bay Beach Club. A destination luxury boutique hotel in a busy wedding venue? Yes. And don't scoff. It's the real deal, with upscale witty décor, 54 rooms, an innovative house-garden-to-plate restaurant, great Market for both gifts and meals, full service spa, and cruising bikes for use while there. It's such a great place, it's a Maven Favorite, with its own write up HERE
STAY: Kent Narrows – Holiday Inn Express, Best Western, and Hilton Garden Inn are all located there.