Last Updated on September 7, 2022 by Editor
WHY GO: Those who've grown up on the East Coast know what Brownstones are. They're those iconic reddish-brown NYC row houses, arrayed side by side, stoop steps spilling onto tidy sidewalks. But what people don't know is that most of this stone was quarried from one place: Portland CT.
Portland's brownstone quarries supplied the blocks used for apartments and public buildings all over the country. Most of the now-coveted New York City town homes began as dinosaur stomping grounds on this bend in the Connecticut River.
Should you live in one, a visit to Portland and it's across the river neighbor (and home to Wesleyan University), Middletown CT, is one offbeat way to meet the (b)earth mother of your city dwelling.
You'll also discover an internationally known "haute cuisine" diner, serene golf courses, and cultural opportunities that can only be found in an artsy college town.
Things To Do In Portland CT and Middletown CT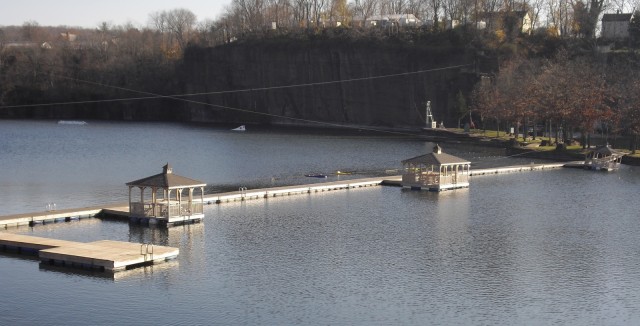 When new technology allowed cement companies to match the rich brownstone color at a much reduced cost, the Portland quarries ceased operation. But, at least one is far from abandoned.
This vast hole in the ground, flooded during the 1938 Hurricane, is now Brownstone Exploration and Discovery Park, a fantasyland for pre-teens and adults with highly active inner children.
Drawing scores of families from New York, MA, CT and RI, the park offers zip-lines, giant slides, swimming, wake and knee boarding, cliff diving and a rigorous ropes course.
There are floating cabana-gazebos with room for groups of 8. Parents can hang out in comfort while their kids go wild. Day rates from $29-$49 per person, Open Mid June to Labor Day, weekdays 10am-7pm, weekend (SCUBA only) from 8am-7pm, all other activities 10am-7pm.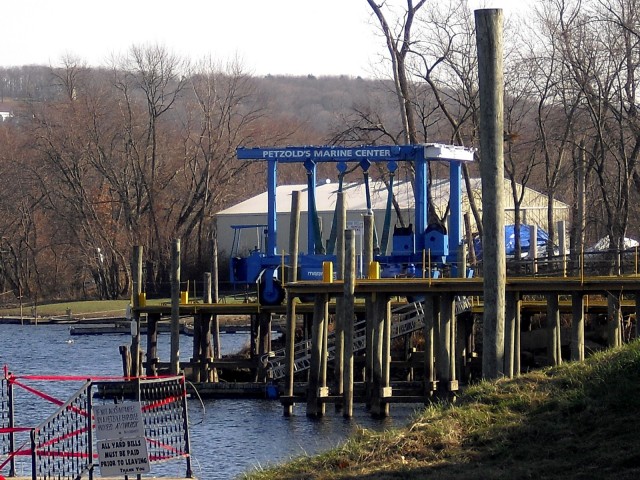 SEE: Evidence of Dinosaurs
Check out authentic dinosaur footprints. You'll find them in a sometimes-submerged slab right off the launch ramp at Petzold's Marine Center. Just make sure you don't bother the hard-working staff there.
DO: Get on the Links
If you're into golf, bring your clubs. Portland was once covered in tobacco fields. Though they have long since been left to fallow, Portland's flood-plain status keeps development at bay.
With all this open land, the town supports three beautiful public golf courses. One, Quarry Ridge, sits on a hilltop near a former fieldstone quarry from which you can see Hartford 21 miles away. $58 for 18 holes on weekends.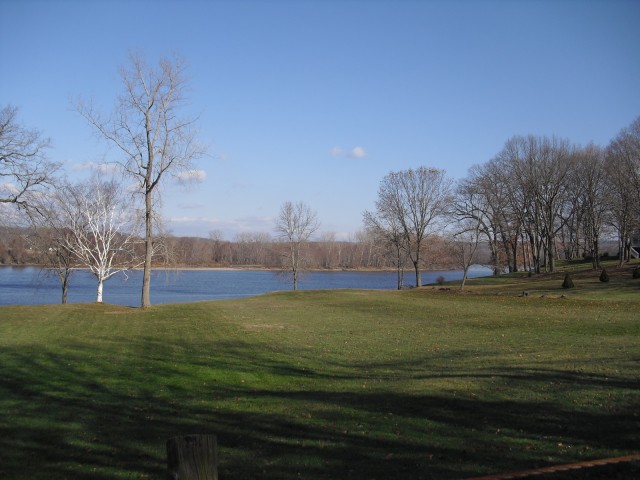 DO: See the Stars
Once a month, on a clear Saturday night, the public is invited (for free) to stargaze through a 20" refractor at Wesleyan's Van Vleck Observatory. Check the website to see if your own stars line up with the college's calendar. Select Saturday Nights 9pm-11pm, Free.
The benefit of visiting a college town is that there are a multitude of inexpensive options when it comes to performing or fine arts. Check out the calendar and witness youthful energy and creativity in action. Free or nominal ticket charge.
Restaurants In Portland CT and Middletown CT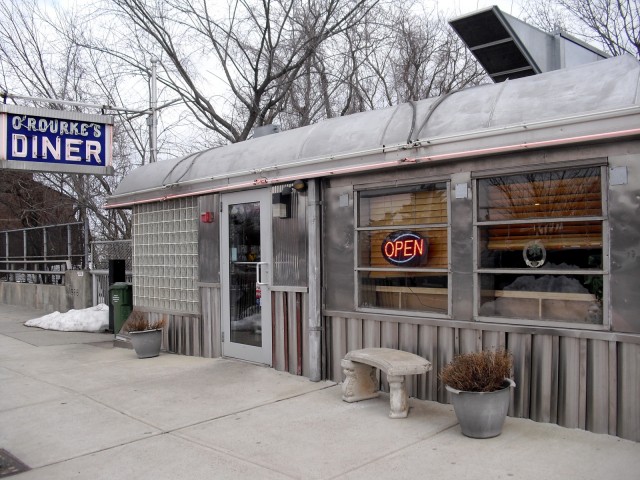 EAT: O'Rouke's Diner, Middletown
The BBC had been filming a few days before I got there. Diners, Drive-Ins and Dives gave it the thumbs up in 2008.
Readers of Yankee Magazine chose it as "Best Breakfast Place" in Connecticut. And it's been written about in a slew of national publications. So I was somewhat surprised to see Brian O'Rourke still at the stove of his 44-seat tin can, working both the room and kitchen to keep everyone happy.
Brian has established a loyal following by treating customers like friends and conjuring up the most creative, whimsical foodstuffs ever slung on a plate. I ordered the Chicken Salad Wrap and it arrived as a Dr. Seuss illustration come to life.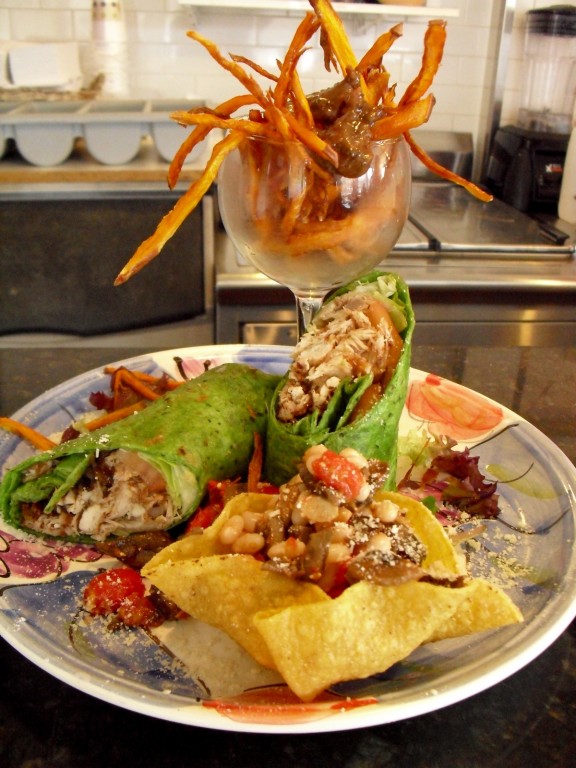 Salty, sweet, crunchy, pulled chicken with candied almonds, fig butter and chicken "crispin's" – the wrap was unlike anything I'd tasted before. It came with a tortilla cup filled with bean & mushroom salad and a shrimp cocktail glass overflowing with perfect sweet potato fries topped with "watermelon ketchup."
Order "Brian's Breakfast." It's different every day. Open daily 6am -3pm.
Earning a "Very Good" in the New York Times, this "authentic taste of Tibet" has won over Wesleyan Students and parents – and Milddletown in general.
DRINK: Eli Cannon's Tap Room
If you are as serious about beer as a sommelier is about wine, allow the bartender at this watering hole to pull you one of 36 esoteric beers on tap.
Like a good farm-to-table restaurant, the beer menu changes daily to guarantee freshness. Pub-grub, like wings and burgers, accompany pours perfectly.
Plus, the owners are funny. From their website; "As the innovator of American Trailer Park Fusion, our menu has something for everyone.
Don't see what you want on the menu? Just ask and we'll tell you we don't have it in person."
Where To Stay In Middletown CT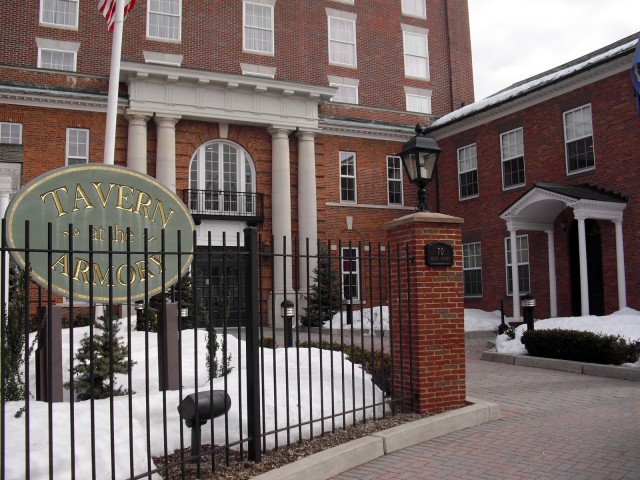 What was once a National Guard armory has been reborn as the best non-chain place to stay in Middletown. A graceful two-story spiral staircase topped by a dramatic chandelier adorns the marble lobby.
Service is very friendly and 100 tasteful rooms are repro-Colonial. This is choice #1 for parents of Wesleyan students. You'll be in the midst of the action, right on a vibrant Main Street. $160-$250 per night.