In 2003, I interviewed Pete Seeger about his role in cleaning up the densely polluted Hudson River. Humble, kind and gracious, Pete Seeger was one of my favorite interviews of all time. He would surely have much to say and sing about these days. I do miss him.
I wrote the following for Offshore Magazine in 2004.
Pete Seeger still has the lanky body and muscular arms of a mast-climbing sailor, though he admits that the last time he shimmied up the spar of the Hudson River Sloop, Clearwater, he got only as far as the crosstrees. That was four years ago, when Seeger was 79.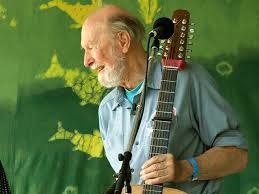 Though a professional singer and songwriter known for penning such sing-round-the-campfire songs as "If I Had A Hammer" and "Where Have All the Flowers Gone" Seeger is most identified locally with the environmental group The Hudson River Sloop Clearwater, having played a leading role in its inception in 1969. "I was fascinated by old boats since I learned to sail on Cape Cod 45 years ago," Seeger mused. In the mid 1960's Seeger was inspired by pictures in the 1907 book "Sloops of the Hudson", and he motivated like minded old boat lovers to raise money to reproduce one of these majestic ships. "At first, we wanted to build it for historical reasons. As a graceful symbol of the past," Seeger said. "But then there was a groundswell of support for cleaning up the river. At the time the ghetto of every town was next to the stinking sewer called the Hudson." After asking supporters to vote on a name, "Clearwater" won out over "Heritage" and a symbol was born.
A symbol was one thing. Finding real money to build it was another. When Seeger made preliminary calls to shipyards to get an idea of the cost, no one was quite sure how funds would be raised. Harvey Gamage Shipyard in South Bristol, Maine offered to construct the sloop for $120,000 – half of what local shipbuilders would charge. "Money comes in quicker once you lay the keel," Gamage reportedly told Seeger in an apparent effort to bolster the folksinger's optimism. Pete appeared everywhere promoting his cause. He was a guest on the Johnny Carson show when the sloop was under construction. "Carson asked me the boat's name and I said, 'Clearwater'. 'On the Hudson?' Carson laughed." The river was a national laughingstock, devoid of most fish and slick with chemicals.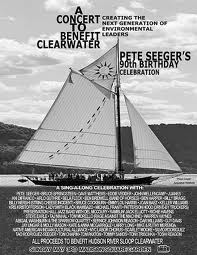 By the time the first fundraiser was scheduled to take place in a sheep pasture in Garrison, NY, just the idea that the sloop might help clean the river hit such a local nerve, six thousand people came. Arlo Guthrie, fresh from his success with the movie and song Alice's Restaurant, was the featured singer. A local DJ emceed the event and between songs would shout, "who's going to pledge $500?"
When the hull was painted eight months later and the ship was ready to be picked up, nearly $70,000 had been raised. Seeger and a motley crew of several musicians including Don McClean (who debuted his smash hit American Pie at a 1972 Clearwater Fundraiser in Washington, DC), took possession of the ship in the summer of 1969, then slowly made their way back to the Hudson River. To raise the remainder of the funds, Seeger remembered, "We'd sail 25 miles, give a concert. Sail another 25 miles, give a concert…Portland, Portsmouth, Gloucester and down." When they arrived at South Street Seaport in New York City, Mayor John Lindsey took the helm for a few hours. Even before arriving at its final destination in Poughkeepsie, NY, the Sloop Clearwater had garnered major publicity.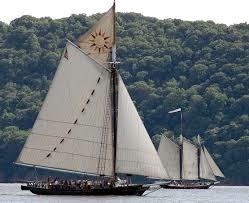 Seeger and the Clearwater's founders were resolute about their purpose – to collect money for a massive river-clean-up and to support the Sloop itself. "We wanted to fund the Clearwater without it becoming a rich man's cruise ship," Seeger said. They discovered that public and private schools would pay to take students out on half-day ecology trips – a fundraising venture that continues till this day. Currently, public cruises up and down the Hudson and the Woodstock-like Hudson River Revival Festival in June of each year keep the graceful Clearwater in the public eye. A growing number of dues-paying Clearwater members are now addressing new concerns such as cancer causing PCBs (polychlorinated biphenyls), dumped into the river from the 1940's to the '70's by General Electric and now slated for removal via dredging in 2006. "All I did was plant a seed," the folk singer said with characteristic modesty. "The sloop brought many people down to the river for the first time and when they saw what a mess the Hudson was in, they wanted to change it."
Pete Seeger lives with his wife, Toshi, in the same place they've lived since they were married 53 years ago. They raised three children here and have six creative grandchildren – one a musician with the folk-group, the Mammals. Toshi, the daughter of a renegade "Ole Virginny" woman and her exiled Japanese husband, tends to their garden and vigilantly reminds her husband of his myriad appointments and travel plans. Their original home – a log cabin they built together now used as a guest cottage – and the newly remodeled barn in which they now live sit on a mountainside tract of land with sweeping views of the Hudson River. From his patio, Seeger looks down upon his little town of Beacon, NY, and can identify every building. Each building, each patch of land, has a story – and Seeger, a politician since birth, can spend hours elaborating on the follies and advancements of local and global governments.
Seeger doesn't take time glaming up for company. He wears a broken-in denim work shirt with matching jeans and greets visitors with a hearty handshake and crooked-tooth smile. Several late model cars sit in his driveway but Seeger prefers a beat up tan Range Rover sporting a bumper sticker that reads: "If the people lead, the leaders will eventually follow." His belief in the power of "the people" stems from childhood. "I was a communist at age 7," Seeger admits. "When I was ten, I made a teepee for myself in the back yard and wanted to live off the land."
Seeger admits he's now "involved in too many things – that's my weakness" – though the things he's involved in are a dozen or so of the "little organizations" that he claims are making a difference around the world. He consults with the People's Music Network and Children's Music Network. He speaks out for the East River Apprentice Shop which, like his own Hudson River Sloop ambitions years ago, is in the process of recreating a Whitehall Rowboat – a replica of General Lafeyette's American Eagle. Seeger conducts sing-a-longs at the local Beacon Sloop Club and is now deeply into his newest project – helping to build a floating swimming pool in the Hudson River in Beacon, NY.
If the Clearwater hero sees the irony in his latest endeavor, he doesn't let on. To him, a swimming pool should be for the people in the people's water. That he had anything to do with transforming this sludge pool into swimming pool is, to him, beside the point. Thirty-five years ago, Pete Seeger built a boat to save a river. Now that the river has been cleaned to the point where once-absent fish are thriving, environmentalists tell him that the pool netting might be dangerous to these fish. "We're working on that," Seeger says. And there's probably a song in the works, too.
Pete Seeger: Born May 3, 1919 – Died January 27, 2014