Last Updated on
WHY GO: Come to North Adams MA see what the fuss is about at the Massachusetts Museum of Contemporary Art, known as Mass MoCA, and then plan to stay in one of the quirkiest country-contemporary-row-house redo of a boutique hotel – Porches.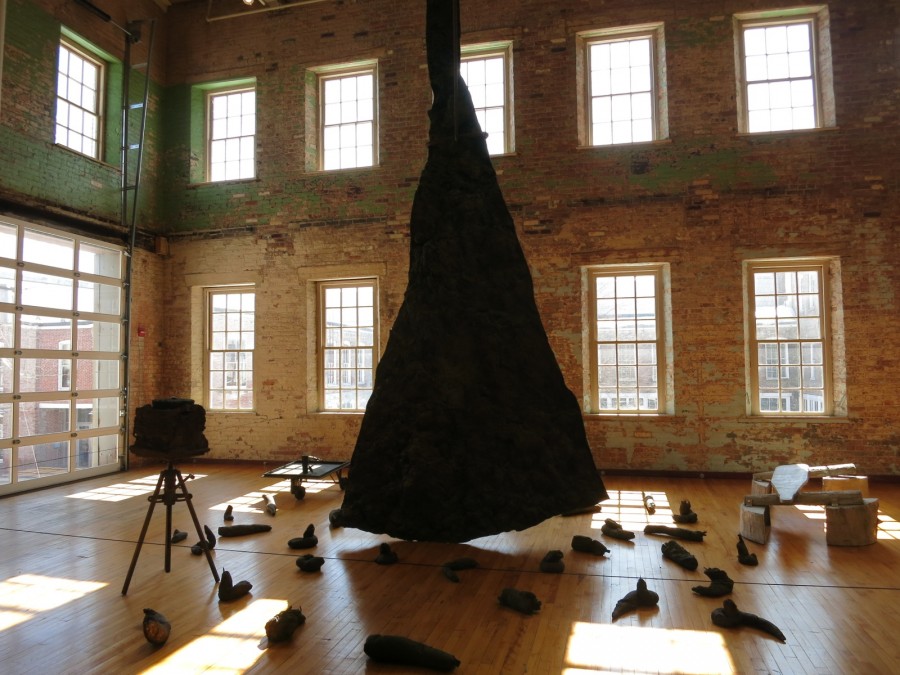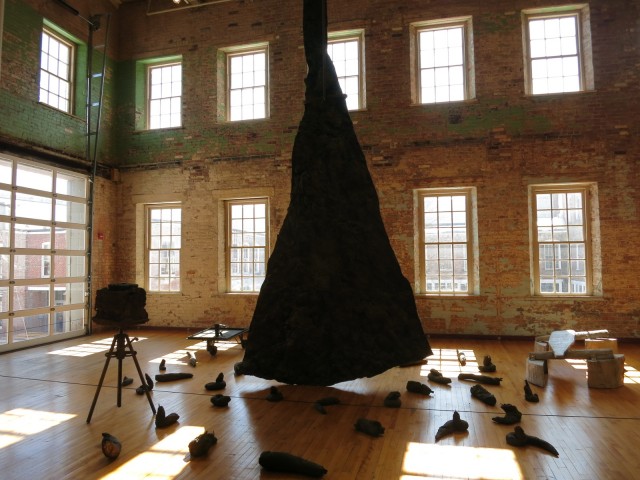 Book your overnight around an event at Mass MoCA (literally across the street) or come off-season for real R&R. If you have another day and night, pair this getaway with Williamstown MA – just 6 miles away.
Best Things To Do in North Adams MA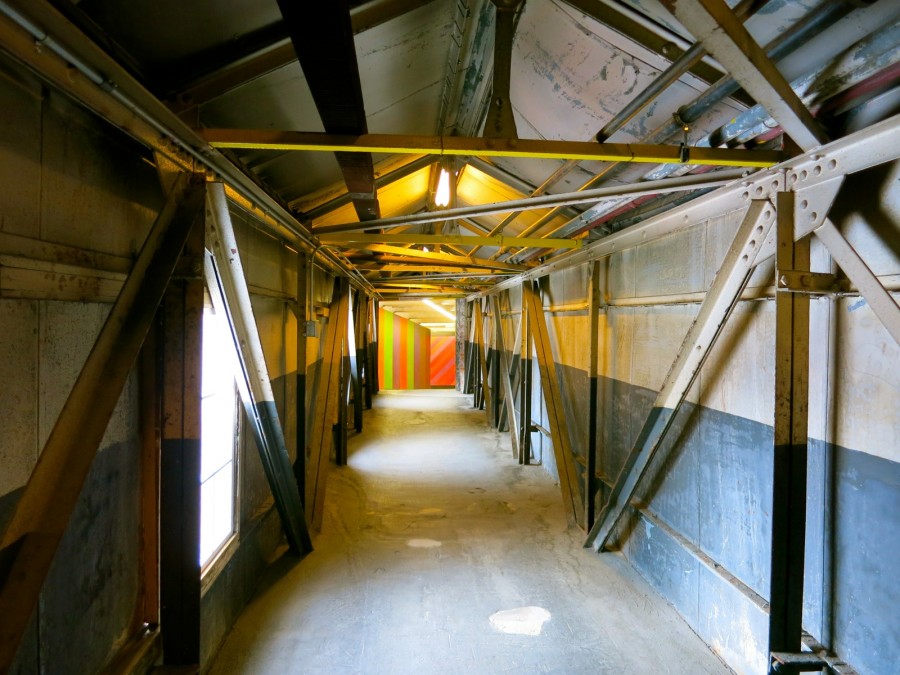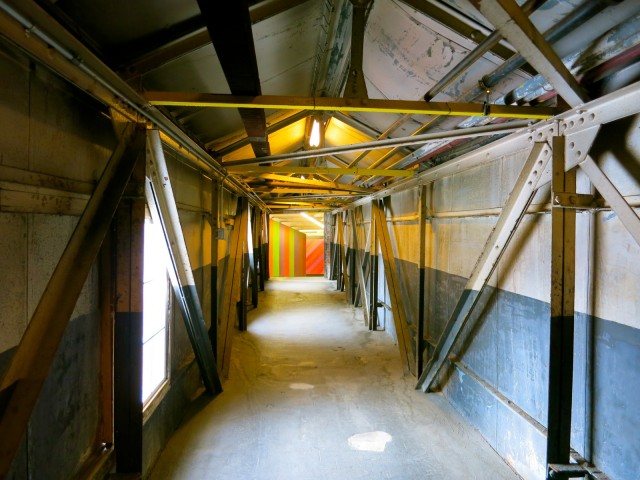 VISIT: MassMoCA (Massachusetts Museum of Contemporary Art). Housed in a restored 19th century mill complex, you'll find massive sculptural, projection and painted installations from the likes of Sol LeWitt and Anselm Kiefer throughout a labyrinth of rooms.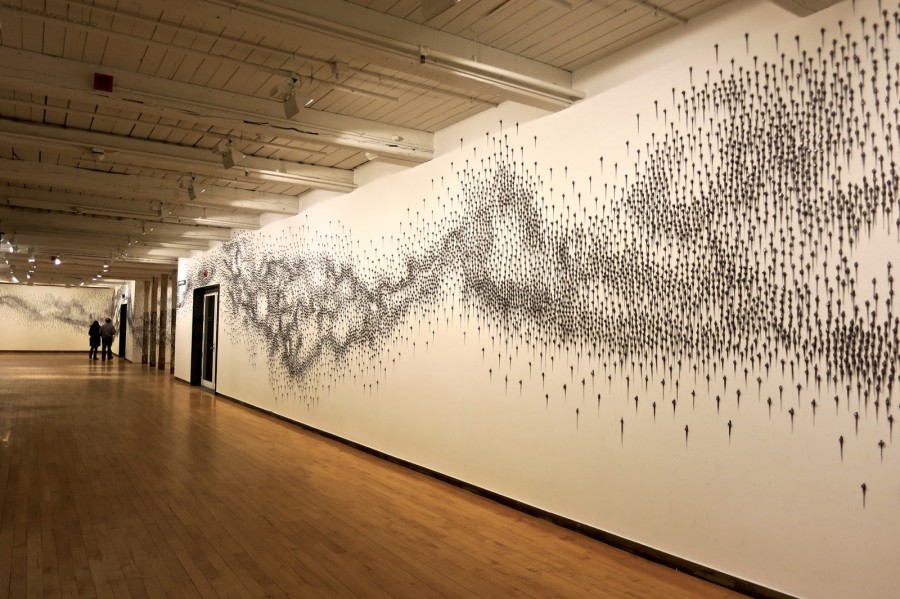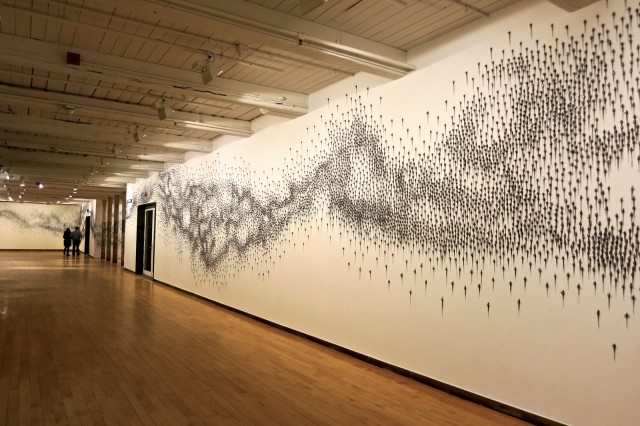 The 26-building compound, which once housed a textile dye factory, Arnold Print Works, known for its cutout Victorian cat and dog pillows, and then Sprague Electric (1930-1985), is now a cutting-edge world-renowned art museum, performance space, the fine Gramercy Bistro restaurant, book publishers, lawyer and accountant offices, and other repurposed spaces.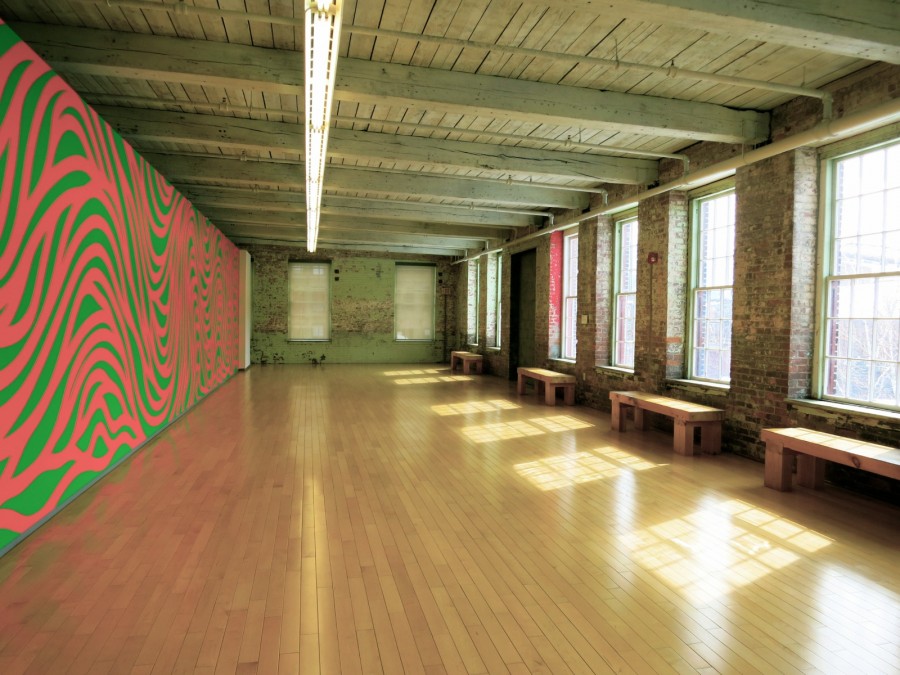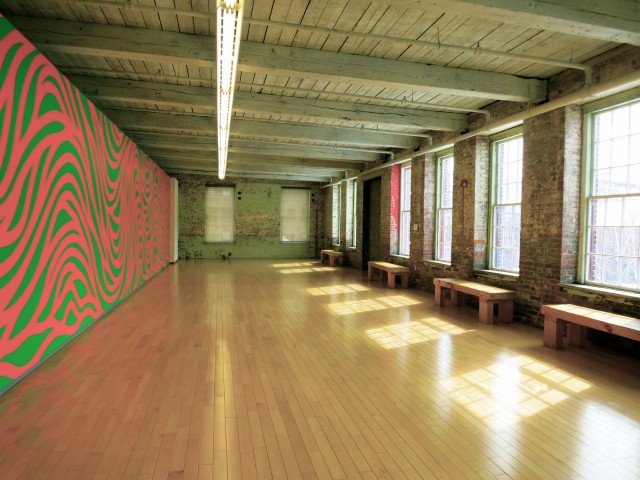 Though the three level LeWitt exhibit is for all intents and purposes permanent (its here until 2033), most installations are temporary.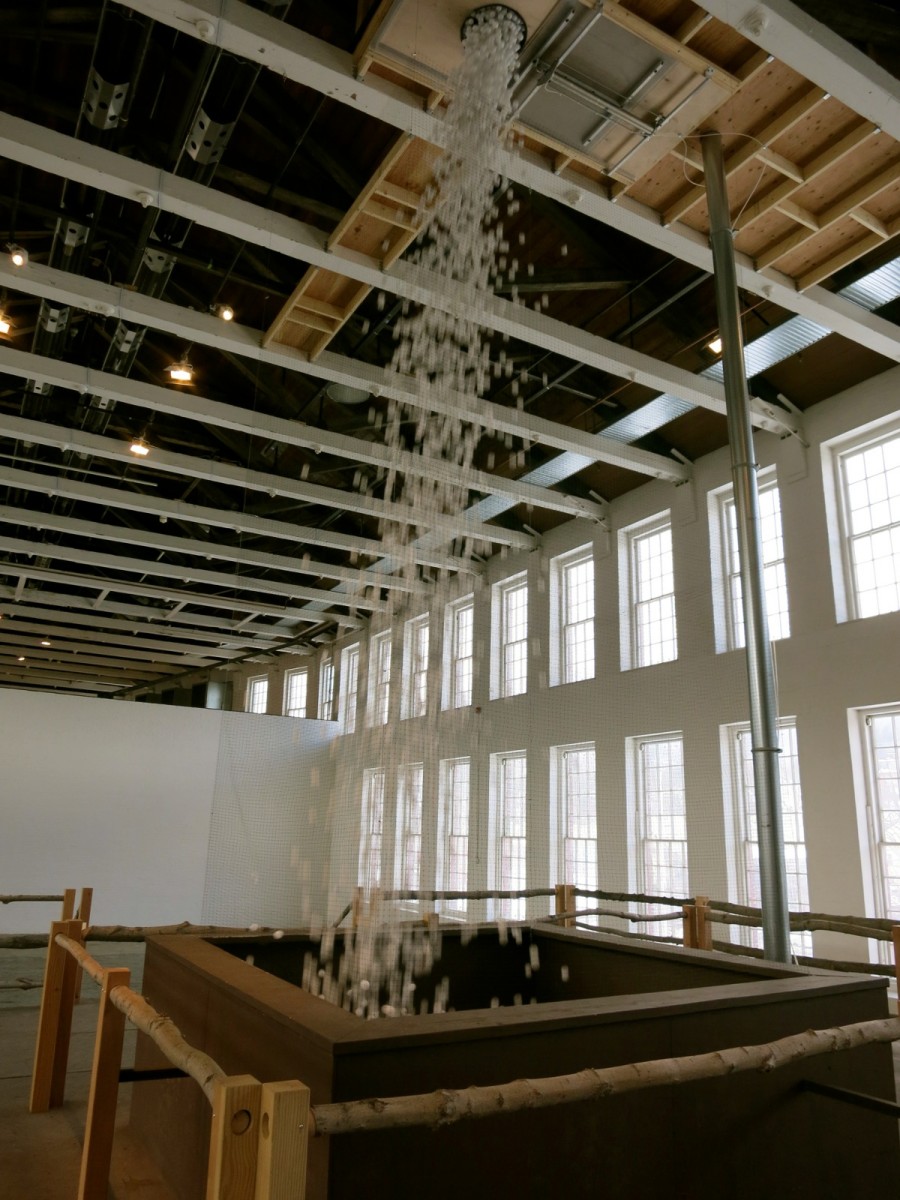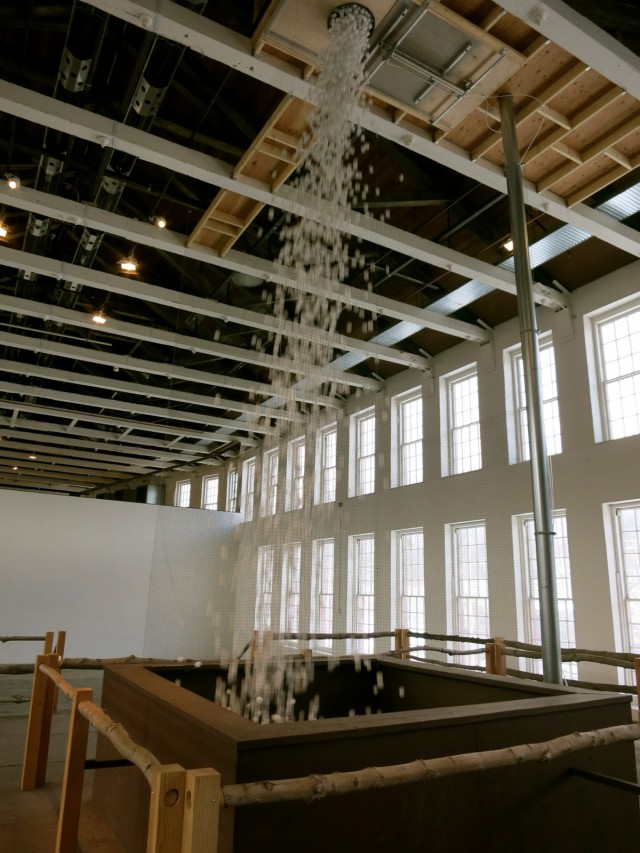 MassMoCA also offers preponderance of performances – from dance to music to film to Cabaret nights with food and drink. Open 11-5 Wed-Mon (closed Tues), $18 adults, $8 kids over 6. Open selected nights for Special Events.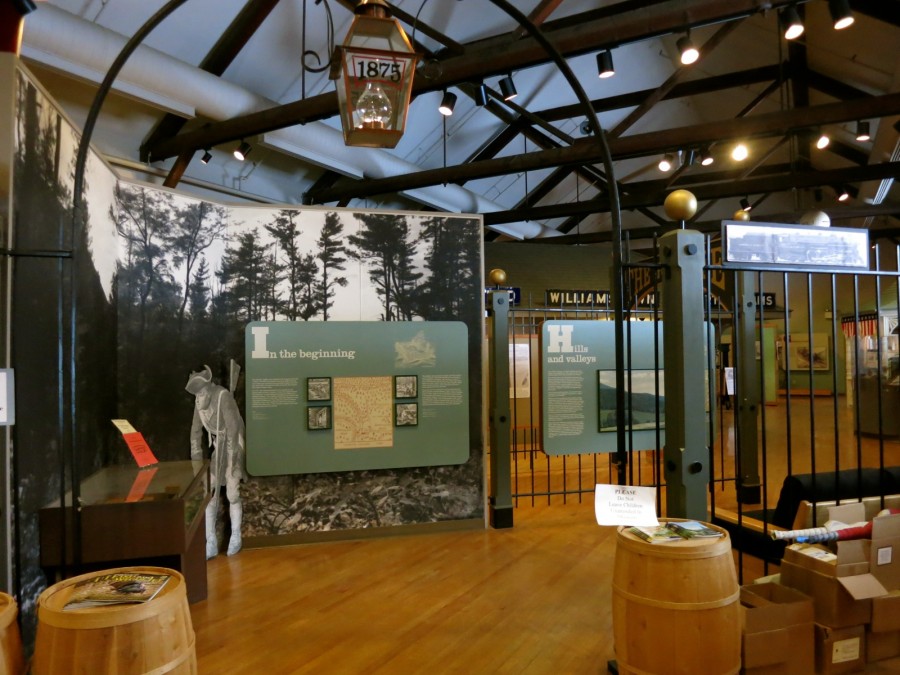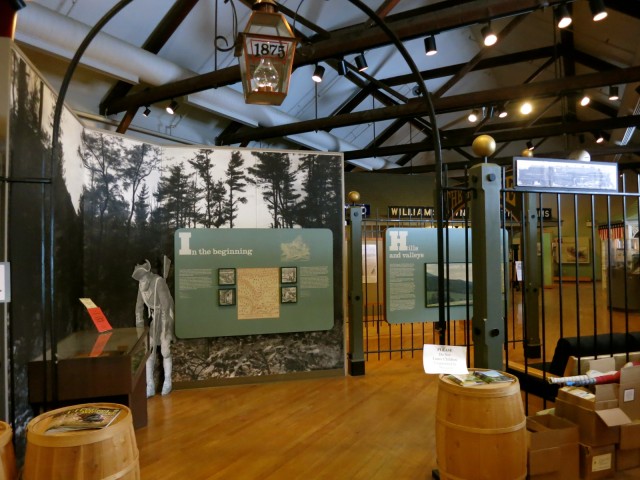 VISIT: Western Heritage Gateway State Park Visitor's Center. North Adams would have never been a mill-town in the first place if it weren't for the brave men who engineered, blasted and constructed the Hoosac Railroad Tunnel. In the early 1800's, the Hoosac Mountain was a barrier to transporting people and goods between Boston and Albany by rail via Northwestern MA.
Without the benefit of computers or drilling machinery, Civil Engineers of the day devised a way to blast through 25,000 linear feet of dirt and rock (working from each side of the mountain), successfully meeting in the middle with, astoundingly, a total alignment error of less than an inch.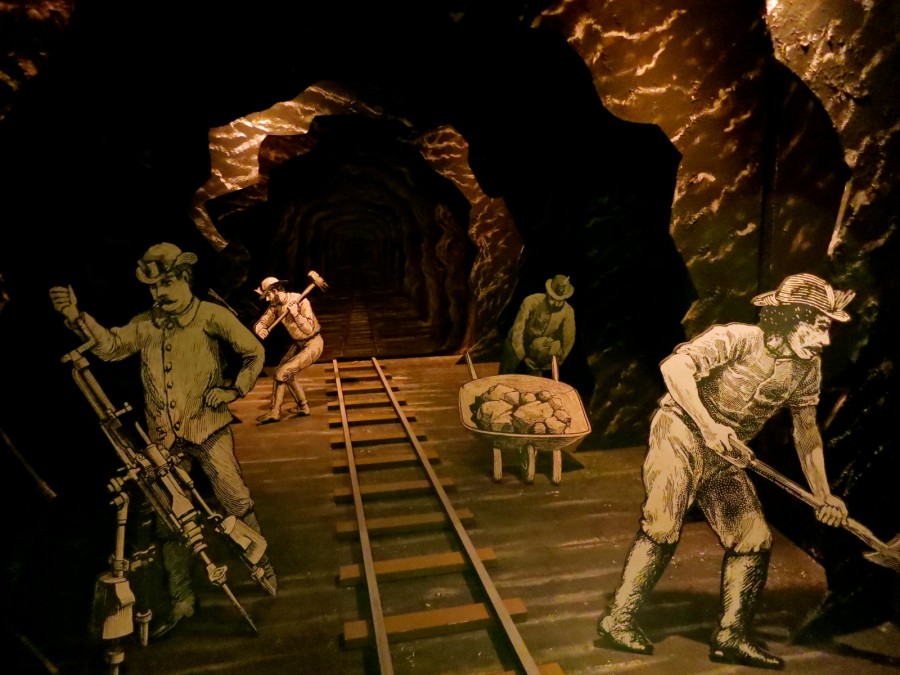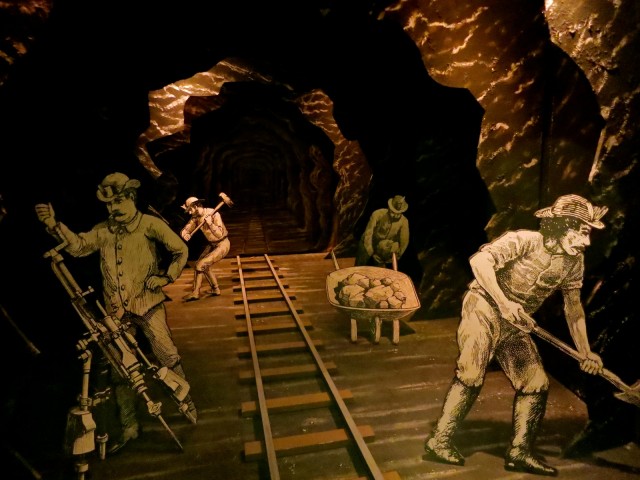 It took over two decades (from 1851-1875), and much loss of life (over 200 men died, mostly from nitroglycerine explosions), but this engineering feat remains, at 4.75 miles, the "longest railroad tunnel in North America east of the Rocky Mountains." For engineering geeks and non-geeks alike, the harrowing story of the building of the Hoosac Tunnel is one of the highlights of the excellent Heritage Gateway Visitor's Center, located in the former Boston and Maine freight yard, and is a great way to round out a visit to North Adams. Open Thurs-Mon 10-4, free.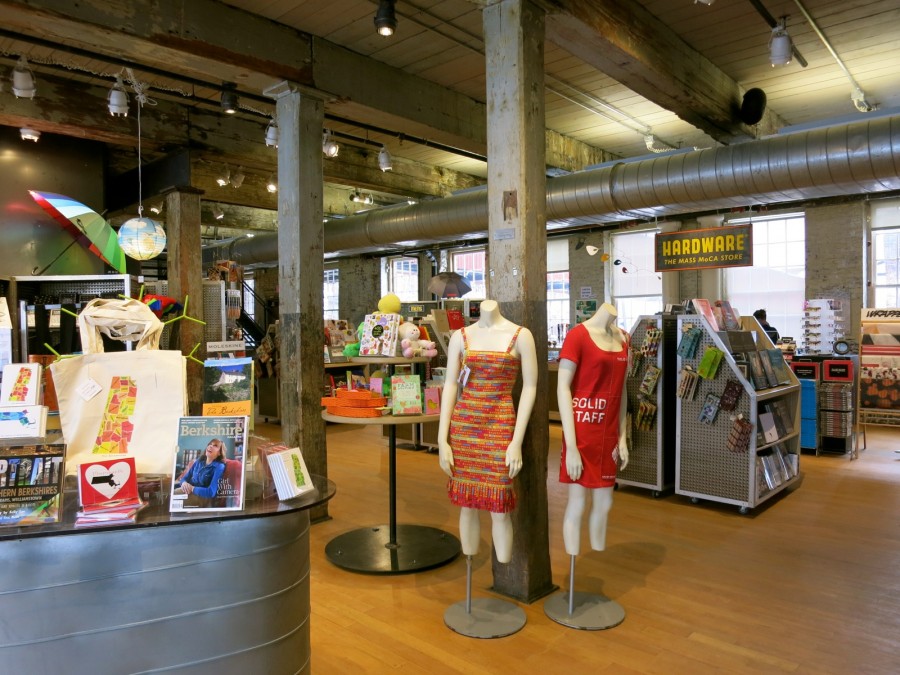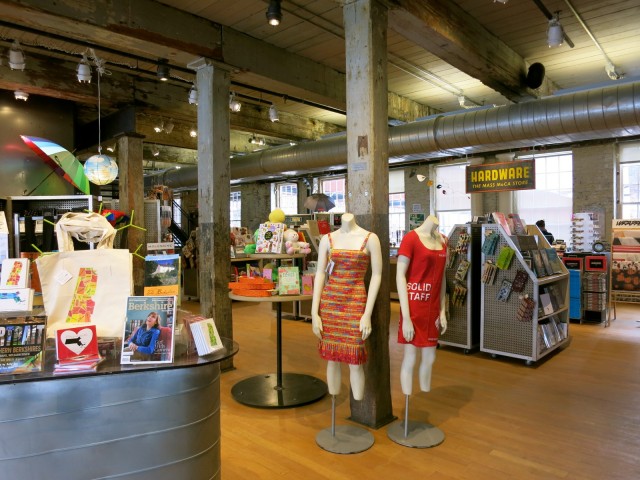 SHOP: Mass MoCA Museum Shop aka Hardware. Museum gift shop fans will love this one – right near the ticket counter. You'll find one of a kind clothing, books, kitchen gadgets, the works. All with a stamp of cool.
Restaurants in North Adams, MA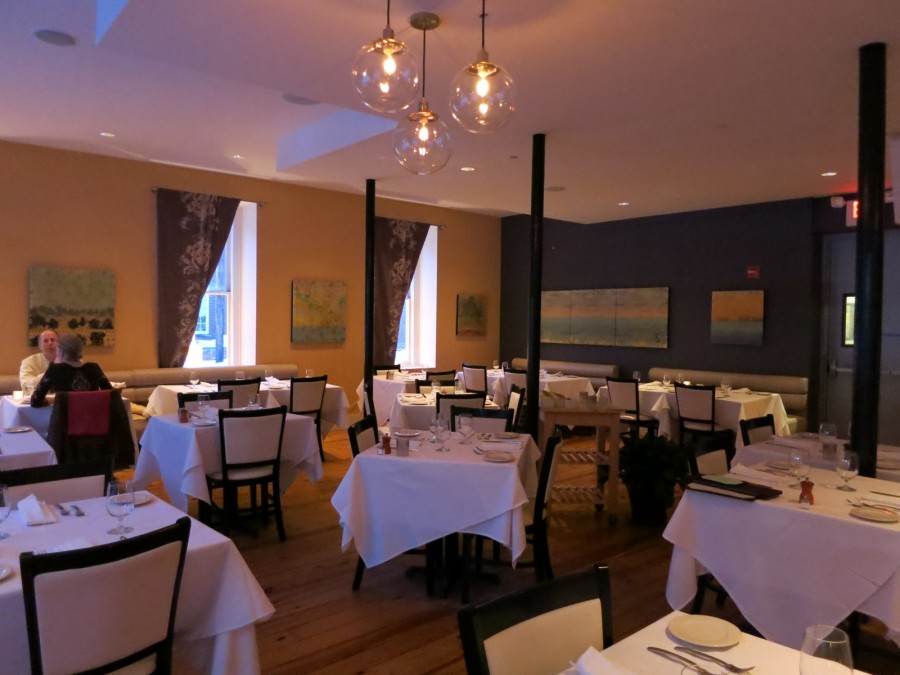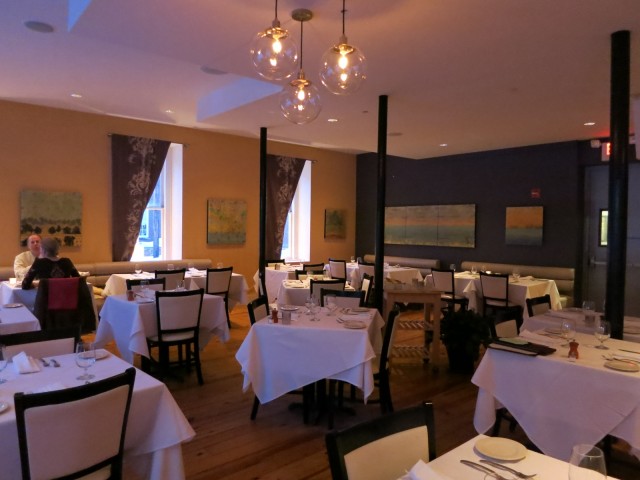 EAT: Gramercy Bistro (at Mass MoCA). It's quite surprising to find this fine, white-linen restaurant in the Mass MoCA complex, where textile or electric component factory workers once toiled. Enter the front door (across from an antique shop), and let your eyes and ears adjust to light jazz, dim lights and MoCA-worthy art, before sitting down to an inventive meal.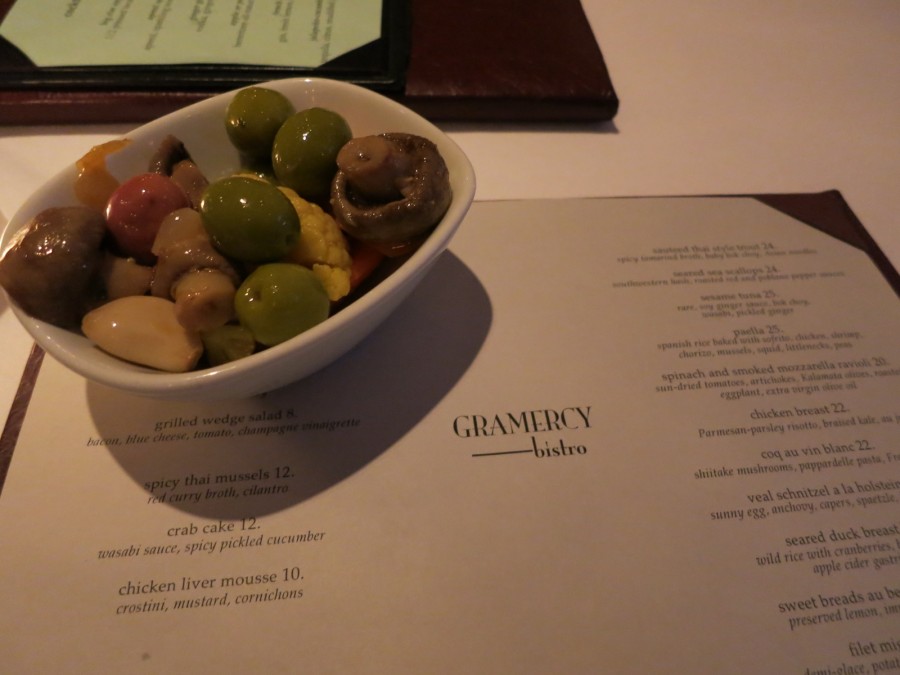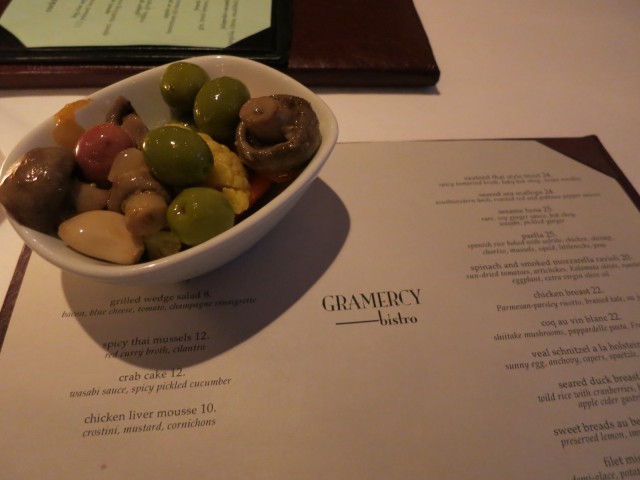 Prior to delicately consuming Thai Style Trout ($24) or Coq au Vin Blanc ($22), order the signature Grilled Lettuce Wedge ($8) – a deconstructed BLT, which features a pie-shaped slice of creamy bleu cheese in lieu of toasted wonder bread. Tackling it is the opposite of delicate, but the combination of tastes and textures oddly works. For non-carb eaters, a pretty bowl of olives and pickled veggies comes to the table with warm but uninspired bread. Ditch the bread and ask for more veggies. They are that tasty.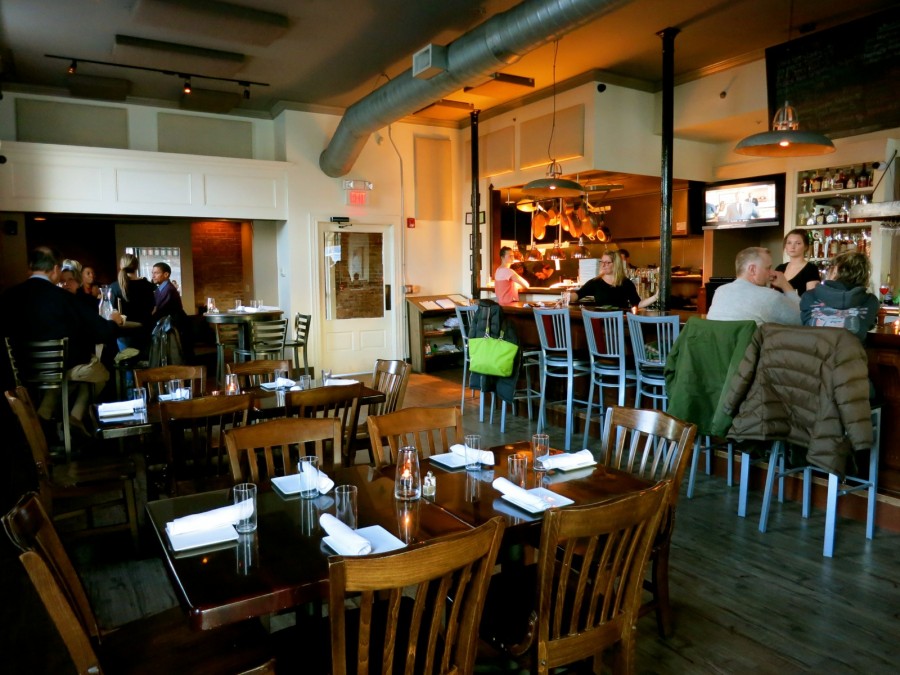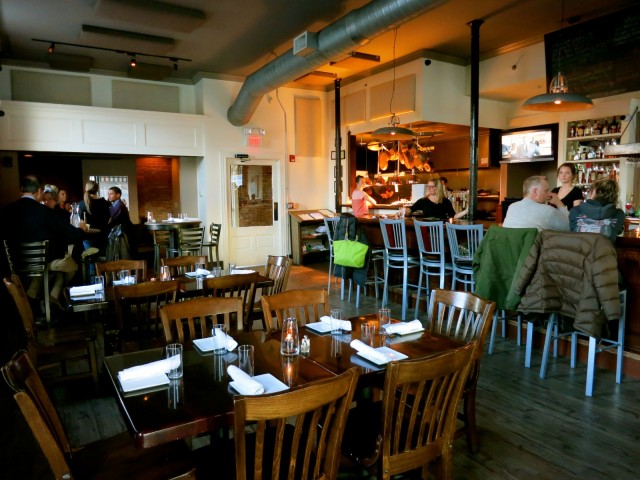 EAT: PUBLIC Eat+Drink. Five years ago, there was a paucity of good places to eat in North Adams. Now, there are at least two. PUBLIC in many ways is the opposite of Gramercy Bistro. Open, industrial, floor-to-ceiling windows that overlook the street-front (think: Edward Hopper's Diner) beer-oriented (try the toothsome Trail Magic from local Glass Bottom Brewery – it tastes like hoppy Trail Mix), fun and reasonably priced, choose PUBLIC on those days and nights when you want to share a burger and beer with friends.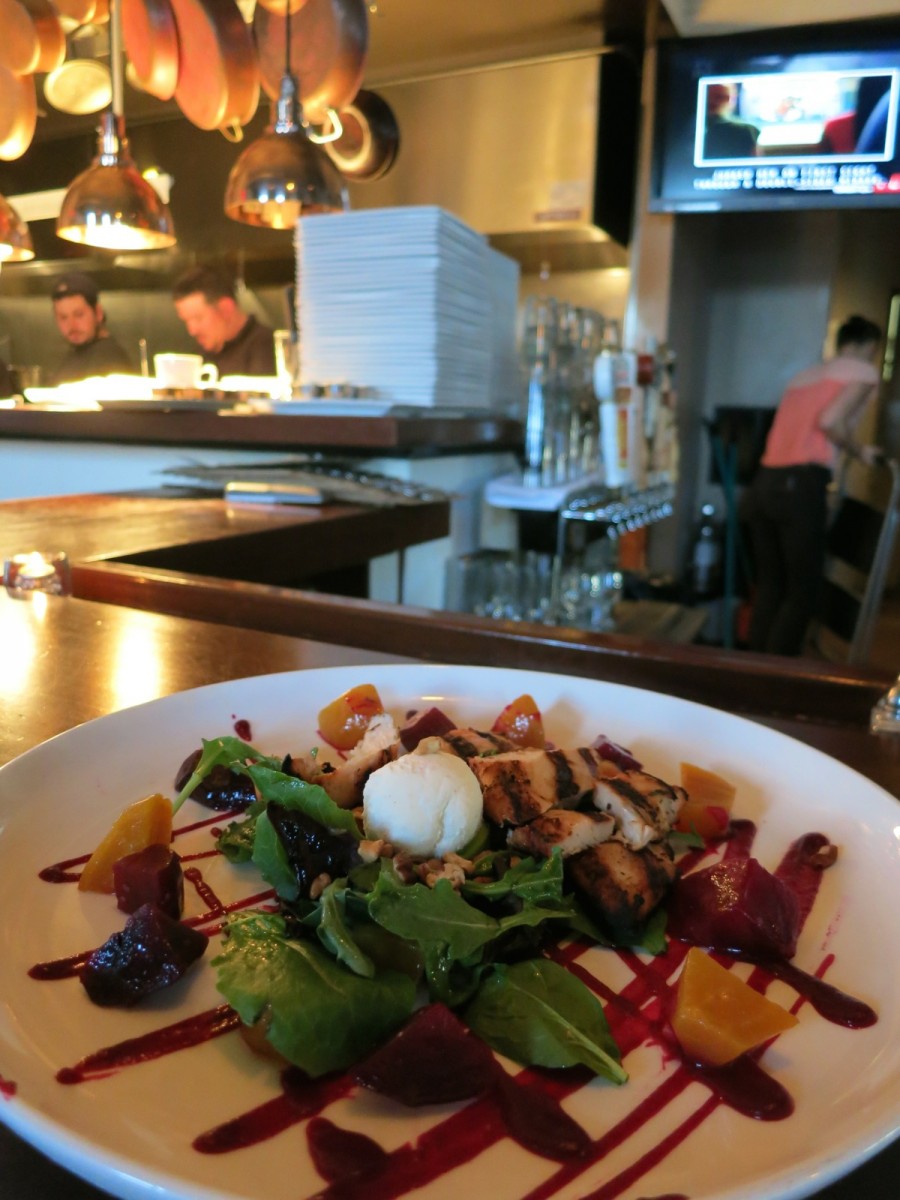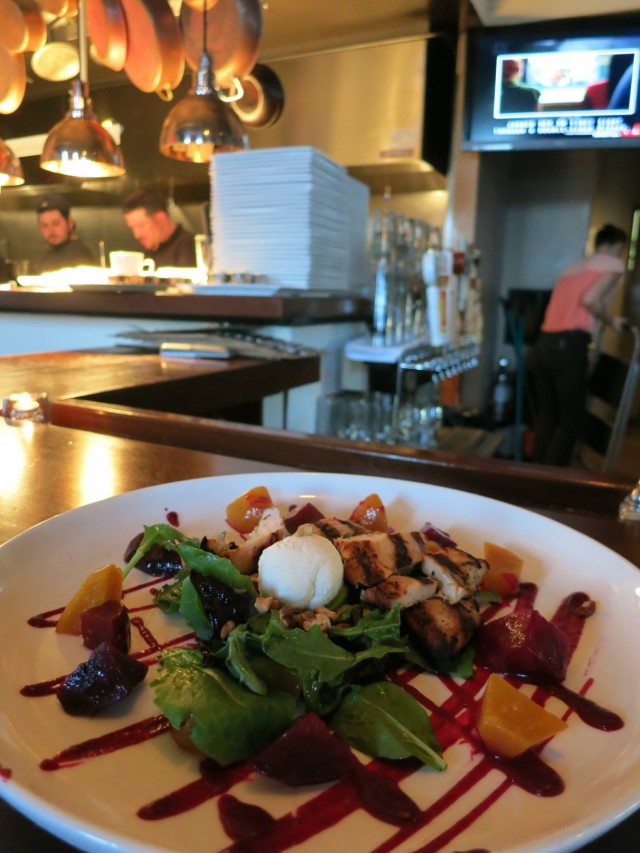 Gourmet Burgers, the likes of the Local – with Truffle Cheese and the Public – with Caramelized Onions – all cost the same unbelievable $12. And even more inspired fare – Black Truffle Risotto, for example, is merely $17. On a recent winter Monday night, couples and groups of all ages filled up the place. There is definitely a calling for this kind of restaurant here.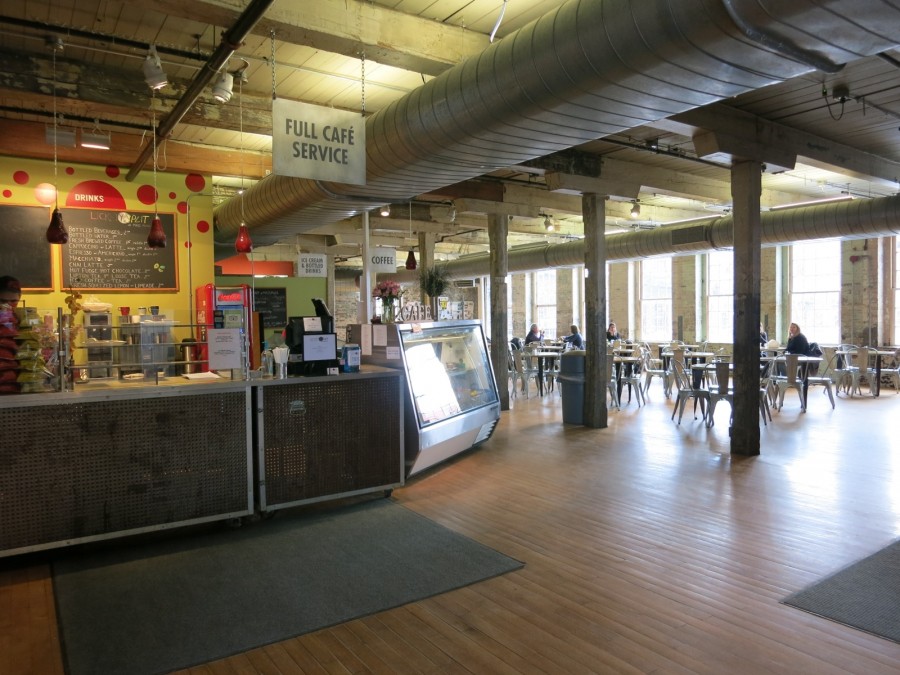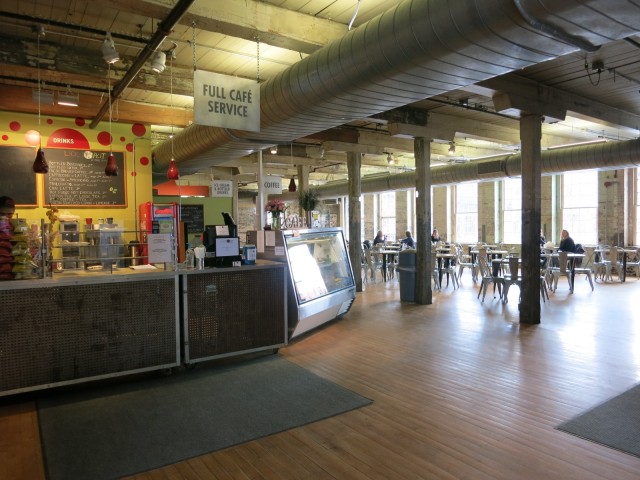 EAT: Café at Mass MoCA. You can find great homemade soups and sandwiches at this main-level café. Nothing fancy, but the food is very fresh and good.
Hotels in North Adams MA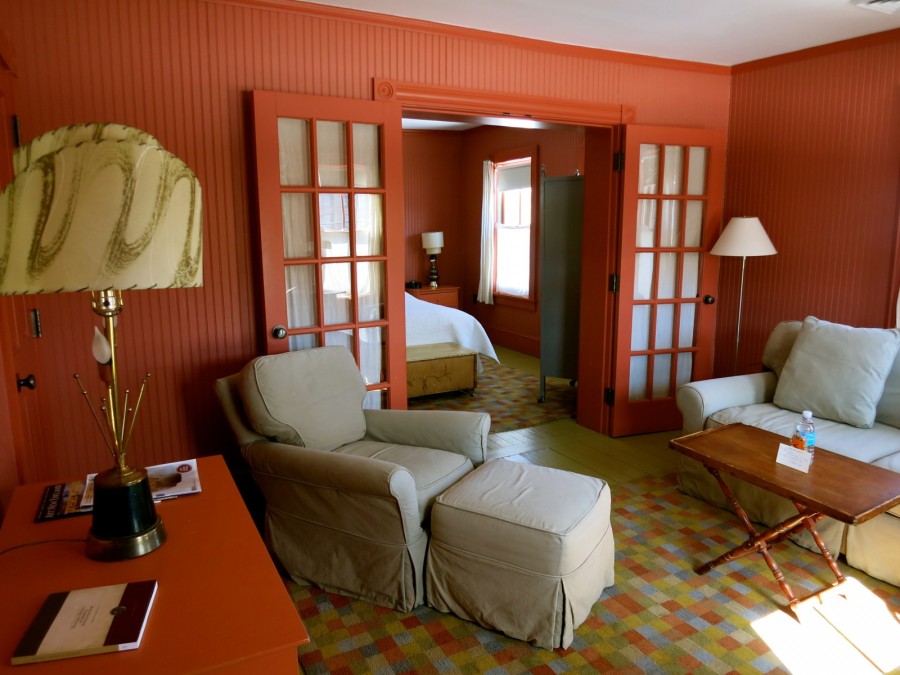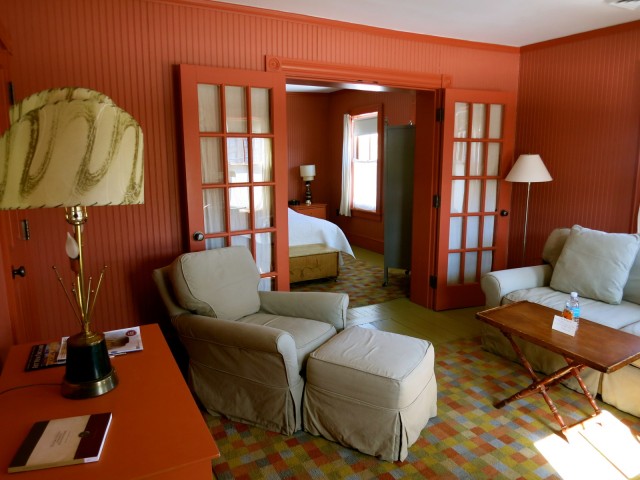 STAY: Porches Inn. For the discerning traveler, there's really only one place to stay. An homage to the past, with an eye towards the future, Porches Inn is an example of witty repurposing. Once a dilapidated series of row houses for the millworkers who toiled across the street (at what is now MassMoCa), each guest room is an upscale, charmingly quirky take on blue-collar Victoriana; what a reviewer termed "granny chic."
The ultimate in building recycling, developers took an eyesore and created a luxurious, but homey inn, utilizing pieces of the wreckage.
Once a dilapidated series of row houses for the millworkers who toiled across the street (in the factory complex that now serves as MassMoCA), each guest room is an upscale, charmingly quirky take on blue-collar Victoriana; what one reviewer termed "granny chic."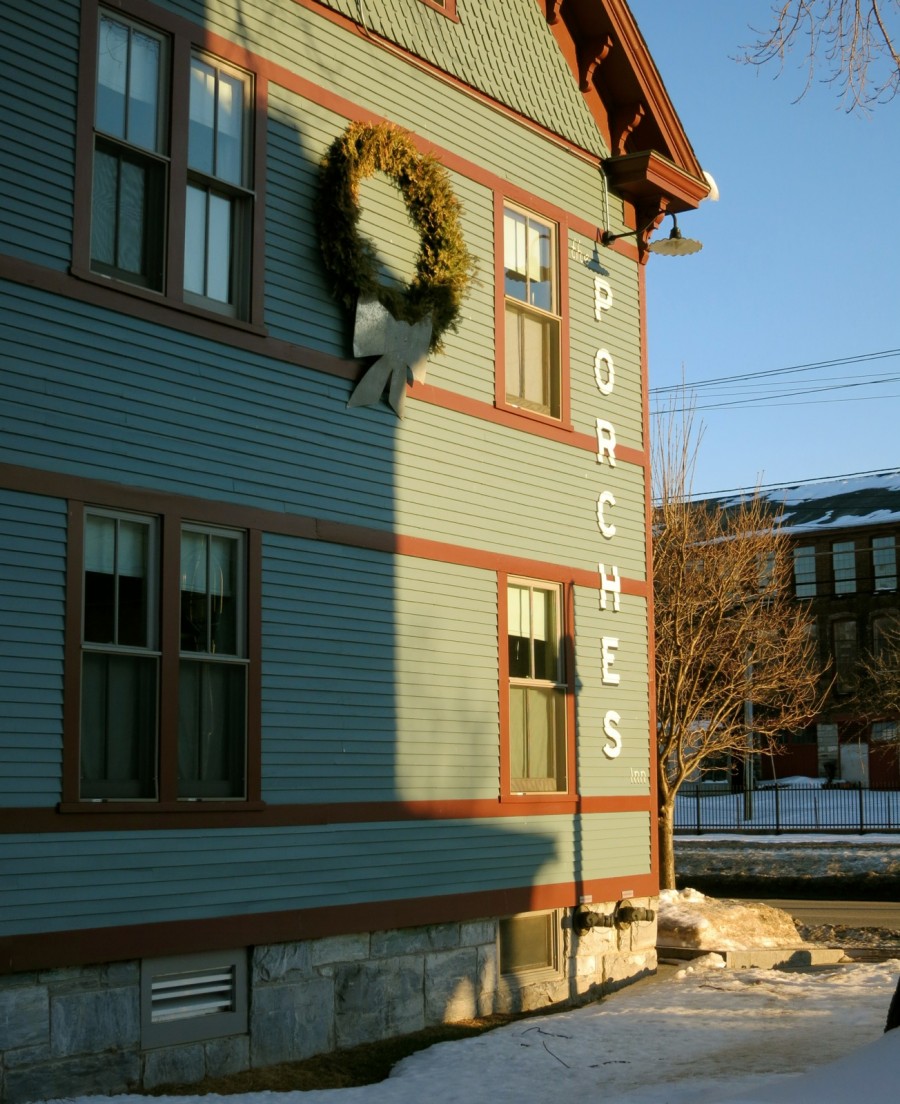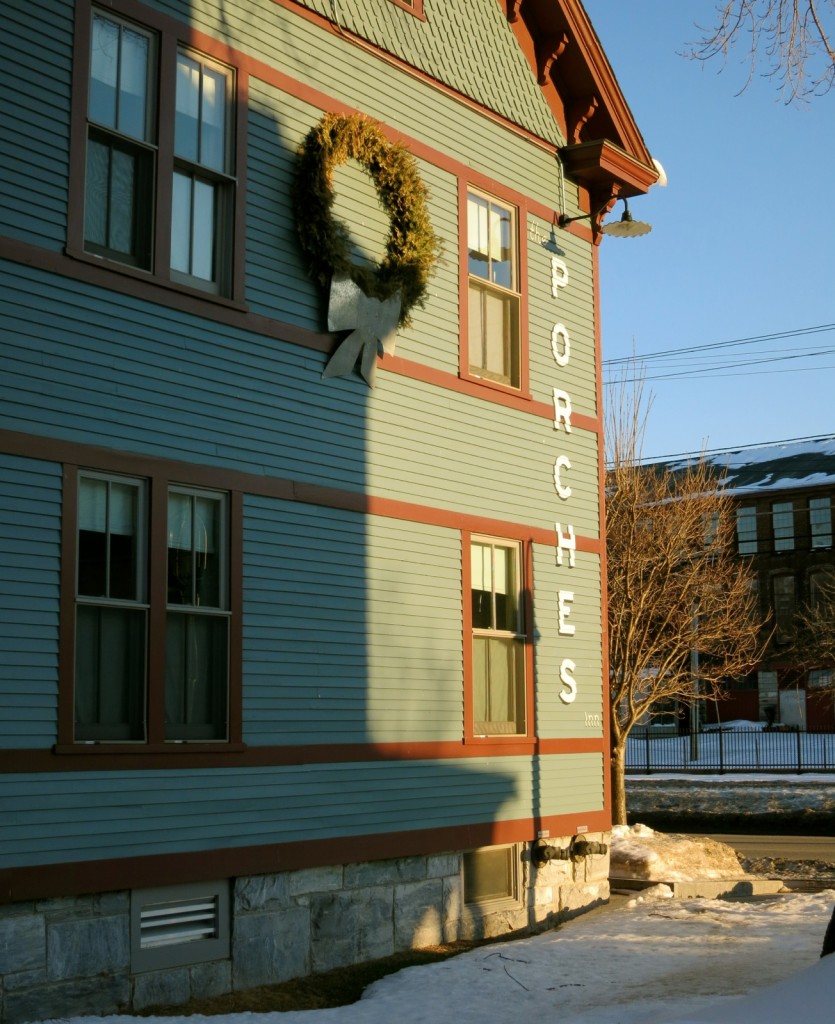 FIRST IMPRESSIONS OF PORCHES INN
Though it opened in 2001, I first visited Porches in the late 'aughts and was very impressed. Another visit in March '15 only reinforced my positive impression. The owners have kept up the integrity and cleanliness of the property and rooms, while adding a few things: most notably, the honor bar in the parlor and a tiny gift shop.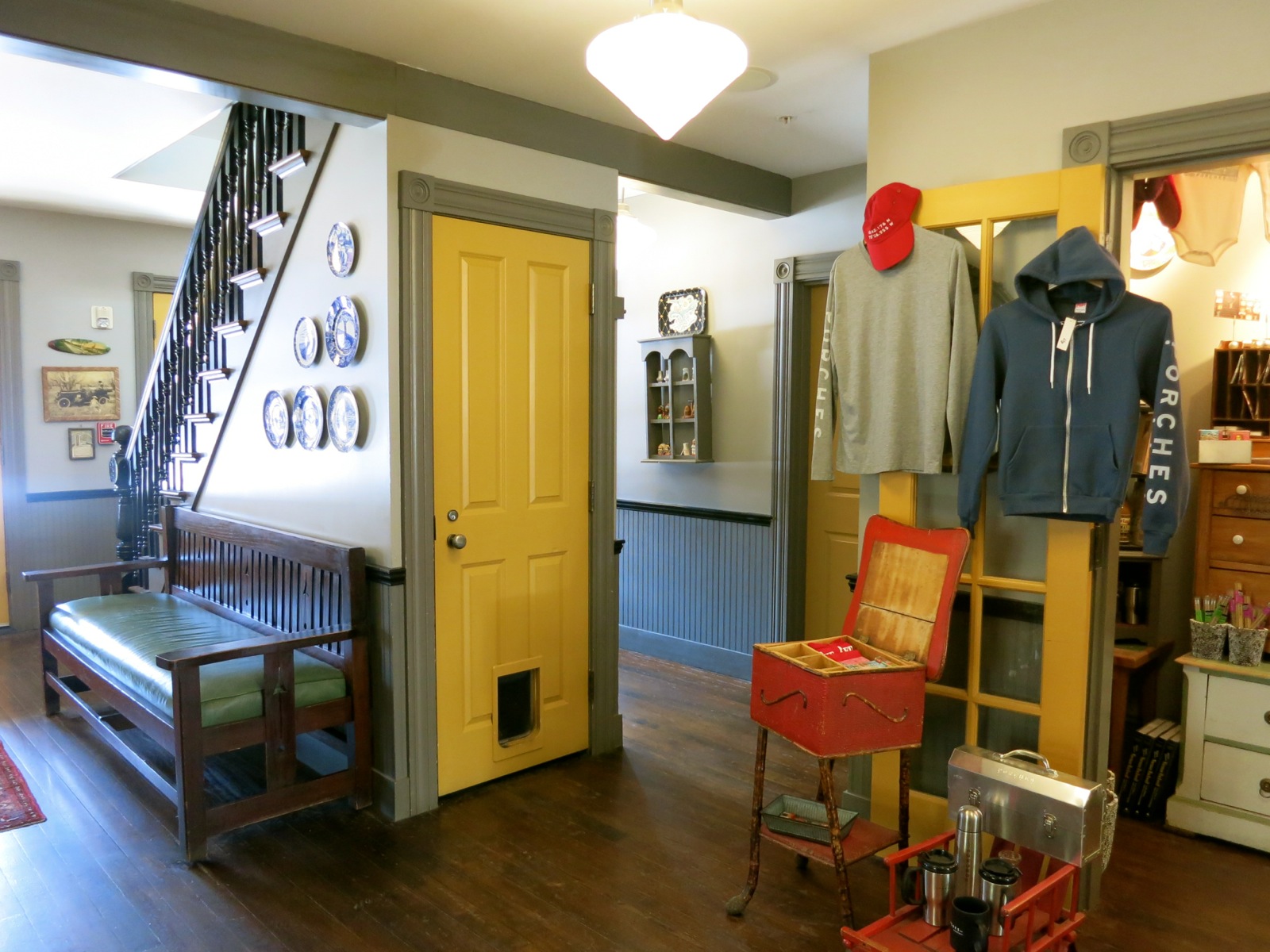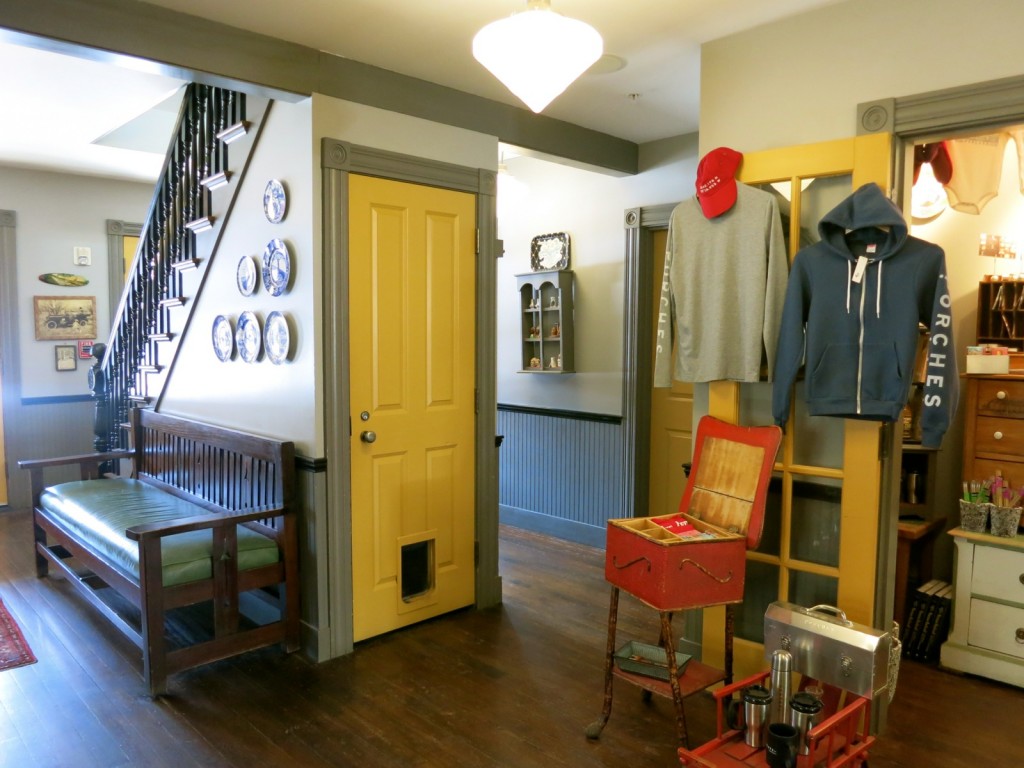 There are 52 rooms set inside 6 main buildings (each building comprised of two row homes connected by an interior hallway topped by skylight), so you'll have to walk outside at some point to get to your room.
GUEST-ROOMS AT PORCHES INN
One-bedroom suites are spacious enough to contain a family of four – equipped with Queen bed and a pocket door that closes off a sitting room with desk, settee and pullout couch.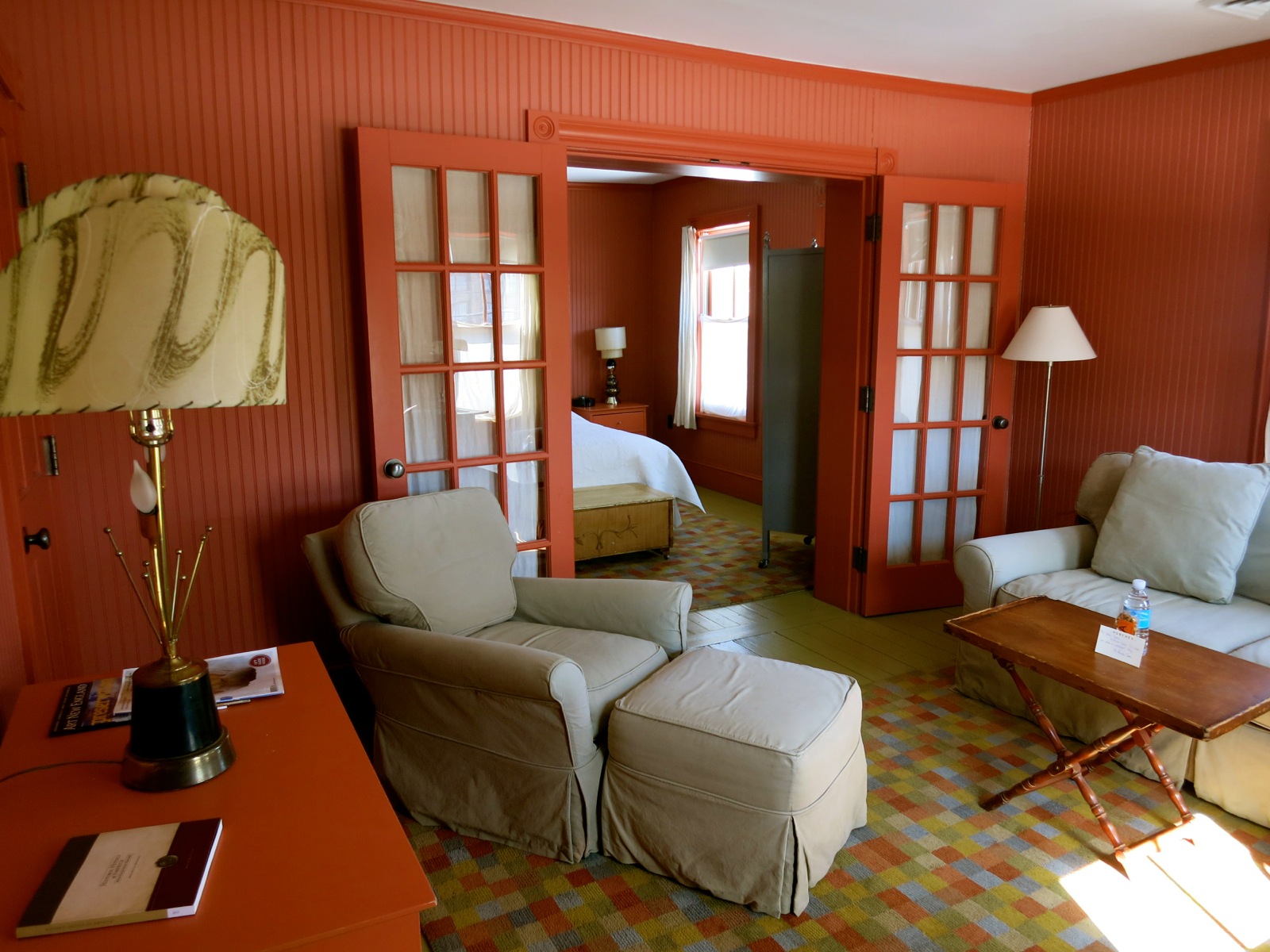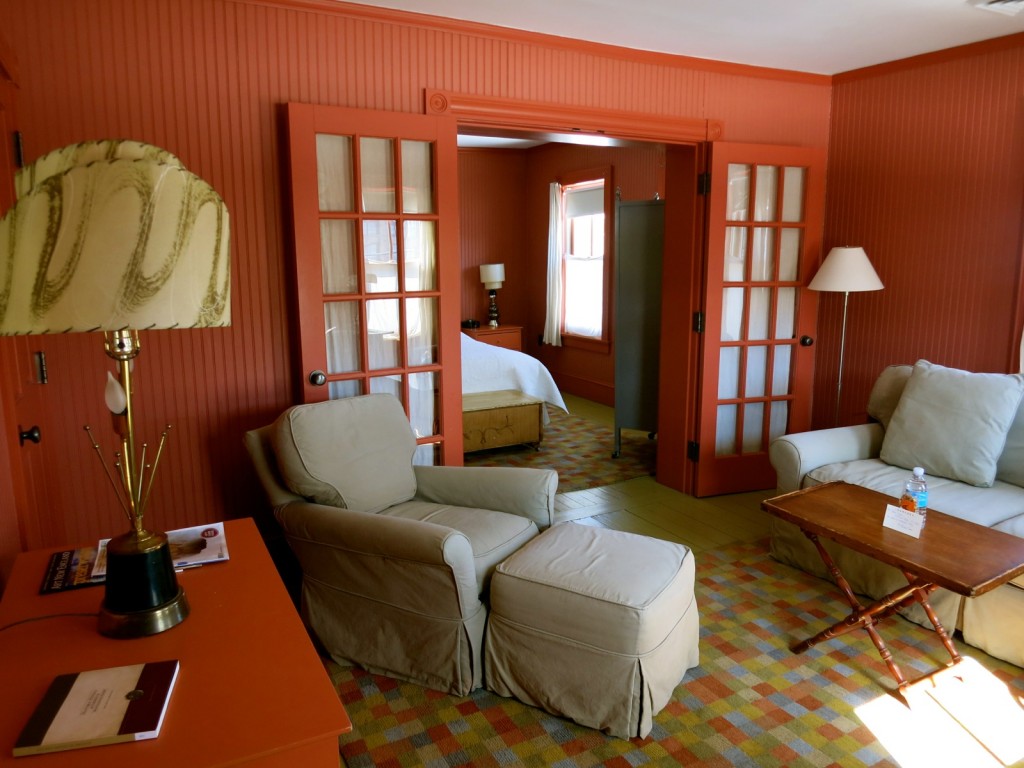 Touches include pumpkin-colored wainscoting, linen curtains that look like hanging laundry, a TV/Minibar cabinet built like an apothecary case, and in the still-gleaming bathrooms; white subway tiles, slate floor, and mirrors made from salvaged window frames.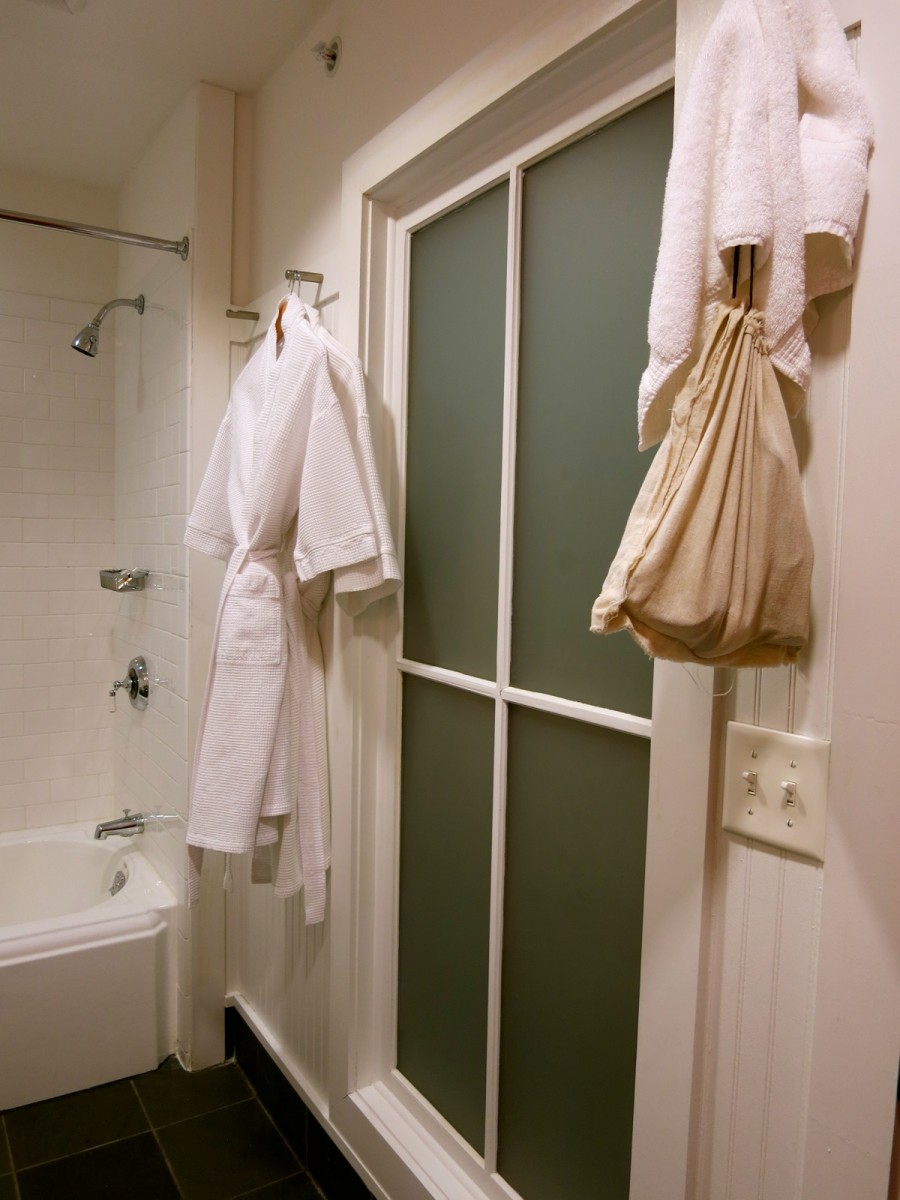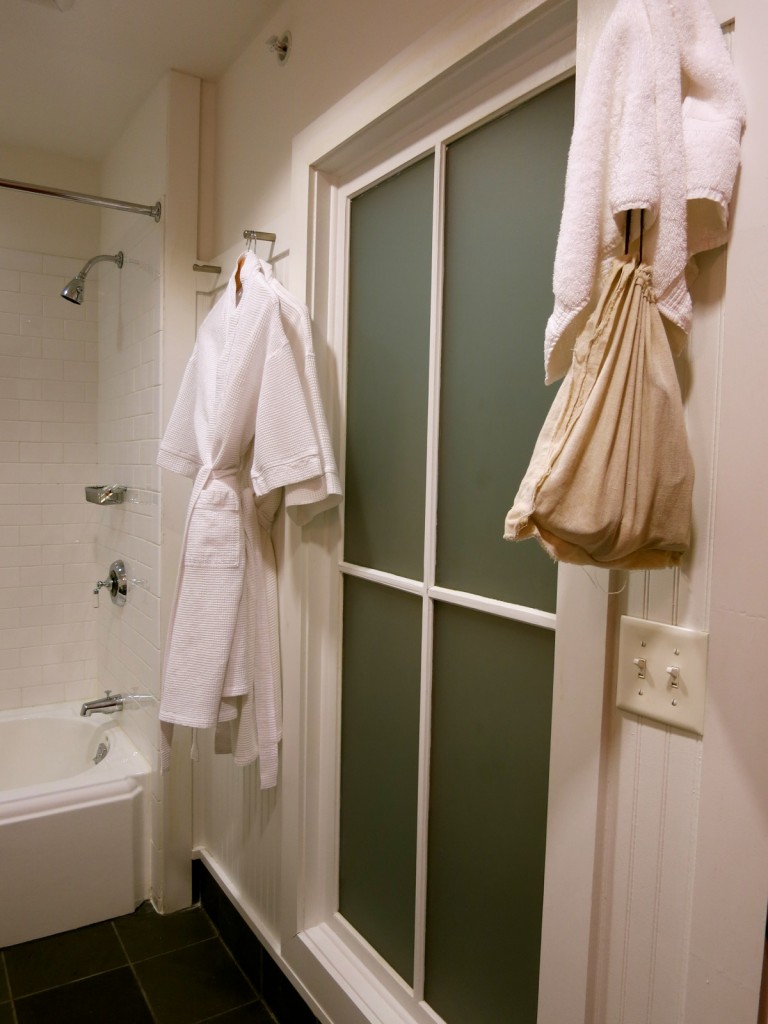 FOOD
Though a Continental Breakfast is set out in the Reception Building, opt for breakfast delivered to your room. Fill out a card the night before, and at your chosen time (beginning at 7am), a coffee-filled thermos and cakey croissant arrive at your door inside a vintage steel lunch-box – another nod to the millworkers who used to live here – along with your choice of newspaper.
While there's no restaurant on site, staff will direct you to the best in town – just a few blocks away.
AMENITIES
For an insightful overview of Porches Inn and insider information about design choices, ask the front desk for an IPod tour – in actuality, a conversation between architect Ann McCallum and hotelier Nancy Fitzpatrick.
You'll hear about the history of each building, Nancy's predilection for old hotel signs and kitschy table lamps, and information about many vintage artifacts scattered about.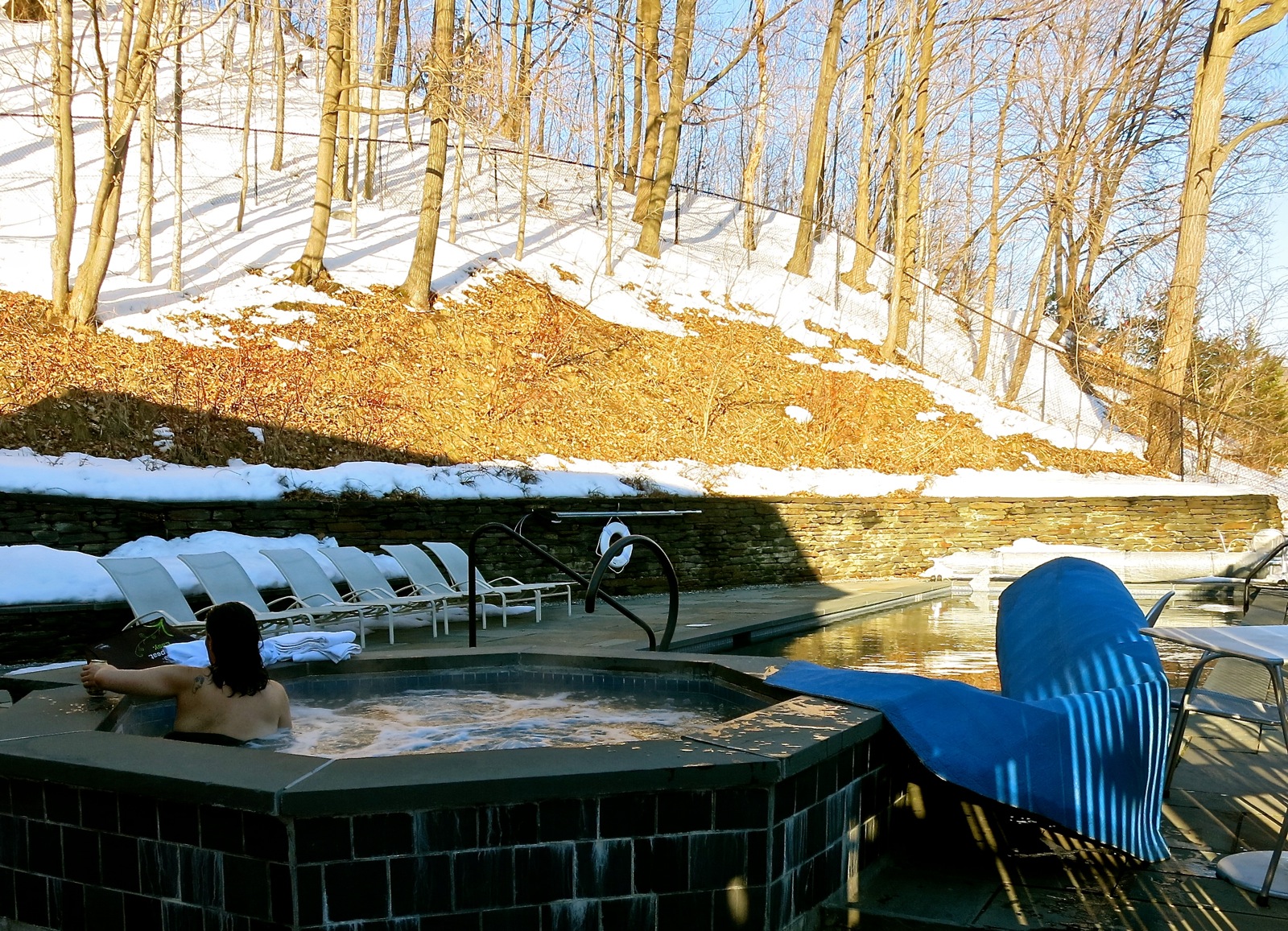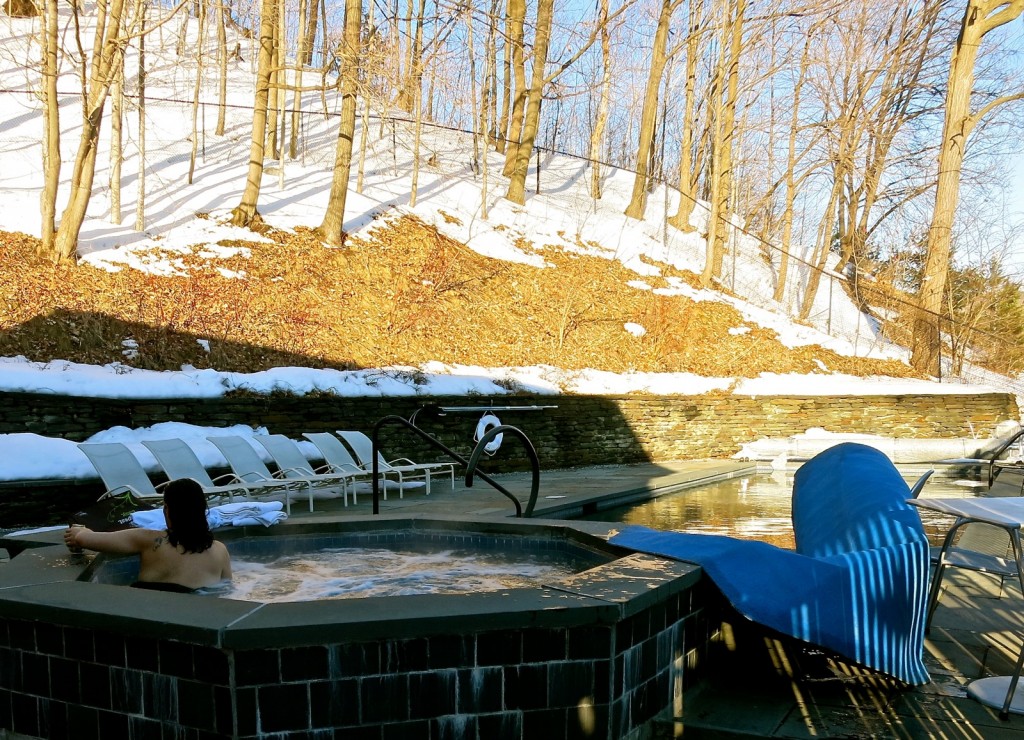 The Outdoor Heated Pool and Hot Tub is open year round. A well-equipped Fitness Center is open 24/7. An Honor Bar that includes mixed drinks, wine and beer, is set out from 5pm until late at night every day.
JUST THE FACTS
Room and suites from $159-$399 depending on size and season. Includes wi-fi, Flat Screen TV's with Blu Ray Disc players, welcome cookies, continental breakfast served to room in lunchbox. Museum and PJ Party Packages available.