WHY GO: Called "The City That Lit the World," more pure, smokeless spermaceti (whale oil) came from whaling ships in New Bedford than from anywhere else on earth. In its heyday,  750 whaling vessels plied the waters of the world from U.S. shores: Of those, a whopping five hundred hailed New Bedford alone. One was the Acushnet, on which a 22 year old Herman Melville served for over a year.  His experiences, of course, were chronicled in his classic novel, Moby Dick. Congress deemed New Bedford the best place in America to tell the story of whaling – and designated it a National Historical Park in 1996. Since then, New Bedford has changed to accommodate a burgeoning tourist business. With upgraded infrastructure, a new full service hotel, trendy wine and beer bars, and the most profitable commercial fishing fleet in America, this Getaway is perfect for history buffs and Melville fans who wish to explore a working waterfront, and be well-fed in the process.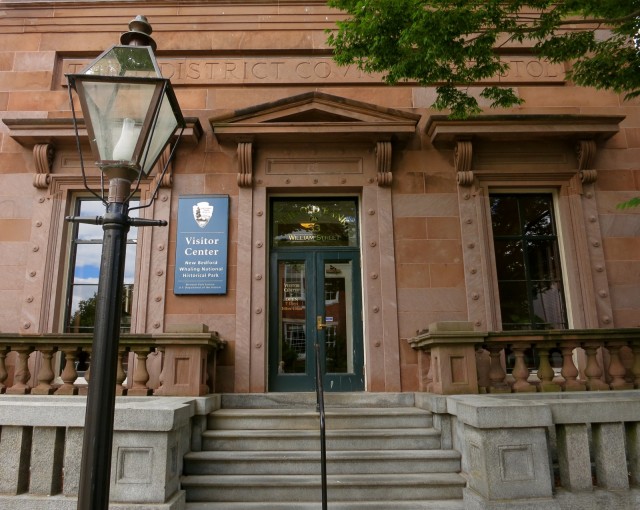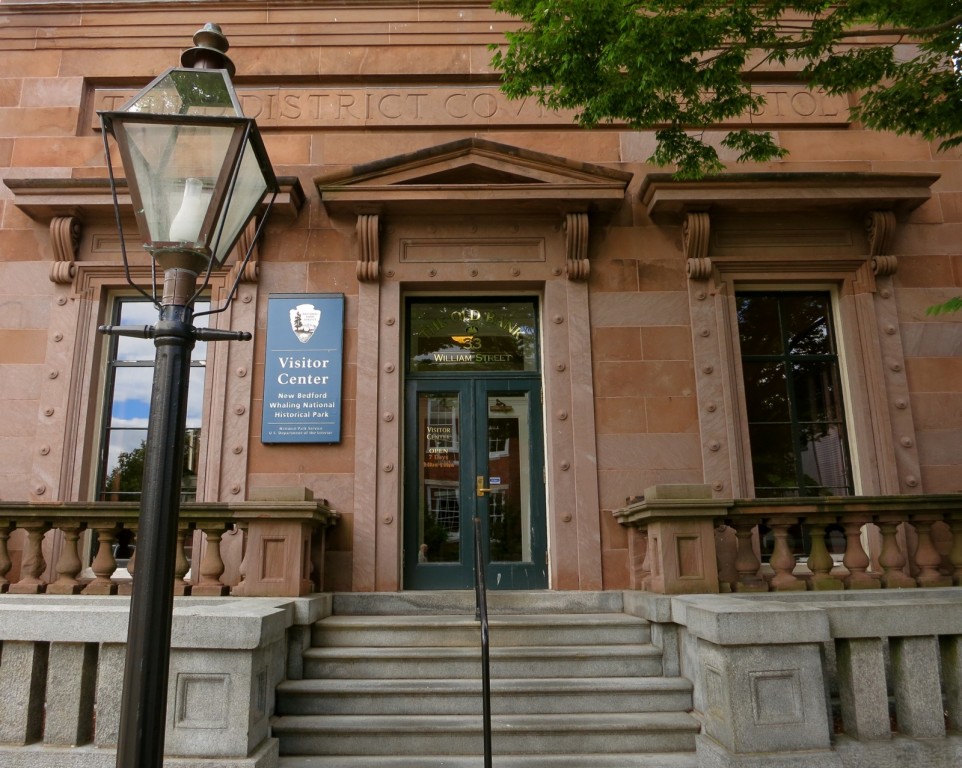 Things To Do in New Bedford, MA
TOUR: New Bedford Whaling National Historic Park. Begin at the Visitor's Center to take a 45-minute walking tour of this diverse town. Several narrated walks focus on the History of Whaling, Herman Melville or the Underground Railroad.  In the mid-1800's New Bedford was home to a large number of Abolitionists who believed that God did not discriminate – people of every color were the same in His eyes. A good number of white residents, especially whaling captains, willingly hired fugitive slaves, whisking them off to sea for six or seven years so that slave traders couldn't find them. Whaling Captains, in particular, were color-blind; jobs on a whaling ship were based on merit only and each ship housed a virtual United Nations. Sailors were forced to get along, as teamwork increased the whaling profits that were divvied up at the end of each voyage. Frederick Douglas found his first home in New Bedford, and members of the acclaimed 54th Regiment (made famous in the movie Glory, starring Denzel Washington) were recruited in New Bedford. The 54th's William Carney, was the first African American to earn the Medal of Honor for his service.  Visitor's Center open daily 9am-5pm. Free.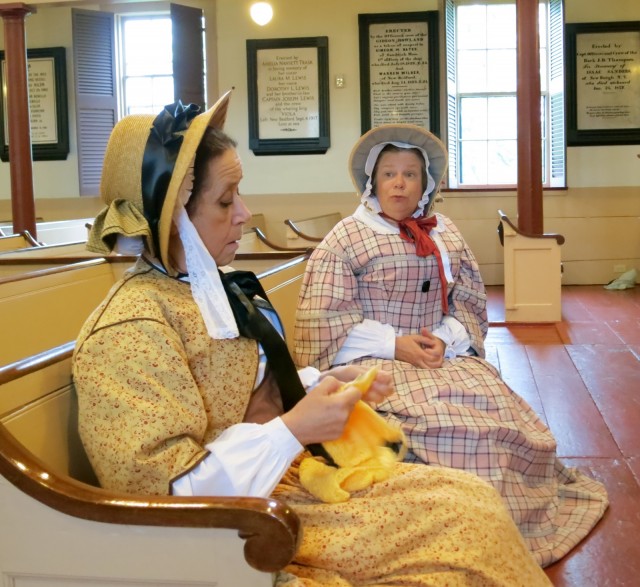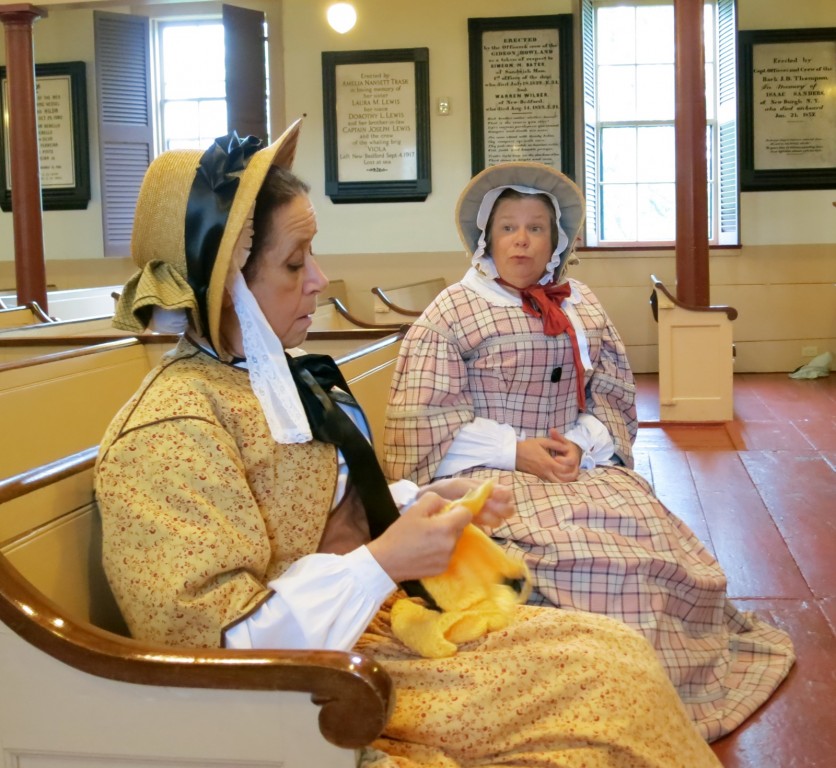 SEE: Ruth and Abby. Join the fun, the gossip, the banter between two 1850's busybodies, Ruth and Abby.  Dressed in period garb, they dish about the food of the times, their neighbors, shopping and running a home at the height of New Bedford's wealth. At the  Mid July – end of August; Thurs 5pm – 6:30pm, Friday 11am-2pm, Sun. 2pm-4pm, Free.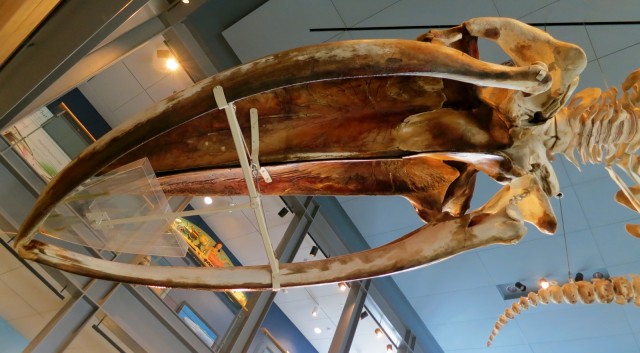 VISIT: New Bedford Whaling Museum. Four fully articulated whale skeletons hang from the ceiling in the entry hall of one of the best Whaling Museums on the planet. There's a Humpback, a North Atlantic Right Whale with her ten-month-old fetus, and a Blue Whale – the largest mammal on earth. This juvenile Blue, killed accidently by a tanker in 1998, is half the size of one full grown, and one of only four on display in the world. Amazingly, even after the bones were cleaned and bleached for months, its sinus cavities are still leaching oil, which drips into a Lucite pan fitted beneath the skull and is collected via hose into a graduated beaker within reach of visitors. This is just one of many wow moments you'll experience among 750,000 artifacts, including the Worlds Largest Collection of Scrimshaw to the Worlds Largest Ship Model (at half scale, the Lagoda Whaling Ship, which can be boarded, was built by aging shipwrights in 1916 inside the then brand new museum hall), to products made from various whale parts, to harpoons – which were kept so sharp, the sailors shaved with them. $14 adults, $6 kids, May-September 9:00 a.m. – 5:00 p.m. daily.
VISIT: Seamen's Bethel. Built in 1832 to counteract the "licentious" temptations of the waterfront, and made famous in Herman Melville's Moby Dick, this church still operates as a house of worship.  Inside, a bow-shaped pulpit juts into a small pew-lined room where cenotaphs ("empty tombs") of men who did not return from the sea line the walls.  One memorializes poor 18-year-old Charles Petty who, in 1863, was killed by a shark while bathing off the African coast.  Apparently whales weren't the only creatures to be wary of on these dangerous voyages.
VISIT: Waterfront Visitors Center in the Wharfinger Building. Learn "the process of fishing from bringing in the catch to plate." Focusing on what was once a robust, live seafood auction, you'll get a sense of the frantic, 20 minute New York Stock-Exchange-like negotiations that took place here before the auction went online in 1985. Afterwards, head to the docks for captivating views of the harbor, and if you time it right, you'll find some of the 200 commercial fishing boats of New Bedford – scallopers and trawlers – offloading catch. Monday-Friday 9:30 a.m. – 4:30 p.m. year round
Saturday and Sunday 9:00 a.m. – 5:00 p.m. Memorial Day through Labor Day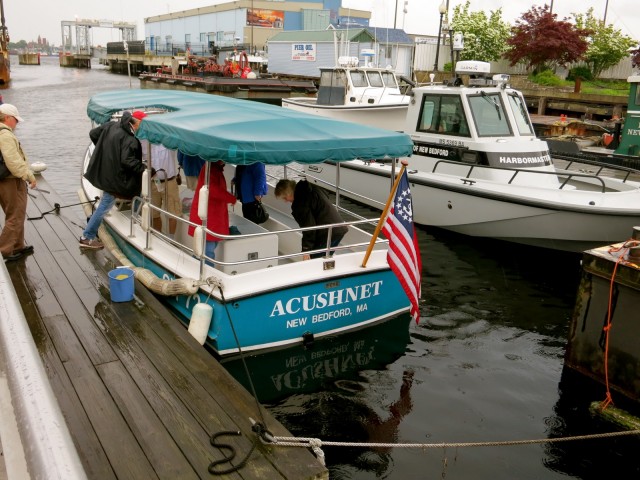 TOUR. New Bedford Harbor Tour. It's a harbor tour unlike any other – after an hour on the water, you'll come away knowing why scallop boats are not painted completely, and learn all about one hard-working, fastidious, trash-talking Azorean, known as "The Codfather," who came to the US dirt poor but managed to amass a fleet of 30 fishing boats (worth tens of millions). If the forecast is bad, you may see the whole fleet at the docks – and get as close to them as possible without being on deck.  You'll also glide through the longest hurricane barrier (9,100 feet) in the world, which is also the largest stone structure on the East Coast, and hear stories of whaling ships and oil tycoons. Mid-June through end of September, Daily 12 Noon, 1:30, 3:00 & 4:30 PM. September –Weekends Only – Saturday & Sunday, same times. $15 adults, $8 kids.
RIDE: New Bedford City Hall Elevator. Here's something that not many guidebooks will recommend.  Stop in to City Hall to find the Oldest Operating Elevator in the US – a 1912 Otis human-run steel and wrought iron cage with a curved cushioned bench large enough for six. Ask for a ride to the top floor – the 4th. It's a time machine for sure. Mon-Fri. 8am-4pm. Free.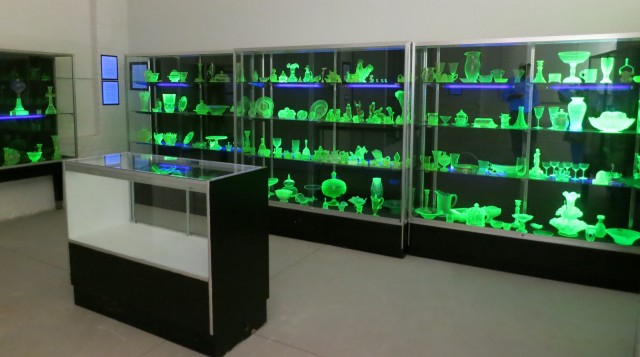 VISIT: New Bedford Museum of Glass. Hidden in the back of the former Wamsutta Textile Mill (now an antique mall), you might expect this museum to be hokey or commercial or, worse, kitschy, but it's none of these things. In fact, I recommend this place highly. Glassmaking was a huge New Bedford industry in the 1860's; tableware, quality cut glass, and fancy chandeliers were all manufactured here.  The Museum of Glass showcases glass of all kind from ancient to contemporary – much of it rare, including shelves of Vaseline Glass, made with uranium, which glows green under ultraviolet light in a dark room. (Listen to the insistent Geiger counter in one of the cases). You'll find Stuben, Orrefors, Tiffany and Chihuly masterpieces. If you have any interest in decorative glass at all, this unassuming museum is a must-see. Mon- Sat. 10am-5pm, Sun 12 -5pm, $5.
SHOP: Ahab's Wife Boutique –  Besides the fact that the name is perfect for this Melville-town, this little boutique, and the adjoining For Veda, are stocked with distinctly cool fashions. At  Bedford Merchant Gift Shop you'll find typically "resort" like gifts (like a 6 drawer ceramic jewelry box; $22.50) at very reasonable prices. Festoon yourself with craft jewelry from BeJeweled for a lot less than you'll pay in other cities.  Be sure to wander the cobblestone streets of the Historic District and stop in to as many of the Art Galleries and studios as you can.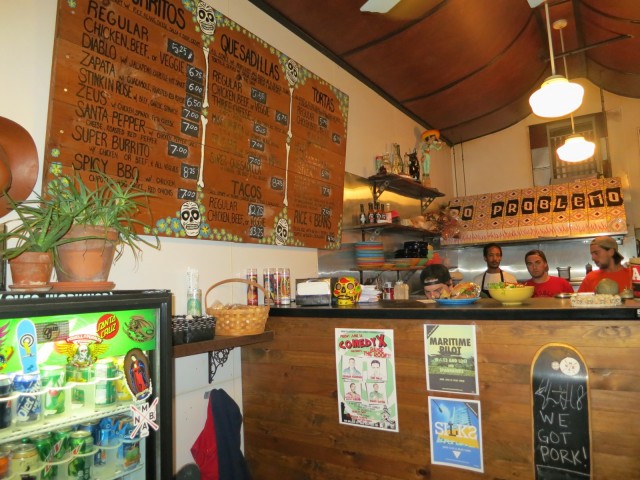 Best Restaurants in New Bedford, MA
LUNCH: No Problemo. A bevy of patrons, from  tattooed skateboarders to boardroom executives, line up for the fantastically fresh burritos, tacos and all manner of handheld Mexican Food.  When asked about a favorite restaurant, most locals mention this for deliciousness, freshness, speed and low price. Tacos start at $2.75, Burritos are $6.50.
LUNCH: Destination Soups. Are the soups "Soup Nazi" good?  I'd say very close, but without the attitude.  Don't restrict yourself to soup alone, however.  This place does an excellent job with specialty Grilled Cheese, as well, like the Rick Cheese – stuffed with apple, bacon and balsamic vinegar ($3.10 small, $5.70 full size).
EAT: Freestone's City Grill. The chowder served within this former 140 year old Citizens National Bank Building keeps winning awards. You'll see why. Close to the Whaling Museum, Freestone's has been a local favorite for years.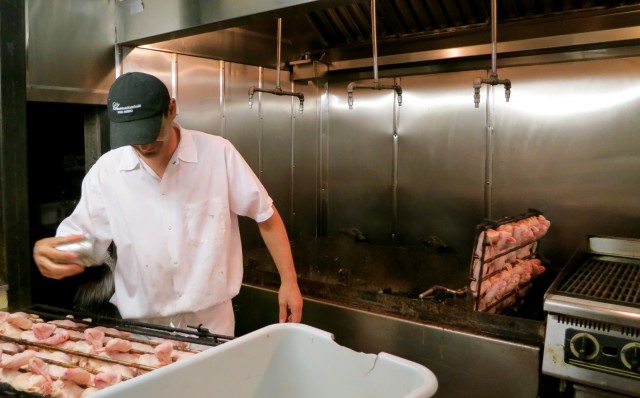 EAT: Churrascaria Novo Mundo. Walk into this less-than-nondescript building and you'll be rewarded with what I'll go out on a limb to say is one of the top 10 chicken dishes this side of the Azores. Toasted to perfection on an unusual Portuguese indoor barbeque spit, these flattened half chickens come to the table with heaps of fries and rice for just $6.99.
EAT: Urban Grille. Start with hot foccocia bread and whole-garlic-olive oil, then tuck into Blue Cheese Puffs, Fra Diavlo Mussels over Pasta and finish with Oreo Sweetbread Pudding – all for $40 FOR TWO on Wednesdays – "Date Night."  Even on other days of the week, inventive entrees are a reasonable $15-$25 each in this hot new restaurant.  Beforehand, pick up a bottle or two of wine (many 2 for $20) at Crush Fine Wine Boutique across the street. It's the perfect marriage of incredibly inexpensive fine wines and a terrific BYOB restaurant. To sweeten the deal, both Crush and Urban Grill offer a 10% discount for the pairing.
SIP: Travessia Urban Winery. You won't see a vine in sight, but what you will see, and sip, are some great wines.   Travessia sources grapes from within a ten-mile radius and produces cases of award-winning, light, sweet Vidal Blanc and pleasurable  Pino Noir Rose. Buy local.  Buy a bottle or two of each. Open Wed – Sat Noon – 6pm, Sun. Noon – 5pm.
DRINK: Two bars in repurposed waterfront buildings compliment each other and attract Vineyard Ferry travelers like frat boys to keg parties.  Most nights, you find a vibrant scene at Cork (for wine flights) and Rose Alley (beer flights).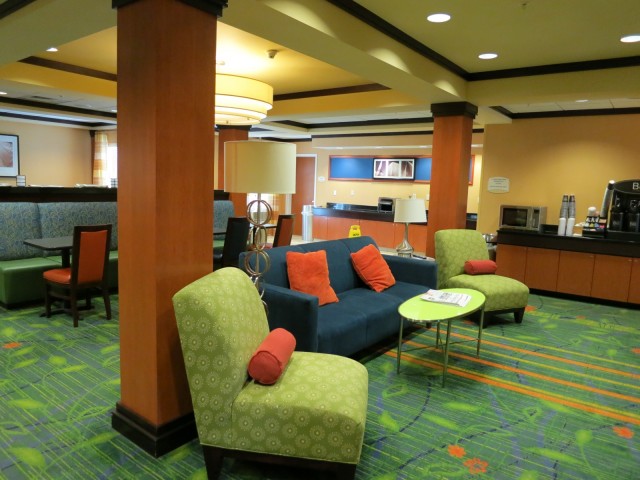 Best Lodging in New Bedford, MA
STAY: New Bedford Fairfield Inn and Suites. The Mavens don't usually extoll the wonderment of chain hotels, but this is one of the few exceptions. In punchy blues and orange hues, this new establishment hard by the grungy working docks took a big leap of faith when it opened several years ago.  Now, rooms are nearly 100% occupied in season, because more and more tourists  traveling to Boston or the Cape or who come off the high-speed Vineyard Ferry across the street are choosing to stay overnight.  With helpful friendly staff, this franchise feels more like a B&B, offering a free shuttle within a five-mile radius, free Wi-Fi, a small fitness room that overlooks a sparkling indoor pool and complementary hot breakfast.  Rates – $109 to $249 – vary with size of room and season includes internet, hot breakfast, parking, tea and coffee 24/7, and complimentary shuttle.
STAY: Orchard Street Manor. A former 1845 Captain's home "on the hill," Orchard Street Manor is filled with antique gleaned from the world travels of hosts Al and Suzanne Saulniers. Enjoy hot homemade muffins and fresh fruit salads each morning in a unique oval dining room, and great insider information about New Bedford from your gracious hosts.  $125-$250 per night includes gourmet breakfast.