WHY GO: Lexington MA is the best place in the USA to learn about our country's origins. And to celebrate Patriot's Day.
Tell the truth. If you're not from The State of Massachusetts, did you even know about Patriot's Day before the movie about the Boston Marathon bombing came out?
You're not alone. Patriot's Day, a State holiday that falls on the Monday closest to April 19th, commemorates the first armed rebellion in what became America's War of Independence.
Yes, our Revolutionary War began in this small Massachusetts town, 16 miles from Boston.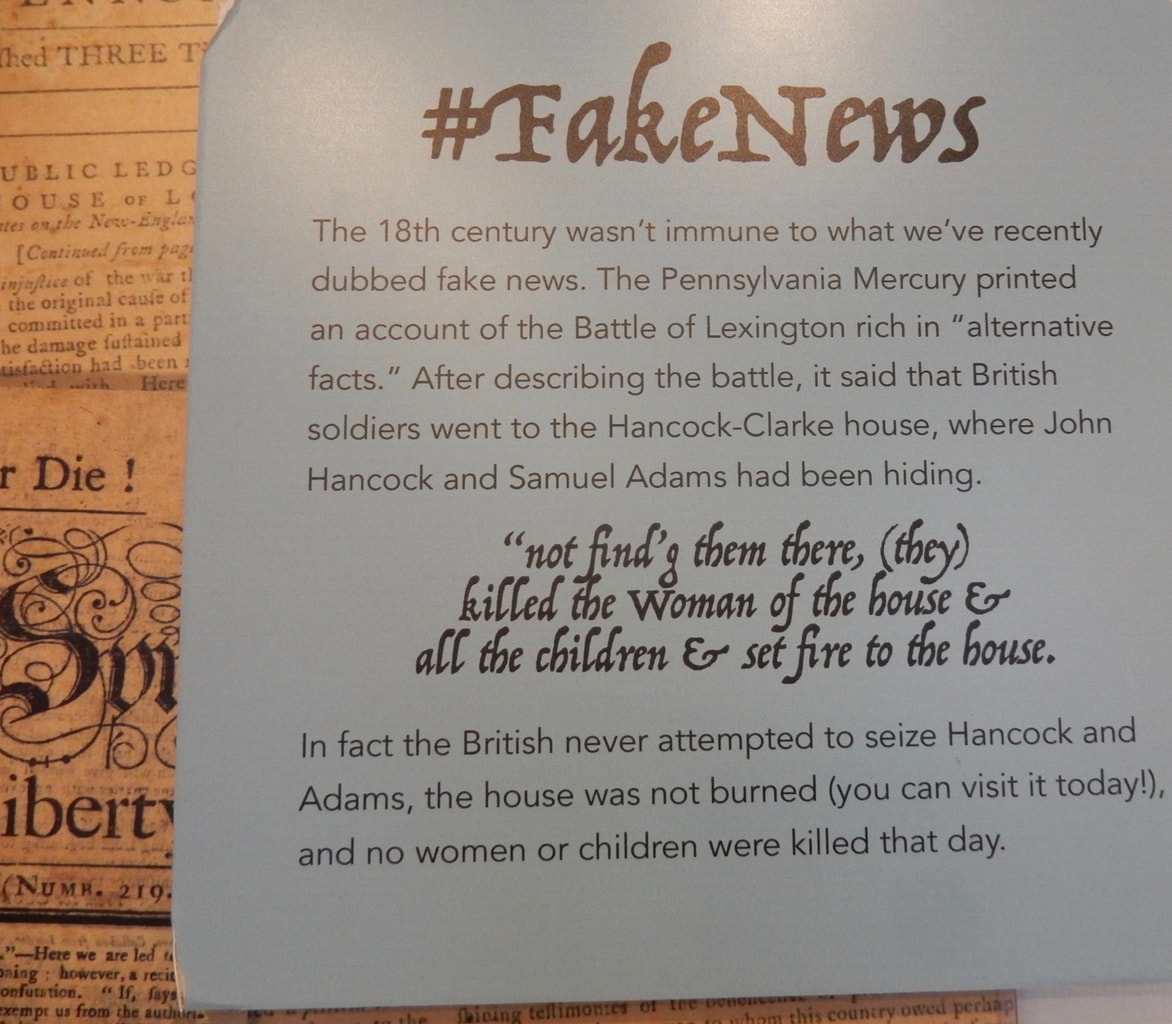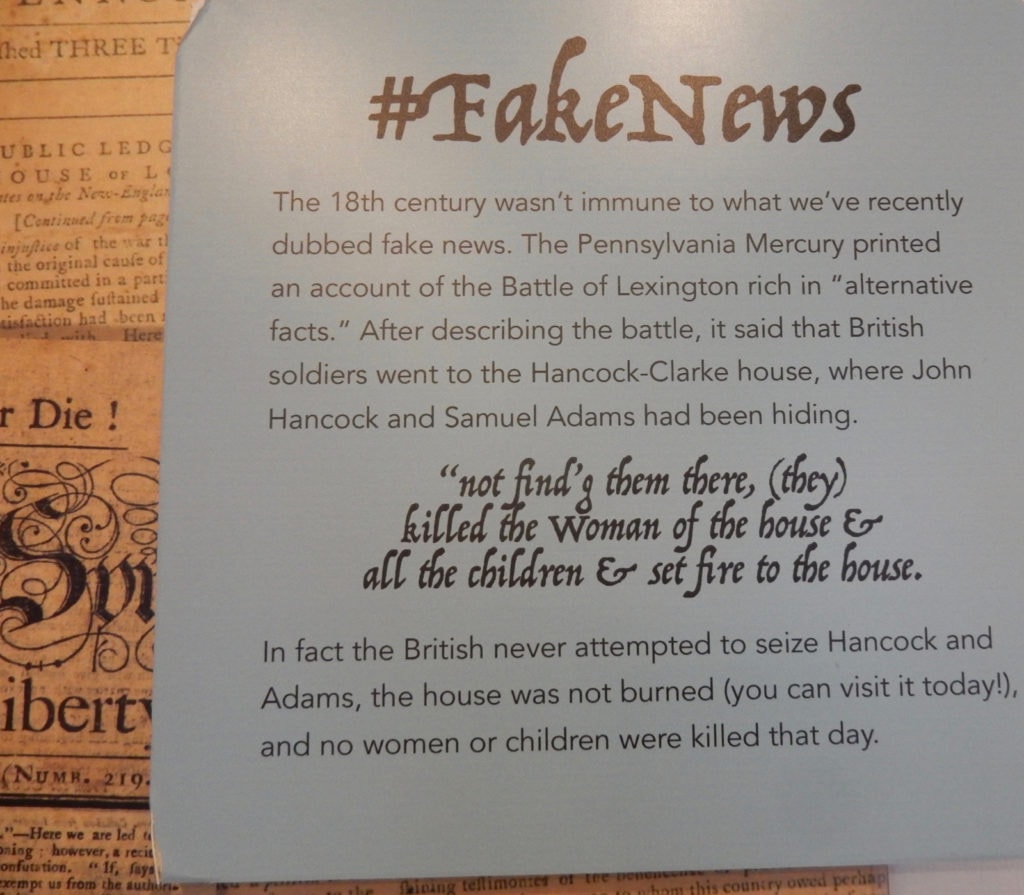 Though the "Shot Heard Round the World" refers to an episode at the North Bridge in Concord MA, the actual "first shot," albeit accidental, occurred between two hair-triggered sides in the early dark before dawn in the town considered to be the "base of the resistance," and "The Birthplace of American Liberty." Lexington MA.
And although Lexington is all about the American Revolution, it's got some surprisingly excellent restaurants, and one Top Hotel of the World – a 22-room Relais & Chateau inn that allows visitors to absorb history without sacrificing luxury. Follow along with us. (And, to round out your getaway, plan a day or two in Concord.)
Things To Do in Lexington MA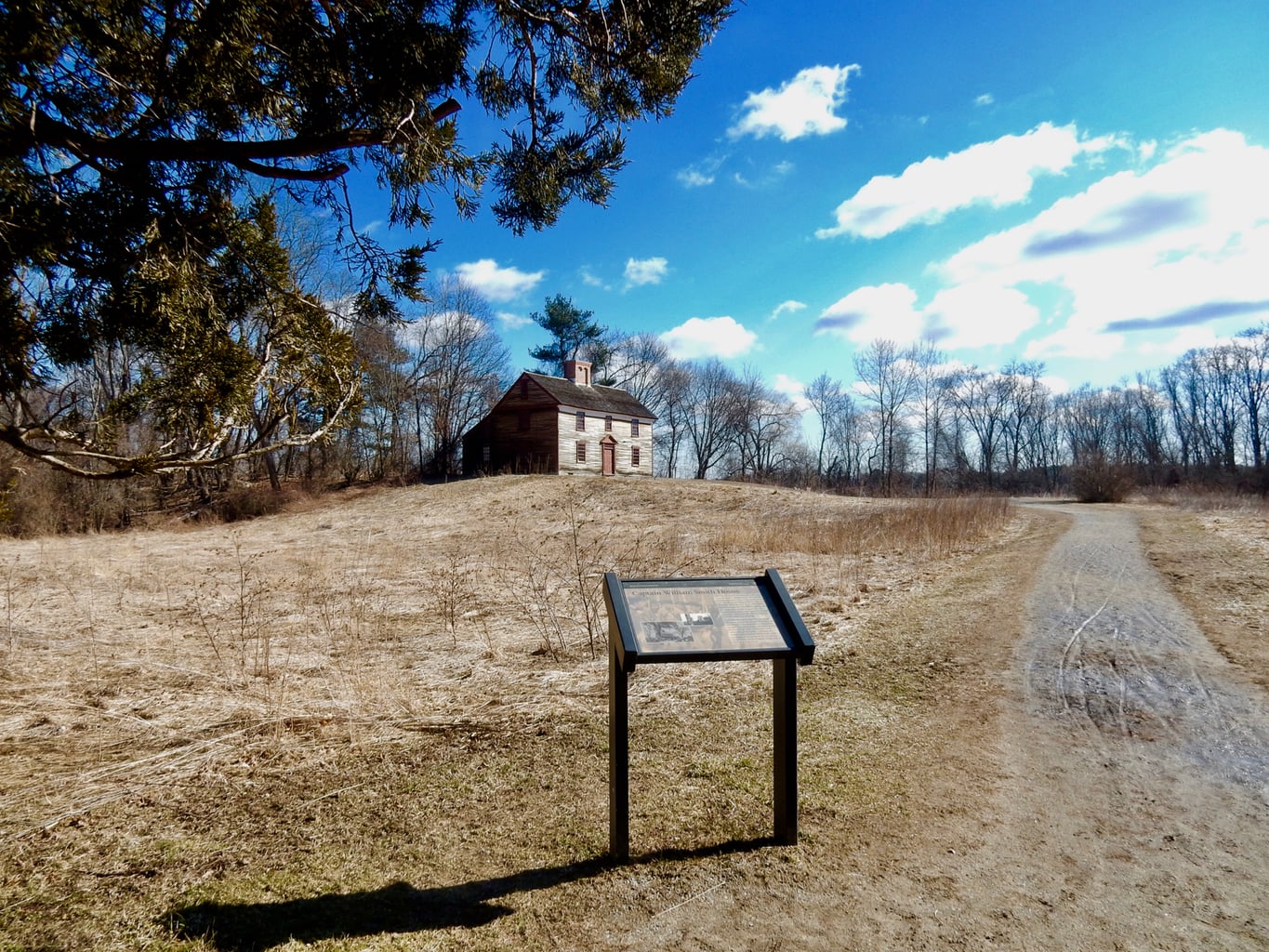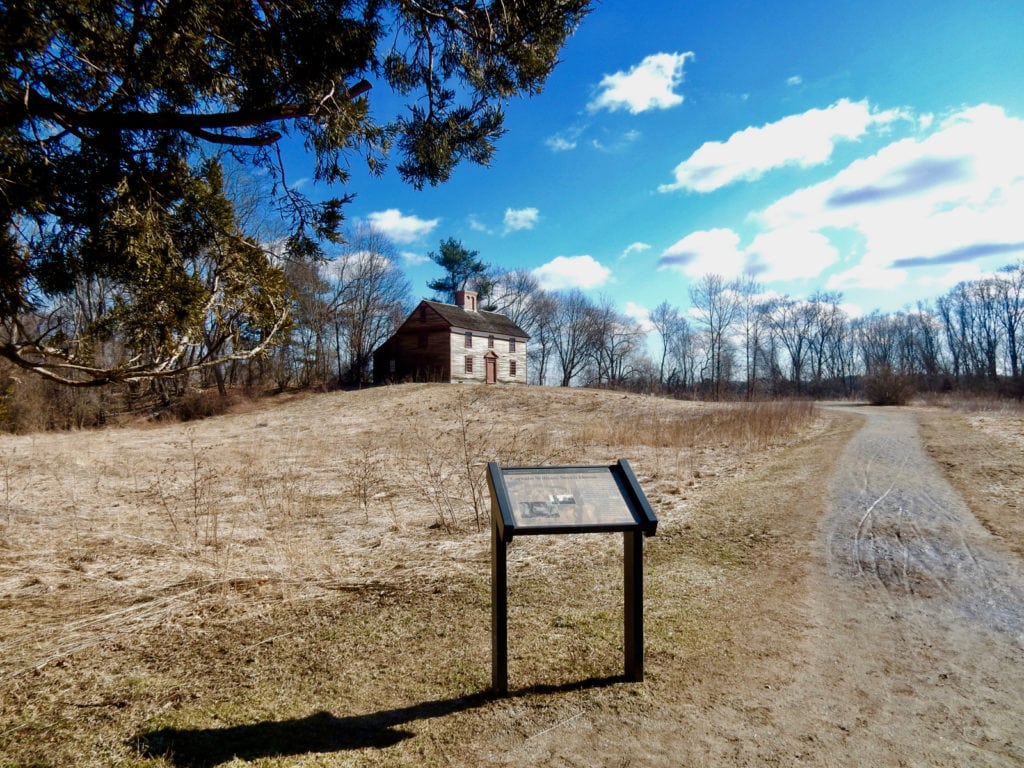 Located between Concord and Lexington, the Minuteman NHP Visitor's Center interprets the opening battle of the American Revolution on the 5 ½ mile Battle Road which encompasses 11 historic "witness" buildings, informational signage, and pull-outs for parking off busy Route 2A.
The Visitor Center offers exhibits, theater, orientation and ranger programs, and should be for stop # 1 for anyone interested in the timeline of events on the first day of the Revolutionary War. Open daily April 1 – Oct 31st 9-5, free.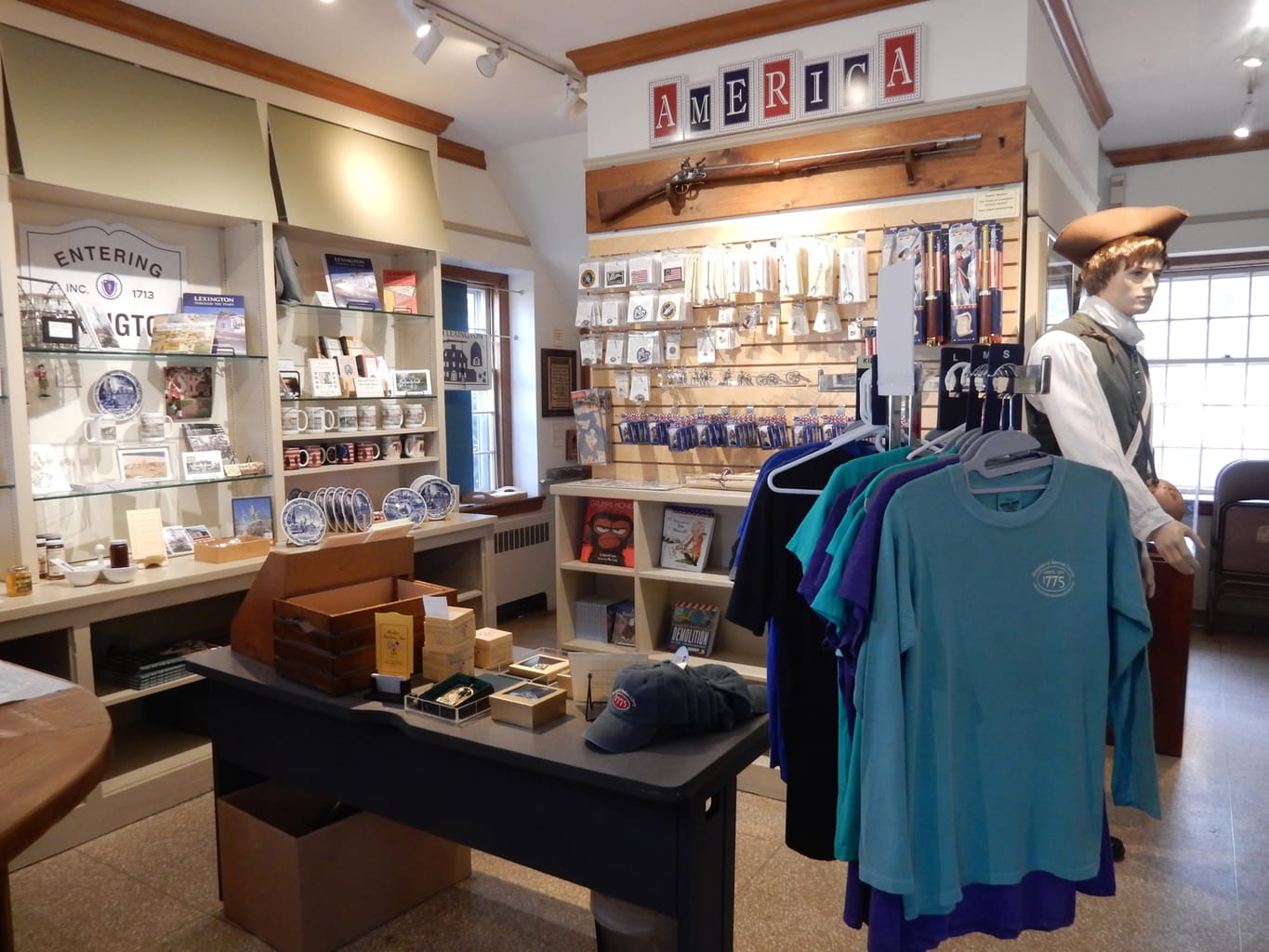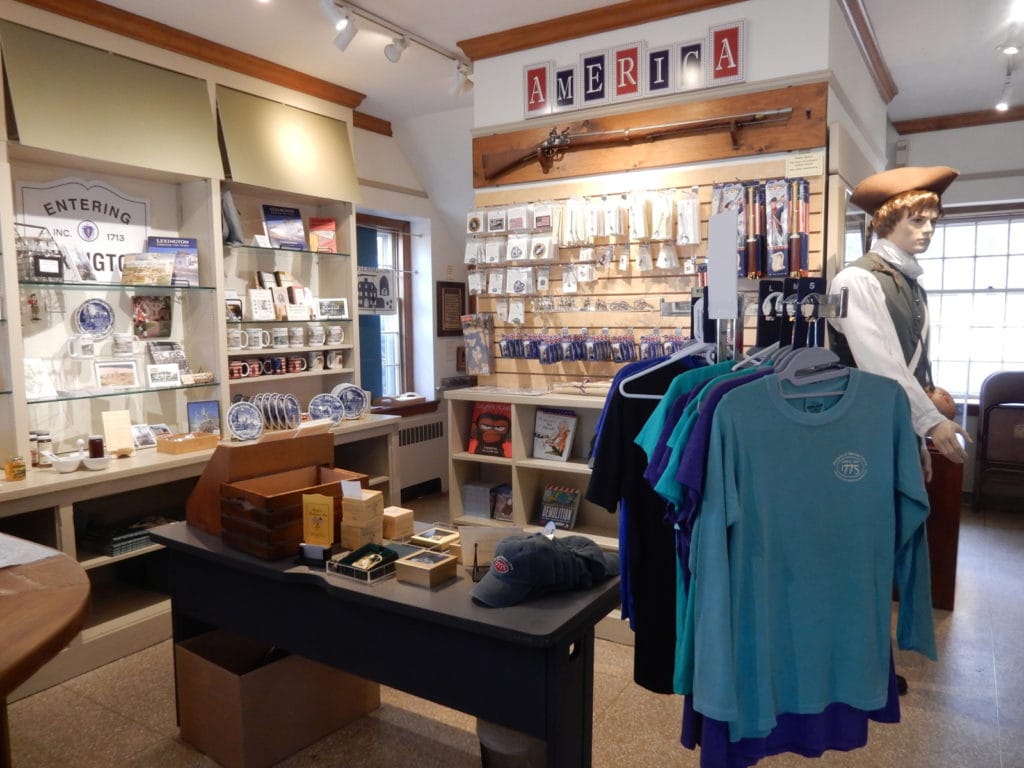 See a meticulous diorama of the drama that took place right outside the door at 5am on April 19th 1775: the first forcible armed resistance to the Crown in the War of Independence.
Here's the story in a nutshell.
American Colonists were proudly English during the French and Indian War when British Redcoats and well-armed Colonial militias fought side by side.
But the war drained England's treasury. So, in 1763, the British government began to tax the colonies for the first time.
The colonists groused about these long-distance tariffs. To enforce them, England sent troops into Boston in 1768.
In 1770, a British militia shot and killed several American rioters. This so-called "Boston Massacre" got Colonial blood boiling.
Taxation Without Representation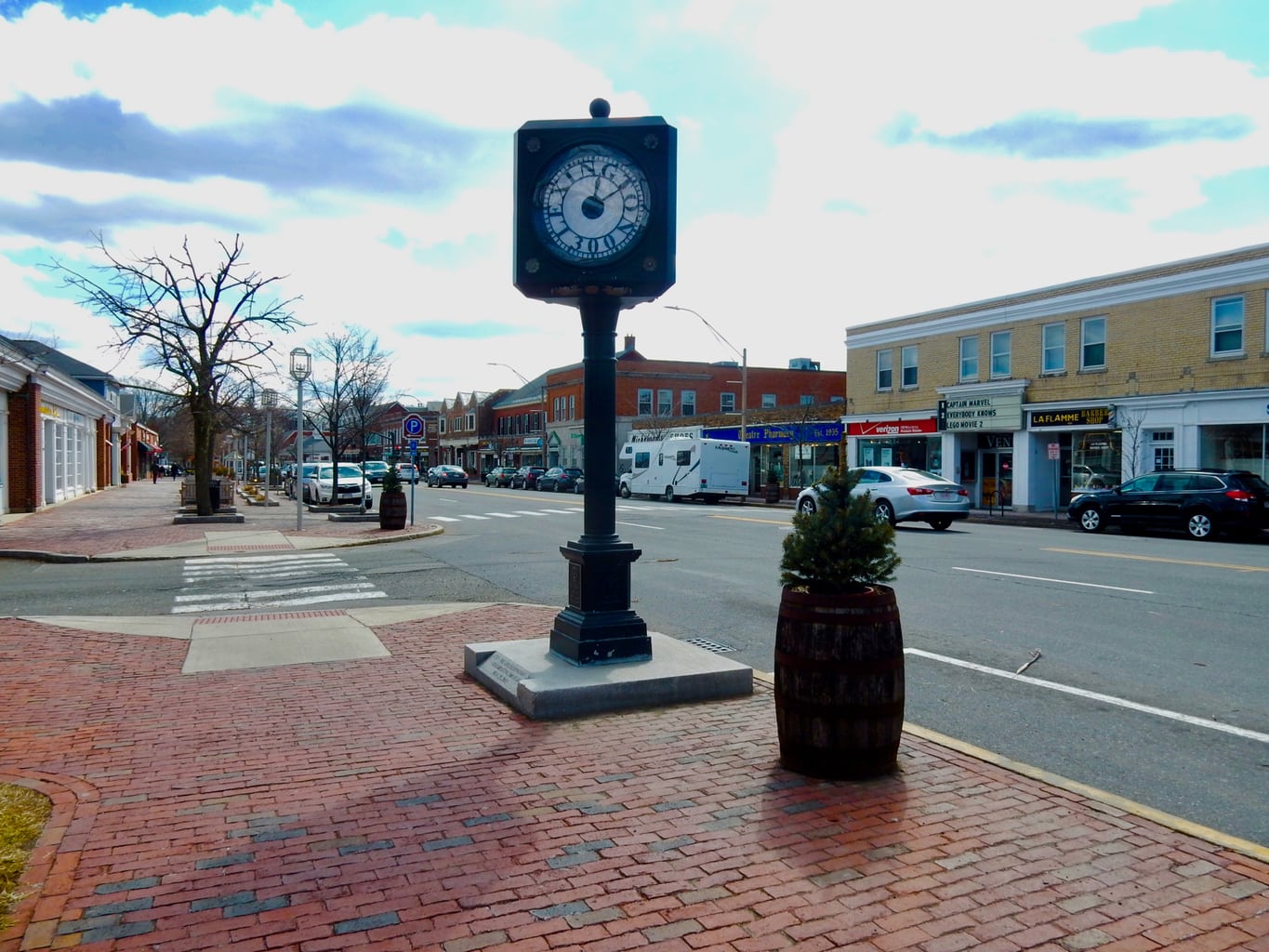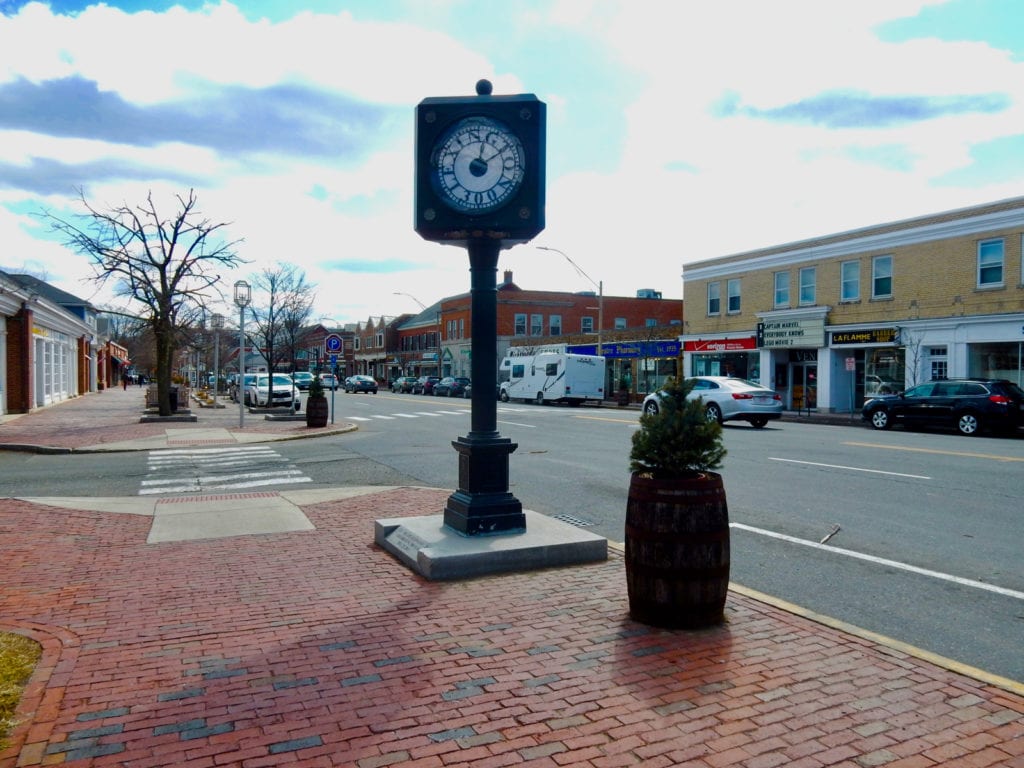 On December 16, 1773, the Sons of Liberty, protesting Taxation without Representation, dumped $1.7 million (in today's dollars) worth of English tea into Boston Harbor.
In response, in 1774, the British Parliament passed the Intolerable Acts, effectively closing Boston Harbor and prohibiting assembly in Meeting Houses.
Colonial Official, General Thomas Gage, sent for 3,000 British soldiers to enforce these new policies. Hence, American resisters moved to Concord, 18 miles away. They formed a provisional government, boosted by a large stockpile of arms.
It was this stockpile that the English were after when they made their way to Boston's outlying towns.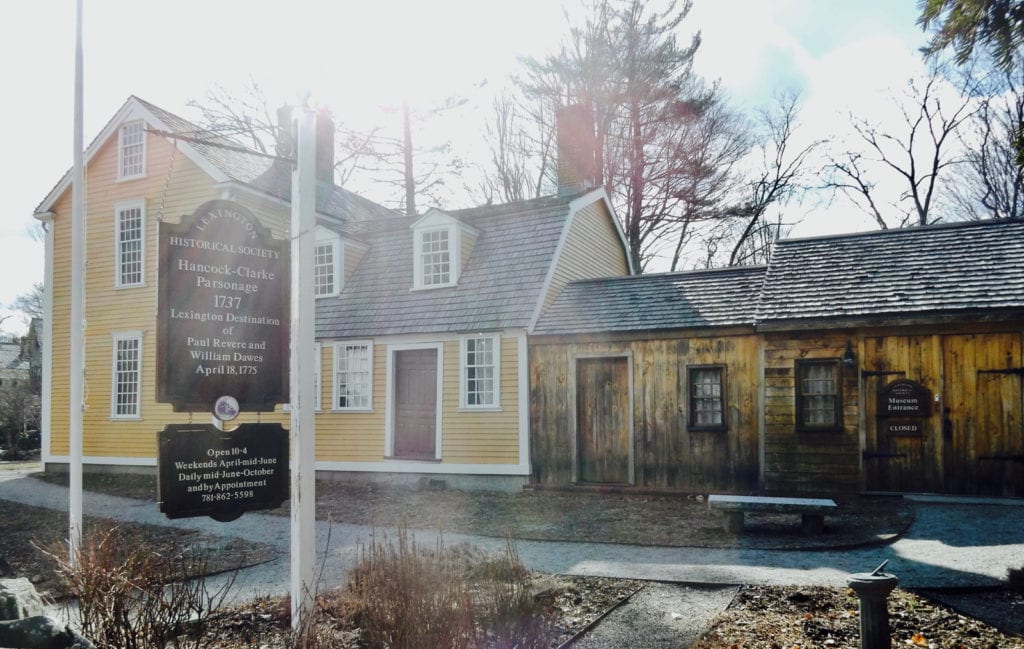 On April 18th, Paul Revere, and 40 other "Riders," warned locals at the Hancock-Clarke House of a British march, 700- 800 strong, first to Lexington and on to Concord.
Waiting for the Brits
Captain John Parker mustered a "training band" of 77 men on the Lexington Green and waited. And waited. And then, as it appeared that the Brits weren't coming, grew tired in the wee hours, and retired to Buckman Tavern. (See below).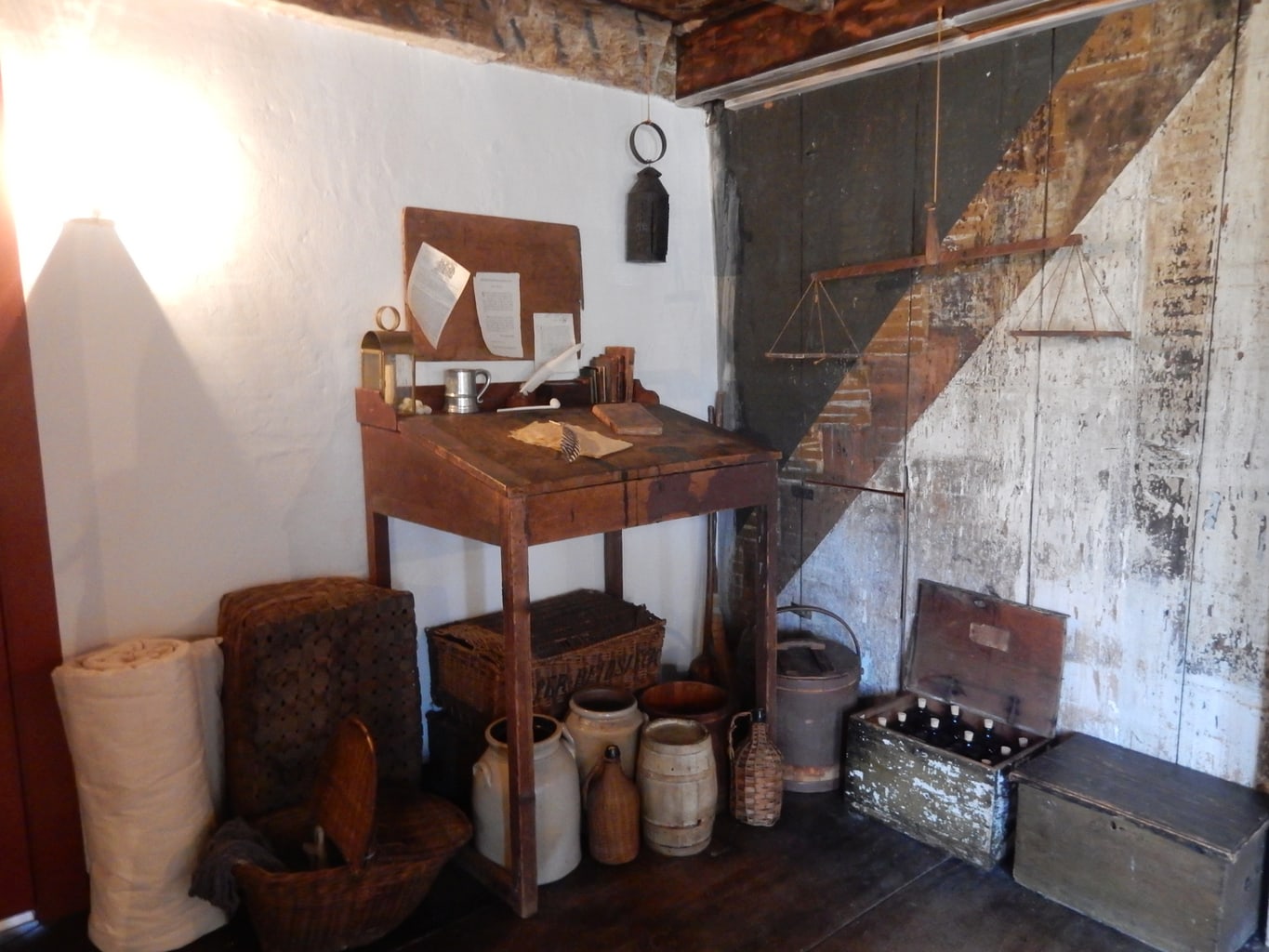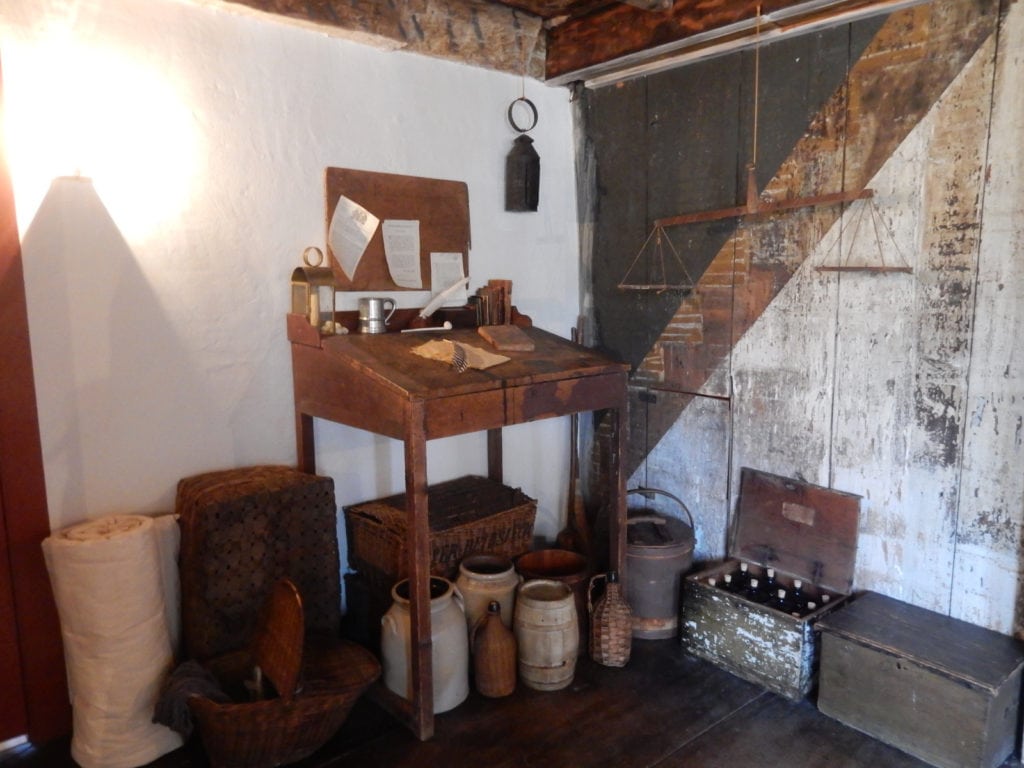 At around 5am, British finally arrived. Locals on the green, armed with muskets as a show of force, were ordered to lay down their weapons. Someone – it is still not clear whom and on which side – fired a shot. Both side panicked. Some militiamen ran, but some fired back. After the skirmish was over, 8 colonists were dead and one Redcoat wounded.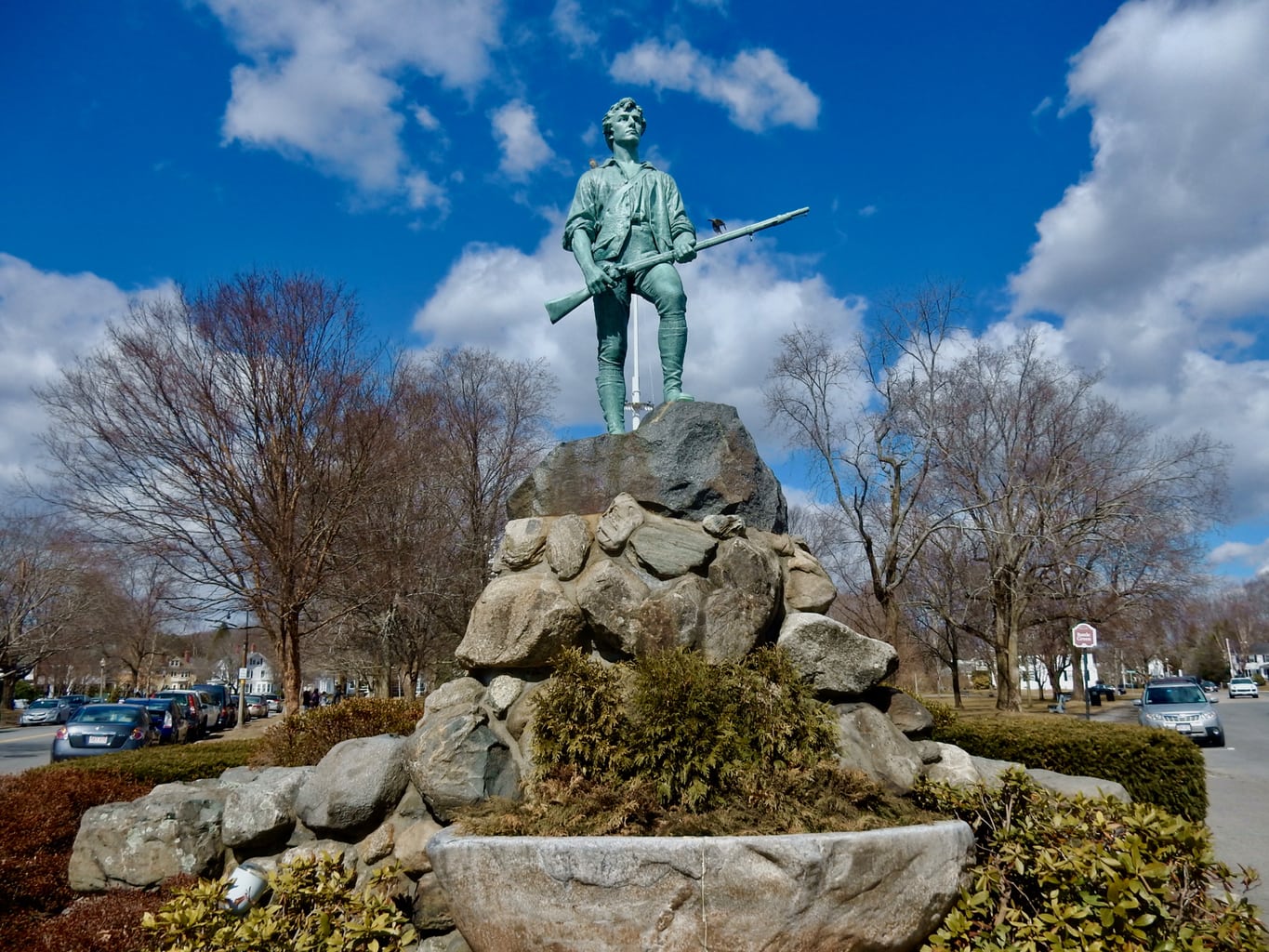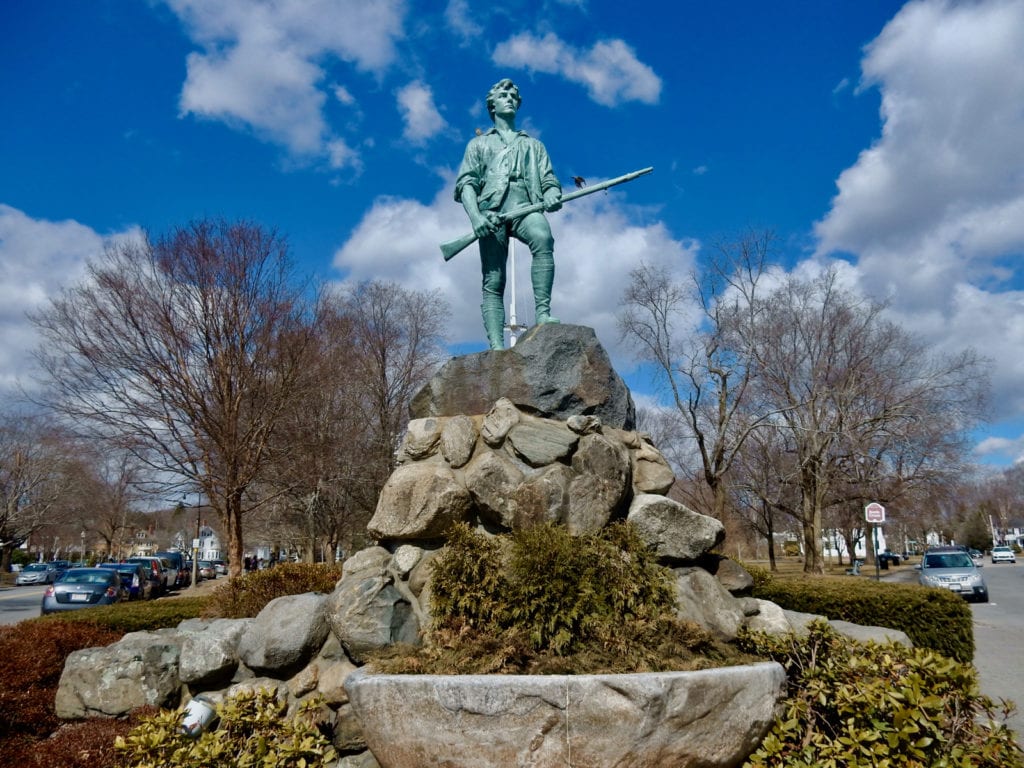 From there, the "Regulars" (Redcoats/Brits) marched in victory to Concord, getting to the North Bridge by 9:30am.
There, they were outnumbered four to one. The Redcoats retreated back to Boston, fighting a growing number of Colonial forces along the way. By the end of the running battle, 273 British and 95 Colonial soldiers were killed.
Crossing the Rubicon
Of that day, George Washington wrote in his diary, "On the morning of April 19th, the first blood was spilt in the dispute with Great Britain." A few days later, John Adams visited Lexington and remarked, "The die is cast, Rubicon passed."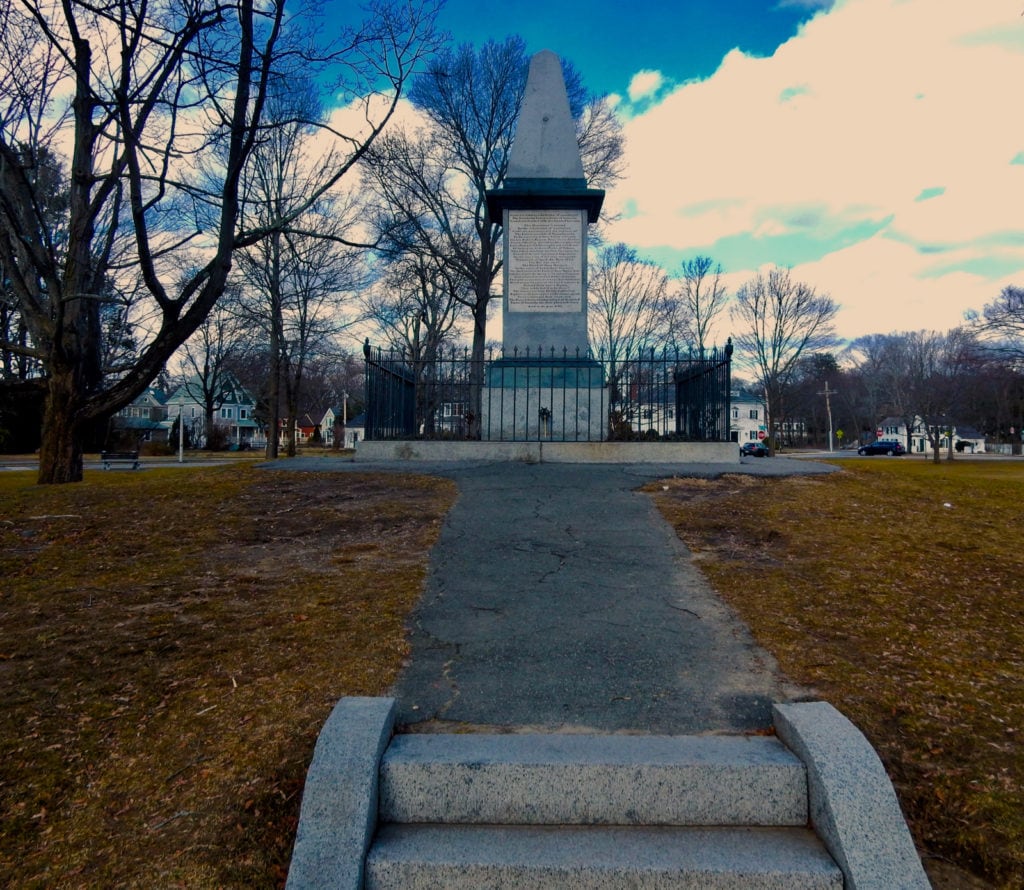 Two of the most photographed structures in Lexington are on the Green: the Minute Man Statue and the Revolutionary War Monument, built in 1799.
Seven of the 8 militiamen who perished that April morning are buried beneath this granite obelisk, claimed to be the oldest war memorial in the USA. Visitors Center open daily April-Nov. 9-5, Dec-March 10-4, free. Free tours of the Green on weekends in April and May, and daily from Memorial Day through October.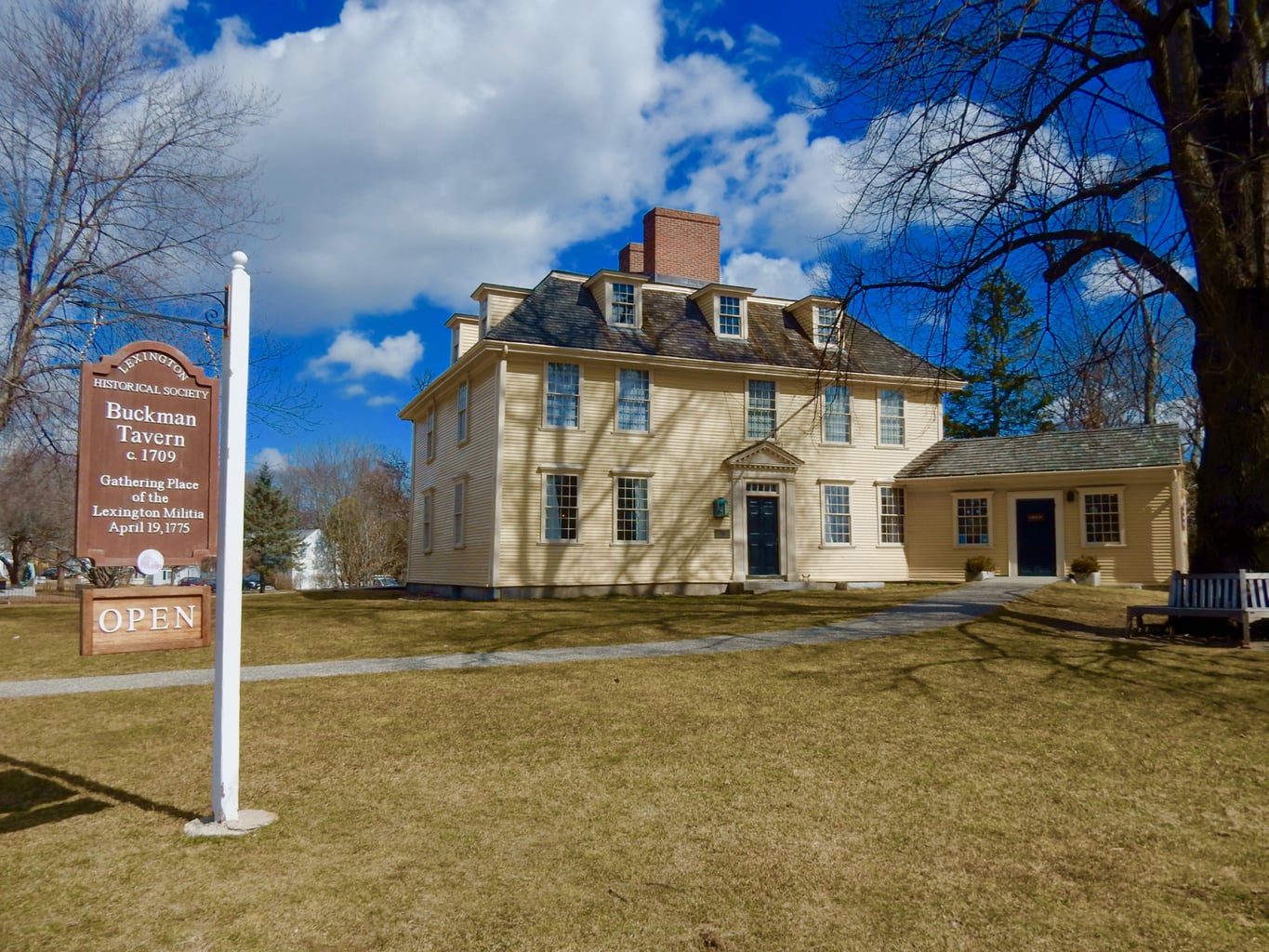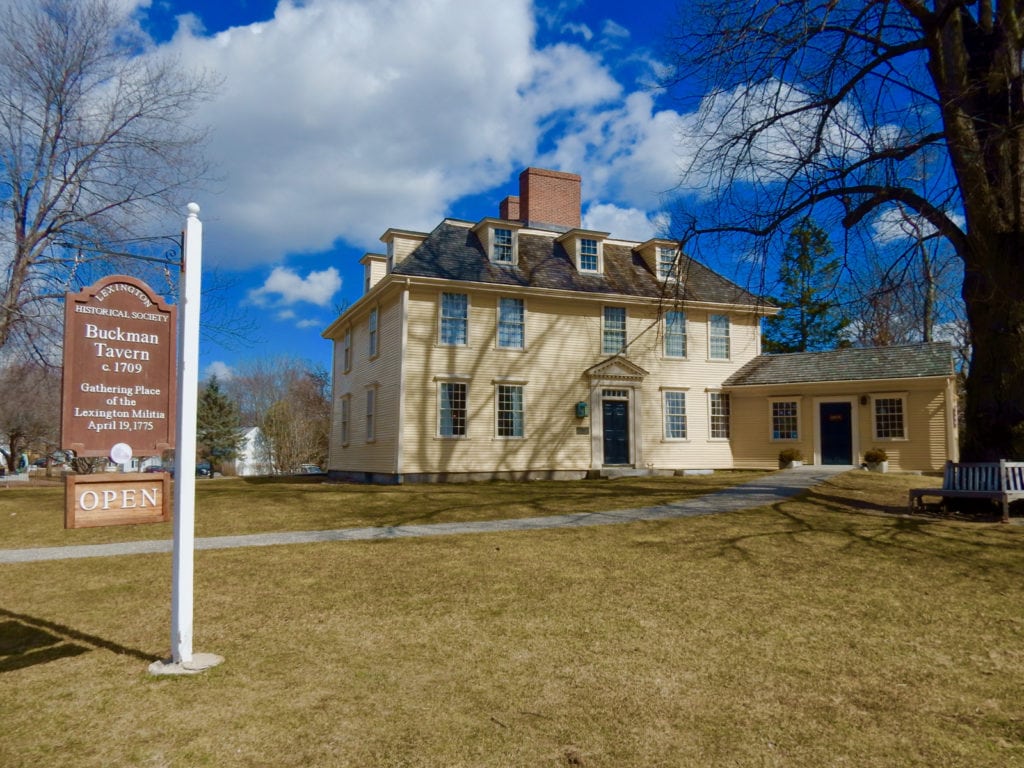 American history pervades this old tavern. You can almost visualize what it was like on that fateful morning of April 19, 1775. Try to imagine the beat of William Diamond's drum, mustering the town militia to the Lexington Green. Incredibly, this original drum is very much intact, exhibited in a glass case among other remnants from that morning.
For many hours after Paul Revere's midnight warning, the Redcoats still hadn't appeared. So, the band of militiamen dispersed. The "drumbeat to arms," called all within earshot back to formation on the Common around 5am.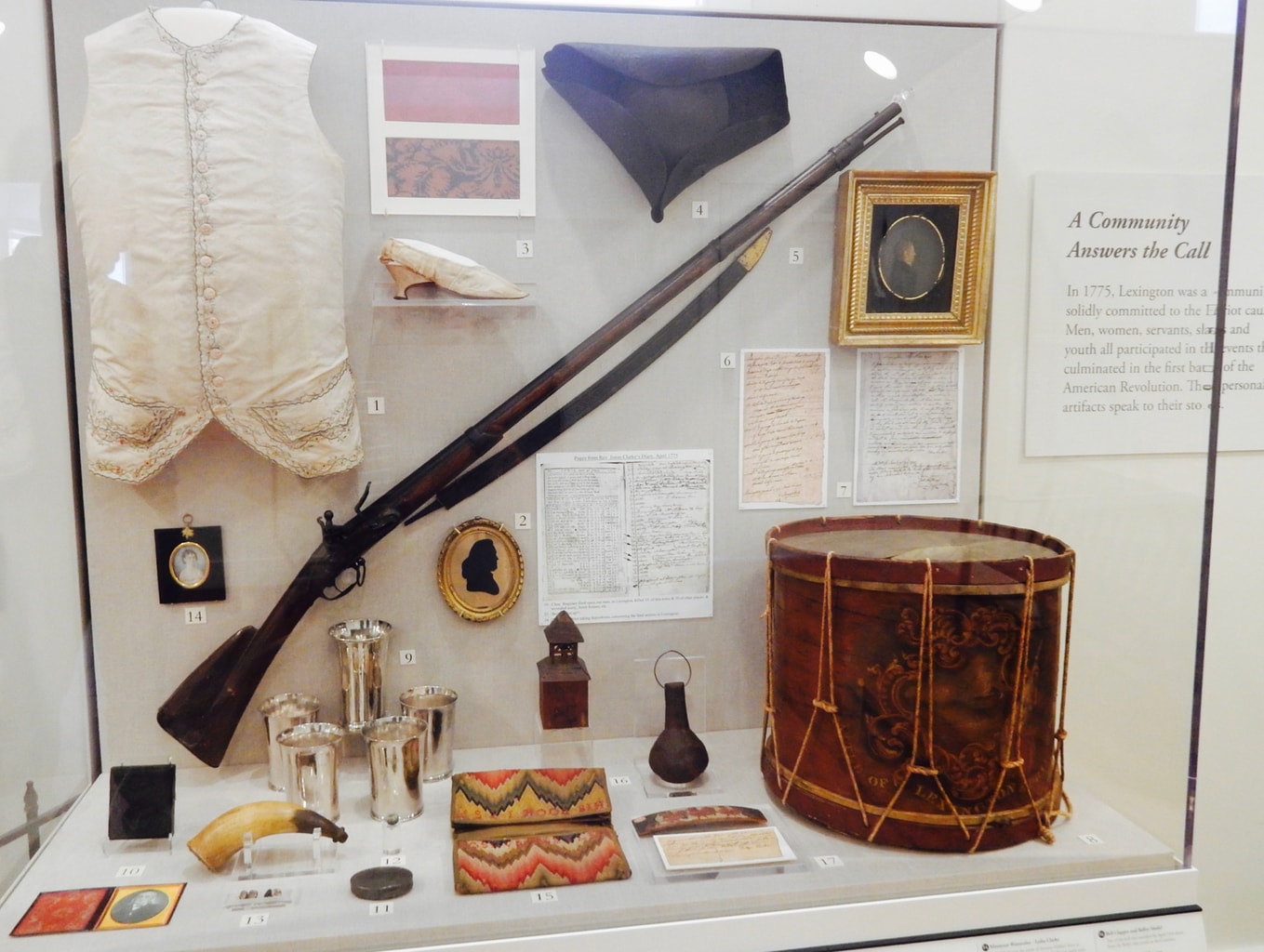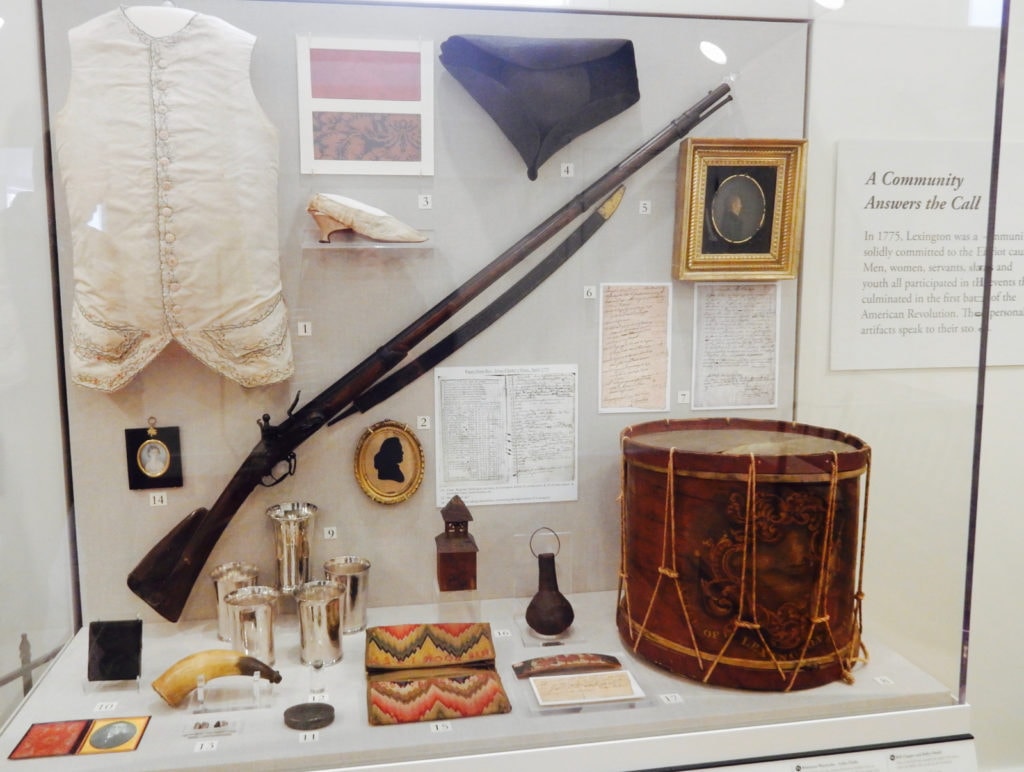 In 1775, two licensed taverns in Lexington were generally patronized by men. But this one, owned by John and Ruth Buckman, had a gentler side. Women gathered in an elegant parlor to sip tea and hot chocolate, while their menfolk discussed business and politics in the Tap Room
Women Involved in "The Cause"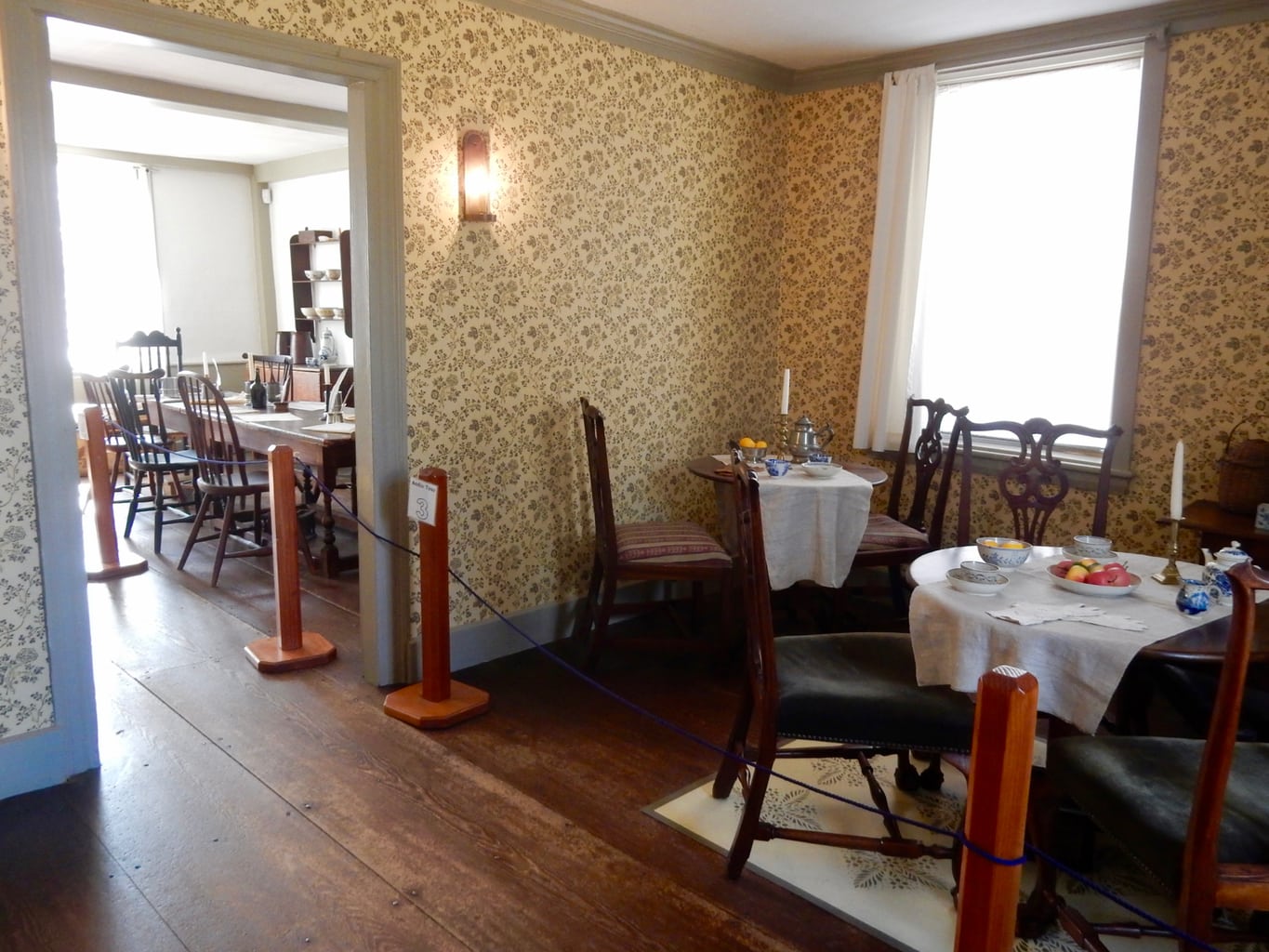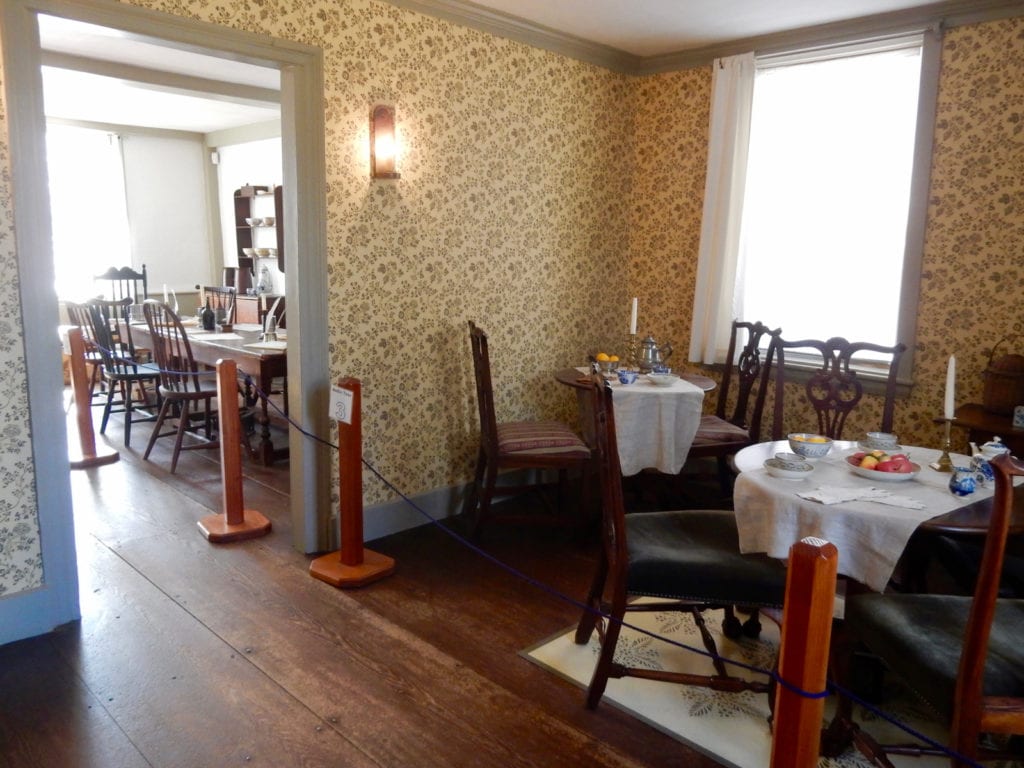 But, in the months leading up to the War of Independence, women, too, were involved in "The Cause." They demonstrated their patriotism by growing domestic tea, and holding a screw-England "Spin-In" on the Green. (Until the uprisings, flax cloth had been imported from Britain. However, on August 1769, forty-five women took their spinning wheels to the Town Common, and turned out homespun versions).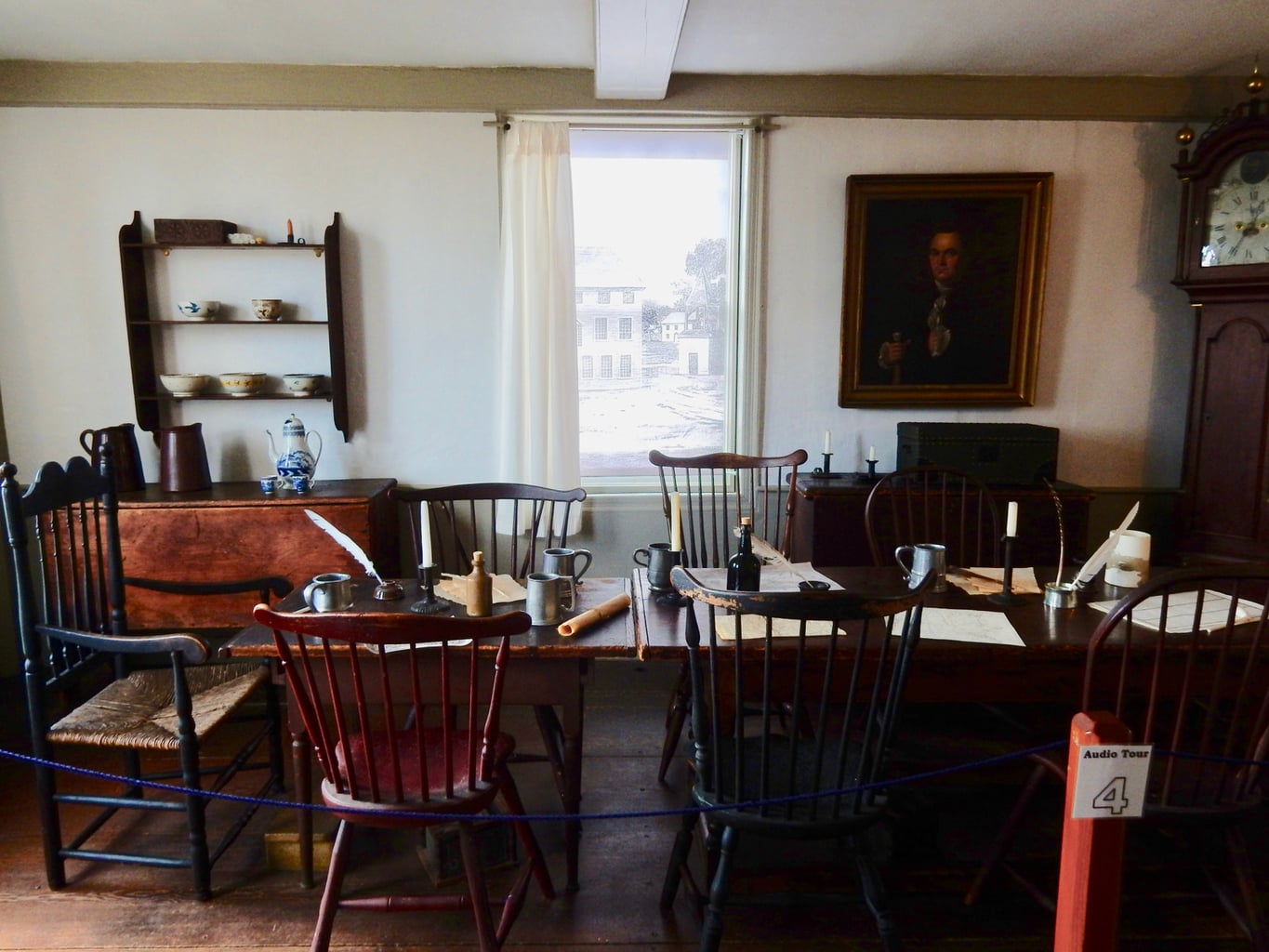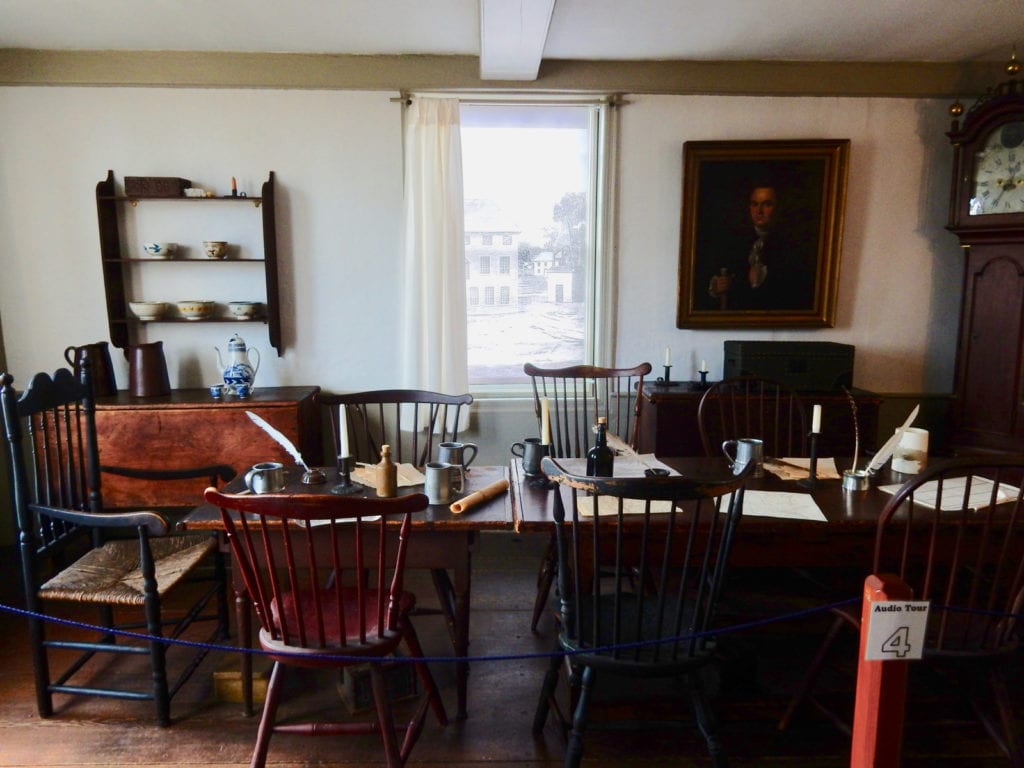 Looking outside, it's remarkable to think that our country's War of Independence began right here. Incredibly, there is physical proof of that – a bullet hole in the front door from a British musket ball during the Battle. Audio-self-guided tours, $10pp. Open April-Oct. 9:30-4.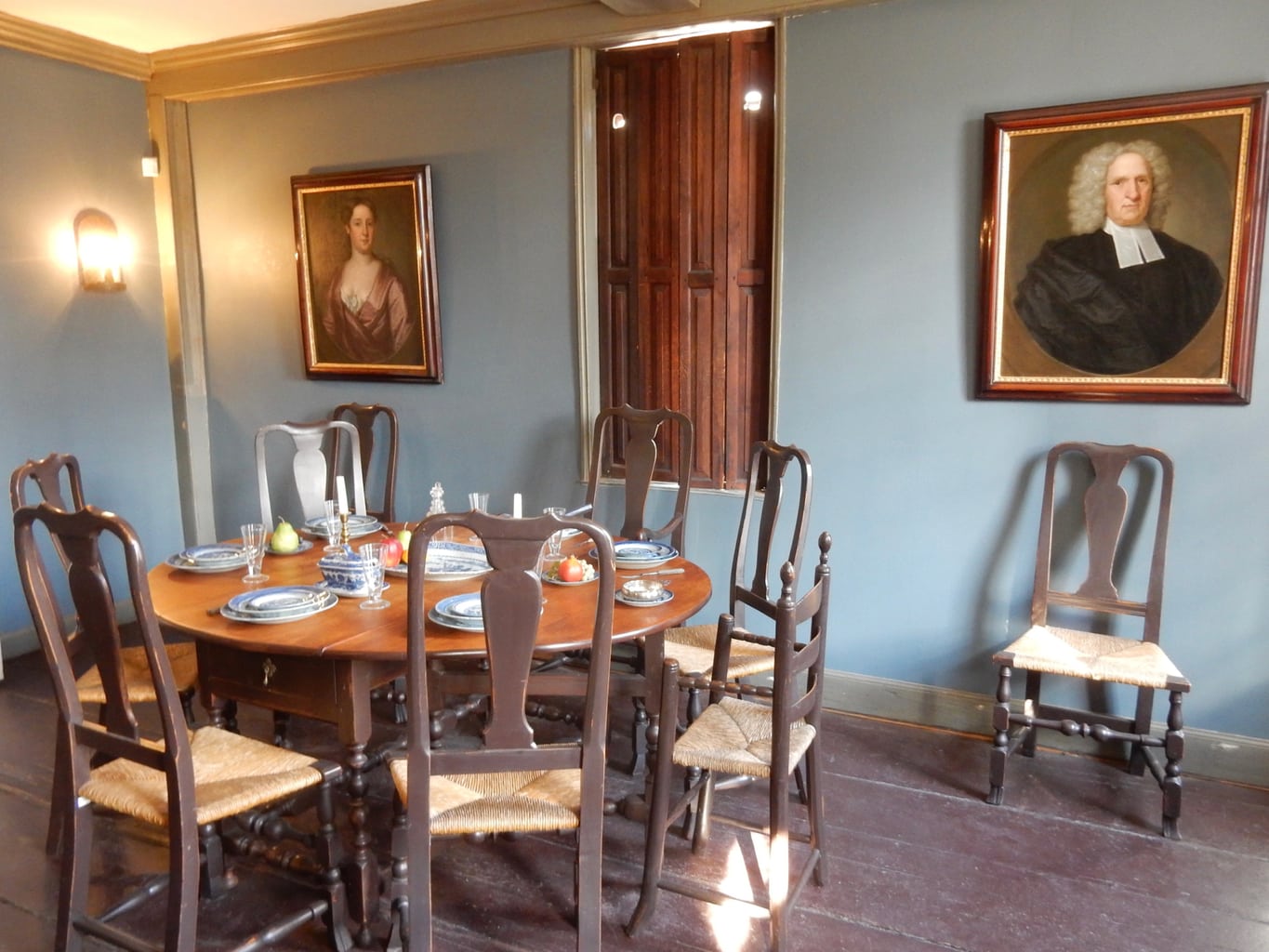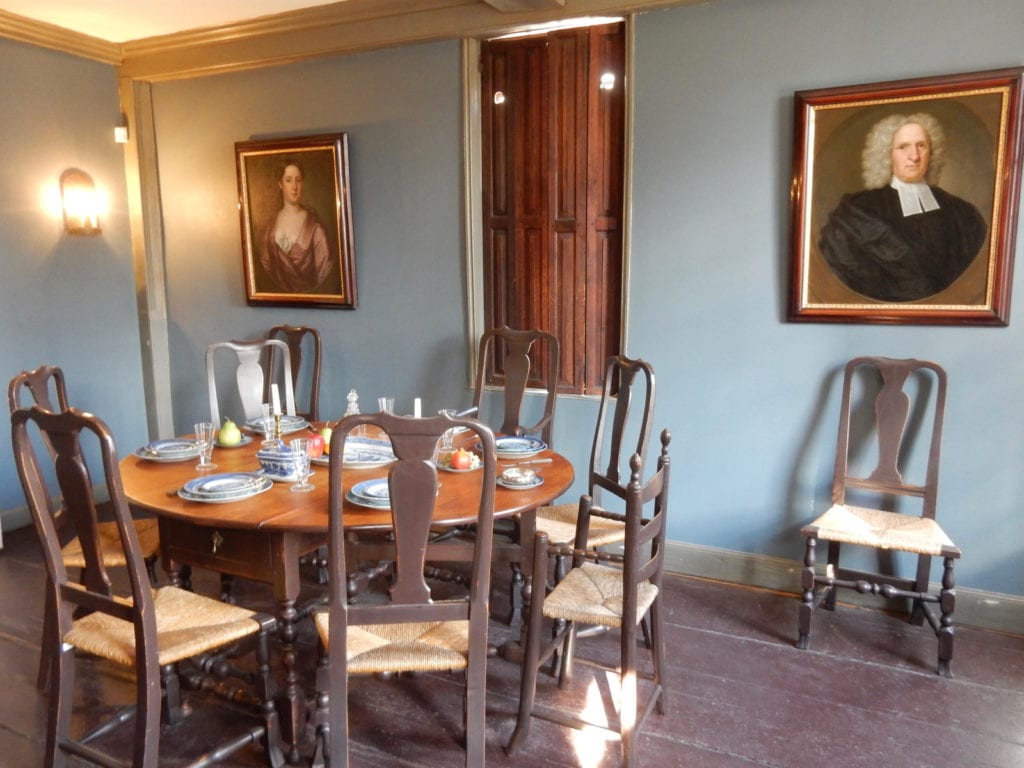 Paul Revere and William Dawes stopped here first to warn Samuel Adams and John Hancock, who were guests of Reverend Jonas Clarke, that "the regulars are out." The British forces had begun their march from Boston to Concord.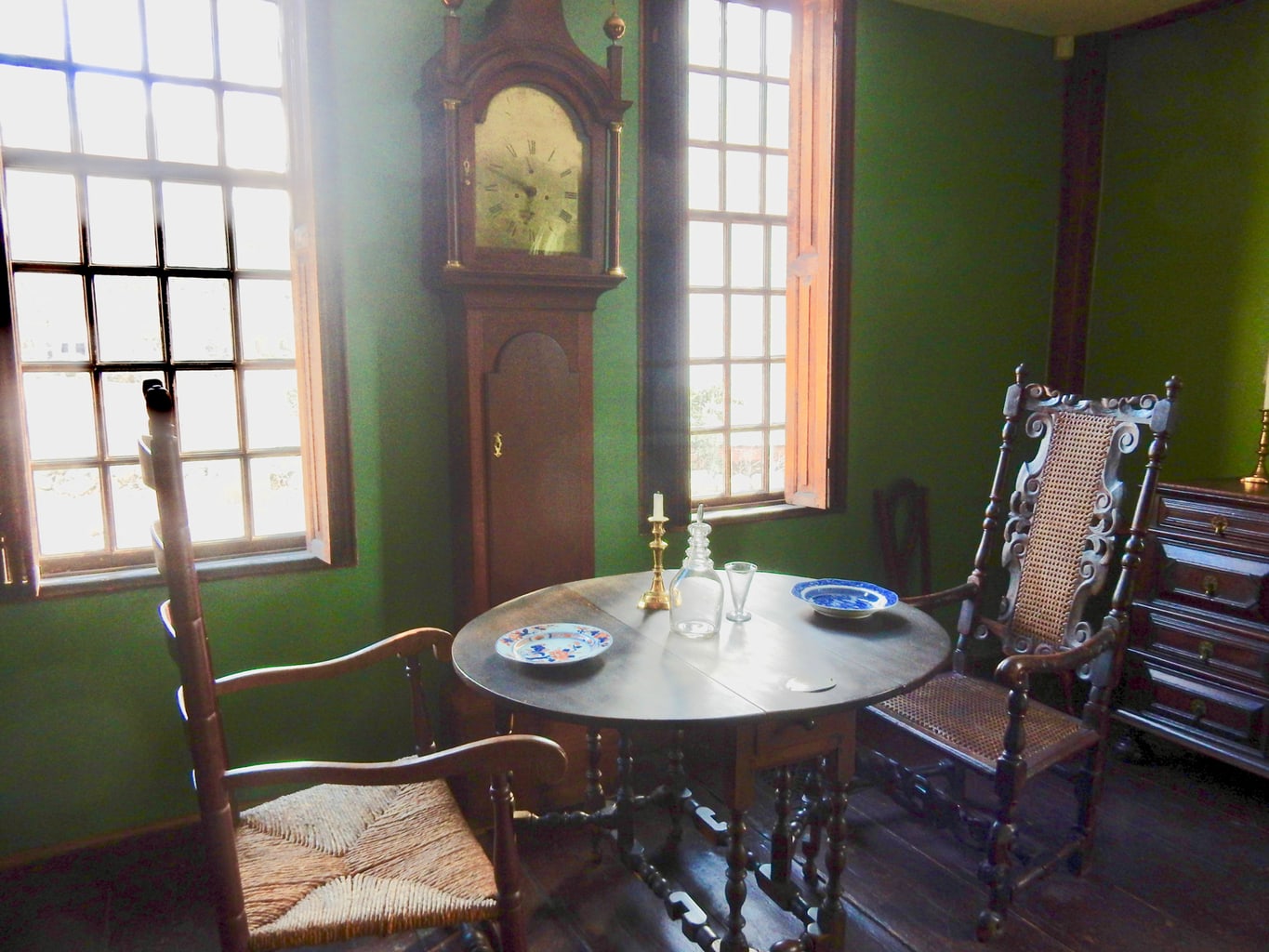 Built in 1737 for Reverend John Hancock, grandfather of the signer of the Declaration of Independence, the parsonage belonged to Clarke (who moved in 1755 after J. Hancock's death), and his family during the Battle.
A tour begins with a terrific, recently filmed, 15-minute video that explains the timeline of that day, and tells the story of the buildup to the Battle on April 19th. Adams and Hancock were staying here when Revere and Dawes arrived in town at midnight. They were able to flee before "the regulars" could capture them.
The Green Room upstairs, where Adams and Hancock stayed before escaping, looks as it did that night, complete with a table where the two would have been discussing evacuation plans.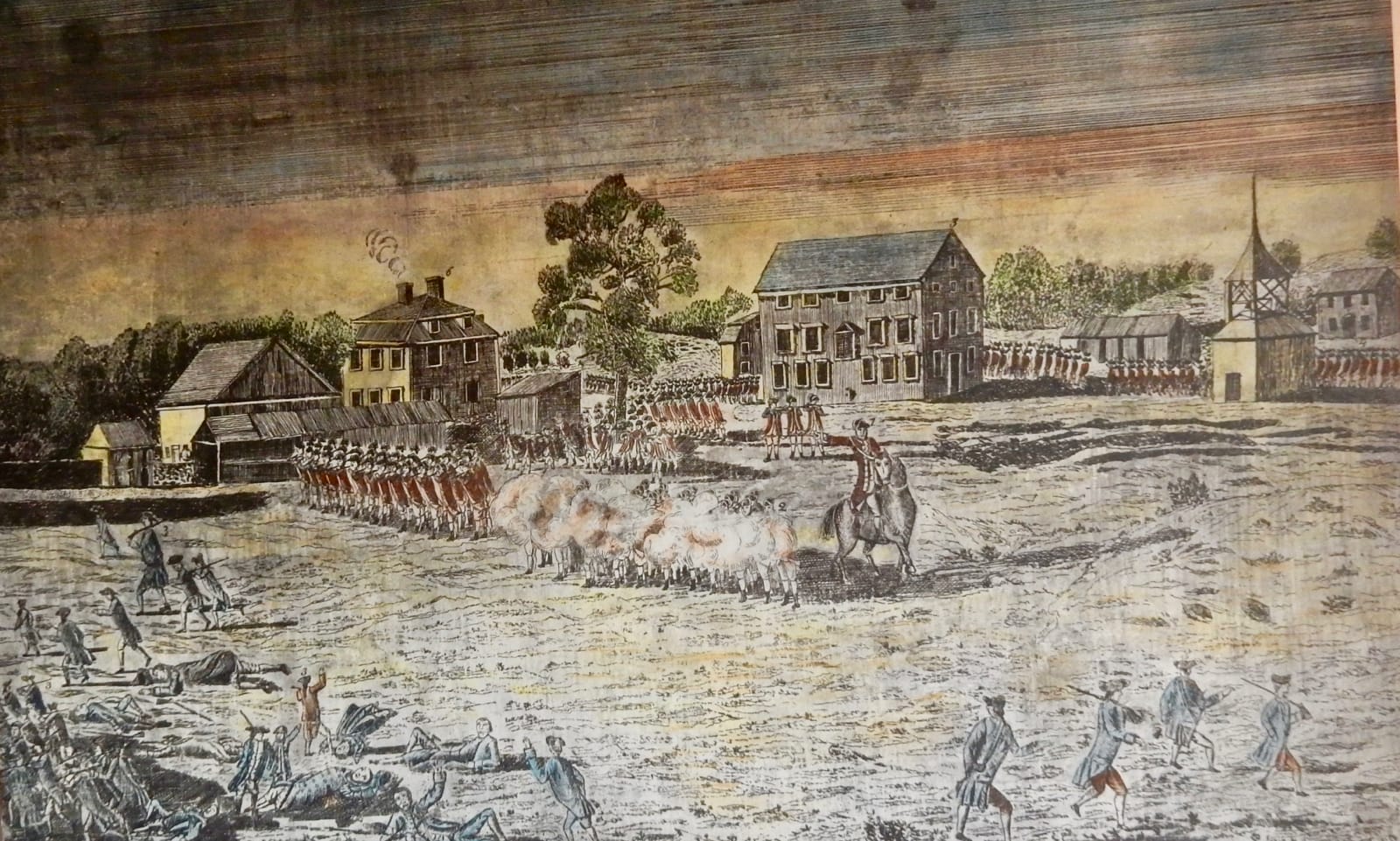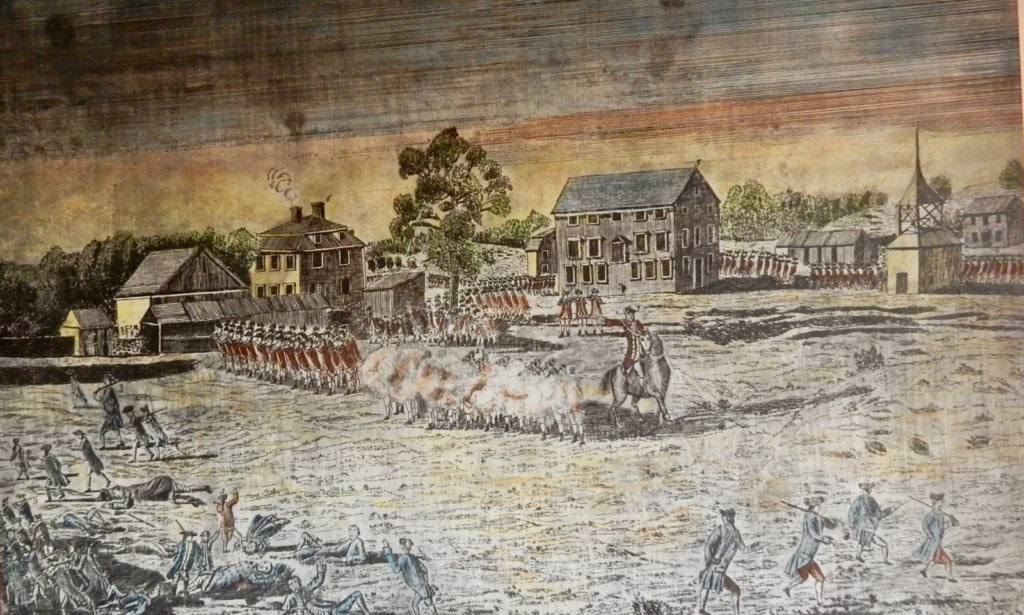 Imagine the chaos of the night when the Riders got there. A letter from Reverend Clarke's daughter describes the battle scene right outside her window. In the aftermath, she, along with other townspeople, walked to the Green to help the wounded and bury the dead. Open April-Oct 10-4, $10.
This 90-minute tour, runs along the Battle Road Scenic Byway from Lexington to Concord. It's narrated by guides in Colonial garb, who recount the events of the morning on April 19, 1775. Runs April and May weekends only, daily Memorial Day to Last Sunday in October, $28 adults, $12 kids.
A mile outside of town, this is where the British took refuge after retreating from North Bridge in Concord. In 1789, George Washington had a meal here. Check website for dates open and entry fees.
VISIT: Scottish Rite Masonic Museum and Library
This unique, ok, quirky, museum tells the story of Freemasonry throughout American History. Open Wed-Fri. 10-4, free.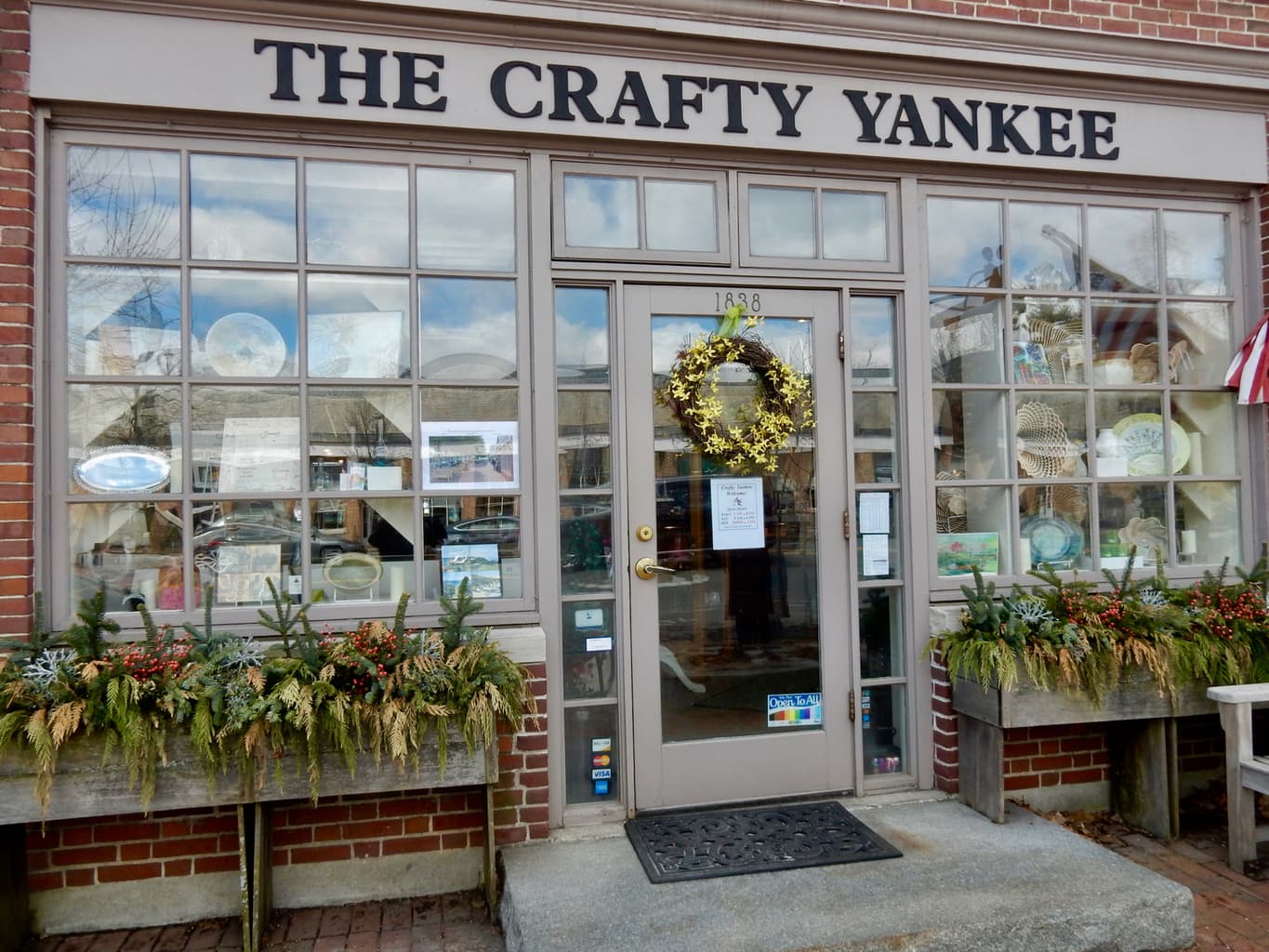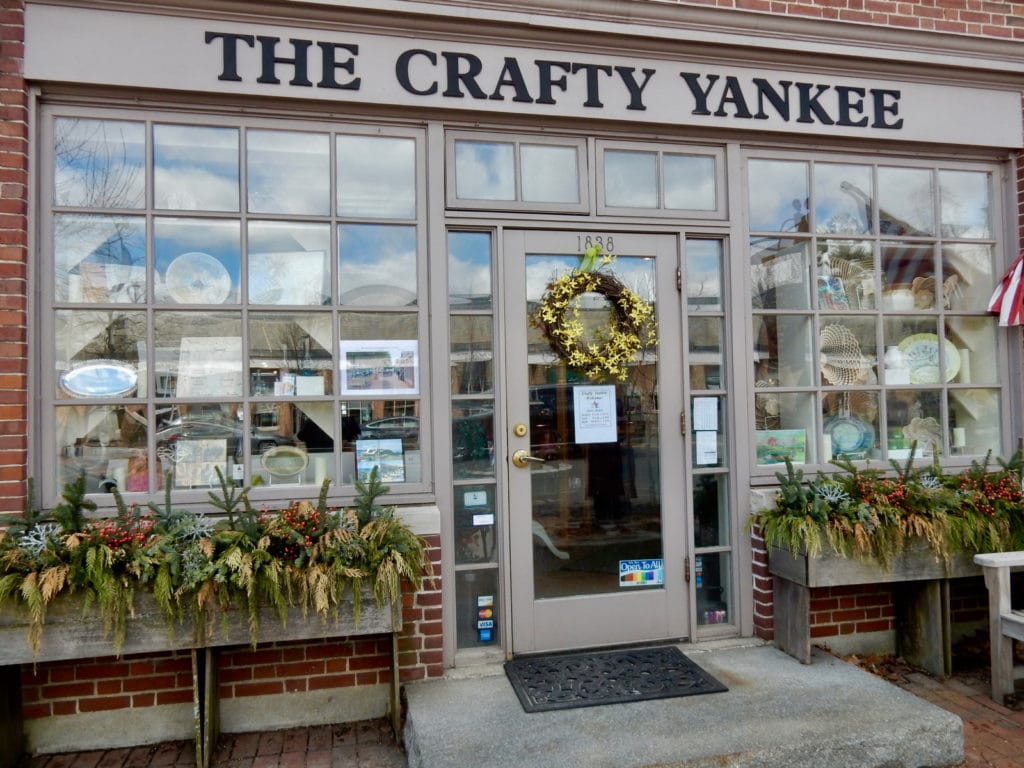 All kinds of Yankee made ceramics, woodwork, jewelry, glass, clothing and more. A fun shop to browse.
Restaurants in Lexington MA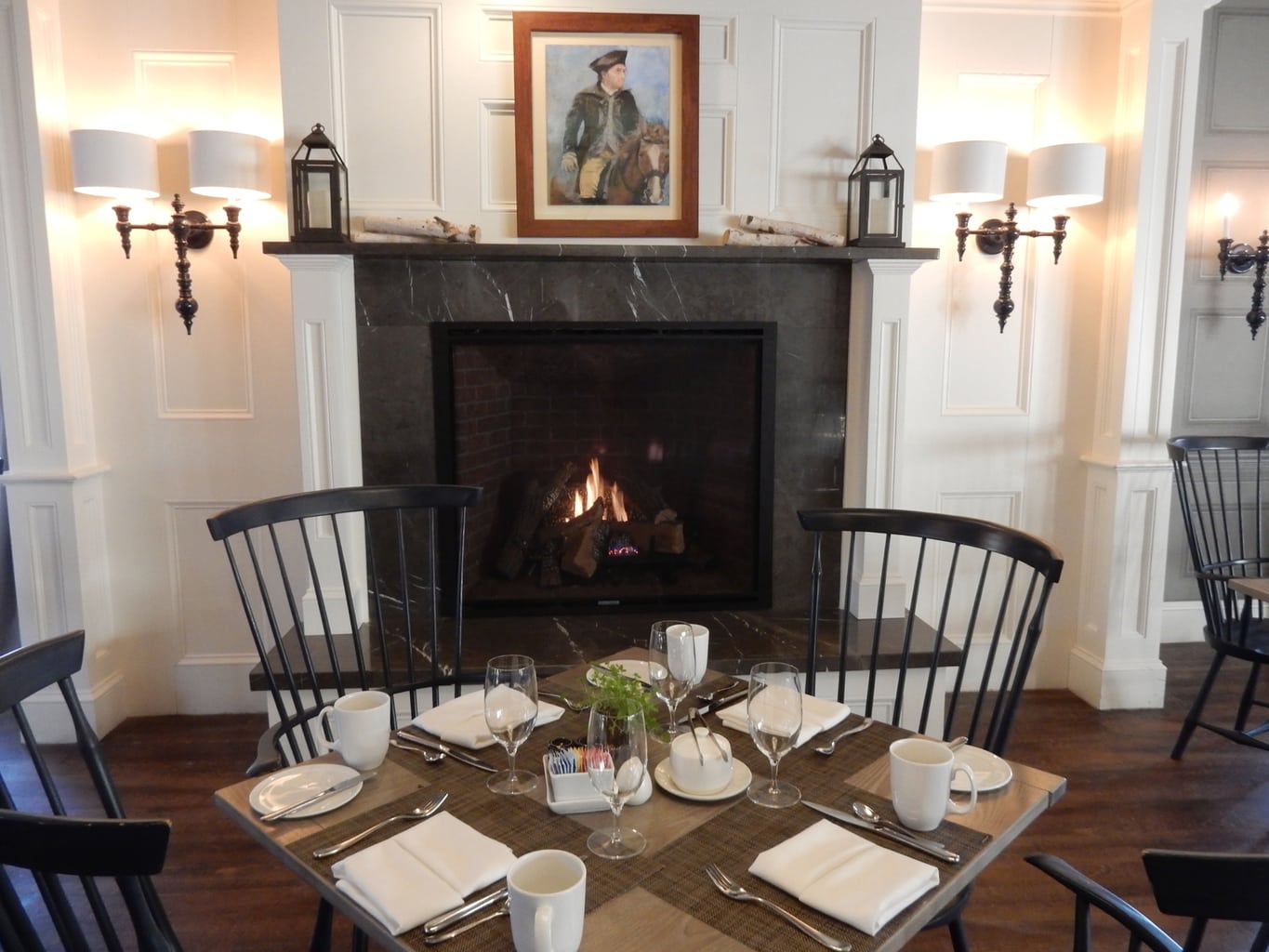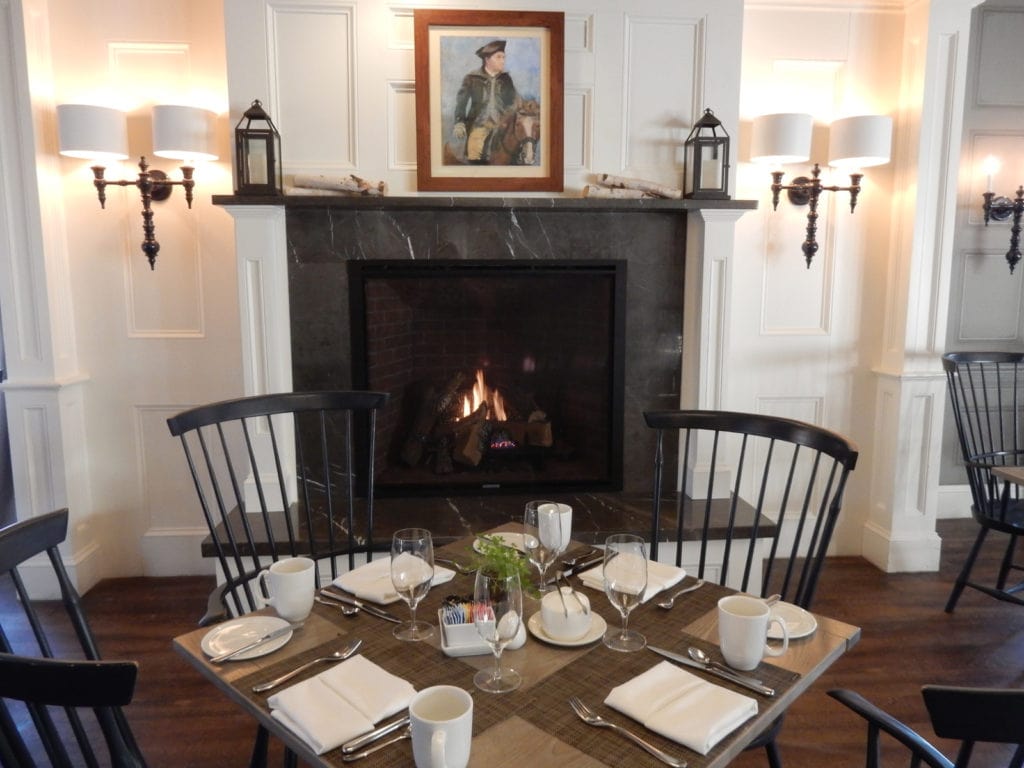 Artistry is on the plate as well, in this fine, American cuisine restaurant. (See Below under Where to Stay).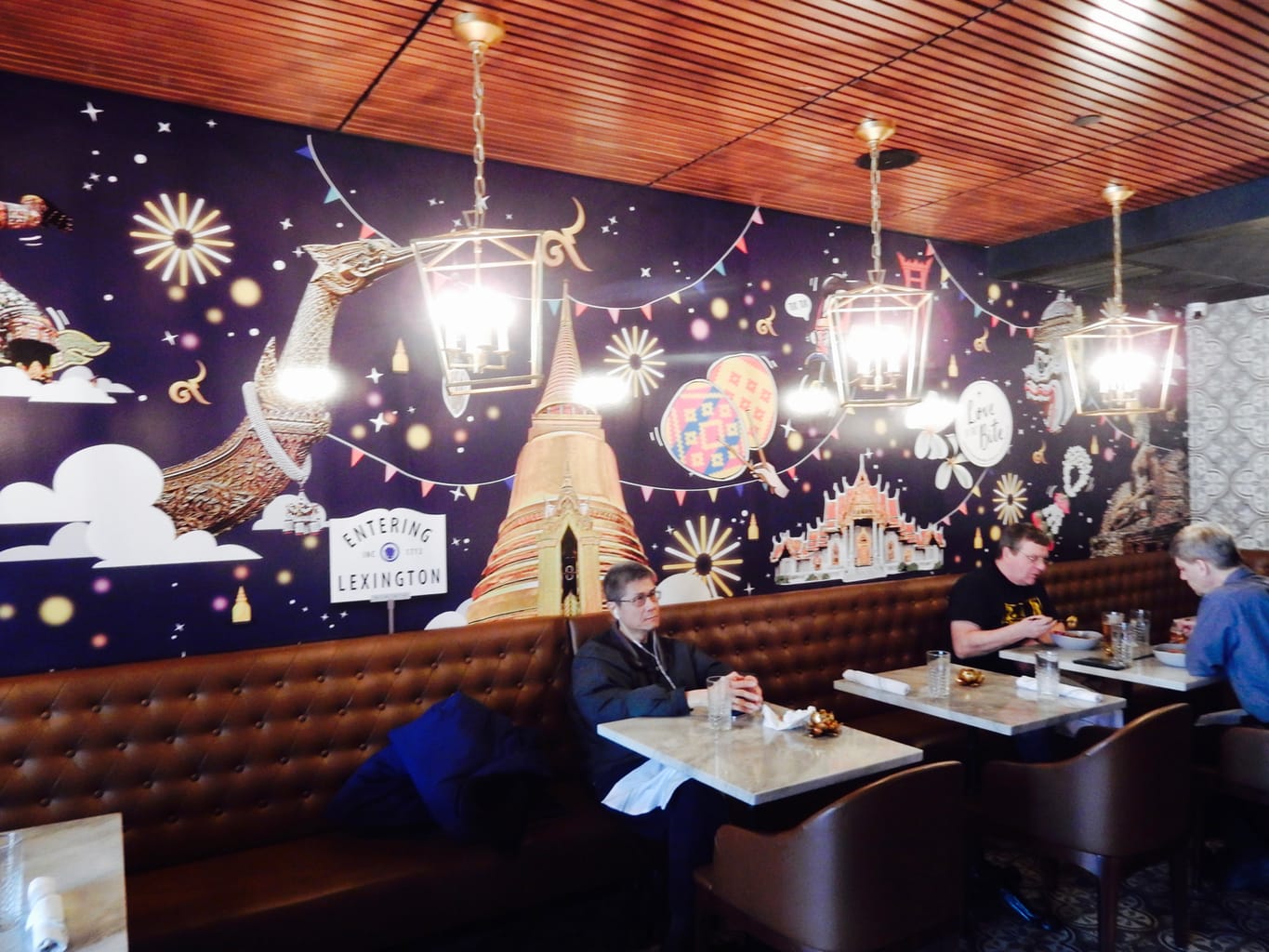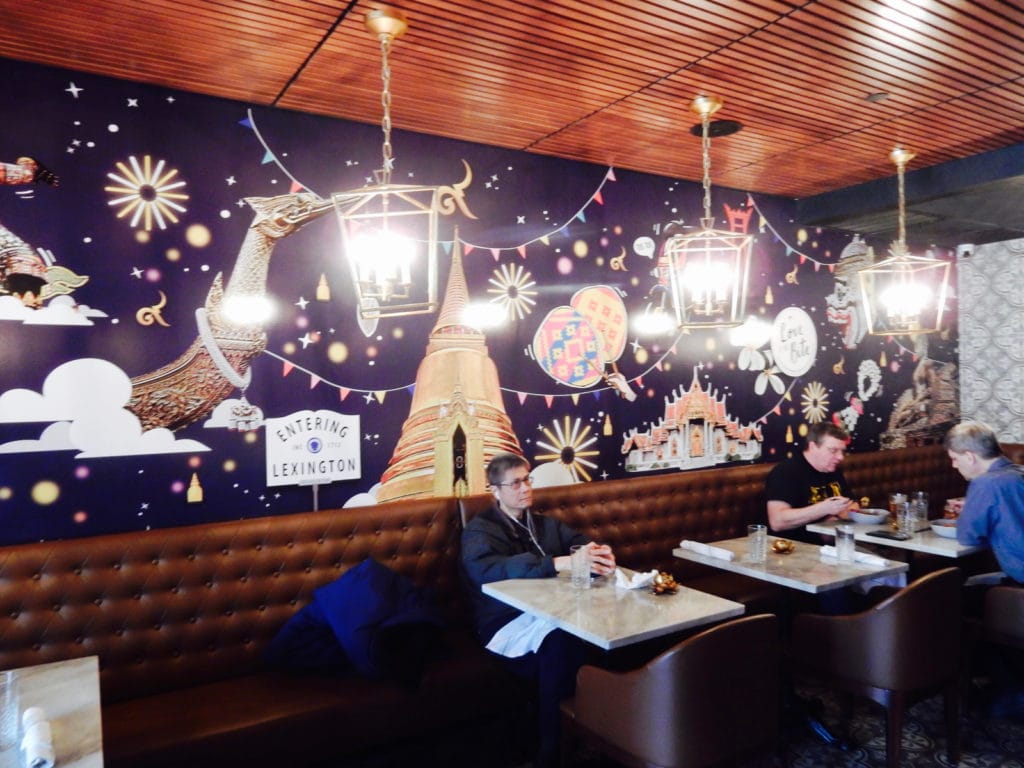 EAT: Locals also love
Love @ First Bite for excellent Thai food in an adorable space (lunch specials at $12 are a bargain). Mario's Italian Restaurant for casual but down-home good Italian. And Lexx for eclectic fare.
OMG – the chocolate mint frozen custard. Abbott's makes the best version of that flavor I've ever mmm'd. Period.
Where to Stay in Lexington MA
The Patriot's Day Parade, commemorating the first armed conflict of America's Revolutionary War, ends right outside the door of the stellar Inn At Hastings Park. Guests have a front row seat to the proceedings from its wraparound porch.
Plus, Lexington's Town Green – where the battle began – is a five-minute walk away.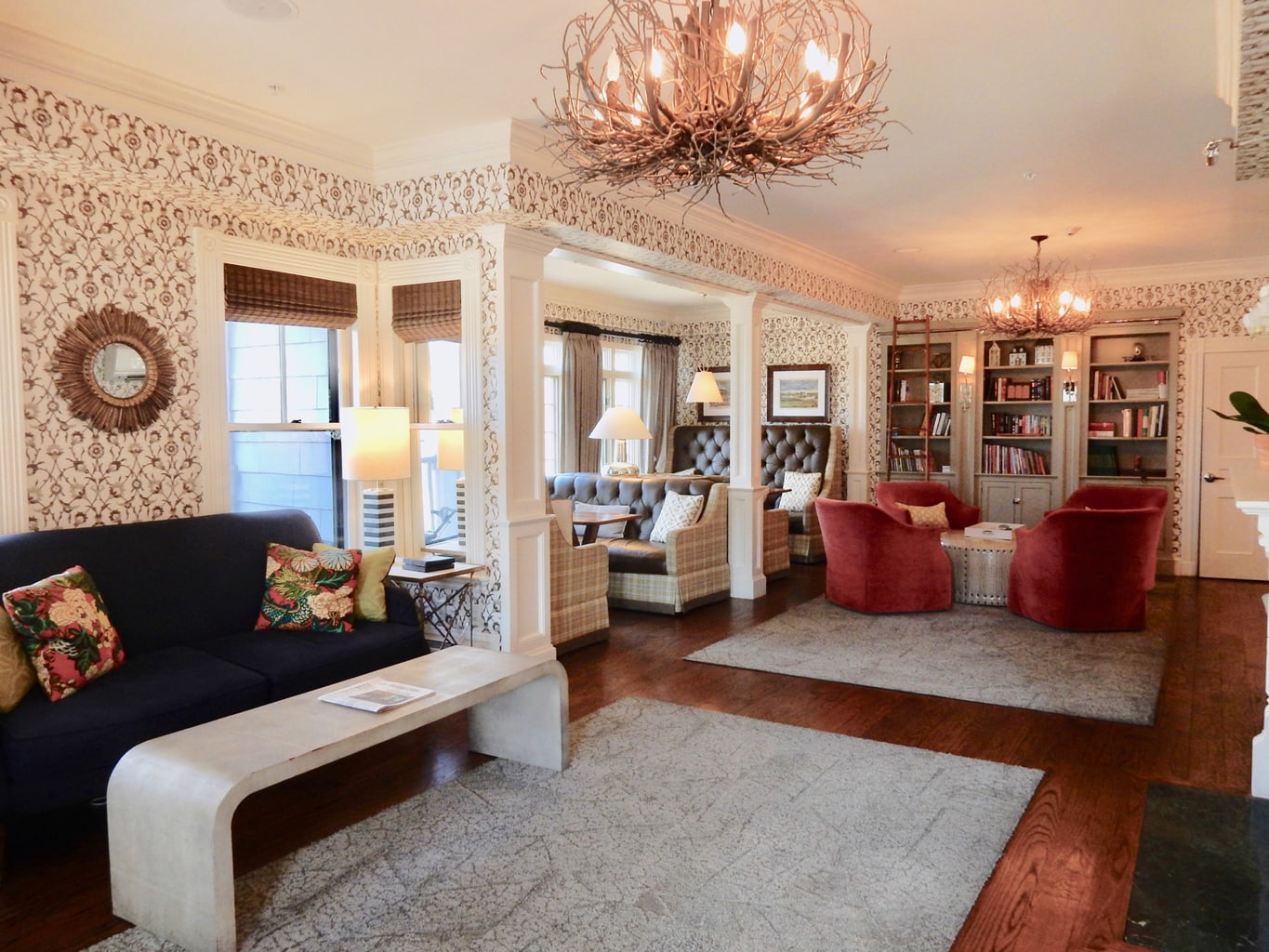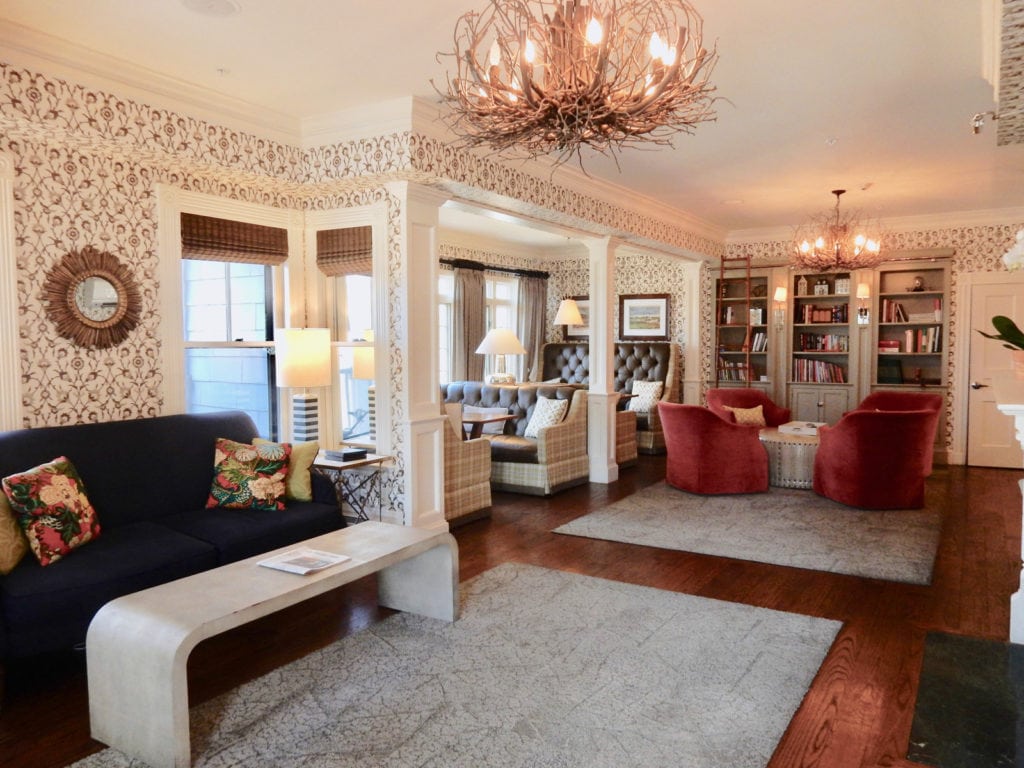 There are only 22 guest rooms and suites, throughout three buildings, in the Relais & Chateaux flagged Inn At Hastings Park. (It was listed on Travel + Leisure Magazine's Top 100 Hotels in the World in 2016 and 2017). Each is a perfect example of Patriot Chic: American Flags feature prominently in elegant, modern-traditional rooms.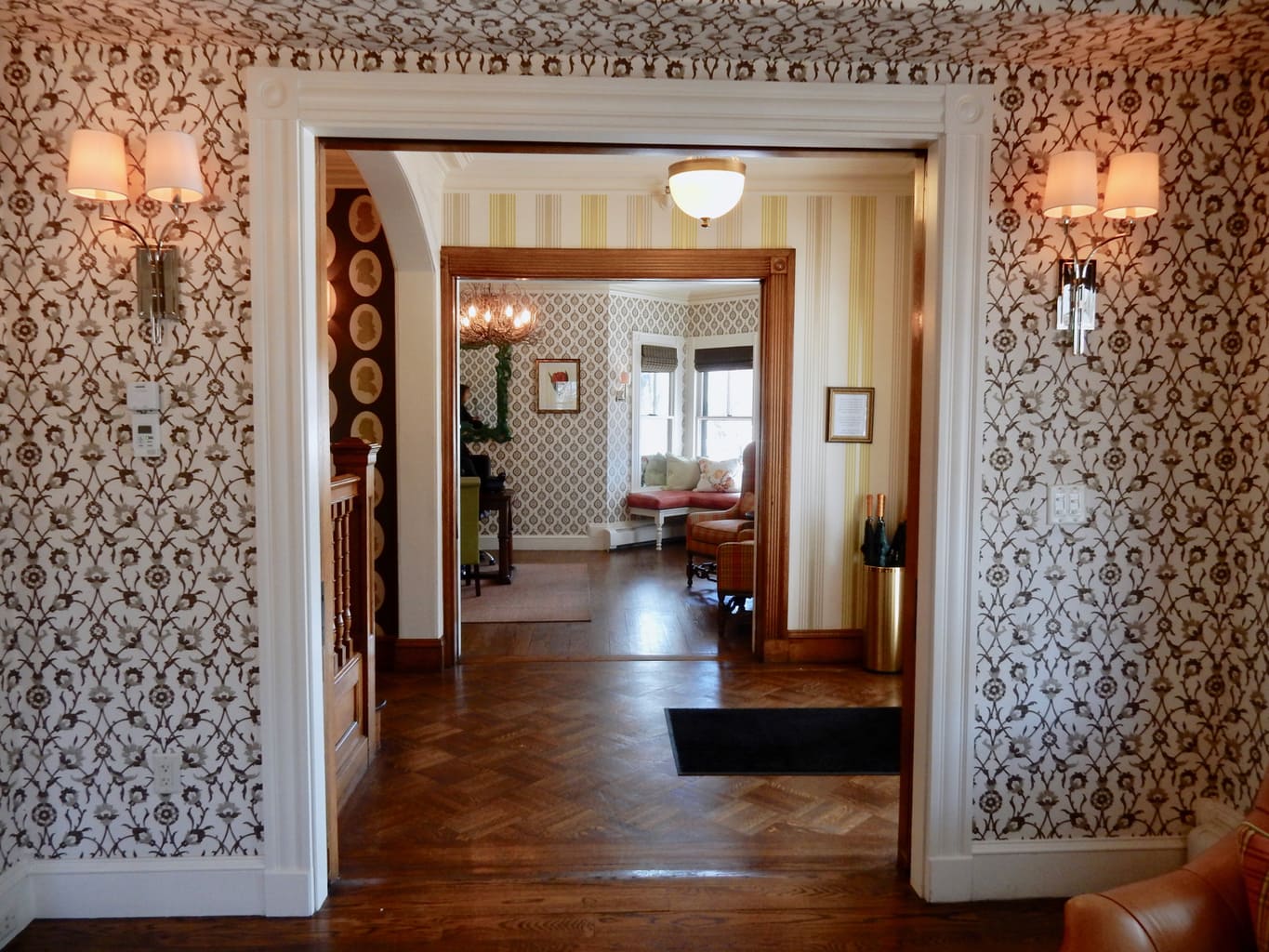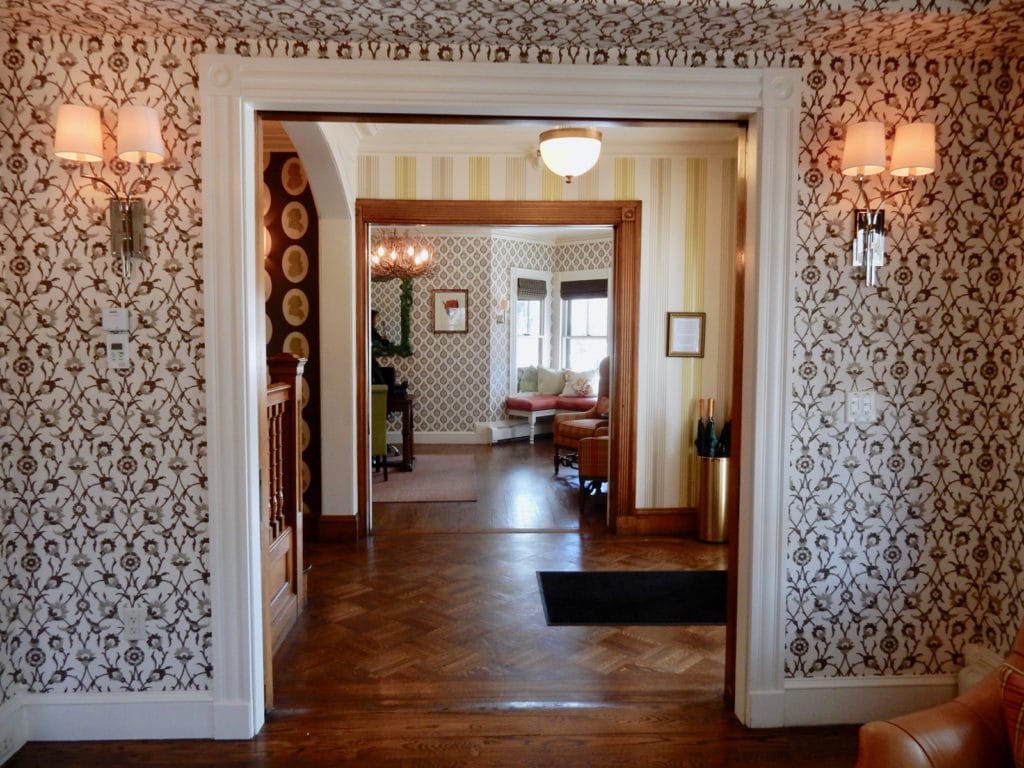 The main – and largest – structure, built in 1888 as a summer home for a wealthy Boston family, served as a senior assisted living center, Dana House, from 1916 until recently, and run by the Lexington Home for the Aged.
A second building, built in 1850 by clockmaker Isaac Mulliken, houses several guest rooms. And the third structure, The Barn – the smallest containing two suites – was rumored to have been a casket factory at one time. They are all within steps of each other.
First Impressions of Inn At Hastings Park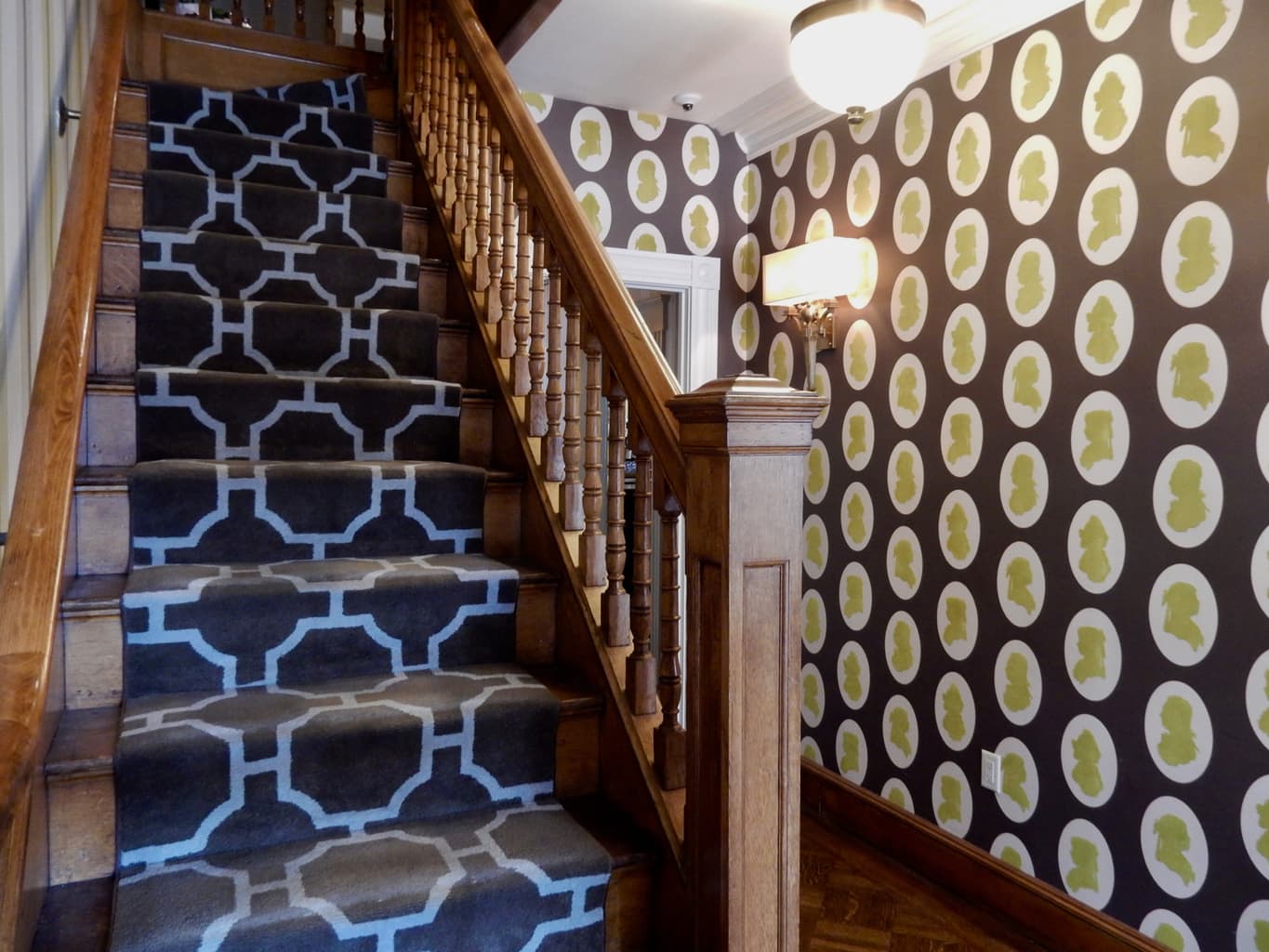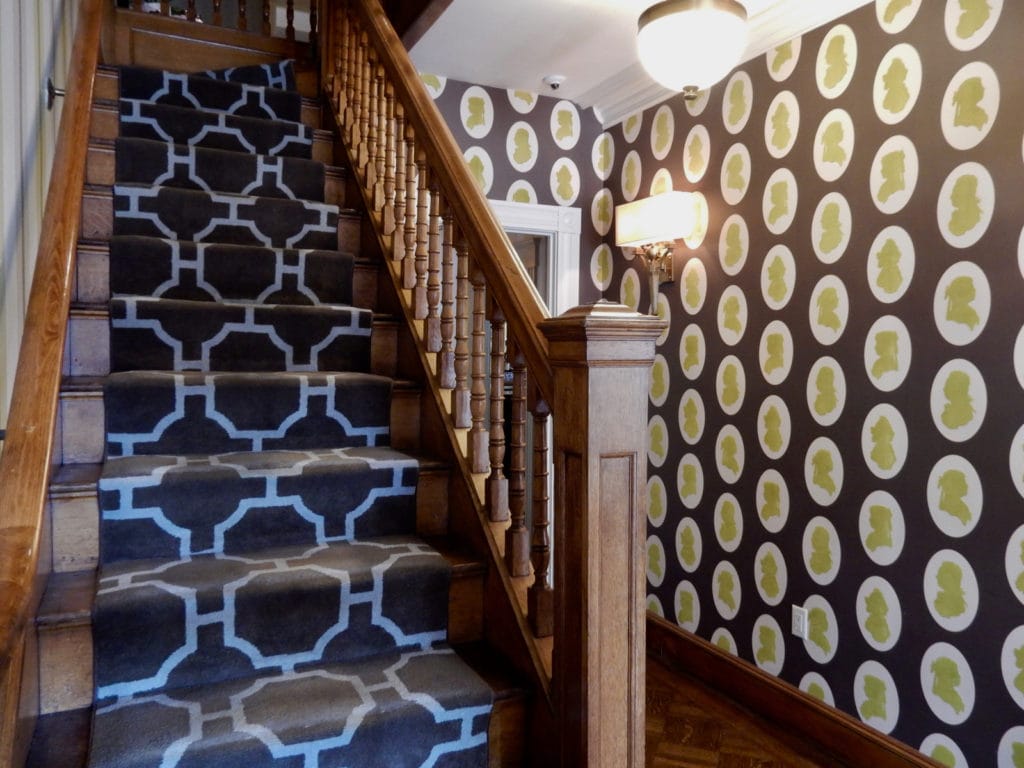 No wonder this inn has won so many accolades. Not only is it stunning and the first upscale lodging in Lexington to address a growing number of luxury-seeking American History buffs, but the people here are genuinely nice.
If you expect a pretentious greeting or experience, you won't find it here. Reception is warm and helpful – even at the on-site restaurant, Artistry on the Green – heralded as the top eatery in town.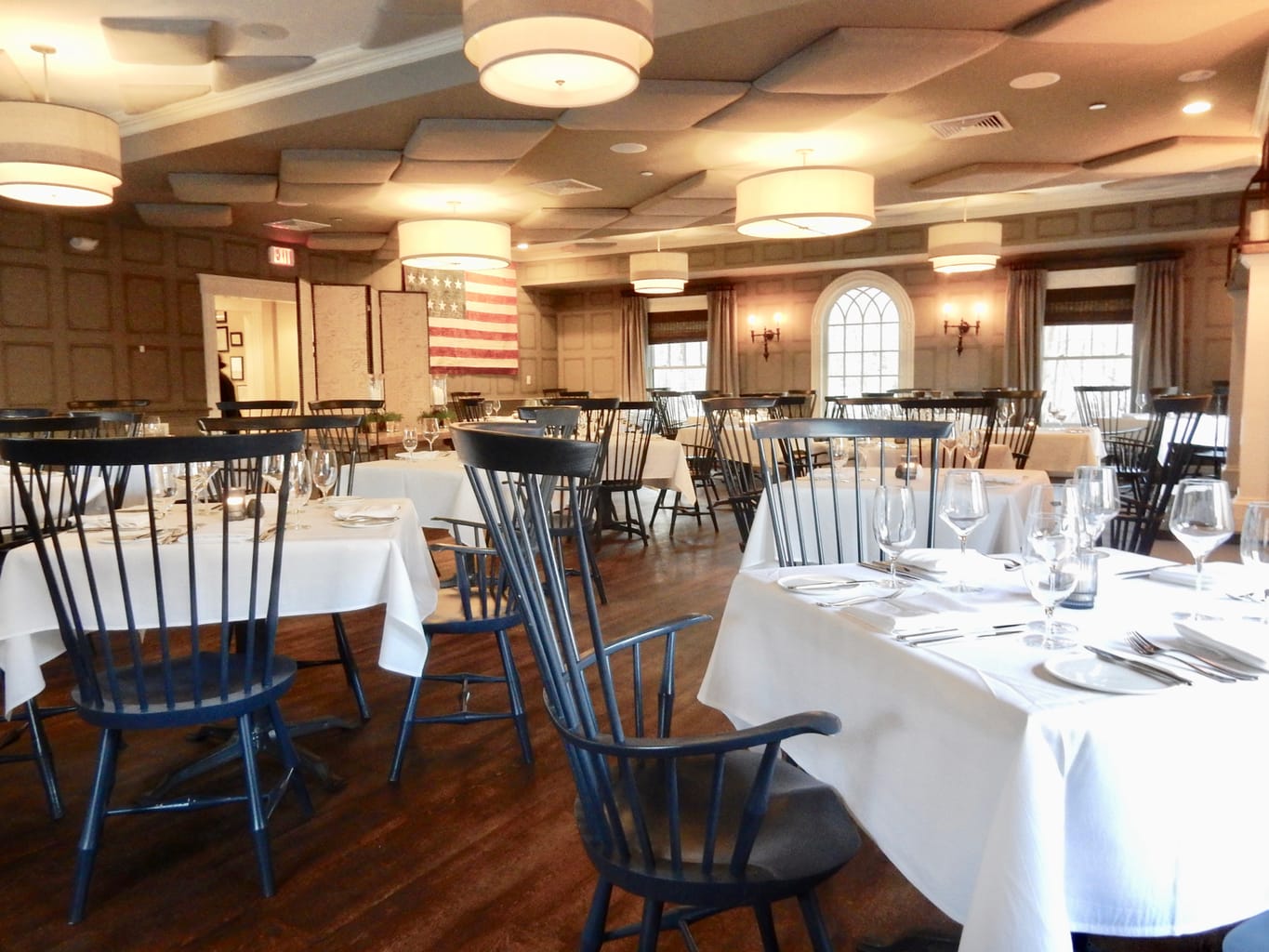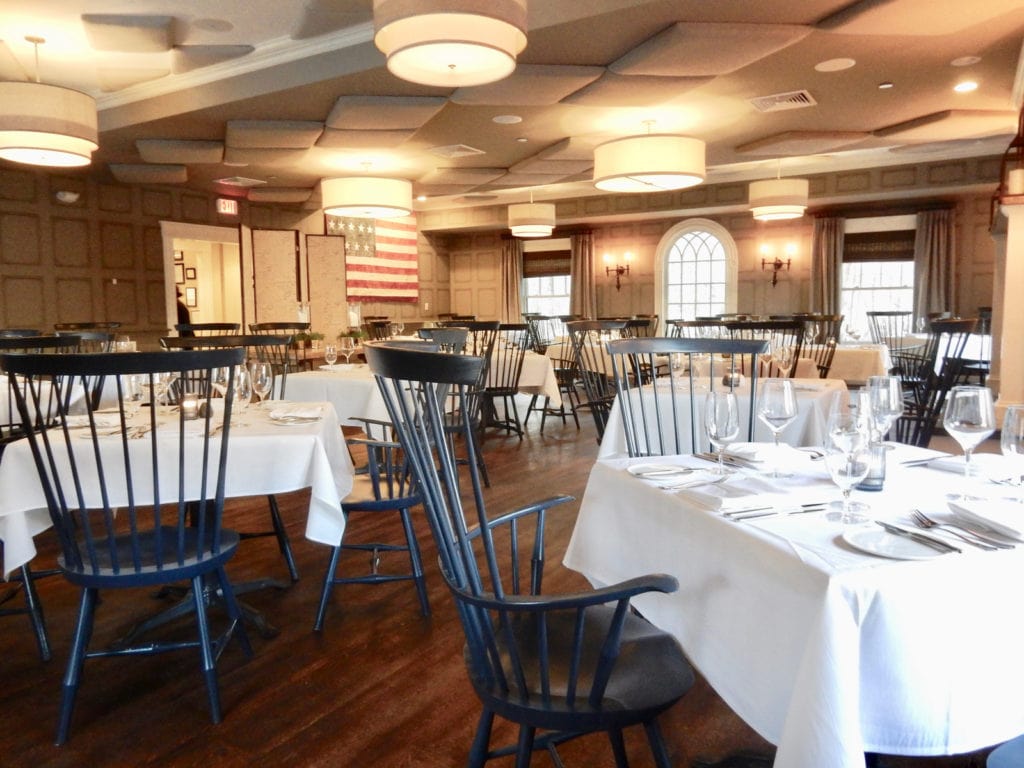 Inn owners hired local award-winning interior designer, Robin Gannon, a former criminal defense attorney with a penchant for sumptuous eye pleasing (and sometimes eye-popping) ensembles, to spruce up the place.
Common rooms in the main building are whimsical and colorful, with wallpaper and seating in surprisingly vibrant Colonial-era shades and wild patterns. Minuteman-modern guest rooms feature all the creature comforts you'd expect from a top-notch lodging.
Rooms at Inn At Hastings Park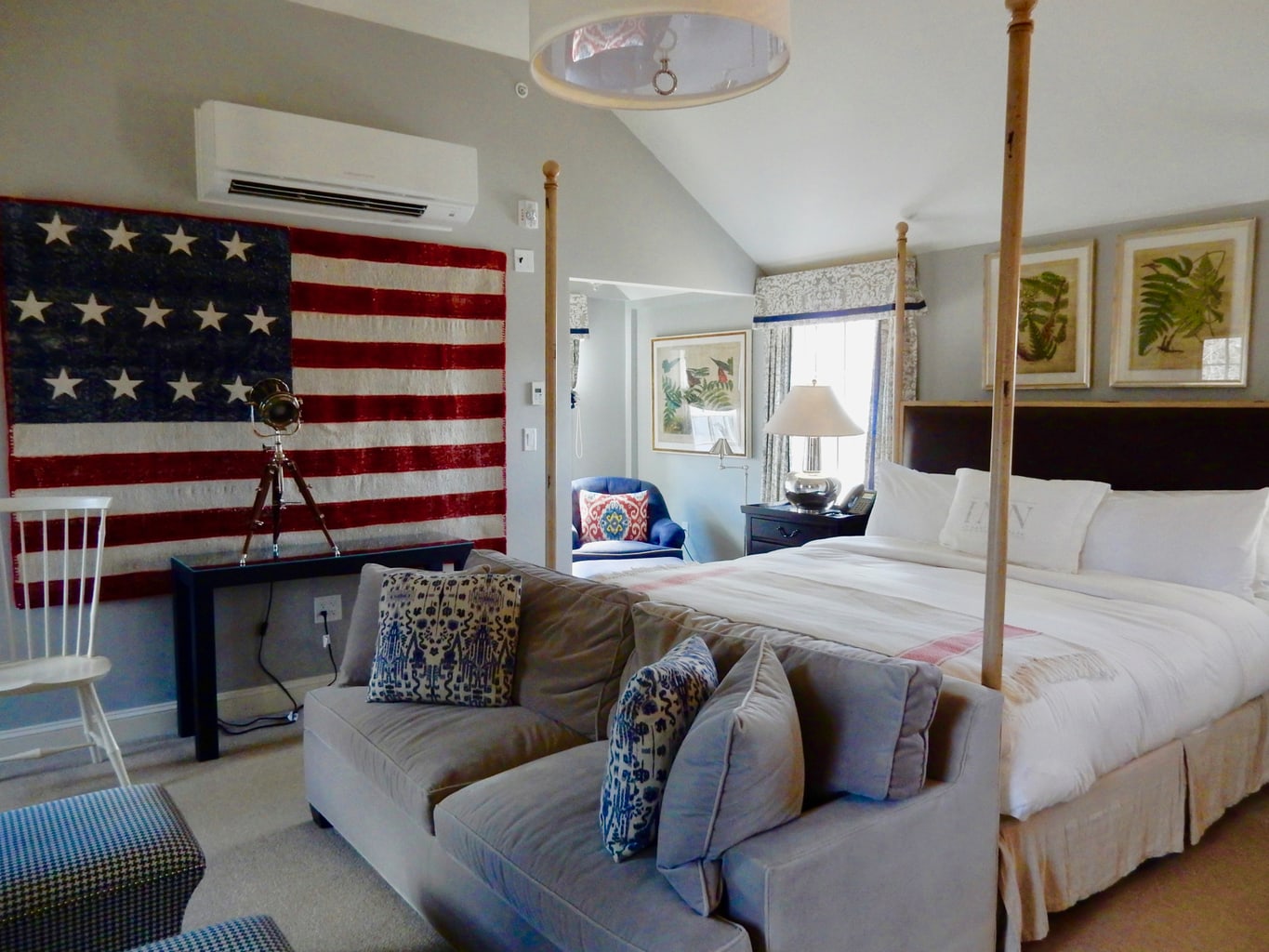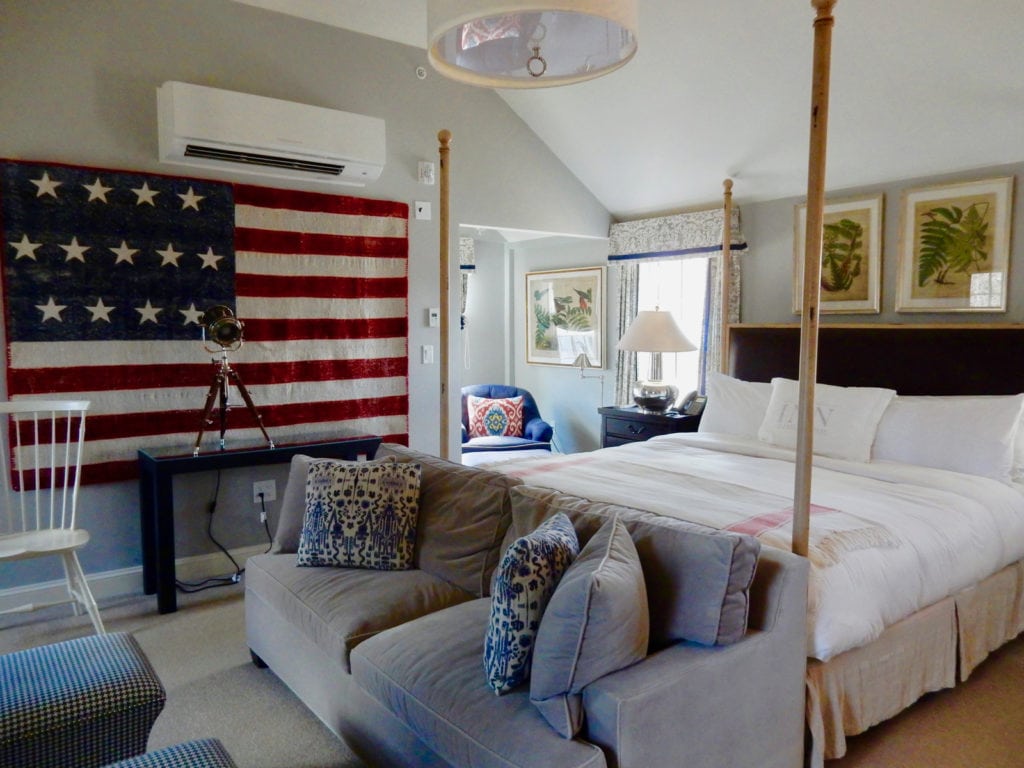 Suite #22, upstairs in The Barn, is sizable and contempo-colonial. High ceilings, grey walls, gas fireplace (fired up for my arrival), four poster bed, bulbous mirrored lamps on nightstands, stuffed couch, upholstered chairs, 42" flat screen TV, plus touches like a woven 13 star US Flag and table-top klieg light, marry Federal to modern Boomer splendor.
Turndown provides a history lesson with a bit of chocolate. Mine – the fact that Paul Revere was just one of 40 riders that fateful night. But Henry Wadsworth Longfellow's poem, Paul Revere's Ride, effectively committed the others to obscurity. Until now.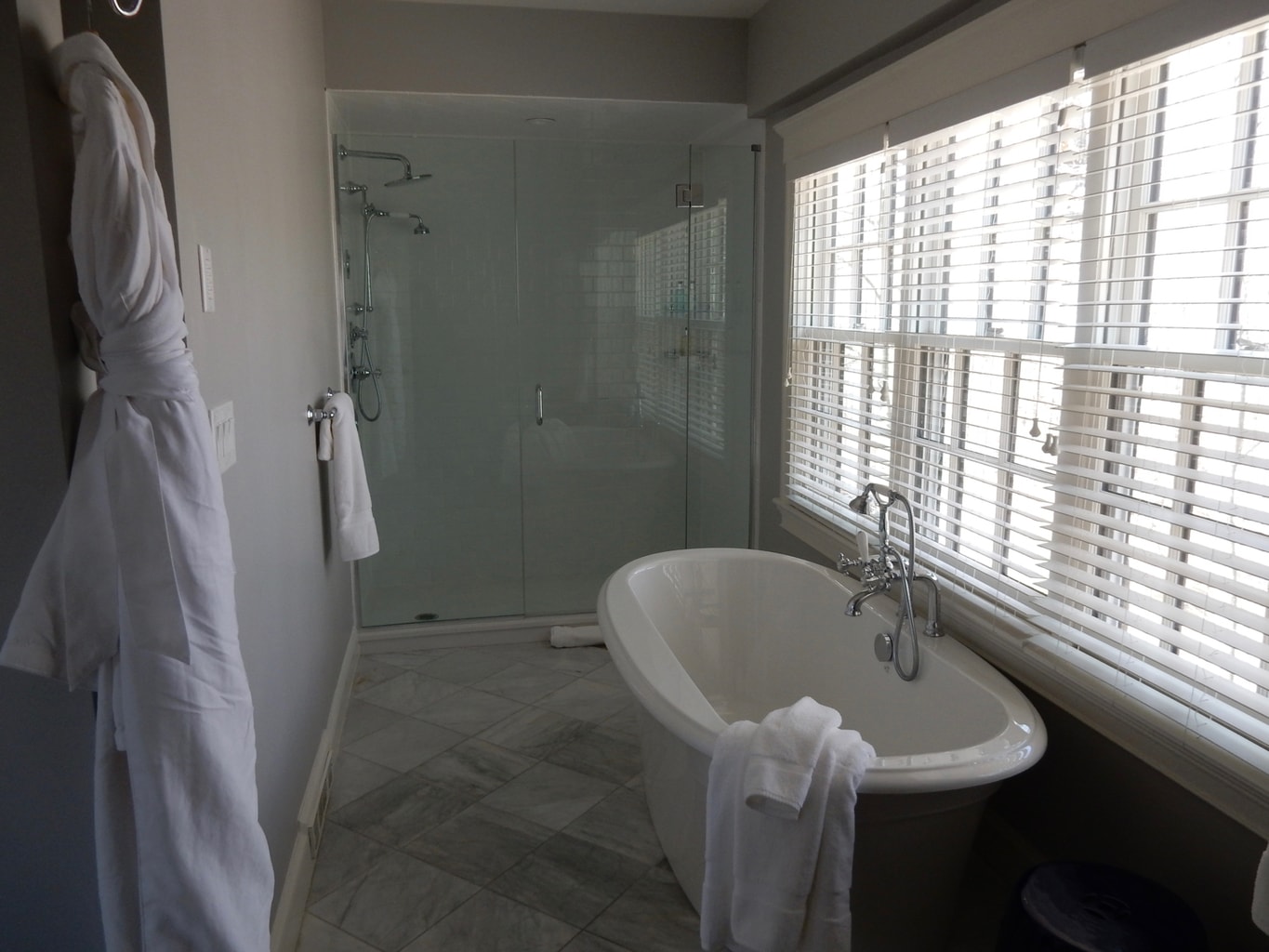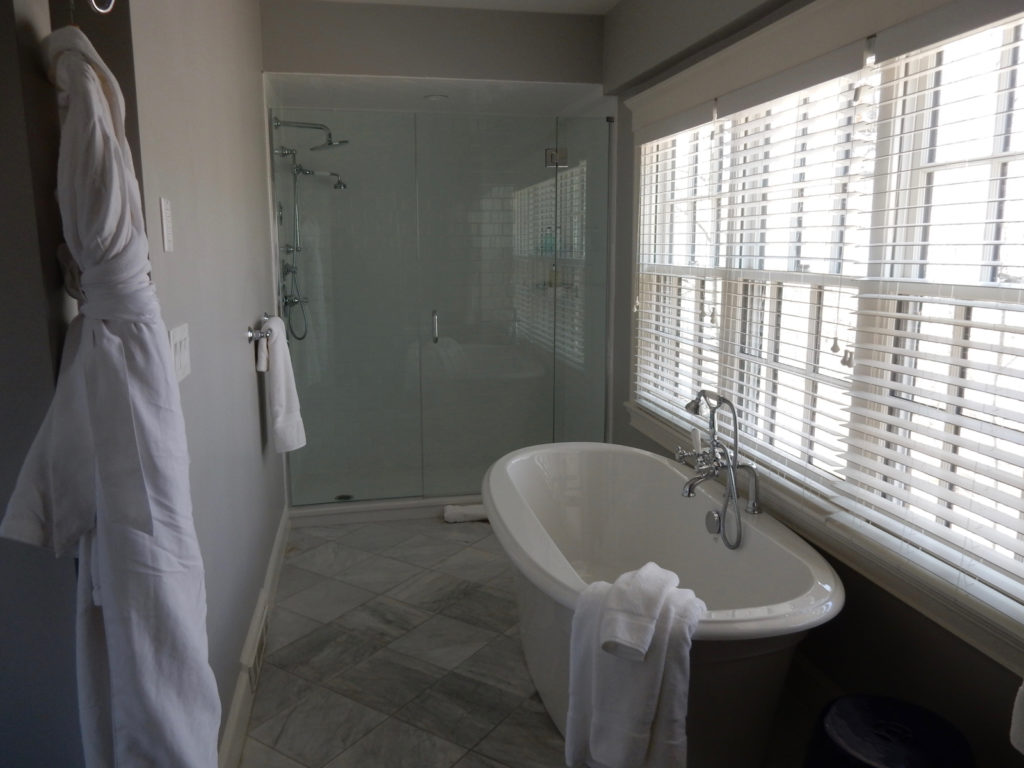 Bathrooms done up in white marble and bright subway tile, with double glass shower and soaking tub feature full bottles of face and hair products. No little bottles to topple landfills!
Dining at Inn At Hastings Park: Artistry on the Green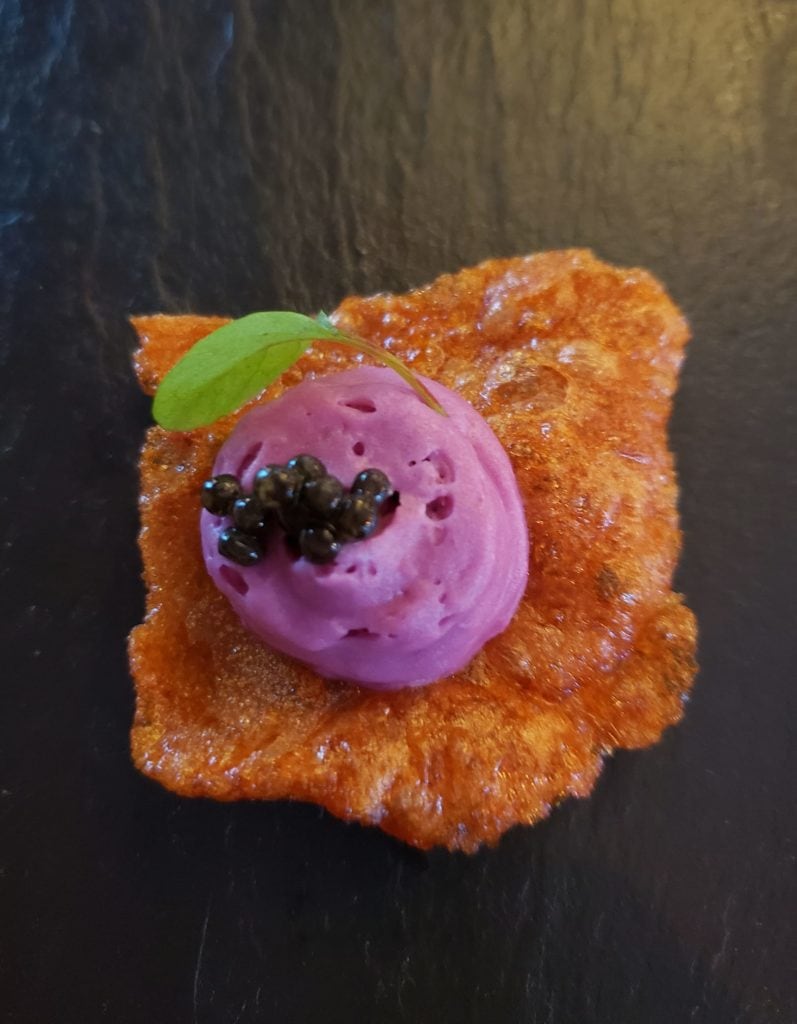 Artistry is certainly on the plate as well, in this fine, American cuisine restaurant. Starting with an "amuse bouche" that could double as a piece of pop art (here scallop cracker topped with smoked purple potato mouse and Sturgeon Caviar served on a small black slate), order Mushroom Risotto ($32), Cauliflower Steak ($24), Clam Chowder, Roasted Broccoli Salad ($14) and other tweaked New England fare.
Rooms and suites from $285-$550 includes parking and wi-fi. Sign up for the Pint Sized Patriot's Package. Do so, and each kid receives a tri-cornered hat and other treats at check-in.