Last Updated on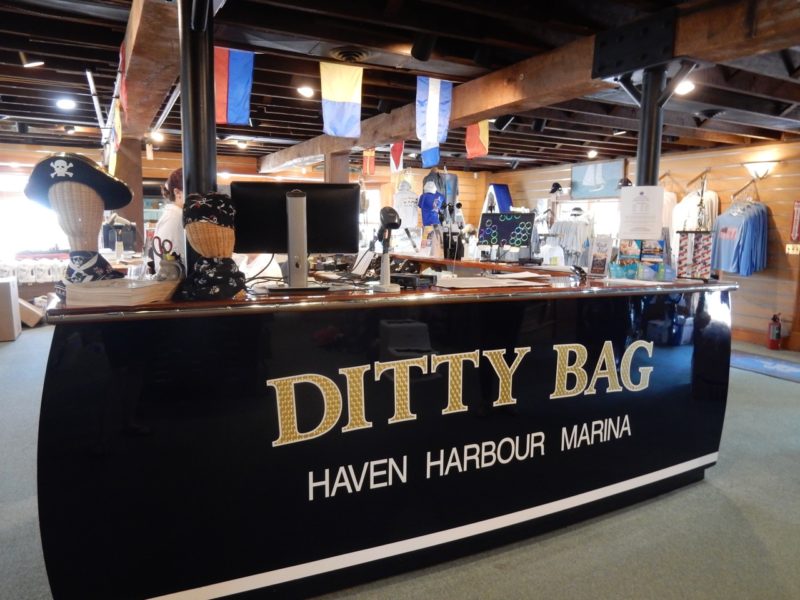 WHY GO: You won't believe who washed ashore and stayed in Chestertown, Betterton, and Rock Hall MD in Kent County on the Upper Chesapeake. There's a Bobby Flay/James Beard House/NY Bistro Philly born Chef with her own restaurant in a population-300 beach town. There's a retired Ivy League college professor who opened a shabby chic Music Hall with 125 seats, and enticed jazz great, Charlie Byrd, to play.
There's a brilliant antique appliance restorer who left the Defense Department after 35 years to follow his passion, a furniture maker who has made it his life's work to help others create their own heirlooms, and much more quirk in an achingly beautiful region where everyone seems to have a back-story. Craft a bench, take a sunset cruise, swim in a clean, nettle-free beach, listen to some new World Music, and stay in a luxury bayside inn or retreat on this Tidewater Getaway.
Things to Do in Kent County MD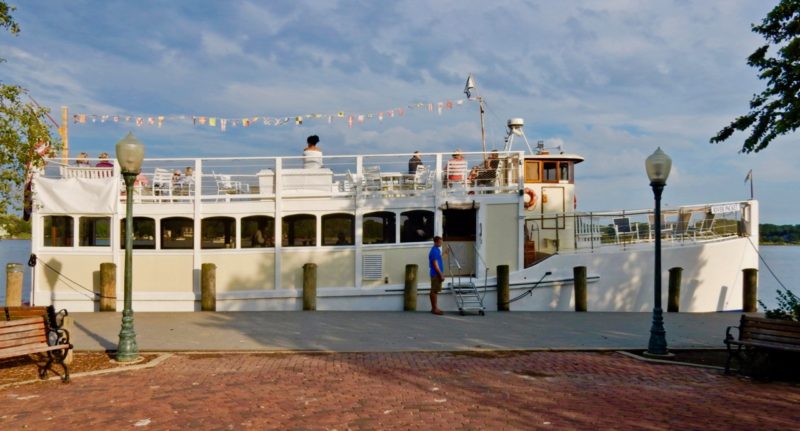 TOUR/BOAT: Chester River Packet. Sailing up and down the Chester River at sunset is one of life's great pleasures, especially if done on a 1920's style wooden yacht with a drink in hand. The Sunset Dinner Cruise offers a modest ham and salads dinner buffet (with cash bar), for just $30 pp.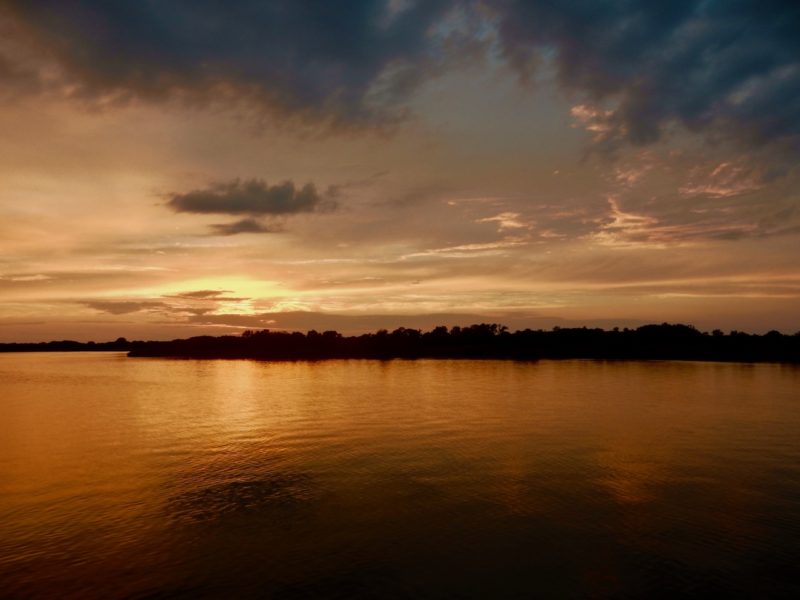 But the star of cruise is the riverscape and the spectacle of shadow, light, and color as the sun goes down. This mellow excursion seems to attract a bevy of girl/guyfriend groups, romantics, and anyone who revels in the communal celebration of days end. $30pp for 2-hour tour includes casual buffet style dinner.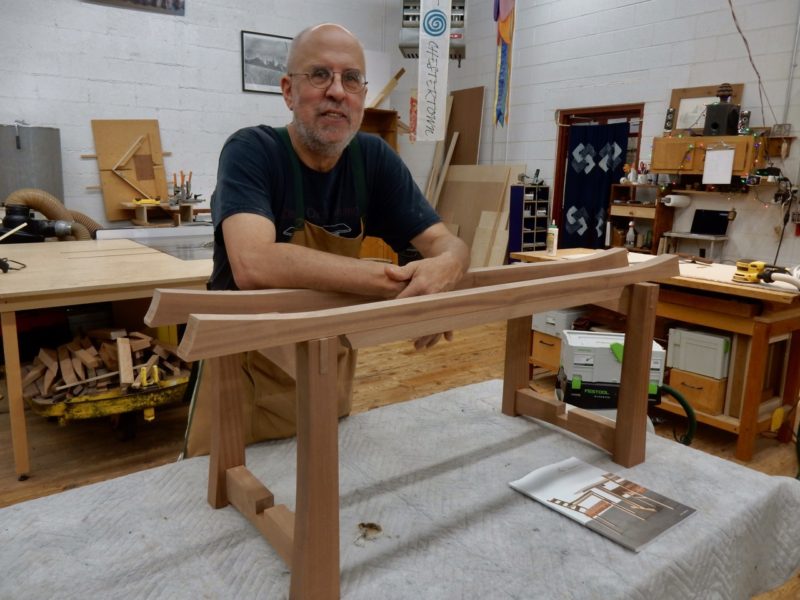 MAKE OR BUY/FURNITURE: Robert Ortiz, Furniture Maker, Chestertown. Robert Ortiz has been fashioning Shaker and Japanese style furniture in this studio for 22 years and came to a stunning revelation when he helped a client make a piece for his home. The man returned twice more in order to build the same thing three times. Turned out, this customer had three sons who all coveted the same console table he'd made with Ortiz's help.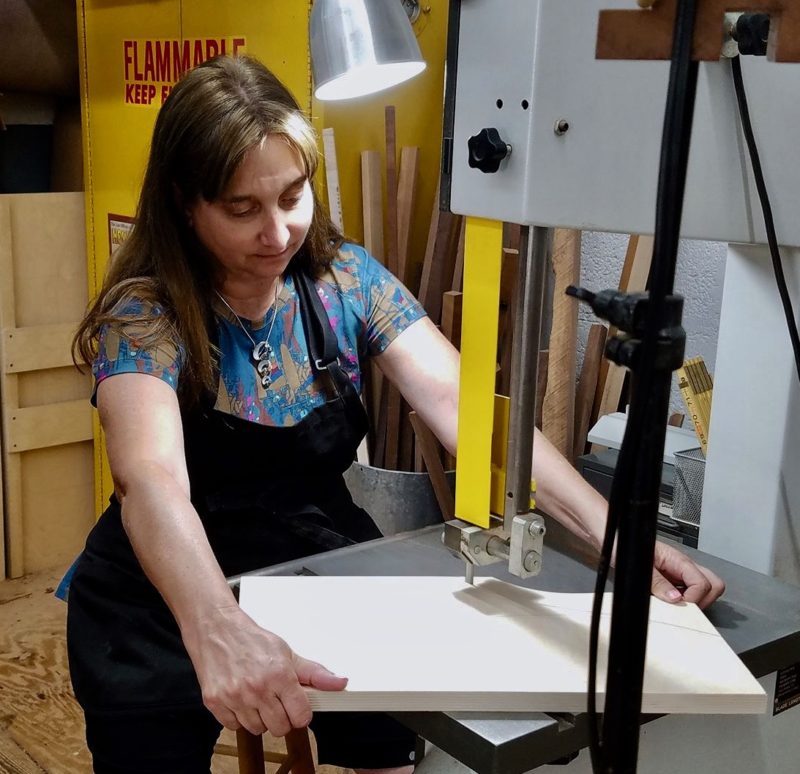 Studies have shown that Millennials don't want their parent's "stuff," but will accept an heirloom made by Mom or Dad, especially if said heirloom is a striking wooden bench or table. So, Ortiz decided to open his furniture workshop to the public for 5 day workshops – one on one – where he guides crafters through the process of wood selection from the mill, and then through design, joinery, and finish, using the same tools, jigs and fixtures he's developed over the years. At the end of five days, you take home an heirloom-worthy piece of furniture. This is not, says Ortiz, a "Master Class." The daily sessions are project oriented and an experience. "You'll walk away with furniture you'll treasure the rest of your life." 5-Day Workshops from $2450 – $3750 depending on piece made. Does not include housing.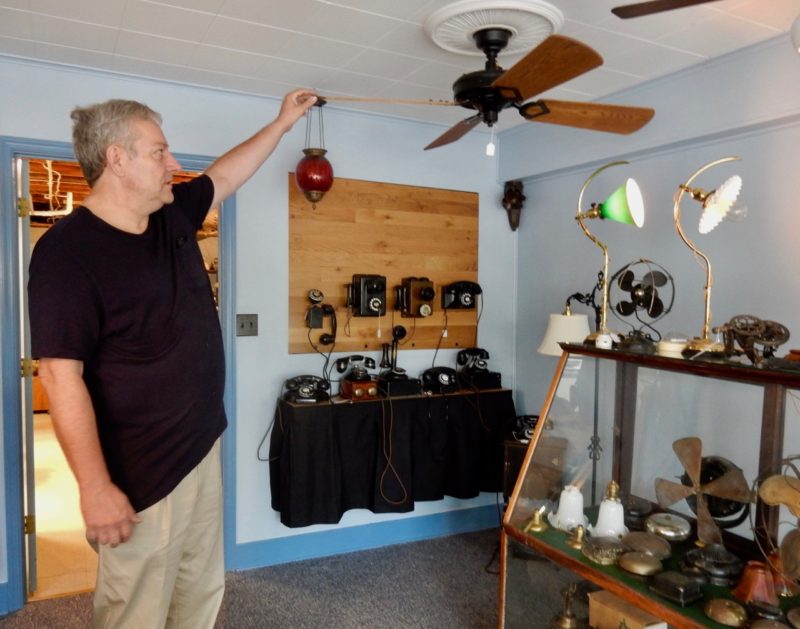 SHOP: Chestertown Electric, Chestertown. Dave Hoatson, an electrical engineer in the defense industry for 35 years, wished to retire to a small riverfront college town and concentrate on his passion: repairing small antique appliances. But he didn't know if his repair shop would be a store or museum. Turns out, it's both. In Hoatson's tiny storefront a few blocks from the Chester River, you'll find some strikingly beautiful, museum-quality phones, fans, lamps, clocks, and other early 20th century electrical appliances from before the 1930's, in various stages of repair.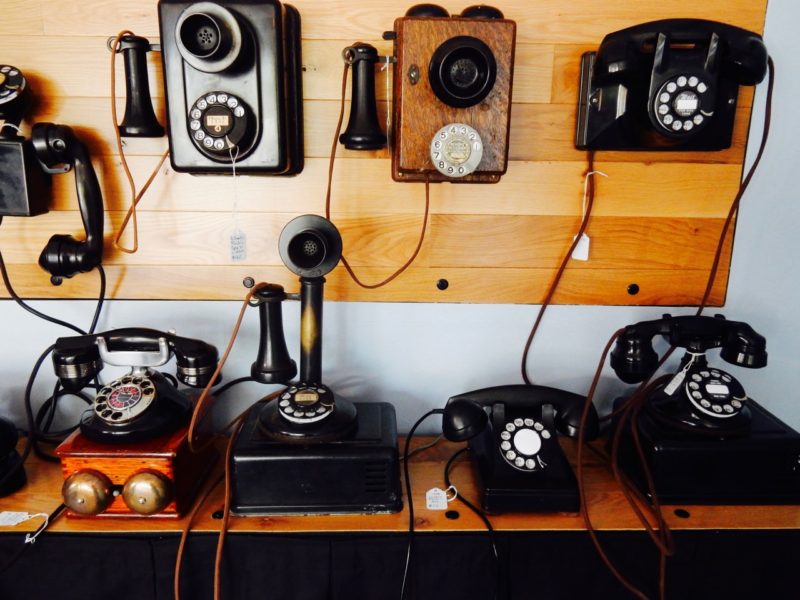 Surprisingly, "You can call your Mom" on a 1913 Candlestick Phone, which would have cost $2.20 when new. The 6'4" soft-spoken Hoatson "loves" his work, and has stories about every piece in his shop.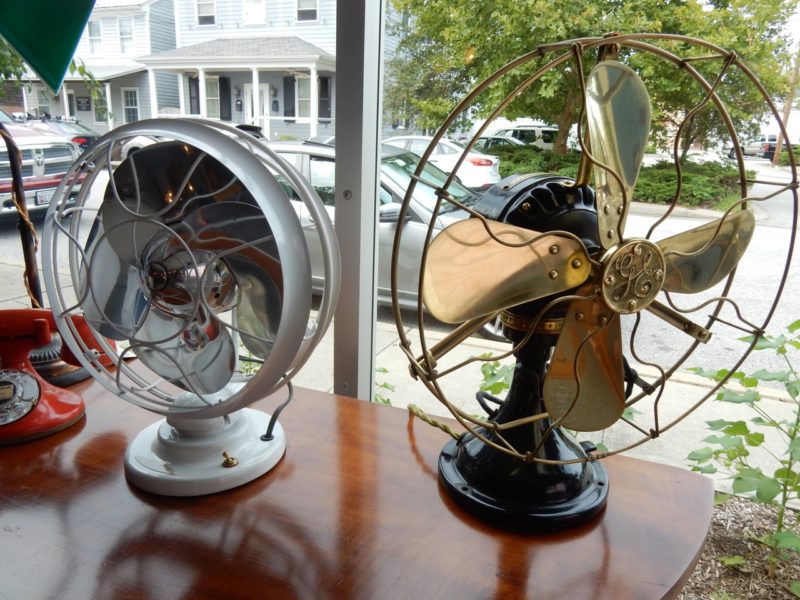 Of all the devices, the two most eye-catching are a 1914 General Electric ($900) and a 1934 Emerson Silver Swan ($300), designed by a woman, interior designer Jane Evans, who told the President of Emerson Electric that his fans were ugly. So he challenged her to design a beautiful one. She did. Both are fully functional and throw out more breeze than most fans of their size today. Fan fans come here from all over the country (yes, there is a Fan Club), so if you're in town, stop in to say hi and pick up that dial kitchen phone from you nostalgic dreams.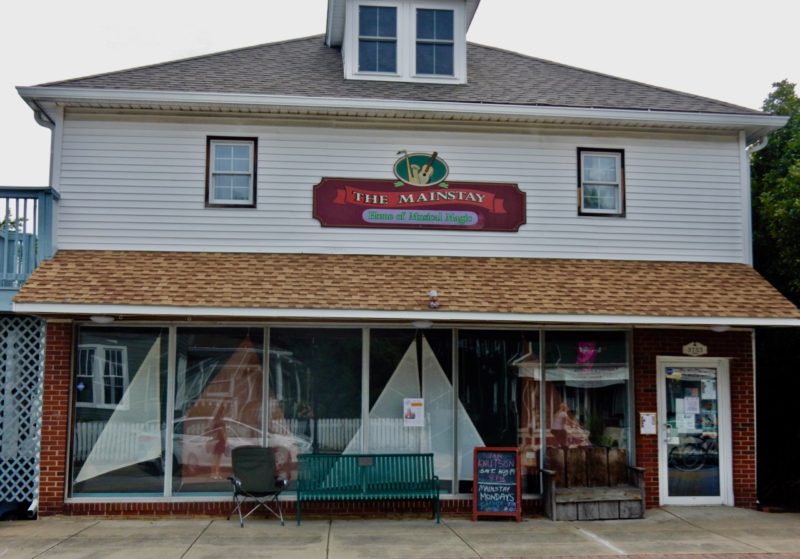 MUSIC HALL: The Mainstay, Rock Hall. Twenty-three years ago, college PhD Professor and jazz trumpet player, Tom McHugh, walked into this storefront space and saw potential. Despite being told it would never fly, McHugh opened up The Mainstay as a stage for all kinds of music, with a concentration on jazz.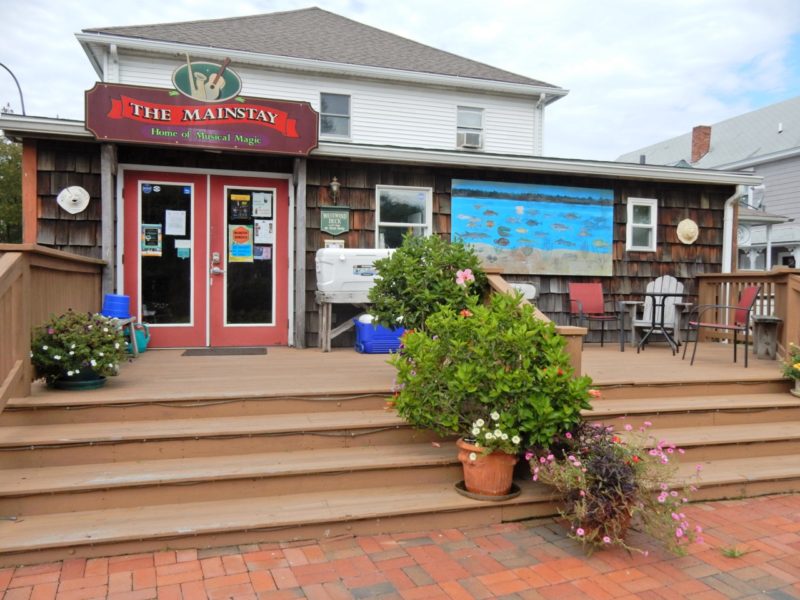 McHugh brought in couches and chairs, set up a little stage, and ran the Mainstay for a year before calling Charlie Byrd in Annapolis through a number he got from a phonebook. Figuring he was calling Byrd's production office, McHugh was surprised that the jazzman himself picked up. McHugh told Byrd he could offer him $300. "Is that for each of my band or total?" asked Byrd. "Total." "Let me see what the guys say," Byrd said, calling back minutes later with a "yes." "We all got our start in places like yours" by explanation. McHugh recounted that Byrd told him he had a friend "from NY" who wanted to jam with him. So it came to pass that Charlie Byrd and John "Bucky" Pizarelli headlined at this rather boho music hall in a tiny Maryland town.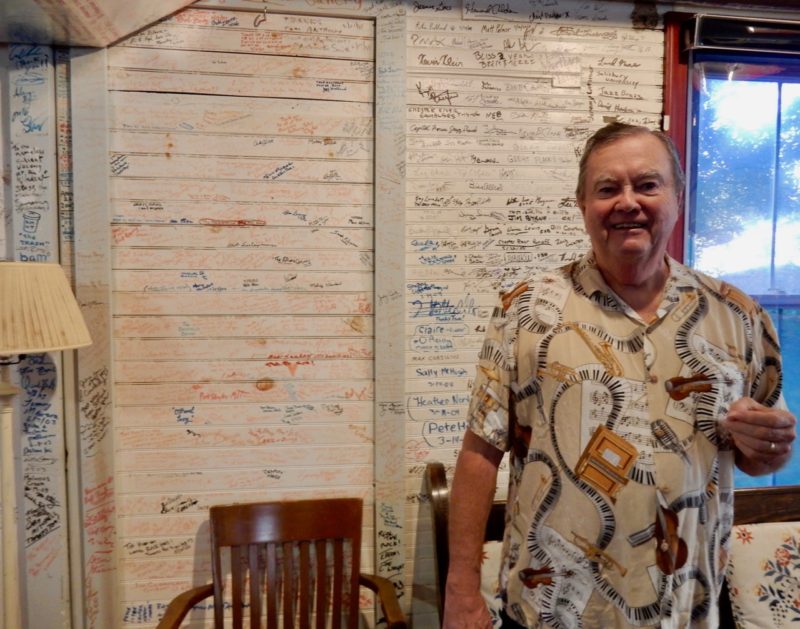 Currently, Charlie Byrd's widow runs the Mainstay Bar, and over a thousand concerts have been held here, from the Preservation Hall Band to Femina (who counts among her greatest fans the rocker Iggy Pop). Carol Colgate is now the Director of the concert venue, which has become an economic driver for the town. Patrons come from DC, Philly, and Baltimore, to hear everything from Blue Grass to World, Folk, Funk, Indigenous, Hip Hop, and of course Jazz, in an intimate space.
You'll still find the original hodgepodge of couches and chairs that can seat 125 ("135 if you cram them in") that years ago prompted a well-dressed woman to walk in and exclaim, "it will look lovely when it's finished." On any given night, the "savvy and attuned" spectators love to speak to the musicians after the show. "The room, audience, musicians, and music," says McHugh, "together create a weird synchronicity that is magic."
TOUR/SAIL: Blue Crab Chesapeake Charters, Rock Hall. Captain Mark Einstein, and his first mate/wife, Suzanne, run 1 ½ hour day sails and sunset cruises from the marina next to Waterman's Crab House. $35.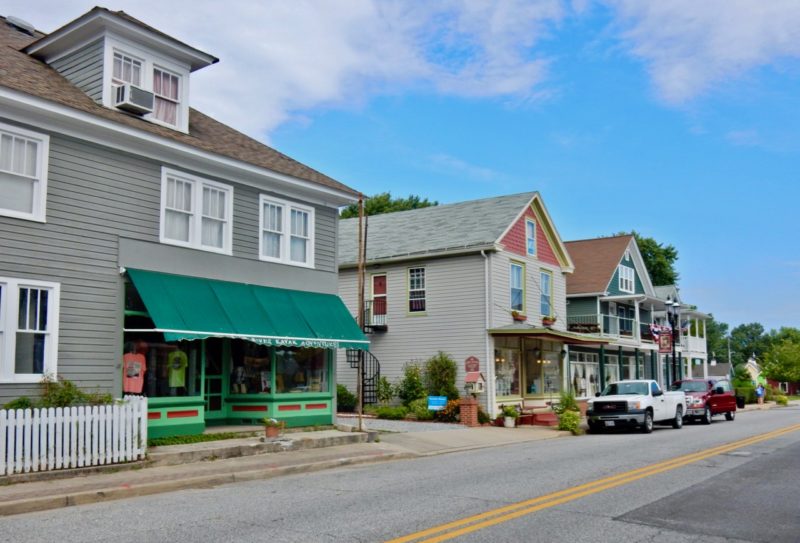 WALK: Rock Hall MD. Rock Hall is a home base for watermen, and known for its 13 marinas and harbor. As a "boaty town," in fact, many yachtsmen know Rock Hall only from the water, especially if they tie up to the docks to dine at the classic Waterman's Crab House and then leave. Stay, though, to explore downtown a block over. Take in a concert at The Mainstay (see above), stop in Smiling Jakes for Island Wear, Hickory Stick for "Eastern Shore Gifts for Home and You," Get the Scoop for a cone or cup of ice cream, and Durning's for an old fashioned soda and to make a call in a still working phone booth.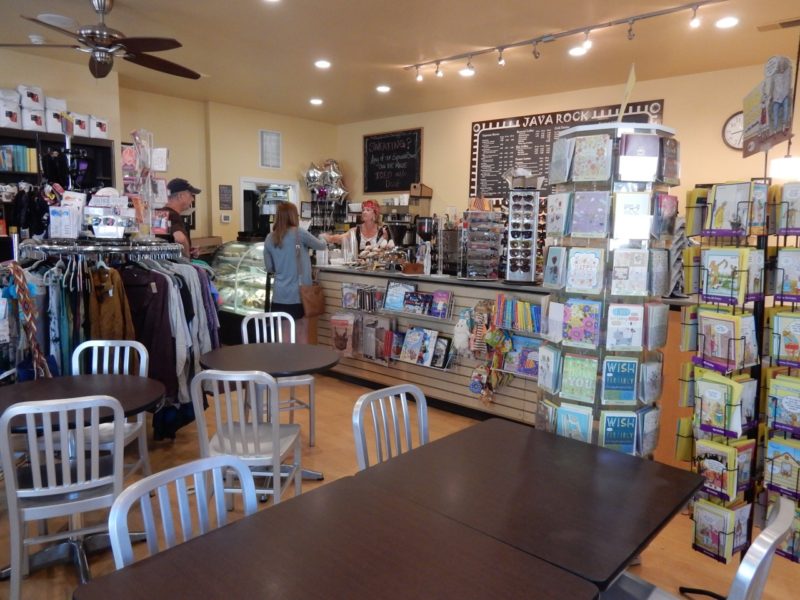 Leave a bit of time to rest at Java Rock – not your humdrum Starbucks. This coffee shop also sells wine, gifts, and irreverent (some would say naughty) novelties. A "community hub," locals come every day and order brews like Brown-Eye Girl (mocha with extra espresso shot), Night Owl (mucho caffeine), and Mocha Mint Patty, among other lattes and espresso drinks.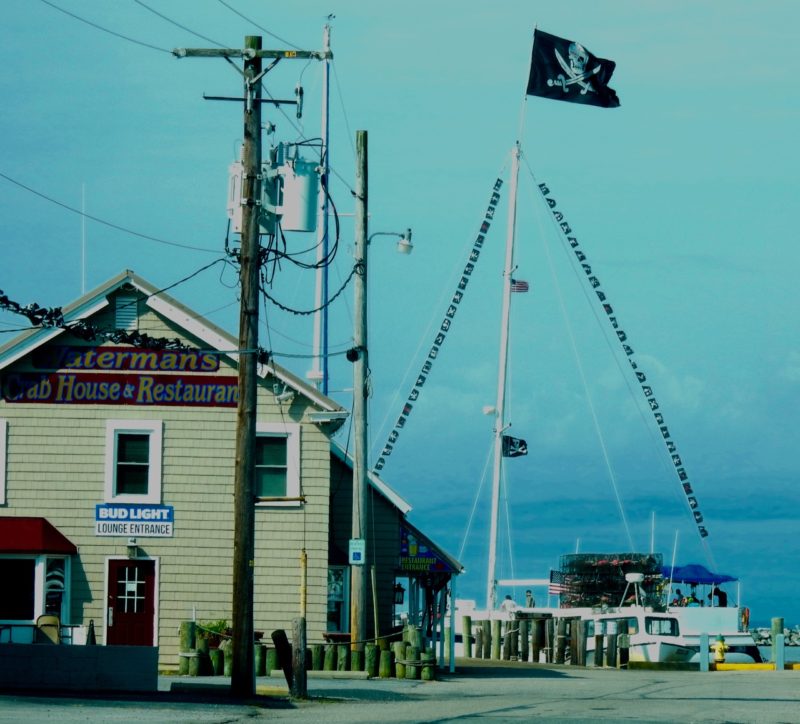 It's here that many a plan is hatched for community events – like the now annual Pirates and Wenches Weekend, with a completely made-up back story of Greybeard the Pirate's ties to Rock Hall. Everyone gets involved, with decorations and "y'arrrr sales," and the event draws between 5,000-8,000 people to this town of 1,300.
HIKE: Eastern Neck National Wildlife Refuge. Wildlife viewing is virtually guaranteed at this 2,285-acre island refuge, a major feeding and resting spot for migrating and wintering waterfowl. There are 6 miles of trails and roads including a handicap-accessible boardwalk. Open all year, 7:30am- 30 minutes after sunset. Closed to general public during certain hunting seasons.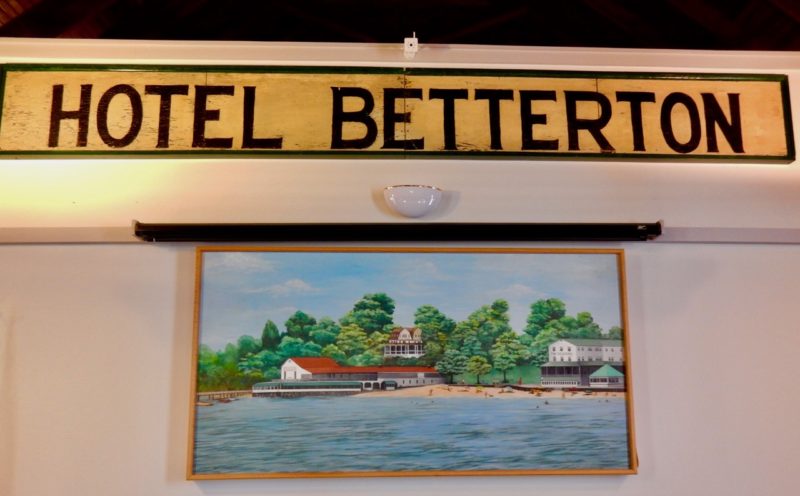 GO: Betterton Museum at the Town Office, and Betterton Beach, Betterton. Before the Bay Bridge was built in 1952, and before Ocean City MD became all that, steamer boats and ferries brought thousands of people per day to Betterton Beach.
There were 17 hotels, dance halls and bowling alleys. Now, with a year round population of just 300, which doubles in the summer, the pristine beach is quiet and peaceful. Learn local history from John Smith and other historic figures in this small museum in an old converted Catholic Church (Church of Most Precious Blood) that now serves as a Town Offices and Community Center. Smith's journals enticed settlers who grew tobacco, peaches and tomatoes.
The area was found to have "good fishing," and by the late 1800's, was attracting an ever growing number of people who would fish, swim, stay in one of the 17 bare-bones hotels (without indoor plumbing – people swam in the freshwater rivers to clean off), and then return rested to Baltimore.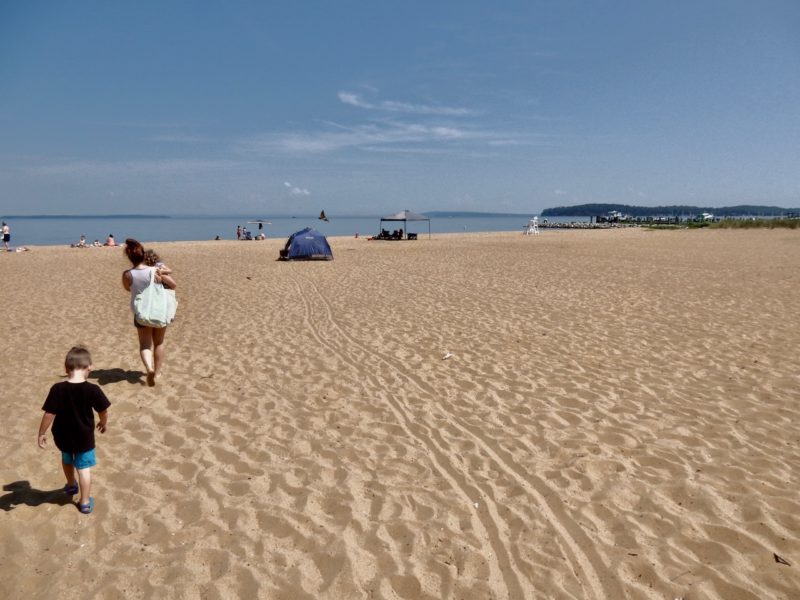 The Baybell Steamboat carried 2,500 people at a time, 80,000 people in a weekend, to swinging Betterton Beach, known for "Boating, Bathing, Bowling, and Dancing." After the Bay Bridge opened, the Atlantic Ocean beaches became more popular, turning Betterton into a quiet bedroom community with "second homes."
But lately, people are rediscovering this little jewel, with it's good, clean, crisp water, no sea nettles (a problem elsewhere), a fine sandy beach without "towel to towel" crowds, a public bath house, grills, and a pavilion you can rent on a bluff overlooking everything. Museum open Sat/Sun April-Oct. 1-3, Beach 24/7.
Where to Eat and Drink in Kent County MD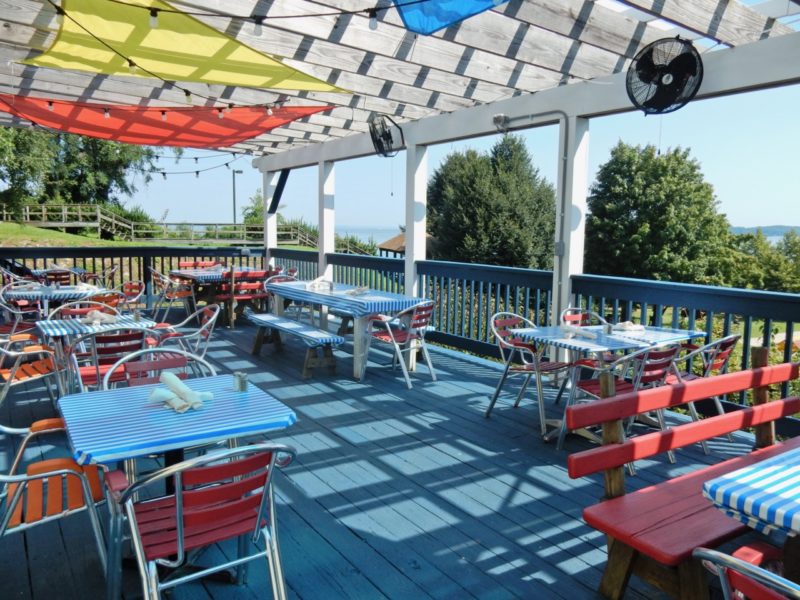 EAT: Barbara's on the Bay, Betterton I don't know what to write about first: Barbara Esmonde or her food. Both are equally astounding, unique, and brilliant. Just the idea that Esmonde – who ran in circles with Bobby Flay, cooked at the James Beard House in NY, helmed the kitchen at an Upper East Side NY restaurant, and competed on Chopped –  would wind up in this tiny, population 300 town of Betterton MD, is, as my kids would say "amazeballs."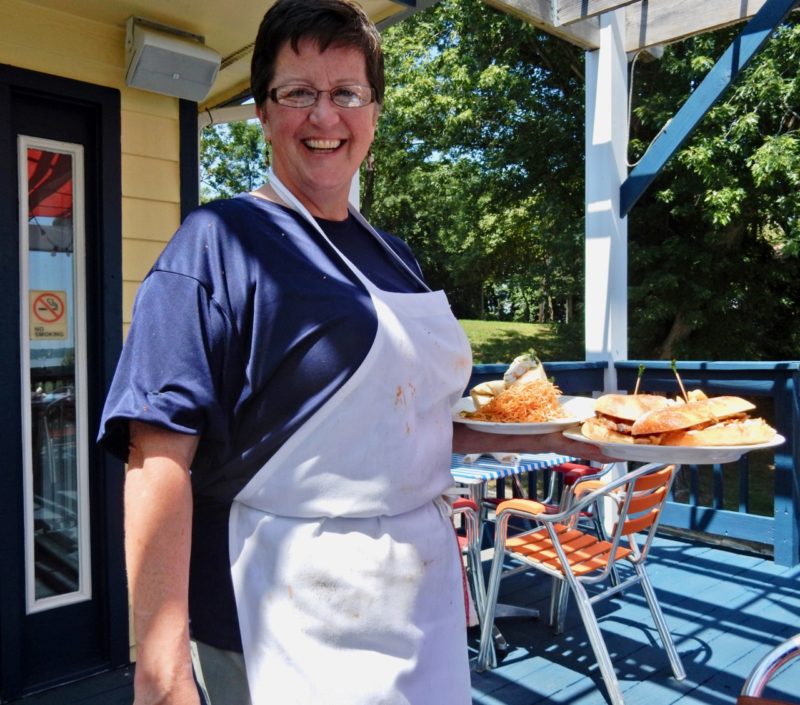 Each move and each job taught Esmonde "what to do and what not to do" when running her own restaurant. She cooked in Oregon, studied in Italy, managed a Country Club restaurant in Chestertown, and one day she walked into this café for sale on a bluff overlooking Betterton Beach and the Chesapeake Bay, and she was smitten.
Esmonde has lots of friends willing to help her, so she started a "non-wedding" Registry on Amazon where they could contribute and purchase all the appliances and equipment she needed for her new endeavor. Esmonde makes serious, endearing, connections, and inspires loyalty and service in her staff who have been here since Barbara's on the Bay opened "at 5pm, October 9, 2014." She tells them "We're having some company for dinner. They're just all coming at the same time."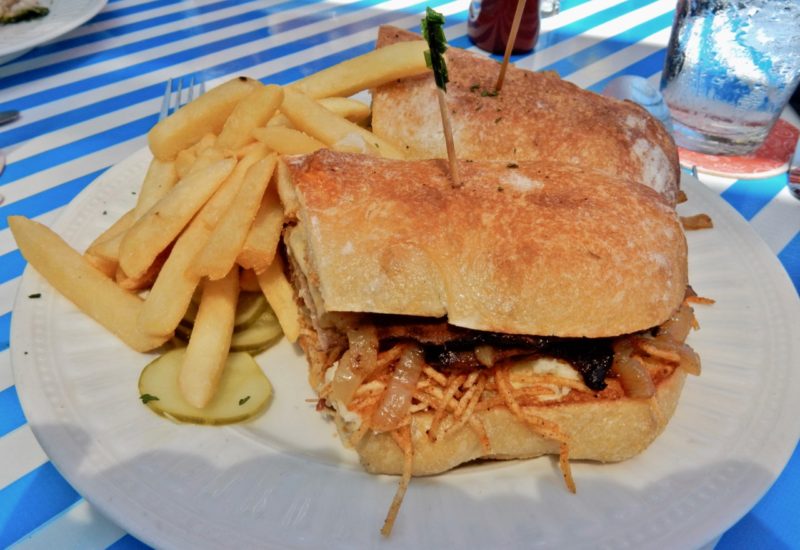 Now, the food: the signature Aberdeen Rumble ($14.99) – dry rub flank steak, caramelized onions, from scratch potato sticks, roasted red pepper sauce on Ciabatta Roll is a Holy Cow! of a meal meant for guys with hearty appetites, or girls who don't want to miss out. Her Scotch Eggs, a crunchy-soft version of the Irish Pub staple is the perfect snack, as is the orgasmic Pretzel slathered in warm crab dip.
Complete your meal with Esmonde's Mom's Apple Crisp – it's worth the calories – which you can work off by walking down to and up from the beach a few times. Barbara's on the Bay accomplishes the Trifecta of a highly successful restaurant: Great Food, Great Service, and Great Views.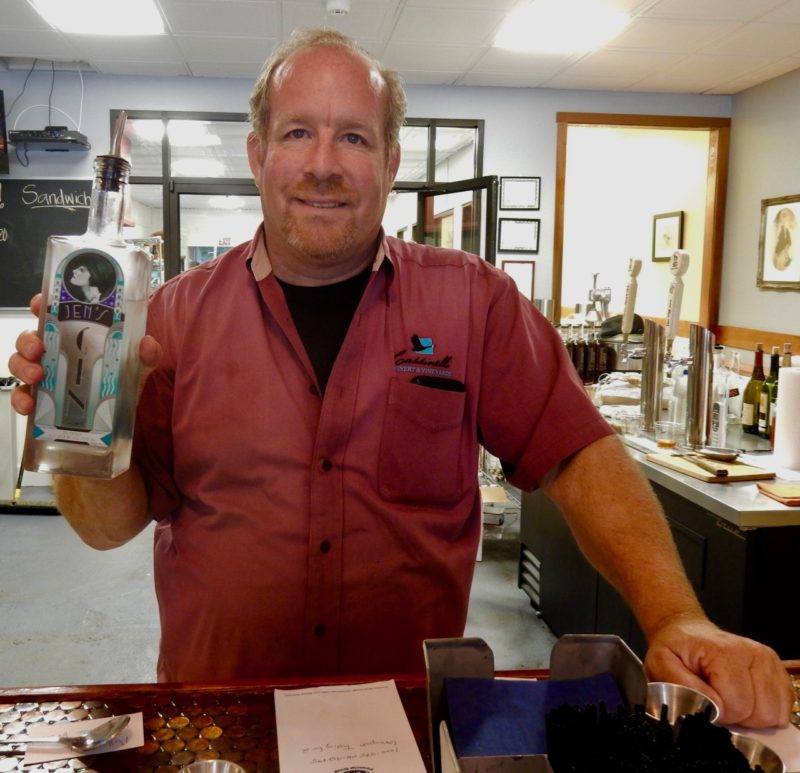 TASTE/DISTILLED: Bad Alfred's Distilling aka BAD, Chestertown. The only distillery in Kent County – all brandy, gin, and bourbon made here is "grape based." That's because owner, Alfred Cassinelli, has a winery as well, and uses his own Grappa and Lemoncello in his recipes. If the hard stuff is too hard for you, BAD's got something good for sweet-tooth's; "Girl Shine" Apple Brandy, the counterpoint to its Moonshine. Come in for a taste, and stay for a bite – you'll find "from scratch" pub food that includes Cassinelli's own Red Sauce concoctions.
TASTE/WINE: Crow Vineyard. Wine on a farm!
EAT/CHESTERTOWN: Locals also love Lemon Leaf Café, Charlie's Bistro, known of its Bourbon Bacon Ice-Cream, and The Freeze – a 50's style ice-cream shop.
Where to Stay in Kent County MD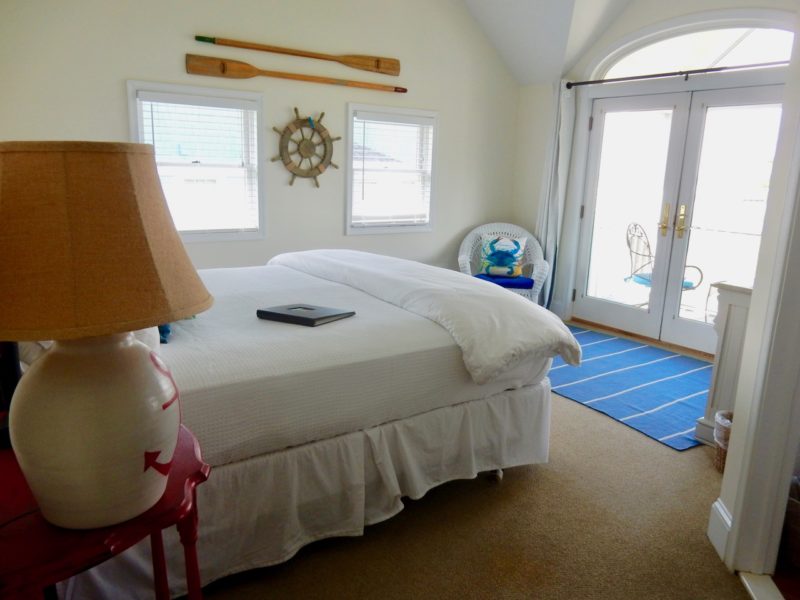 STAY: Inn at Haven Harbor. This chic newly opened 9-room inn is part of a yacht marina complex that includes two pools, shuffleboard, Fishing Pier, Restaurant and Bar, and a huge Marina store.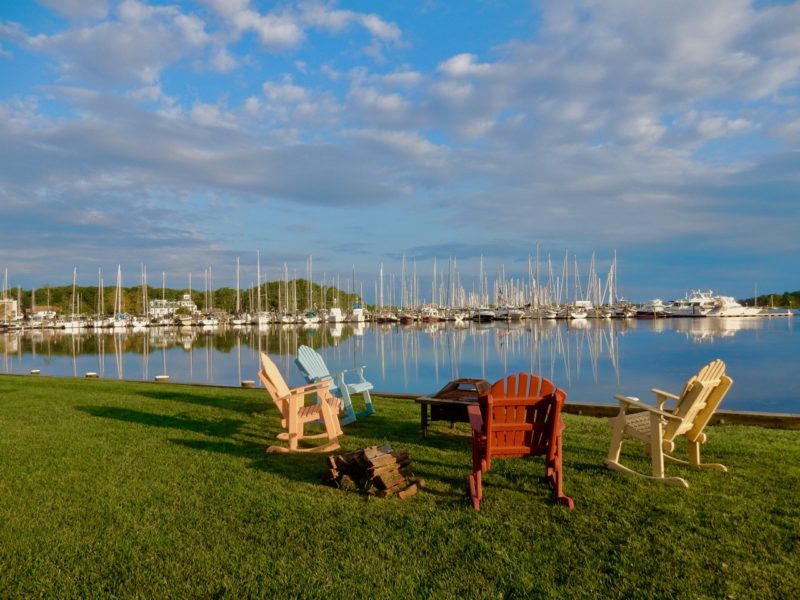 But the Inn itself sits about a block away from the Marina, on a main road, and backs up to a cove where guests can just grab a kayak or SUP from the dock and go forth into the water, no paperwork involved.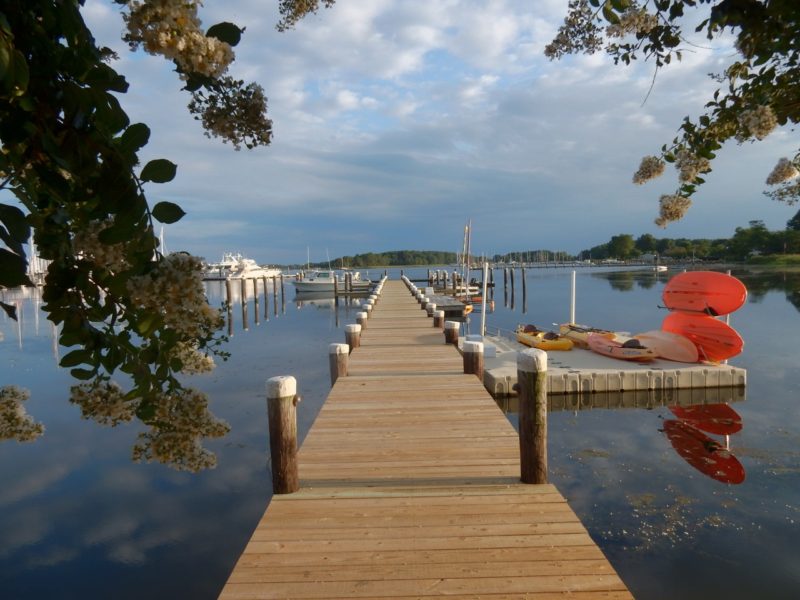 Run more like a Guest House than an inn (in this case with no innkeeper on premises, you get your key from the Marina office), rooms are nevertheless upscale, bright, nautical, and spacious, some with balconies overlooking the Inn's dock and marina beyond. Décor is Chesapeake-chic – heavy on anchors, ships wheels, oars, crabs, sailing ships, and sea charts.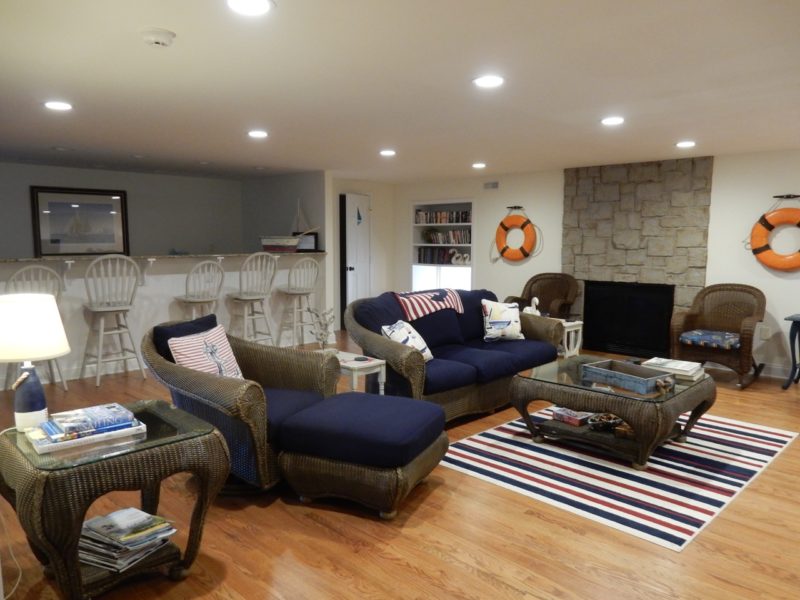 There are several small common rooms on the first floor, but the Great Room is where it's happening: a game and huge TV room stocked with snacks and drinks throughout the day, and an enhanced hot Continental Breakfast from 7:30 to 10.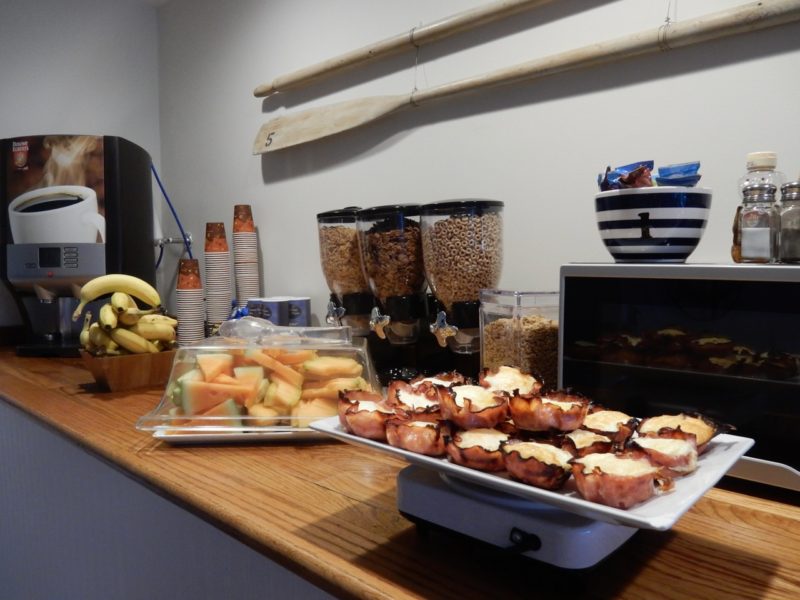 Room rates from $125, Balcony Deluxe Rooms from $185 per night include hot Continental Breakfast, use of bikes, kayaks, pool, snacks.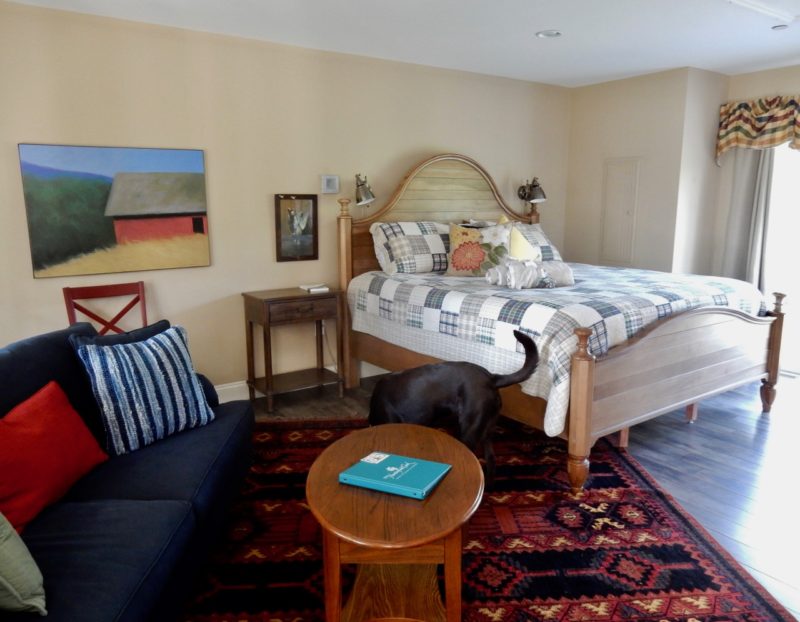 STAY: Inn @ Huntingfield Creek, Rock Hall. Owned by Jim and Joanne Rich (who also own Java Rock and other in-town businesses) the Inn at Huntingfield Creek is one of the top (if not the top) places to stay in Rock Hall, consisting of 7 cottages and 5 rooms in the main house – all with Temperpedic Beds – on 70 acres, over 40 of which are soybean, Sunflower, and lavender fields.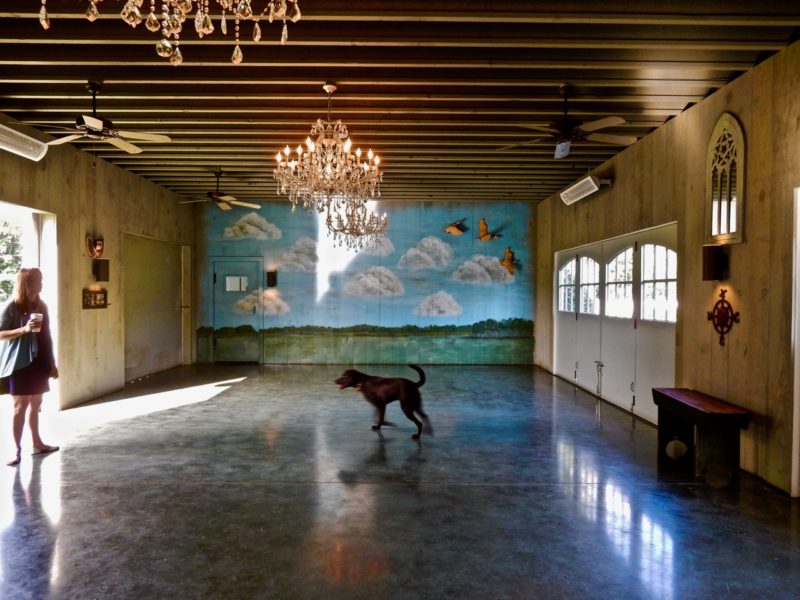 As befits a Select Registry property, guest quarters are exquisite, and the grounds as a whole are quite popular for weddings. There's an open-air barn dressed up for events, and an arbor outside for nuptials. With a saltwater pool, organic garden, and kayaks to use on Huntingfield Creek – that feeds into the Chesapeake Bay – this is on many a Chesapeake Region Stay List. Cottages from $265-$345 per night.