Great Oak Manor, a genteel Georgian-style brick mansion on the Eastern Shore of Maryland, in Kent County, is filled to the brim with antiques and elegant appointments. Now a luxury inn, back in the day, as a private estate, it wasn't always so refined.
Great Oak Manor is so romantic, we included it on our Best Romantic Hotels in Maryland post and was included on Getaway Mavens Best Romantic Hotels in the Northeast US 2022 list.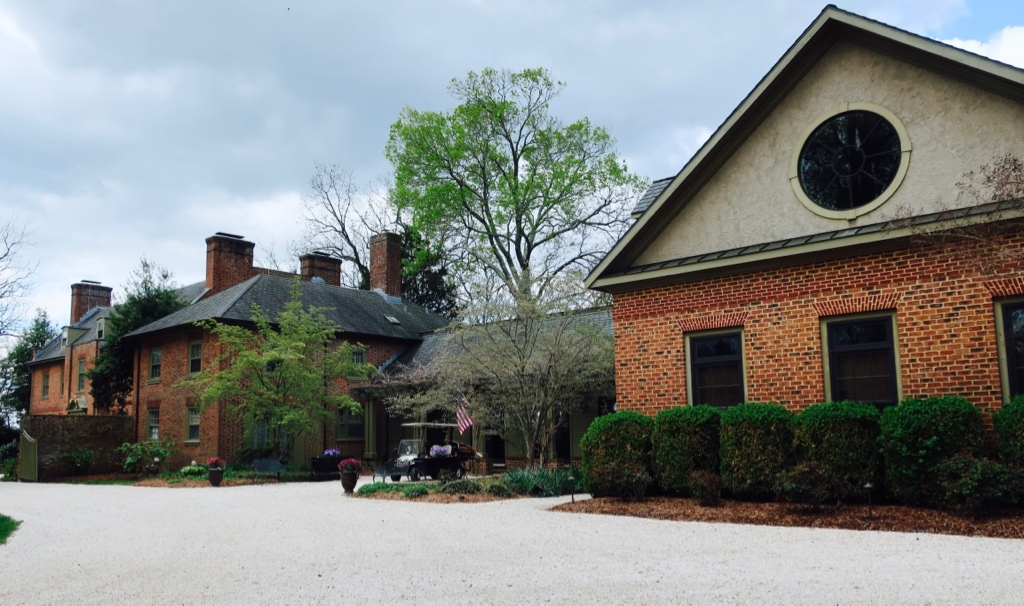 Built in 1938 by Russell D'oench, an executive at W.R. Grace, ownership transferred to self-made businessman, Frank Russell, in the 1940's. Russell was a colorful figure. He ran his shore home as an exclusive premier club and casino, constructing a marina and airstrip on his property to accommodate celebrities like Jack Kennedy, Arthur Godfrey, Robert Mitchum, and others who arrived by limo, yacht and plane. At the time, Russell's airport was the only one on the Eastern Shore.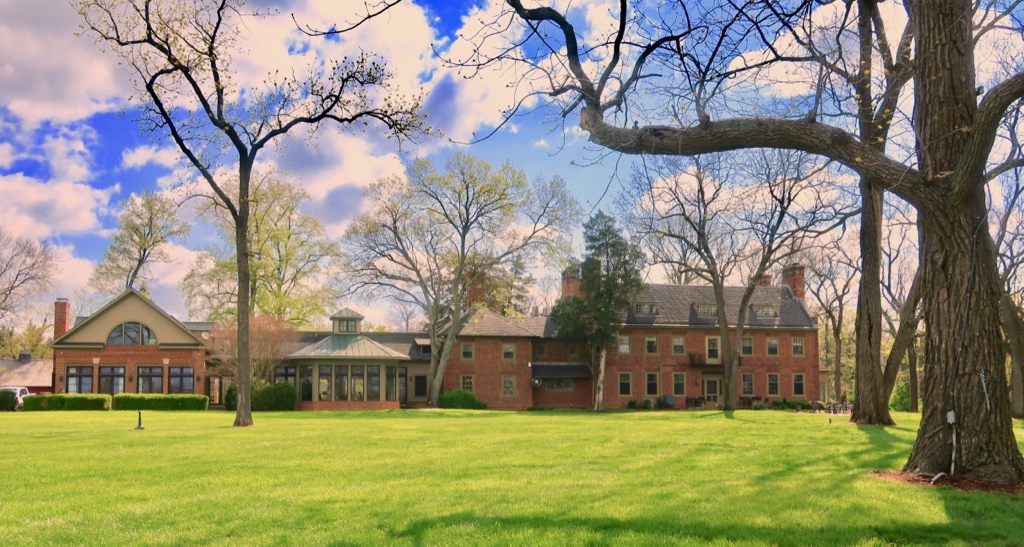 Russell had such an outsized personality, he was deemed the Chesapeake's Own Great Gatsby. But even his gregariousness was not enough to keep him out of jail for running an illegal gambling establishment. Russell owned the Manor from the 40's through the 80's, at which point the property languished. Locals who were teens at the time remember drinking beer inside the neglected home.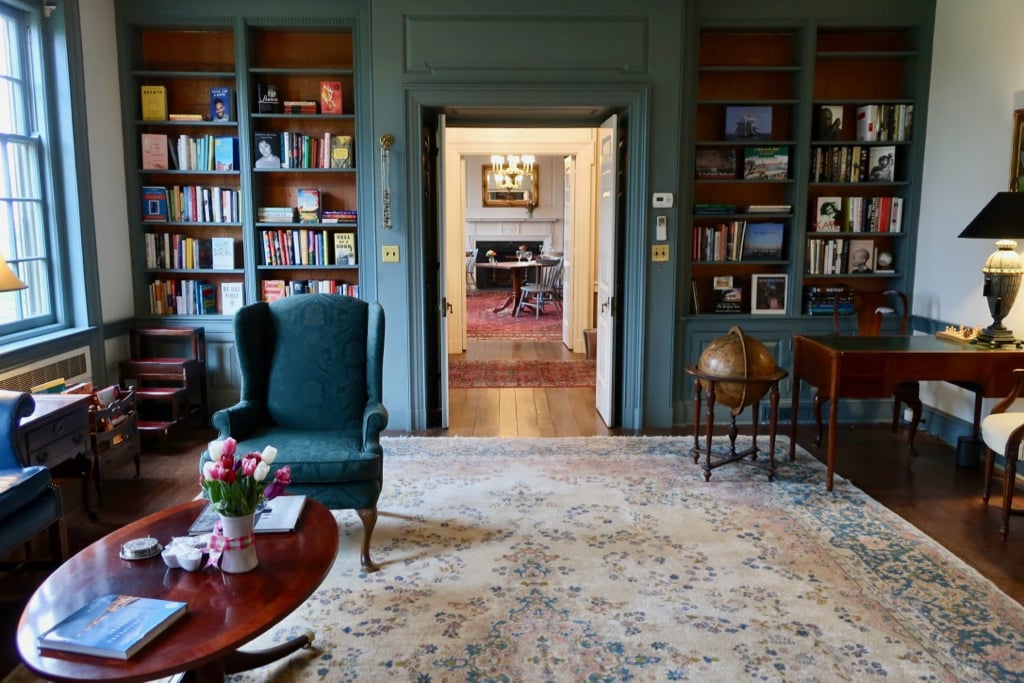 In the late 1990's Great Oak Manor became a 12-room Inn, with two-story attached Carriage House suite.
In February 2022, corporate attorneys, Werten and Kelleye Bellamy, Jr. purchased the property, hiring luxury hotel whisperer, Brooks Bradbury, as General Manager. They've been upgrading ever since, with a mission to promote connection, wellness, and relationship building in a small-scale, intimate setting.
First Impressions of Great Oak Manor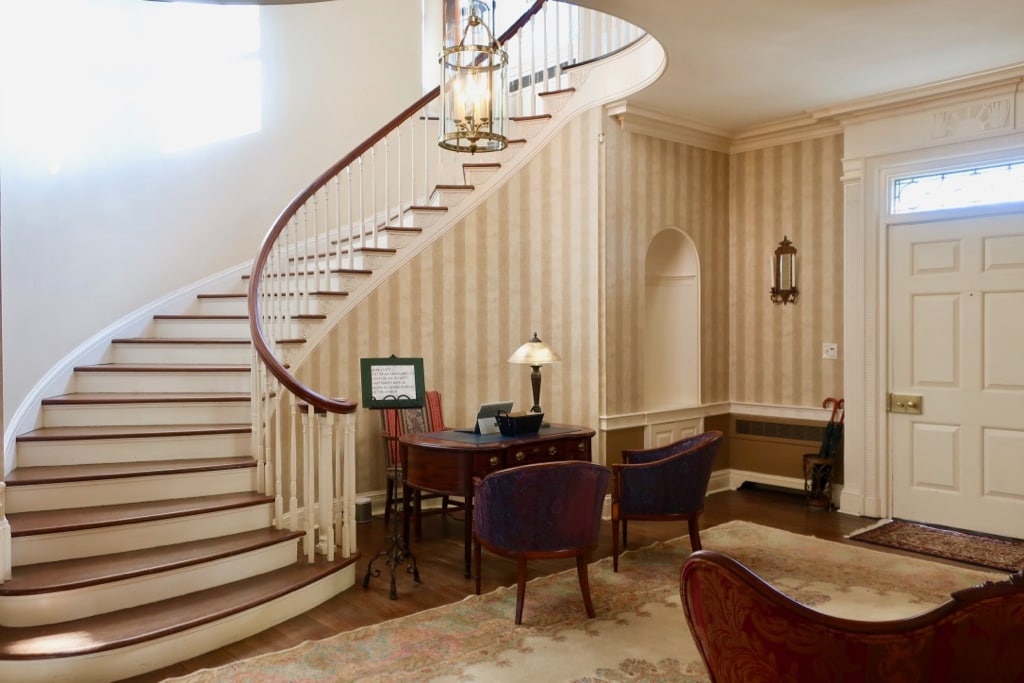 The secondary roads to Great Oak Manor are long and bucolic, bringing you through farmland and tree-shaded lanes. In the early 20th century, wealthy Maryland families built their homes on Eastern Shore promontories, where the public couldn't see them from main roads. This privacy, and the Inn's waterfront setting is what make this place so special.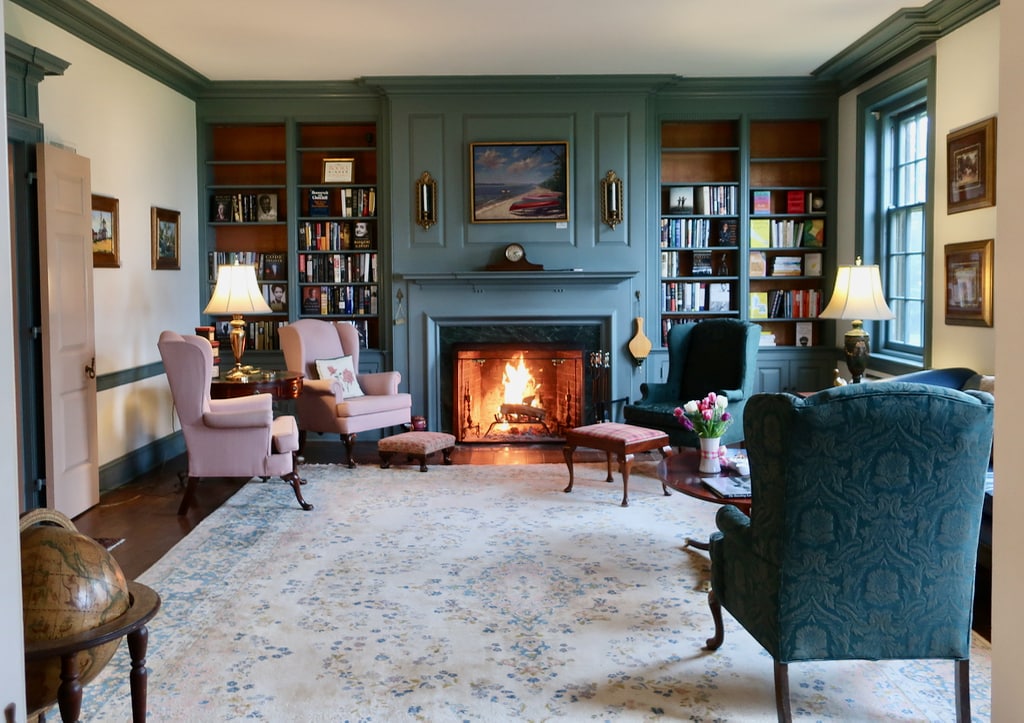 Architectural details are meant to impress and amuse. The floating spiral staircase rises from the foyer; there's a carved crab in the molding above the dining room door; the cozy, well-stocked library offers a blazing fireplace on a soggy April day.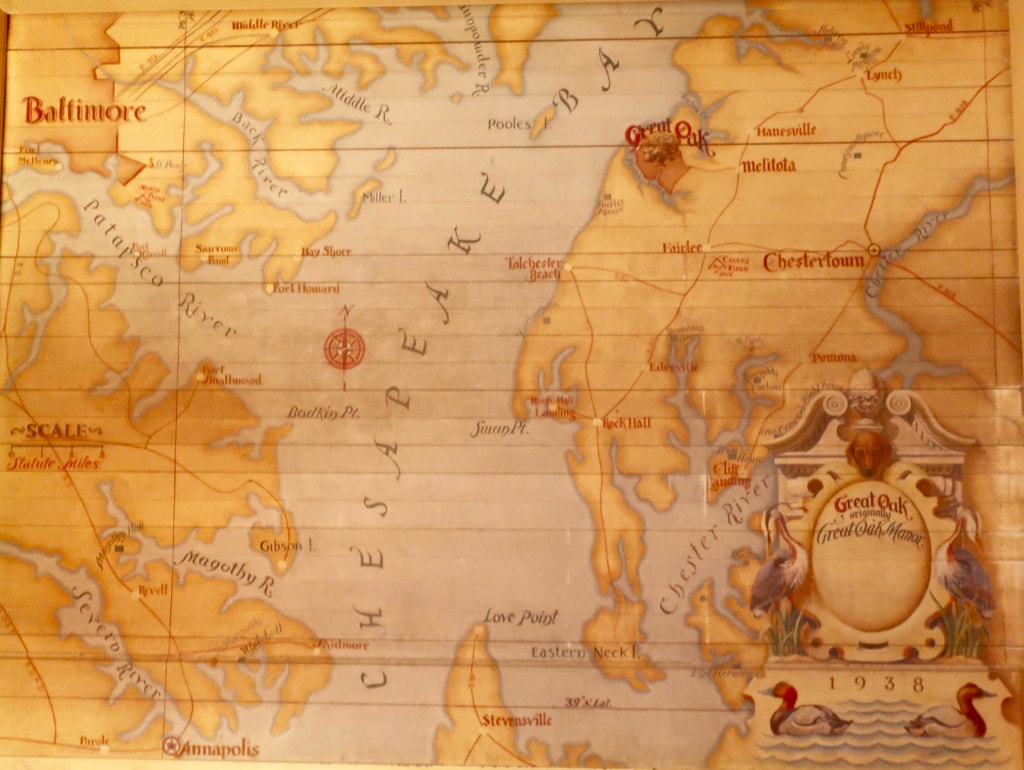 The former bar room, which probably saw many a raucous evening, now serves as a nook for coffee, drinks, and snacks round the clock. A wooden roll-down bar shutter features a rendering of the Chesapeake Bay – oriented, of course, from the viewpoint of Great Oak Manor.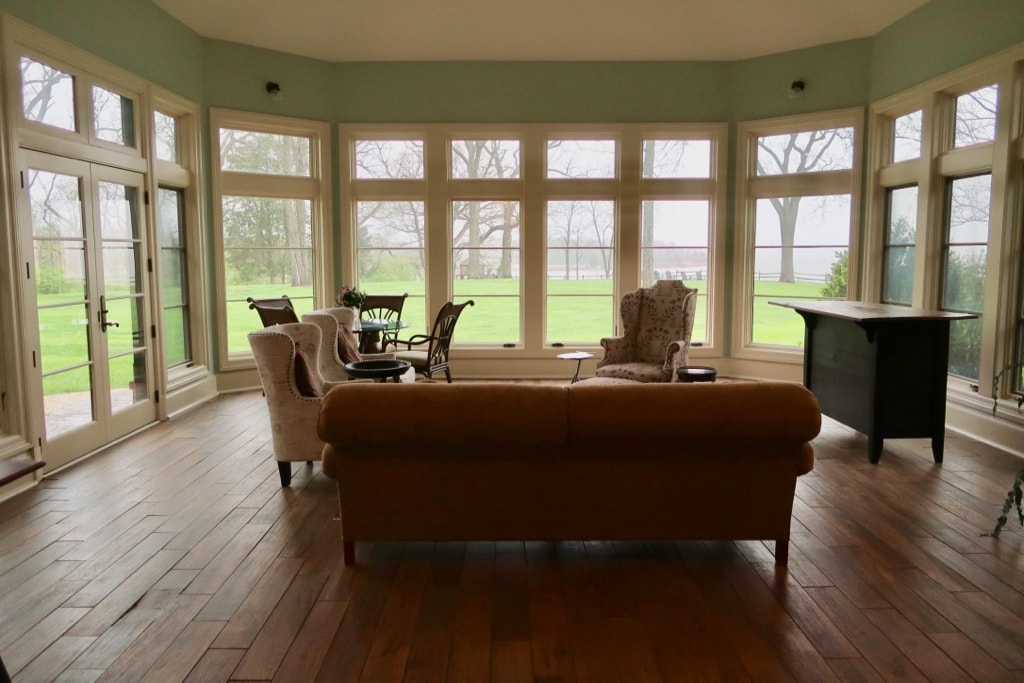 Sun/Sunset Room
"This is where guests love to congregate for sunset," Bradbury says. No kidding. A solarium overlooking the Chesapeake Bay, this Florida-room-ish section of Great Oak Manor makes for a great spot to sip wine and salute the setting sun.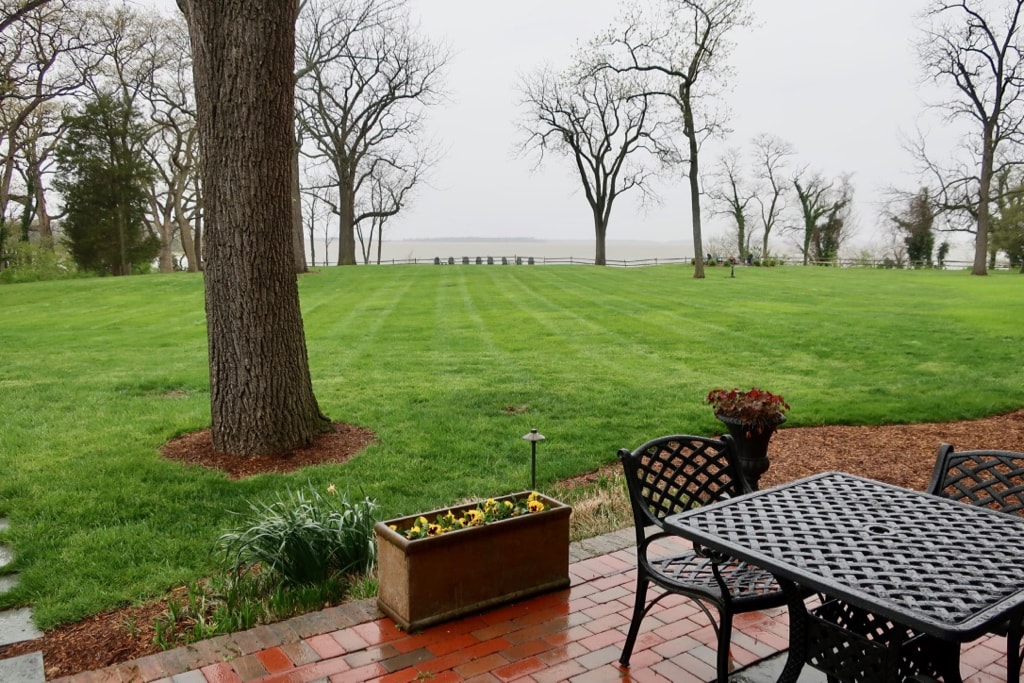 Even in rainy weather, the lawn and water views from this glass room are beautiful.
Great Oak Manor Property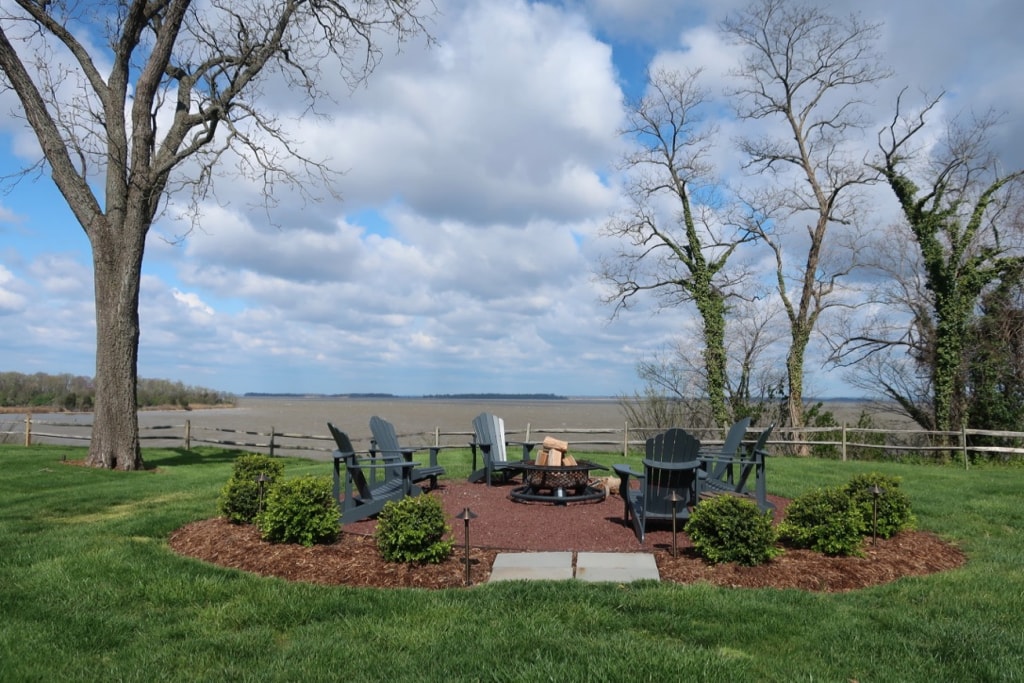 Incredibly, Great Oak Manor has its own private beach. Though small, it's got everything a beach needs: sand, water, and lounge chairs. On hot sunny days, it's the perfect place to hang, swim, or enjoy a glass of wine.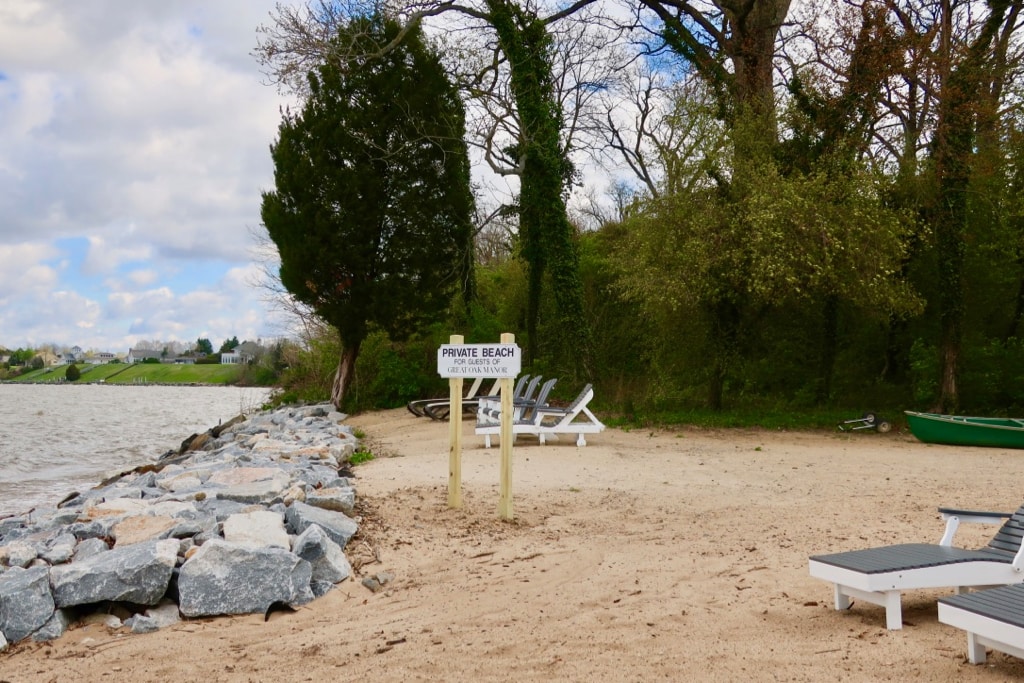 Don't want sand in your pants? The Manor's large flat lawn is also picture perfect for croquet. In addition, the property features an array of eight Adirondack Chairs facing the Bay, a fire pit for cool evenings, and even a small gazebo. All of these seating options insure that guests can be as social or private as they'd like to be.
Guest Rooms
Each guest room offers a deep sense of Eastern Shore tranquility, individually designed in classic elegance. In the Marmaduke Room, subtle floral wallpaper does not overwhelm the sweet artwork. A Renoir print hangs above the wood fireplace.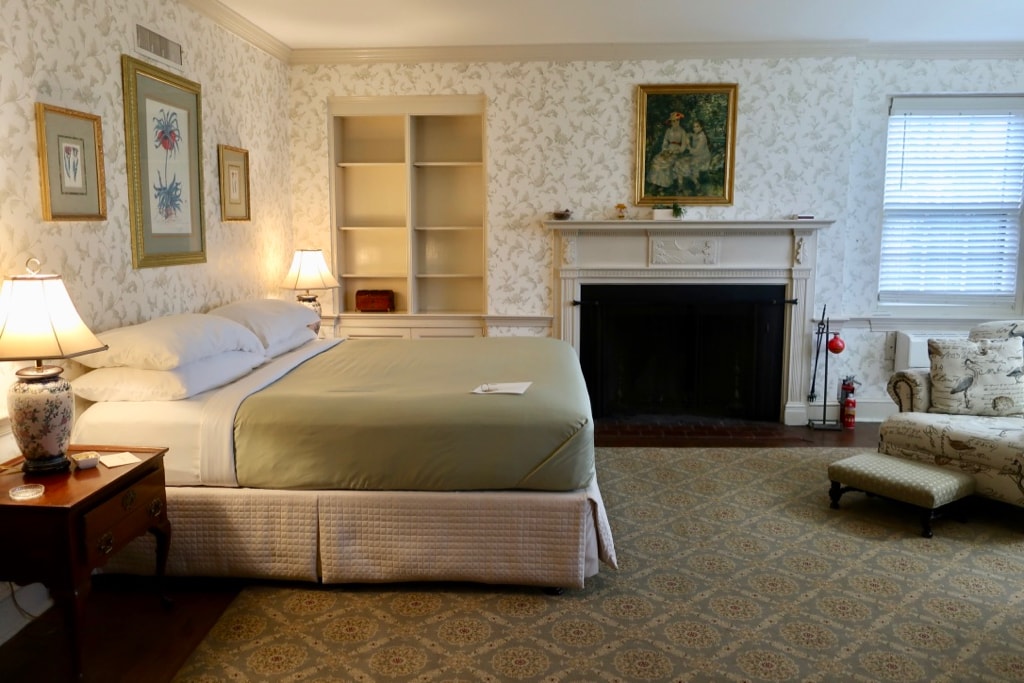 Upholstered chairs sit by windows from which guests can view the lawn and Bay. And an antique wardrobe hides the small flat screen TV. Beds, as befitting a high-end establishment, are fantastically comfy.
Brightly lit bathrooms combine antique with modern flourishes, like mosaic tile showers.
Breakfast at Great Oak Manor
Every morning, a complimentary multi-course gourmet breakfast is served in the sun-drenched dining room decorated with a stunning oriental rug and black & white photos of Chesapeake Bay. The same body of water you see right outside the window in living color.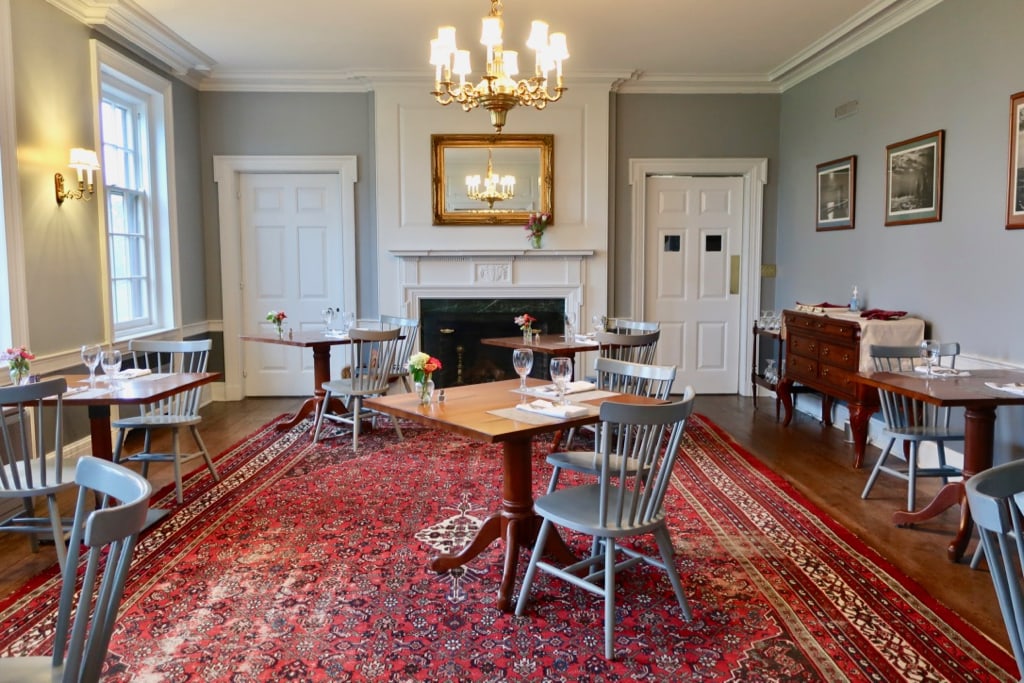 For now, the Manor does not serve meals other than breakfast.
(While the Manor will never become a restaurant, Bradbury reports that plans are in place to one day serve all meals to lodging guests).
So, either order a visually appealing and delicious tasting cheese and fruit board for your room, or head into Chestertown. Just a 15-minute drive, the restaurant, Watershed, is a hot ticket at the moment.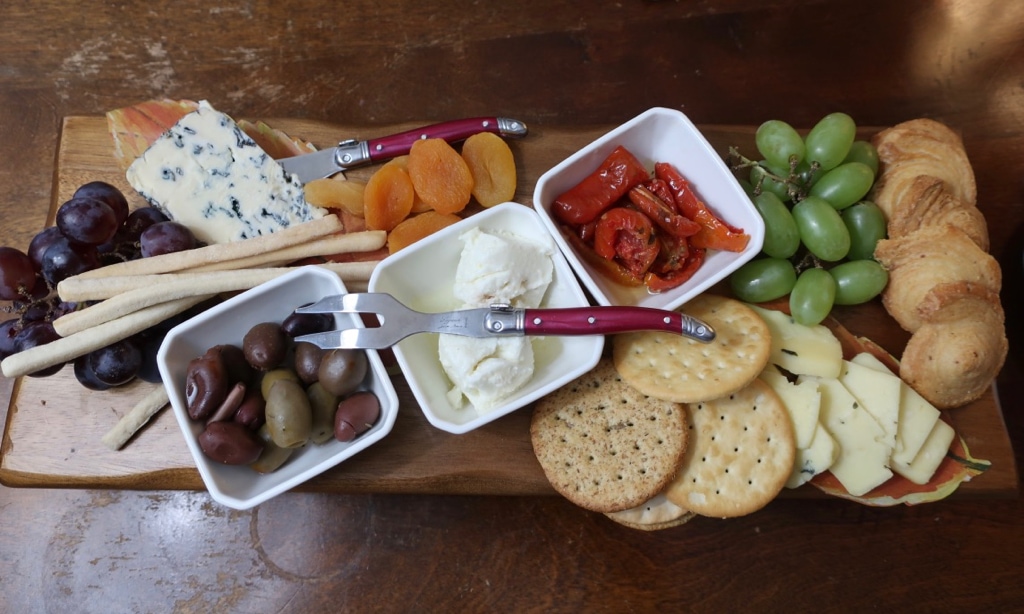 Just The Facts
Rooms from $309-$459 per night include made to order breakfast, parking, wifi, beach.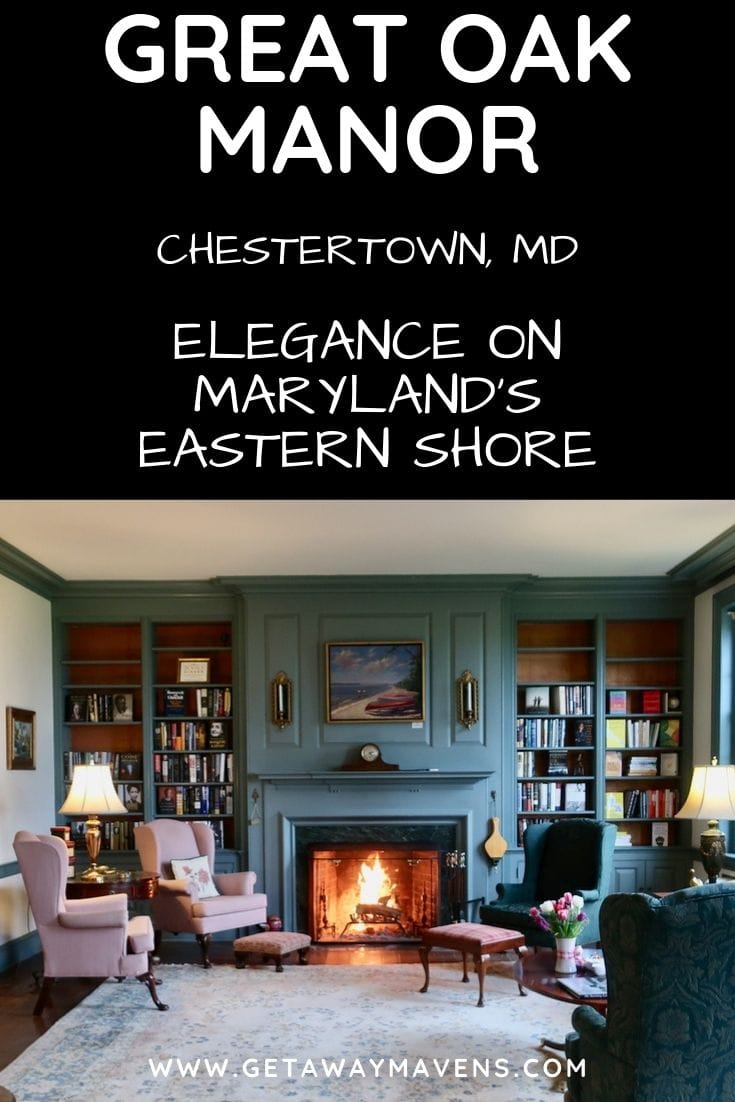 Need some great ideas of what to do in the area? Check out Getaway Mavens Kent County MD post.