When snow falls in a Hallmark movie, you know that the pair have fallen in love. Could that help explain why so many couples fall in love all over again on a Niagara Falls Canada winter getaway?
Sparkling snow transforms the falls into a winter wonderland. And when day turns to night, 3 million twinkling lights and rainbow-colored illuminations, plus a decadently delicious Hot Chocolate Trail turns Niagara Falls into the ultimate romantic getaway.
Niagara Falls vacations are wonderful regardless of whether you choose the US or Canadian side. For our US travel guide, check out the Niagara Falls NY Winter Getaway. And for even more romantic getaways in Canada and Western New York, scroll to the bottom of this article.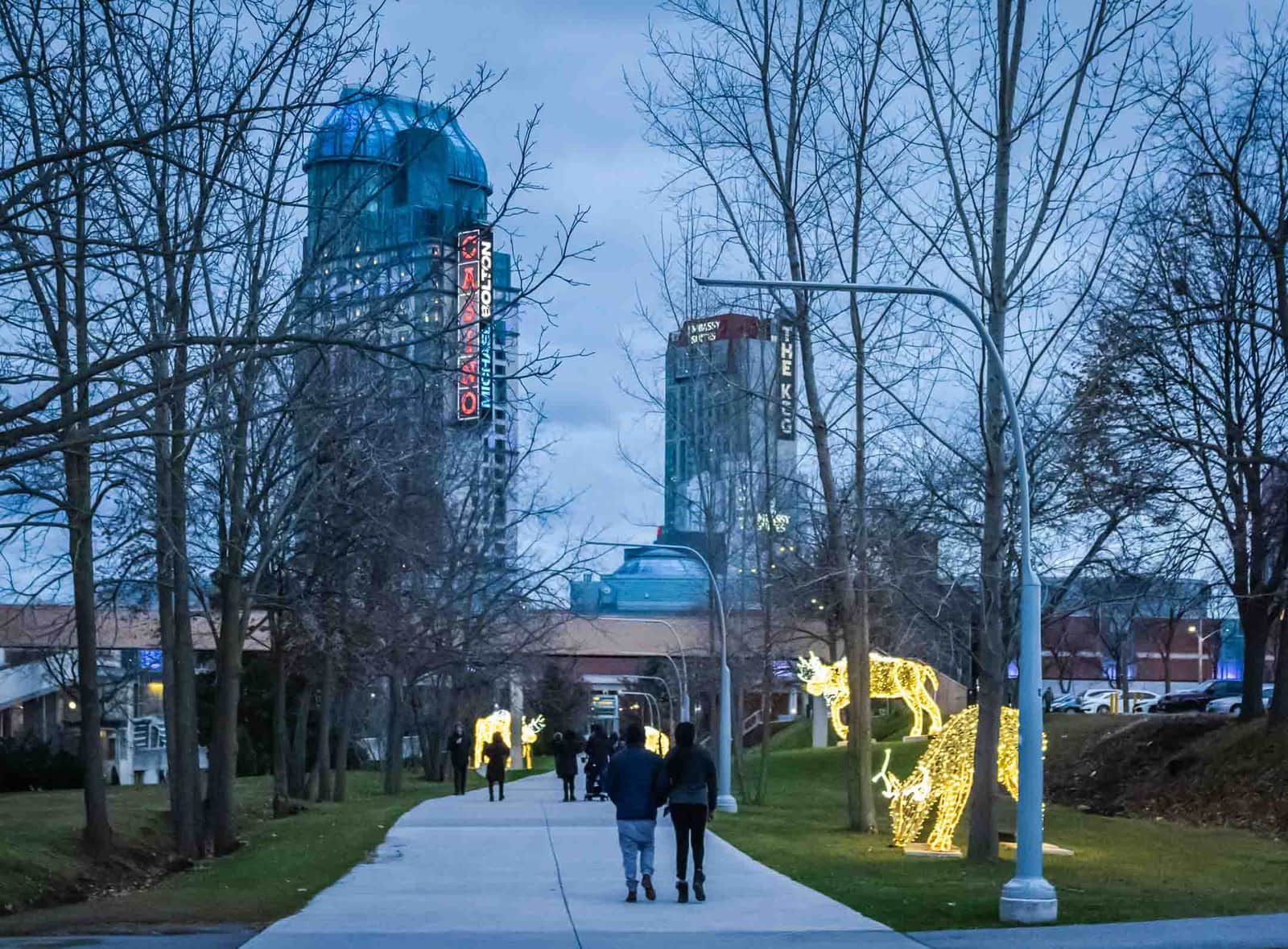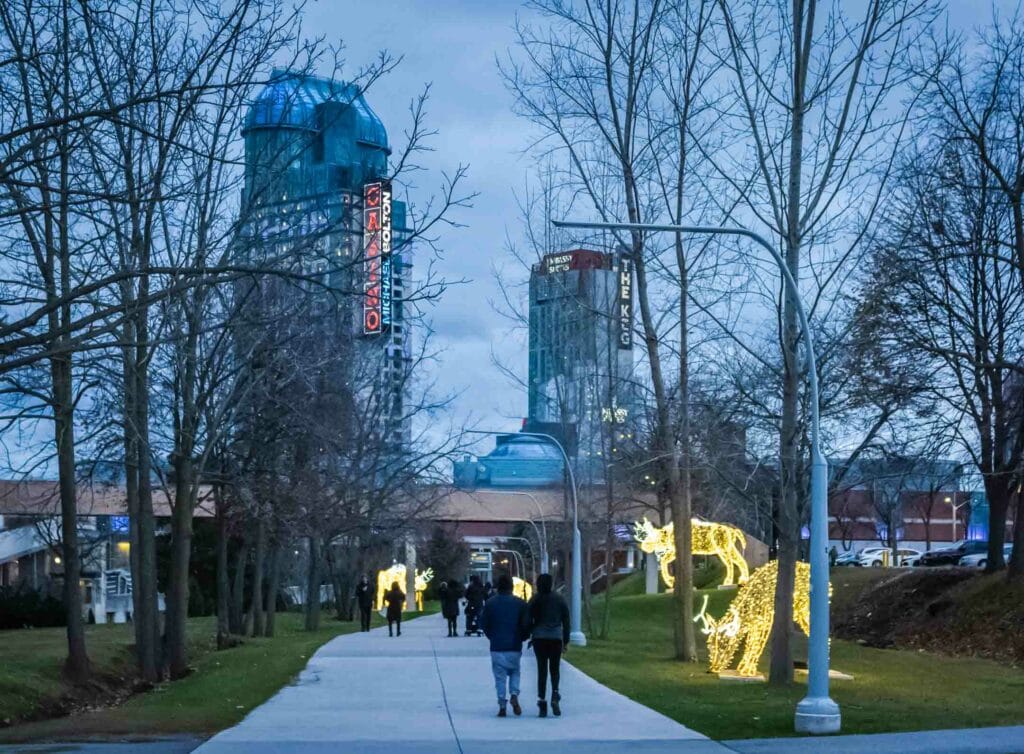 Ready to get started? Here are all the best things to do in Niagara Falls Canada in the Winter, plus the answers to frequently asked questions.
Can I Visit Niagara Falls In The Winter?
Although not as busy as in the summer, the city welcomes over a million visitors to the Niagara Falls Winter Festival of Lights. Couples will find that there are many fun and romantic things to do in and near Niagara Falls.
Nevertheless, do bear in mind that the following are closed during the winter: Niagara City Cruises, White Water Walk, the Maid of the Mist Hornblower Cruises, and the Whirlpool Aero Car.
Can You Go To Niagara Falls Without A Passport?
It's now as hassle-free as it ever was to visit Niagara Falls in Ontario, Canada. Proof of vaccination and the ArriveCan app are no longer required. And it's easy enough to fly into the Buffalo Airport and then drive 30 minutes into the Canadian side of the falls.
However, you will need your passport if you're not a Canadian citizen. Additionally, if you're a frequent traveler between the US and Canada, you might consider applying for a Nexus card so as to expedite crossing back into the US.
We didn't experience any delays on our recent border crossing to and from Buffalo NY but wished we had the Nexus card when experiencing delays driving back from Vancouver in the Spring.
Things To Do In Niagara Falls Canada In Winter
Niagara Falls is actually composed of three waterfalls–American Falls, Bridal Veil Falls, and Horseshoe Falls.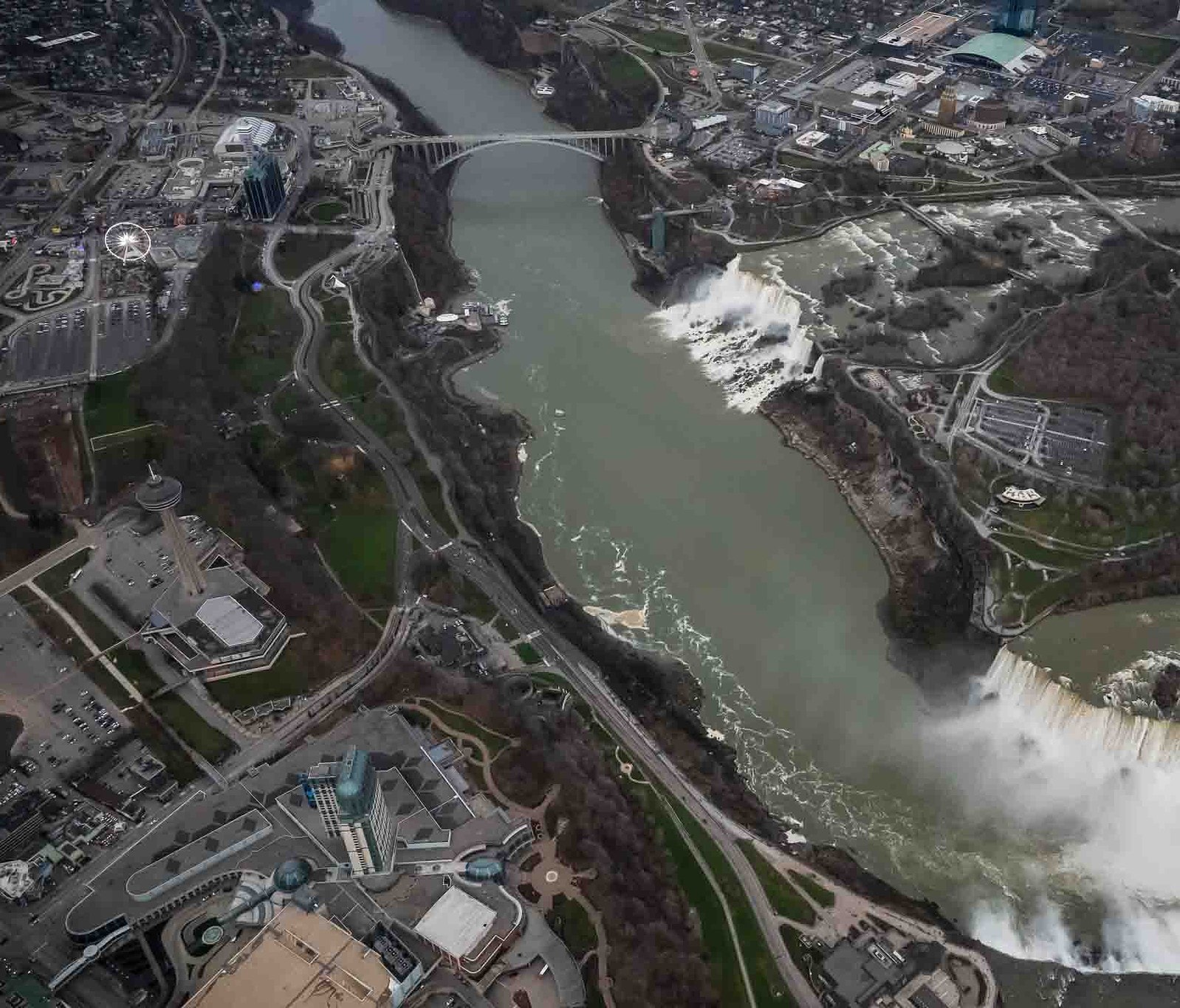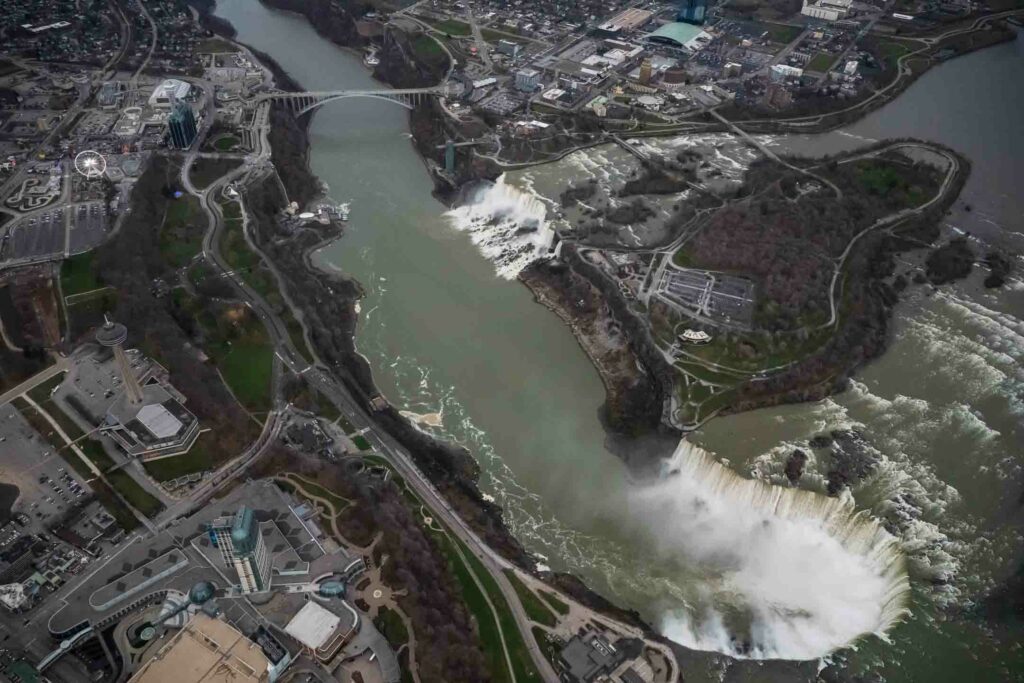 While Horseshoe Falls is generally considered to be the Canadian waterfall; actually, all three can be seen from both sides, albeit from different perspectives.
Walk: Niagara Parkway
The simplest way to see the waterfalls is to go for a walk. On the Canadian side, a pedestrian walkway runs alongside the Niagara Parkway and extends from (at least) Casino Niagara to the Dufferin Islands. End-to-end, it's about a 38-minute walk.
But, with stops for observation pullouts or detours into attractions like Queen Victoria Park or Table Rock Visitors Center, a walk around Niagara Falls could take much longer.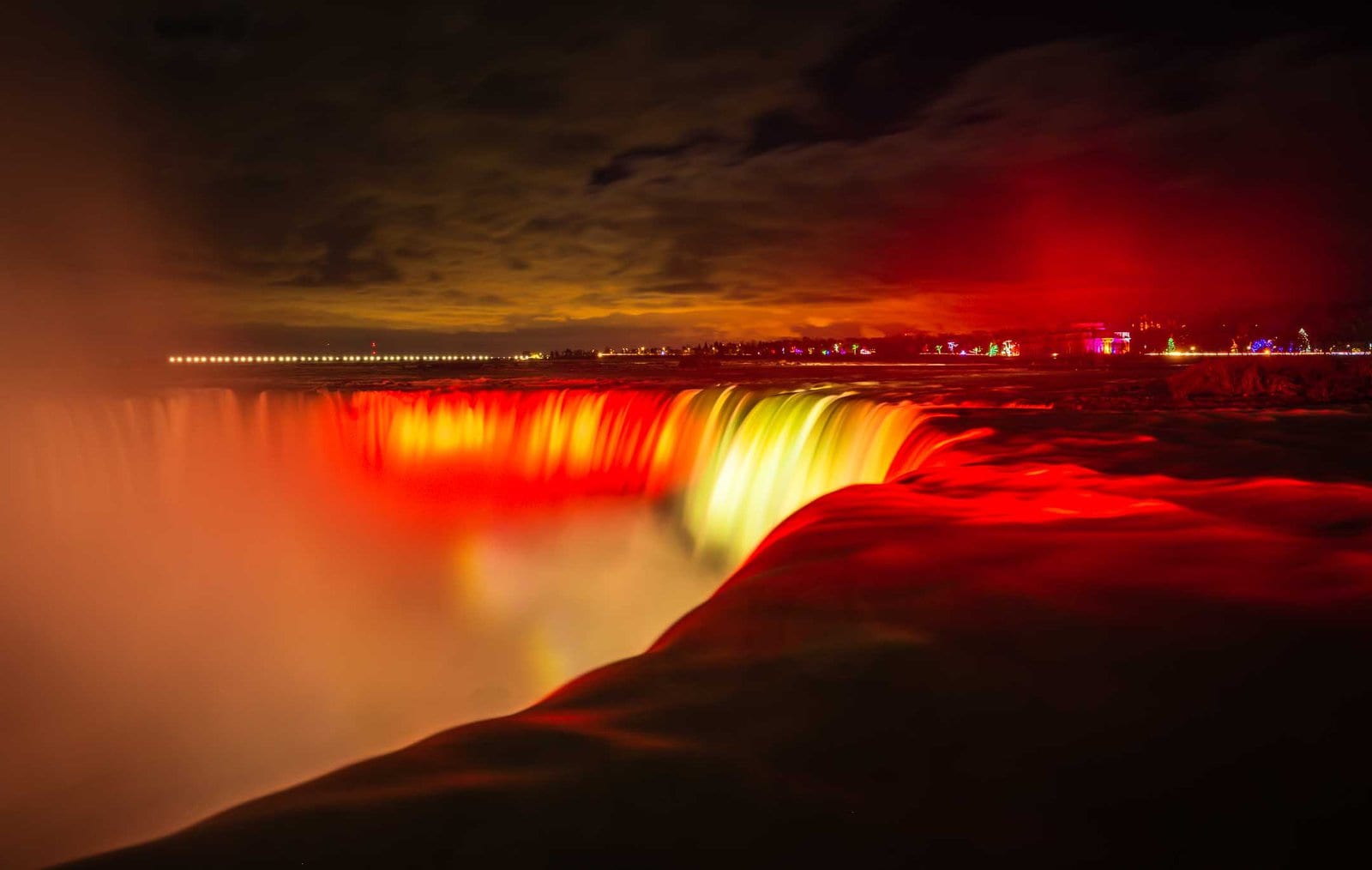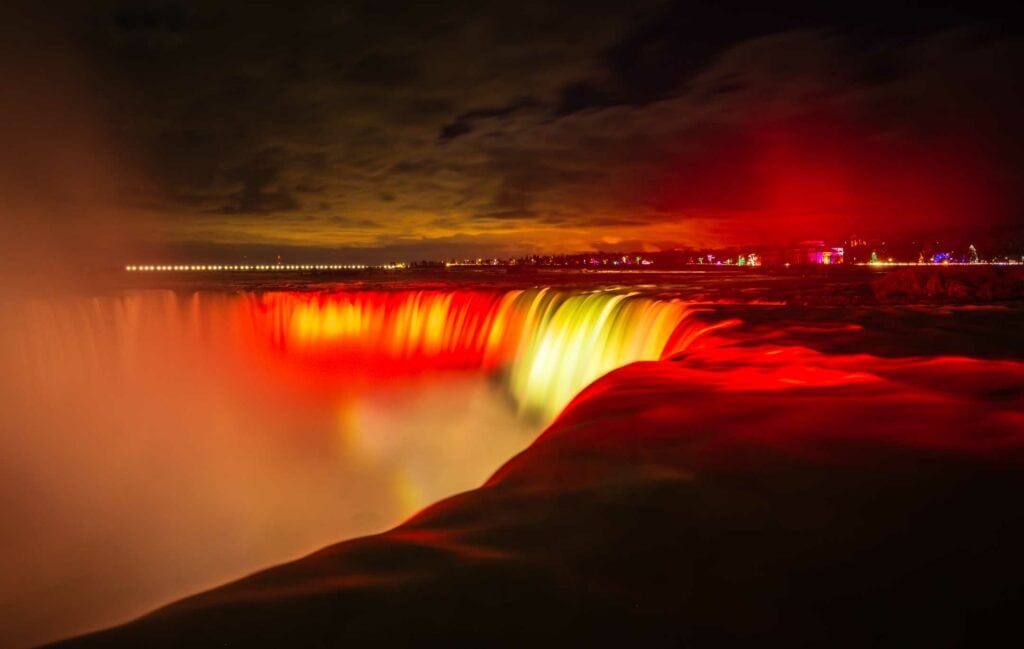 Plan ahead and save on admission to several popular tourist attractions with the Niagara Falls Wonder Pass which includes: Journey Behind The Falls, Niagara's Fury, Butterfly Conservatory, Niagara Parks Power Station and Tunnel, the Falls Incline Railway, and the WEGO bus.
Niagara Falls Winter Festival Of Lights
As breathtaking as the falls appear in the daytime, they're almost otherworldly when lit at night.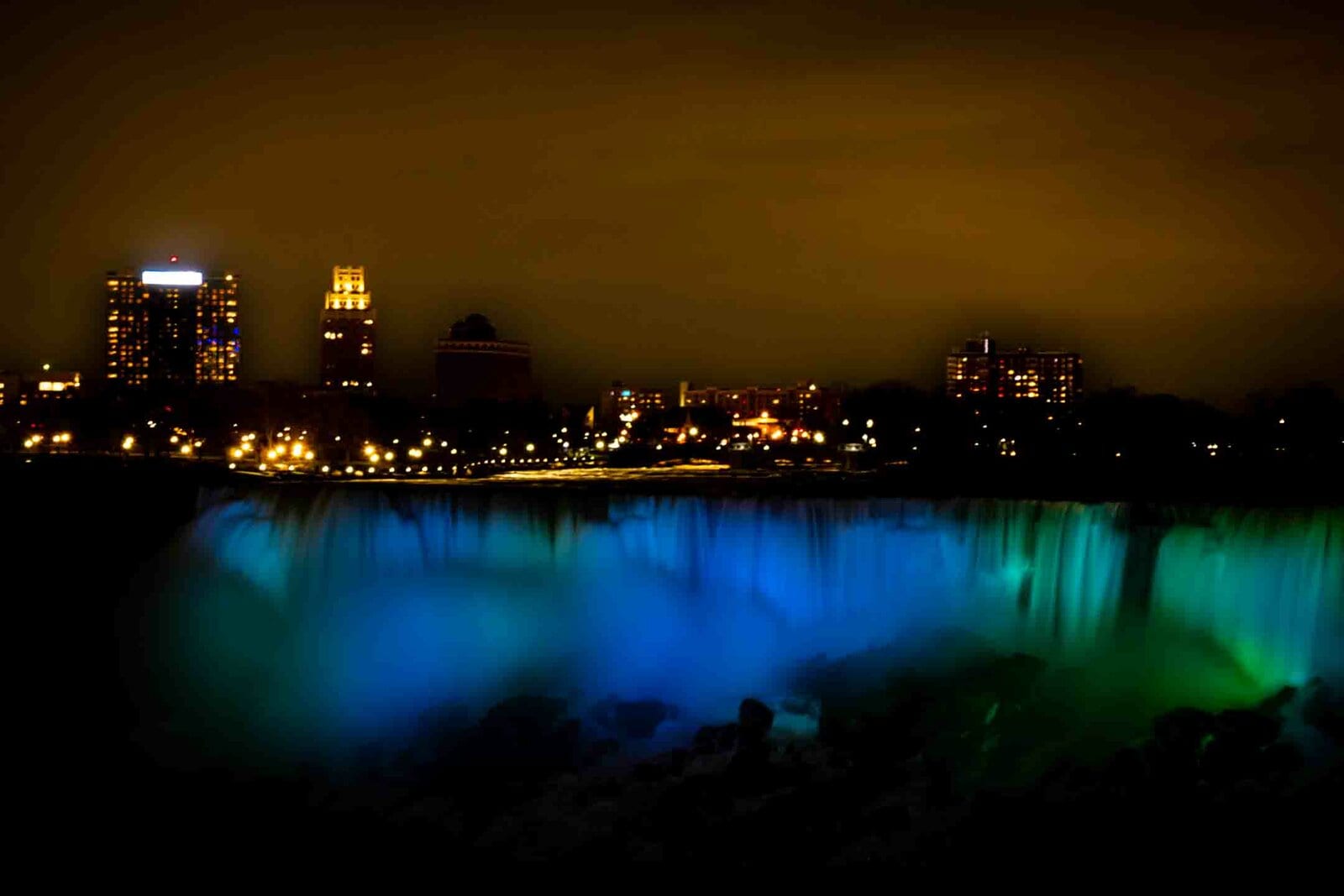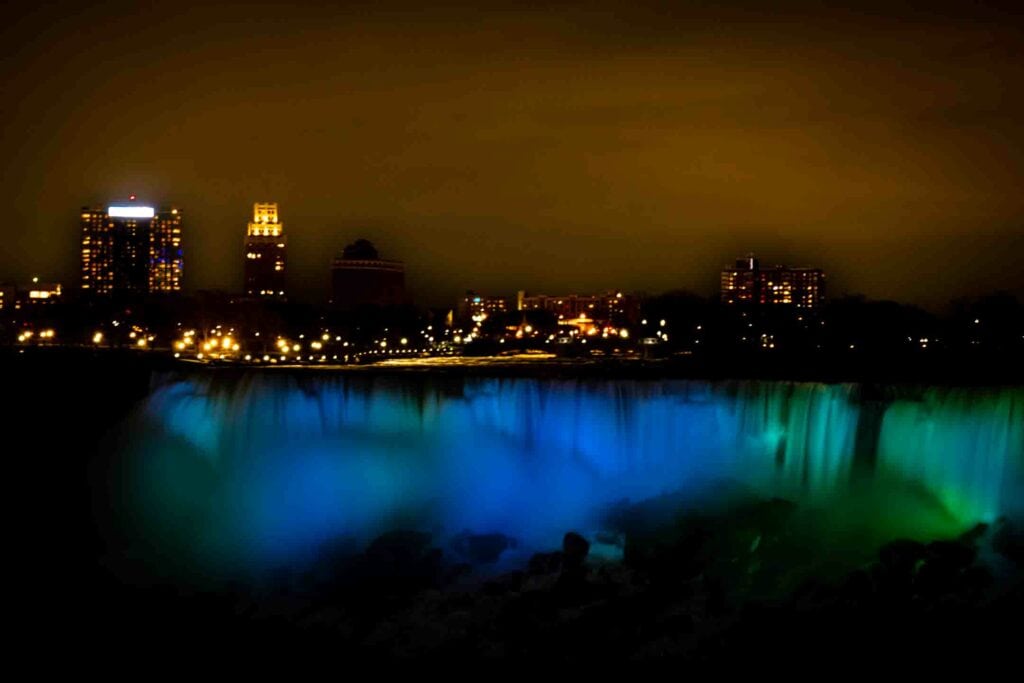 Some of the first lightings occurred over a hundred years ago on the occasion of Royal visits, but it wasn't until 2016 that the $4 million lighting grid forever changed the spectacle.
Now, the illumination of the falls is a nightly event. The illumination schedule varies by month, with long winter nights being reflected in longer illuminations. Also, special events determine color choices; see the schedule for specifics.
On weekends and the winter holidays, you won't want to miss the fireworks at 8:00 pm (and midnight on New Year's Eve.) They can be viewed anywhere outdoors, but make it even more special by seeing them from the Niagara SkyWheel, Skylon Tower, or from a romantic window-side seat at Massimo's Italian Fallsview Restaurant (see below.)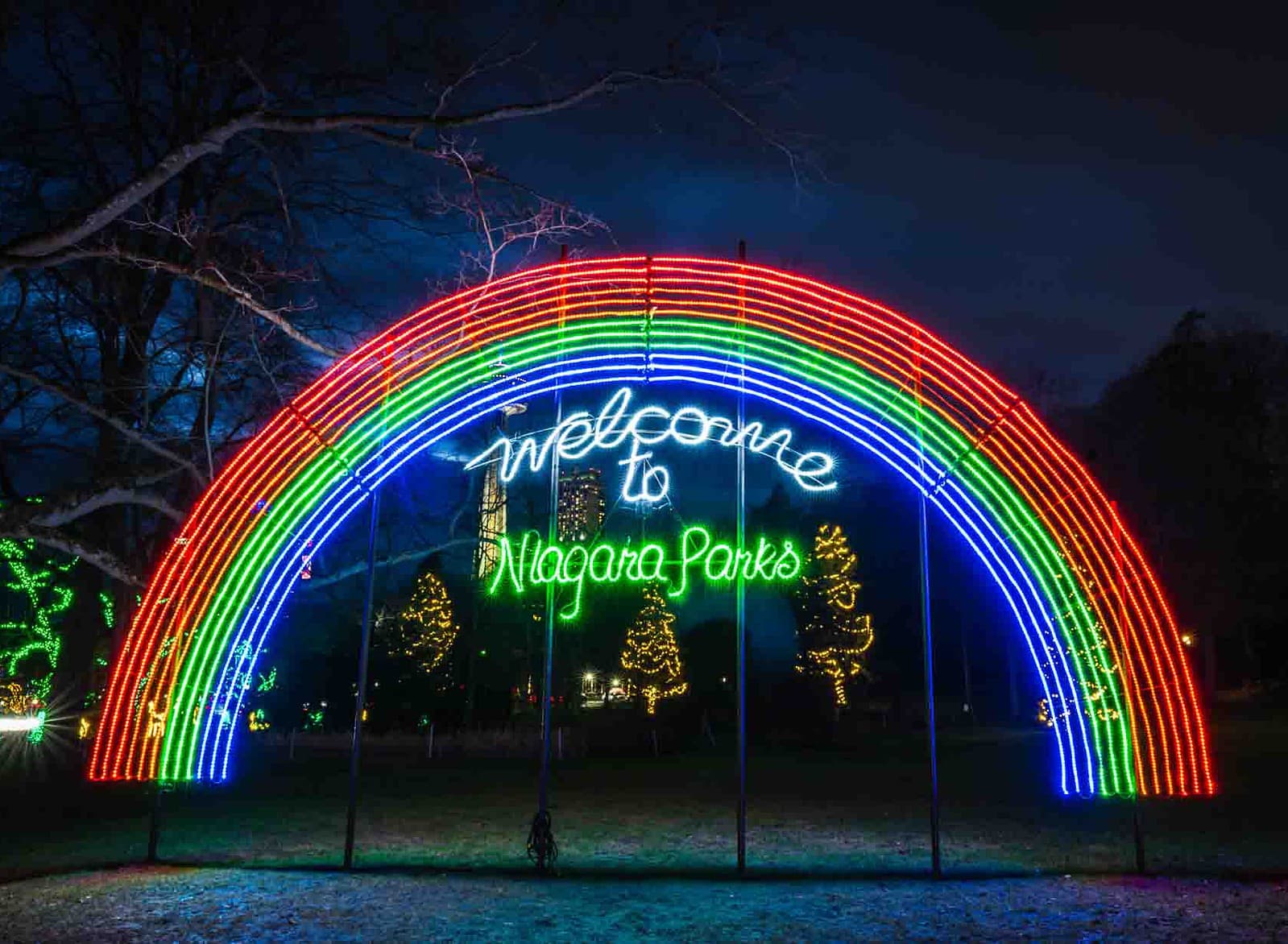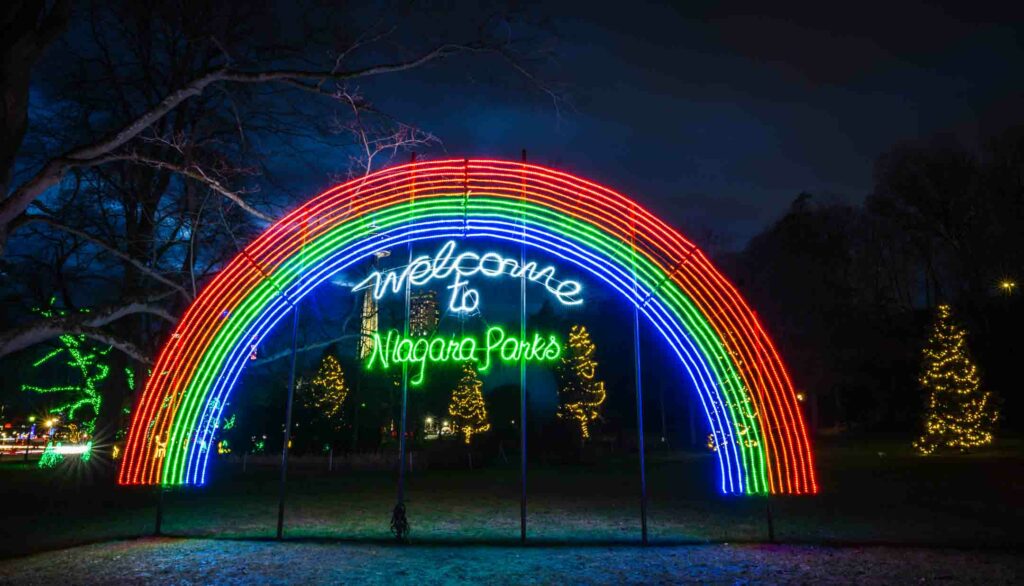 In the winter, there's an additional incentive to stroll from one end of the Niagara Parkway to the other. Now in its 40th year, the Niagara Fall Winter Festival of Lights runs for 101 nights from November 12, 2022-February 20, 2023.
One of the highlights of the winter festival this year is the Sparkling Winter Lights nightly Illumination. Look to the Horseshoe Falls every hour between 6 pm-8 pm for a 5-minute light display that recalls the might and splendor of northern winters.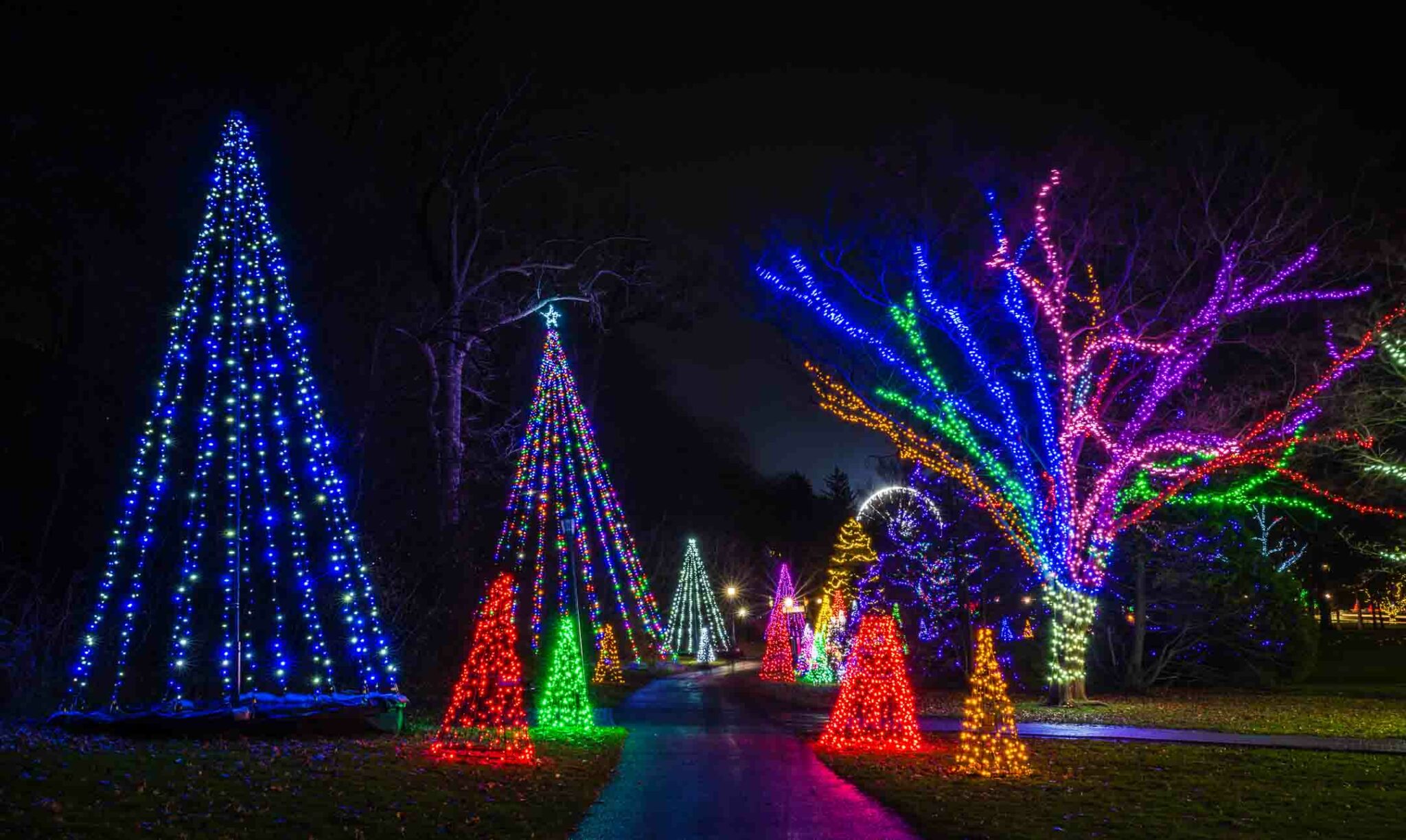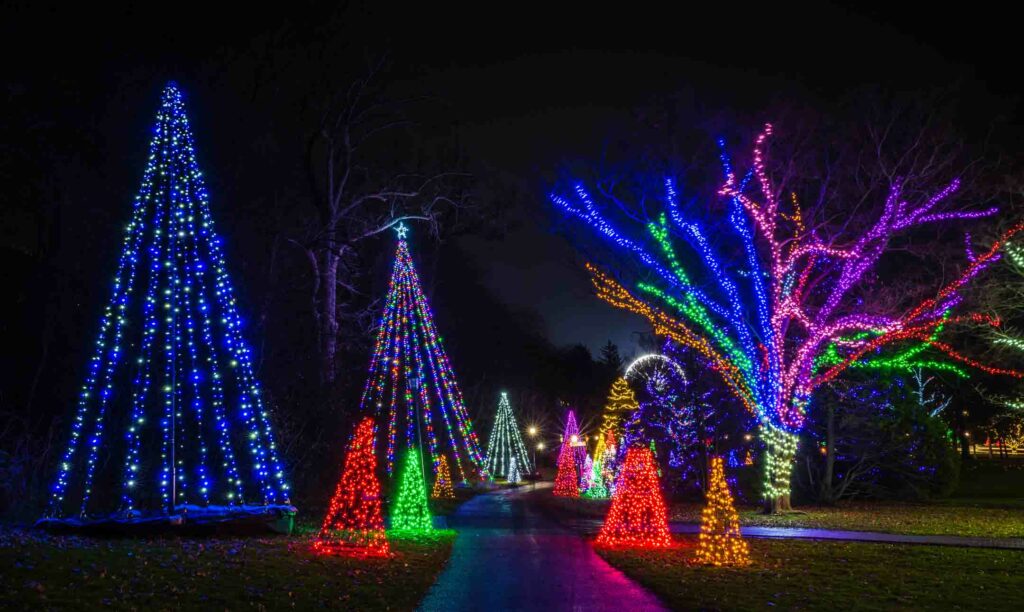 As for the 3-million lights, they are spread out over eight display routes, all equally enchanting, and all with plenty of selfie opportunities.
Some displays can be viewed roadside, but the setting is made for leisurely strolls.
That said, it might be difficult to see it all in one evening. We did our best over a weekend getaway but realized later that we hadn't seen it all.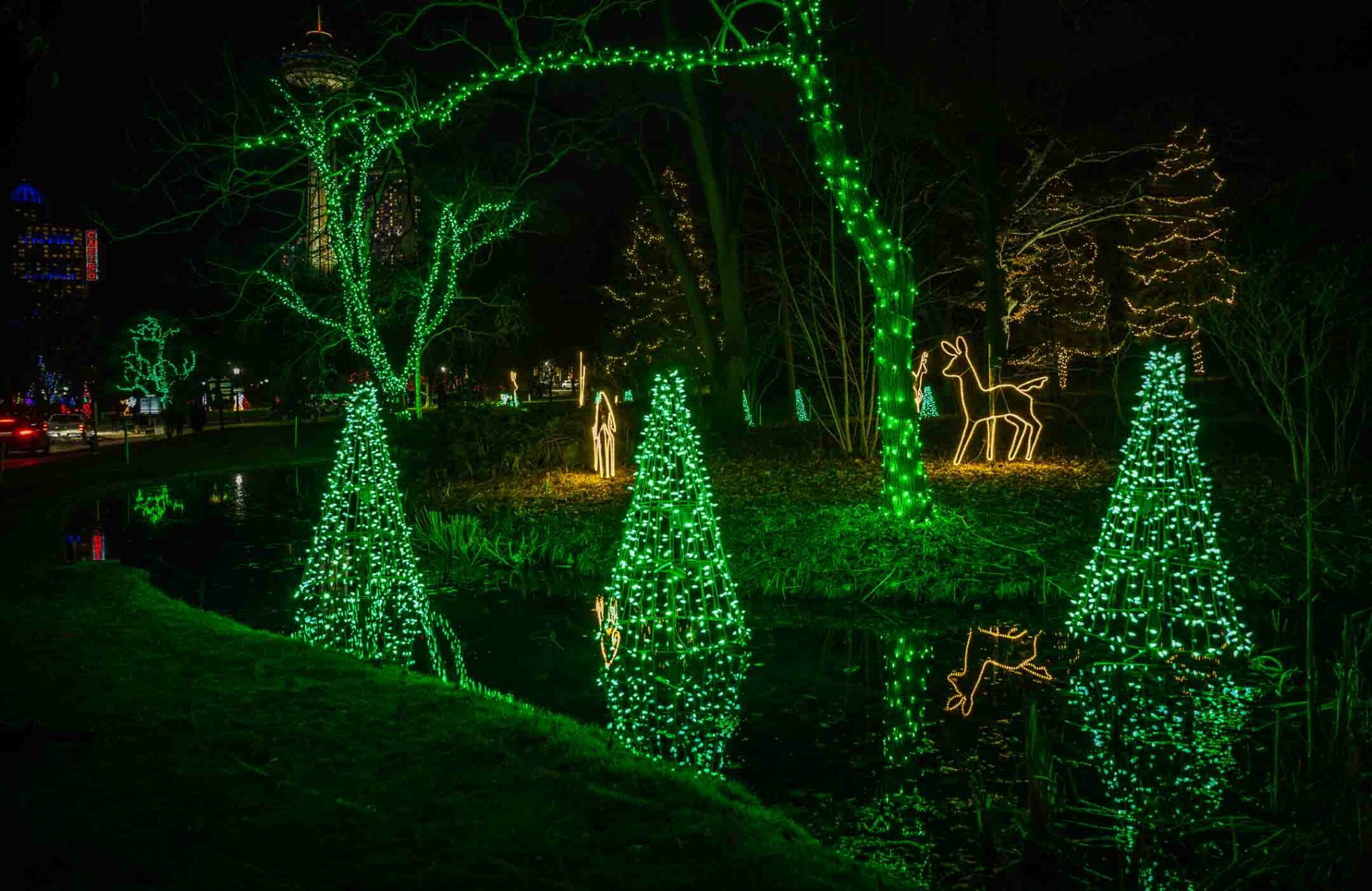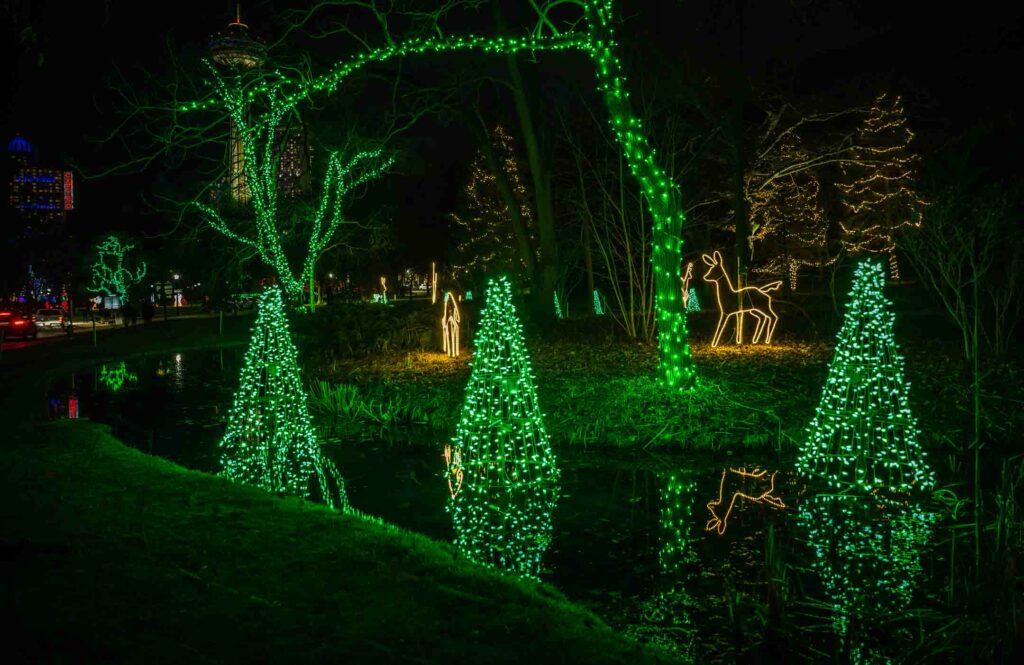 Niagara Helicopter
An even more thrilling way to see the lights this year is from above on a seven-passenger Airbus H130 helicopter.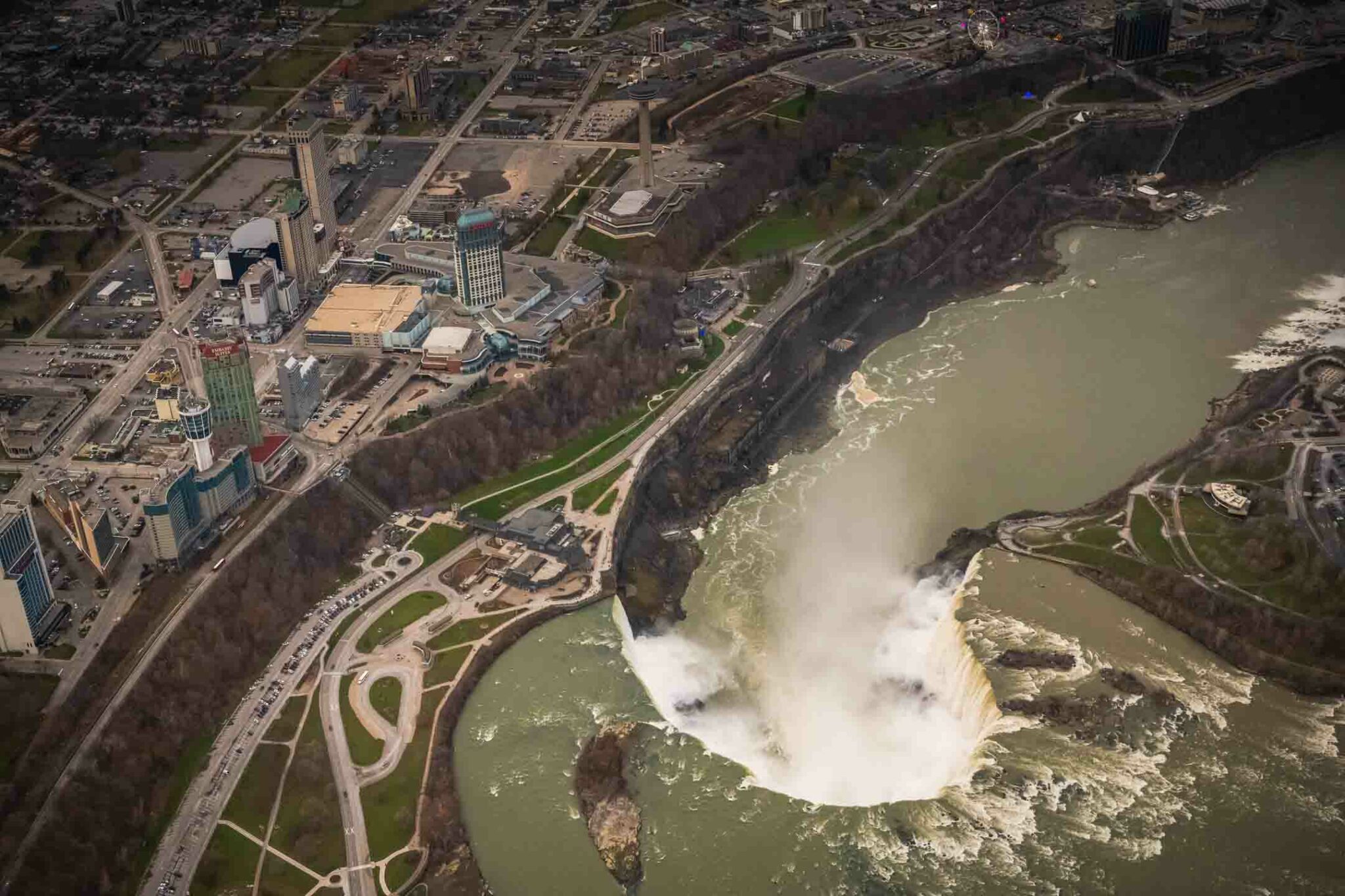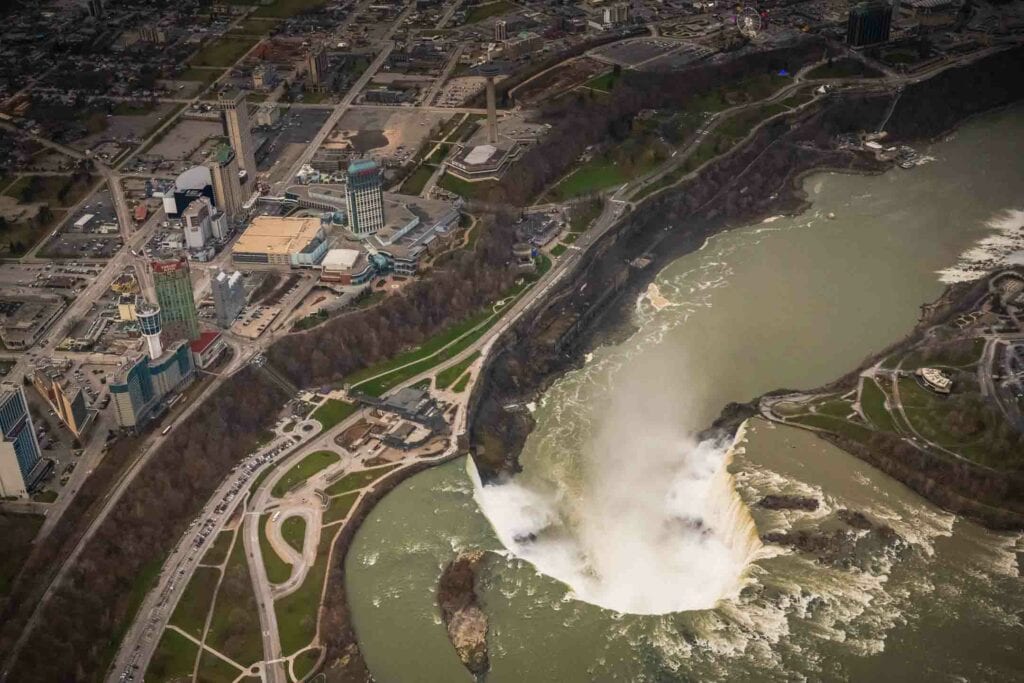 Weather permitting, Niagara Helicopters runs daily Niagara Falls flights year-round. In business for over fifty years, they also offer wedding flights, winery flights, and special charters.
A new seasonal addition this year is the Winter Nights and Lights Experience, available November 12, 2022 – April 30th, 2023, from sunset to 8:00 pm daily.
We boarded a 4:15 flight in anticipation of seeing the sunset at 4:30 pm; in retrospect, it might have been better to go a little later in order to better see the light display. It's a short flight, only 12 minutes, so it's best to time it for when the sky has darkened.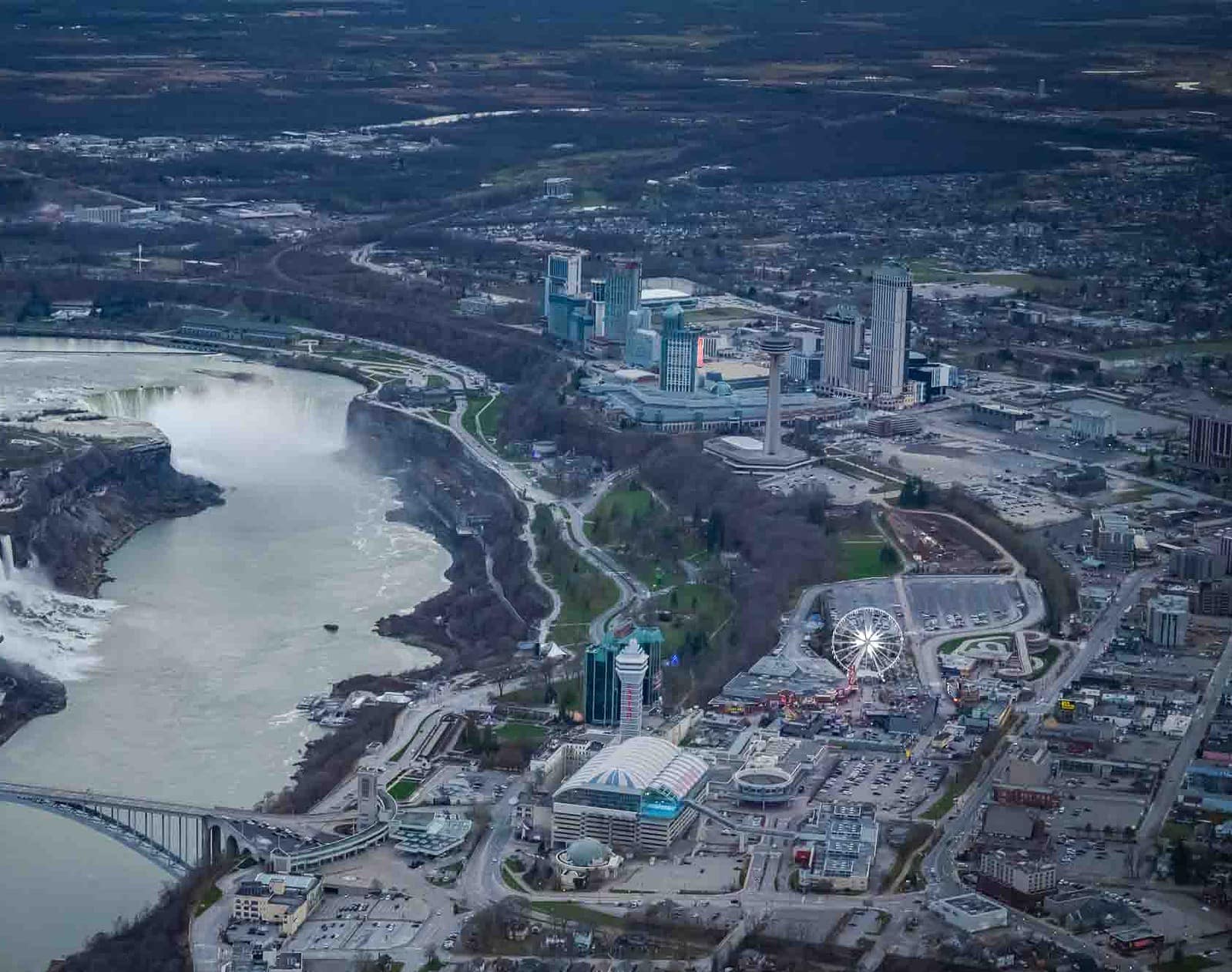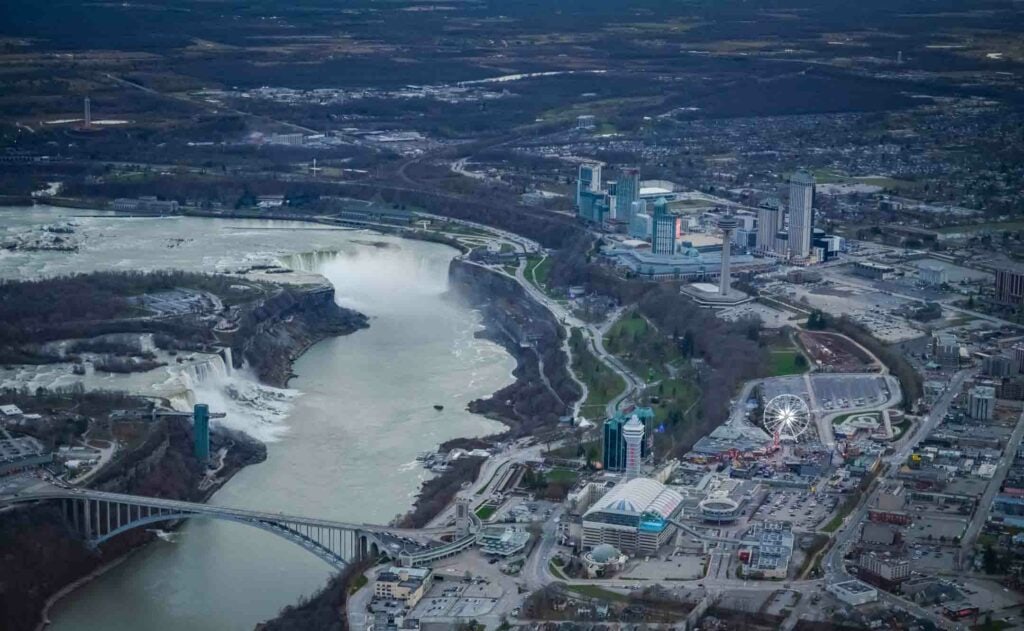 Ideally, the optimal time to see the winter light display is in the blue hour when the sun has set but before the sky turns fully dark. The exact time varies, but it could be anywhere from sunset to an hour afterward.
Honestly, it was such an incredible sight to see the waterfall below us, that I'd gladly return to see it under different lighting conditions at any or all of the hours.
Niagara Parks Power Station: Tunnel And Currents
As far as my husband is concerned, the most romantic thing we did was to visit the Niagara Parks Power Station. Open from 1905 to 2006, it was the longest-operating power plant on the Niagara River.
Now, it's been converted into a museum displaying power plant artifacts, with explanatory signage.
If you opt for the Tunnel experience, an elevator takes you down 180 feet to a 2200-foot-long tunnel that leads to an outdoor observation deck.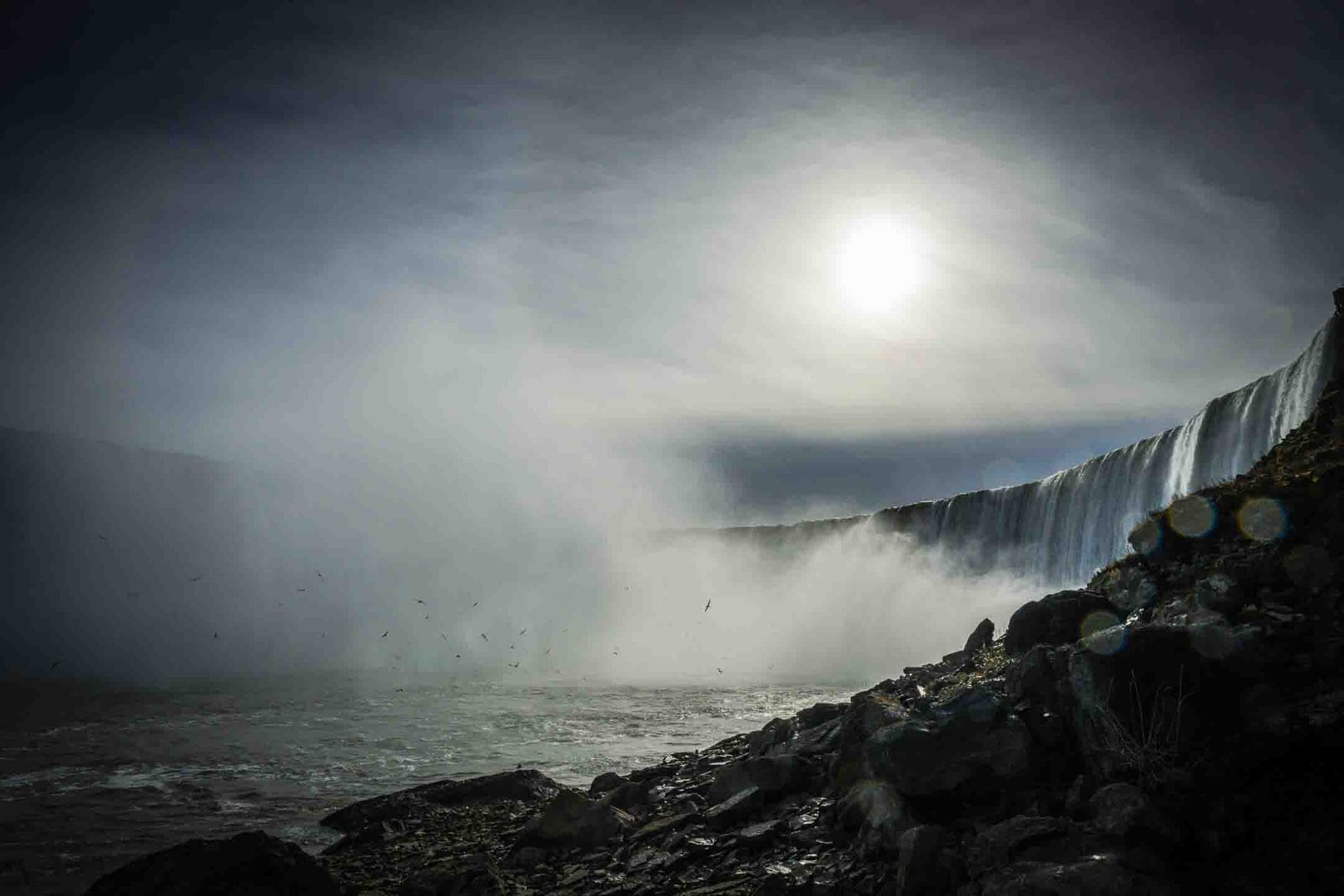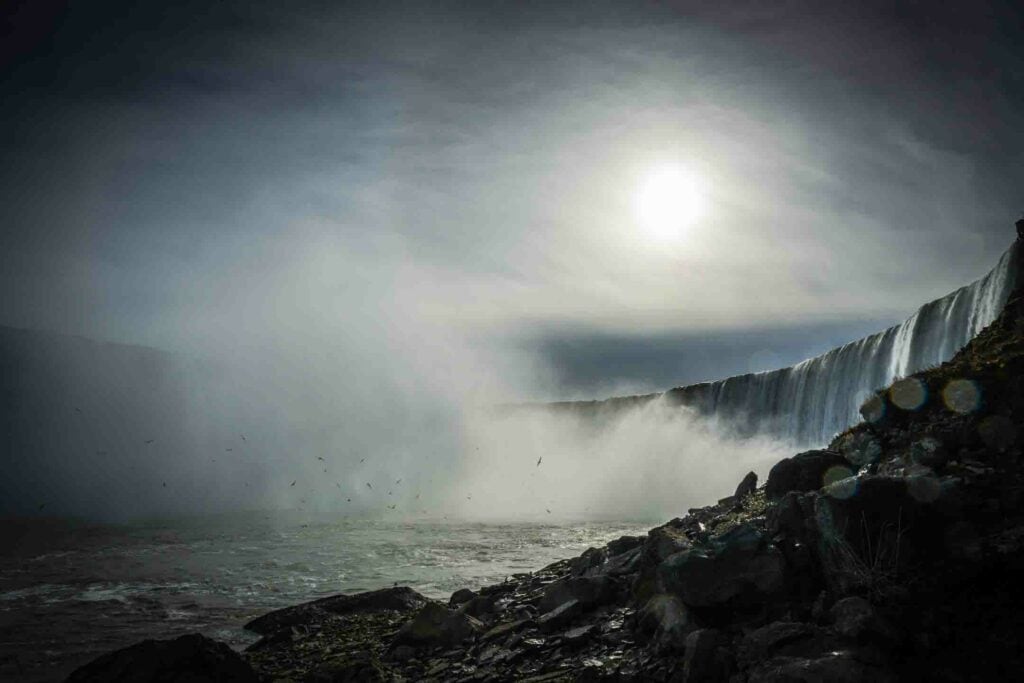 There are a number of educational stations in the tunnel and the walk is long enough that you'll want to plan on at least 30 minutes for the trip.
We ended up spending a little longer because my husband read every single poster, and I wanted to take photos of the falls from the Observation Deck.
Later on, we returned in the evening for the Currents light and sound show inside the power plant. The completely immersive experience asks you to wander around the interior as images are projected above, below, and all around you. It's very cool!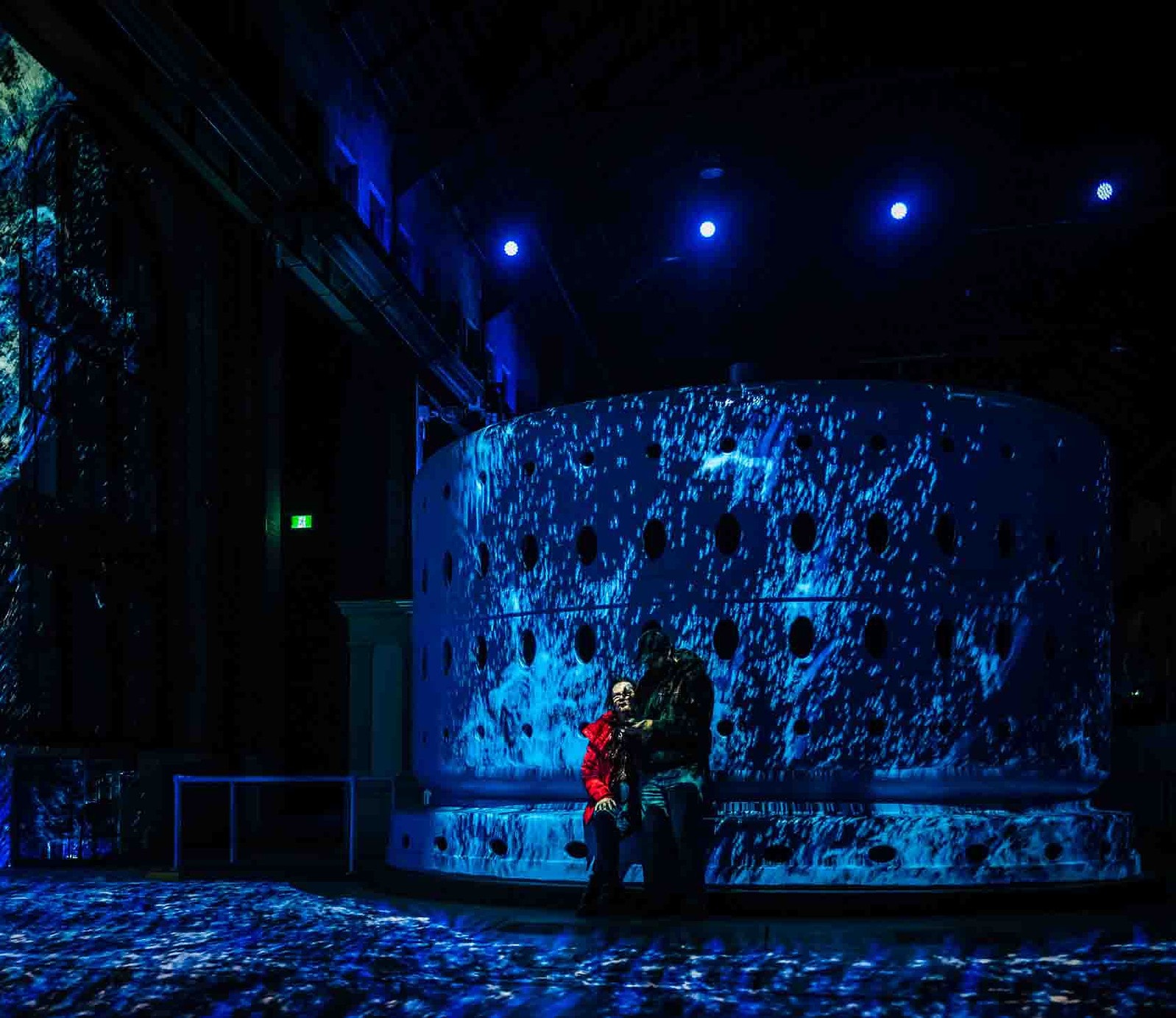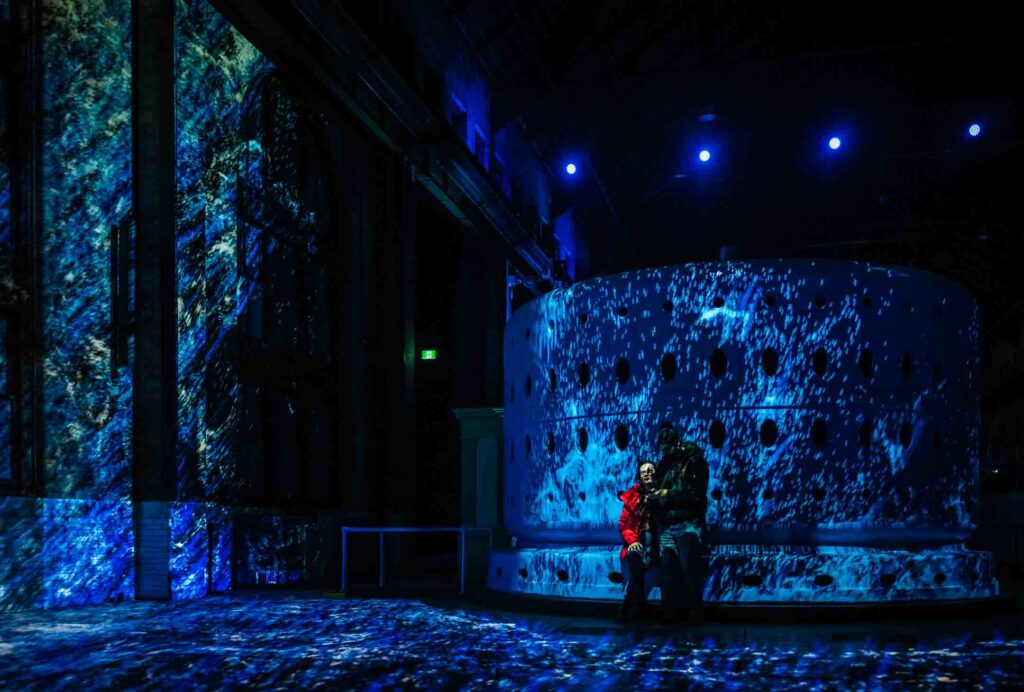 But also, the night show tells the story of the Niagara River and the role it plays in nurturing and powering communities. As we heard guests whispering around us, "This is awesome!"
Journey Behind The Falls
If you want to get close enough to the falls to feel the spray, then the Journey Behind The Falls is a must. The experience involves taking an elevator down to the tunnels that lead to the two observation decks.
Please note, though, that in the winter season, the Lower Observation Deck is closed due to hazardous icy conditions (lower winter rates apply.)
Clifton Hill – Niagara Skywheel
Fun-loving couples will delight in Clifton Hill; it's got about a zillion ways to play. There are rides, arcades, mini golf, a race track, a wax museum, an upscale bowling alley, and so much more.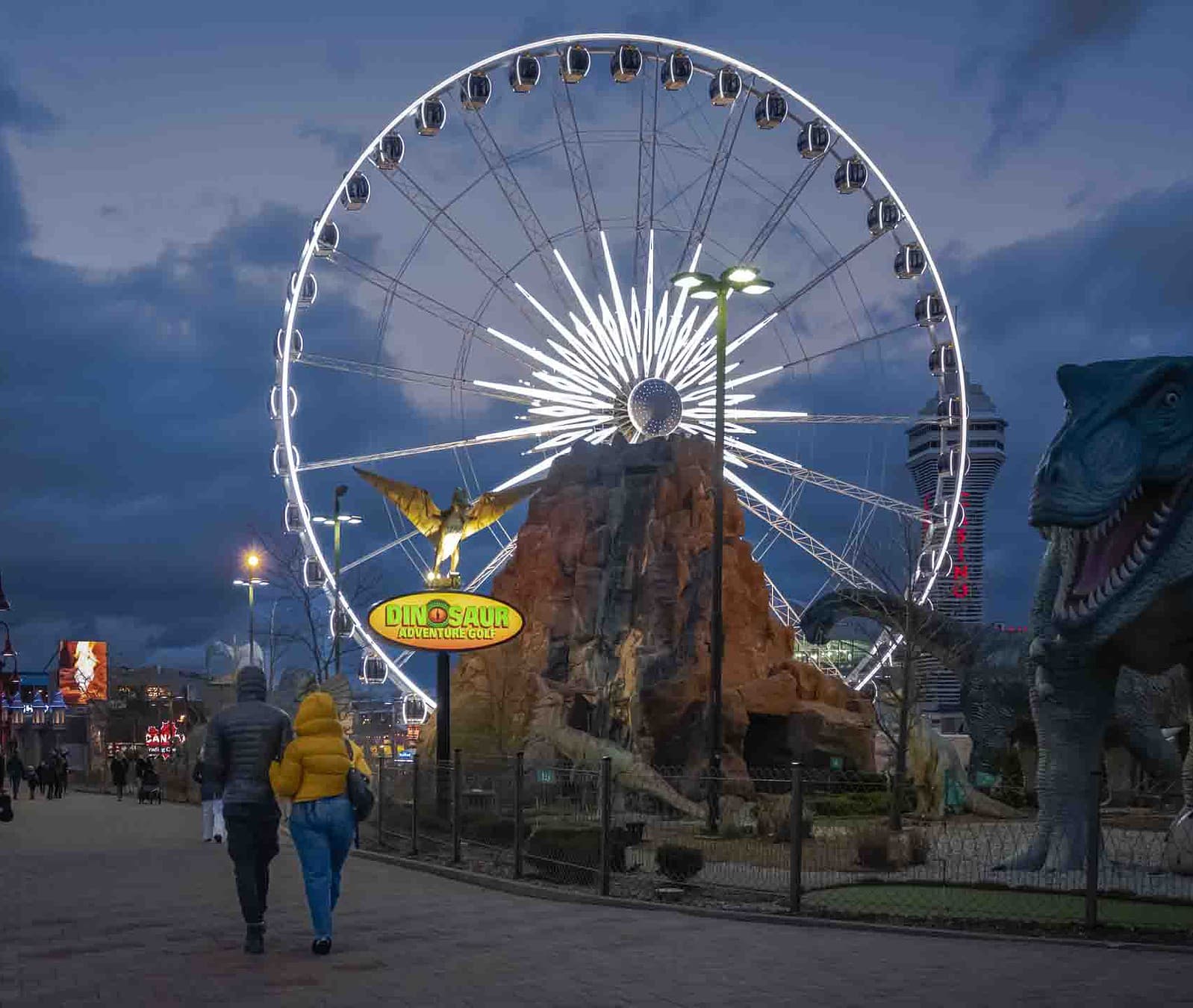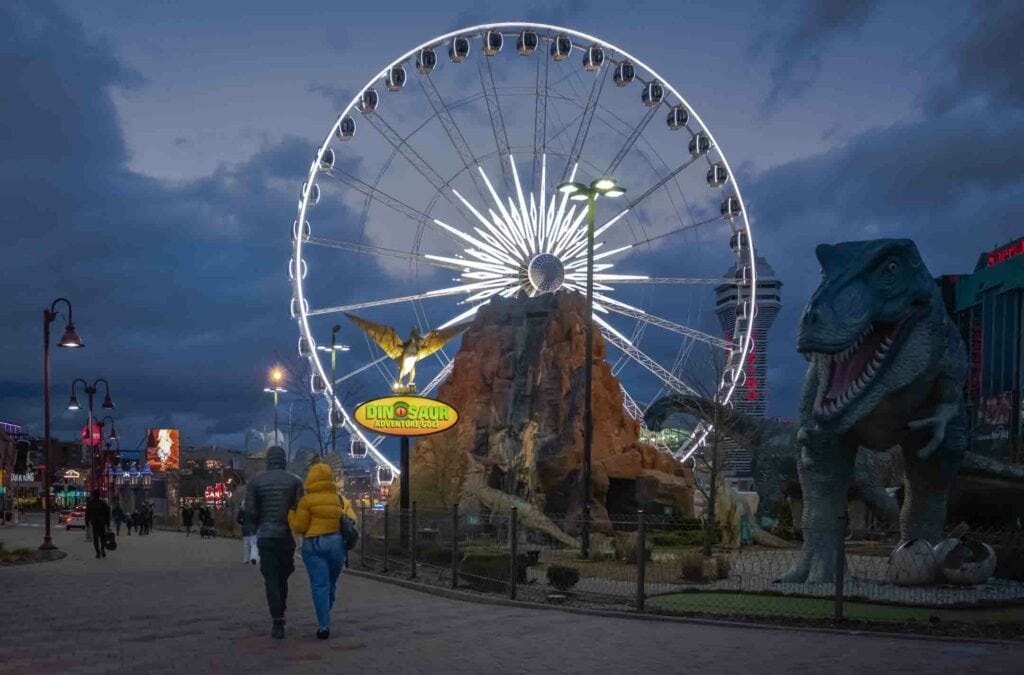 Clifton Hill also has one of the best ways to see the lit-up falls, a Niagara SkyWheel that takes passengers 175 feet up in glass-enclosed gondolas.
Save with the Clifton Hill Fun Pass, it lets you into six attractions for the price of two, more or less.
Niagara Falls NightLife
There is so much going on in Niagara Falls that you could go on a different date every night. In addition to the Clifton Hill fun zone, and gambling at two casinos, there are several live music venues.
The biggest show is at the 5000-seat state-of-the-art OLG Stage at Fallsview Casino which brings in world-class talent like Billy Joel. But smaller venues are just as entertaining. Margaritaville Niagara Falls hosts karaoke on weekend nights.
The Brasa Brazilian Steak House brings in The Asere Band or 2ndBeat for live music nightly, and during the holiday week, they will host a full-on Brazilian Carnival. Meanwhile, the classy Spyce Lounge on the street-level floor of the Hilton Fallsview Hotel features a rotating schedule of live acts, as well as pub fare and inventive cocktails.
Things To Do Near Niagara Falls
Hiking And Snowshoe Trails
There are a number of great hikes near Niagara Falls, including the Niagara Glen hike or the Bruce Trail on the UNESCO-recognized Niagara Escarpment. With snow or ice on the ground; however, conditions might be dicey. In that case, you'd be better off snowshoeing.
Typically, snowshoeing and rentals would be available at Niagara Parks Winter Lodge or Whirlpool Golf Course. However, these are temporarily closed at this time.
Instead, there are several spots where you can snowshoe or cross-country ski if you bring your own gear:
There are trails on the grounds around and between the Niagara Falls Butterfly Conservatory and Nature Glen Nature Center.
DeVeaux State Park – trails lead across the Niagara Scenic Parkway to Whirlpool State Park, with access to the Niagara gorge trail system. The park also operates an ice rink during the winter season.
Niagara Falls Shopping
If shopping is what thrills you and your sweetie, you're in luck. There are two outlet malls in and near Niagara Falls. Canada One Outlets are located on the outskirts of town and feature shops such as LL Bean, Guess, and lingerie shop La Vie En Rose.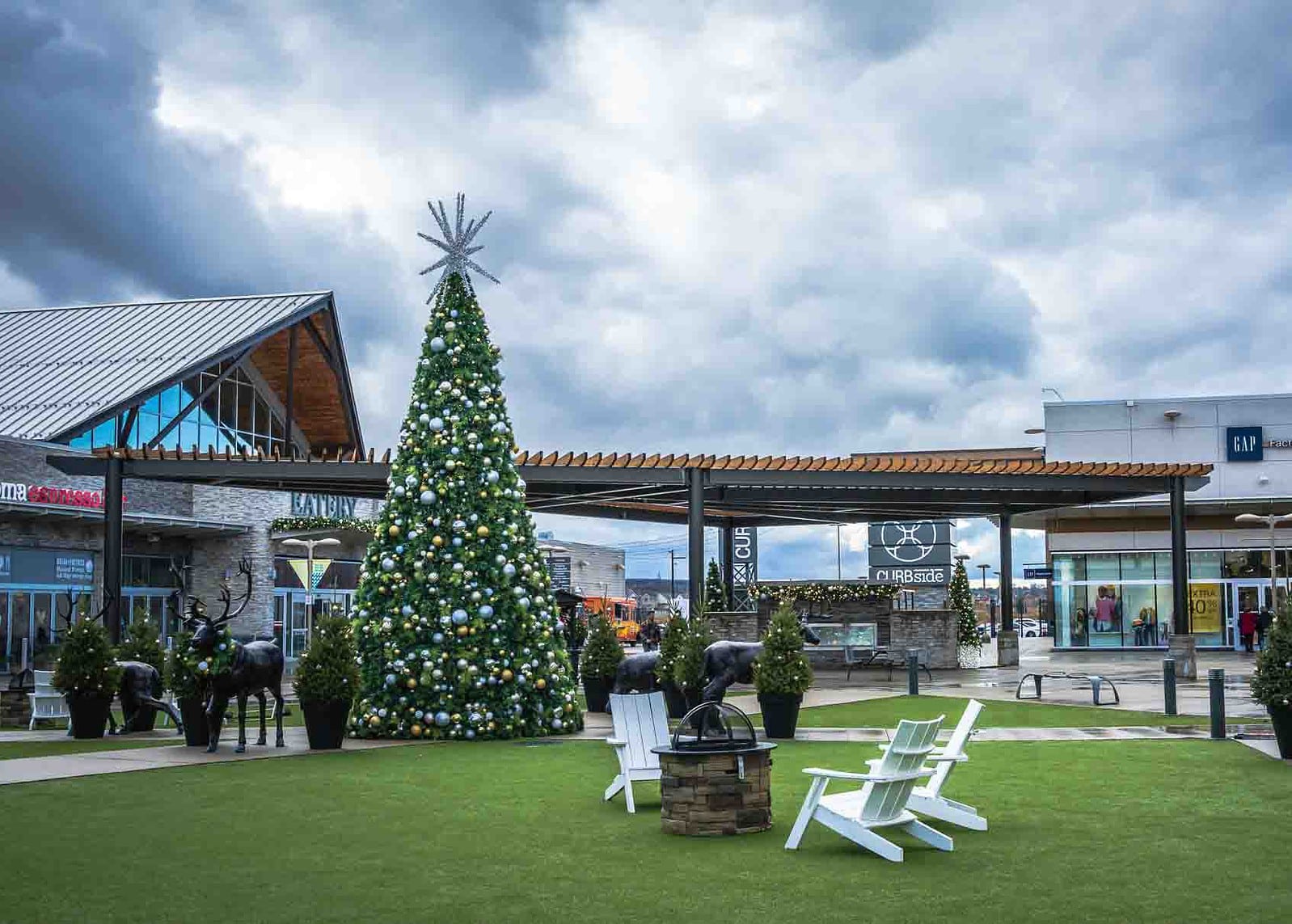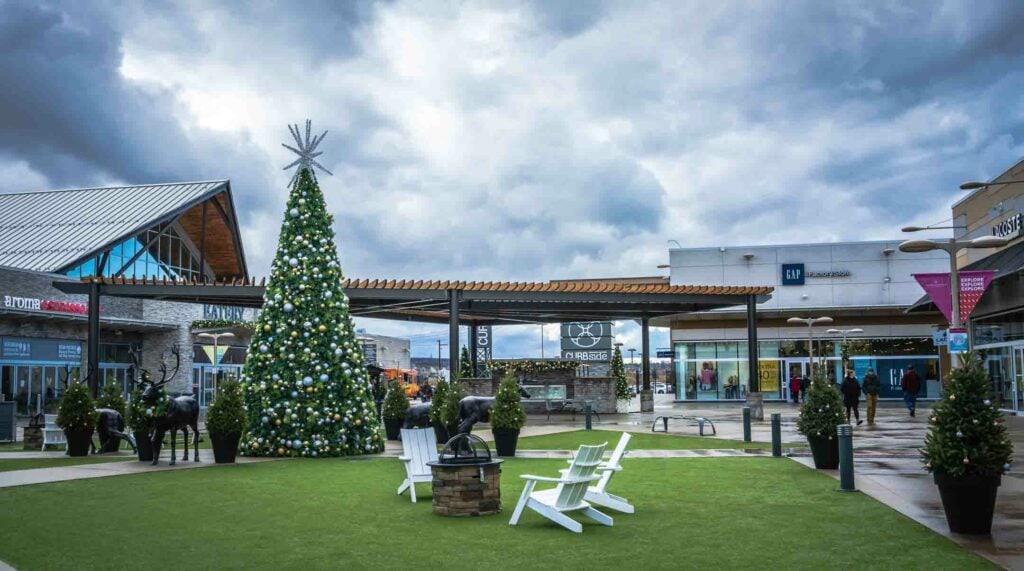 It's a little further out (a 15-minute drive) to the Outlet Collection at Niagara near Niagara-on-the-lake, but oh so worth it!
This outdoor outlet mall is huge; over one hundred brands cover half-a-million square feet spread out like a racetrack. Most walkways are sheltered, and there is an indoor food court as well as an outdoor food truck court.
We did really well at the UGG outlet, scoring hard-to-find styles at Christmas-gift prices. But the best deals were at the humongous Marshall's store. There, we picked up exceedingly warm parkas from the Montreal-based Pajar brand that normally retail for $749 (and which are sold out everywhere) for a fraction of the cost.
Even if you aren't planning on shopping, this is a fun mall to explore. Winter decorations are lovely, and there's seating around outdoor fireplaces and live music daily.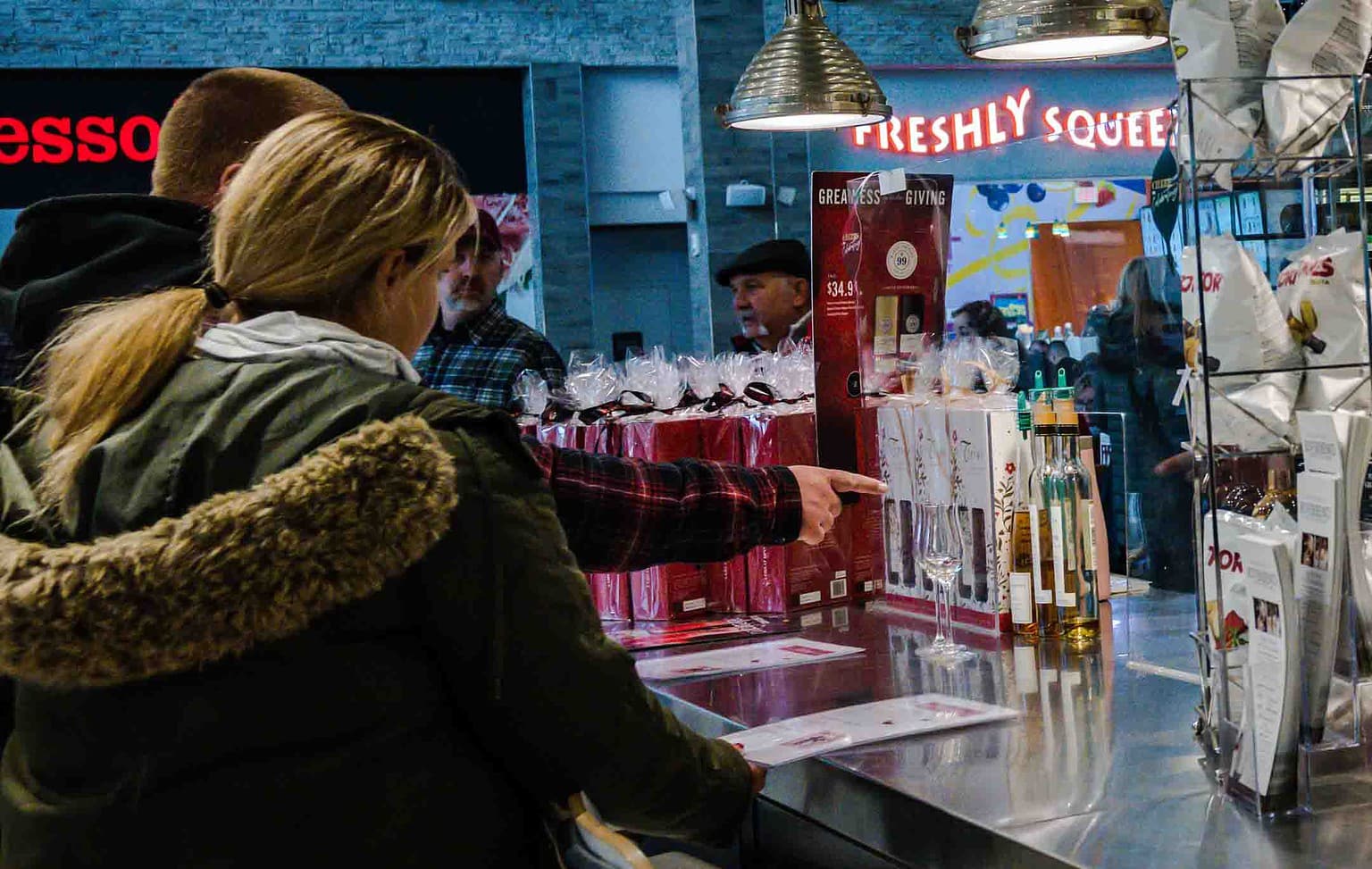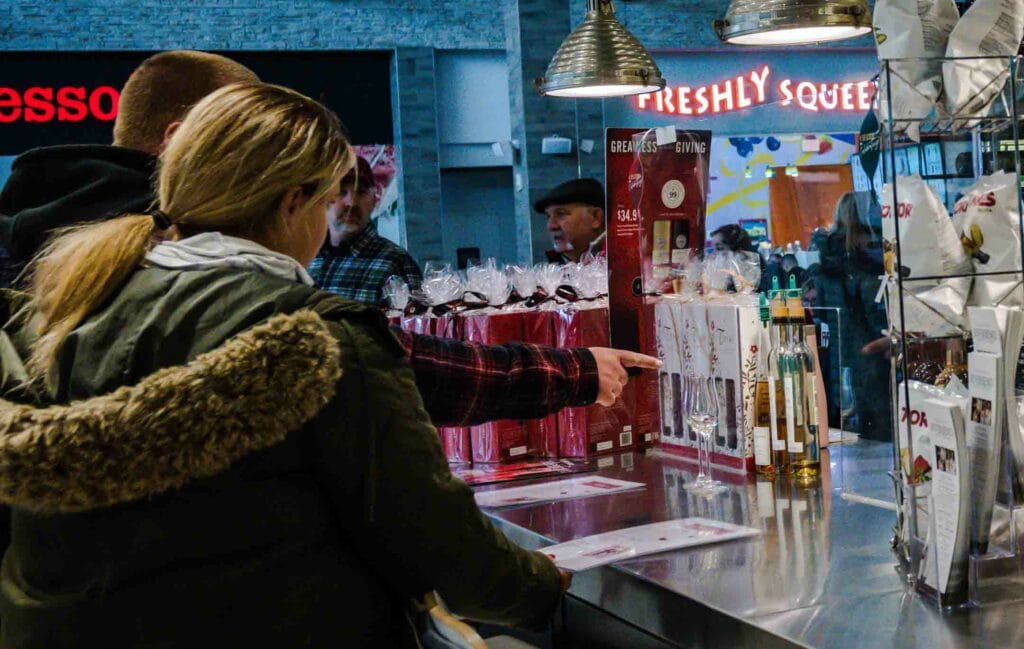 Plus, since it's located in Niagara-on-the-lake, which is known for its outstanding ice wines, it's no surprise that the Wine Country Vintners shop in the Food Court offers ice wine tastings, as well as deals on regional vintages.
What To Do In Niagara-On-The-Lake
Niagara-on-the-Lake merits its own weekend getaway post, but it's also a great day trip destination from Niagara Falls. The Old Town Heritage Center is about a 30-minute drive from Niagara Falls, with (free in December) streetside parking.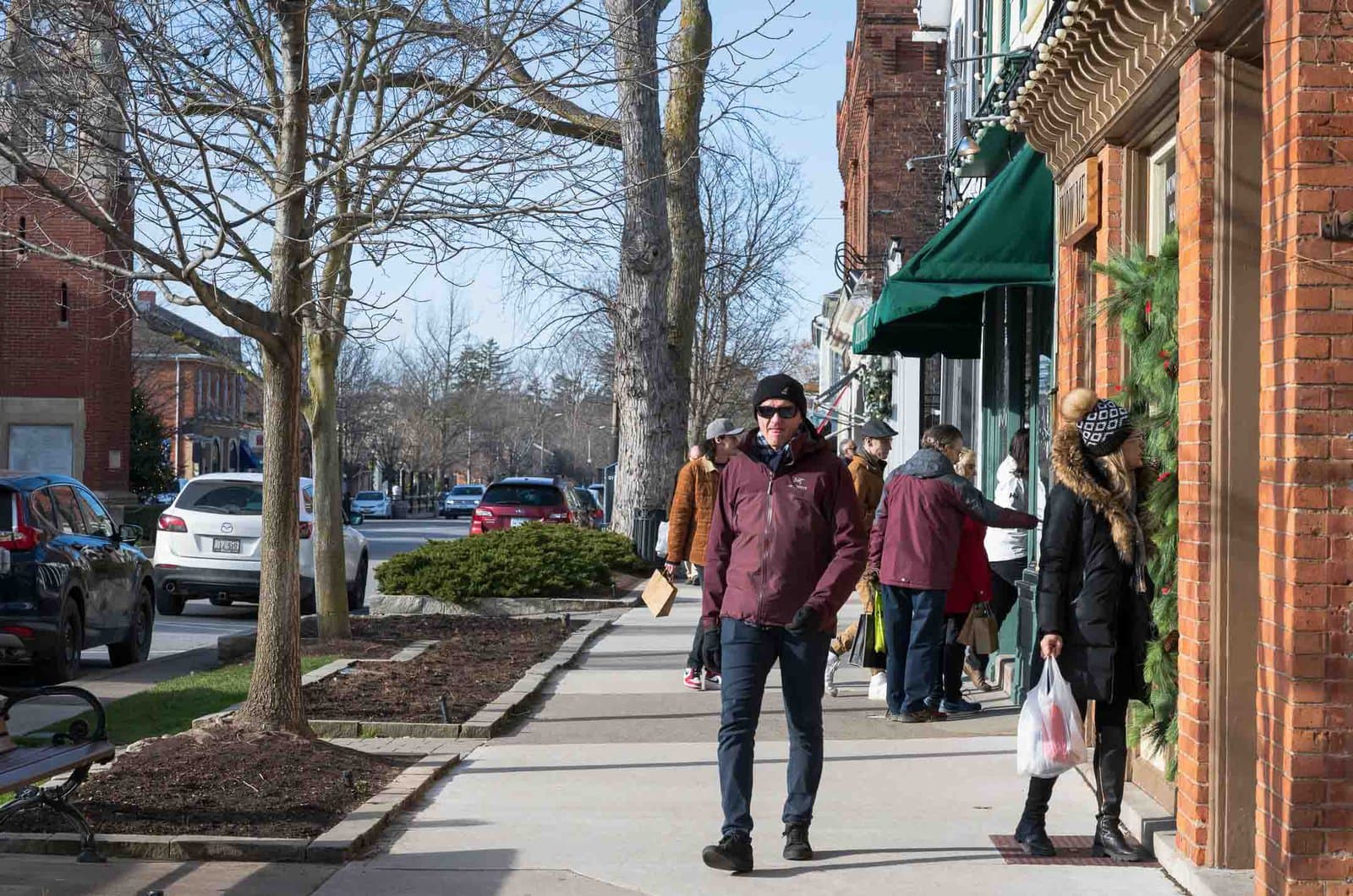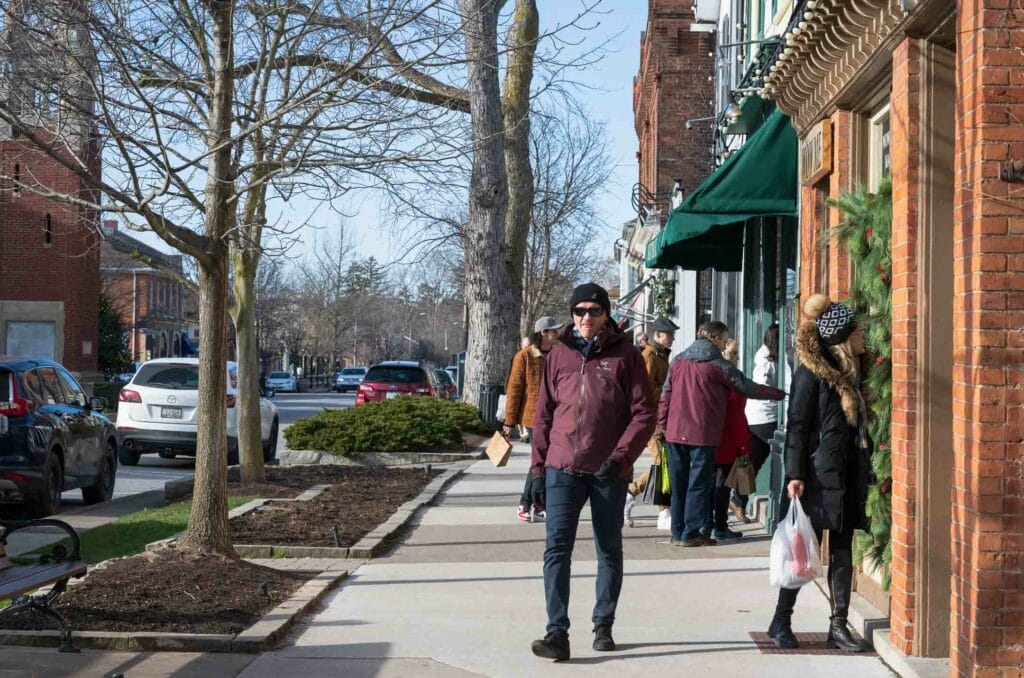 In addition to the nearby outlet mall, there are also a number of cute shops and restaurants on Queen Street. While I shopped for our new Goldendoodle at the Puppy & Dog Fashion store, my husband sampled and purchased a variety of artisanal ales at The Exchange Brewery.
Later we dropped in at the Wayne Gretzky Estates Winery where we purchased several bottles of the award-winning No. 99 Vidal Icewine (2019.) Our stop was short as we were limited on time, but you could easily while a full afternoon between the tours, wine & spirit tastings, and even an outdoor ice rink in the winter.
With more time, we'd love to return to tour some of the other top regional vineyards, including:
Where To Eat In Niagara Falls Canada
Hot Chocolate Trail
It's a good thing that Niagara Fall's Hot Chocolate Trail goes on for the 101 days of the winter festival, you need all that time to fully explore all the sinfully rich concoctions.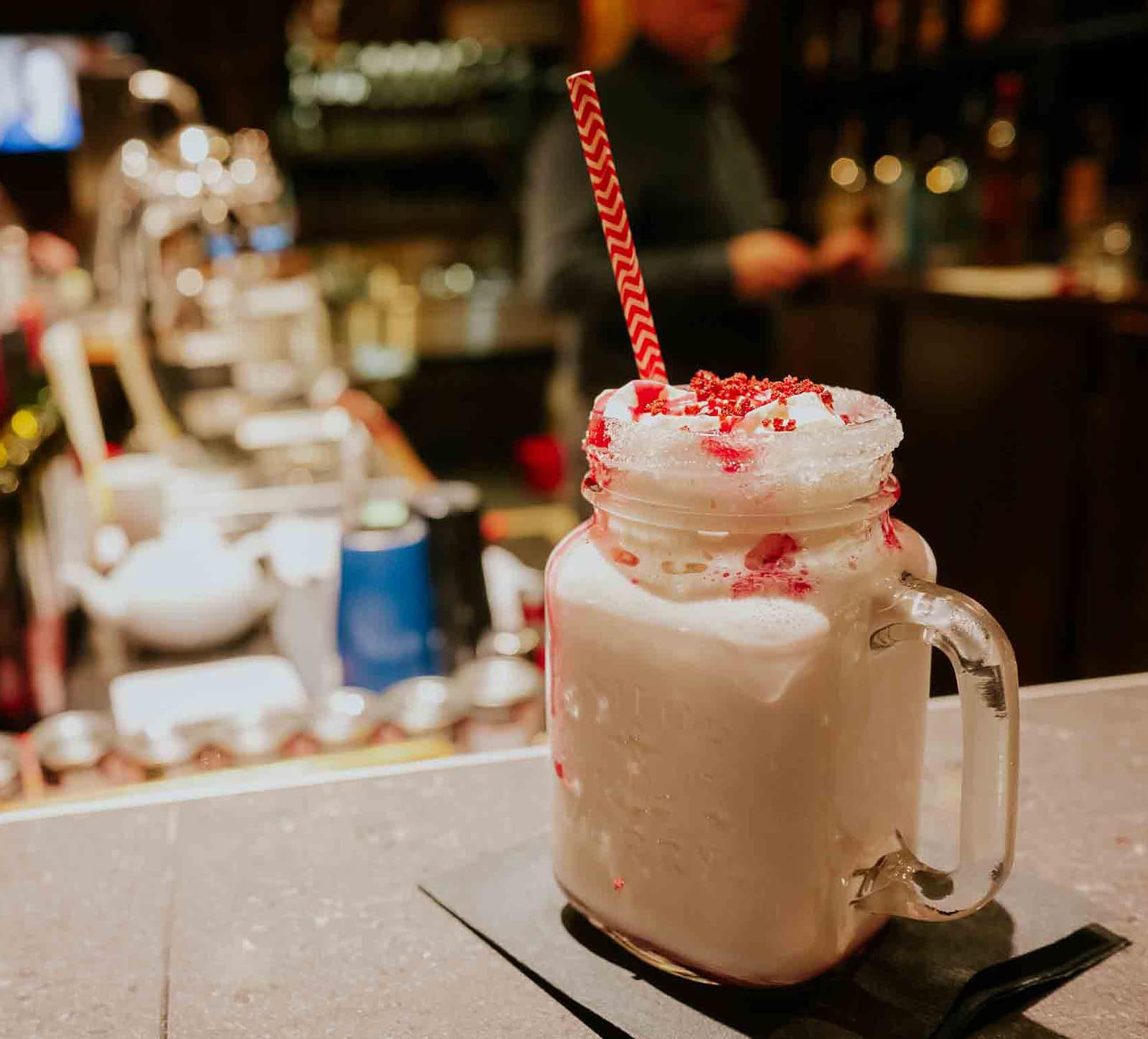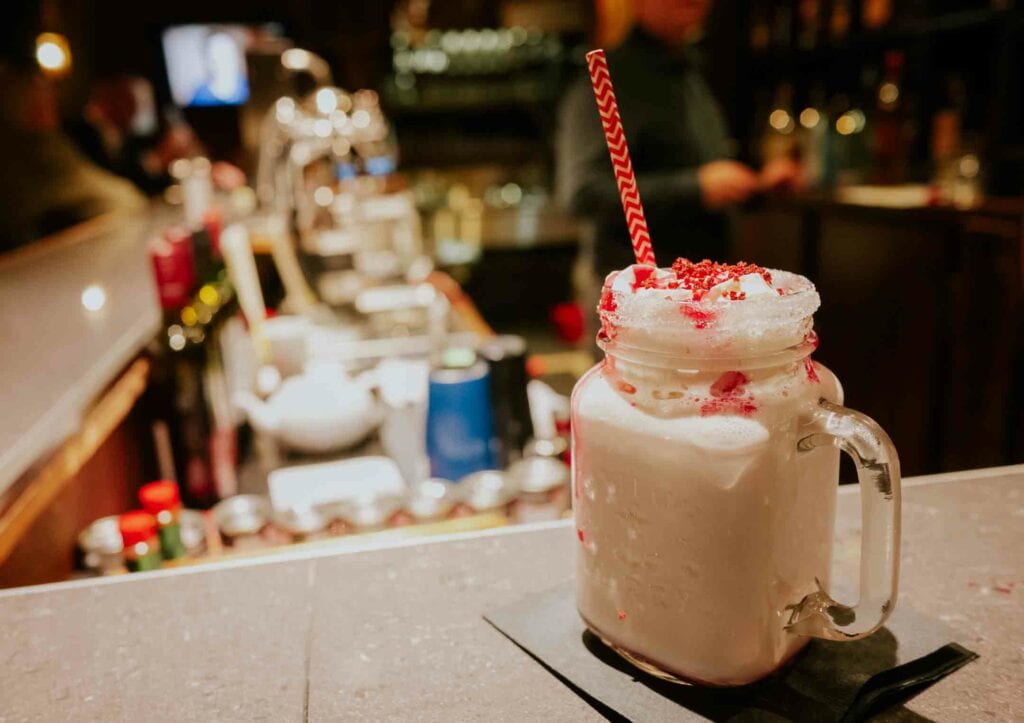 I imagined that it might be possible to try several on our weekend getaway, but even with my legendary ability to consume sweets, I only tasted two.
Both the Chocolate Orange at the Niagara Vines Lobby Bar in the Sheraton Fallsview Hotel, and the Velvet Kiss at the Old Stone Inn were delicious.
My only regret is that we couldn't stay long enough to sample all seventeen. If you're up for the challenge, download the Hot Chocolate Trail map.
Tim Hortons
Tim Hortons is as common in Canada as Dunkin Donuts is in the US. Still, when you're in the mood for a quick pick-me-up, they do the trick. We found a Tim Hortons on Clifton Hill and another at the Niagara Outlets, but there are at least 18 locations around Niagara Falls, so there's sure to be one near you.
Breakfast: Watermark Fallsview Dining
Enjoy breakfast with a stunning view of the falls from the Hilton Fallsview Hotel's Watermark Dining Room on the 33rd floor.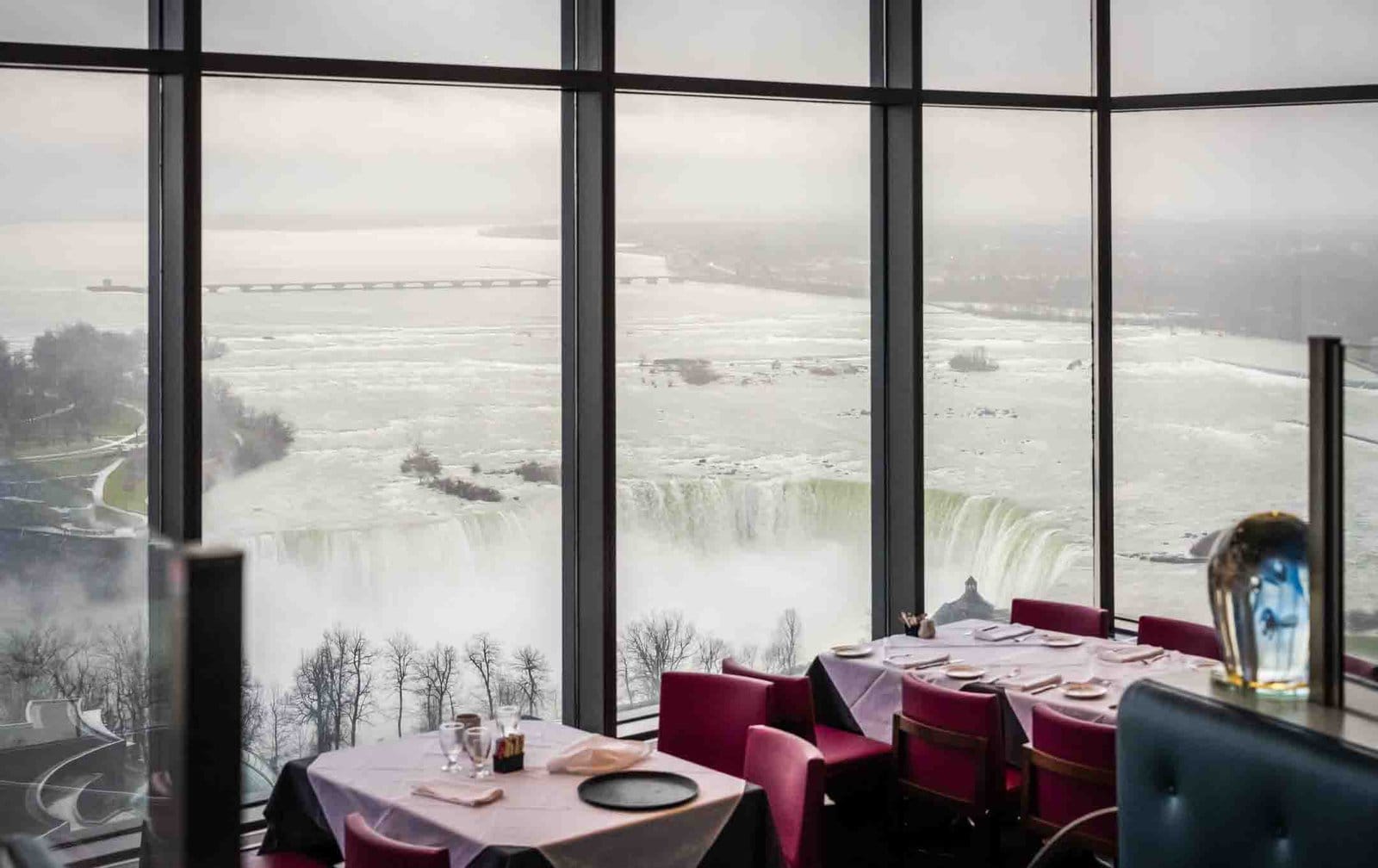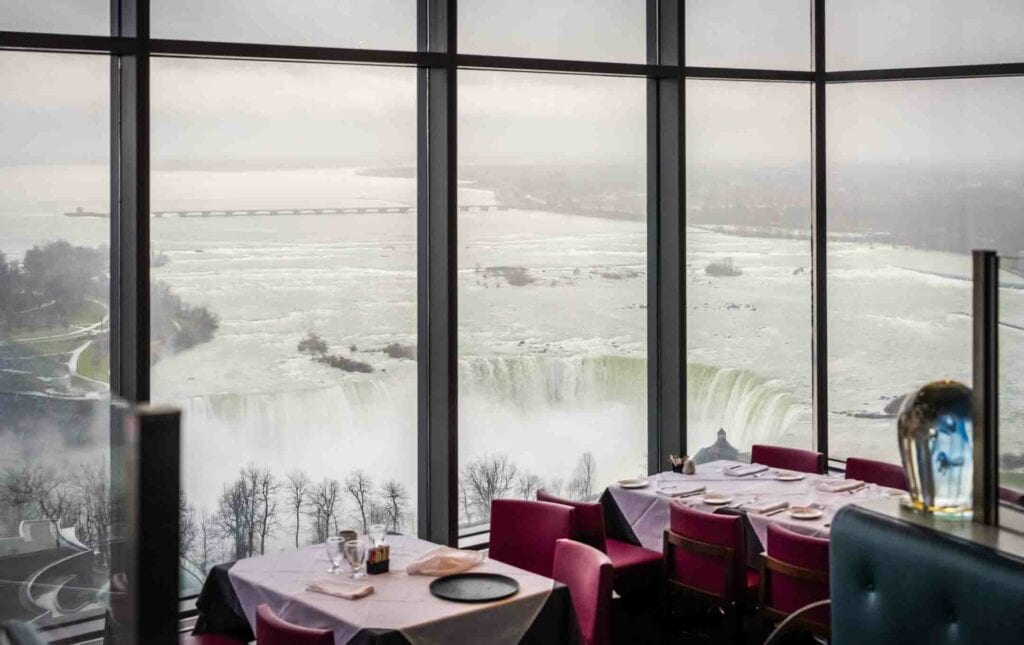 These are menu options meant to be savored with portions hefty enough that you'll want to share. Expect all the usual morning options and a couple of unusual entries such as the savory Eggs Charlotte (an Eggs Benedict with the addition of thinly sliced salmon.)
Brunch: Old Stone Inn (Blunch)
They had us with the bacon appetizer and won us over with table-side French Press coffee and bottomless Mimosas. And that was before totally bowling us over with the Lobster Tostadas.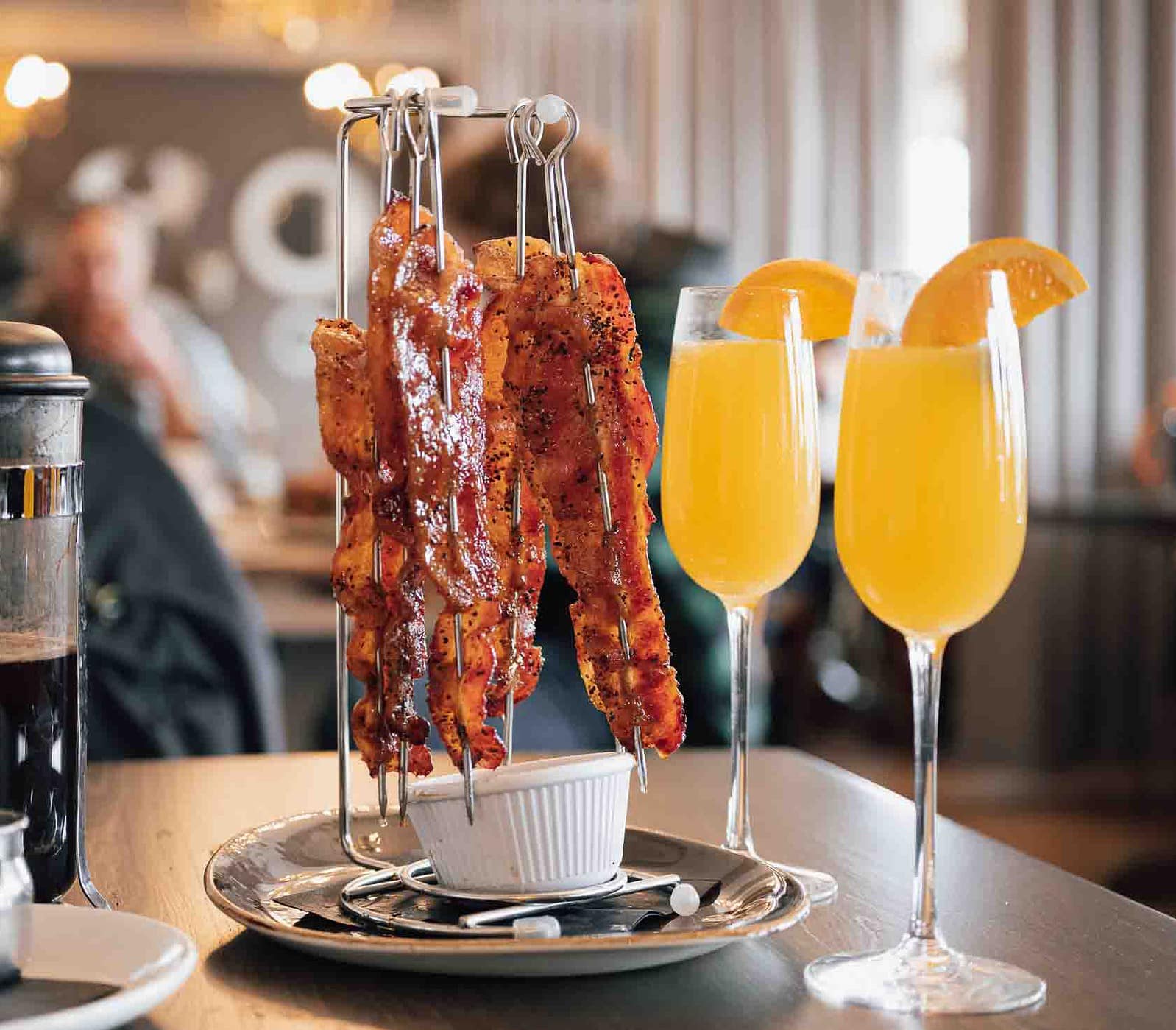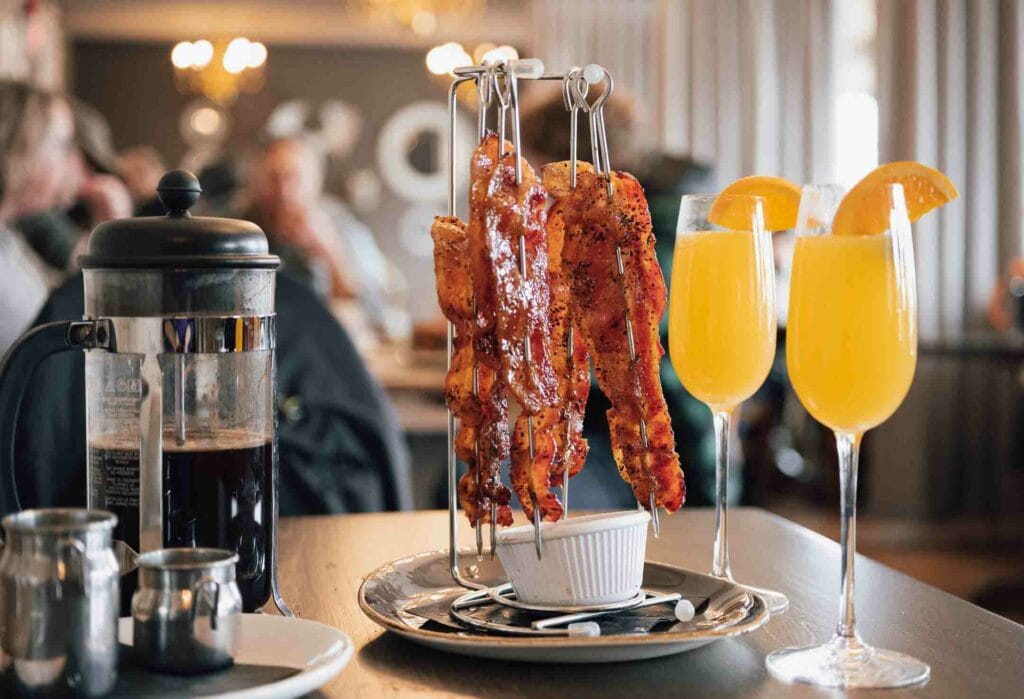 We both agreed that the Old Stone Inn Blunch (served on weekend 11am-3pm) was the most deliciously romantic restaurant (a tough feat given we'd indulged in some mighty fine meals in Niagara Falls.)
On a return trip, we will be sure to come back for dinner.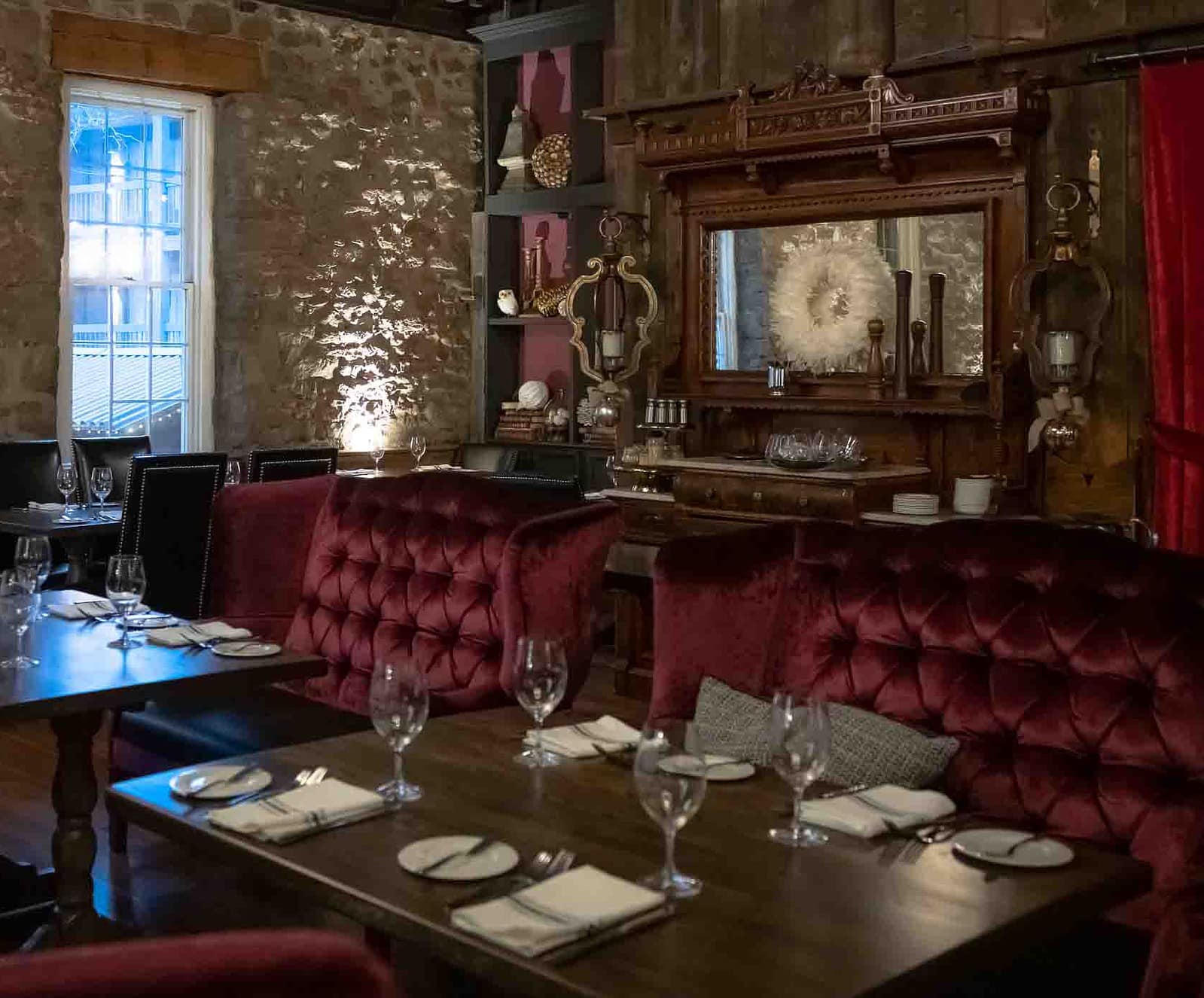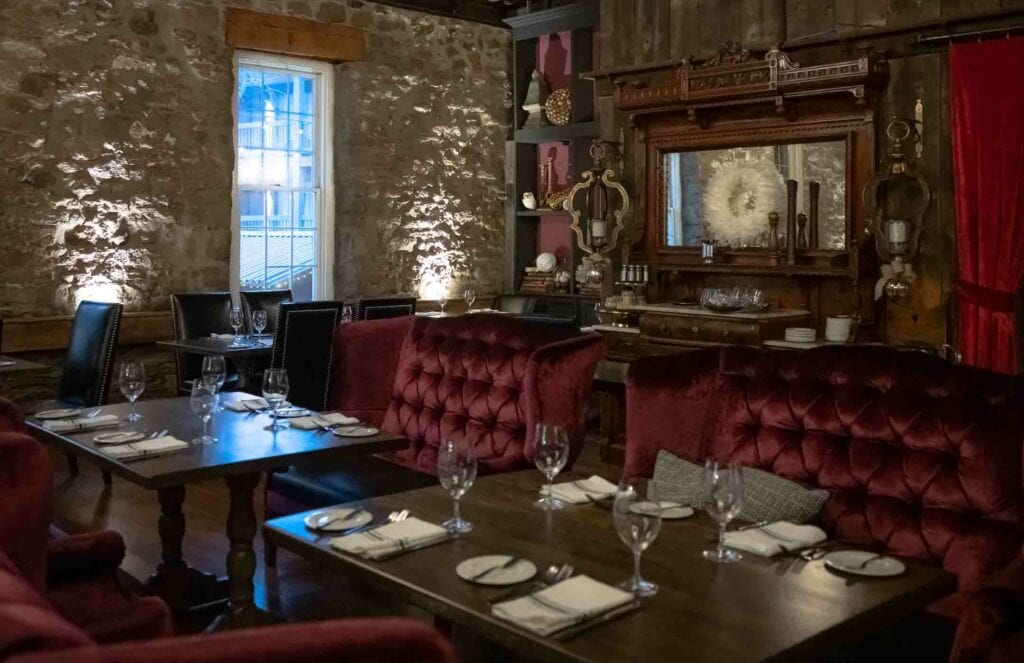 Then, the only question left is will we reserve a plush velvet seat indoors, or opt for the prix fixe Canadian Culinary Feast at the Cabins and Domes in the courtyard Square?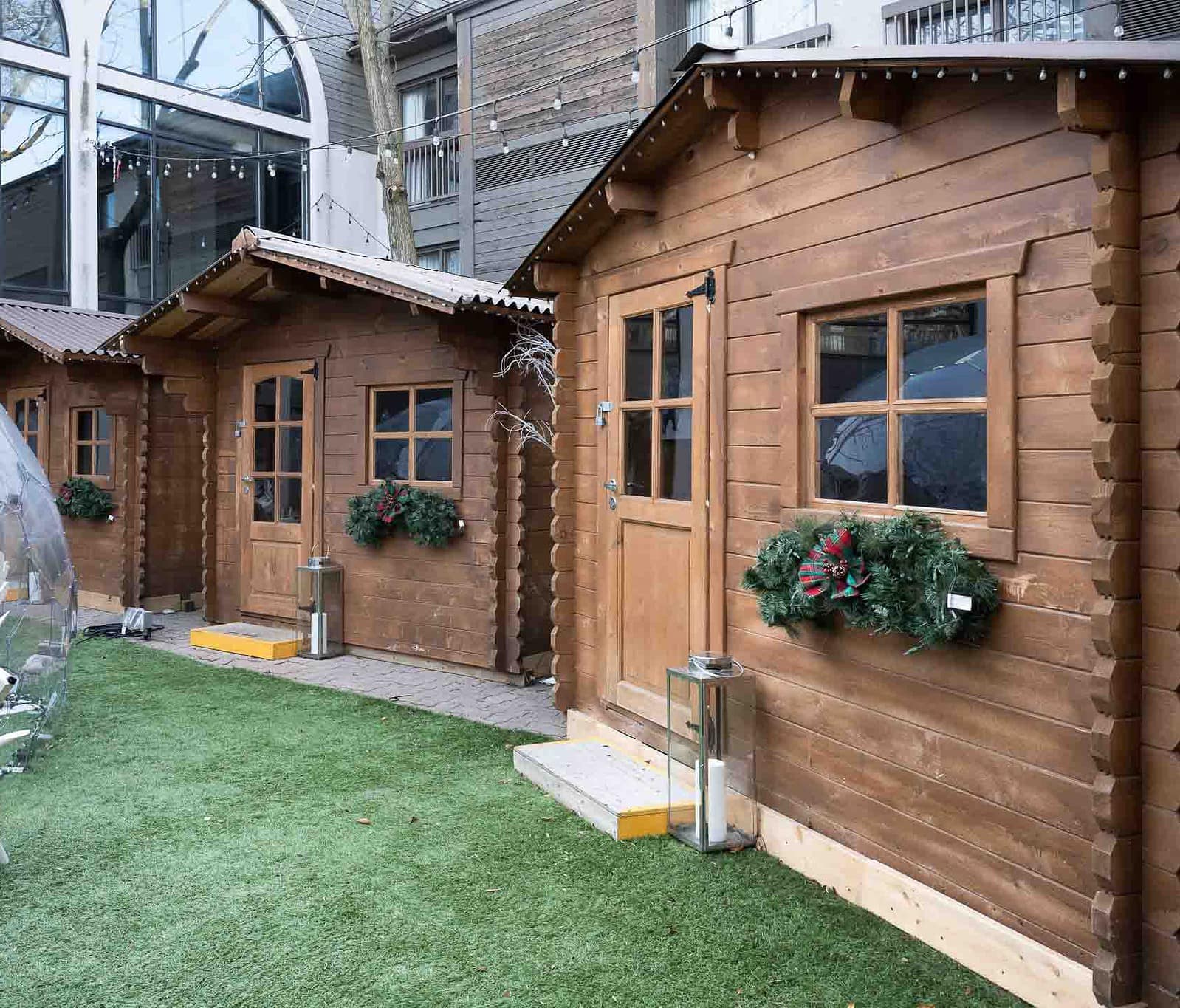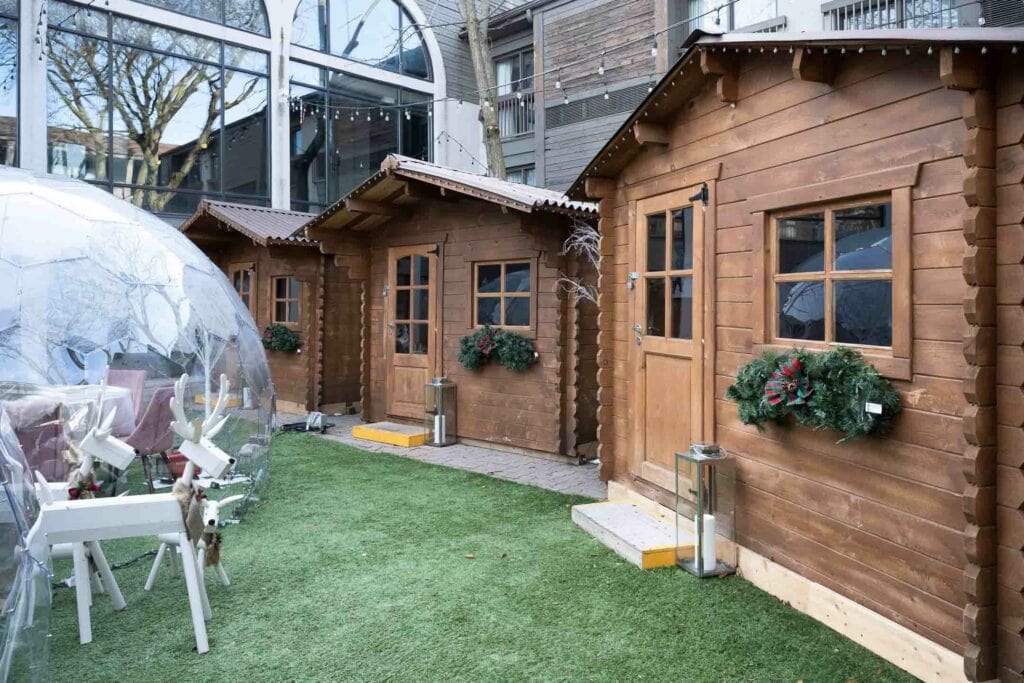 Turtle Jack's Muskoka Grill
Happy Hour comes twice a night at Turtle Jack's, offering specials on both food and drinks. It's a popular, family-friendly restaurant franchise with several locations throughout Ontario.
The one in Niagara Falls serves a yummy fish taco in a setting with enough widescreens on every wall to qualify as the neighborhood sports bar too.
Niagara Brewing Company on Clifton Hill.
Sometimes it's all about location, location, location. In this case, the Niagara Brewing Company can be a welcome break from all the hustle and bustle of Clifton Hill's Fun Zone. Expect the usual pub fare to accompany prize-winning local beers, do try the beer flight to discover your favorites.
In the winter, starting December 1st, and for a limited time, be sure to try the small-batch seasonal favorite, Niagara Icewine Beer.
Massimos Italian Fallsview Restaurant (Sheraton Hotel)
Do you see fireworks when you kiss? At Massimo's Italian Fallsview Restaurant you can experience that for real as floor-to-ceiling windows from the restaurant's top-floor location at the Sheraton Hotel are in a prime viewing spot to capture views of Niagara Park's fireworks display over the falls.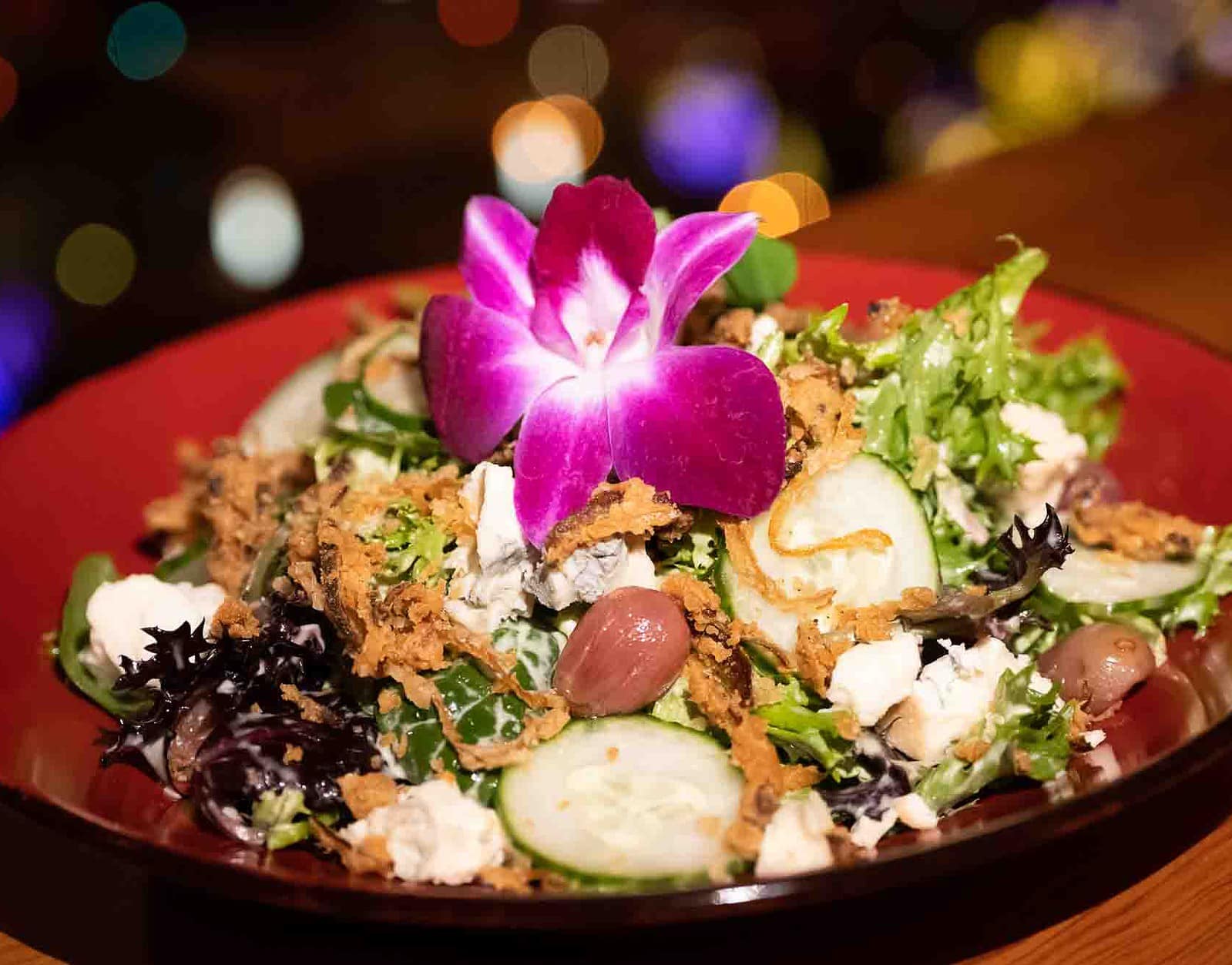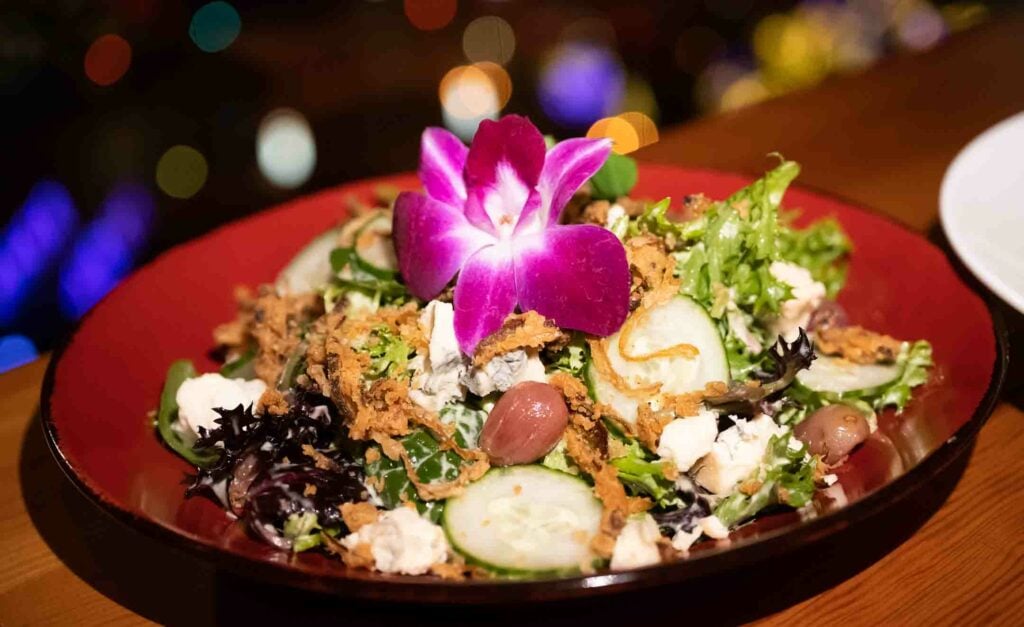 Of course, it doesn't hurt that the spectacular view is accompanied by very attentive service and a fresh take on authentic Italian cuisine by Celebrity chef and cookbook author, Massimo Capra.
We ordered a variety of dishes and shared plates so that we could taste every delightful bit. By the time we rolled out of the restaurant, we weren't sure if we could consume one more thing.
But, the Sheraton's Niagara Vines Lobby Bar on the ground floor was on the Hot Chocolate Trail with a Chocolate Orange. So who could resist?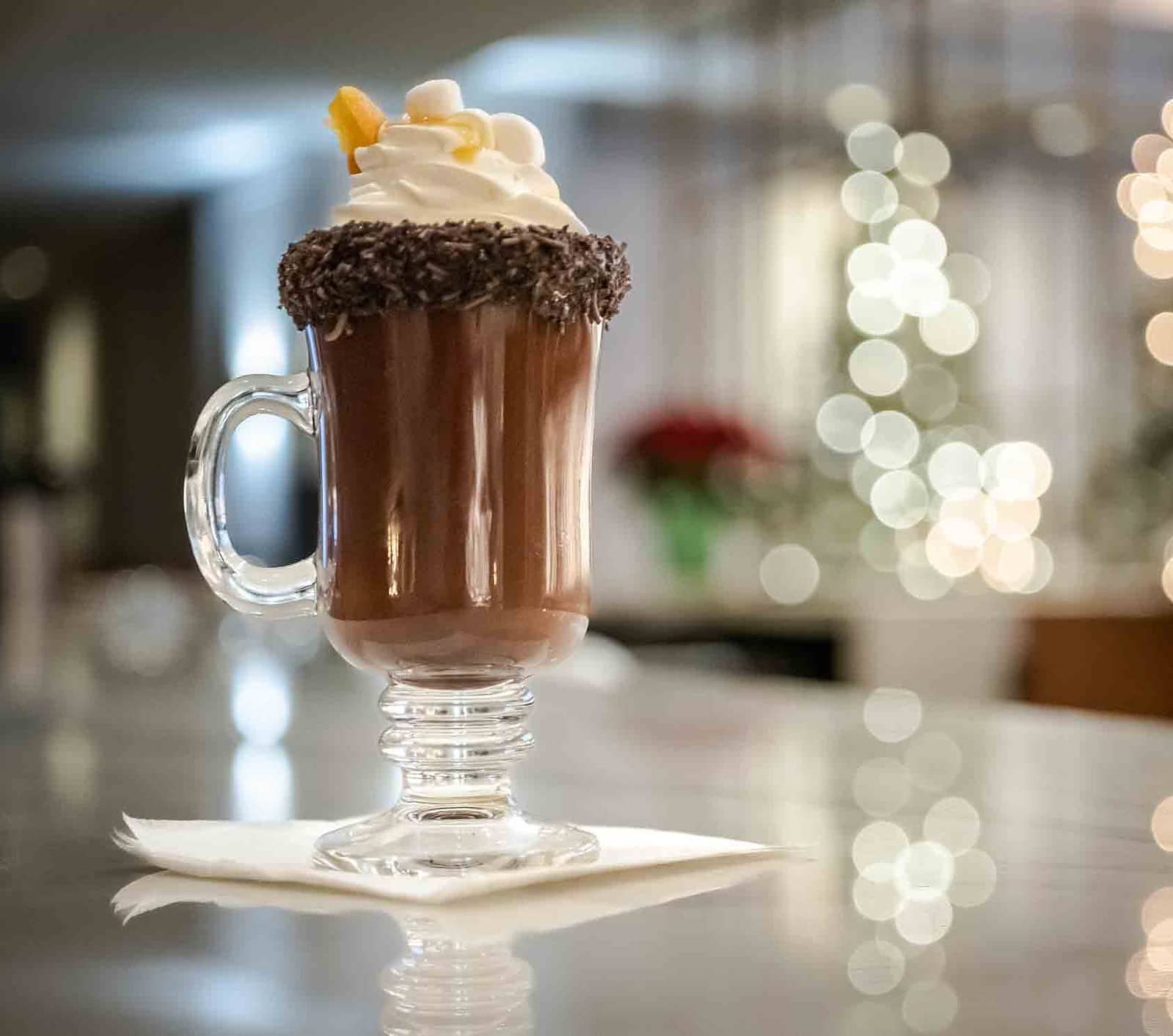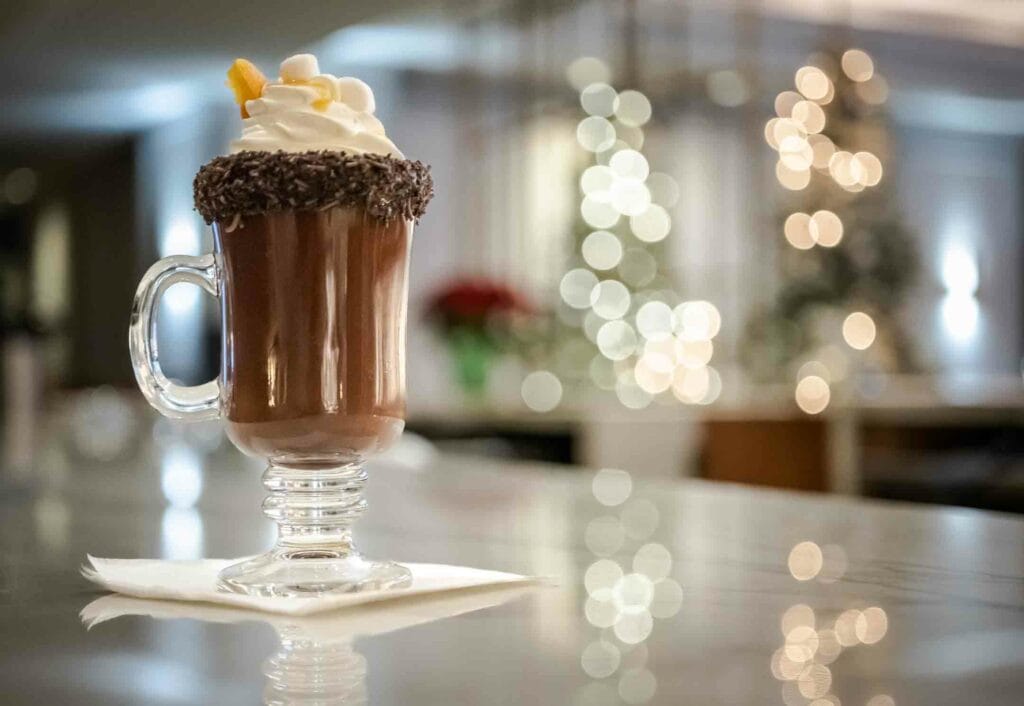 Table Rock House Restaurant – Niagara Falls Visitors Center
At the 2nd floor Table Rock Hotel Restaurant, window seats place you almost at the edge of Horseshoe Falls. The view is outstanding, especially in daylight.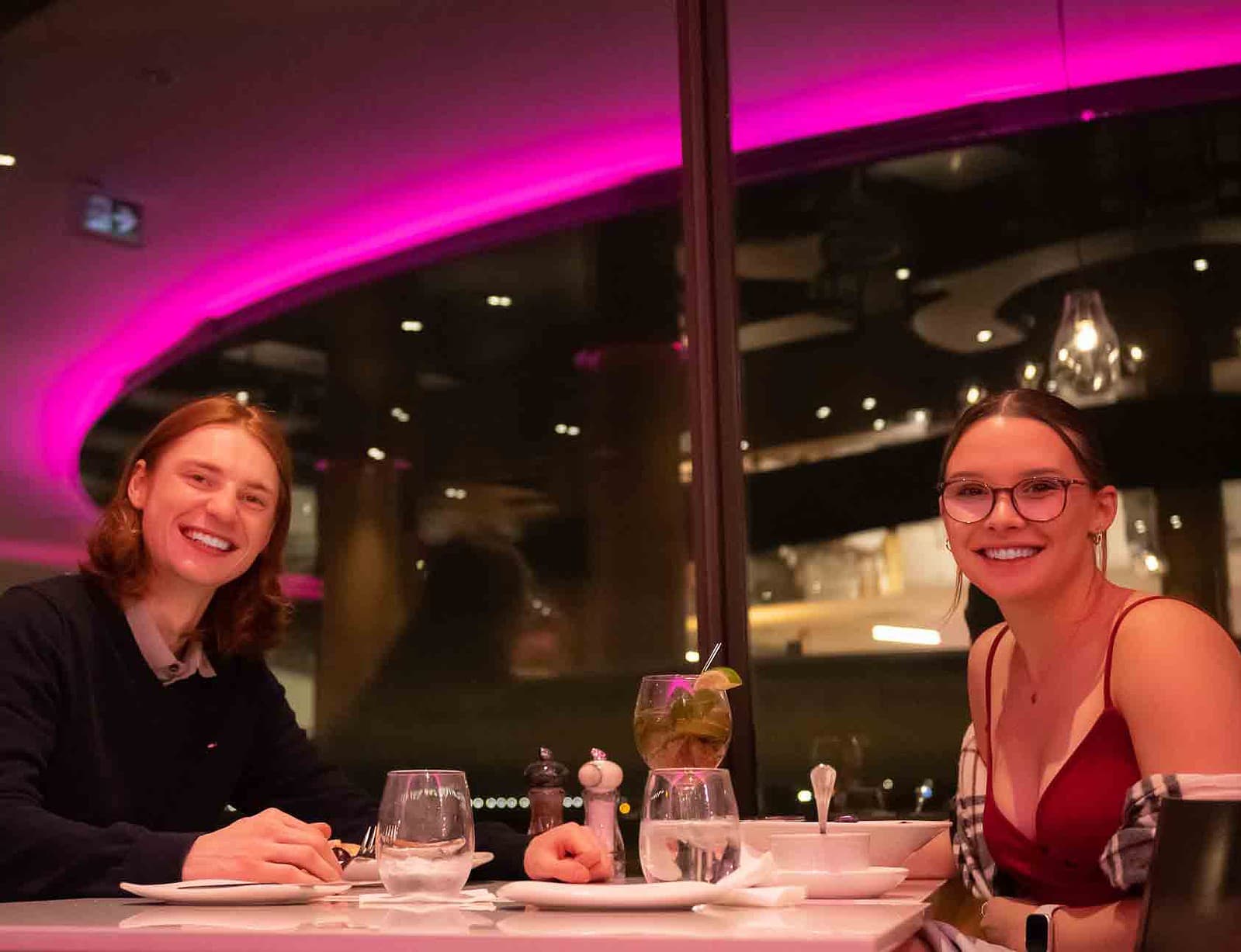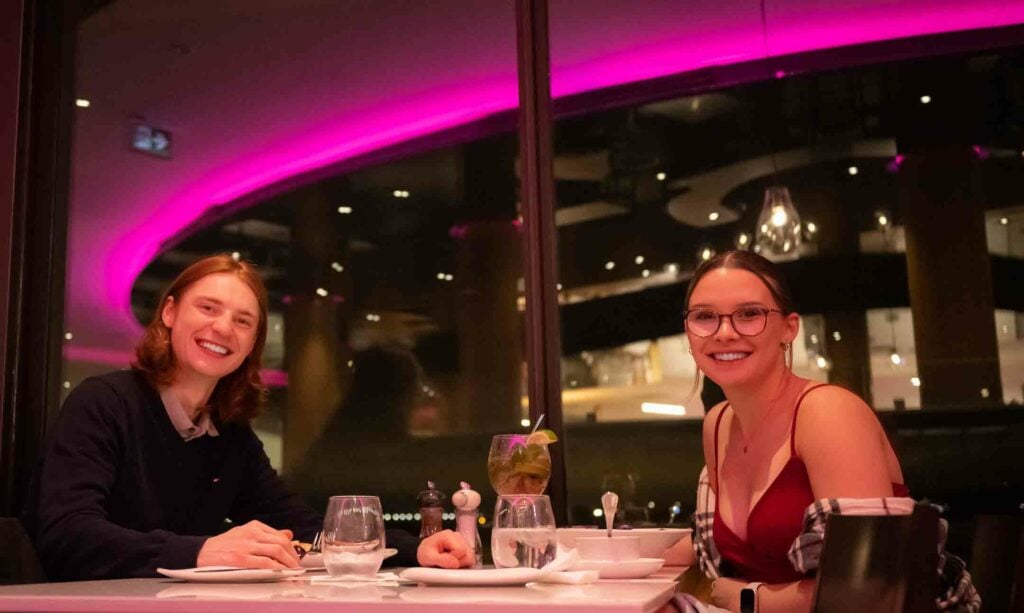 At night, the experience is a little surreal as the fall's illumination is framed and reflected by pink neon lights and mirrors.
The 3-course $60 prix fixe dinner is a good value. It includes a good selection of choices from the menu of starters, entrees, and desserts. We opted for steak and pasta, accompanied by regional wines.
And since we weren't sure which Niagara wines we preferred, the wine flight was an especially good choice. Plus, it meant that we had a variety of wines to accompany the different dishes.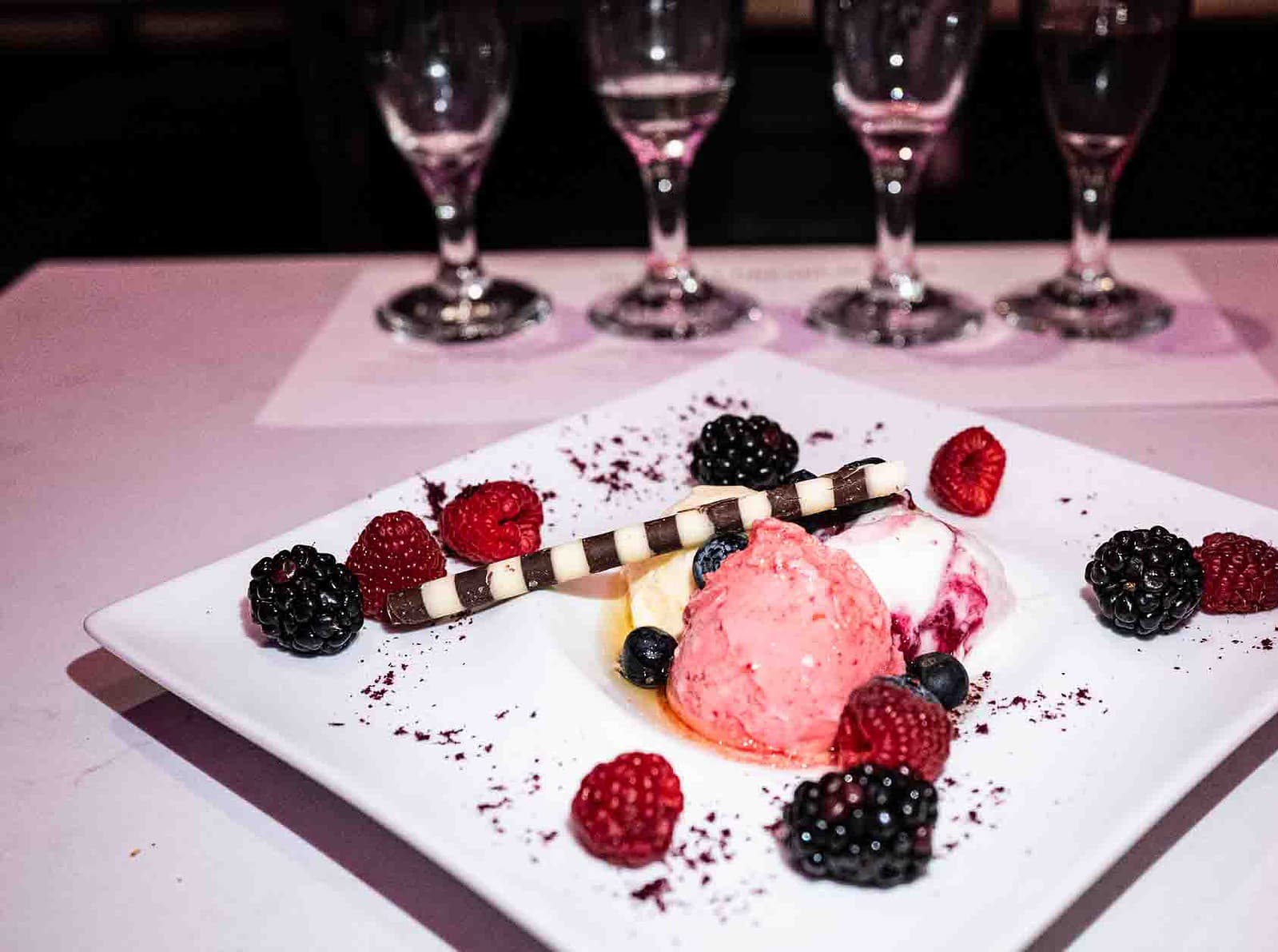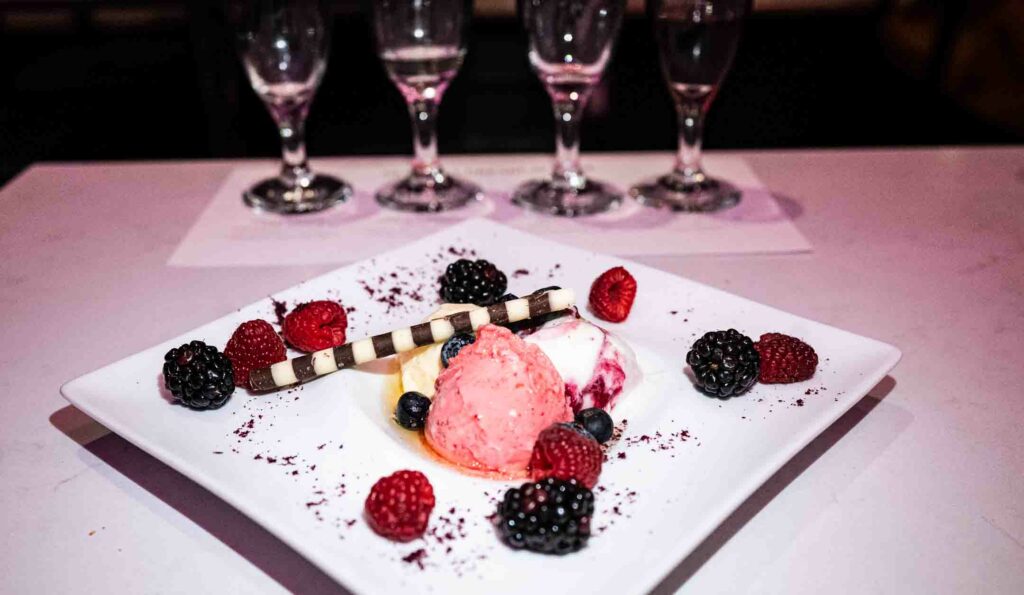 Sadly, because we were already sated by our choice of desserts, we missed out on Table Rock's Hot Chocolate Trail entry, the Spiked Hot Chocolate.
But we saw other couples dropping in later in the evening just for hot chocolate accompanied by house-favorite Vanilla Honey Cake.
Skylon Tower Revolving Dining Room
On this trip, we didn't get a chance to check out the Skylon Tower Revolving Dining Room. But the (pricey) dinner menu does get good reviews. As one guest put it,
Excellent view of the falls and area. Food was one of the best on this trip. Expensive? Yes. But can't get this view at Denny's.
Where To Stay In Niagara Falls Canada
We were privileged to stay at two different hotels during our Niagara Falls winter getaway. Both were amazing; and yet, so different.
Hilton Fallsview Hotel & Suites Niagara Falls
The Hilton Fallsview Hotel is a very modern skyscraper that's actually Canada's tallest hotel tower. It's a 53-story, 1,000-guestroom property with incredible falls views from its infinity pool, Watermark Restaurant, and guest rooms.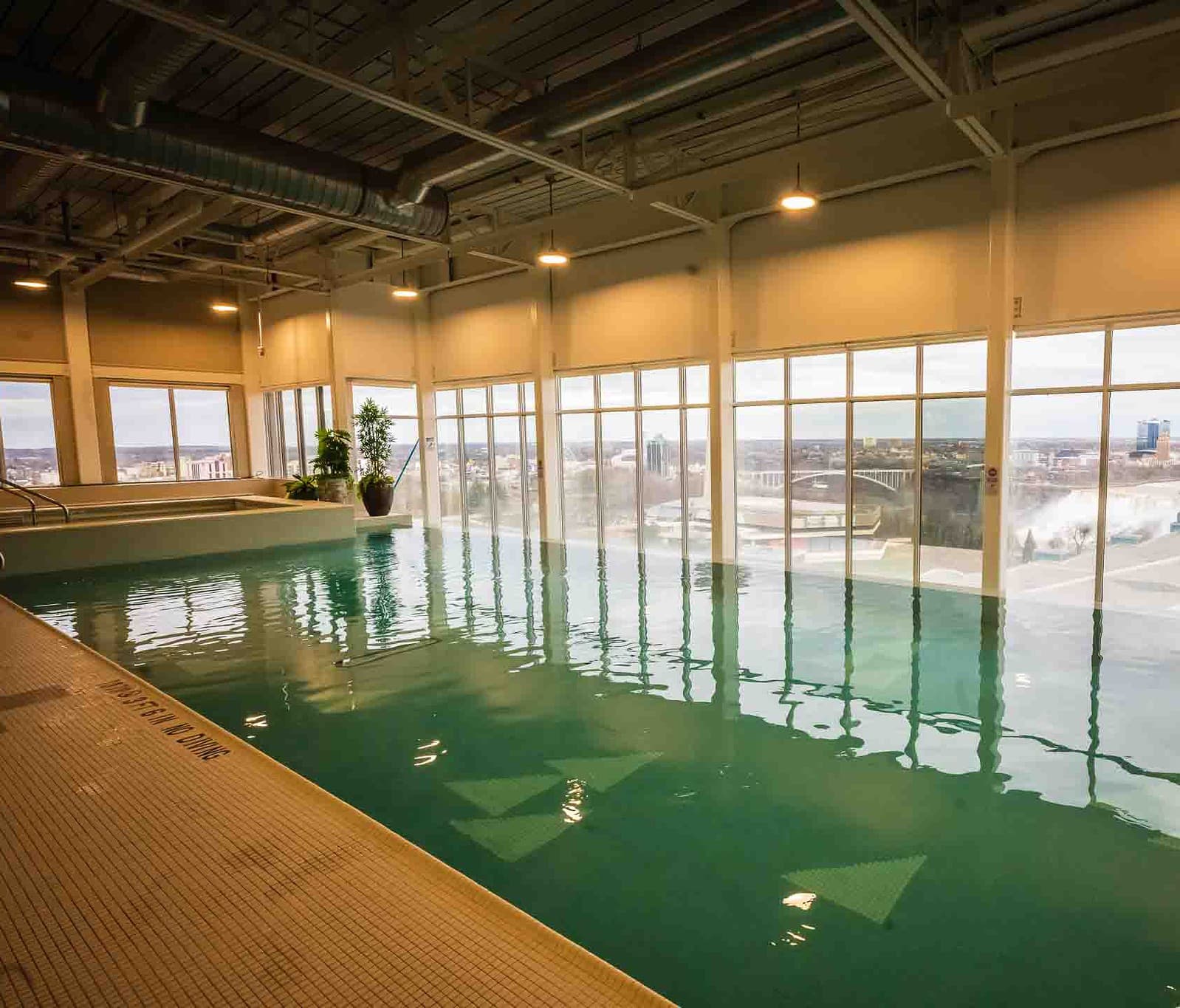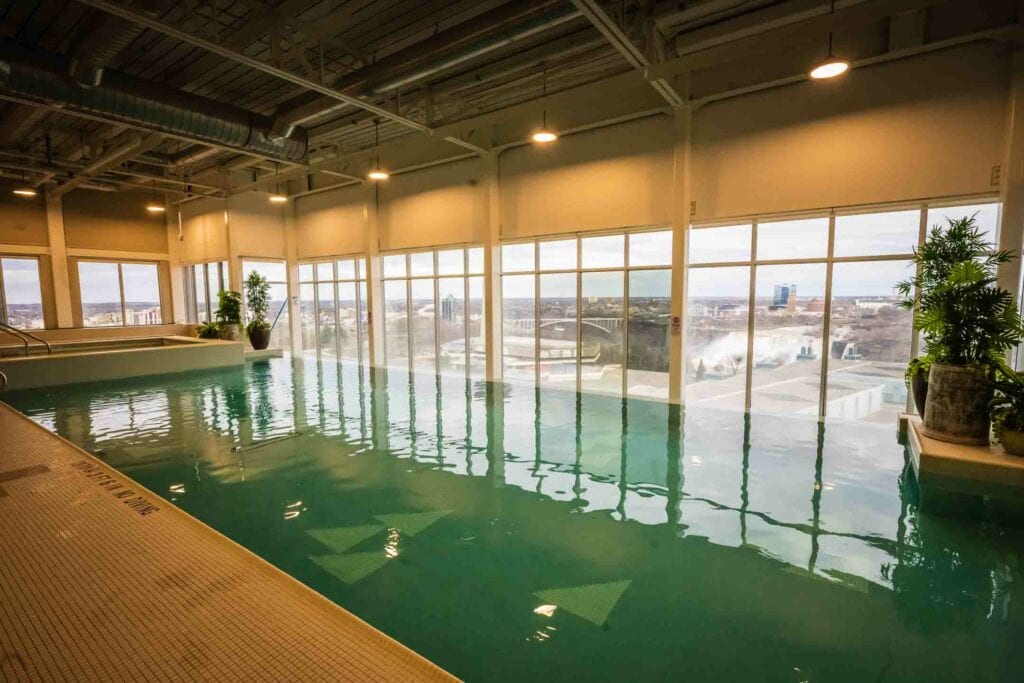 The lobby is enormous, with several seating areas, an in-house Starbucks, and the District 11 Snack Shop (also on the Hot Chocolate Trail with its Dulce de Leche treat.)
It's easily accessed from a covered garage entrance (with both valet and self-parking available, plus charging stations for hybrid vehicles.)
From the lobby, you can access the Spyce Lounge and attached restaurants as well as the covered walkway to Fallsview Casino and OLG Stage. Meanwhile, the hotel's location places it within convenient walking distance from Clifton Hill and the Winter Lights along Queen Victoria Park and the Niagara Parkway.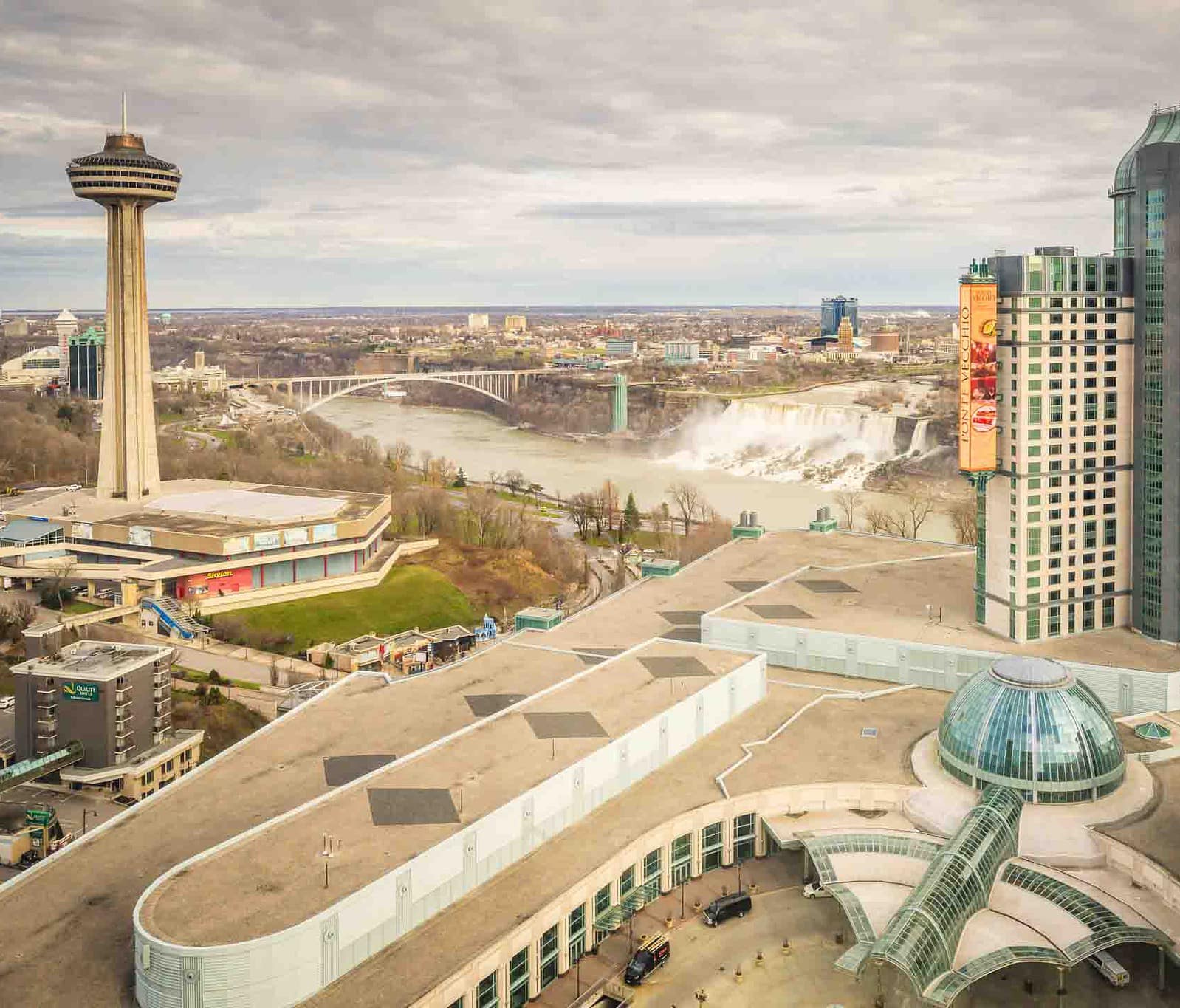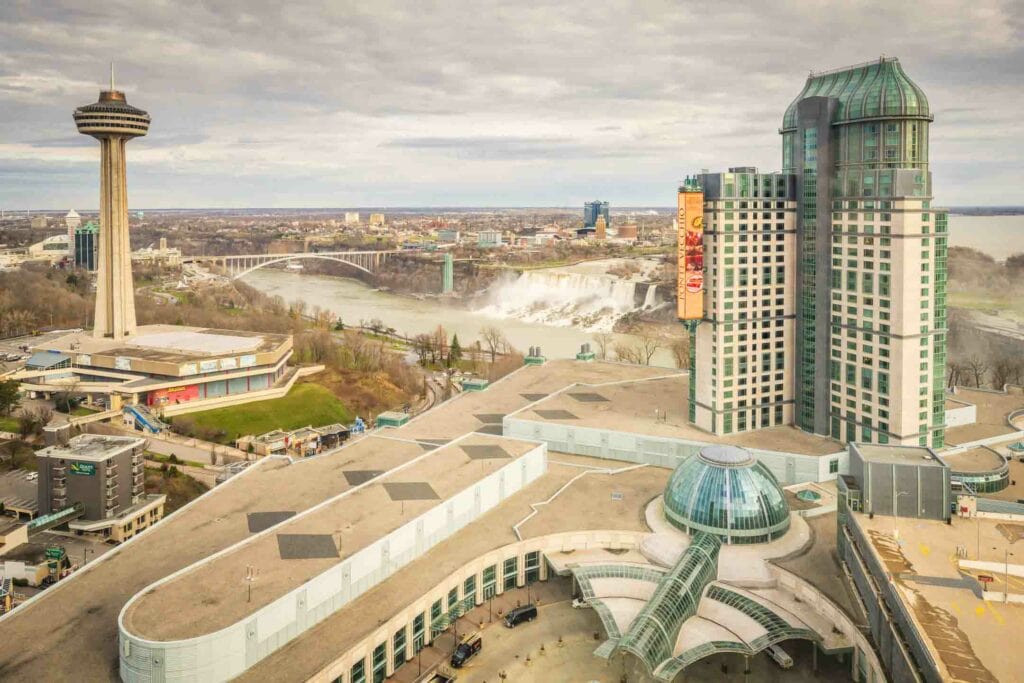 As fantastic as the Hilton Fallsview is for accessing Niagara Falls' nightlife, what we loved, even more, was our luxury cocoon with a view of the falls that rivaled that of our helicopter ride.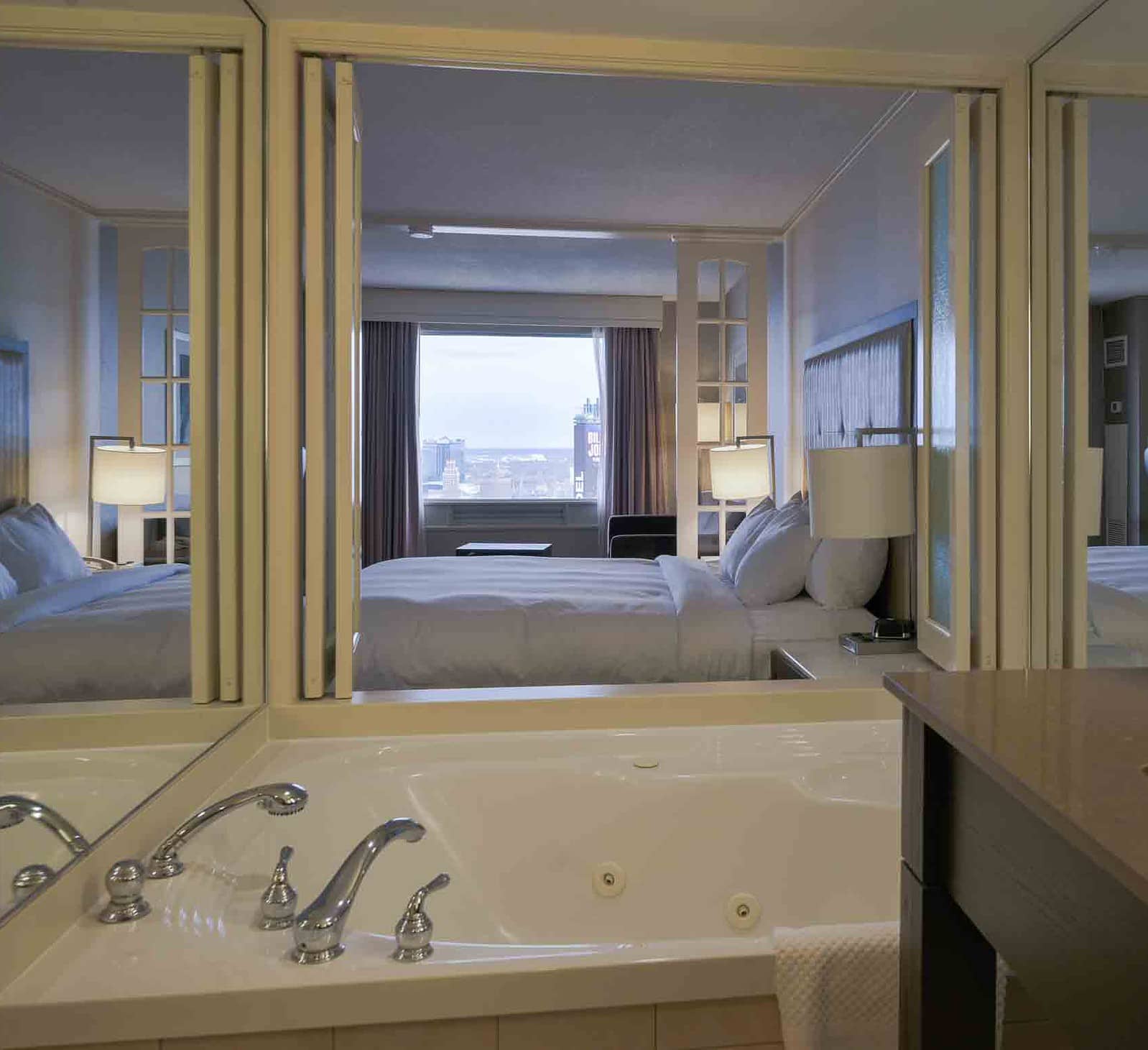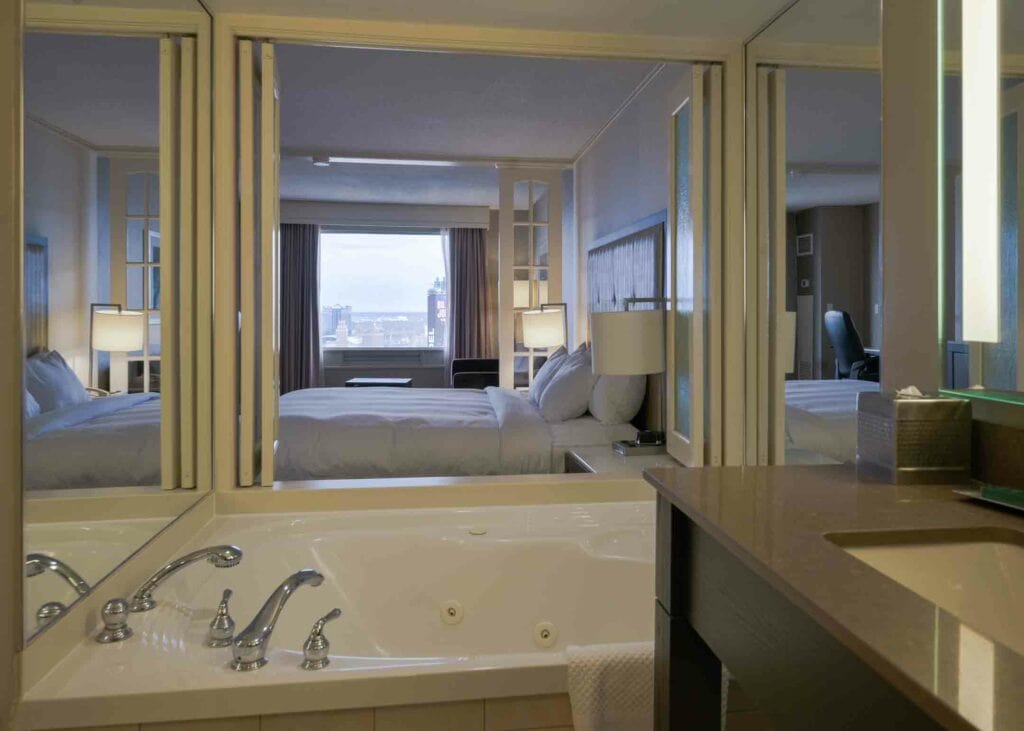 And the fact that we could enjoy that view from a Jacuzzi tub was the cherry on top.
Old Stone Inn Boutique Hotel
On the other end of the spectrum, the Old Stone Inn was as warm and inviting as the Hilton was modern glitz.
Dating back to 1904 when the building formed part of a major flour mill, the boutique hotel lobby and restaurant retain some of its original stone walls.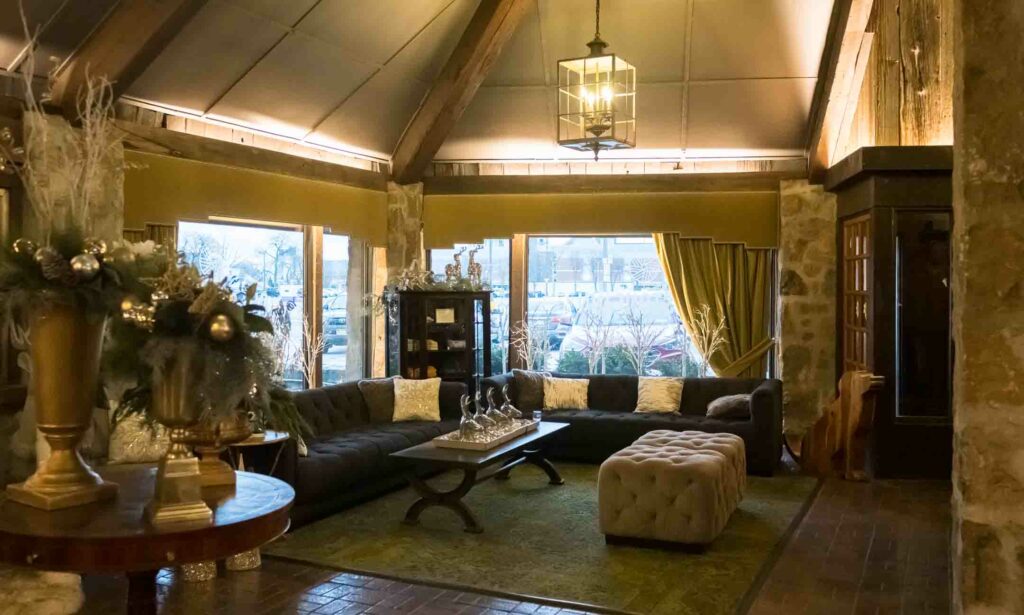 Now, the lobby is a charming oak-paneled room, with comfy seating and a very sweet candy station welcome. It's the kind of place where you immediately feel at home, and guests (and their dogs) soon become friends.
And yet, it's so unassuming that you might never realize that the Old Stone Inn has hosted the likes of Prime Minister P.E. Trudeau, Princess Diana, Chrissy Teigen, and John Legend.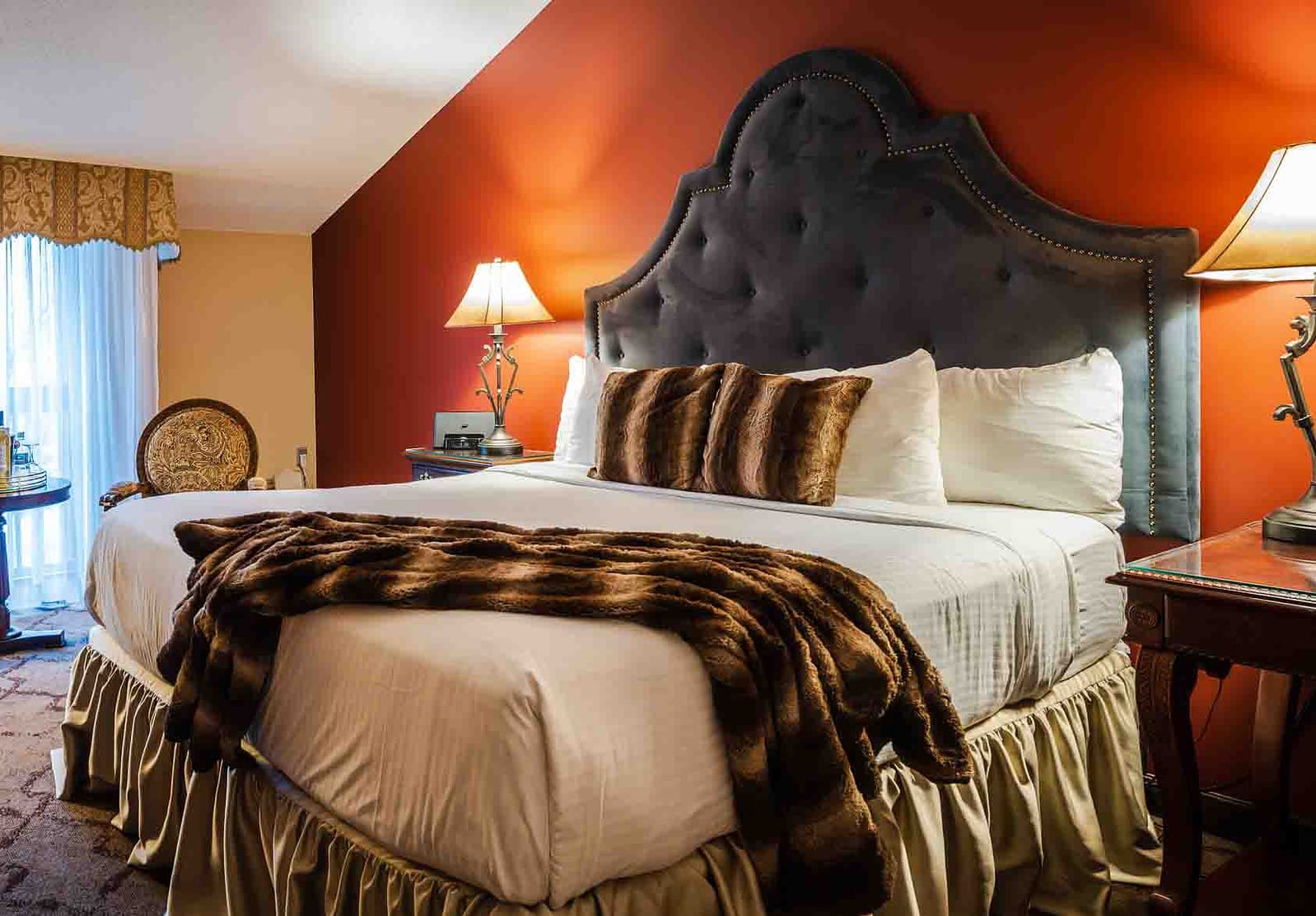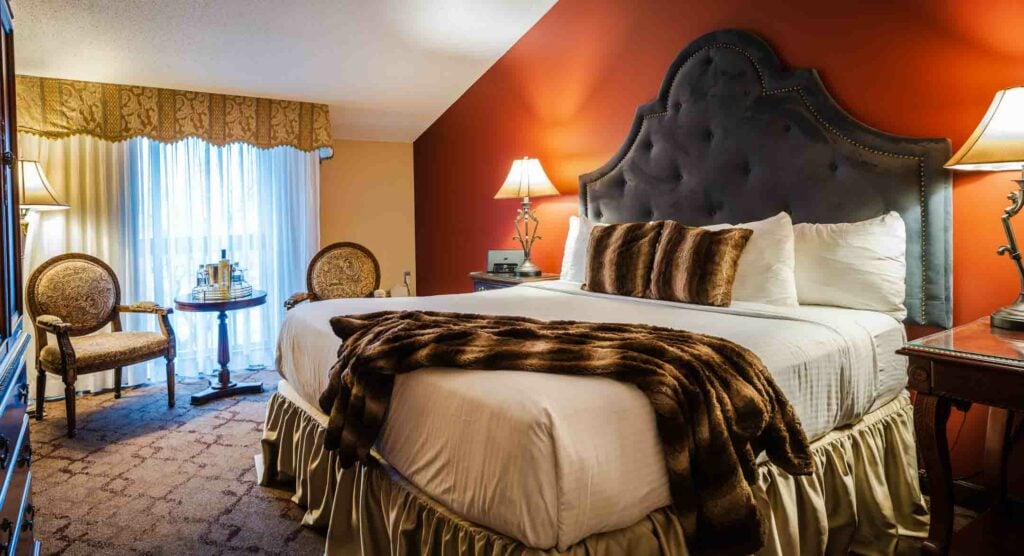 Our guest room was as welcoming as the lobby. Plush and premium bedding, an electric fireplace, and a conveniently placed bottle of wine made for a very pleasant introduction to our stay.
Other welcome amenities include an indoor pool, free parking, and an E-Car Charger (this was my husband's favorite!)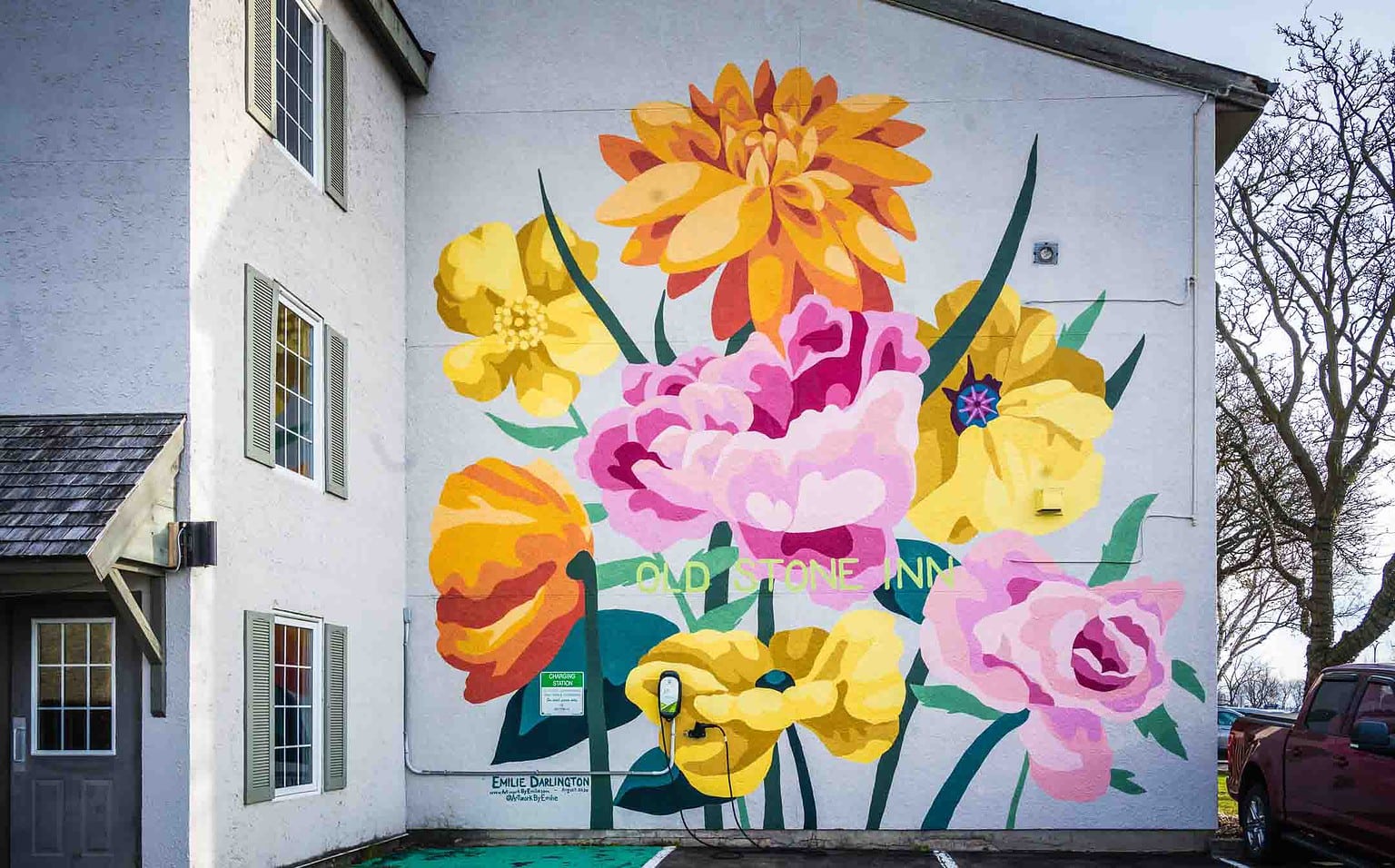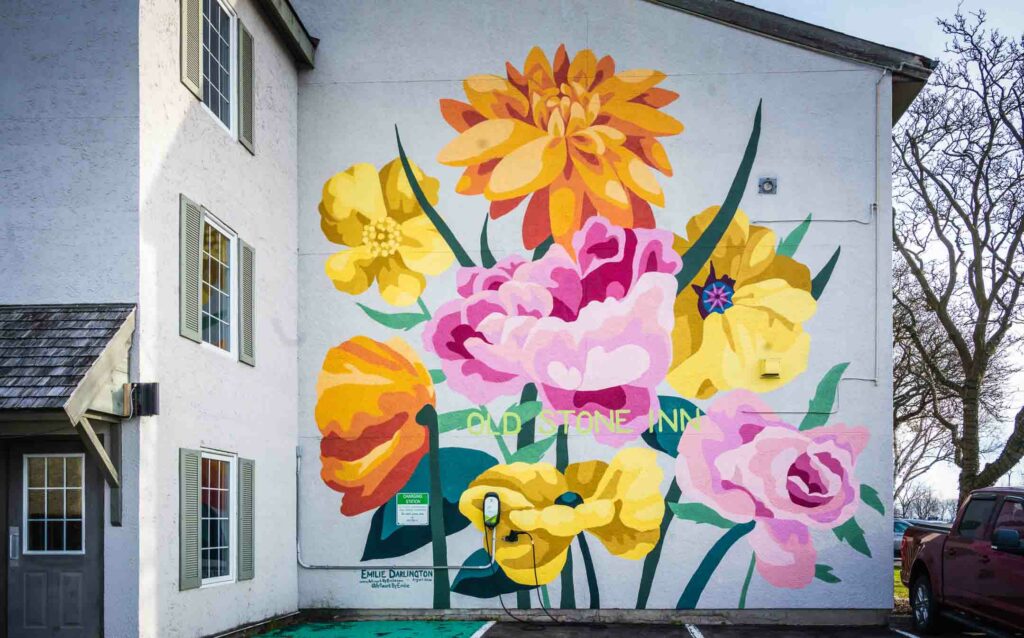 We also very much enjoyed the Velvet Kiss Hot Chocolate and wine tasting at the 1904 Wine Bar, and dining at the Flour Mill Restaurant (see above for details.)
Weekend Getaways in Canada
Western New York Getaways
Disclosure: Some of these experiences were hosted by Niagara Falls Tourism. As always, our opinions are our own. Please refer to our Editorial Policy for more details.