Hotel Du Pont Review
Built in 1913 for the business elite, the Hotel Du Pont was, and still is, a lofty, imposing place. With craftsmanship that garnered international attention, this 12-story Italian-Renaissance edifice was designed to impress.
The Hotel Du Pont made it on the Getaway Mavens Best Romantic Hotels in Delaware list and was included on Getaway Mavens Best Romantic Hotels in the Northeast US 2022 list.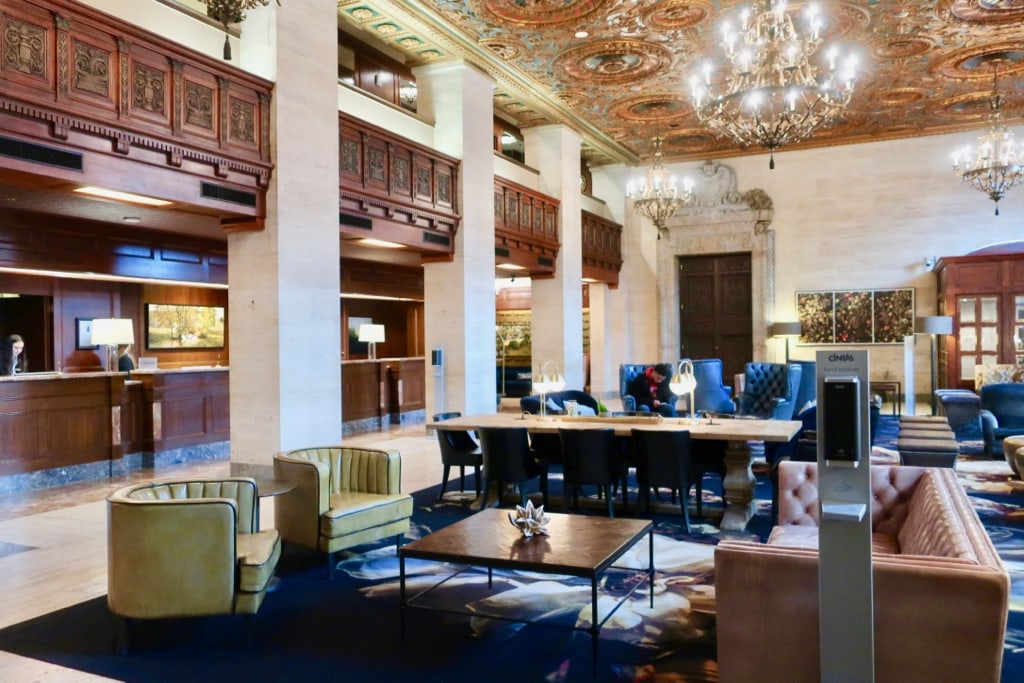 First Impressions of Hotel Du Pont
Back then, every facet of the lobby was fashioned to call attention to itself: the terrazzo marble floor and columns; the magnificent hand-carved wood balcony and rococo-ish ceiling; tall arched windows; the assemblage of seating in a massive space. After a 2018 renovation, it still does.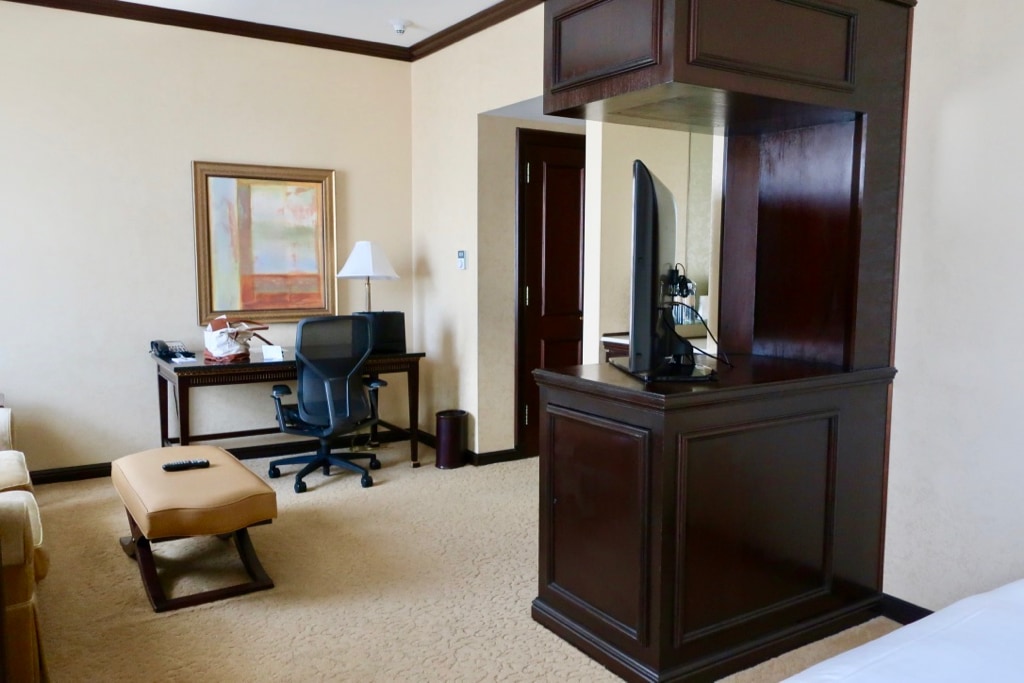 Rooms at Hotel Du Pont
Guest rooms are, in short, the opposite of Hotel Du Pont's epic lobby. In creamy golden hues, and colors of soothing oatmeal, they hark back to another era, when public rooms were showy, and private ones were not.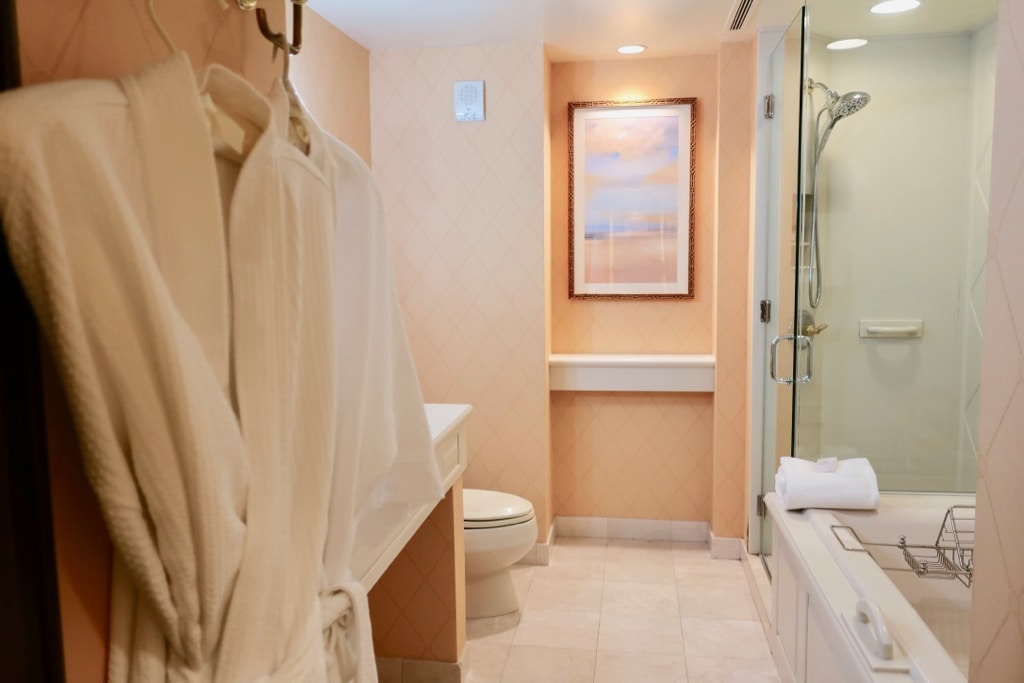 In larger chambers, an archway creates the division from sitting area to bedroom, a nice touch. Beds are high-end comfy, there's plenty of storage space, and bathrooms, with glass shower and bathtub, are bright and pretty.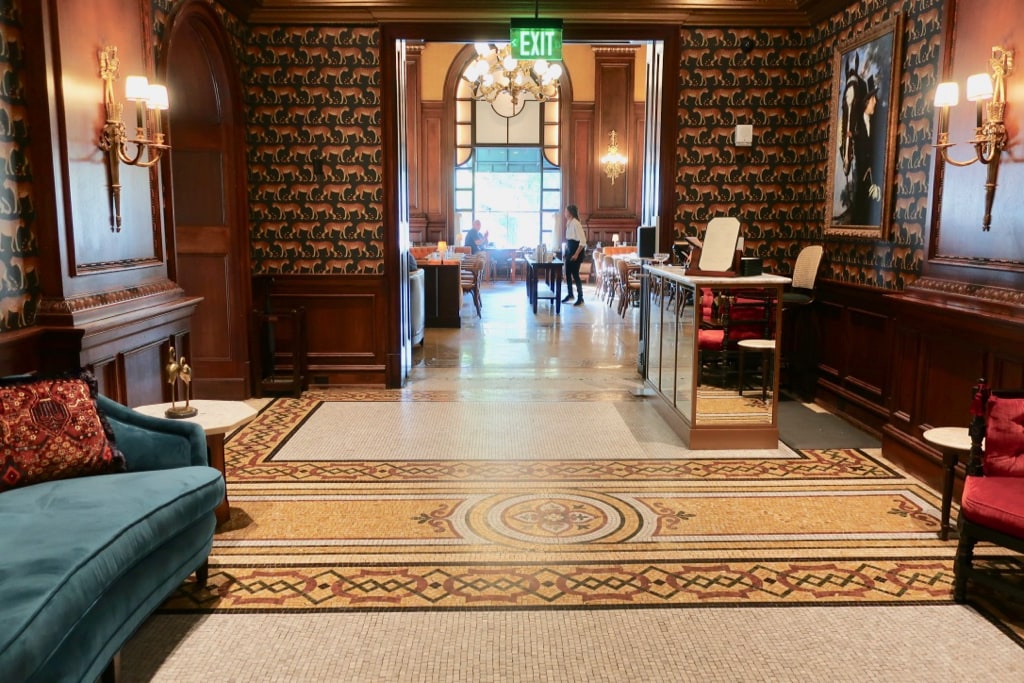 Dining at Le Cavalier
Once carpeted and tableside-prep-formal, Hotel Du Pont's old "Green Room" was converted into Le Cavalier several years ago. The renovation revealed mosaic-tiled floors, which has messed with acoustics (dining times are louder and more lively), and led to a more casual frivolity.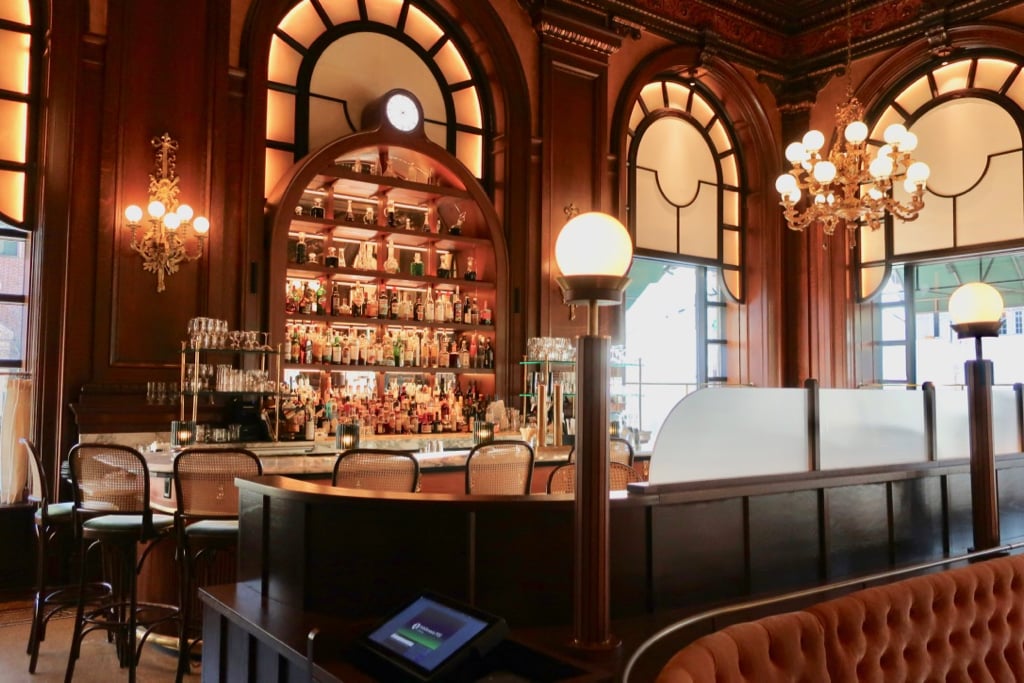 No more Signature Caesar Salad made inches from your plate. However, the French Bistro style dishes that arrive to the table are just as fine. Take the signature French Onion Soup, for example. Rich with gooey cheese, and thick with bread and caramelized onions, it's a meal in and of itself.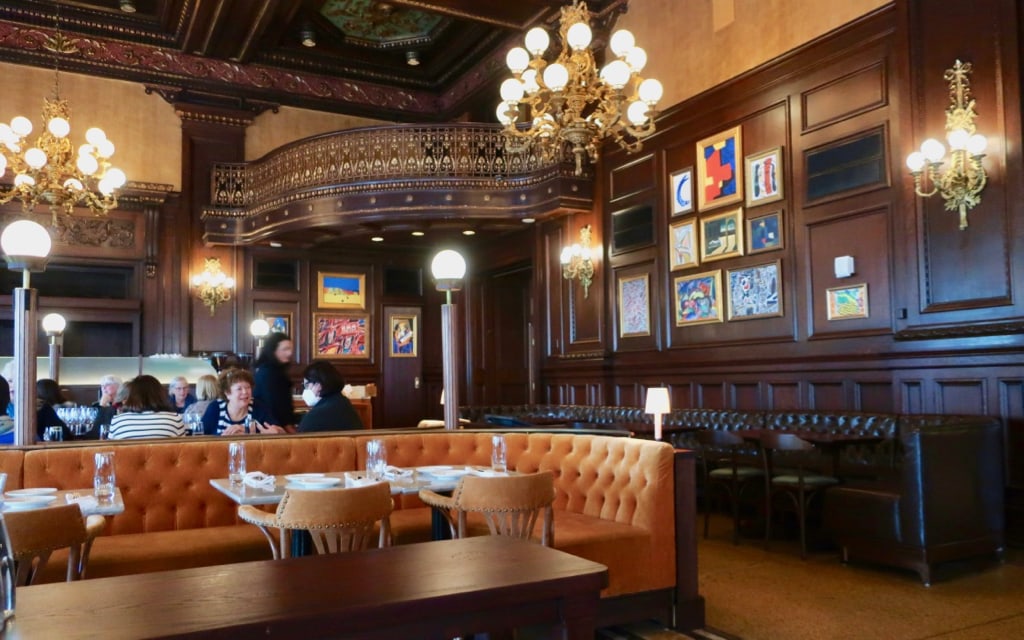 Add a fantastic burger, and you've got yourself a complete bistro dinner. Fish-eaters should beeline to the Branzino. Cloaked in a mild coconut milk curry sauce, it's one of the best things on the menu.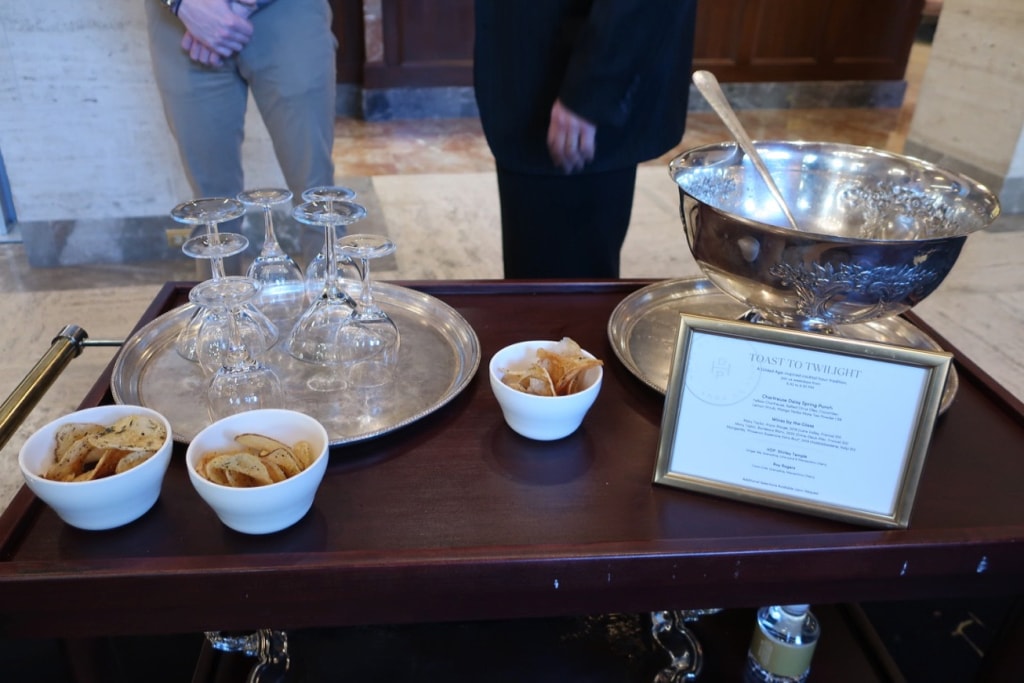 Other Food Options and Amenities at Hotel Du Pont
Every weekday from 5:30-6:30 the hotel offers a "Toast to Twilight" with Victorian-age cocktails served from a vintage bar cart in the lobby. Samples are free, and you can order a full-sized at a "Happy Hour" price.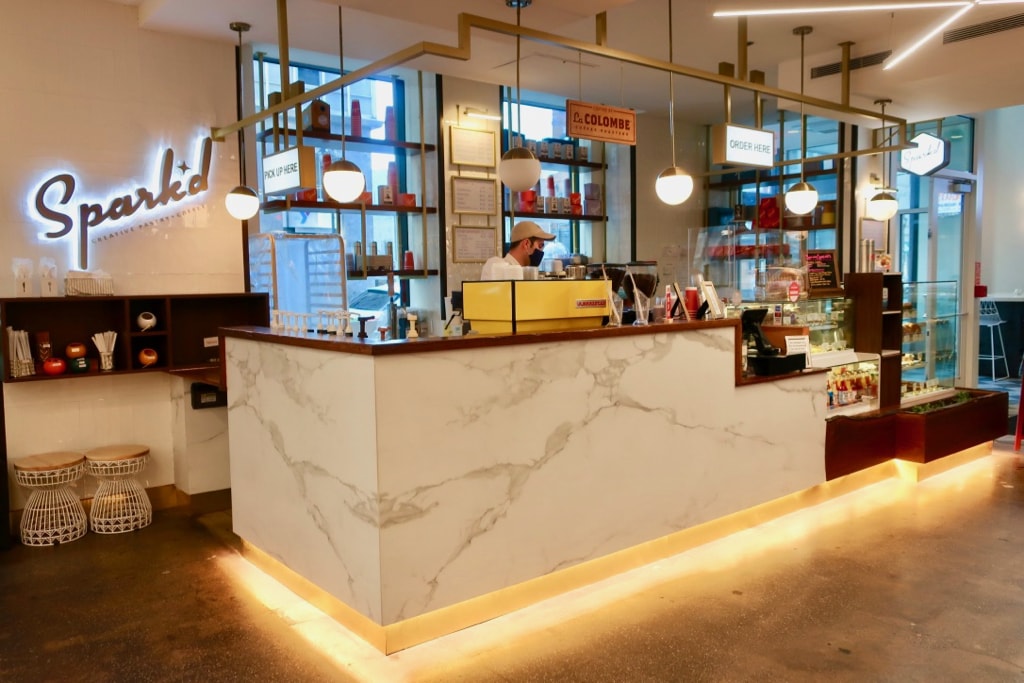 Need a good shot of caffeine first thing in the a.m.? You're in luck. Some of the best java (and oh-so-amazing baked treats) can be found at Spark'd – inside the adjoining DeCo Wilmington Food Hall. Although not owned by Hotel Du Pont, DeCo Wilmington is located on 10th St., just a short block inside an enclosed corridor, from the Hotel lobby. You don't even have to go outside.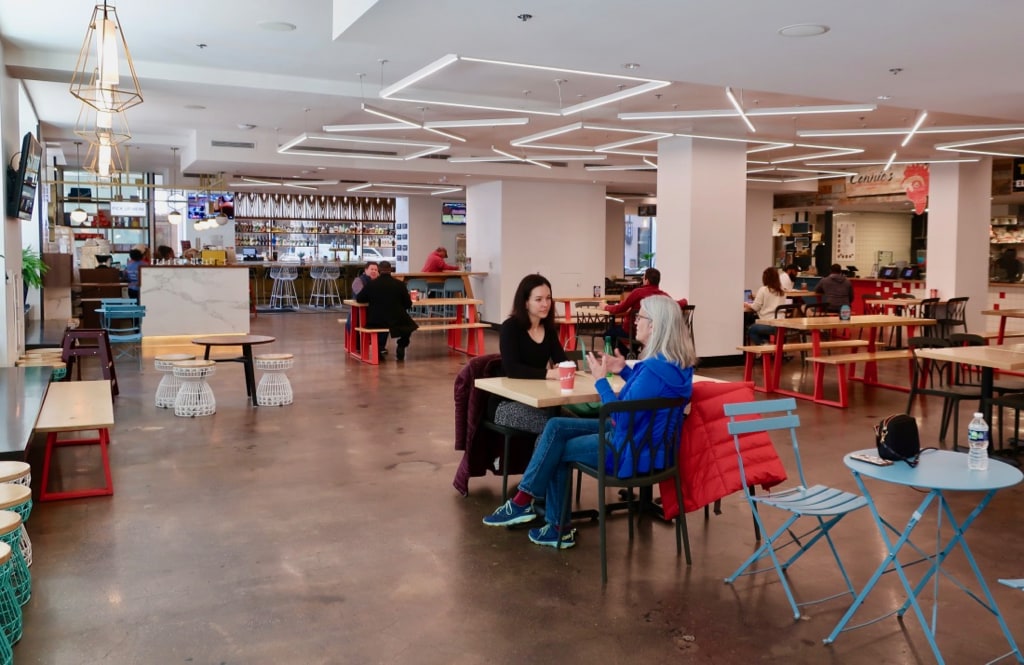 DeCo also has plenty of other dining (and one great drinking) options. Poke Bowl fans will love Al Chu's Sushi, but you can also take your pick of taco, smoothie, deli, vegan, and pizza spots.
Missed that hit show on Broadway? Wilmington's "touring house," the Playhouse on Rodney Square, is right off the Hotel DuPont lobby near DeCo. For those here for dinner and a show: with Le Cavalier, Deco, and The Playhouse on site, there's no need to go outside in the dead of winter or during inclement weather. A huge perk.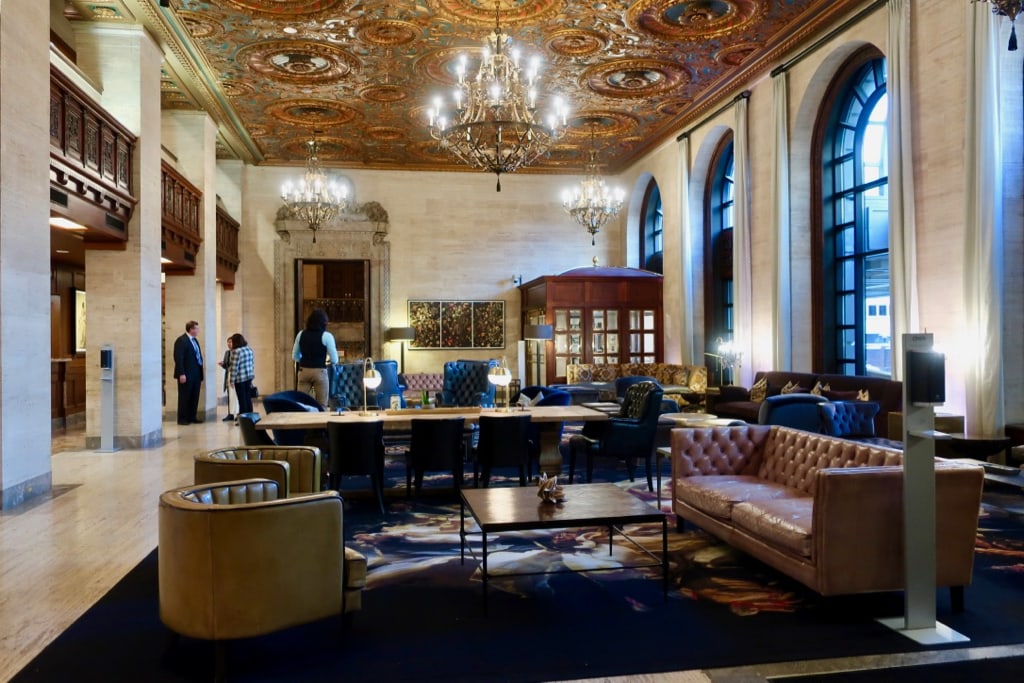 Just the Facts
Rooms start at $359 per night include wifi, complimentary shoe shine, weekday cocktail samples for "Twilight Hour."
For more local recommendations, check out this Getaway Mavens Wilmington DE post.