WHY GO: Formerly a coal mining region, and base for fracking, this 20 mile stretch of US Route 6 in from the recreational town of Hawley to Carbondale PA, and the industrial city of Scranton, features an intimate glass museum, a small Brooklynized 'burg once so precious it was the inspiration for a famous Christmas song, and a new boutique hotel in a place you'd least expect it. Read on for these fun and quirky discoveries via the Getaway Mavens….
Hawley to White Mills PA
From Hawley, it's 4 miles to White Mills. If you are into glass history or collectibles, you might want to investigate the Dorflinger Glass and Wildlife Sanctuary.
This one-room museum is a must-see for those who cherish high quality cut and etched glass pieces. –It contains the largest display of Christian Dorflinger glass, considered among the finest lead crystal in the country (produced between 1852 and 1921).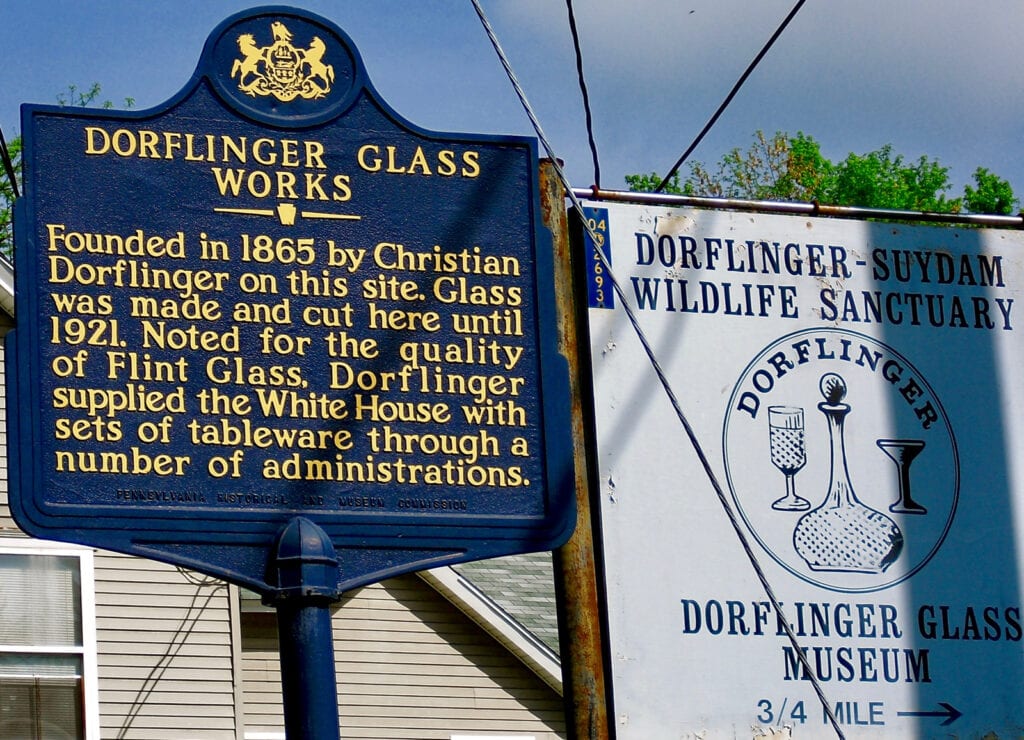 The fun, too, is getting there. It's a ¾ mile jog to the right off 6, on Elizabeth St. a road that gives the impression of being angled 90 degrees straight up. Though it seems as if you will flip over backwards on the ascent, your car will make it. The museum and glass shop is located within a beautiful nature preserve, so even if glass isn't your thing, the drive to it might be of interest.
White Mills to Honesdale PA
Back on Route 6, if you're hankering for a hunk of meat, a cylinder of sausage or a disc of wurst, drive 2 miles and pull in to the kitschy yet yummy German deli/restaurant, Alpine Wurst and Meat House. It's a favorite stop for locals and visitors.
From Alpine Inn, drive 2.5 miles into downtown Honesdale PA, where Route 6 runs parallel to the main shopping streets. Wheel past eye-catching grey stone churches, galleries, and well-received restaurants like Dyberry Forks, Trackside Grill, Ba & Me, and dozens more. This revitalized town, according to many, has come back to life in a big way.
Honesdale is also famous for several more reasons. First, the Christmas song, "Walking in a Winter Wonderland" was purportedly penned as a love-letter to this formerly distinguished PA town.
Secondly, according to the Railroad Museum of PA's website, the first train in America operated out of Honesdale. "On August 8, 1829, The Stourbridge Lion, imported from England, was experimentally operated by Horatio Allen on the Delaware & Hudson Canal Company's railroad at Honesdale, Pa. It was the first steam engine to run on commercial railroad tracks in the United States."
Honesdale is also where fictitious "Schrute Farms" of television's The Office fame is located. For a laugh, look it up on Tripadvisors.com. You'll find hundreds of "reviews" for the nonexistent rundown B&B.
Honesdale to Carbondale PA
Ten years ago, this area of Pennsylvania was fracking central. But, nine miles west, in Waymart, you begin to see Wind Turbines high up on the mountains. It's ironic proof that clean, sustainable energy has a chance here. At this point, road grades get steeper and slow trucks can muck everyone up, causing a near standstill on inclines. (Read: patience is key)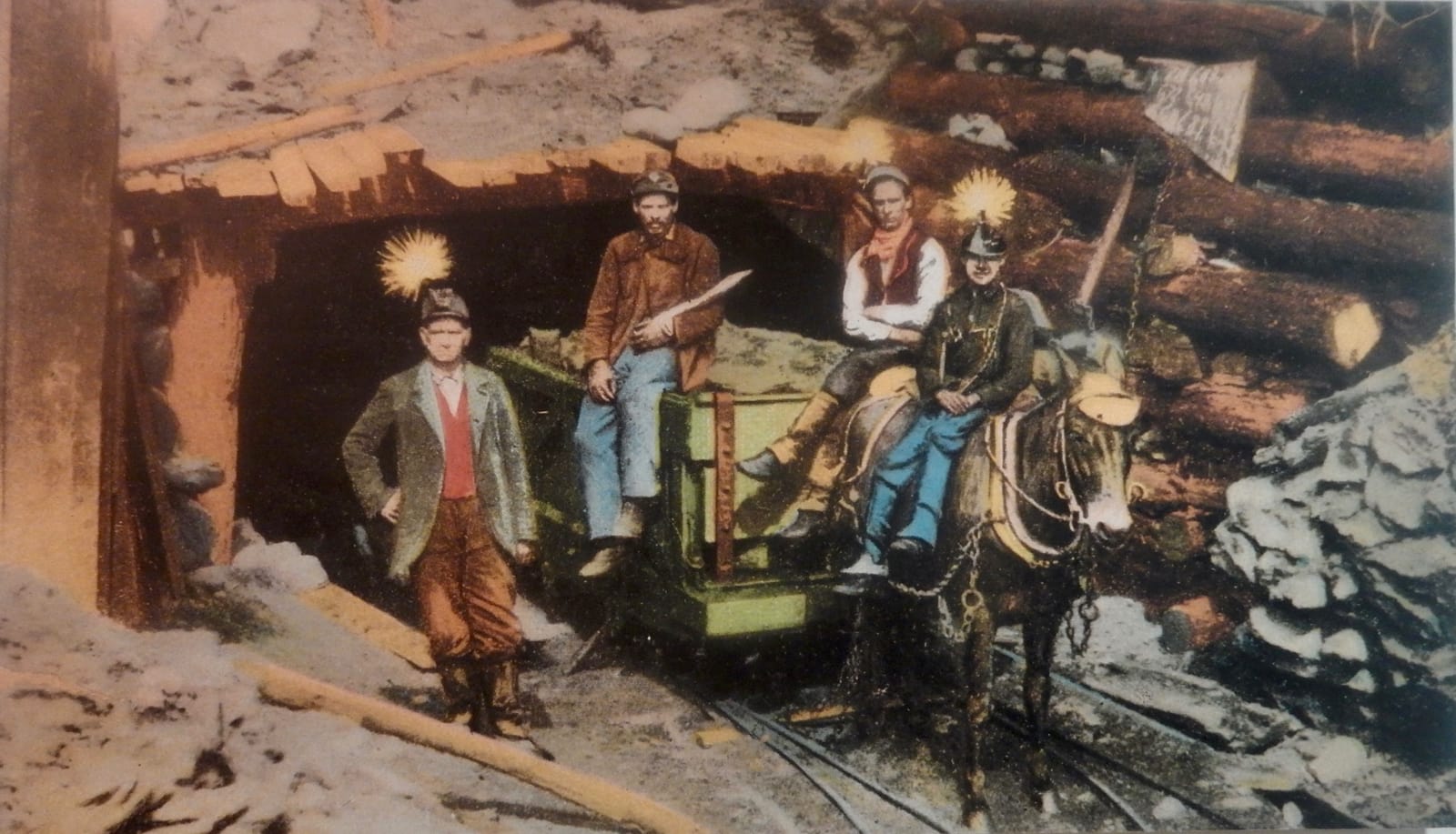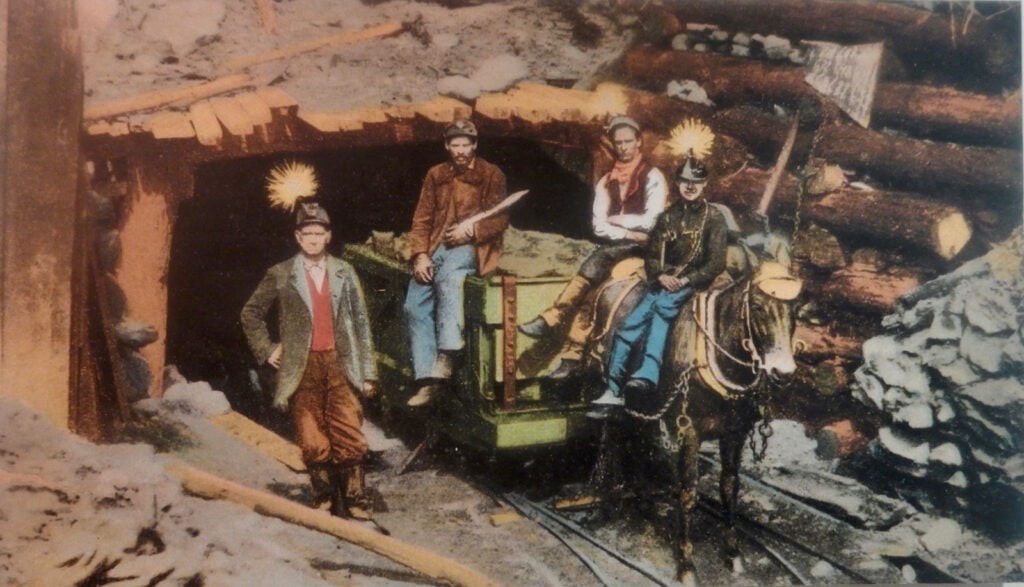 Drive almost 7 miles to Business Route 6 then through a stoplight ridden commercial strip beginning in Carbondale PA, the terminus for the first Honesdale Gravity Railroad.
Carbondale, known as "Pioneer City" back in the early 1800's when Britain banned the sale of soft coal to the US, became the source of a new kind of hard, clean, coal: anthracite. The Wurt's Brothers came upon this "carbon" while hiking out in the wilds of PA. The discovery led to a coal-rush of sorts, resulting in great wealth for the Wurts' and early arrivals.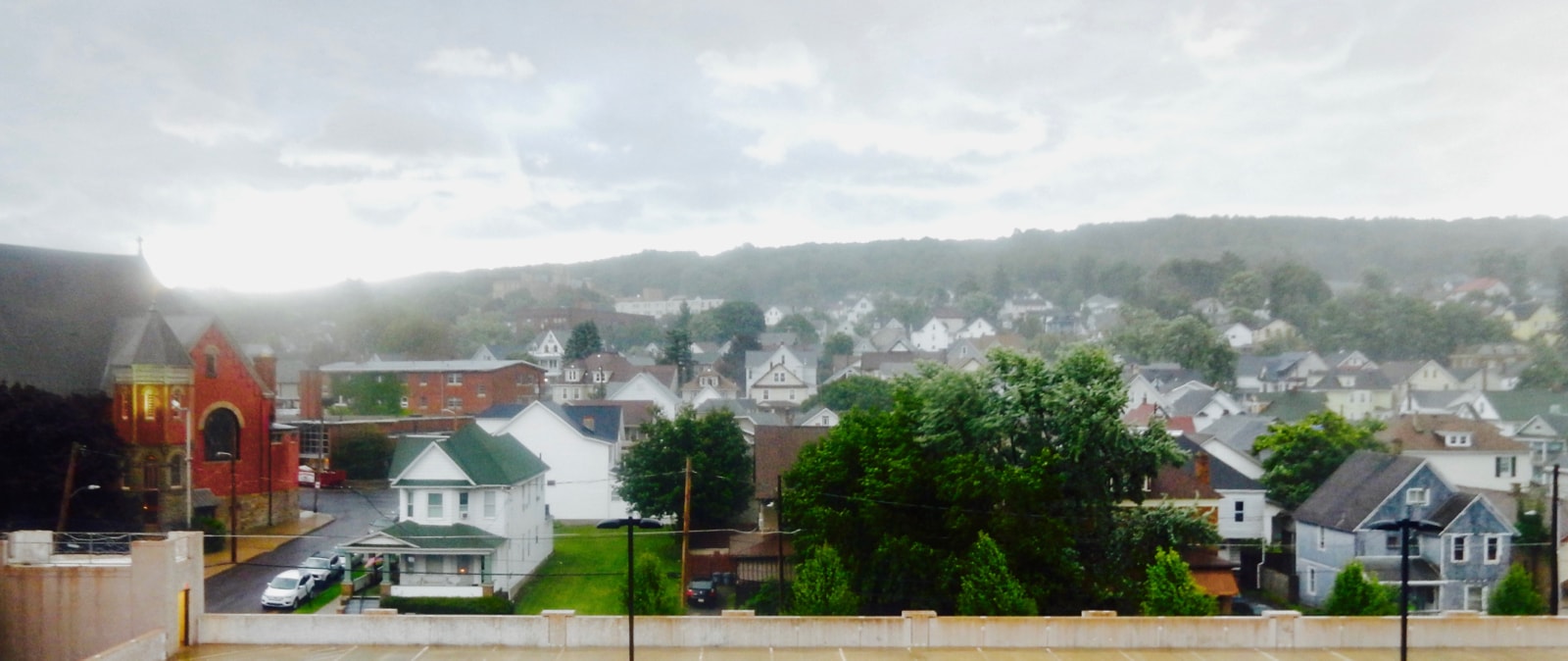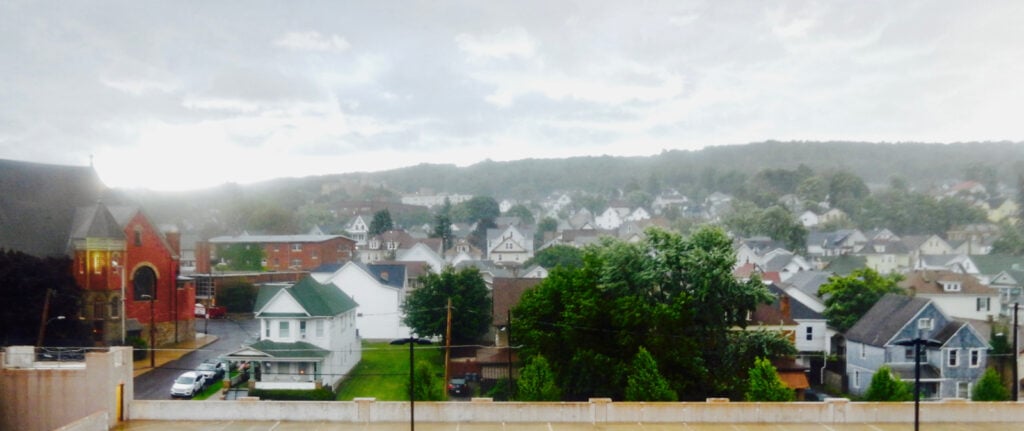 As with many formerly wealthy towns, Carbondale fell into decline, but is now making its way back with a new boutique lodging. The Hotel Anthracite, and its upscale restaurant, Kol, play off the region's history as a coal-mining town.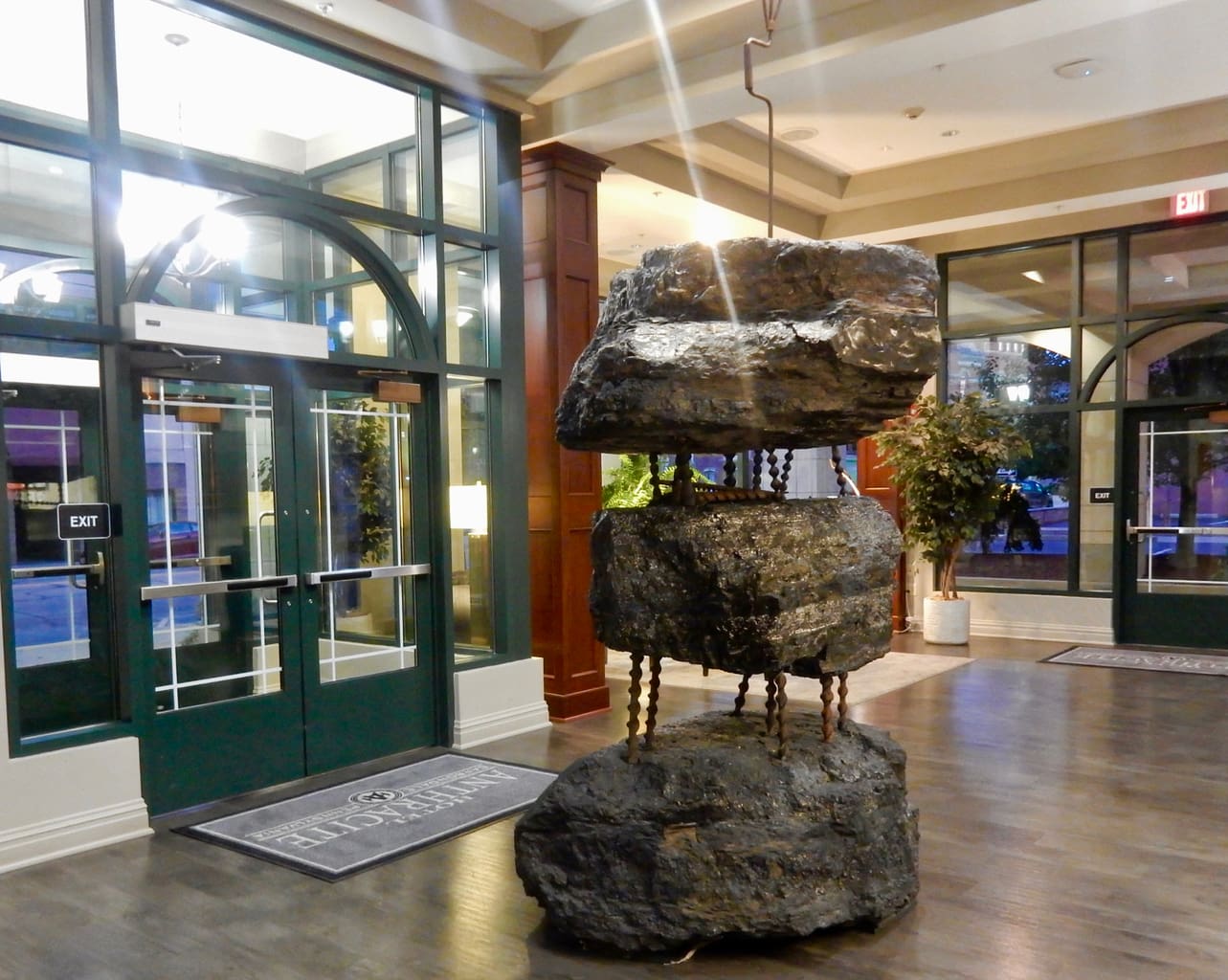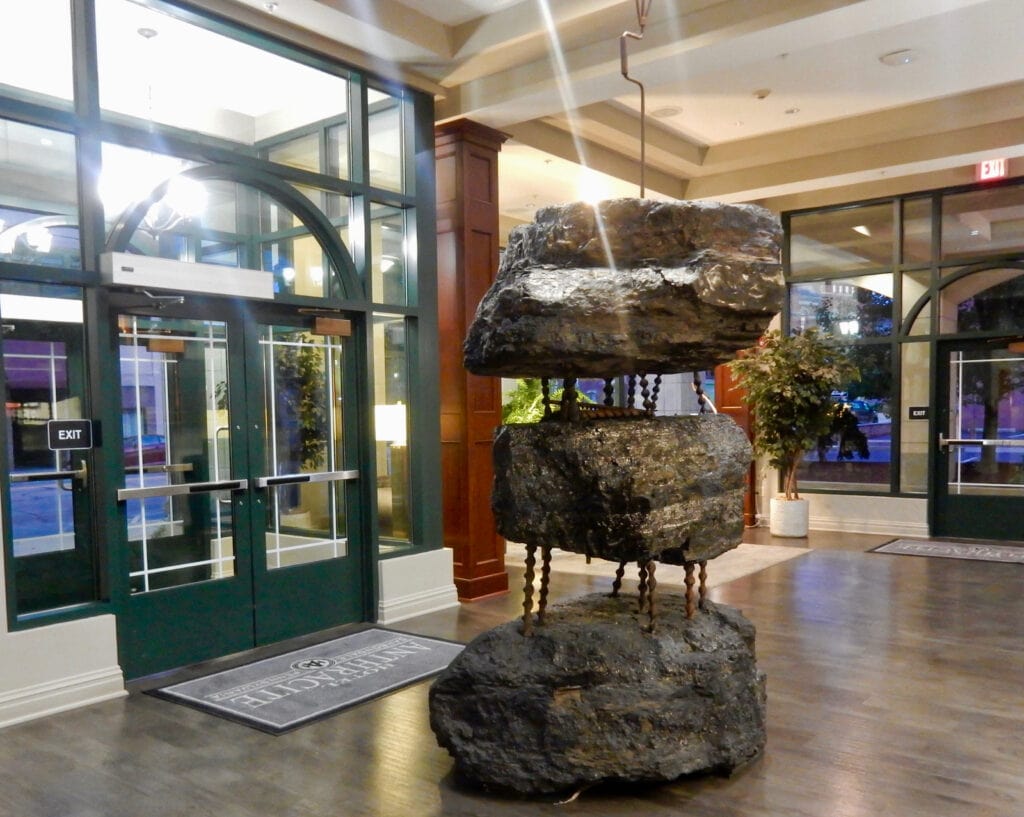 Admittedly, there's not much to do in Carbondale PA, which makes the 61-room Select Registry boutique Hotel Anthracite an anomaly. A thrilling find for hunters of cool lodgings in obscure places, Hotel Anthracite celebrates the clean-burning hard coal (anthracite) found and mined here.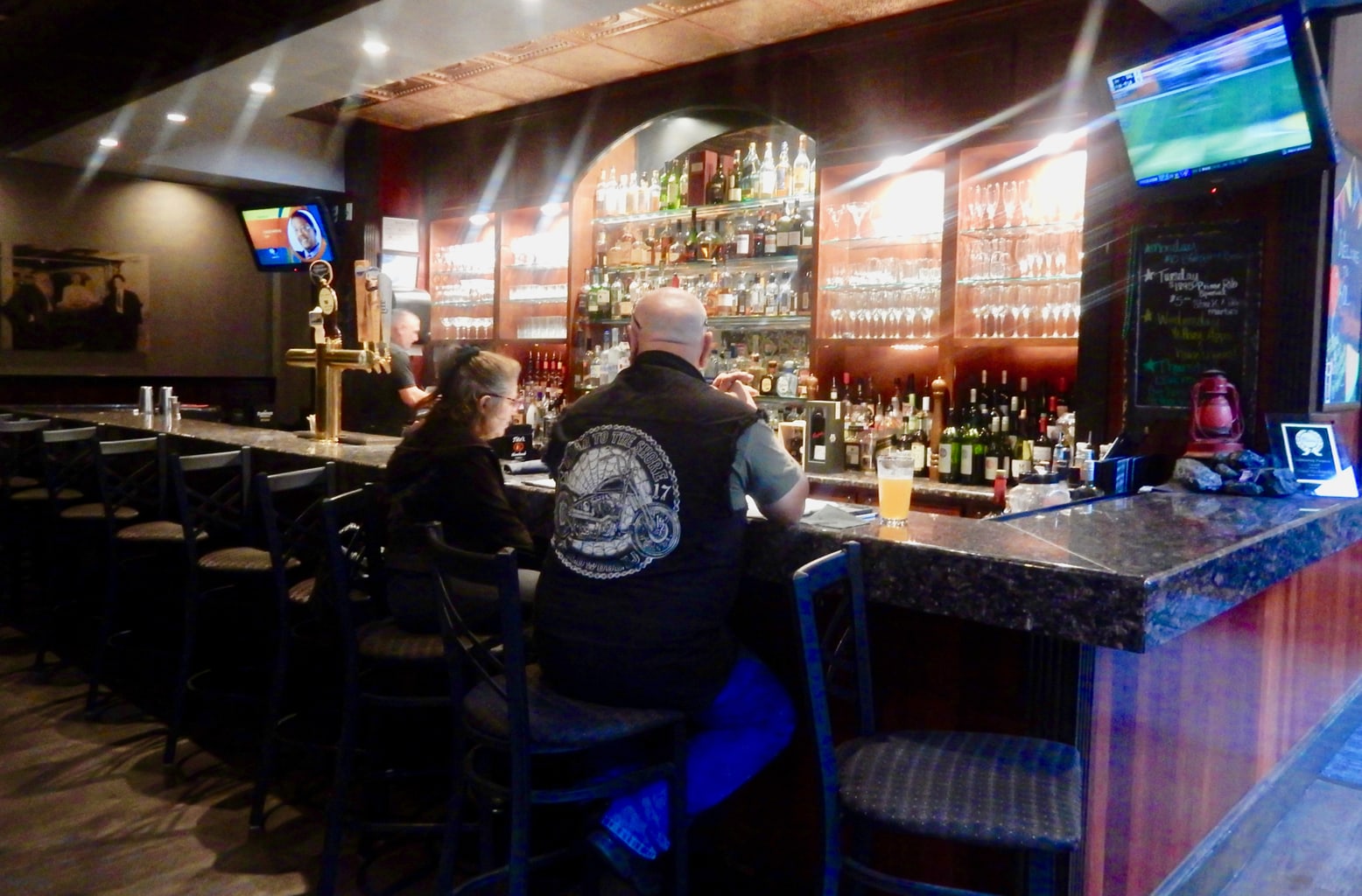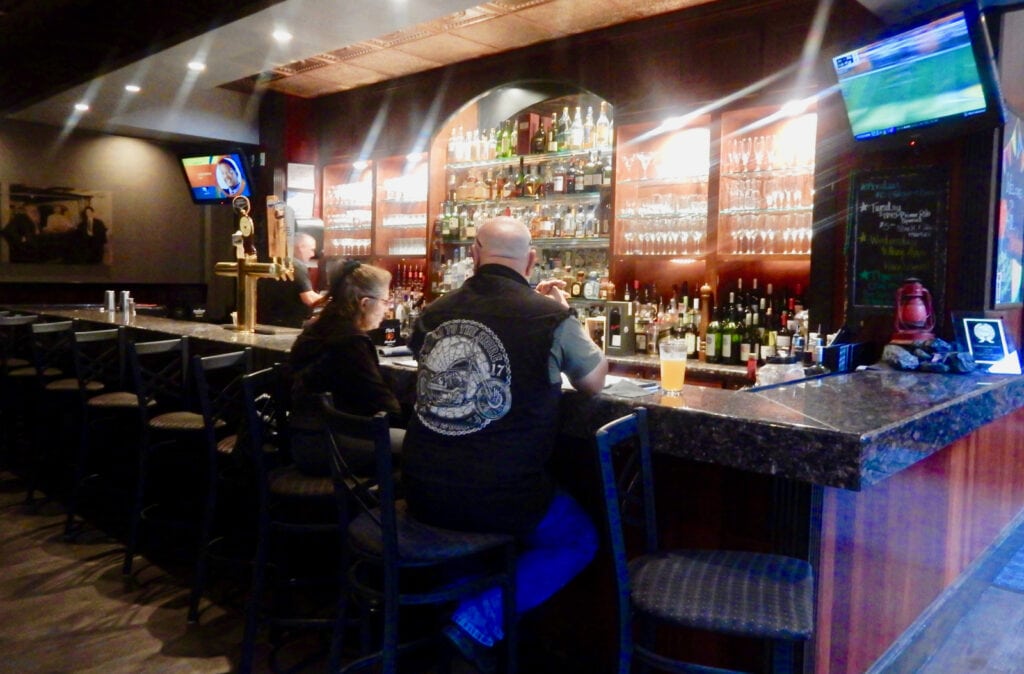 As a Settlers Hospitality Group hotel (along with the Settler's Inn, Ledges, and Silver Birches in Hawley), Hotel Anthracite is well-run, friendly and a departure from the mundane. Formerly a Best Western built in 2013, Settlers Hospitality purchased it in 2017, and added photos, art, and artifacts from the Carbondale Historical Society to give the property a sense of place.
First Impressions of Hotel Anthracite, Carbondale PA
It took us several passes to find the entrance to the parking lot from Carbondale's Main St., but yes, covered parking behind Hotel Anthracite is free and within steps of a pretty landscaped courtyard that connects the Hotel lobby to an event space.
If you walk in through the front door, you'll encounter a rough-hewn monument that would look ridiculous anywhere but here. Three boulder-sized chunks of anthracite from the Newport Aggregate Mine in Glen Lyon PA are supported by rebar and crowned with an antique hand drill. These 4,000 lbs of coal form a triple-tier sculpture that is both airy and dense at the same time.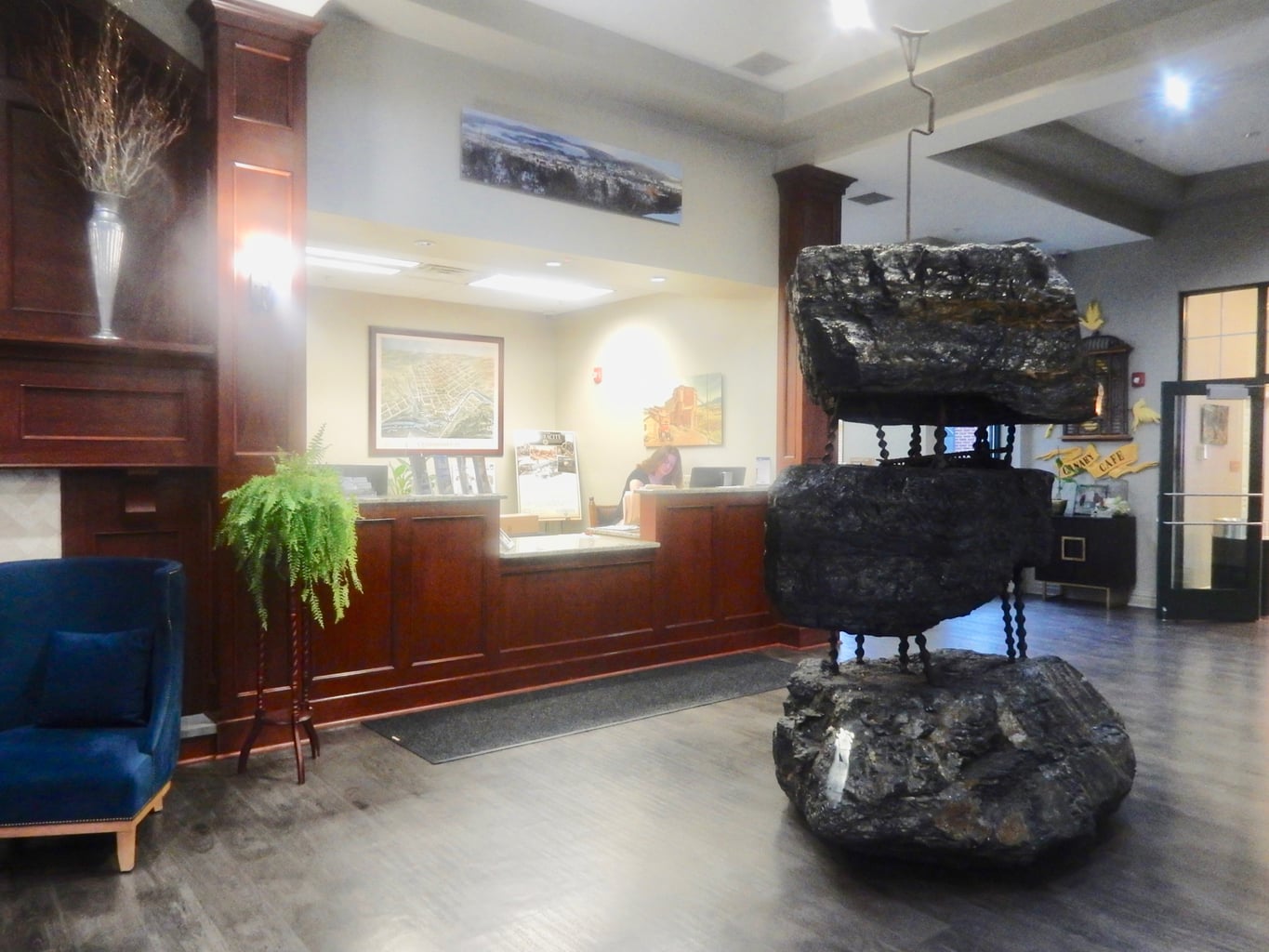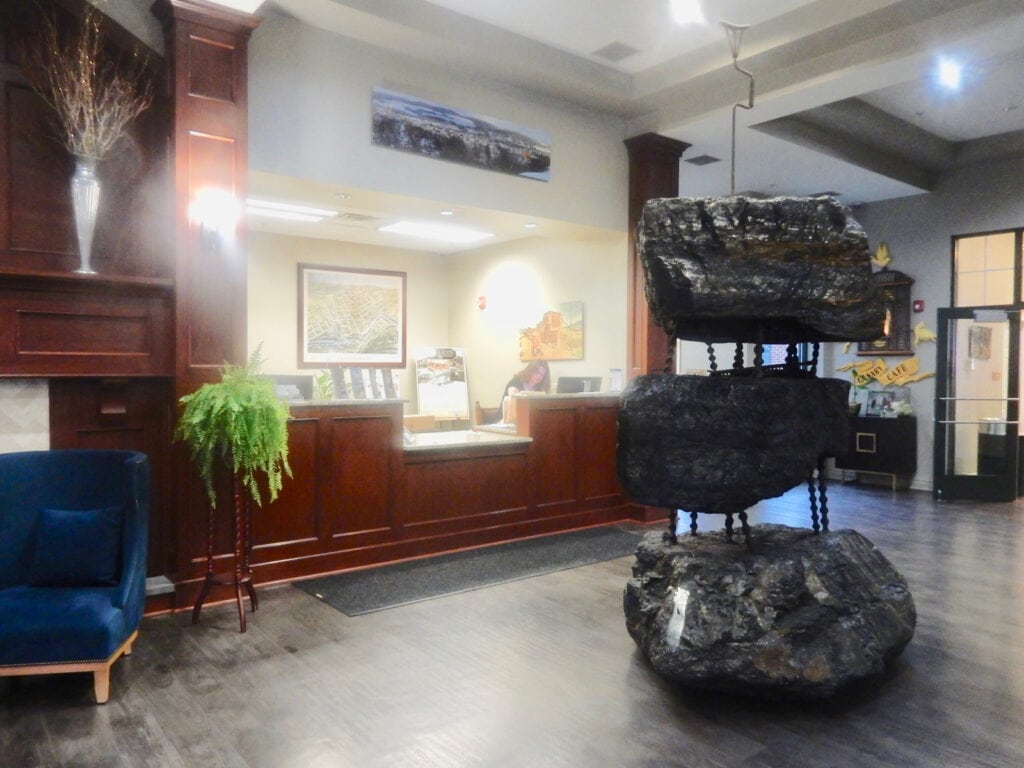 Reception is genuinely nice and warm. Guests receive a $10 certificate that can be used for dinner or breakfast at the in-house Kol Steakhouse.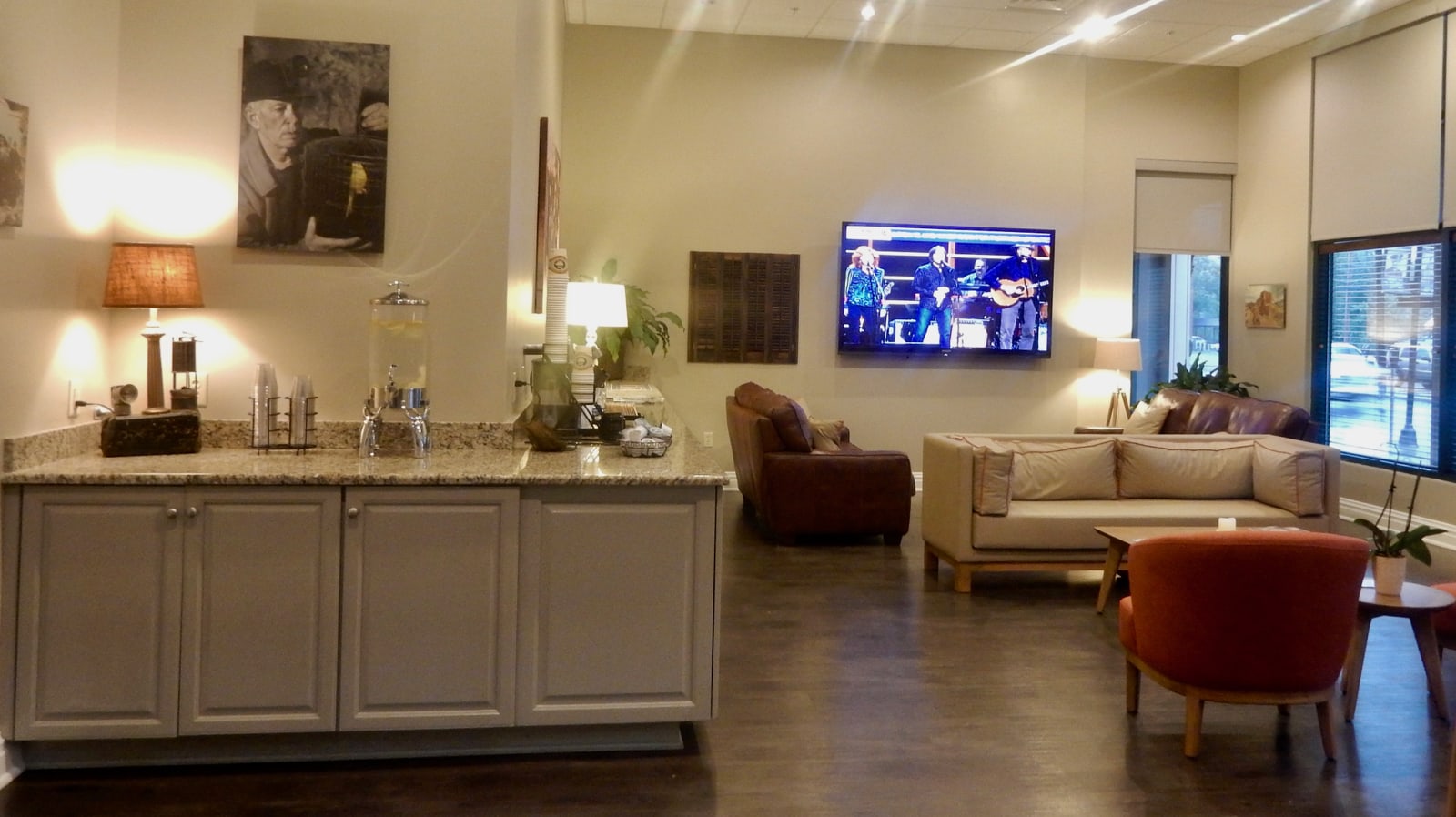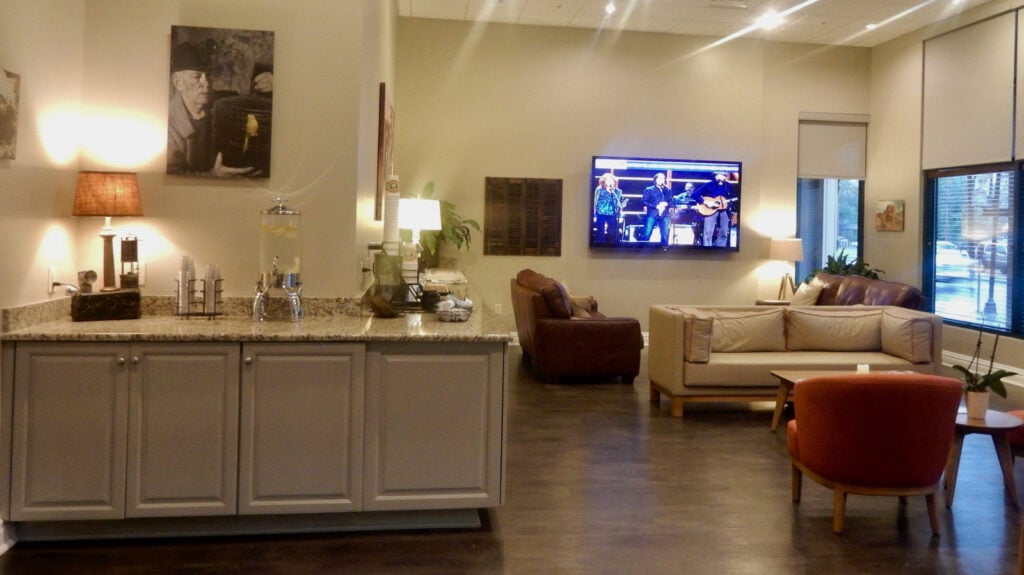 Two seating areas are available for relaxation or gathering of the clan. One, in the lobby, and another called Canary Café, featuring upholstered chairs, plushy leather couches, a large flat-screen TV and tea, coffee, and water 24/7.
Rooms at Hotel Anthracite, Carbondale PA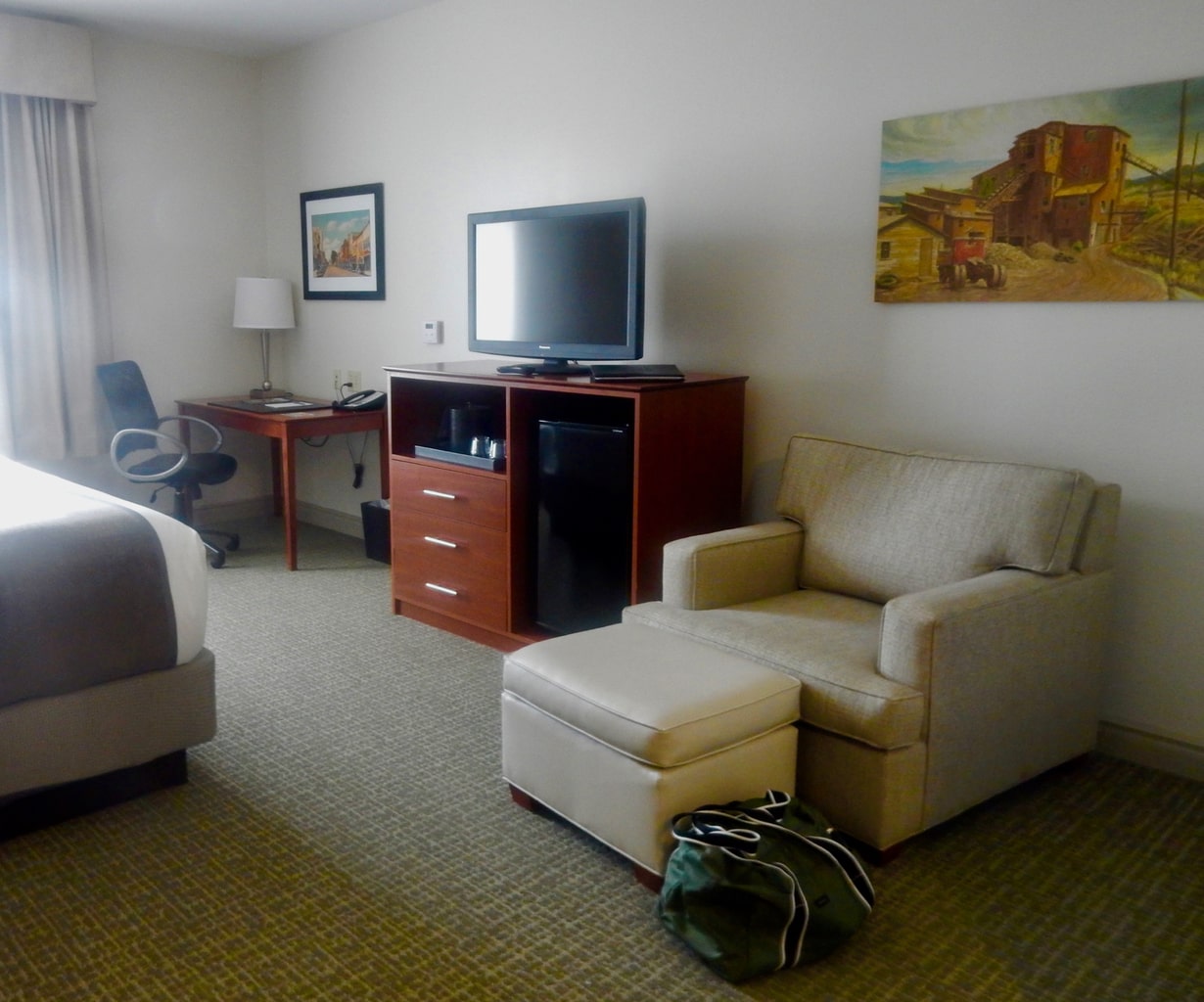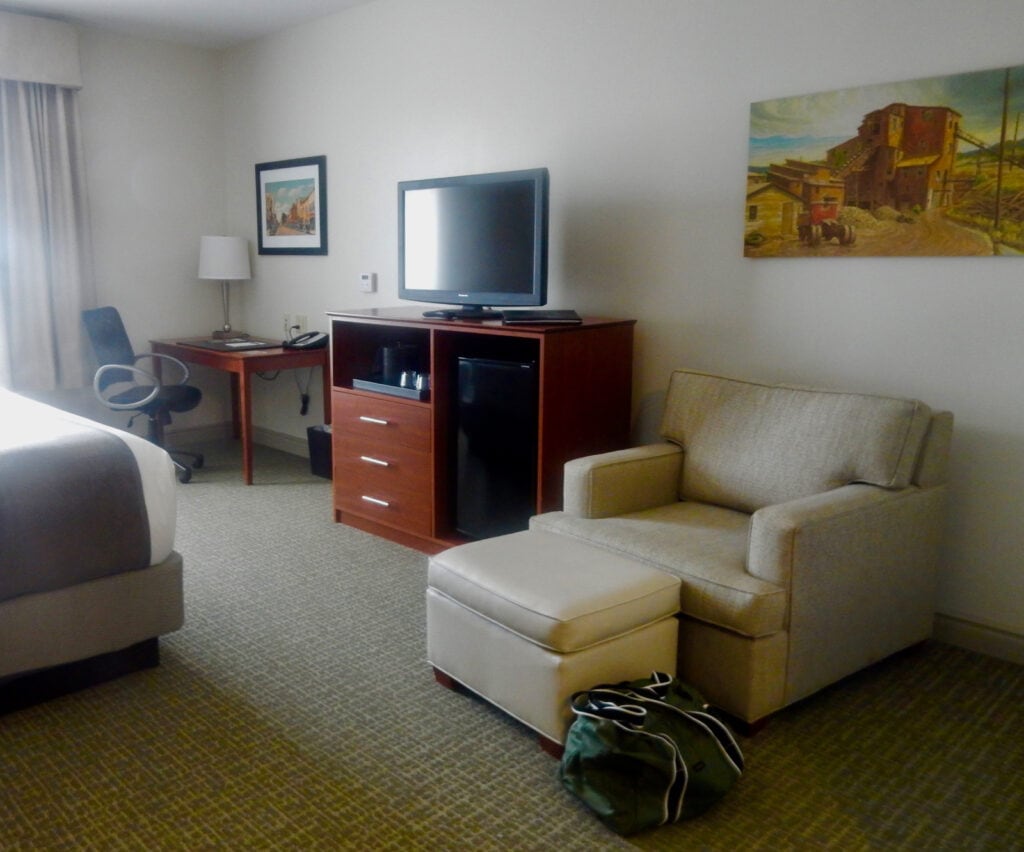 Contemporary rooms in natural shades of sand, cream, moss, and mahogany are simple but upscale. Granite sink bathrooms, harking back to Best Western days, are sparking clean and basic.
Food and Drink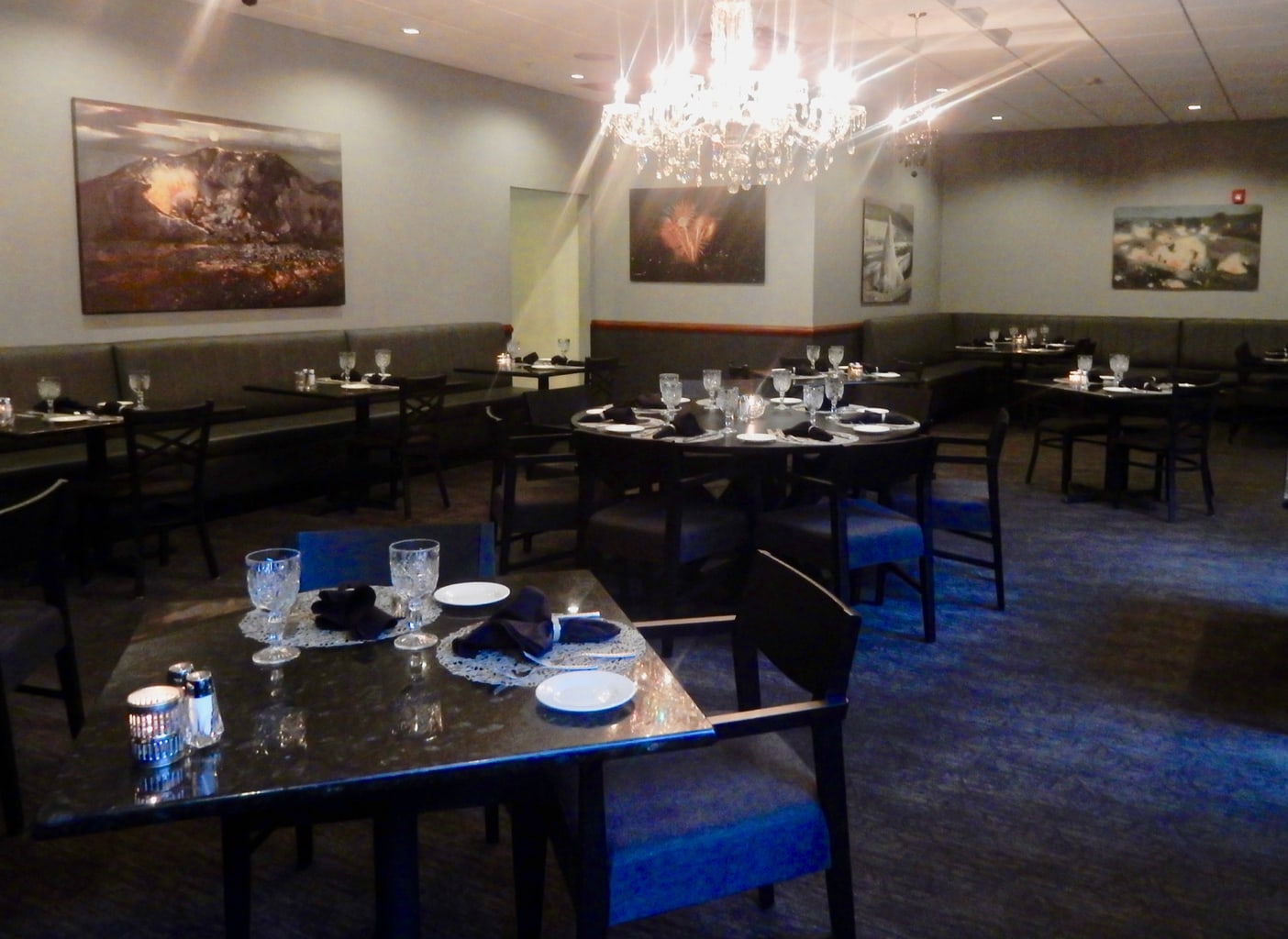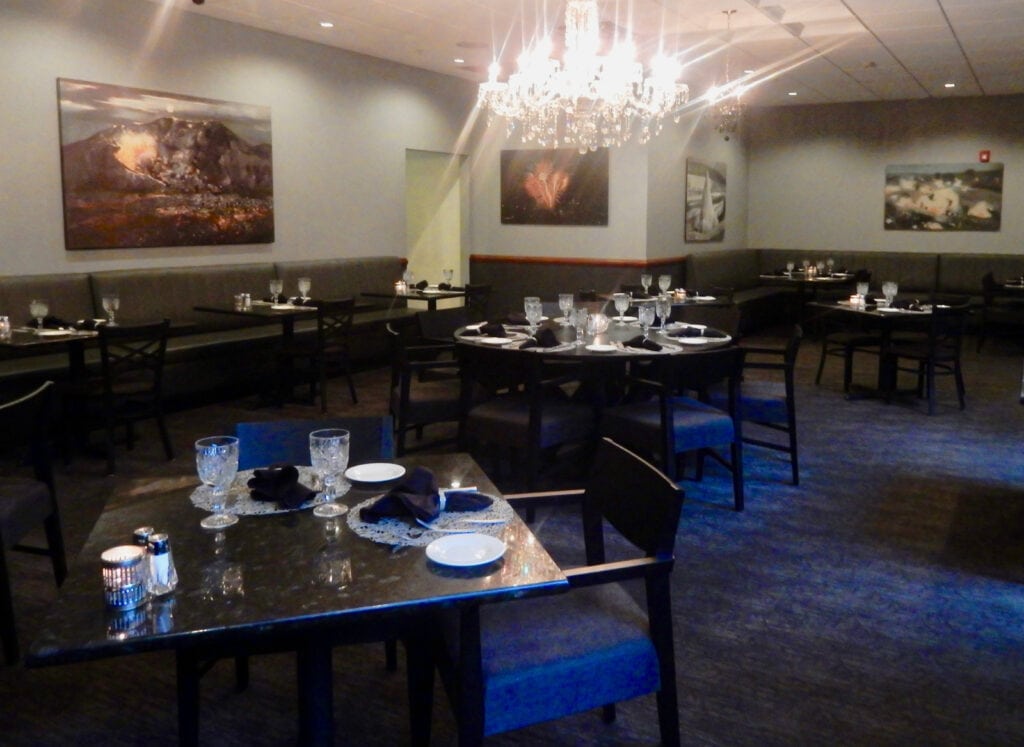 The bartender at the large atmospheric bar is on the ball. And, waitstaff are attentive at in-house Kol Steakhouse (pronounced "coal"), where burgers and prime-rib reign. Food is very good. Surprisingly so. Sitting down for a meal in this pleasant, low lit, crystal chandeliered art-on-walls place was a joy in an area that seems bereft of fine dining establishments. Rooms and suites from $111 – $171 per night. Includes parking, wi-fi, use of bicycles, fitness room, evening wine-tasting and $10 gift certificate for Kol Steakhouse.
From Carbondale PA, it's 15 miles to the outskirts of Scranton. If you have a day or two, it is worth it to stay for a few engrossing reasons. Not the least of which is that Scranton is where the fictional Dunder Mifflin Paper Company is located. As any fan of The Office can attest.