Last Updated on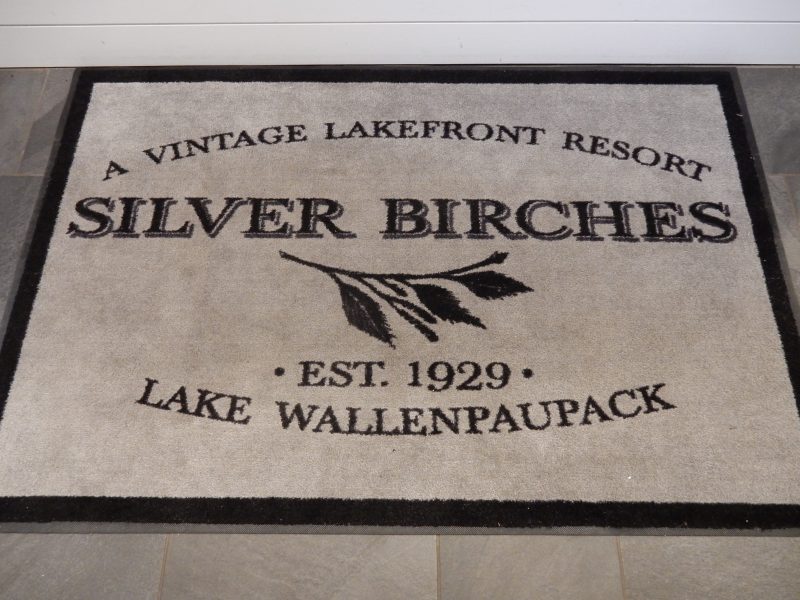 The owners of the Arts and Crafts Settler's Inn and trendy, modern Ledges Hotel in Hawley PA have done it again, with a complete overhaul of an archaic family cottage resort right on the banks of Lake Wallenpaupack.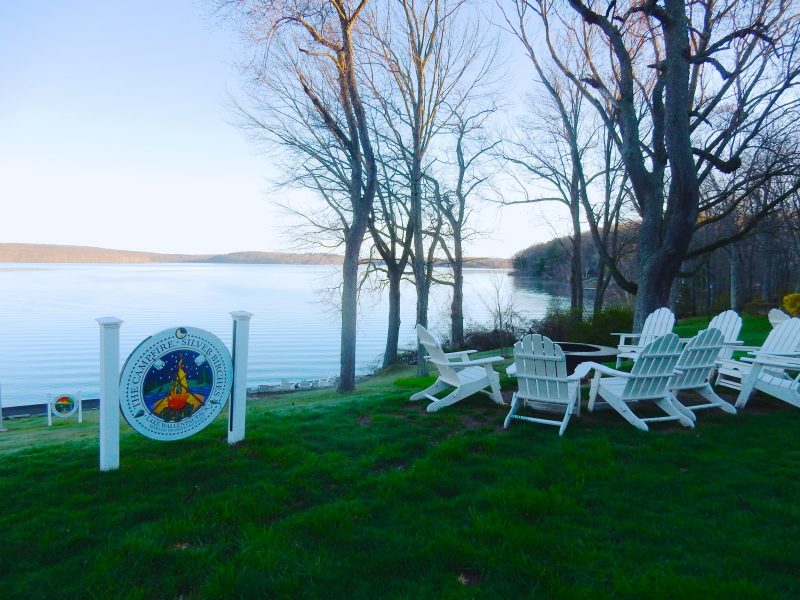 The Settlers Hospitality Group has successfully imbued the former 1929 Ehrhardt's Waterfront Resort with new life as The Silver Birches Resort, a small but very appealing collection of cottages, houses, suites and rooms right on the water.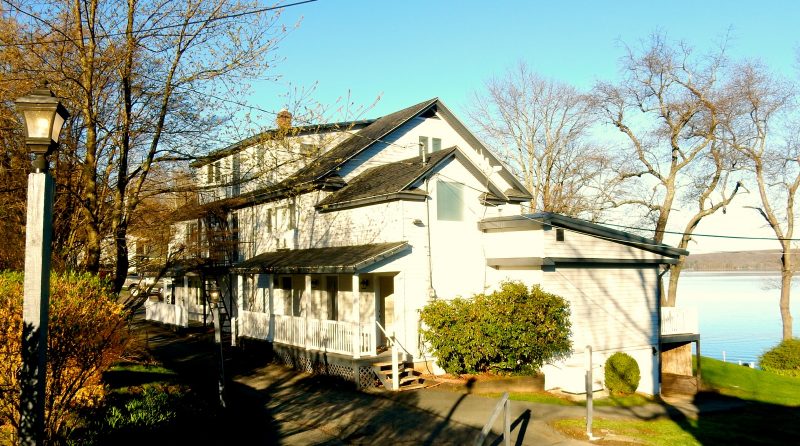 This is no sprawling resort. You don't need a bellboy in a golf cart to squire you around the grounds. Park near the main building, one of a few on the property that backs up to the lake, and check in. You can walk easily to all the rooms and cottages, which cluster closely around the Reception/Inn Building.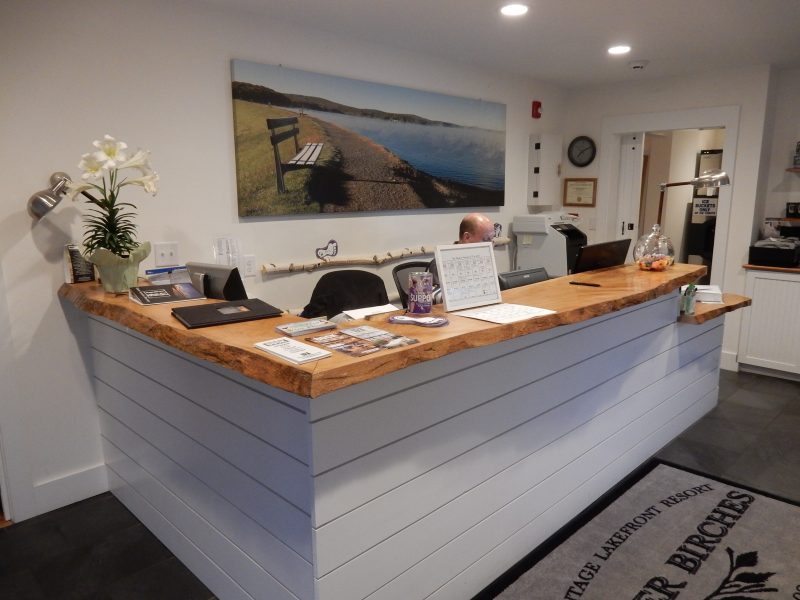 The welcome is friendly and very casual. You'll get the lay of the land, a map of the property and an invitation to a "Sunset Champaign Toast," that's complimentary with your room.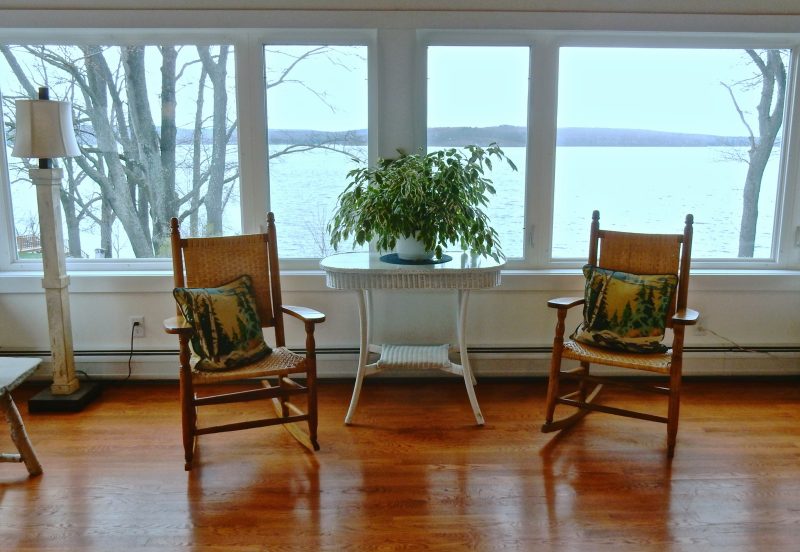 Common areas are thoughtfully and pleasingly composed – with the lake, of course, getting top billing right outside the sunroom's picture windows.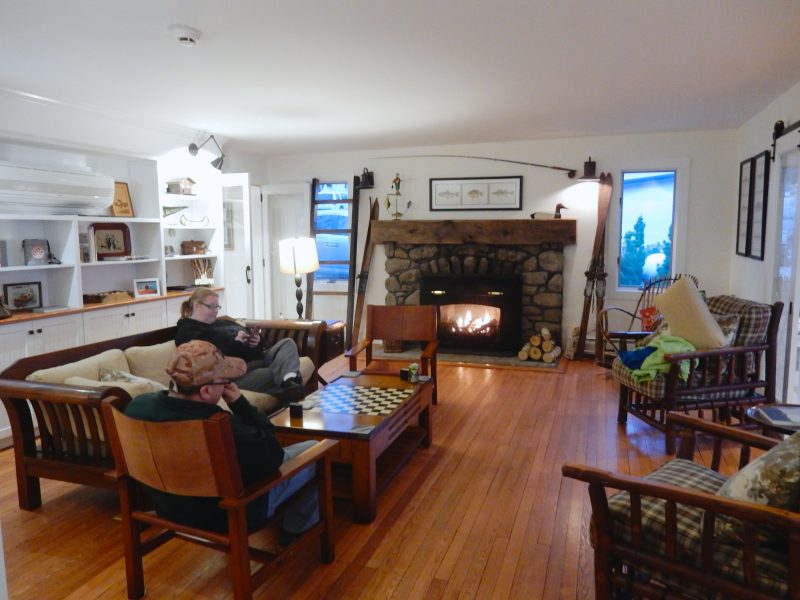 If it's chilly, a fireplace warms the common area stocked with books and games, a perfect place in season, too, to hang out when it's raining.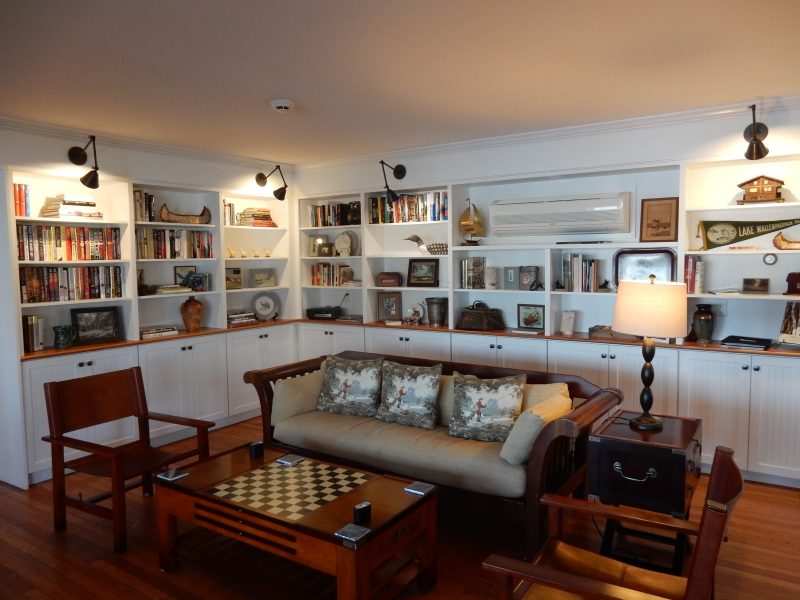 But on fine days, you'll want to be out on Lake Wallenpaupack or in the Silver Birches Pool.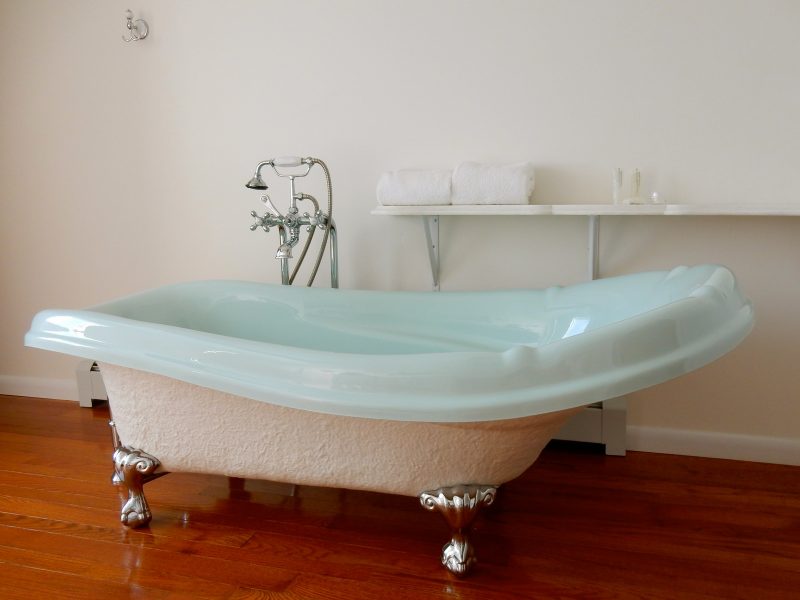 OMG – the bathtub! I want it. That was my first thought when I scouted out the King Deluxe Suite in the Inn building – Room #14. A curvaceous sea foam-green glass-ceramic silver claw foot tub; it's momma-and daddy-don't-wanna-bring-their-kids-here sexy.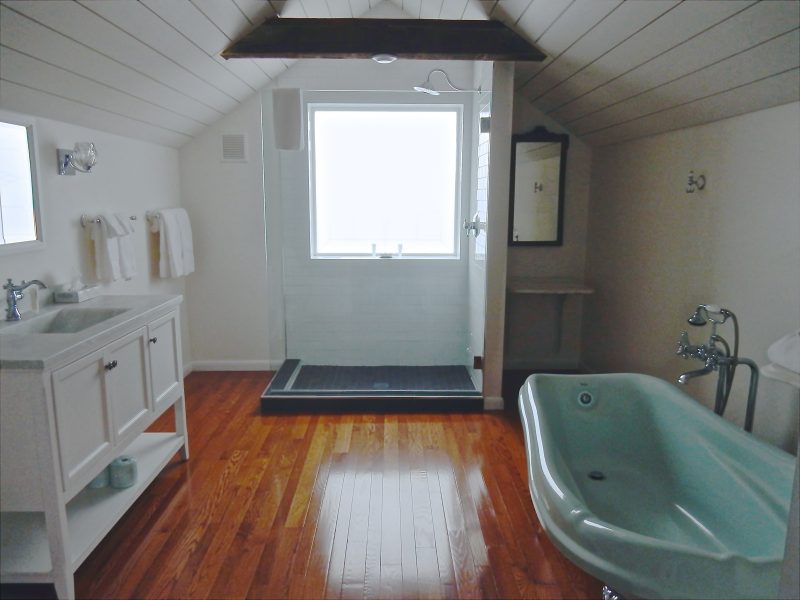 But that's not the half of it. Any fan of hotel bathrooms will love this one –  roomy with hardwood floor and a sundrenched glass shower as well.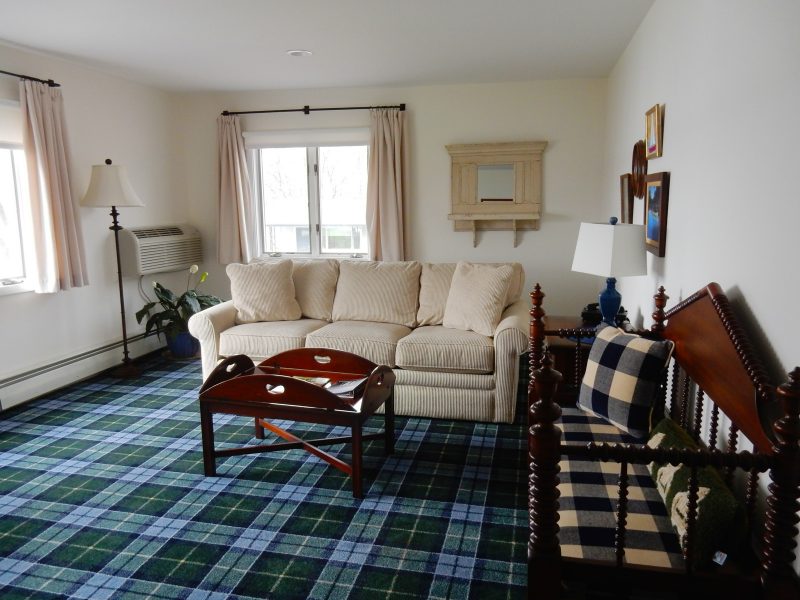 The Tartan carpeting in the otherwise country-fied sitting room is a nice touch.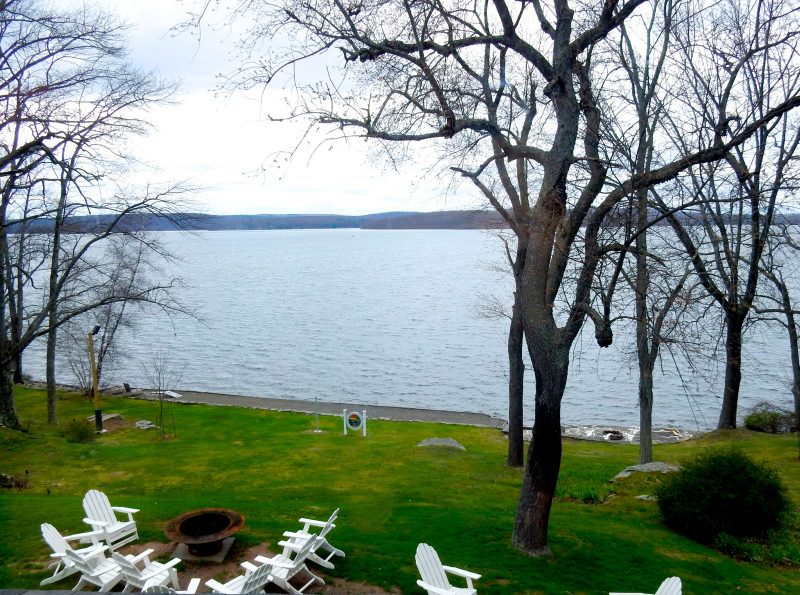 But you won't be sitting much on those couches with a view like that out of the windows.
Bedding in the bright nautical bedroom is as comfy as it gets. Each room category is furnished differently, but all are newly updated, eye-catching, and country-contemporary.
Dining at Silver Birches
The Dock has the best view of the lake and is great for a drink. But for the most outstanding dining – best to go to the Settler's Inn for farm to table cuisine, or Ledges (Glass Wine Bar and Kitchen) for small bites.
Amenities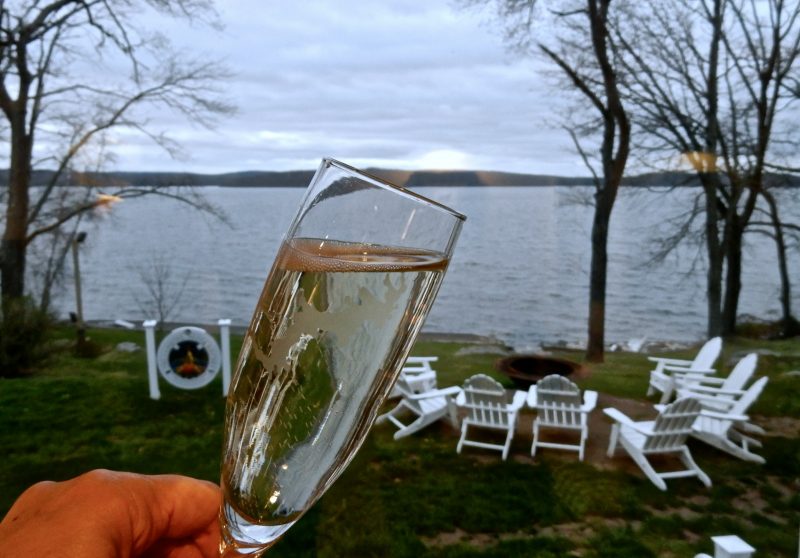 Daily Sunset Champaign Toast
Lakefront pool
Campfires with Adirondack Chairs for evening wine and conversation
The Recreation Center – for kayak, SUP, canoe, and power boat rentals.
Just the Facts
King Deluxe Suite from $210-$360 depending on season.
Rooms from $135 off season. All include wifi, parking and drink at sunset.