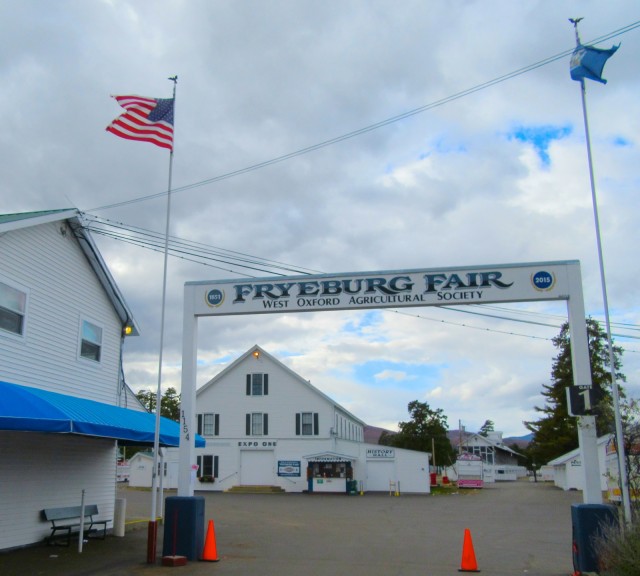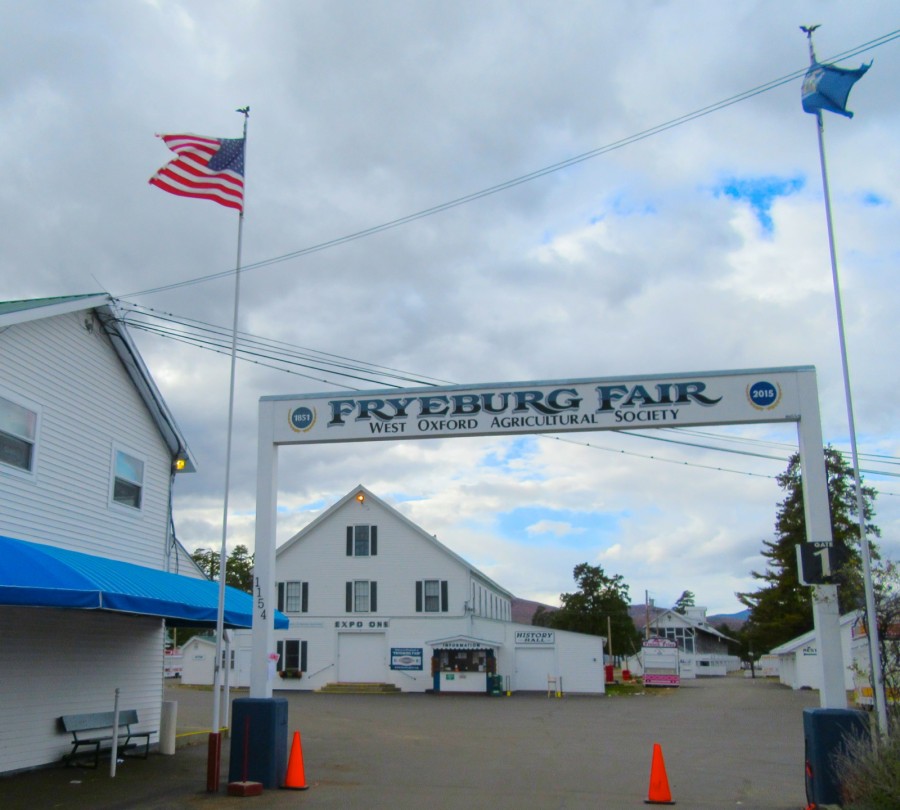 WHY GO: There's really not much to tiny Fryeburg ME, a town, if you could call it a town, that sits on the New Hampshire border in the foothills of the White Mountains. There's the famous Fryeburg Agricultural Fair (early October), Fryeburg Academy, a few consignment and pizza shops, and that's it. But there is also one true "Destination Inn" – the Oxford Inn. Yes, there are people who come to this most western part of Maine just to stay at this lovely place. Read on, and you'll see why.
Things to Do Around Fryeburg ME
TOUR: Willowbrook Museum Village, Newfield. About half hour south of Fryeburg, way off the beaten track, you'll find this partly recreated, partly authentic little historic town. In the 1880's, Newfield Village, once a bustling carriage and sleigh making and farming center, fell on hard times when the Industrial Revolution put artisans out of work.
In the 1960's, a wealthy oil magnate, Donald King, purchased the Durgin House and Barn as a hunting lodge, began collecting Victorian antiques, filled up the barn with farm equipment, wagons, fancy sleighs, canoes, bikes, and singular gear from the late 1800's, early 1900's – like the horse treadmill cider press and a 1849 "Cadillac of Stagecoaches," the Concord.
Opened as a museum in 1970, there are now over 20 buildings to explore on a self-guided tour. Visitors will find a cider mill, print shop, granary, working pump (try it out!) and other structures built purely for this museum, where, off season, extremely popular classes are held in blacksmithing ($125 for full day), Metal Casting, Woodworking, Antique Engine Repair, and Crystal Radio Making.
But the tour de force of this living history museum is the original 1894 Armitage Herschell Carousel, a cable-operated, steam engine powered, portable merry-go-round, found in pieces in a nearby barn, now fully restored with its original ticket booth. Incredibly, you can ride on one of the galloping horses (there are no poles), while the carousel, originally built for adults not children, is set on its slowest speed. With organ music blasting and conceivably lots of whooping and screaming going on when first operated, the carousel was considered "too loud and rowdy" when it debuted in Kennebunk in the late 1800's. You are invited to join in the festivity. Happily, one ride is included in your entrance fee. Open Memorial Day – Columbus Day Thurs-Mon 10-5, $15 adults, $8 kids, includes a ride on the historic carousel that operates 11:30, 1:30, and 3pm.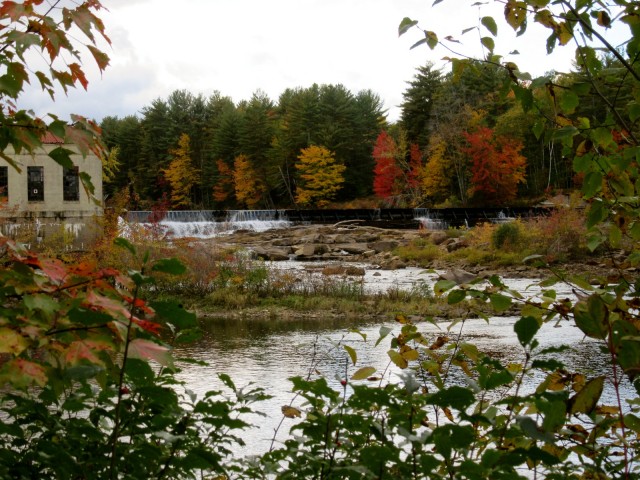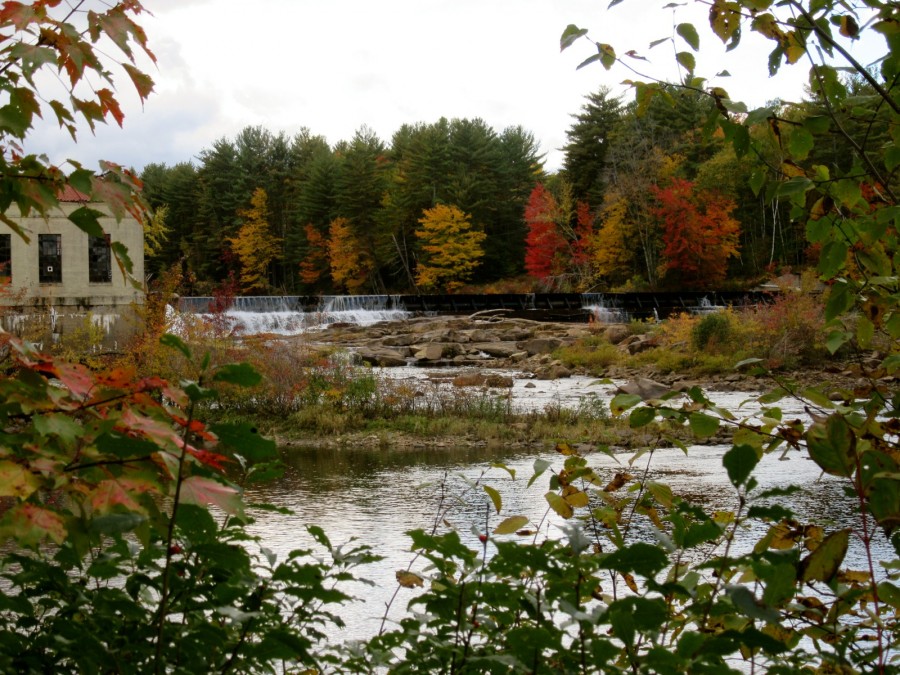 KAYAK/TUBE: Saco River Canoe and Kayak. You can spend a lovely day on the picturesque Saco River and have folks at this outfitter drop you off and pick you up. Check website for rental and transport costs.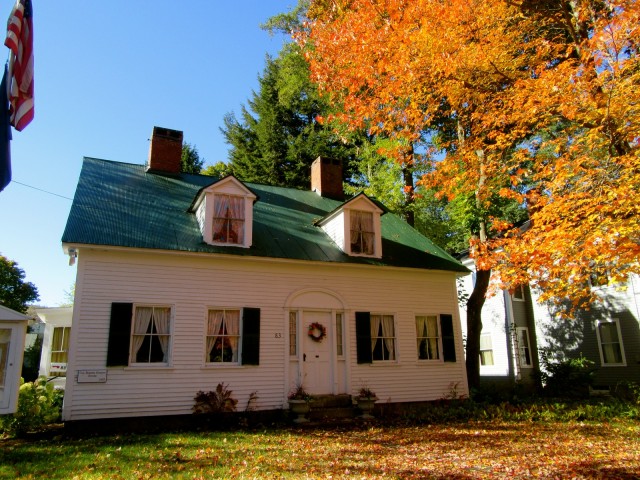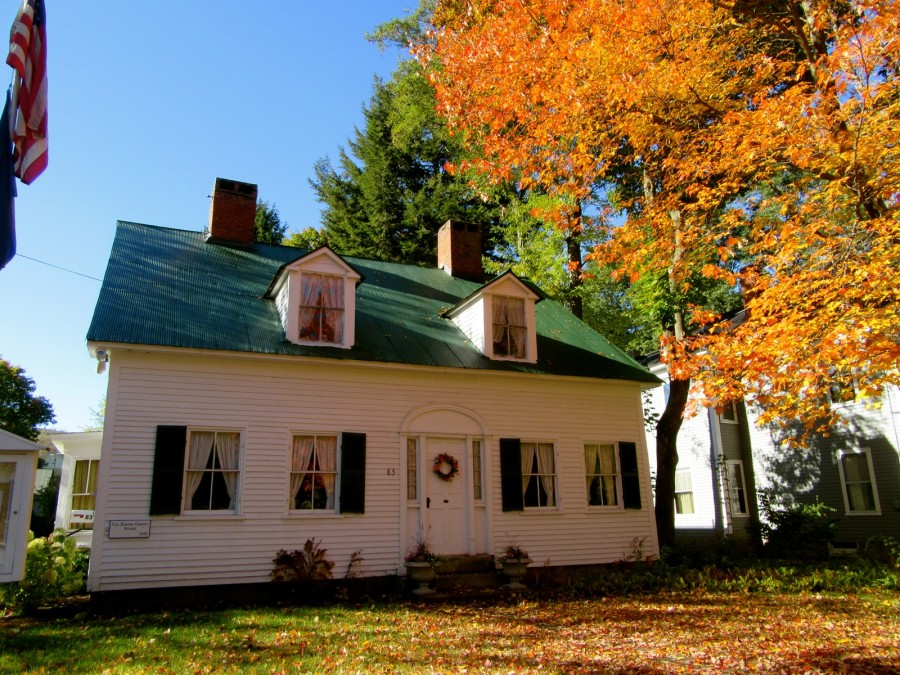 SEE: Fryeburg Historical Society Museum. Even when not open, it's a lovely home, especially in the fall when surrounding trees burst into color.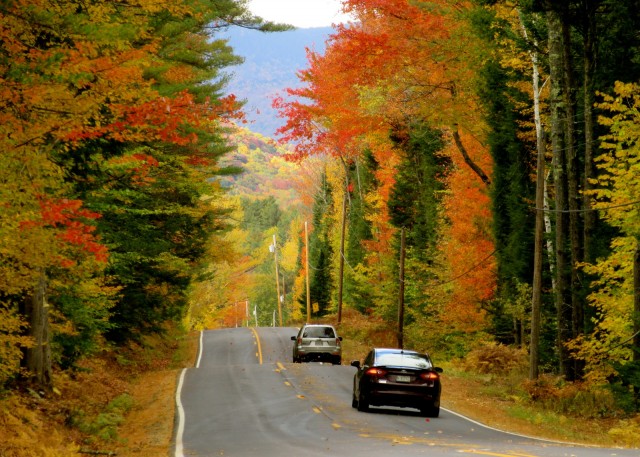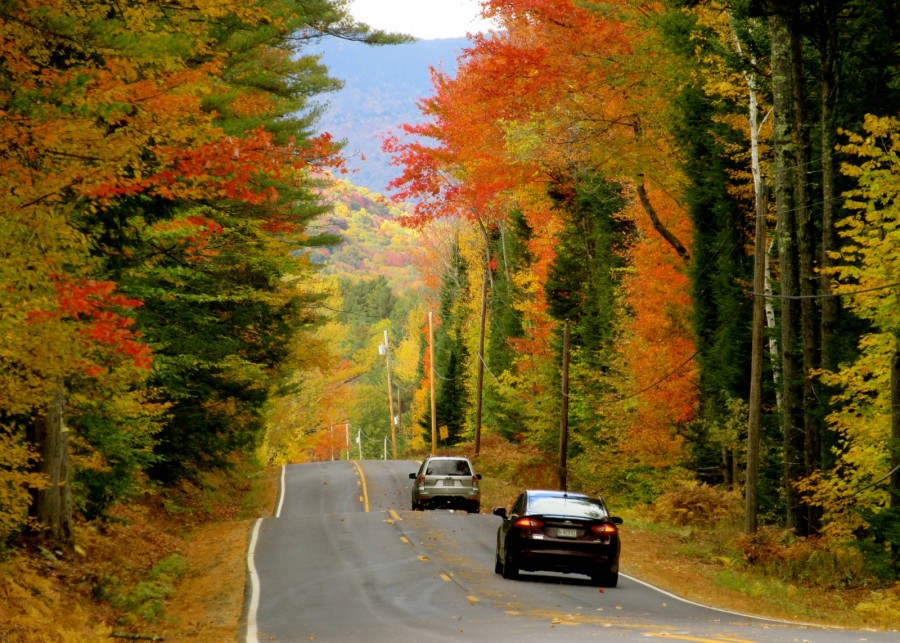 DRIVE: 30 Miles on Route 113 North (or South from Gilead). This undulating mountain and river road is closed in winter, which gives you some idea of how rustic it is. But this kind of rustic is mindblowing in September and October when the canopies of trees flame into color. You'll be weaving in and out of New Hampshire through Evans Notch on this National Scenic Byway, with breathtaking views of the White Mountains. This route is perfect for those coming from or going to Bethel, ME.
Where to Eat in Fryeburg ME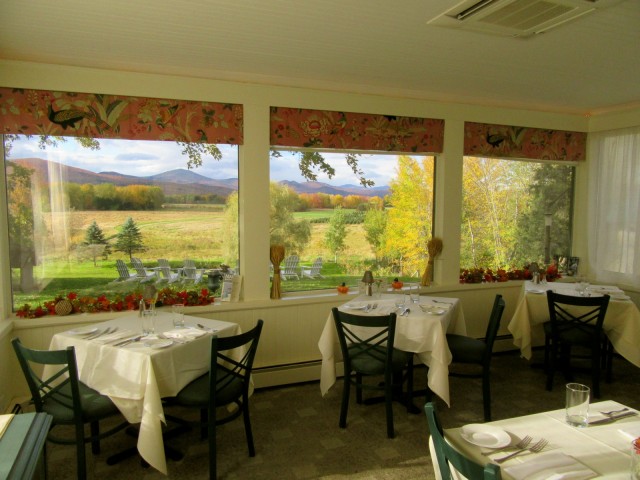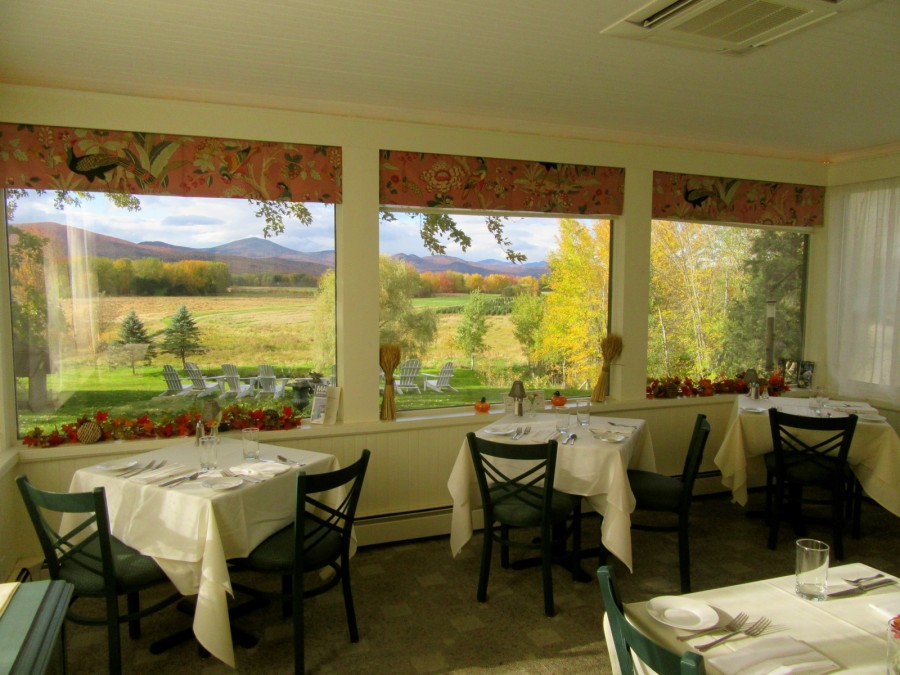 EAT: Oxford House Inn. This is inn dining at its best. Inventive, well executed and perfectly plated, you can't go wrong with anything here. Candlelit, white linen tables, and surrounded by either lovely art or a view out back to equal the food, its no surprise that the chef in the kitchen is Culinary Institute of America grad, chef/owner Jonathan Spak.
Bowls, like the Butternut Squash Fried Rice ($12 for half portion, $22 full) are comfort food plus. The Signature Red Hook ESB Battered Buffalo Shrimp ($14) – a killer appetizer – Steak Frits priced at just $19, and Sesame Crusted Chicken Breast ($26) all hit the mark of culinary excellence. But I wanted to order a second (and then probably third) helping of the Bibb Lettuce with Roasted Shallots, Roasted Grapes & Cashews in a hint of sesame dressing. Outstanding.
Where to Stay in Fryeburg ME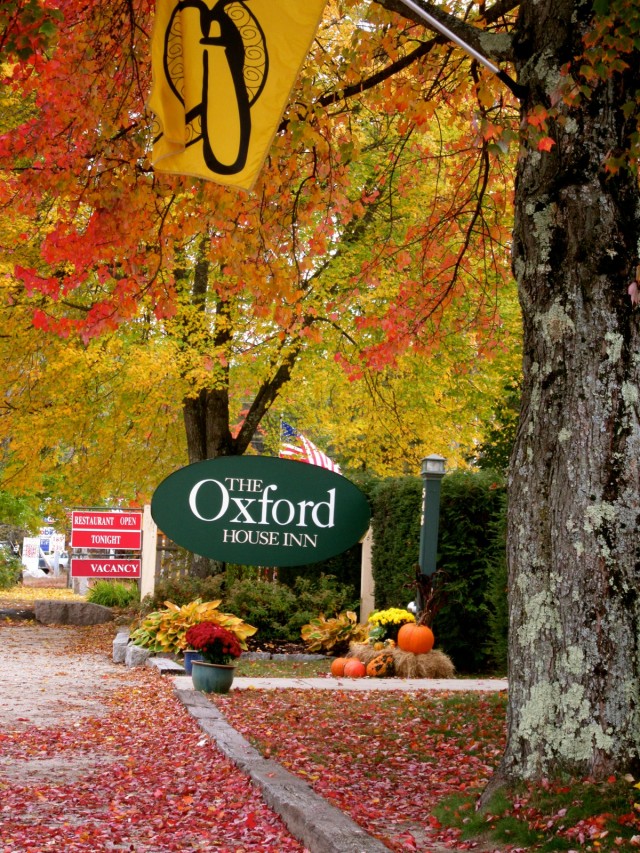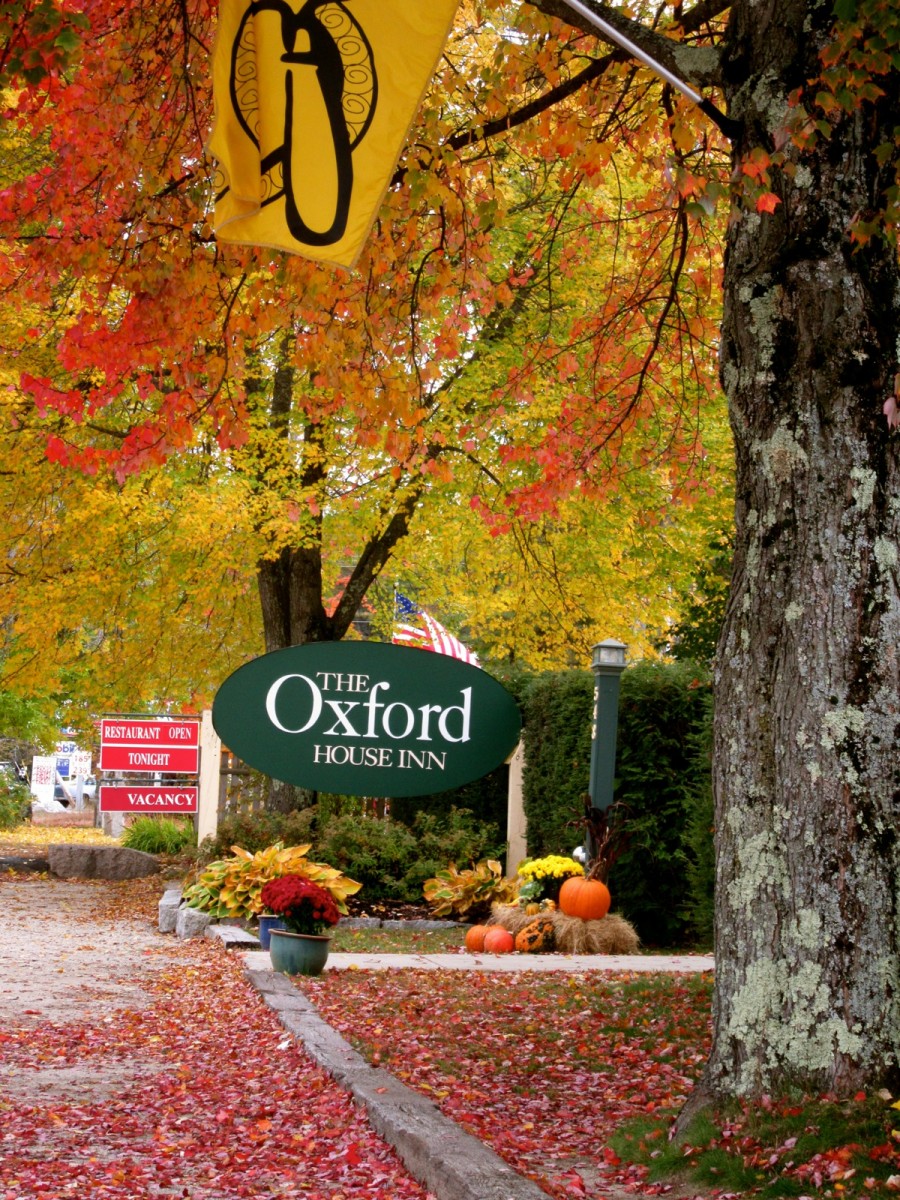 STAY: Oxford House Inn. What a wonder. From the outside, the inn building itself is nice, but nothing to go gaga over. Rambling, old, and sturdy, it's like thousands of other inns across the Northeast USA. But walk through the door and a) one receptionist at one small table greets you like family, b) redone rooms are pristine and elegantly modern, c) restaurant space is upscale, eye-catching, and d) views overlooking farm fields and mountains beyond will take your breath away.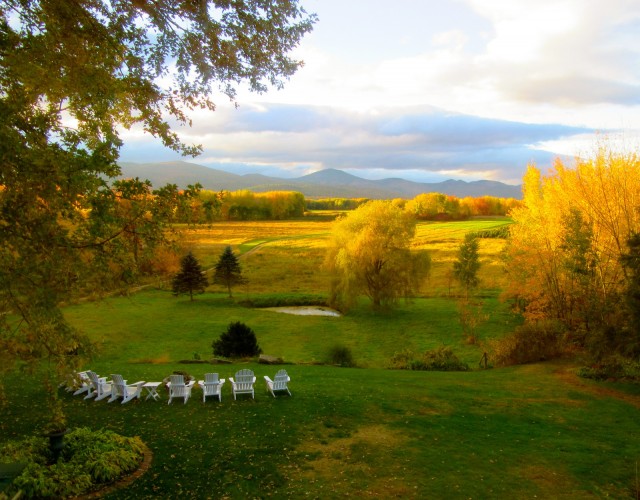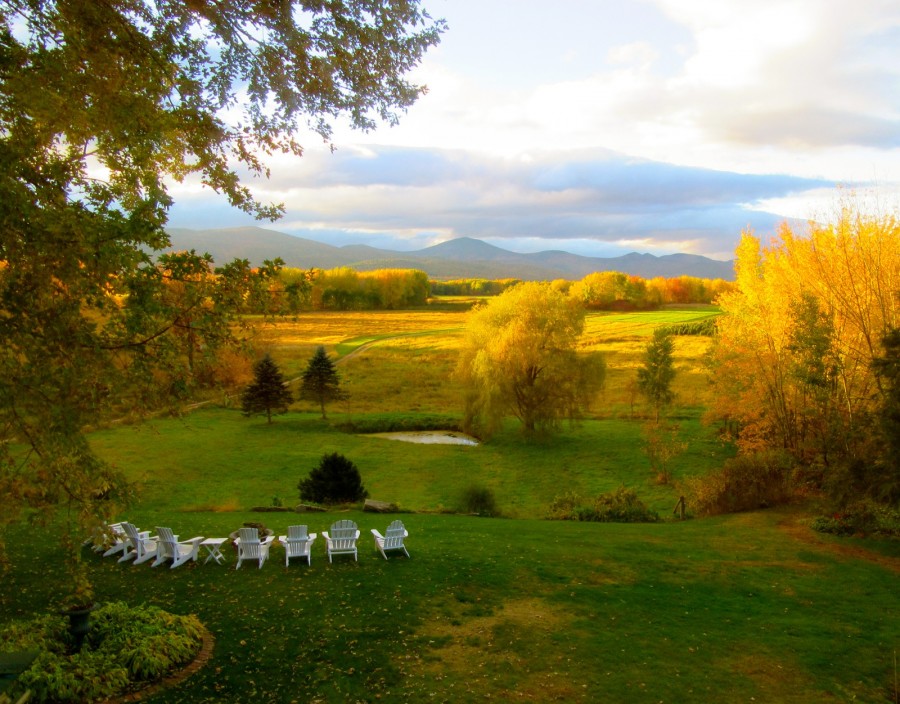 In fact, it is this view – and the exceptional food served here – that keeps guests coming back, and places Oxford Inn squarely as a Destination in and of itself.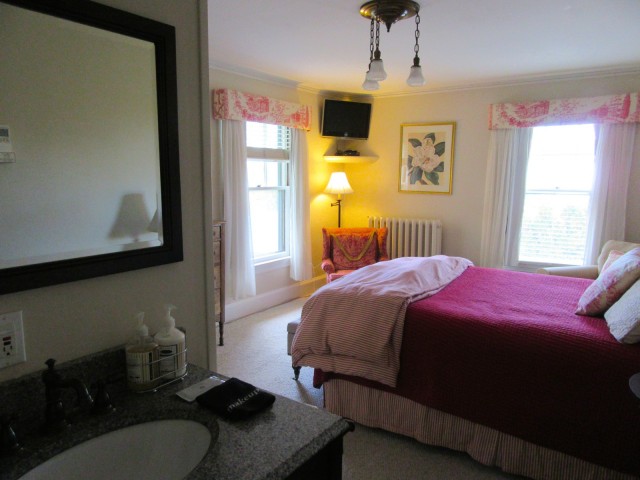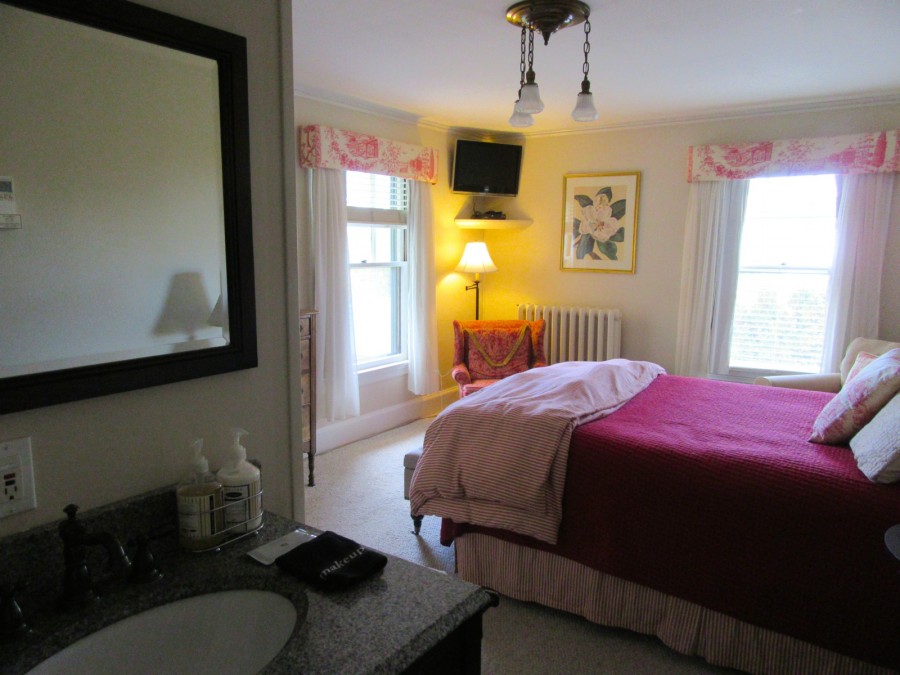 There are only four guest rooms and they differ in size, but all have an upscale-modern-country, delicately designed touch – not done to the nines, but just so. Since this inn wasn't built with a bathroom in each room, some (like mine) feature a toilet and shower in a closet-sized space, while the granite sink is near the bed. Somehow, this is not a determent, especially after a dinner downstairs in either the basement pub or main dining room. The feeling is "cozy and snug" rather than cramped.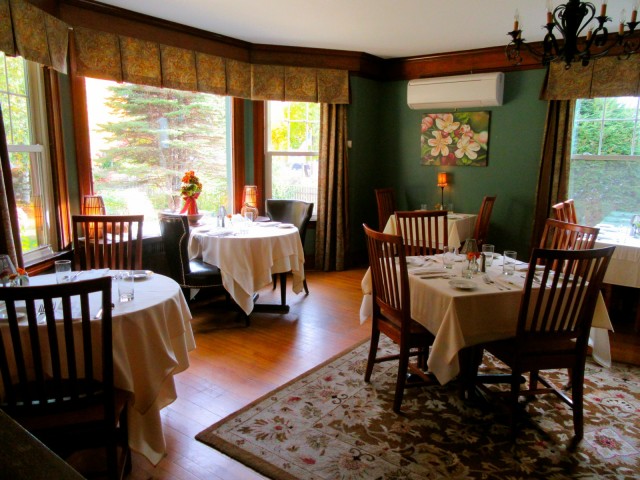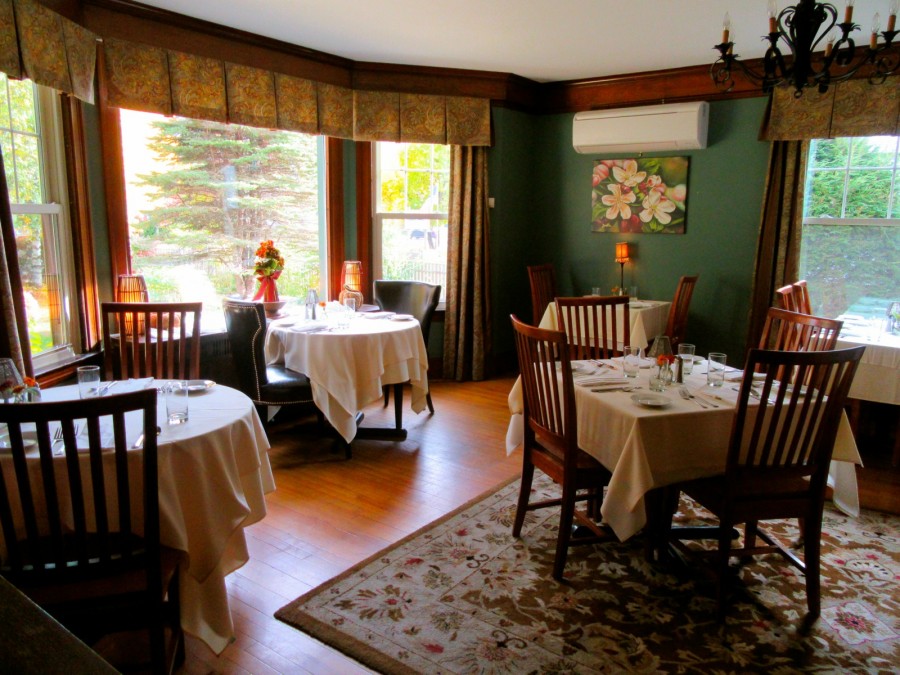 There are actually two restaurants here – the main restaurant mentioned above, and Jonathan's Pub on the lower level, which is more lively with an upscale pub menu. Both showcase Spak's flare as chef.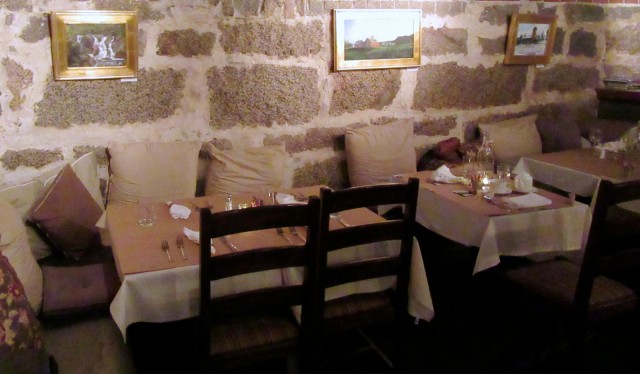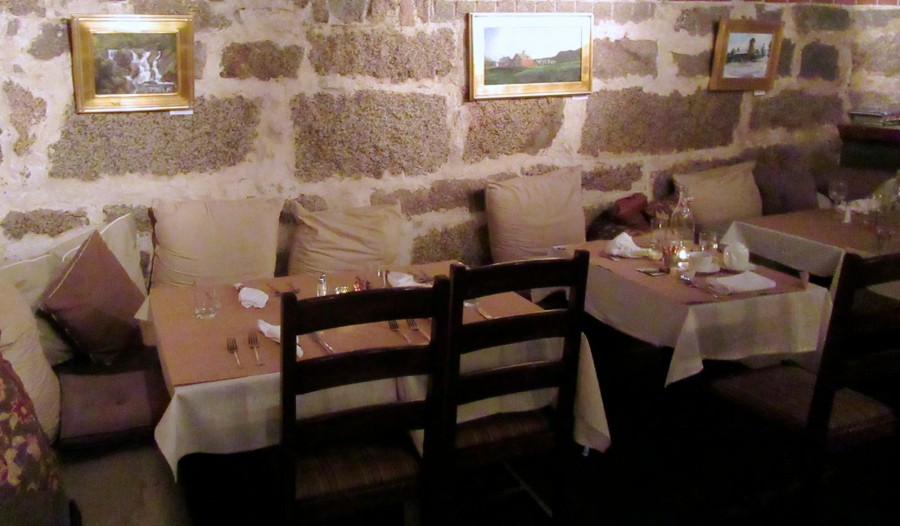 In the morning, breakfast is complementary with the room – and the cuisine is just as impressive as it is at night. Choose from the likes of Maine Buttermilk and Pumpkin Waffles, Stone Wall Farm Organic Eggs Any Style, and fancier fare. It's all good. Dine on the enclosed porch and you might have company. There are several birdfeeders right outside the window, an amusing distraction.
Besides the incredibly good restaurants, the most glorious amenity here is the view out back. I cannot overstate this enough. It is so fantastic, the inn owners have set out an array of Adirondack chairs, lighting up the fire pit after dark when guests can just stare and breath deeply. It's like harking back to the early 1900's – "taking the cure" – and worth a drive from anywhere. Rooms from $119-$185 include a full gourmet breakfast cooked to order, free wifi, parking.