Last Updated on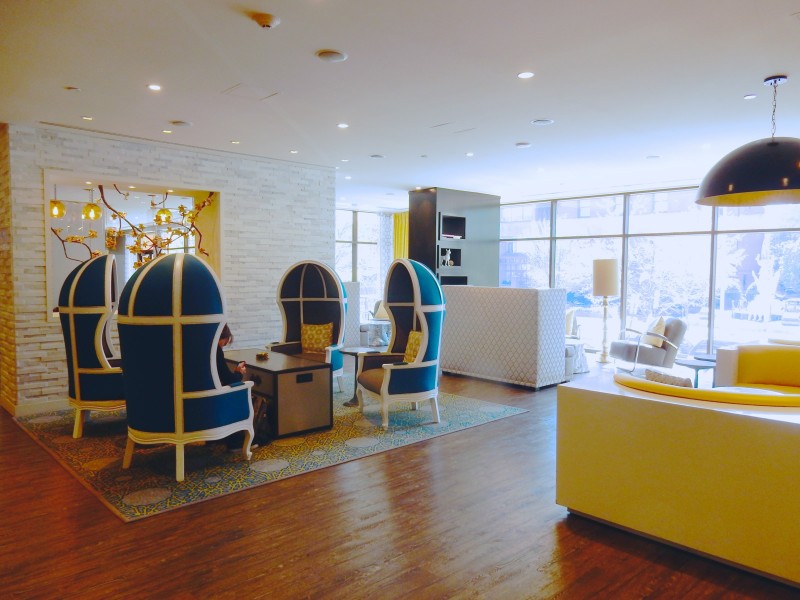 On a mansion-lined street 84 steps from Washington DC's DuPont Circle, what is now the Embassy Row Hotel had turned into "a dump" before new owners took over in 2014. By April 2015, Embassy Row was renovated, spiffed up and modernized- now meriting its esteemed place both physically and opinion-wise in the Washington DC constellation of top hotels.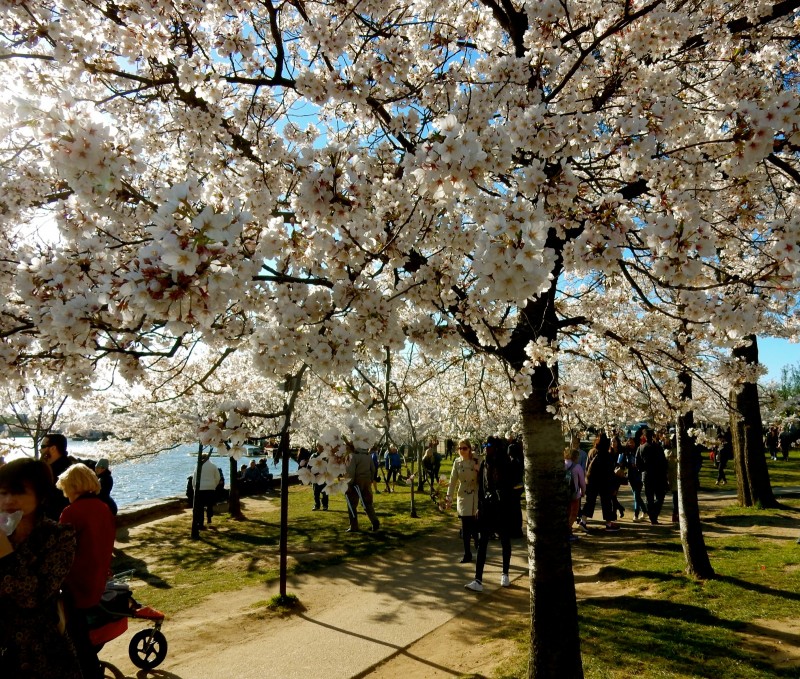 Not to be confused with Embassy Suites, Embassy Row Hotel is an independently owned, funky and singular property – one of a growing number of unique "Destination Hotels" – which has recently been named one of USA Today's Top 10 New Hotels in the country.  The 231-room Embassy Row draws guests and non-guests to its off-the-lobby Station Kitchen & Cocktails for artisanal coffee and locally sourced bites by day and drinks at night, and to the Rooftop for sunrise/sunset Yoga, a swim in the heated pool and, on occasion, "Silent Disco" which has to be seen to be believed.
The not-so-subtle lobby is imbued with all the winning elements of a contemporary boutique hotel. Blue "egg" throne-shaped chairs, canary yellow banquettes, and clusters of cool seating with sculptural silver coffee tables invite conversation.
Black cut-paper silhouettes behind the reception desk pop on a bright teal wall. As befitting the location, most are of US Presidents, though your first fun task is to pick out the one that is not.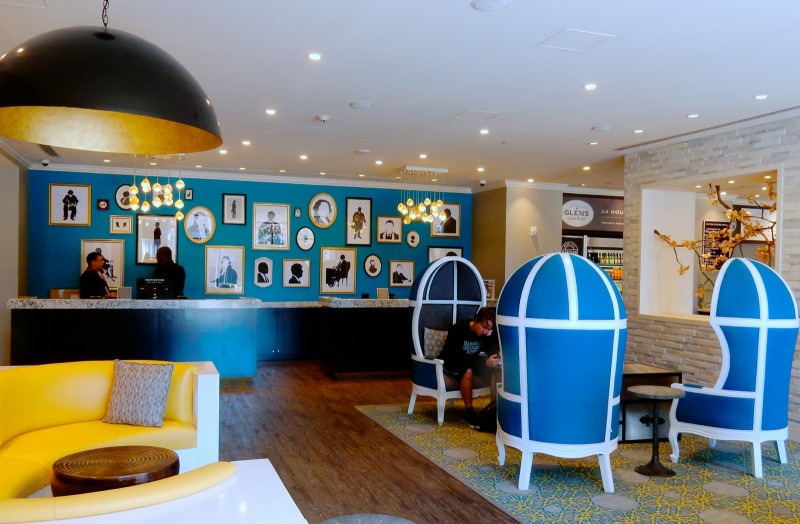 Check-in at said desk is quick, casual and friendly, with a familiarity that might throw off guests used to a more staid and corporate greeting. This independently owned hotel is as far from "corporate" as it gets.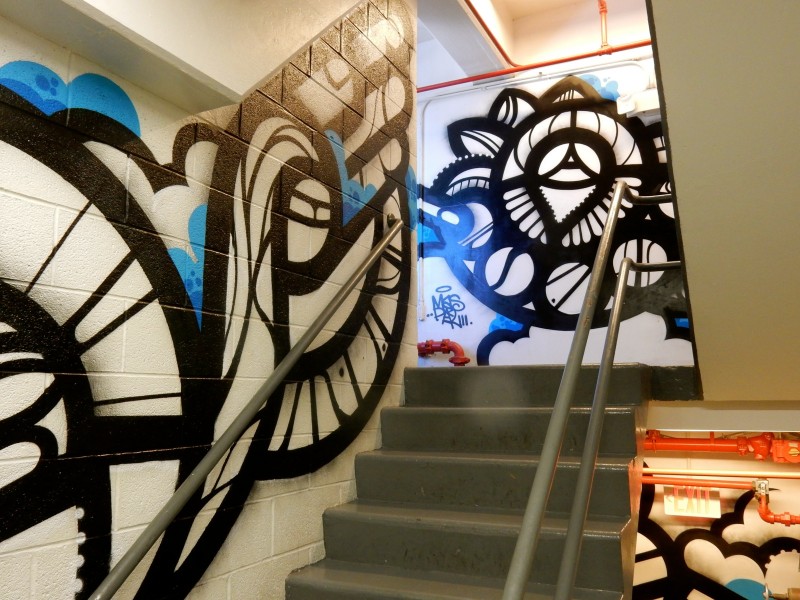 Embassy Row considers itself a "platform for emerging artists," enlisting local graffiti master, Mas Paz, to enliven the stairwell that goes up to the Rooftop, and Kelly Towles to blanket the elevators on the 2nd floor (where you'll find the Adult Playground; a large state of the art fitness center, ping pong tables, foosball and a shuffleboard).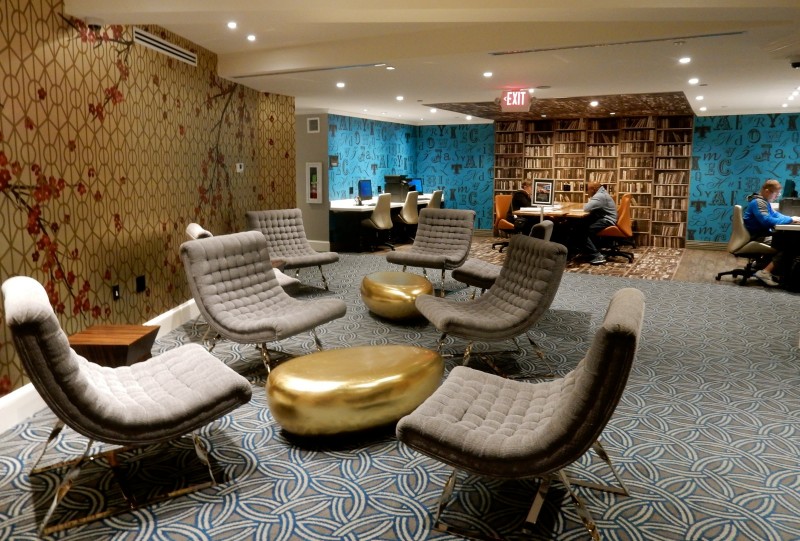 Downstairs, what first appears to be a stunning library is actually a business center, with plenty of outlets, seating, and computers paired with printers for hotel guests.
Rooms at Embassy Row Hotel
All 231 rooms are the same shape and size. Nicely appointed, with nearly-floor to ceiling windows and in soothing shades of gray and eye-popping teal, the somewhat small space (with even smaller bathrooms) feels larger than it is. Throw bed pillows on ultra-comfy beds are embroidered with our National Monuments, and in the morning, from these beds, you can watch the sun illuminate the magisterial Indonesian and Portuguese Embassies across the street.
The new hotel owners have obviously listened to requests from frequent travelers, adding electrical outlets to the surface of bedside tables and to the tops of pretty mirrored desks: a convenience for business, government and leisure guest who arrive with bundles of electronic devices.
Food at Embassy Row Hotel
Lobby-situated  Glen's Garden Market Pantry, an outpost of "Local/Organic" Glen's on S. St, provides grab and go healthy foodstuffs 24/7. Station Kitchen & Cocktails dishes out locally-sourced Compass Coffee and sharable small-plates by day, turning into a popular cocktail bar by night.
Hotel with a Mission
General Manager, Shawn Jervis, is a U.S. Marine and as such has a place in his heart (and a business plan) for military veterans, community service, and "authentic, local" sourcing. Embassy Row partners with SOME (So Others Might Eat), an organization that feeds the homeless, and uses veteran-owned products and services, such as the local Cherry Blossom Creative for printing, and Compass Coffee, a company launched by two DC-born Marines, Michael Haft and Harrison Suarez, who were sick and tired of the terrible coffee served overseas. In late 2014, the Fair-Traded Compass Coffee made it to the White House, NASA, and is now served at Station Kitchen's coffee bar.
Just the Facts
Rooms $160 – $380 depending on day of week and time of year. Rate does not include 14.5% tax, parking ($45/night) or $14.95 Hotel Amenity Fee, which provides free wi-fi, fitness center access, Yoga on Rooftop (when available), one Compass Coffee, unlimited international calls.