Last Updated on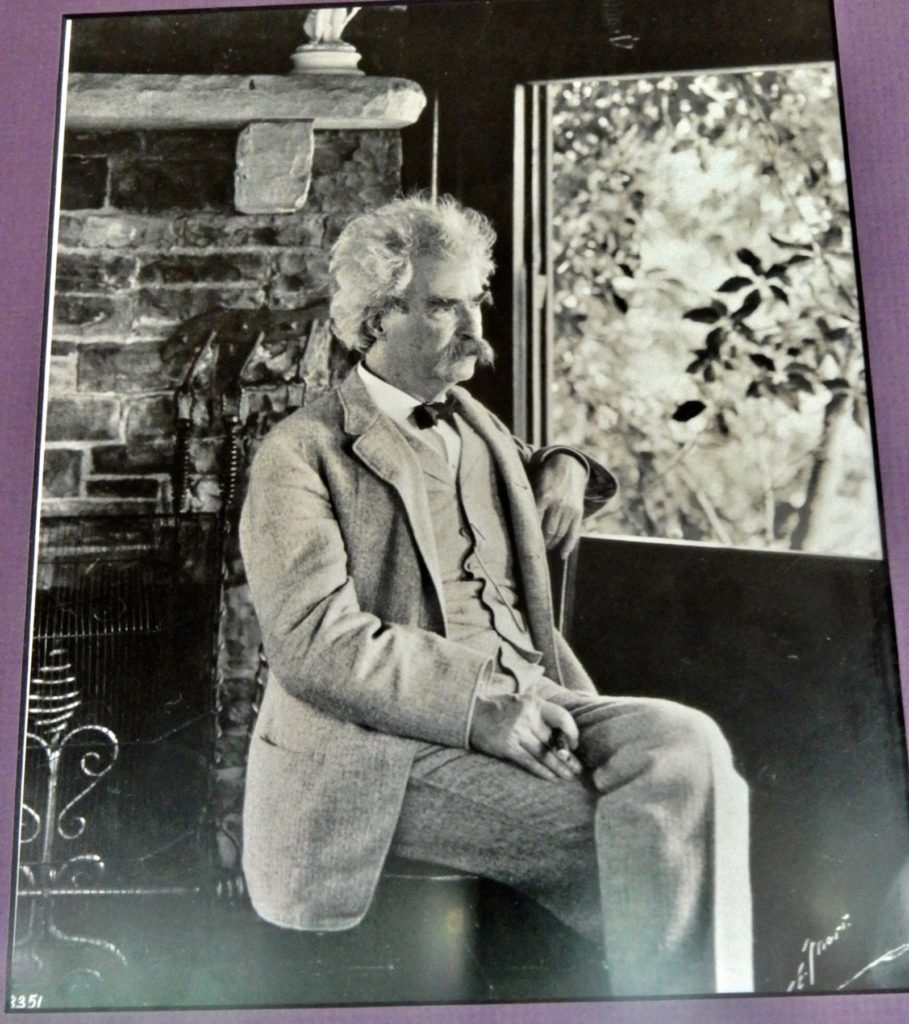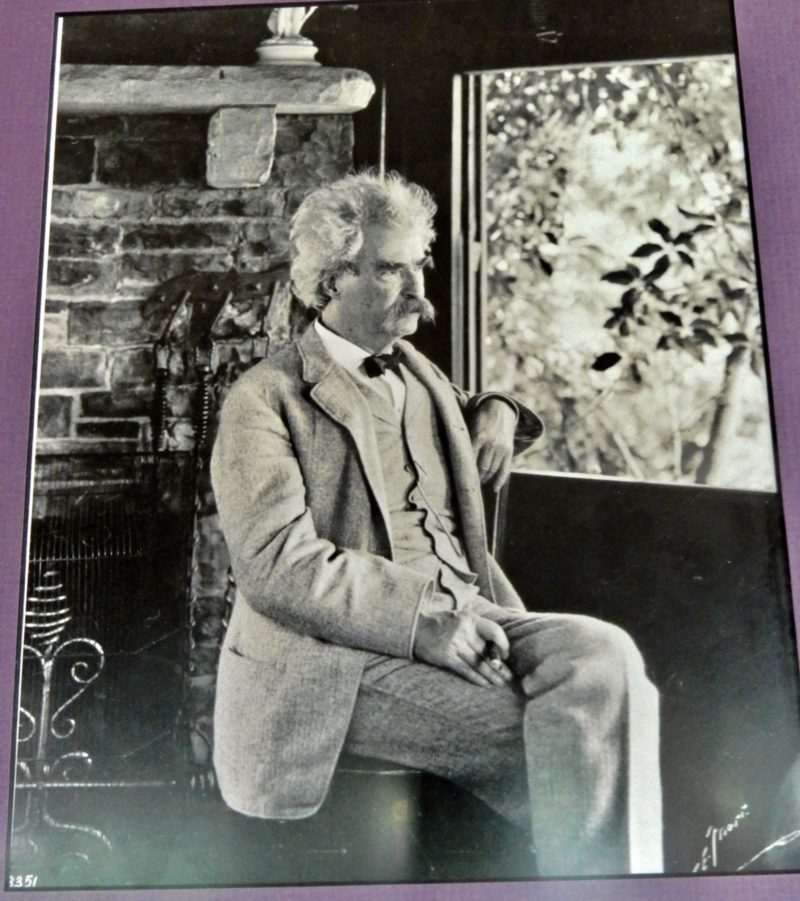 WHY GO: If you're a Mark Twain fan, you don't even have to ask.
Things to Do in Elmira NY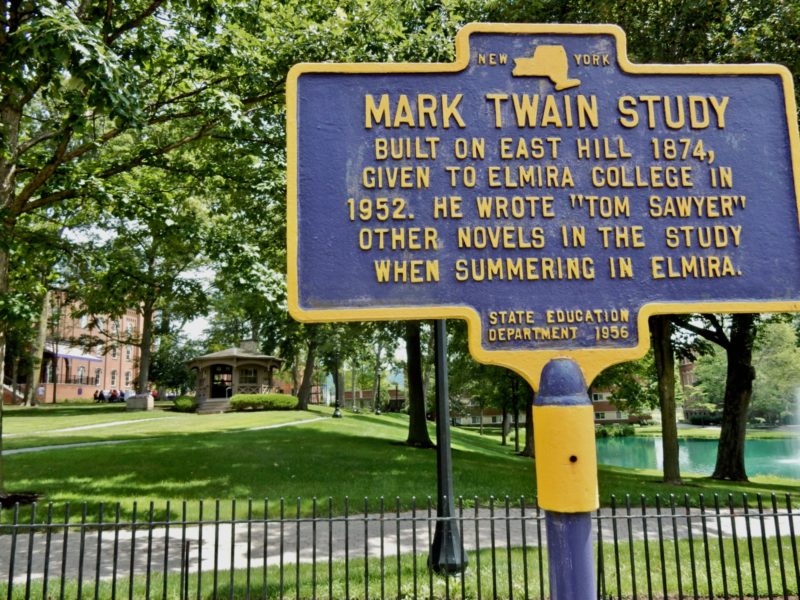 VISIT: Mark Twain's Study on the campus of Elmira College, Elmira NY. All Twain devotees will want to step right in to where America's best humor writer and social critic did much of his thinking, writing, and cigar smoking. In fact, some of the most important American literature, including the Adventures of Tom Sawyer and Adventures of Huckleberry Finn, was mostly written right here, in this gazebo-like study on the campus of Elmira College. Why Elmira? This is where his beloved wife, Olivia, was from and where he spent most summers after they were married. Why on this college campus? It didn't start off here.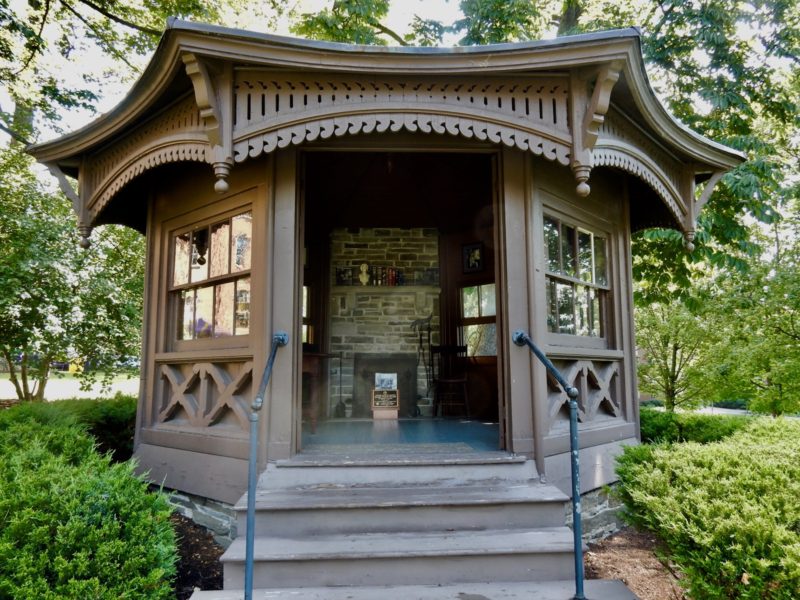 A short history: Mark Twain was born Samuel Clemens in 1835 in Hannibal MO. He first become a riverboat pilot, but during the Civil War, travel on the Mississippi River was impossible. Twain moved out West to work in the mines, but discovered that writing for the newspaper was a better fit. He had a great propensity for travel writing and was hired to cover "The Grand Tour" – the maiden voyage to Europe and the Holy Land on a cruise ship.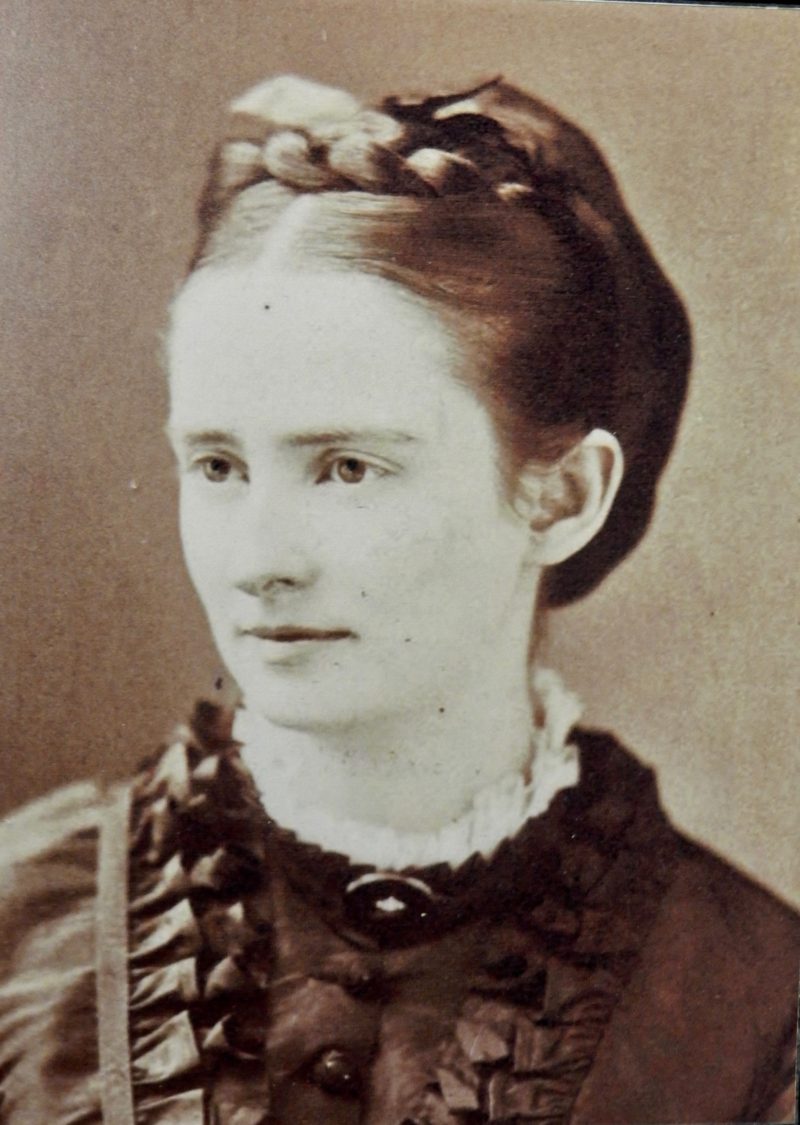 While on board, Twain met 17 year old Charlie Langdon who was from a wealthy logging and railroad family ( who also happened to be staunch suffragists and abolitionists – Frederick Douglas was a friend). Charlie showed a picture of his sister, Olivia, to Twain who was so struck by her beauty he traveled to Elmira to court her upon his return from abroad. Olivia's father was suspect of this man with the reputation of being an unambitious sloth and heavy drinker, and turned him away. Twain continued to write to Olivia anyway (150 letters). A year later, he proposed again, and this time Olivia's father saw the genius in his daughter's choice. "Take the girl," he tells Twain.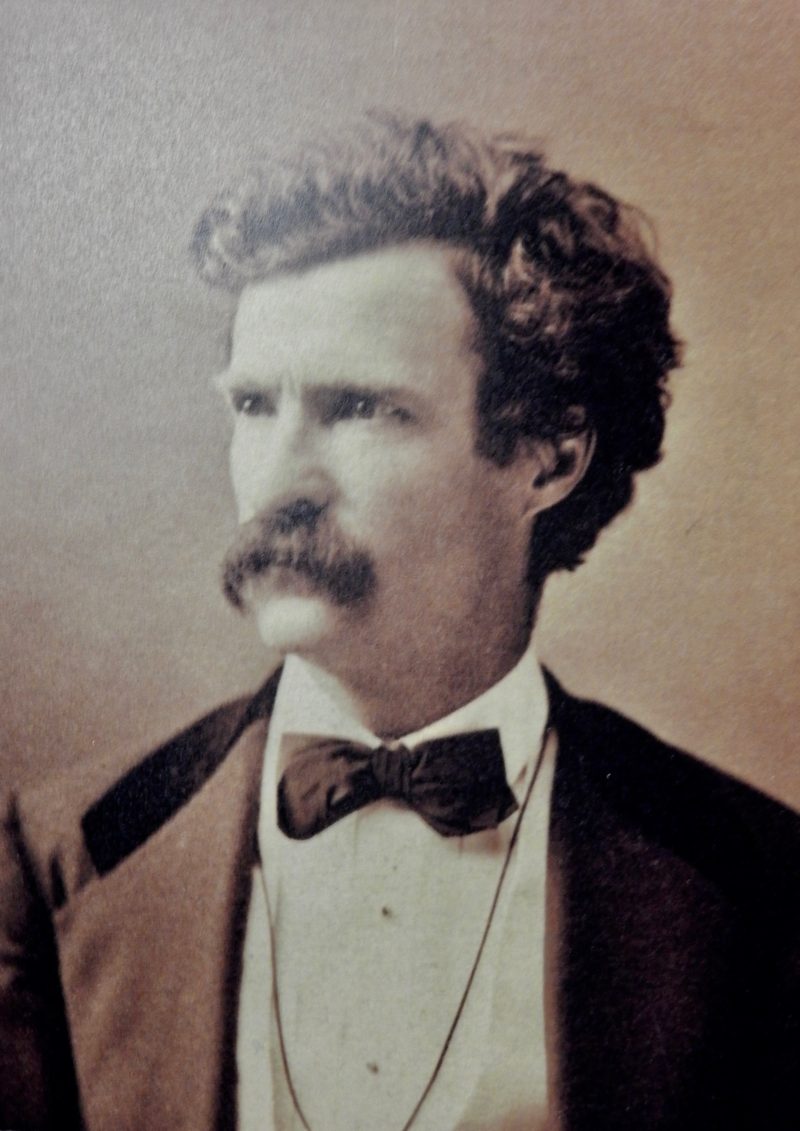 Twain made a lot of money from the book he wrote about that Grand Tour: Innocents Abroad provided him with the funds to build a house in Hartford CT. Olivia's sister, Susan Crane, had a summer home, called Quarry Farm, near Elmira on the Chemung River. In 1871 Crane invited Olivia and Samuel for the summer – a three month stay that became an annual tradition. By 1874, it seemed that Twain's cigar smoke had so annoyed everyone in the house, the family built him a stand-alone study in the shape of a steamboat pilot house. Perched on a bluff overlooking the Chemung River steps from the family residence, Twain could smoke to his heart's content.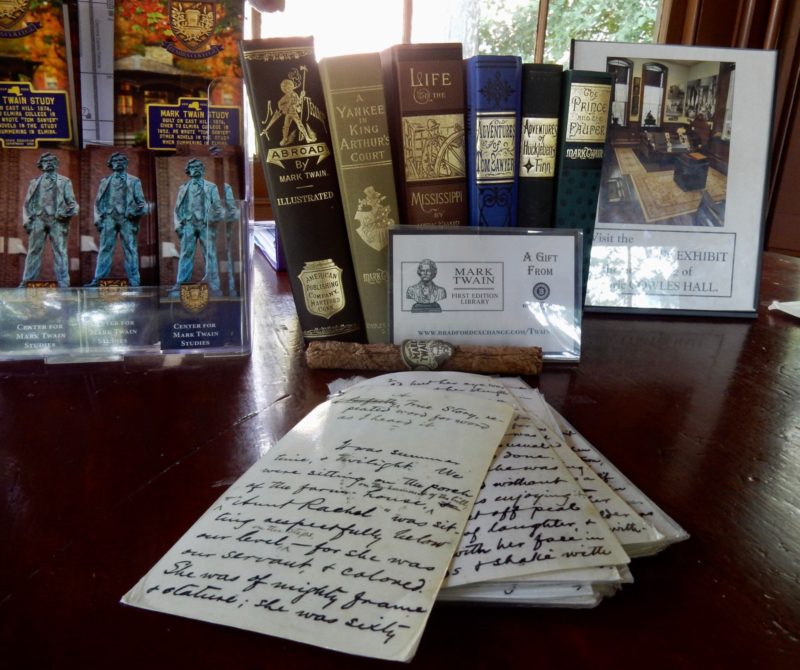 Mark Twain and his family came up to Elmira for 20 consecutive summers and by all accounts it was the most productive and happiest time of his life. But Twain's later years were wracked with tragedy. His first-born son died at age 1 ½, and two out of three of his daughters, and his wife Olivia, passed away before he did.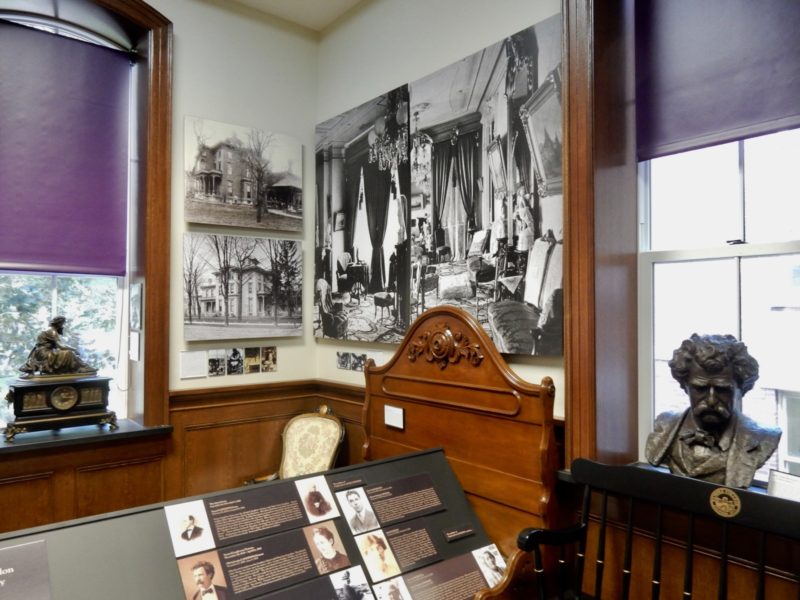 After Mark Twain's death in 1910, the Langdons still owned Quarry Farm, and strangers were traipsing on the property to see the place where Mark Twain wrote. To rectify this, Twain's niece, Ida Langdon, a professor of English at Elmira College, made arrangements to move his Study 2 ½ miles from Quarry Farm to the Elmira College Campus. In 1983, Quarry Farm was bequeathed to the College as a "Scholars Retreat," where those studying Mark Twain literature stay for two week sessions.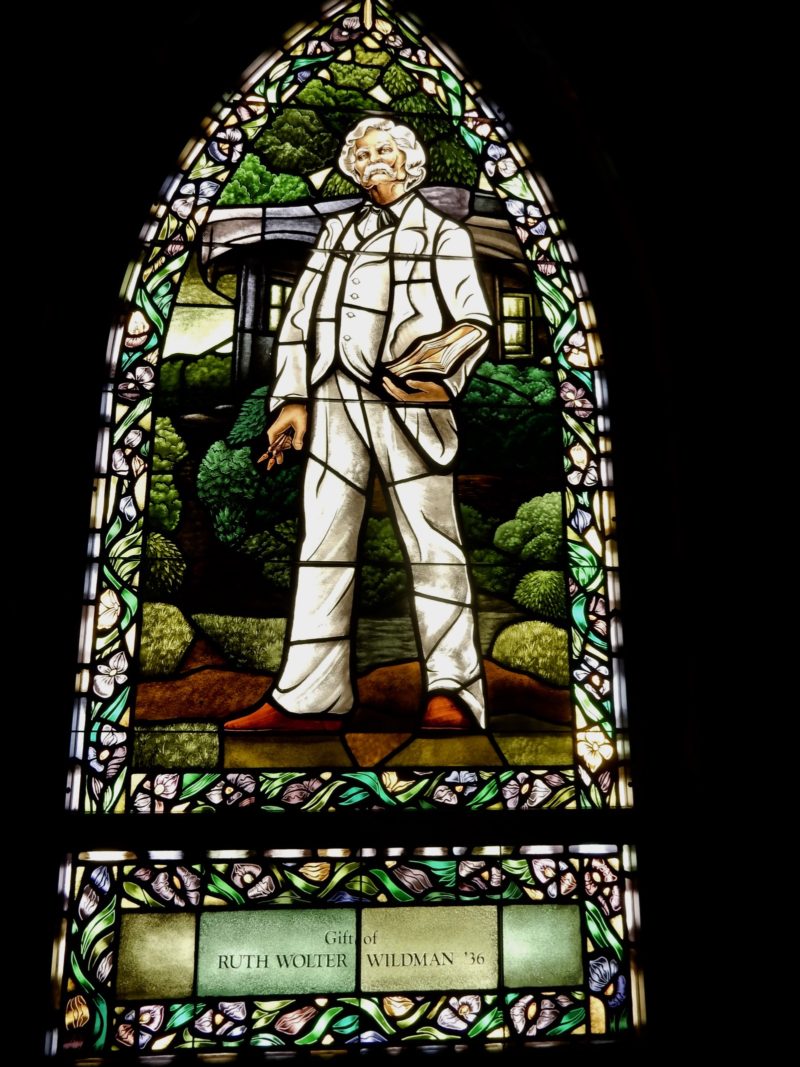 Continue inside Cowles Hall where there's a small exhibit dedicated to the Langdon and Clemens Families, focusing on the academic side of Twain. There, you'll see Livvy's bed and Twain's lap desk and other personal items, along with photos from the area. Step into the Chapel to see Olivia and Samuel Clemens in stained glass – just two panels among many others. Open May-Labor Day, Tues – Sat. 9:30-4:30, Labor Day – Oct 15, Saturdays only, Free.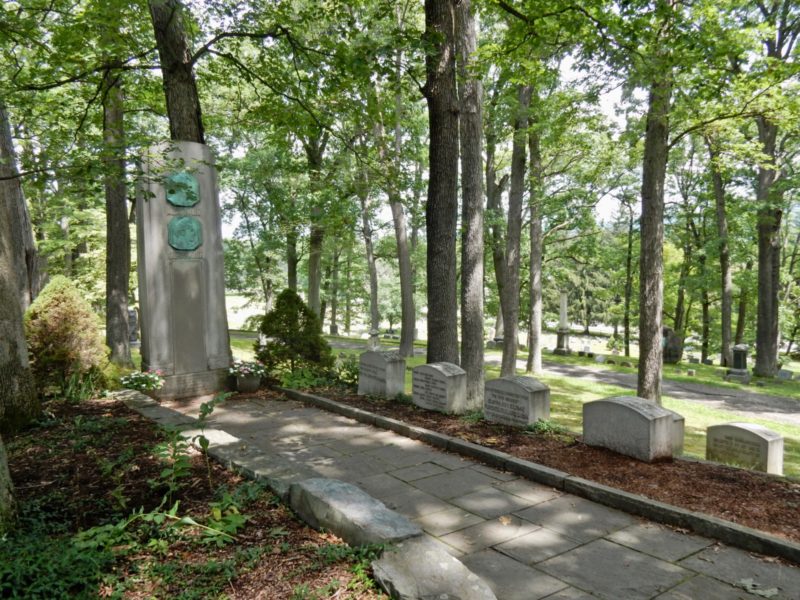 VISIT: Mark Twain's Grave, Woodlawn Cemetery, Elmira NY. Twain's grave, inscribed "Samuel Langhorne Clemens – Mark Twain," is one of the most visited in the country. Though he died in Hartford, CT, he is buried with Olivia, and all of his children, including the one daughter who outlived him – Clara. Though Clara had a happy first marriage with Ossip Gabrilowitsch that ended at his death, the second, to Jacques Samossoud, a womanizer who stole her money, was anything but. Though he is buried there, you will not see Samossoud's tombstone. Clara had only one child, Nina, a troubled daughter who overdosed on drugs at an early age. Olivia and Mark Twain have no direct descendants.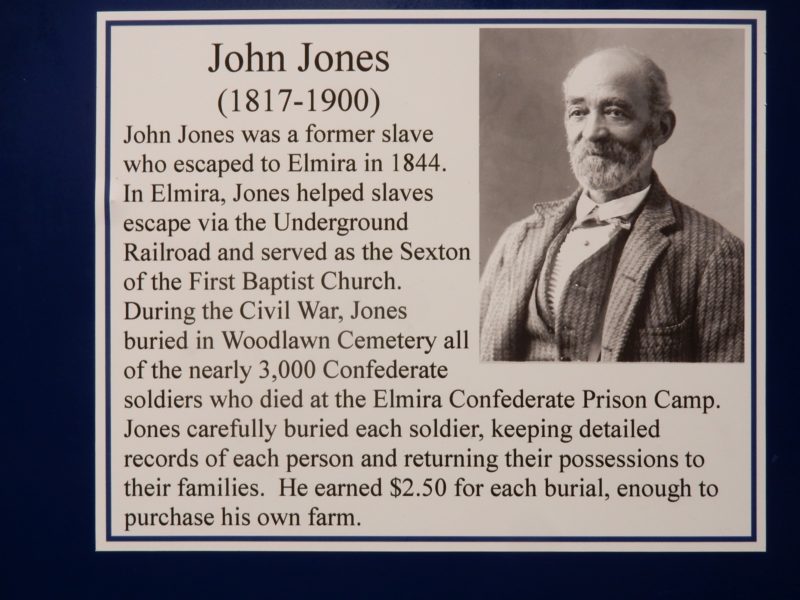 Look, also, for the grave of John W. Jones, an escaped slave from Virginia who, it was believed, helped 800 enslaved people to freedom on the Underground Railroad. Jones reconnected with his wife in Elmira, and the community was so welcoming they appointed him Sexton of this graveyard. Inconceivably, Woodlawn Cemetery was the final resting place of many Confederate Soldiers as Elmira had the Northernmost Civil War POW camp. Jones took great care to respectfully bury each soldier with a box containing his possessions, intending to make it easier for grieving families to find their sons. The most amazing tale is that Jones returned to his past enslaver in Virginia to tell him his son had died in New York.
TOUR: Trolley into Twain County Tour. This 60 minute narrated trolley tour brings you to Twain's Study and highlights his connections to the area. Leaves from the Chemung Valley History Museum. $8. Tues-Sat, 10-1, departing on the hour (2pm tour in July/Aug).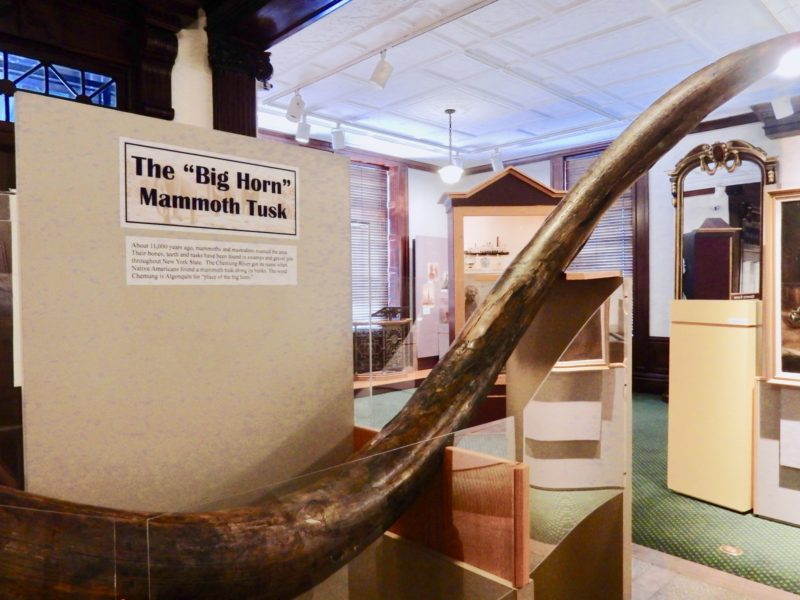 VISIT: Chemung Valley History Museum. This region is replete with important history – both natural and man-made. You'll find "The Big Horn" Mammoth Tusk from one of many Mastodons who roamed upstate NY 11,000 years ago, and plenty of artifacts and photos from the Langdon and Clemens Families. As seen above, in 1864 and 1865, the Elmira Prison Camp held over 12,000 Confederate Troops. Nearly 3,000 died from Smallpox, a harsh winter, and shortage of food. Open Mon-Sat. 10-5. $5 or $2 with $8 Trolley Tour.
EAT: Charlie's Café. This casual spot, with cute church-pew seat tables, is actually owned by a C.I.A. grad chef, so yep, food is very good and innovative. If you're heading out of town, it's near the History Museum and I-86.
Where to Stay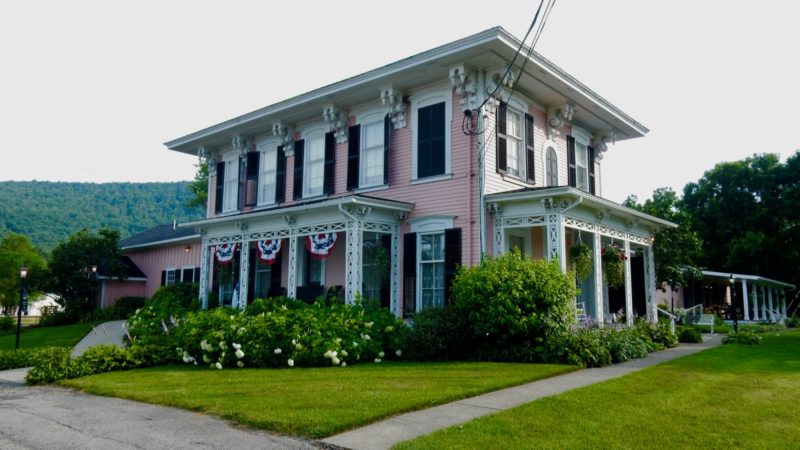 STAY: Pleasant Valley Inn, Hammondsport. It's about 20 minutes away, but you have the added advantage of staying near the wineries and in an establishment with a top restaurant attached. It's such a cool place, it quickly became a Maven Favorite, with a complete write up HERE.