Last Updated on
WHY GO: There are several reasons to stay in Coudersport PA in Potter County: the main one being that it's closest to the only International Dark Skies designated area on the East Coast, Cherry Springs State Park. Coudersport is also located a few miles from a fantastic museum about the industry that put this forested, mountainous area of Pennsylvania on the map: lumber.
But of course, increased tourism brings increased interest in new shops, restaurants, and lodging to support it. So, lately, local entrepreneurs have been setting up shop on the main drag, and for now, an overnight here is affordable, mouthwatering, and fun. You can stay in a funky studio apartment or in a work-in-progress boutique hotel where Elliot Ness was interviewed for the book that would become "The Untouchables." Read on for a truly offbeat getaway.
Things to Do in Coudersport PA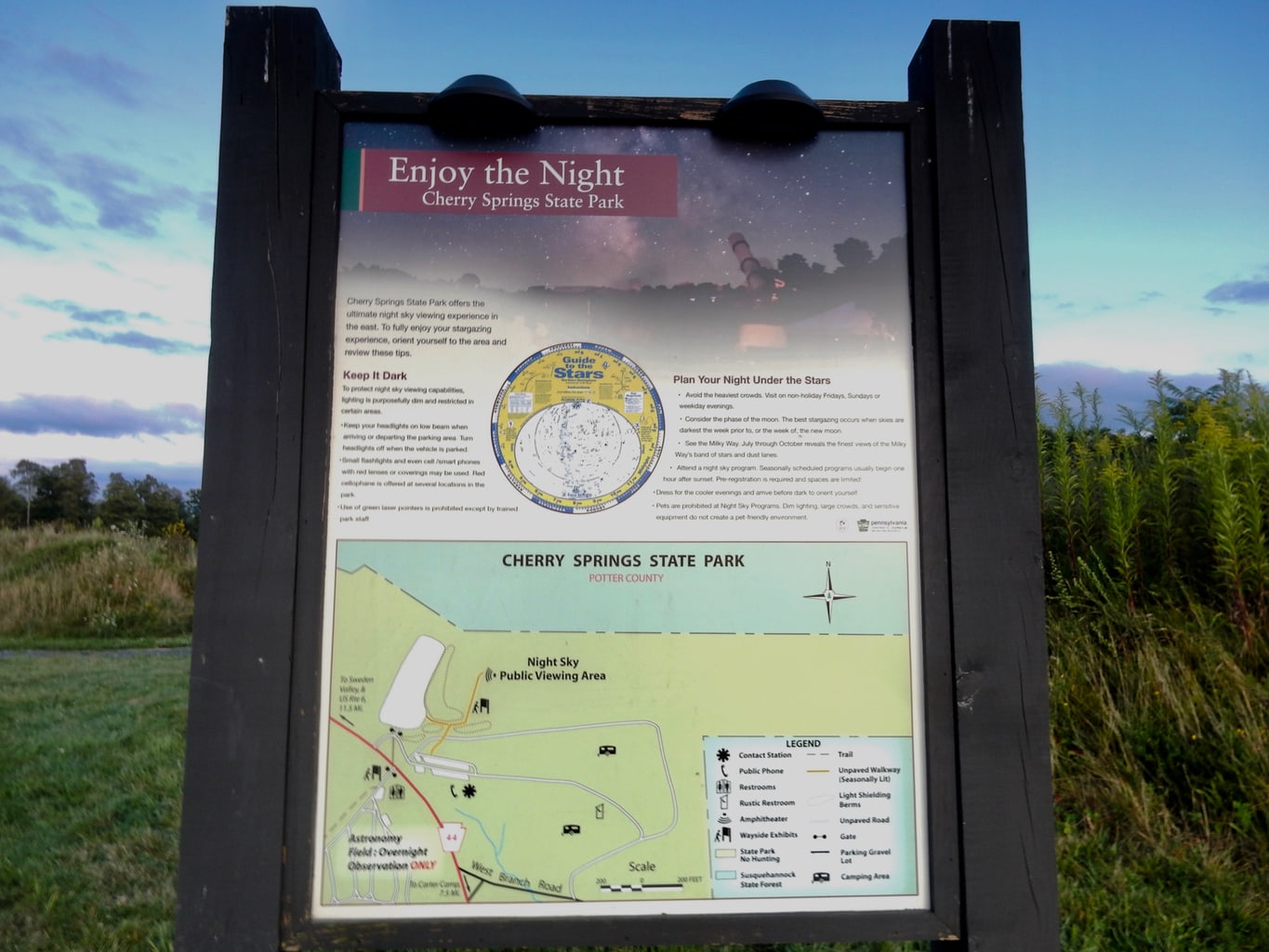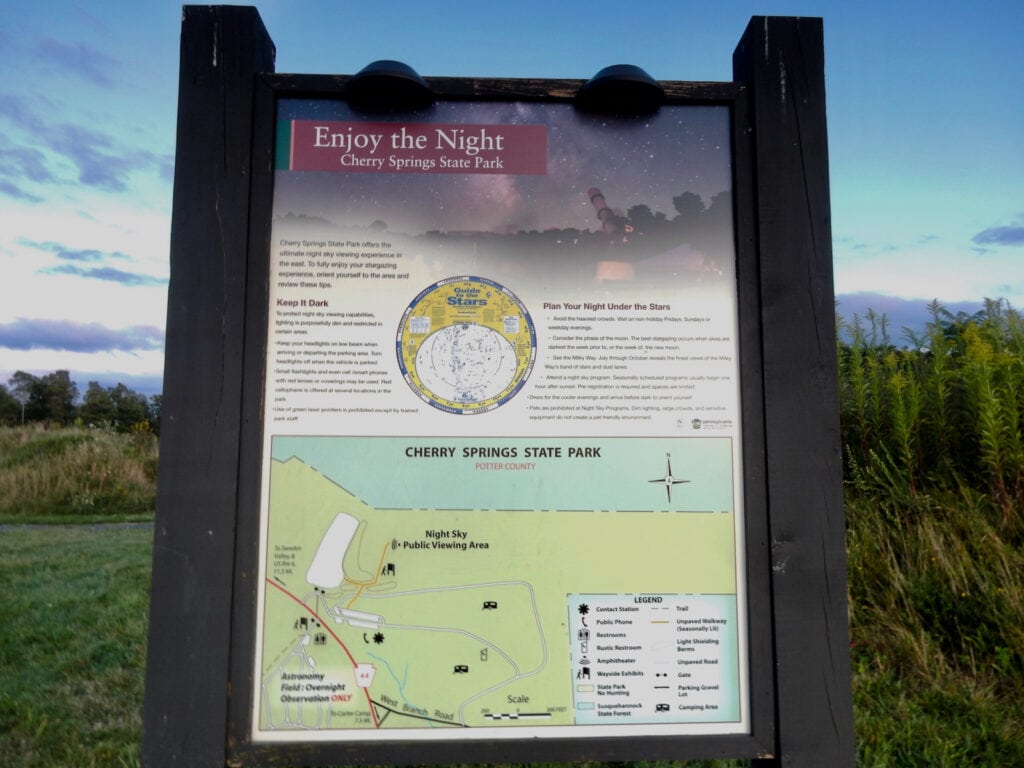 GO/NIGHT: Cherry Springs State Park – Dark Sky. (A 20-minute drive from Coudersport on Route 44, aka "Highway to the Stars"). On new moon, cloudless nights, Cherry Springs SP is completely and utterly dark: as in can't-see-your-hand-in-front-of-your-face dark. Formerly an airstrip, adjacent to an old State Park (known for its Woodsman Show), far from any significantly populated town, and at the top of a hill, Cherry Springs affords a 360 degree field of view: and therein lies its value to both amateur stargazers and professional astronomers.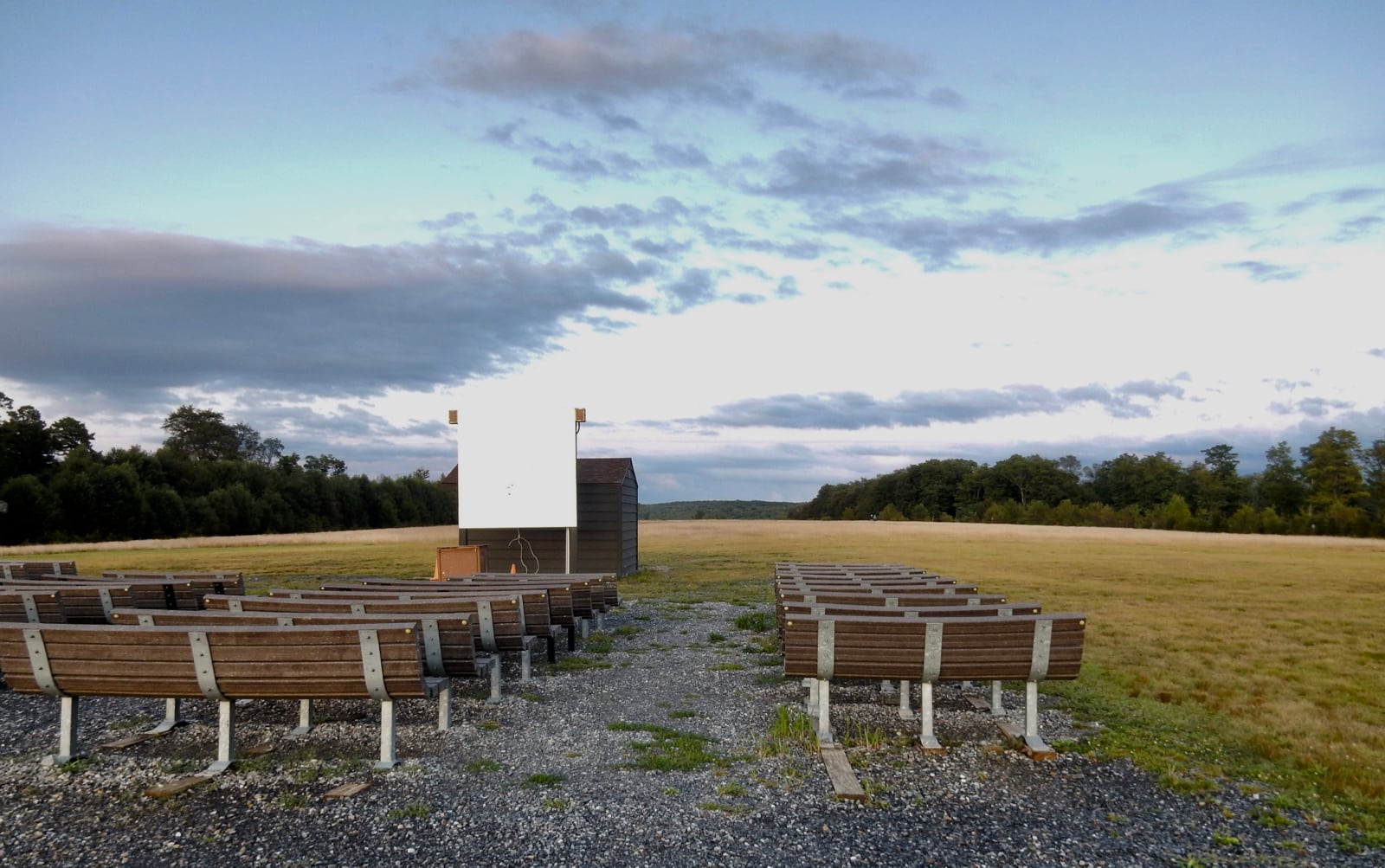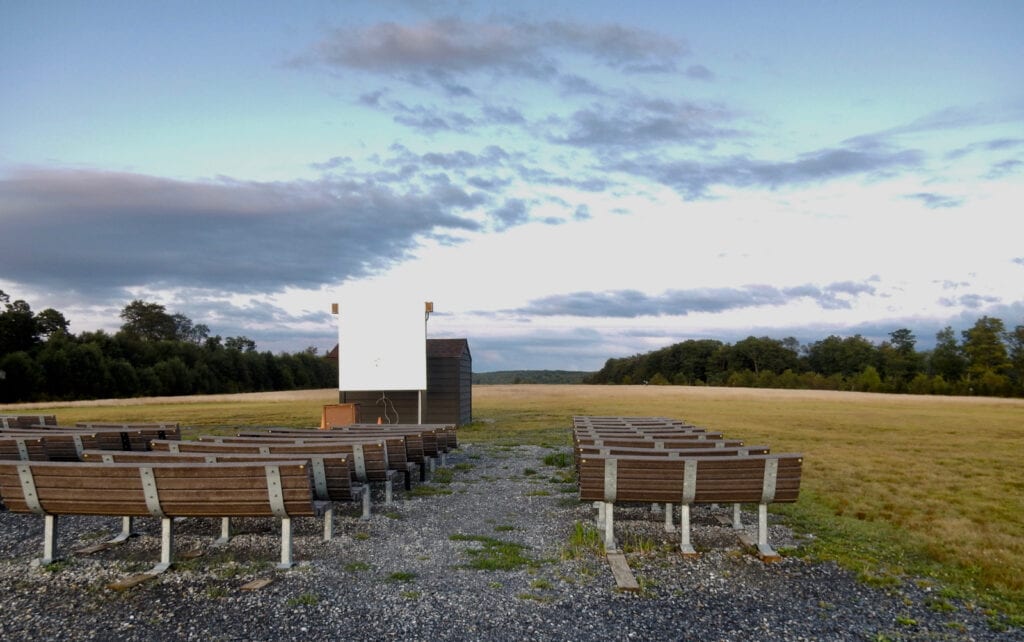 As the only Dark Sky on the East Coast of the USA, designated by the International Dark-Sky Association, Cherry Springs State Park attracts thousands of outer space enthusiasts from all over the world to observe what our ancestors must have seen from their farms and villages long before electric lights obscured these views. Watching the stars pop, and the cloudy Milky Way get brighter and brighter is a transcendent and spine tingling spectacle.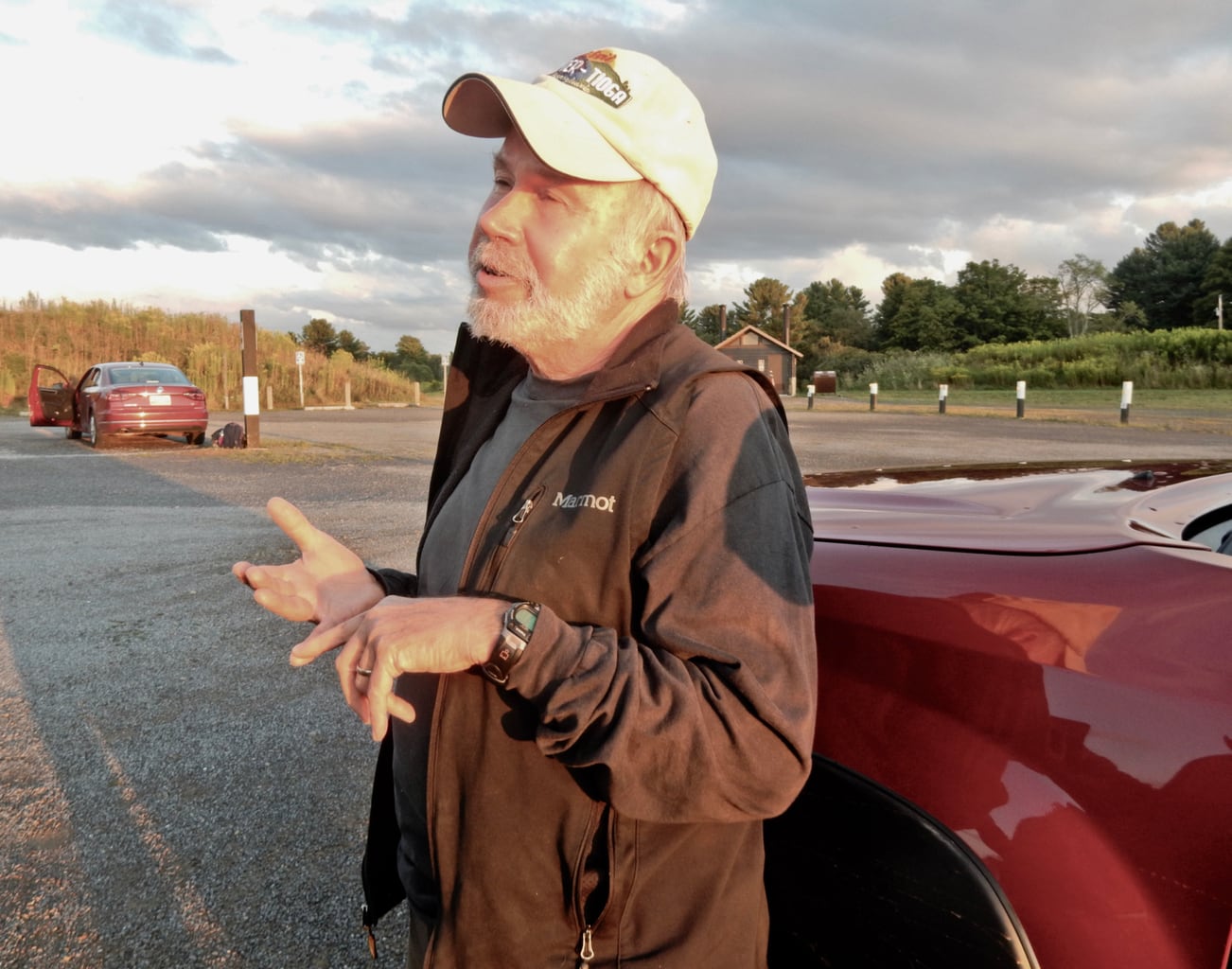 Serious Astronomers, hauling thousands of dollars in photographic and telescopic equipment, have access to a designated field and campground (with its own free parking lot that is closed after dark: no white light is permitted on the field at all: this includes headlight, car interiors, computer lights, flashlights, tent, and camper lights).
The general public is asked to park in a lot across the street at the old airstrip, which hosts programming on many clear Friday and Saturday nights. One workshop is led by Night Sky photographer, Curt Weinhold ($60 for 3 hours: for private instruction on other nights, $130 for 3-4 hours). For now, there is no Visitor's Center or lodging inside the State Park. Cherry Springs provides rustic camping sites for a fee, though there is no charge for those just coming at night to see the stars. Most visitors stay in Coudersport or Wellsboro.
TOUR: Pennsylvania Lumber Museum, Galeton PA. This region of PA is rich in natural resources: lumber, coal and gas have made many a man a millionaire here since the 1800's. When William Penn first scouted these thick woods in the early 1700's, 90% of the land was covered with trees so dense, he could not see daylight. By the turn of the 20th Century, only 30% of the trees remained.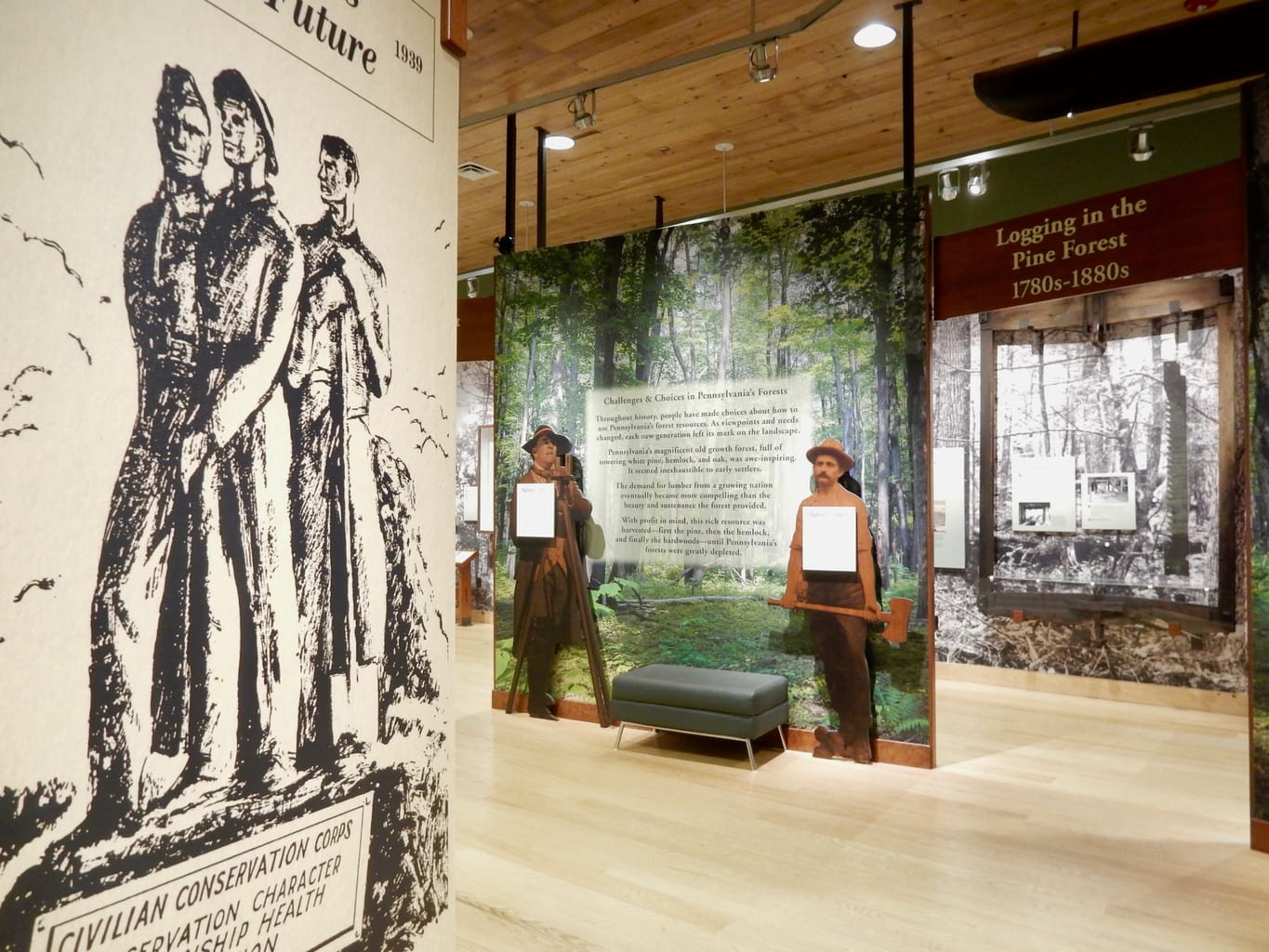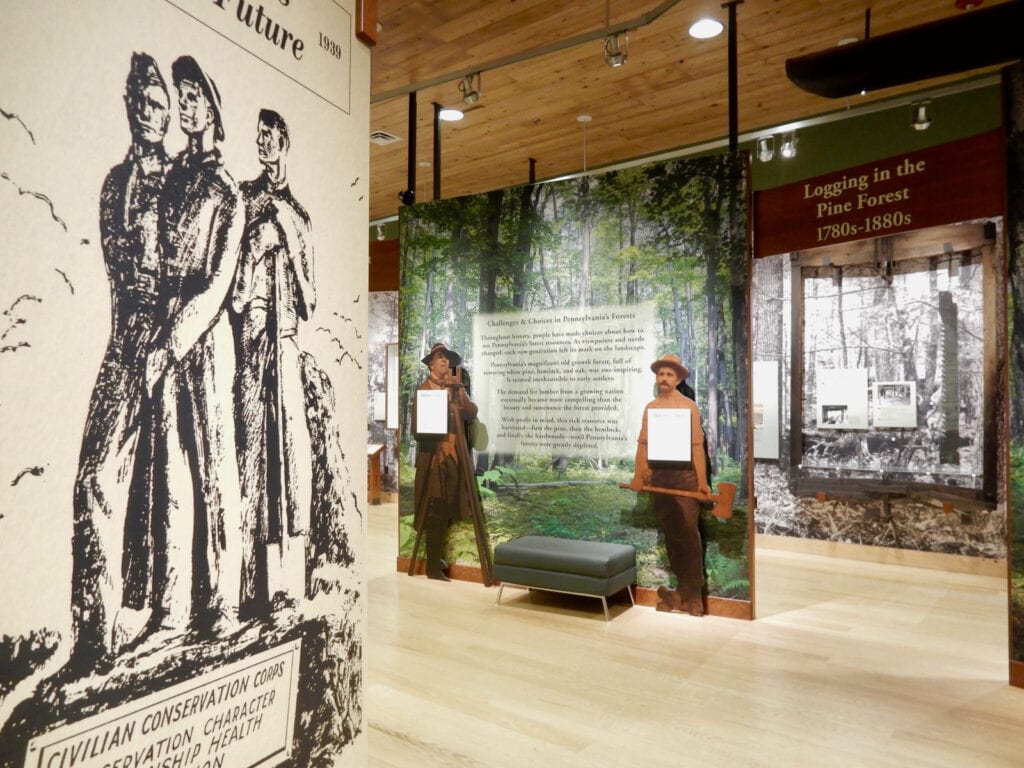 Nothing illustrates the vicissitudes of the local timber industry better than the PA Lumber Museum, 10 miles East of Coudersport in Sweden Valley. In 2015, the addition of a modern 7,000 sq. ft. entryway created a more open, sun drenched first impression, and room for "beefed up" events.
It's worth stopping in to learn about the logging companies that decimated these dense forests in the mid 1800's, until the once-lush Alleghenies became a wasteland. Enter Roosevelt's New Deal and the CCC (Civilian Conservation Corps), which replanted and laid the groundwork for managing and sustaining PA forests. Pennsylvania had more CCC Camps (153) than any other state except California. All told, over nine years (from 1933-1942) over three billion trees were planted.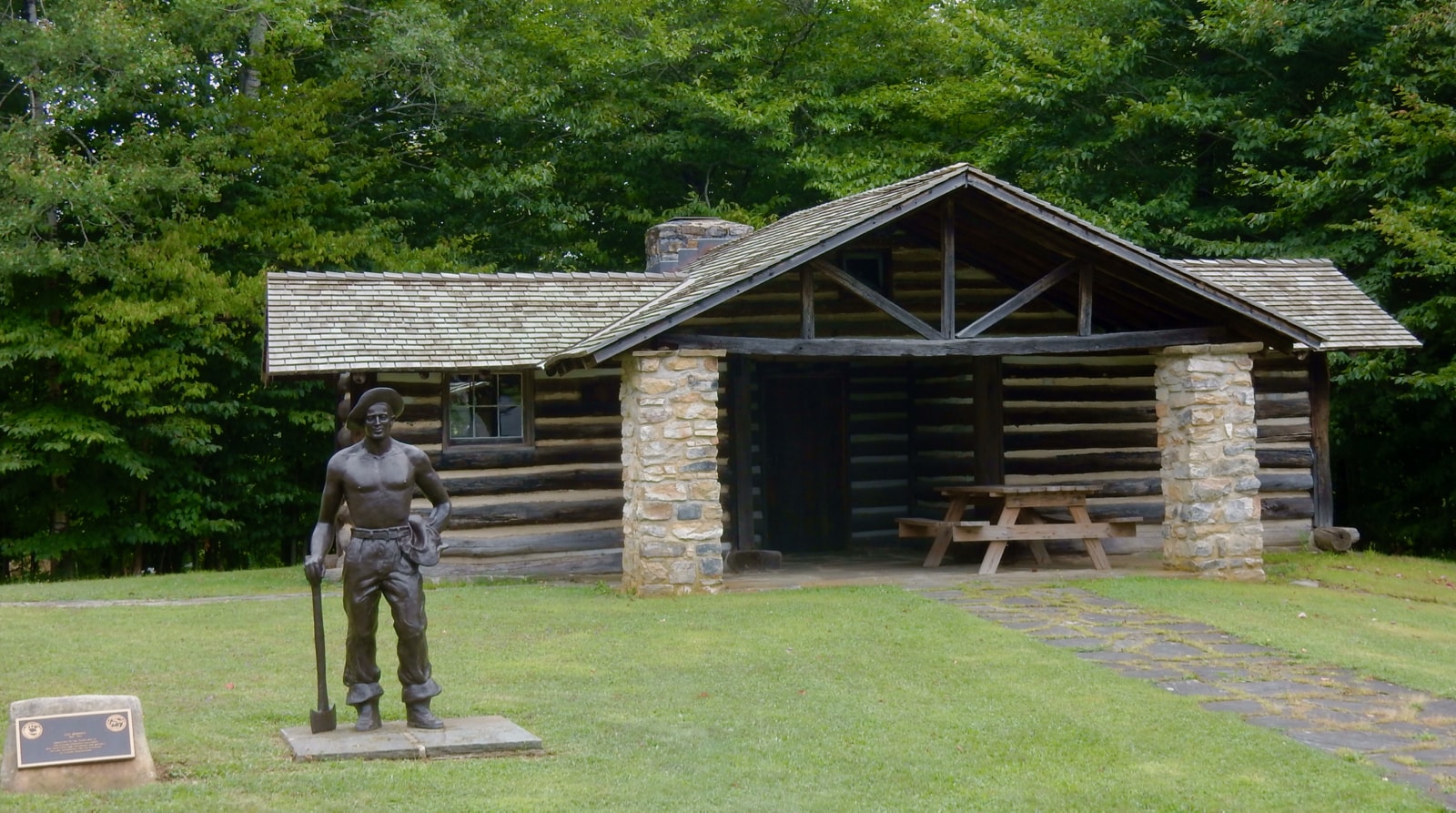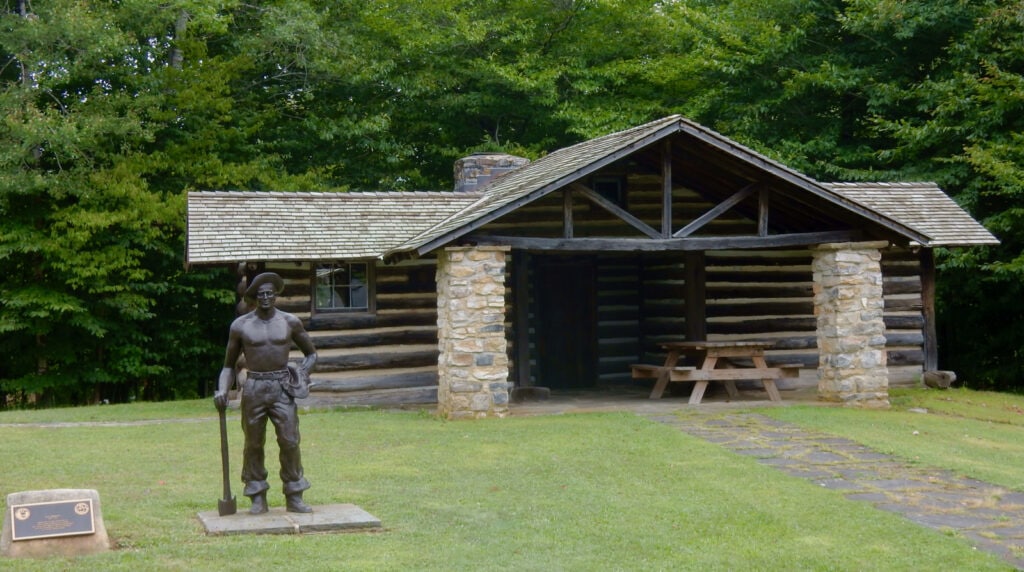 Exhibits continue outside, and include a series of weathered buildings housing lumber-hauling steam engines(including the powerful Shay Locomotive), a sawmill, mess hall, and all services related to the sweaty, stinky, rough life in a logging/lumber camp.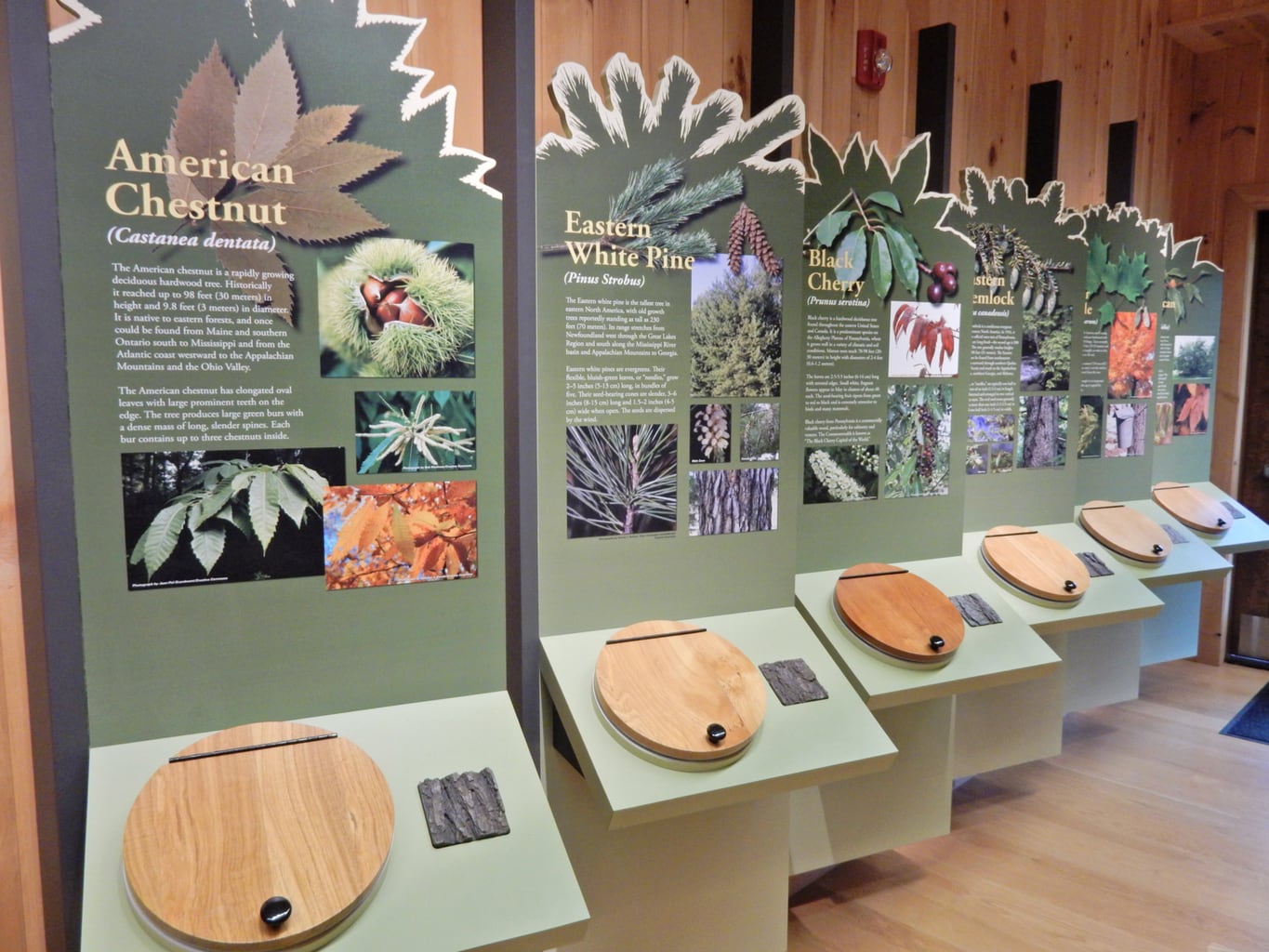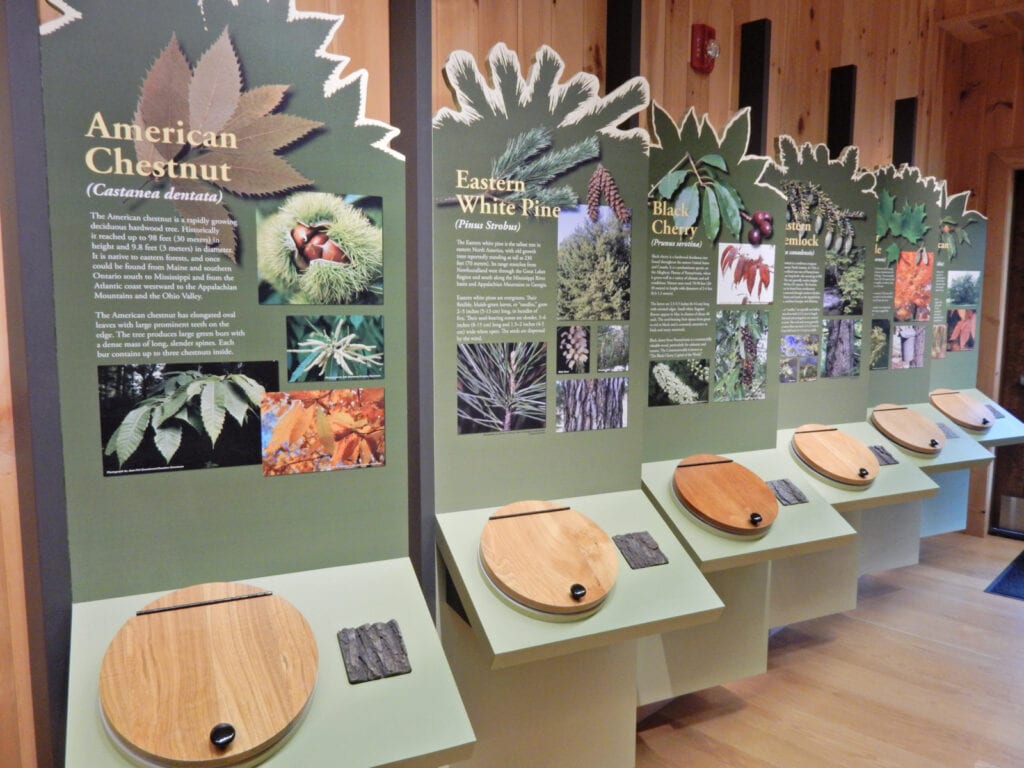 And what about the lumber industry today? Managing forests for recreation, and adhering to sustainable practices, PA leads the nation in hardwood lumber (Oak, Maple, Cherry) production. Unlike other building materials, wood is the only "carbon negative" resource: young replanted forests absorb much more CO2 from the atmosphere than do older trees.
The Lumber Museum hosts a bevy of events, contests, and festivals year round. Try your luck at the Greased Pole Contest, Log Rolling Contest, Cross-Cut Saw Challenge, Bark Peelers' Festival, and Spooky Lantern Tours. Kids love the Frog Jumping Contest and Sawdust Treasure Hunt, just to name a few. $8, open Wed-Sun. 9-5 (closed Mon, Tues.)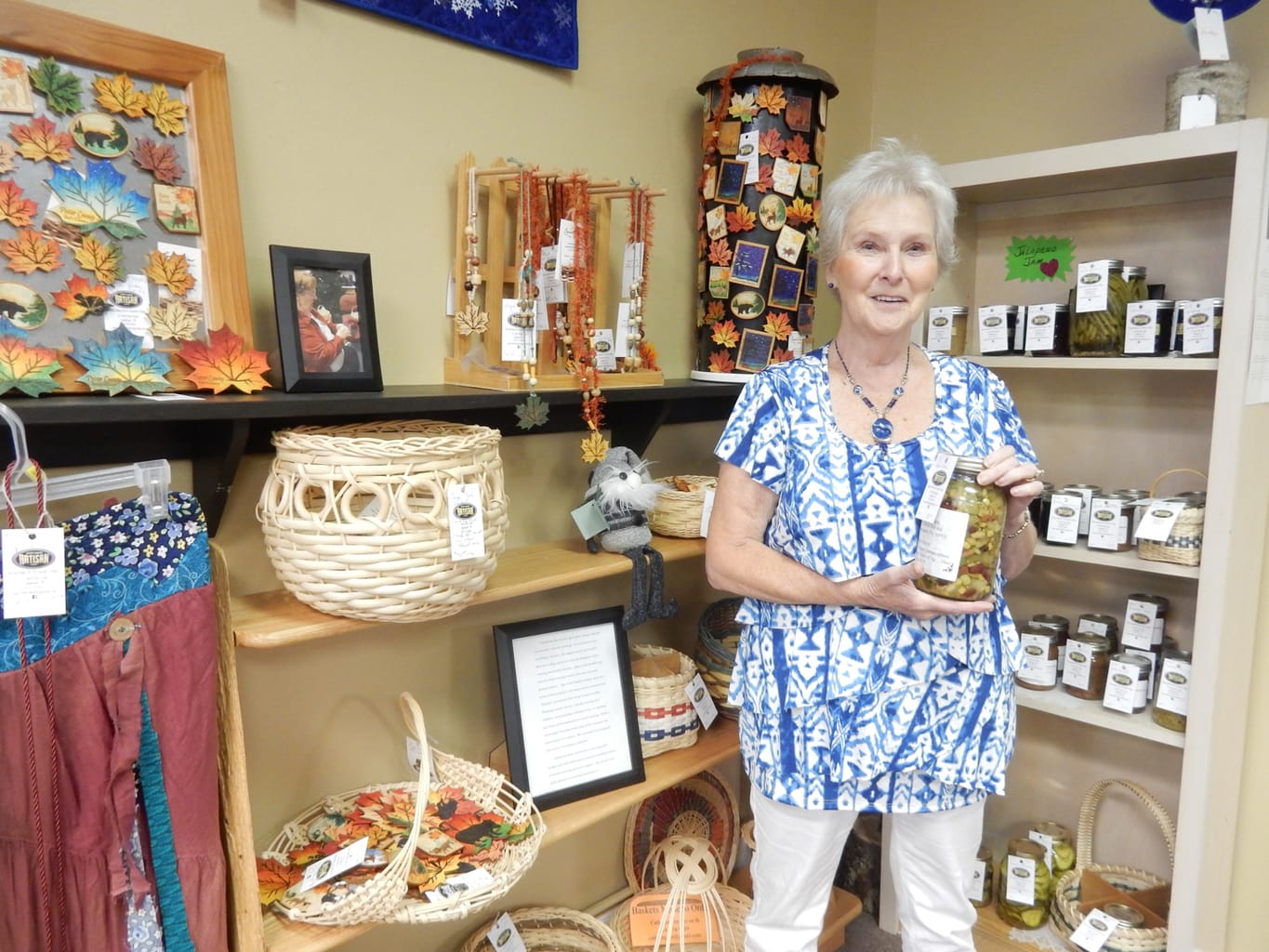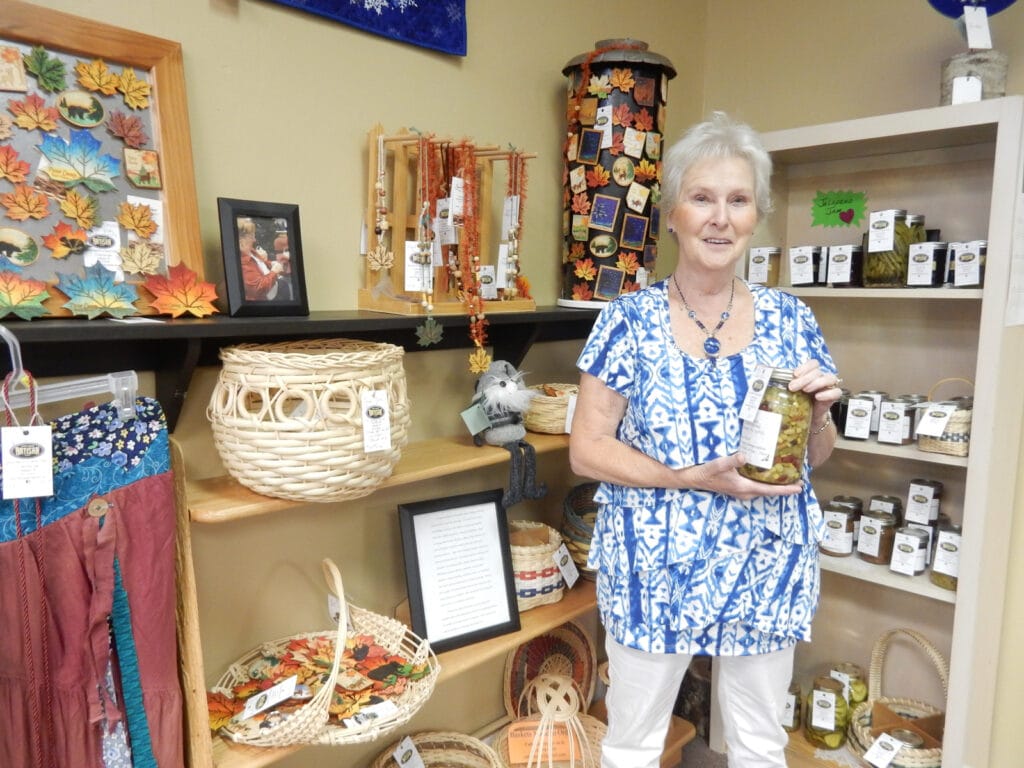 VISIT: Coudersport Chamber of Commerce and Artisan Center. I'm a big fan of local art in small towns, especially when said art is more creative, unique, and affordable than in your average "gift shop." Here, 35 artists and craftsmen/women broker their wares in a modest space on Main St. Along with hostess and birthday gifts, you can stock up on handcrafted foodstuffs, teas, herbal products, and soap for yourself, too.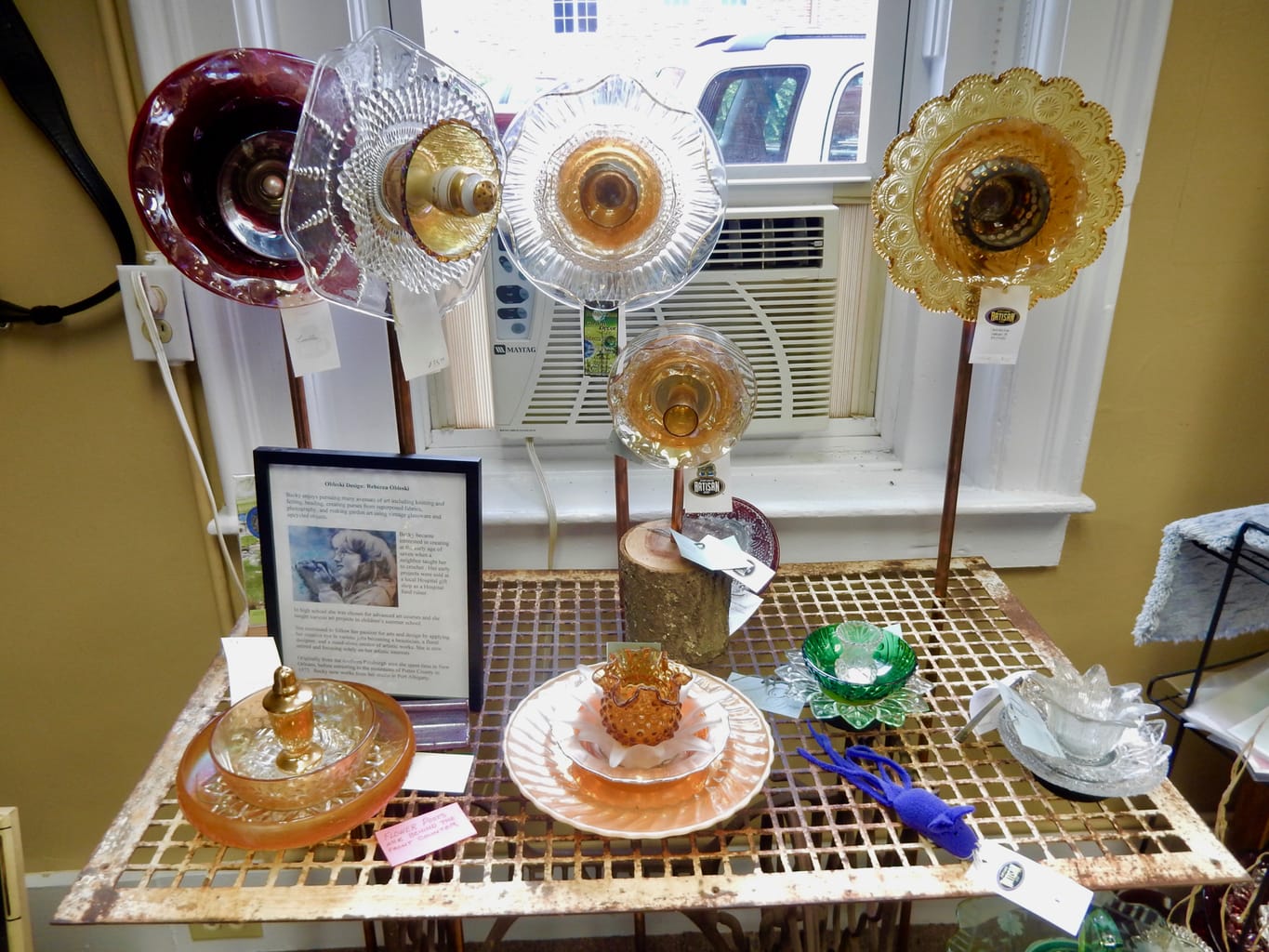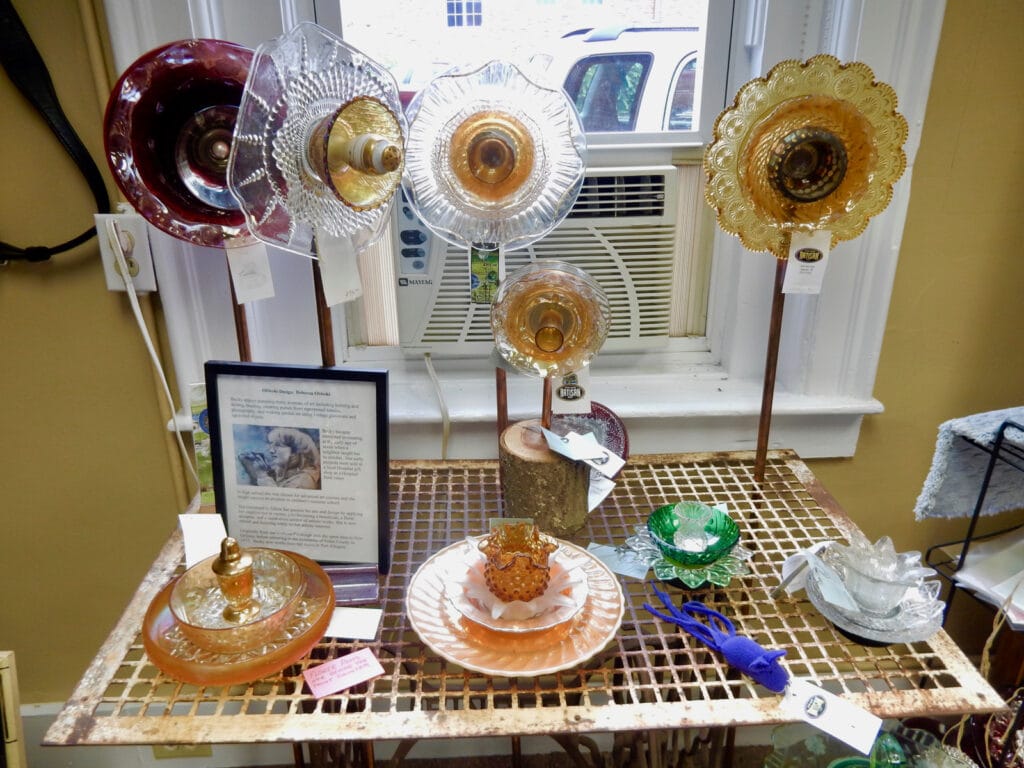 Find Carol Jackson's jarred jams, jellies, pickles, and famous (and totally delish) "Chow-Chow;" Cathy Snyder's hand-woven baskets; Curt Weinhold's Night Sky Photos; Laurie Shear's paintings; Danett Wrightman's gourd art; Jim Obleski's wildlife art; Harry Porters gun cases and wooden hampers; Julie Baily's soaps and bug spray; Esther Perry's goat milk soaps; Helene Awrocki's balms and teas; and, my favorite – Becky Obleski's old glassware repurposed into bird baths and garden décor. Open Mon-Thurs 12-4, Fri. 9-8, Sat 9-5, Sun. 12-4.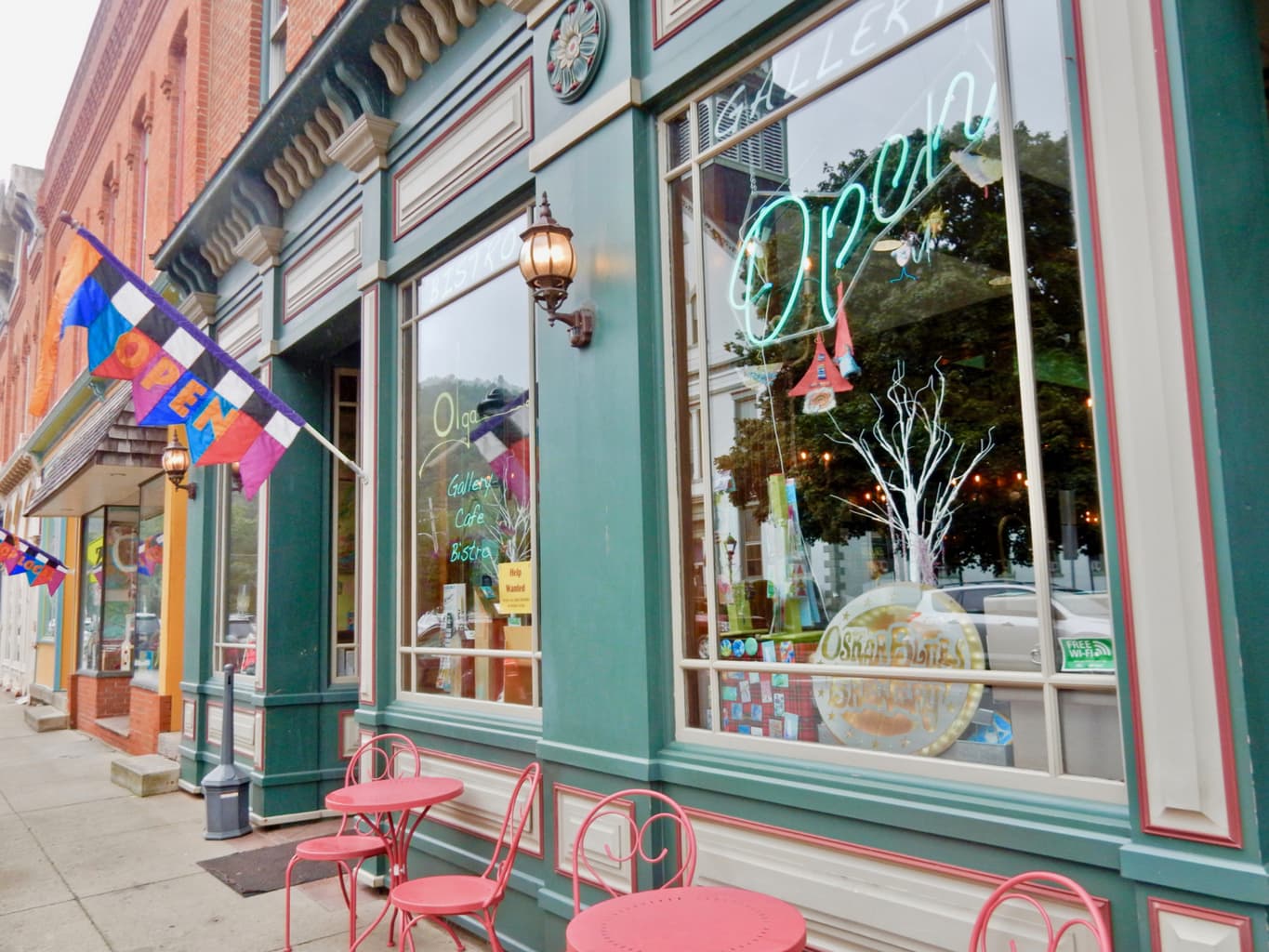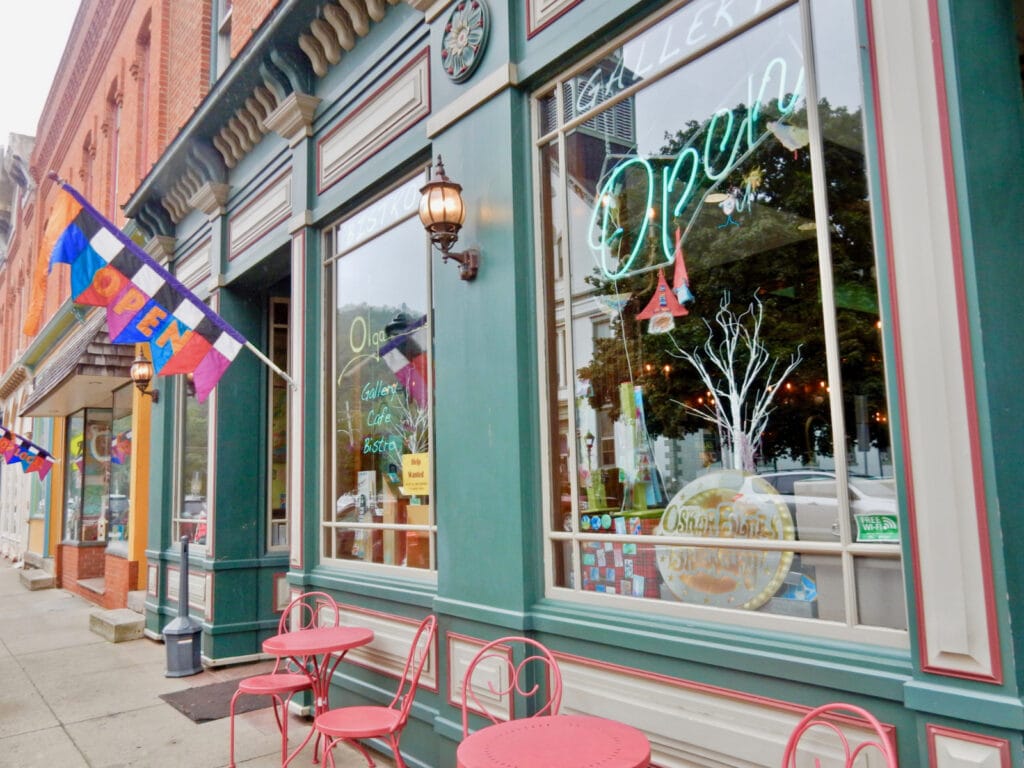 SHOP/EAT/STAY: Olga's Bistro, Gift Shop, Yarn Shop, and Guest Rooms. I've been following Olga and John Snyder since I drove through Coudersport in 2011 on my transcontinental Route 6 trip, and each year they've been adding on to their wildly colorful businesses.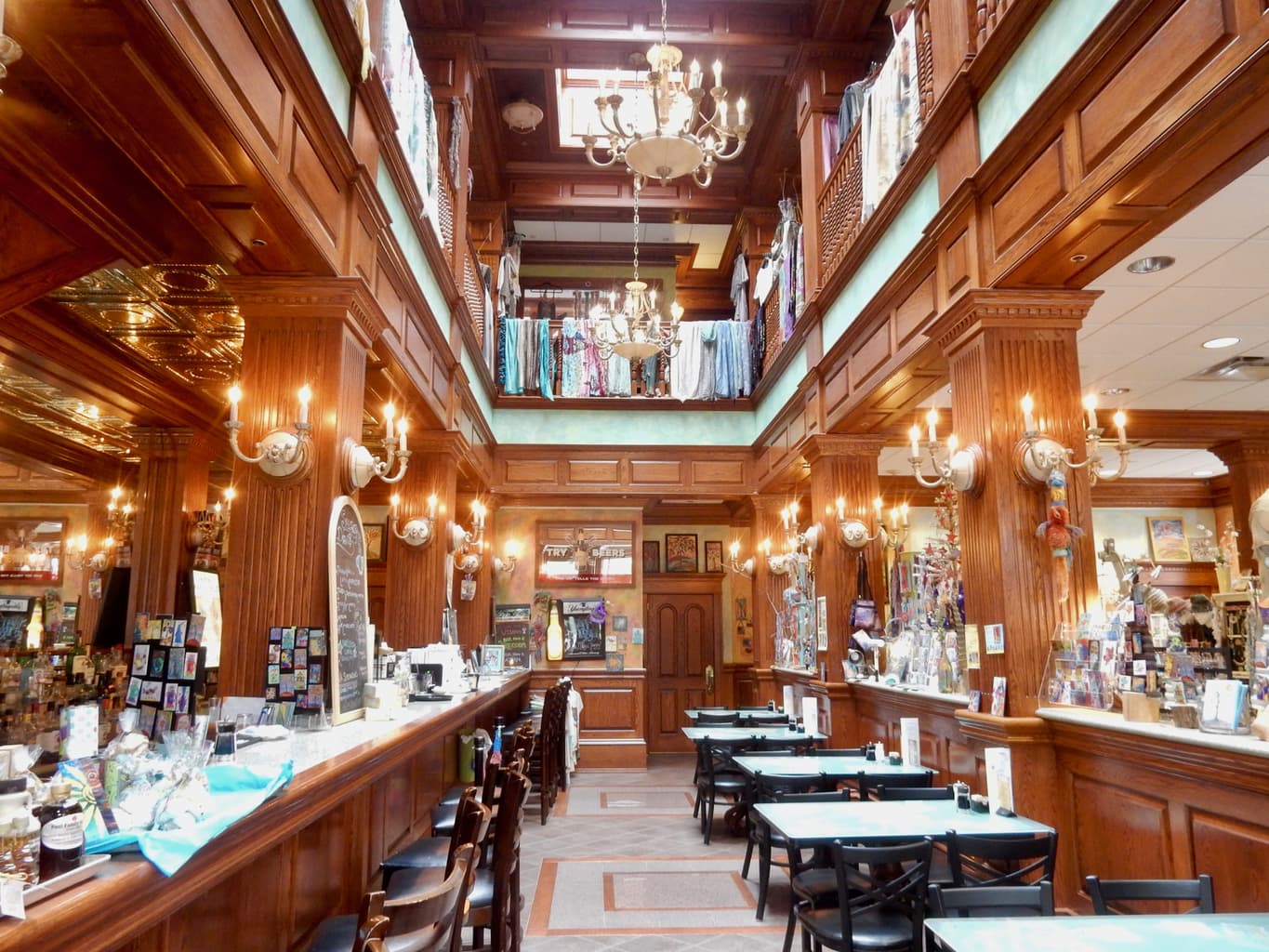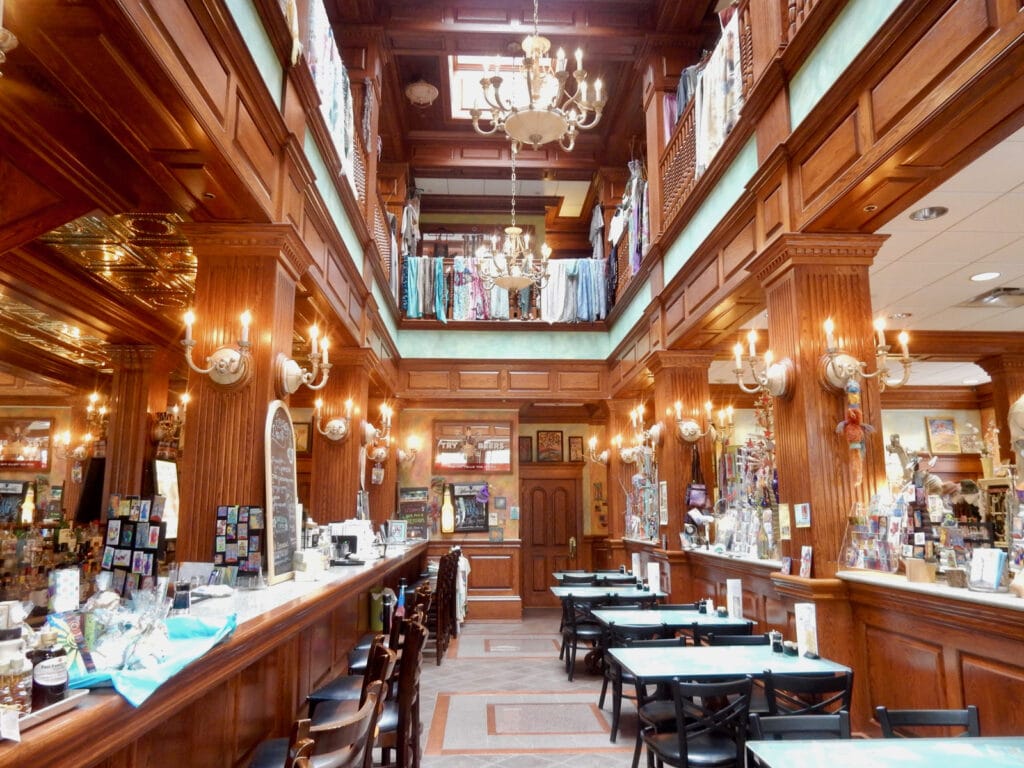 The Bistro still serves one of the best meals in town, thanks to Olga's obsession with organic farming. Many ingredients for pure, fresh, delicious dishes are sourced from Olga's garden. Consequently, The Bistro offers a great selection of vegan and vegetarian meals.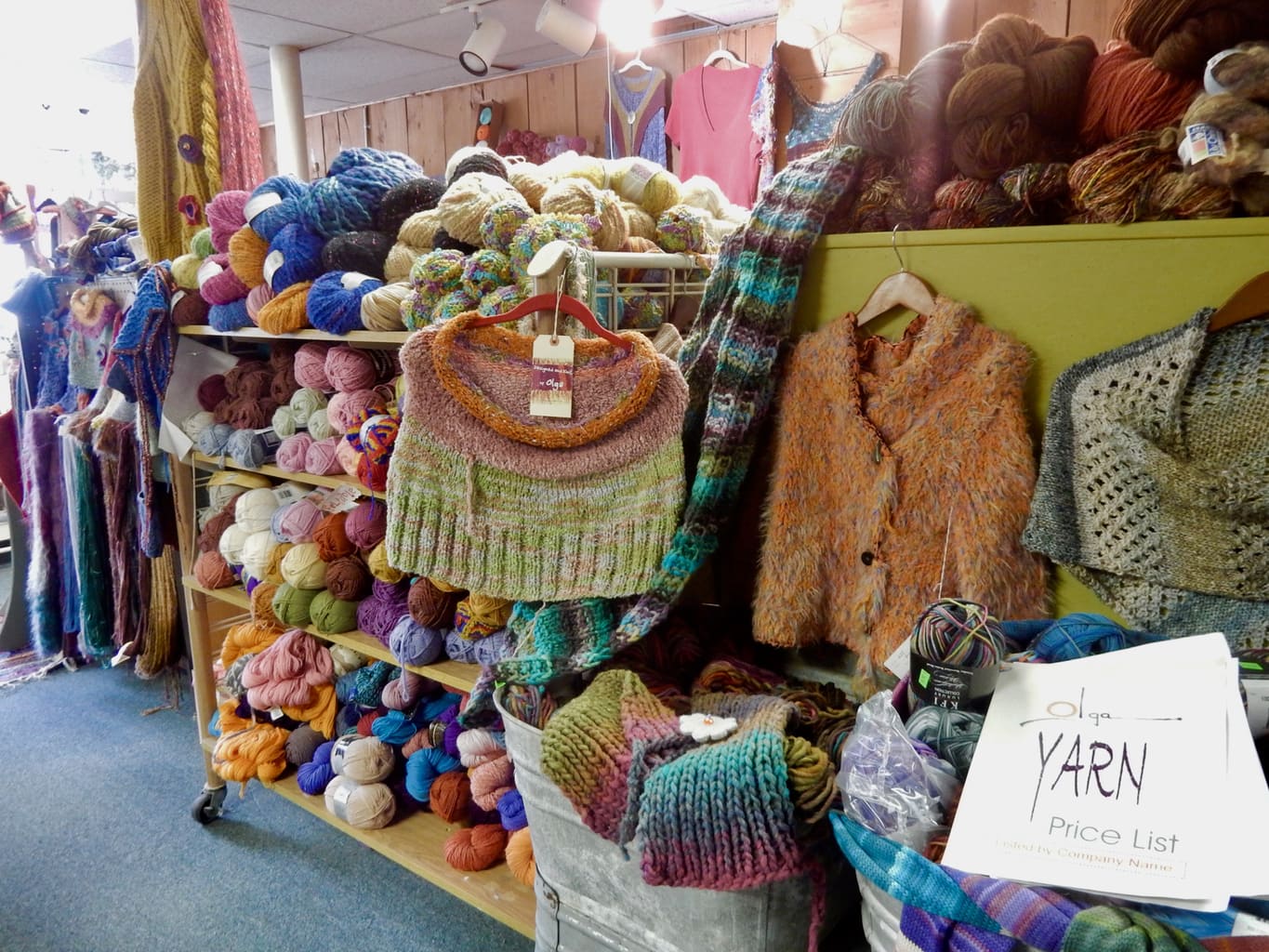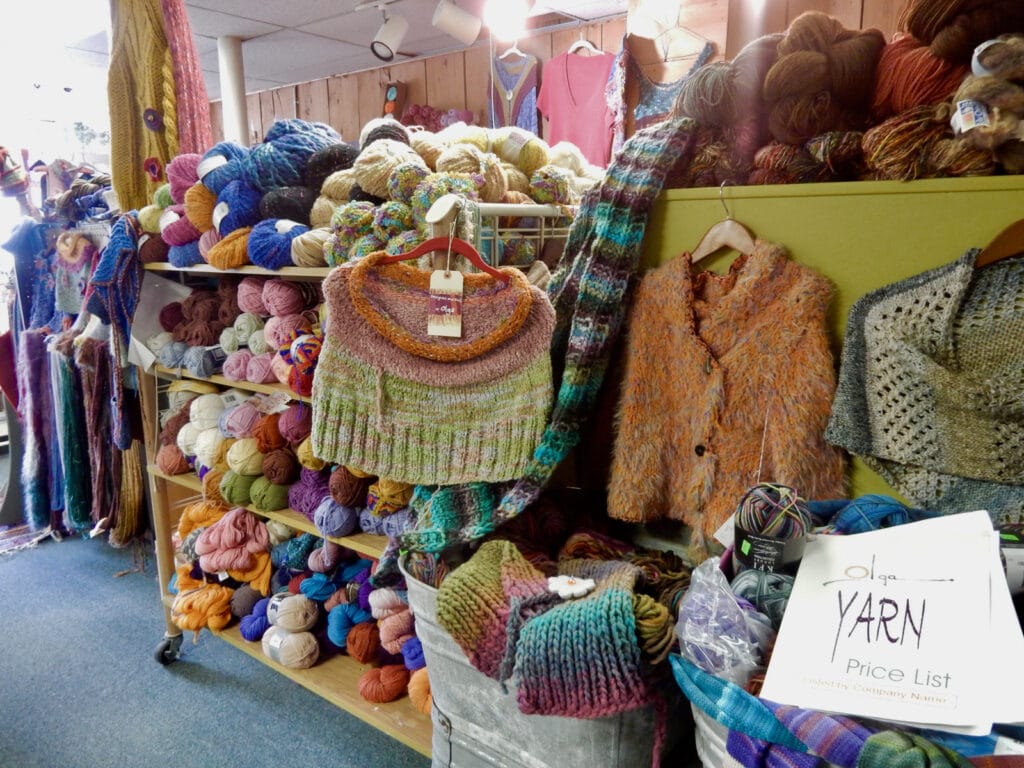 Next door, at Olga's Yarn Shop, locals and visitors can join her knitting workshops, and Ukrainian Egg (Pysanky) painting classes.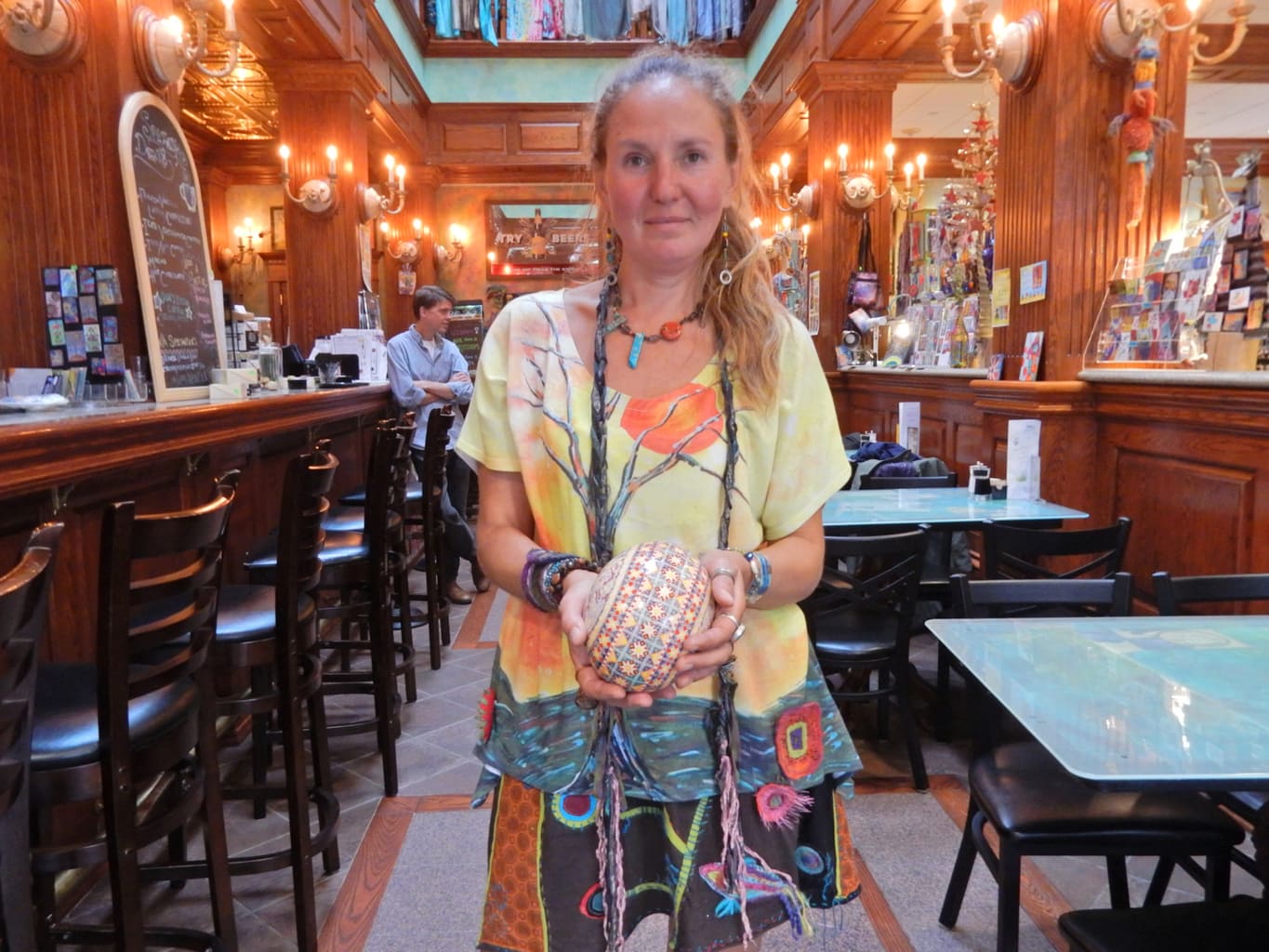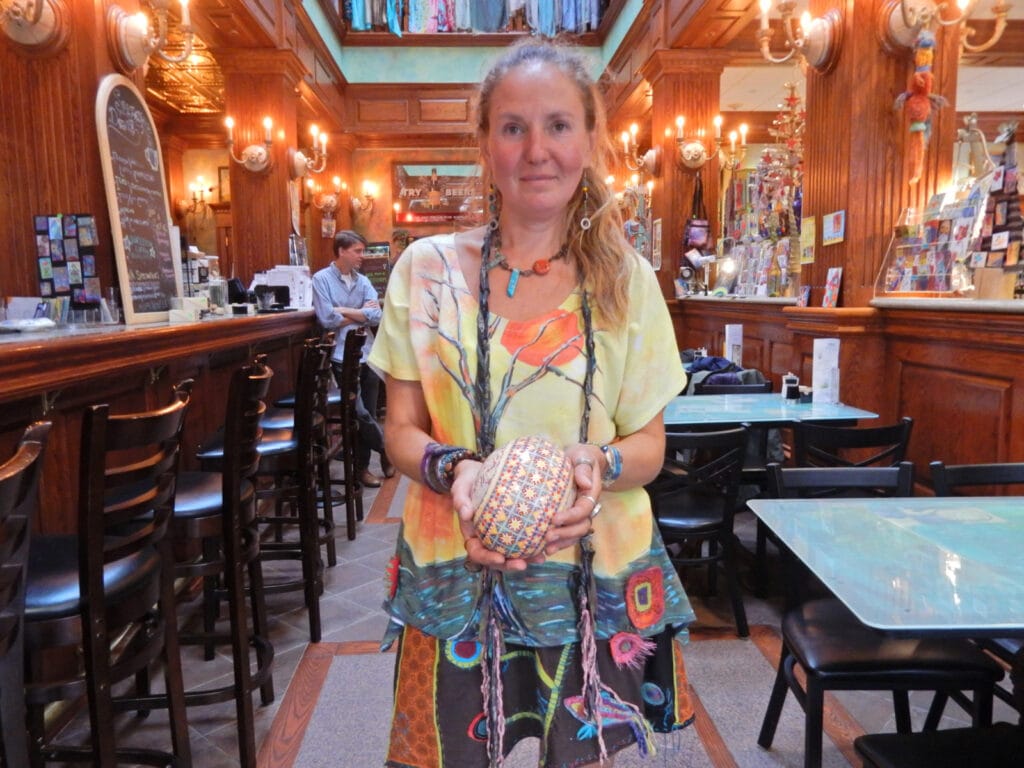 From the Ukraine, Olga is skilled in this intricate and exquisite art form– rendering stories in miniature on eggshells. While in town, sign up for a class, and she will teach you.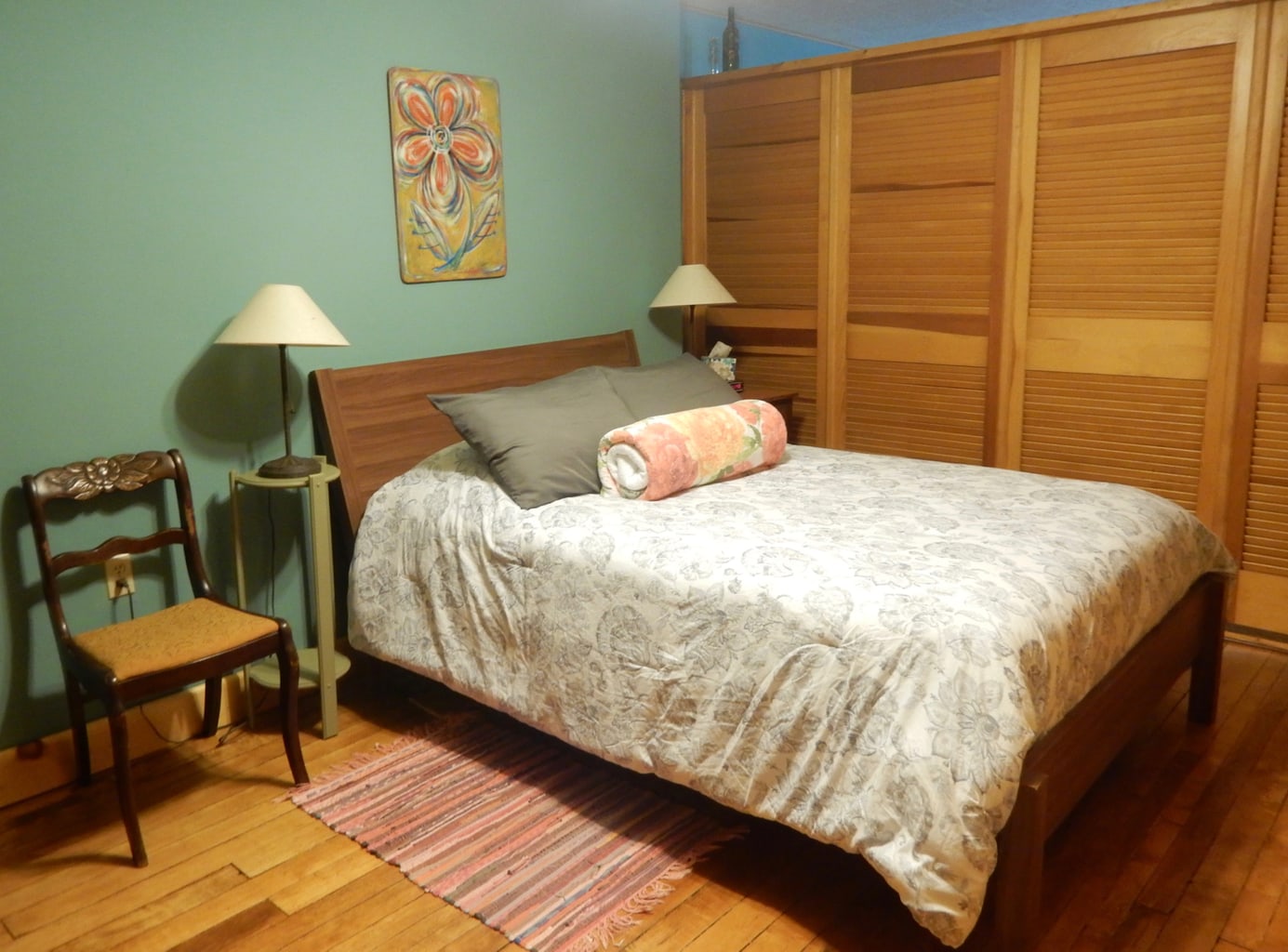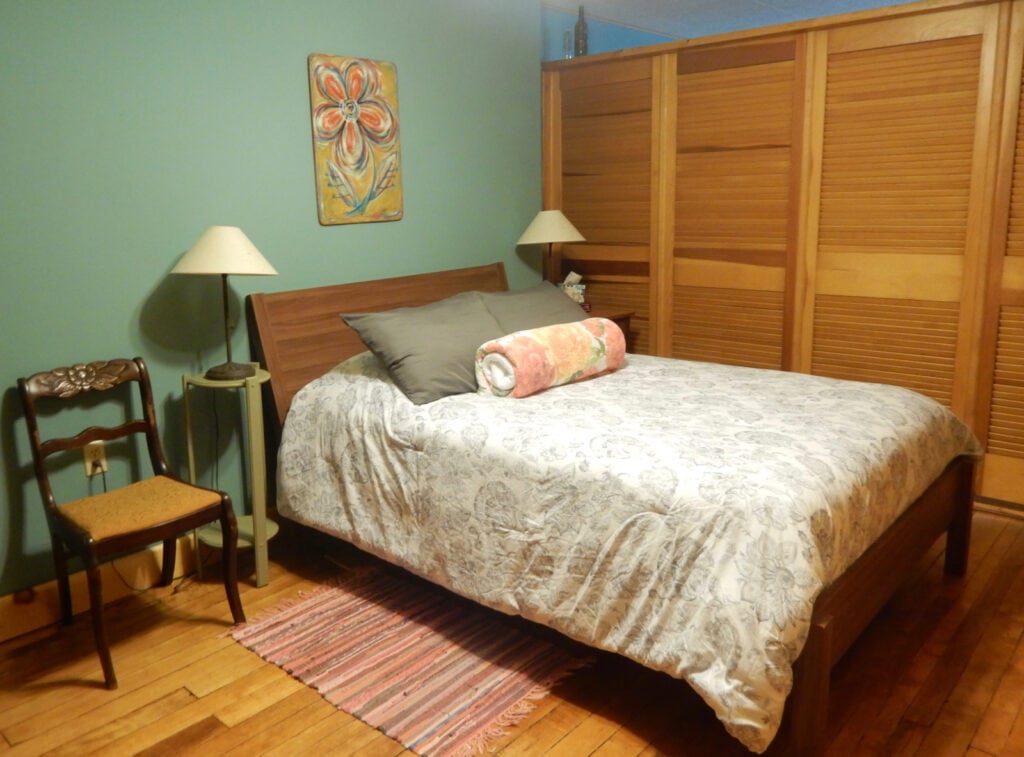 Upstairs, the Snyders have renovated two pretty appartments, with room for 5 people each. They've proven to be a hit with out of towners who come here for Cherry Springs "Dark Skies" State Park. $85 per night plus taxes and fees.
PHOTO OP: Coudersport Ice Mine. Why does this pit in the earth freeze in summer and melt in winter? Though you can't descend into this old mine, it's worth a look to see and hear about this abnormal occurrence. Our friends at UncoveringPA.com let you in on all the deets.
Where to Eat and Stay in Coudersport PA
EAT: Olga's Bistro. (See above).
EAT/DRINK: Hotel Crittenden. (See below).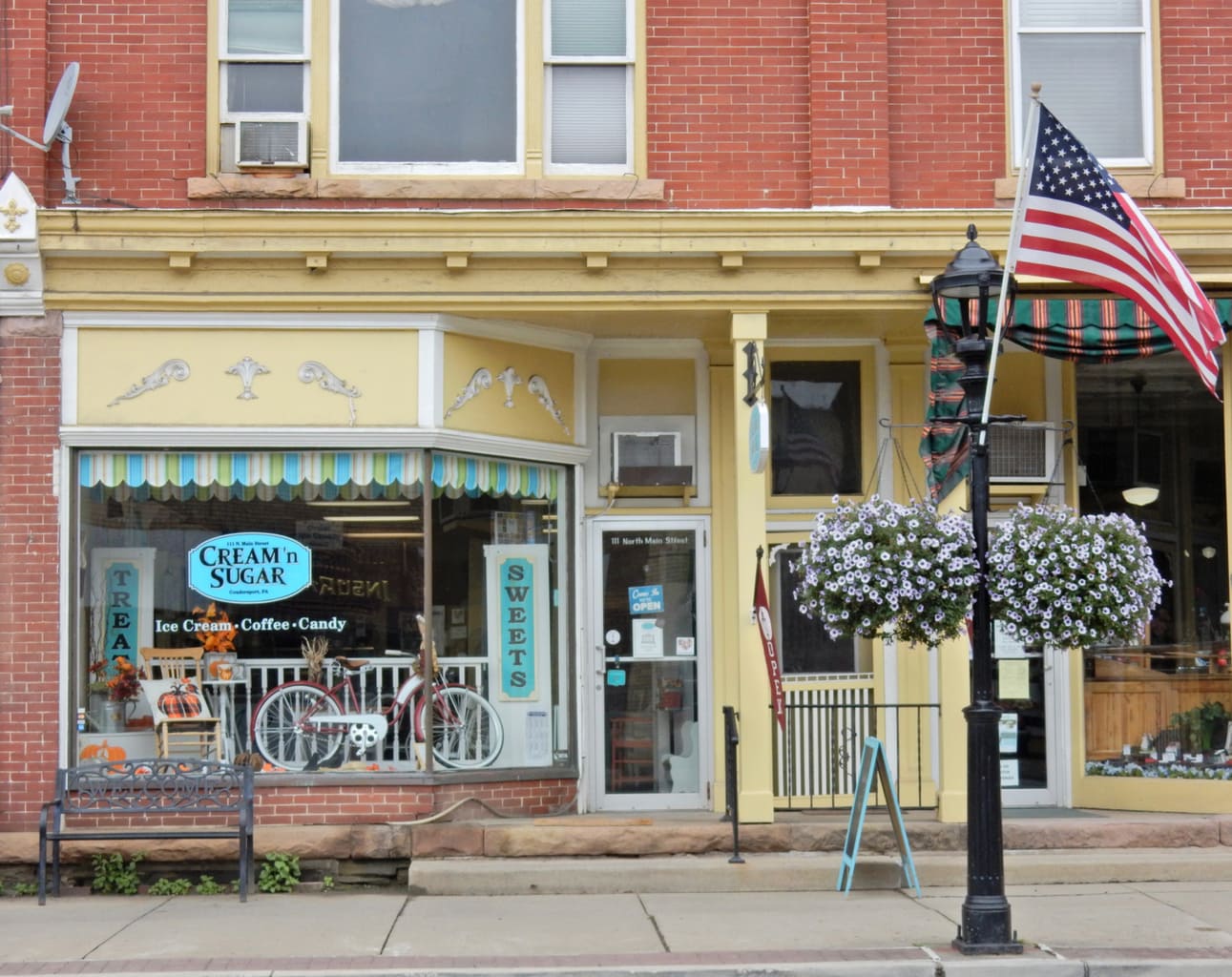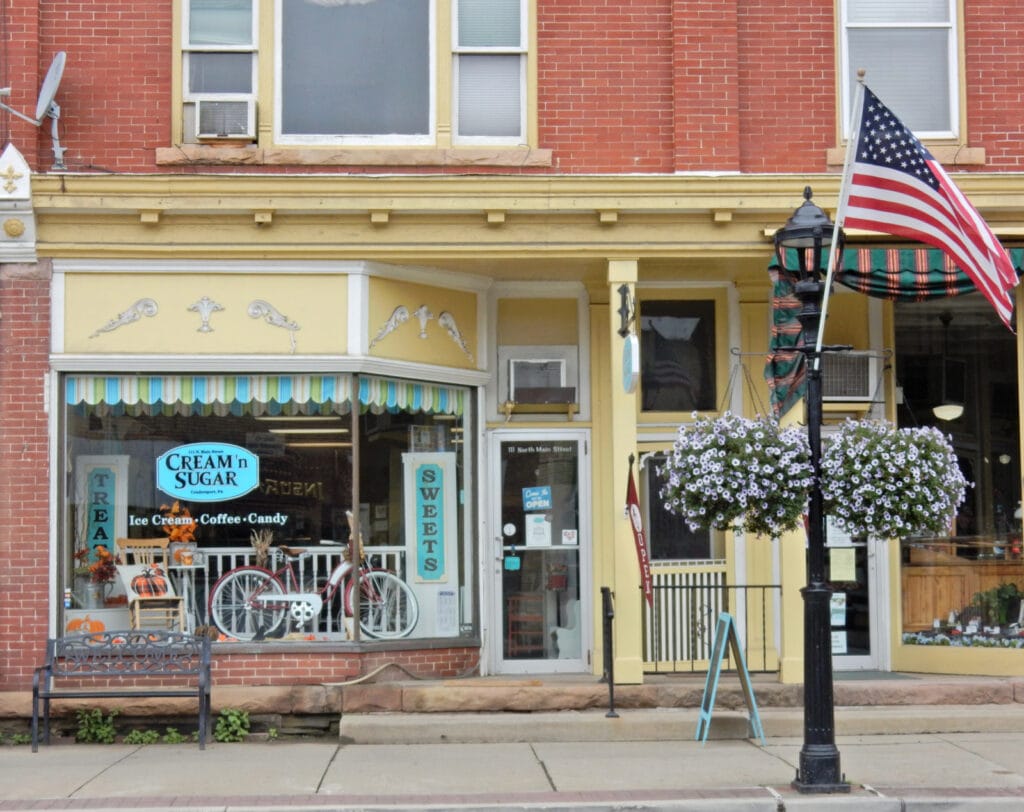 EAT: Cream & Sugar. Every ten days, owner Abbi Rossman must drive 2 ½ hours each way to State College PA to pick up Penn State Creamery ice cream (they don't deliver) – arguably one of the top-ten ice creams brands in the USA. Besides ice cream, Cream and Sugar dishes out coffee, tea, salads, sandwiches, and baked goods the likes of Peach and Blueberry Squares – all mostly assembled with ingredients from local farms.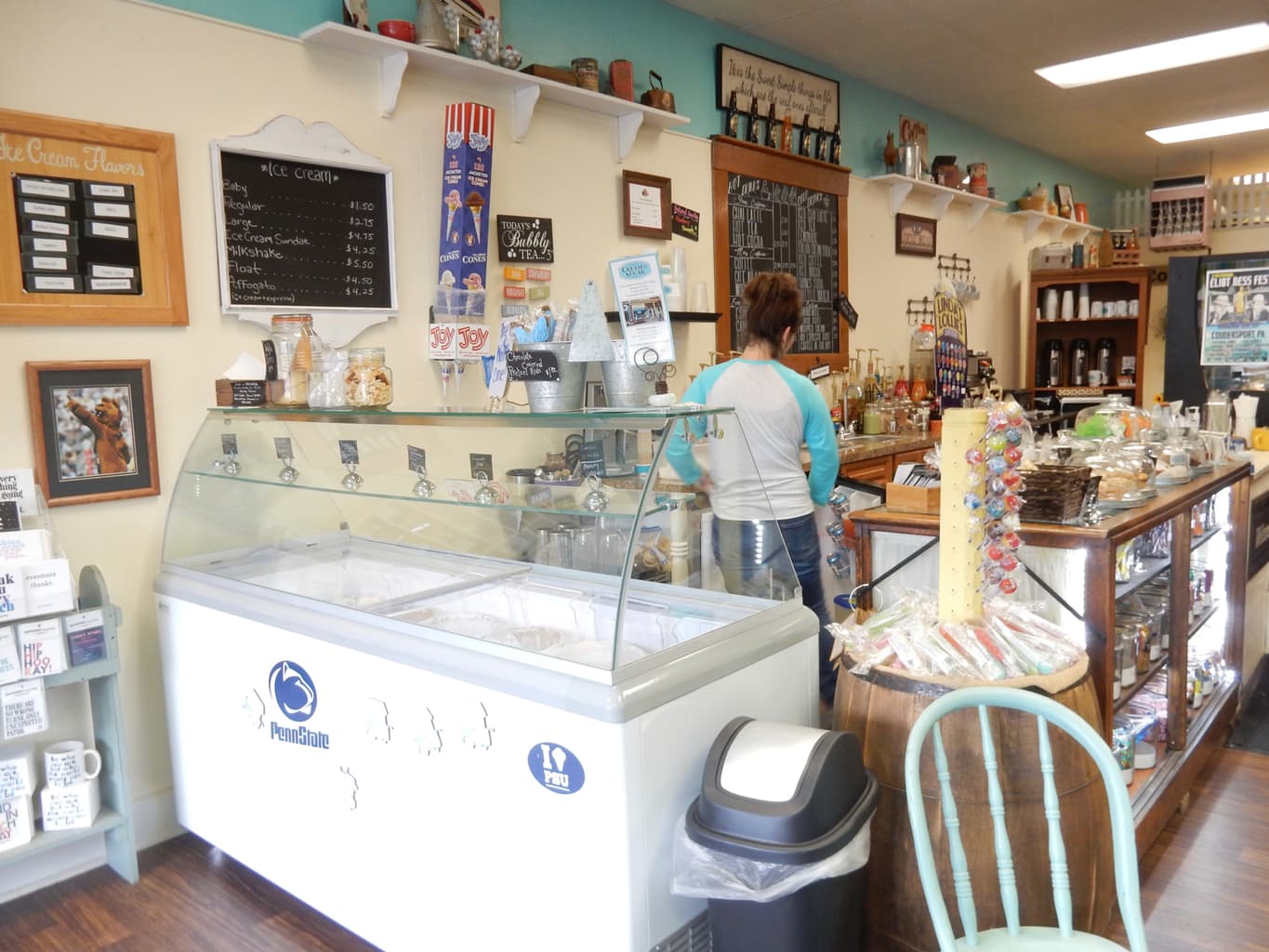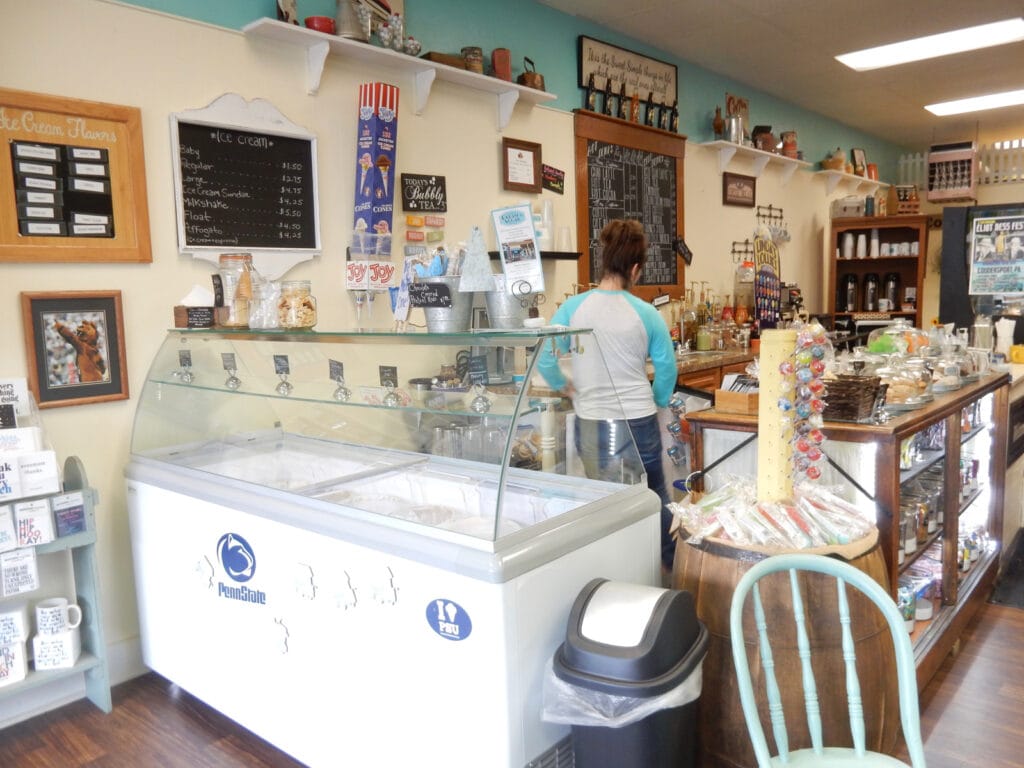 Shelves in this open, bright space are stocked with candles, lotions, and essential oils from Sunrise Ridge, Amber Fowler's jewelry, local honey and maple syrup. "The town needed a place where you could sit down with a cup of coffee, and where people could grab lunch and a teacher's gift and not have to go to a bunch of stores," said Rossman. Kids come in swarms after school, sit on the couches, play games. Along the way, it's turned into a small town version of a non-alcoholic Cheers.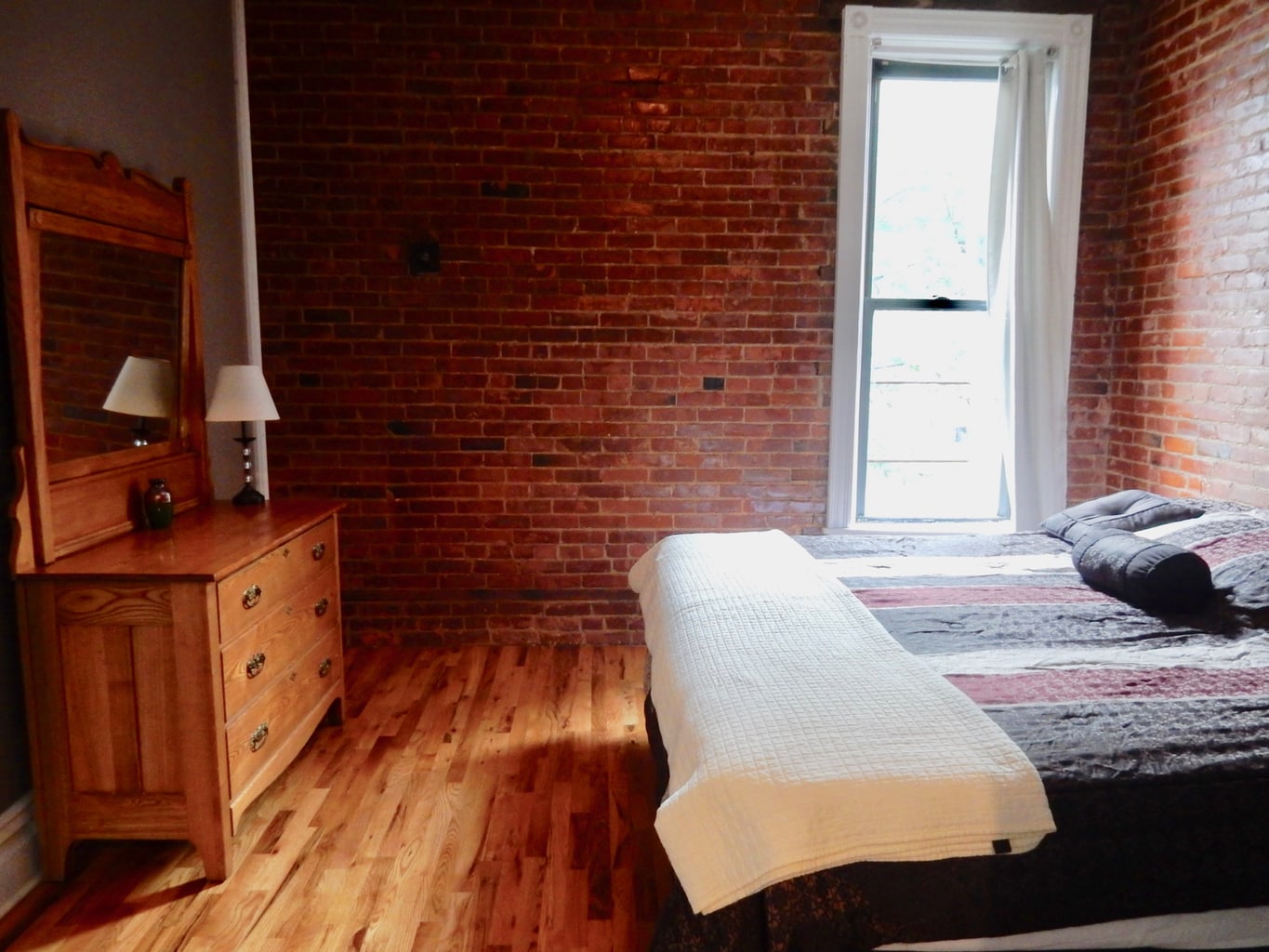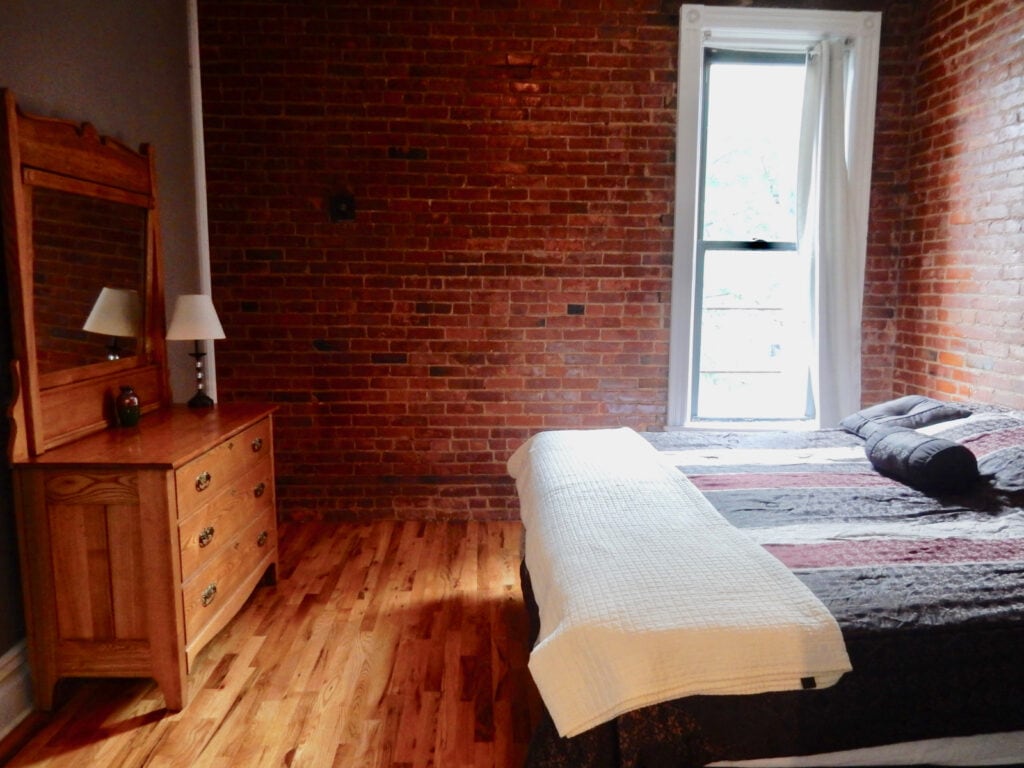 STAY: Hotel Crittenden. If it's your goal to stay in a work-in-progress boutique hotel, here's your chance. Five years ago, Chandra Livingston and Hans Nielsen purchased this dilapidated building that had always been a hotel, and set about renovating it. There was no heat, and the embossed tin ceiling was covered with 14 layers of paint. "Our first year was all about stabilization, safety, and cleaning," says Chandra.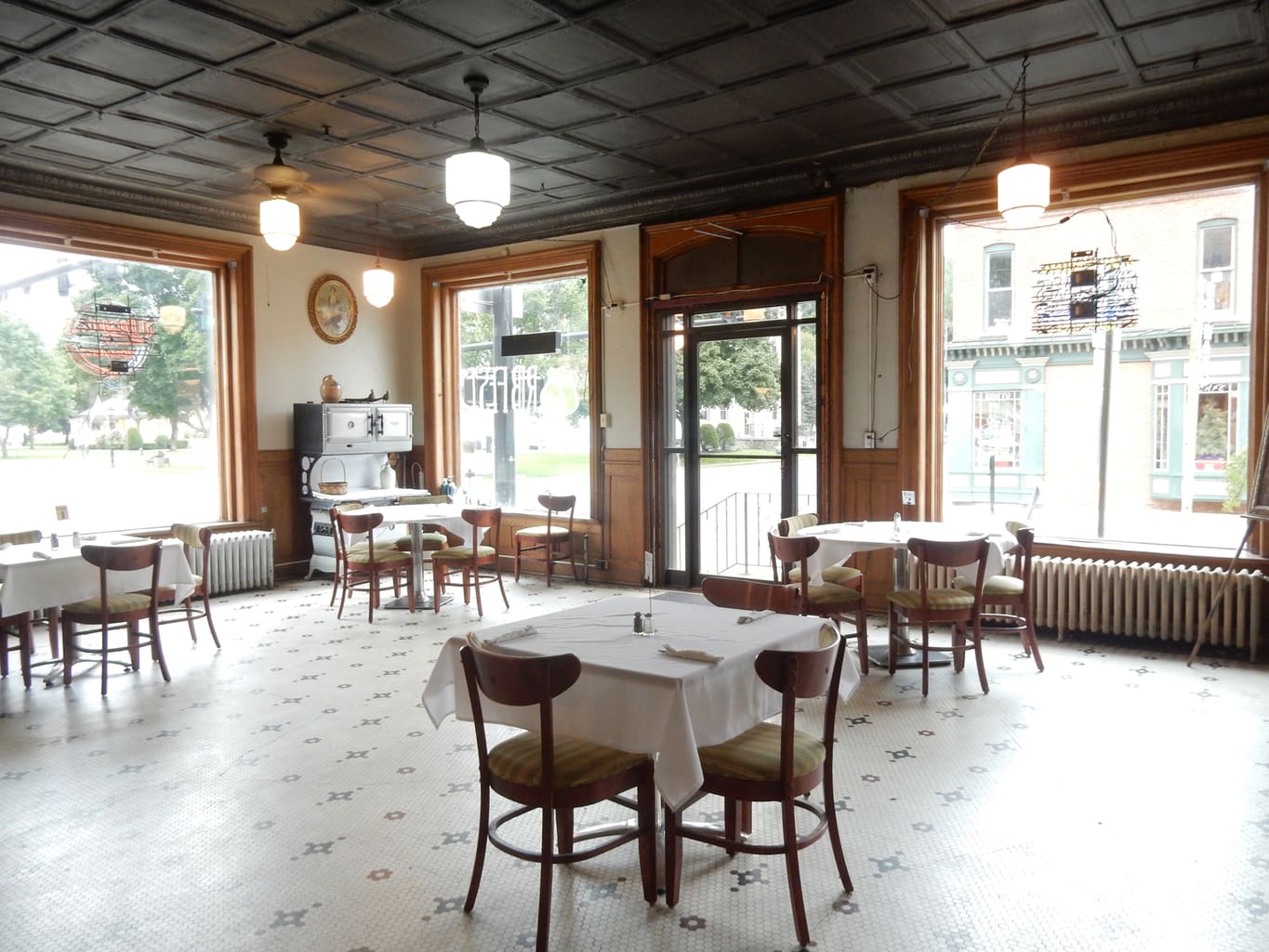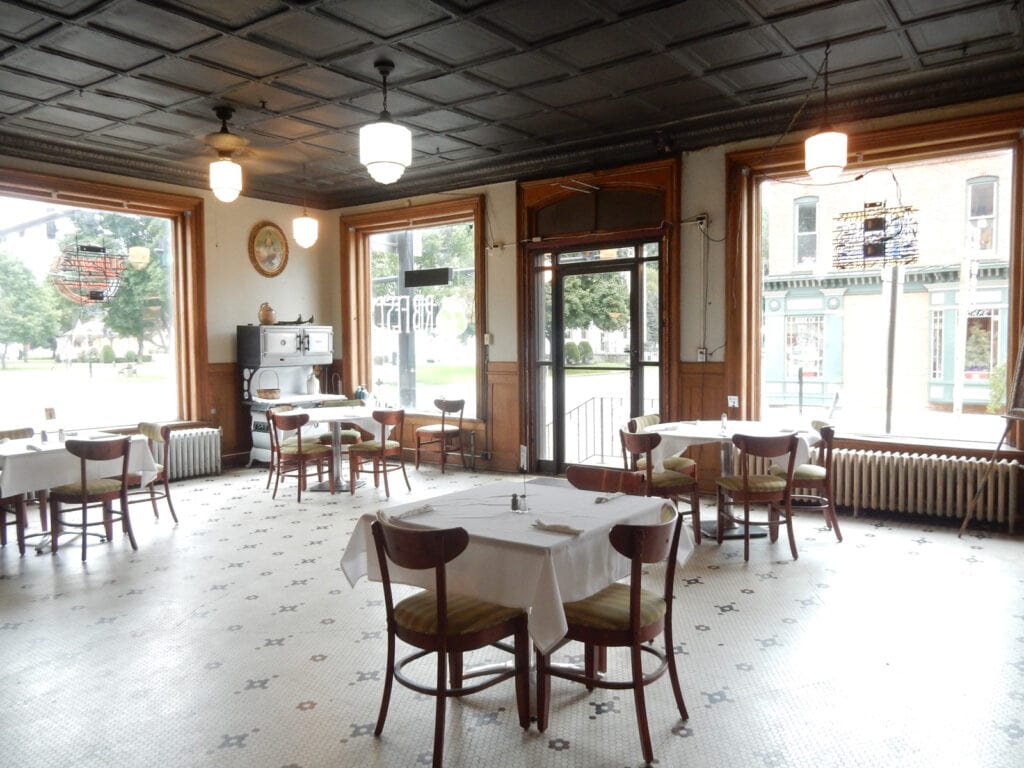 On a historical note – Bureau of Prohibition agent, Elliot Ness, retired in Coudersport. Ness chose the Crittenden Restaurant as his meeting place with a ghostwriter who gleaned the information for the best-selling book (and movie), The Untouchables, right here.
In fact, the Crittenden was a top hotel in its day. Susan B. Anthony swung by to speak about the Women's Right to Vote. And both Cab Calloway and Joan Crawford stayed here.
But, naturally, towns fade and so do their star hotels. And then, as these hamlets revitalize (now, with the Cherry Spring State Park Dark Sky nearby), the hotels are prime to be reborn as well.
Currently there are six restored suites with diverse layouts and furniture. My quarters encompassed two rooms with exposed brick wall, burnished hardwood floors, and comfy new bedding.
Inch by inch, the hotel is coming back to its glory days. Be sure, though, to have at least one meal in the surprisingly outstanding in-house restaurant. The kitchen is helmed by Chef Tara Fry, a native who Chandra knew as a baby. Fry returned to Coudersport after 20 years of stints in high-profile Maryland seafood restaurants, and Chandra was eager to hire her.
"Tara knows her way around fish," claims Chandra. And, indeed she does. I wolfed down the excellent Maple Mustard Salmon ($19.95), which, like the rest of the entrees, comes with two sides plus soup or salad. The Coconut Haddock broiled in coconut rum buerre blank ($17.95), and Thick Cut House-Smoked Brisket ($17.95) are also touted signatures.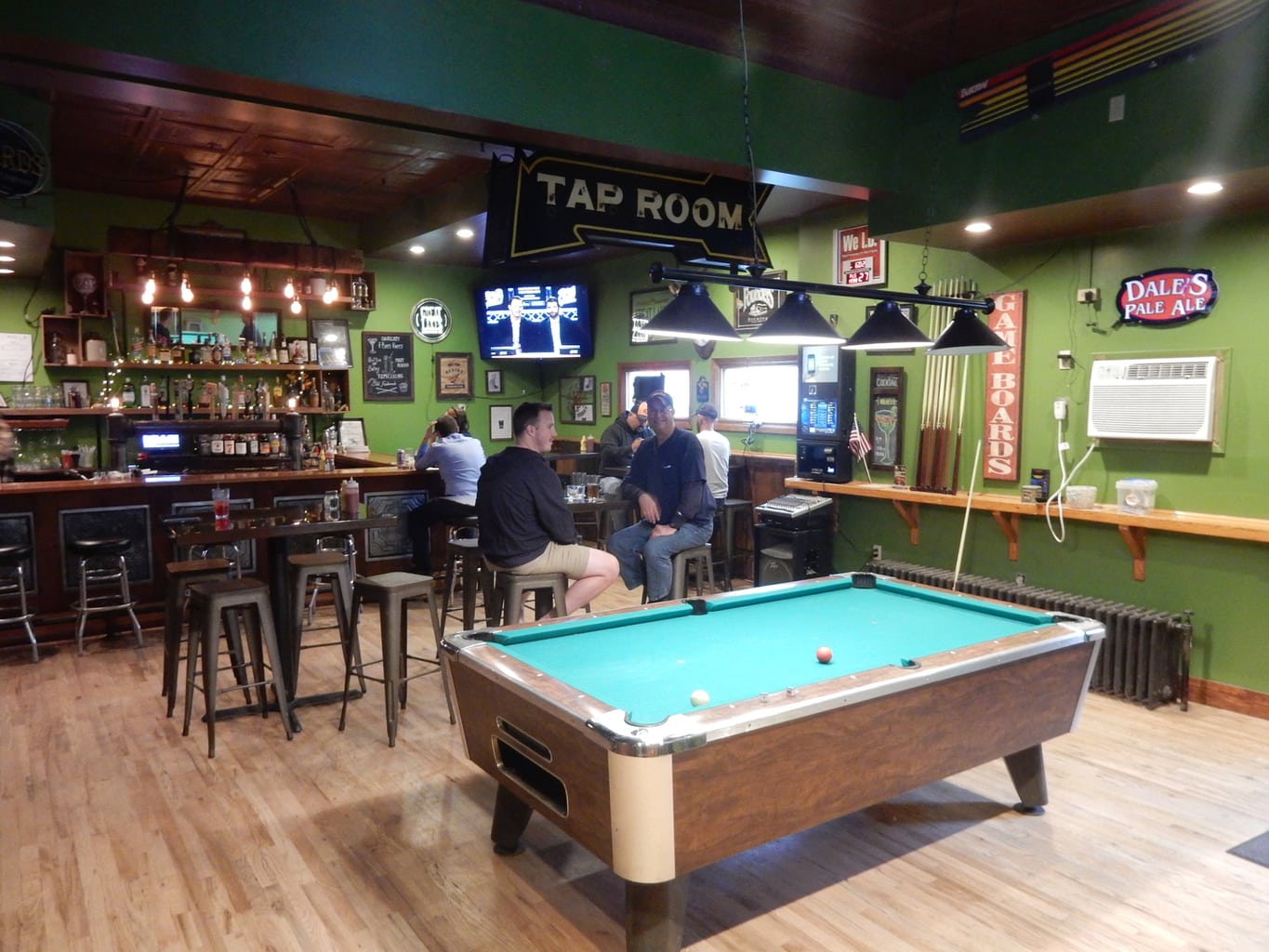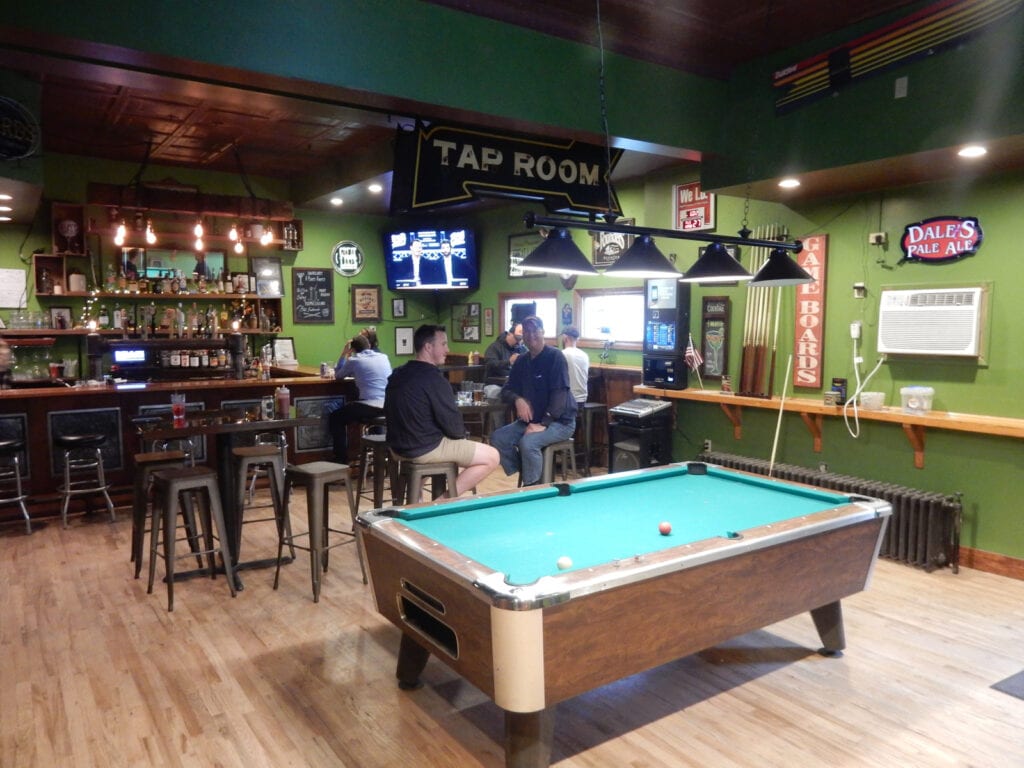 The Tap Room in back of the restaurant appears to be the place where locals kick back with a craft beer – there are 12 on tap – and a game of pool. Suites at Hotel Crittenden from $79-$127 per night.