Concorde Hotel New York Review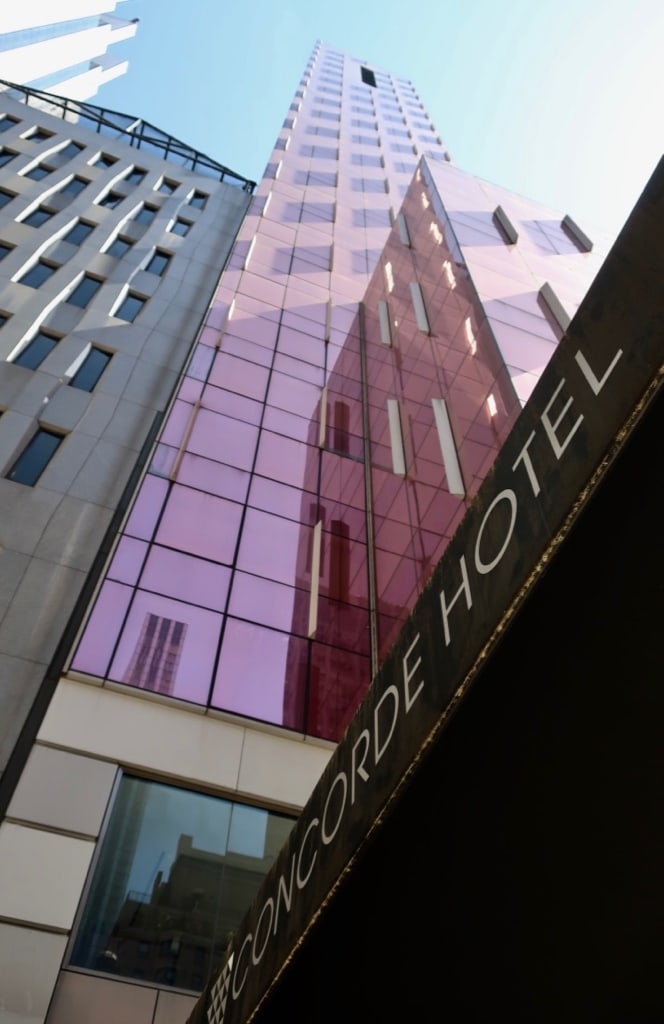 The Concorde Hotel New York is one of those hidden treasures discovered by in-the-know Europeans, Asians, and South Americans, but not yet familiar to many New Yorkers. With 37 floors and only 4 rooms per floor – this tall, sleek boutique is a quiet, pretty, and calming antidote to the harried goings on in Midtown Manhattan.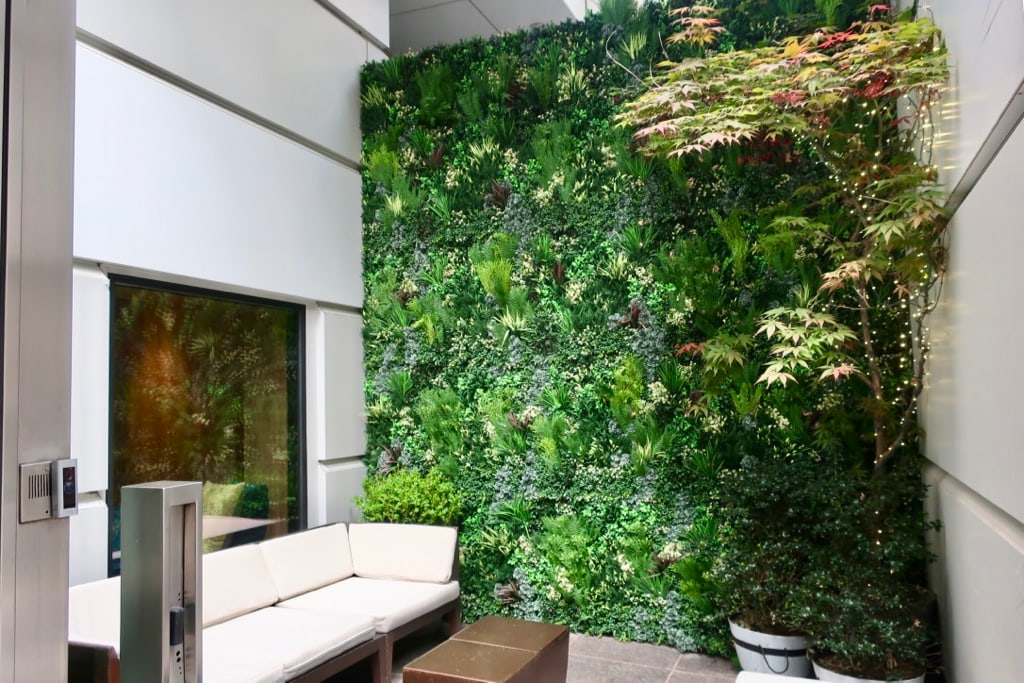 Outside the entrance, there's small seating nook that surrounds you in nature. Flanked by a "living wall," it's a comfortable place to wait for straggling friends or family.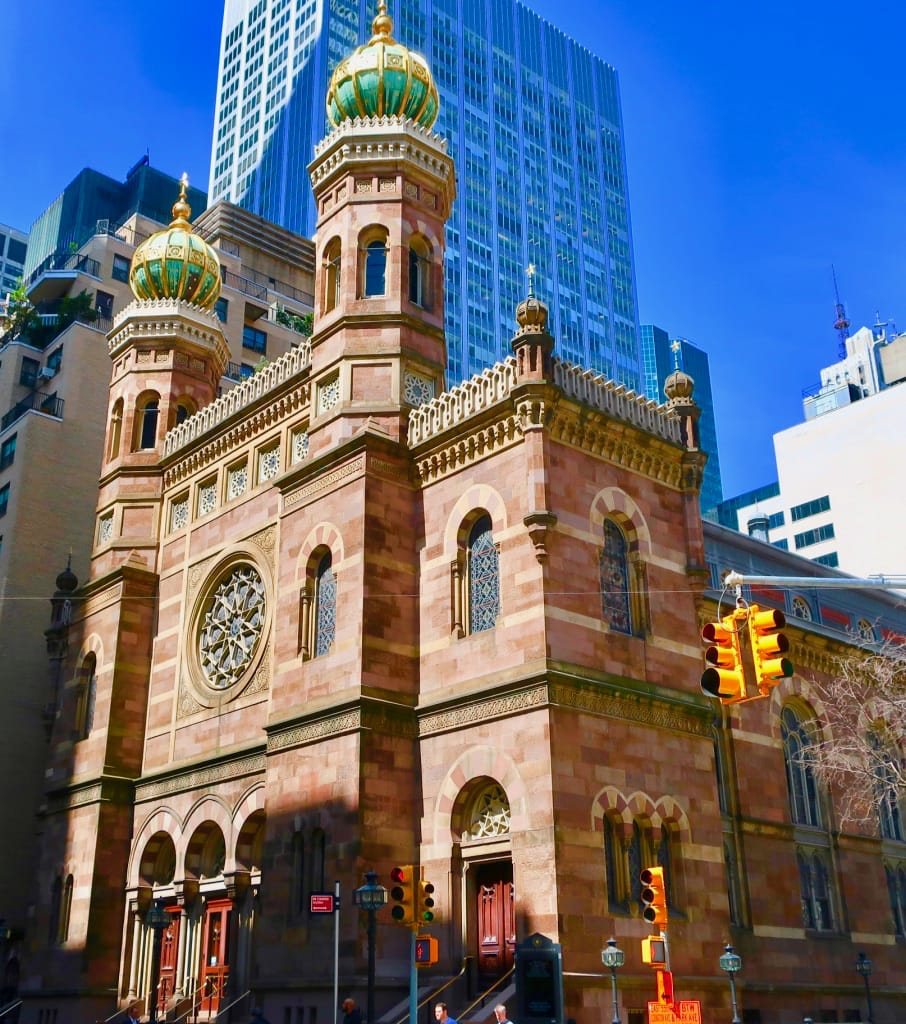 The hotel is located right across the street from the high-profile Central Synagogue. It's a can't-miss-it fantastical Moorish structure, built in the late 1800's, that stands in sharp contrast to the surrounding modern skyscrapers.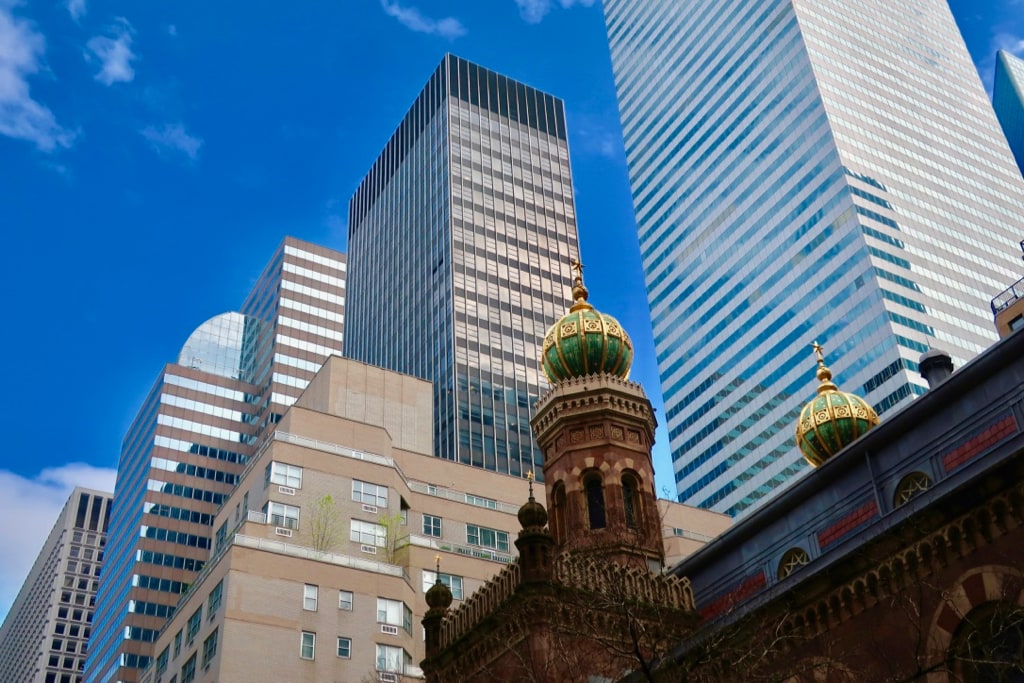 FYI- The Concorde is an optimal hotel for out-of-towners attending Bar/Bat Mitzvahs or weddings here.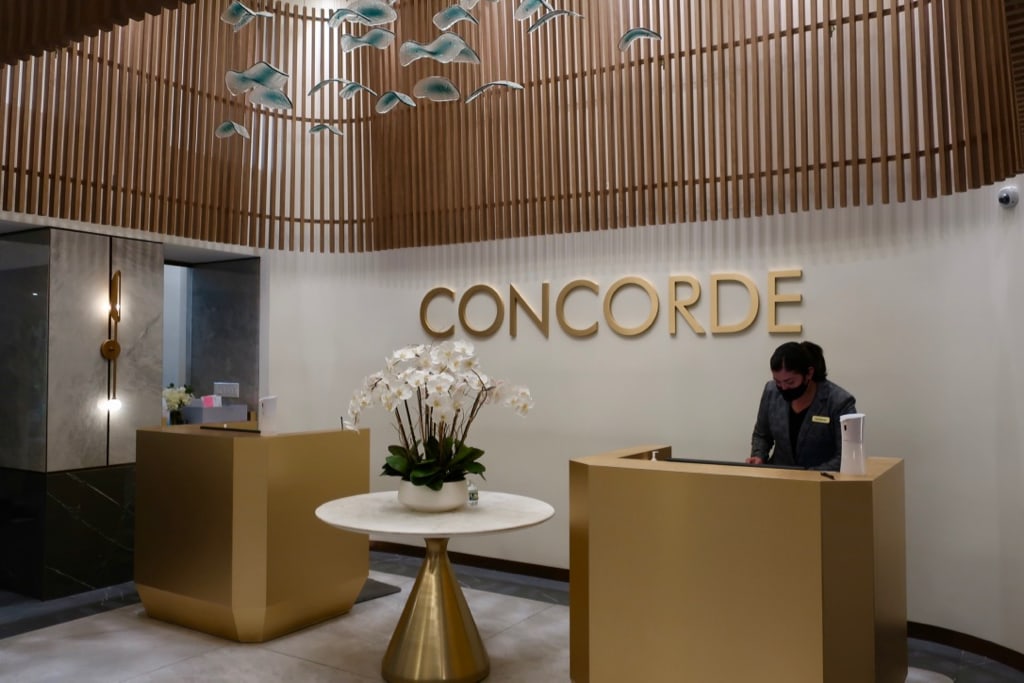 First Impressions of the Concorde Hotel
At check-in, the welcome in the small and adorable lobby is warmer and friendlier than at most New York City hotels.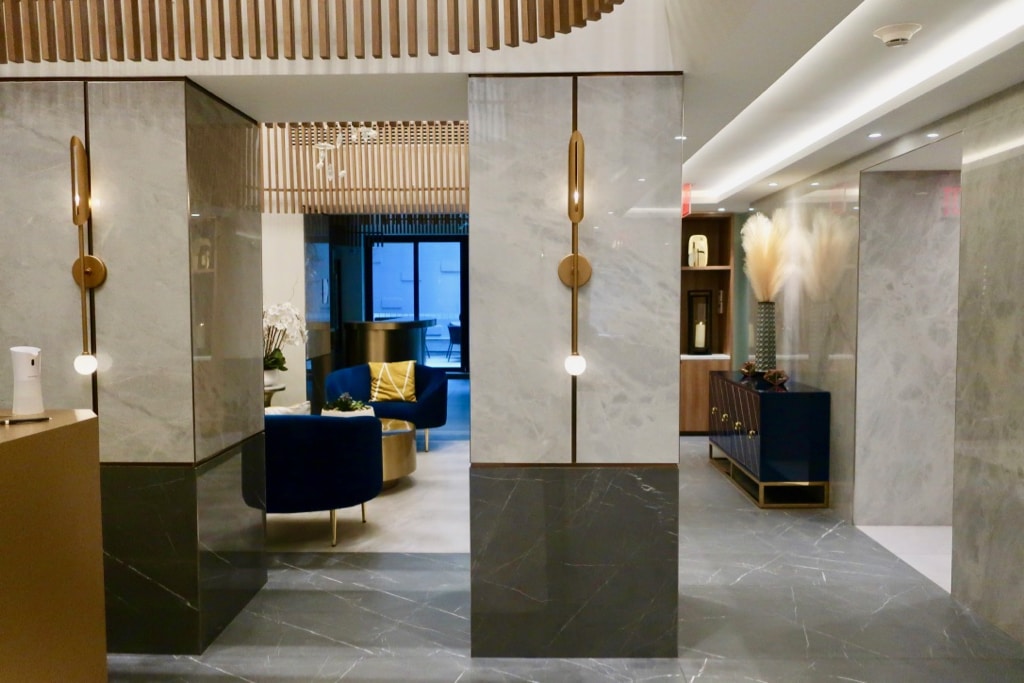 If busy – or if your room isn't ready – you can make yourself at home on one of the bright blue couches clustered between the reception desk and the in-house tapas restaurant, Bonsaii.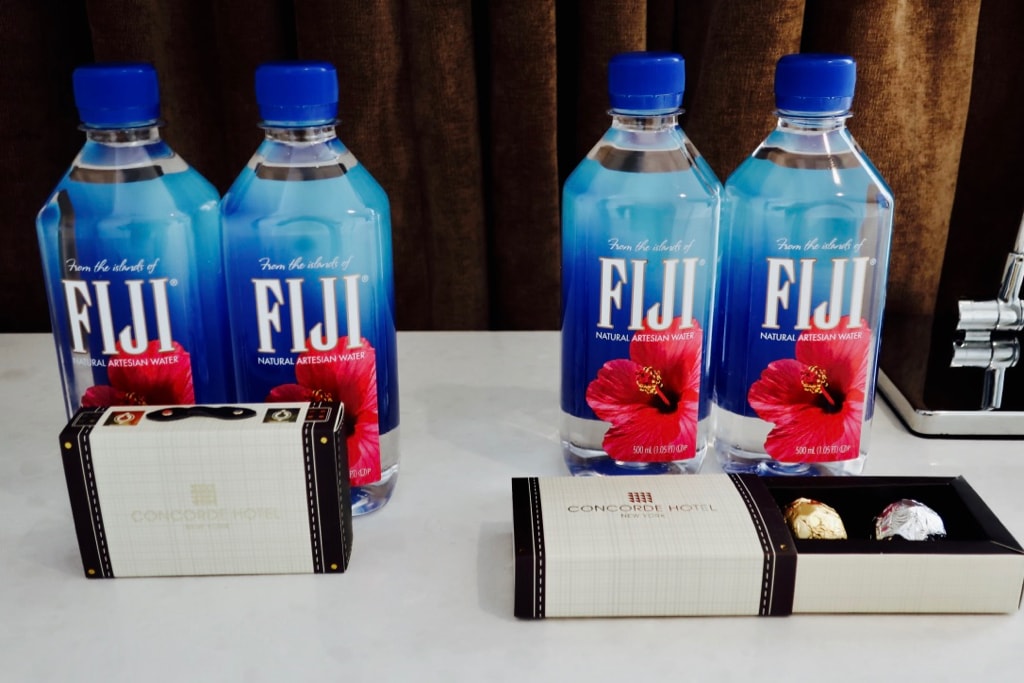 Rooms at the Concorde Hotel
Complimentary bottles of water and a duo of gourmet chocolates packaged in tiny paper suitcases await guests in each room: a very sweet welcome.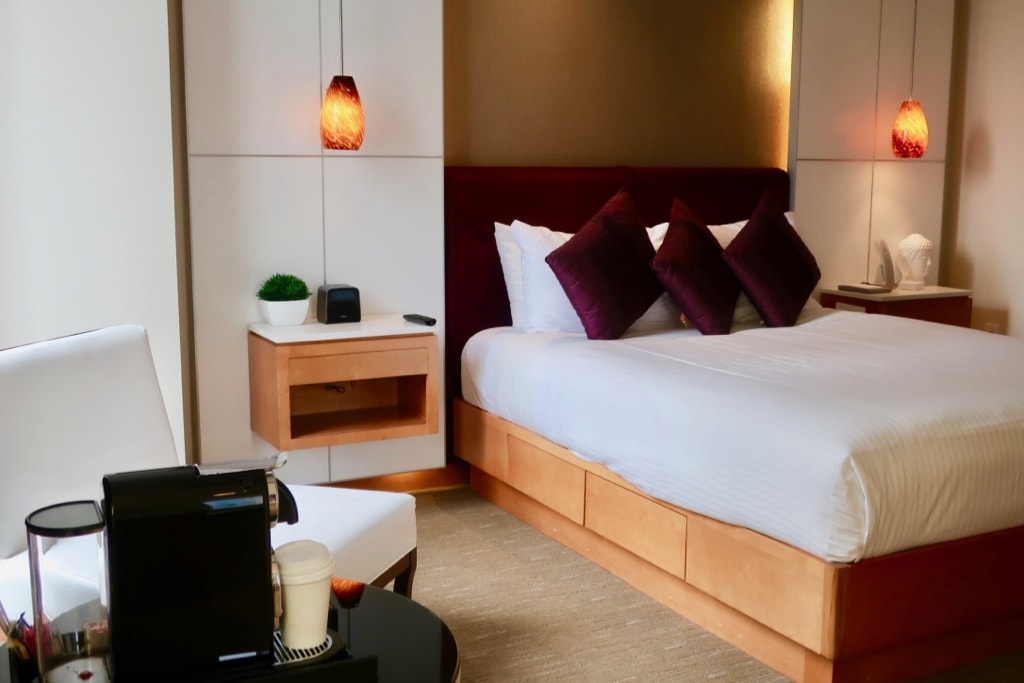 Guest chambers at the Concorde Hotel are quiet sanctuaries, in shades of oak and cream – with deep purple decorative pillows for pop. Chairs, in white, buttery leather, are ergonomically kind to your body.
There's nothing flashy or over-done. And, there's a place for everything. The Danish-modern blond-wood platform bed features below-mattress storage drawers. So, feel free to unpack.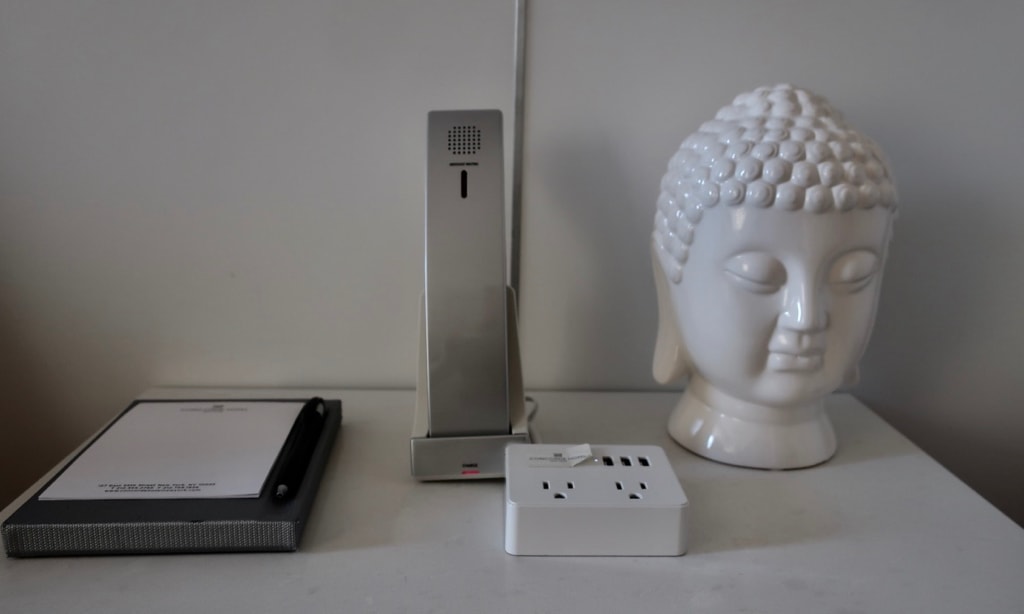 A ceramic head of Guanyin – the Asian goddess of Compassion, Mercy, and Kindness – sits on one bedside table, enhancing the room's spa-like vibe. It's the little details that build a big following.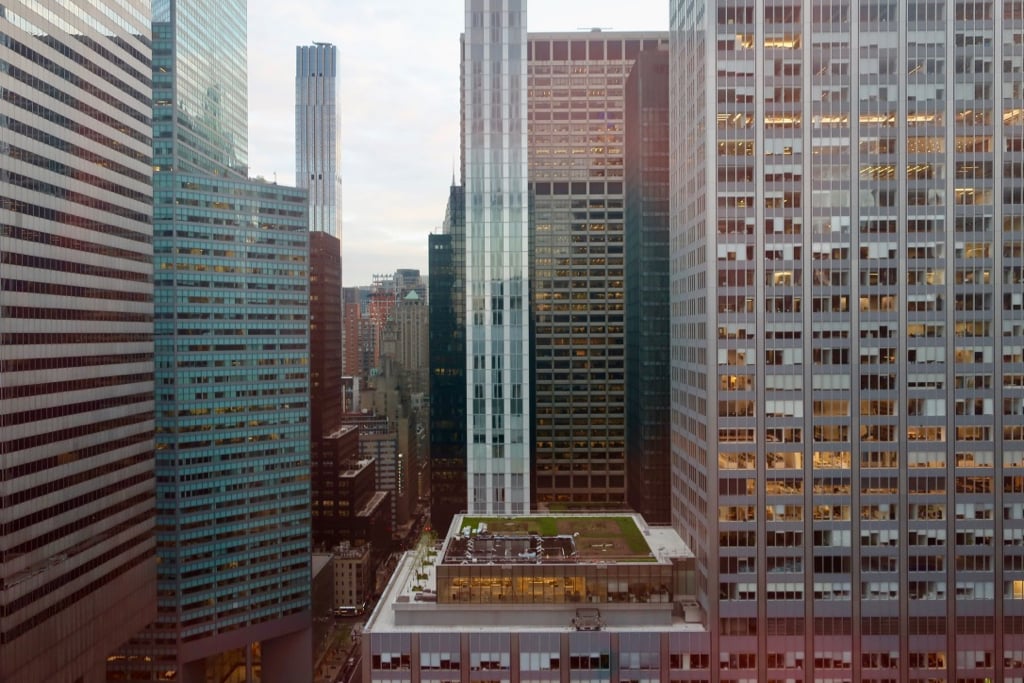 Corner rooms offer 180-degree views of New York's mid-town canyons of commerce, mixed with residential buildings.
From higher floors, you get a bird's eye view. (As I was on the 33rd floor, I tried to spy penthouse owners out on their large, lounging balconies. It was still a bit chilly for that in early May).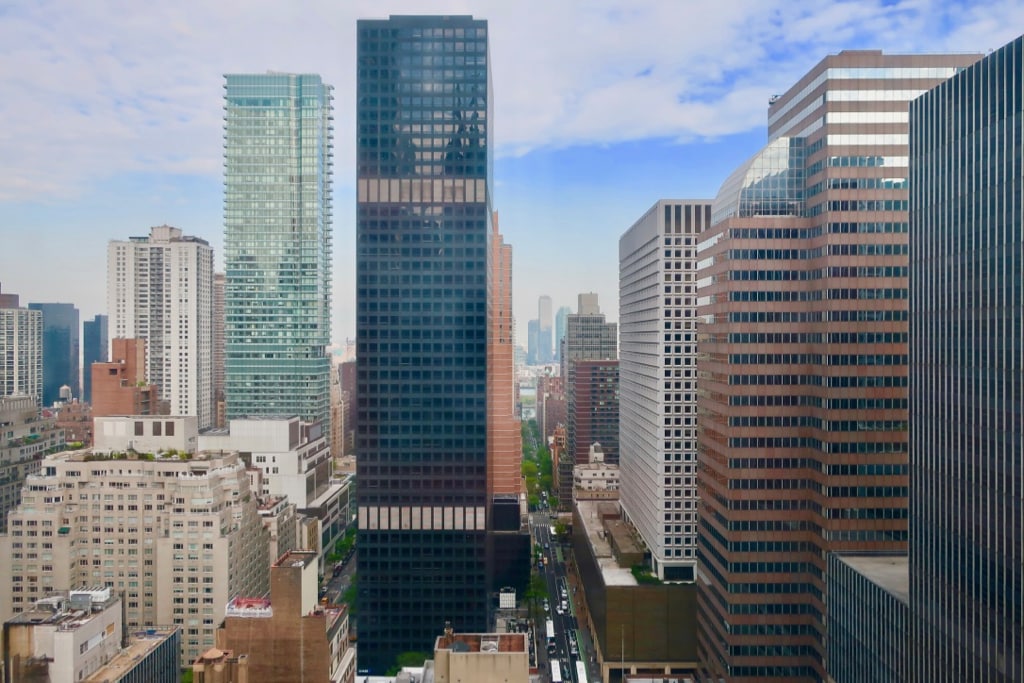 Another view extends, through a narrow corridor, out to the East River, with a sliver of Roosevelt Island, and beyond to Long Island City.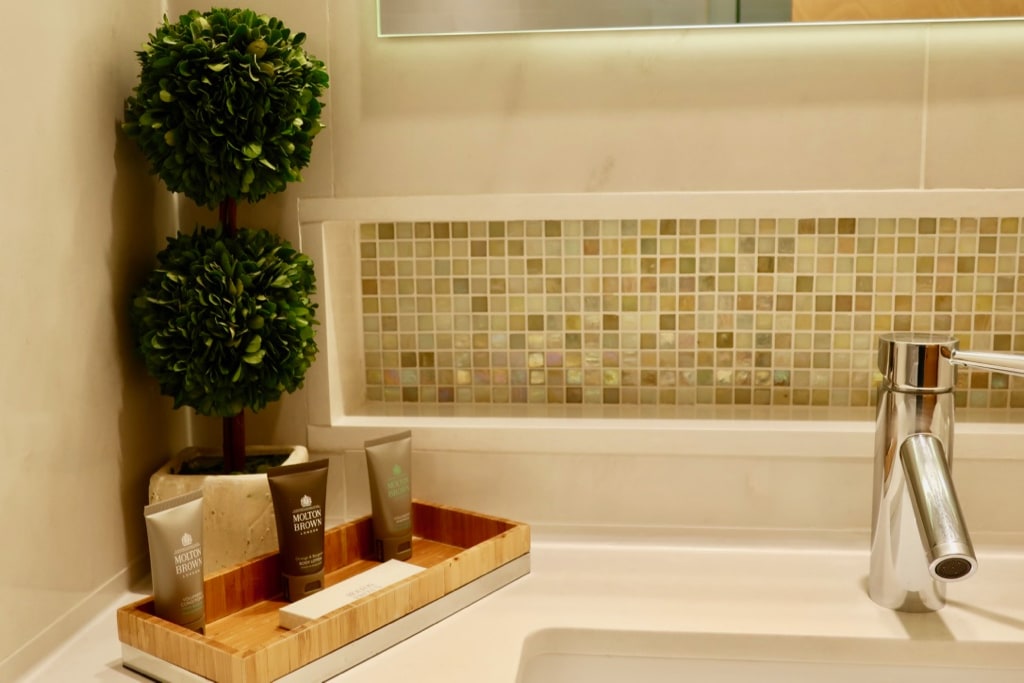 Bathrooms, with amenities by Molton Brown, are large, bright, and clearly decorated by someone who adheres to the less is more school of design.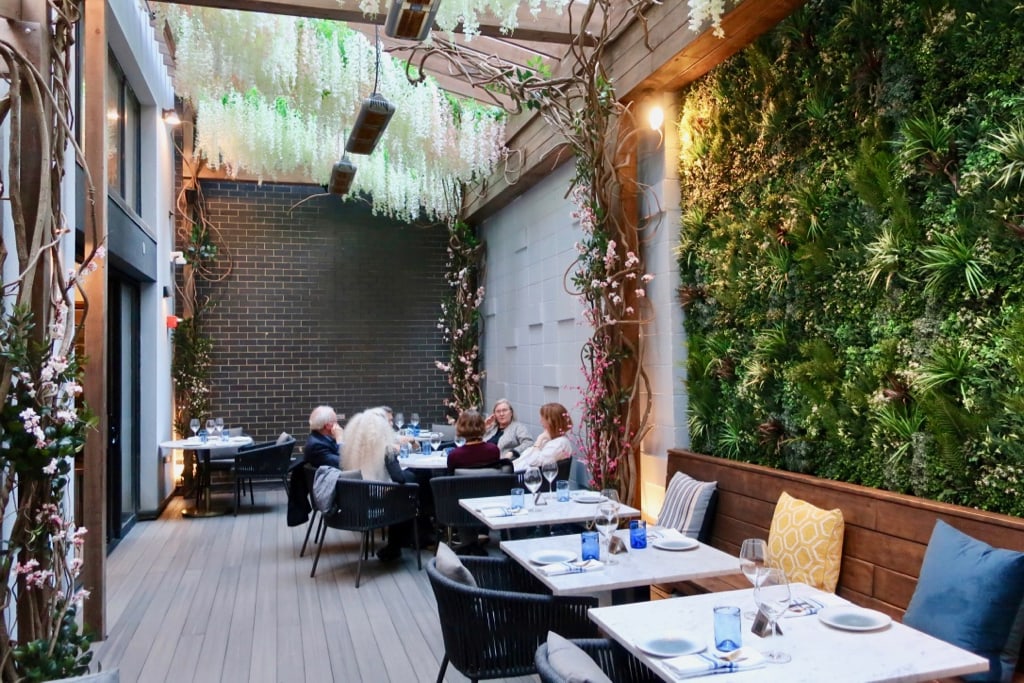 Dining at Bonsaii
Although not owned by the hotel, in-house Bonsaii, and its enclosed "backyard" garden room, is the icing on the cake of The Concorde Hotel.
An Upper West Side NY friend met me for drinks here, and was audibly amazed when she saw the space. Glass roof above, (faux) flowers garlands bedecking the walls, and tables simply set, the enclosed dining terrace is a beautiful surprise. She never knew this hotel existed, and was sure that once word got around, locals would flock here.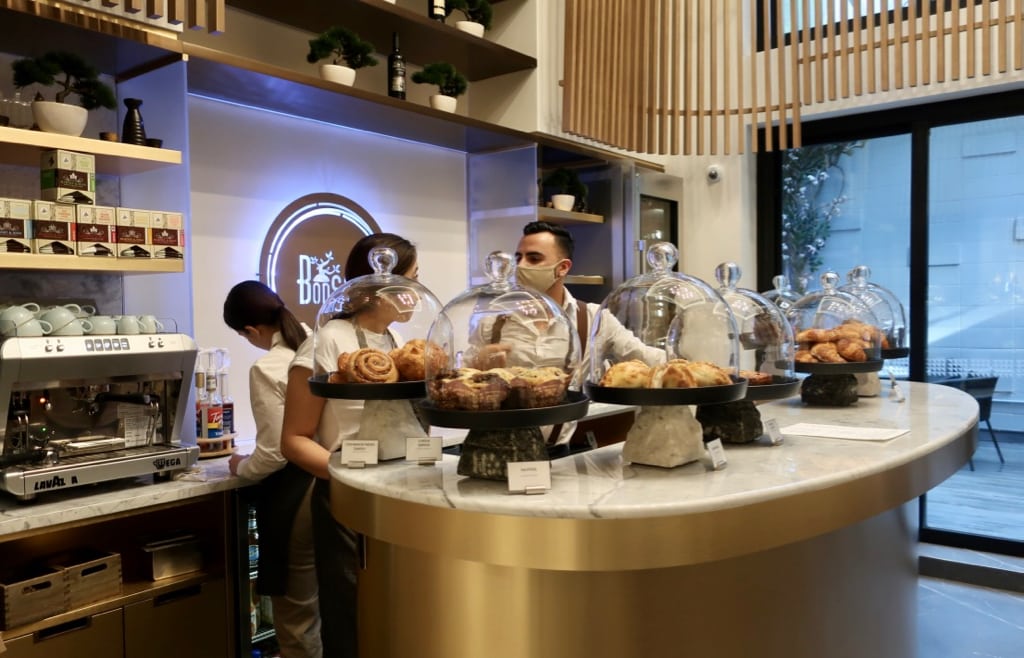 In the morning, Spanish music plays in the café as breakfast is served. You can point out the pastries under glass on the counter that you'd like. Or you can order omelets, Croissant sandwiches, and more from the menu. Java is brewed to order, and arrives to your table, European-classy, in a proper coffee cup. It's all so civilized.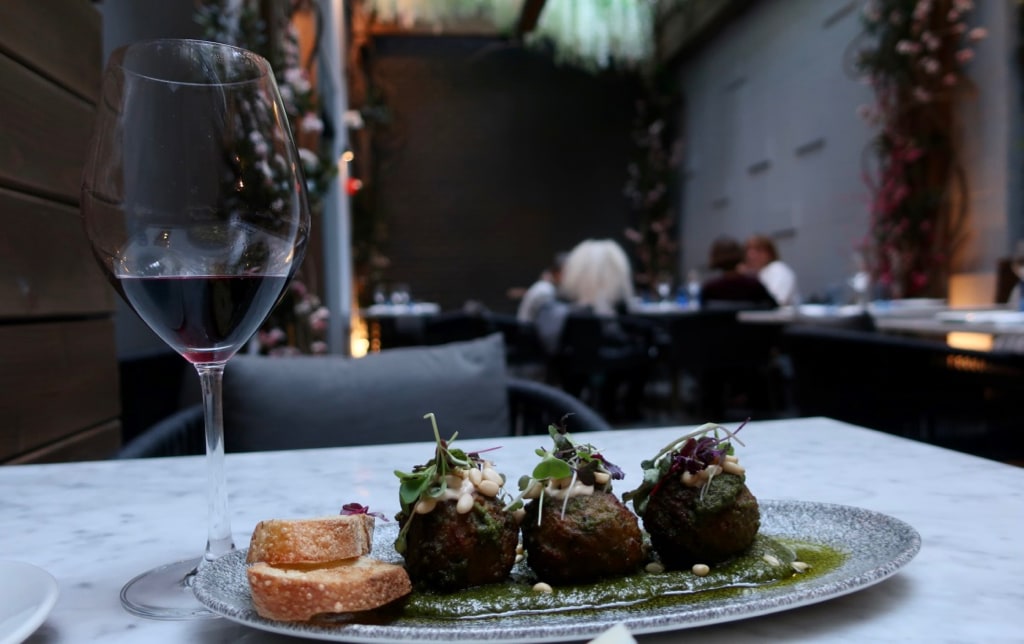 In the evening, Bonsaii turns into a drinks-and-small-plates restaurant. Wings, meatballs, salads, guacamole, and more are on the varied tapas menu. Most dishes are delectable, especially when accompanied by wine and good vibes, which were in abundance on a midweek May evening.
Just the Facts
Room rates start at $225 off-season per night. City View corner rooms start at $349 (does not include taxes). Honeymoon Penthouse Package includes suite with private terrace, breakfast in bed, Champagne, and late checkout, from $769 per night.
(The Concorde Hotel was included on Getaway Mavens Best Romantic Hotels in the Northeast US 2022 list.)