WHY GO: Hunt for fossilized shark teeth in Calvert County MD. Participate in an ongoing archeological dig, and watch watermen ply rivers, creeks, and the Chesapeake Bay for oysters and crabs.
Southern Maryland on the relatively unexplored "Western Shore" of the Chesapeake, is a wonderland of unique and budget-friendly experiences.


Locals are quick to let you know that their "first car was a boat." Tom Clancy lived here. And parts of In the Line of Fire (with Clint Eastwood) were filmed in Calvert County.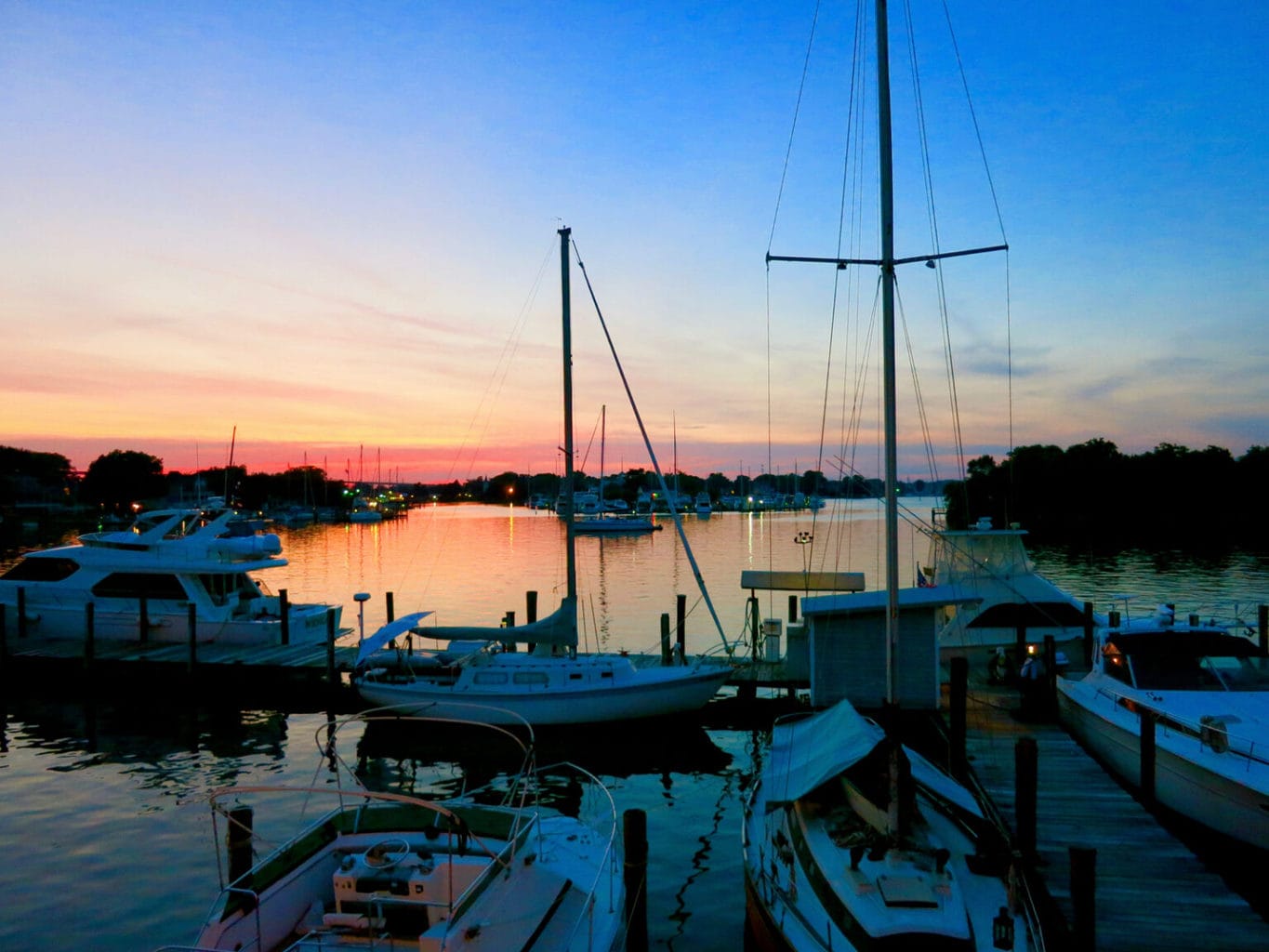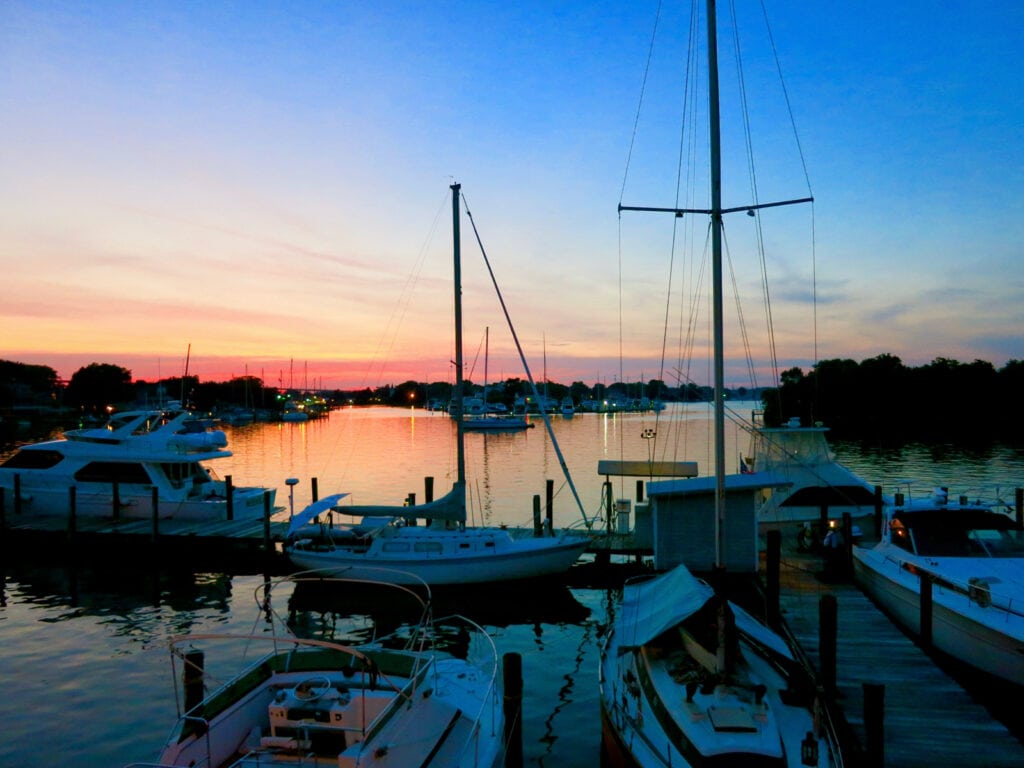 The following Getaway directs you to the best of Solomons and other small towns in this wonderful Maryland waterway county 35 miles long and 14 miles wide.
Calvert County is on our list of 17 Best Romantic Getaways in Maryland. Check it out for more adventures with your loved one.
Things to Do in Calvert County MD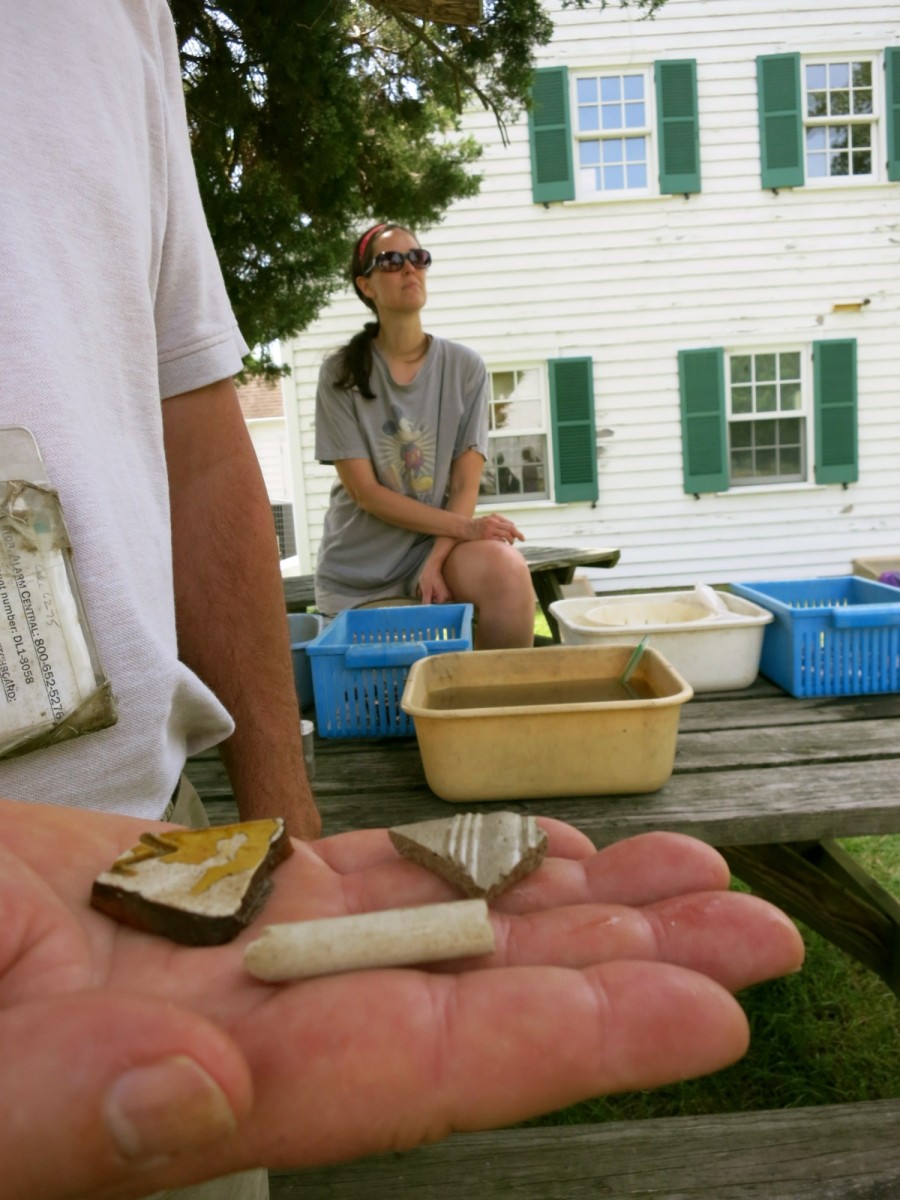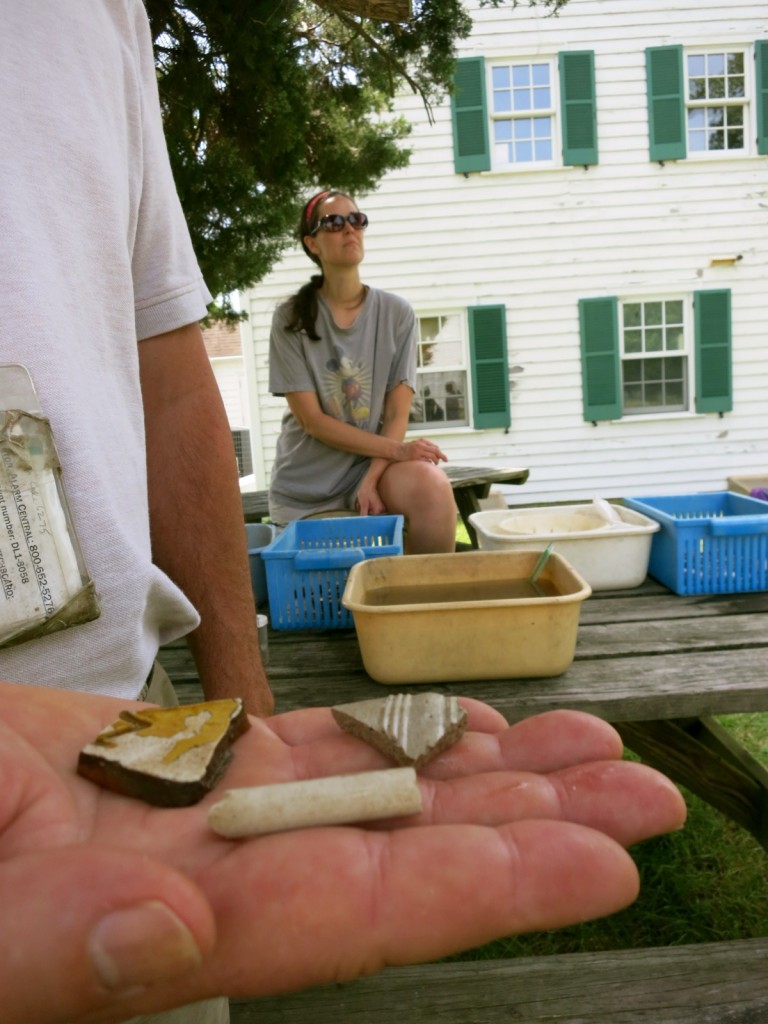 Though little known outside the field of Archeology this 560-acre park and museum in Southern Maryland encompasses one of the most important archeological digs in America. Here, artifacts from 12,000 years of human occupation have been unearthed.
Even better, anyone can participate, either by helping to dig or by cleaning and washing the finds. But I get ahead of myself.
Jefferson Patterson, Champion of Smart Women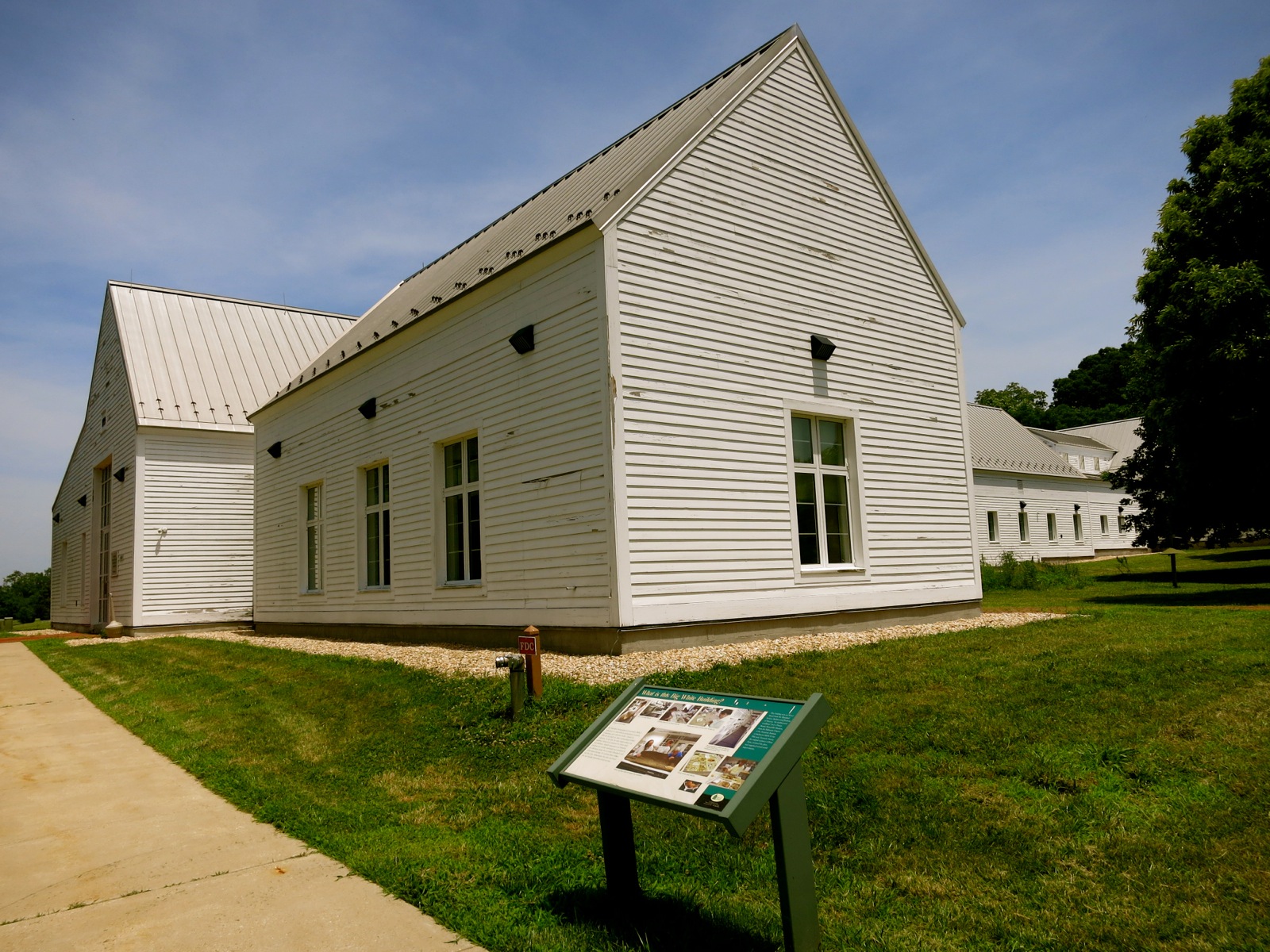 In the early 1930's, Jefferson Patterson, heir to the National Cash Register fortune, built a modest brick home on this hill overlooking the Patuxent River.
Proving to be a huge fan of smart and capable women, Patterson hired Gertrude Sawyer, one of the first female architects admitted into the American Institute of Architects, and Landscape Designer, Rose Greely, to create the perfect environment.
(Astoundingly, in 1991 at age 95, Sawyer looked over renderings and made suggestions for the new MAC Lab before her death in 1996).
Patterson married Goodrich heir, Mary Marvin Breckinridge, a photojournalist who became the only woman welcomed as one of the "Ed Murrow's boys."
After her husband's death, Mary encouraged the State of Maryland to take over her property as an Archeological Site and Center. It had been a Native American hunting ground and then a Colonial farm in the 1700's, with lots of secrets to tell.
The MAC Lab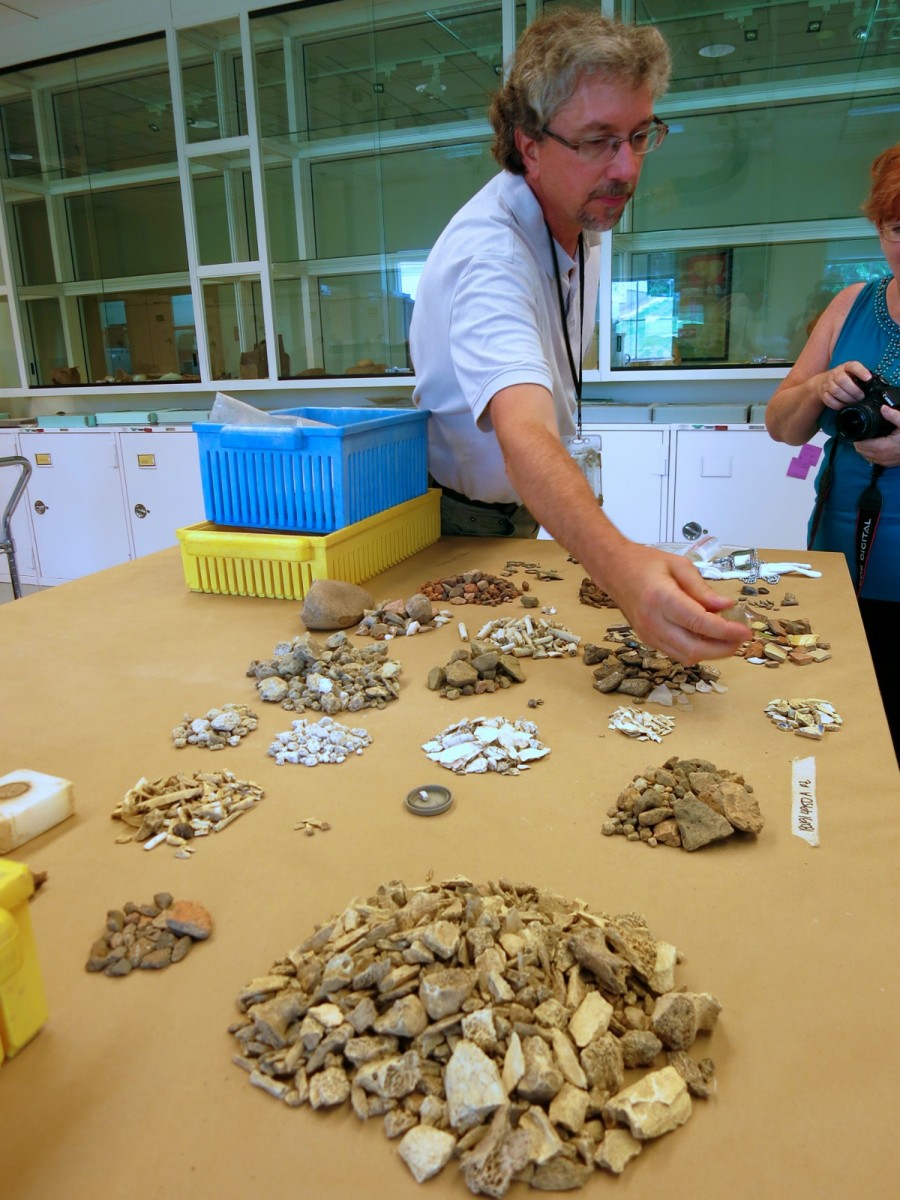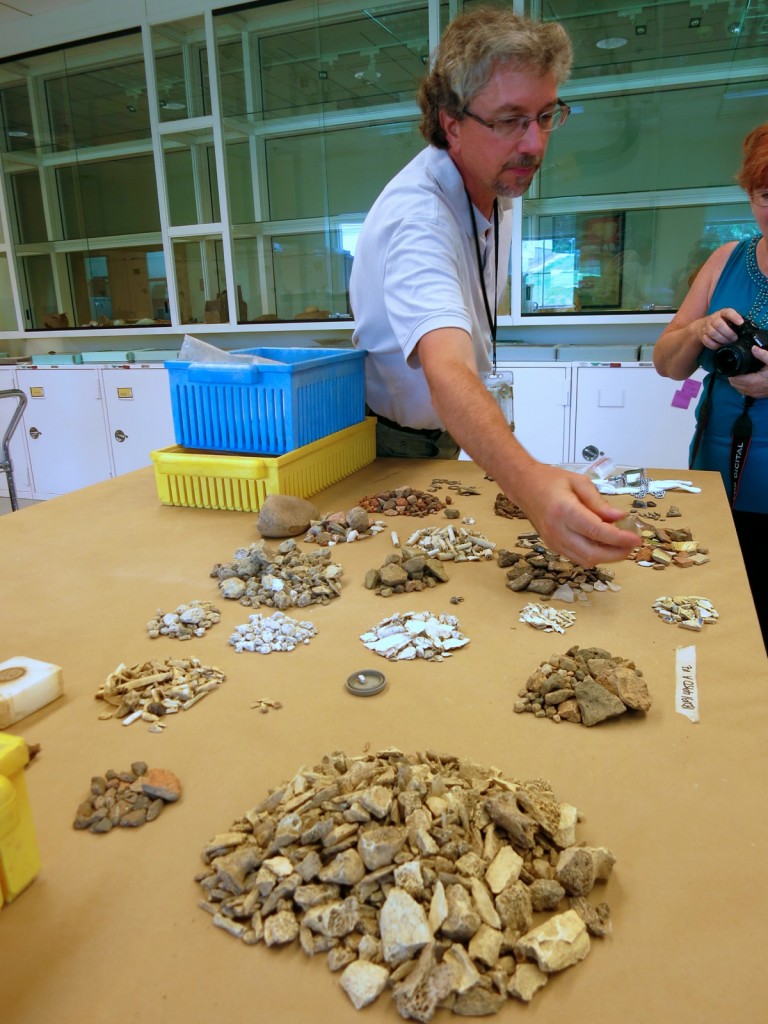 The large and well-equipped Maryland Archeological Conservation Lab (MAC) sits within the park. It serves to identify, stabilize, and categorize archeological finds not only from Maryland, but from other parts of the country as well.
For example, when old wooden boards were discovered in the muck beneath the World Trade Center site in NYC, they were first sent to MAC.
There are several ways to access the treasures at Jefferson Patterson Park. Please allow at least a half a day to do so: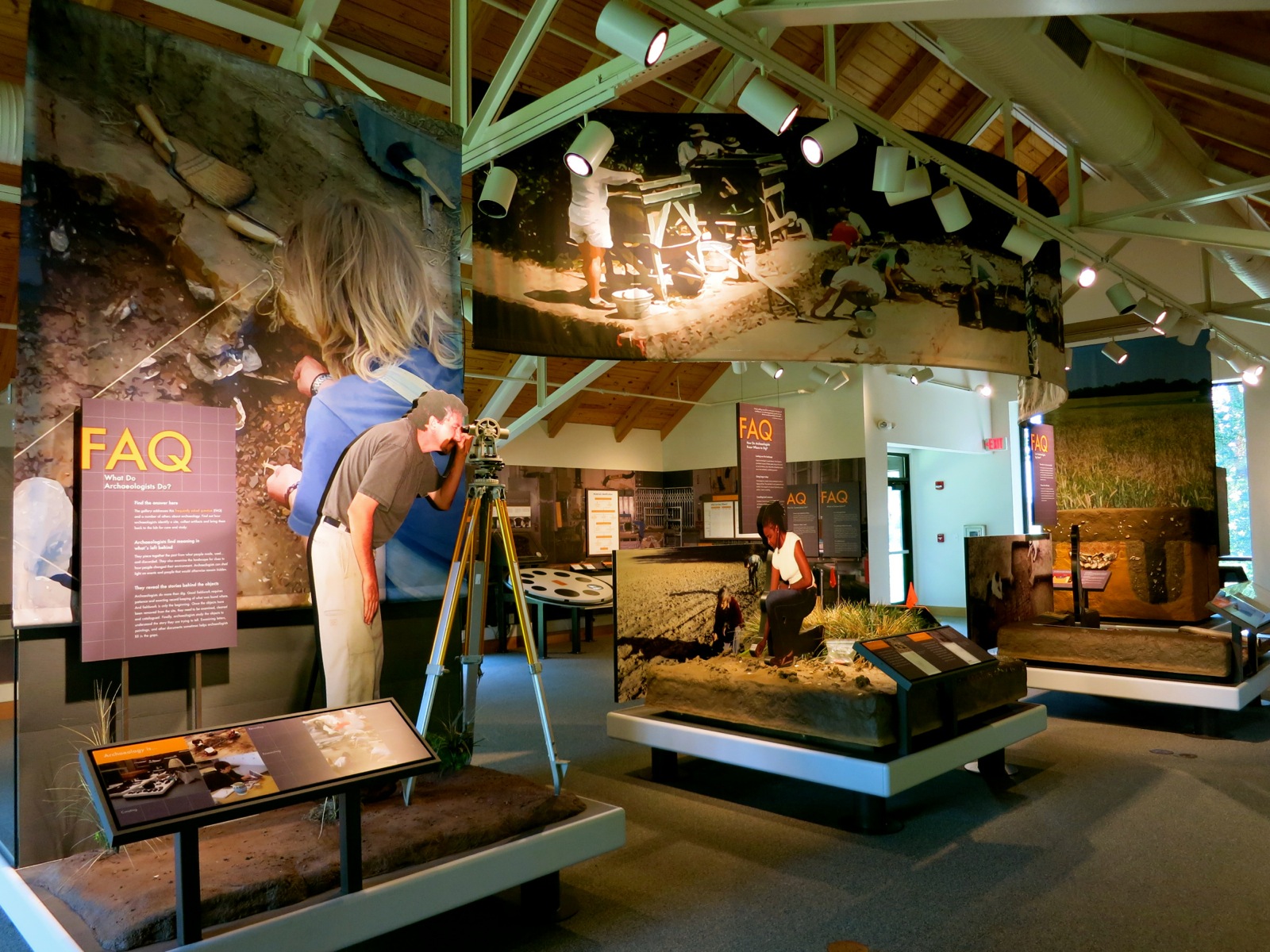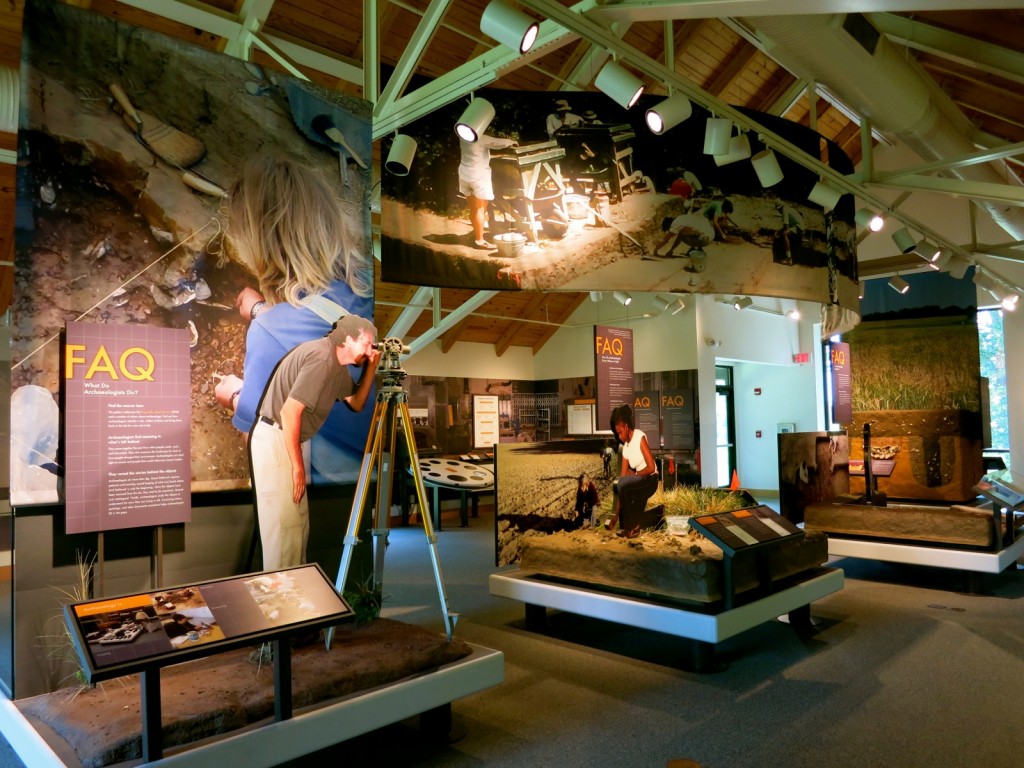 Start at the Visitor's Center
Watch a 10-minute film orientation and peruse interactive exhibits about archeology.
Also, for some odd reason, the complete office of beloved Maryland Comptroller, Louis L. Goldstein, is ensconced in this Visitor's Center museum. Goldstein served as the state's Chief Financial Officer from the 50's till the 90's with his trademark sendoff, "God bless y'all real good."
Register for a Public Archeological Dig
From early May thru June, you can drop in on Wed, Fri. and Sat. 10-4, or participate in "Lab Days" on Tues, Thurs. Amazingly, this experience is FREE.
Take a "Behind The Scenes Tour" of the MAC Lab
The MAC Lab has preserved and sorted out over 8 million artifacts from all over Maryland. The richest source is from this very placee on former Smith Family Homestead (1660-early 1800's).
Built in 1998, the contemporary 39,000 sq. ft Lab houses an industrial strength x-ray and other equipment to conduct archeological conservation on a large scale. Those "in process" include US Navy contracted pieces – like the landing gear from a 40's naval jet.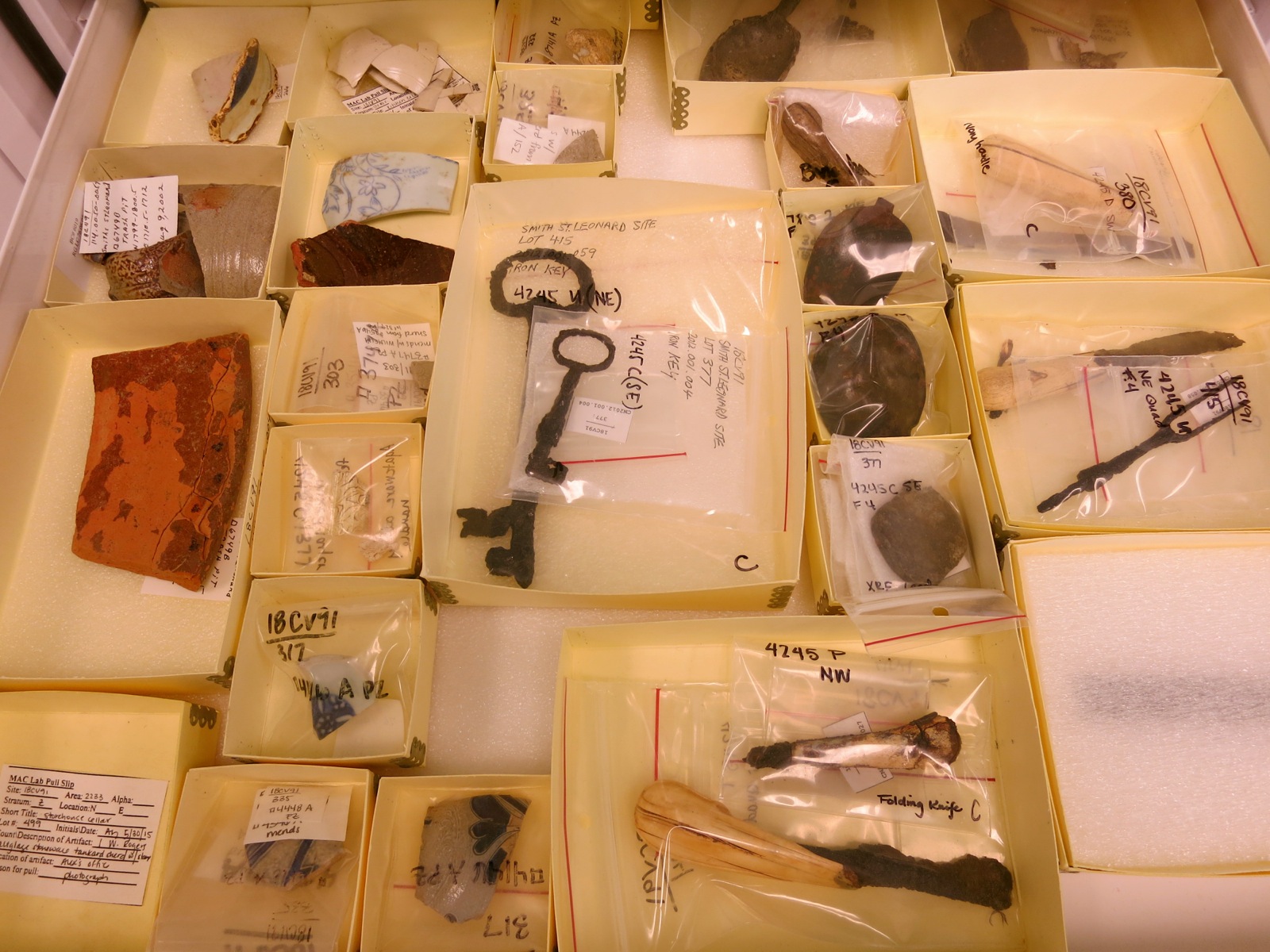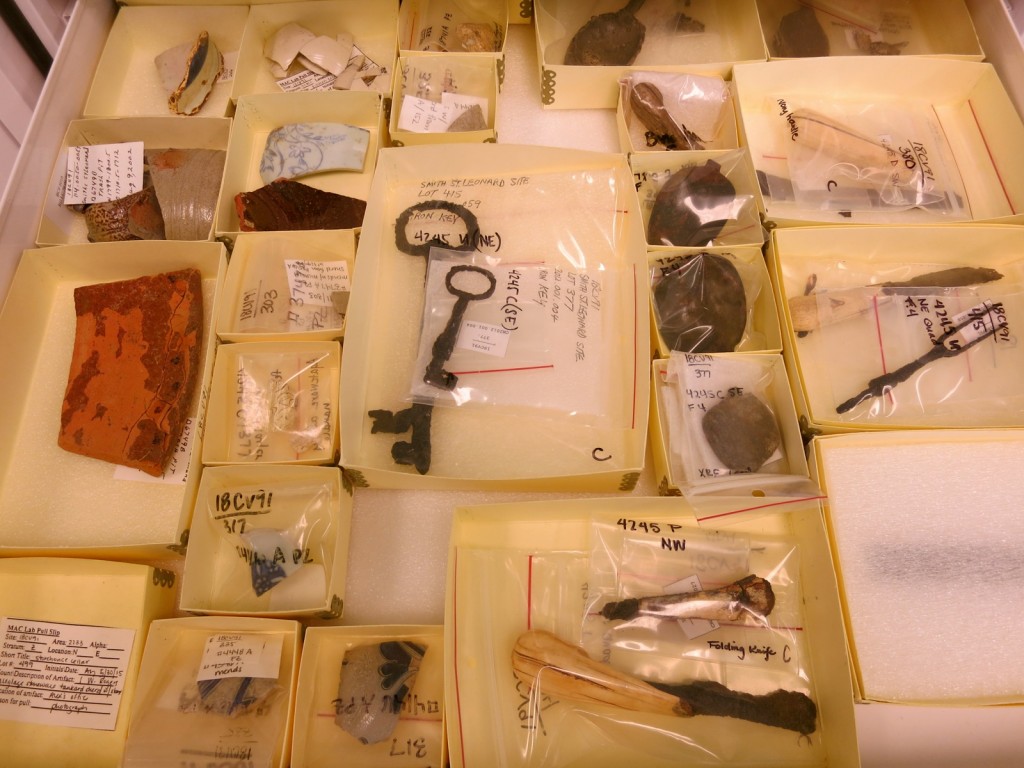 Most intriguing are items found on site, painting a vivid picture of Colonial life.
There are nails, iron keys, belt-buckles etched with the maker's initials, a silver thimble, ivory fans, and Indian and Dutch pipes.
Also found were enough amulets – pierced silver coins and horse scapulas – to ward off a horde of witches, a  common practice during those times.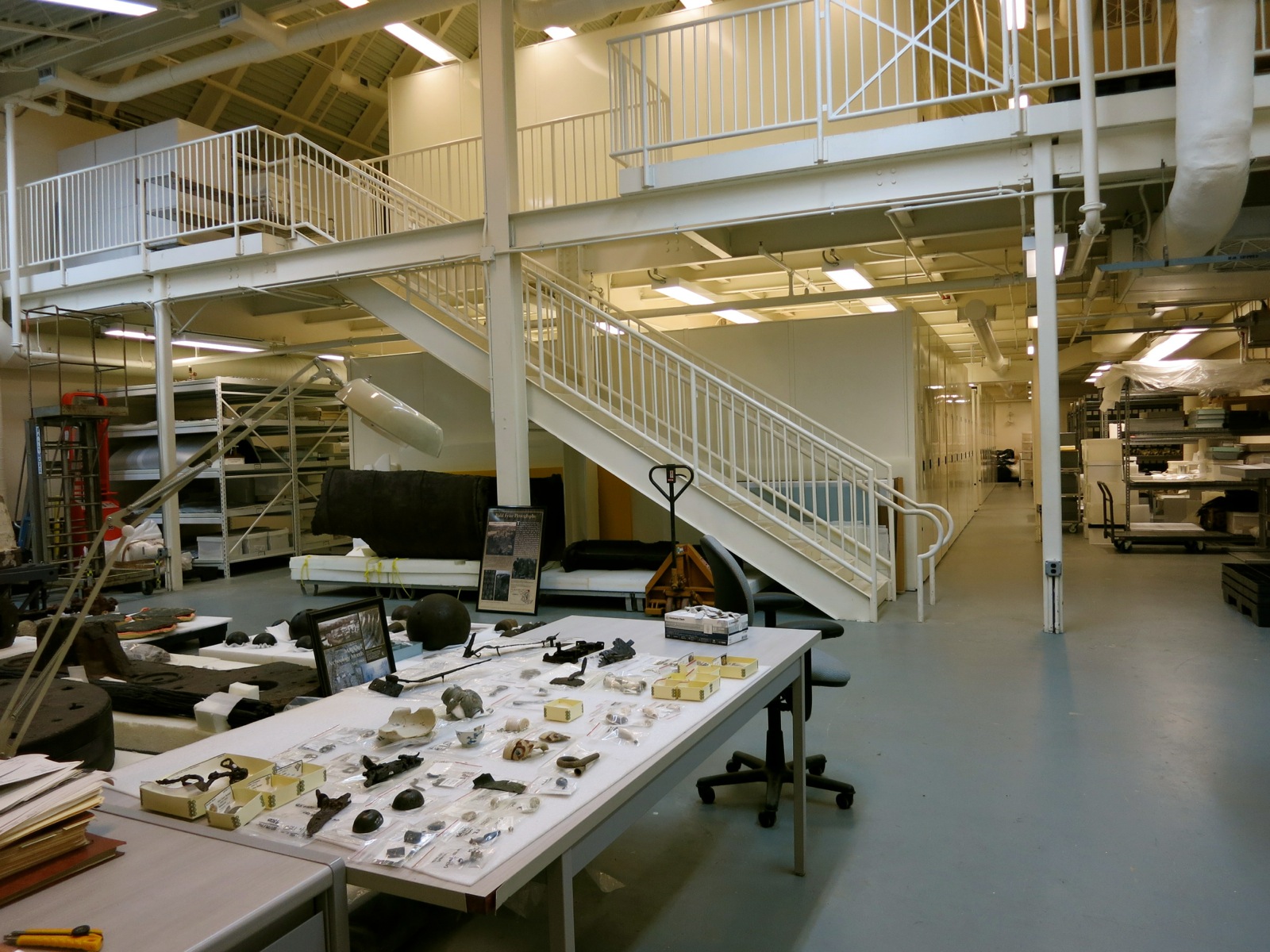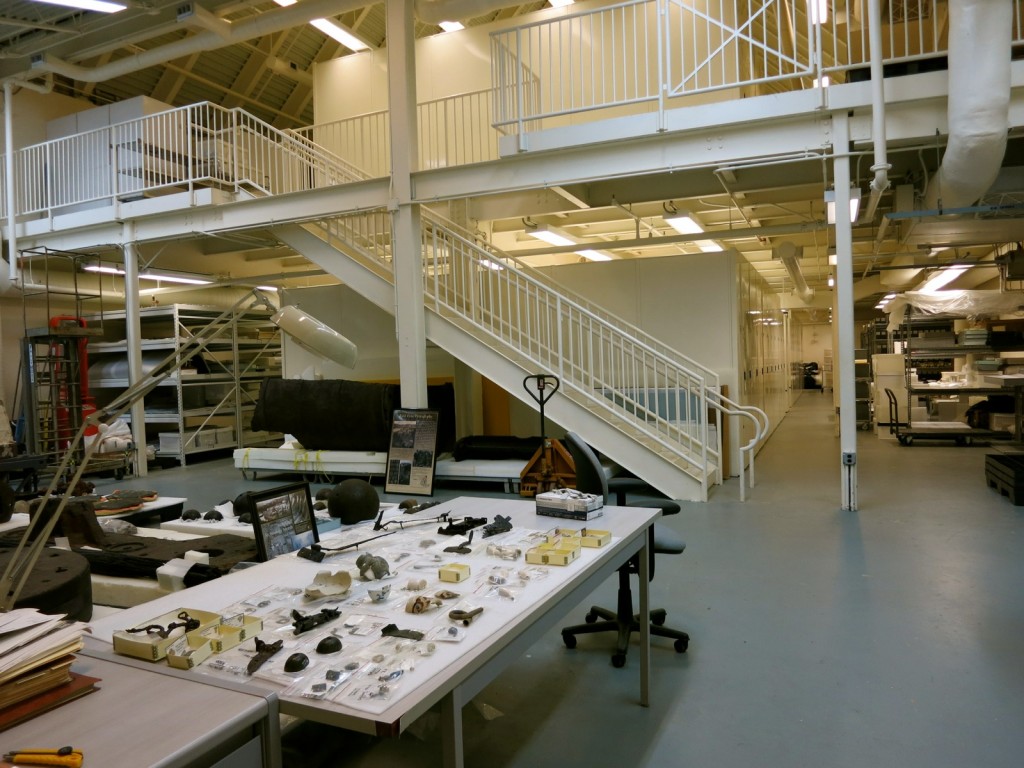 Though all this is spine-tingling – wait till you get to the two-story Collection Room. It houses, among hundreds of thousands of items large and small, the original top of the Maryland State Capitol Building and cannon shot found around Fort McHenry.
Just imagine. You could be looking at the original "Bombs Bursting In Air" right here. Behind the scenes tours offered Thursdays at 11am and 1pm and the first Friday of each month at 1pm.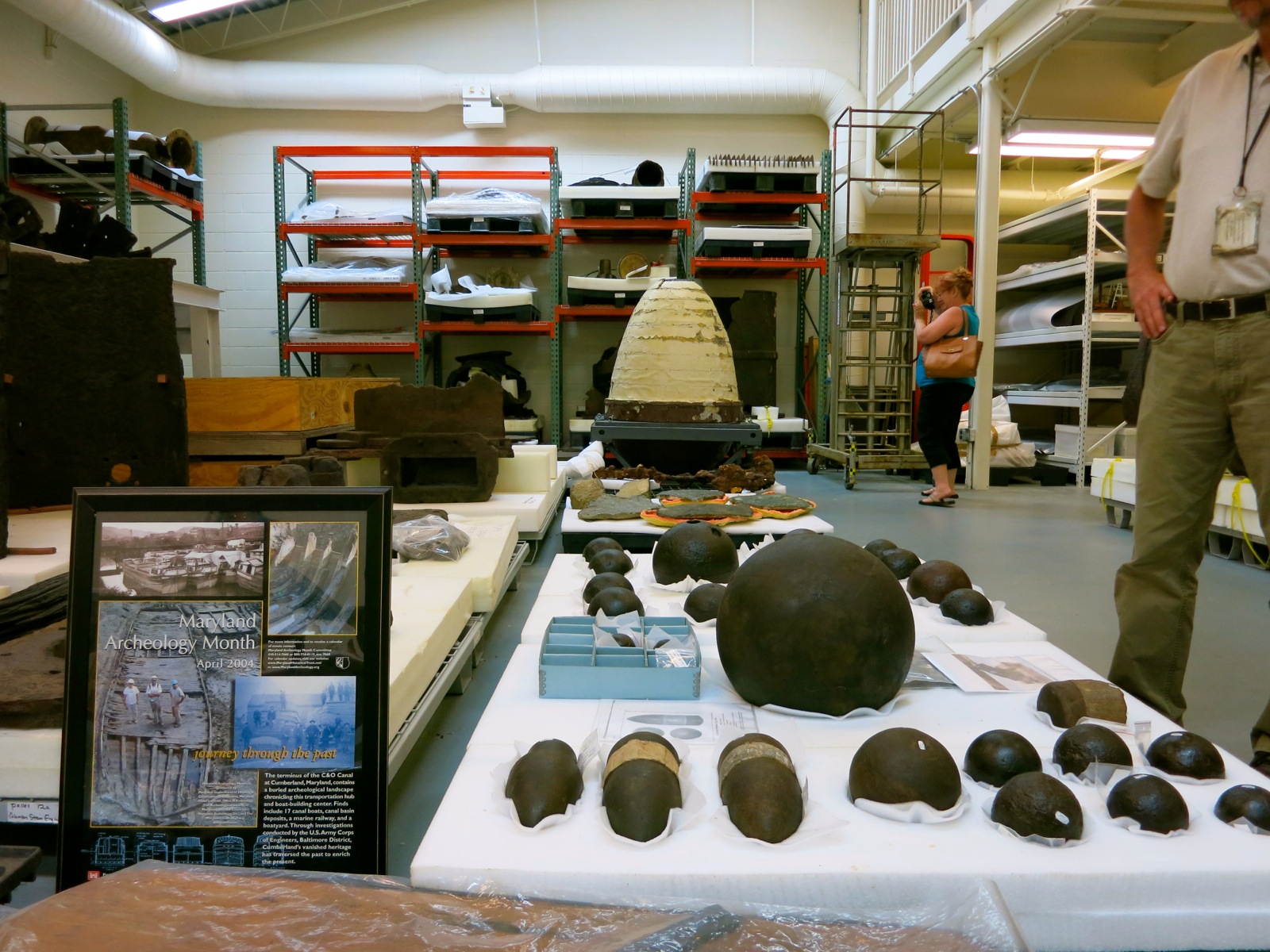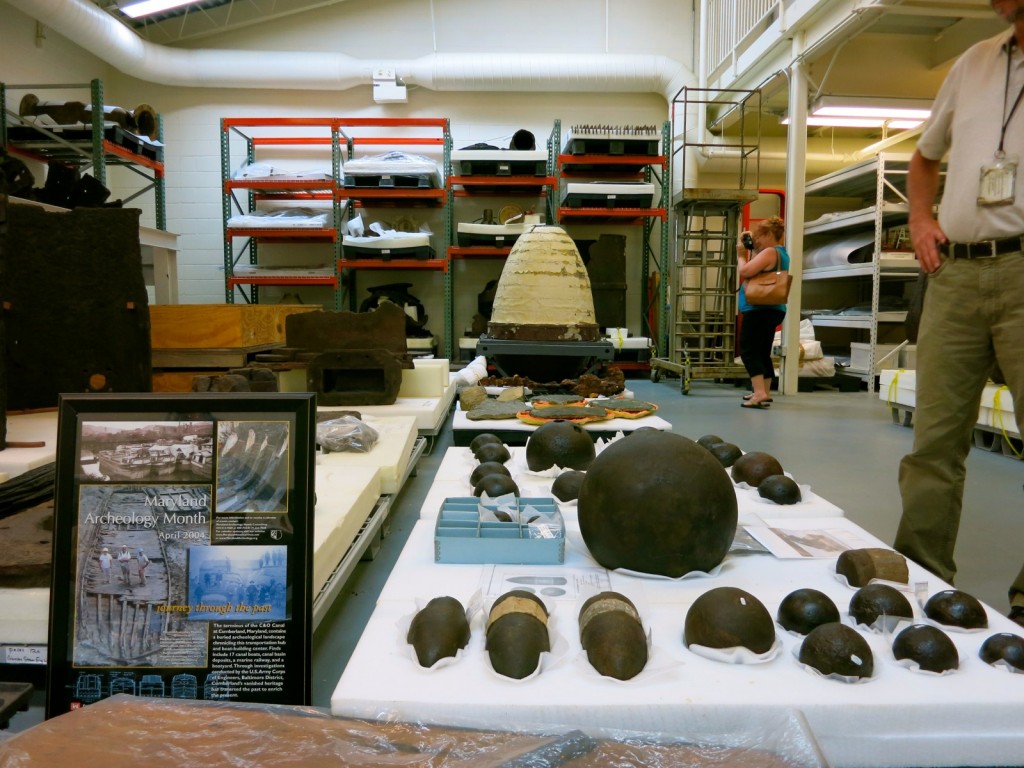 Check out the recreated Indian Village
The Piscataway Indian Experience is held on Saturdays from May-Nov, 10-3. You'll find demonstrations and interactive programs.
Tour Jefferson and Mary Patterson's home
Tours of their home are held at 10 and 1 on Mondays.
Take a Cell Phone Tour of the park
Information and oral histories are woven together for an illuminating look at this surprisingly fun place.
Bring your kayak and launch into the Patuxent River
There's a ramp right on Jefferson Patterson Park ground.
Bernie Fowler Sneaker Index
A discussion about the water quality of the Patuxent River would not be complete without bringing up the "Bernie Fowler Sneaker Index." At 96 years old, Fowler still conducts his annual "Wade-In" at Jefferson Patterson Park the second Sunday of each June.
Every year since 1988 Fowler wades into the River to the point when he can no longer see his white running shoes. As a boy, the river was so clean, he could see clear to the bottom from any depth. But by 1988, Flowler could only see his sneakers in up to 8 inches of water.
Last year (2019), the Sneaker Index was 47″ – a bit closer to the 60's era benchmark 57″ for a restored Patuxent. This event draws thousands of people a year. Trails and grounds open year round 9-5, Visitors Center Open March – Nov. daily 10-5, FREE ADMISSION.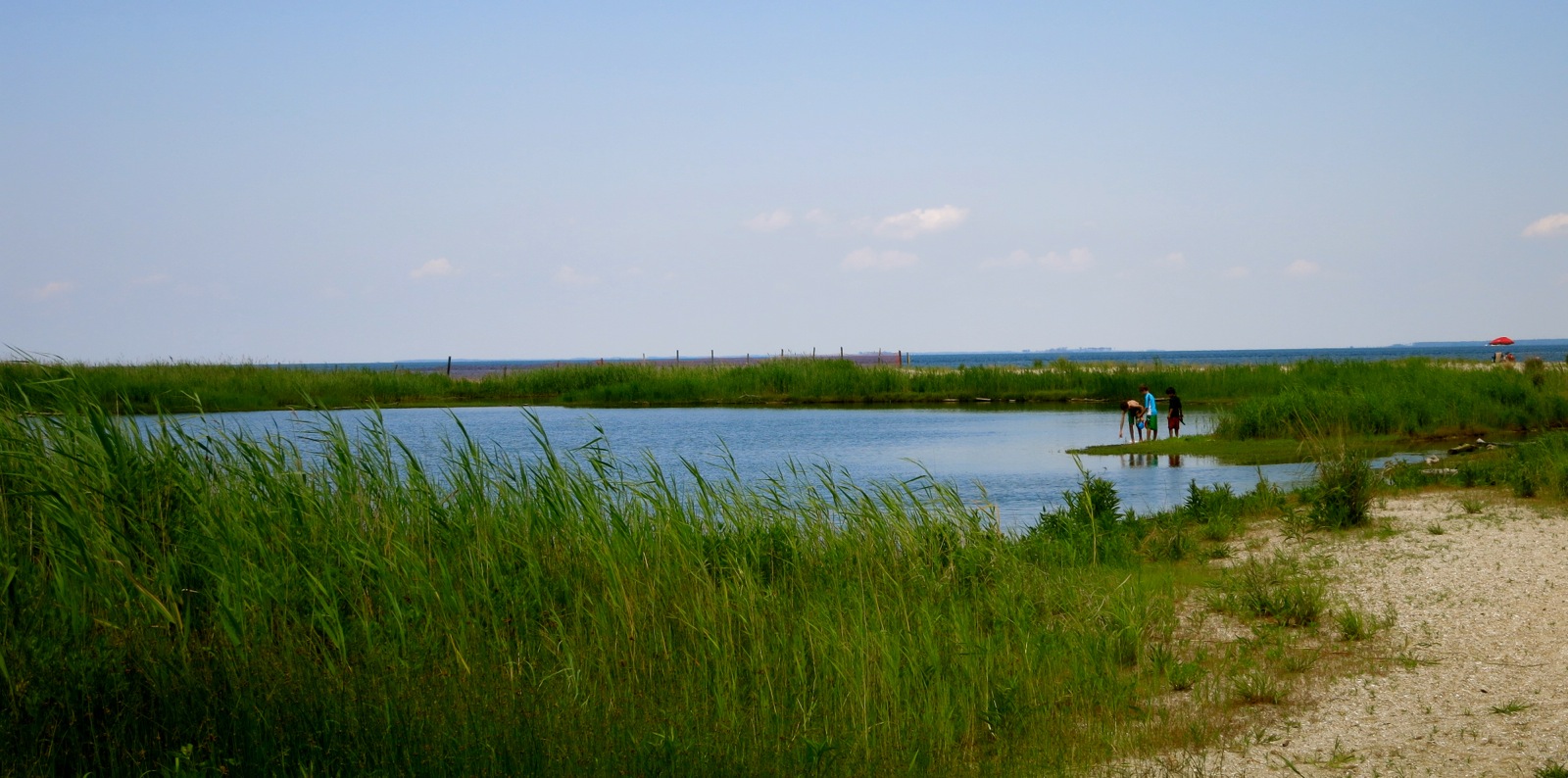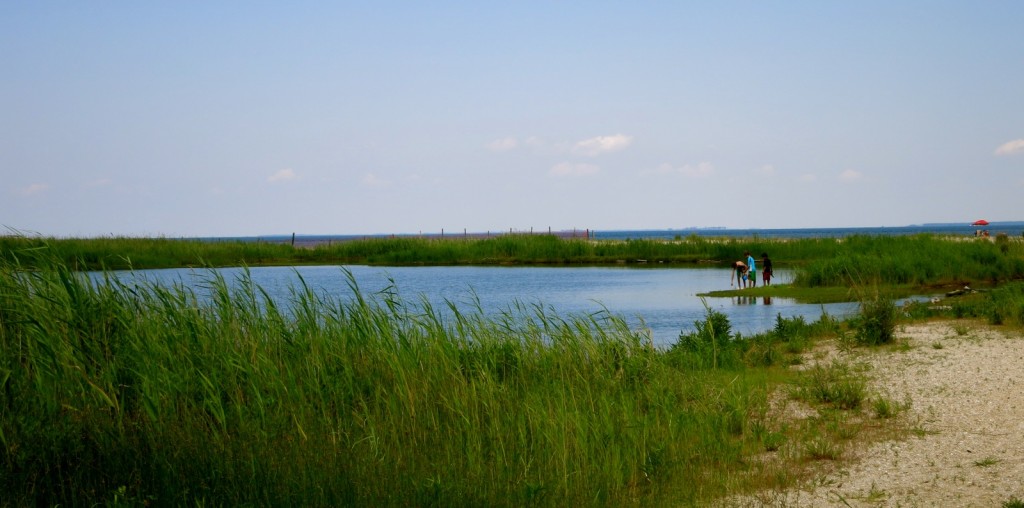 During the Miocene Era, this area of the world was covered by a shallow sea that pulsed with a variety of sea life, including sharks. Sharks loose ten to twenty thousand teeth in a lifetime. So, millions fell to the sediment at the bottom of the ocean.
The water receded, leaving the bays and rivers we know today. Thus, here at least, you'll find one very unique feature. Fossilized shark teeth are trapped in these sandy cliffs until the effects of wind and water release them.
That's what makes hunting for these fossils here so fun and compelling. "Just think – you're the first human to touch each one you find," says a park ranger.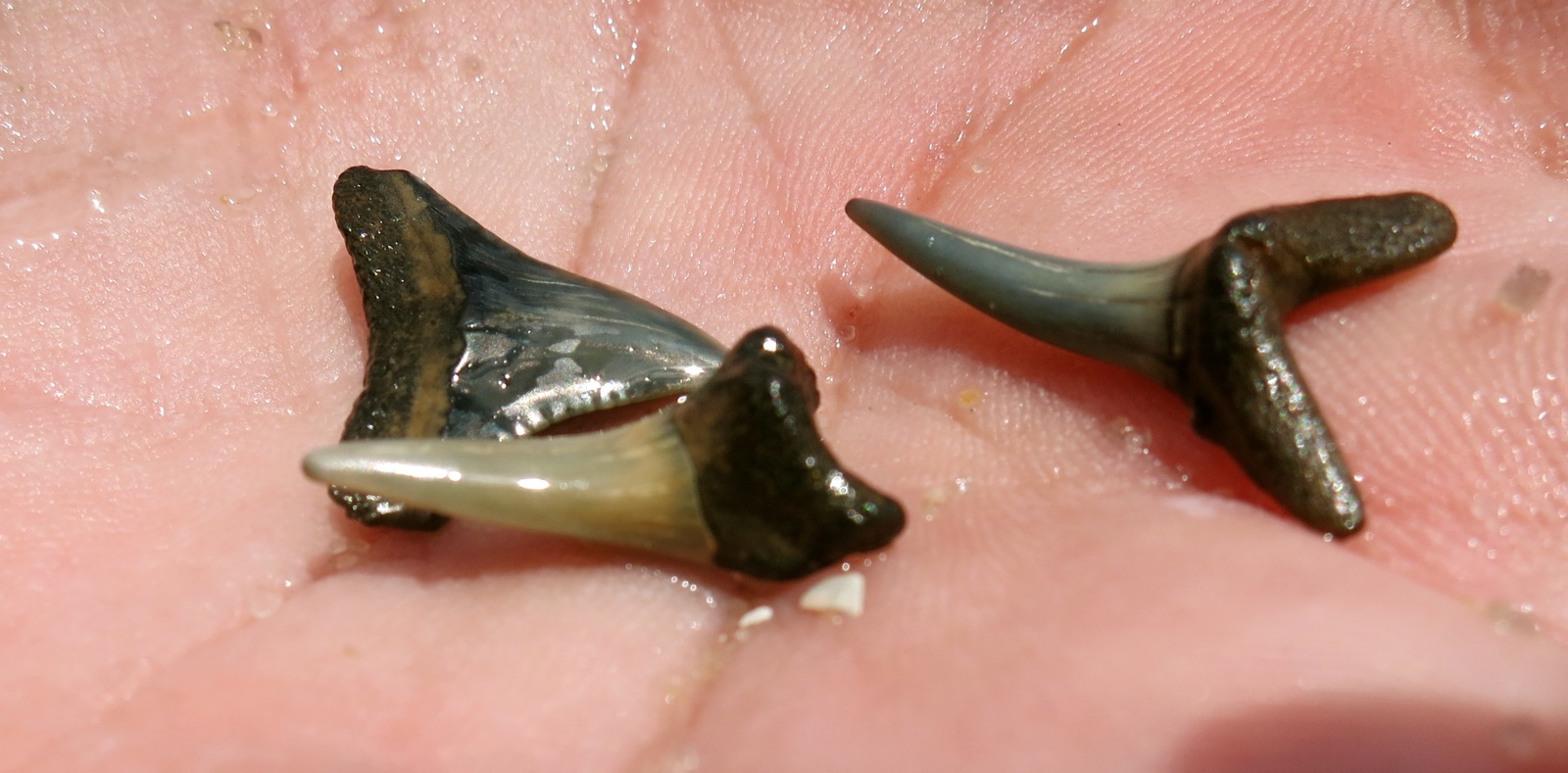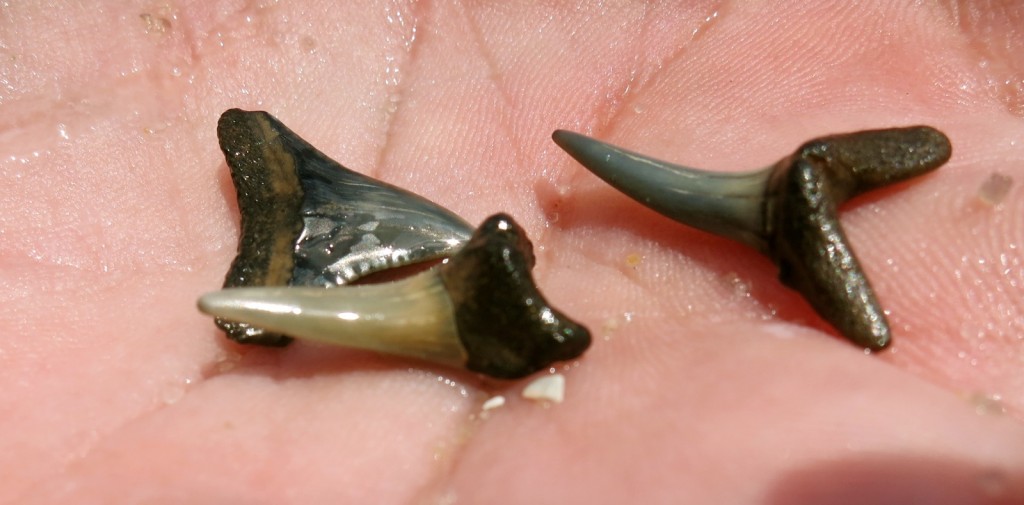 Here's what you do: Bring a sand sifter and bucket. Park in the parking lot at the top of the hill, and walk about half a mile down to the beach.
Sit at the edge of the water, and scoop up the sand. Finding these small teeth is like panning for gold.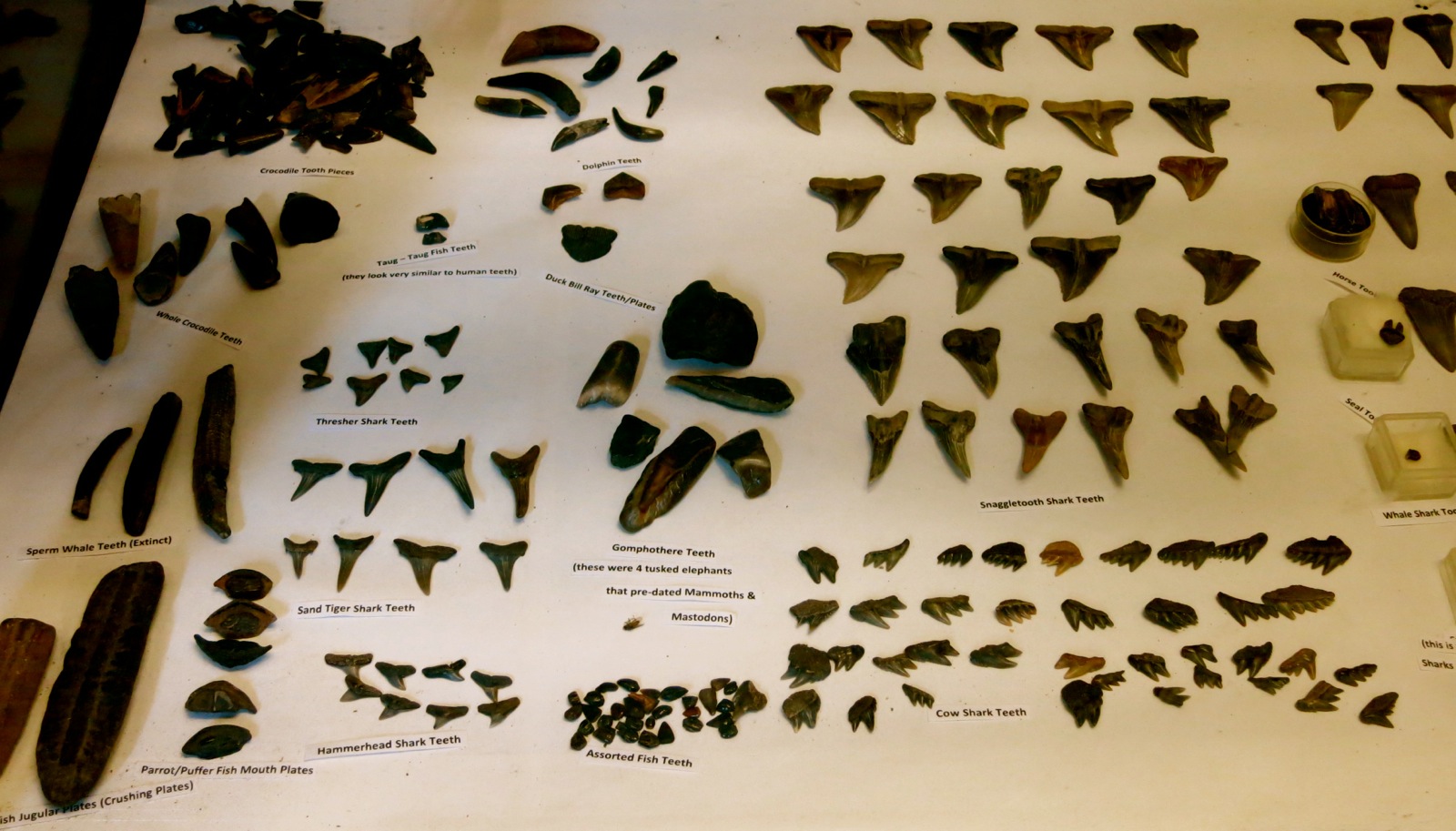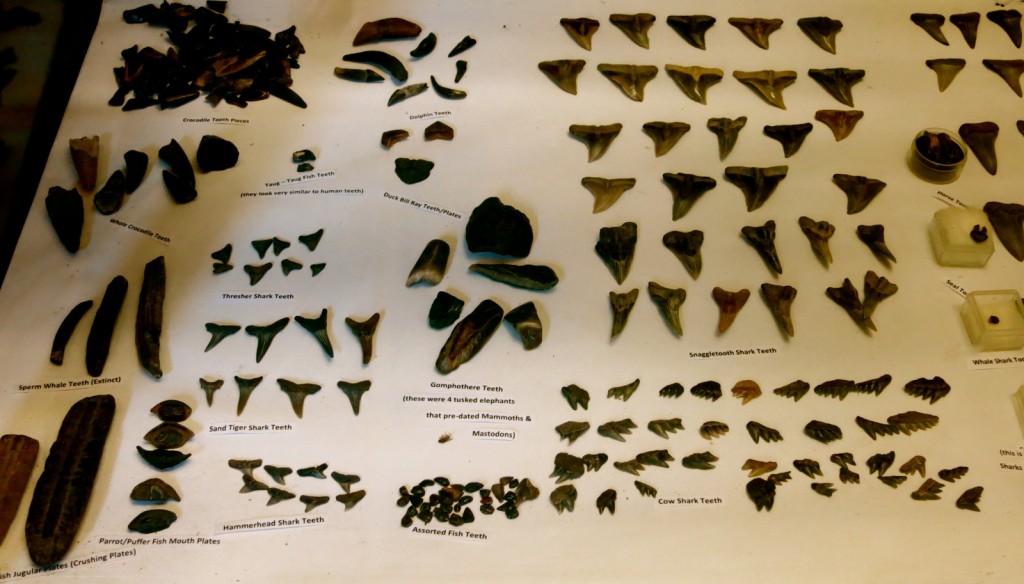 After you're done, take your finds to the Visitor's Center where staff can identify them. The best thing – you can bring as many as you find home with you.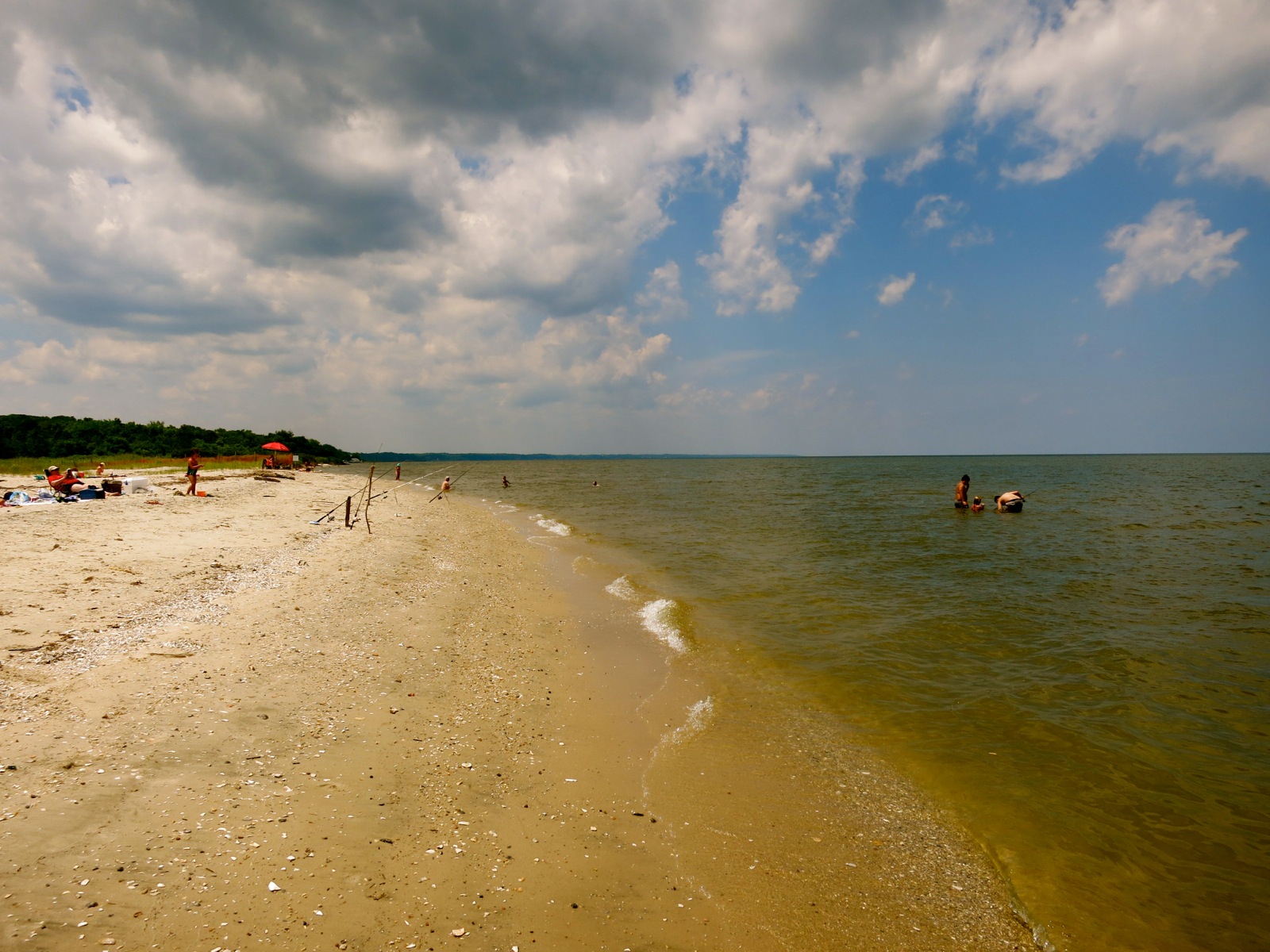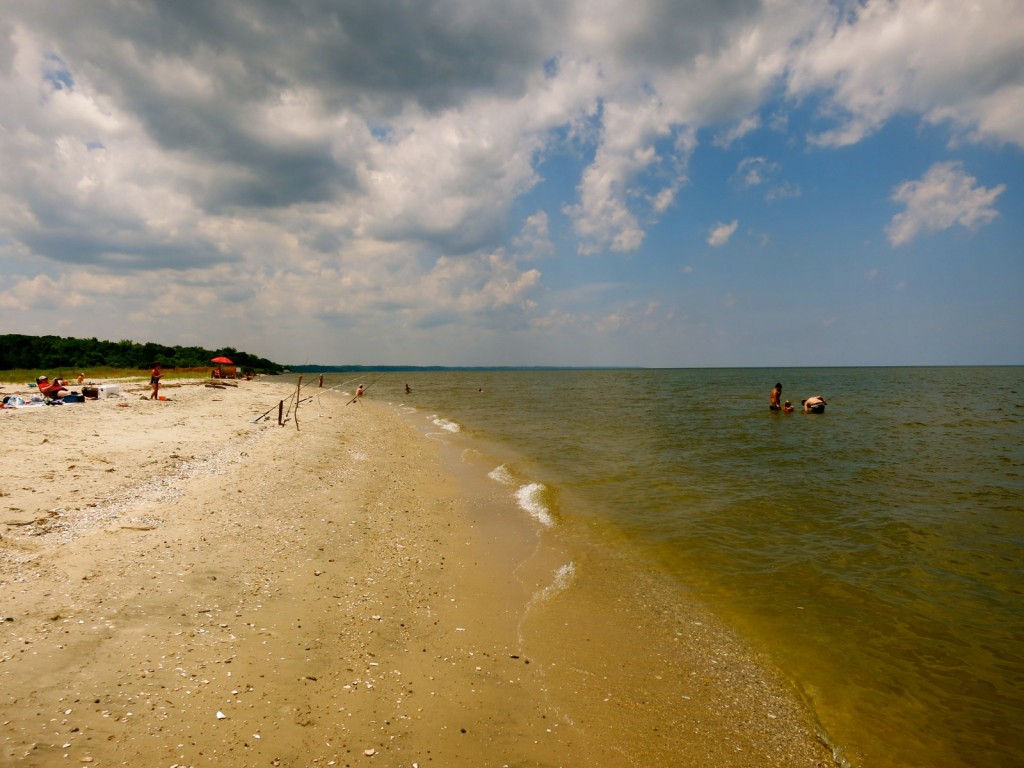 The park is dog friendly with a habitat that includes a sandy beach, freshwater ponds and forested heights – and few people. It's a true oasis. $6 per vehicle. Mem Day to Labor Day, Weekdays 9-6, Weekends 9-8, Labor Day to Memorial Day, Weekends 9-5, Friday and Mon 9-4.
This was chosen as one of the Best Places in Maryland to Pop the Question.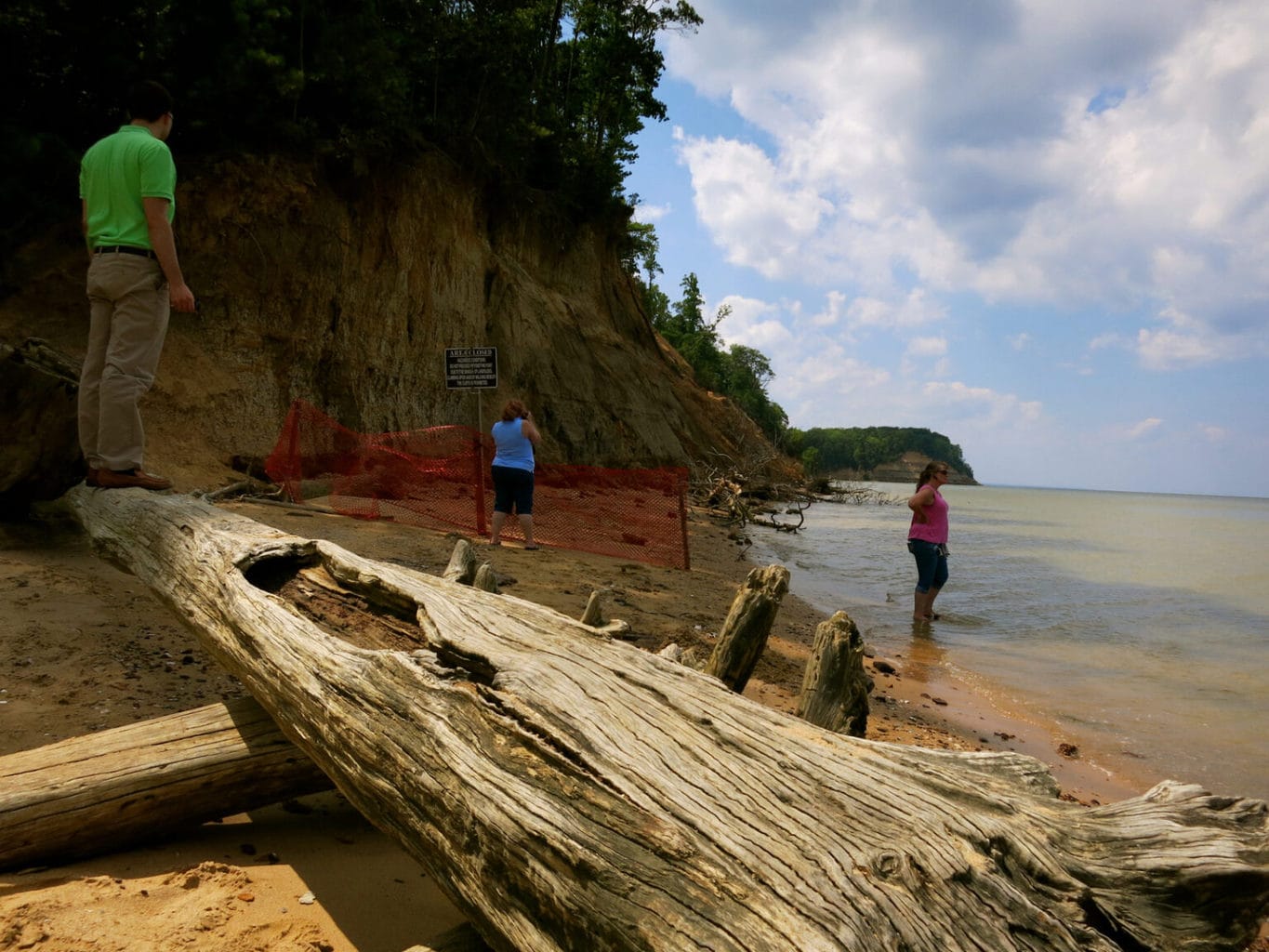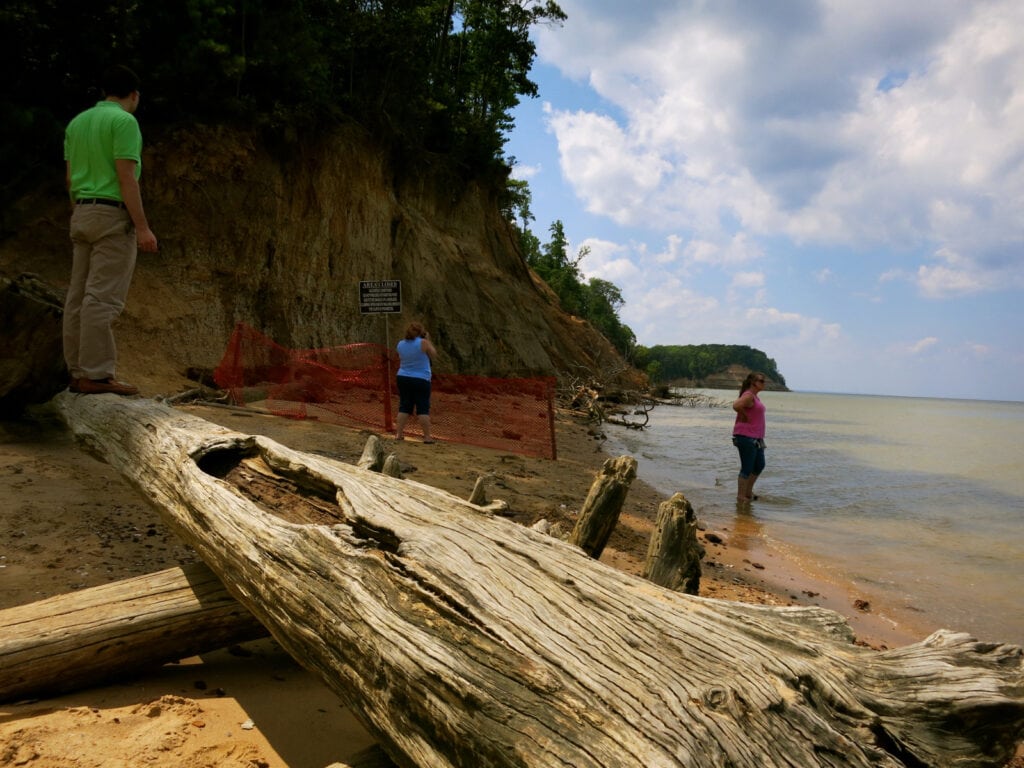 You can also find shark teeth in this State Park about a mile from Flag Ponds, and get a better idea of the height (100 ft) and size of the cliffs as well.
Noting that this area of the Chesapeake resembled the beaches of Normandy, the military ran Amphibious Landing practice maneuvers here before shipping soldiers overseas during WWII.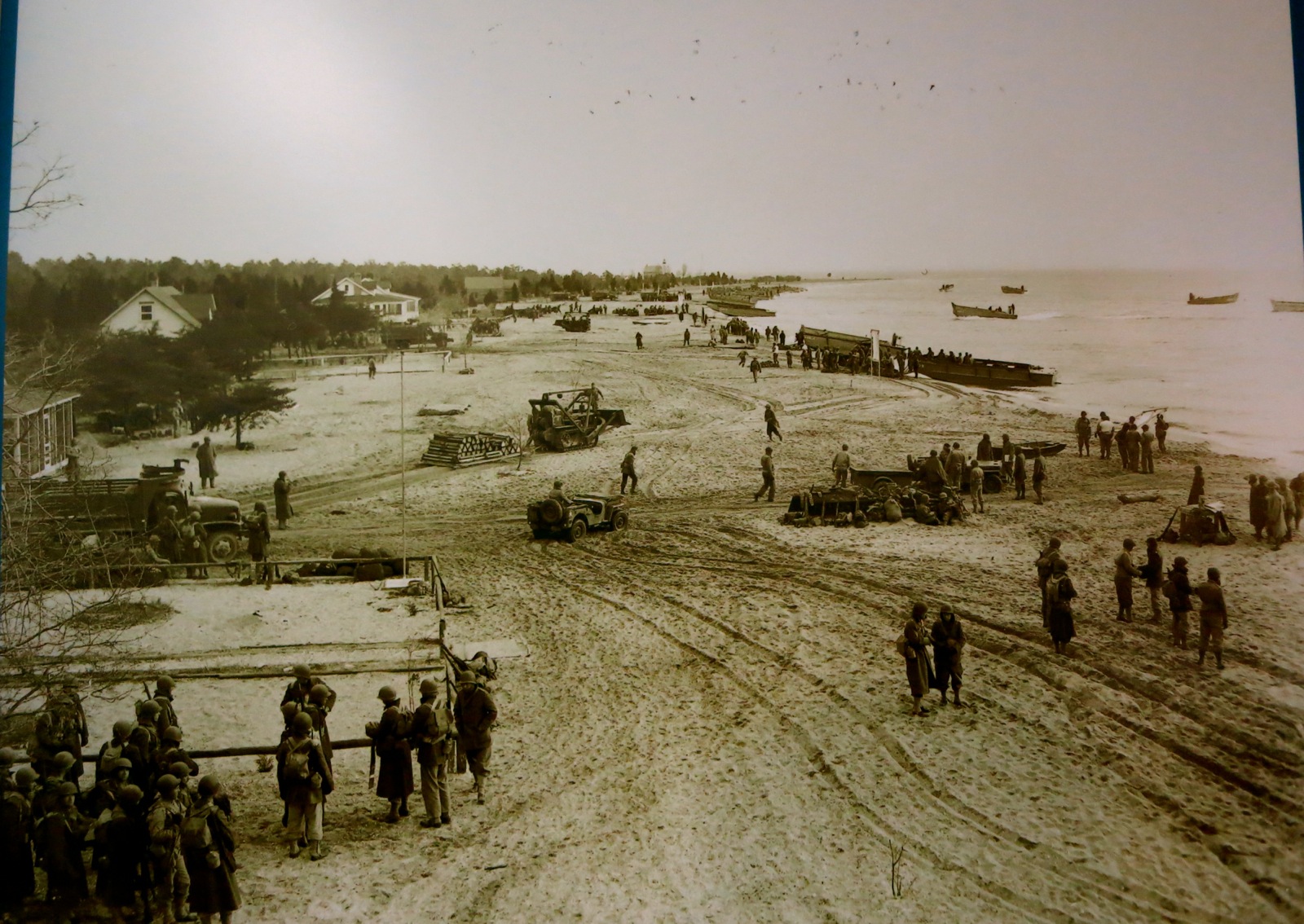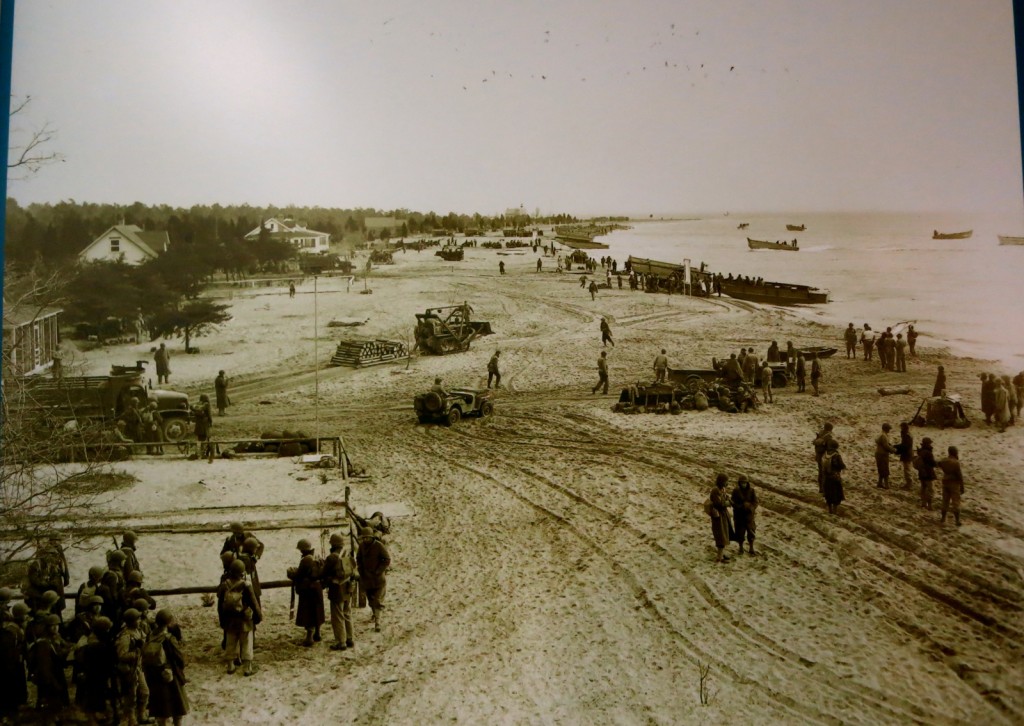 It's a 1.8-mile hike (each way) to the beach on a beautiful woodland trail. In fact, part of the appeal of this 1,400 acre park is that it's laced with hiking trails.
From here, you'll get a good view of the Liquefied Nature Gas (LNG) platform that sits just offshore.
You might be surprised to hear that an underground tunnel, through which just one bicycle at a time can pass, connects the platform to land. Park open daily year round sunrise to sunset; beach area closes at 5:30pm, $5 entrance fee per vehicle.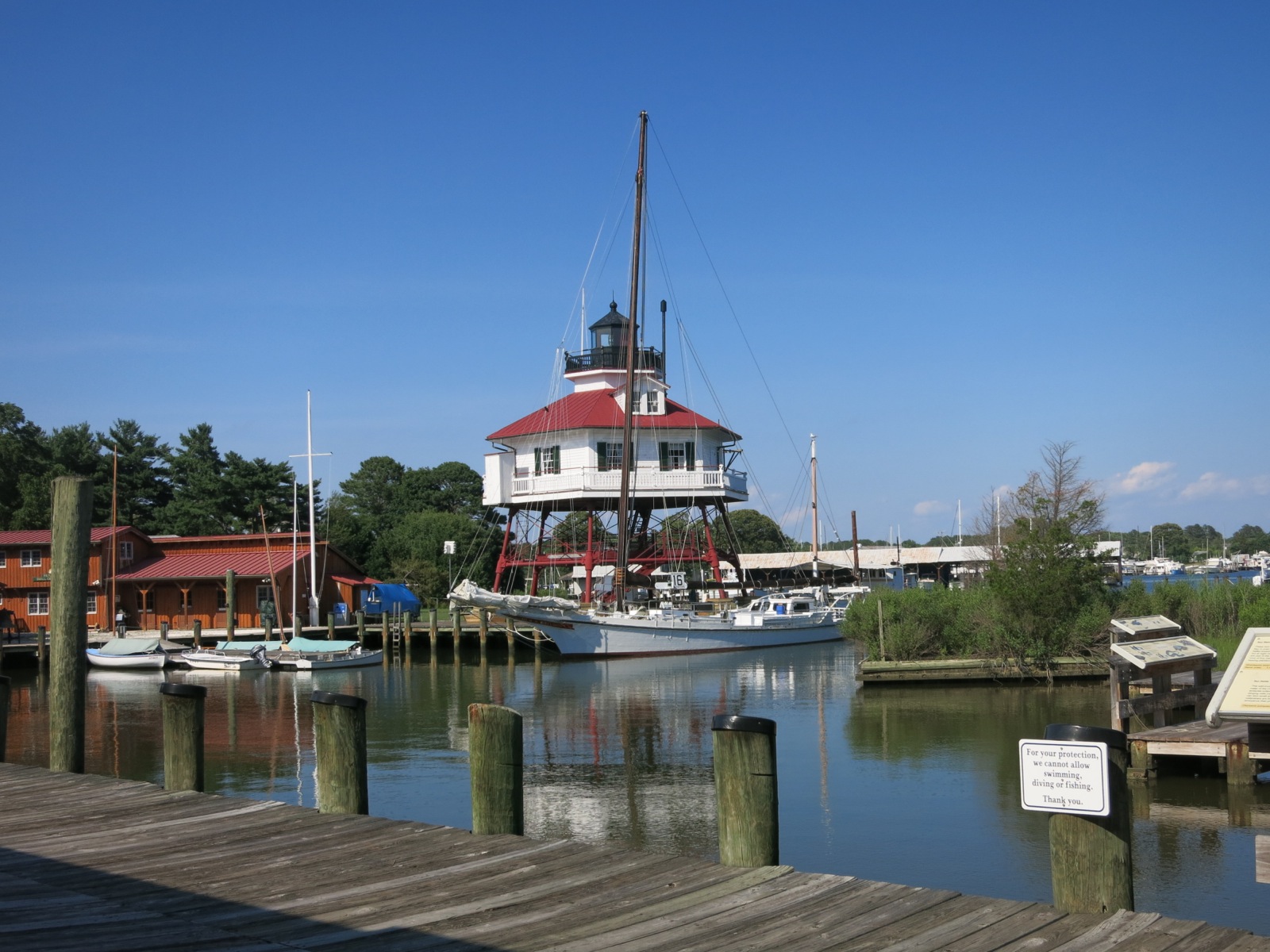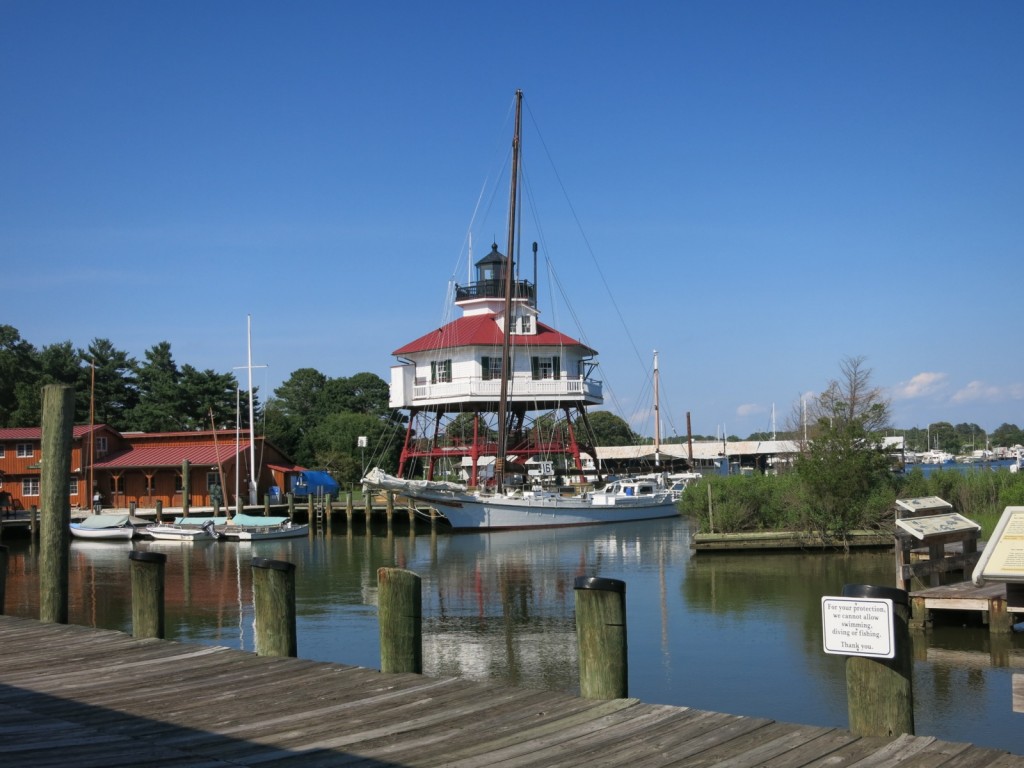 What sets this Calvert County MD museum apart from other Maritime Museums on the Chesapeake are the "critters," according former Director, Doug Alves, Director. "If here were here twenty million years ago, you'd have to hold your breath, says Alves. "You'd be under 200 feet of water."
Expanded and upgraded in 2013, the Calvert Marine Museum is worth returning to even if you've been here before. The "screwpile"Drum Point Lighthouse, relocated to the museum in 1975, is still here. And you can sail the Patuxent River on the Wm. B. Tennison, an 1899 oyster dredge boat – one of two log-built bugeye's still in existence; one hour $7.  But there is so much more.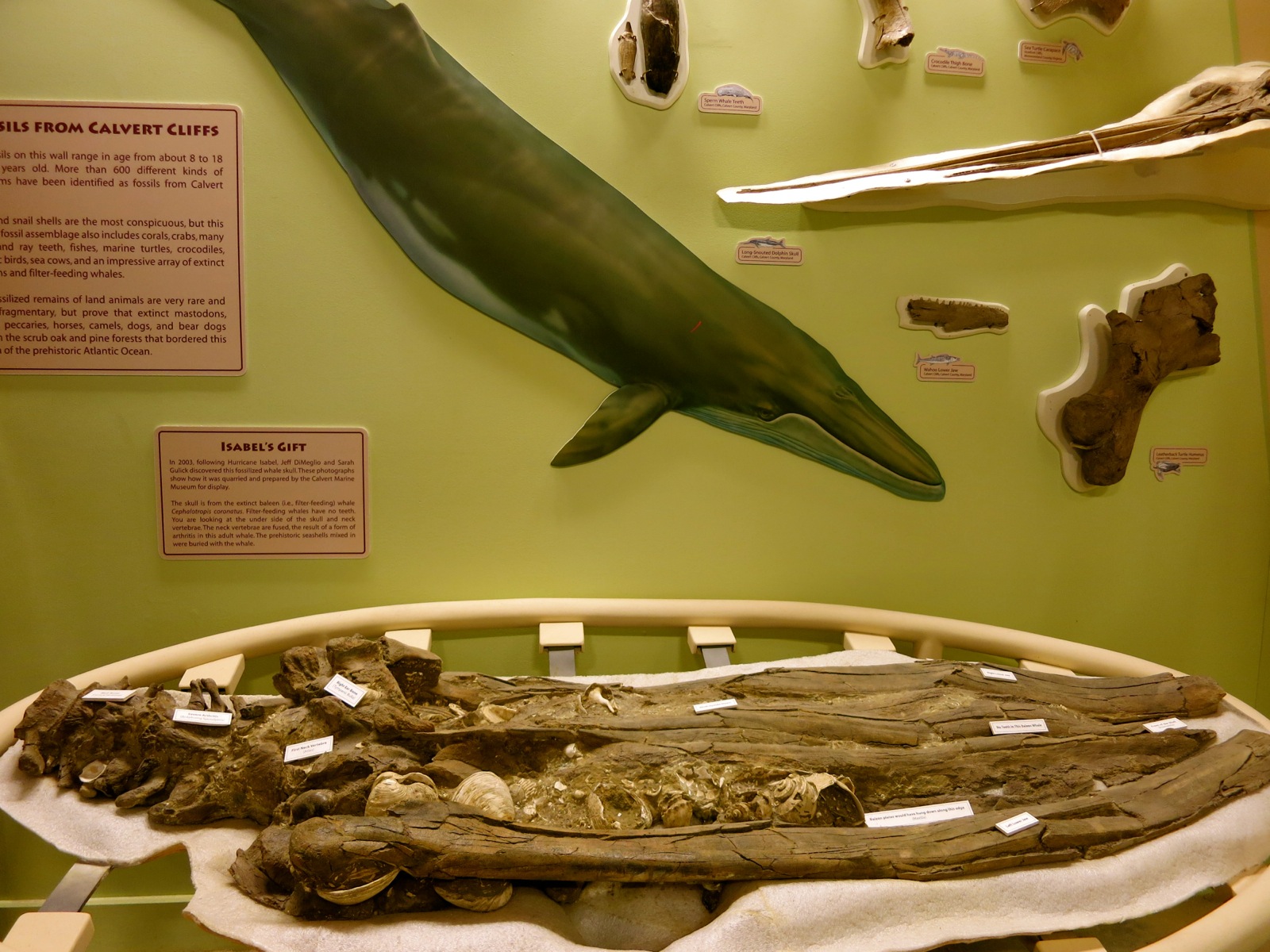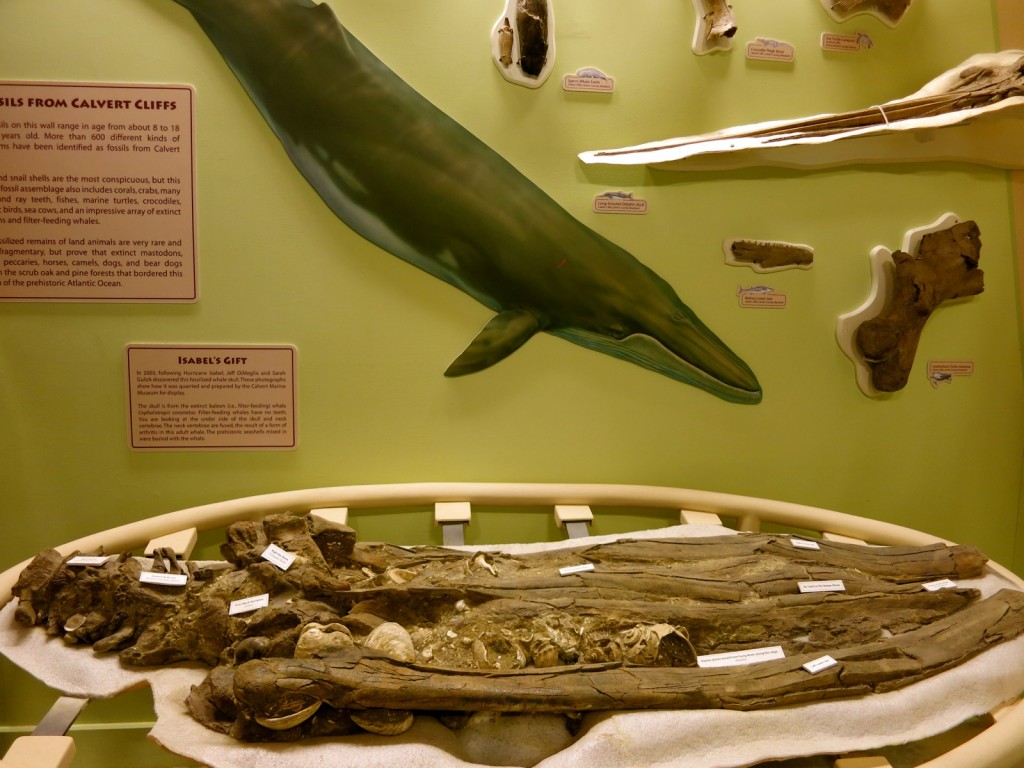 Museum staff conducts "DSI's" (Death Scene Investigations) on discoveries like the ten million year old whale jaw. (Although there were shark bite markings, scientists determined cause of death from old age, as arthritis was prevalent).
There are models, too, of the "School Boat" that would ferry kids to school before roads were improved.
See a mock-up of the original "Showboat," the James Adams Floating Theater, that plied the Chesapeake Bay. It was the inspiration for the musical, set on the Mississippi River. Old Man Bay just didn't have the same hook as Ole Man River.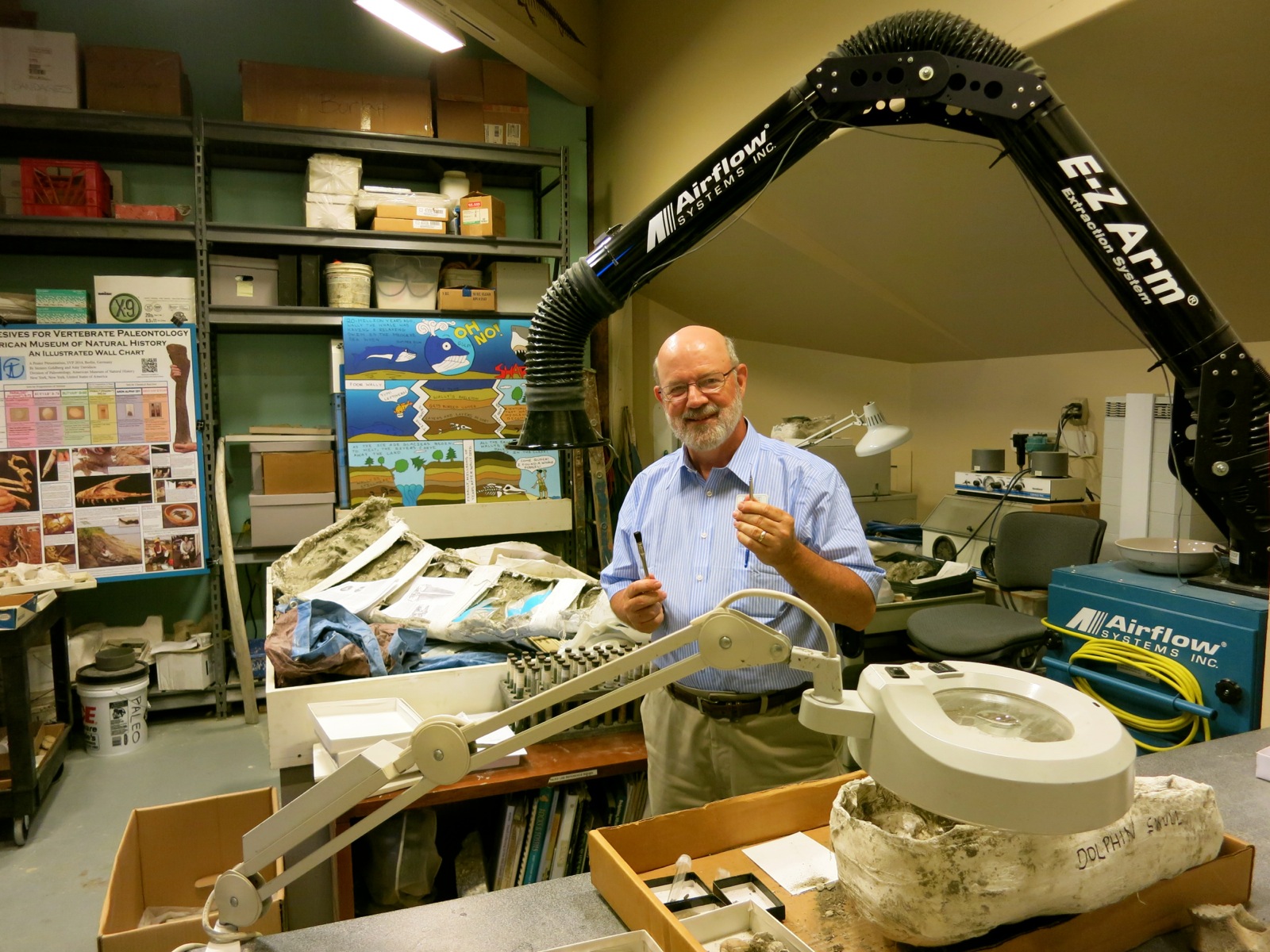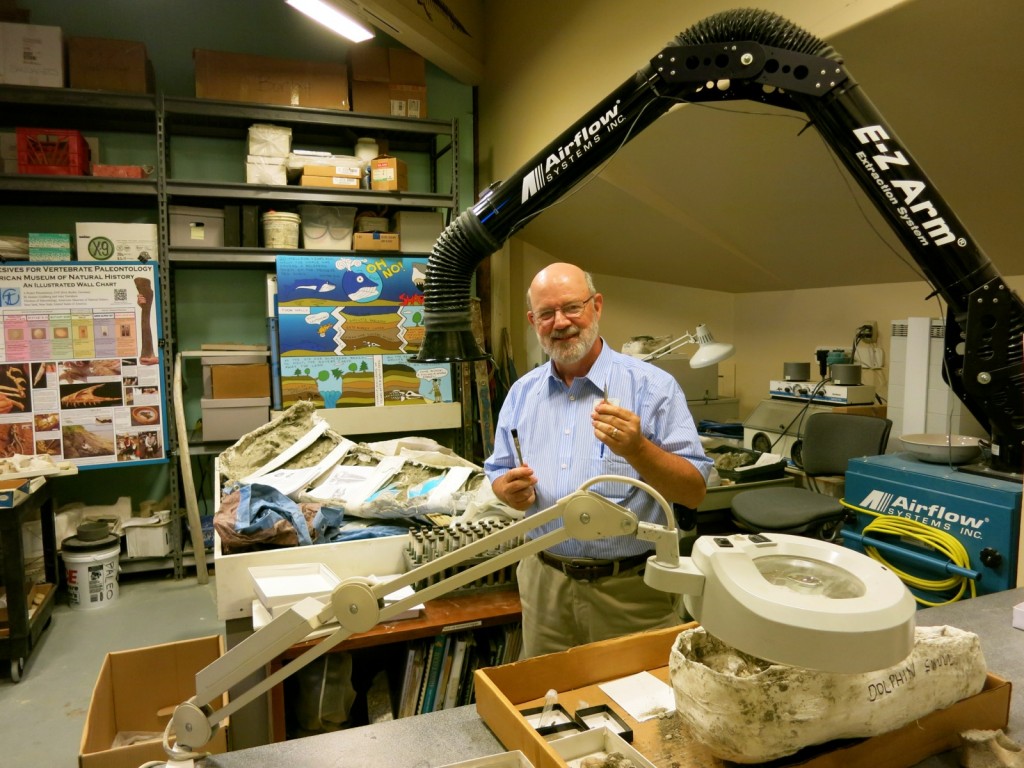 Watch through the window of the "Prep Lab," associated with the Smithsonian Museum of Natural History, to see new discoveries.
Dig through a sandbox peppered with sharks teeth. The museum hands out 15,000 per year. Or take a boat building class. And if you come during the fund-raising music concert, see the likes of Bob Dylan, Heart, Barenaked Ladies and Violent Femmes (who have performed in the past). Open daily 10-5, $9.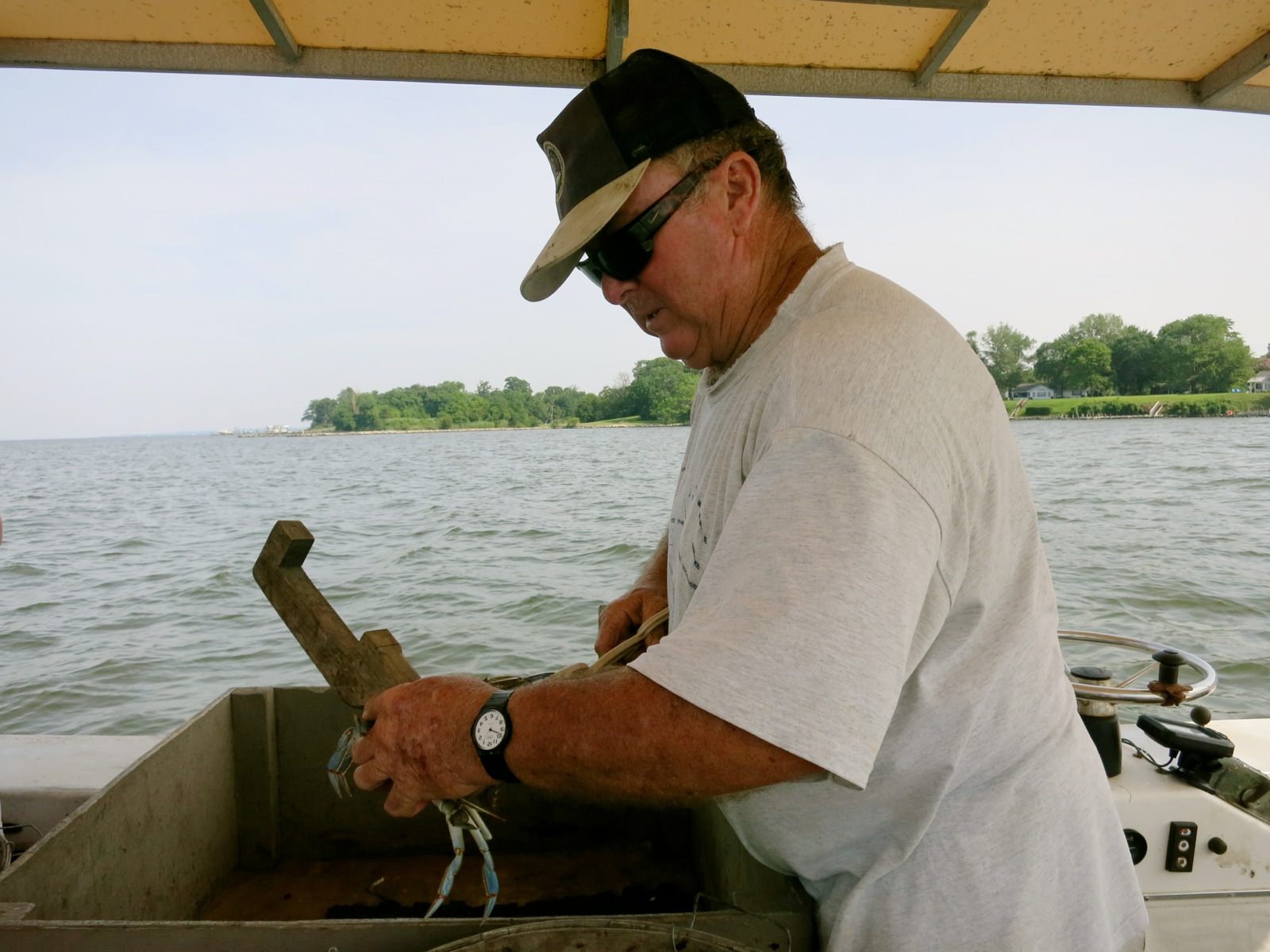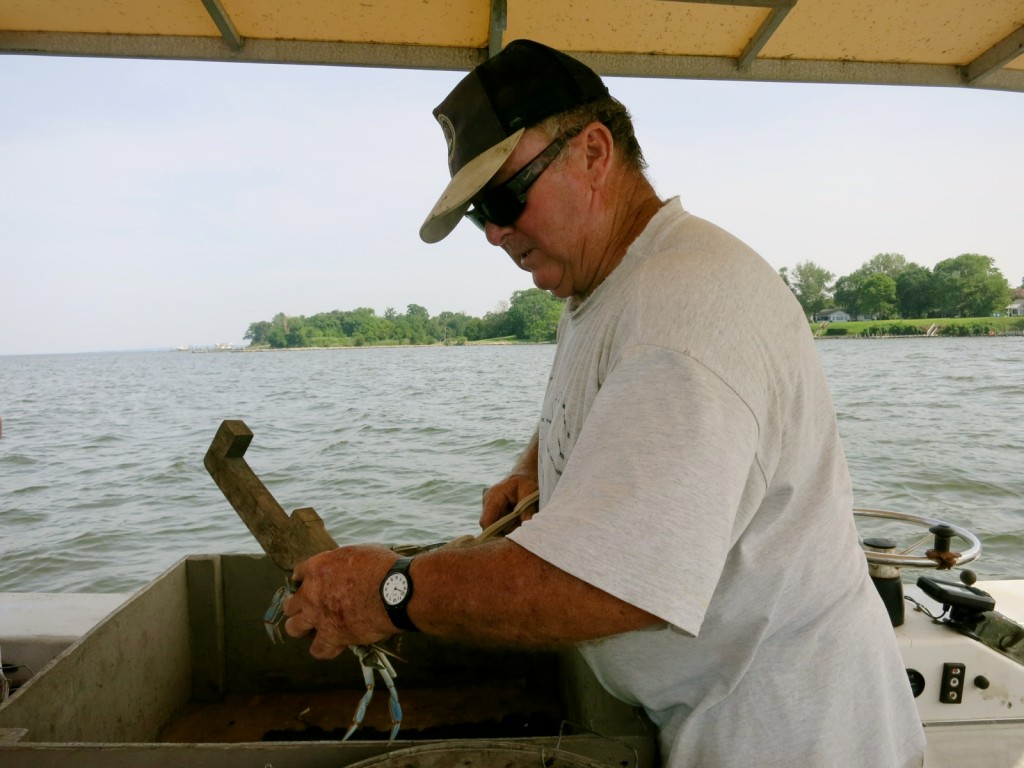 DO: Watermen Heritage Tour
These very personalized tours get you out on the water with a authentic watermen – someone who catches crabs and digs for oysters for a living.
Learn the difference between "trout lining" and setting out pots, between "premium" and other crabs, and other secrets of "bringing in the catch."
I went out with Tommy Zinn – who at this point does not do tours, but represents those who do. Like other watermen, his day generally begins at 4:30a.m. and ends several hours later.Now retired, Zinn fishes "on the side" and sells directly to Captain Smith's Seafood in Solomons, where they are steamed and ready for eatin'. $125 per hour (2 hour minimum) for up to 6 people.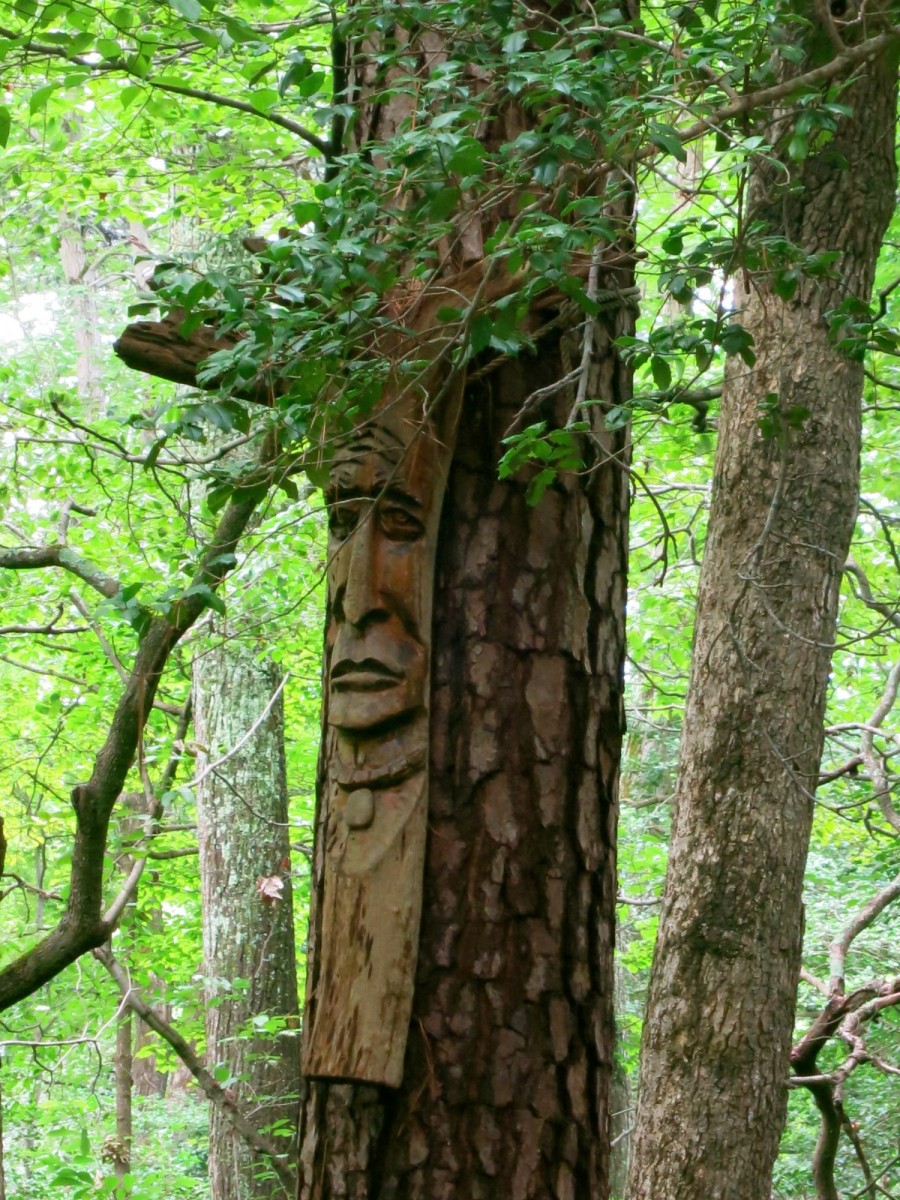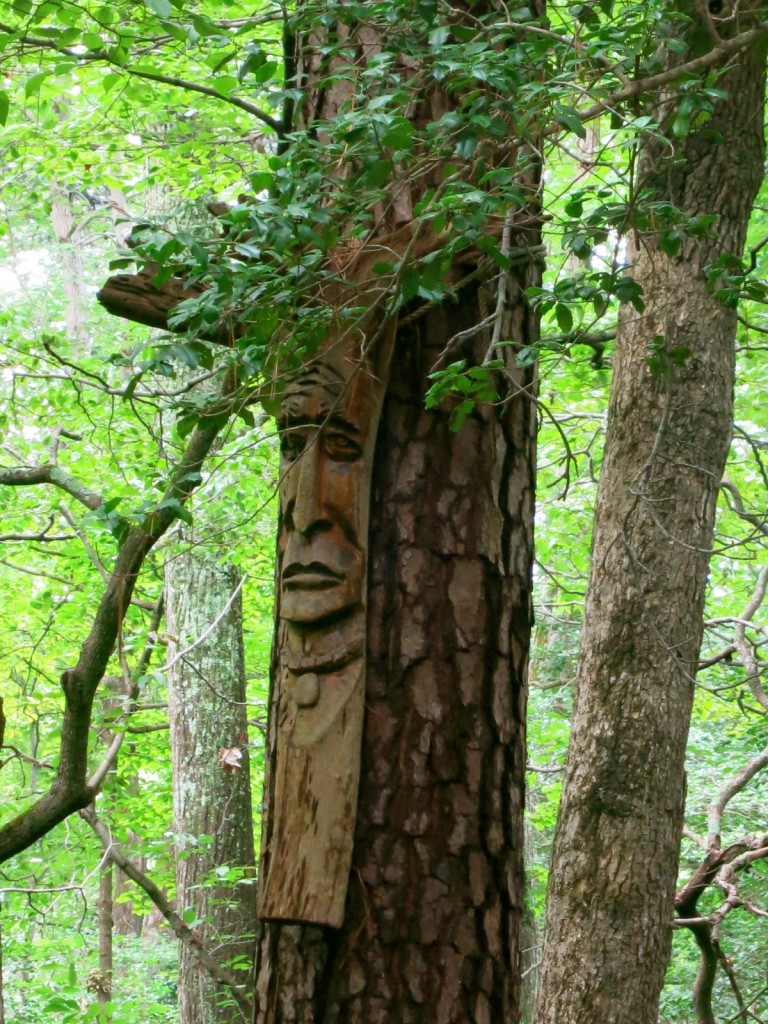 Given to the county as a gift, this 30-acre parcel of land showcases thirty pieces of world-class art (on loan from the Hirshorn and National Gallery of Art) and hidden tree designs on a quarter mile woodland path.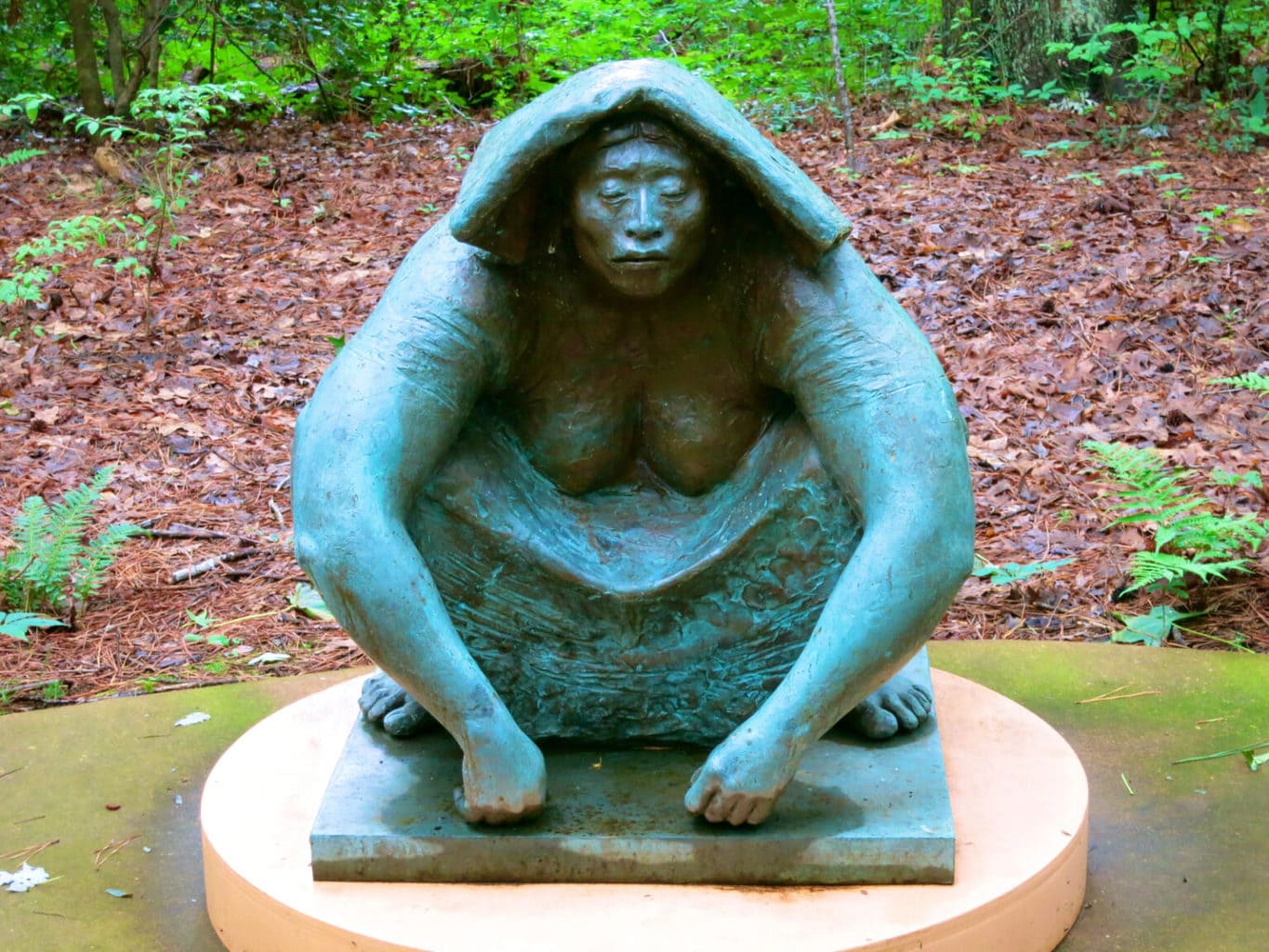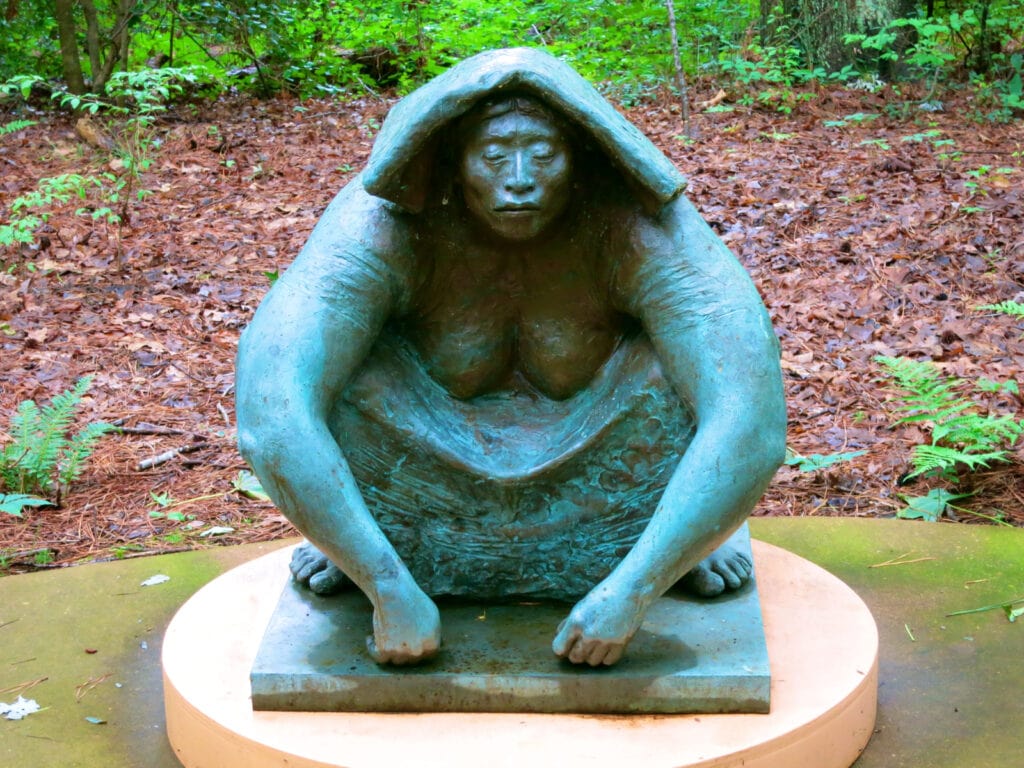 It's a lovely cool diversion from the heat of the summer – even more so in the air-conditioned indoor art's center, where the best of regional artists is on display. The whole place is quite an exquisite surprise. Grounds daily 9-5, Center open 10-5, $5.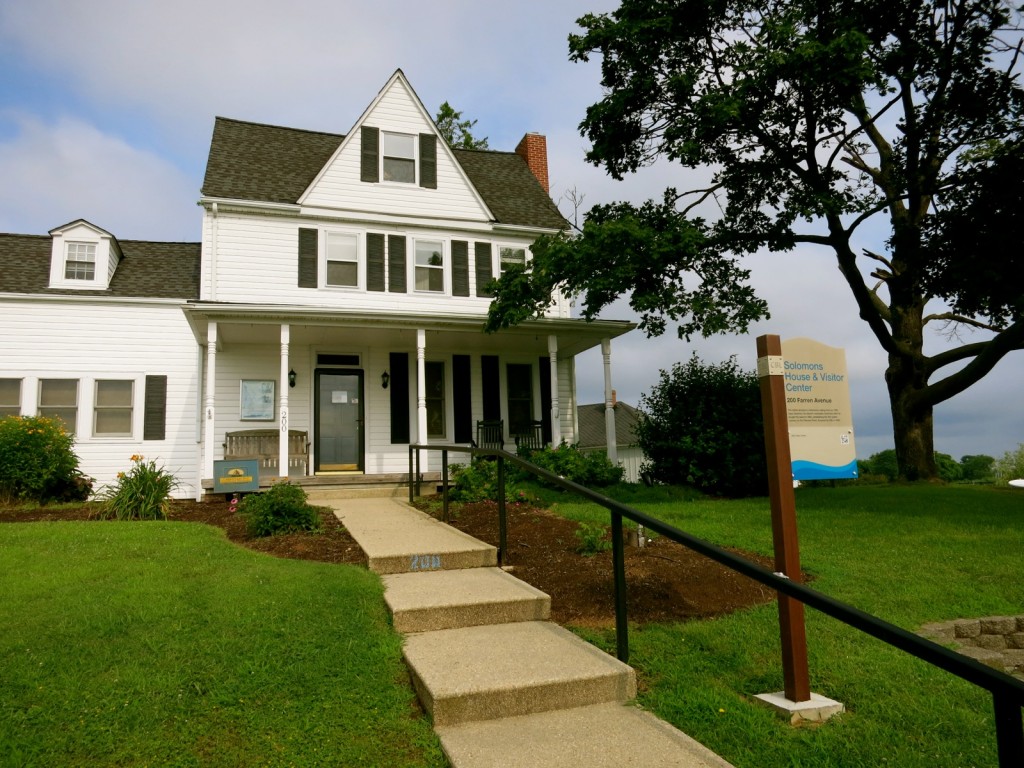 WALK: The Town of Solomons
Solomons is also referred to as Solomon's Island – for Isaac Solomon, a Baltimore businessman who, in the 1860's, opened his cannery "where the Patuxent River meets the Chesapeake."
Solomons' population boomed after 1938 when the East Coast's first Biological Lab opened to research water quality and aid watermen in enhancing the oyster industry.
Stop in to the Chesapeake Biological Lab Center for Environmental Science (U. of Maryland) Visitor's Center.It's the oldest State supported marine lab on the East Coast.Visitors Center open Wed-Sun 12-4 in summer, Fri-Sun 12-4 Spring and Fall. Campus Tours Fri. 2pm.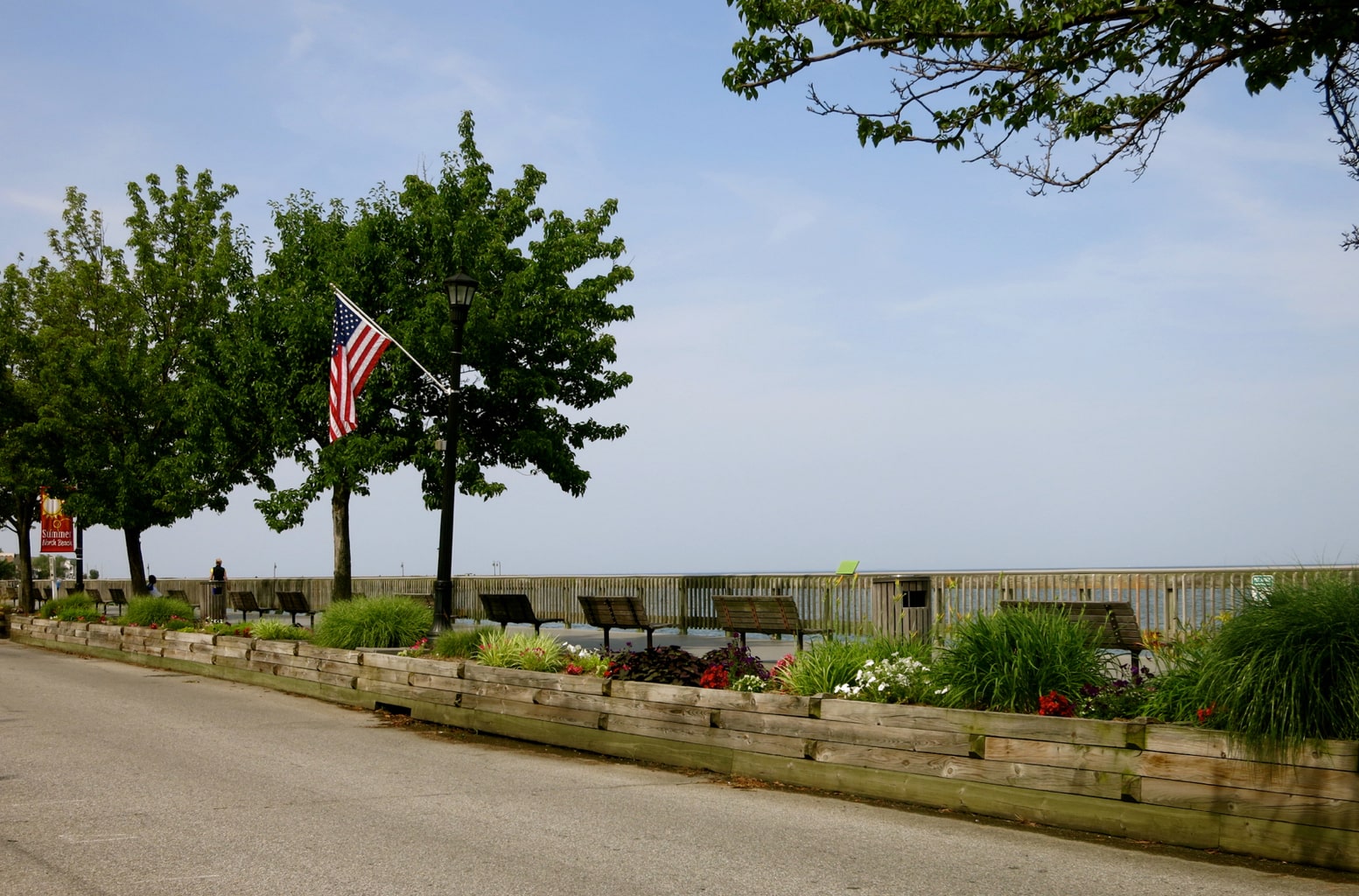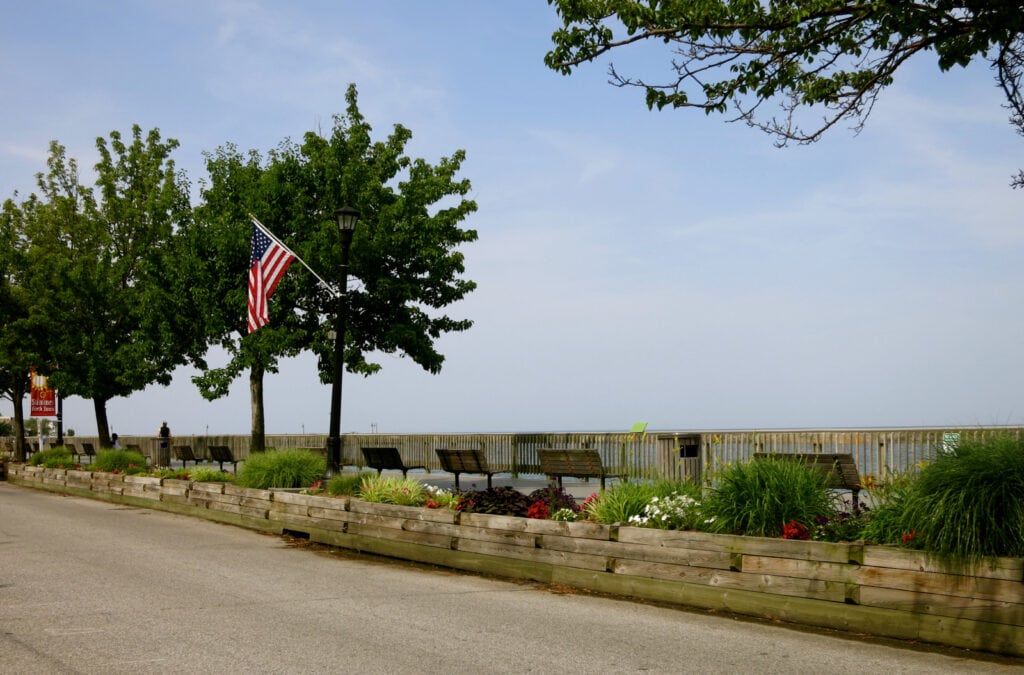 VISIT: Chesapeake Beach and North Beach in Calvert County MD
Getting to these little seaside beach communities is half the fun. You head outbound on a two lane undulating, roller coaster kind of road, and return on the road built and filled in 40 years ago, flat as a pancake.
North Beach offers the real "beach experience" with a half-mile long bench-lined boardwalk, original Victorian homes along the road, and rental bike shops.
Stop in at the Bayside History Museum for some local interest. It has one boffo artifact, as well. The museum is in possession of one of the four remaining copies of John Smith's logs, printed in England in the 1600's.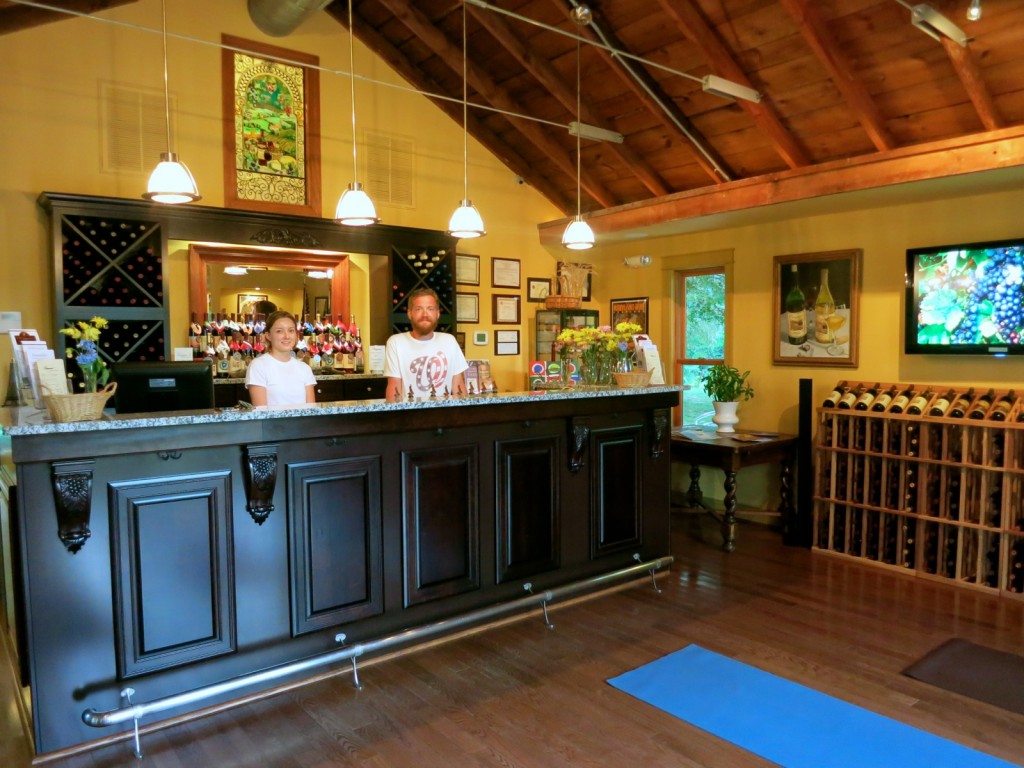 Owners Mark Fleming and John Behun planted nearly five thousand vines on this former tobacco farm 20 years ago.
In it's 10th vintage year, Perigeaux produces only traditional European wine. It has won the Double Gold in Napa for its Montepulciano wine, and Golds for merlots and chardonnays, as well as other prestigious awards. $5 for 7 wine tastes, $8 for 9 tastes of premium wines, open Wed-Fri 2-8pm, Sat and Sun Noon – 8pm. Tours on weekends only at 1 and 3.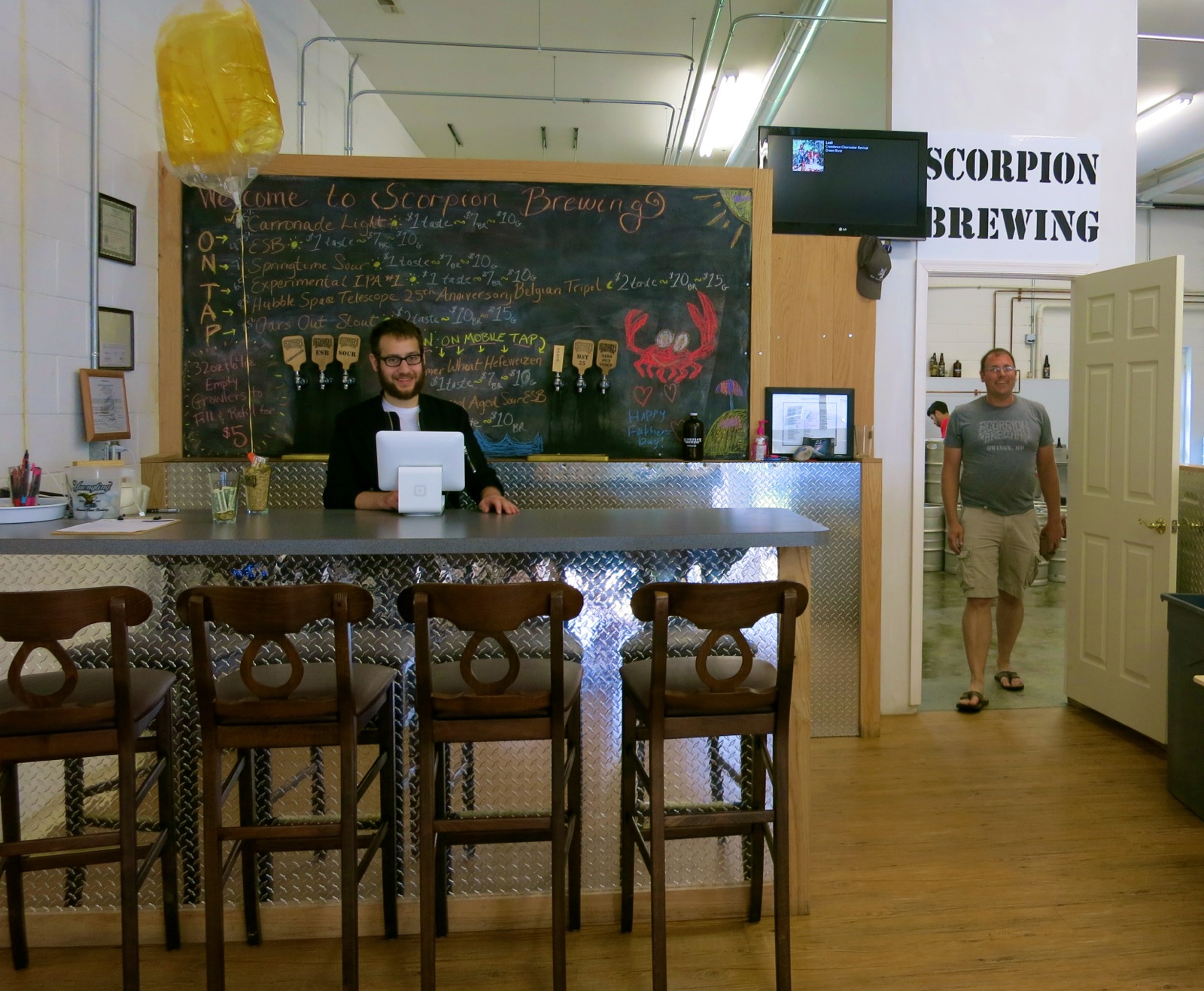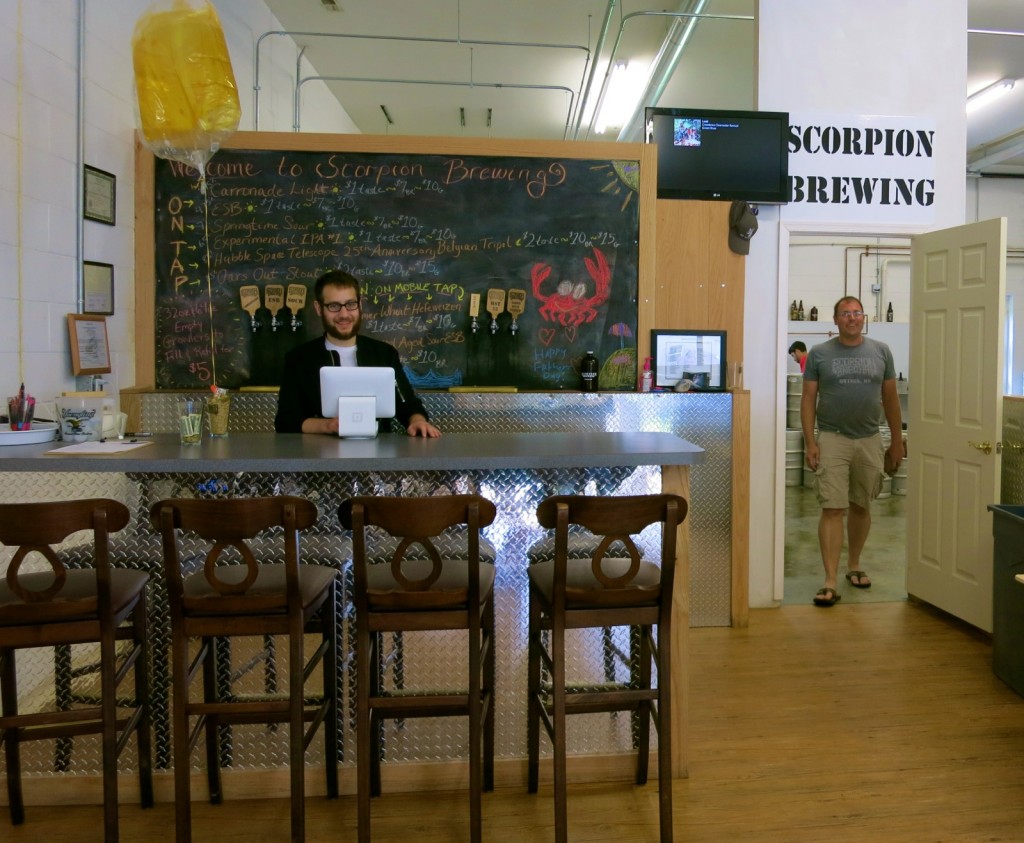 With a background in physics and astronomy, and contractor for the Navy, Scorpion owner Brian Dailey embraces experimentation in his small microbrewery.
He sources hops and barley from local farmers. And it's his intention to obtain all ingredients for his beers "within a five mile radius" of his brewery. For now, Scorpion's Oars Out Stout and ESB are best sellers.
But I'll vouch for the limited edition Hubble Space Telescope 25th Anniversary Belgian Triple – commissioned by NASA's mega space telescope. For obvious reasons, Dailey has some pretty strong NASA connections. Open Thurs, Fri. 4-8, Sat 12-5, Sun 1-5.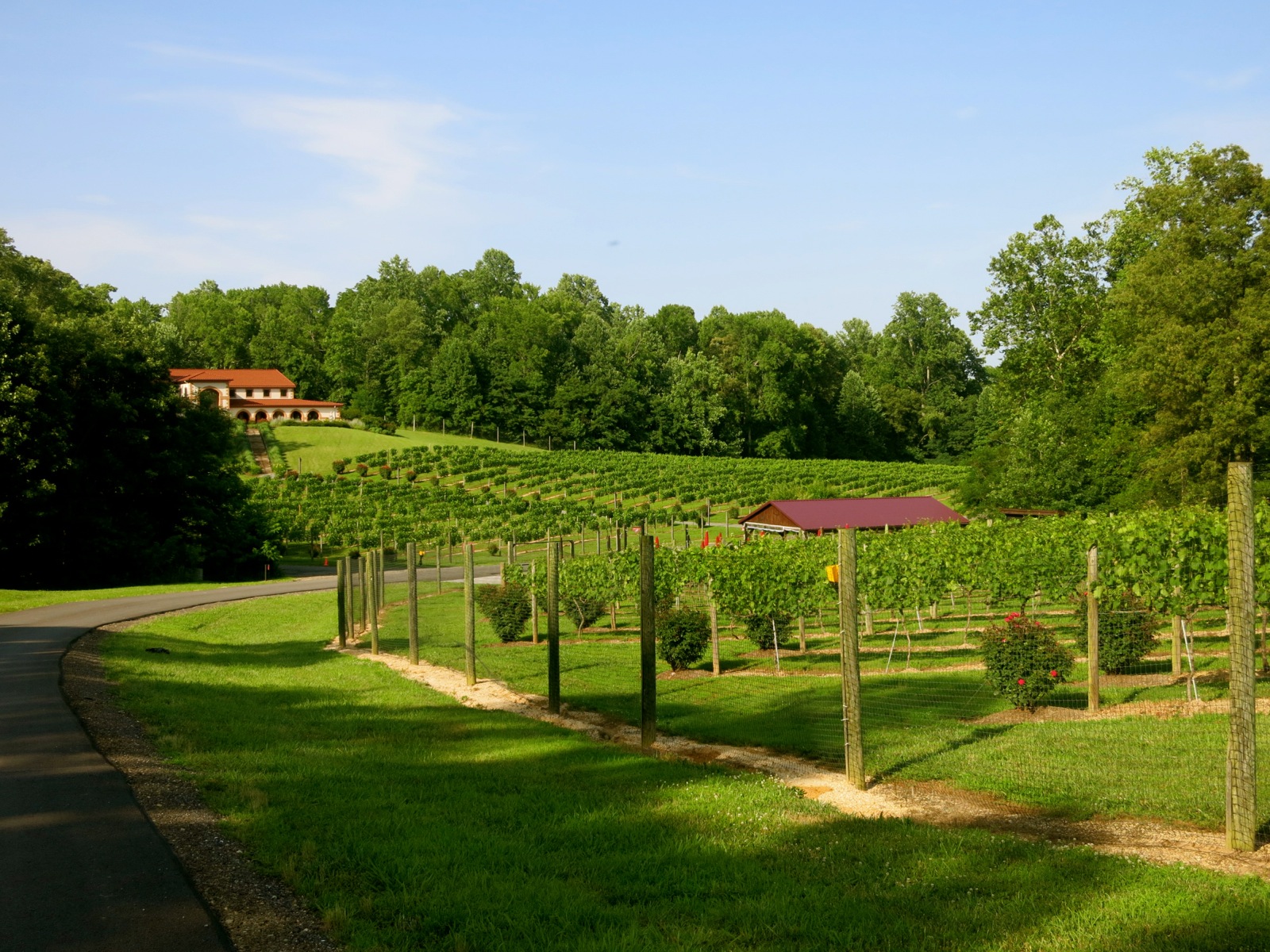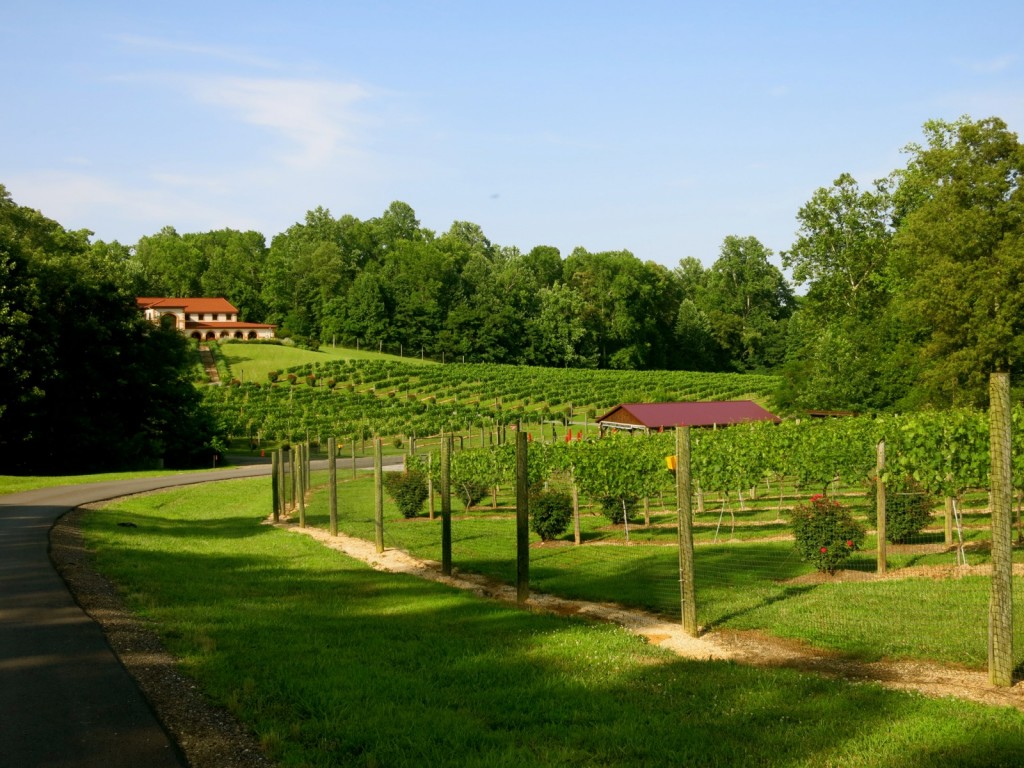 This is how a financial guy goes into the wine-making biz. Buy 300 beautiful acres in Calvert County MD, plant 8 acres of grapes, grow hops, hire a winemaker from Guatemala, build a gorgeous event space (inside and out), then add beer.
All kidding aside, Mike Scarborough makes international award-winning Chardonnays, Pinot Grigios and Malbecs, along with Cayuga and Cabernet Sauvignon. He sources his grapes from his own estate, Napa Valley, Chile and other regions.
Scarborough opened Calvert Brewing Co. because he "got tired of watching girls drink wine while their boyfriends brought in their own beer." Open Wed – Sun 12-6.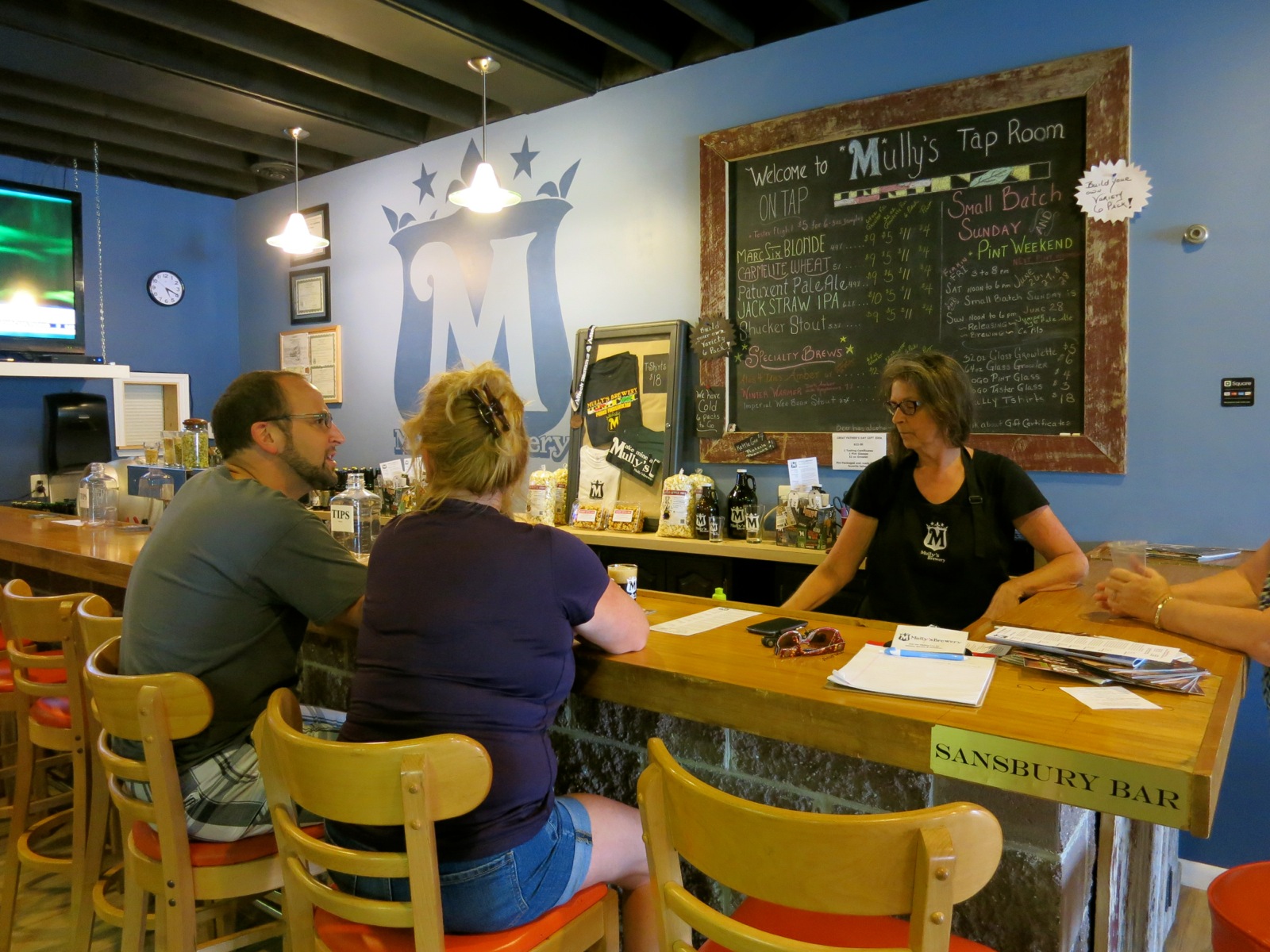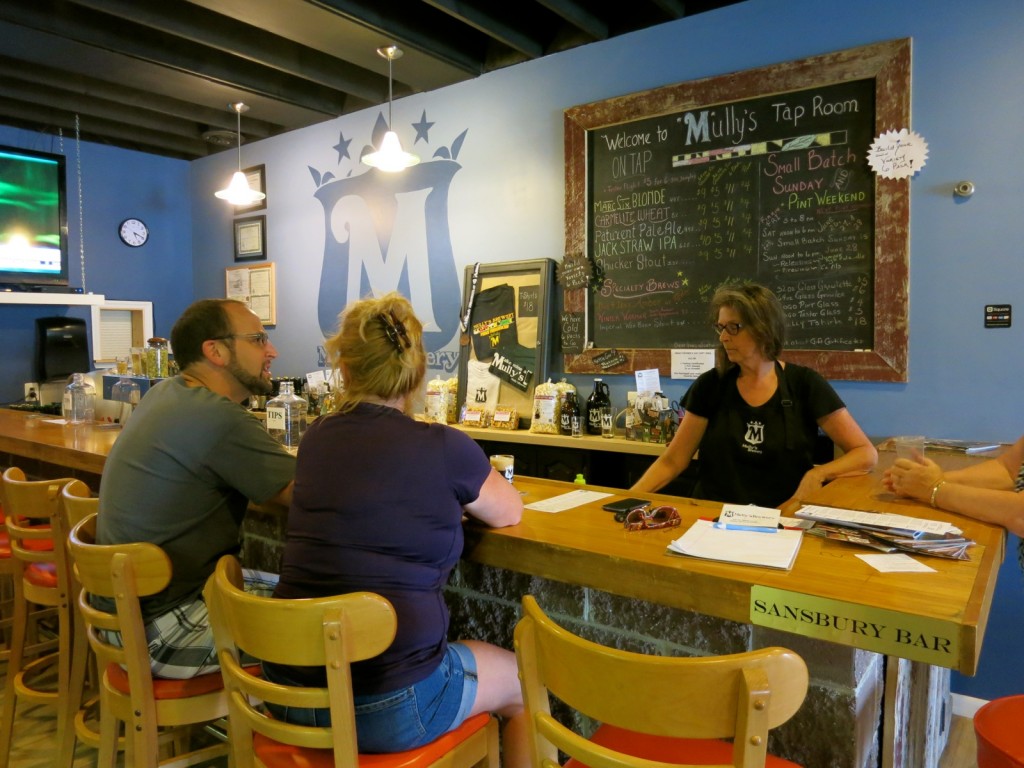 Jason and Cindy Mulliken (nickname "Mully") have been growing this family owned brewery since it opened in 2013.
Most fun are "Small Batch Sundays" – when 10-20 gallon brews are released to the public. Winter Warmer began as a "small batch" and is now a favorite year round brew.
Beer pairing dinners and food-truck events are also popular. Tastings $5 for six 3-oz samples. Tap Room open Thurs, 3-6, Fri 3-8, Sat and Sun Noon – 6.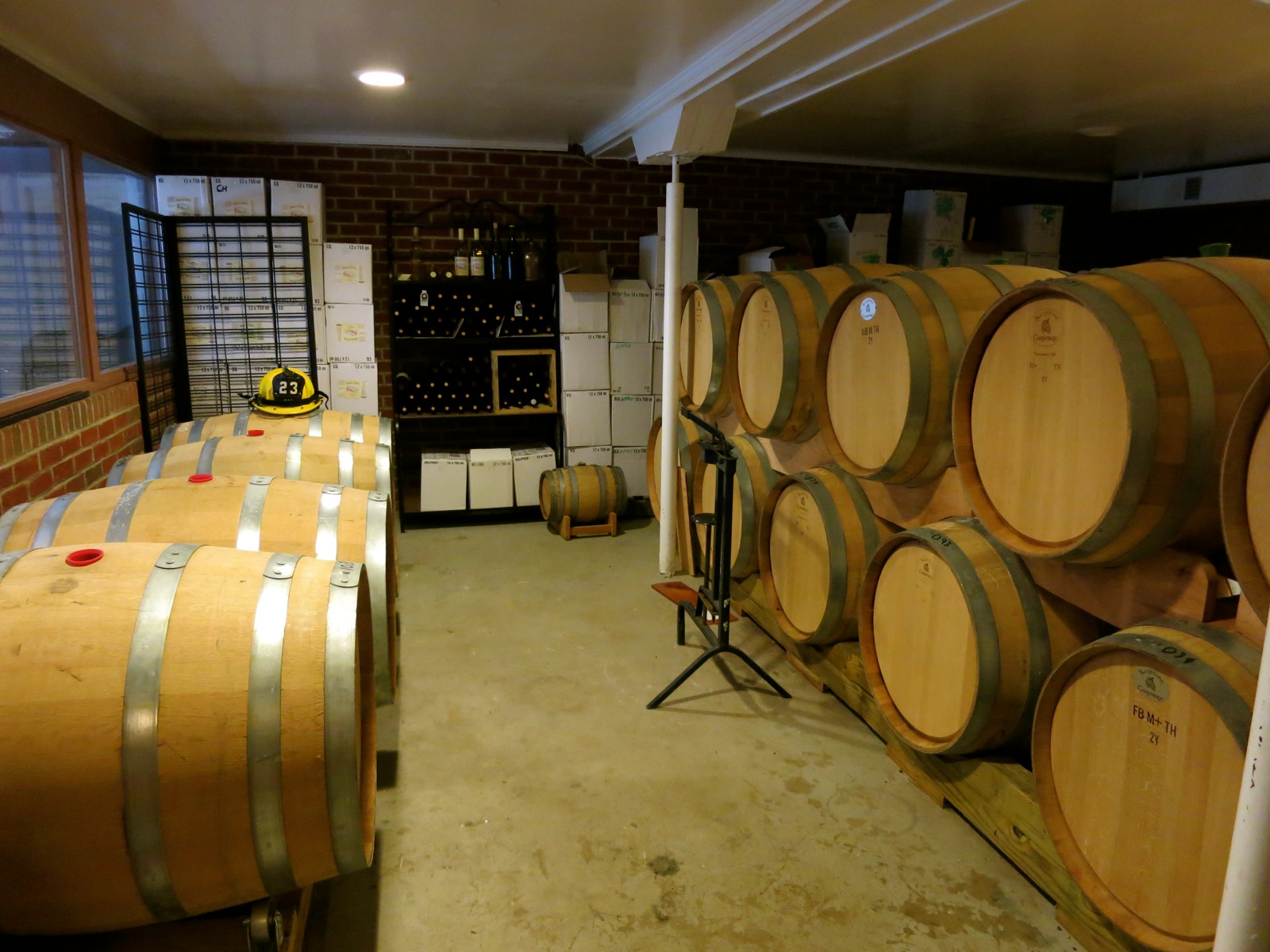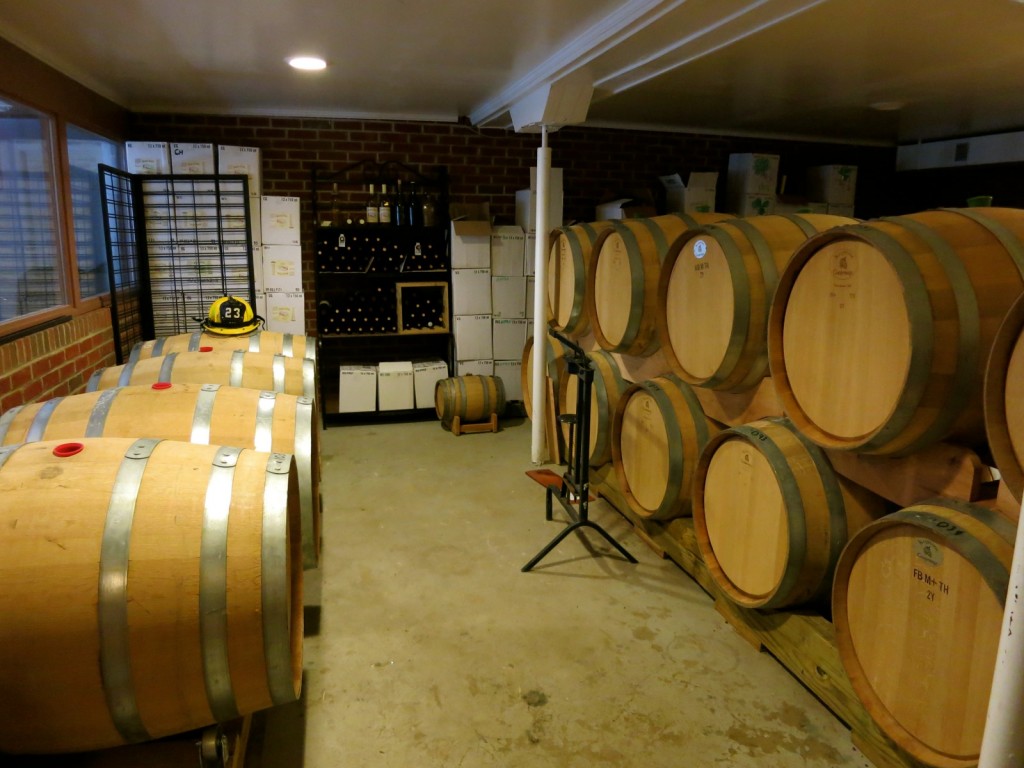 This winery/art gallery in an old repurposed tobacco barn undoubtedly has the world's one and only fire-chief turned winemaker. He brings his chemical knowledge of fire fighting to concoct the perfect fermented grape juice.
Right smack between Baltimore, Washington DC and Solomons, Friday Creek is a great stop for tasting Genova Red and other French American hybrid wines. Open year round Thurs-Mon 11-5.
Restaurants in Calvert County MD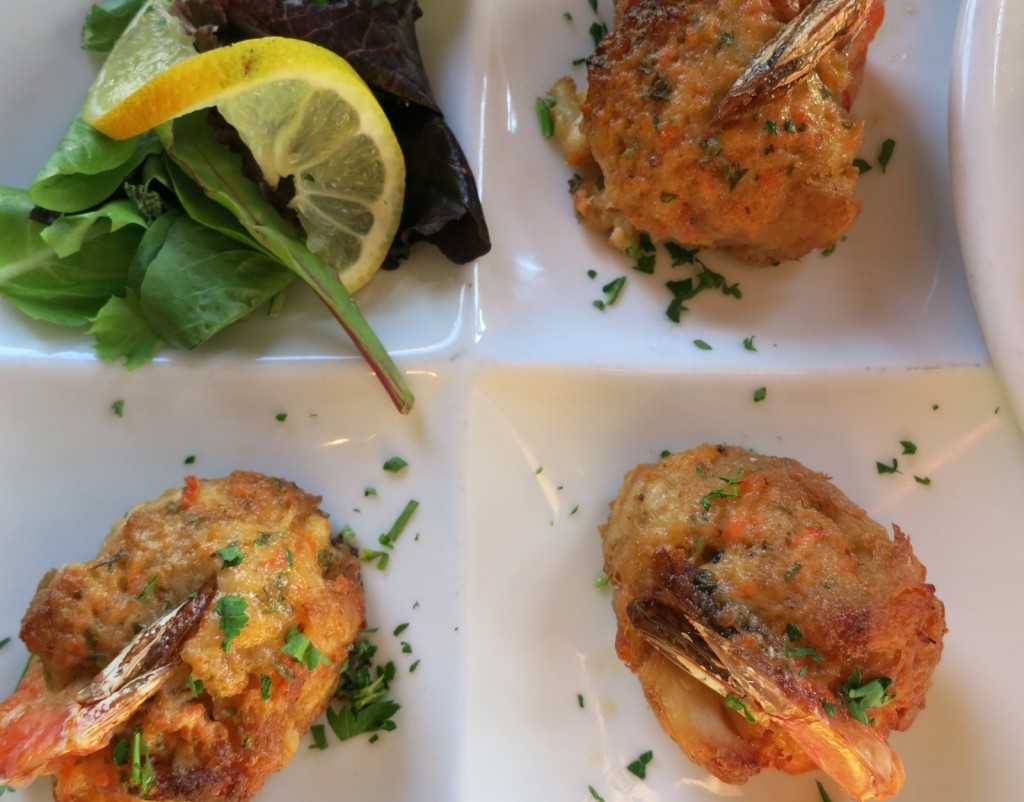 Nestled inside a marina, this "Old-Movie" themed restaurant dishes out some great small bites.
Try the Lobster Mac and Cheese, Stuffed Portobello Mushrooms, and Grilled Salmon Chutney. Movies play on screens both inside and out, and sunsets are spectacular.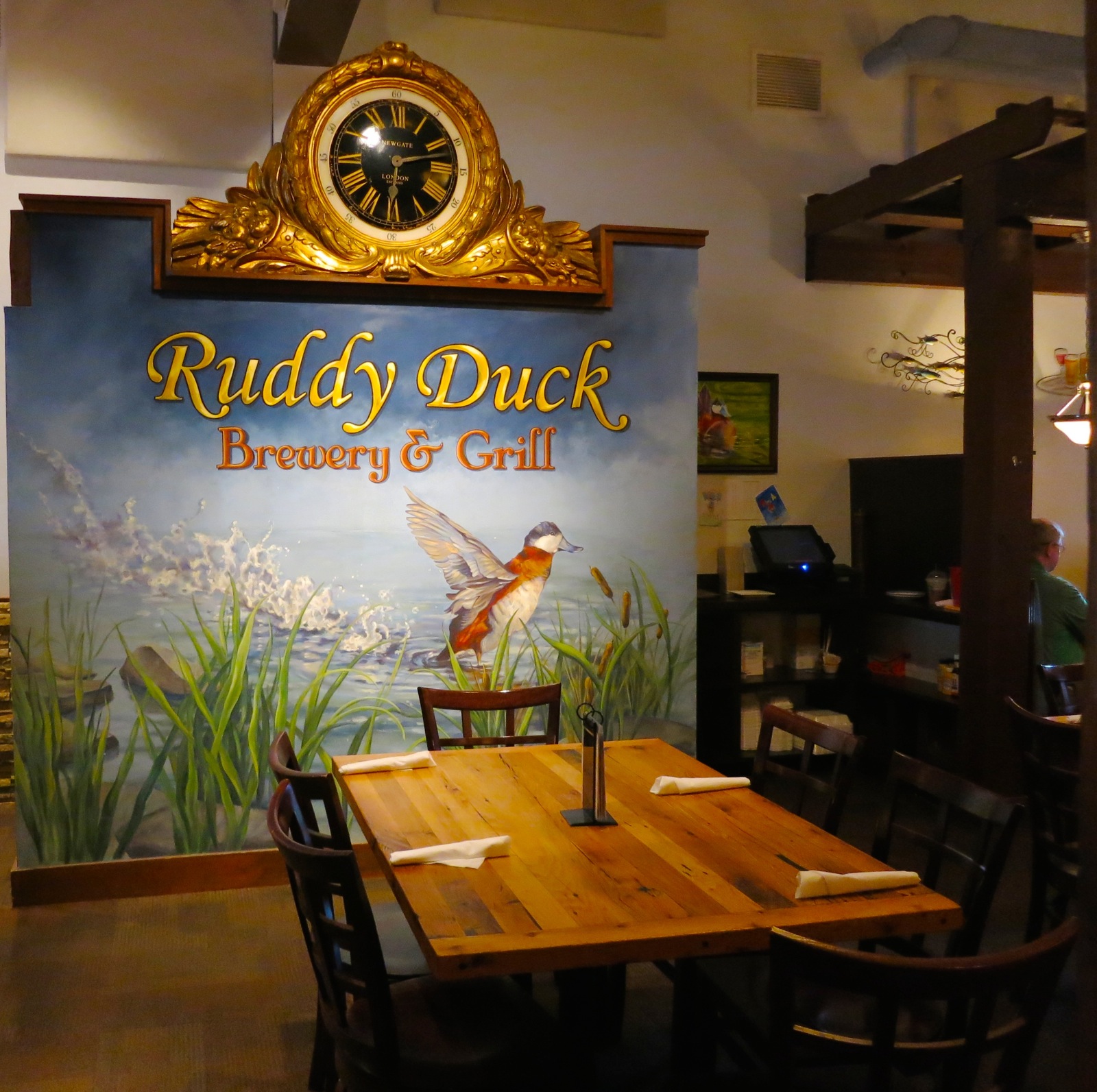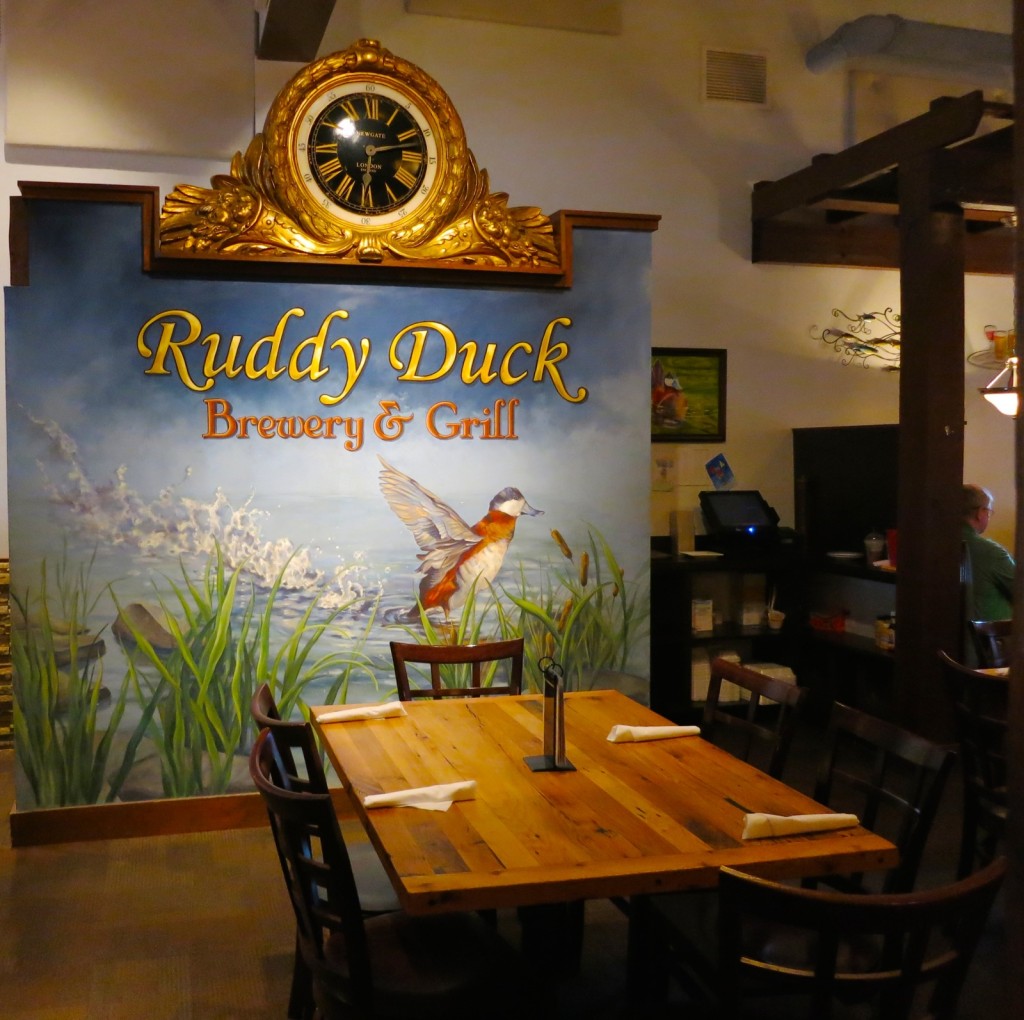 Carlos Yanez and Michael Kelley are partners in this brewery/brick-oven pizza house on the main road entering Solomons. Beers are great. The "Duck A Dillas" – quesadillas with duck meat – are yummy. And you won't find a miss among the upscale pub grub.
Ruddy Duck also puts together Ruddy Duck Adventures – daylong packages, one focused on adventure the other on history. These can be combined into a great overnight stay, which of course includes lunch or dinner.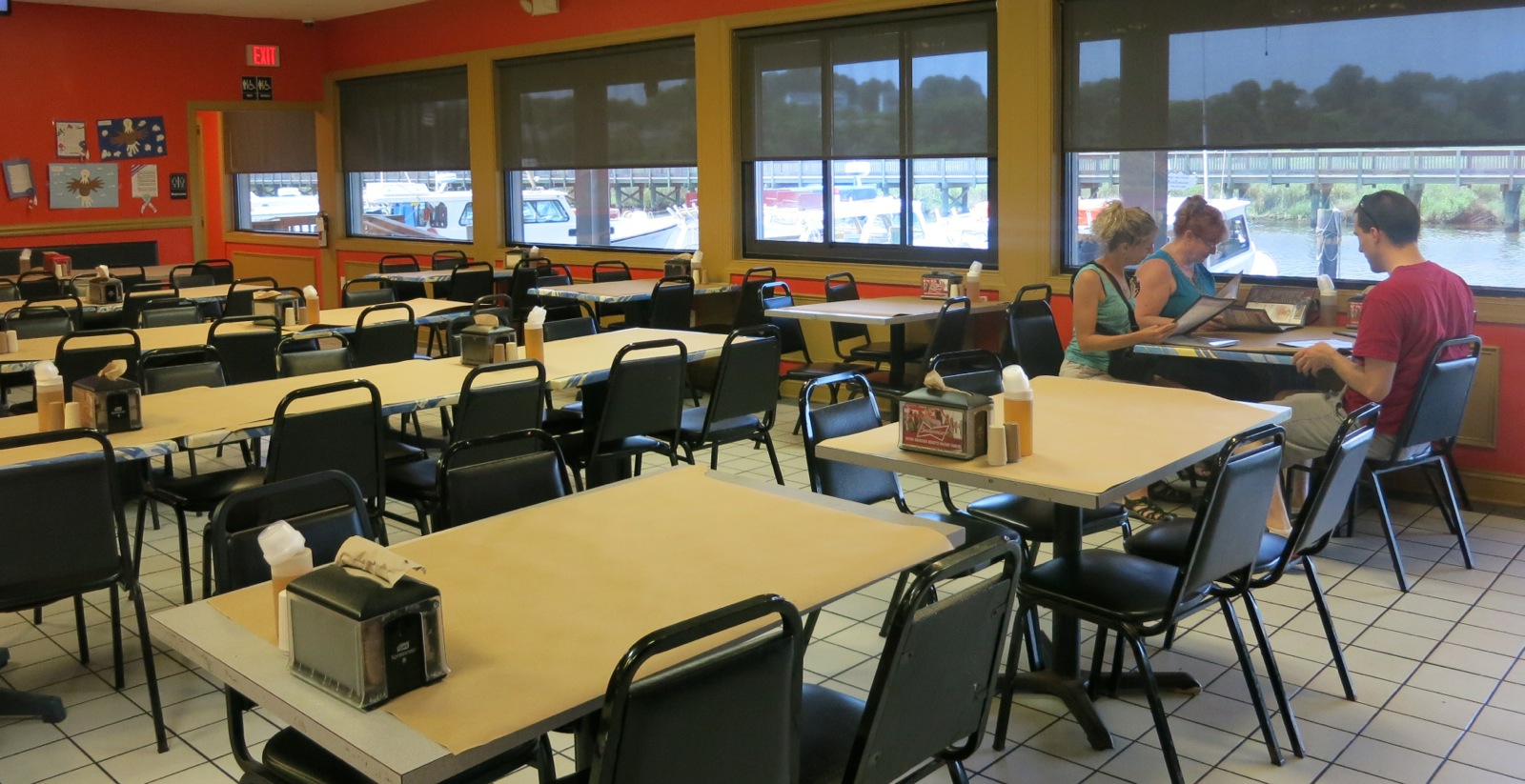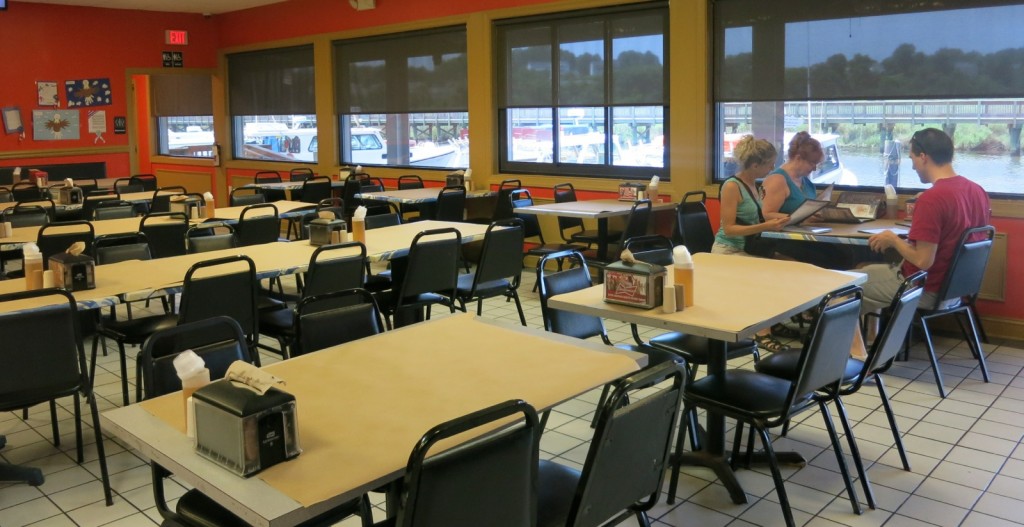 It's a casino and restaurant, and not much to look at, but the owners are watermen so this is as authentic a Maryland Crab house as it gets. Crabs come right off the dock, into the kitchen and then piled right on the formica tables for a messy, but very fresh meal.
In a nondescript strip center, Jerry's is a magnet for people who are looking for the real Maryland crab experience with local ambience. Owners Jerry and Peggy walk around giving out samples and you won't find an iota of filler in any crab cake.
DRINK: Tiki Bar, Solomons
This open-air dive makes this corner of Solomons look like the Florida Keys. Every year, at the opening of Rockfish season, thousands of people descend on this tiny open-air place to carouse.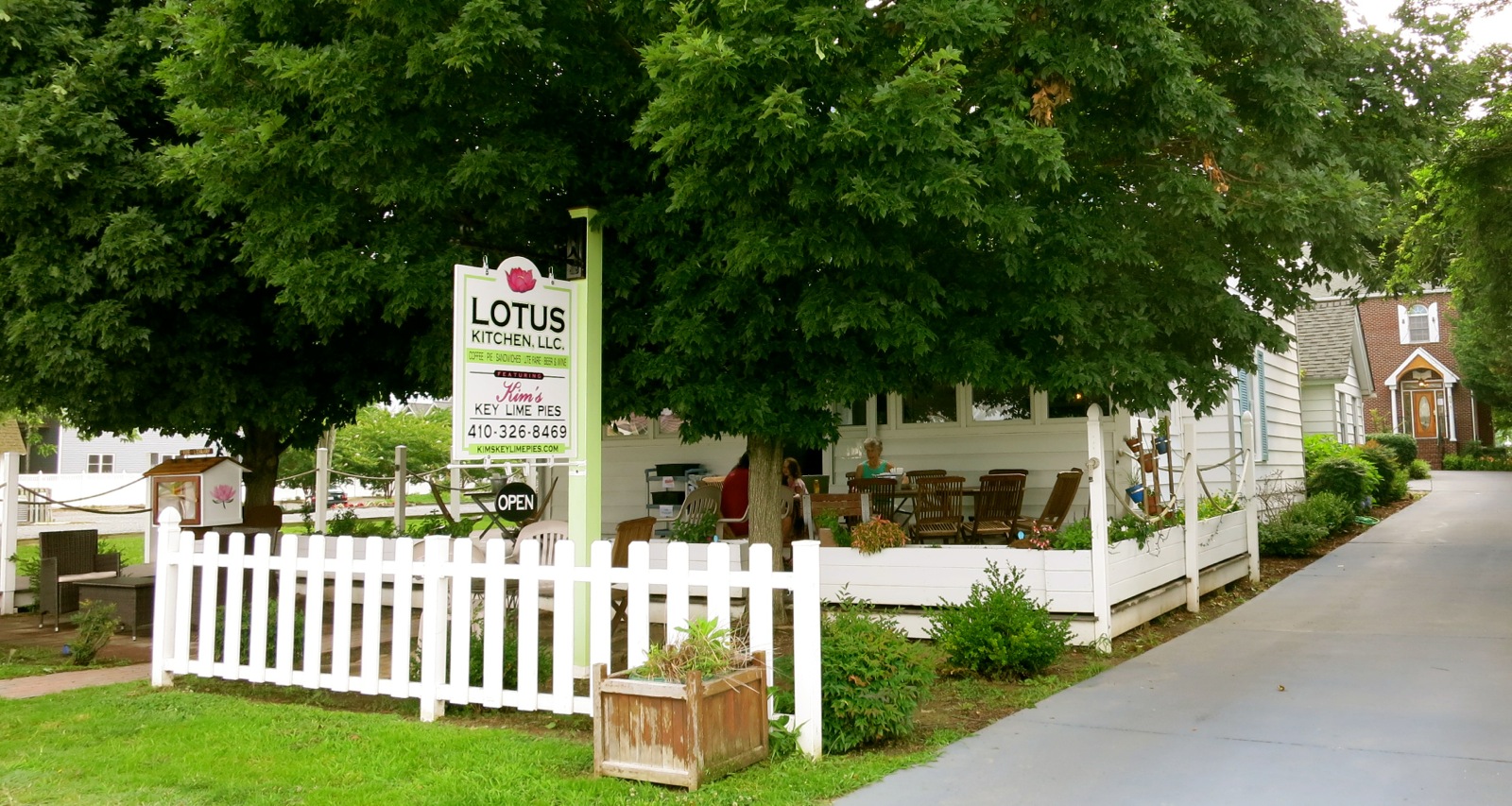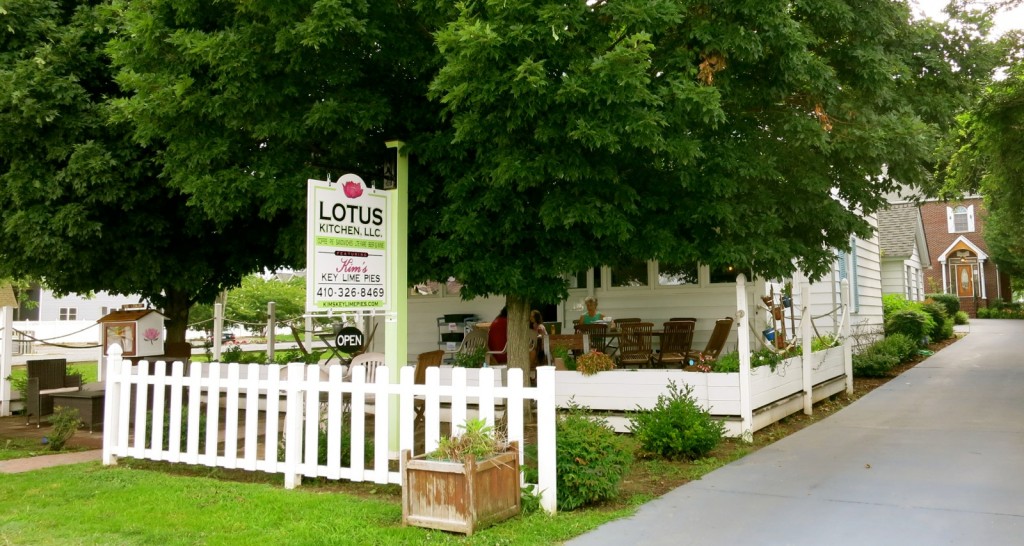 EAT: Locals love in Calvert County MD
Lotus Kitchen in Solomons. Westlawn Inn (live jazz, great food) in North Beach. Frying Pan Restaurant for local Sunday breakfast. Fiesta Bar and Grill for authentic Central American food. Dry Dock (a sailor fave). And JT's Kitchen for comfort food.
Hotels in Calvert County MD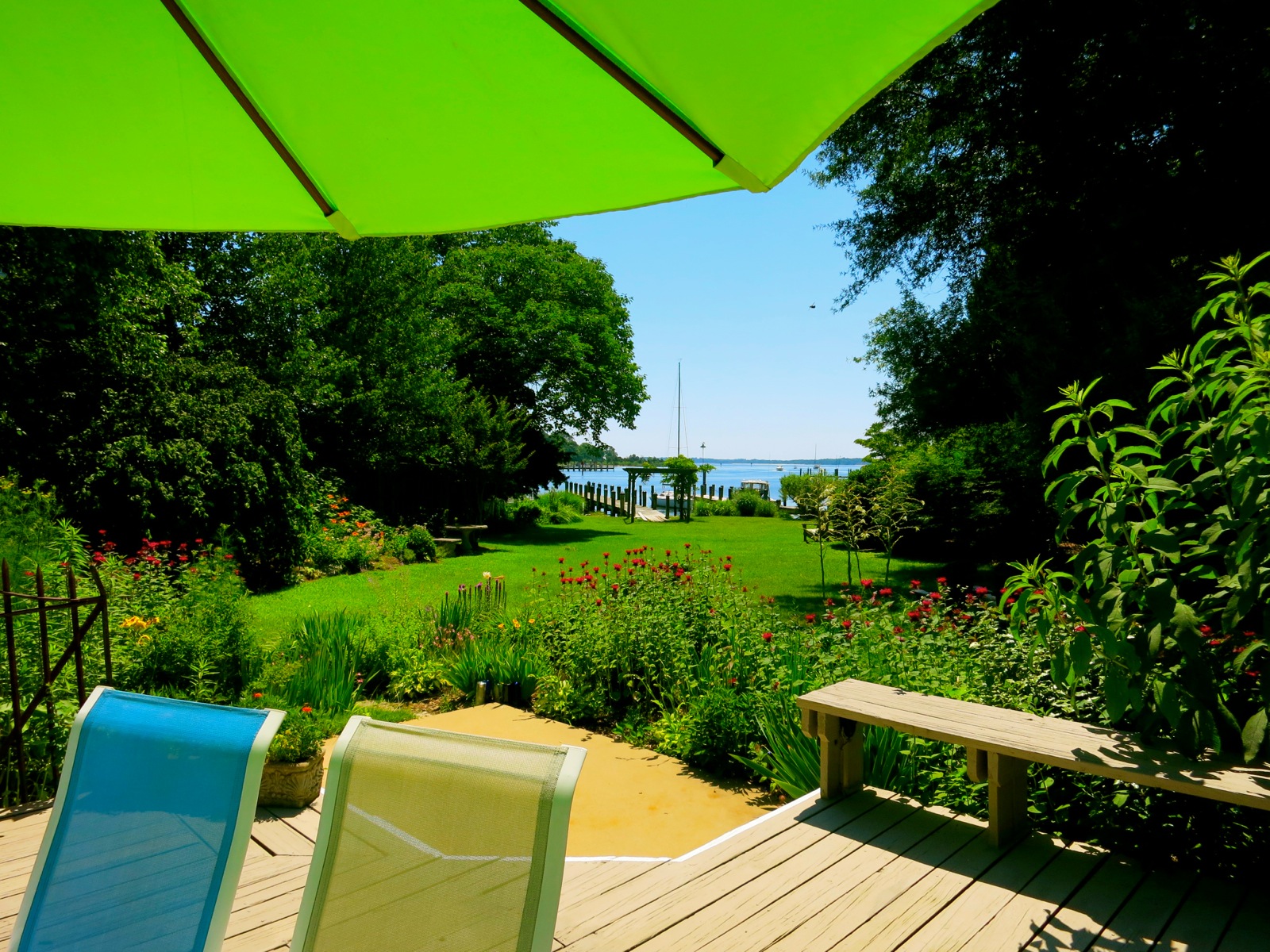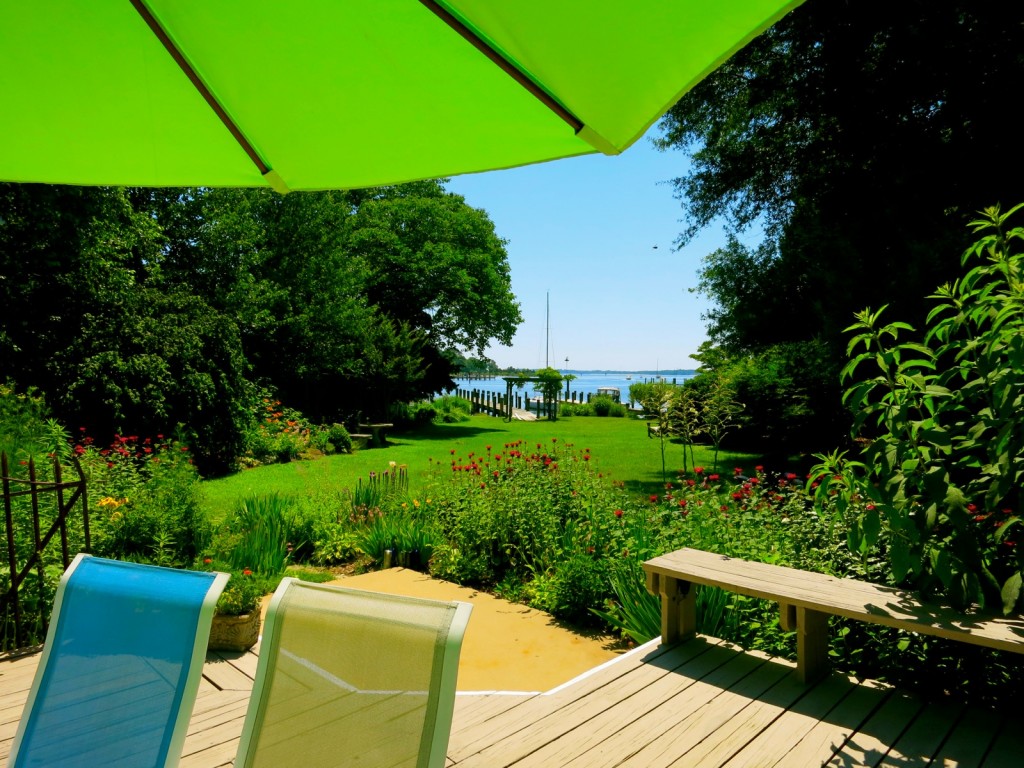 STAY: Back Creek Inn
You won't be able to resist the "creek" views from the backyard of Back Creek Inn, a charming 7-room waterfront lodging  Decorated in "antique chic," there is nothing that gets old about sunsets from the garden patio or out on the small pier, or the incredible gourmet breakfasts served in a charming dining room.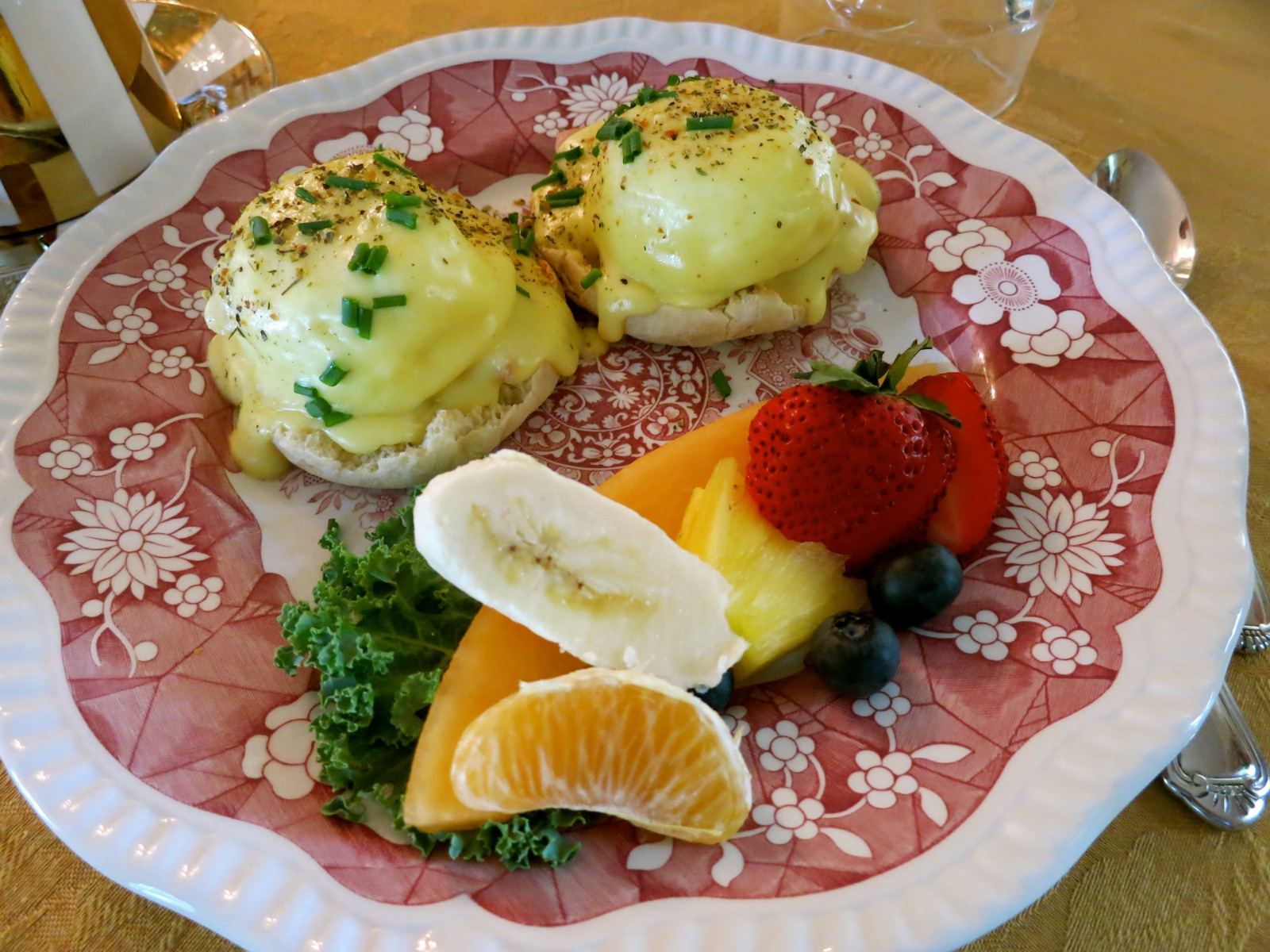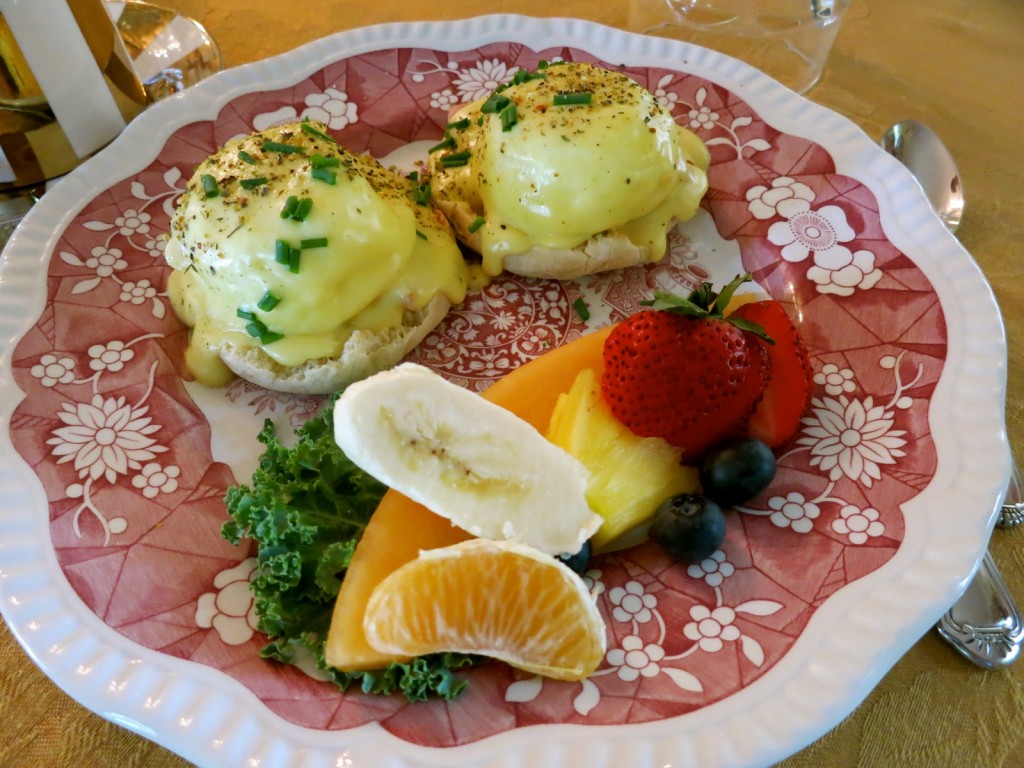 Owner, Carol Pennock makes all guests feel welcome, including those who arrive by boat. Yes, the Inn has a small dock, with its own resident Osprey family out back if you happen to be cruising the Chesapeake and want to stay. Rooms and cottage $135-$230 include an excellently and professionally prepared three course gourmet breakfast.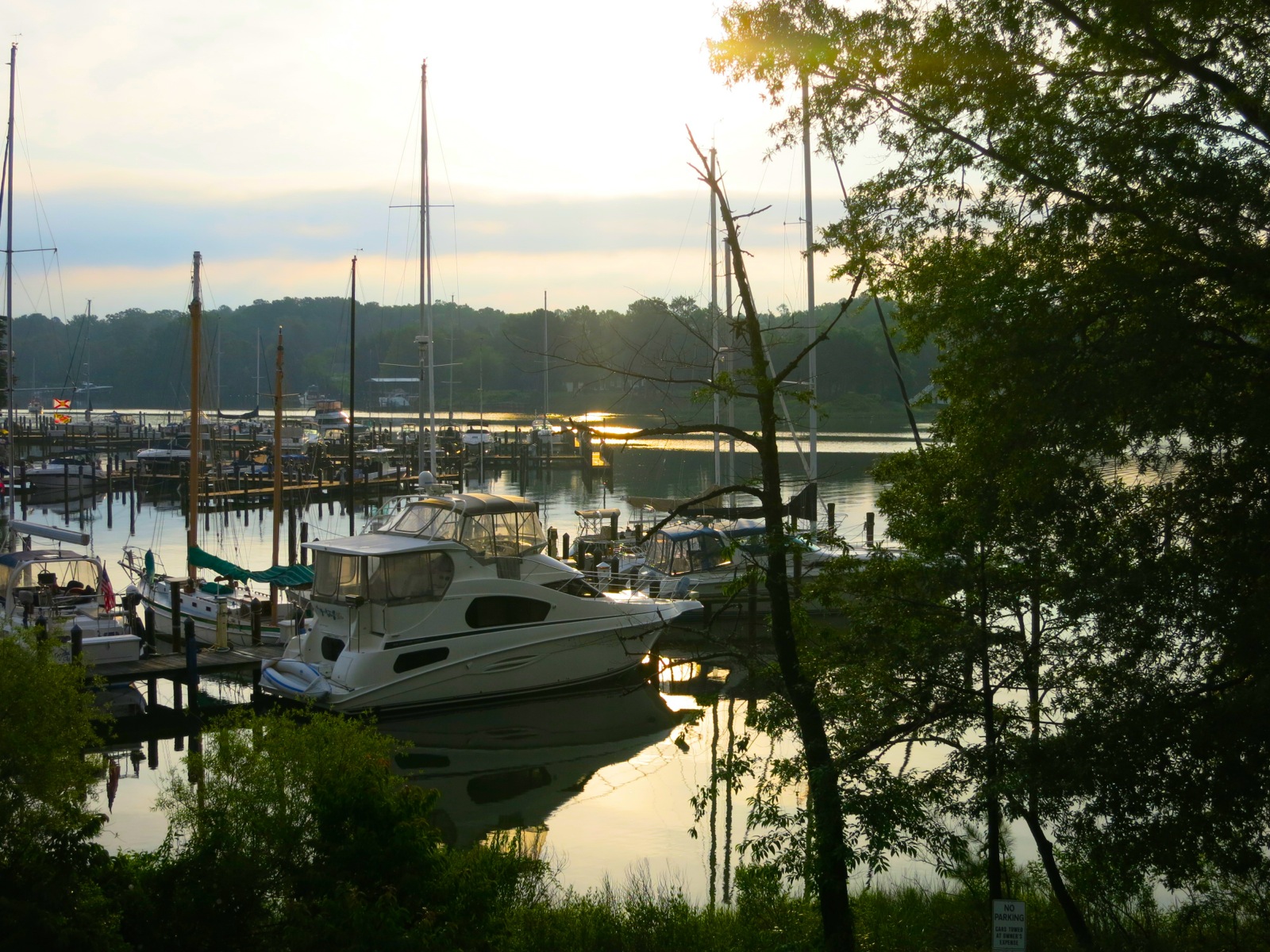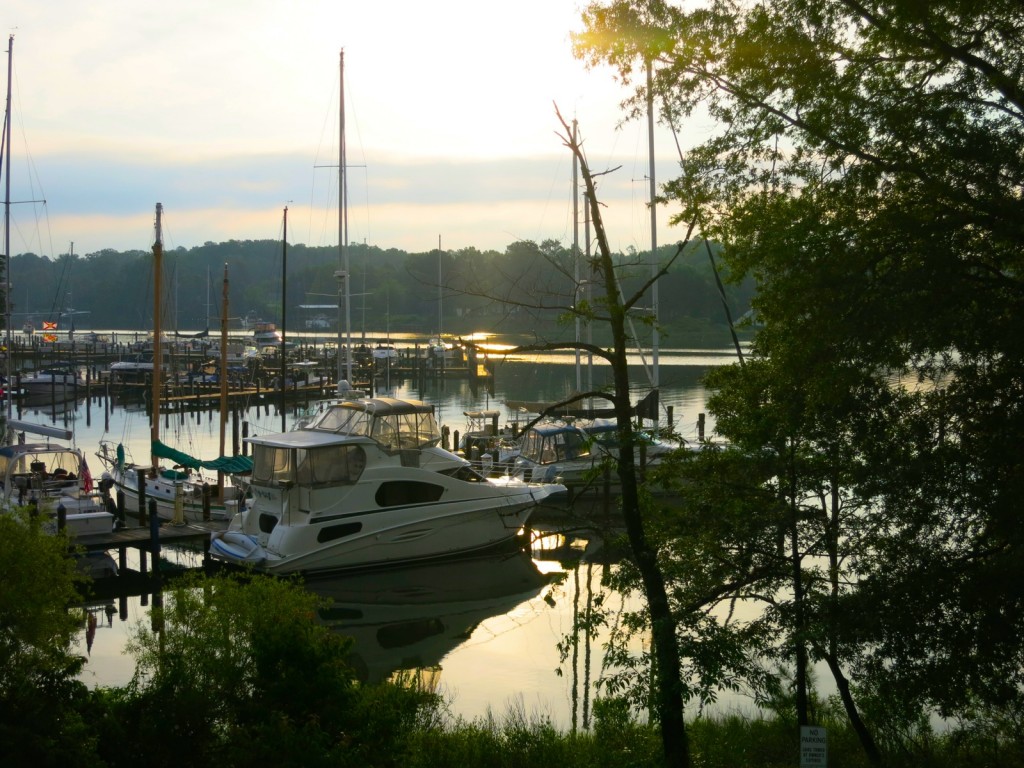 STAY: Holiday Inn and Marina, Solomons
Perfect for those looking for a more traditional, full-service hotel, this one is right on the water and features updated rooms with incredible sunrise views (like that pictured). Rates from $125 per night in season.
Managed by the Calvert Marine Museum, Cove Point Lighthouse, built in 1828 on 7 acres, is the oldest lighthouse in continuous operation on the Chesapeake Bay. Updated in 2012, and fully rentable (6 bedrooms, 4 baths) for great family reunions (can sleep 16), there's a full renovated kitchen on each floor. Open June-August 1-4 daily for tours, closed October-April. $350-$550 per night.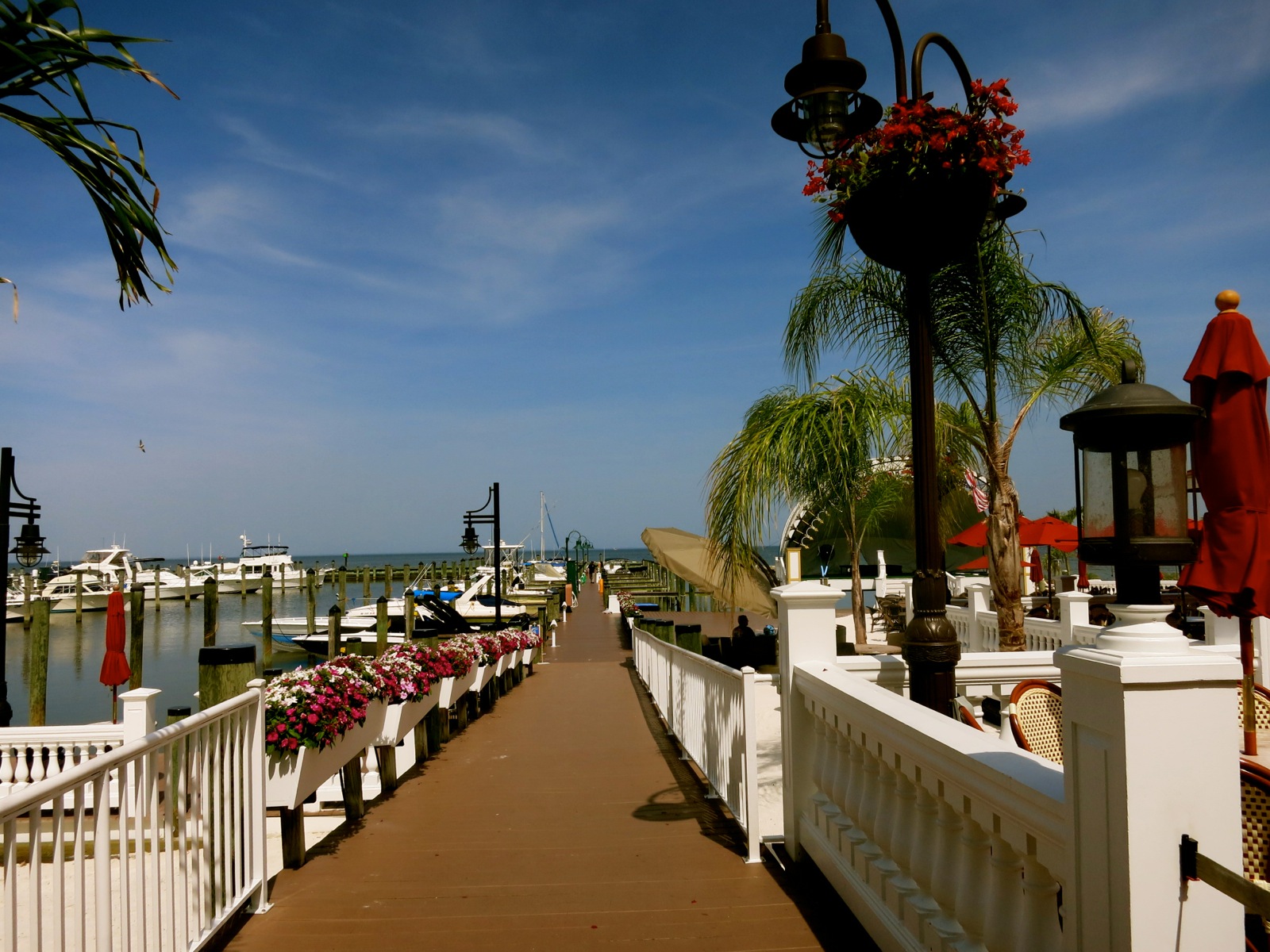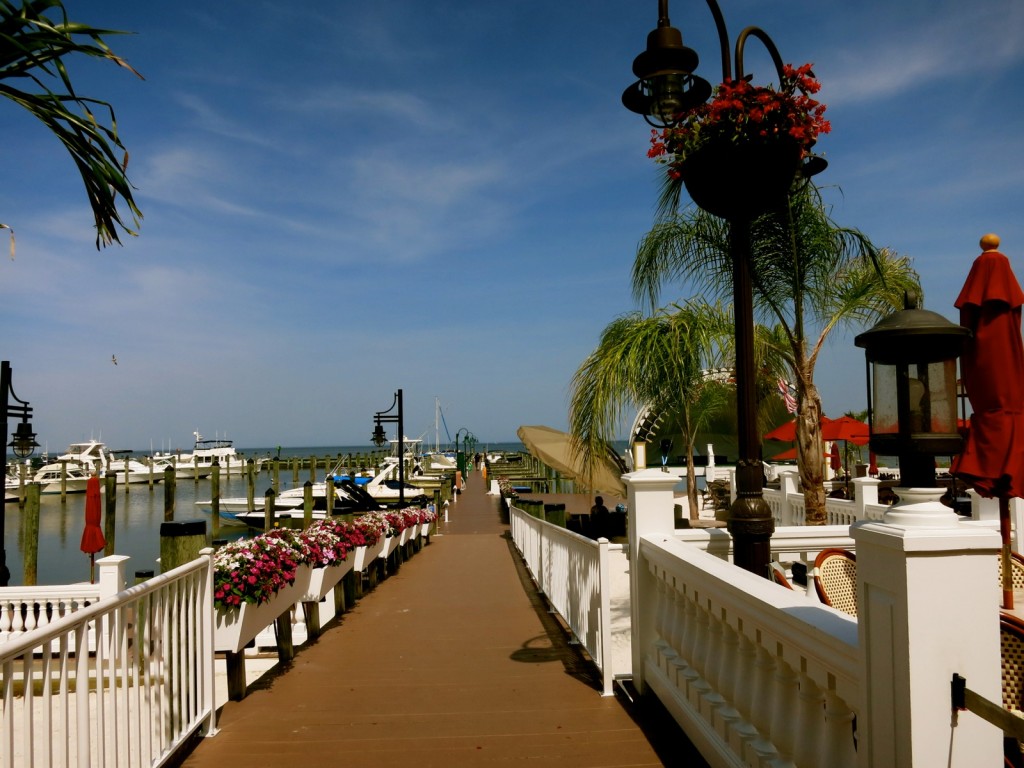 Though the beach is gone (taken up by a marina), the old bandstand still stands and makes a pretty party backdrop.
Some of the 70 rooms have been refreshed, and the casino can be make or break for visitors. But there's no doubt that the spa is very cool – with dramatic photos from the 20's lining the walls and gorgeous water views right outside the windows. Rooms from $160 per night.