Apple Tree Inn, Lenox MA
Kudos to the guys who surveyed the Massachusetts Berkshires entertainment scene and thought, "You know what this place needs? A cool ole hotel with a year round intimate performance space for folk-rock, blues, and jazz musicians, and other indie artists." And so, the Apple Tree Inn, and its cozy, woodworked, dimly lit Ostrich Room, was reborn.
Daniel Tennant, one of three partners (along with Max and James Khaghan), with upbeat energy to spare, felt that there was something missing in the region where Bob Dylan wrote and recorded his music, and where Arlo Guthrie still lives and set his Thanksgiving classic, Alice's Restaurant.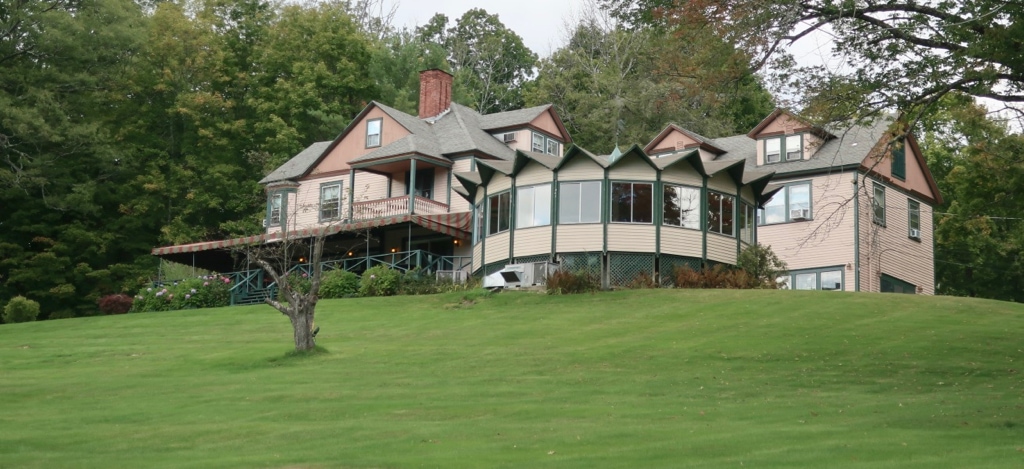 The bones of this historic 34-room Victorian manor built in 1885 on a 22-acre estate atop a Berkshires hill, were intact when Max Khaghan (CEO of the Aries Living Hospitality Group) and partners, purchased it in 2021.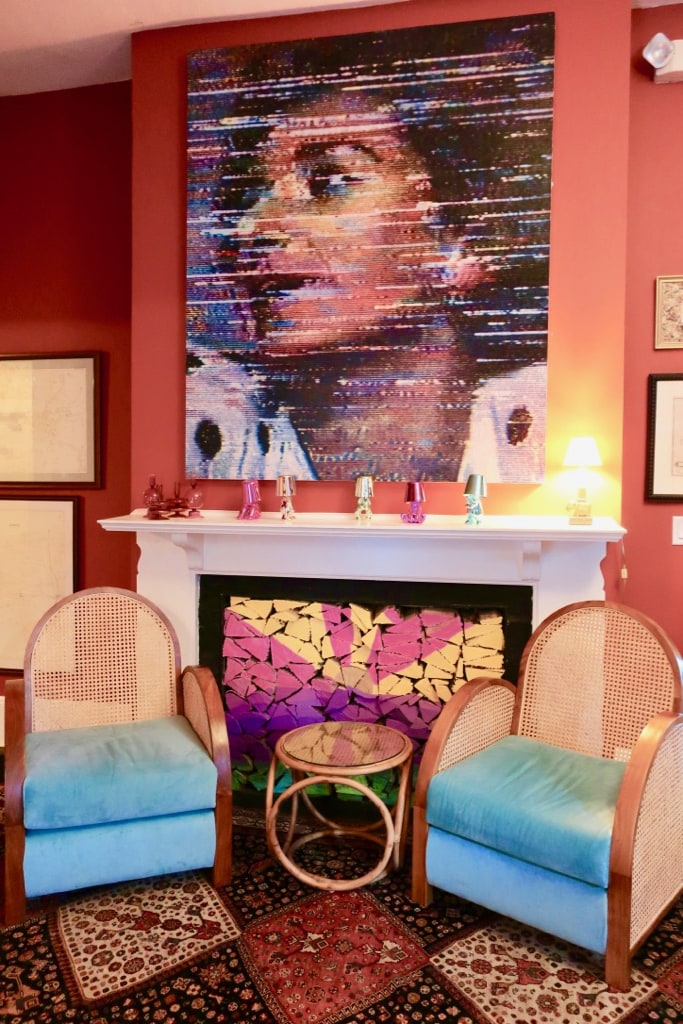 The only thing this place needed was an infusion of folk-root, cool-vibe, TLC. The partners went about renovating common areas, installing contemporary art from one of the art collector investors, and glamming it up: in effect, taking a conventional inn and transforming it into something magical.
In 2021, the Inn was operating without a restaurant or bar. Just guest rooms. The partners' first priority was getting the bar area and restaurant space up and running, and updating the guest rooms with new bedding, Frette linens, and Beekman 1802 toiletries.
(Apple Tree Inn was included on Getaway Mavens Best Romantic Hotels in the Northeast US 2022 list.)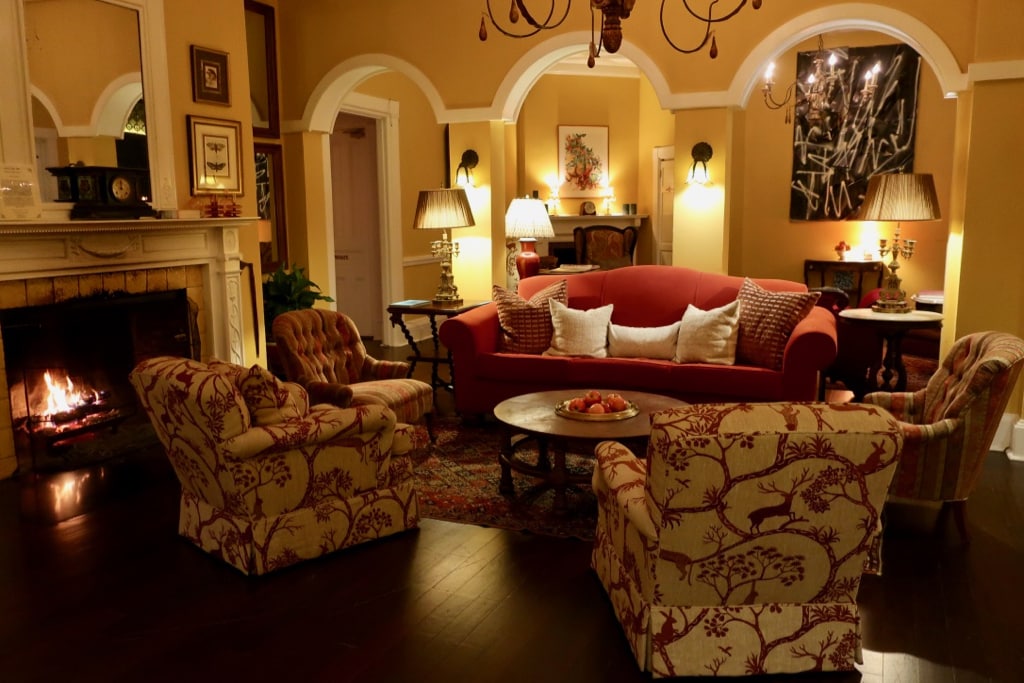 First Impressions of Apple Tree Inn
Guests have the option to check in online or while lounging on a couch in the lobby when they first arrive – there is no reception desk. Tennant wants people to feel as if they're being welcomed into someone's home.
And, indeed, this home is warm, pleasing, a little bit country-estate, and a little bit funky. In cooler months (the Inn is open year round) a real wood fire warms the room.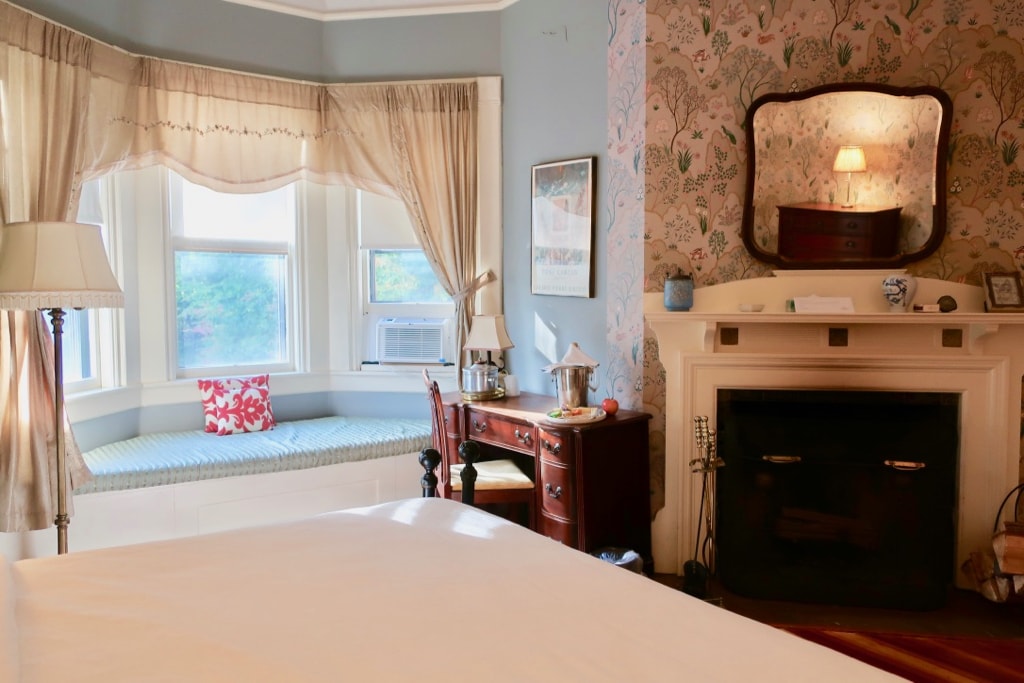 Rooms at Apple Tree Inn
There's nothing subtle about the 13 guest rooms in the main house. My room #4 featured wild Victorian-style floral wallpaper in the bedroom and bathroom, hardwood floors, Frette linens, and wood-burning fireplace. The white duvet, topping an oh-so-dreamy bed, modernized the room a bit.
But as is, it was fun and aesthetically appealing. The one curiosity was the sink in the small, pristine bathroom. It had two faucets – one for hot and another for cold water – a very outdated yet kind of funny element. (Picture trying to splash both water streams together for a lukewarm result).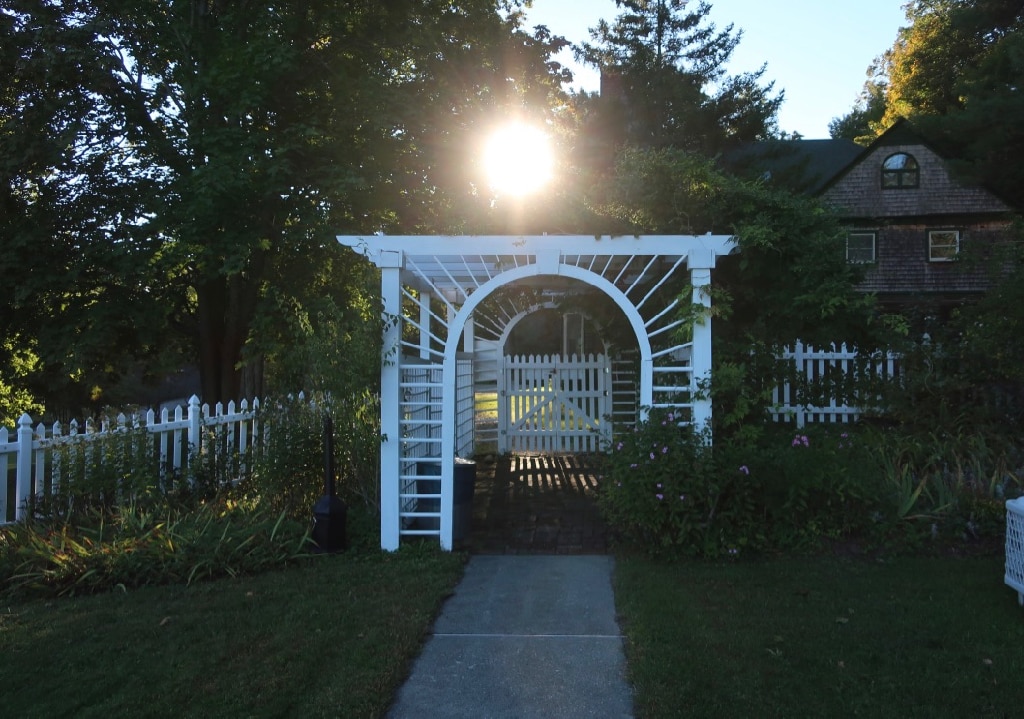 Another 21 rooms are located in the Lodge building, uphill and adjacent to the stunning outdoor swimming pool. These are more modern in style – with all the amenities to be expected in a luxury lodging.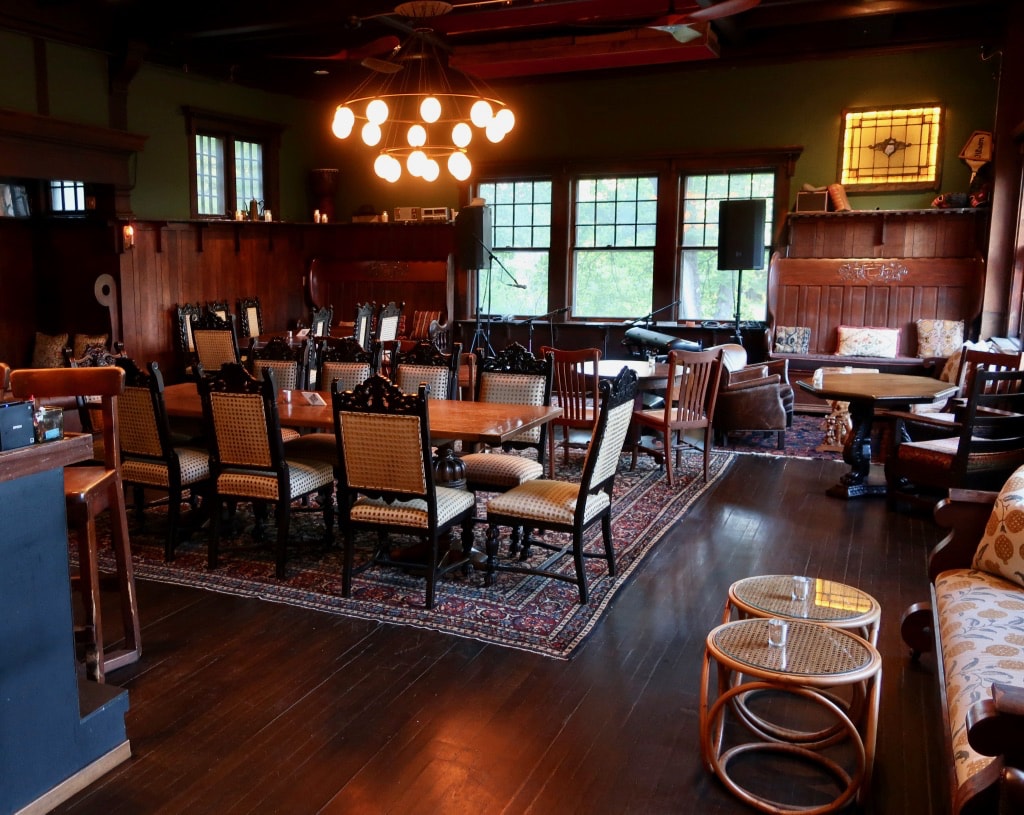 Bar, Music, and Dining at Apple Tree Inn
The Ostrich Room, named for the conversation-piece central chandelier partially composed of real ostrich eggs, serves as both craft cocktail bar with elevated pub food, and a live music venue on Wed-Sat nights. The space is both intimate and lively, and offers a communal and convivial space for area musicians.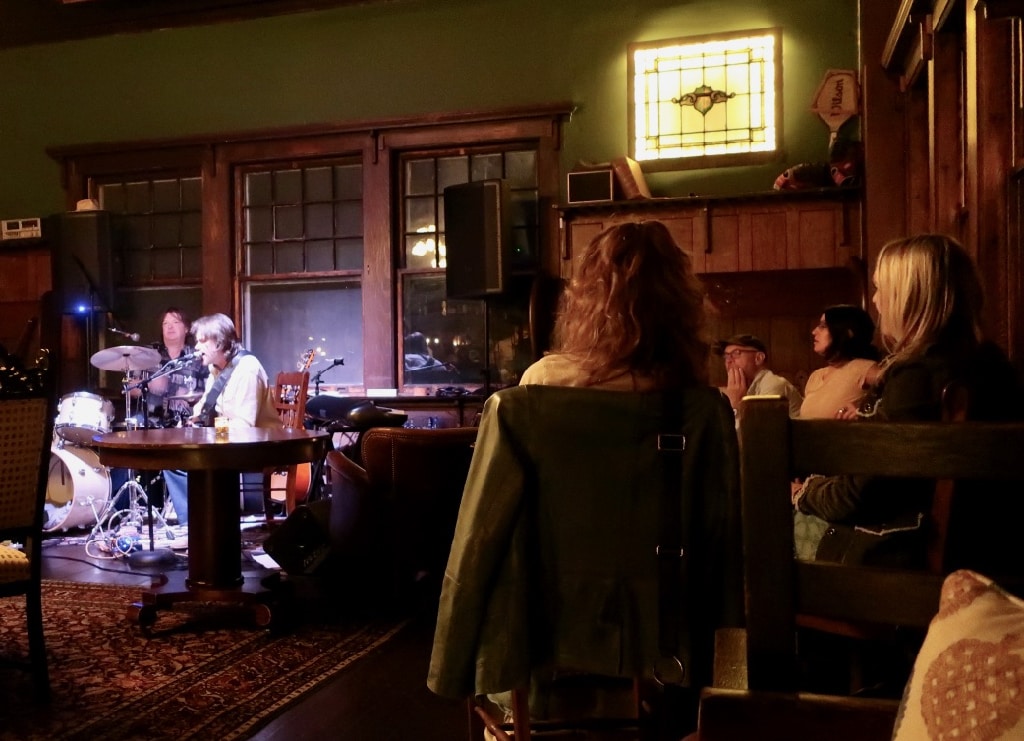 Johnny Irion, son-in-law of Arlo Guthrie, curates the high caliber music line-up. His own sound is rooted in the Berkshires – a kind of folksy, irreverent, "troubadour" rock. When the beat kicks up, it feels like a boisterous family gathering, with gangs of friends bellied up to the bar and sitting at tables.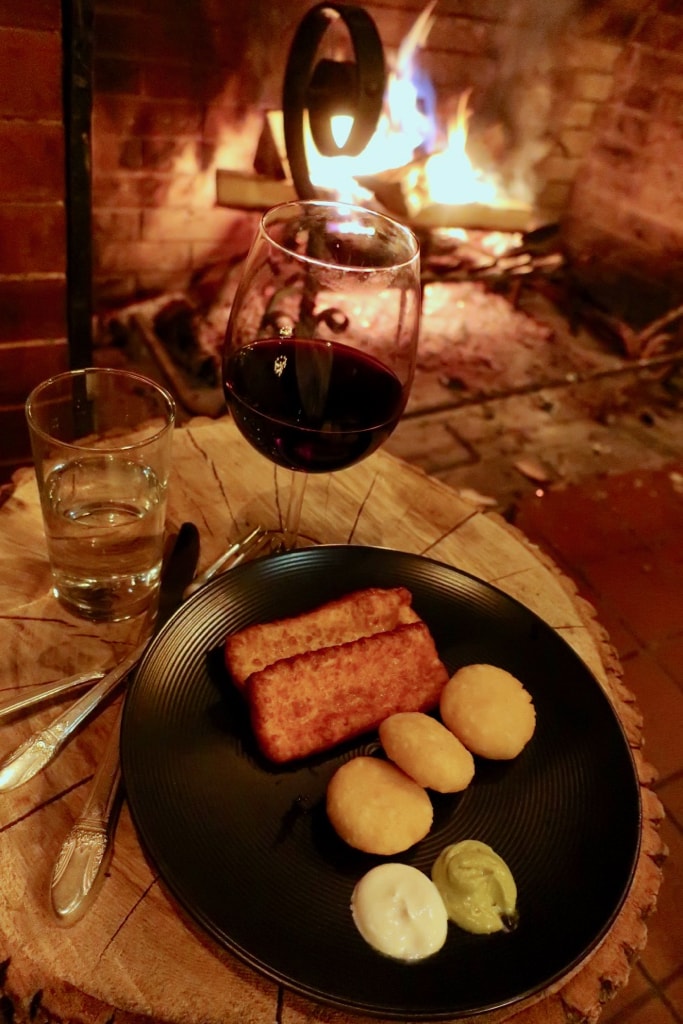 Two Restaurants
The luminous Venezuelan Chef, Myriam Cordova, has turned the Apple Tree Inn into Destination Dining. Cordova presides over both the Ostrich Room, and more formal Bellflower Restaurant – a circular, windowed room, with a colorful carnival-tent like ceiling, overlooking the sloping, apple-tree dotted property and Berkshire Mountains beyond.
Some locals come every Thursday night for her "Latin Night," menu, which includes crispy mini arepas, Imperial Rice, and Skirt Steak mains, and her version of Tres Leches. But she and her team also excel in dishes of many cultures.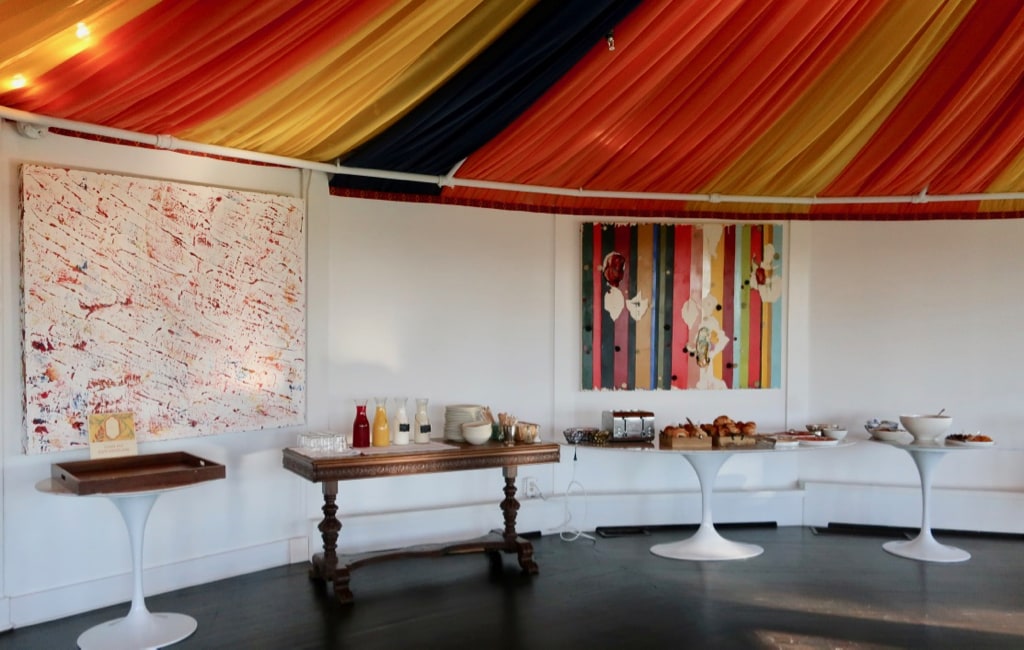 In the morning, a complimentary European Continental breakfast is far superior to the American kind. I can't recommend the warm, flaky, just-out-of oven croissants enough. Plus, there's lox and bagels, cold cuts, fresh fruit, and yogurt.
Inn Property
There's a whole other vibe a short walk uphill from the main house, where you'll find the Lodge building.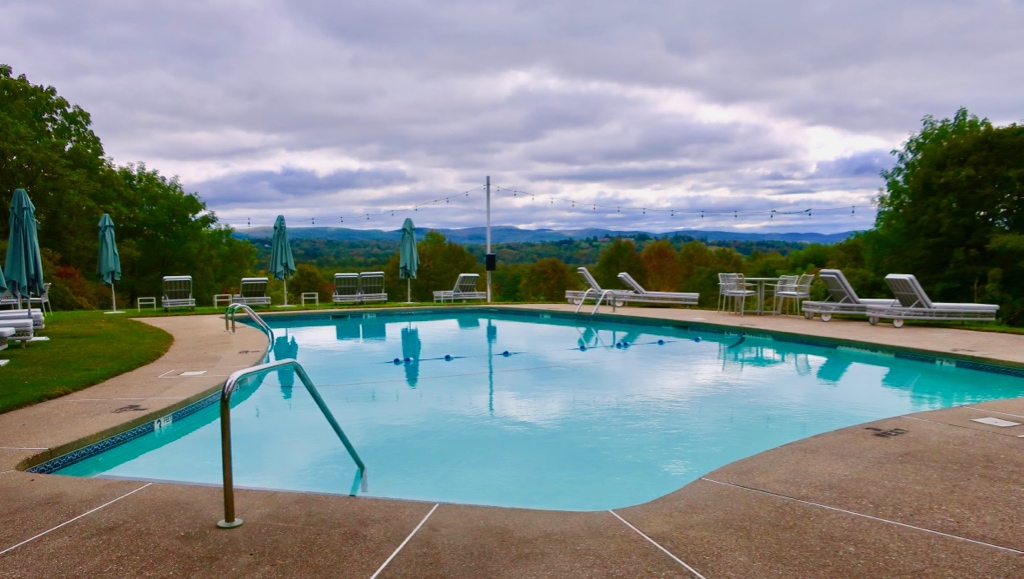 A stunning, landscaped outdoor pool reflects the Berkshires sunset on steamy summer eves. (Open seasonally).
Tennis players can use the clay courts behind the Main House. Bring your own racquets or borrow them from the Inn.
Just the Facts
Rooms from $159 – $307 (depending on day of week and season) include European breakfast and use of pool (in season) and tennis courts.
If you can tear yourself away from this place, consult the Getaway Mavens Getaway Guide for things to do in Berkshires MA