Ohio Route 6 includes Big City Cleveland, the Lake Erie Shoreline, Cedar Point Amusement Park, and continuous farmland.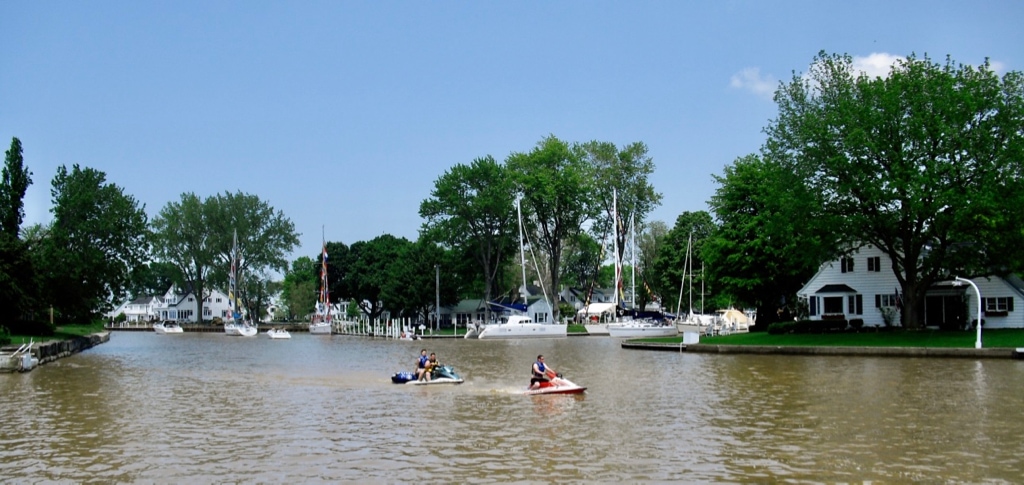 Cross from Pennsylvania into Ohio, a springboard to the Midwest, where terrain flattens out and silos and red barns appear at intervals. Each farm town encompasses a central green or square around which Ohio Route 6 winds.
FYI – all stated attractions were operating as of Sept 1, 2021. But check prior to visiting to confirm.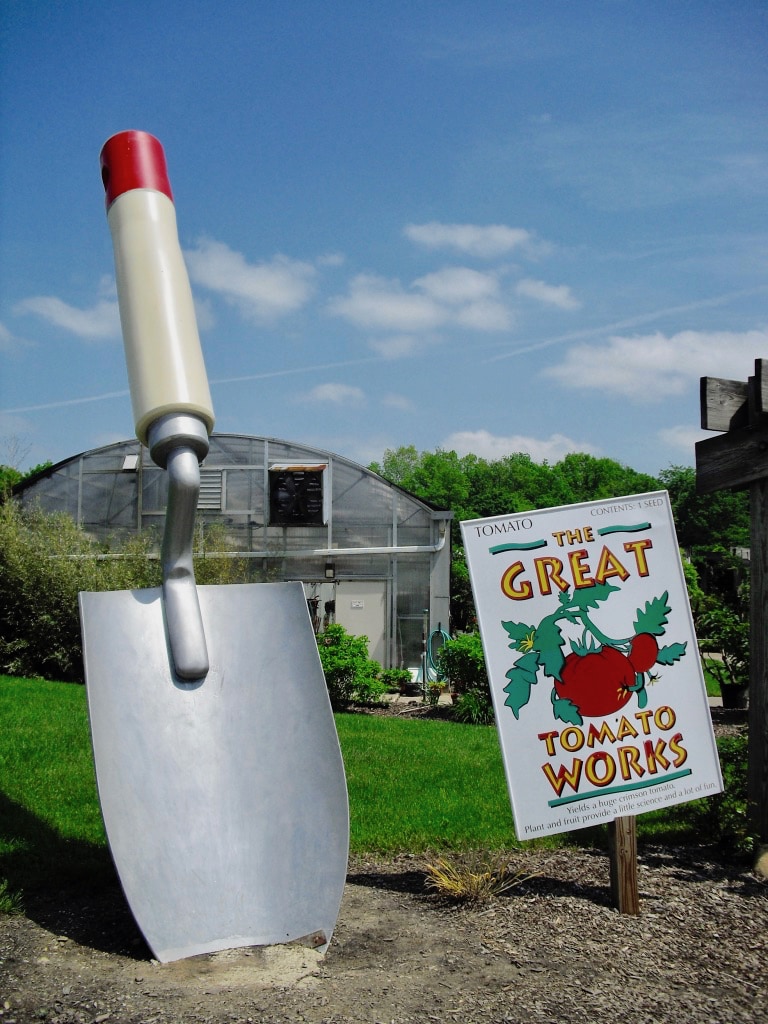 Milk a cow, make ice cream, watch animal babies as they enter the world.
You can't miss this attraction on the left side of Route 6 – with its gigantic dark blue, white topped water tower. Originally a 235-acre Arabian Horse Farm, Farmpark is a visceral study of life on a working farm, and one of the best of its kind in the USA.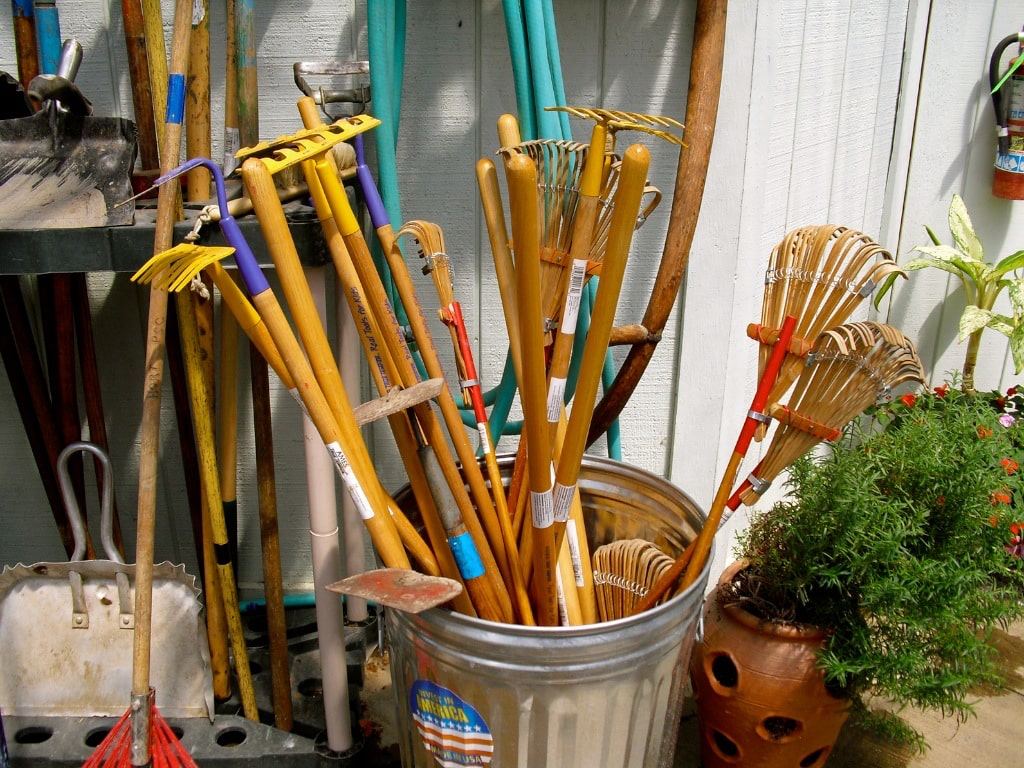 Created to teach an increasingly urban population where our food comes from, you can milk a cow, make ice cream, watch animal babies being born, and harvest vegetables. Open Tues-Sun 9-5, $8.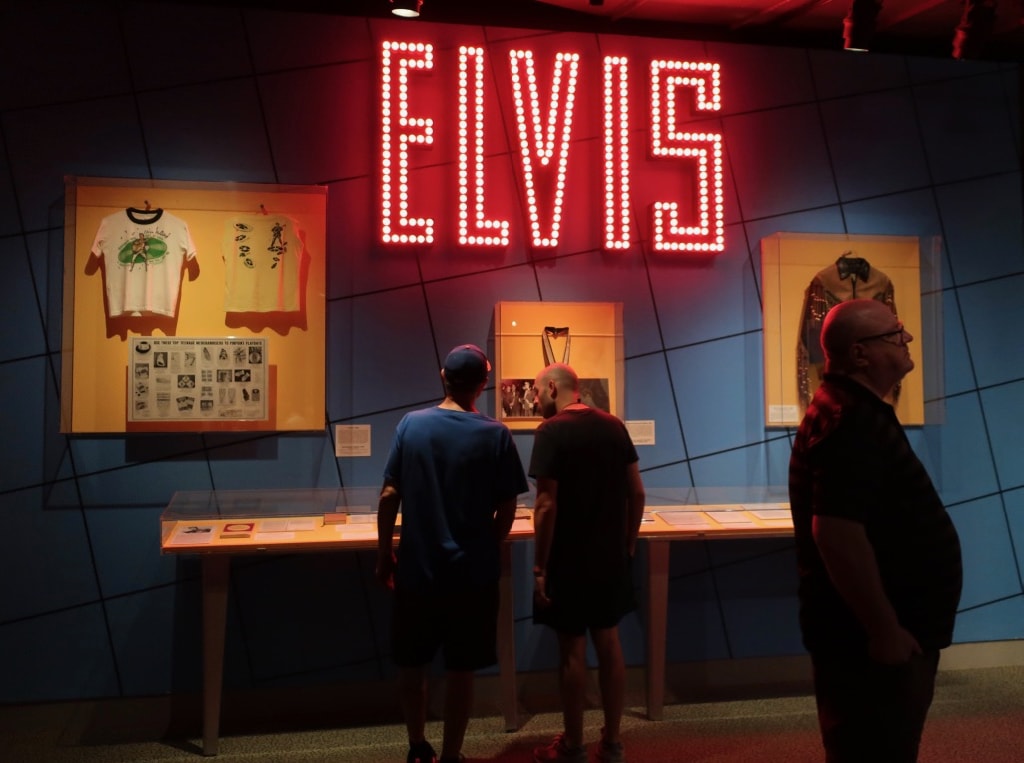 Rock n' Roll loving duos adore the Rock and Roll Hall of Fame – But There's More
From Kirtland, it's 25 miles to Cleveland, OH. Route 6 pairs with Route 20 until you reach Superior Ave. where you'll take a right hand turn. There is no sign indicating that Route 6 hooks right on Superior, but once you make the turn, you'll see the 6 West sign shining brightly on the next block.
The Mavens love this City on the Lake – so we covered Cleveland on its own in this post.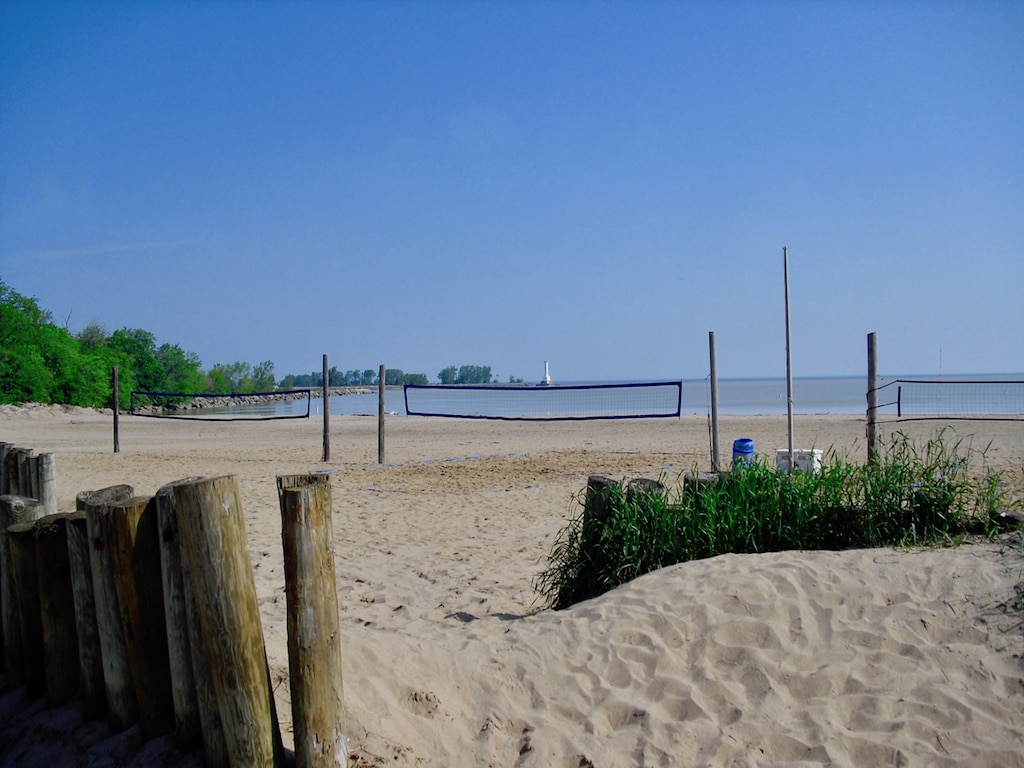 Drive 40 Miles Along Lake Erie
Route 6 is pretty straightforward as you depart Cleveland heading west. Keeping the estimable Lake Erie on your right, Route 6 leaves Detroit Ave. onto Lake Rd. You'll want to cruise slowly as you pass big-boat marinas and larger lakefront homes; some swanky, others modest. The next 20 miles provide glimpses of fishing piers, mansions, Lake Erie through impeccable lawns, people on bicycles. It's the good life here, though pretty low key.

Vermilion OH
Plan a stop in the Venice-like hamlet of Vermilion with charming homes that back up to inlets and canals – a boat at each personal dock. In fact, the town's motto is, "Vermilion; A good place to drop anchor," and could just as well be "A Good Place To Park Your Car And Explore."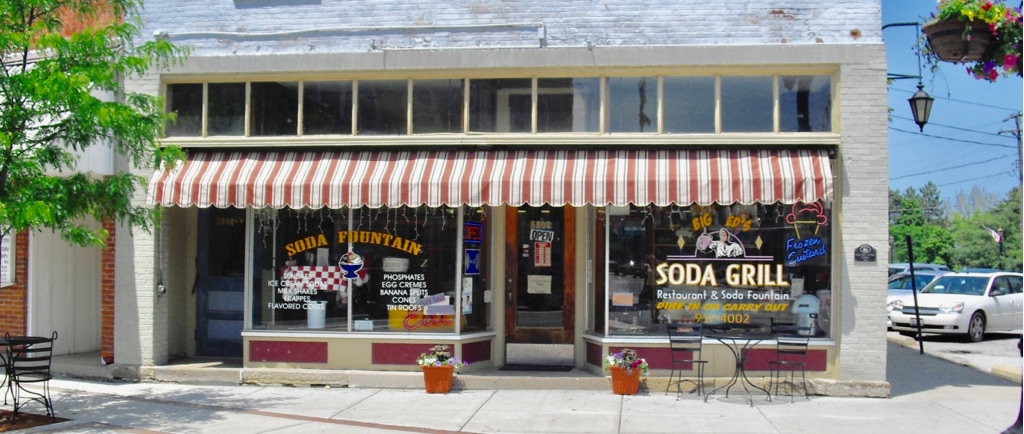 Grab a bite at the neighborhood fixture, Big Ed's Soda Grill – a '30's-era Soda Fountain where hotdogs, burgers, fries and ice-cream sodas taste of beachy summer.
Old Woman Creek Preserve, Huron
From Vermilion, it's a pleasant water-view 11 miles on West Lake Dr. (AKA, Ohio Route 6), which turns into Cleveland Rd. towards Huron About a half-mile east of Huron on Route 6, bird watchers will drool over the 572-acre Old Woman Creek Preserve, one of the state's few remaining examples of a natural estuary. Take a walk on 2 miles of trails and visit the interpretive Visitor's Center for more information. Preserve trails open year-round, daily 8 am-5 pm. Visitor center open Memorial Day-Labor Day, Tues-Fri 9 am-4 pm, Sat-Sun 1-5 pm; Labor Day-Memorial Day, Tues-Fri 1-4 pm.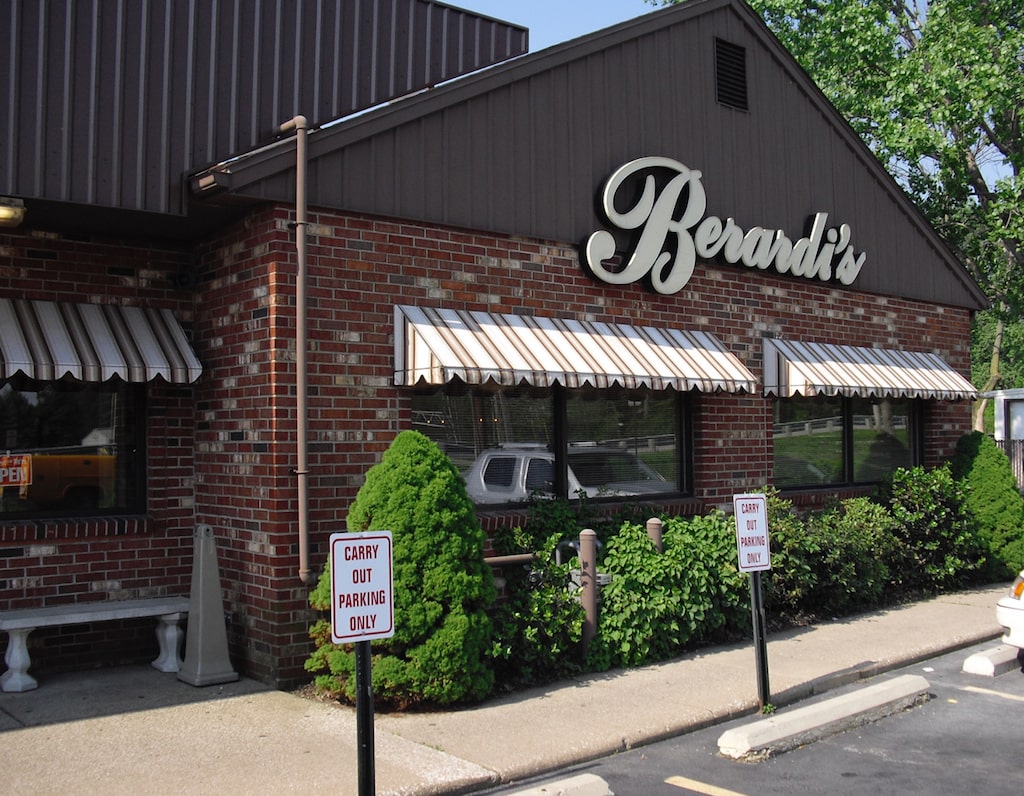 Best "Midway" Fries Since 1942
Afterwards, have breakfast, lunch or dinner at the wonderful Berardi's in Huron, renowned for its Cedar Point Park "midway fries" since 1942.
Sandusky OH
Best known for Cedar Point Park, (constantly rated The Best Amusement Park in the country) Sandusky has several, less frenetic things to recommend it.
The streets and parks of Historic downtown Sandusky (most often overlooked by the hordes of amusement park goers) are laid out in the form of a Masonic symbol. Designed in 1818 by a Master Mason, the Masonic compass and square were superimposed upon a city grid, which explains why downtown roads are at such strange angles.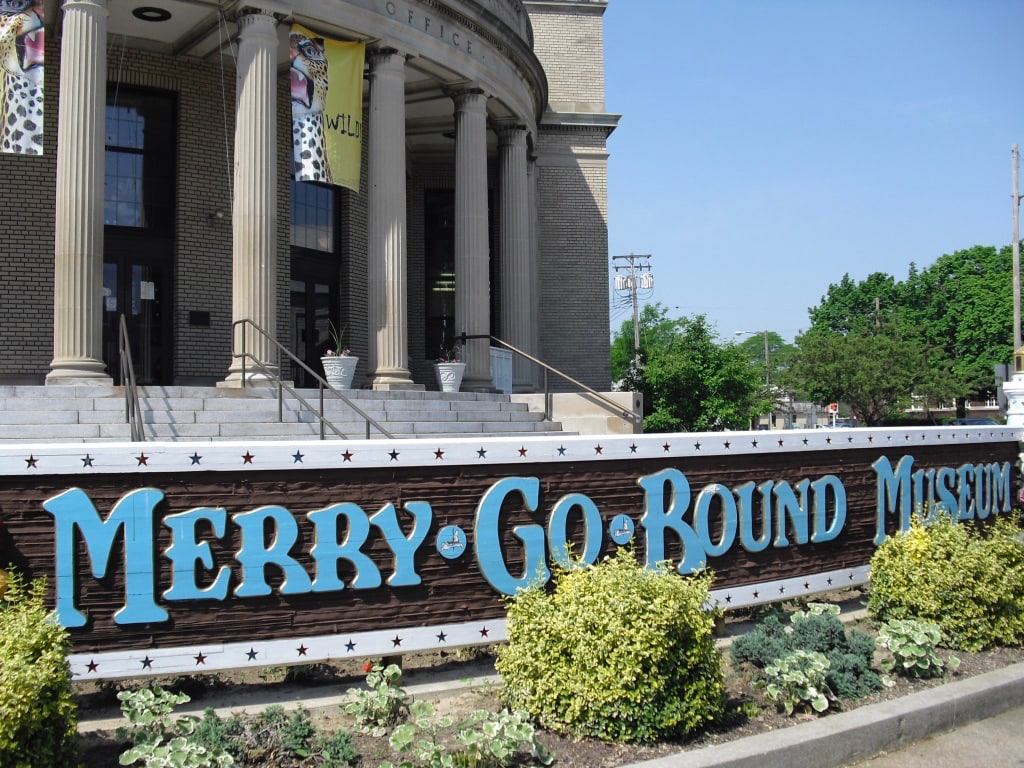 Merry Go Round Museum
Route 6 signs are easy to follow, however, and will lead you to a great rainy-day destination, the marvelous Merry Go Round Museum, where you can ogle the carved horses (and other creatures), take a ride on a fast, indoor carousel, listen to a thunderous Wurlitzer organ, and watch master wood carvers at work. 
Hundreds of thousands have visited this museum since it opened in 1990 in Sandusky's landmark 1927 Post Office. The carousel fits perfectly inside the rotunda.
Try Out Island Life Or Just Take a Lake Excursion From Sandusky Docks
In addition to coal docks and freighters you'll see a myriad of island ferries at the water's edge. Sandusky is a key port for Canadian visitors (both the Maple Leaf and US Flag fly here). Also, ferries run out to "the islands," Put In Bay, and Kelley's Island, multiple times a day in season.
Each island has its own identity; Kelley's is for slower-paced nature lovers, Put-In Bay is a bit more commercialized. If you've got a few extra days to eek out a beach vacation before heading west into the landlocked interior of the US, you should consider exploring one or both islands.
Eat Great Lakes Fish at New Sandusky Fish Co.
The Lake Erie Shore is to perch and walleye what Maine is to lobster, so act like a local and stand on line for a piece of excellent fried fish at The New Sandusky Fish Co., rated best fish shack by a slew of publications. Then, sit on a lakeside park bench and savor the meal and view.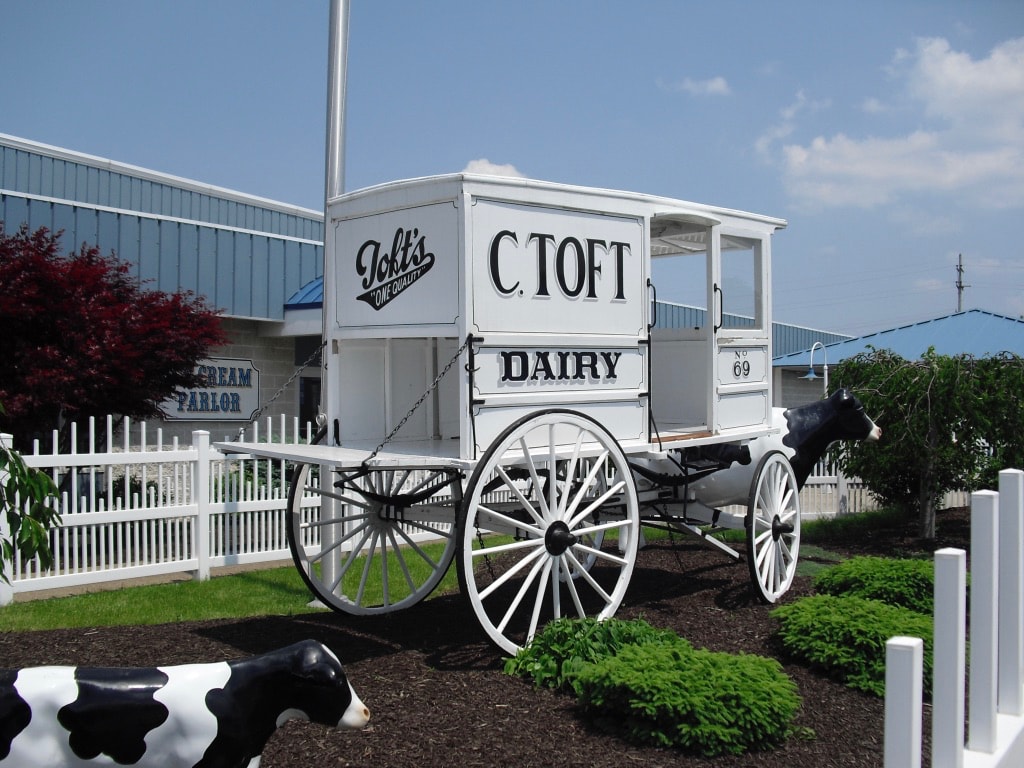 Toft's Dairy
Before leaving Sandusky entirely, any self-respecting ice-cream aficionado must join the legions of fans at Toft's Dairy, a working dairy that convivially serves up 51 ice-cream flavors.  A local icon and community meeting place, right on Ohio Route 6, Toft's churns out some of the best ice cream ever licked off a cone.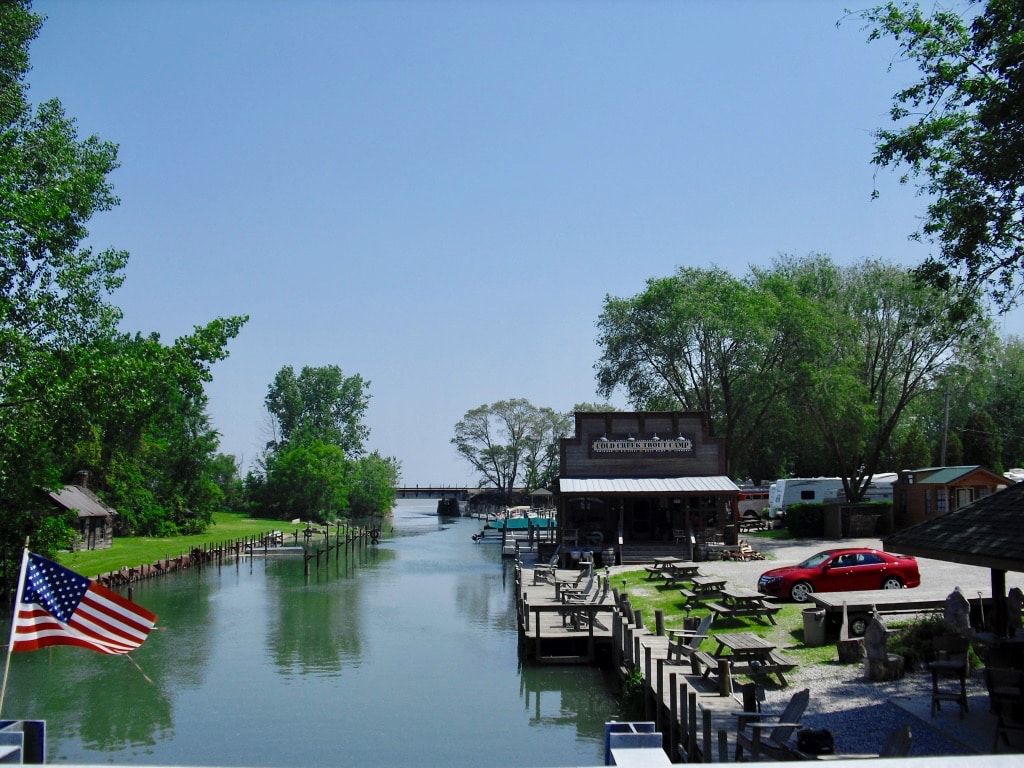 Go Fishing All Year
Four miles west of Sandusky, fishermen (and fisherwomen) flock to the public and incredibly picturesque Cold Creek Trout Camp, where a freshwater fish-stocked creek flows from a subterranean "Blue Hole" with a steady temperature of 48 degrees. No need for ice-saws – the creek never freezes in winter.
From OH Lakefront to Farmland on Ohio Route 6
Leaving the Lake Erie shoreline on Lima-Sandusky Rd., the land flattens considerably and is nearly 100% farmland. Sagging barns, hulking grain elevators, copses of trees and proud farms sporting family names and inception dates break up the monotony.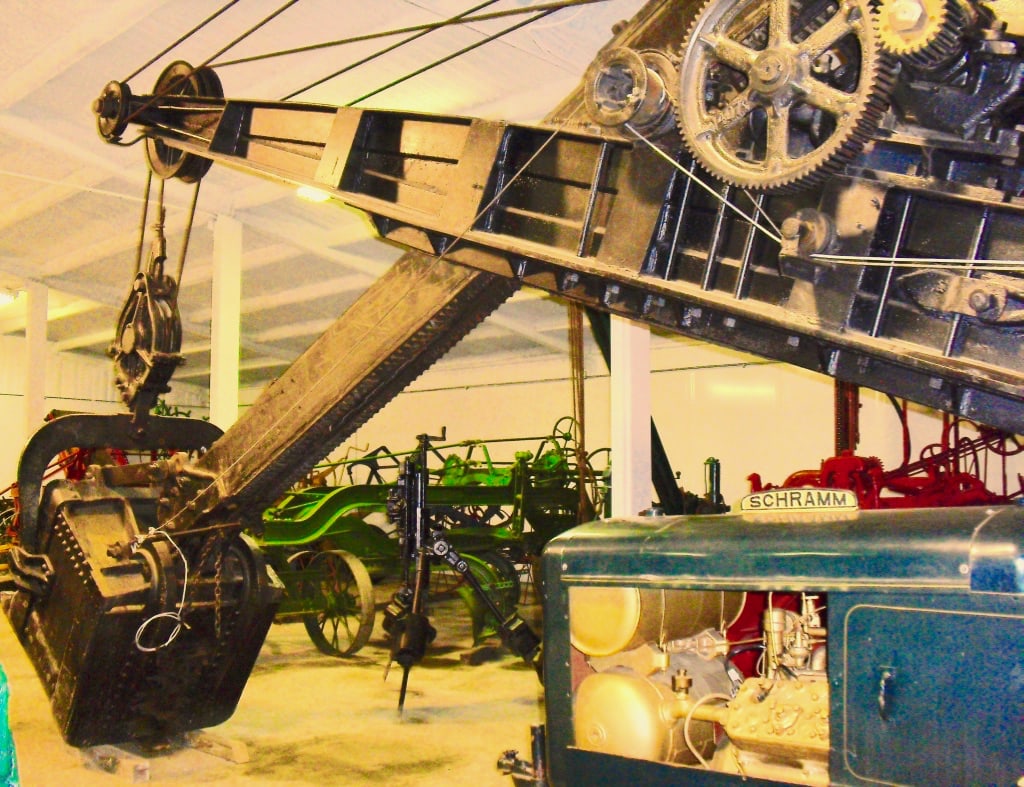 Swoon Over Big Working Rigs at The National Construction Equipment Museum, Bowling Green
It's 50 miles to the outskirts of the college town of Bowling Green. Though Route 6 bypasses the heart of the city, there's one quirky museum that might coax a certain mobile-machine-loving type: The National Construction Equipment Museum. (From Route 6 – hang a right onto Liberty Hi Rd. and go about 1-½ miles. You'll see it on your left.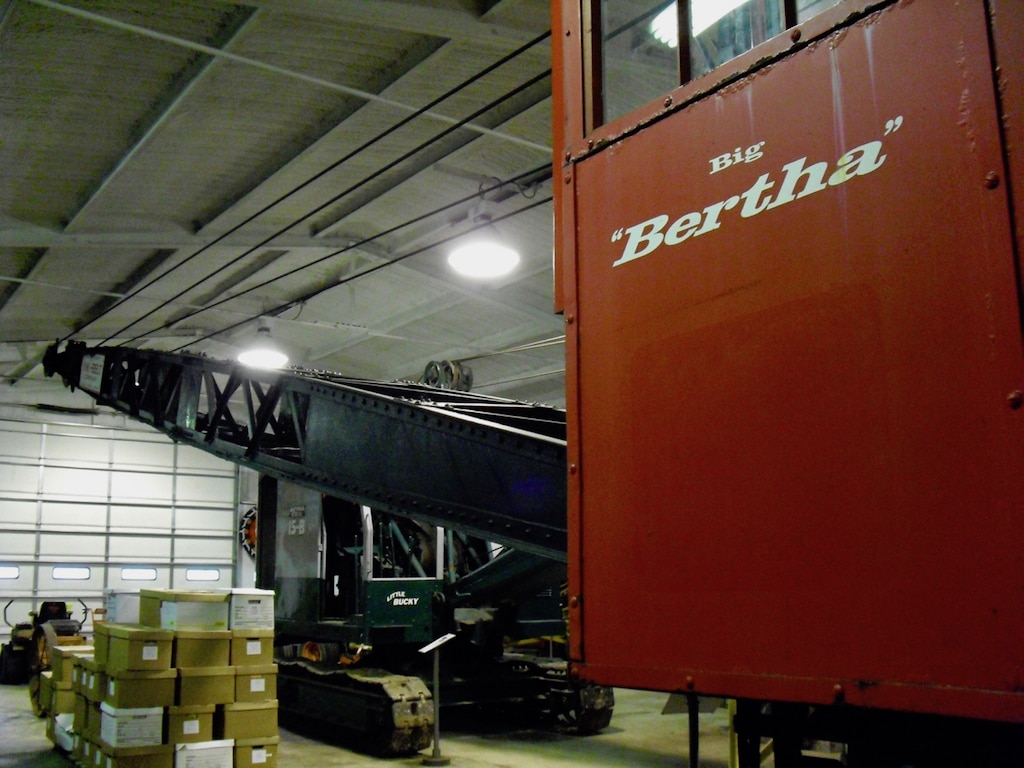 This massive warehouse contains around 90 meticulously restored and rugged construction, surface, mining and dredging equipment, from 1800's horse-drawn contraptions, to massive cranes, and fire engines. Big Bertha – a "Crawler Crane" – was salvaged from a Sandusky marina.
There's an electric version of Mike Mulligan's Steam Shovel – a Marion Model 21. You'll also find of the first automated fire-engines: an old Studebaker Automatic Sprinkler Wagon. Thanks to a passionate group of volunteers, all machinery is in working condition. It's a bare-bones museum, but what a find! Open weekdays 1-5, $7 includes tour. (Contact ahead of time to confirm it's open).
Discover the rest of US Route 6, from Massachusetts to California on this US Route 6 Getaway Mavens post.