Last Updated on
201 W. 55th St., NY, NY
Just a few blocks from Central Park, Carnegie Hall, the Late Show, and within view of the lights of Broadway, the WestHouse Hotel NYC  demonstrates a keen attention to detail and anticipatory, customer-is-king service. The staff really want to make your stay as amazing as possible. Sincerely.  It's like walking into Bruce Wayne's mansion and having a bevy of Alfred's and Alfreda's see to your needs.
Envisioned as a "home away from home" (if your home came with a bend-over-backwards luxury "attaché") and inspired by a grand 1920's Art Deco Townhouse, the WestHouse Hotel on 55th and 7th, a member of Small Luxury Hotels of the World designed by Jeffrey Beers International, is a strong contender in the high-end NY City luxury-lifestyle hotel market. In fact, there's really nothing like it in any corner of the City. At its entry-luxury-level price point, WestHouse opened to fill a need – that of the sophisticated traveler who craves exclusive, personalized service.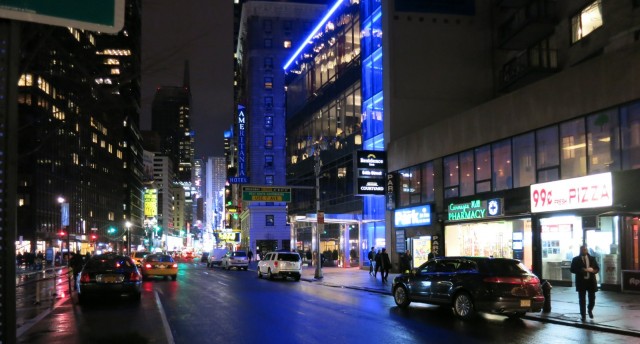 Westhouse Hotel NYC: Intuitive Service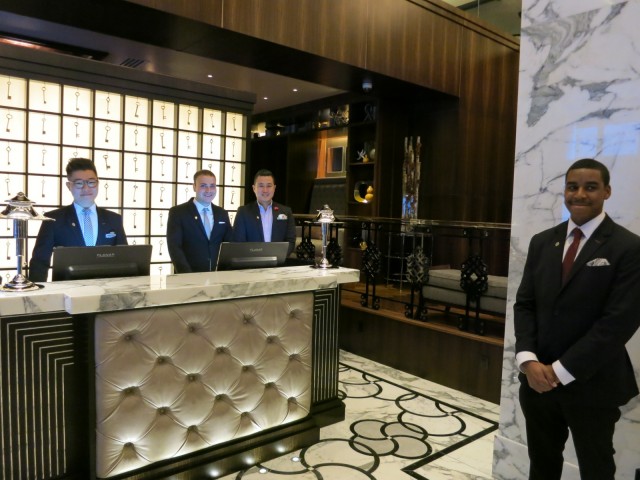 Exemplary service here goes beyond the passive "if there's anything I can do for you, just call" sort, and into the realm of mind reading. As the bellman and I walked into the elevator, he asked if I required a wake-up call to make my 9am meeting the next morning. I casually mentioned that I'm usually up by 6am, so no need to ring my room.  Several minutes later, as my "Alfred" was showing me the amenities in my suite, he piped up – "since you get up at 6, and breakfast isn't served until 6:30, would you like me to arrange for a triple-shot espresso to be sent to your room at 6?"  Not only did the valet listen to my idle chatter, but he heard me – and for whatever reason sized me up as a "triple espresso" kind of gal. A very good guess, it turns out.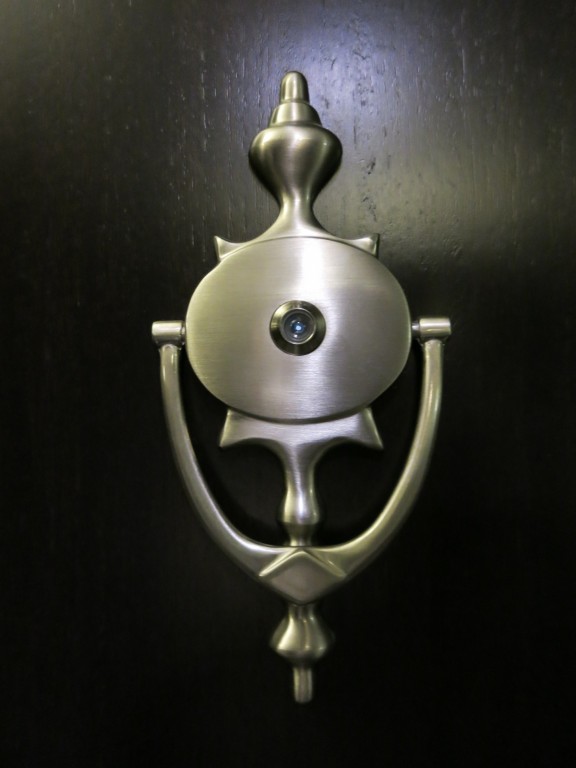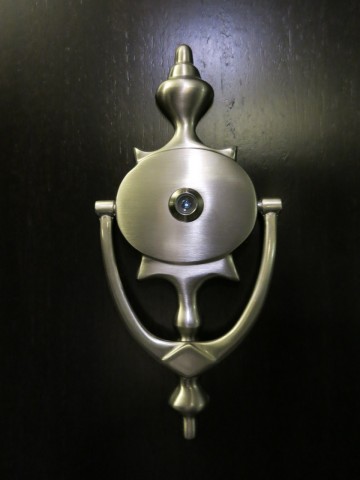 The "home away from home" motif repeats throughout the hotel. You'll find a door knocker on each chamber door, and hanging in each closet are terrycloth robes emblazoned with "Westhouse Resident" monograms. (Children's robes are stitched with "Little Resident." And dog bowls – yes Westhouse is under 25-lb pet friendly – are marked "Special Resident.")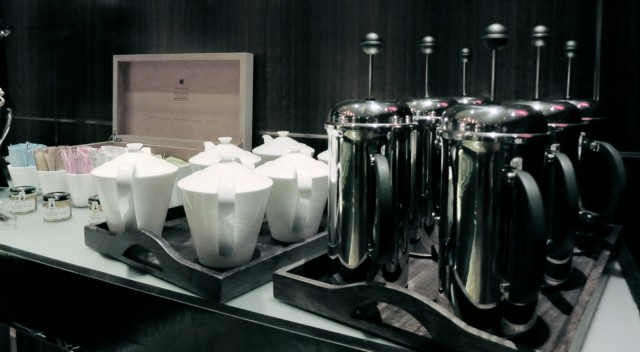 As "resident" of a staffed New York townhouse, you can expect a catalog of privileges. Raid the kitchen at your whim, have a spot of tea – or a tripple-shot espresso – delivered to your door, and access the in-house, high-end concierge service Luxury Attaché to book a table for two at a hot restaurant, a private yacht charter,  VIP access into a museum before opening hours, or anything, within reason, you can dream up.  Evening brings turn-down service with "Calming Chocolate" on your pillow, made with natural ingredients to promote, rather than disrupt, sleep.
Westhouse Hotel NYC: Aesthetics
You enter the cool, carrara marble lobby to find a bevy of suits at your disposal. These are the men and women who already know – via prior contact – your specific requests. Eighty antique keys form a backlit shadow box behind the intimate reception desk representing a bygone era in genteel travel, to which WestHouse aspires and succeeds with aplomb. 
Just off the reception area, "the Den," a chocolate brown, low-lit space stocked with couches, cushy chairs and ottomans atop area rugs and herringbone patterned hard wood floor, is the perfect spot for morning French Press coffee and croissants, afternoon canapés, evening wine and beer, and soft-spoken conversations.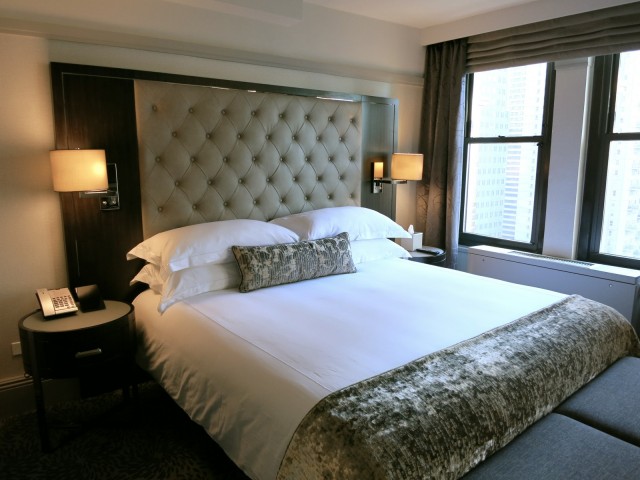 Rooms and Suites sooth in cool shades of pewter, gray, and amber and feature dreamy beds with sinkable Sferra linens,  46" HD TV's and several unique elements.  There's a cut out in the glass door of the gray-veined marble shower – enabling guests to turn on the water before stepping in.  Such a simple thing, and yet….so convenient and smart. Each room is stocked with a high-end GHD flat iron and blow drier as well as bespoke DayNa Decker bath and body products, as fresh-smelling as laundry line, designed exclusively for Westhouse.
WestHouse Hotel NYC: Cost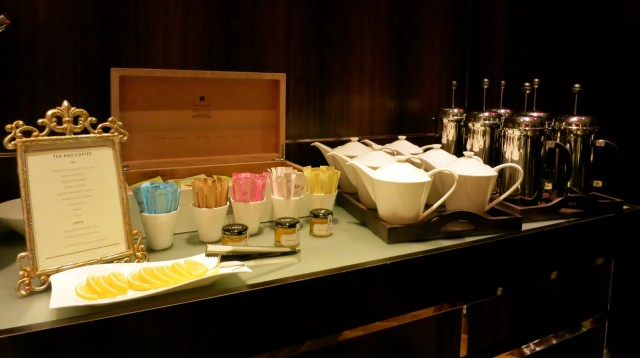 With rates $375-$1200 per night, the 172 room WestHouse fills the niche between budget and rarified $25,000 per night Plaza suites.  An extra $30 per night "Amenities Fee" is a perk you can't pass up. That fee includes free room Wi-Fi, yogurt parfait,  muffins and crisp croissants from Amy's Bread with French-Press coffee each morning, afternoon tea and nibbles, evening wine, cheese and charcuterie, a selection of snacks in your room, as well as coffee, tea, water, soft drinks, beer and wine throughout the day. Given that in New York City, two glasses of wine alone will set you back $30, this is a rare deal. And the fact that it comes with fawning staff is, in this travel writer's estimation, a formula for success.
* Malerie Yolen-Cohen was hosted by the hotel for purposes of review.  All opinions are hers alone.