WHY GO: It's a safe bet that parents who drop their kids off at Binghamton University in Binghamton NY don't generally stay to see the city sights, but they'd be missing out. Once maligned as blighted and abandoned, Binghamton – newly branded with the zingy "BING" – is undergoing a resurgence, with new art galleries and well-regarded restaurants popping up every month.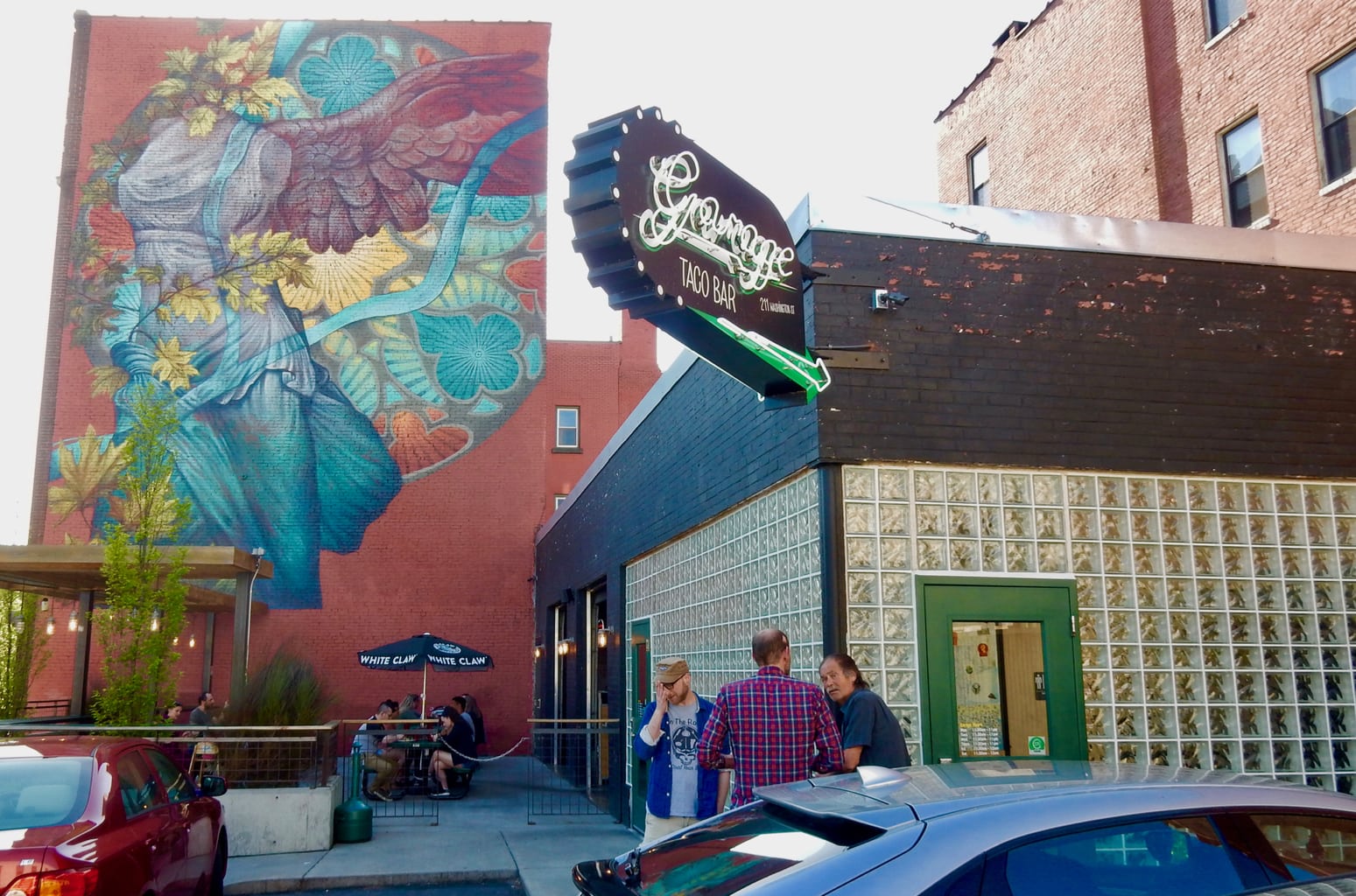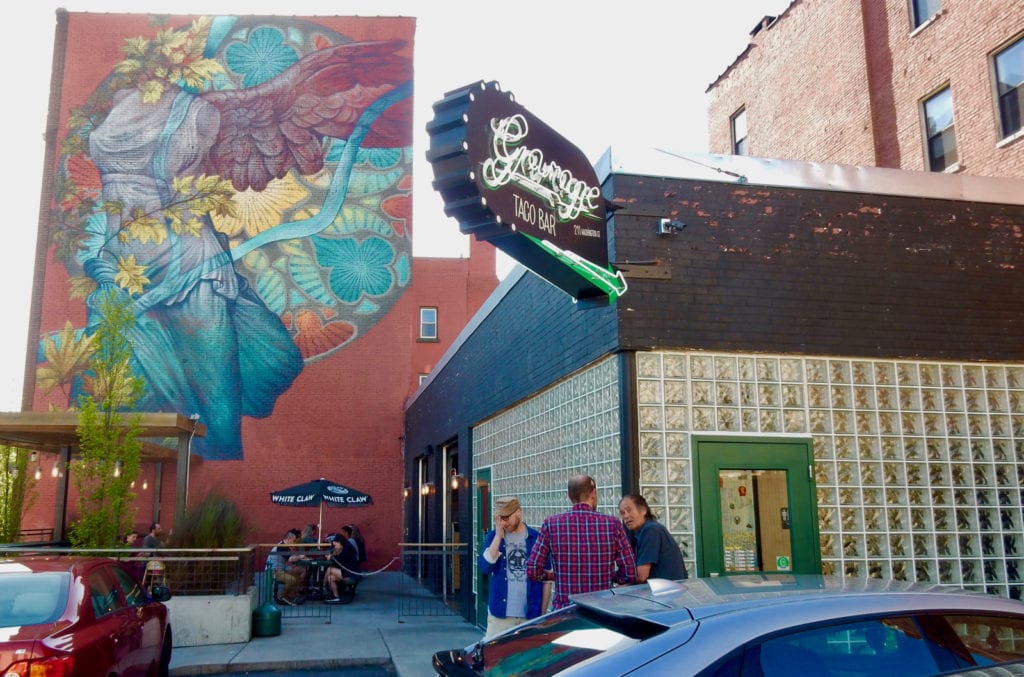 Because of its six historic merry-go-rounds within a twenty-mile radius, BING is known as the Carousel Capital of the World (amazingly, all free to ride). It was hometown to Twilight Zone's Rod Serling, and Harlow Bundy, founder of the company that became IBM. Nearby, there's a rescued-wild-animal park that became a worldwide sensation when one of its flagship animals was filmed having her baby on the internet in real time.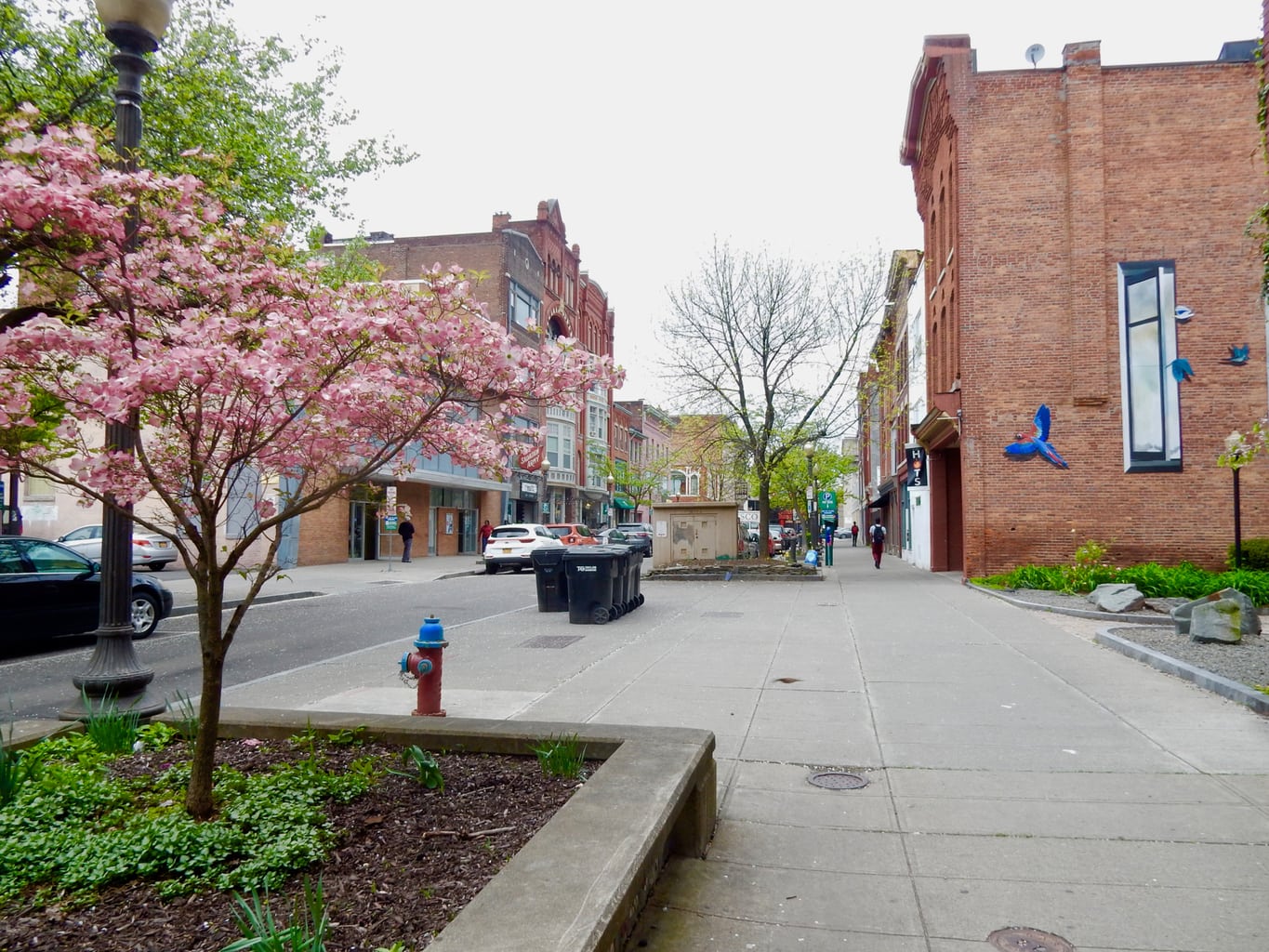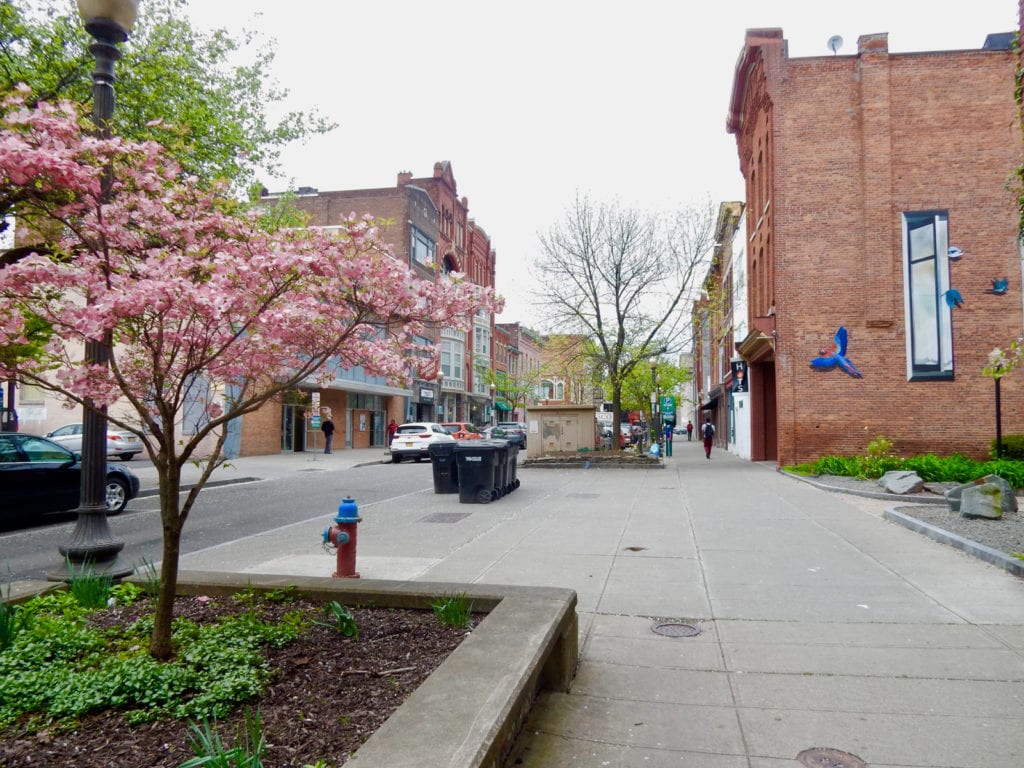 Binghamton does not flaunt its treasures as much as it should. So, here's where the Getaway Mavens step in. Stay in a unique hotel resort, visit under the radar sites, and eat trendy on this college town escape.
Things to Do in Binghamton NY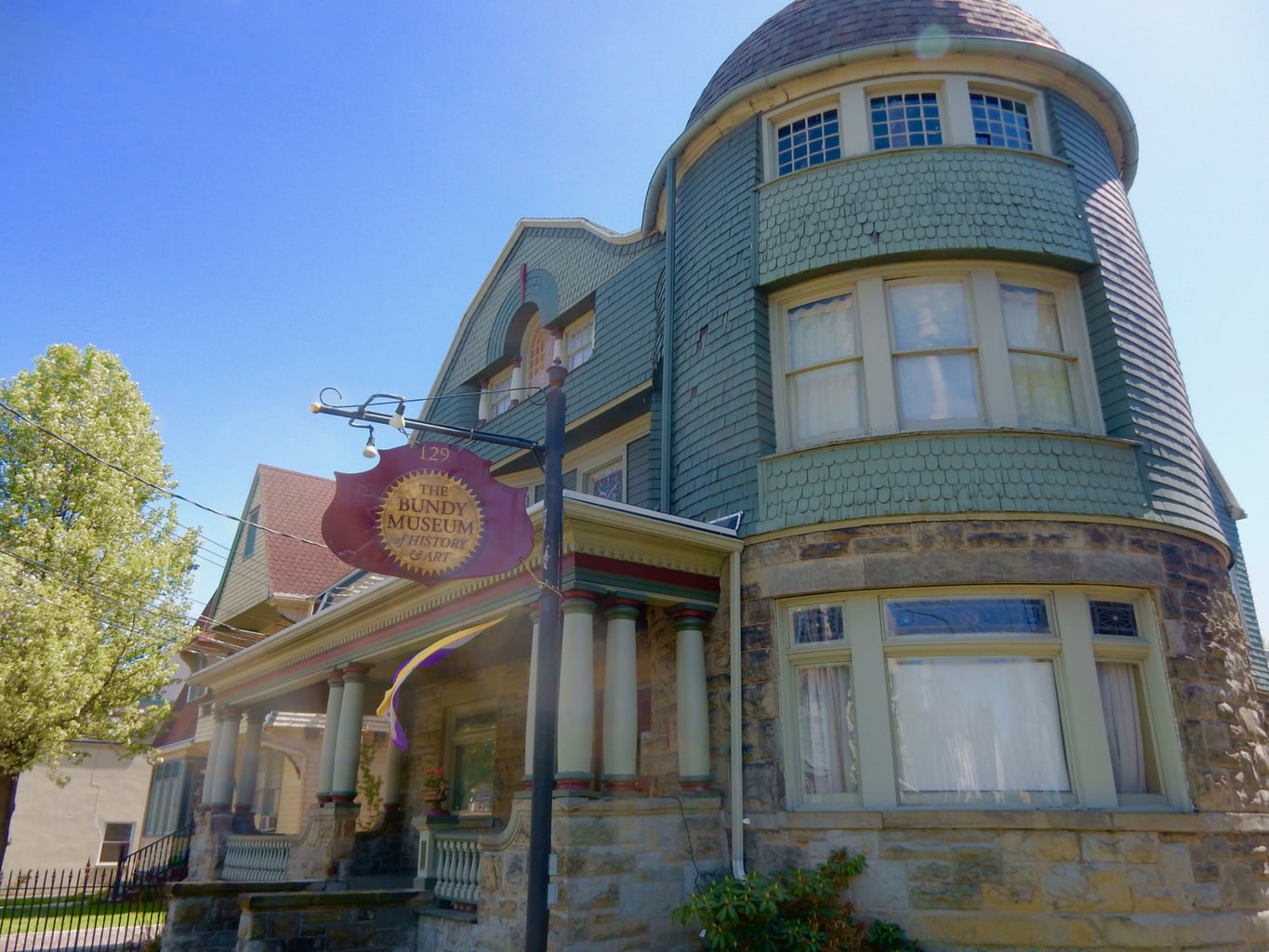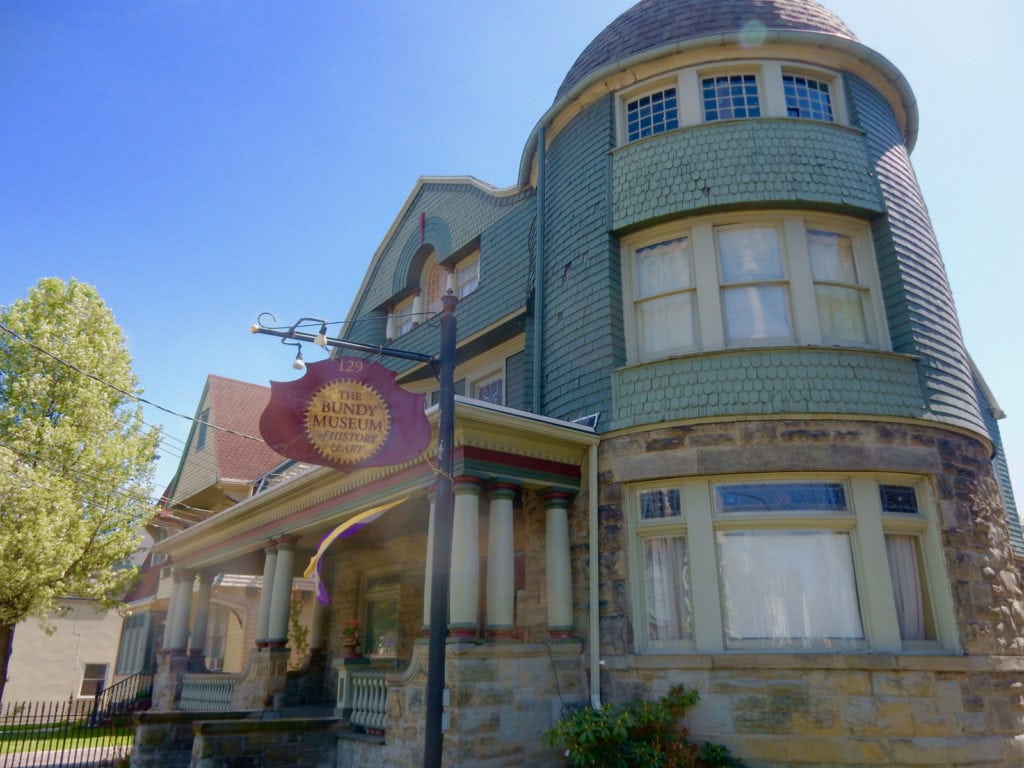 You can't miss this limestone Queen Anne mansion on a main street in a transitioning area. (Pull in driveways on either side of the building for parking). Owner Harlow Bundy, and his wife, Julia, built this charmer in 1892, living and raising three children here.
Inventor of the Time Recording Clock, Harlow established the Bundy Manufacturing Co. in 1889, which, after a few name changes, became IBM. The home, designed by Binghamton architect, Alfred Bartoo at age 27, was placed on the National Historic Register in 2011.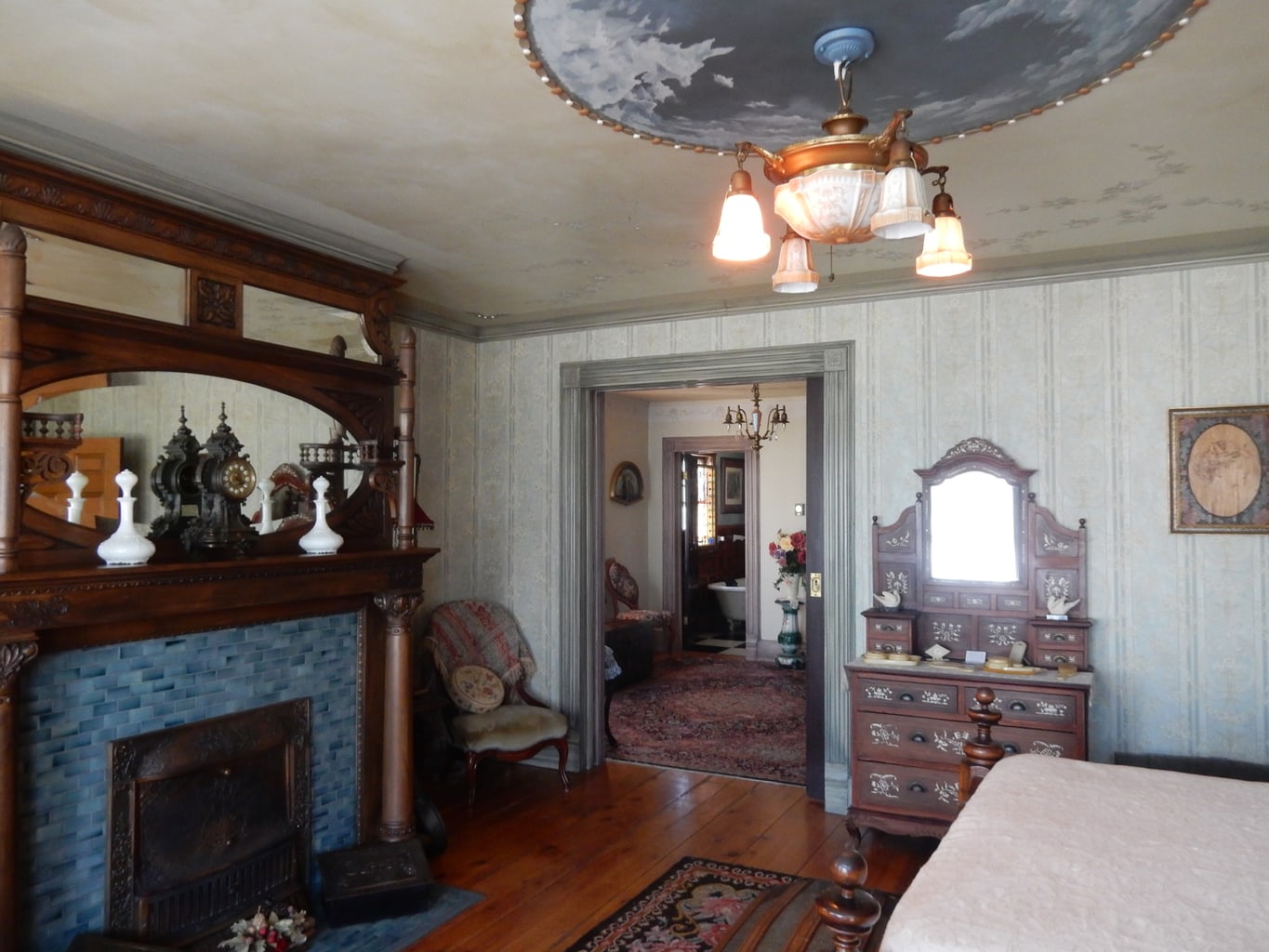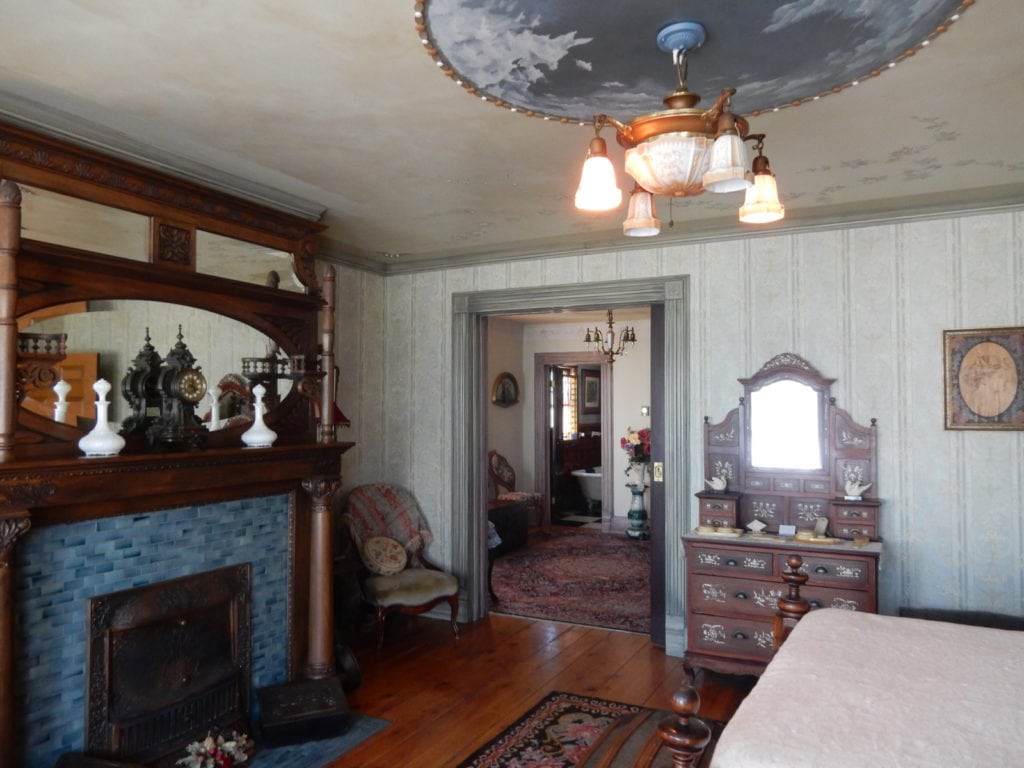 This Victorian fantasy of carved wood has somehow turned into a favorite spot for bridal photo shoots – especially on the staircase landing in front of two massive early 1900's portraits framing stained glass windows.
Start in the Visitor's Center
The Museum is actually a complex of four buildings. Begin in the yellow house next door (the Visitors Center), and take your time through the Main House. Note the embossed painted ceiling and curved glass windows in the Parlor.
Photo screens on some windows depict what the neighborhood would have looked like when the Bundy's lived here – a residential area for up and comers at the time. Every room is beautifully preserved. I loved the luxurious blue-tiled master bedroom – a vibrant departure from the earth tones in the rest of the house.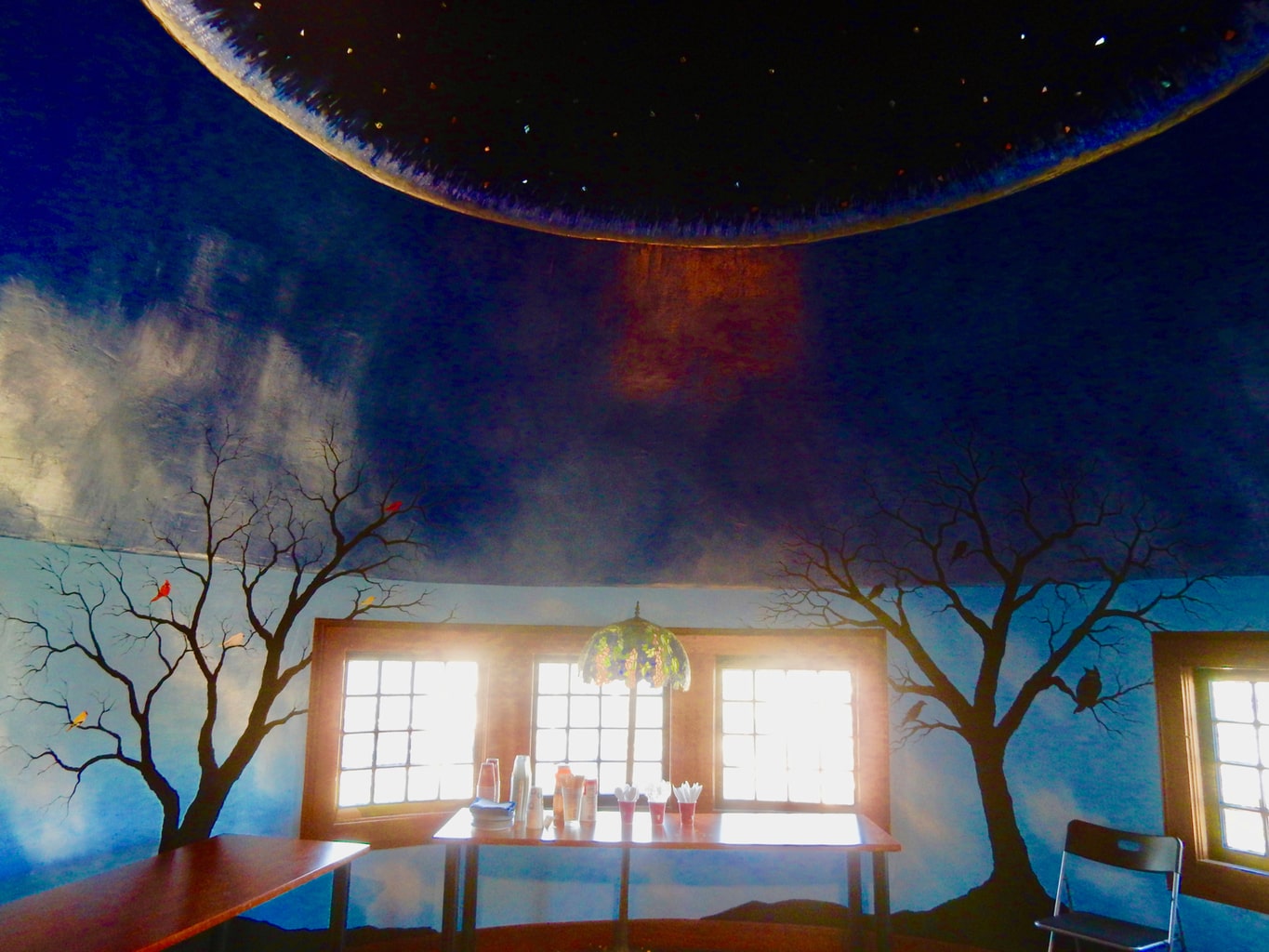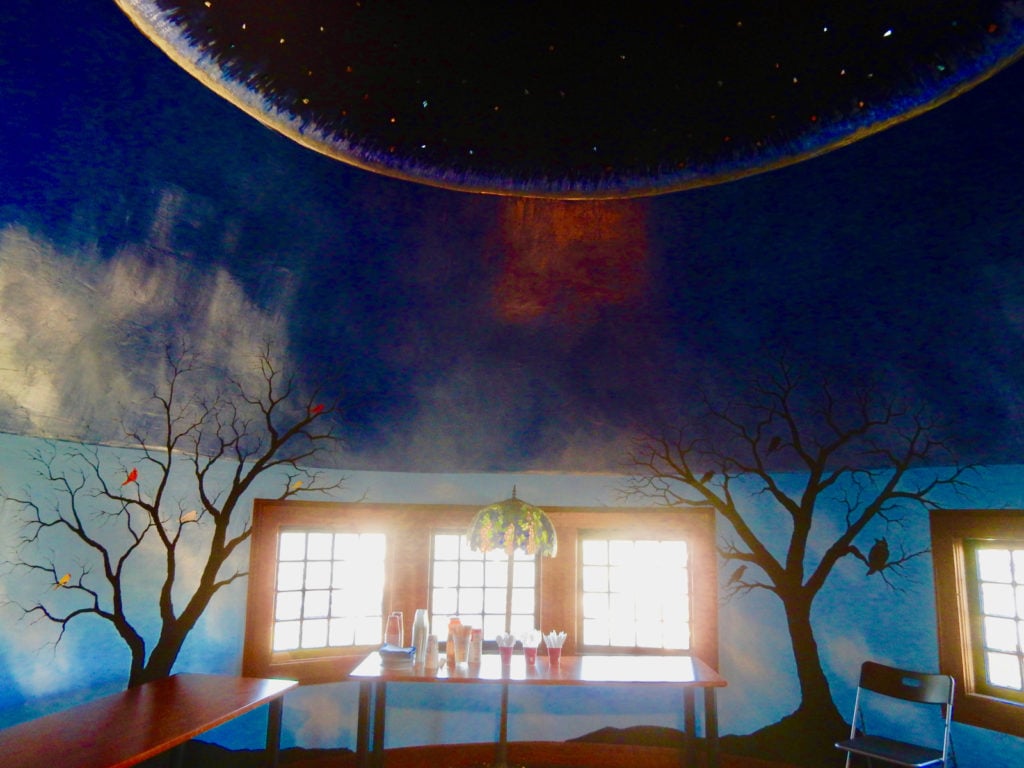 But I was swept away by the "Whisper Room" in the third floor art gallery. Entering the round domed turret, I was enclosed within a mural of birds and bare trees, in shades of blue, capped by a starry night sky. Painted by Daniel Soliwoda, it is truly a magical space.
The Carriage House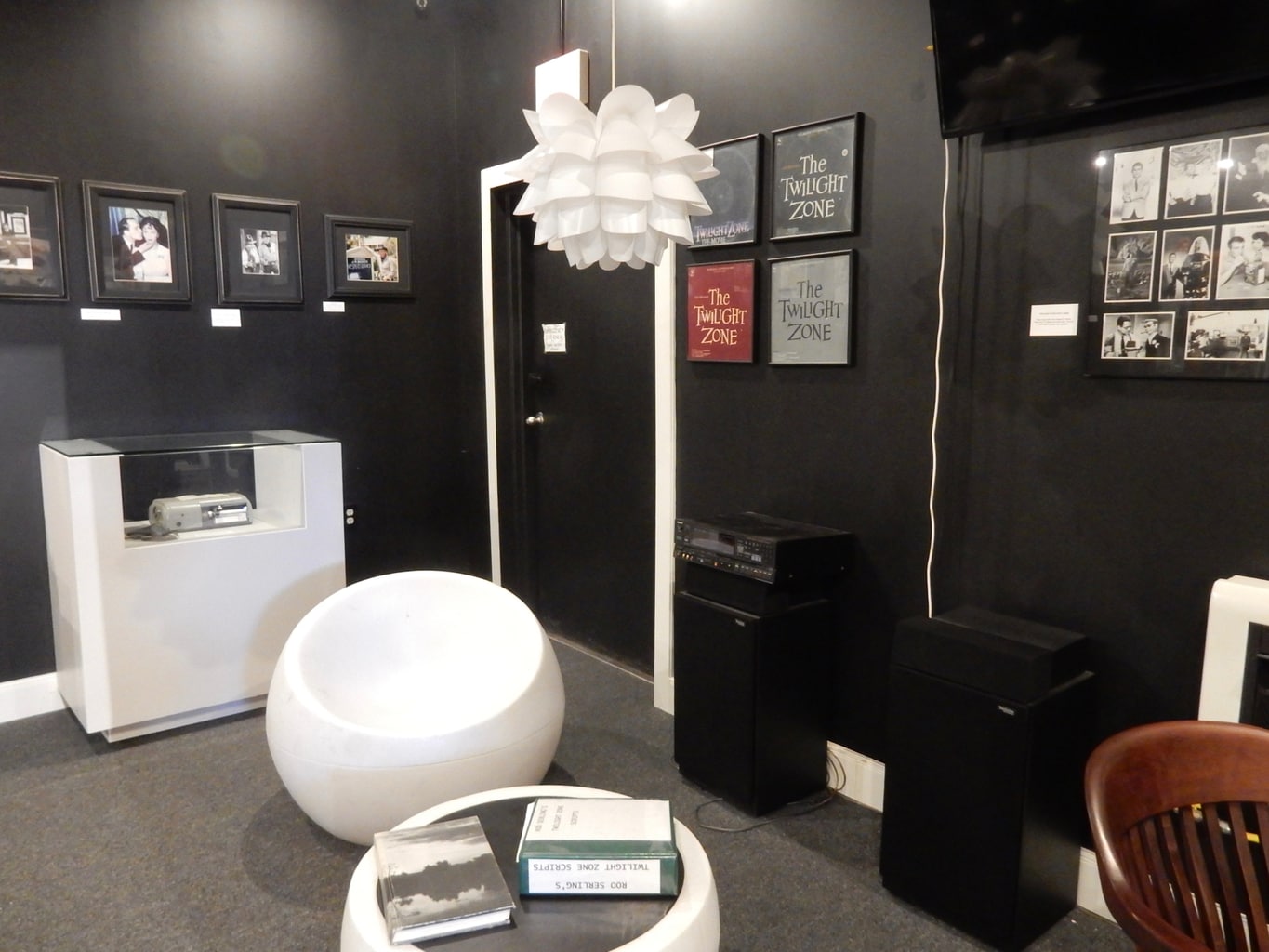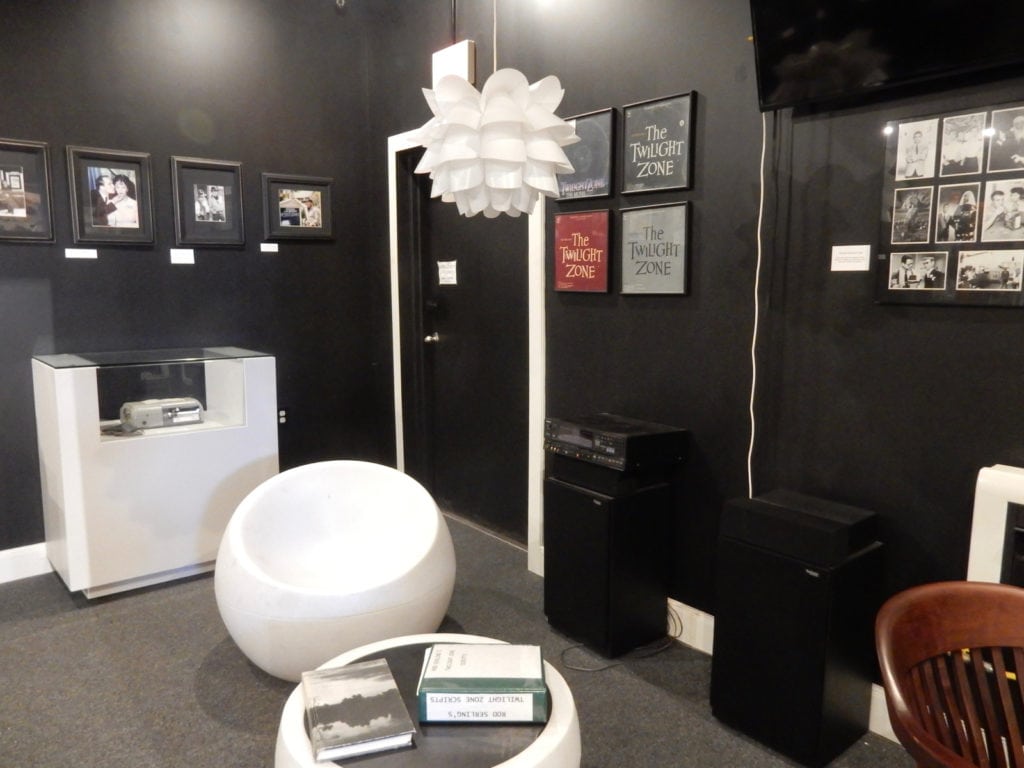 Continue to the Carriage House out back for IBM, Rod Serling, and local Broadcasting history. You can punch a time clock (a JTR Card Attendance Recorder) to keep as a souvenir, and watch episodes of The Twilight Zone in the dark Rod Serling Room.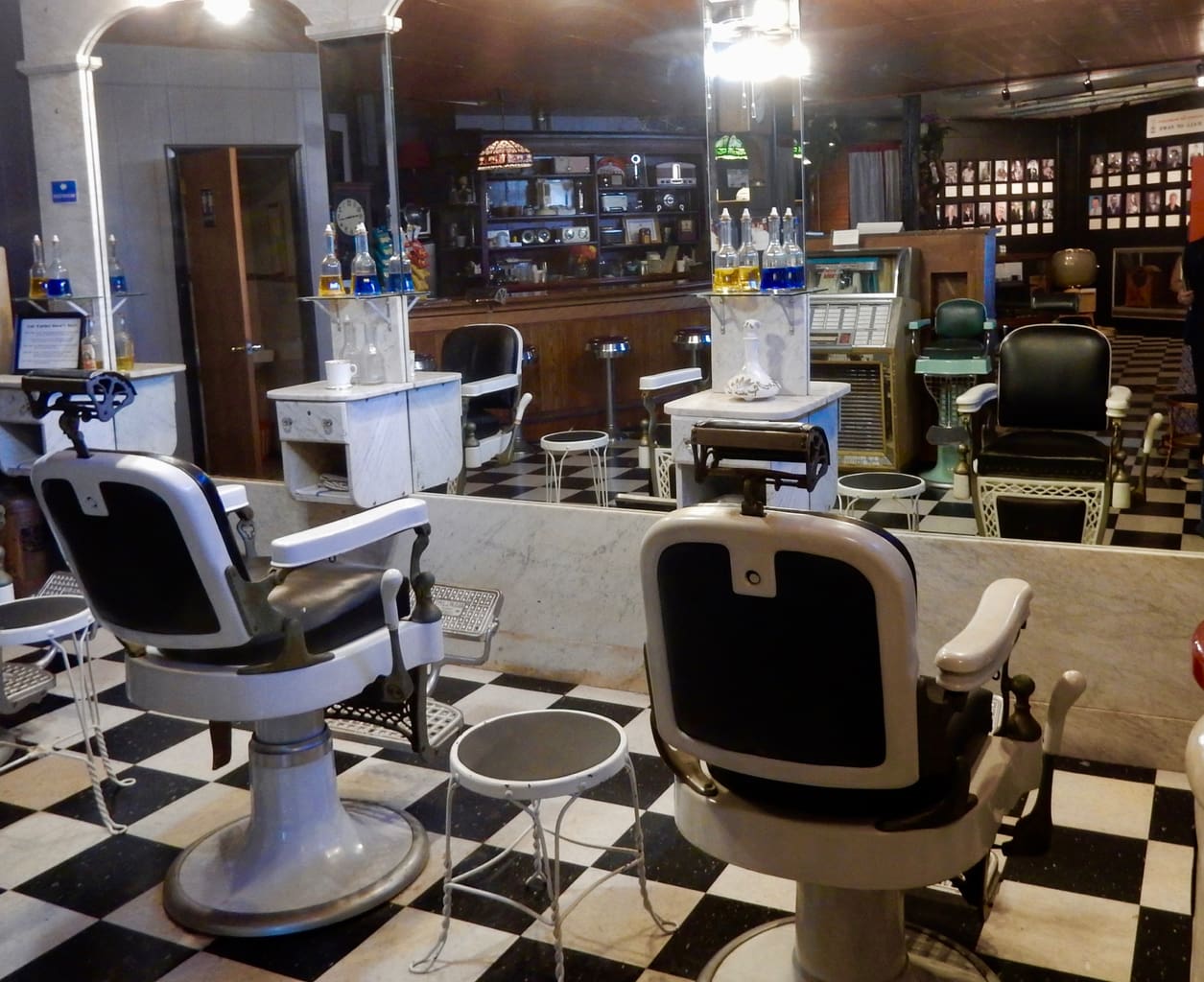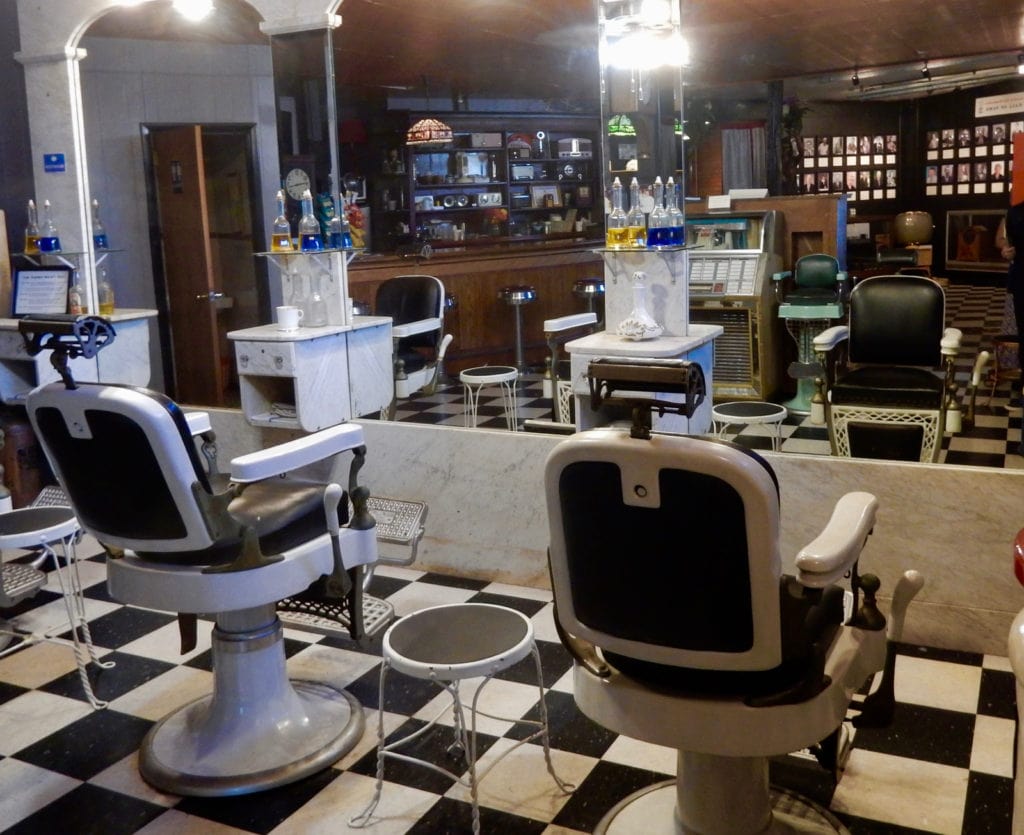 There's a permanent exhibit of Time Clocks, and a local Broadcasters Hall of Fame. But perhaps the weirdest vignette is the whole Barbershop that once stood across from the IBM campus in nearby Endicott NY from 1940-1982. These barber chairs must have been filled constantly, as IBM employment contracts stipulated that all men had to wear the same clean shaven haircut.
Community Radio WBDY (99.5)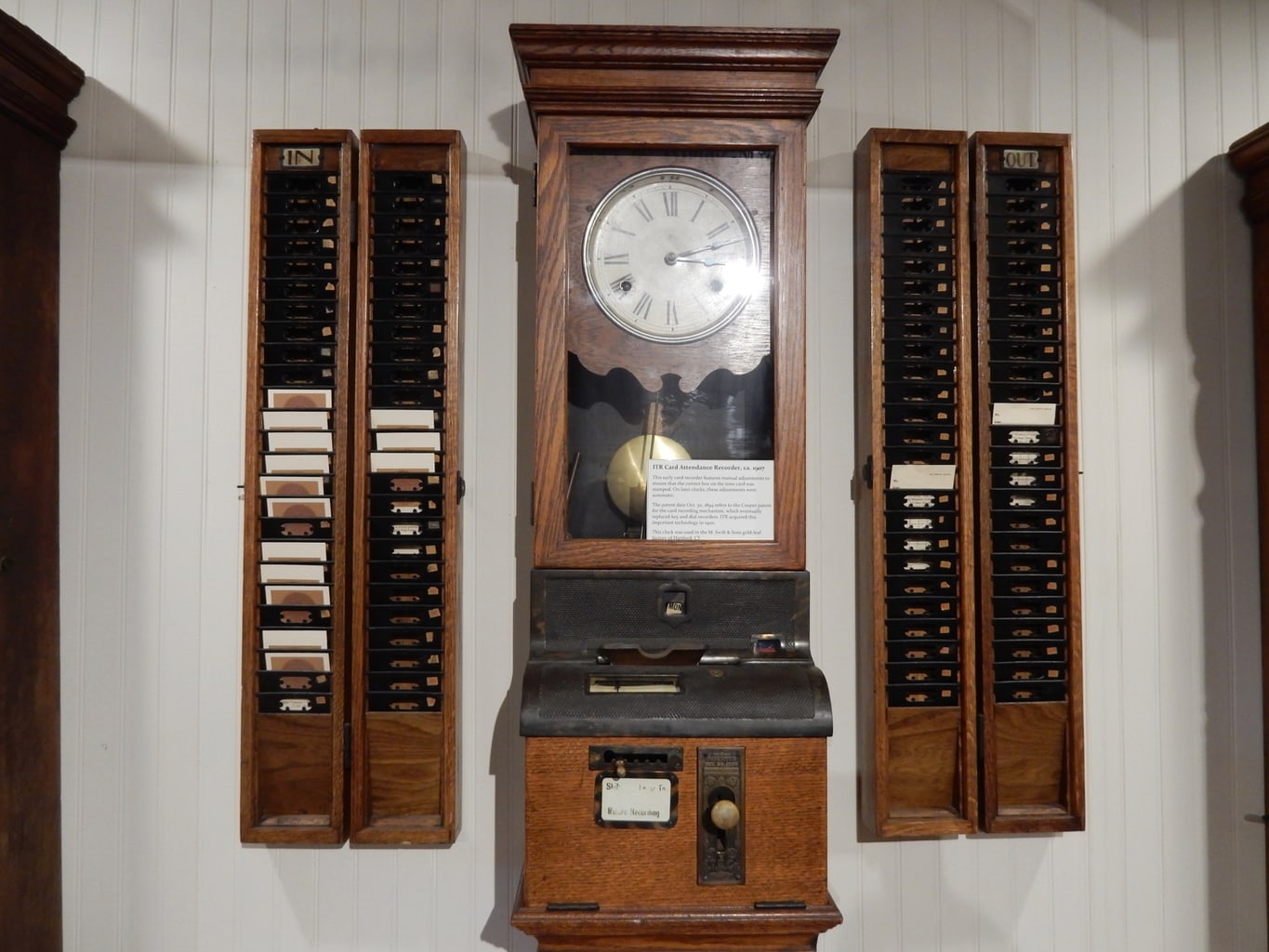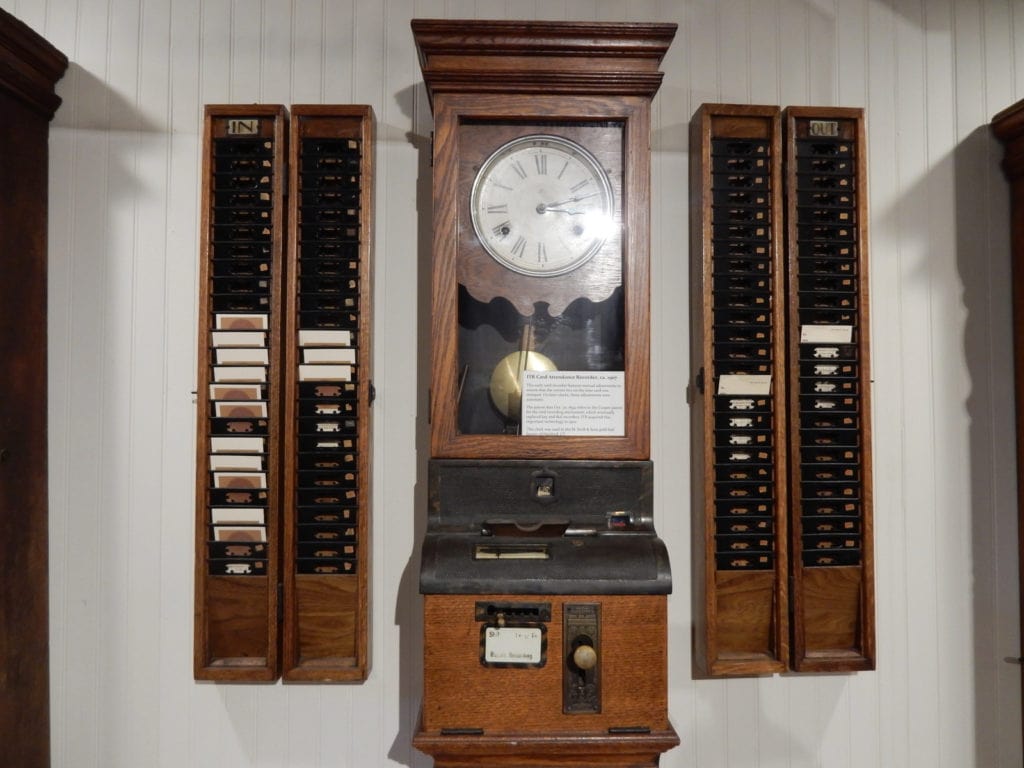 Also on site is the studio for Community Radio WBDY (99.5) – honoring the city's broadcasting heritage, with a mission to promote the "unique cultural, artistic, and intellectual life of the Greater Binghamton area" – as well as a community darkroom space and photo lab (in the 4th building). $5 suggested donation, Tues-Sat. 11-5, photo lab open Tues,Thurs, Sat 10-3.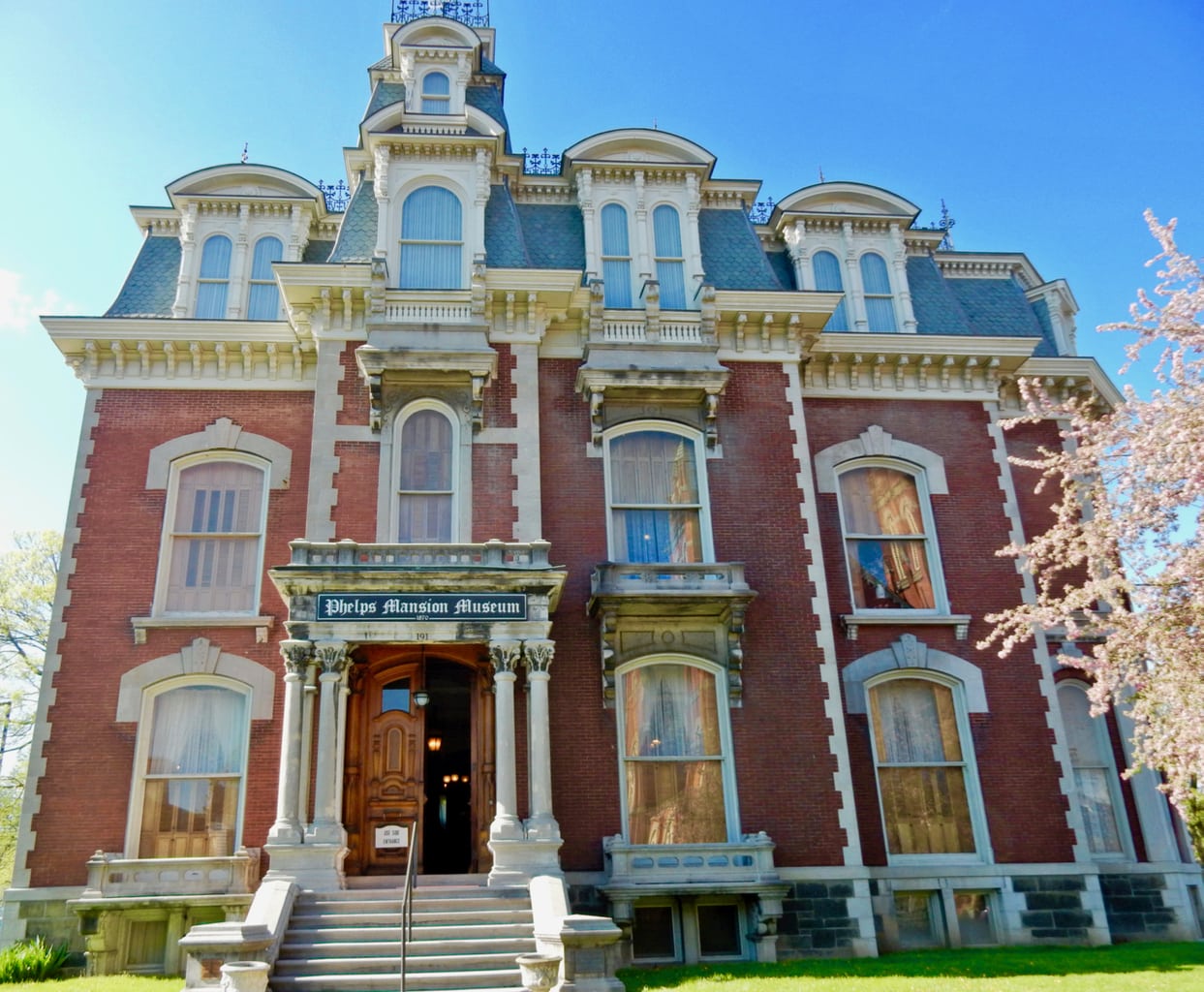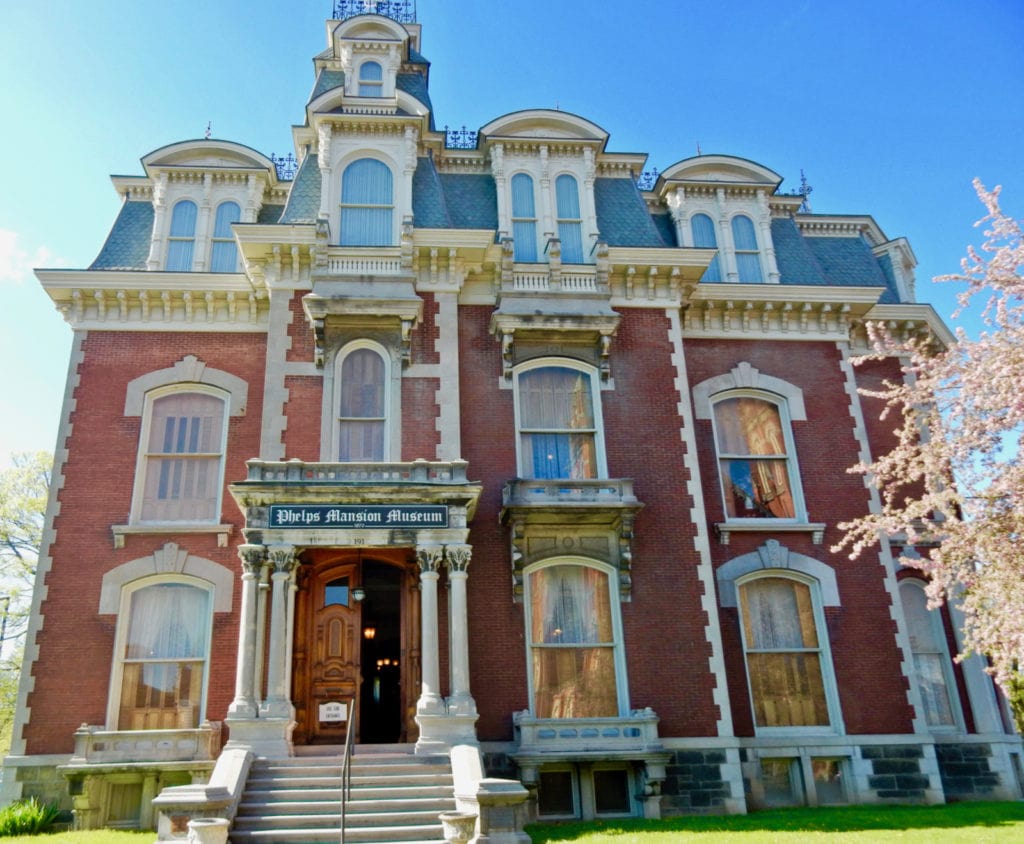 This Second Empire brick mansion built in 1870, designed by Isaac Perry (who also designed the NY State Capitol), could be a great stand in for the Adams Family Home. But come inside for a tour to get a first hand look at the intricate woodwork in every grand 14 ft high room, tailor made for Sherman Phelps. Phelps was an up by the bootstraps entrepreneur who opened a successful General Store, married into money, and invested in railroads (a track to wealth if there ever was one).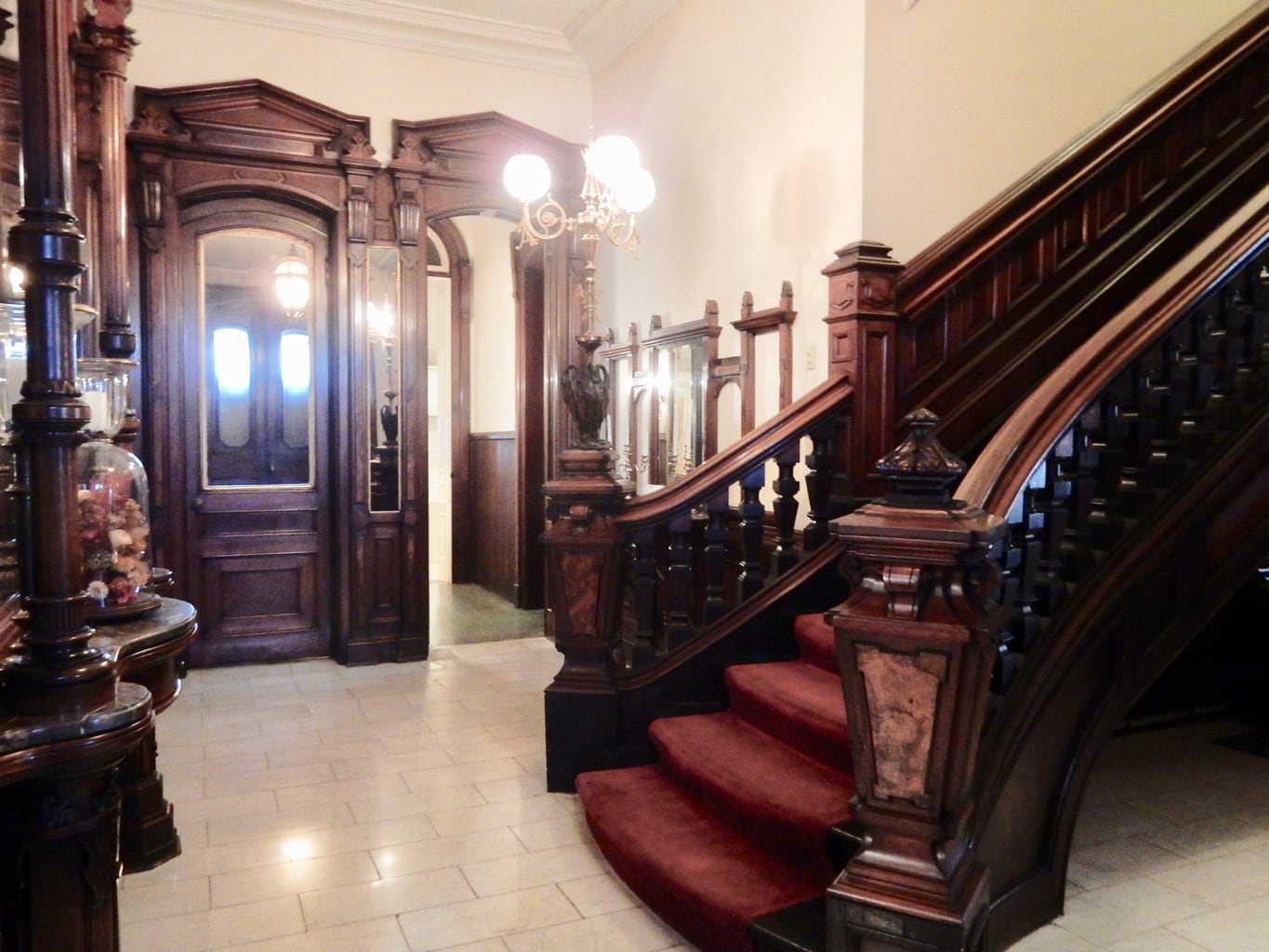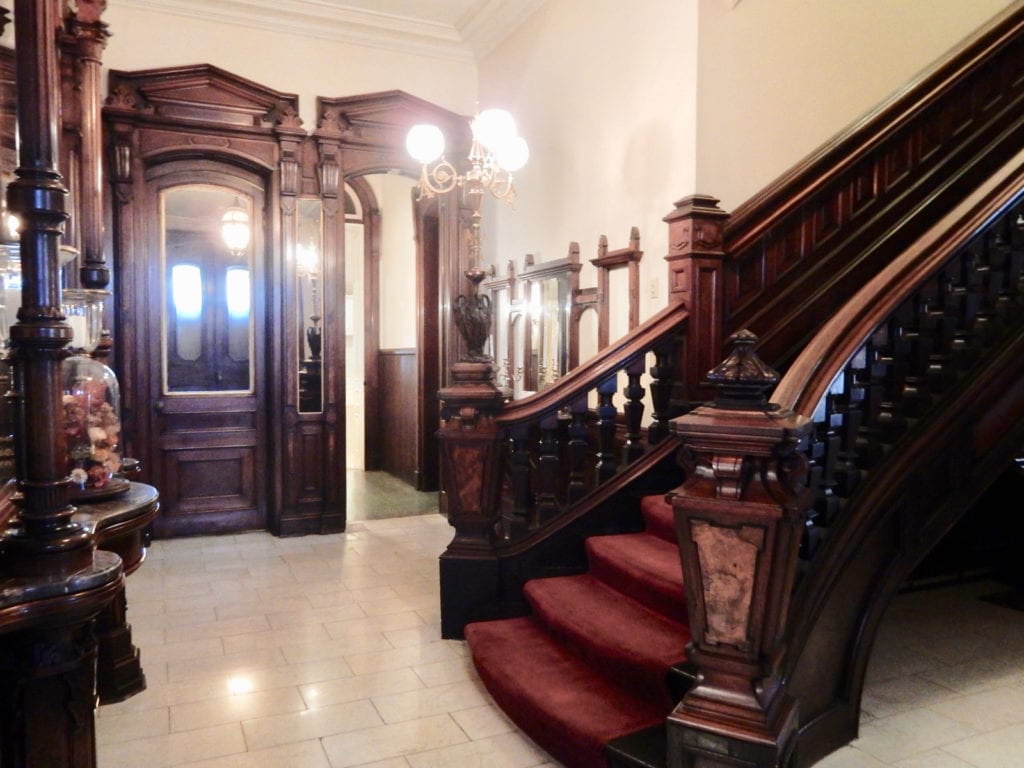 A prescient businessman, Phelps saw the promise and potential of investing in myriad enterprises, such as new gas and electric companies in this growing industrial city. To further his wealth, Phelps established his own bank to make loans. As his fortune rolled in from many different sources, Phelps was free to serve as a Binghamton Judge and Mayor.
Tragic Phelps Family Story
But all his fortune did not portend happiness. In fact, the Phelps family story was one of terrible tragedy.
Sherman's first wife died shortly after they were married. His second wife, Elizabeth also died young, in 1863, before the family moved into this mansion. Sherman was left to raise two sons, Robert and Arthur, aged 12 and 14, enlisting the help of his niece, Sarah Phelps, who had just lost her young husband in the Civil War. Sherman died at age 64 in 1878, and shortly thereafter, both of his sons passed away at ages 21 and 26, followed by Harriet, Robert's widow, at age 26.
Monday Afternoon Club
The house cycled through several owners, before the Monday Afternoon Club bought it in 1905. This private ladies social and preservation-oriented association used the home as their meeting place for 100 years, adding the grand ballroom early on as a place to hold programs and events. Interestingly, the third floor was removed in 1942, and replaced (façade only) in 2002. The home became a museum in 2005.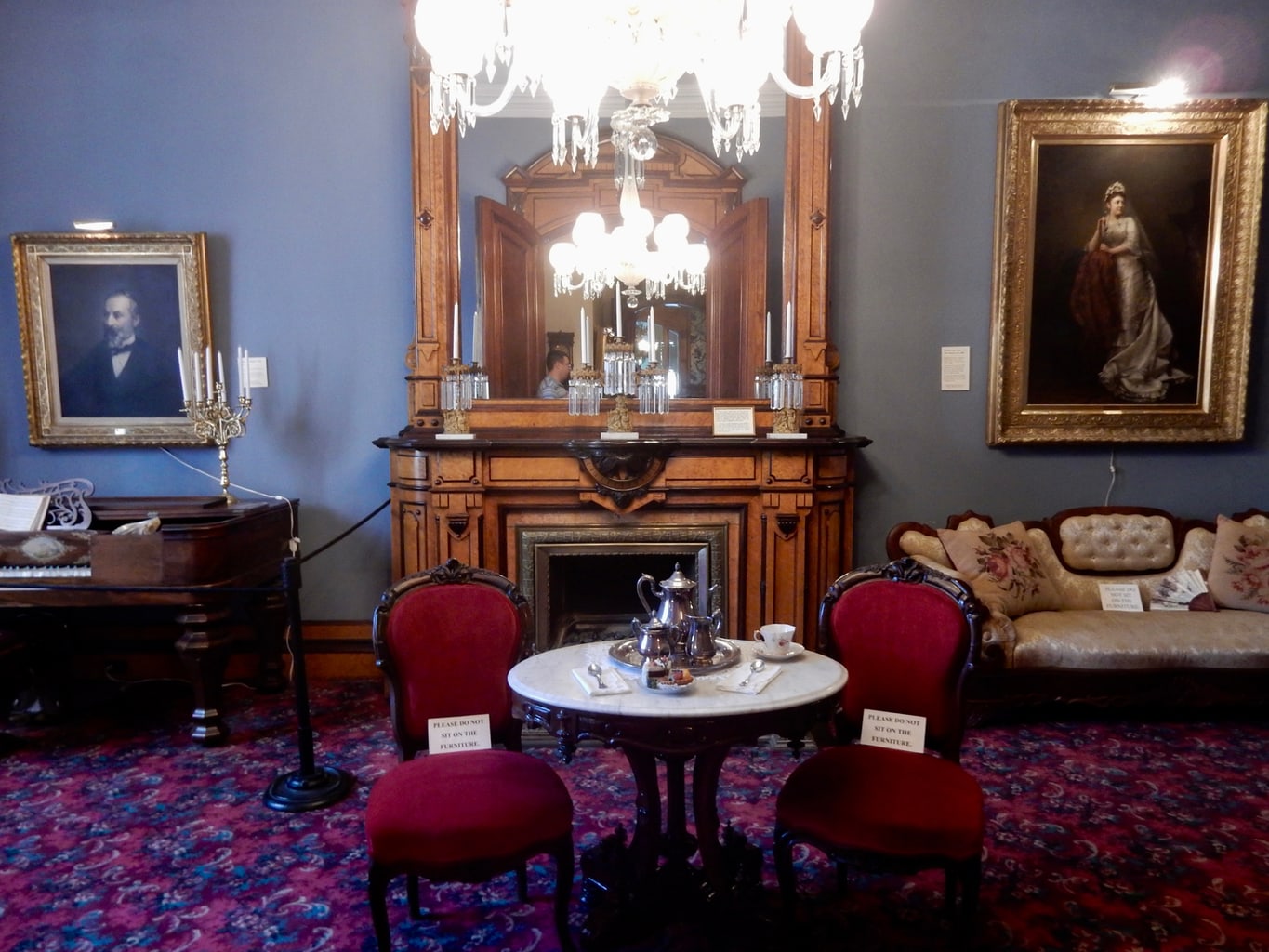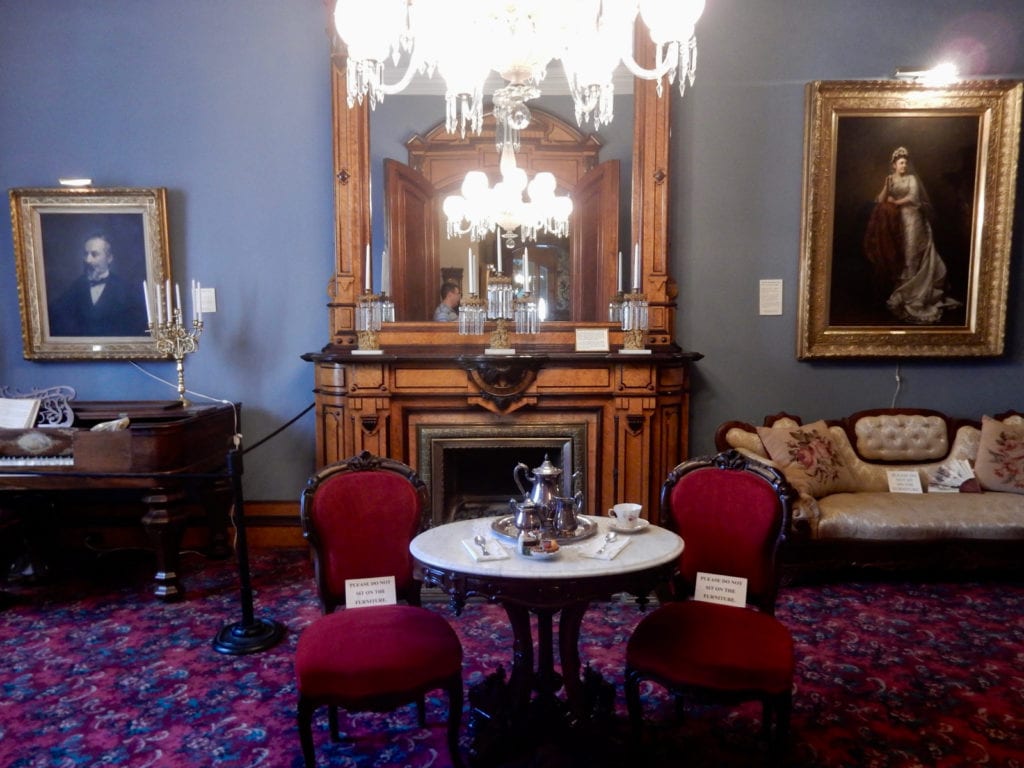 The main floor is an enchanting assemblage of carved woodwork. Each room features a different type of wood. The parlor is Bird's Eye Maple and Rosewood with heavy, visually arresting pocket doors that open onto a man-cave Library carved from Walnut. The dining room is cloaked in oak with burled accents. Its glass paneled pocket doors open onto a bright Conservatory room.
One can spend hours just searching for hidden features in each room. The Phelps seemed to have a thing for griffins. These mythical bird-like creatures can be found as architectural elements throughout the house.
The Monday Afternoon Club held Classical Music Concerts and other programs that still continue till this day. Fri-Sun. 11-5, $7 adults, under 12 free.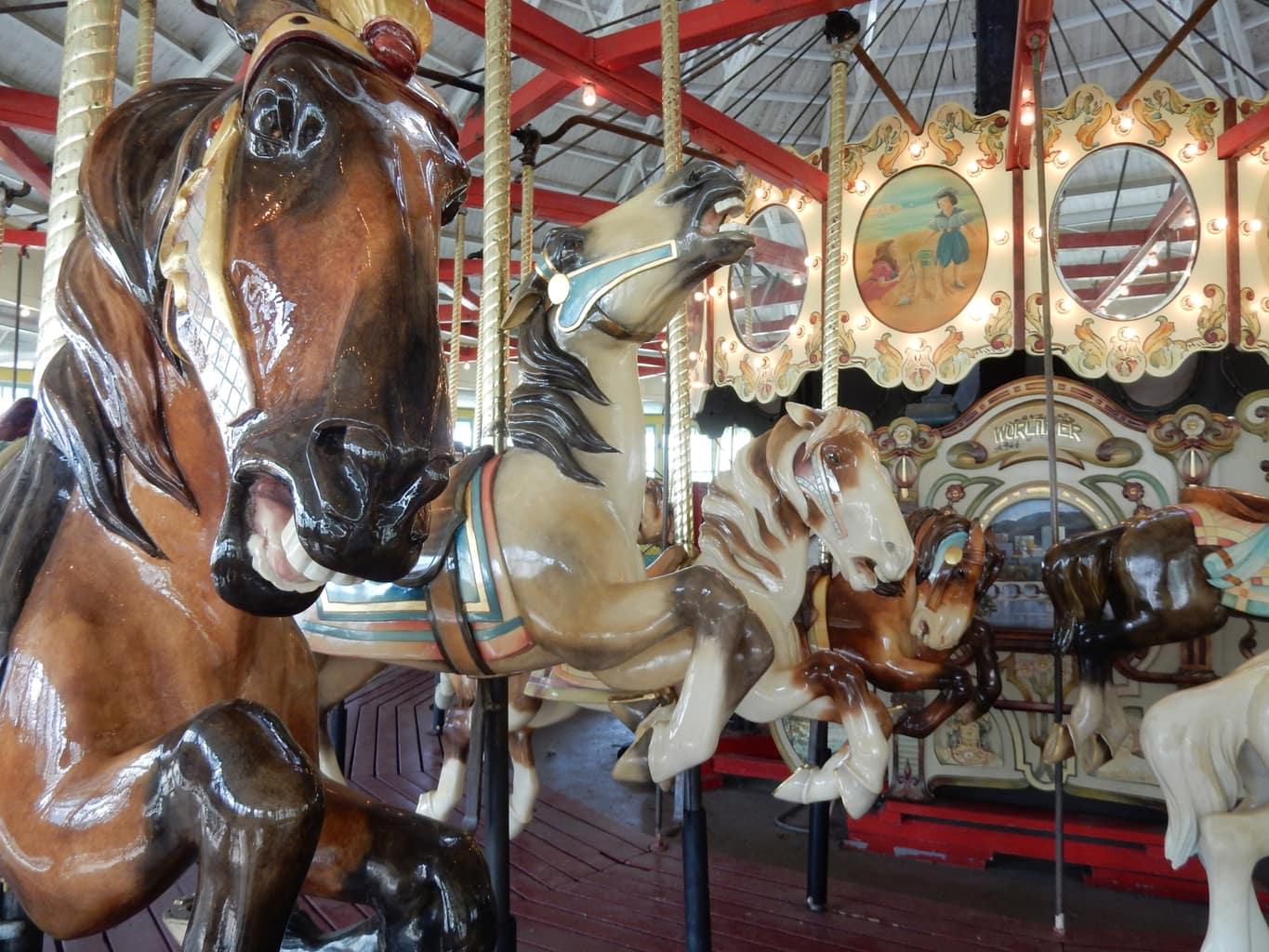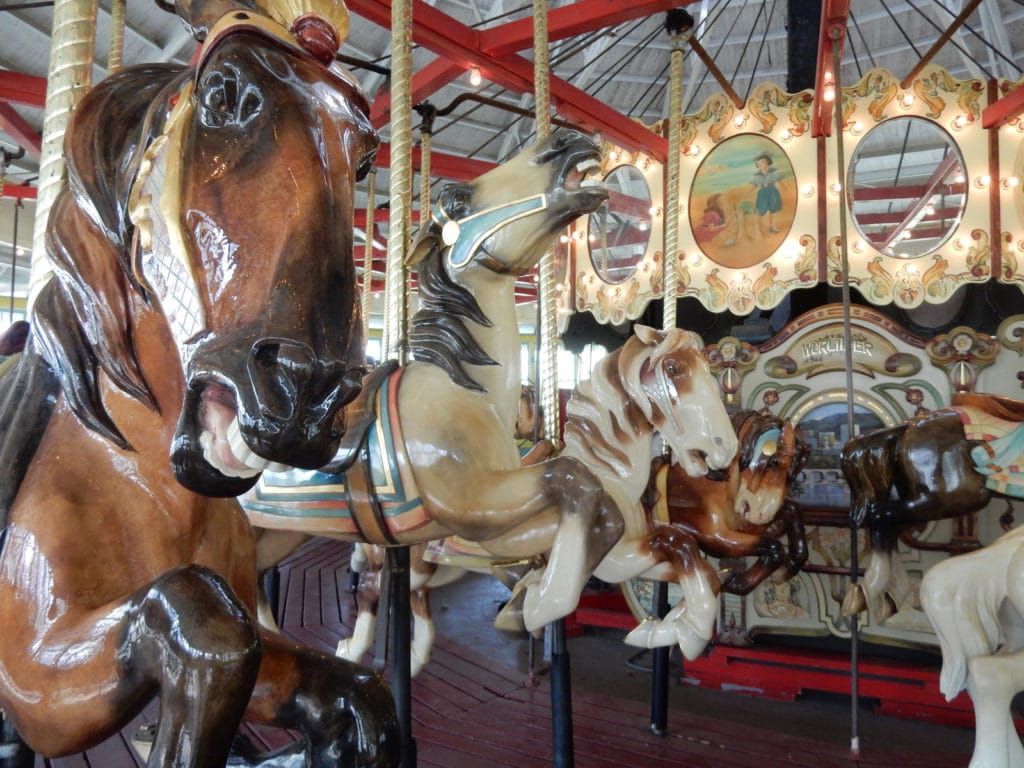 One of six 1920's and 30's era merry-go-rounds in the greater Binghamton area, this is the only one festooned with scenes from The Twilight Zone. That's because Rod Serling lived a block away, and rode this carousel as a child, informing the episode, "Walking Distance" (which necessitated the recreation of Serling's hometown in Hollywood).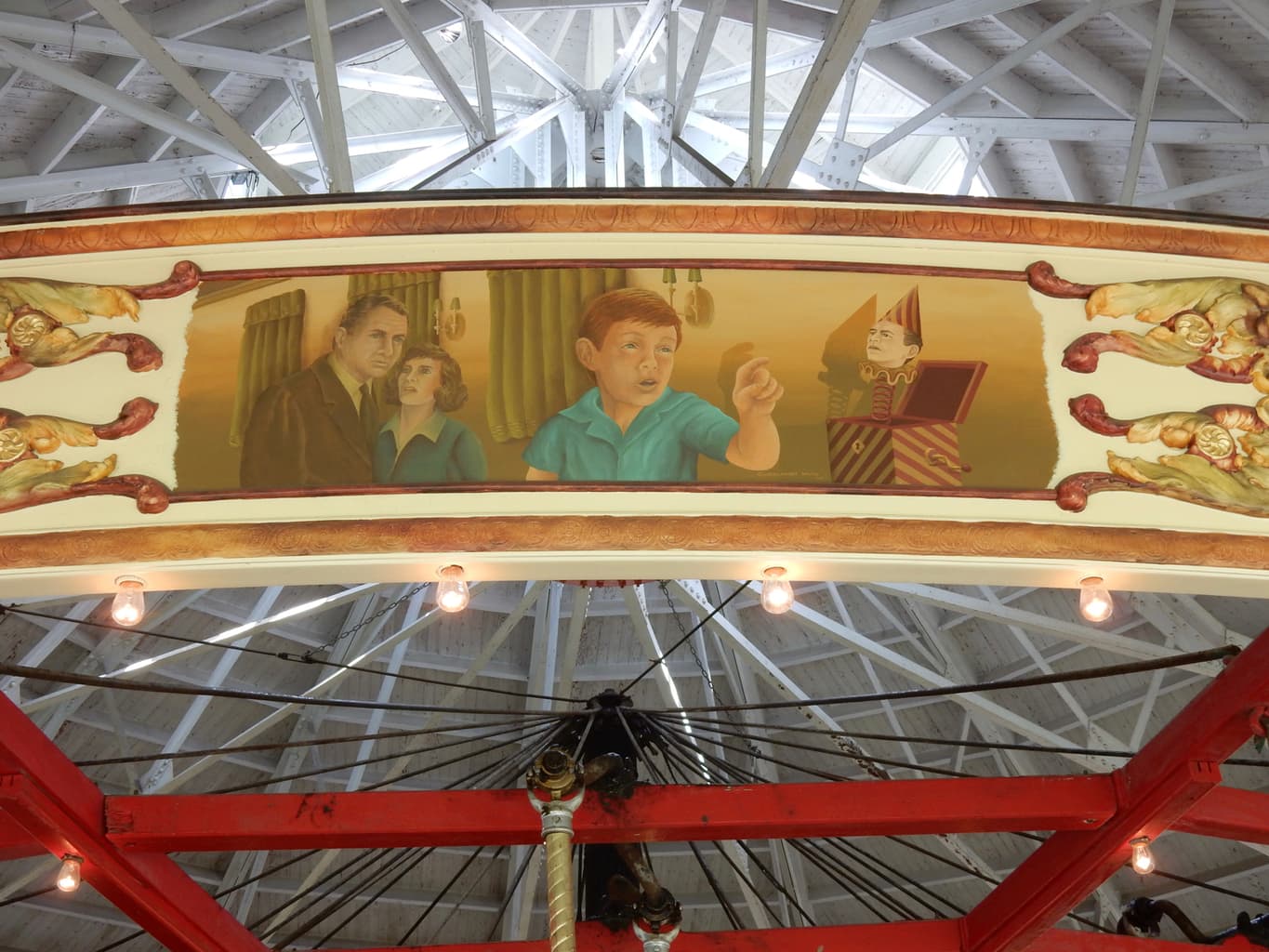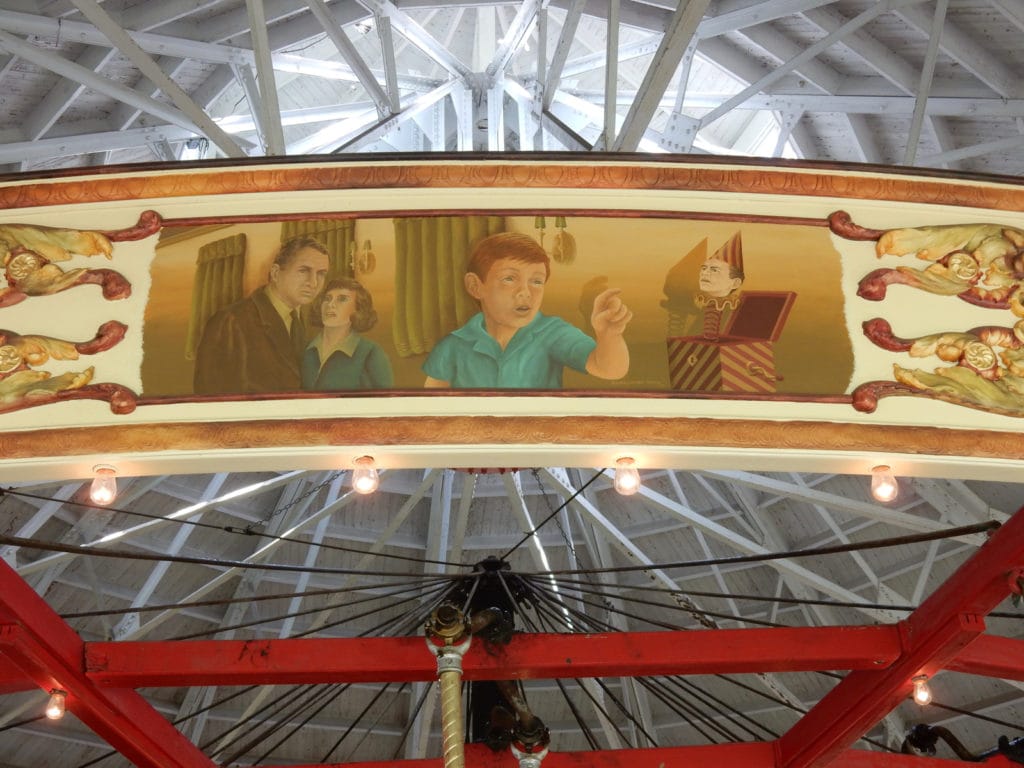 Though the largest of the six carousels – with 72 horses – is located in Johnson City NY, this one, installed in 1925 at Recreation Park, features 60 "jumper" horses, two benches, and its original Wurlitzer Organ (with 40 different music rolls). To underscore how well things were made 100 years ago, the original motor that drives the horses up and down gave up the ghost after 91 years, in 2016.
Carousels Free To Ride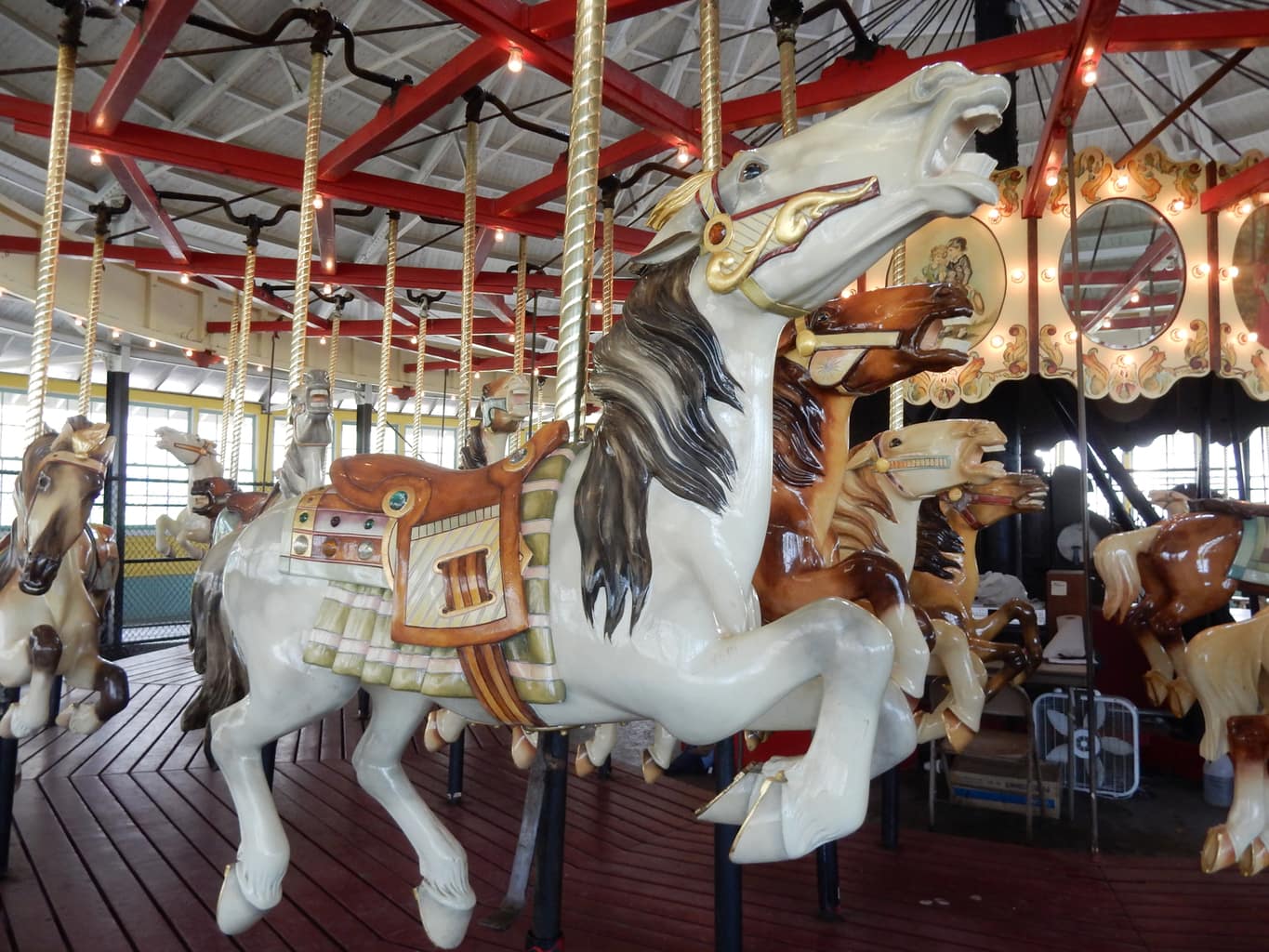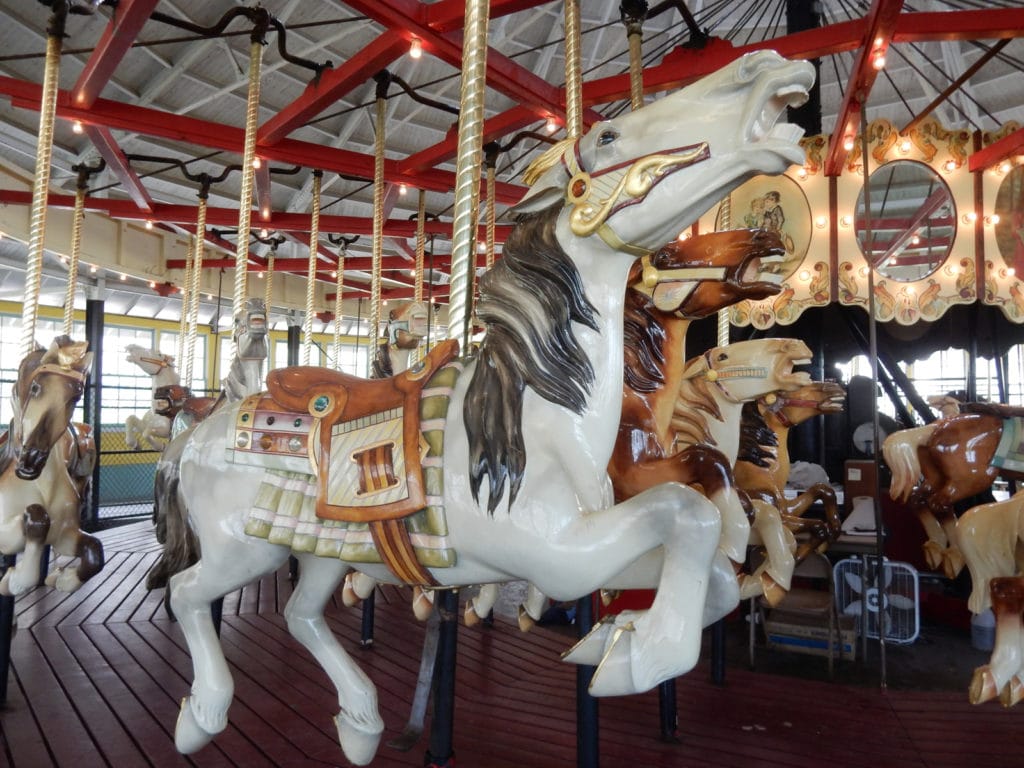 All of the horses and mechanisms have been reconditioned and are professionally cleaned to a gleam every winter. Here, pictures on the interior band were stripped to their original quaint scenes and the horses have been restored to their original sophisticated colors.
Lillian Johnson Sweet, heir to Endicott Johnson shoes, donated all six carousels to the city in the early 1920's, with the stipulation that they would be free to ride in perpetuity. Now, they are funded through the City of Binghamton Parks Department, and open daily Memorial Day to Labor Day, 12-8pm and three Saturday Nights from 5pm-8pm in December. Ride all six, and you get a "Ride the Circuit" button. All carousels are free to ride.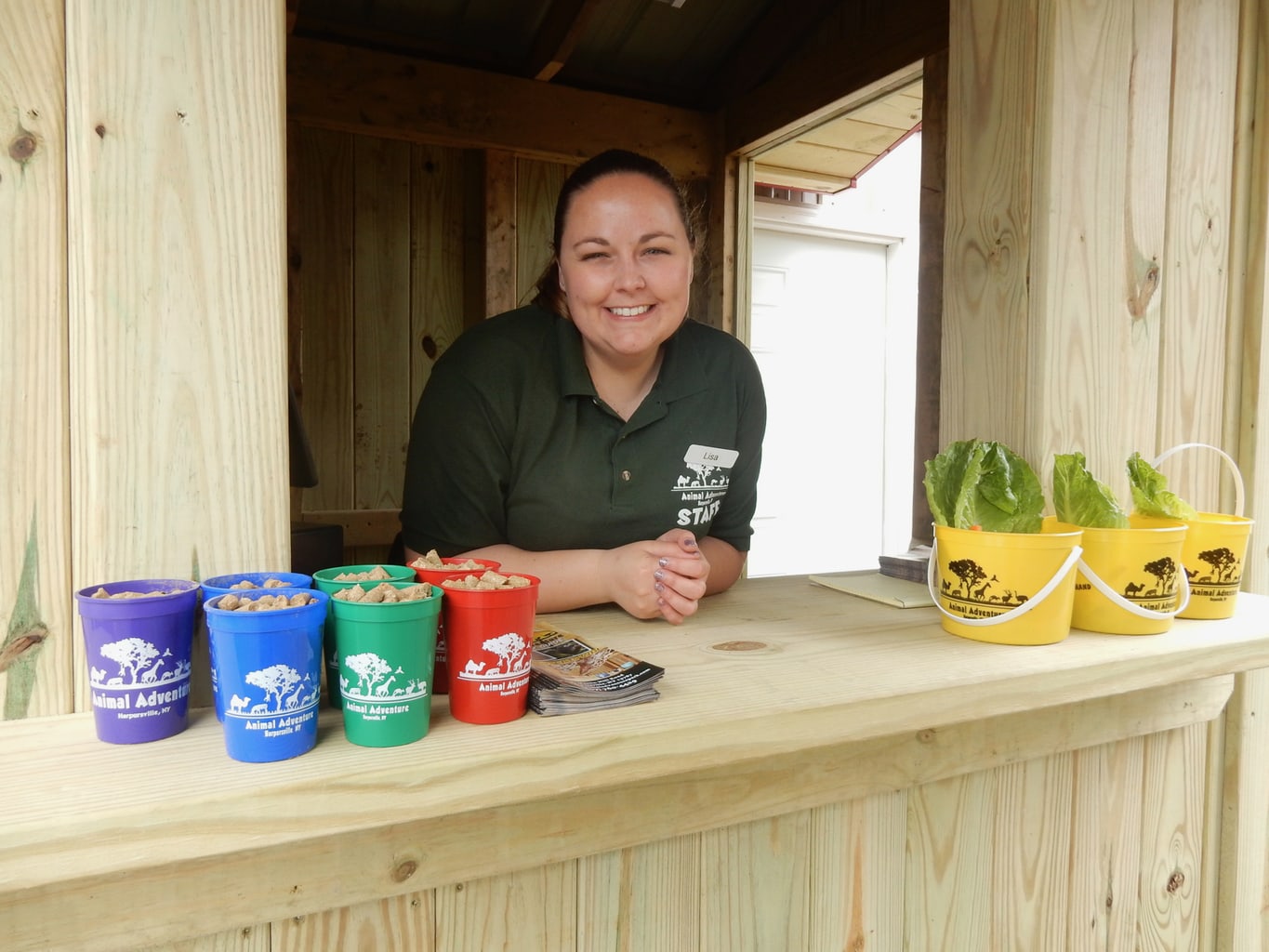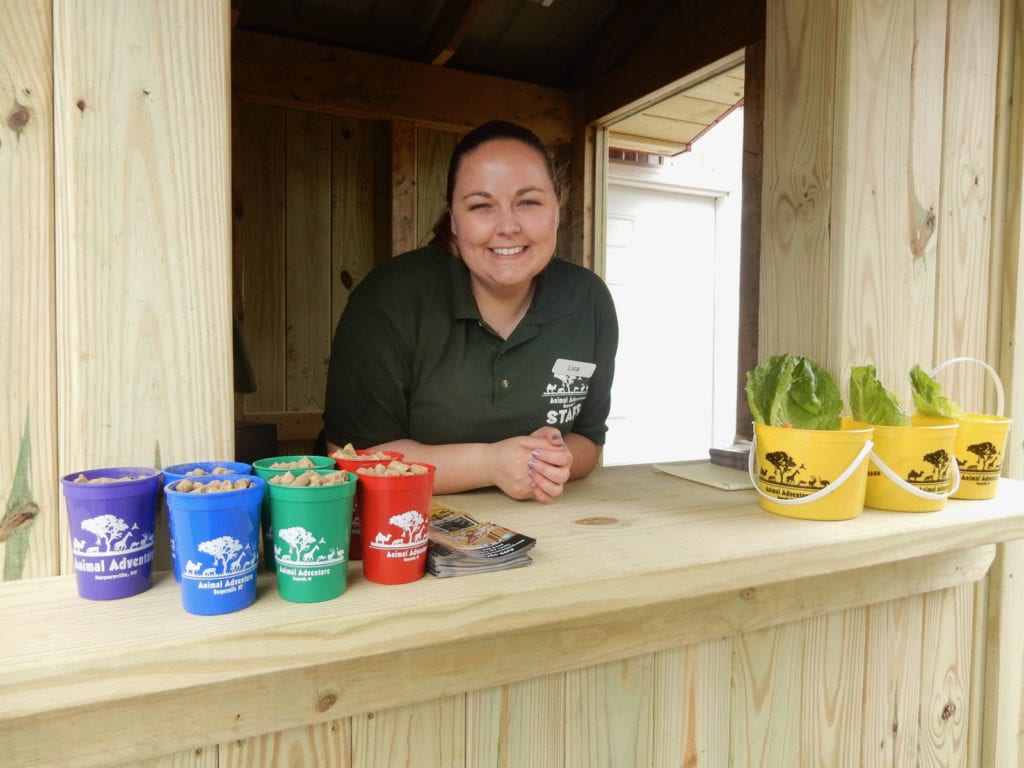 Do you have any idea how long a giraffe's tongue is? You'll find out soon enough at what I can only describe as a "hands-on" zoo.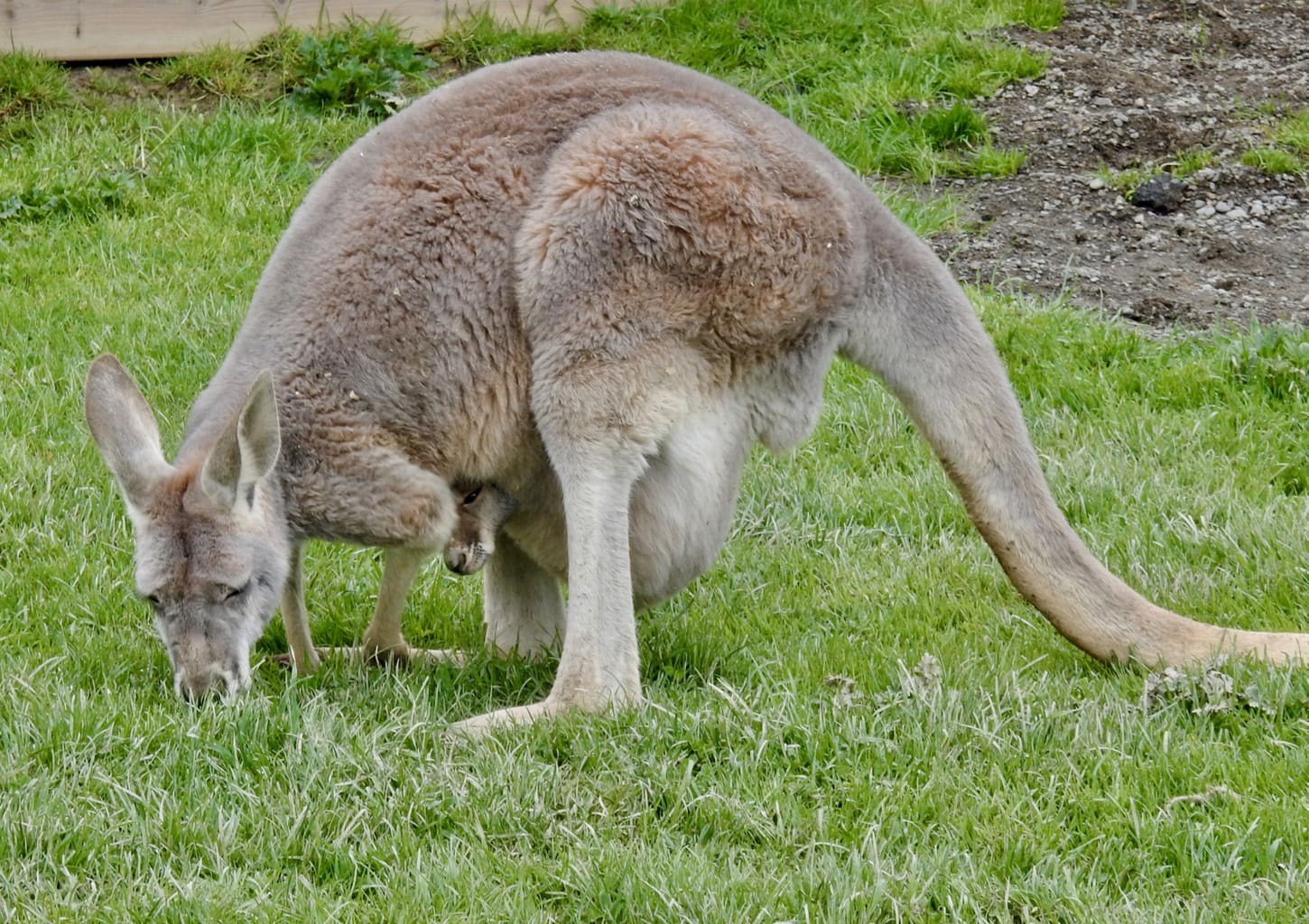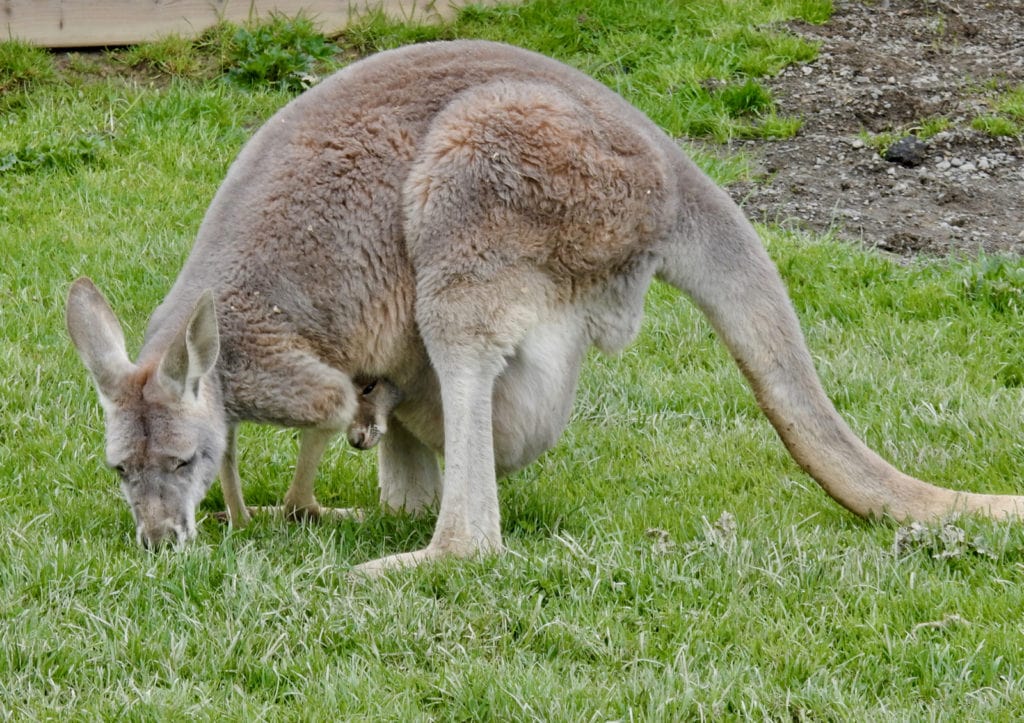 Twenty minutes from Binghamton and three miles from I-88 (be aware, there is no signage) in the middle of farmland, this remote animal sanctuary gained international fame when on April 14, 2017, millions of people watched April the Giraffe give birth to her calf, Tajari, "Taj" for short, online in real time. (April had another baby, Azizu, in March 2019).
Now, visitors can feed carrots to April and Taj from a platform high enough to provide a down-the-throat look at these magnificent beasts. But that's not all.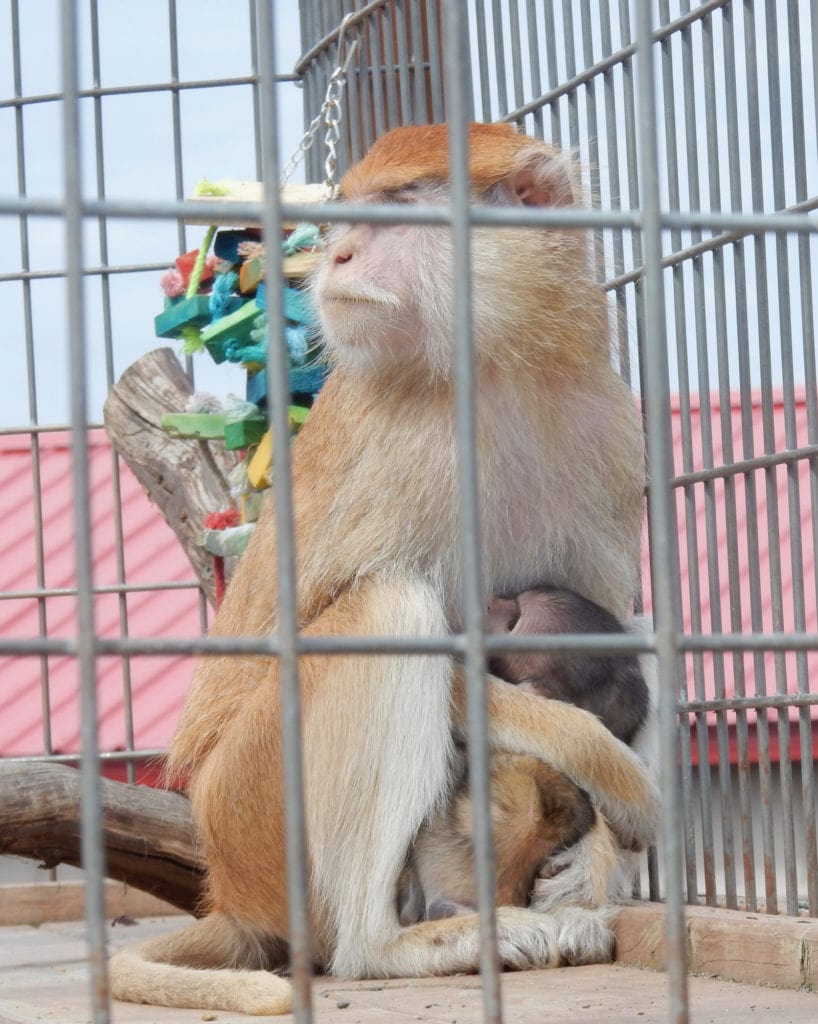 You can also hand-feed farm animals, and even more dangerous ones, via long plastic feeding tubes. Come in Spring to see the babies: monkeys, lion cubs, goats, and even a kangaroo joey in his Mom's pouch.
My eyes welled up when I saw how tender and attentive the monkey moms are with their newborns. And I laughed out loud when I heard a cockatoo positioned next to the goat pen imitating their bleats.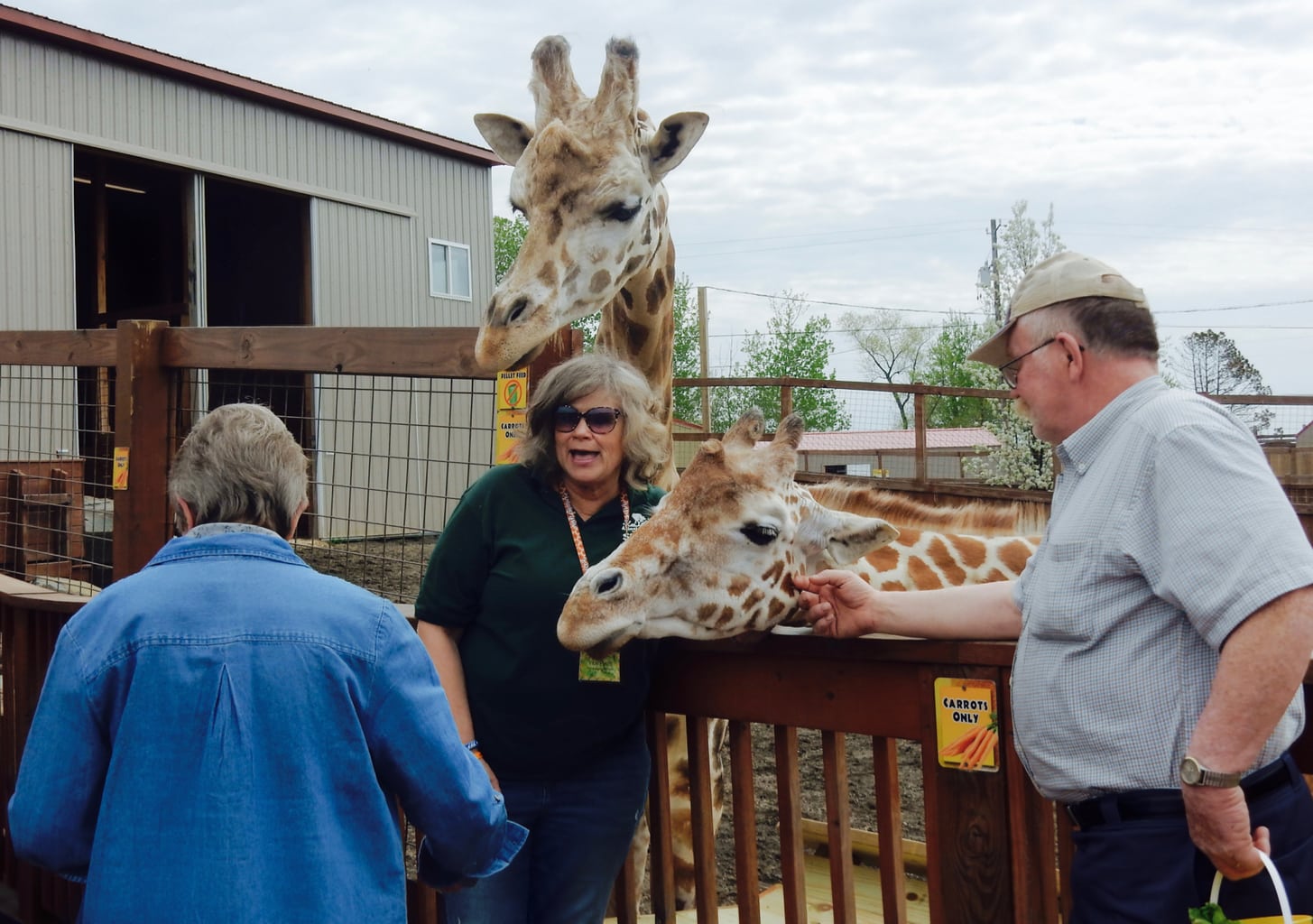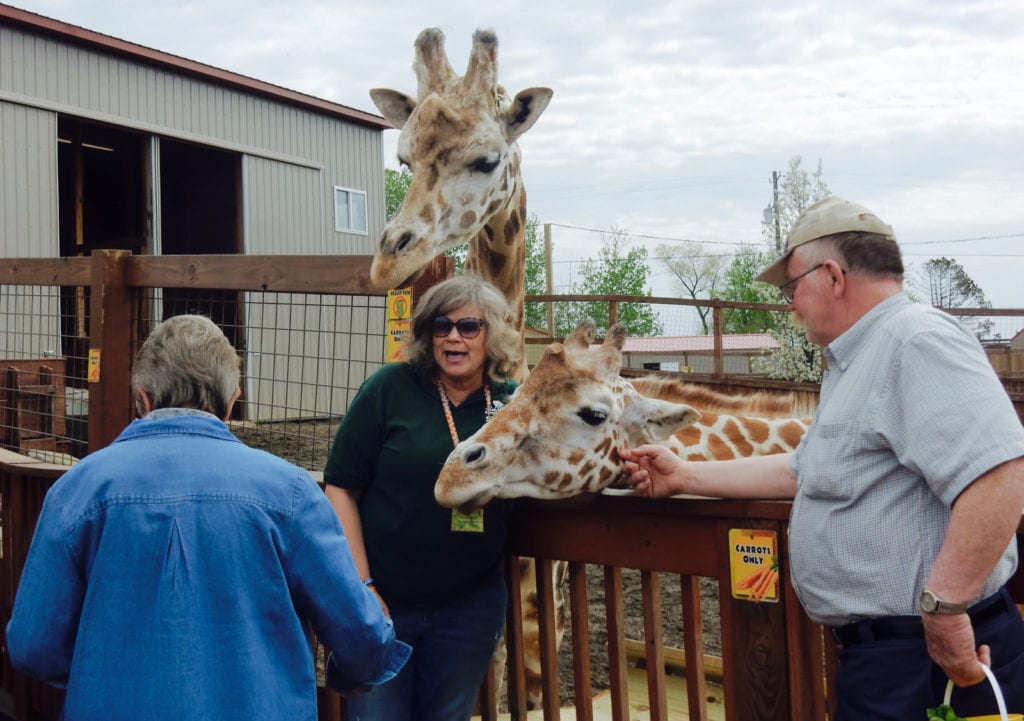 This is a clean happy place where you can see that the animals, most from rescue situations and surrenders, are well cared for. On the docket – a new expansion, the Wilds of Asia. Open May-Labor Day 10-4 (last entrance at 4pm). $13.99 adults, $11.99, kids. $3 for small bucket of food pellets, and $10 for a large bowl of fresh veggies.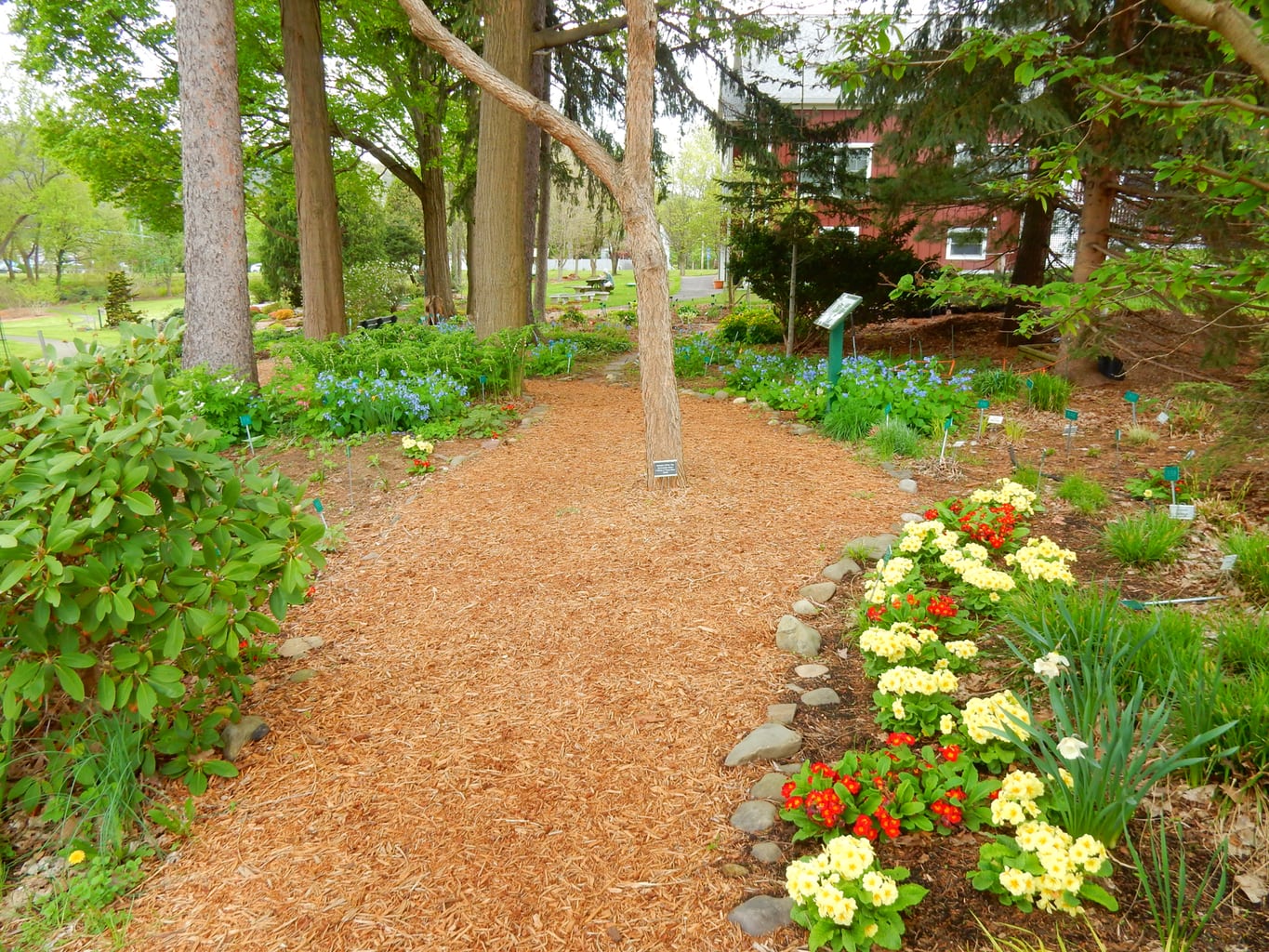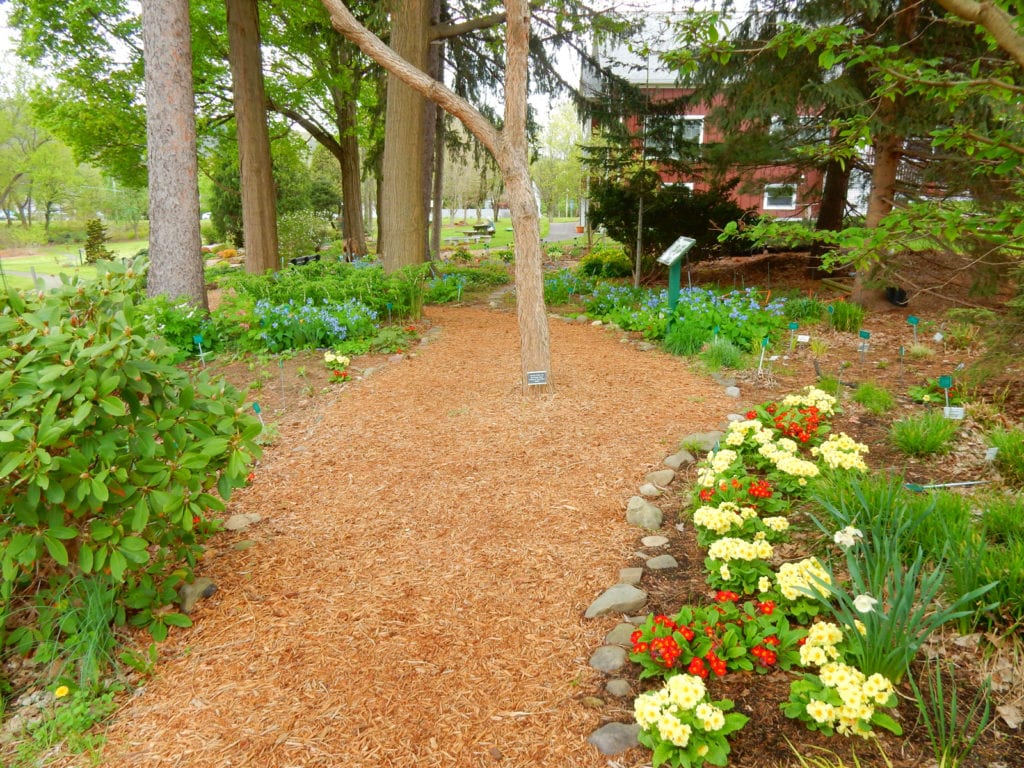 This tiny pocket park, right off the Interstate, is a perfect leg-stretcher before you get back on the road. Located between parking lots and buildings, you'd be surprised by the flowers, trees, and Rose Garden paths within 3.5 acres.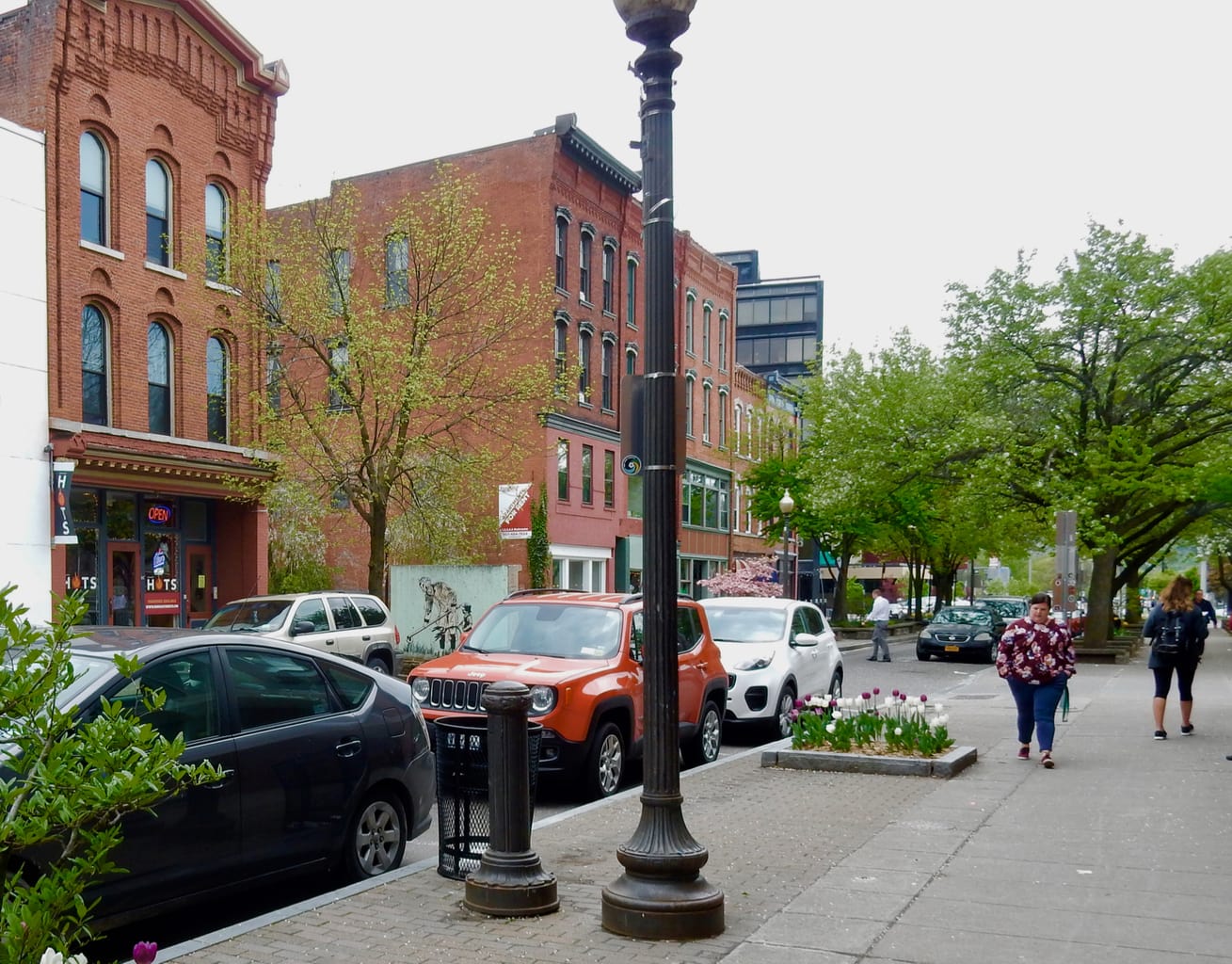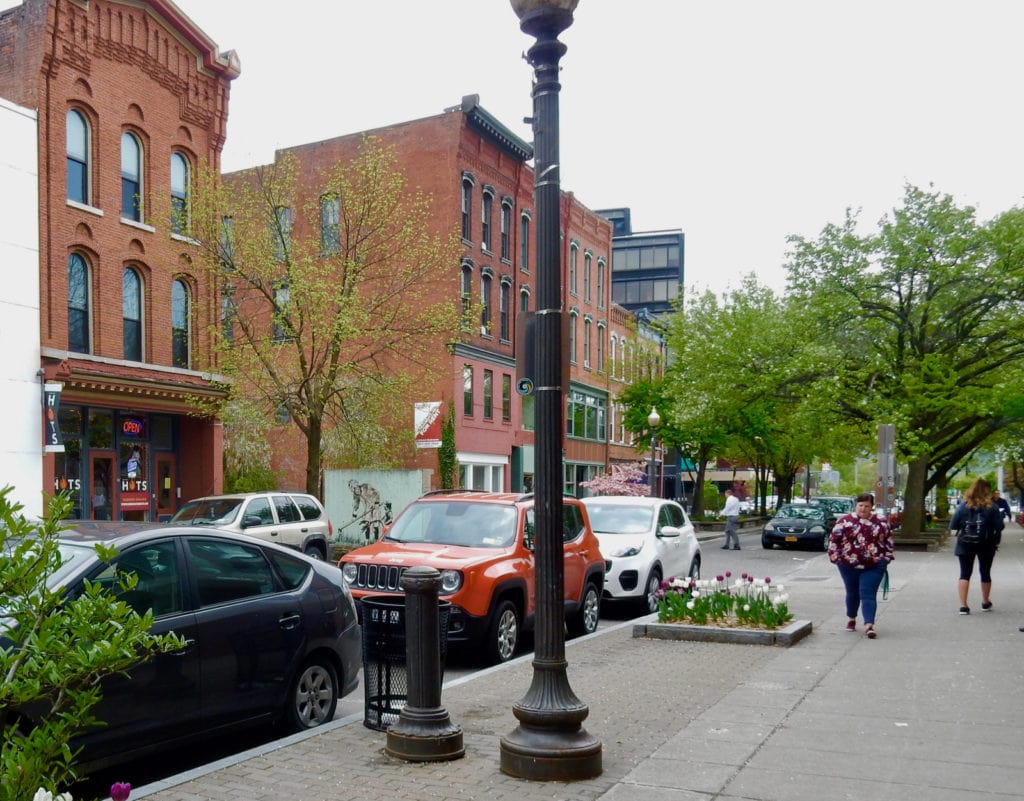 Find cards and cool, irreverent gifts you won't see anywhere else. I picked up a Dust Bunny ($14.99) – a rabbit shaped hand-puppet duster sure to make cleaning fun.
Where to Eat in Binghamton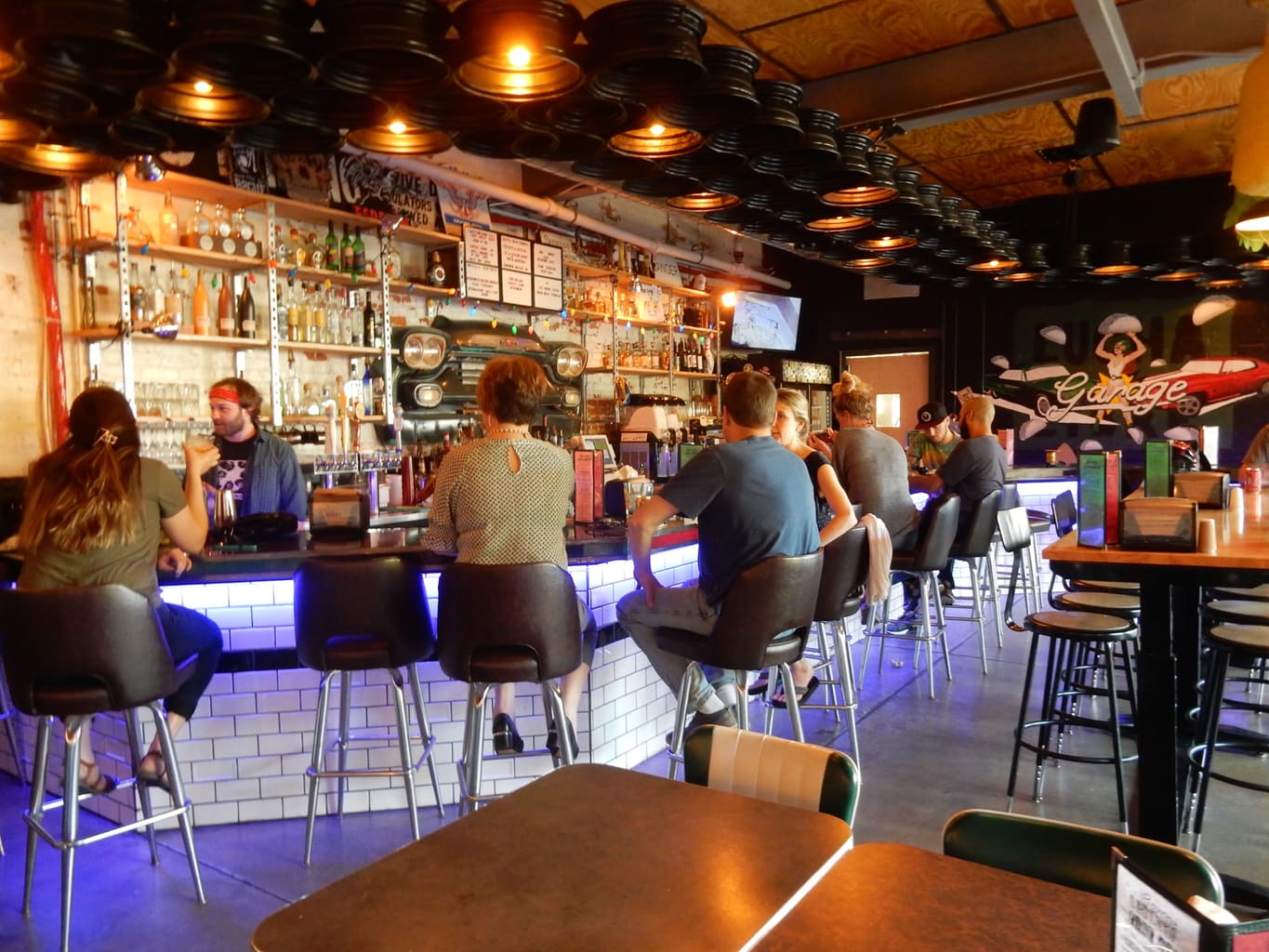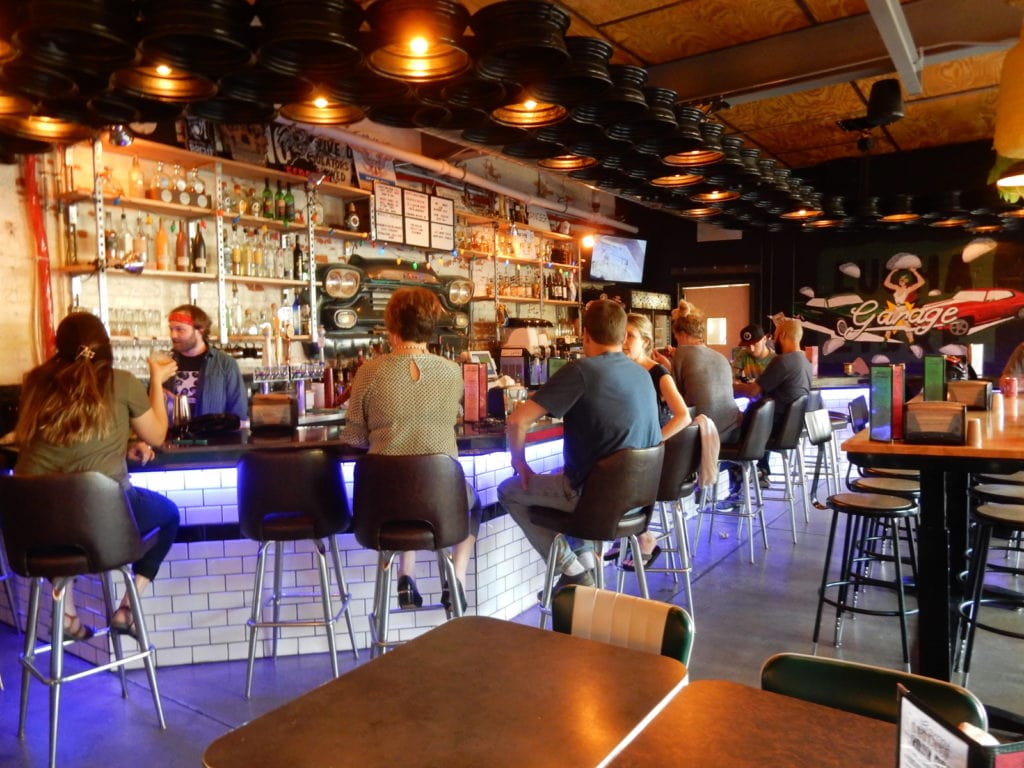 There's nothing like an old gas station to make you think "tacos." At least here, where said Tacos and Quesadillas, Burritos, and more are utterly fantastic. The funky space lends itself to gatherings, where friends chow down on tacos the likes of Steak with Fried Avocado ($13), Cauliflower with Jalapeno ($11), and Chorizo Street Corn ($12.50). Nope, it won't break the bank, and you'll be well and happily fed.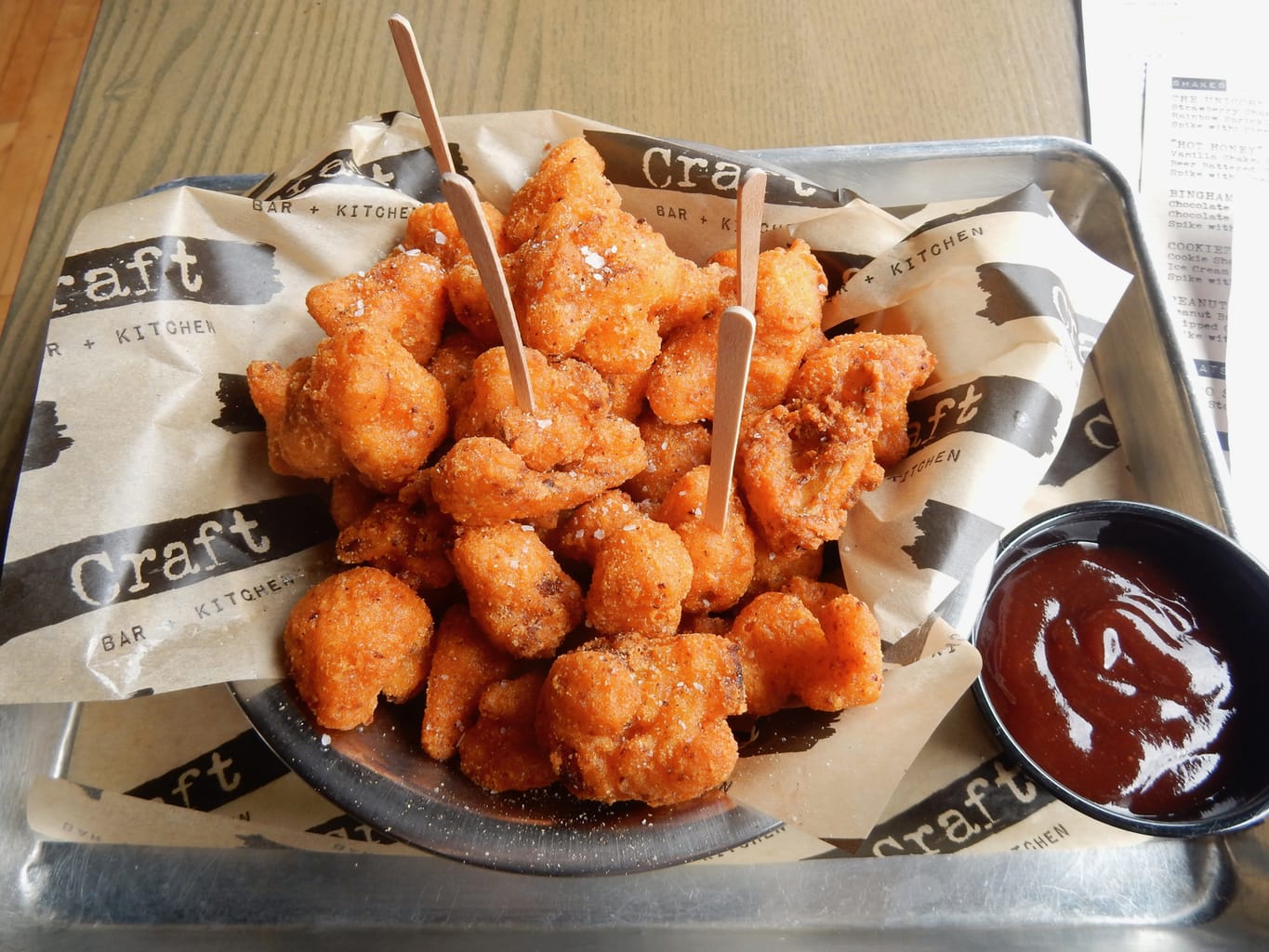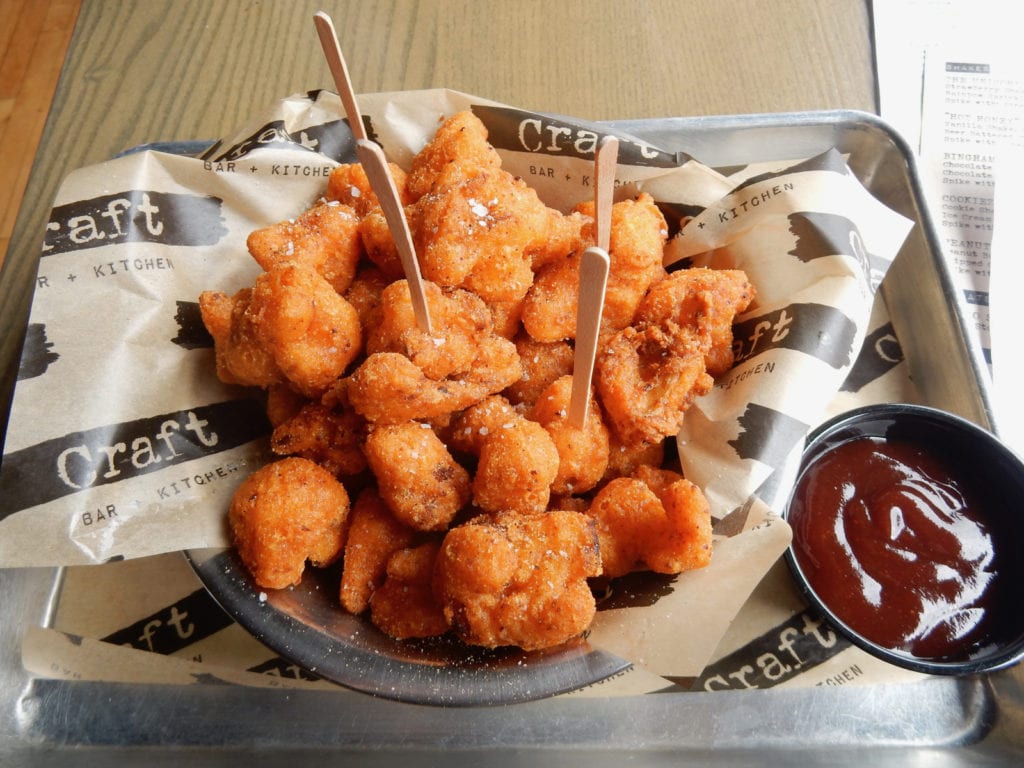 Another fun little joint – this one with artisanal sliders and over the top shakes. Oh – and the best fried Buffalo Cauliflower I've ever had. Better than fries. Try a normal burger Craft Slider, or go for Grilled Shroom, Korean Pork Belly, or more. Outrageous shakes run the gamut of "The Unicorn" –strawberry with candy crunch and rainbow sprinkles – to Cookiez 'W Cream, Chocolate, and daily specials. You'll get back to your diet tomorrow.
EAT: Locals also recommend
Lost Dog Cafe for New American. 205 Dry, a speakeasy in an old antique art gallery. Burger Mondays. Water St. Brewing Co. And Spiedie Rib Pit for BBQ.
Where to Stay in Binghamton NY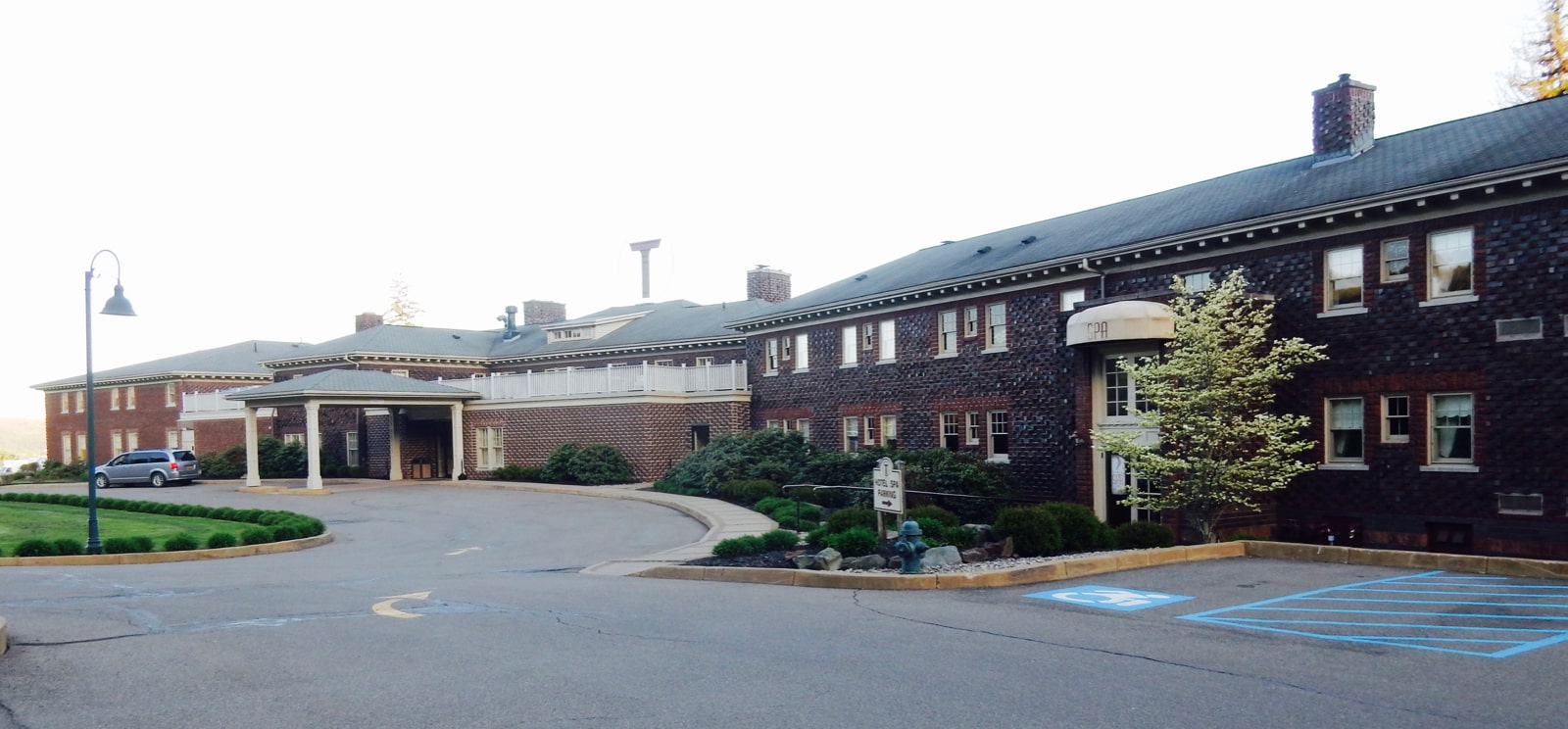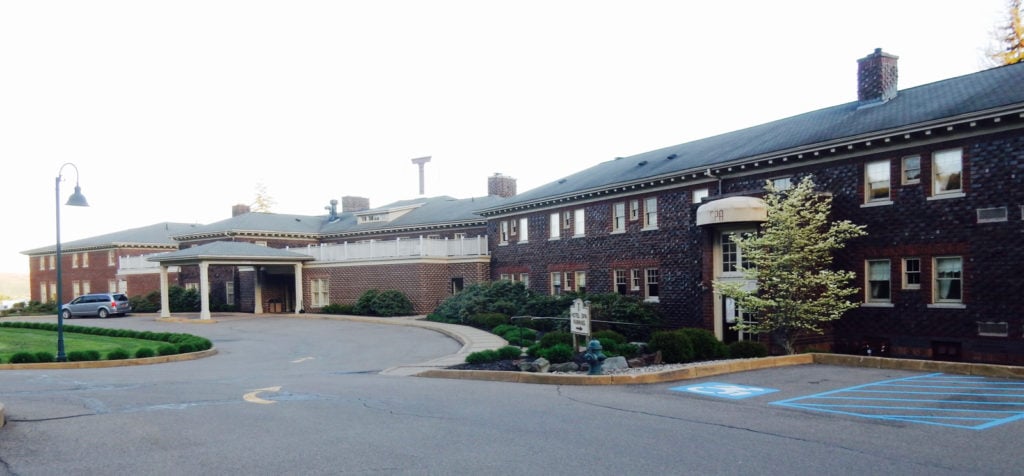 Sure, you can stay in downtown Binghamton at a corporate brand hotel. But the Mavens love quirky luxury. So we found Traditions at the Glen: a property with a venerable corporate past turned boutique inn.
Traditions was first built in 1918 as a private residence for Eliot Spalding, Treasurer of the Endicott Johnson Shoe Factory. In 1925, the Kalurah Shriners purchased the estate, added a 9-hole golf course, and turned the mansion into a Masonic clubhouse.
Traditions History
Subsequently, IBM acquired the building and 430 surrounding acres, and transformed the whole kit and caboodle into what was then referred to as the "IBM Homestead" – a corporate retreat, with 40 guest rooms, for employees and customers. In fact, IBM CEO, Tom Watson Sr. would hang his hat by the front door and walk straight to the customers to ask their opinions and advice about IBM products.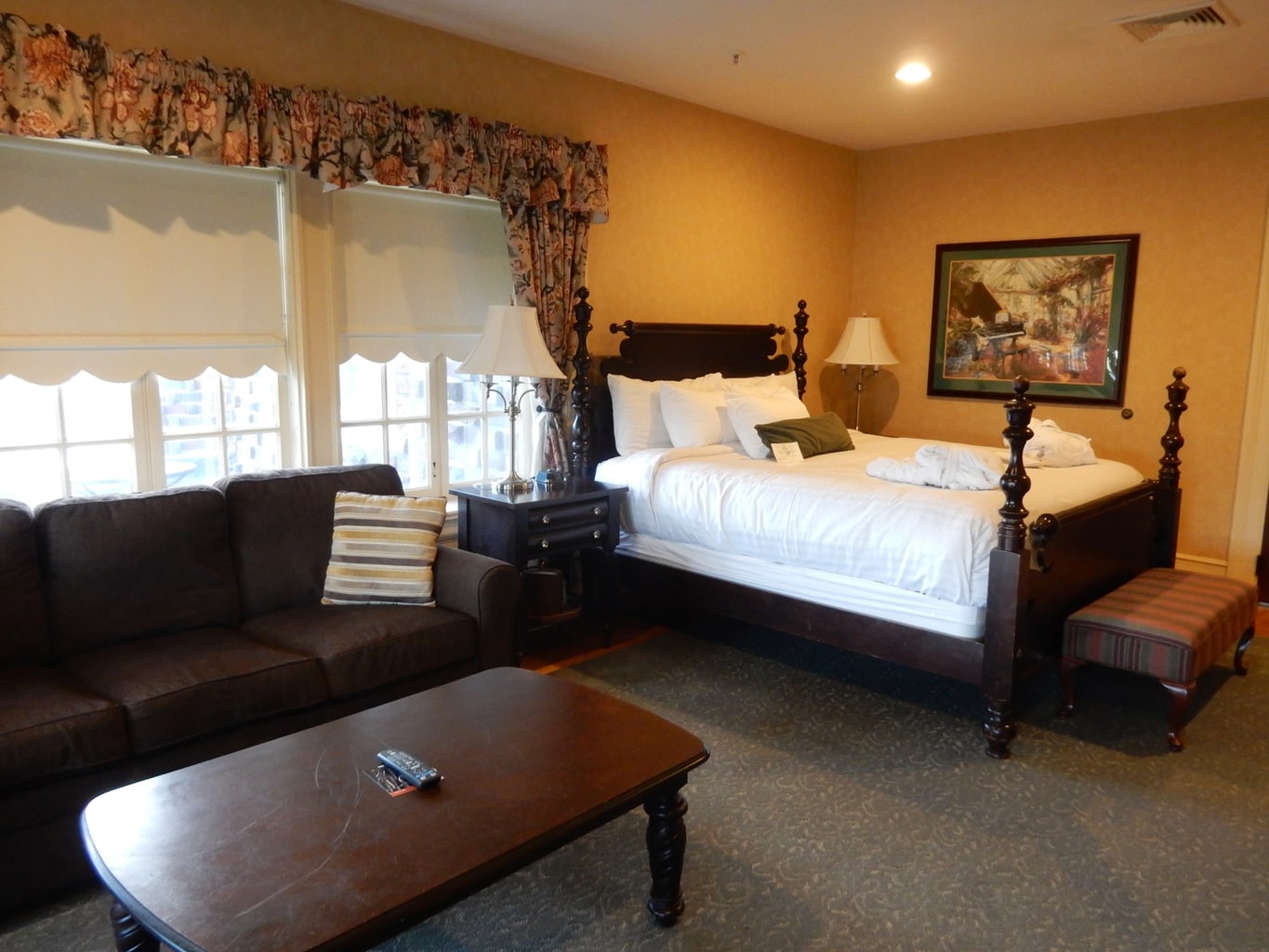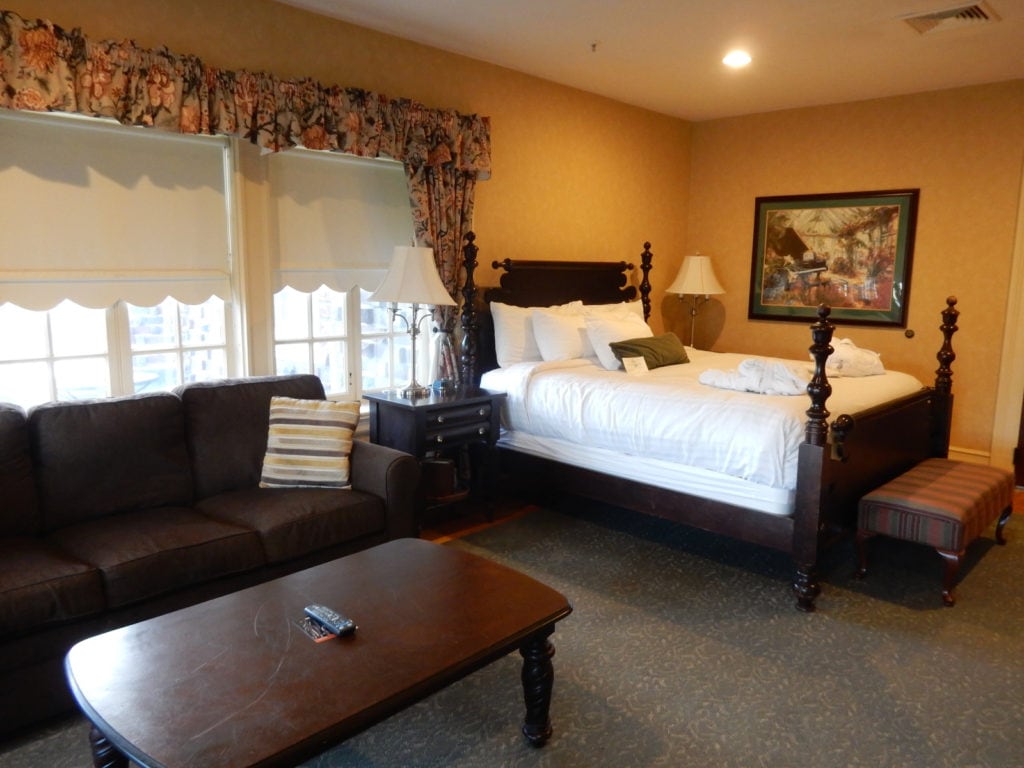 The current Thomas Watson and Jeanette Watson Suites together made up what was originally Watson's private apartment, where he would stay during his time in town. (These are now the most requested rooms). Over the years, notable figures, including President Dwight D. Eisenhower and Eleanor Roosevelt, spent the night here.
The building was modernized and expanded to include classrooms and conference rooms. But by the early 1990's the IBM campus no longer made sense in a burgeoning global economy. So, The Homestead closed in 1995.
In 2004, the Homestead Development Group raised funds for a major renovation that retained the property's old world charm and historical accuracy while adding luxury appointments for the modern day traveler. Hallways are lined with photos of the property through the years.
First Impressions of Traditions at the Glen Hotel and Spa
The façade of the Traditions building is uniquely textural. Protruding bricks lend a sculptural effect. I've never seen anything quite like it.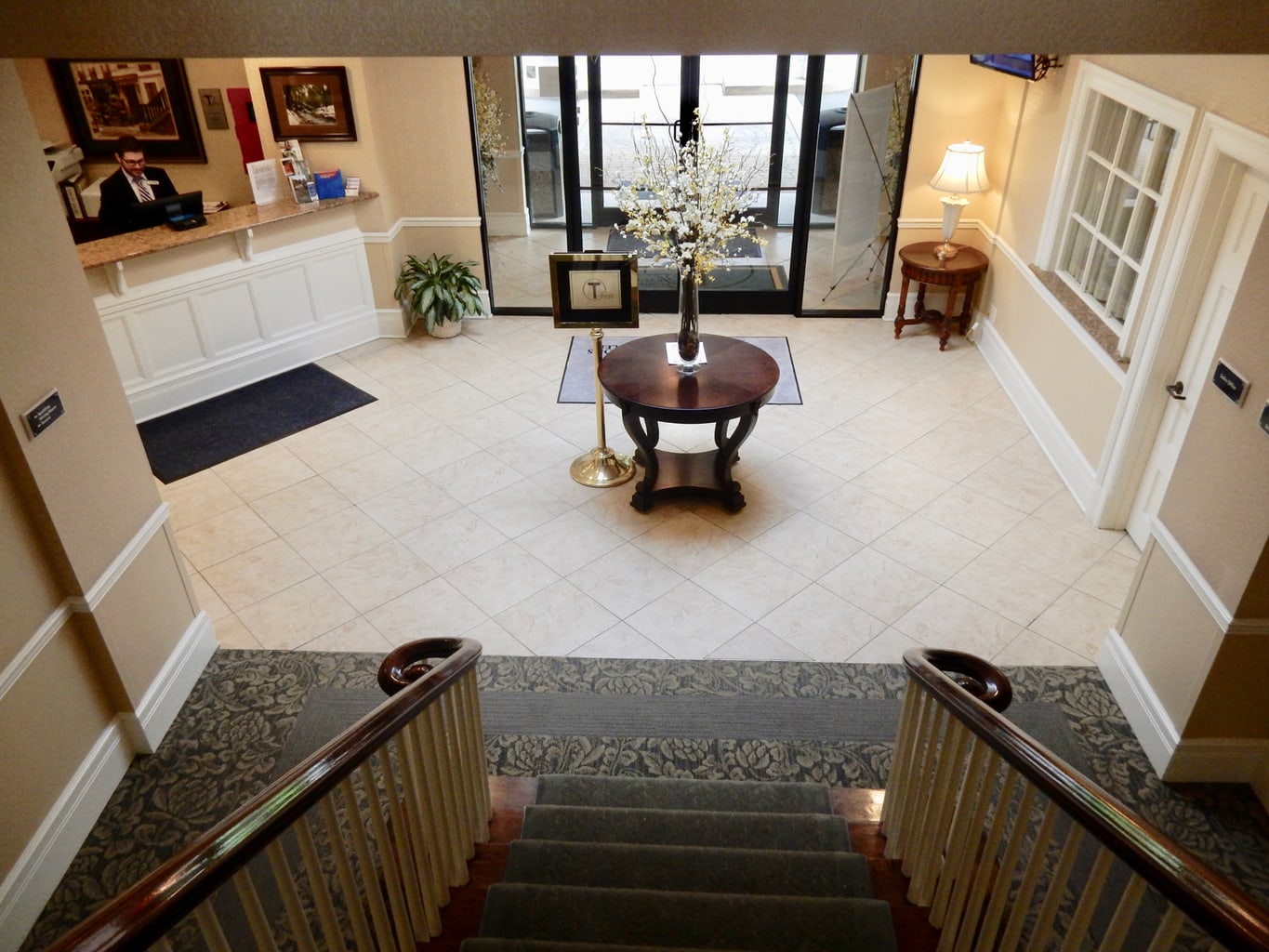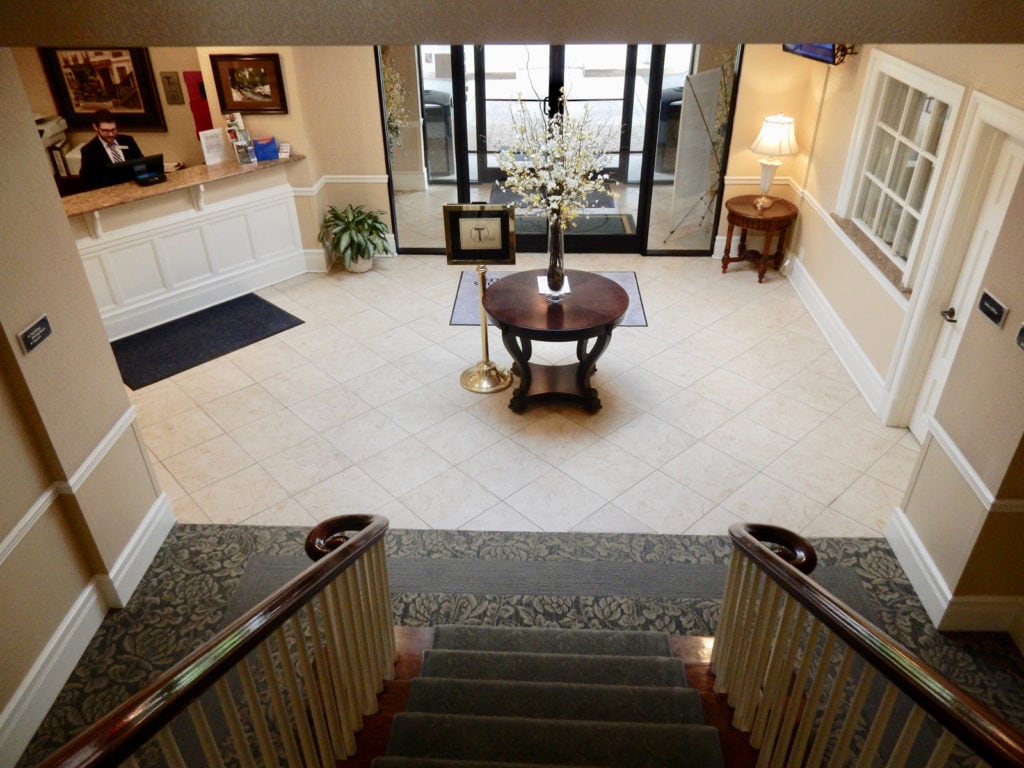 One friendly receptionist greets guests and provides a lay of the land, which can be a bit confusing. But the place hums with activity as a popular meeting place for community associations, spa-goers, and golfers who beeline to the Golf Shop a few paces from the hotel.
Rooms at Traditions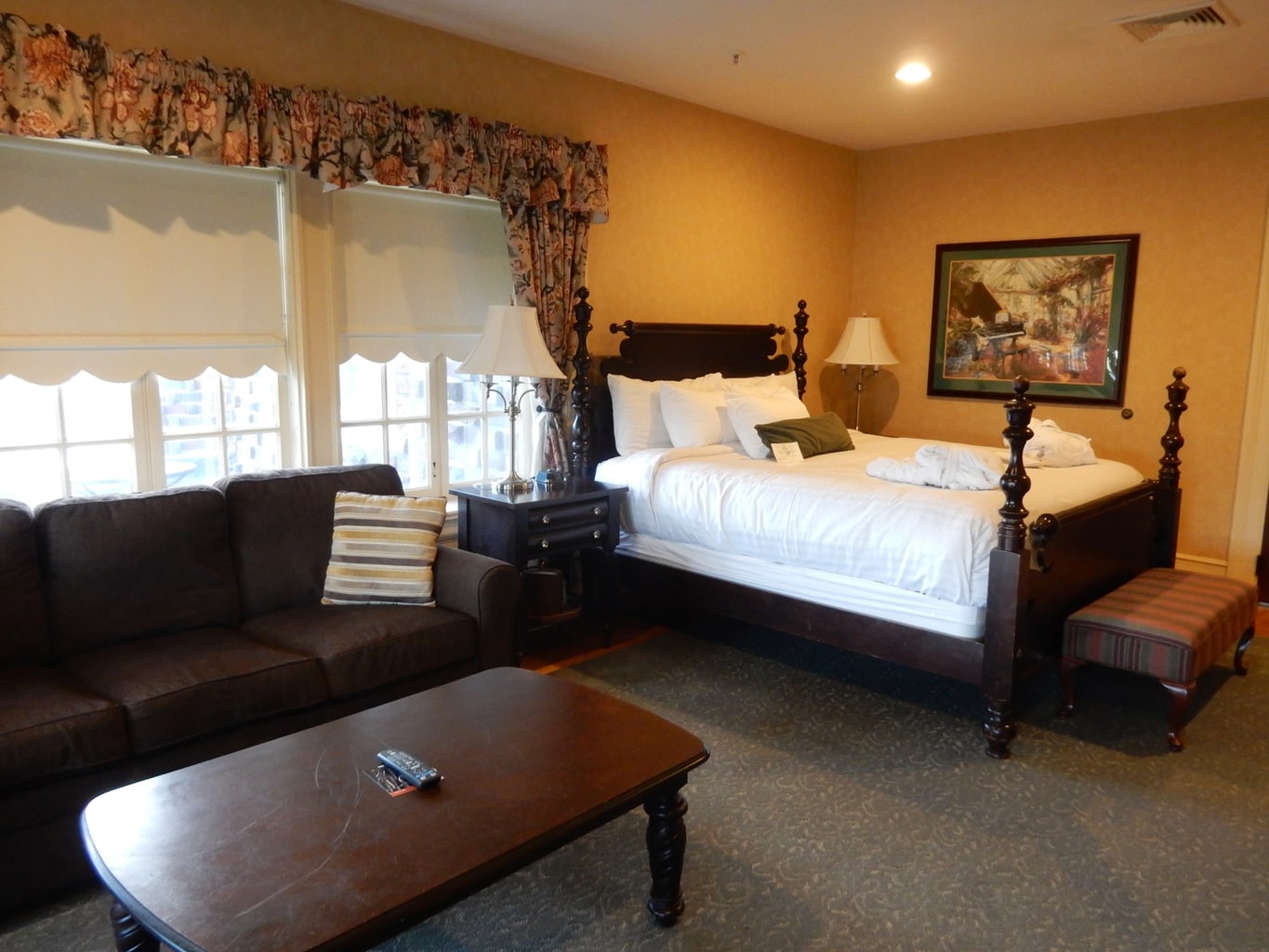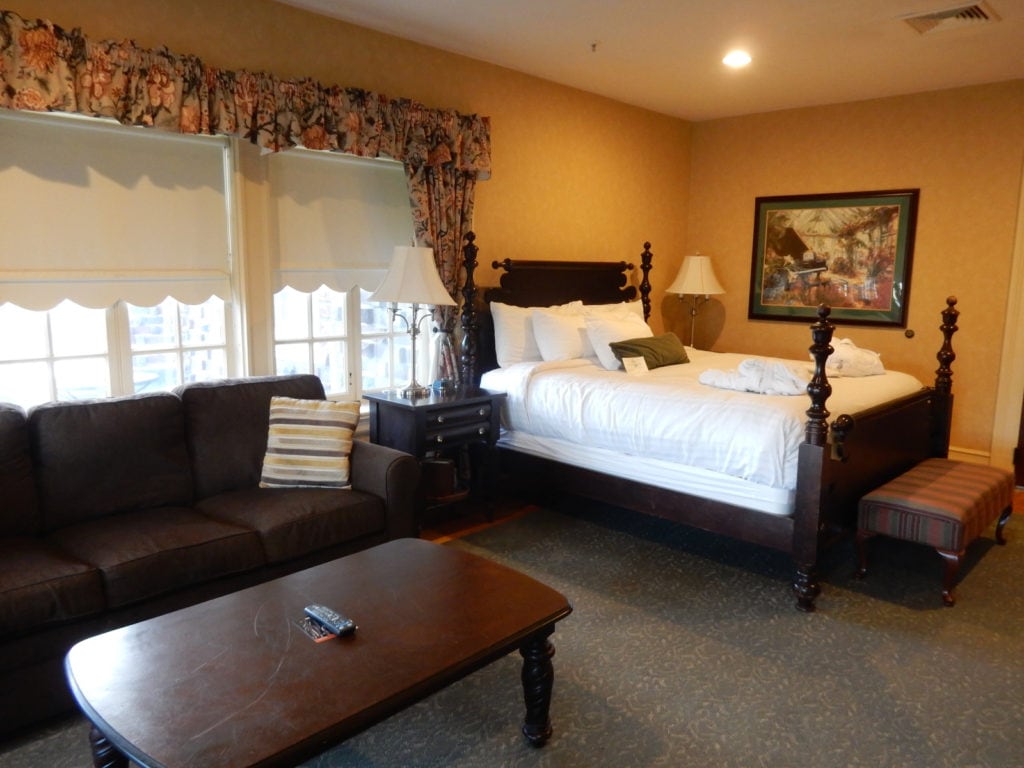 The Jeanette Watson Suite is a comfortable cocoon of a bygone era. This large room sports antique furniture, including a carved four-poster bed (with fine, comfy updated bedding), and floral curtain valances dressing up two walls of windows.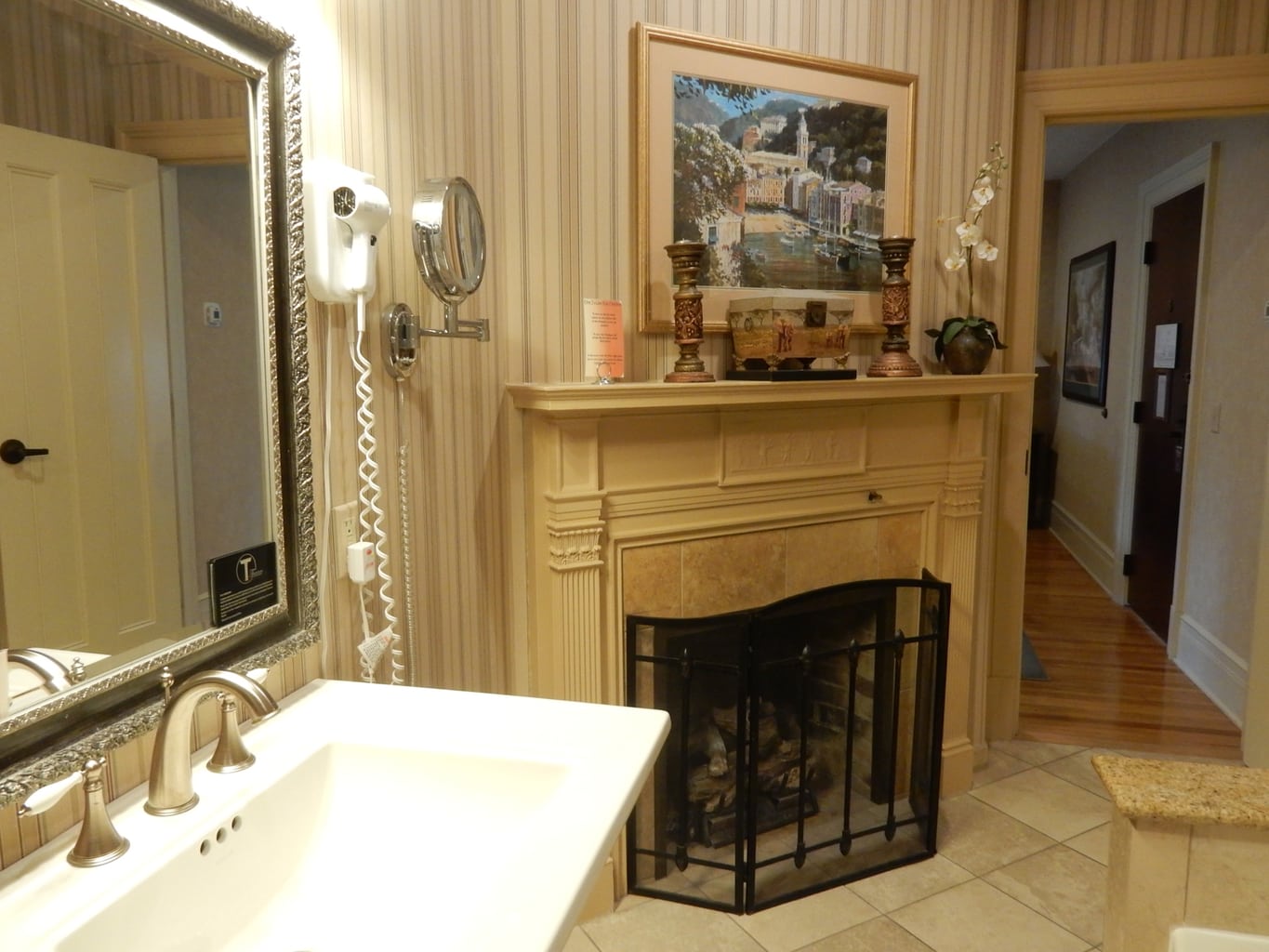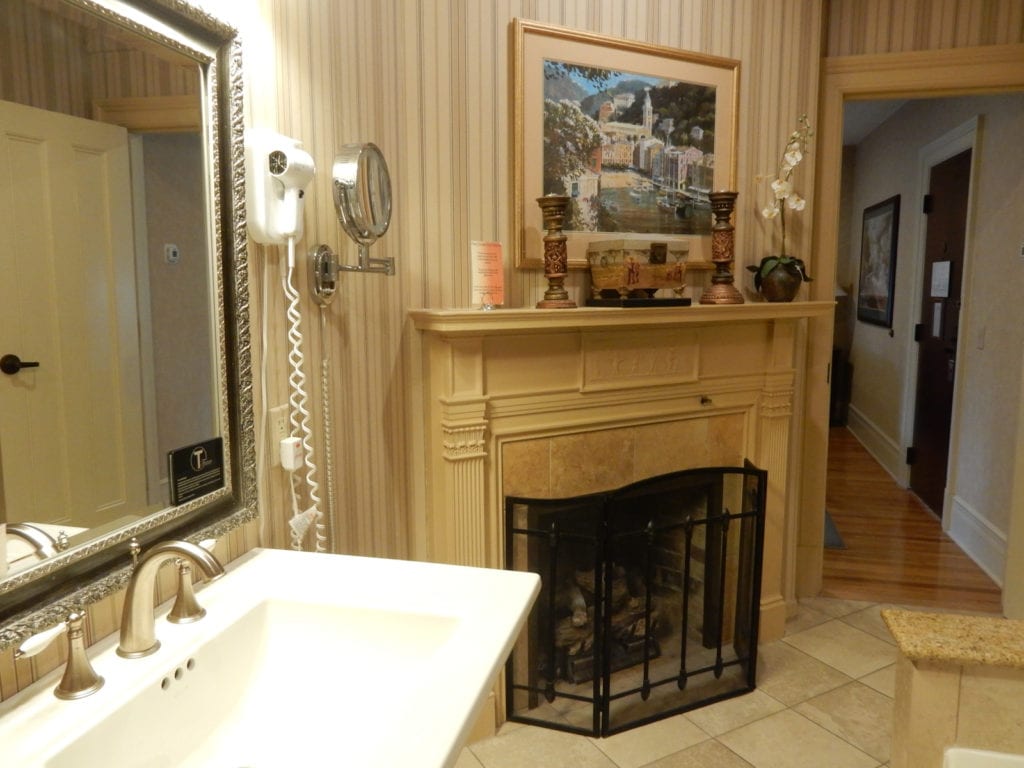 The sizable bathroom features a glass shower, a Jacuzzi, and a gas fireplace. In winter, this place is pure romantic kitsch for nostalgic Boomers or retro-appreciative Millennials.
Amenities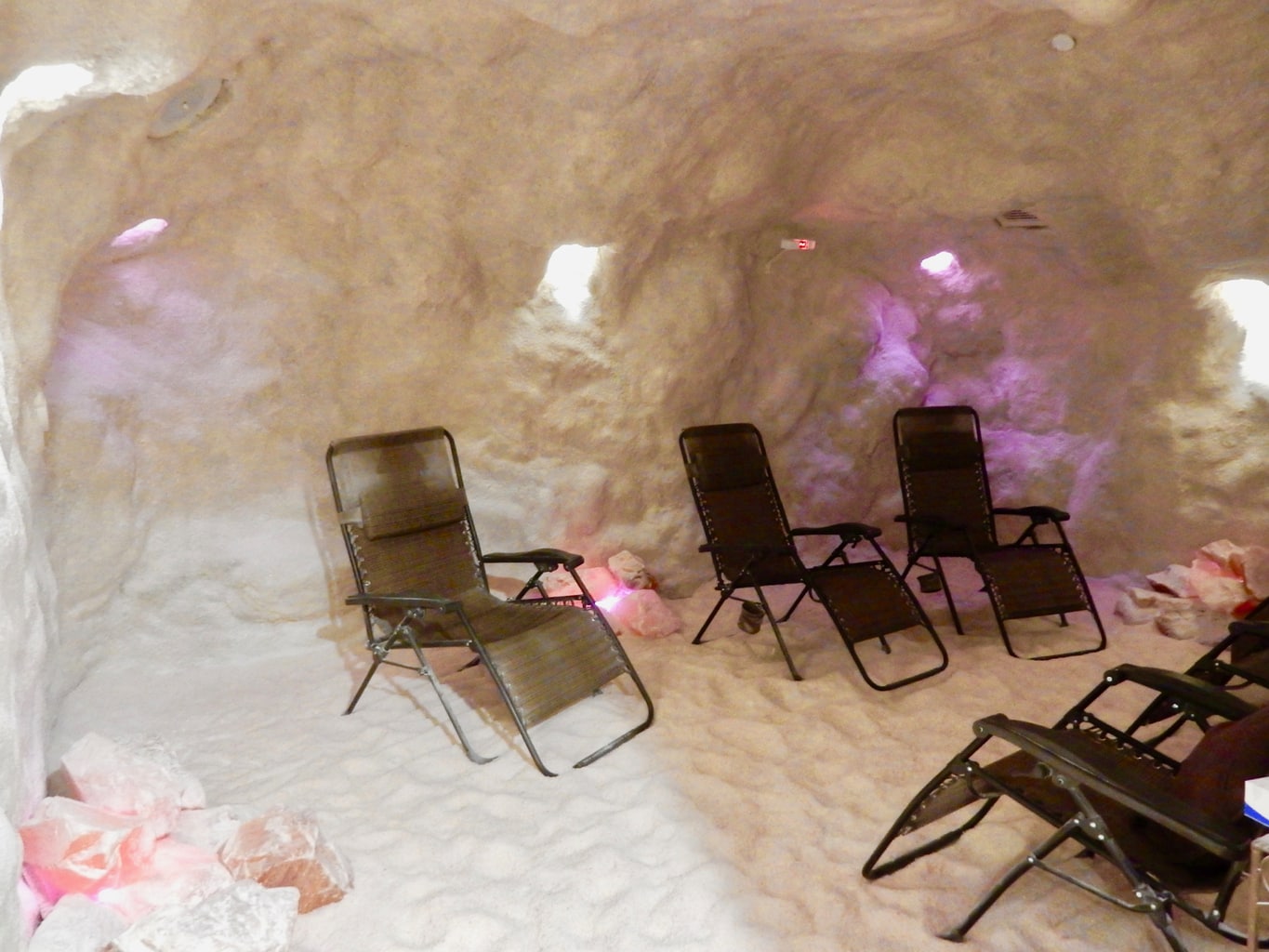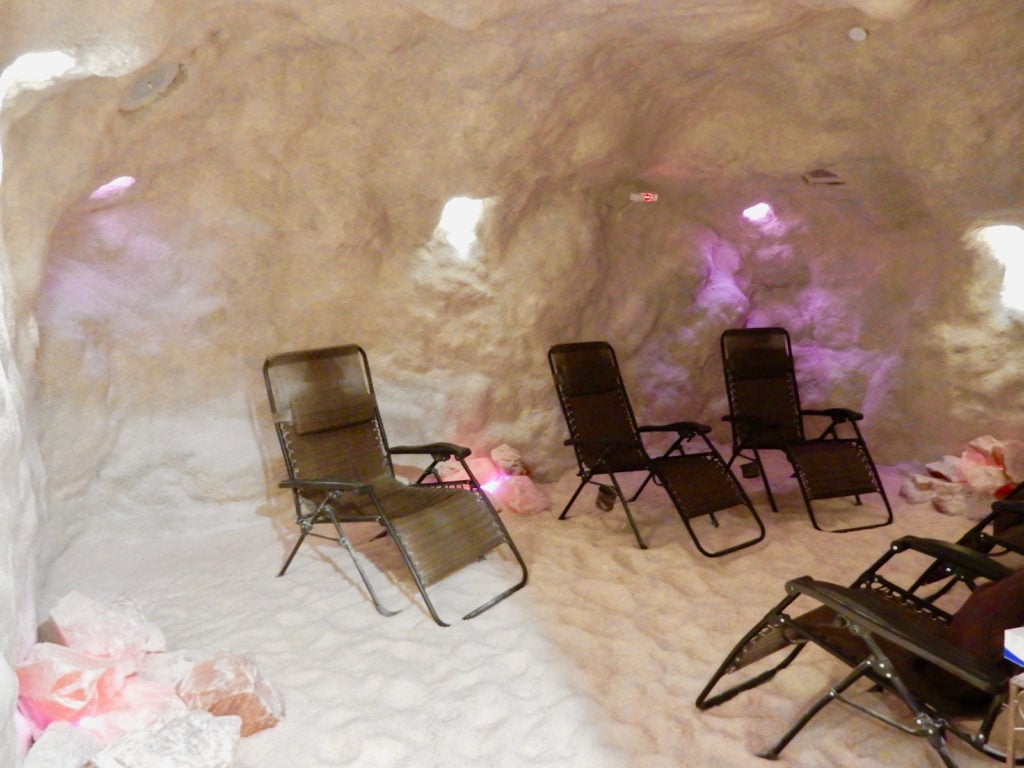 The full service Spa at Traditions is accessed through a hotel corridor. Not only can you get massages and body treatments, and book a haircut and mani-pedi, you can also secure chair in the serene Salt Sanctuary room.
Breakfast, complementary with room, includes a cold buffet and a made-to order hot dish. It's served in a room near the lobby.
The hotel offers Stay and Play Packages at the 4-star 18-hole Championship Golf Course on site.
Rooms and suites from $114 to $209 per night include hot breakfast, parking, wi-fi.