Last Updated on
Though right in downtown Denton (across the street from the Museum of Rural Life), Turnbridge Point, opened in May 2015, is a style-forward, foodie favored B&B that backs up to the Choptank River. The name derives from a railroad bridge in the river just off the inn's small beach: decommissioned, it is permanently "turned" in a diagonal position.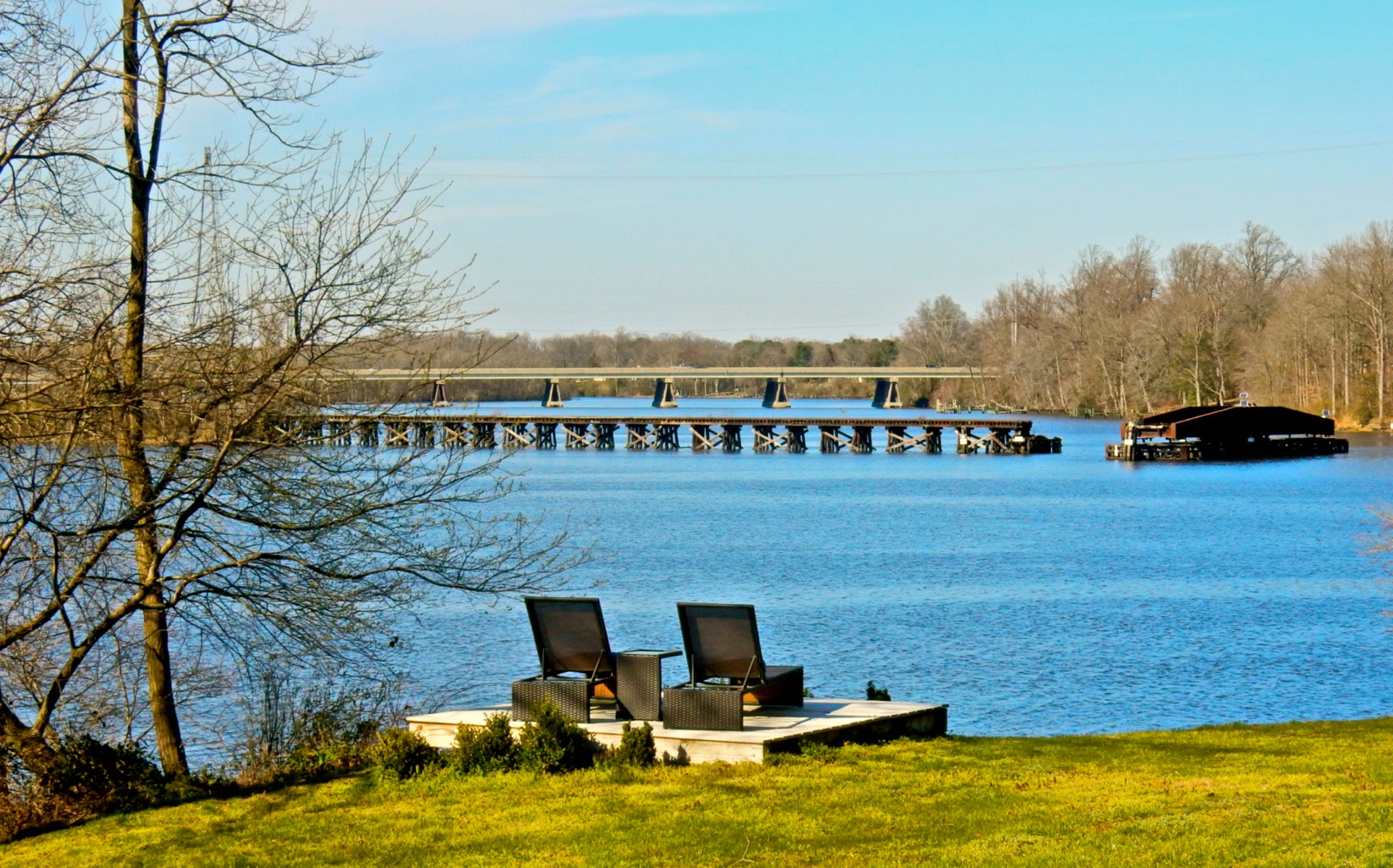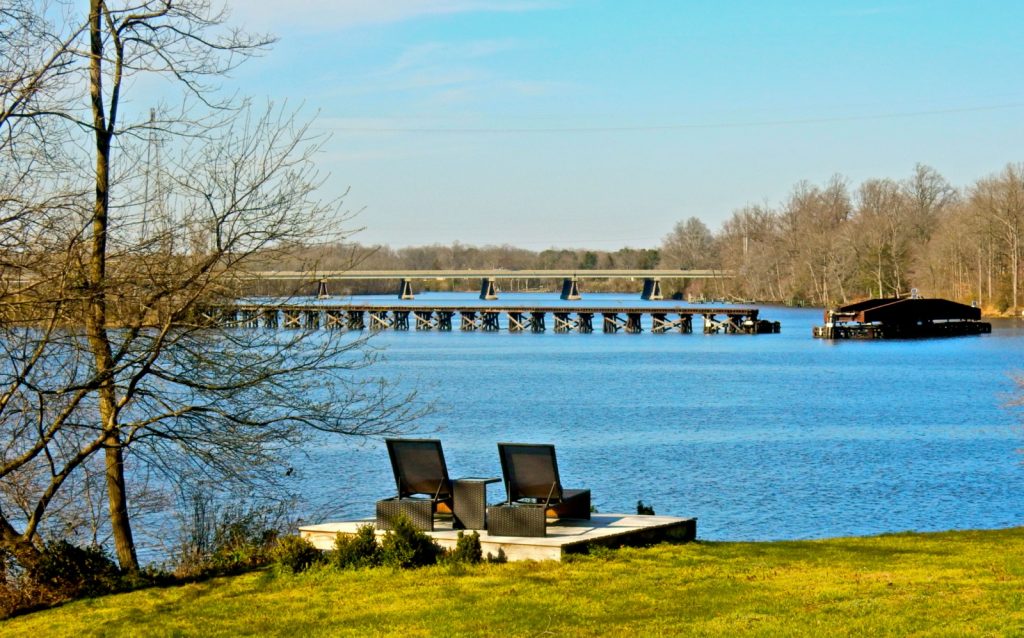 Though fast becoming a destination on it's own, Turnbridge Point is just a bit over an hour from Baltimore on the way to Atlantic Ocean Beaches and is the perfect spot to bed down and wait out the traffic, which can be horrendous in the summer. Stay here on Friday night, start Saturday with one of the best breakfast's you'll ever have, and be on your way – traffic free.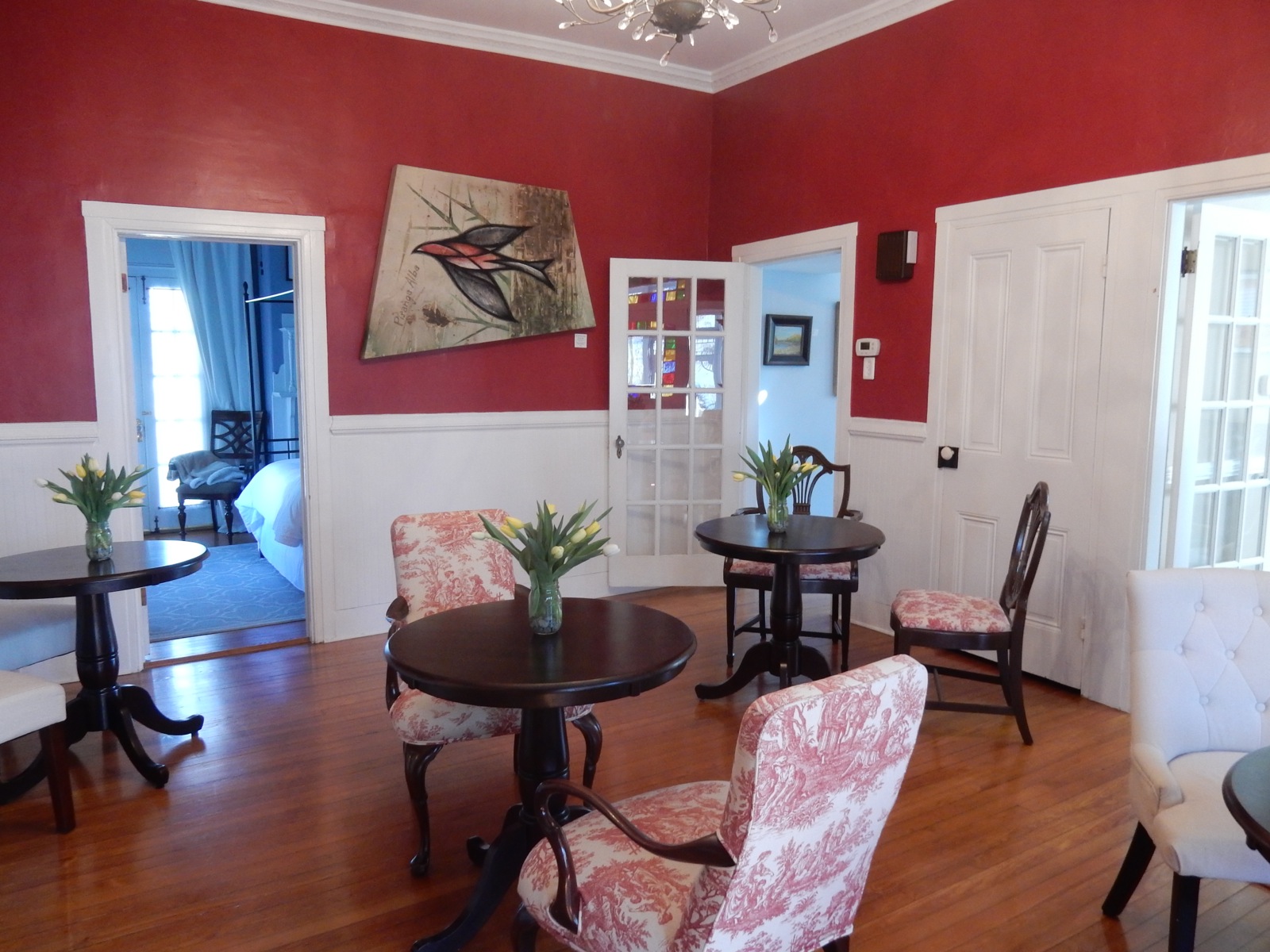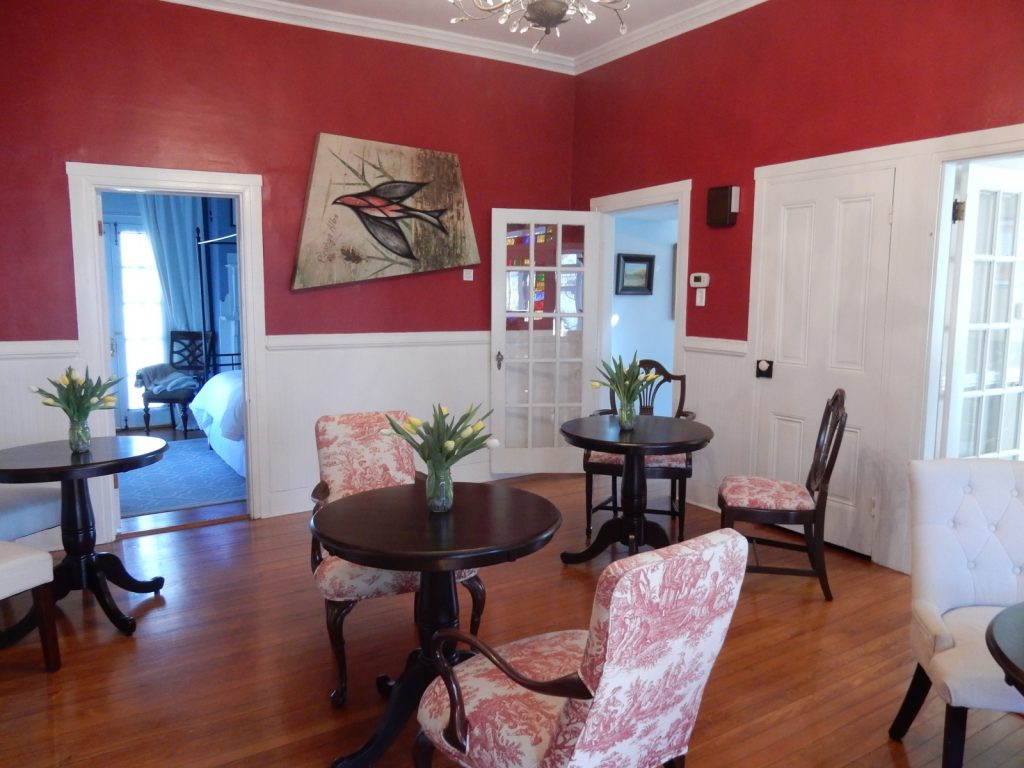 The lovely Victorian home sits just off the square of this small downtown – a block away from several shops and restaurants.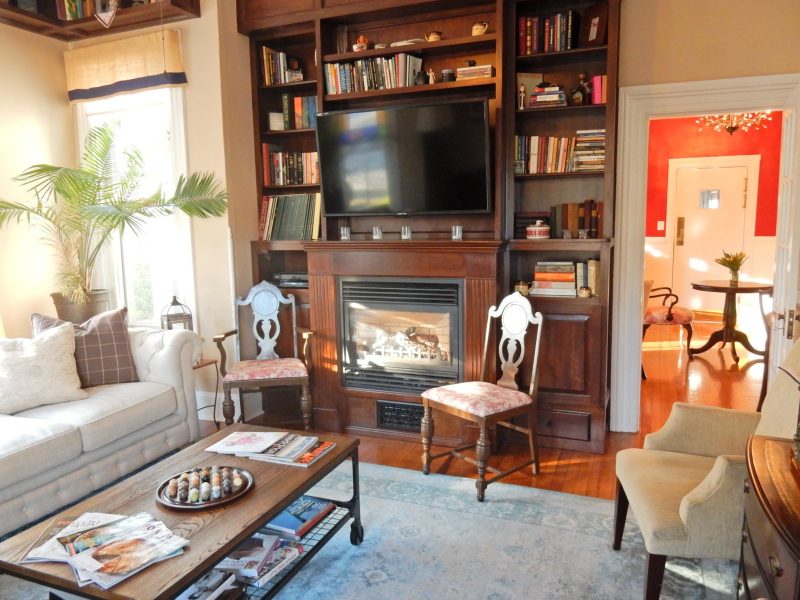 The welcome is warm, gracious – and delicious. Owned and operated by Patent Attorney/decorator, Rob Griffith, and his partner, Steve Konopelski, a former Broadway dancer (Gypsy with Patti Lupone, Beauty and the Beast and others) now a French Pastry Chef and Wedding Cake designer extraordinaire, Turnbridge Point has contributed to turning the fortunes of this little town around with its sophisticated style and outrageously good breakfasts and brunches.
First Impressions of Turnbridge Point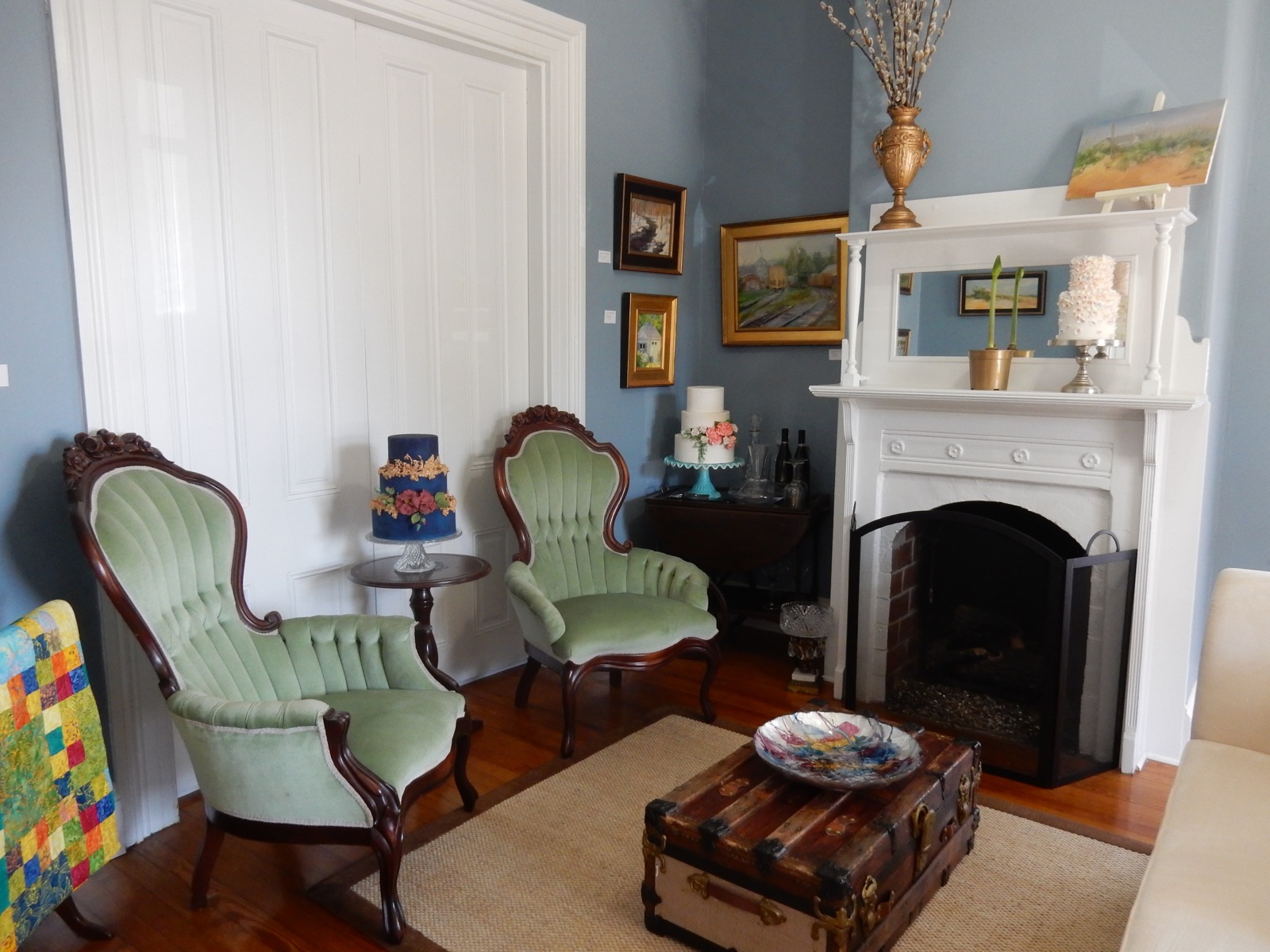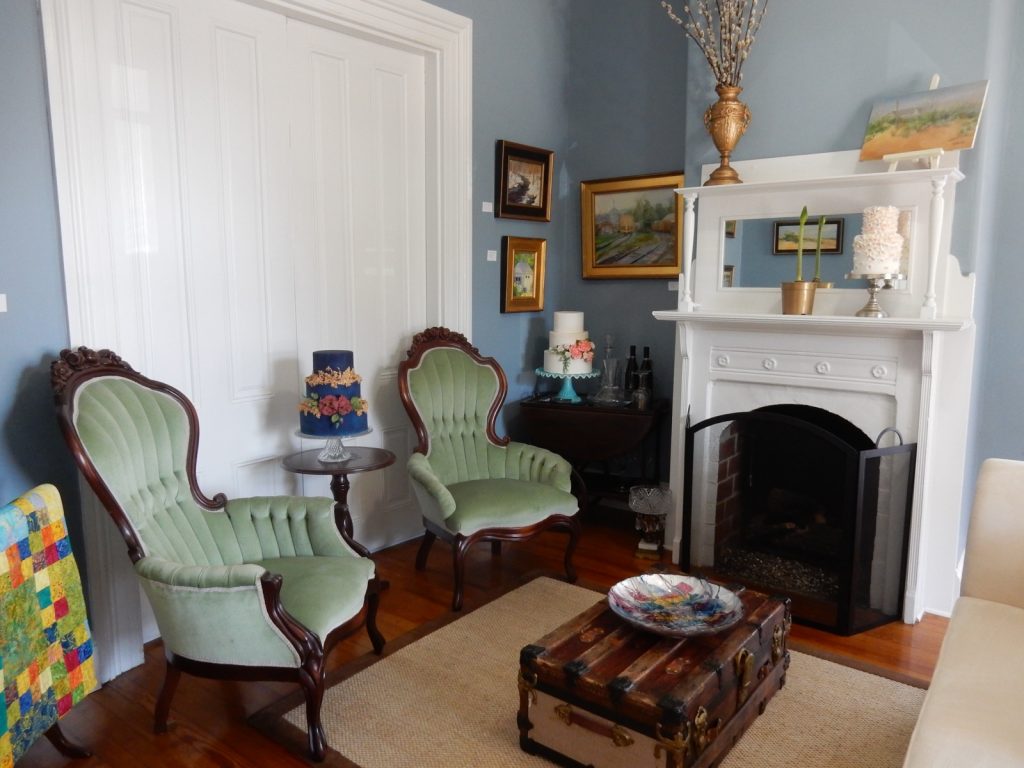 Eye-catching décor in each common room is enhanced by local art: Turnbridge serves as an ersatz art gallery for the town. The parlor functions as a consultation area for Steve's Wedding Cake business – with mock-ups scattered throughout – and the Library room is a comfy place for guests to gather and to peruse the cache of faded letters from the 1800's that Steve and Rob found in the attic while renovating. Deciphering them could be an exercise in itself.
Food at Turnbridge Point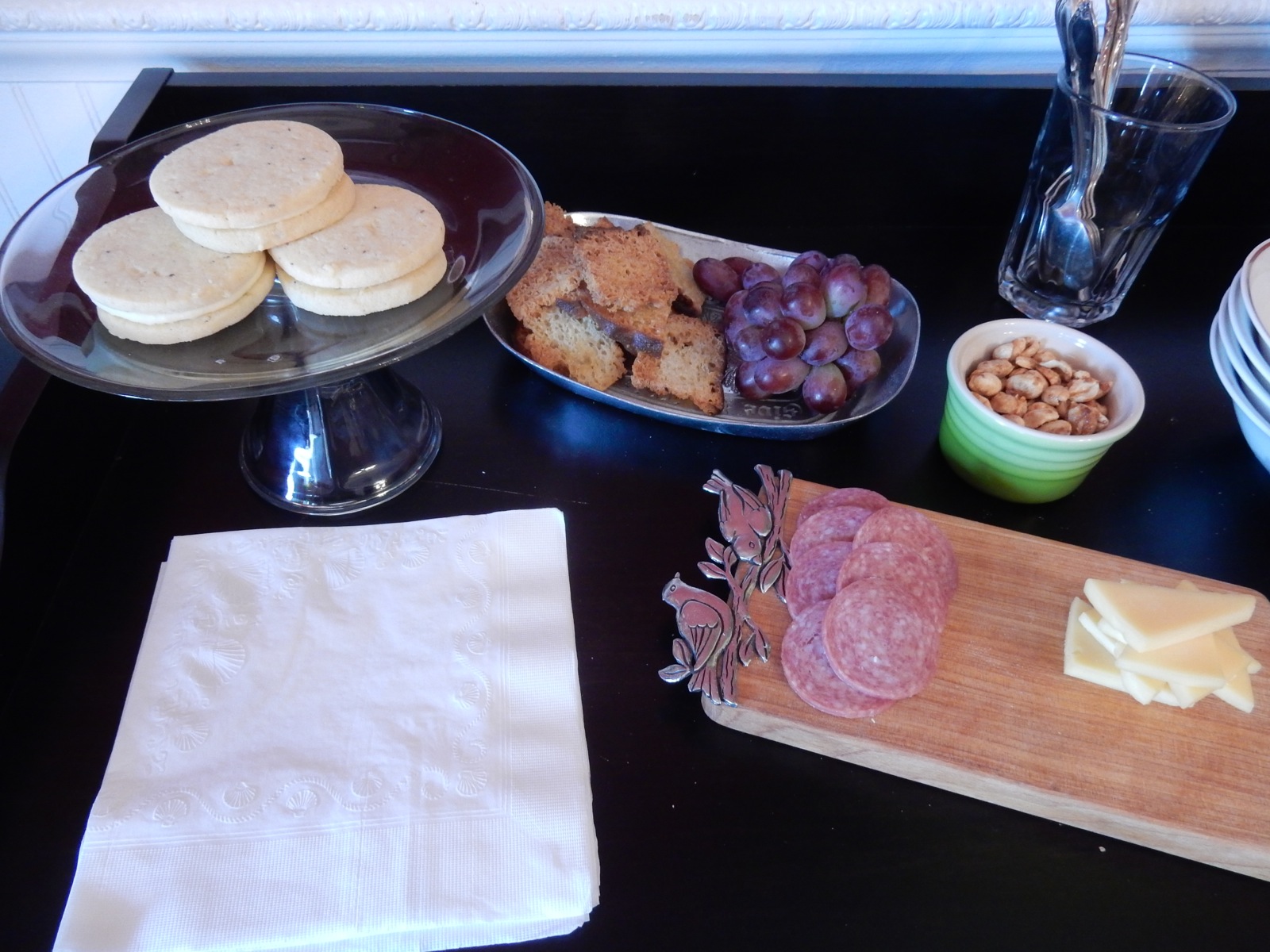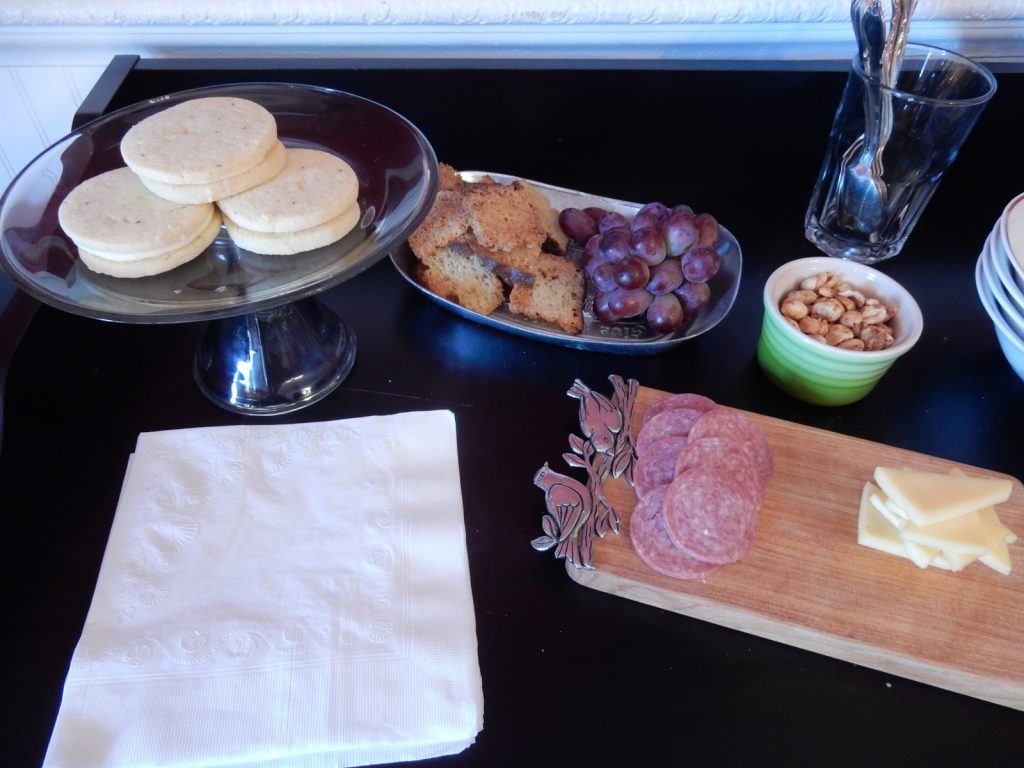 All this is secondary, however, to the trademarked sweets you'll find in the fun, pink dining area. "Cannoli-O's" – the marriage of cannolis and Oreo's, cornmeal cookies with lemon crème center – are Steven's invention and await each and every new guest, along with a small charcuterie board, cheese and crackers, cereal, and other snacks at check-in.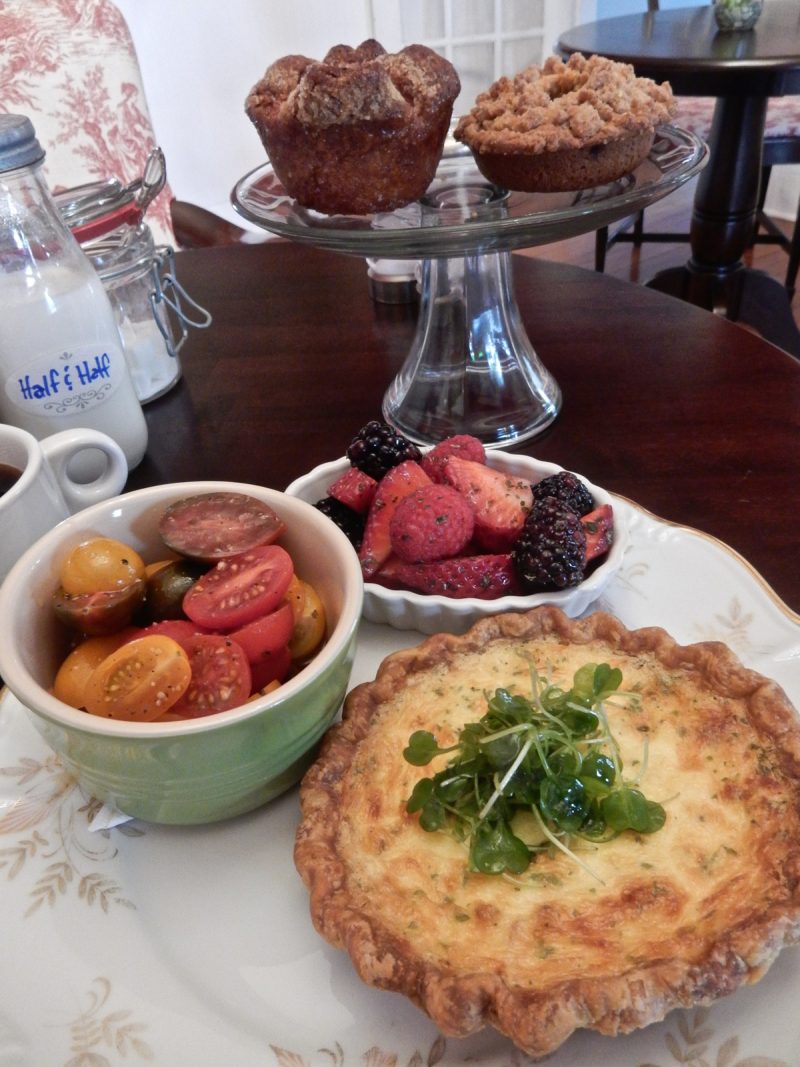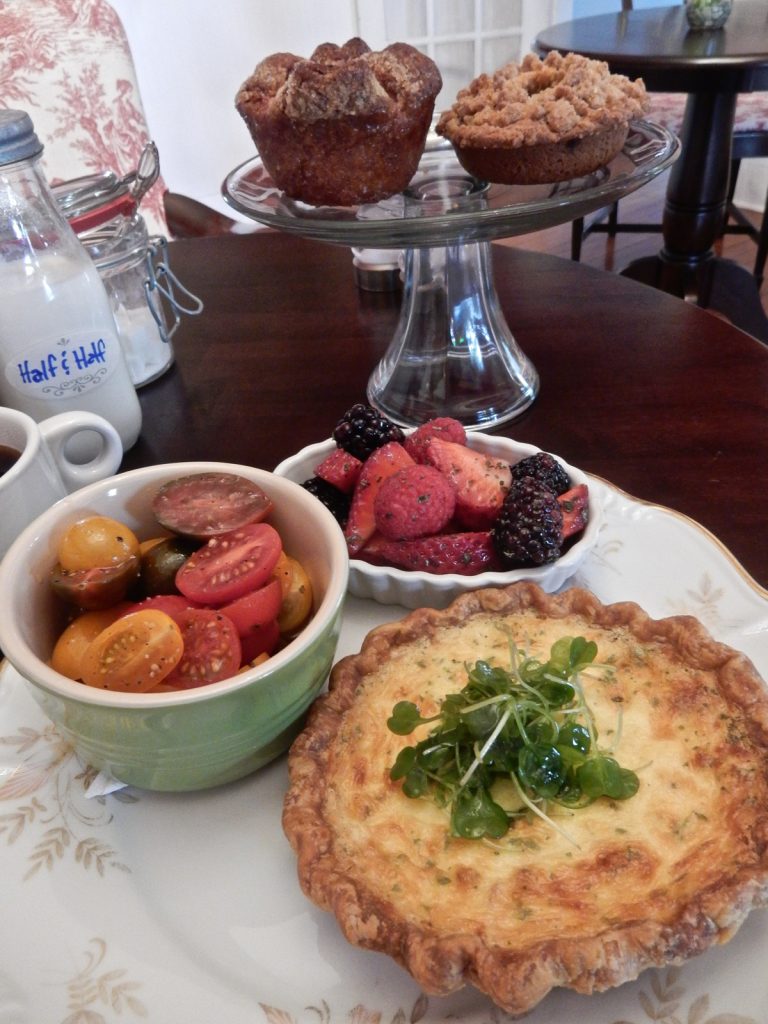 If you haven't figured it out yet, food is the centerpiece of a stay here, and oh, how this breakfast shines. Yes, you will be duly impressed with the lightly dressed heirloom cherry tomatoes from the garden, the fresh berries sprinkled with sugary herbs, and of course a flakey Quiche Lorraine with NY Cheddar.
But the piece de resistance is Steve's Kouign-Amann (pronounced "queen-a-maan"), a pastry from the Brittany Region of France that translates to "Baked Butter." Crispy-caramelized exterior, flakey-chewy within, this popover on steroids is worth a trip from anywhere. Honestly, Steve's version of the Kouign-Amann is the new Cronut®.
He "keeps the recipe under lock and key," and sells a limited 250 every Saturday from the inn's front porch (the line forms at 8, opens at 8:30, sold out by 9). Not available anywhere else, you'll just have to come here to experience it.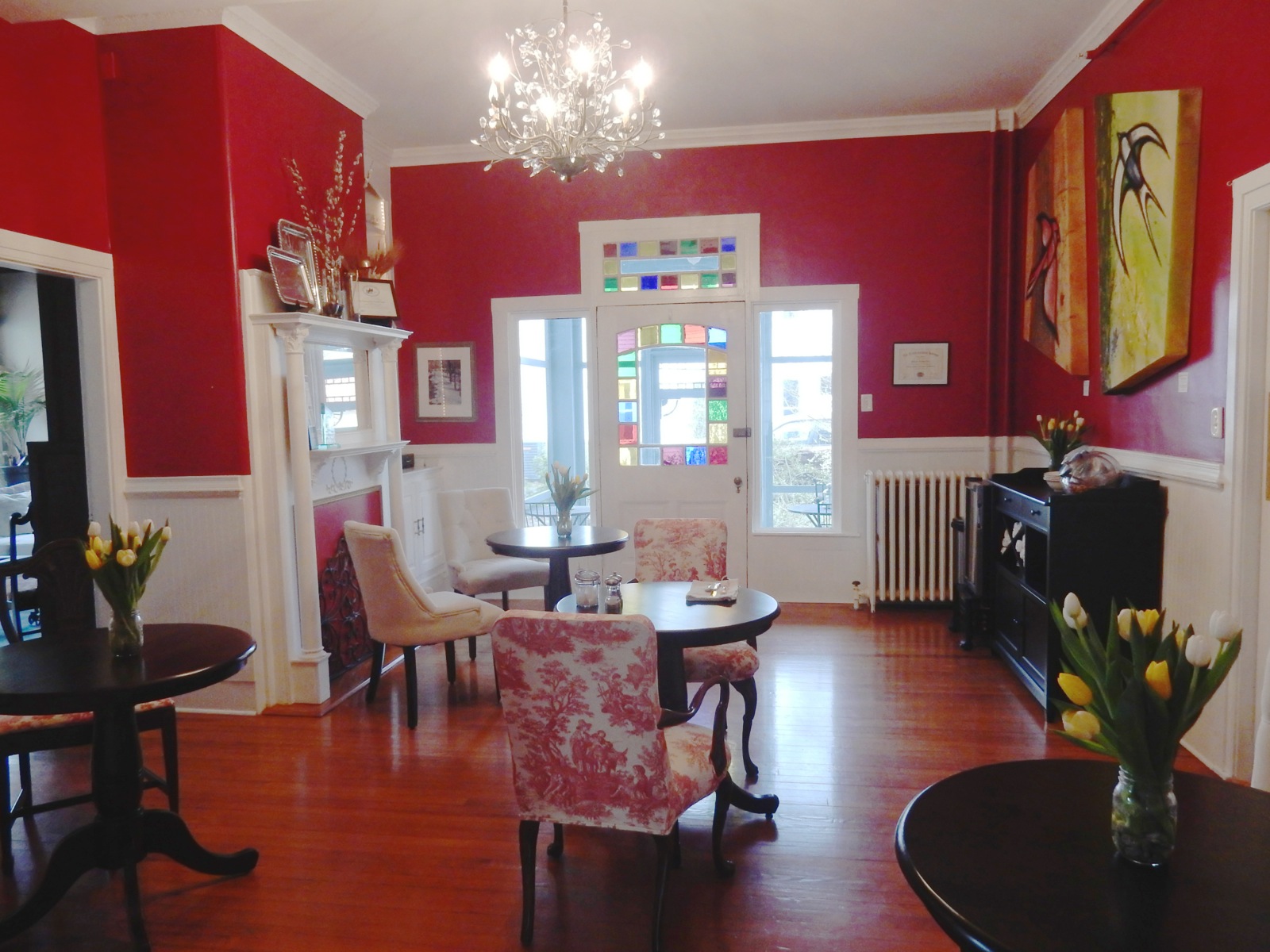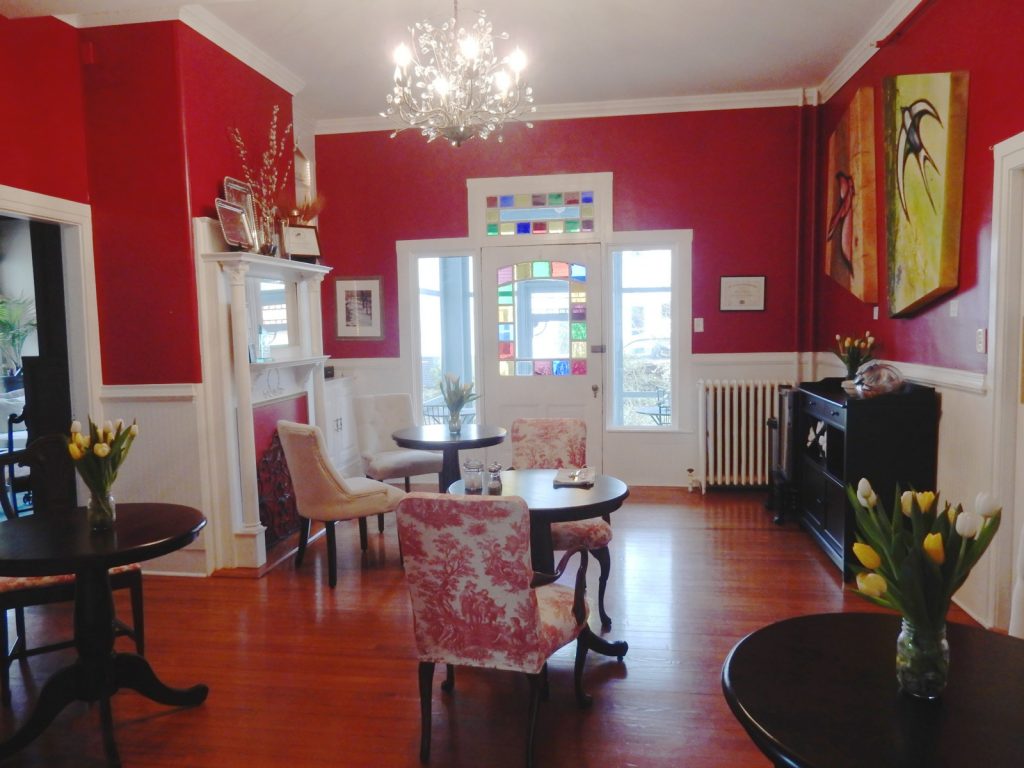 Turnbridge Point schedules a public brunch once a month – which is often sold out three to four months in advance. Other than that, there is no on-site restaurant, so you'll have to head down the street to Harry's or Public House, or out of town.
Rooms at Turnbridge Point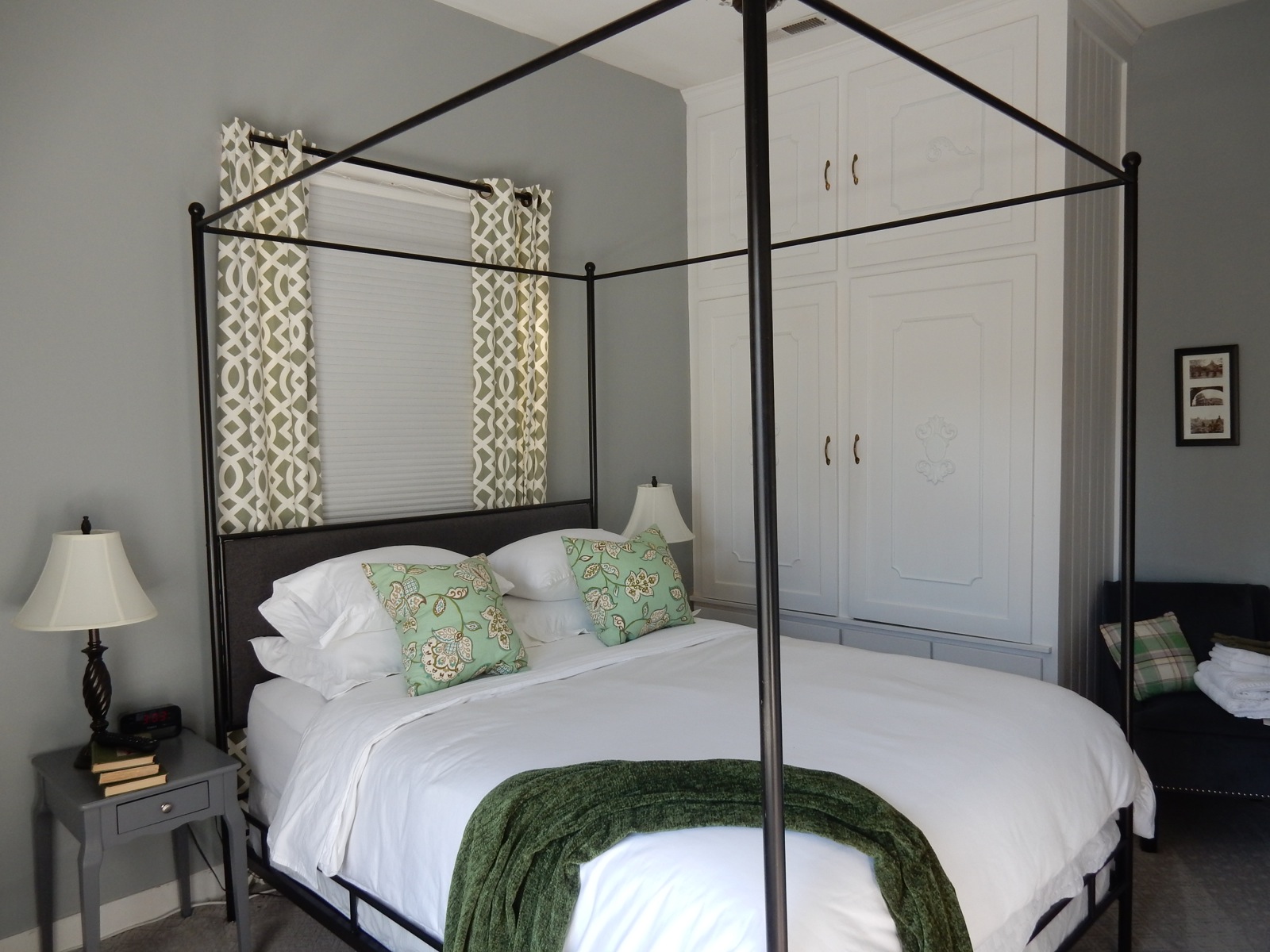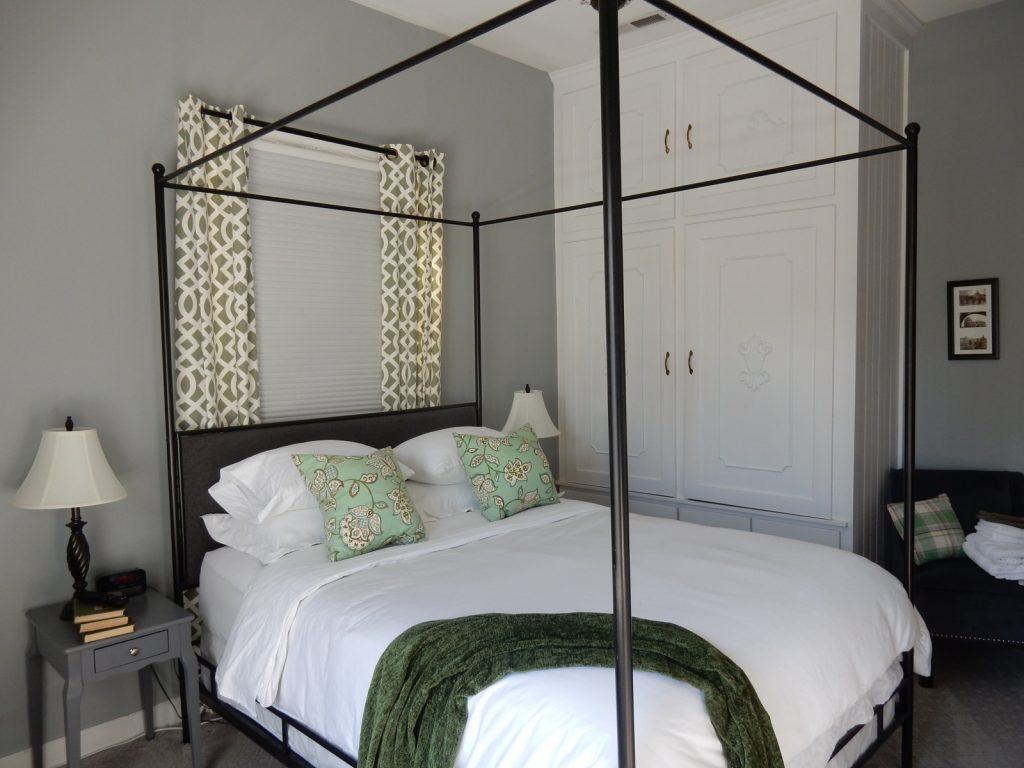 Five guest rooms are small and cozy, decorated in Crate and Barrel modern style: with walls in soothing heather hues, Marimeko-like curtains, unclad iron canopy beds. Bedding is divine – billowy white duvets and marshmallow-sinkable cloud top mattresses with sheets so soft and warm, I stayed swaddled for as long as I could.
The five rooms share three bathrooms (one en suite – one between two rooms another down the hall), which are white-wainscot and pastel colored country sweet.
Just the Facts
Turnbridge Point. Rooms with shared bath, $130, with en suite bath, $180 per night. No minimum required.
Planning a weekend getaway? Check out the Getaway Mavens' Caroline County MD destination guide.