Once a gritty, cargo ship, longshoremen section of the city, the Boston Seaport District has been transformed into Silicon Waterway – a magnet for innovators and incubators, artists and techie brainiacs. ZipCar and General Electric are headquartered here. You can feel the buzz, and it's not from the jackhammers.
Plenty of hotels have gone up to meet demand, with more coming online. What are the Maven Favorites? Read on for recommendations in a couple of price-points.
Three Top Hotels in the Boston Seaport District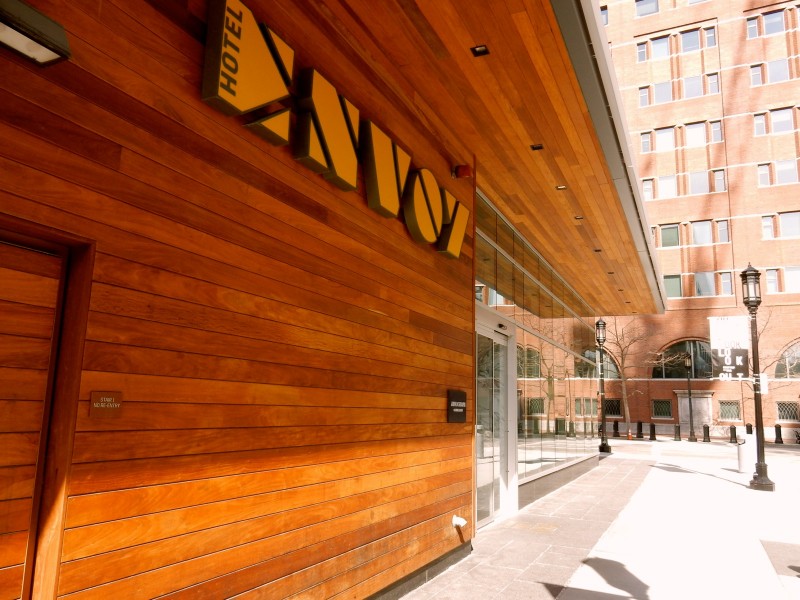 When first opened in 2015, The Envoy, a Boston Seaport Autograph Collection by Marriott Hotel, became an instant sensation. It's easy to see why.
Built from the ground up (as opposed to Marriott's typical upscale Autograph Collection property carved from an existing historic building) next door to the Barking Crab – a popular Boston dive bar – and overlooking Boston Harbor, the Envoy amuses with whimsical décor and astounds with the latest in interactive high-tech accoutrements.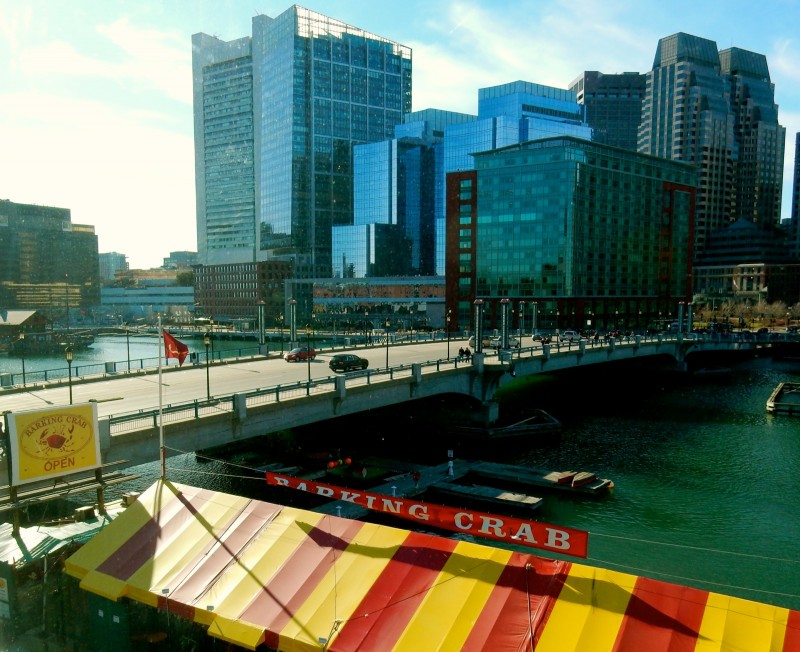 Across the channel, in Boston's Financial District, "people wear suits," says a local in the know. "But here, just a few steps away across the water, people come to work in flip-flops.
Incredibly, just a few yards away, it can be so different." And being on the water has great advantages, besides the view. You can take a Water Taxi to the Envoy Hotel dock straight from Logan Airport.
First Impressions of the Envoy Hotel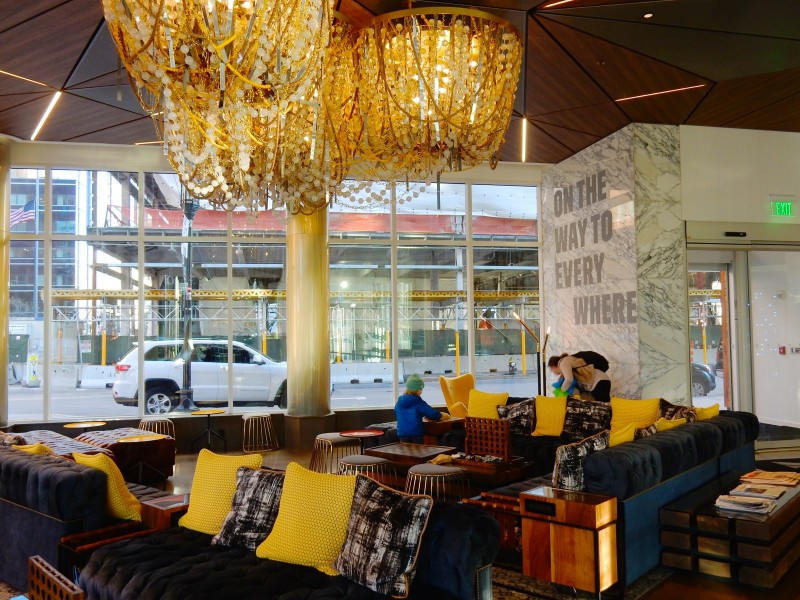 Sunlight pours through floor to ceiling windows in the lobby, illuminating clusters of gold and blue seating, and the fabulous "Treasure Chest" chandeliers, designed to look like tangles of ropes and baubles being pulled from the sea.
It's a pleasant place to plug in (there are outlets and USB Ports at every chair and couch). And an ideal spot to meet up with family and friends. Computer-board-like lights blink on an off in various colors behind the reception desk. Service is quick, friendly and efficient.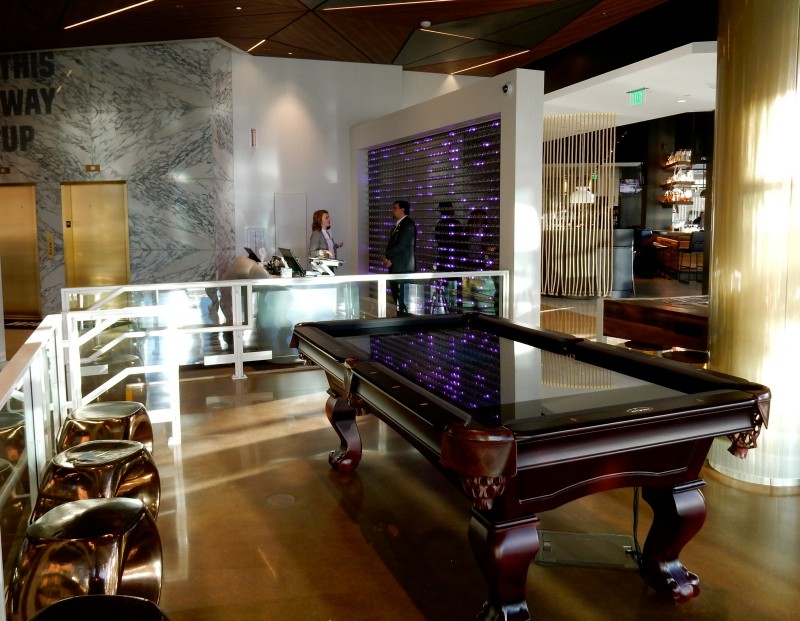 At one time or another, guests end up gravitating to the Virtual Pool Table – an interactive screen built into the top of a billiards table on which you can check stock prices, news, restaurant menus, weather, and of course, play electronic pool.
Rooms at The Envoy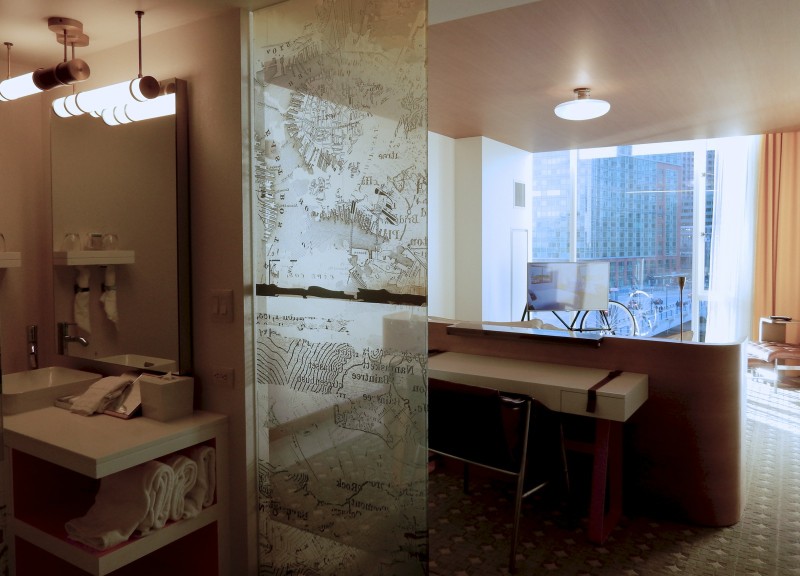 Low on "glitz and glamour" rooms are high on modern sophistication, with white, unadorned interior walls and a whole wall of windows. Hotels with worthwhile views are starting to get the message than guests would like unobstructed sight-lines from comfy beds. And so, each Envoy room incorporates a floating bed oriented towards floor to ceiling windows overlooking downtown Boston, the channel, or Boston Harbor.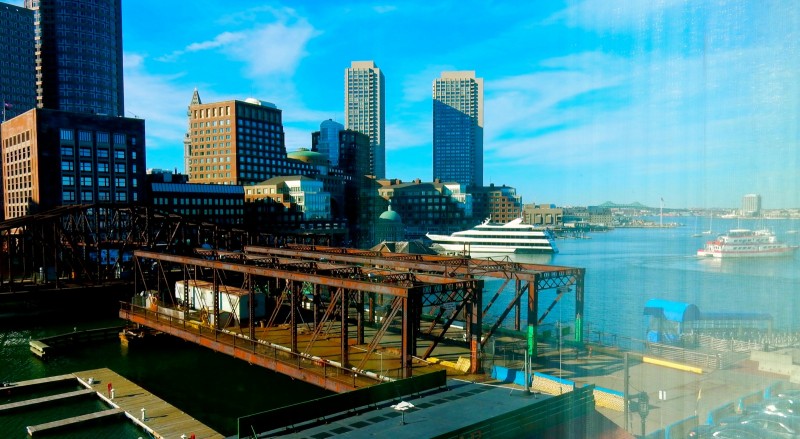 The hotel's high-tech aesthetic continues into each room outfitted with a "Smart TV," mounted amusingly on a sculptural bicycle, which can stream aps, including Hulu and Netflix, and even YouTube, from your phone. (The TV also provides traditional network and cable programming).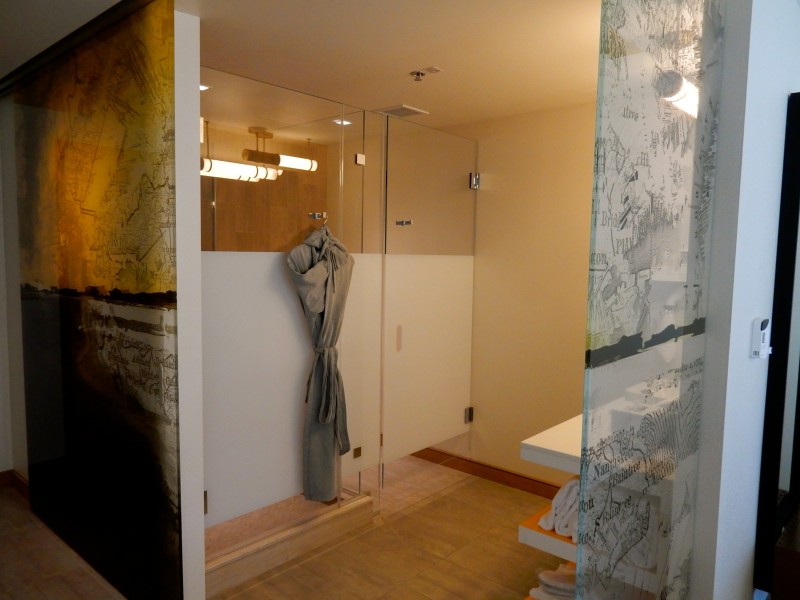 The bathroom is of the type that Pinterest users will be sure to save to their boards. A floor to ceiling glass map of Boston serves as both the sole piece of art in the room and a rolling door, which is really unnecessary to close because both the toilet room and shower each has a privacy screen.
Bathroom toiletries are from Boston-based Fresh. And instead of a typical white terry robe, you'll find the Rocky-like floor-length hooded grey sweatshirt to snuggle in after exfoliating your bod in the outsized rain shower.
Dining and Drinking at The Envoy Hotel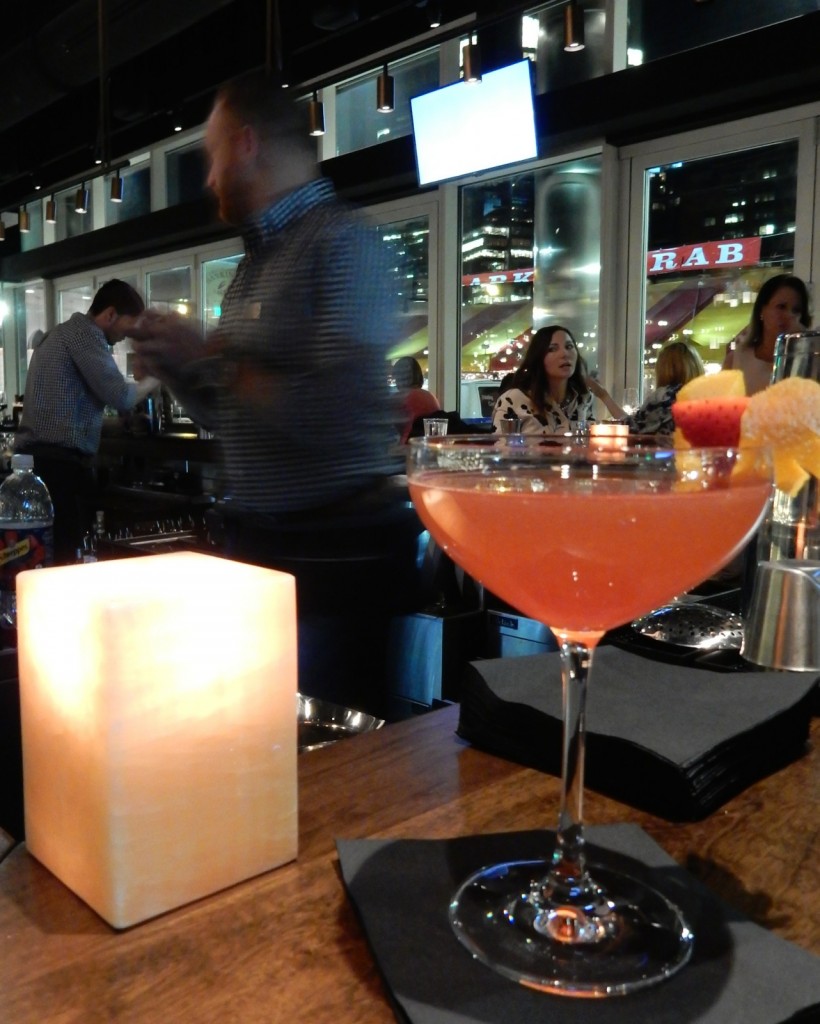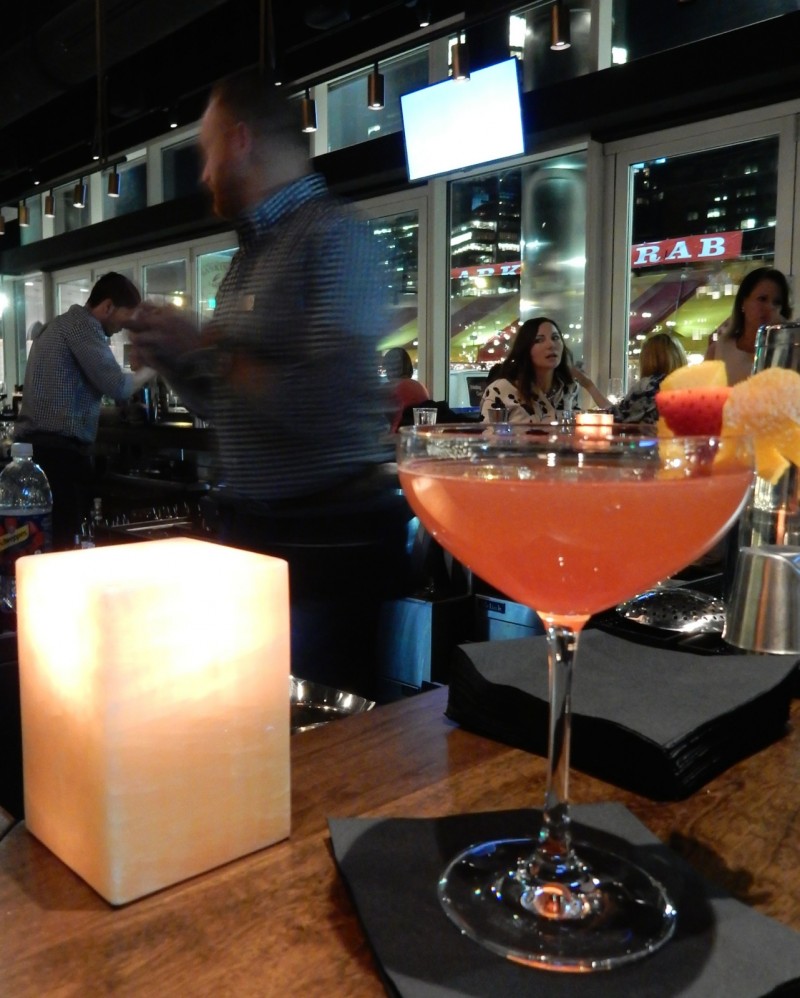 Every upscale boutique hotel worth its followers has an in-house restaurant/bar serving small bites and "signature cocktails." Come summer, the Lookout Rooftop Bar, overlooking Boston Harbor, is the place to be in Boston.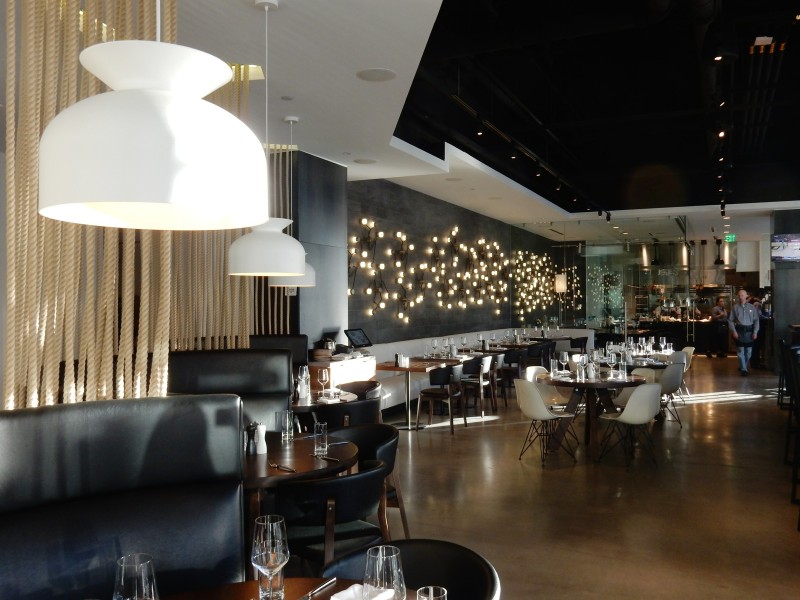 But even off season, when Lookout is closed, young things, Boomers and families assemble at Outlook Kitchen and Bar for at least a drink, even if going out somewhere else.
Bartenders will custom blend a beverage based on your preferences. Mine – the refreshing pureed strawberries, vodka and magic – was divine.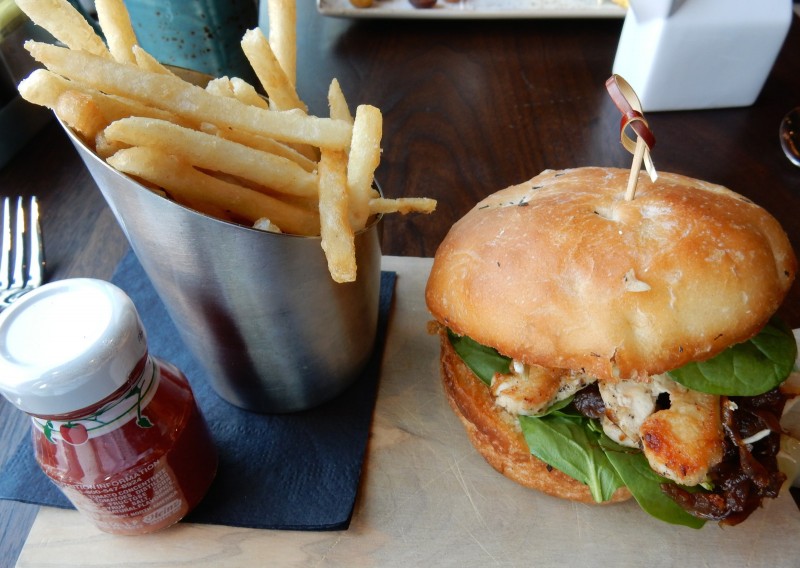 Breakfast is not included in the room, but if you're here on the weekend, you might want to book a table for Sunday Brunch. Everything is a la carte (no buffet) and freshly made, including the excellent grilled chicken, sautéed onions, artichokes and aioli on a fresh-baked butter-kissed focaccia bun.
Amenities at the Envoy Hotel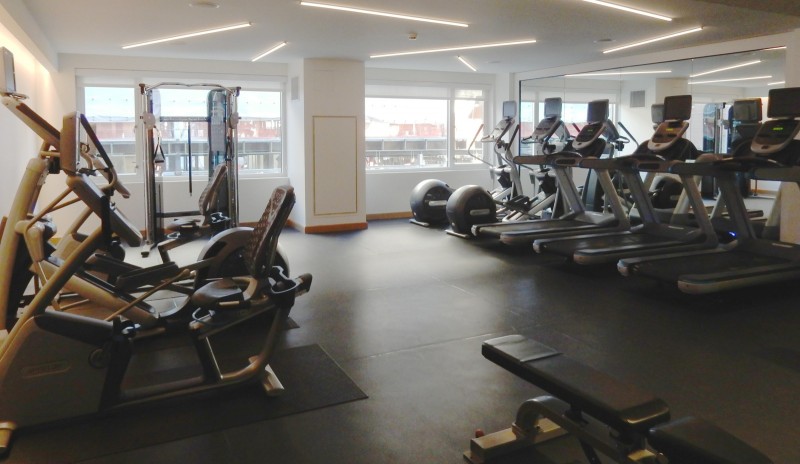 Amenities include Rooftop Bar, in-house restaurant, large state of the art fitness room, workstations and printers in the lobby, USB ports and outlets throughout common areas, virtual pool table. Rooms at the Envoy Hotel range from $350-$600, depending on size and season. Rate includes free wi-fi. One bedroom suites $700-$1,000+.
Aloft Boston Seaport
Aloft is the funky and wild little sister to the responsible older brother that is Element Hotel next door. Element is neutral colors, properly tidy, and environmentally conscious. Aloft is just crazy fun.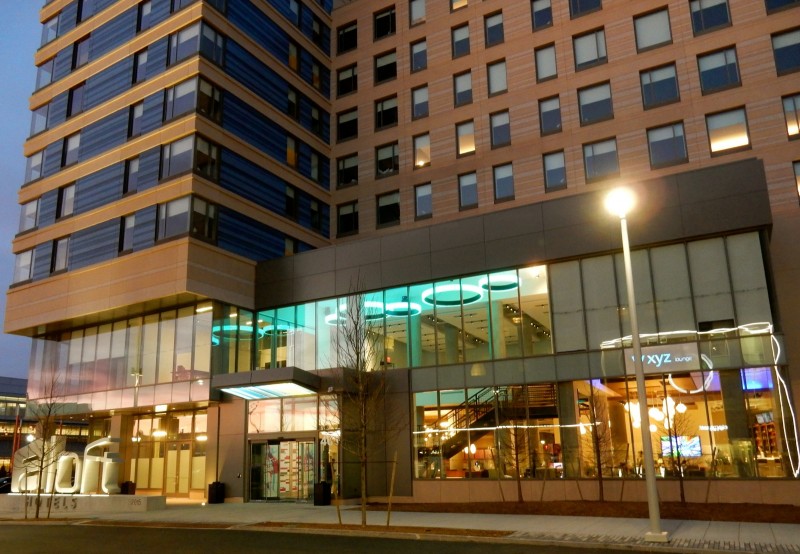 Miles from downtown and quite a walk to the waterfront, Aloft is perfect for Convention Center and Lawn-On-D goers and trendsetters looking for the next-best mid-priced hotel in Boston.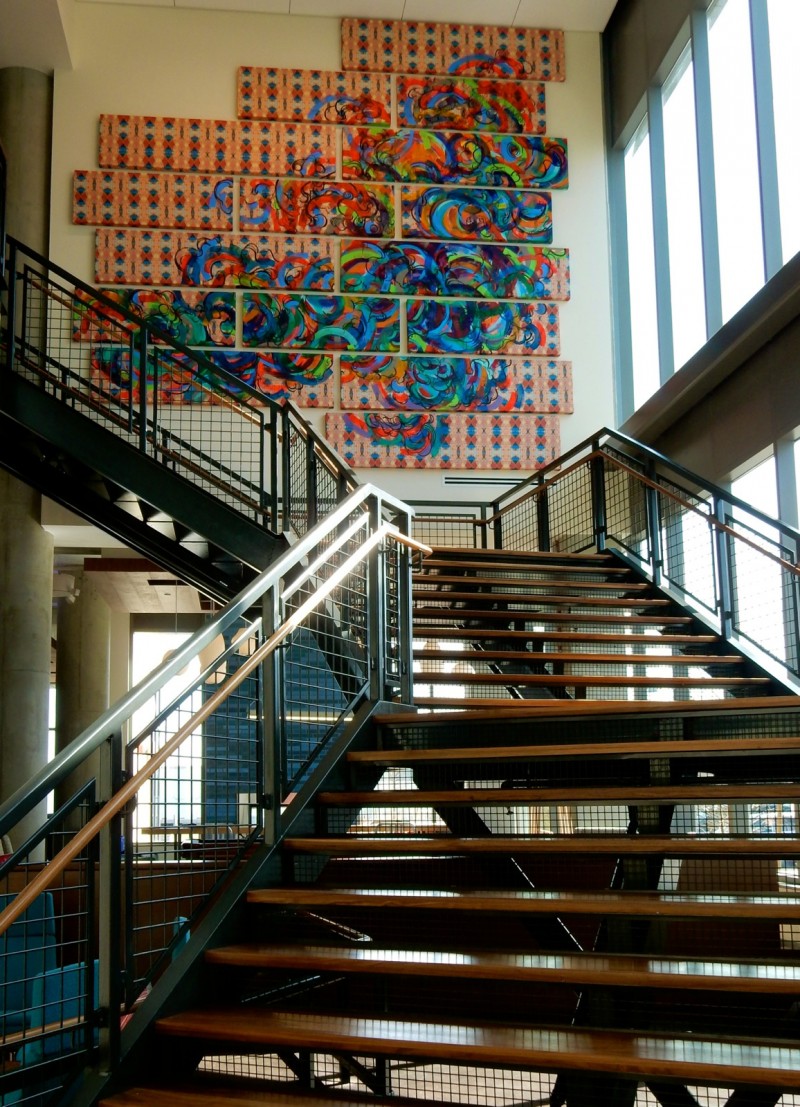 There are many Aloft Hotels worldwide – 116 in North America alone. This reasonably priced Westin Specialty brand, created in the vision of W Hotels, is trending faster than any other Starwood subsidiary throughout the world. Walk into the 330-room Aloft Boston Seaport, and your preconceptions of chain hotels will be blown out of the water.
First Impressions of Aloft Boston Seaport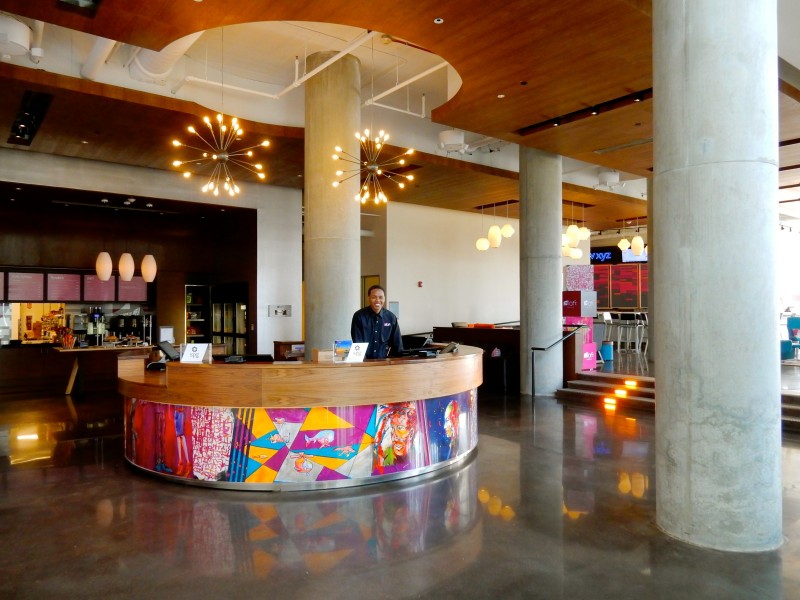 The soaring lobby of Aloft Boston Seaport is trendy, a bit edgy, and vibrantly colored. Concrete columns, polished poured cement floors, exposed pipes in the ceiling: this is the highly social, amenity packed warehouse loft apartment building you've always wanted to move into.
The pool table is constantly in use. Guests text on cell phones from brightly colored mid-century modern chairs and couches. And the WXYZ Bar draws guests for cocktails and small bites.
Rooms at Aloft Boston Seaport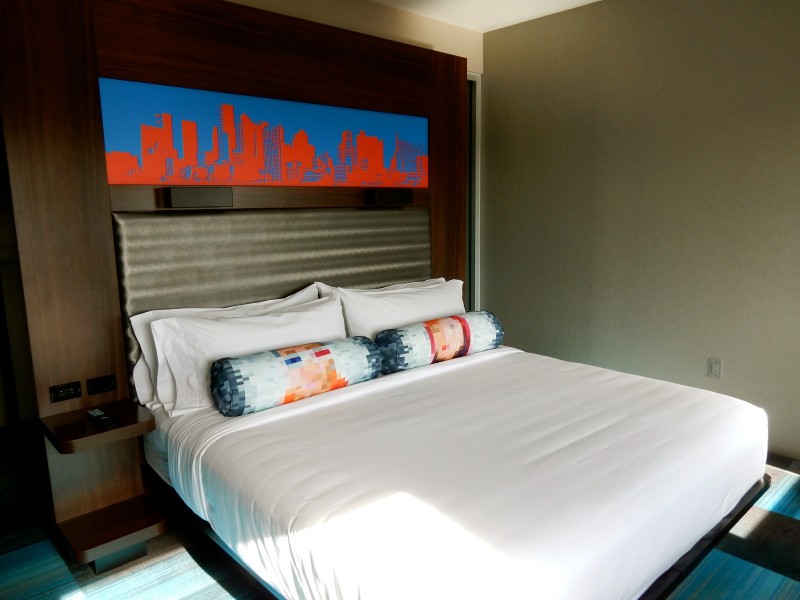 Rooms are small but well-designed with punches of color and bed headboard art in the silhouette of the Boston skyline. The pristine bathroom features a glass rain-head shower, Bliss products, modern raised sink and cool slate tiled floor.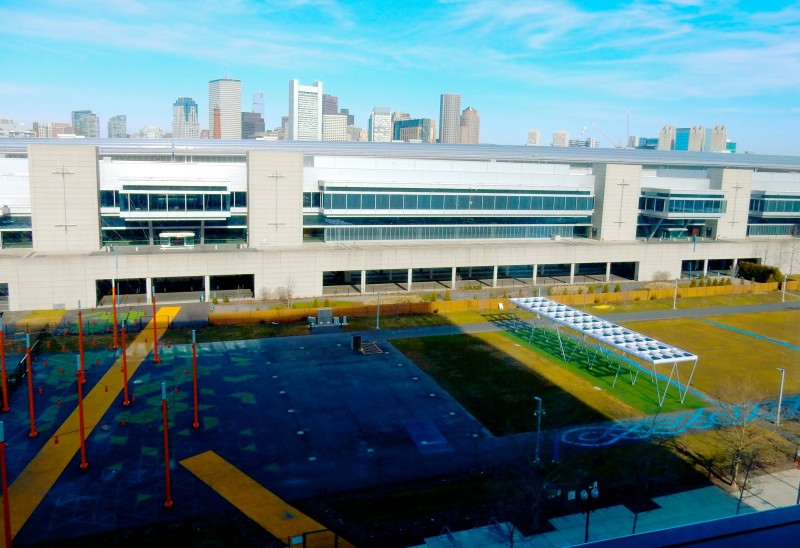 Some rooms overlook "Lawn On D" – an ersatz concert venue and playground for adults in the shadow of the Boston Convention Center – and downtown Boston beyond.
Food at Aloft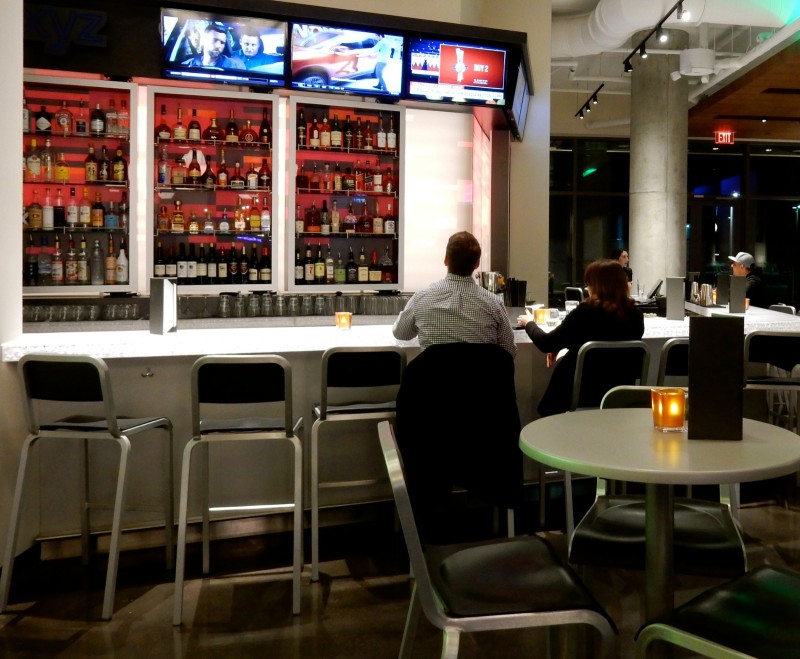 There's no restaurant in house, but you can get "small-bites" (tater tots, pizza, Caesar Salad) at WXYZ Bar from 5pm-midnight.
There's also a small shop where you can pick up a packaged breakfast (not included in room rate), prepared meals, and even cartons of Ben and Jerry's ice cream. It's a boon for parents hosting kid's sleep-over birthday parties.
Aloft Amenities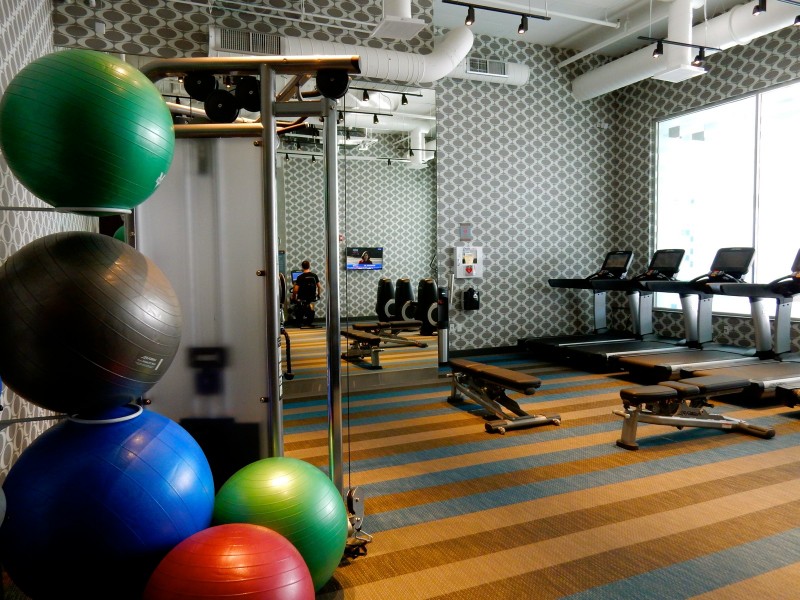 The large Fitness Room is bright and cheerful, with treadmills overlooking the indoor salt water pool.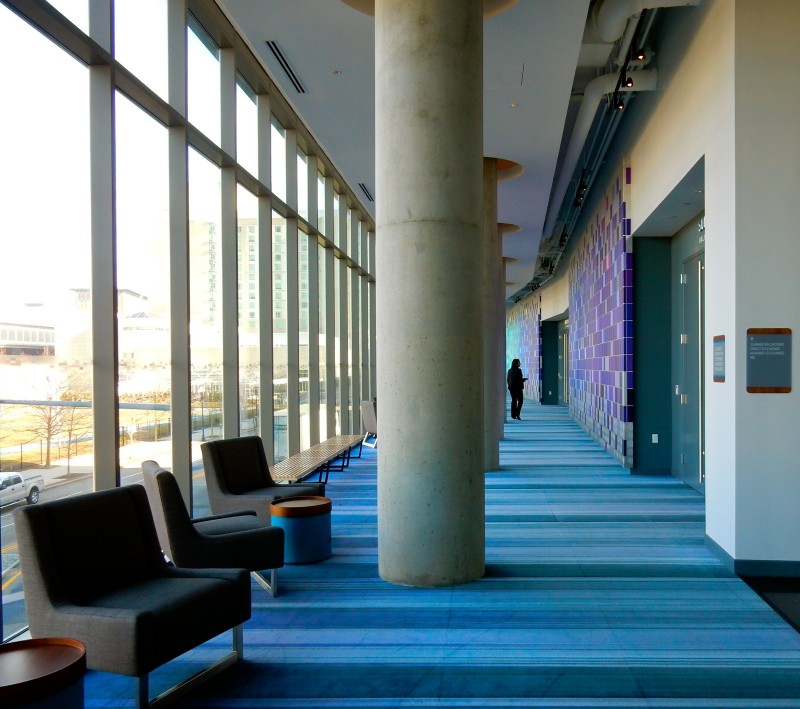 Though it acts like a boutique hotel, Aloft also has a whopping 10,000 sq. feet of meeting space. As a leisure-travel writer, I generally don't cover this aspect of lodging. But this Aloft's meeting room hallway, flanked by massive windows and vibrantly colored walls, is worth seeing. Even if you don't plan an event there. Rooms $179-$400+ depending on season and Convention Center capacity includes free wifi.
Element Boston Seaport
Westin's Element Boston Seaport fills up with relocation, business, and home restoration clientele (through insurance company claims). And it's especially busy when a convention convenes at the Boston Convention and Exhibition Center, just steps from the front door.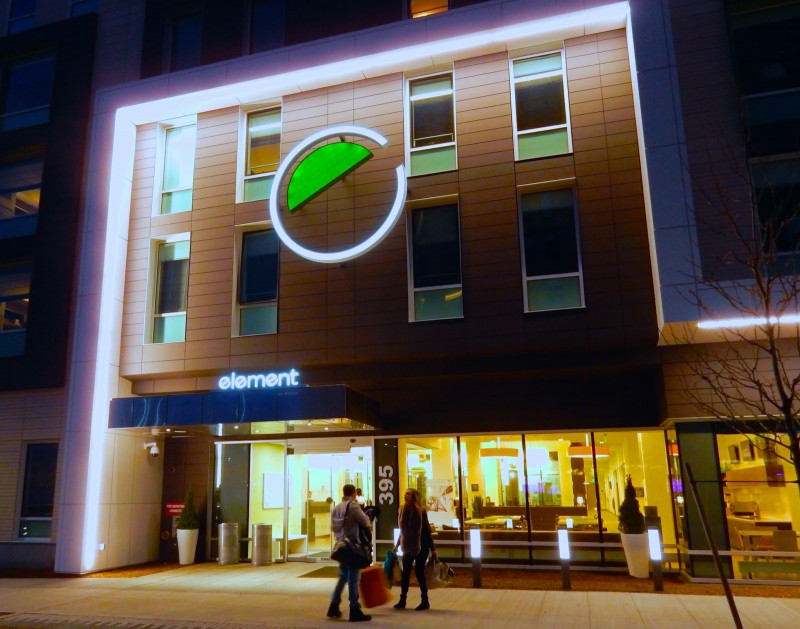 Hotel construction incorporated recycled materials. It features a saltwater indoor pool, LED lights, and shampoo/conditioner shower dispensers. To top it off, fuel efficient cars score priority parking.
First Impressions of Element Boston Seaport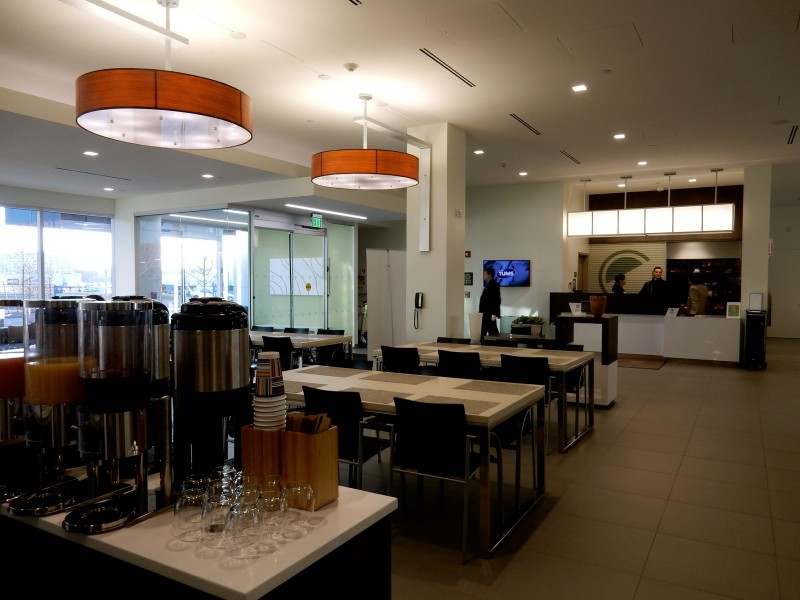 A "health and well-being" extended stay property, Element has a clean contemporary feel. This is unusual for a type of lodging option where design typically runs traditional and nondescript.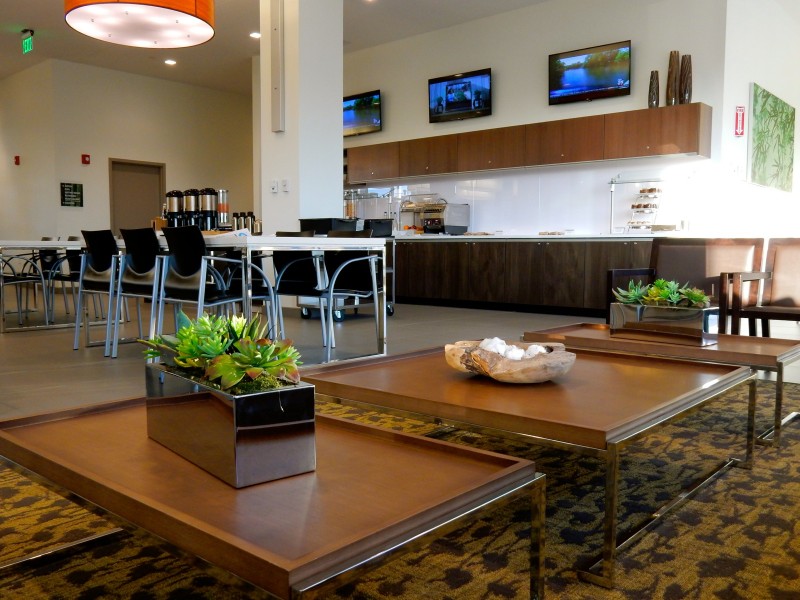 Don't expect a bellman, room service or valet (that's left to the Westin just down the street). But because of this, room rates won't break the bank.
Element Hotel features Westin's color palette; neutral natural earth tones, punched by grass-greens. Sunlight through large floor to ceiling windows brightens up an array of tables and seating.
In fact, Element's lobby looks like a cross between a college cafeteria and high-tech company lunch room. There's an abundance of outlets for laptops, and clusters of couches for more intimate conferences.
Rooms at Element Hotel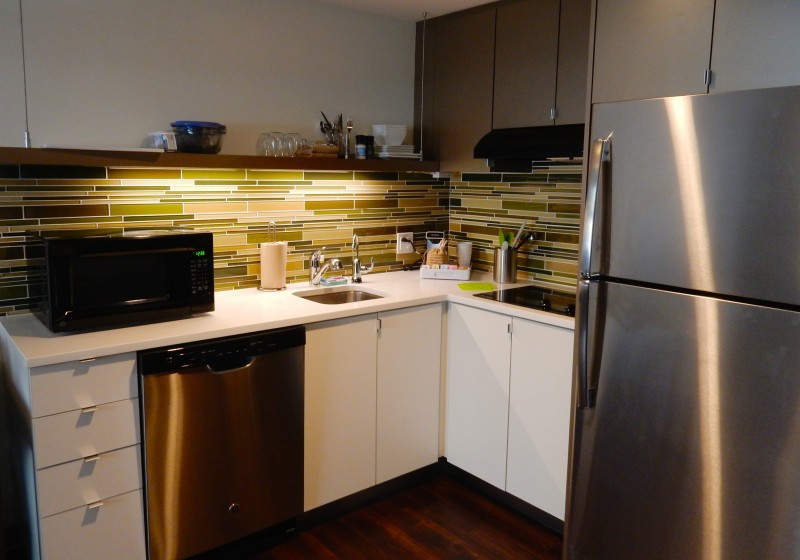 Each room is really a "mini apartment," featuring a fully outfitted kitchen. There's also a small sitting area and a cozy bedroom with large flat screen TV.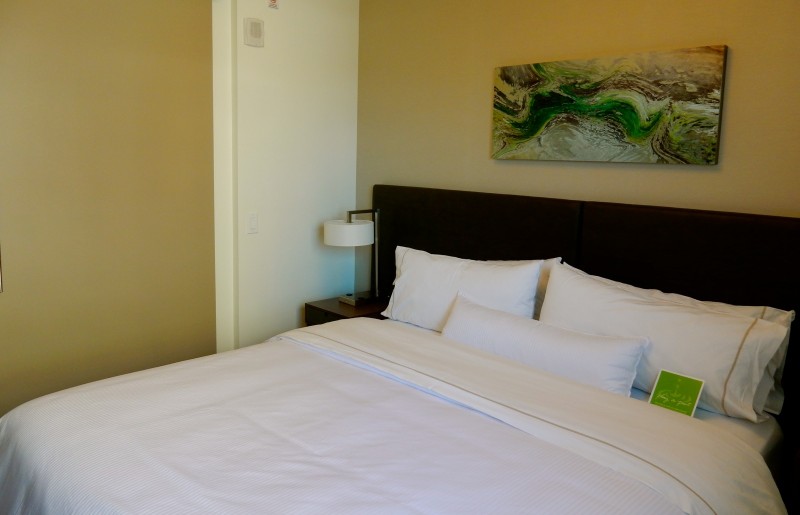 The bathroom features a rain-head glass shower and contemporary tiles. It's definitely more upscale than the fiberglass version you'll find in many hotels at this price point.
Amenities at Element Boston Seaport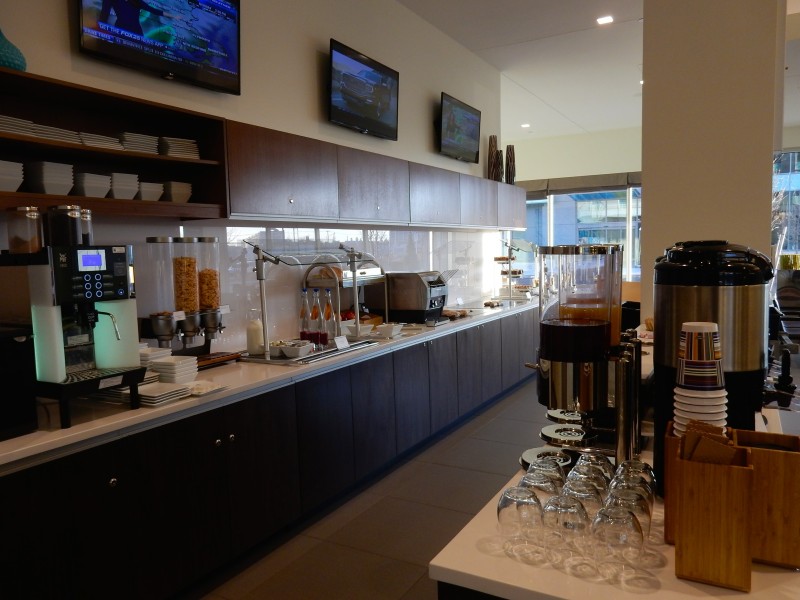 Breakfast in the morning comes complimentary with the room.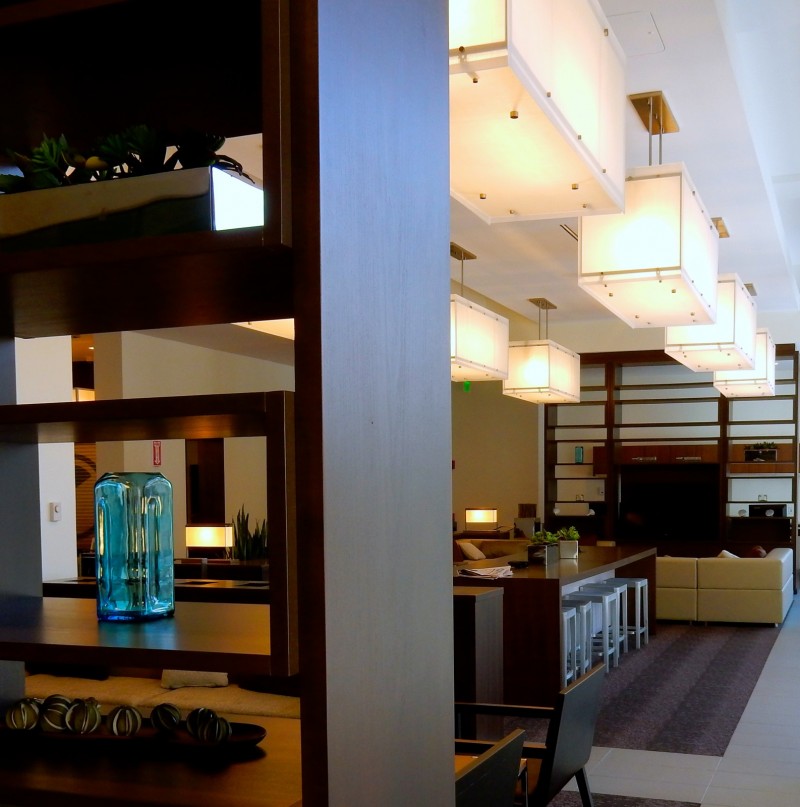 Small meeting rooms are "tech-ready" for pop-up pow–wows. For larger business gatherings, however, you'll have to book your summit at the Aloft Hotel next door.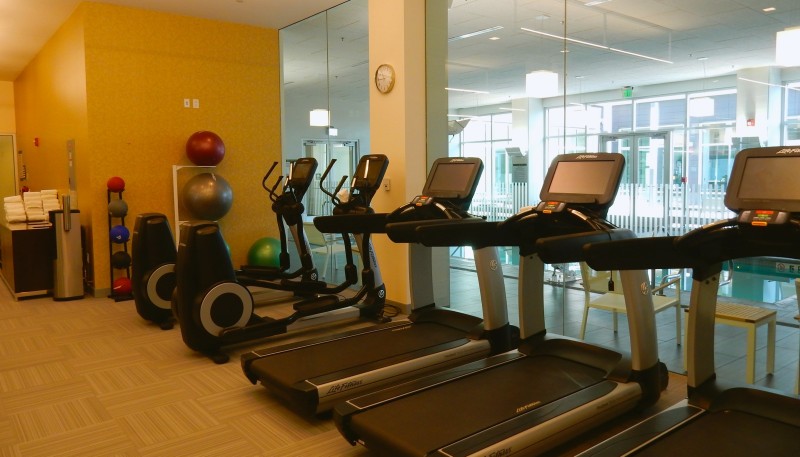 There's a small indoor saline pool and a Fitness Center with state of the art machines as well. Suites from $189-$500+ depending on season and Conference Center demands. Includes wifi, hot breakfast buffet. pool, fitness center.