Last Updated on
WHY GO: Rock hounds already know about Sussex County NJ. New Jersey's Northwest region claims the largest concentration of fluorescent rocks and minerals in the world. You can see a critical mass of these glowing objects at a decommissioned zinc mine, which is now an indescribably awesome museum complex.
But you can also hike part of the Appalachian Trail, adventure on water, snow, ropes, and bikes, golf, ski, zip-line, run rapids, try some hooch at Sussex County's first distillery, tour one of the largest wine cellars in the country, or do nothing to your hearts content on this World of Wonders NJ Getaway.
What to Do in Sussex County NJ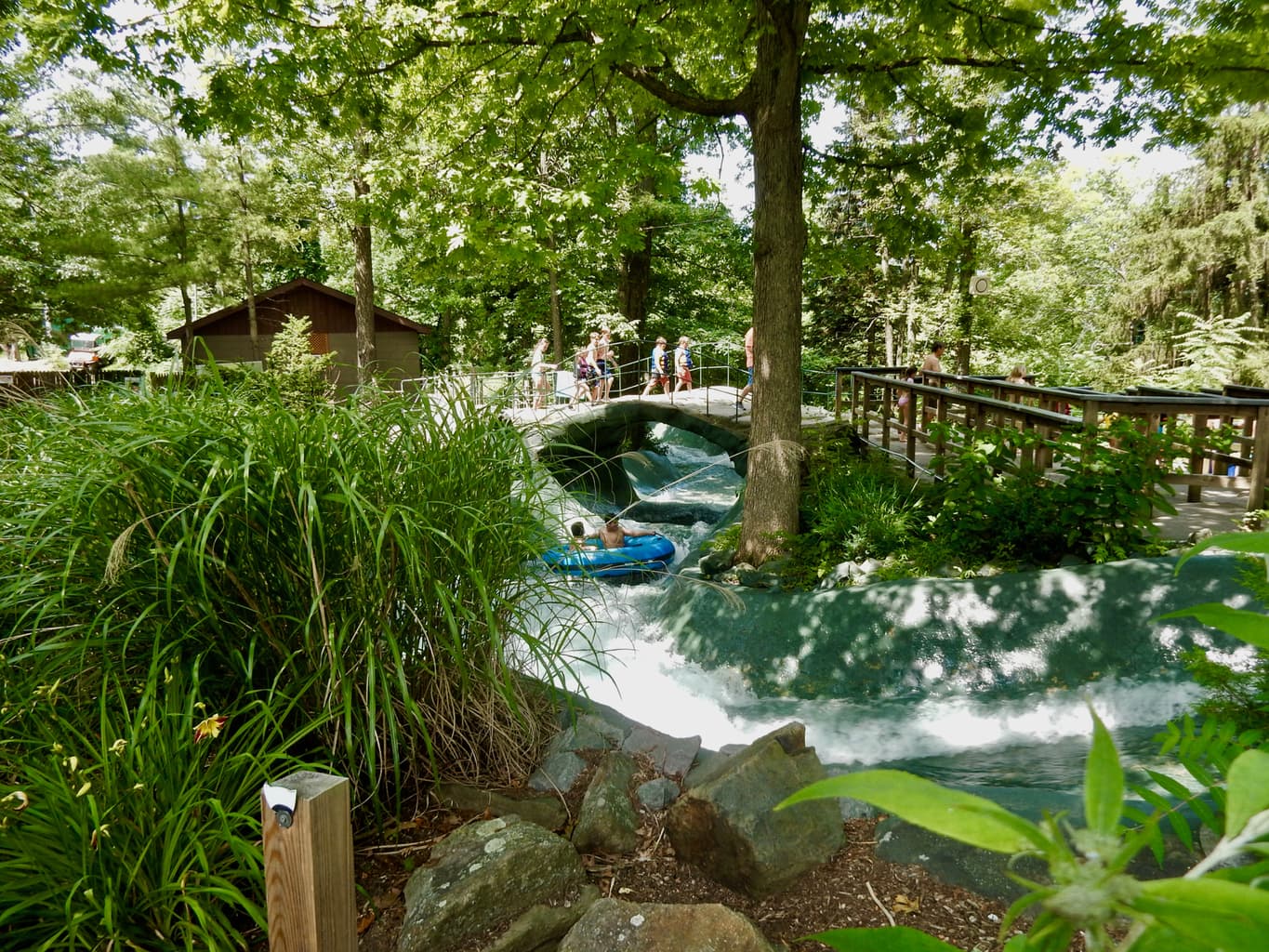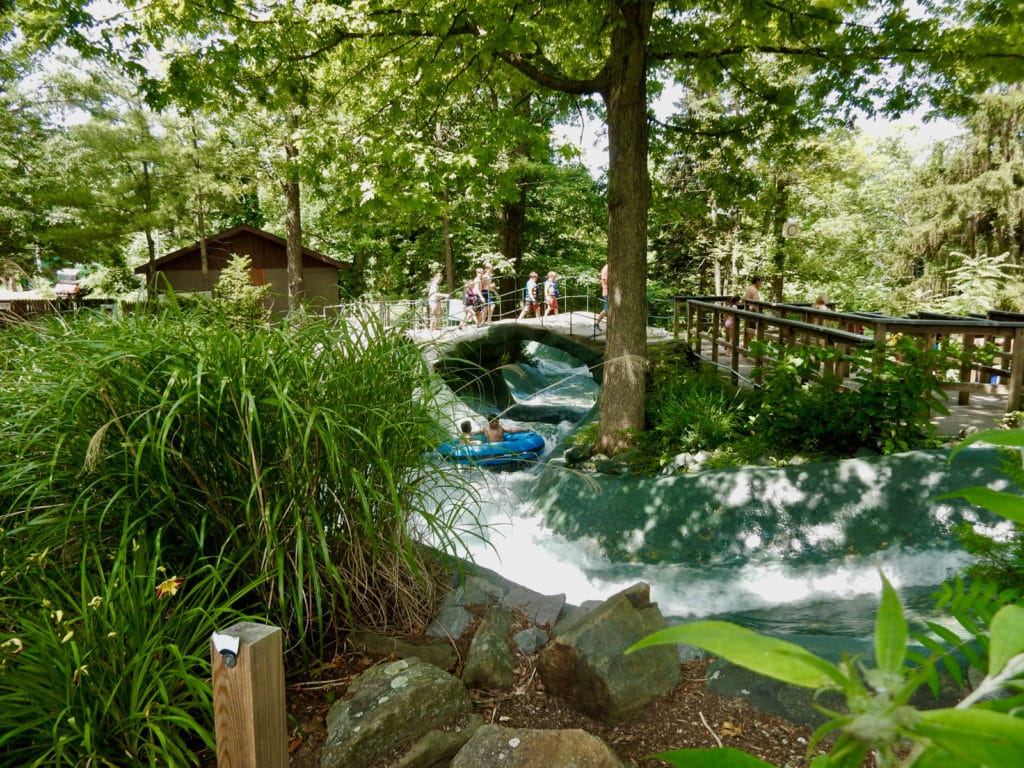 ADVENTURE: Mountain Creek Resort. A four-season playground, Mountain Creek draws over 650,000 people annually to its myriad components. Inch by inch, Mountain Creek is taking over Northern New Jersey's adventure parks. Years ago, it swallowed up Action Park's Water Park, and added its own hugely popular white water rapids downhill tube rides, in addition to heart-stoppers like "High Anxiety" (22 water rides in total), and turned the Alpine Slide into a more secure railed coaster.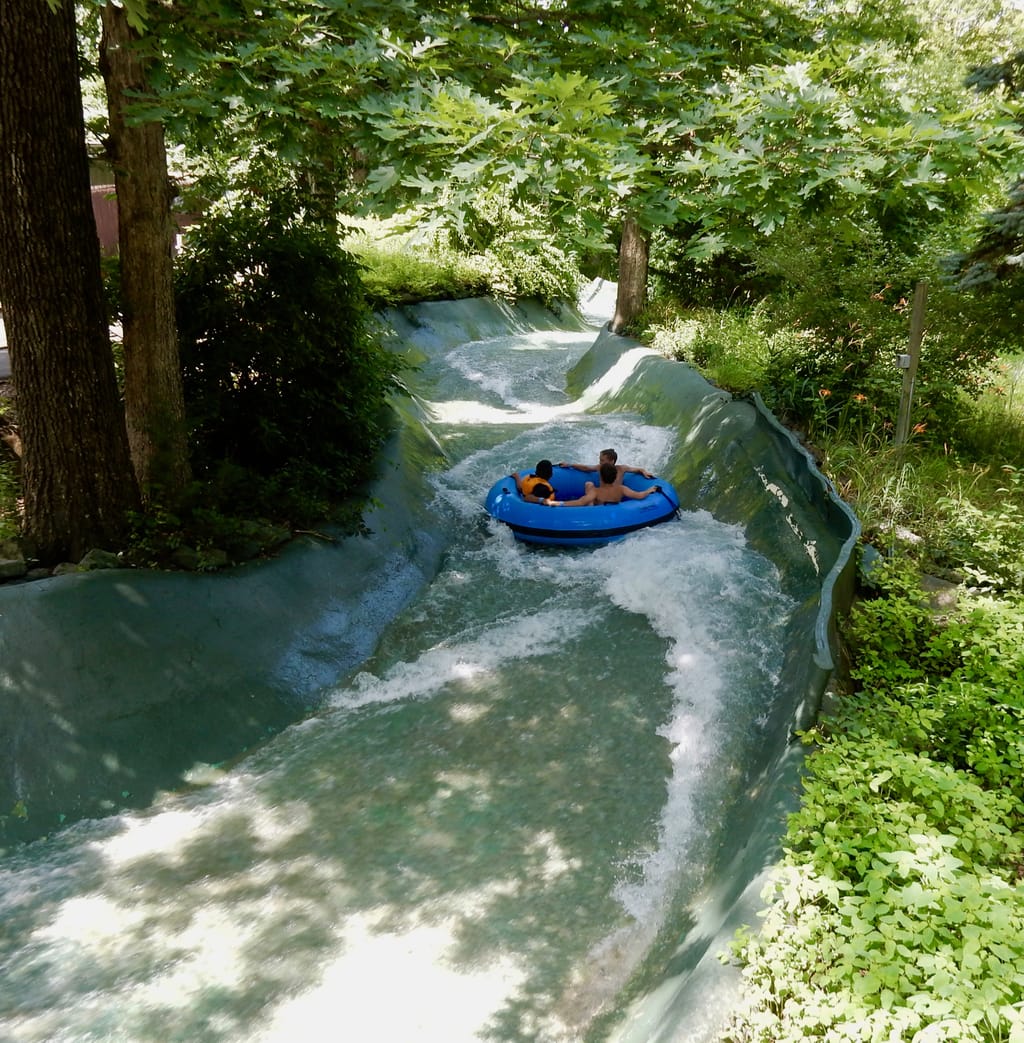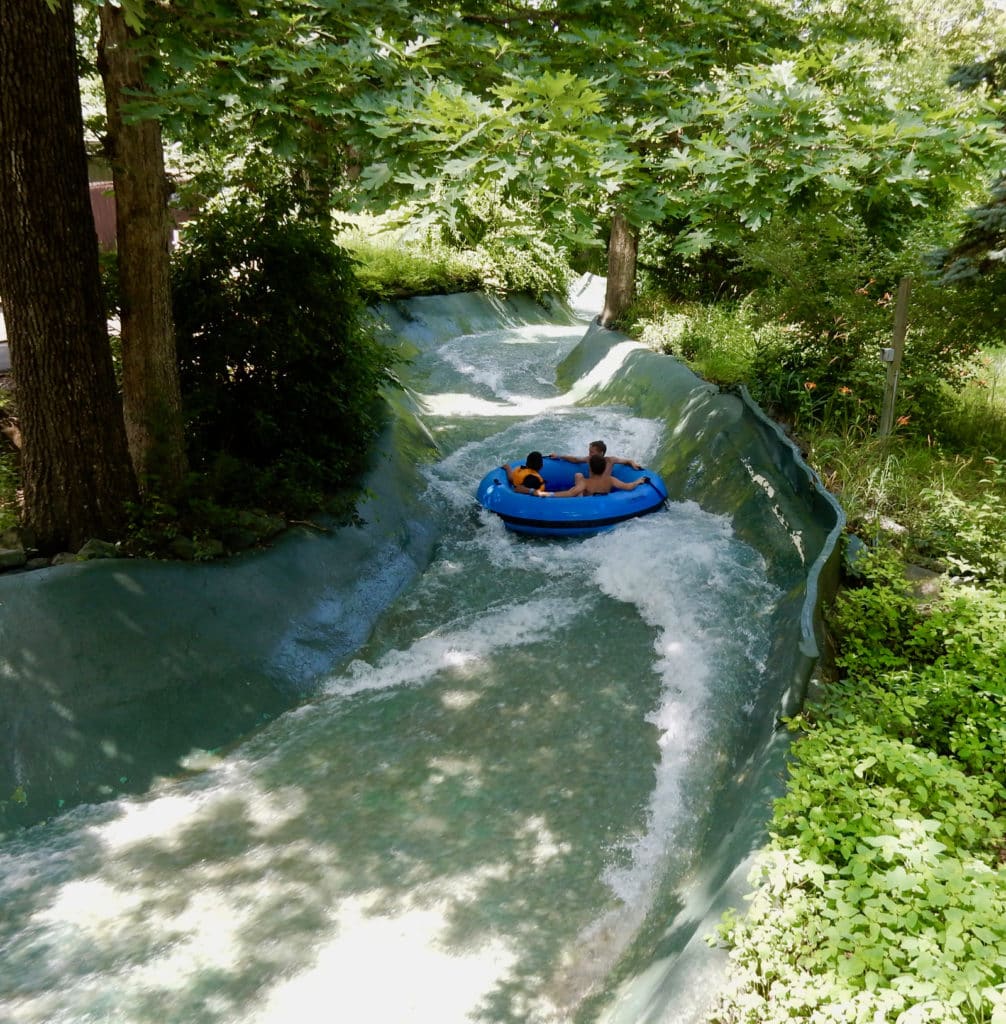 Last year, Mountain Creek incorporated Great Gorge's Golf Course and built a state of the art Ropes Course, also, on the property. It owns The Appalachian at Mountain Creek, and the Red Tail Lodge next door (see under where to stay).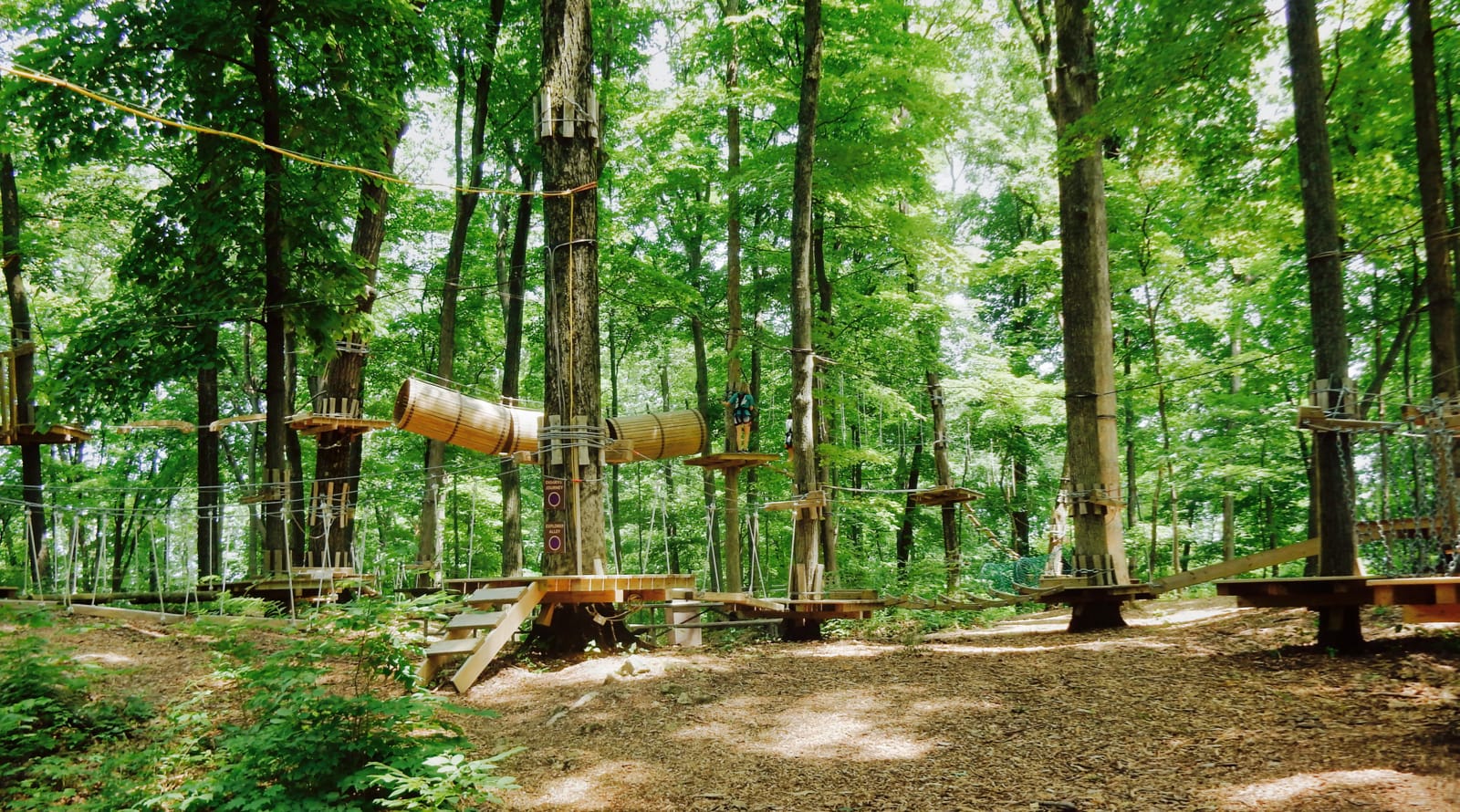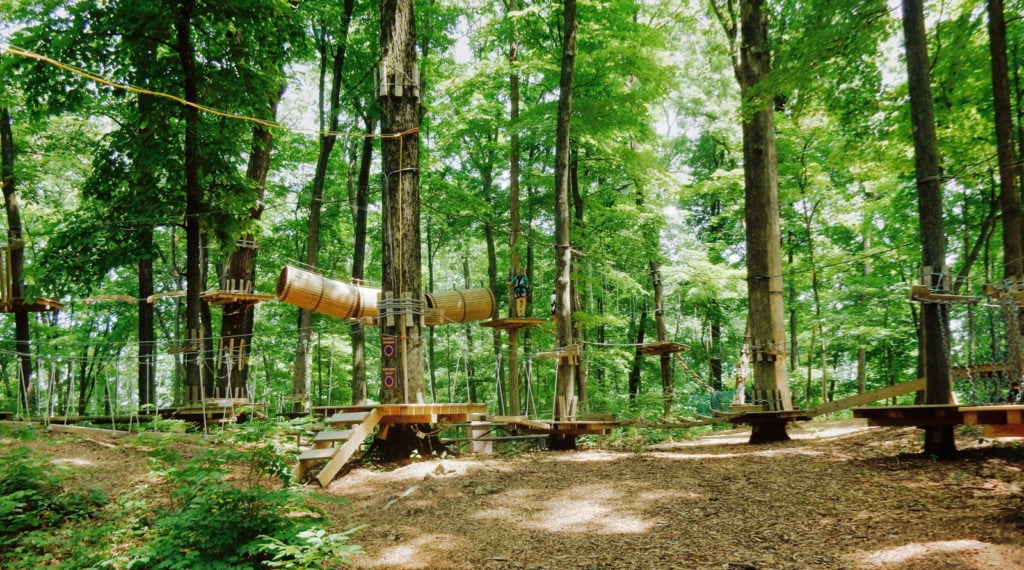 The new (as of May '19) aerial adventure park, TreEscape, has courses rated like ski trails (green, blue, black) with 110 obstacles and climbing elements that thread throughout trees in a dense forest. After a quick safety orientation and securing your harness for a practice run, you're escorted to one of ten ropes courses that best suit your abilities. Repeat customers tend to up the challenge each time they return.
The Ski Resort has 46 trails, four peaks, nine lifts (servicing 1,040 vertical feet) on 170 acres. With abundant snowmaking (with water drawn from seven mountaintop lakes), over 300,000 people per year get an earlier jump on the ski trails. An additional 30,000 come for the snow-tubing park.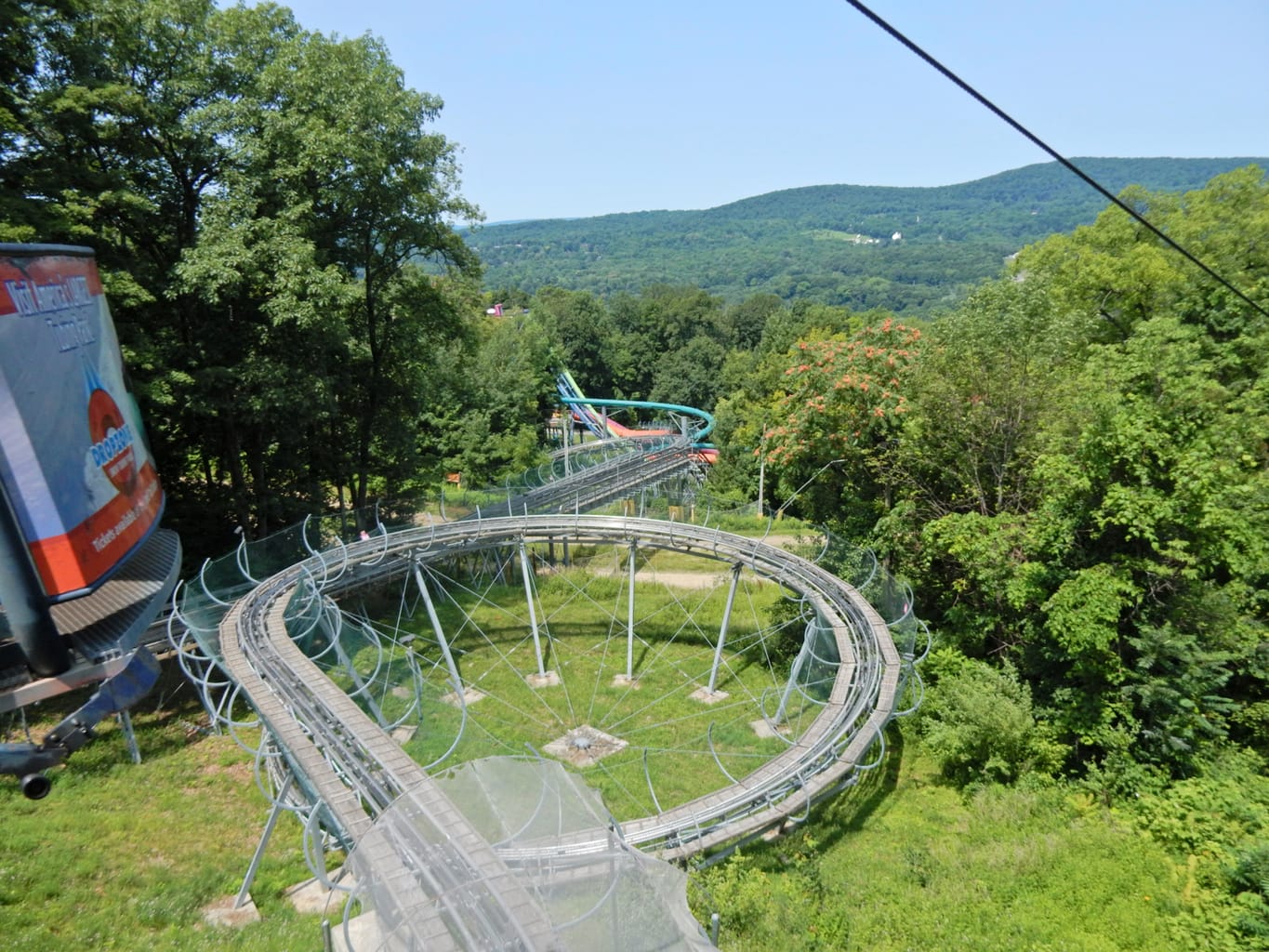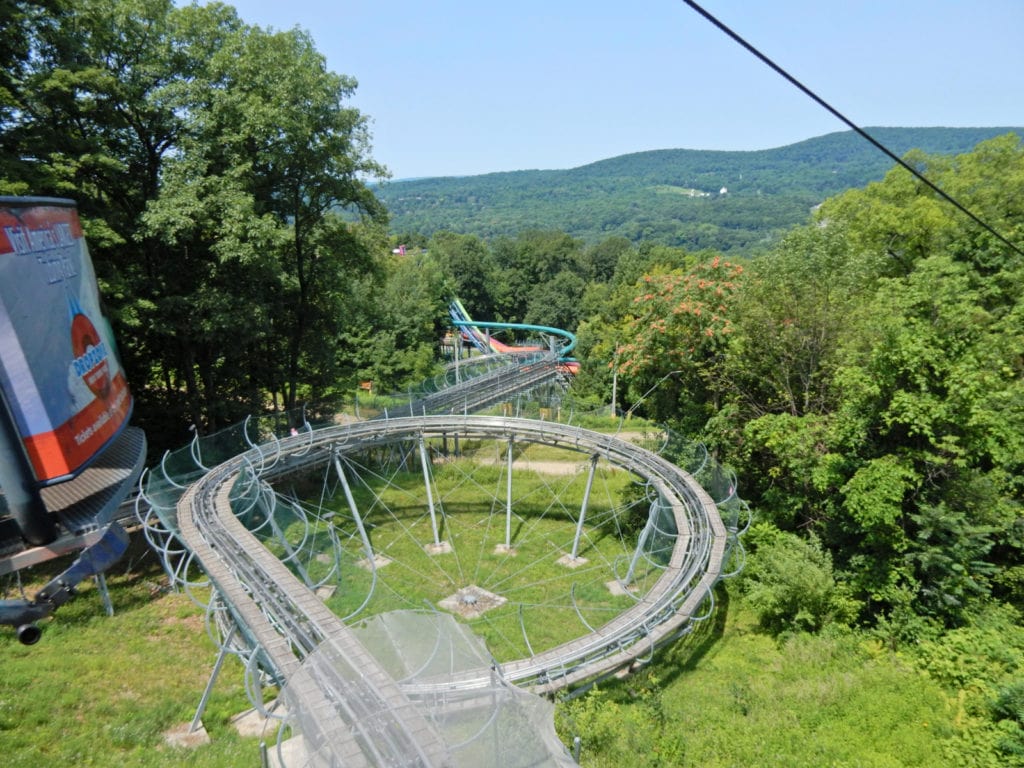 In spring, summer, and fall, the hill turns into a world-renowned mountain bike course, bringing an additional 30,000. Skiers and mountain bikers haul their gear up the hill on "cabin" lifts – open gondolas that can transfer a larger number of people than traditional chair lifts.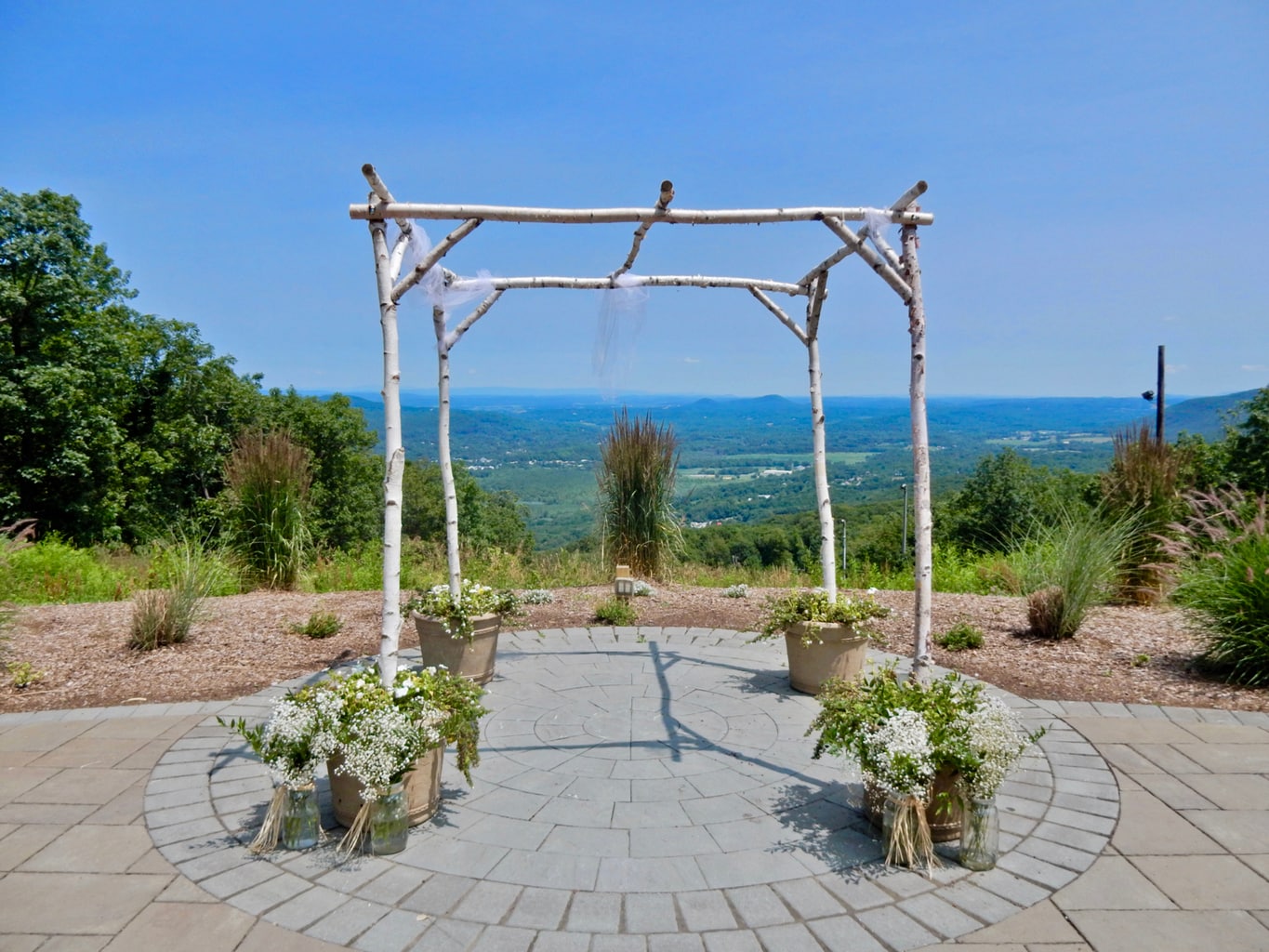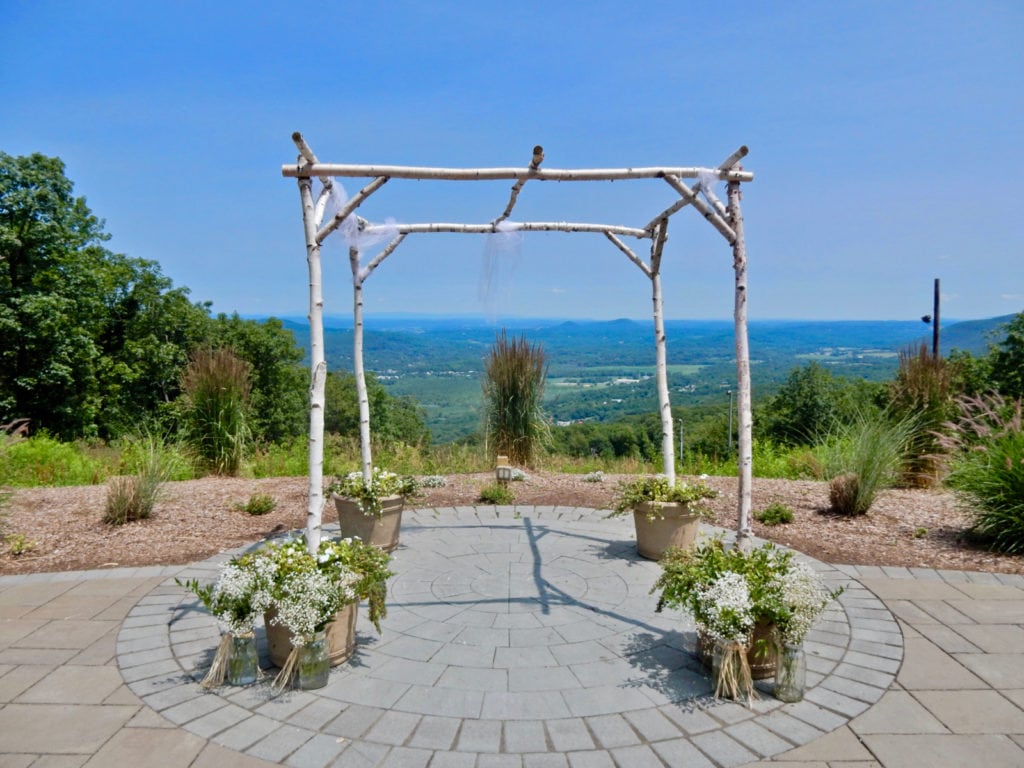 But there's another segment of the population that ascends to the summit, (some say to the "scariest trail in the country") – brides and grooms. With singular stunning unobstructed views of three states from a mountaintop, "Wedding Way" is also one of the most popular places to get married.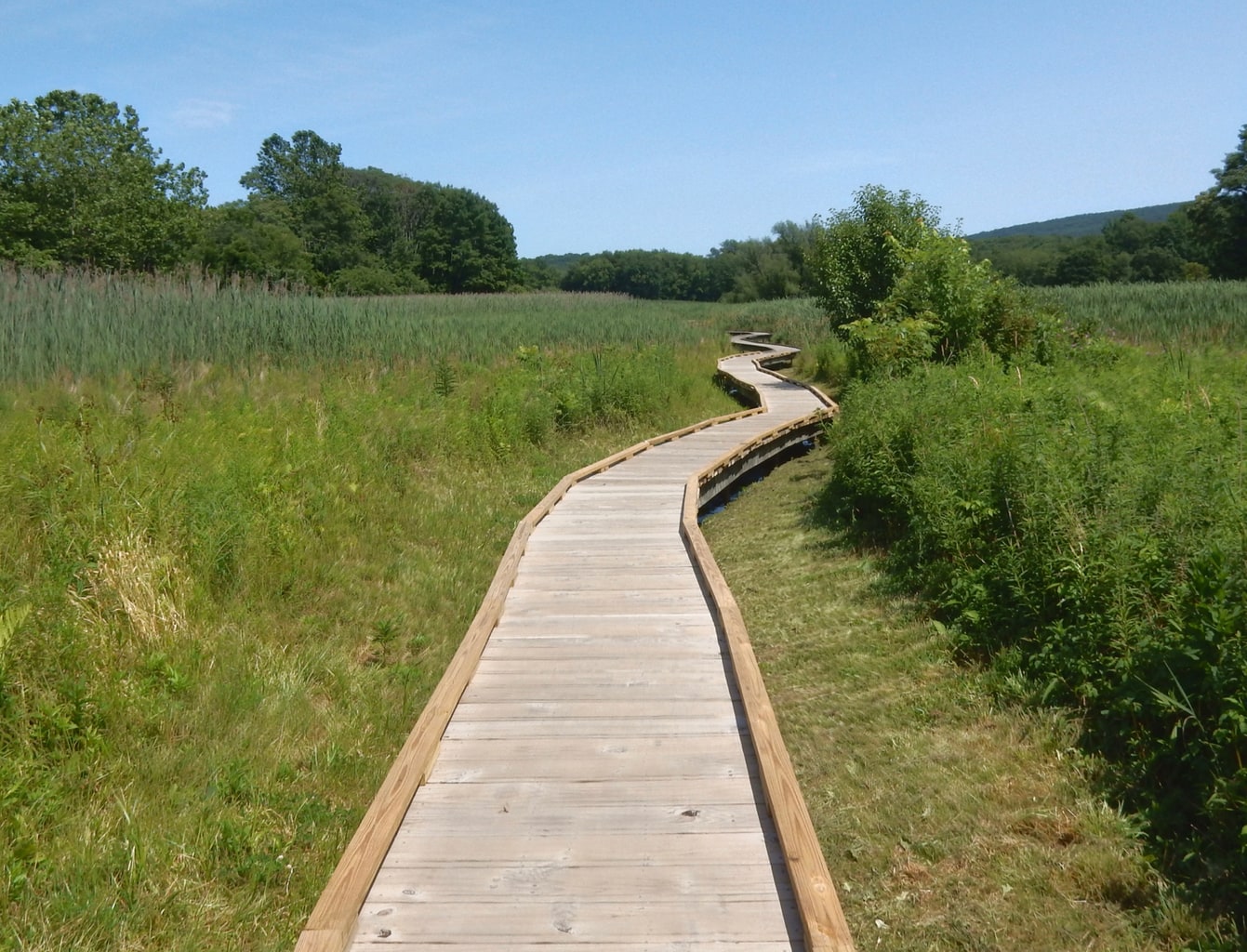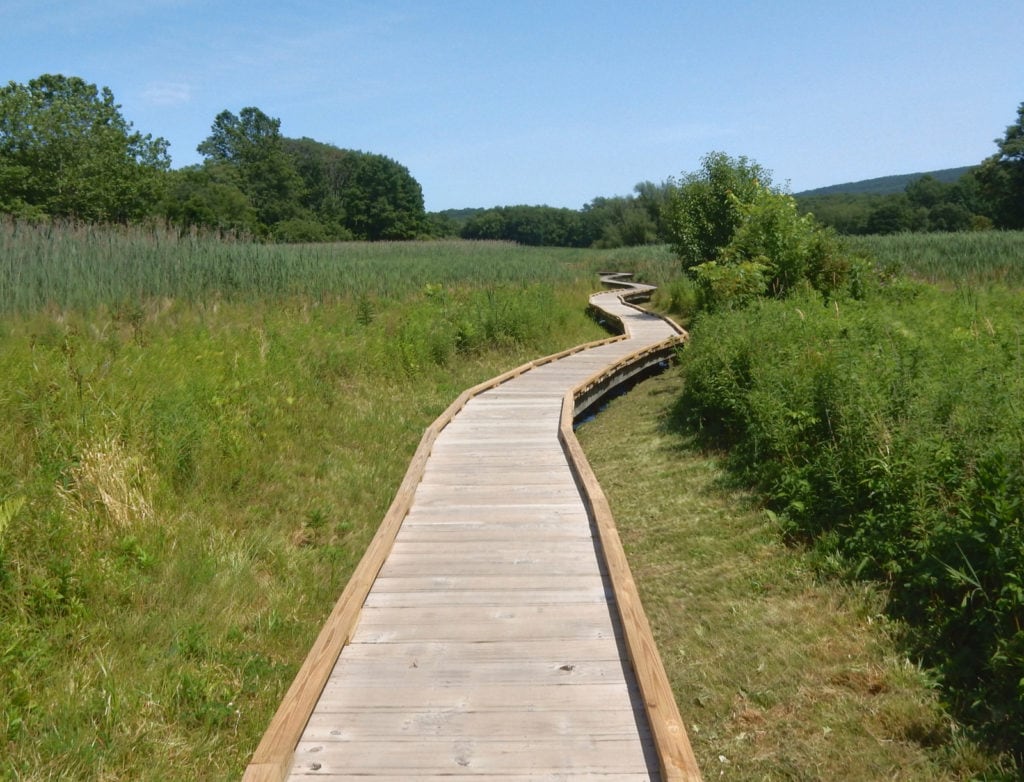 HIKE: The Appalachian Trail Boardwalk and Stairway To Heaven Trail, Vernon. The most popular hike in New Jersey, this part of the AT is easy and flat for 2.5 miles. If you just want to do the Boardwalk, park on the side of Route 517 near the trailhead. The 1.4-mile Boardwalk meanders over wetlands, giving you ample time to commune with birds, frogs, Cattails, and other swamp flora and fauna as you make your way up and over a cool wooden suspension bridge.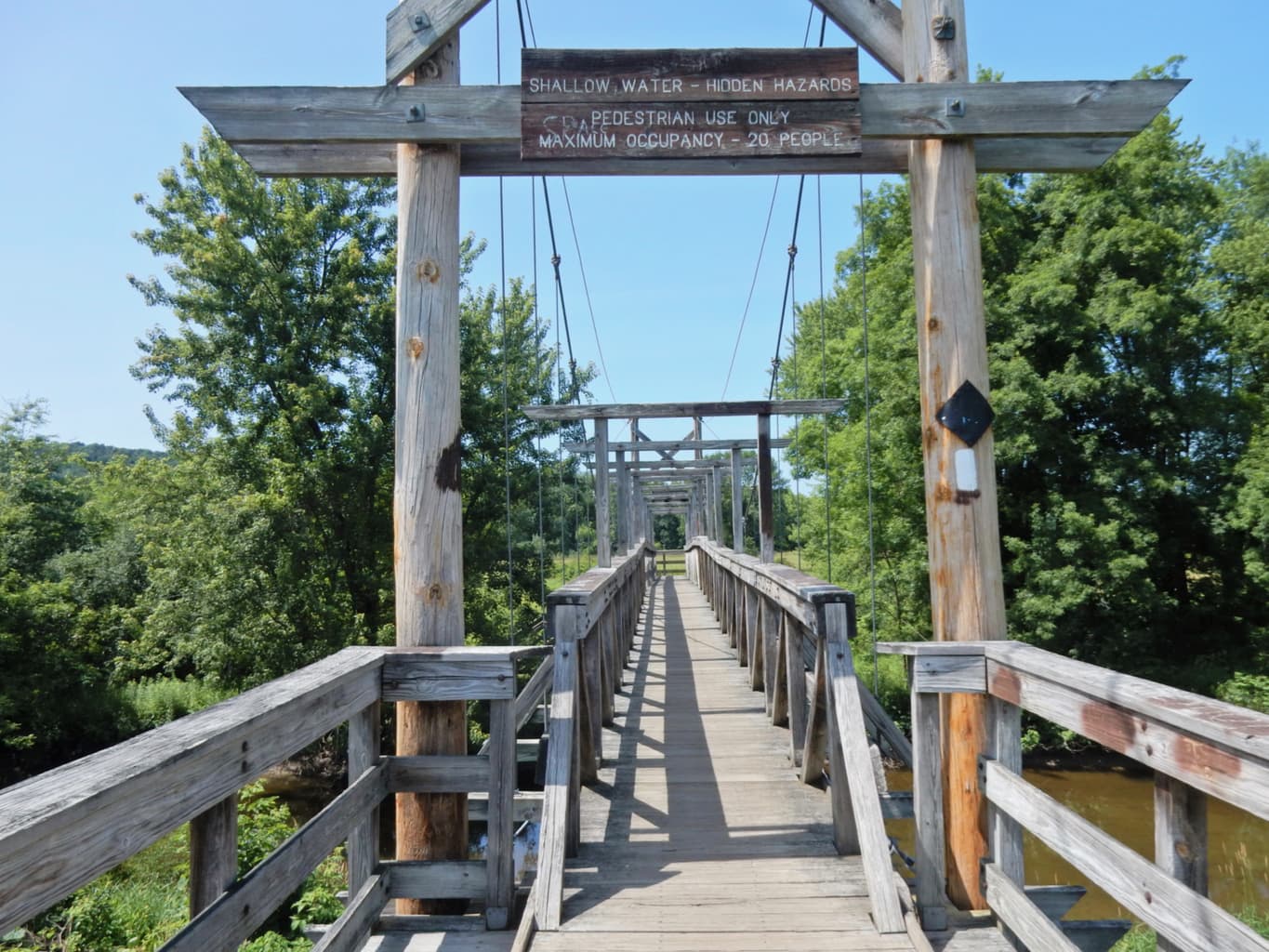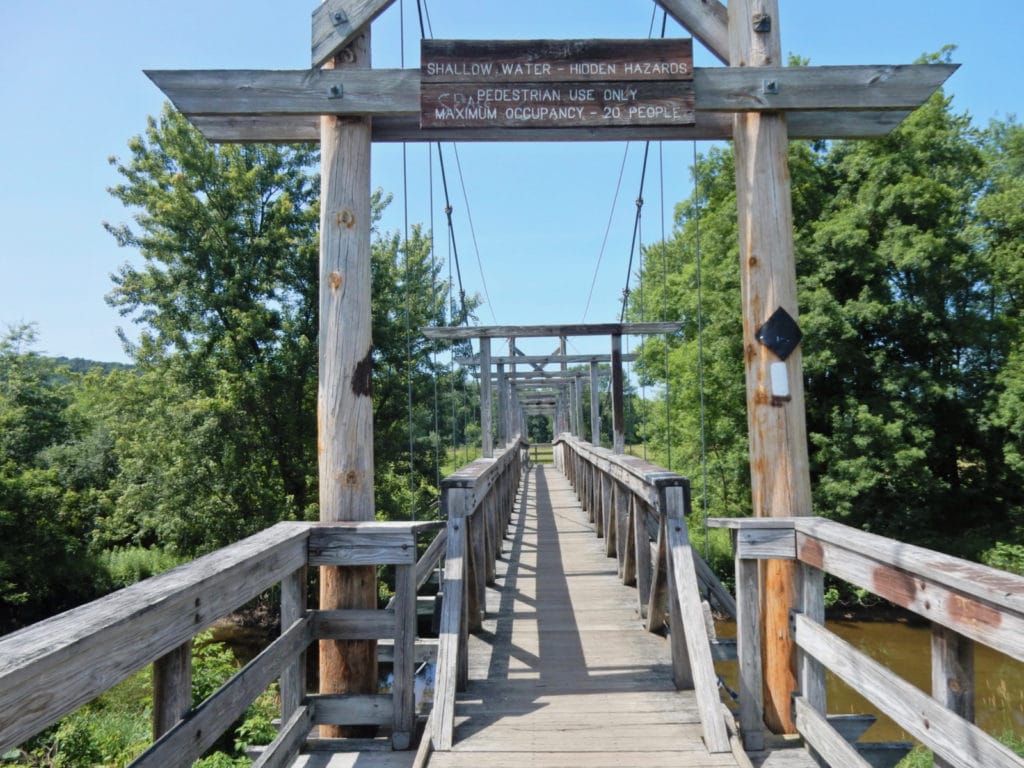 The trail continues for a mile through a cow pasture before crossing Route 94 – the start of the strenuous climb up 840 vertical feet. This is the Stairway to Heaven portion of the hike – a lung-expanding ascent to rock ledges and observation points atop the mountain.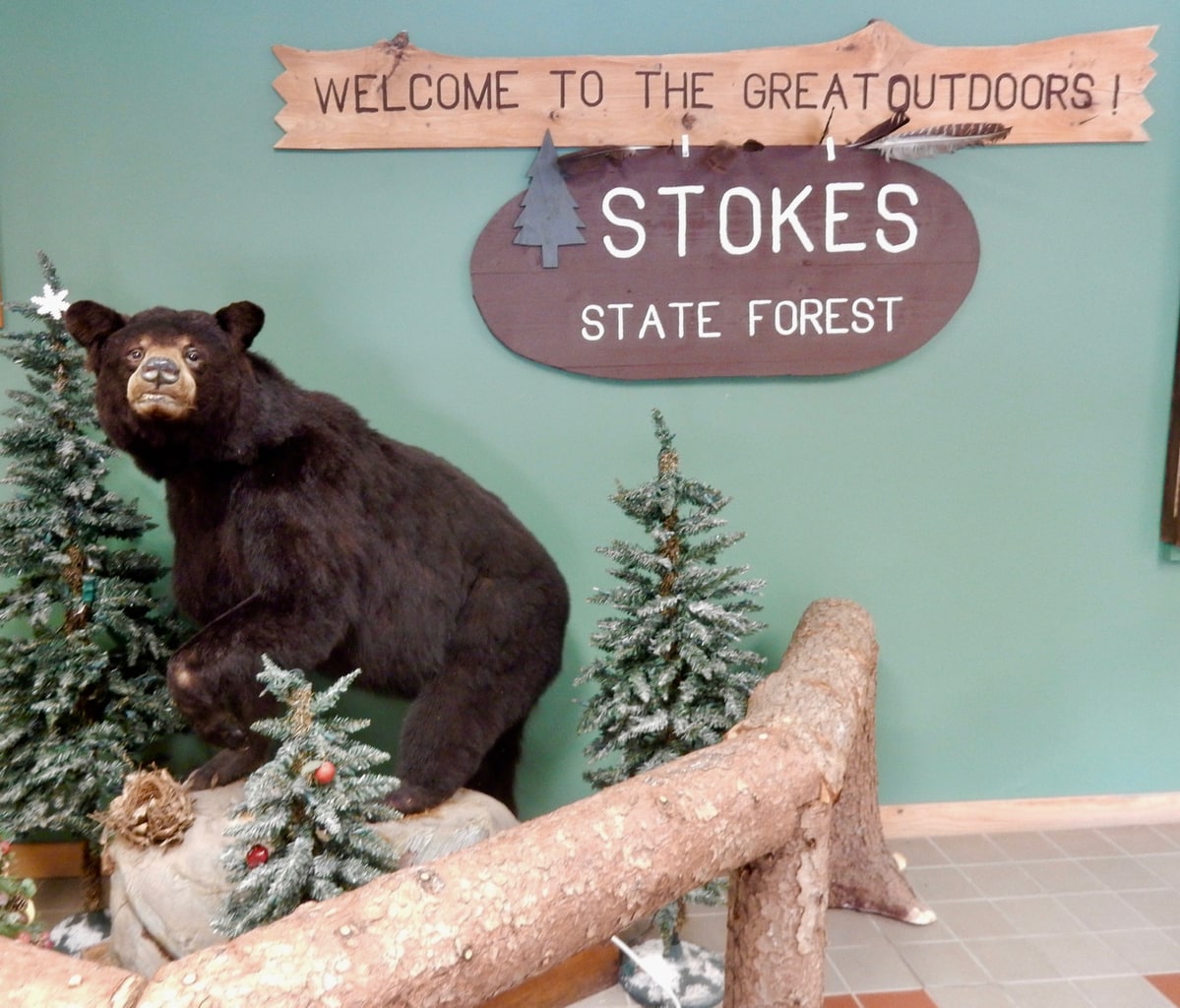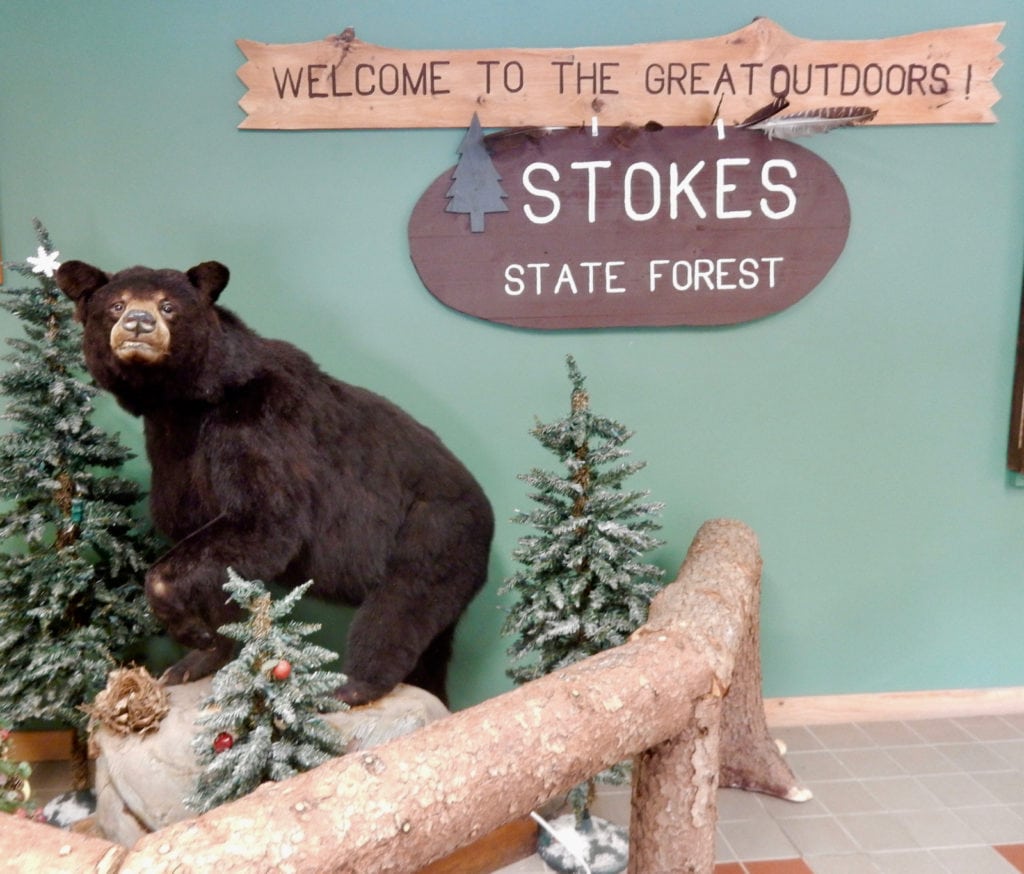 HIKE: Stokes State Forest, Tillman Ravine, Sunrise Mountain. Stop first in the Ranger Station/Welcome Center for advice on where hike and what to see in this 16,500 acre State Forest. You can rent kayaks, fish and camp here as well.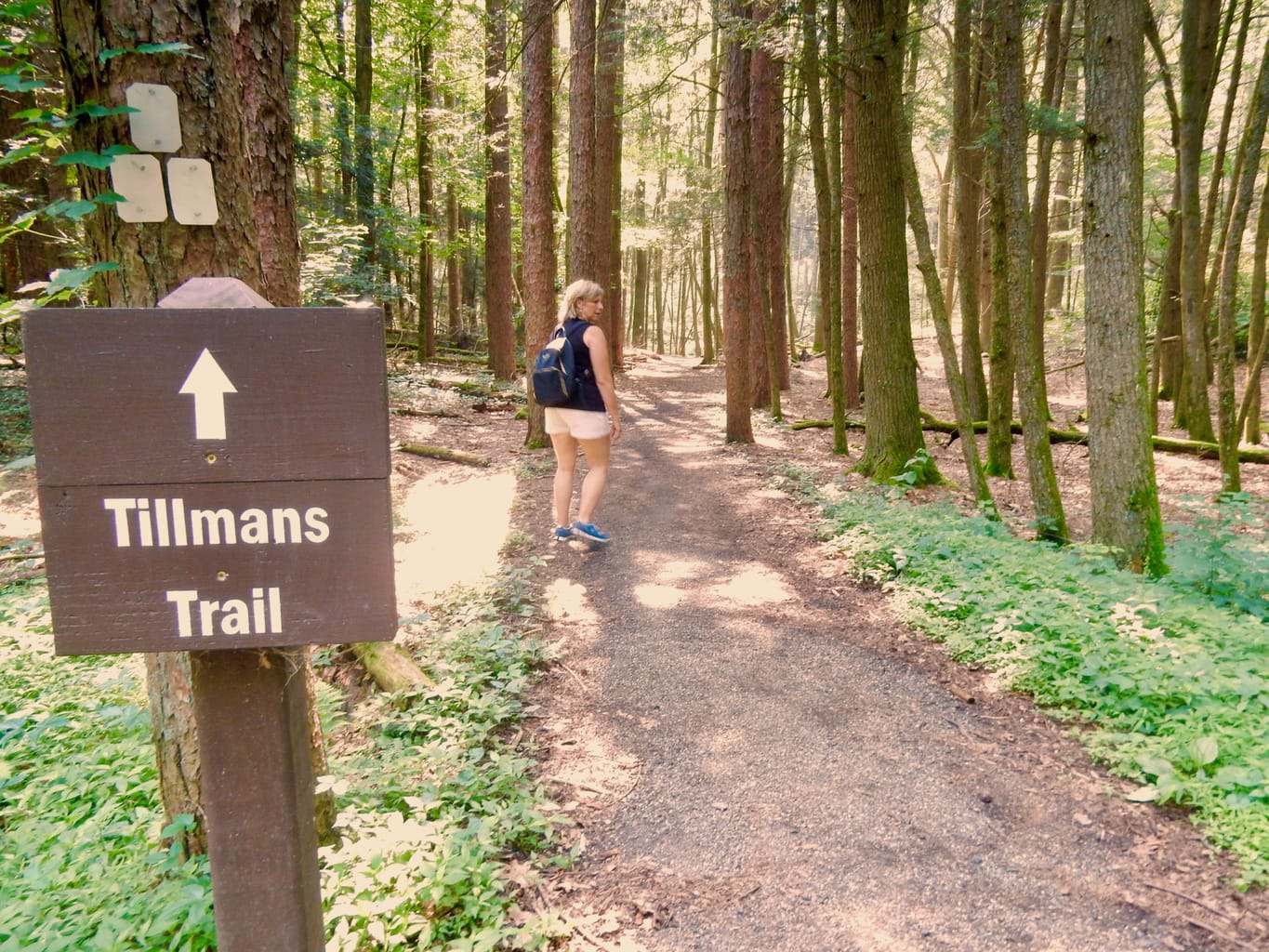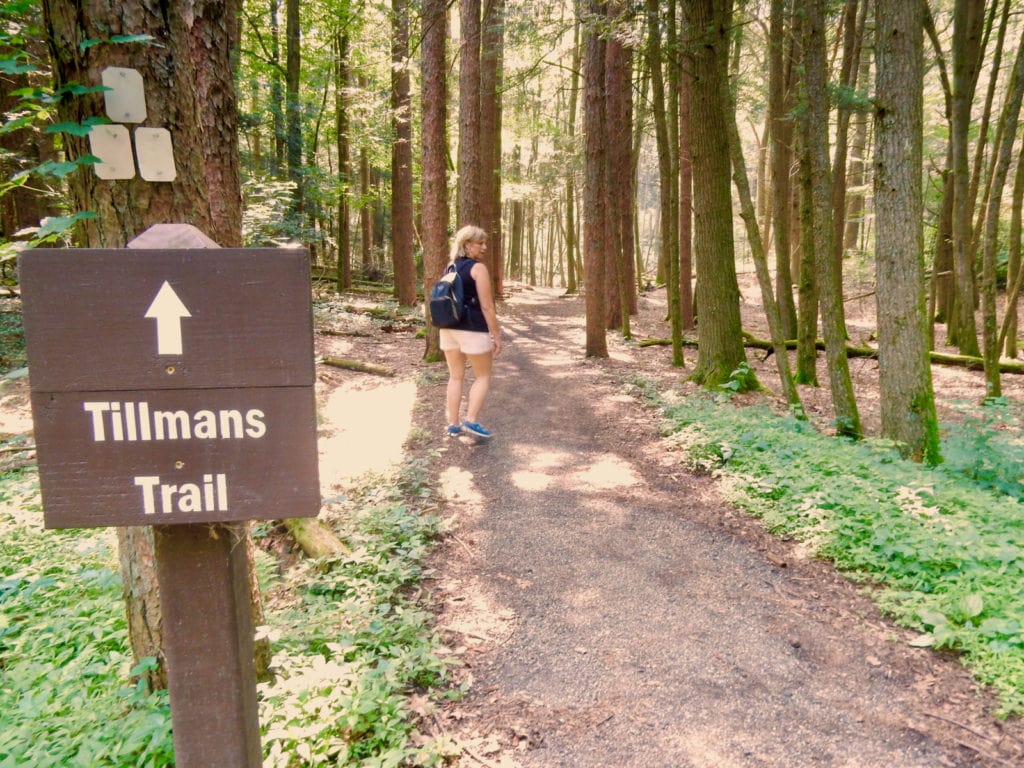 The 1.5-mile looped Tillman Ravine Trail takes you into a narrow red shale and sandstone gorge along rushing river water, through tangled brush and by stands of hemlock trees and banks of blooming Rhododendrons in early summer.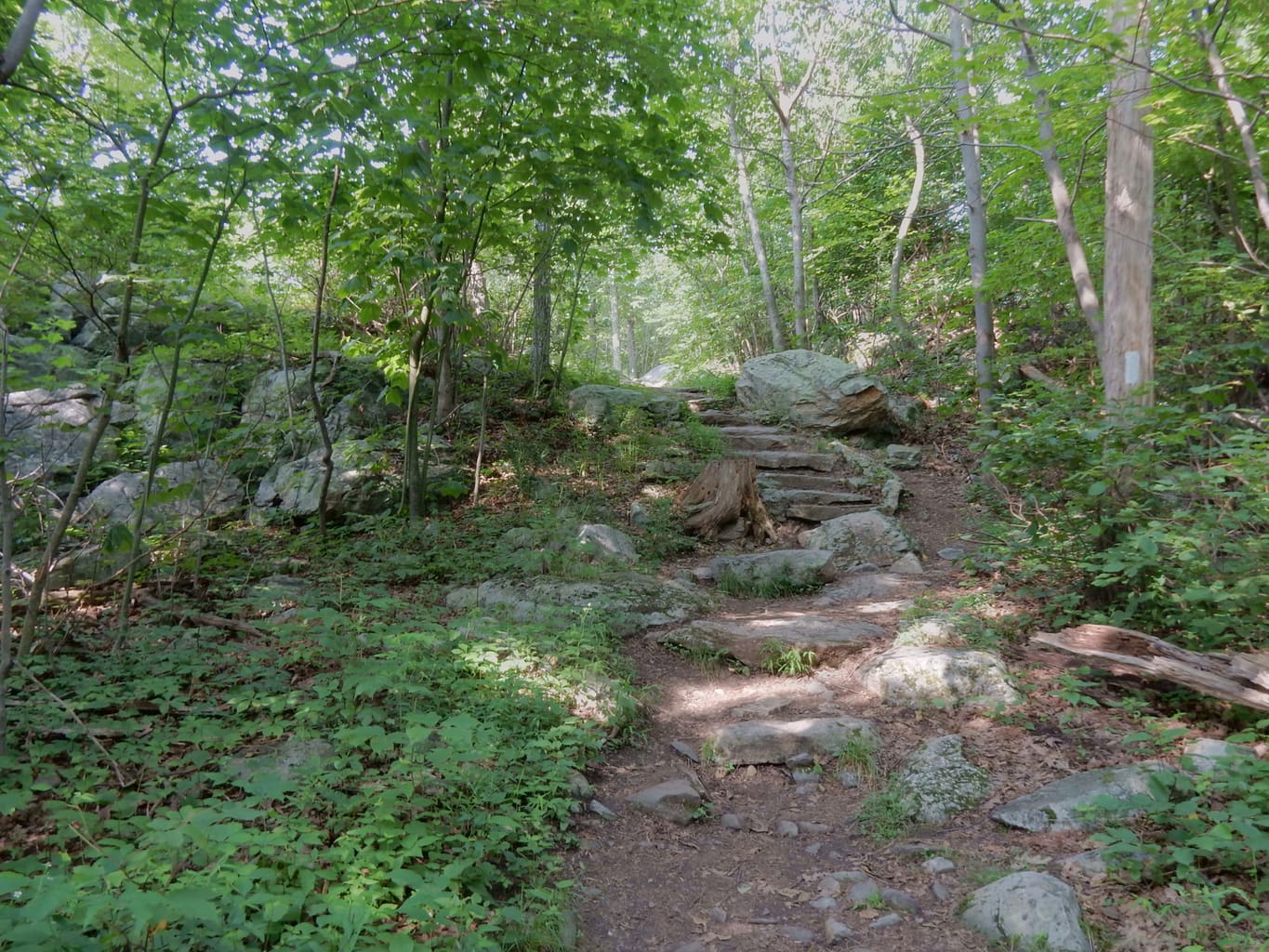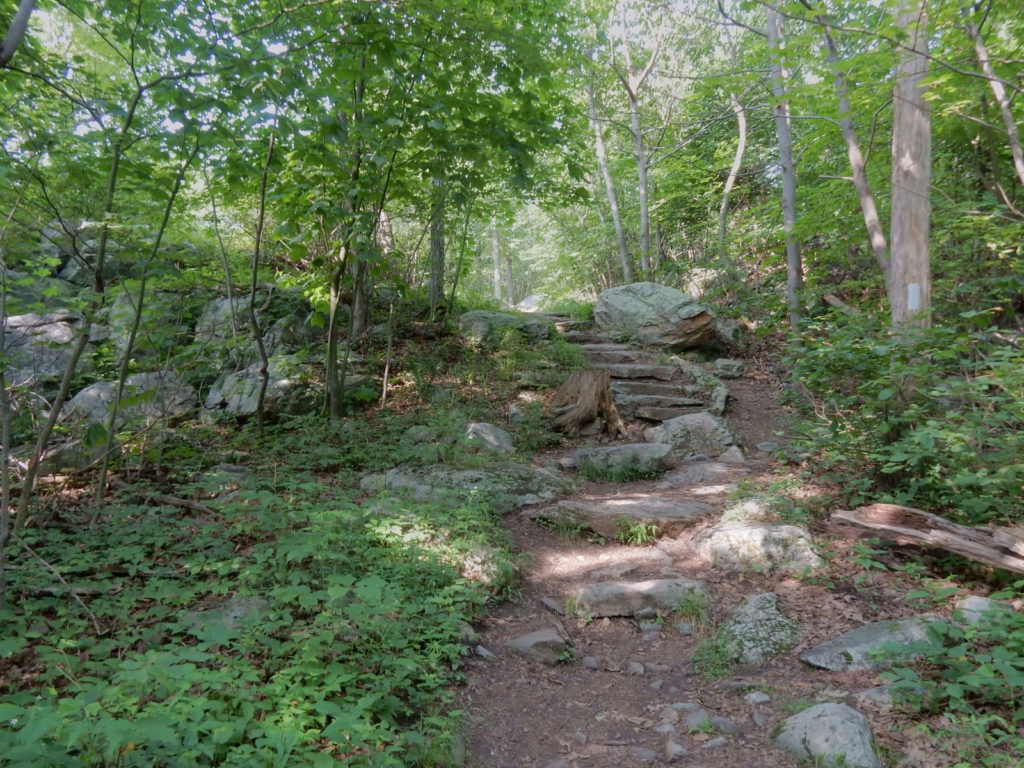 Unless you are a thru hiker on the AT or want to spend a few hours hiking, drive up through a long stretch of woods to the Sunrise Mountain trailhead. There's a short ¼ mile hike that takes you over bedrock crosshatched by striations left there from the end of the last ice age, when receding glaciers gouged deep grooves in the land. The short trail leads to an open Pavilion and overlook. Views are breathtaking.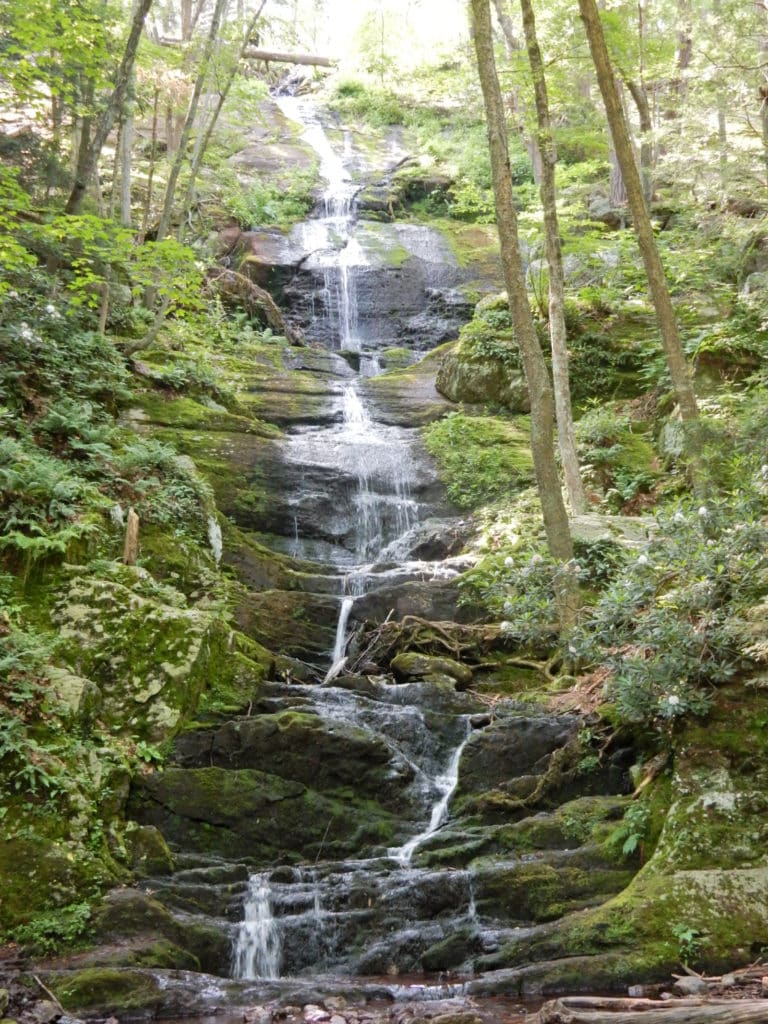 WATERFALL: Buttermilk Falls, Layton. Within the New Jersey side of the Delaware Water Gap, you need not get out of your car to see one of the tallest tiered waterfalls in the State. You can climb slippery wooden stairs to the top, should you need a leg stretcher, but the best views are from the road below.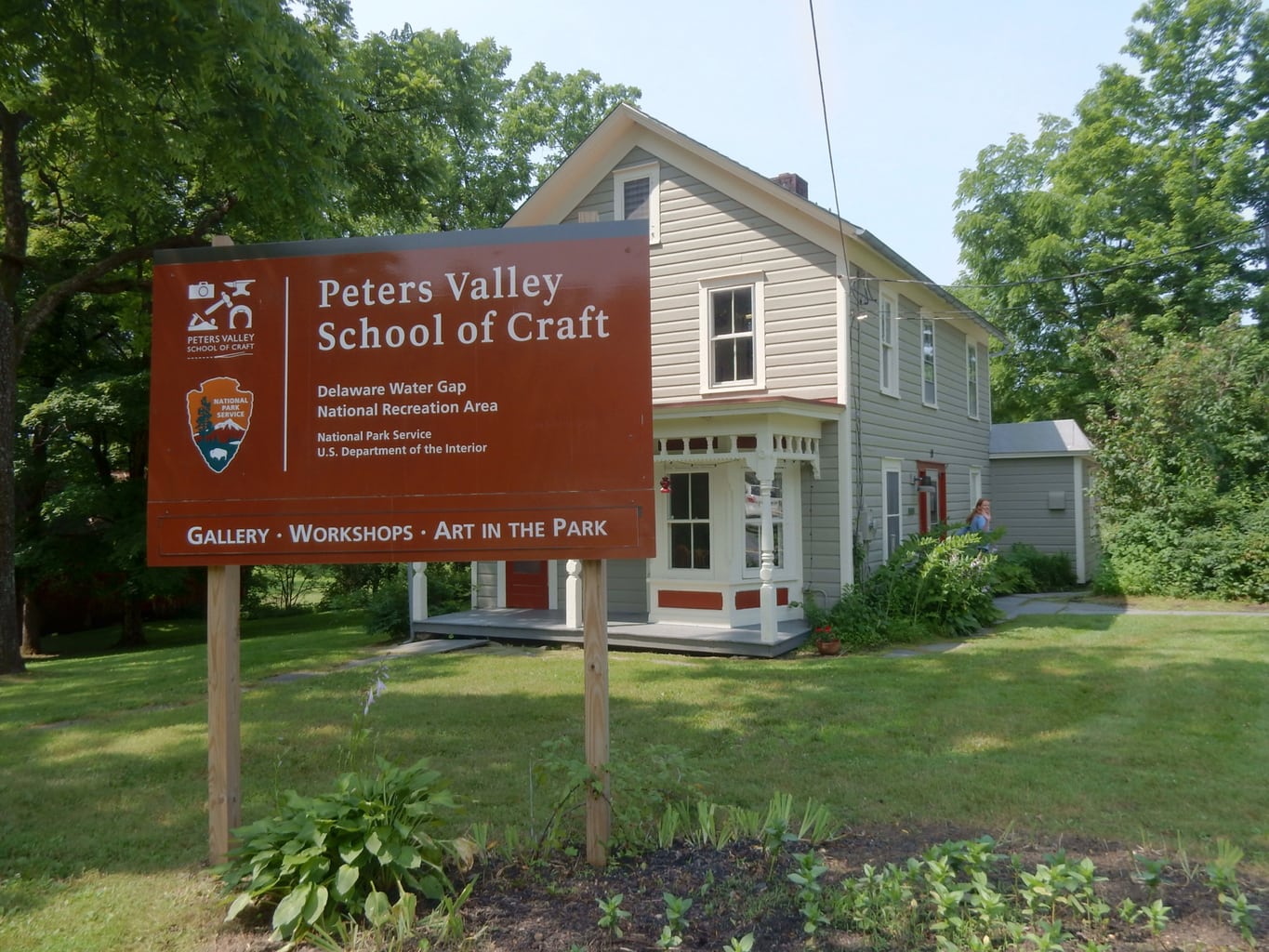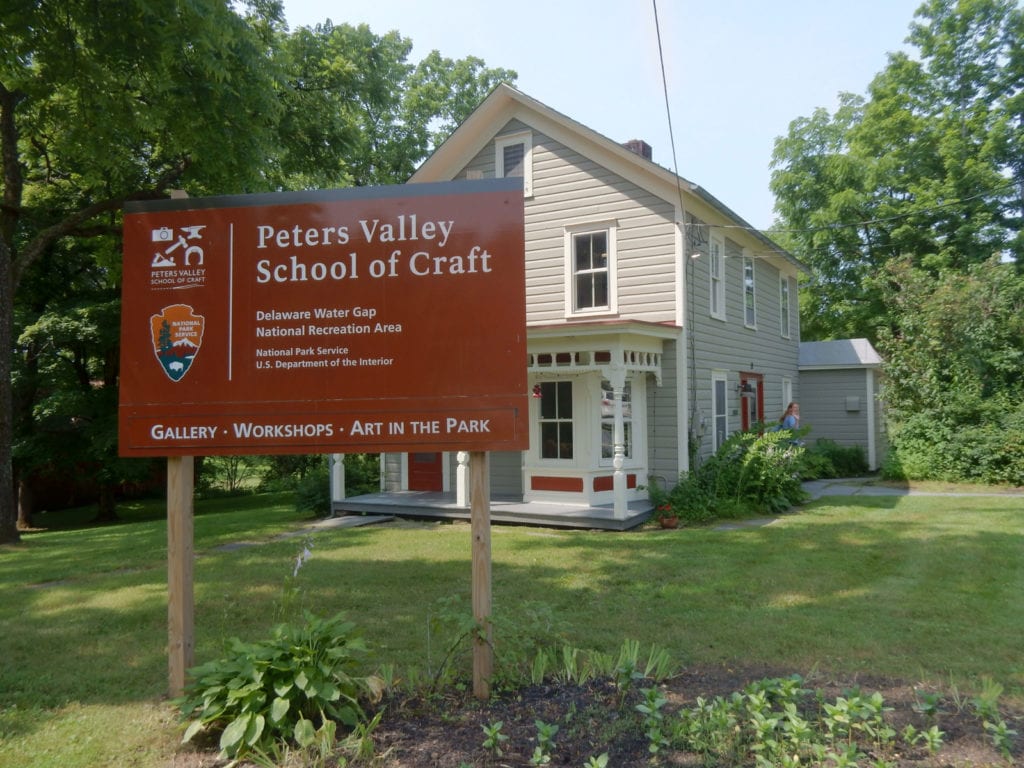 VISIT: Peters Valley School of Craft, Layton. This craft school is a hidden gem, nestled within the Delaware Water Gap on the NJ side (a great stop when you're heading to or from Buttermilk Falls).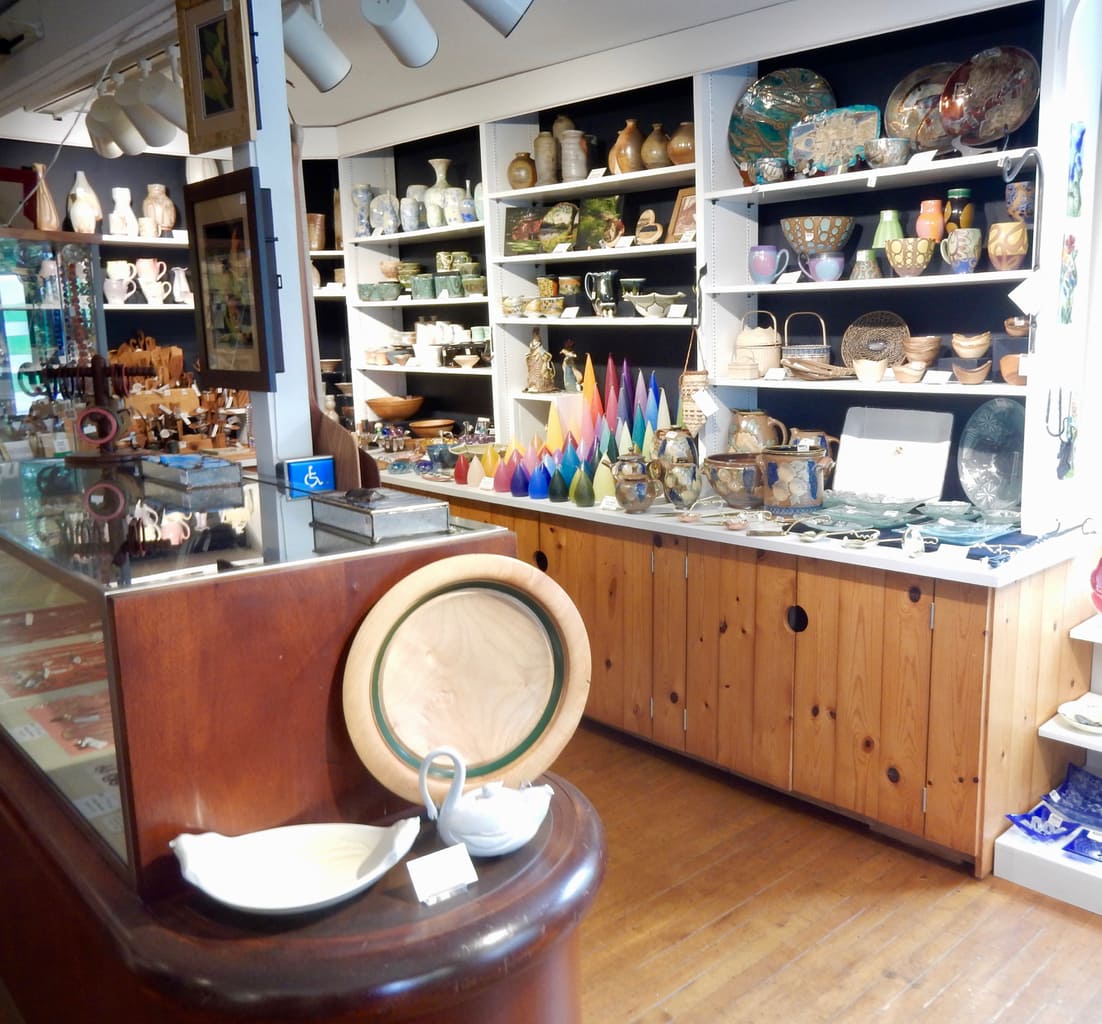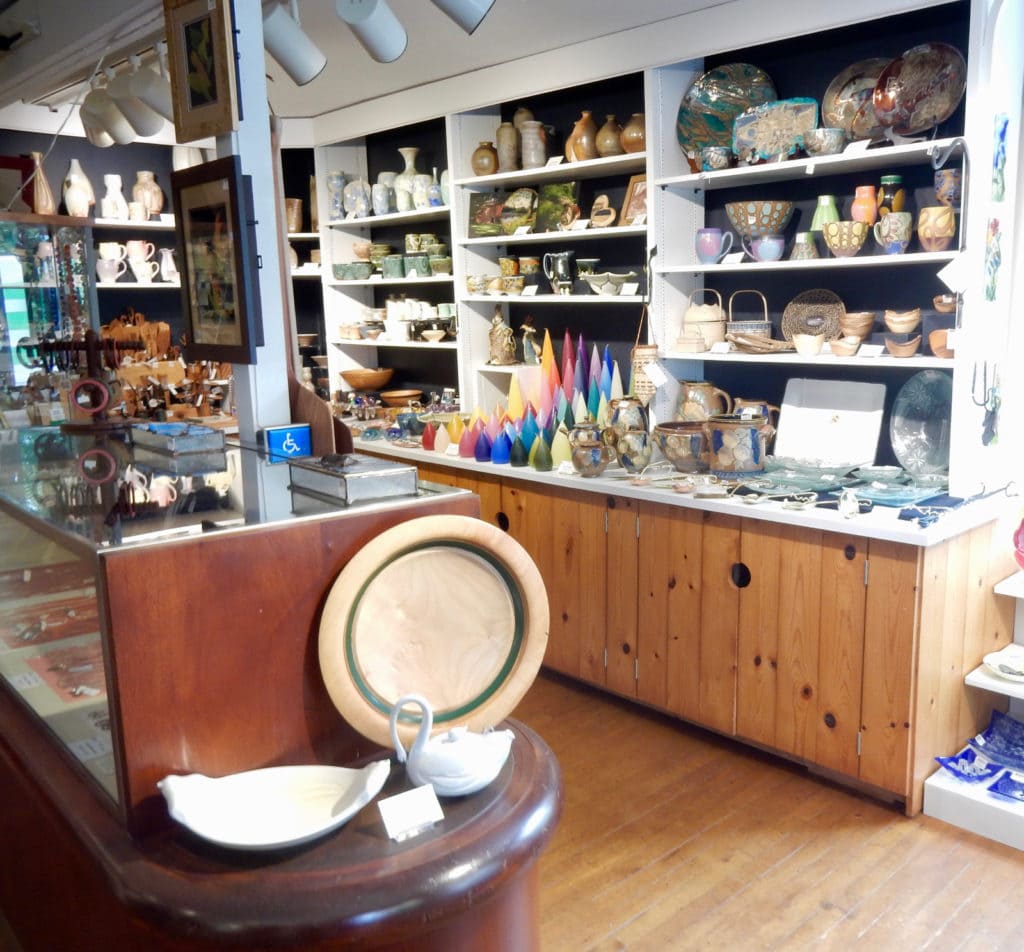 Tourists will find an abundance of hand-made ceramics, fiber art, jewelry, fine metal, and other crafts in a colorful retail Gallery. But you're also invited to stay for 2-8 day classes (includes housing and dining in a communal dining room) in everything from blacksmithing to weaving. There's even a "Business Bootcamp for Artists."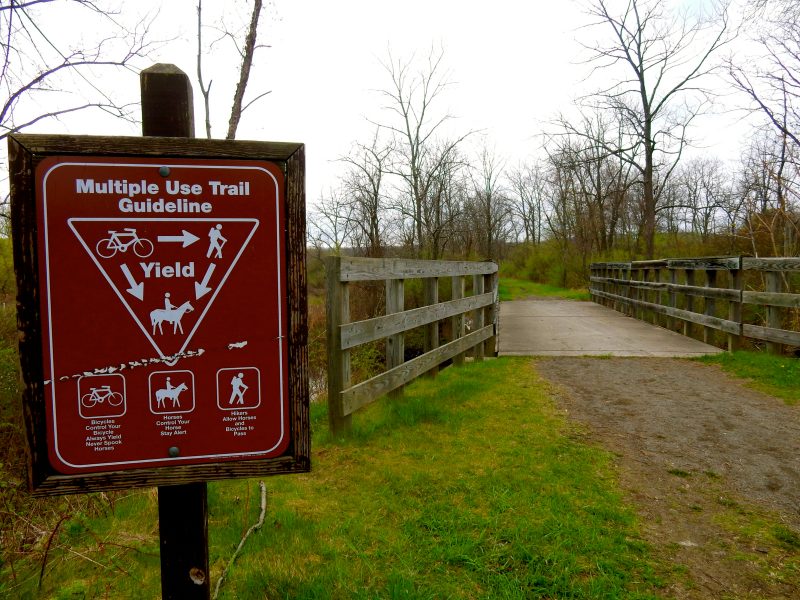 HIKE/EXPLORE: Kittatinny Valley State Park, Andover Township. A State Park like no other, Kittatinny Valley boasts three unique features: a lake, an airport, and 3 Rail Trails. To boot, an abundance of unique flowers and plants (over 700 species) thrive in wetlands, glacial lakes, vernal pools and forests due to Sussex County's heavy concentration of limestone and resulting alkaline soil. Multi-acre fields comes alive with swarms of butterflies by day and "silent sparks" (fireflies) galore on summer nights.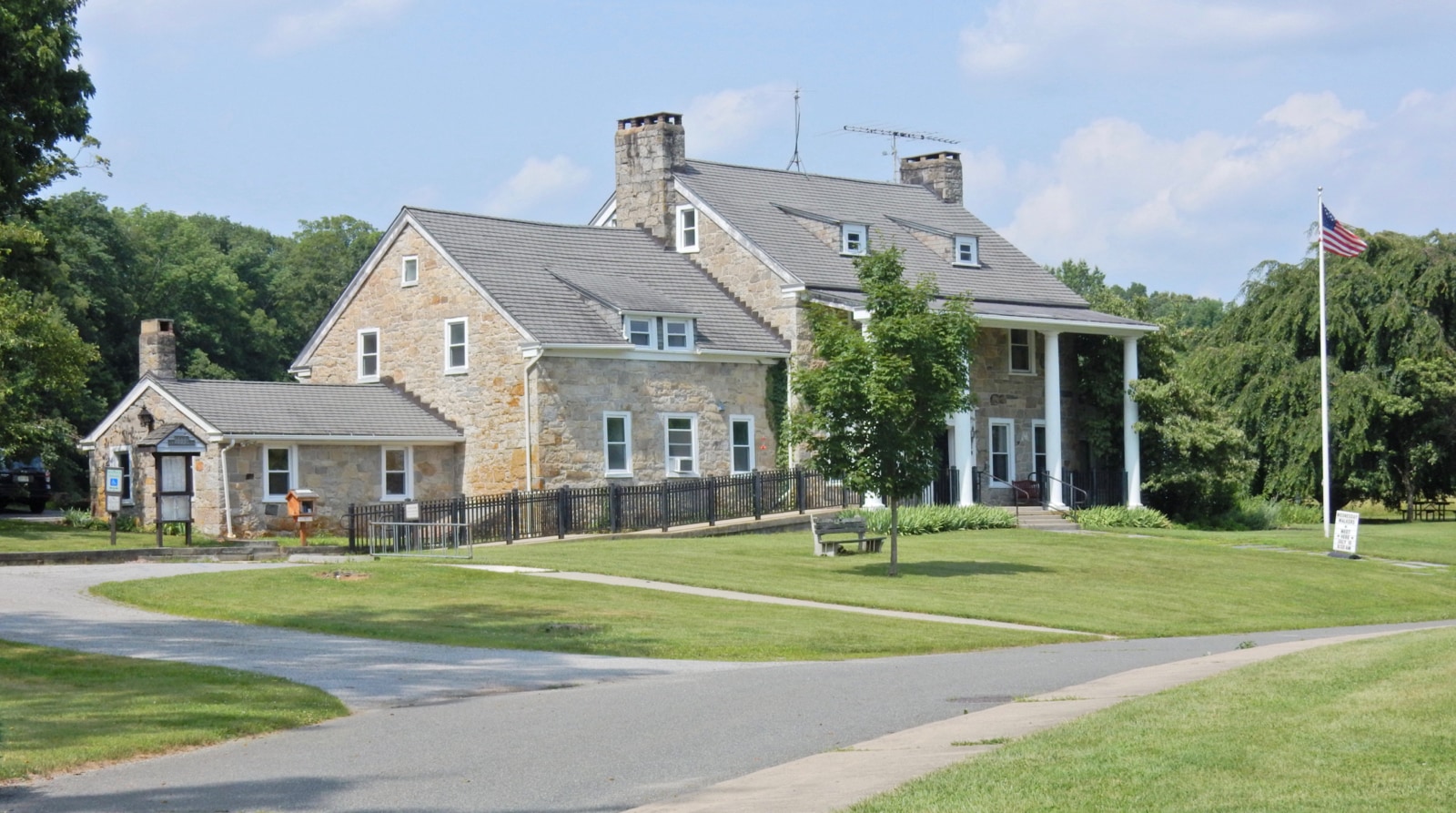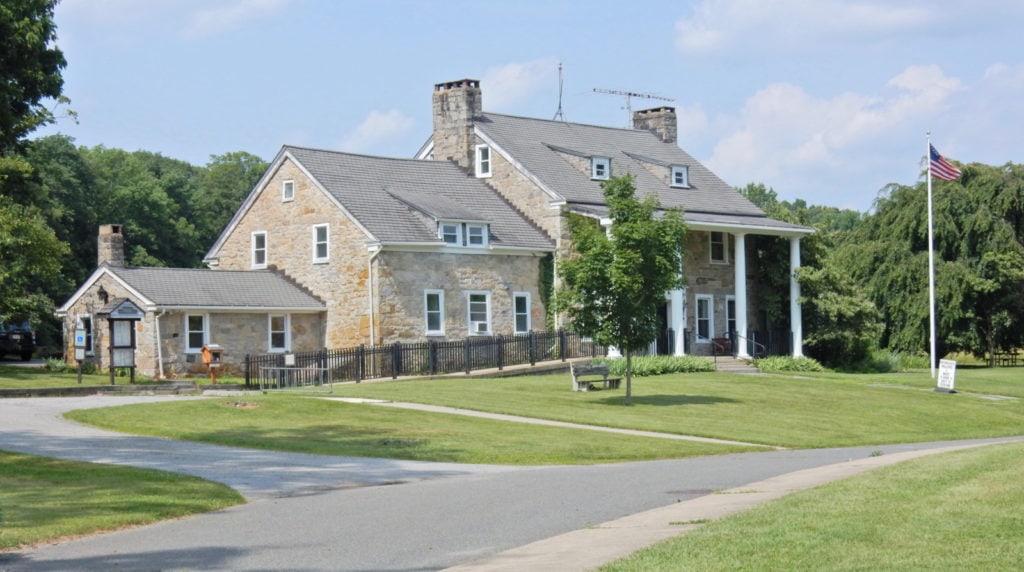 The breath of-fresh-air Kittatinny Valley SP has 75 miles of trails and intriguing programs to get you out on them – no matter what level of couch potato you are – thanks to Lynn Groves, Resource Interpretive Specialist. There's no stopping Groves' enthusiasm and creativity.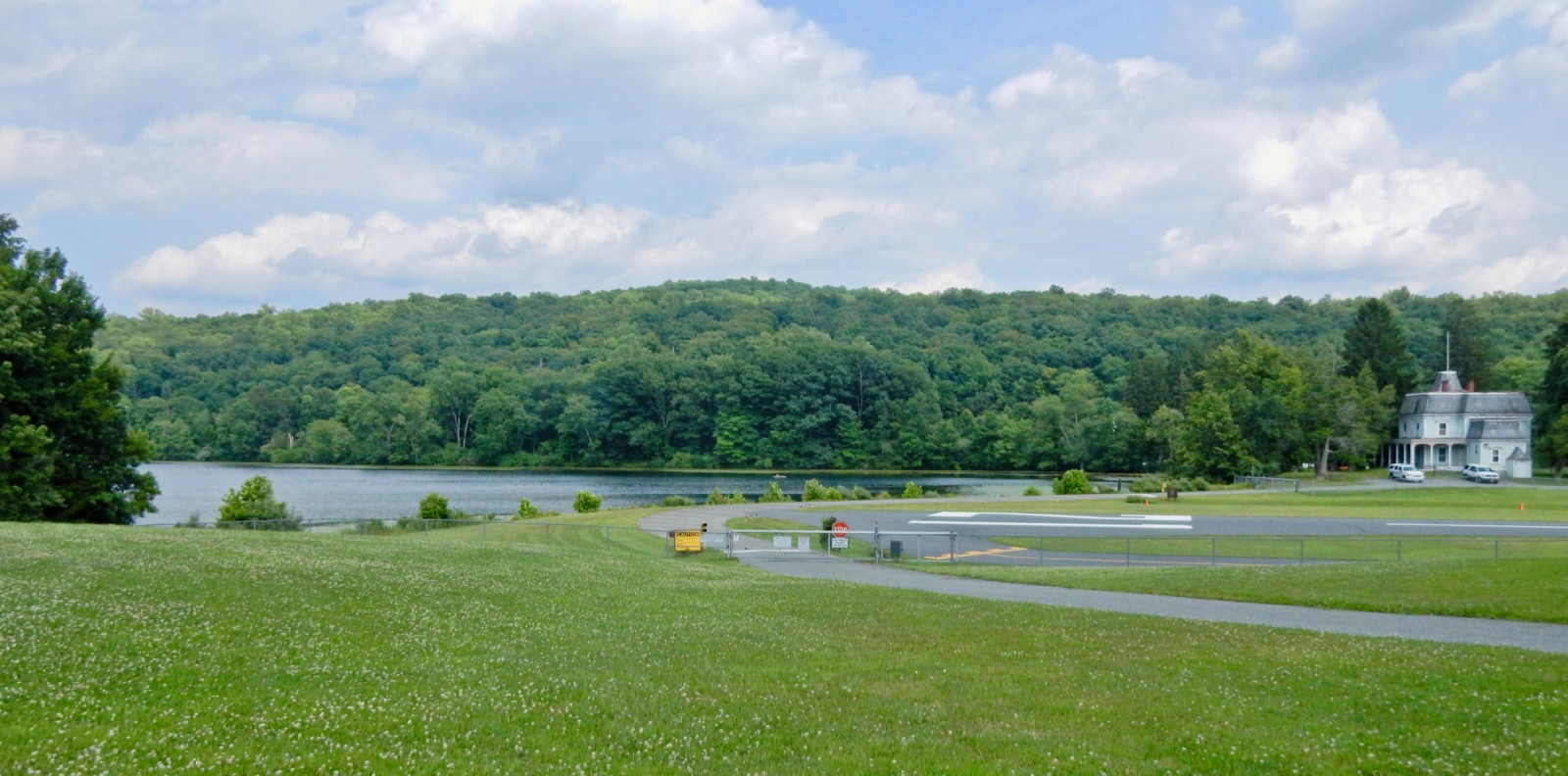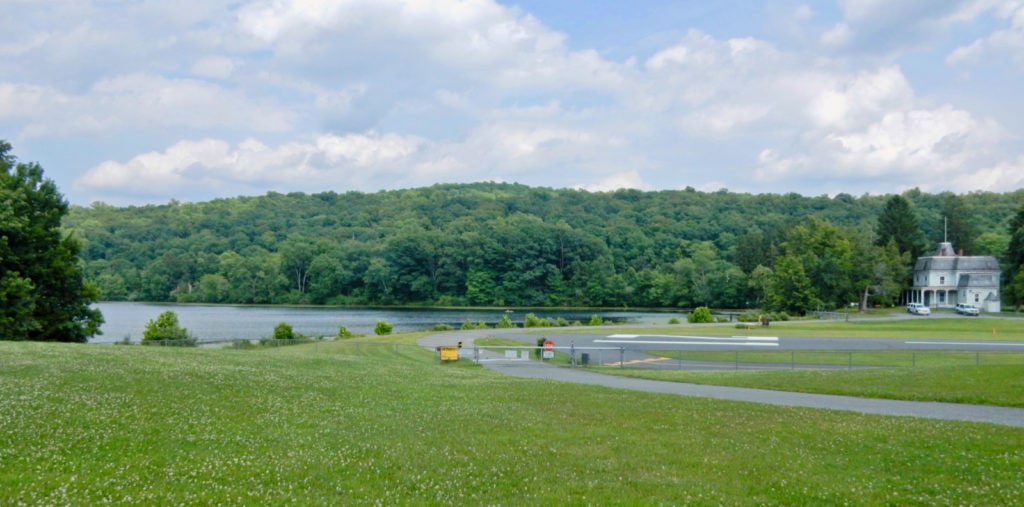 Groves hosts "nature tours," obviously, and other "interpretive programs." One of the most popular is the 8:30am 2.7 mile Wednesday Walk (free), which entices upwards of 50 mostly retired people per week year round to get up and get going. There are "Bark Buddies" walks (bring your dog! Free), and Rid-Litter Day Walks (free).
But it's activities like "Hike To Happy Hour" – 3 miles with Beer and Pizza at the end, just $5, the 4 mile "Walk to the Winery," $5, "Bike To BBQ: Double S Smokehouse," and the like that will really get your juices flowing. These are novel (and very popular) ways to get people active, connected, and fed. Join a group, or pick up a walking or Rail to Trail Map in the Visitors Center. Open daily 9-4. Though not confined within Kittatinny, the 27 mile Paulinskill Valley, 21-mile Sussex Branch Rail, and 3 mile Great Valley Rail-Trails are managed by and considered "part of" the Kittatinny Valley SP.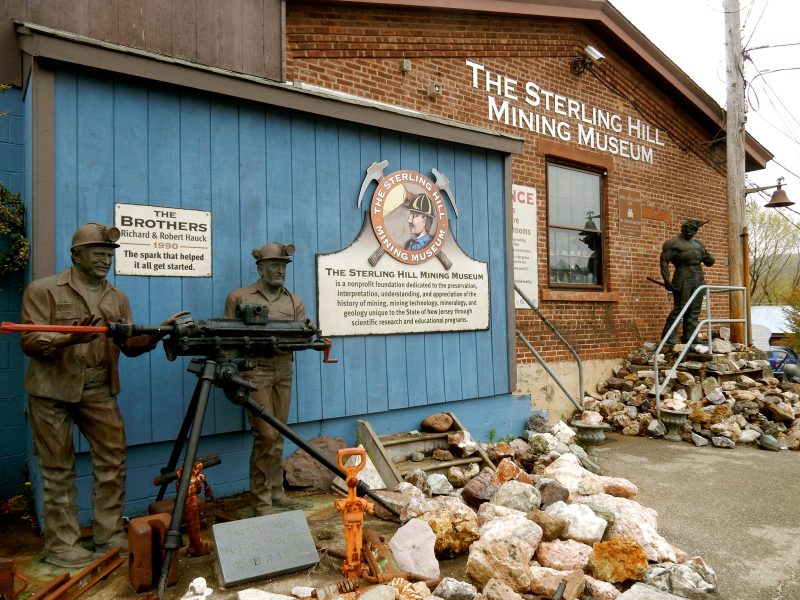 TOUR: Sterling Hill Mining Museum, Ogdensberg. How extraordinary is this under-the-radar attraction? So extraordinary that the venerable Museum of Natural History in NYC is interested in featuring its defining element – a thick slab fluorescing rock – in a stand alone room within an upcoming $325 million expansion.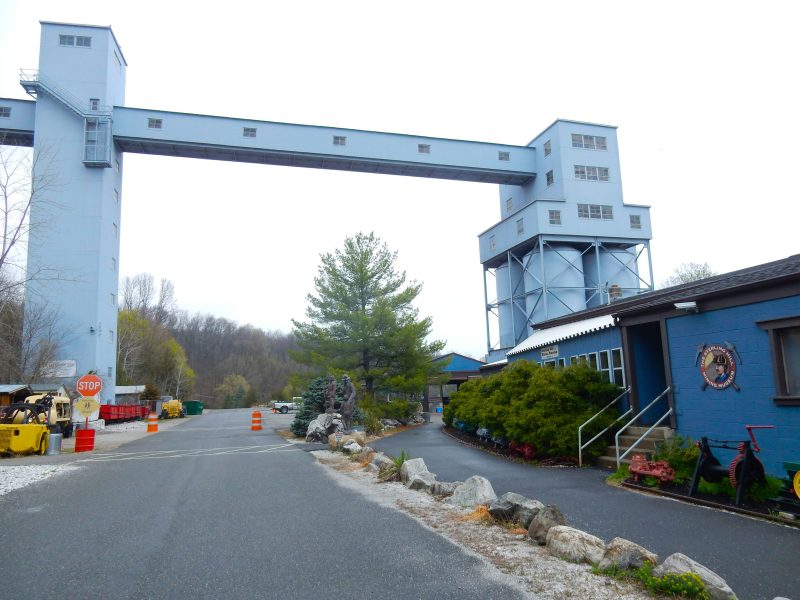 A zinc mine from the 1700's to 1986, Sterling Hill is now being run as an Educational Foundation, with 40,000 students from elementary school to college age discovering the unique properties of minerals here. Civil Engineer/Adjunct Professor of Engineering Geology, Bill Kroth, serves as President, Executive Director and sometime-guide.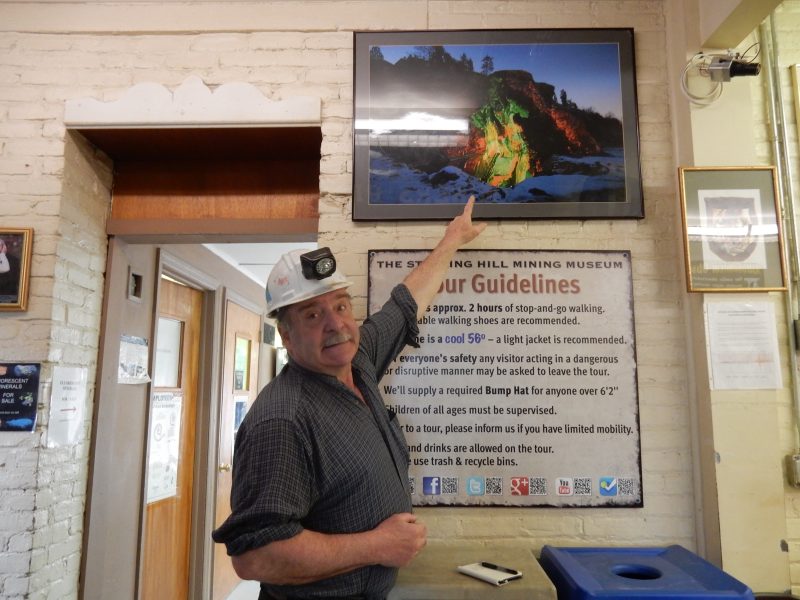 During its WWII heyday, when 500 employees put their backs into it here, the Sterling Hill complex seemed more like a railroad yard than a mine. "You'll never see a piece of zinc," says Kroth. "It doesn't occur as pure metal." A 5-story crushing plant was perched at the top of the hill, smashing zinc ore to powder. The powder traveled by conveyor belt, dropped into four massive drums (all still standing), and was emptied into train cars below. The raw product was shipped to Pennsylvania, where it was processed into the metal we recognize as zinc.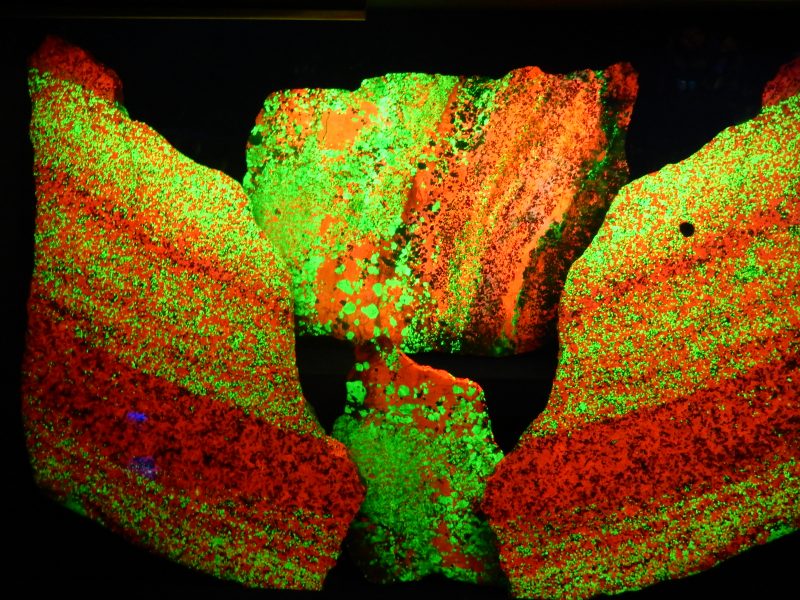 Historically, zinc was added to copper to fashion brass and for galvanizing iron and steel to prevent rust. The Sterling Hill mine, 2,700 ft deep (two Empire State Buildings) was threaded with 35 miles of tunnels. In the early 1900's, the miners learned about the unique property of these rocks quite by accident. At the dawn of the electric light, they used a "knife-blade" switch, which caused a spark. This spark illuminated the walls, which glowed a ghostly green. Over the years, nearly 370 minerals were discovered here, 80 of which fluoresce; rendering this area unique in the world (thus the interest from the Museum of Natural History).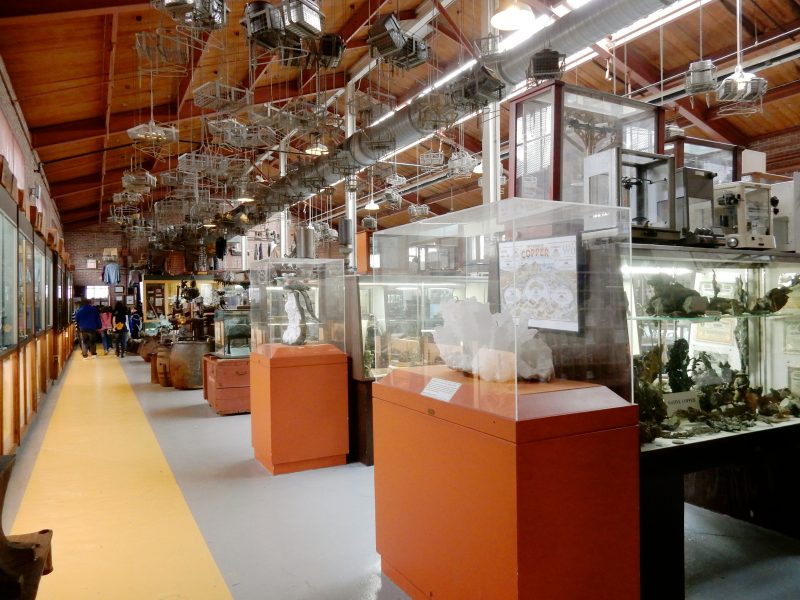 Kroth takes great delight in shocking kids with scientific facts and artifacts, hoping to "spark" an interest in geology and the sciences, just as he was as an eight year old setting his eyes on a fluorescing rock for the first time. The Sterling Mine complex is made up of several "museums" based in former offices and worker's quarters. In the basement of the Geotech Museum, Kroth is quick to point out "Dinosaur Poop," a huge hit with grade schoolers. He explains how we know about the Earth's core (from the core of other planets – meteorites), and what it does (protects us with a force field), and explains why metals don't just "stick right out of the ground."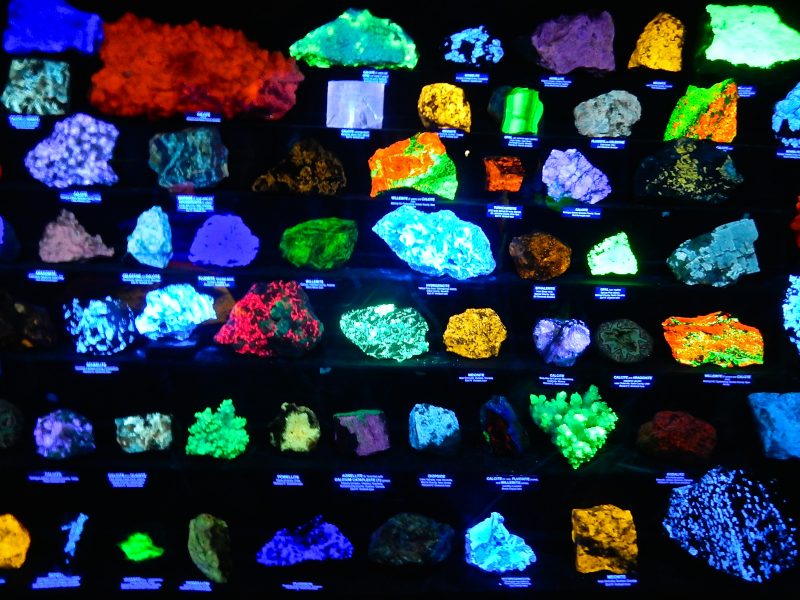 You'll see all manner of fluorescing wonders inside the 3-room Thomas S. Warren Museum of Fluorescence –where pure light seems to emanate from within each rock. If you've been awed by stones bathed in Black or UV Light, you'll be even more so by those illuminated by the Short Wave light employed here. There is a significant difference.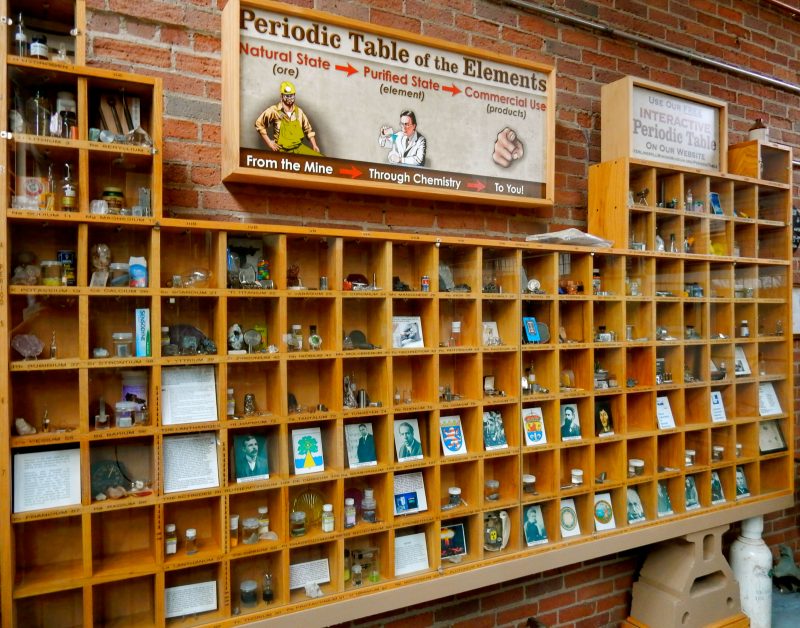 The Mine's main museum space, the Zobel Exhibit Hall in the former "Dry House" (where wet clothes would be lifted to the ceiling to dry), is crammed with extraordinary objects, collections and artifacts. You'll find one of the world's best Periodic Tables (an incredible Science Fair resource, especially since the website offers a free interactive version), the stunning Oreck Collection of blingy, multicolored minerals and crystals from around the world, and a piece of the meteor that fell on a car in Peekskill NY on October 9, 1992.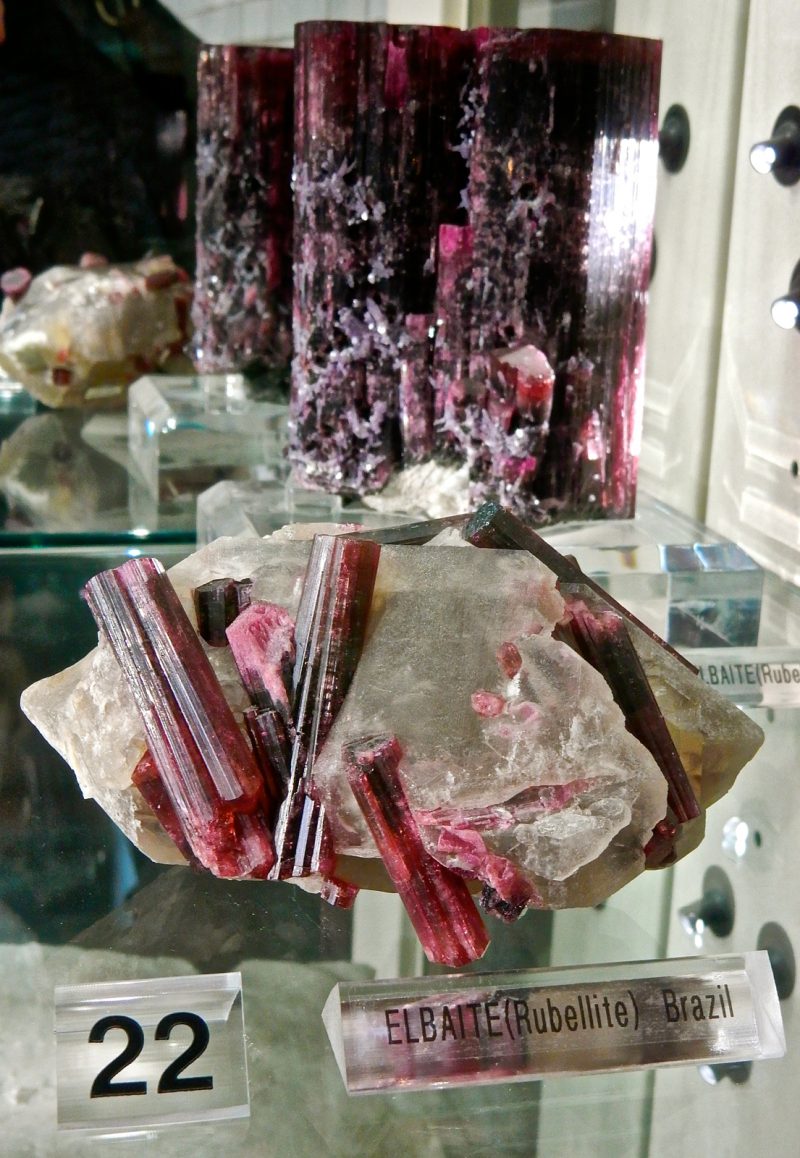 And yes, a tour will bring you into a portion of the mine, where you'll learn about blasting and tough conditions. However, that foray seems a bit anticlimactic after gazing on what came out of it years ago. This attraction is well worth an afternoon – and should be a destination for all. Open daily 10-4 (in winter, weekends only), with public 2 to 3 hour tours at 1pm, $12 adults, $9 kids.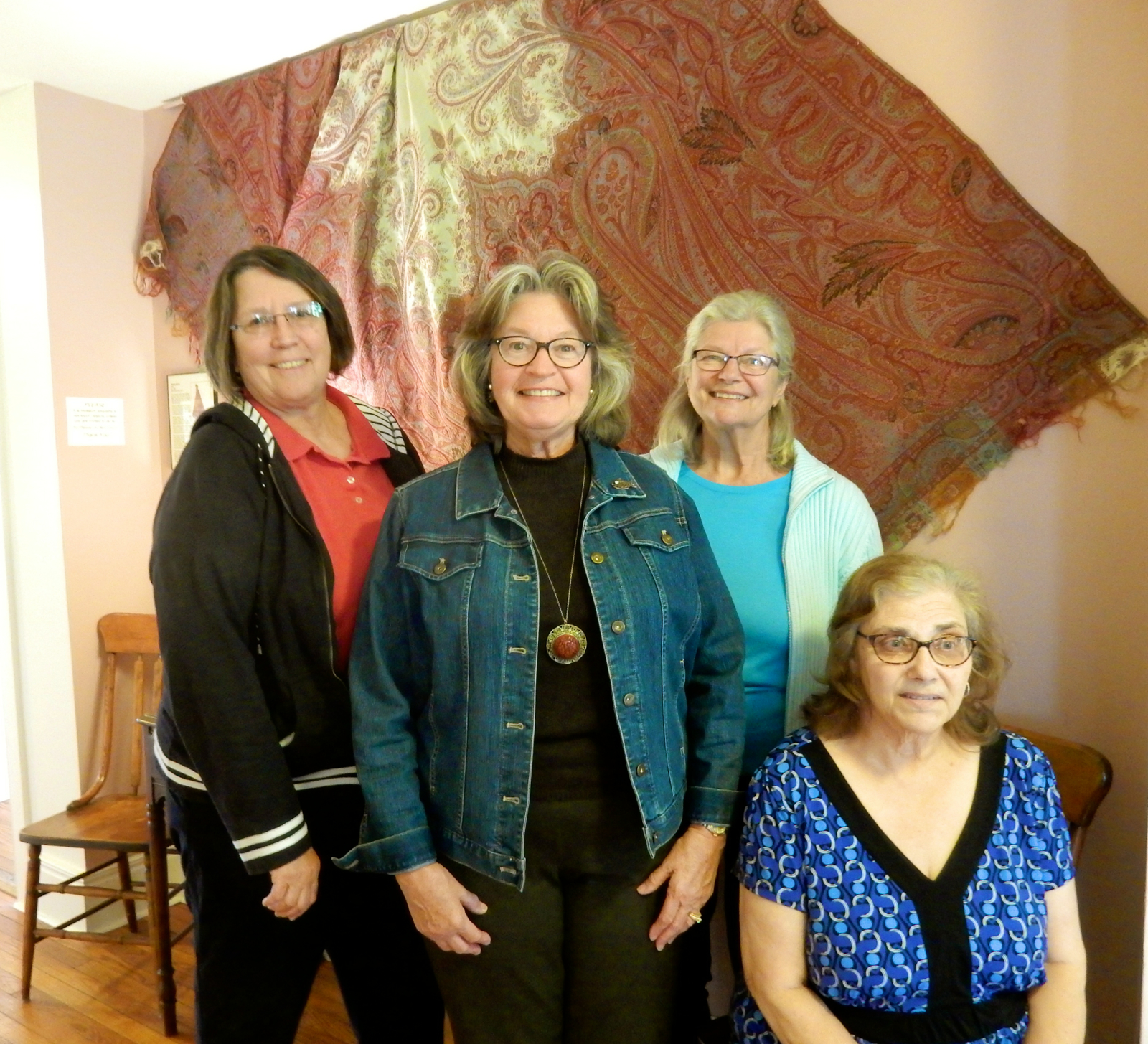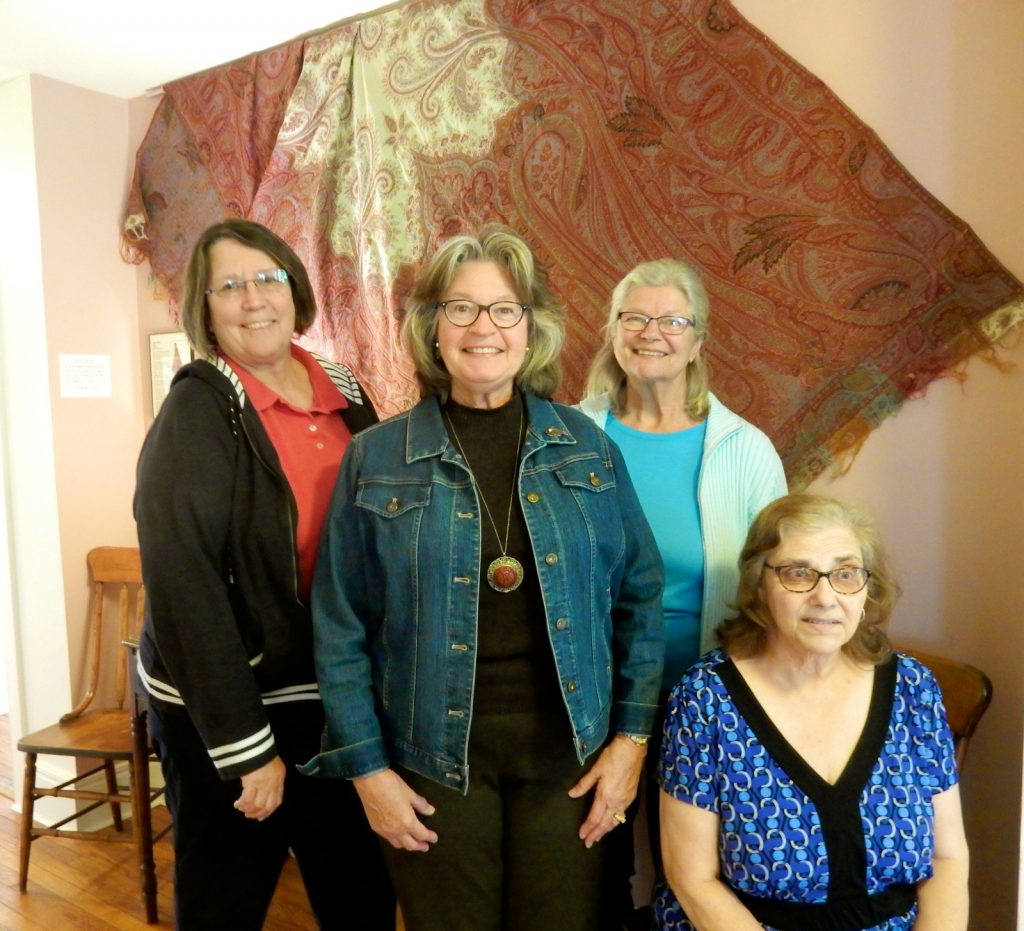 VISIT: Sparta Historical Society Museum at the Van Kirk Homestead, Sparta. This is no stale and stuffy museum: it's a vital, enjoyable, beautifully presented and relevant collection of local history, thanks to zingy women like Nancy Madacsi, Joyce Simmons, Renee Ferguson and Maryanne Francisco, who bring life and intelligence to this small place. Built in the late 1700's, the Van Kirk family lived in this two-story homestead until 1996 when most of the property was sold to the Sparta Board of Education to construct the behemoth Middle School right next door. The Historical Society was able to save and restore the Van Kirk house, with a 365-year- old White Oak Tree – the second oldest in the state – shading its roof.
The Sparta Historical Society Museum has benefited from a curator's eye – and that curator is Museum Director Jack Clark, who was formerly the Director of the Bruce Museum in my own hometown of Greenwich CT (the one that I spent days upon days in as a kid in the 60's and 70's). That this small organization was able to tap the expertise of such a stalwart of the Museum community speaks to the quality of its exhibits and enthusiasm of its members.
There's a well-preserved Stereopticon in the downstairs Victorian Era Parlor with, as the ladies told me, "some pretty risqué pictures." I would have looked at the dozens of "3-D" photographs, noted the naughty ones, and "toured the world" as they did in the 1890's, if I'd had the time. (P.S. – make time to do this).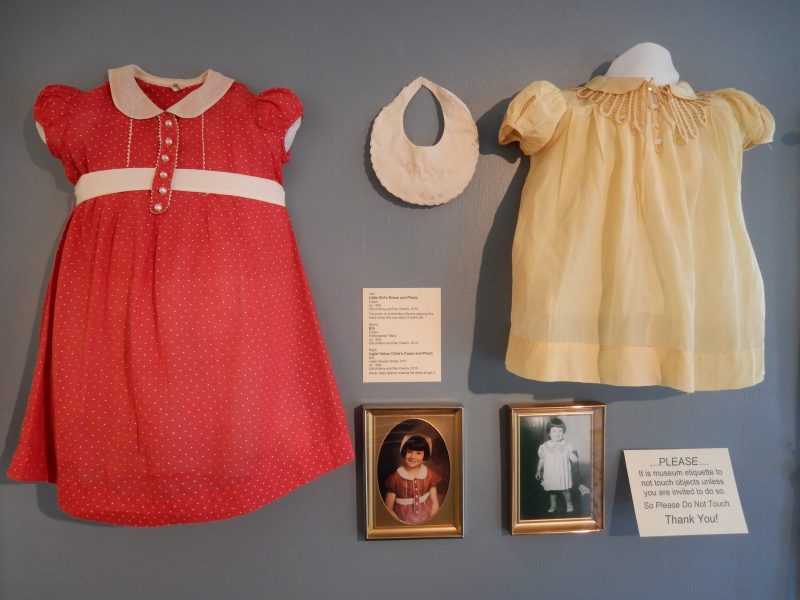 Upstairs, in the Sparta Gallery, some of the documents and photos depicting the history of the town are mounted on black slate from an old church. Though the area around Sparta was best known for its mines, quarries and taverns, by the mid 1900's tourism was on the rise. Resorts sprung up along Sussex County's many lakes, including Lake Mohawk, which sported a boardwalk that is still there (though the resorts closed).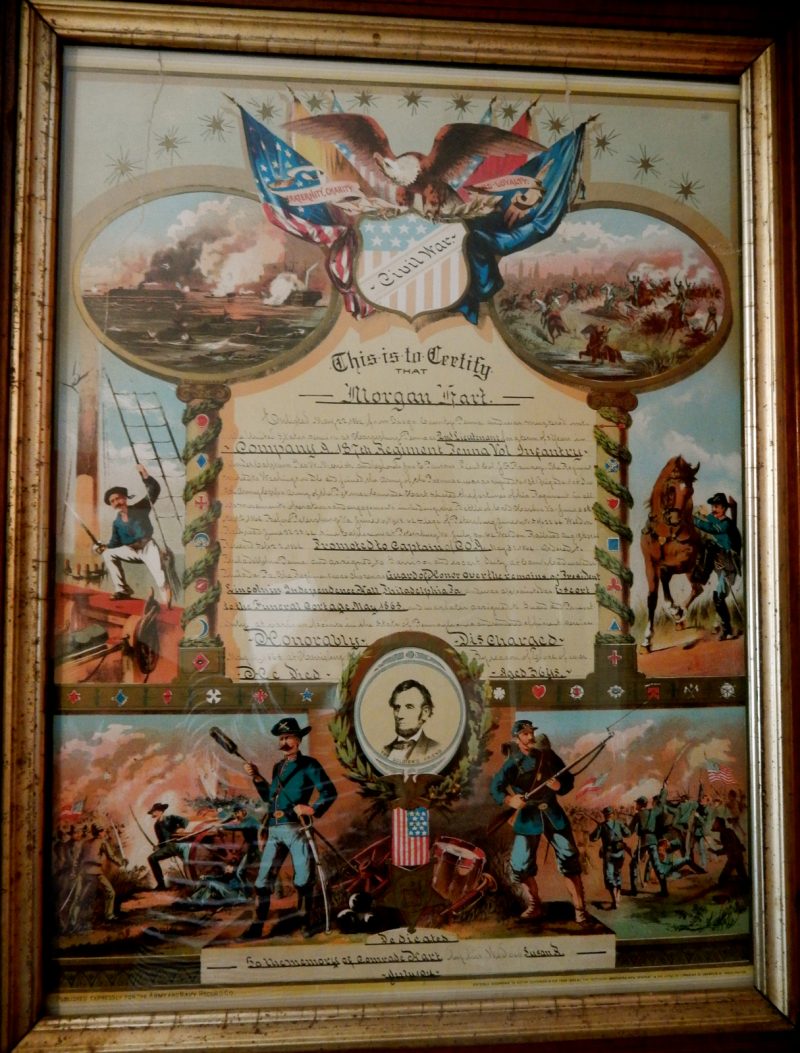 I was quite taken with several items on the second floor. I loved the ingenious fully mobile bookshelf/desk used by itinerant teachers who traveled throughout the county. I could not comprehend how the little polka dotted red dress, mounted in the Children's room and worn by Mary Owen in 1930 (shown in photo below it) was so well preserved.
And I was most intrigued by an original Honorable Discharge Certificate for one Morgan Hart, who must have served exceptionally during the Civil War, as he was asked to accompany the body of President Abraham Lincoln on Lincoln's Funeral Train. After Hart's death, this decorative document was presented to his widow, and remains in beautiful shape. Open only the 2nd and 4th Sunday of every month from 1-4 or by appointment.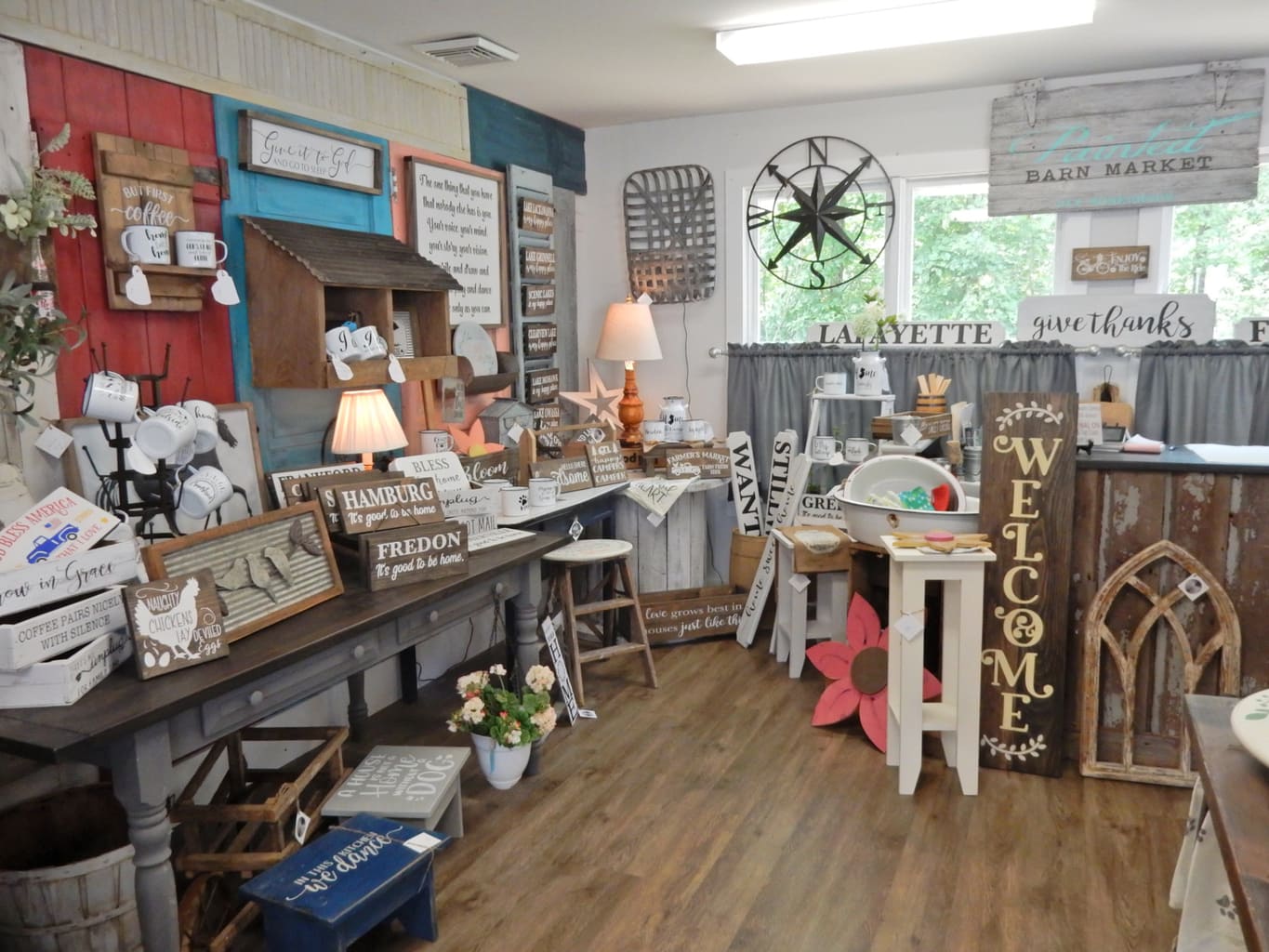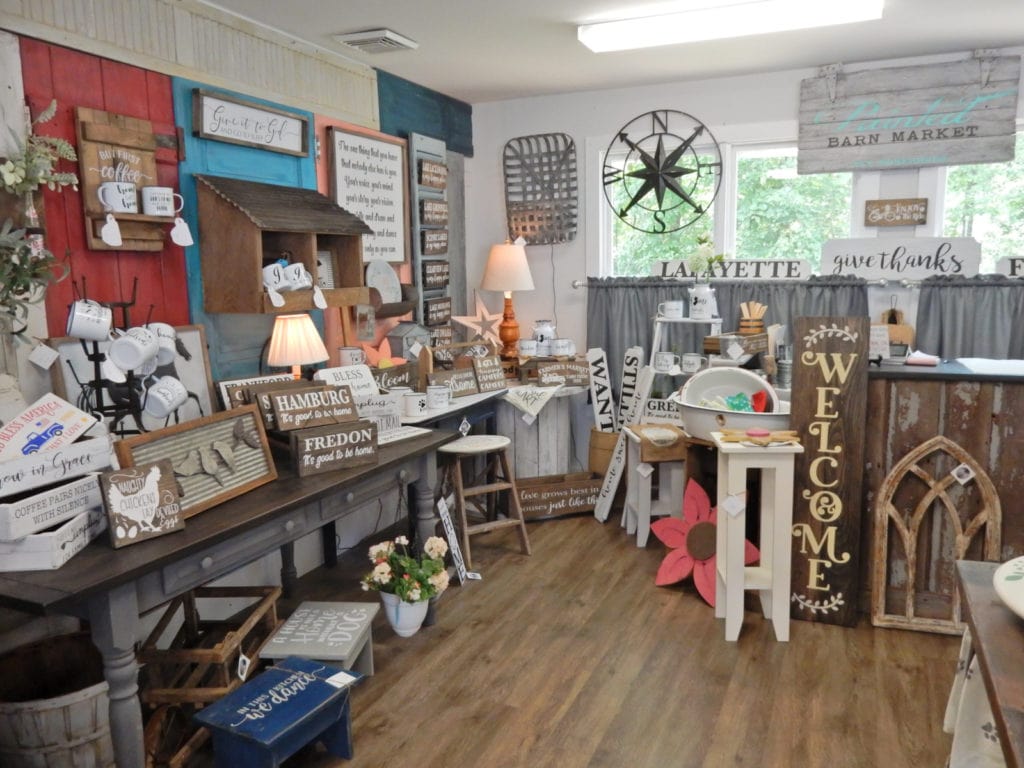 SHOP: The Shoppes @ Lafayette. Formerly an outlet mall, this small "shopping village" was flagging until new owners stepped in. Now, all that remains from its outlet days are Van Heusen, Bass, and Maidenform. All other stores are independently owned – including the pretty gift-shop, Lynn's Boutique, and The Painted Barn Market & DIY Workshop (where you can paint your own signs).
SHOP/FARM: Windy Brow Farm, Newton. Who wants to try Taylor Ham flavored ice cream? This is probably the only place you can get it – but of course there are more traditional and fantastic choices. Windy Brow Farm (named for its windy location in the brow of a ridge) operated as a dairy farm in the late 1800's, but is now known for its superb apples and varieties of peaches (pick your own), plums, cherries, apricots, and unique foods. And that includes ice cream that tastes like something you'd put on your Easter Table.
TASTE/SHOP: Milk Street Distillery, Branchville. Milk Street Distillery owners, Gordon and Mike Geerhart, were "in construction" before opening this labor of love in this blink and you'll miss it town. Their skills were obviously put to good use. The tasting room, carved from the shell of a 125-year-old building, with burnished hard wood floors and reclaimed-red-barn-wood-bar topped with a lacquered slice of tree trunk, is striking.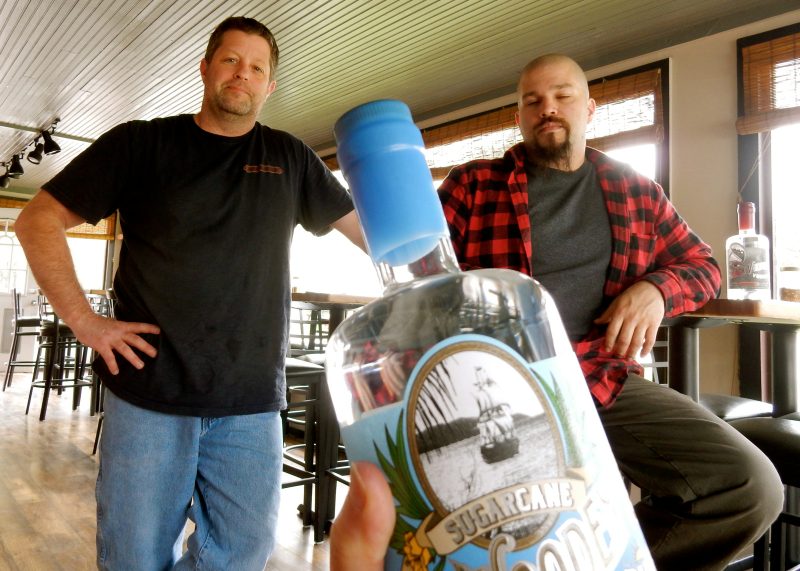 As pretty as the tasting room is, the cocktails – just $8 each – are even better, showcasing the house-made Black Vulture Vodka and Wooden Leg Rum to perfection. $8 for tour, 3 ½ oz tastings and shotglass. Open Fri. 4-8, Sat 1-7, Sun 1-6. Though no food is served, you can bring your own, and the local pizzeria delivers.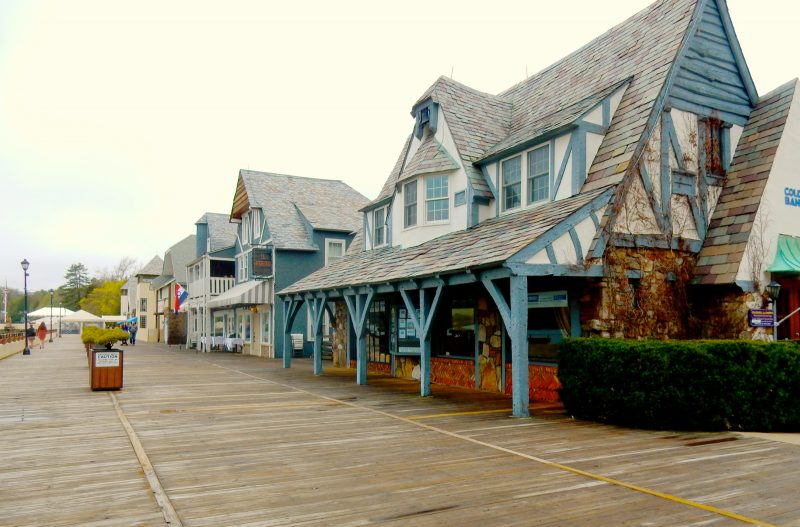 WALK: Lake Mohawk, Sparta. Promenade along the boardwalk that traverses Lake Mohawk. The whole town has the appearance of a Swiss Village – and this was by design. You'll feel as if you've stumbled into a European Alpine lake town.
Where to Eat in Sussex County NJ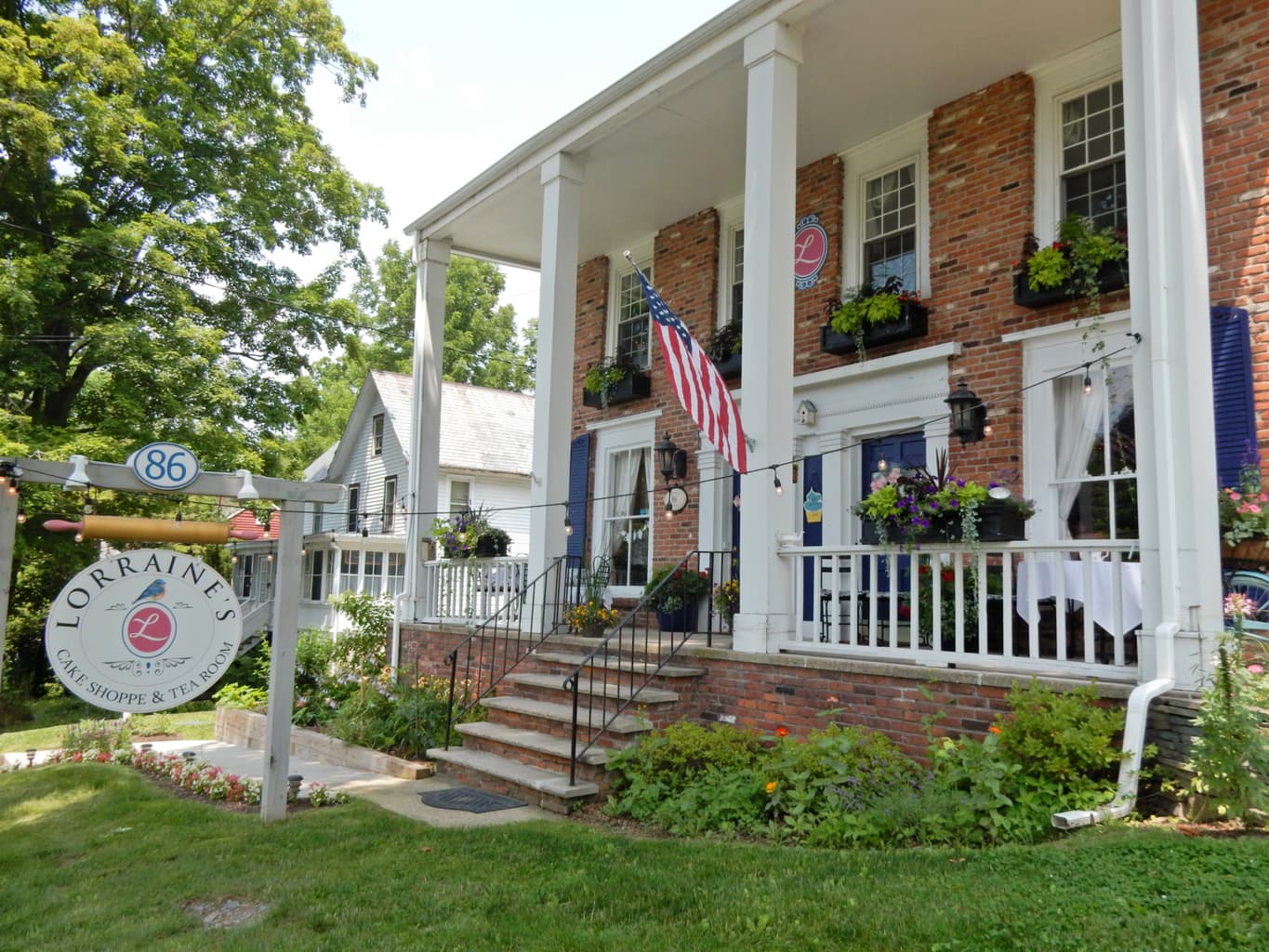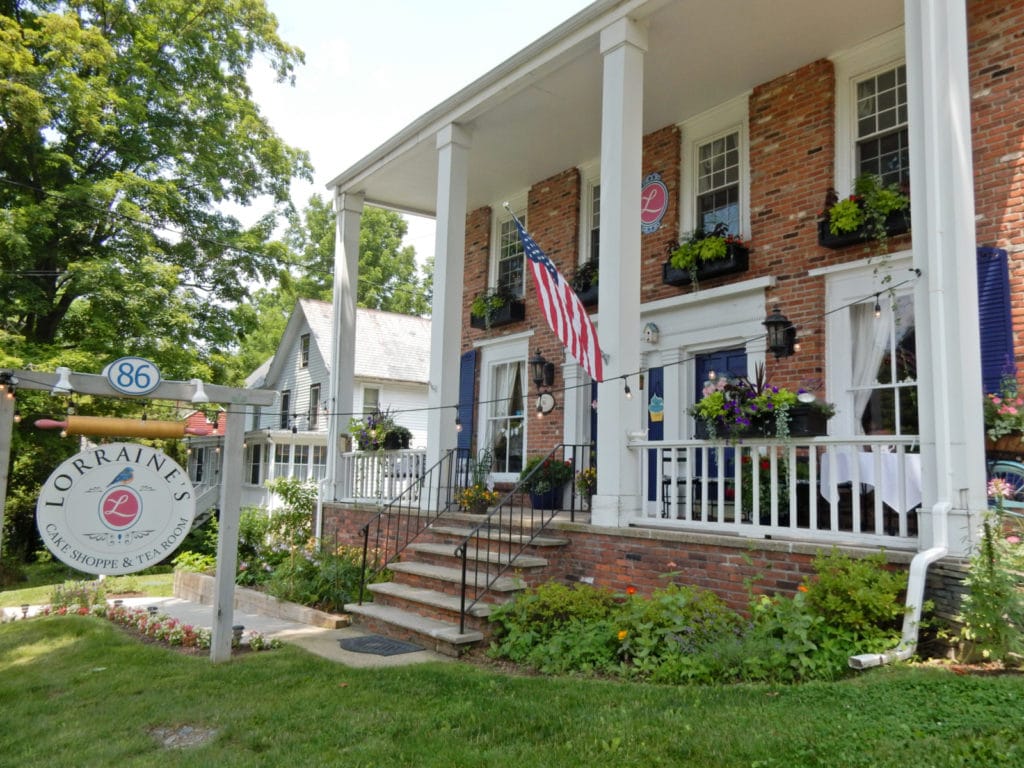 EAT/LUNCH/TEA: Lorraine's Cake Shoppe and Tea Room, Lafayette. Lorraine Perry was a homemaker who "loved to bake." And so, for her second chapter at age 47, Perry attended the French Culinary Institute in New York City: getting up at 3am to hop a bus five days a week for six months. She did several stints in area resorts, including Crystal Springs where Perry was a pastry chef. But she wished to open her own bakeshop and tearoom: a goal that she achieved in 2017.
Set inside a beautifully landscaped brick home, Lorraine's is a sweet romance novel of a place. Pin lights, crystal chandeliers, furniture, and mismatched china and teapots that she picked up from tag sales and Habitat for Humanity set the scene for an amazing meal.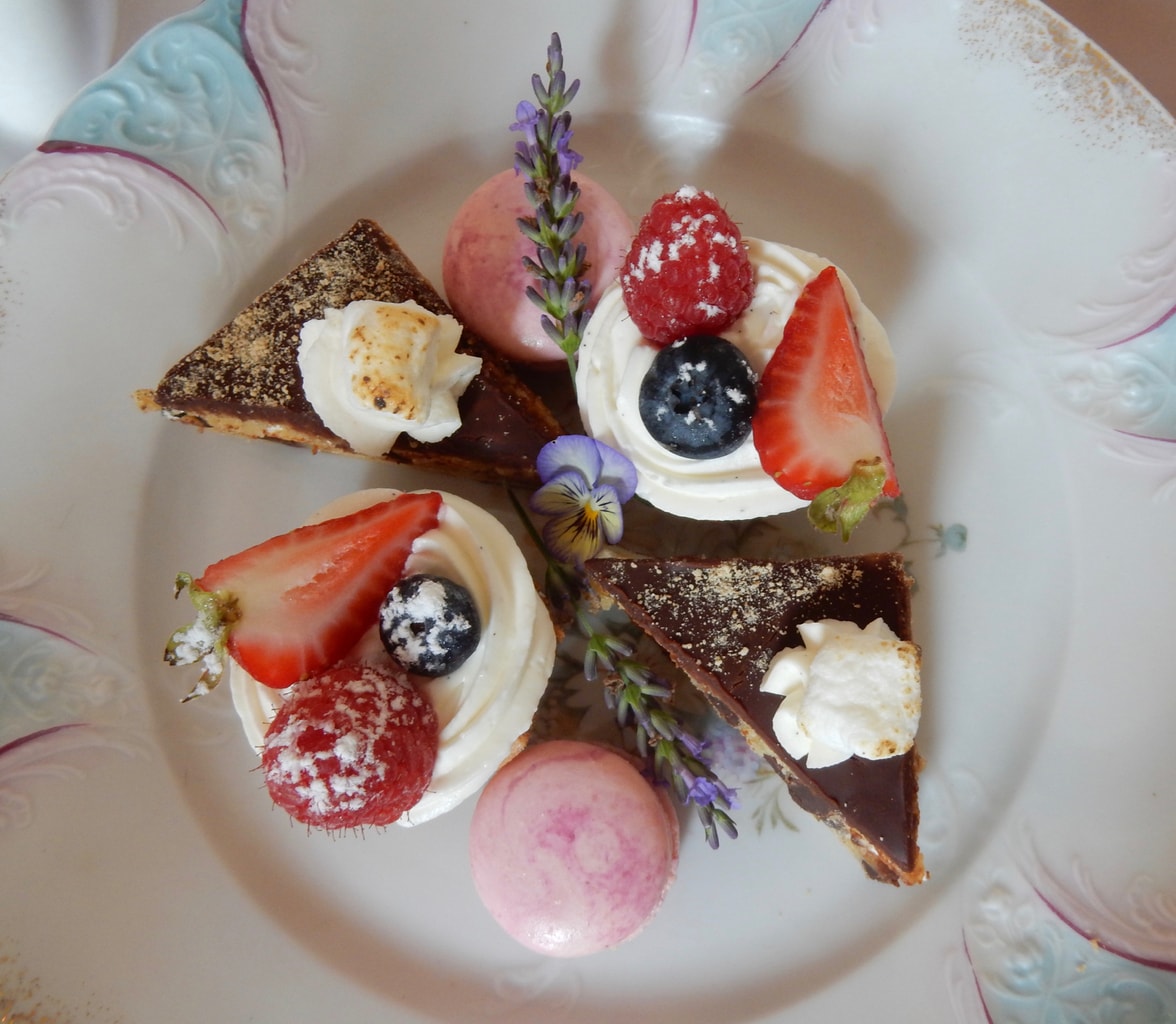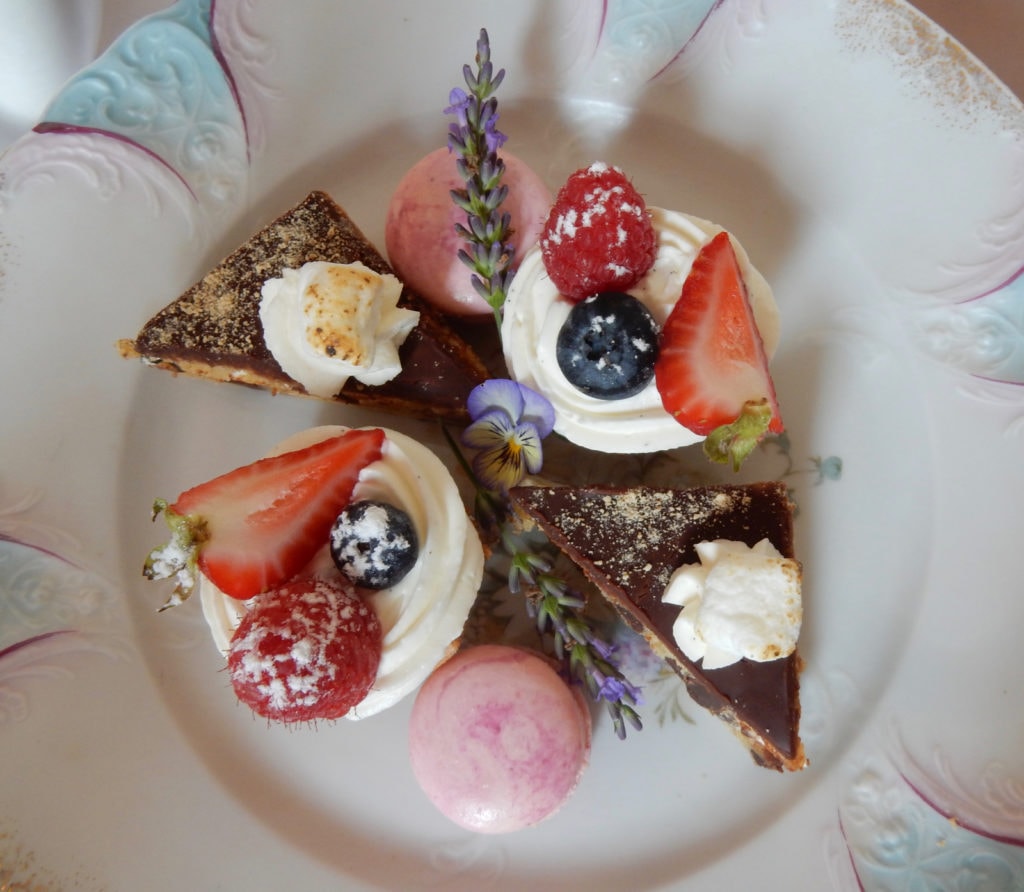 With emphasis on the food rather than the tea, you are in for a culinary celebration, especially if you go for the full "Queen Amelia" treatment ($29), which includes Tea, Quiche, Soup or Salad, Two Scones with clotted cream and citrus curd, Four Tea Sandwiches, Assorted Petite Pastries, and a Plated Desert.
Though you can scale it down to the "Princess Luci" ($17), for tea, scones, tea sandwiches, and cookies, Amelia provides the best opportunity to gaze upon and graze on some of the prettiest and tastiest foodstuffs (e.g. cheddar-chive and coconut lime scones, s'mores cake) I've ever had in a formal afternoon tea. RSVP Necessary. Sittings at 11am and 1:30pm, Wed-Sun. Options range from $17-$29.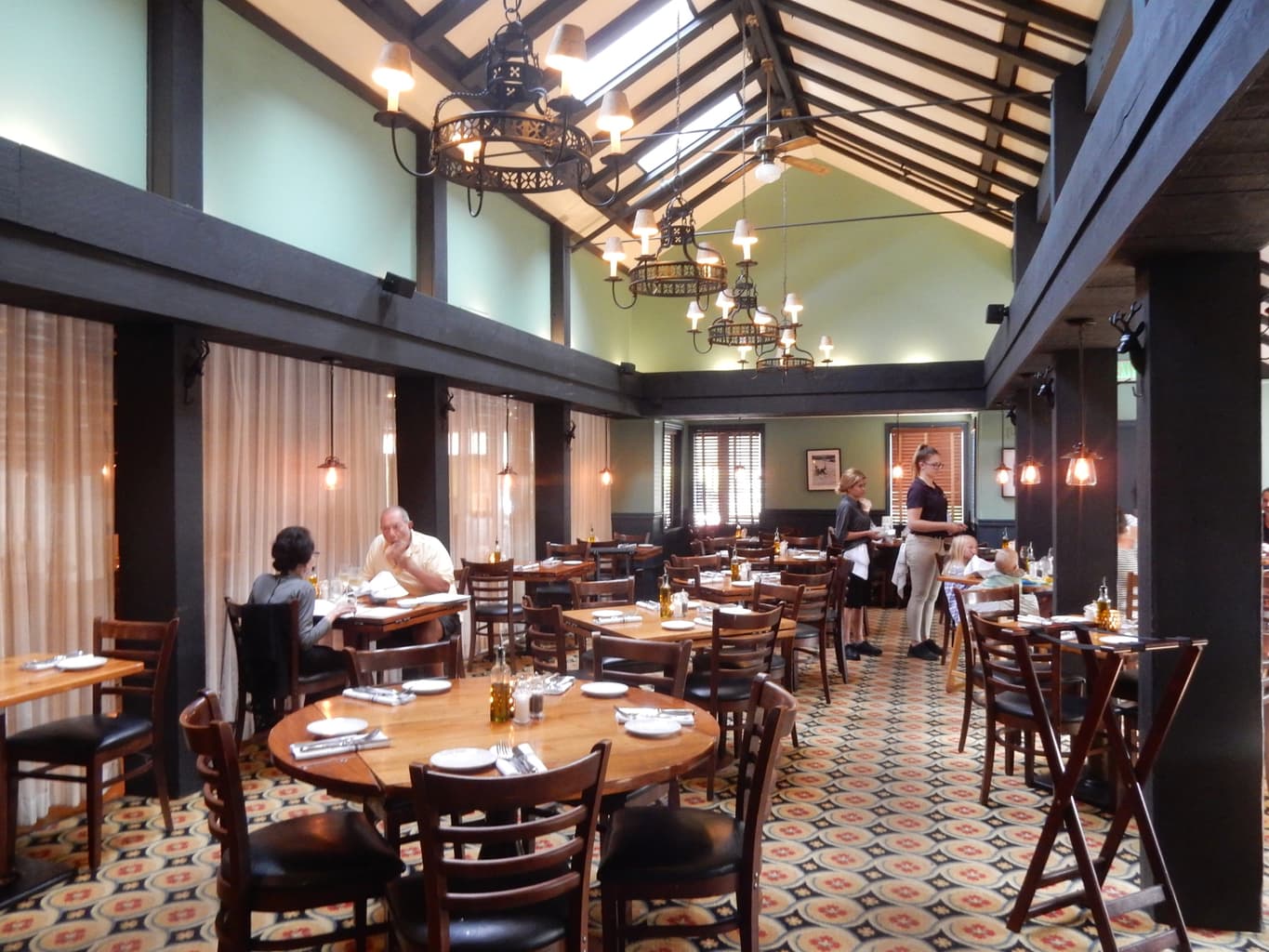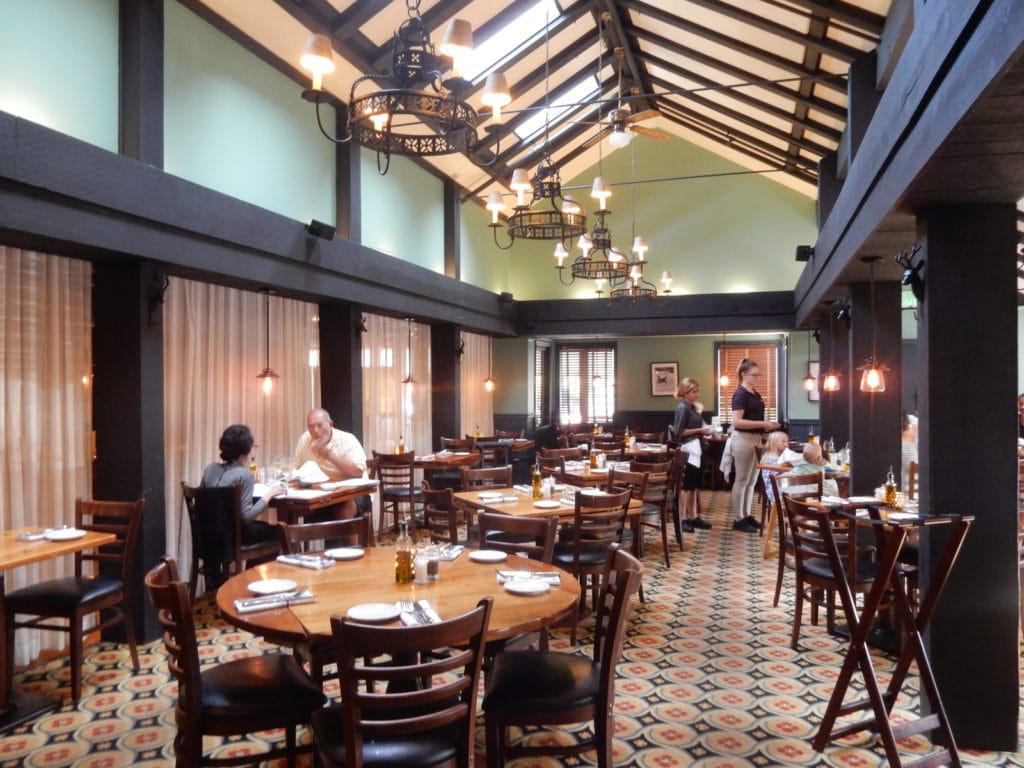 EAT: St. Moritz, Sparta. The first restaurant built in the 1930's when Lake Mohawk and its surrounding plaza was constructed, St. Moritz was a happening place. Ella Fitzgerald and Nat King Cole played here. Celebrities and celebrity hounds would make the then 2 1/2 hour trek from New York City after dinner, arriving here at 1am for drinks and the scene.
Over the years, St. Moritz went through name changes and owners. In 2012, Keith Holmes bought the Sparta landmark "right before Hurricane Sandy." Within days, the power went out and "we had to throw out all the food." Holmes was overwhelmed with gratitude when week after week post-Sandy, "people from the community poured in every Friday night to support us."
St. Moritz remains one of the most popular restaurant in Sussex County. Signatures include Wood-fired Salmon with Crispy Leeks ($25.99) and Chicken Schnitzel ($20.99), but if I lived closer, I'd return again and again for the addictive Sweet & Hot Calamari – lightly fried with the perfect blend of honey and kick.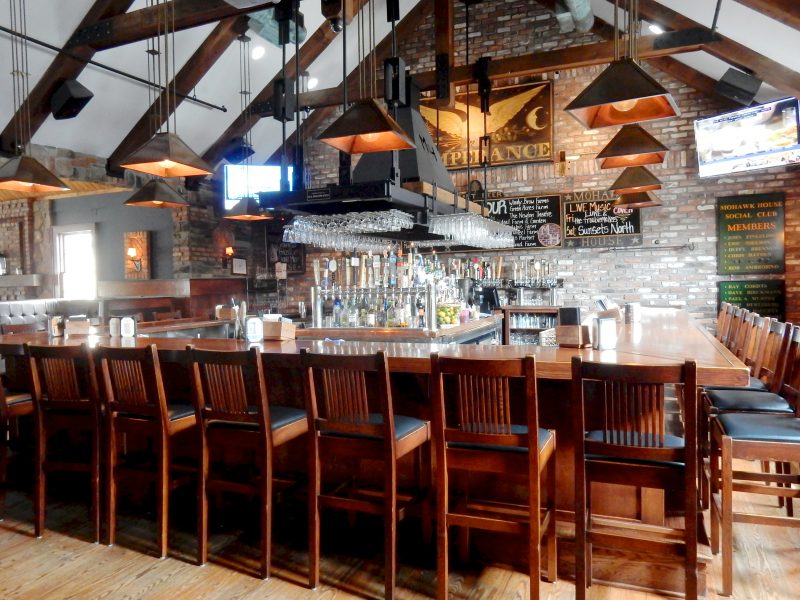 EAT: Mohawk House, Sparta. I'm still trying to decide where to fit this 350-seat restaurant, built from hyper local resources. Should it be listed in "Where to Eat," or "Things To Do?" Because it's worth seeing even if you just pop in for a look. Steve Scro and his wife, Rachael, had a vision, which in 2005 culminated in this Adirondack-style structure (that should not be confused with Mohonk Mountain House in New York), built out of Patterson NJ brick, fieldstone from surrounding land, reclaimed weathered wood floors from a nearby mill, and filled with furniture made by local artisans: touches of Sussex County in each room. "We built with our hearts," admits Scro.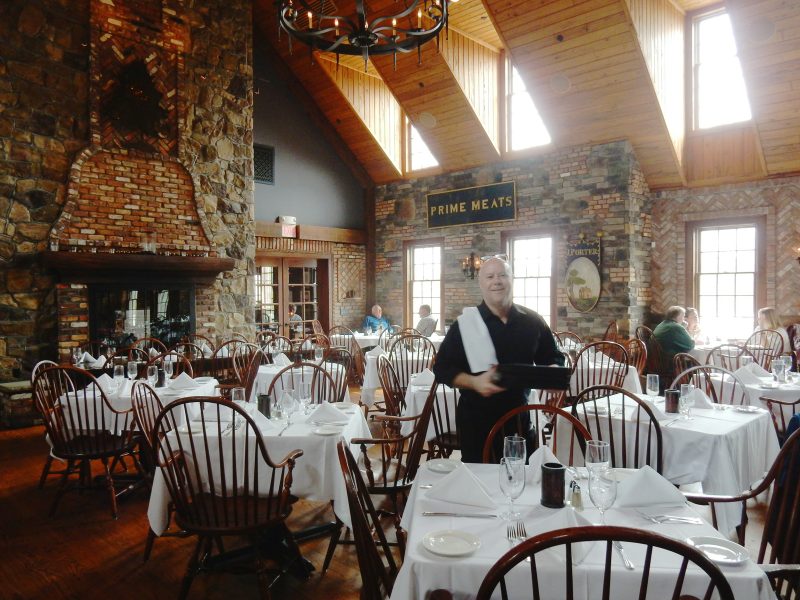 The Scro's also own a big Sussex County farm, and procure ingredients and goods from forty other nearby producers and artisans – from farms, ranches, breweries, and woodworkers. Their famous 10-Mile Burger (all ingredients sourced within ten miles) was featured on the Food Network. Water Buffalo meat and cheese comes from Green Acres Wantage, turkeys from Waterwheel Farm (Mohawk House does a major Thanksgiving business), and other purveyors arrive each day in pickup trucks laden with fresh wares. Scro is known for establishing first contact with local purveyors, in fact. He reached out to the Geerhart Brothers at the brand new Milk St. Distillery before they even had a chance to call him, much to their amazement.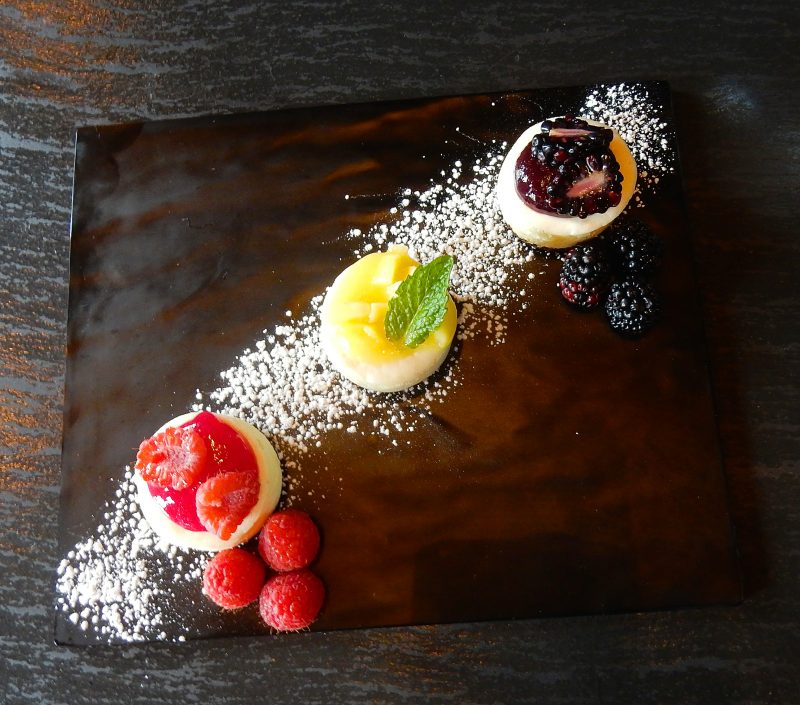 A destination restaurant, the food is innovative and sometimes downright brilliant: the likes of Alligator Pad Thai ($16), Seared Blue Crab Cake ($14), Ginger Beer, Orange Roasted Chicken ($28), and works of art like the Trio of Mini Cheesecakes. Happy hour is a party every day in the soaring bar area, where 56 – yes 56 – craft beers are on tap. Steve feels fortunate to be in the position to both support and feed his community. And it's not a stuffy place. "You can come in a three piece suit or in a t-shirt after mowing the lawn."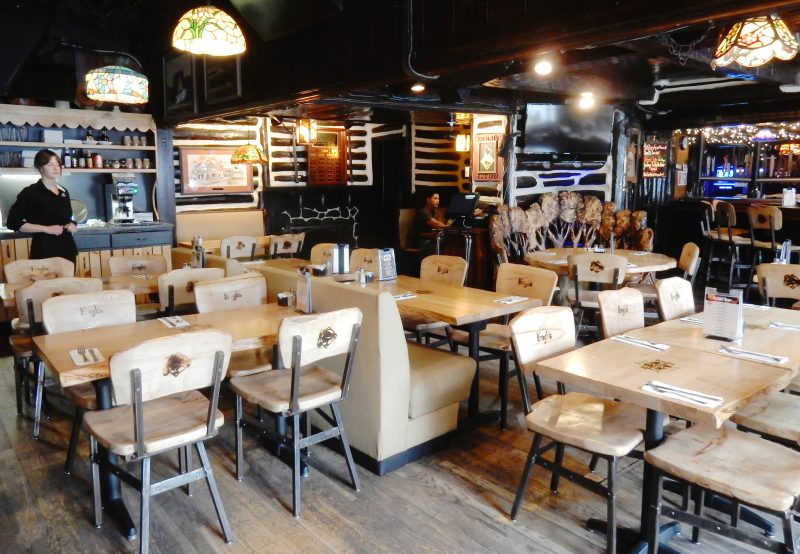 EAT: Krogh's Brew Pub, Sparta. Across from the Lake Mohawk promenade, what is now Krogh's was built in 1927 as a Trading Post (and is on the National Historic Register). The Fuch's family purchased the Bavarian/Swiss-style restaurant 36 years ago, hiring chainsaw carver, Brett McLain to design dramatic wooden doors and interior chairs as heavy as iron, giving the room a sort of Viking appeal. Krogh's added an on-site brewery in 1998 – the first Brew Pub in Sussex County. Now, it's a landmark and people come from all over the world to wander the Germanic-looking village, stepping inside for a fantastic burger, hot Panini, a pint or flight of excellent brews (the most popular – Red Ale) and perhaps a growler. 7-Flagship Sampler (2 pints total), $13.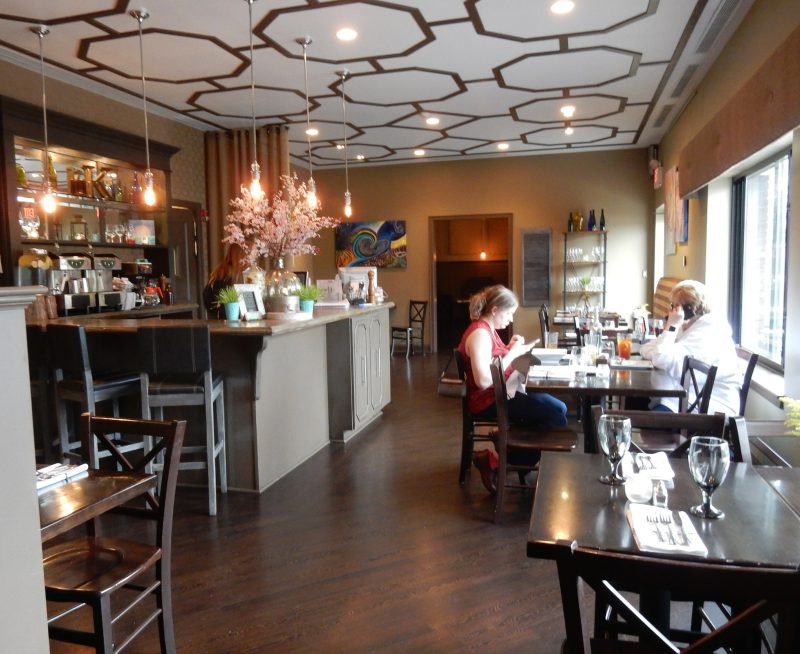 EAT: Krave Cafe, Newton. Locals rave about Krave. You'll find this little gem in a strip shopping center next door to a Quick Check. Food is as fresh as could be, very good, and reasonable priced. Try the Black Bean Quinoa Burger ($11), Beef Short Ribs ($20), Chicken Cassoulet ($16) or any special offered. This cool and stylish spot is a local favorite for a reason .
Where to Stay in Sussex County NJ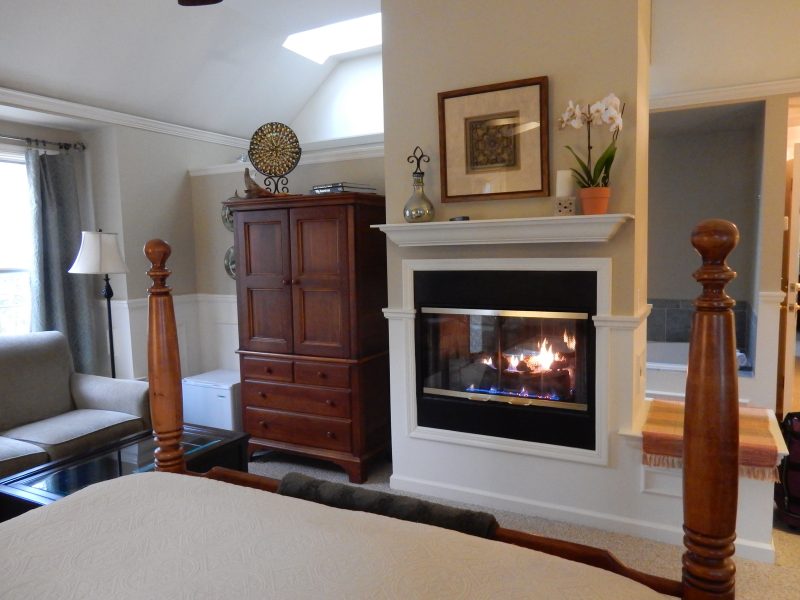 STAY/QUIET: Wooden Duck B&B. If you're seeking a place that provides serenity and peace just an hour from New York City, you won't find better than the 10-room Wooden Duck B&B. Jason and Maryann Jerome took over as innkeepers three years ago, painted walls with color and put their own stamp on this elegant, luxury out-in-the-country inn. The Wooden Duck B&B is a Maven Favorite, with a full write up HERE.
STAY/ACTIVE: There are two notable resorts in Sussex County NJ for the active traveler: Grand Cascades Lodge at Crystal Springs Resort for the discerning wine lover and golfer, Mountain Creek Resort for the winter sports and Water Park fanatic. Click on each for more information and photos.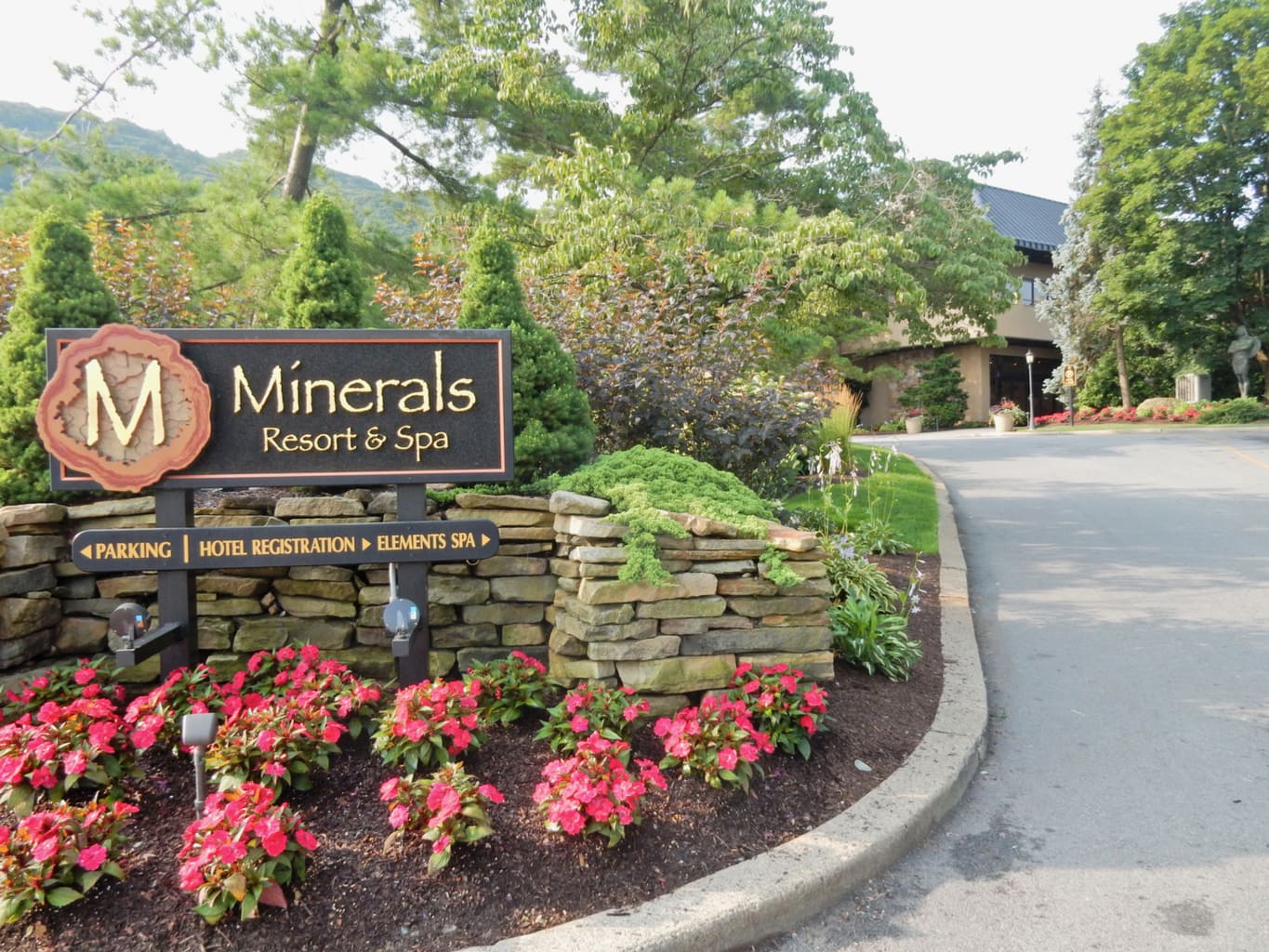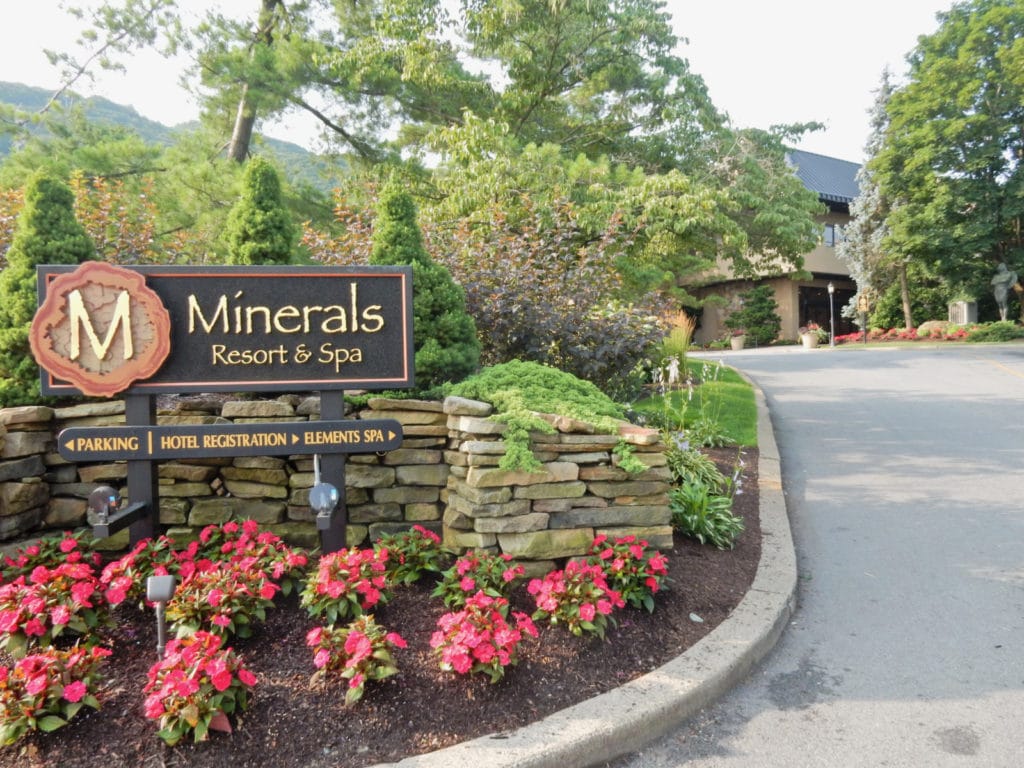 STAY/FAMILY: Minerals Hotel @ Crystal Springs Resort. Part of Crystal Springs, but located closer to Mountain Creek, what Minerals Hotel lacks in luxurious appointments, it more than makes up for in fitness classes, water features, sports, and intensive programming.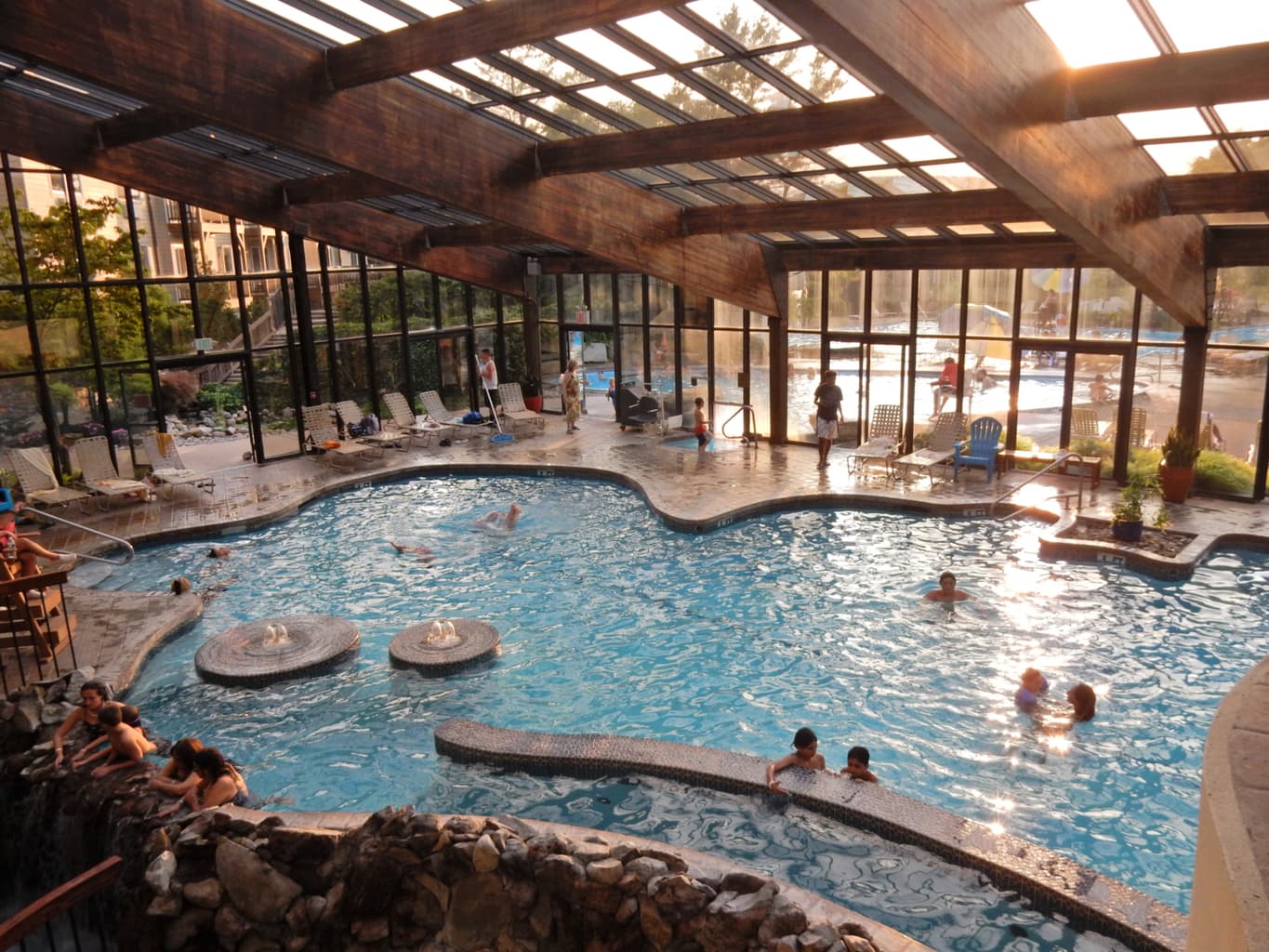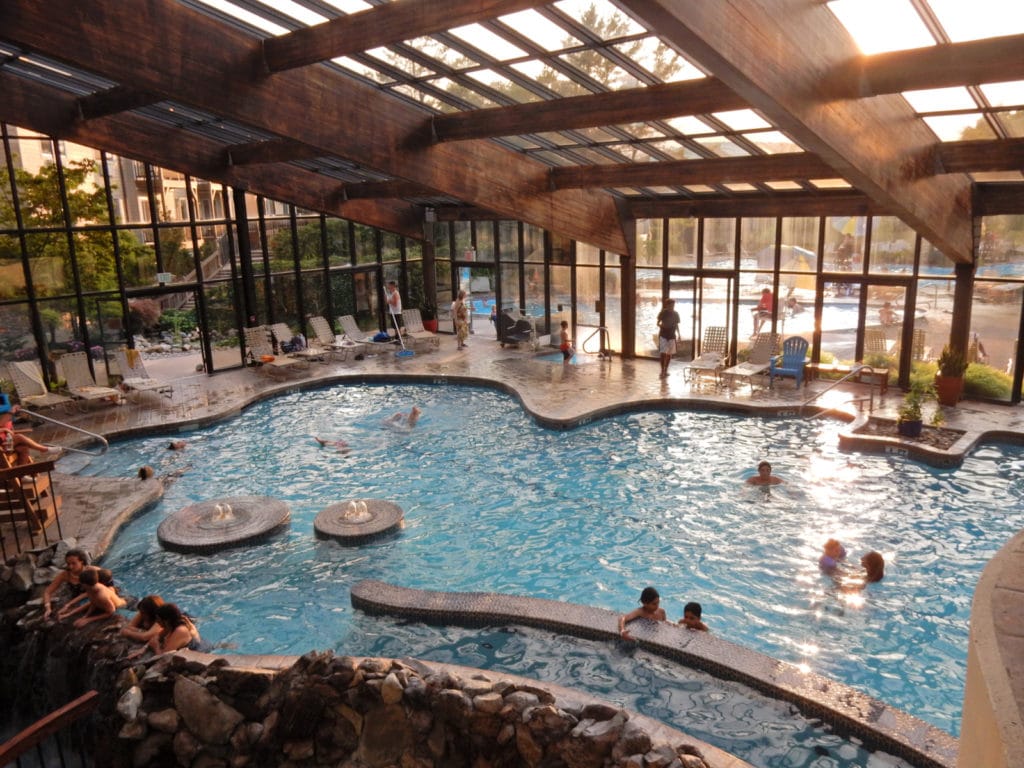 If you want lap of luxury, stay elsewhere. If you want to be active and engaged every minute of your day, stay here. The property, common areas, and rooms are nice and clean. Reception is friendly and helpful. But the indoor pool and outdoor pools are knock-you-socks off large and a huge enticement to do nothing else but get pruned in the water.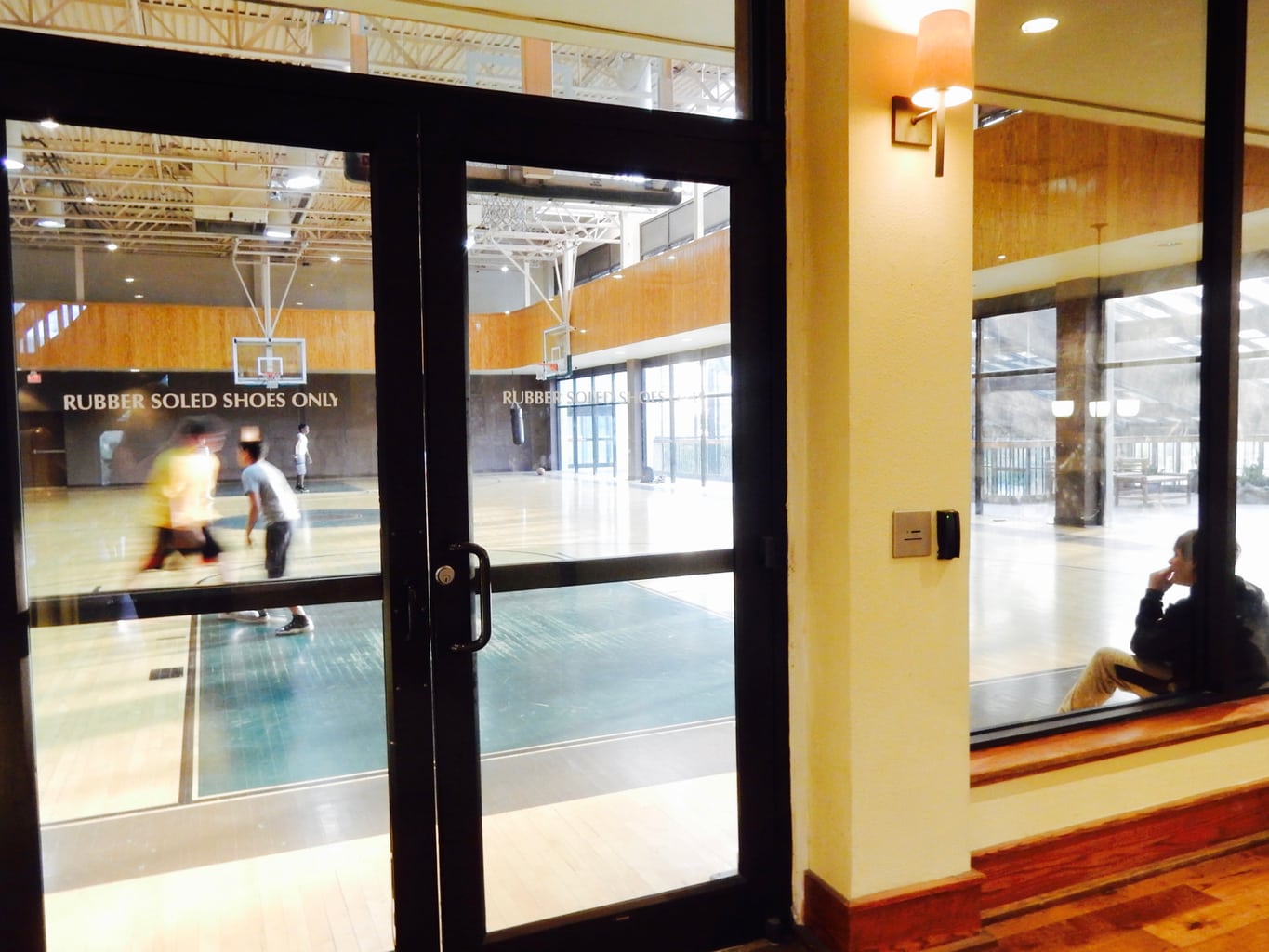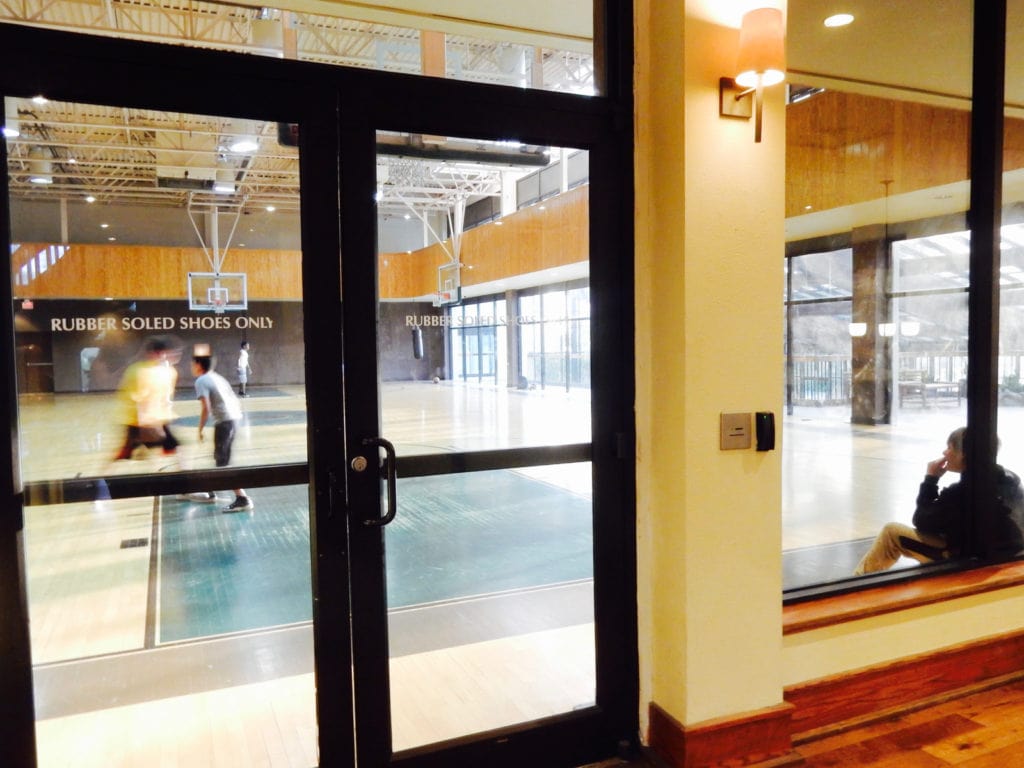 However, there's also indoor basketball, racquetball, and other sports courts; yoga; fitness classes (including Pole dancing!), and 80 more programs, some free some with fees (like Paint and Sip: Lemonade Mason Jar, $15). Rooms range from $199 per night off peak to $600 for suites in season.