Last Updated on
The "Assembly" of Assembly Row, a mixed use development just outside of Boston, refers to the factory on this site that produced Ford automobiles, including the doomed Edsel, from 1926-1958. The developers of Assembly Row in Assembly Square – a relatively new neighborhood in Somerville MA – have revitalized this once blighted, formerly industrial 45 acres with outlet stores, a cinema, restaurants, and the excellent Row Hotel at Assembly Row, an Autograph Collection boutique.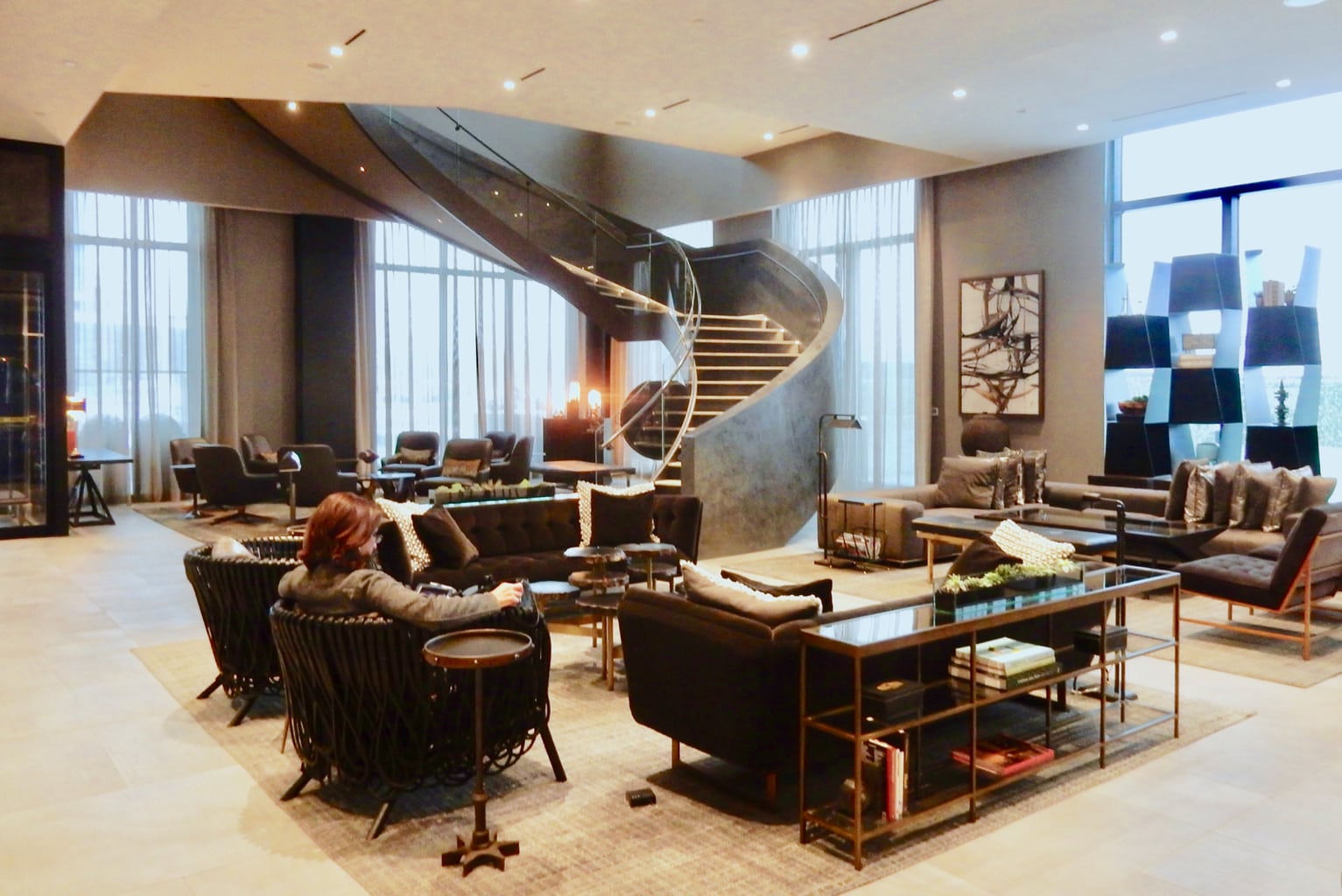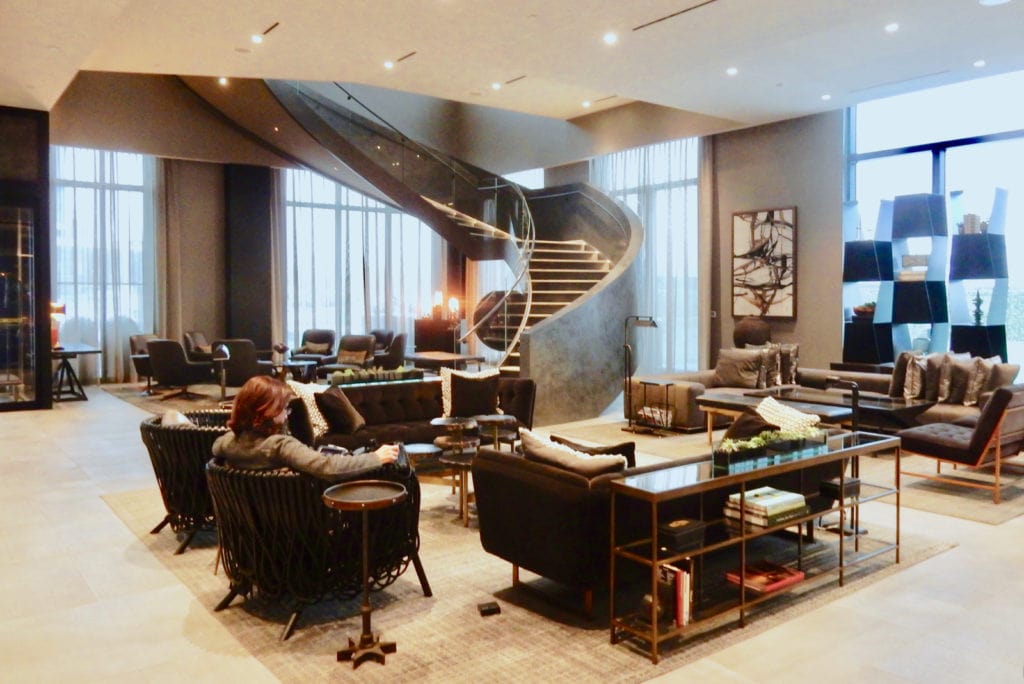 The vast open lobby could feel cold and impersonal were it not for clusters of seating and eclectic furnishings, inviting intimate conversations; warm sunlight streaming through floor to ceiling windows; and the juxtaposition of industrial elements and sophisticated design. The sweeping spiral staircase edged in glass and galvanized metal leads to the 2nd floor where you'll find an indoor pool and well-equipped fitness center.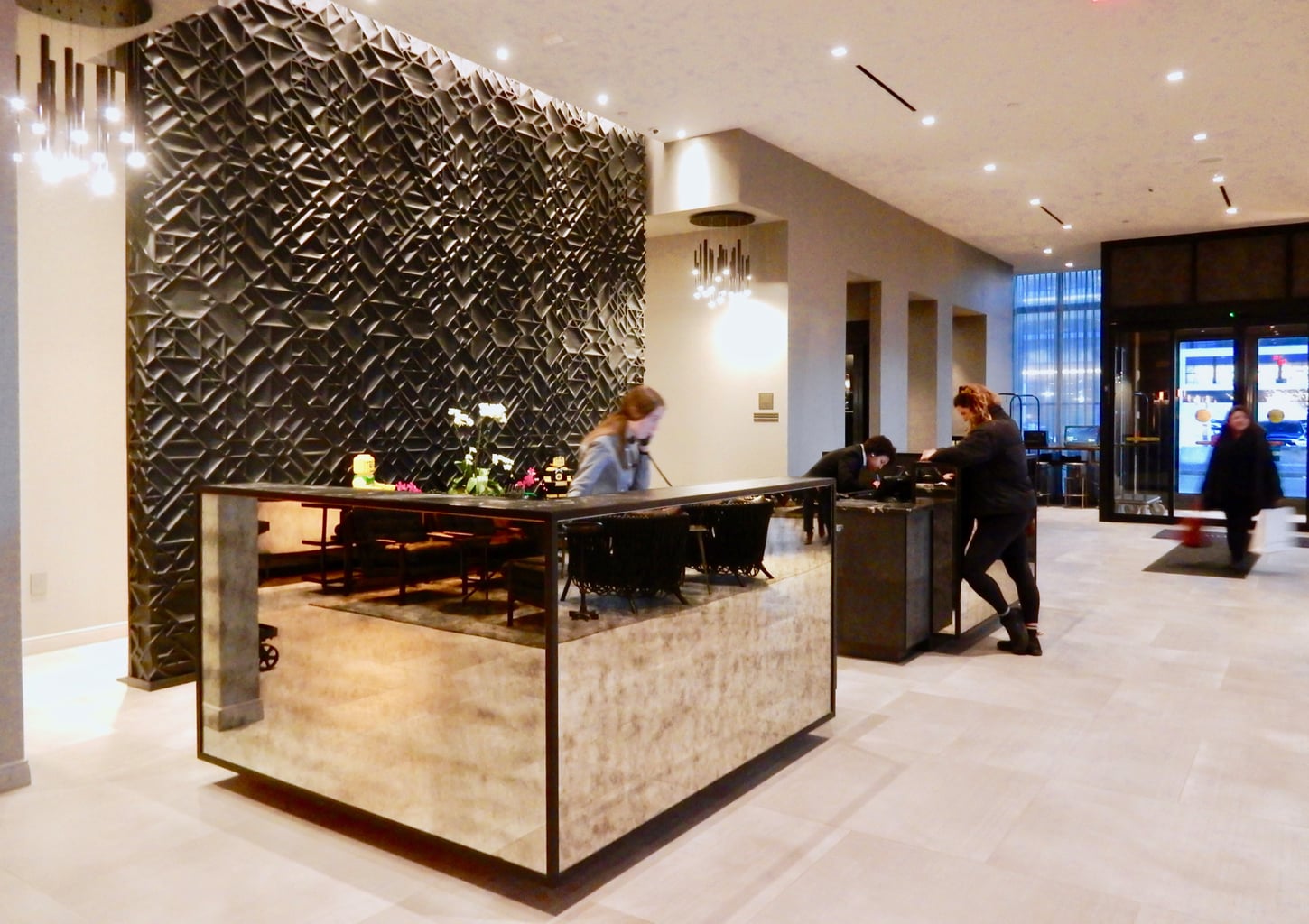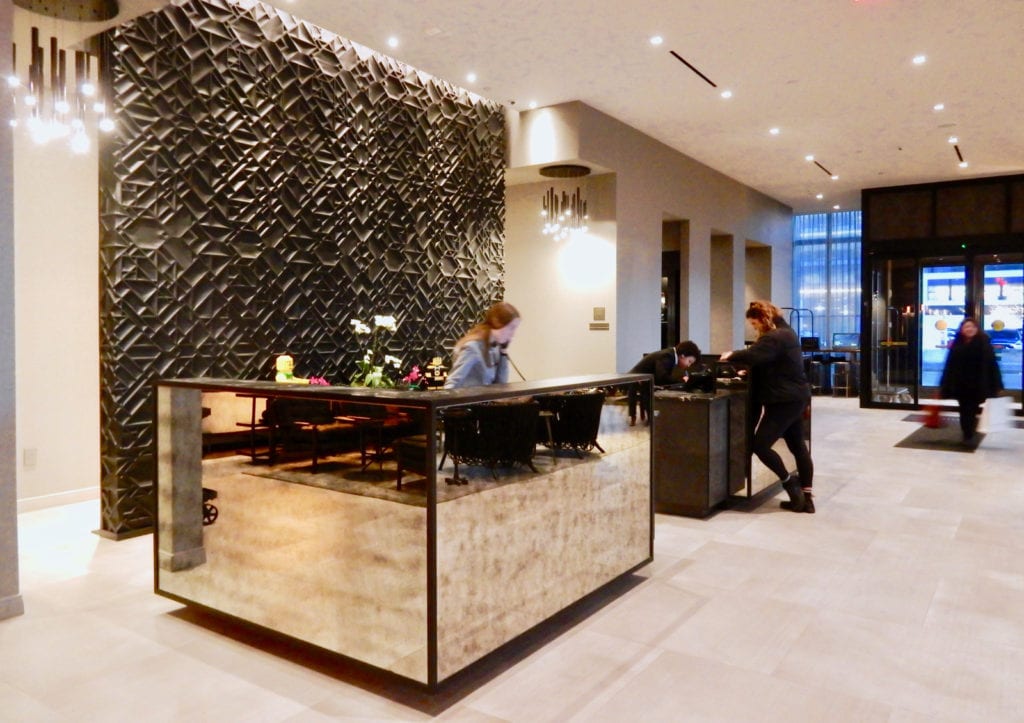 Textured tiles that evoke cast iron molds – nods to the site's former identity as a Ford Assembly Plant – back antique mirrored reception desks where friendly and helpful staff seem unfazed by the hordes of kids and their parents who check in for "Staycations" (the pool upstairs and Legoland Discovery Center down the street are both huge draws) on weekends.
Artwork, mostly sculptural, that plays off the area's industrial past, is in abundance throughout The Row Hotel. Artist Feliciano Bejar's Magiscopes, whimsical sculptures made of glass prisms and lenses atop reclaimed automotive parts, play with refractions of light and embody both the location's history and, according to its stated description, "the hotel's promise to open guests' eyes to a delightfully uncommon experience of Boston." The lobby lounge-restaurant, Reflections, is named for Bejar's creations – and offers guests drinks and bites throughout the space.
Rooms at The Row at Assembly Row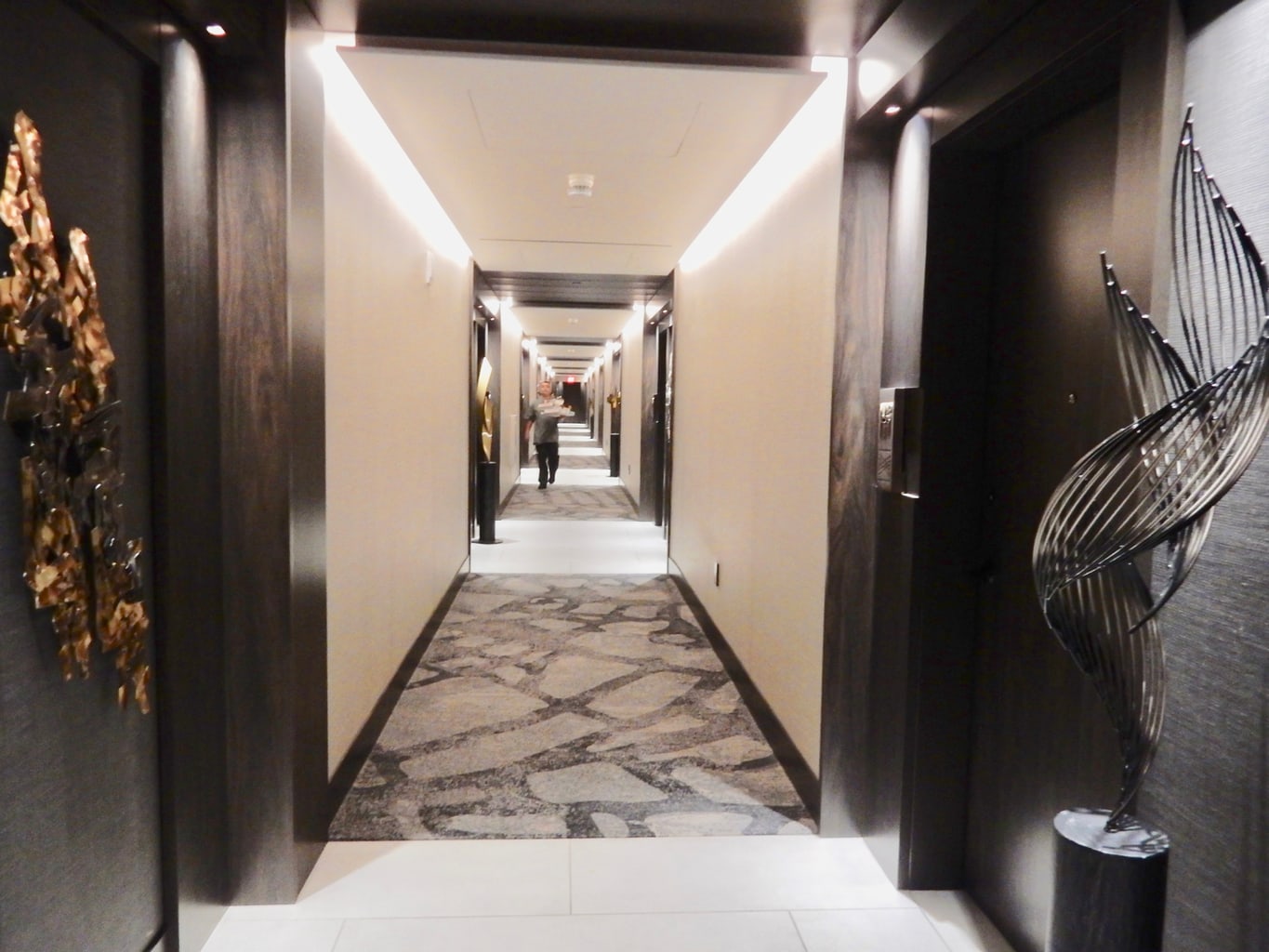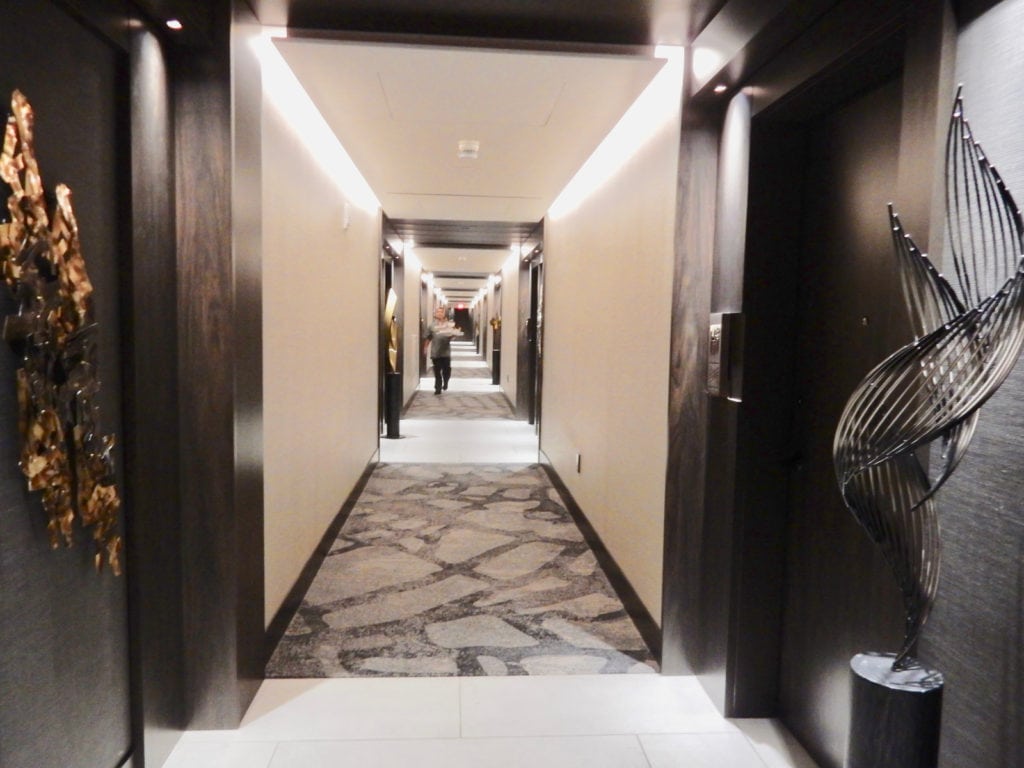 What first captures your attention as you make your way down the hall are the small steel sculptures outside each guest room – evoking a sense of the location's industrial past while honoring (and benefiting) artists of today.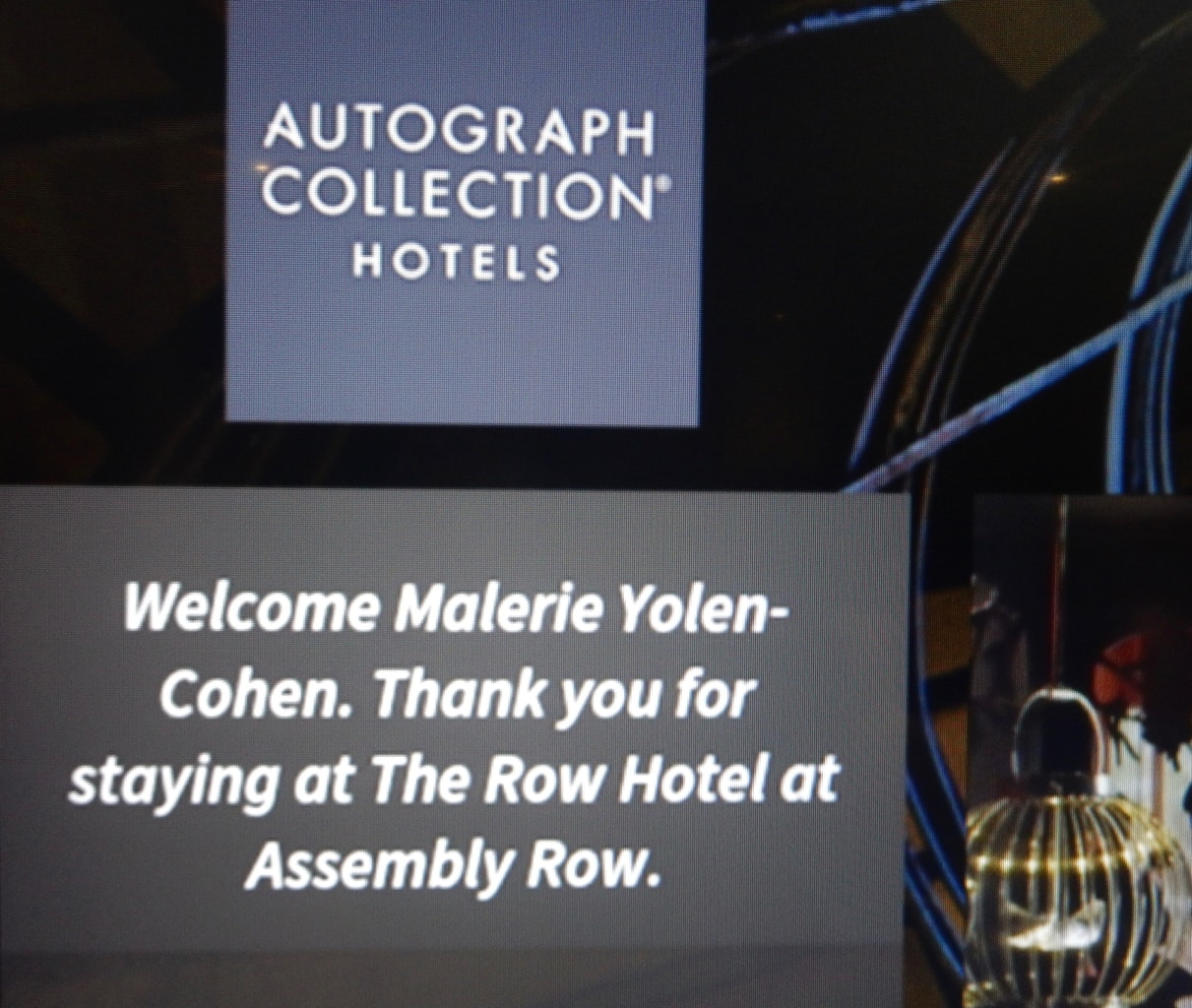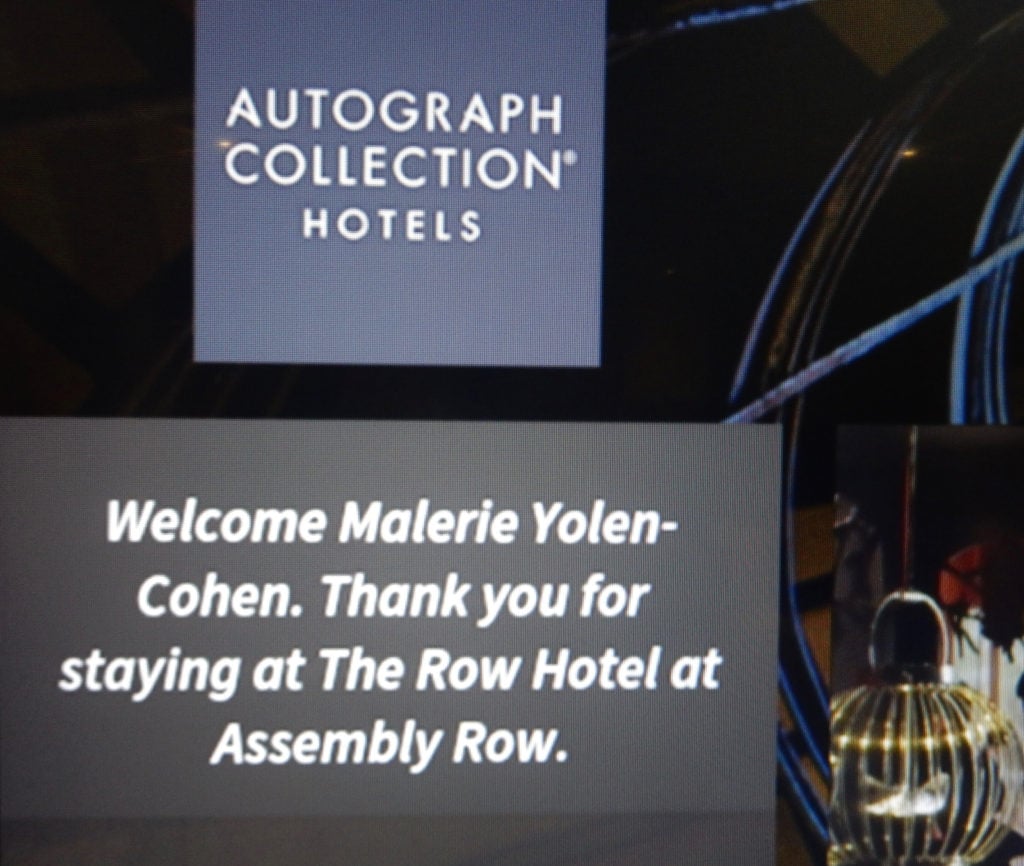 Travelers are welcomed by name – projected on a huge flat screen TV that takes up most of one wall. It's a great personal touch that humanizes the first few moments of a stay here.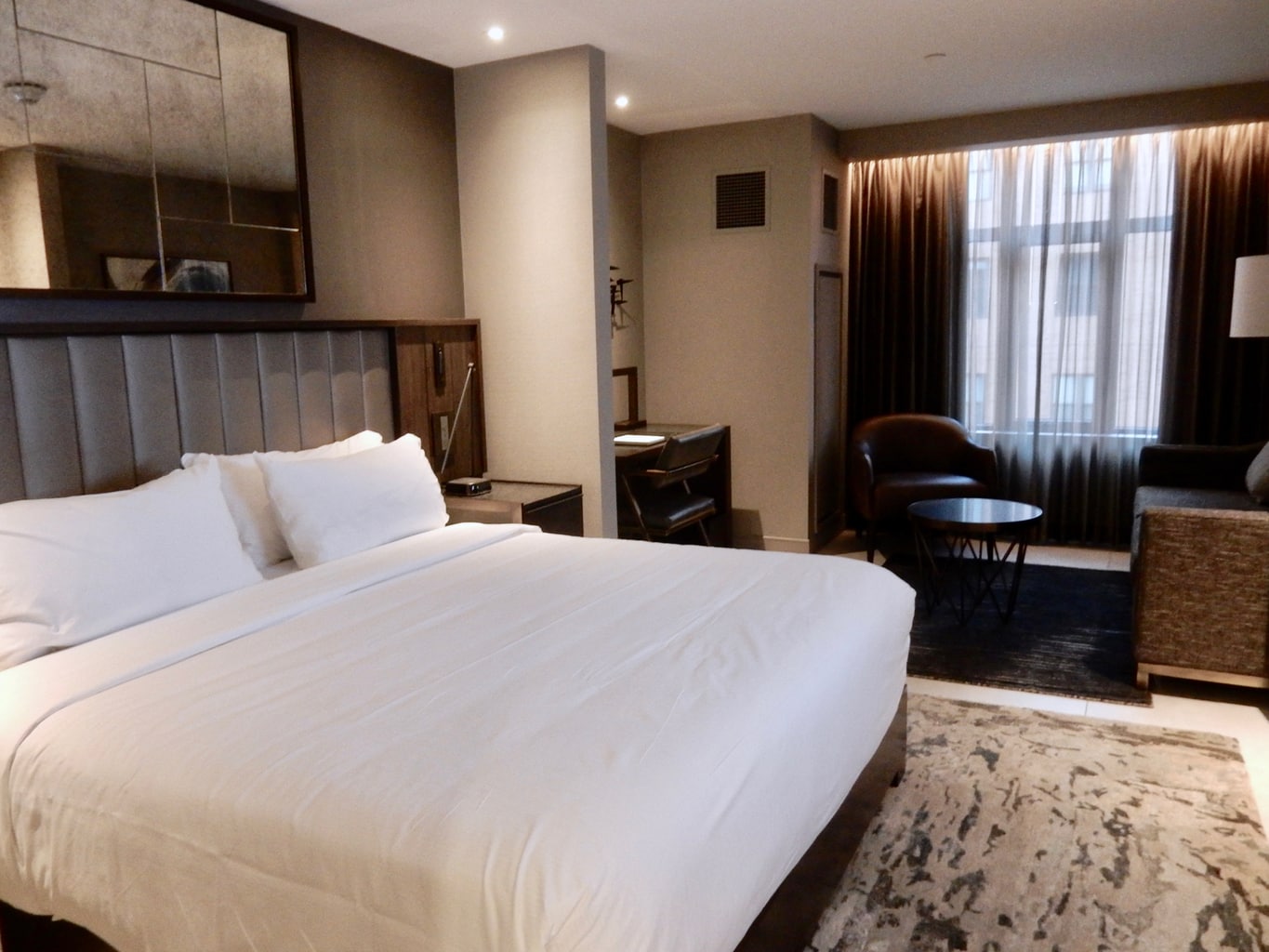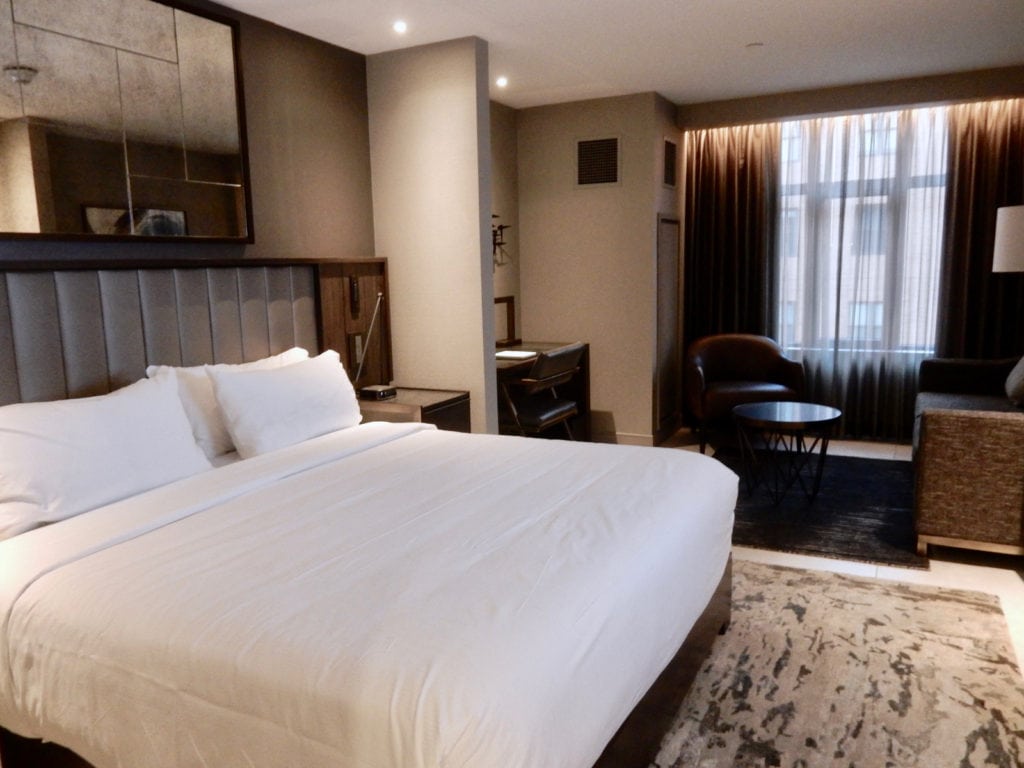 Each of The Row's 158 rooms is handsomely dressed in earth tones, with leather seating, tailored and ultra-comfy Serta beds, a huge "smart" flat screen TV, and sculptural area rugs and art. In room amenities include CO Bigelow Toiletries, Illy espresso machines, and Dammann Freres French tea. Thankfully, there are outlets and USB charging ports on bedside tables, so no need to search on hands and knees for a place to plug in.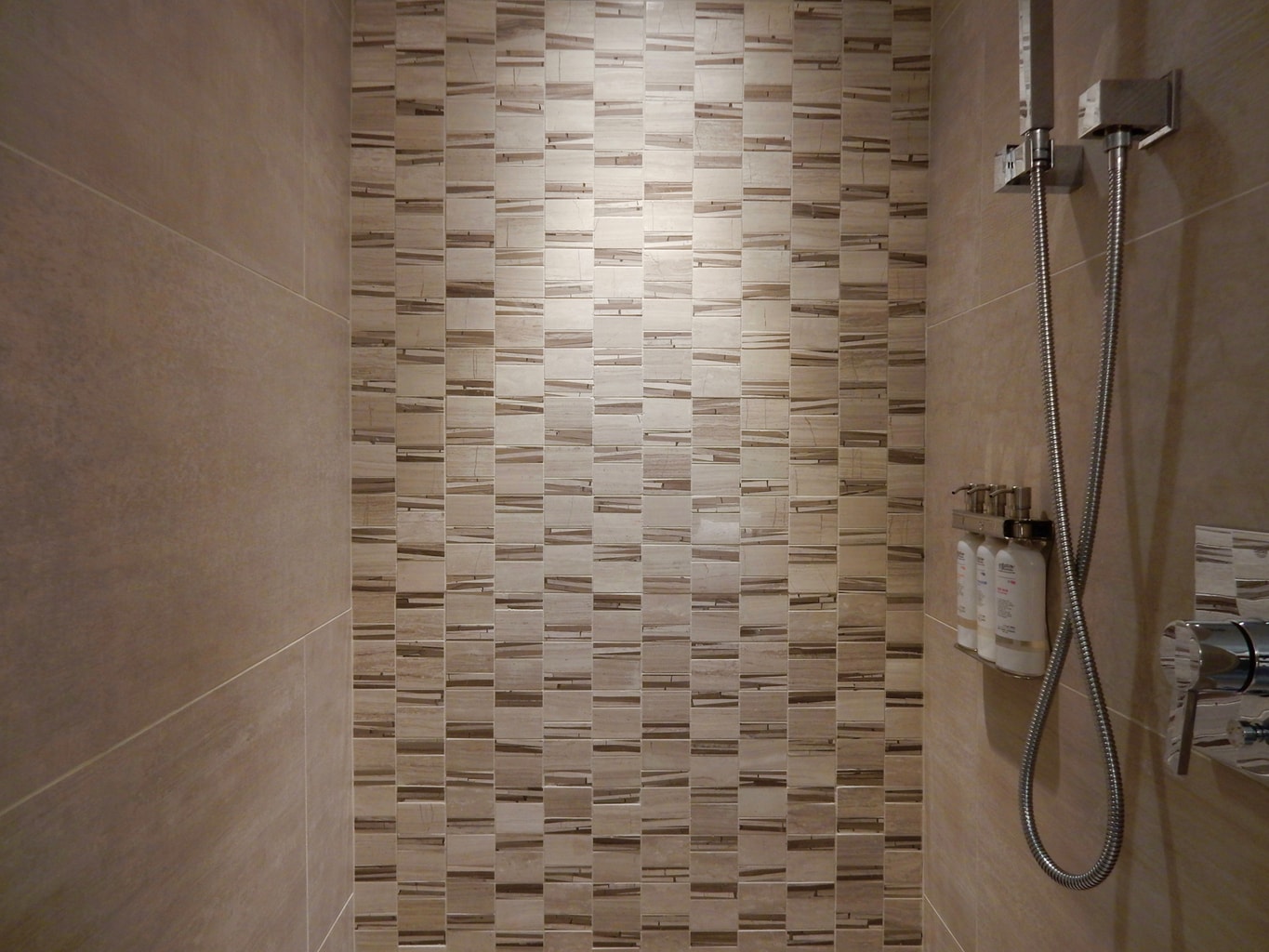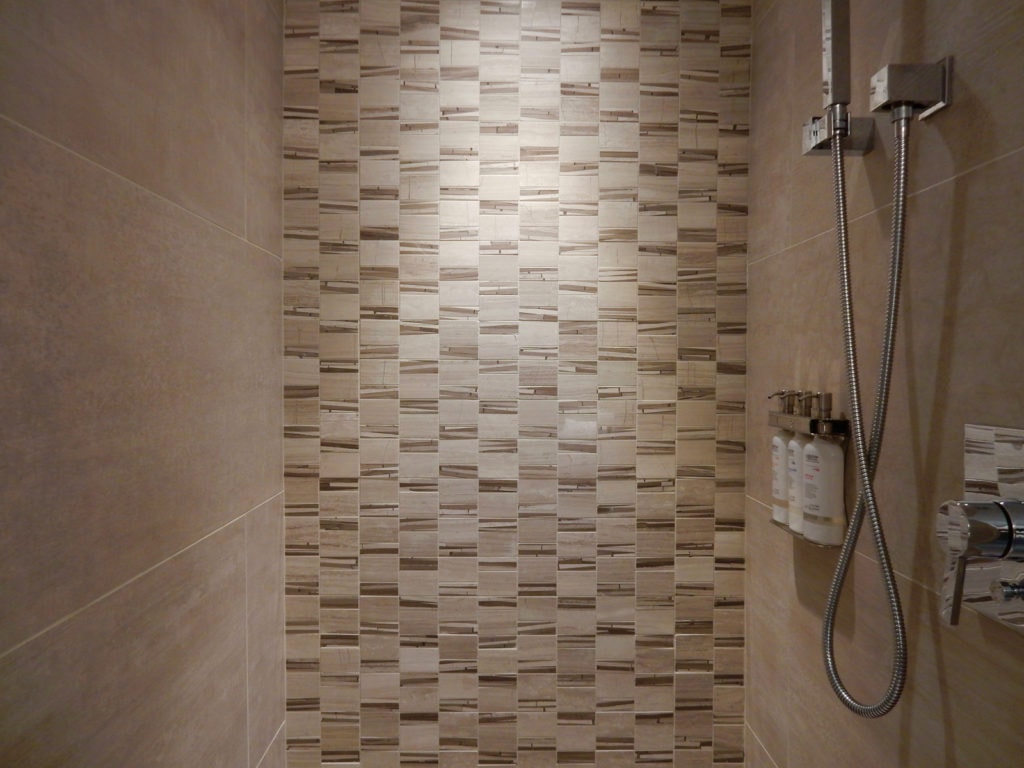 Bathrooms, each featuring one on-trend reclaimed barn-wood wall, blaze with light from above and around a large mirror (thank you, Row Hotel designers, from the bottom of my makeup-applying heart). Two separate frosted glass doors lend privacy to the toilet and artful mosaic rain shower.
Dining at The Row Hotel at Assembly Row
There are plenty of options right outside the hotel door, and even through the lobby, where you'll find La Cucina Italian Restaurant.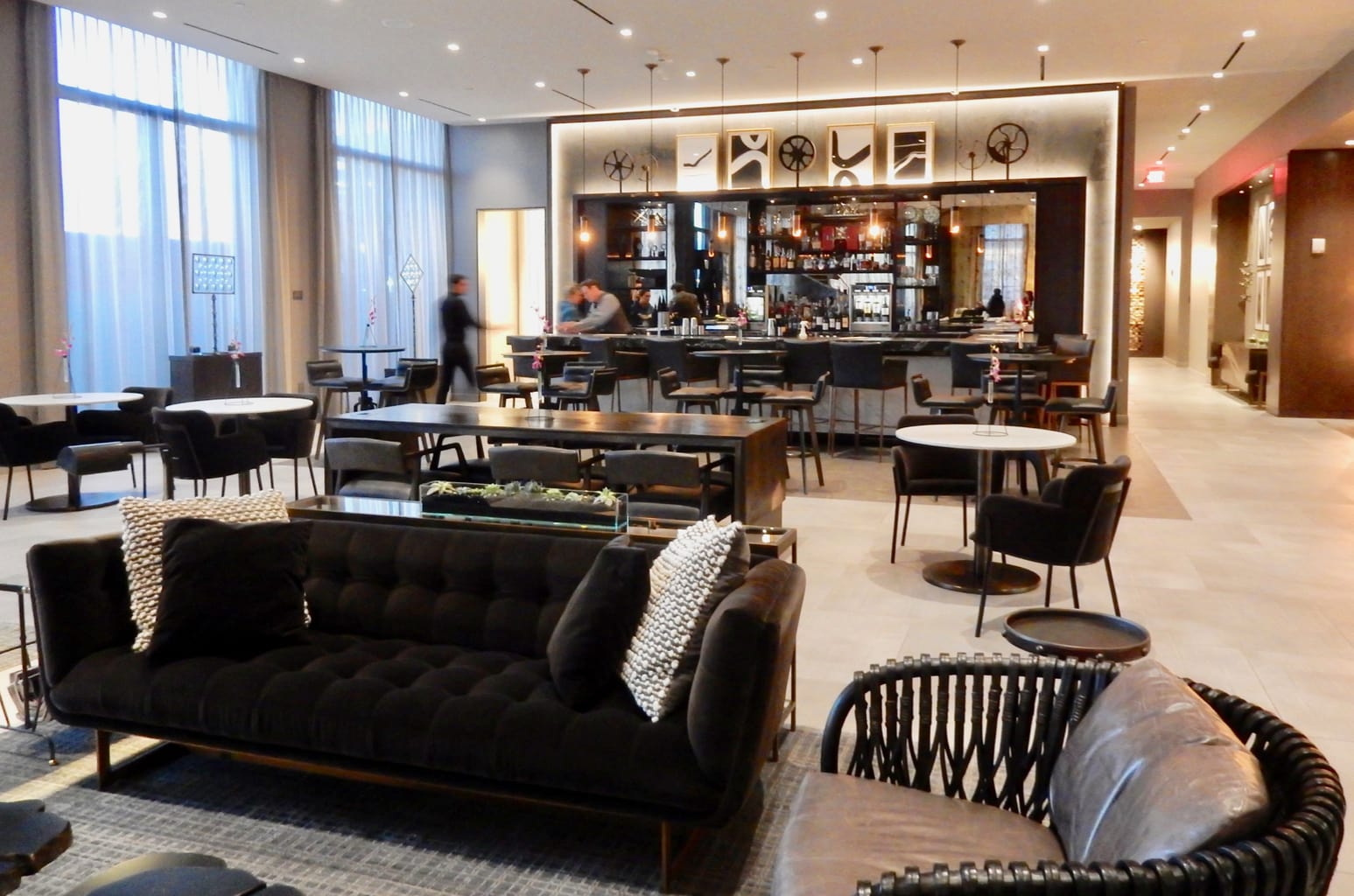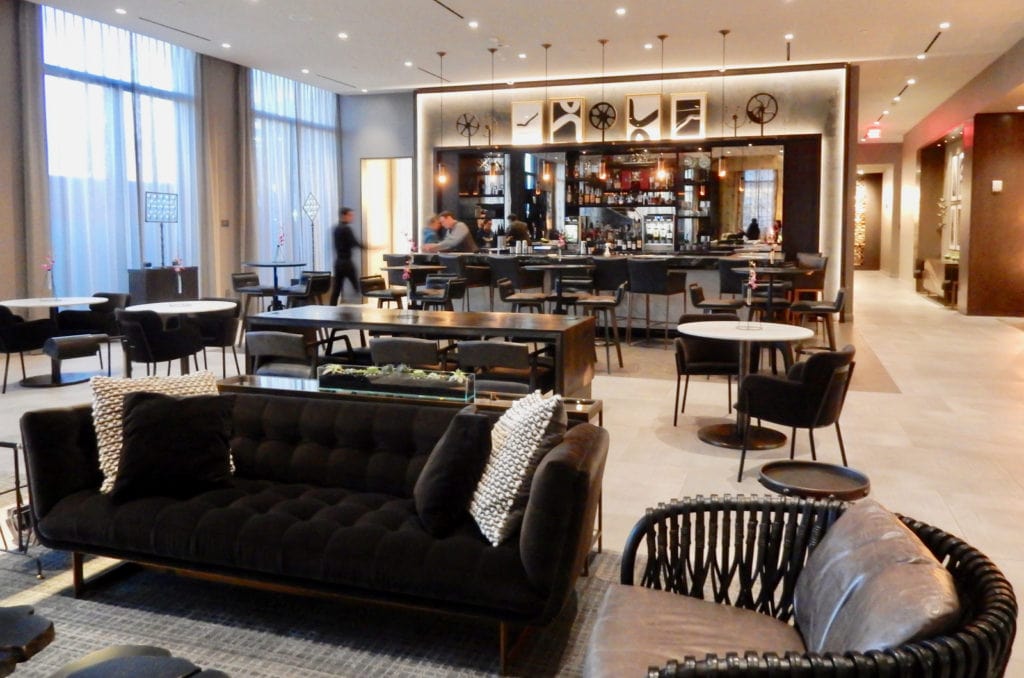 But, should you just want to stay in and share small bites like Heirloom Tomato and Maplebrook Burrata Salad with crumbled olive, basil, and Maldon sea salt; Pollen Dusted Salmon with sunchoke puree, artichoke and radish salad, pea sprouts and citrus; and Uncommon Carrot Cake which features carrot cake "fries" alongside a cream cheese dipping sauce and spiced golden raisin jam, accompanied by a craft cocktail or glasses of fine wine, you can certainly do that in the lobby restaurant, Reflections.
Amenities at The Row Hotel at Assembly Row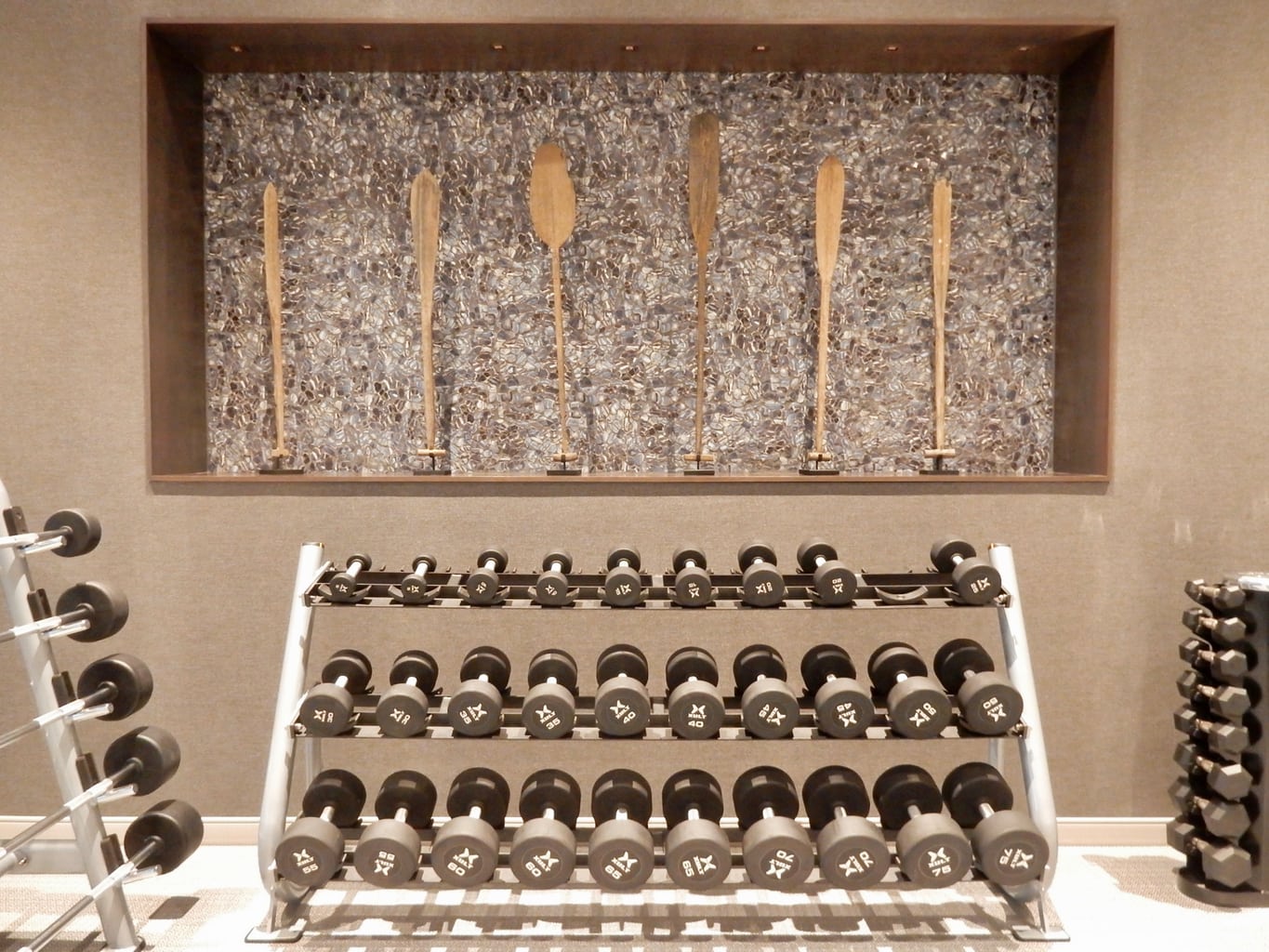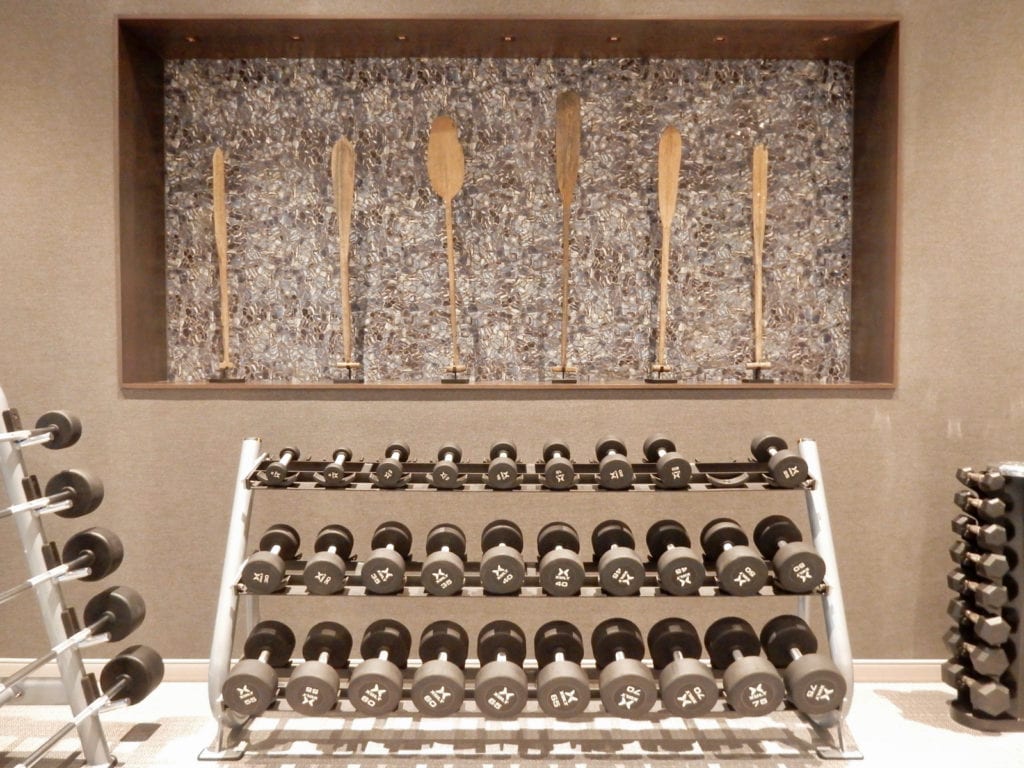 A very large high-ceiling 24 hour fitness center features Martrix® cardio and training equipment, including treadmills, total-body elliptical, and cross-training machines, spin bikes, a full line of free weights and Fitness on Demand.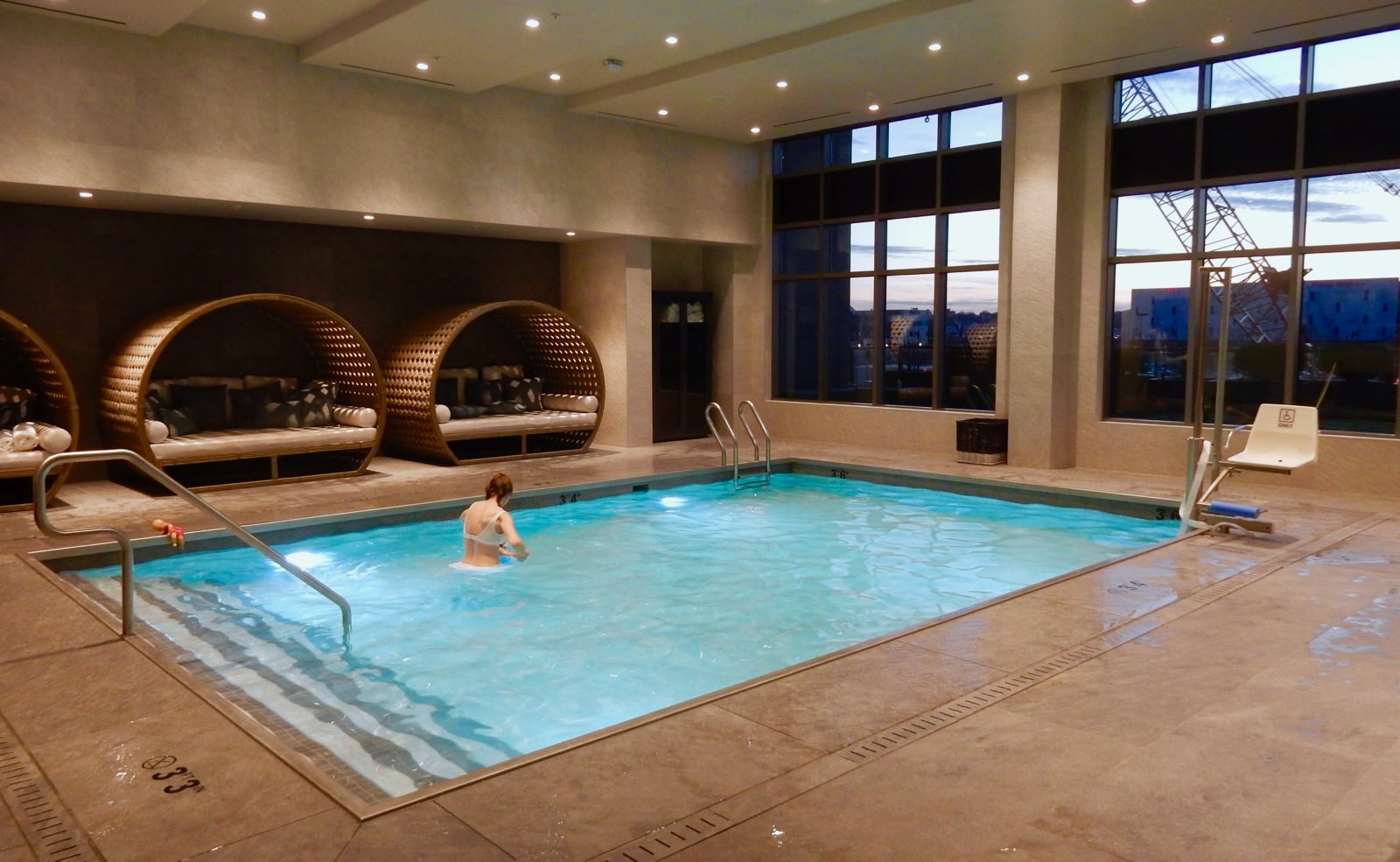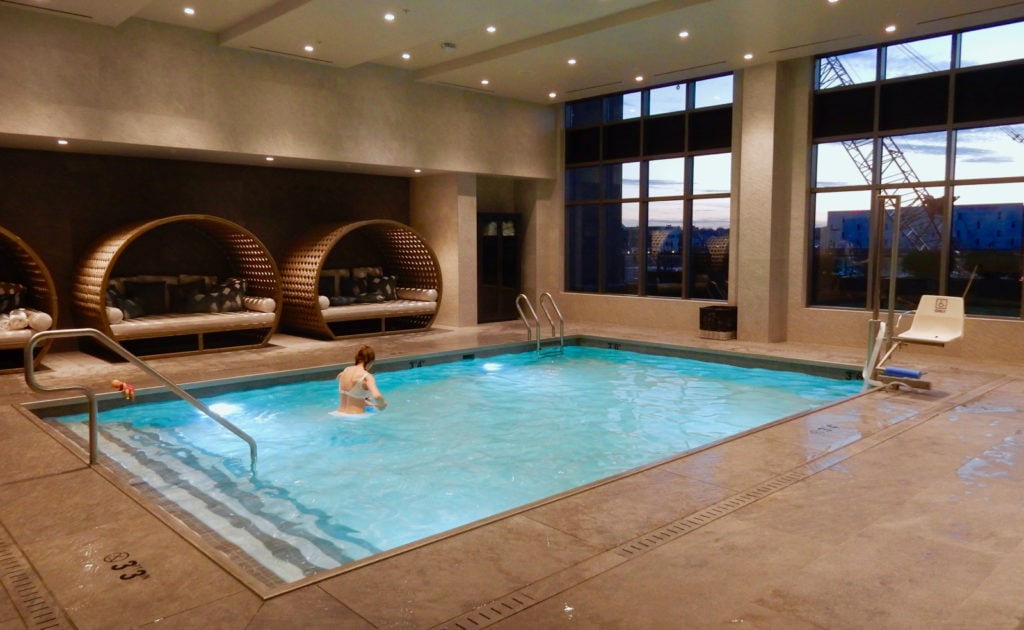 Though small, the indoor swimming pool is an eye-catching oasis – flooded with natural light and bordered by cabanas and lounge chairs.
Autograph Collection Hotels have partnered with FilmBuff to offer a curated collection of critically acclaimed independent films to guests via wi-fi enabled devices.
Just the Facts
Rooms from $207 per night includes morning paper and coffee. $35 per night for Valet Parking.
Until Sunday March 4, families can take advantage of Assembly Row's February Family Fun package. From $239 – $309 per night, the experience includes
Accommodations for up to four guests
Complimentary parking
"Kids Only" welcome amenity
Access to discounted tickets to nearby LEGOLAND Discovery Center
Family-friendly movie night at Reflections, The Row's lobby side restaurant & lounge – kids enjoy movie complete with popcorn and candy bar, while adults enjoy cocktail specials just steps away
Breakfast for four featuring special DIY pancake/waffle bar as well as healthier options courtesy of Reflections' Harvest Breakfast Table
Use of The Row's indoor swimming pool featuring cozy cabanas
Please consider voting for The Row Hotel at Assembly Row on the ballot for Travel + Leisure 2019 World's Best Awards survey! Visit www.tlworldsbest.com/vote to rate your favorite travel experiences and enter for a chance to win a $10,000 dream trip, courtesy of T+L. Voting ends March 4, 2019.
Nearby in Assembly Row and Somerville MA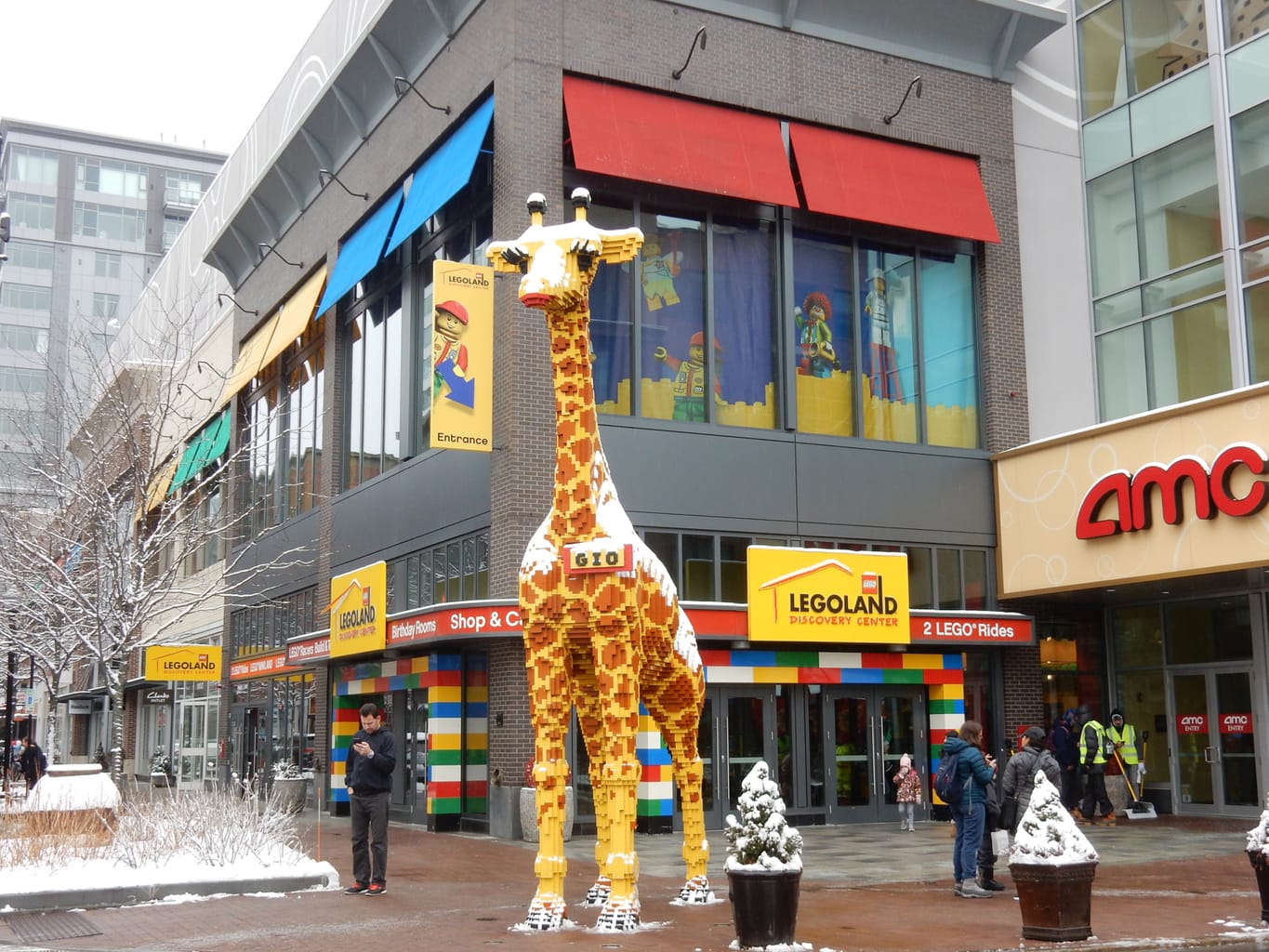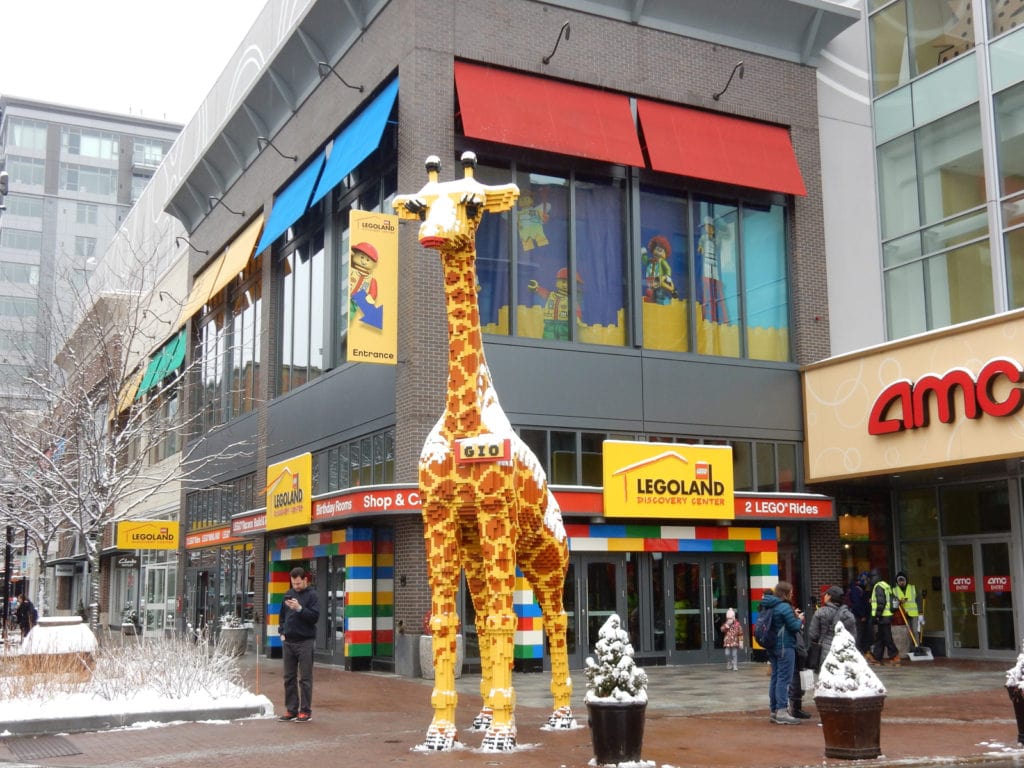 DO: Legoland Discovery Center, Assembly Row. If you're a Boomer with Grandkids, this Lego-assembly-plant space is a no-brainer. Just one block from The Row Hotel, Legoland will delight Lego builders of all ages. Tickets $25-$38 per person.
SHOP: Upscale Outlet Stores, Assembly Row. You'll find Le Creuset, Saks 5th Ave, Polo/Ralph Lauren, Brooks Bros., J-Crew and dozens more factory or outlet stores right outside the door.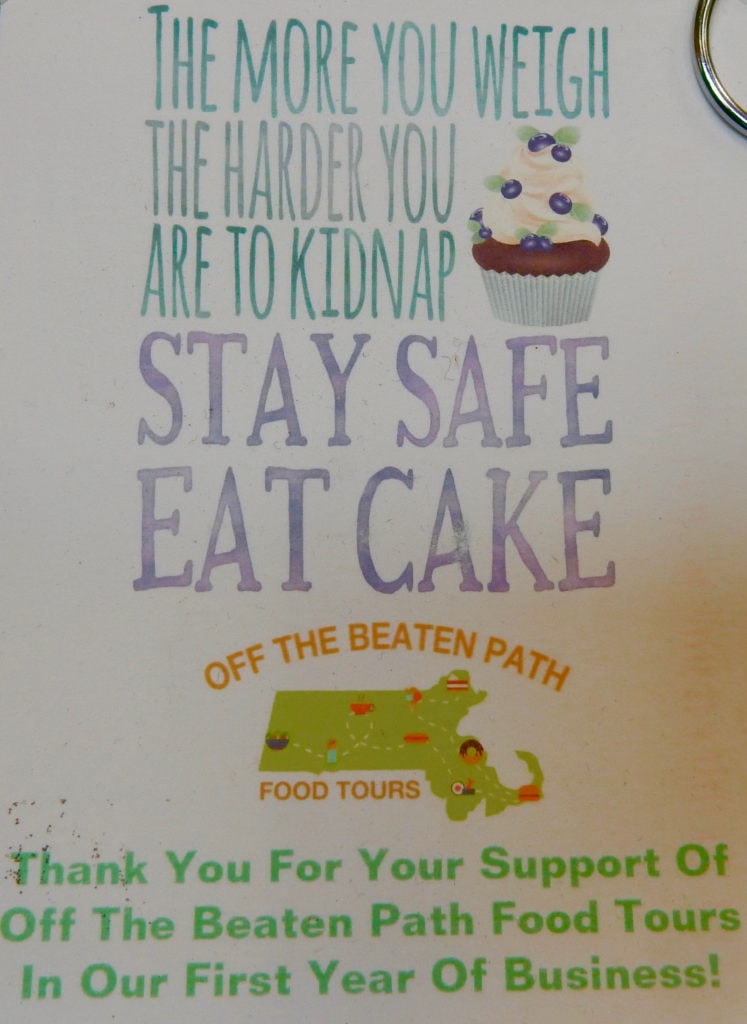 FOOD TOUR: Davis Square Food Tour by Off The Beaten Path Food Tours, Somerville. The airy confection, Marshmallow Fluff (one half of the Fluffernutter Sandwich) was invented in Somerville MA in 1917, and the town's culinary scene has been improving ever since. You'll have to drive a few miles from Assembly Row to get to this suburb of Boston, close to Tuft's University, but you won't be disappointed.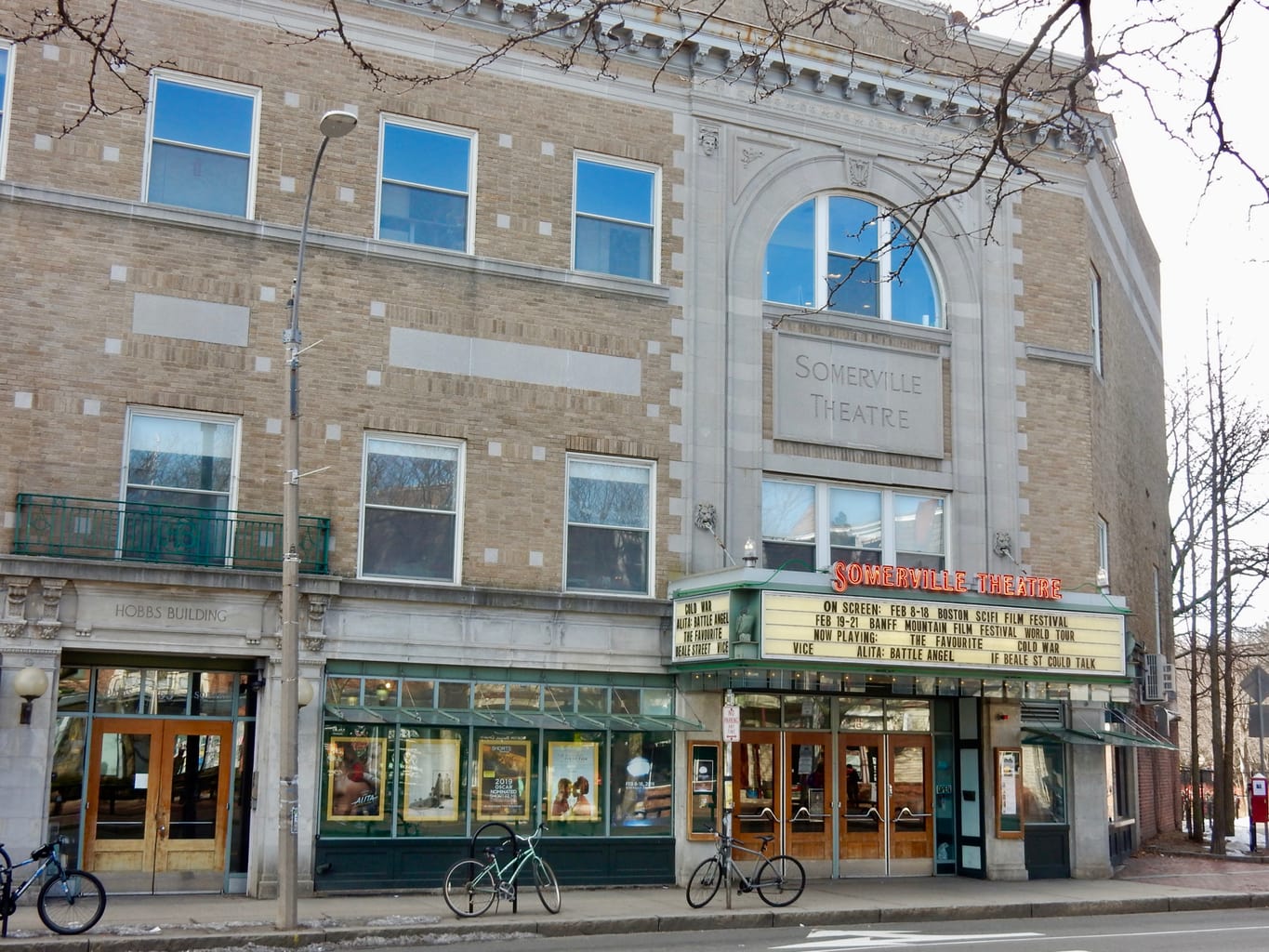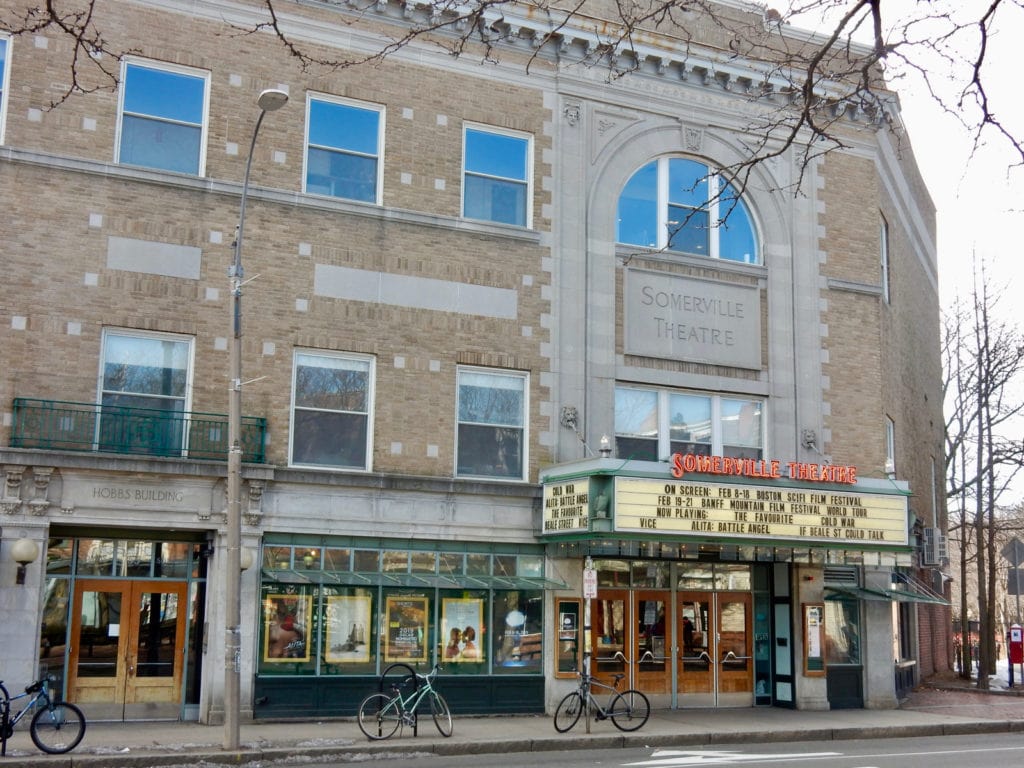 Off The Beaten Path Food Tours and Experiences was founded in 2017 by Somerville couple Lizzie Bell and Sam Schlussel who live in the heart of Davis Square, and started their Food Tour Company to promote small local businesses. They have since expanded, offering tours of Harvard and Kendall Squares, downtown Boston, and Lowell MA.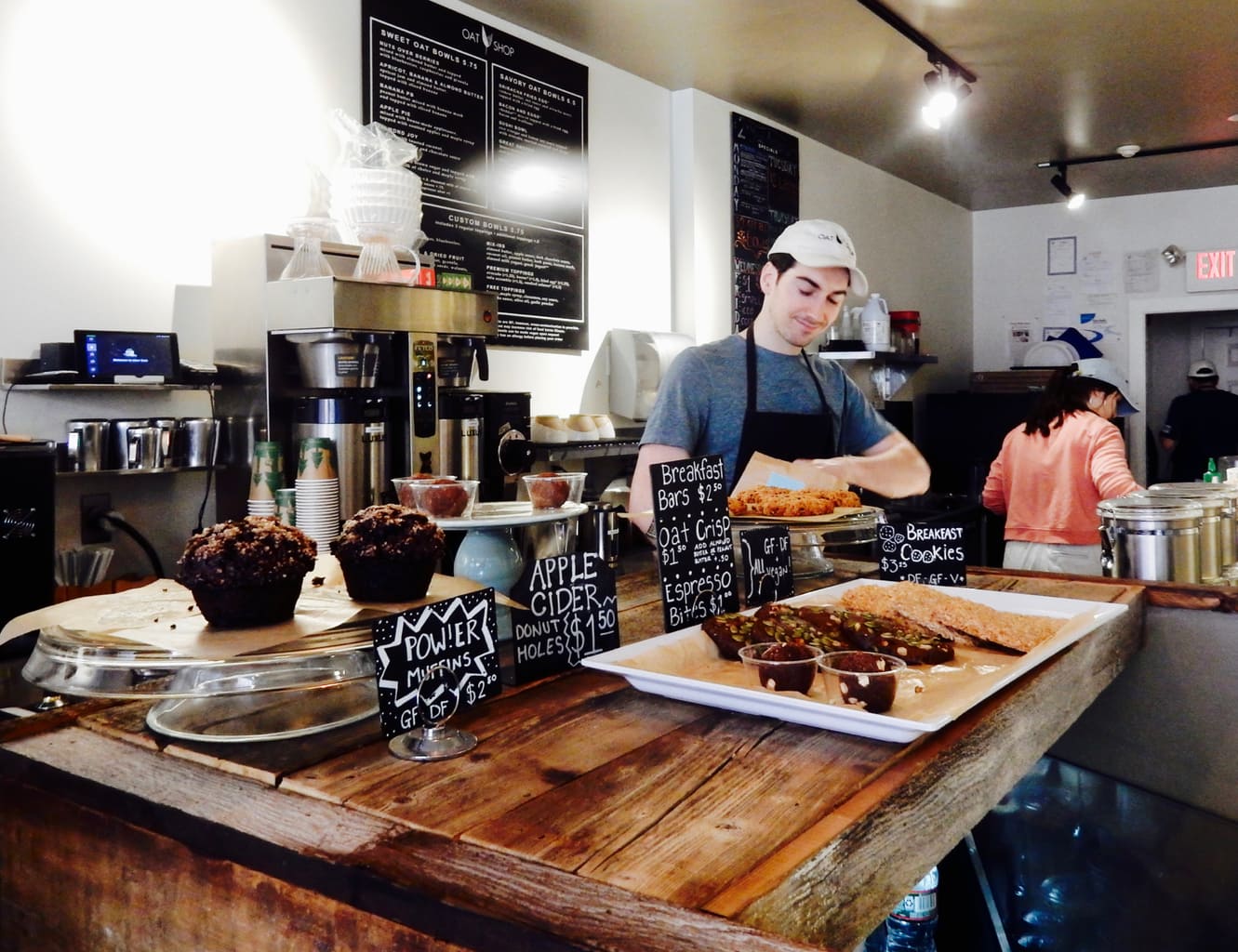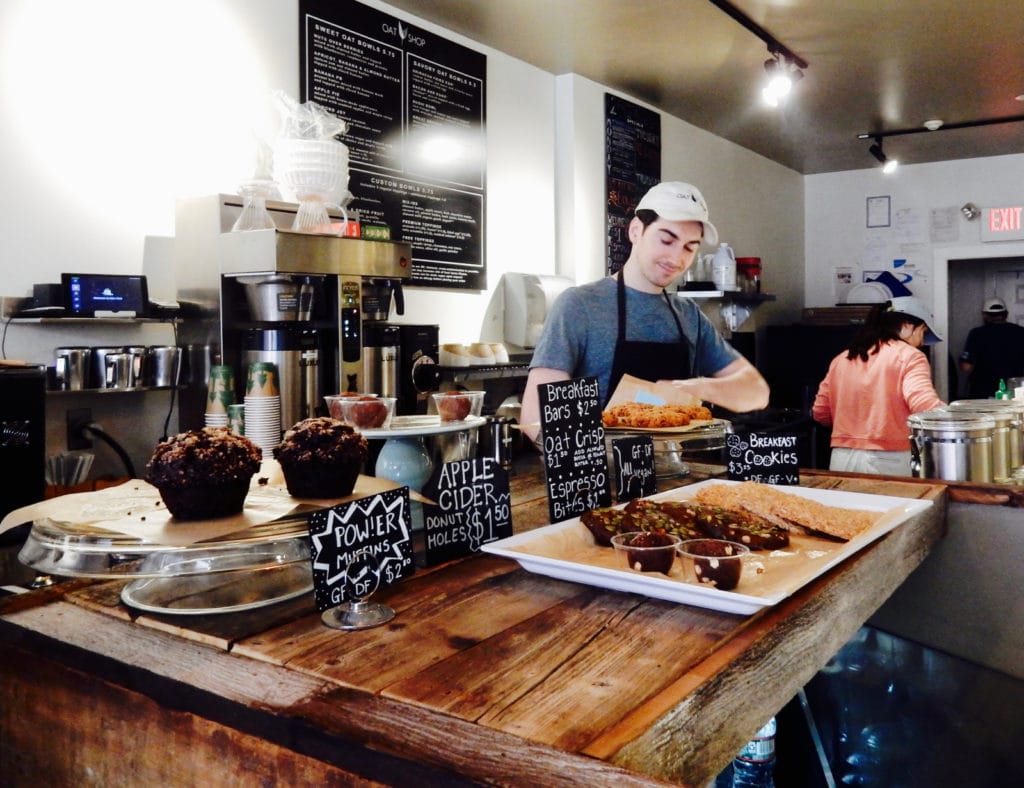 The Davis Square Food tour musters at the Somerville Theater (when the now closed for renovations Museum of Bad Art is located). Built in 1914, the theater drew people during the depression with lighthearted Vaudeville, providing "laughter in a dark time." It's still an operating movie theater.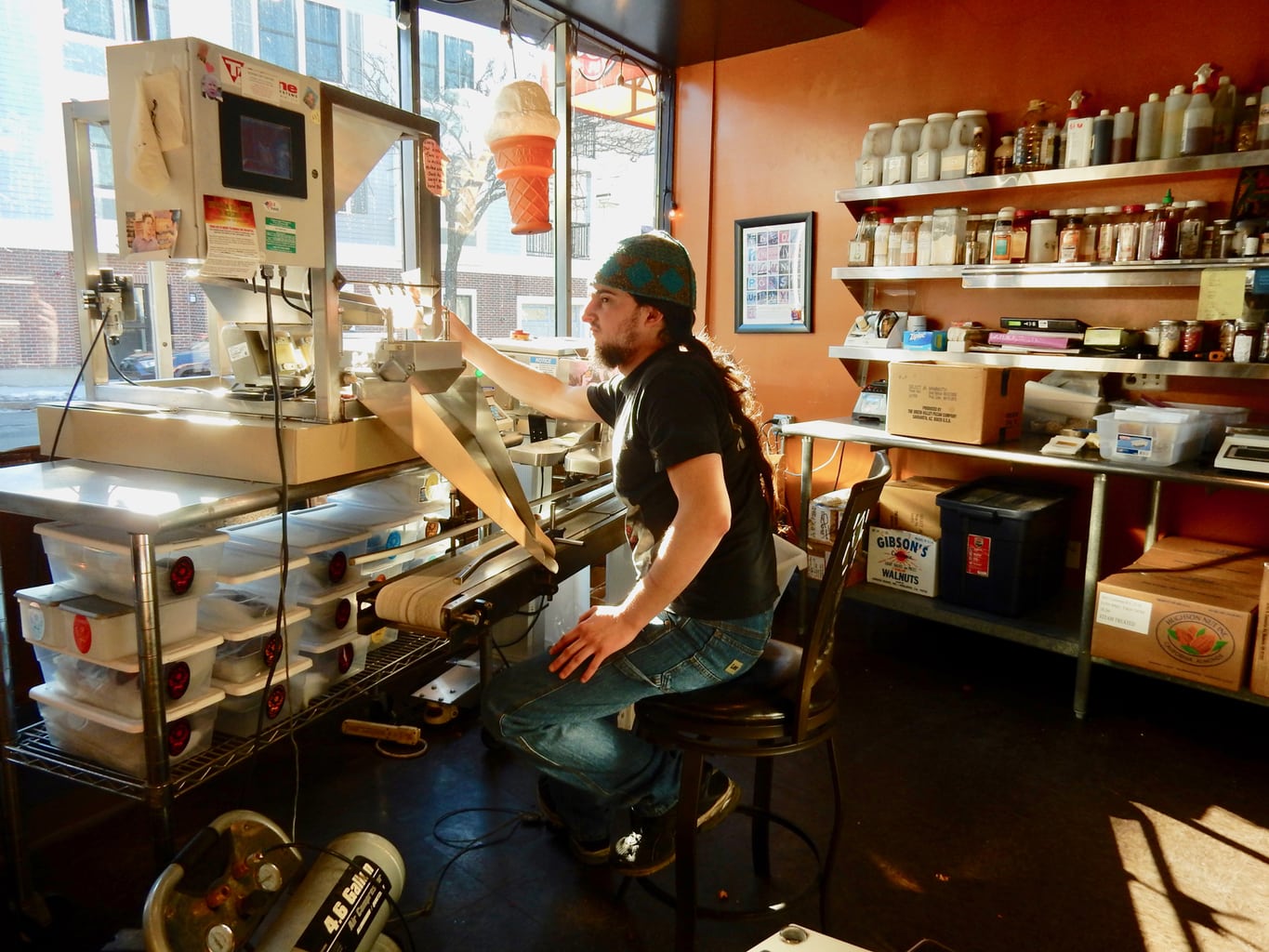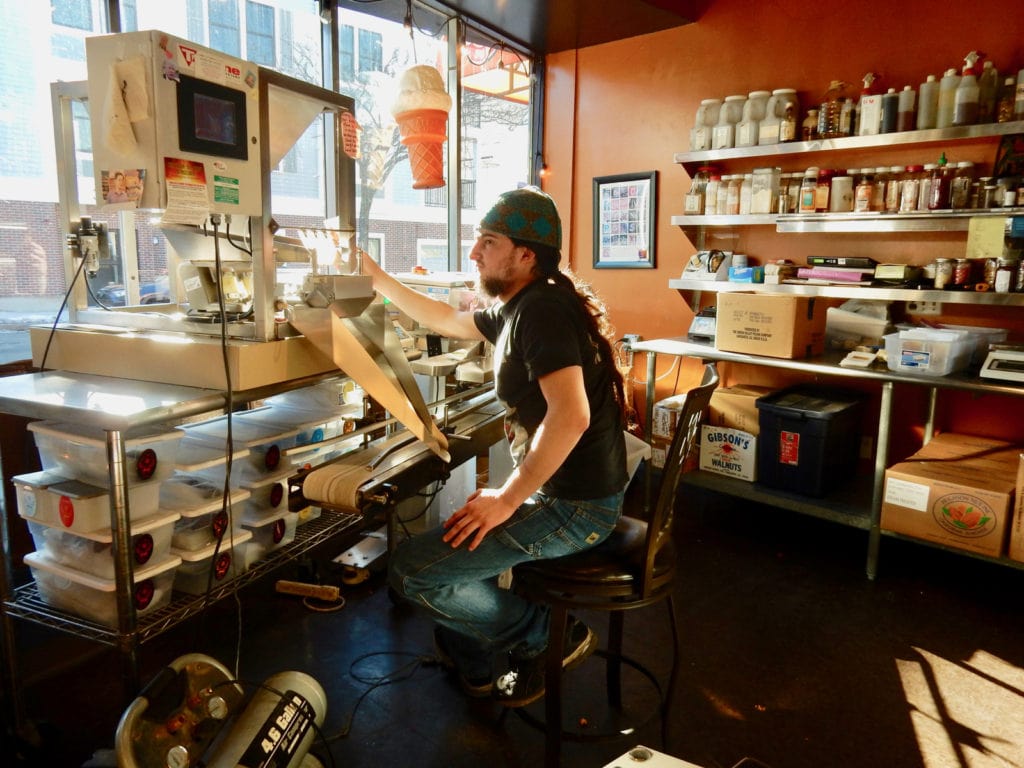 Walking a mile and stopping at eateries along the way, you'll encounter spots favored by in-the-know Tuft's University students, and meet entrepreneurs like Alan Donovan who had a penchant for all things oats (he loved Kind Bars).
Donovan recently opened The Oat Shop where visitors can get sweet or savory steel-cut oats based bowls and vittles. (My vegan "Sushi Bowl" – $6.50 – with slices of avocado and ginger atop brown-rice-ish oats was incredibly excellent).
Beth and Brian Quinn, of Q's Nuts, began roasting artisanal spiced nuts, bought a street cart, and then graduated to this fantastic corner store where patrons can buy sweet, savory and exotically-flavored nuts of every variety.
At Opa Greek Yeero's (spelled like gyros are actually pronounced), you can get a real authentic Greek sandwich, complete with French Fries, tzatziki, and choice of meat bundled tight in a wrap of deliciousness.
Next, Davis Square Hand-Crafted Donuts & Bagels dishes out larger than normal holey disks of cake – some stuffed with the Marshmallow Crème that put this town on the quirky-foodstuffs map.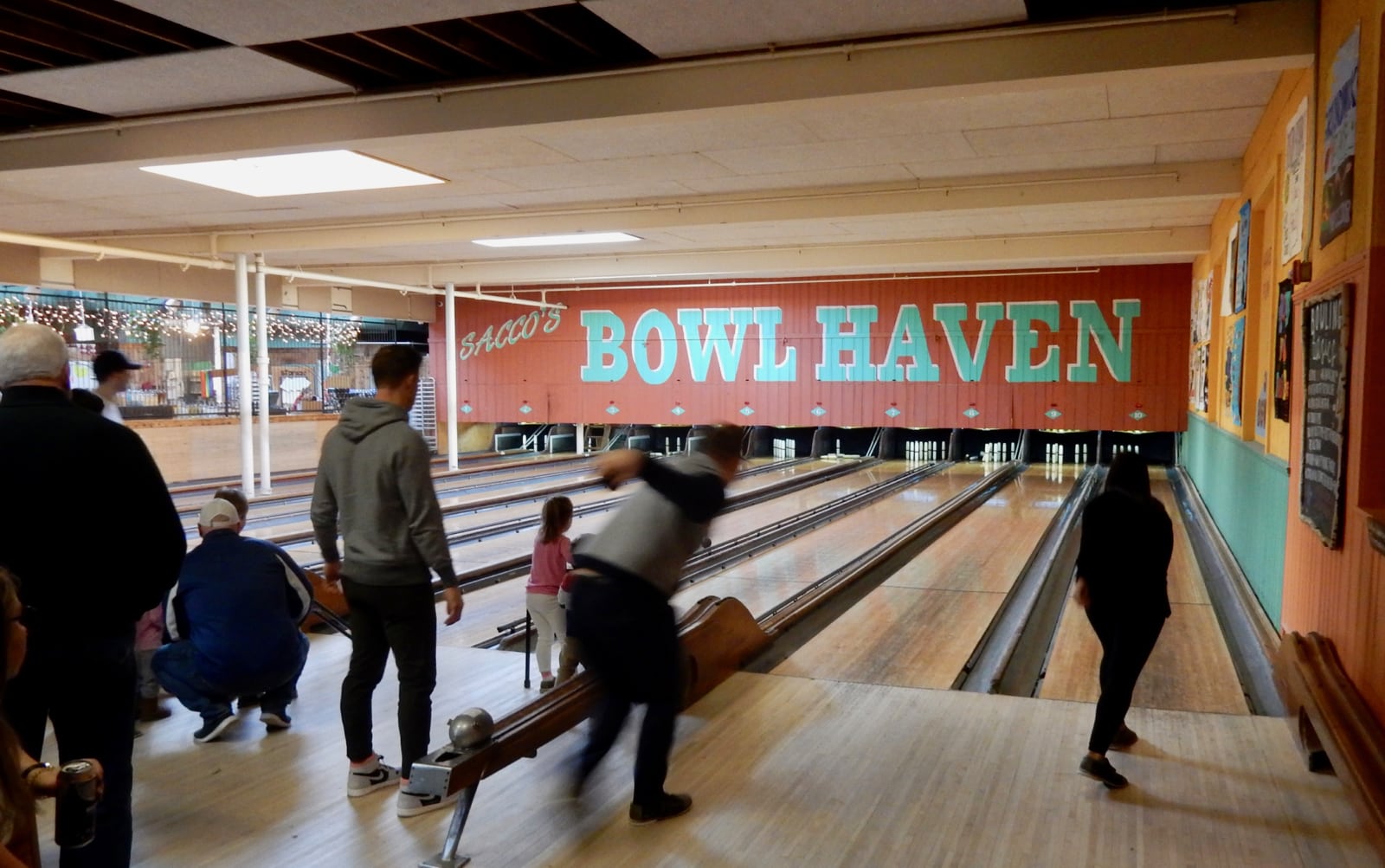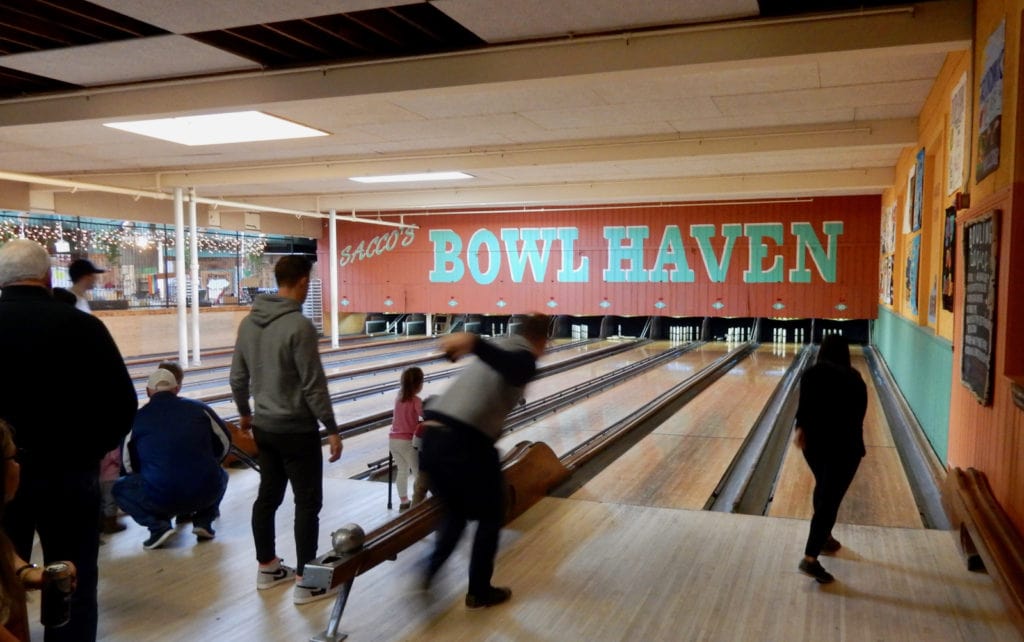 But perhaps the coolest stop of all –the last one – has been here since 1939, and combines a peculiar local form of bowling with unique wood-fired pizzas: Sacco's Bowl Haven – featuring the very New England'y Candlepin Bowling and Flatbread Company.
Just try to knock down small bowling pins that look like Colonial candles (hence the name) with a Skeeball-sized ball, especially when you're in the midst of chomping on a beet and arugula pizza pie. There's a lot going on, but its all good fun. And, after 3 hours of walking, history, and stuffing your face, you won't need dinner. $60 per person, Sat. Sun. 10am and 2pm, some Wed./Thursday dates in Spring. Check website.
VISIT: Museum of Bad Art in the basement of The Somerville Theater, Somerville. Though closed for renovations at the moment, watch for signs of this hilariously funny postage-stamp sized museum's reopening. Back-story: At first Scot Wilson, an antiques dealer, threw out bad paintings in order to sell the frames. But along the way, he was captivated by the worst of the art. Wilson began to drive down local streets, looking for paintings amid the trash, stopping to pick up the best of the worst.
As a joke, he mounted a show of Bad Art in his home, wrote up faux descriptions for each piece and expected about 50 friends to show up. Over 200 did. So, in 1994 The Museum Of Bad Art (MOBA) was officially established in the basement of the Somerville Theater and two other greater Boston locations. "So many people want to give us paint by numbers or black velvet stuff," says Museum Director, Louise Reilly Sacco.
"We're looking for original creations where something has gone terribly wrong – either a bad idea or bad artist." Once a year, to raise a small sum for the "Zero Budget" by the seat of the pants institution, MOBA holds a "Rejection Selection" auction, providing each winning bidder with a certificate verifying that his or her painting was "rejected by the Museum of Bad Art."