This Maine family resort is the last of a vanishing breed. So many of these "family resorts" on the Maine Coast have floundered or faded, but not Sebasco Harbor Resort.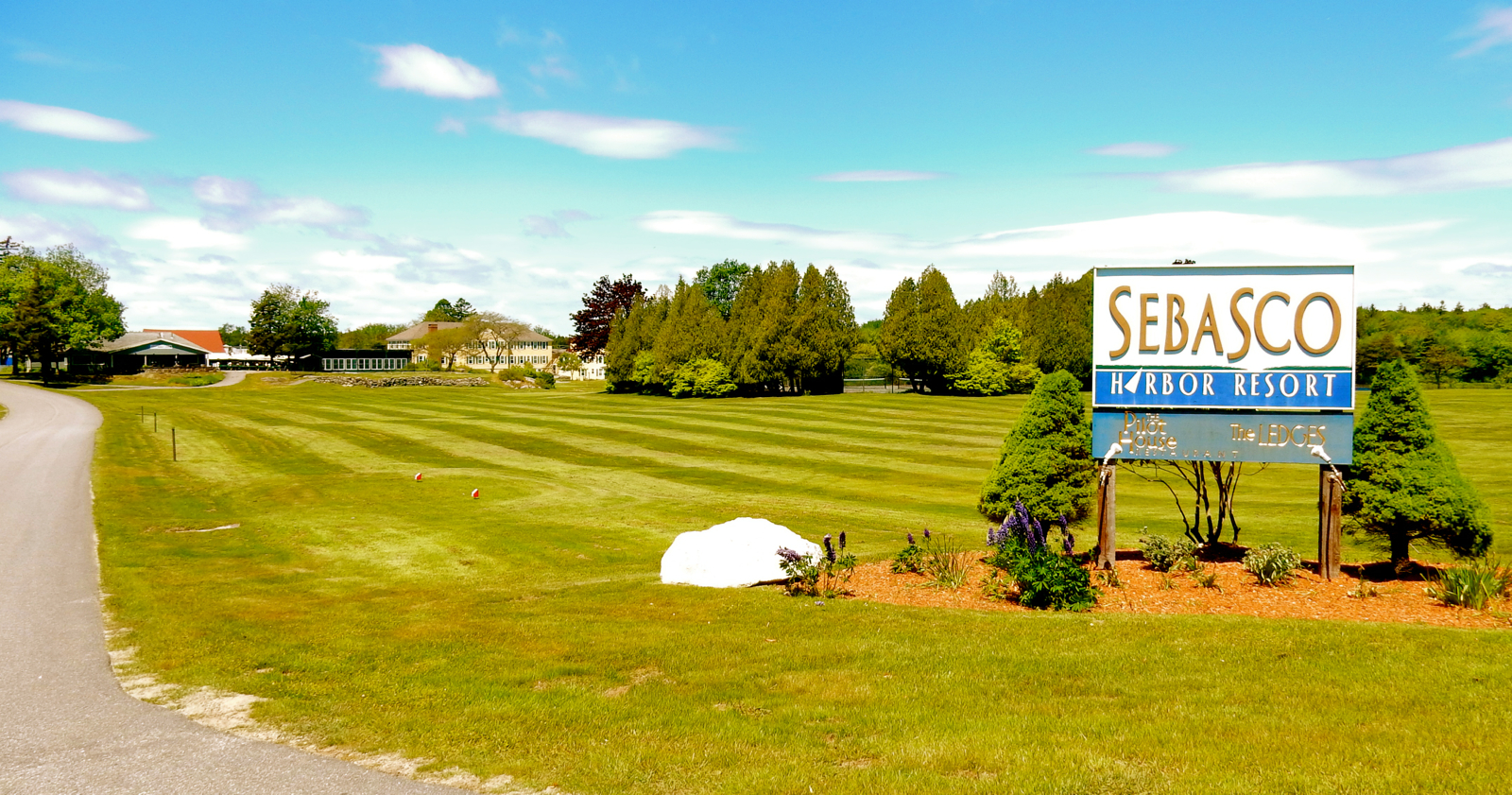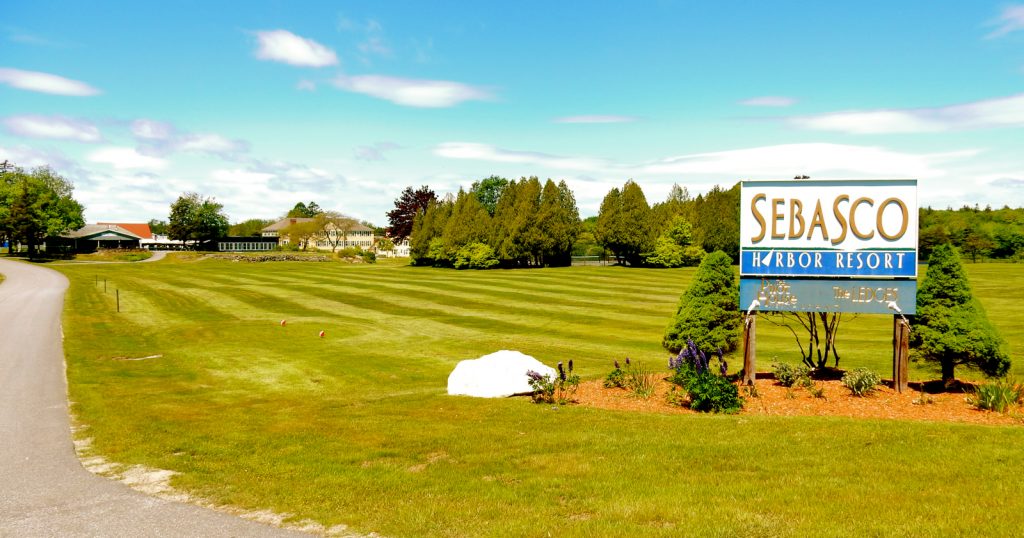 It's managed to maintain a multi-generational, friendly, laid-back, ice cream days, rec-center-nights vibe, while keeping up the standards of its rustic-chic lodging – some rooms even considered luxurious.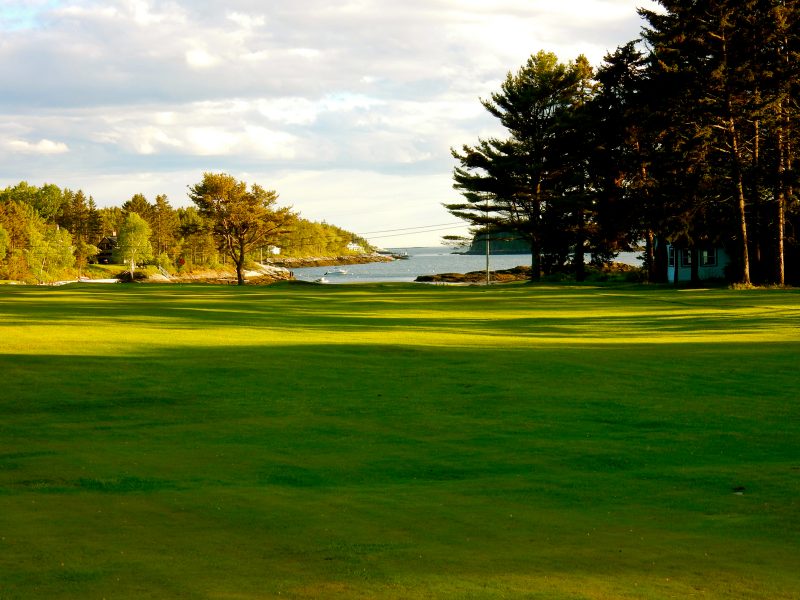 There's a 9-hole oceanfront golf course (the perfect getaway for dudes who don't take the game too seriously), a three-hole practice course (where "lots of kids have learned to play over the years," according to resort owner, Bob Smith), and a full-service Spa on site. (So when the wives are hitting the links, the hubbies can get a massage).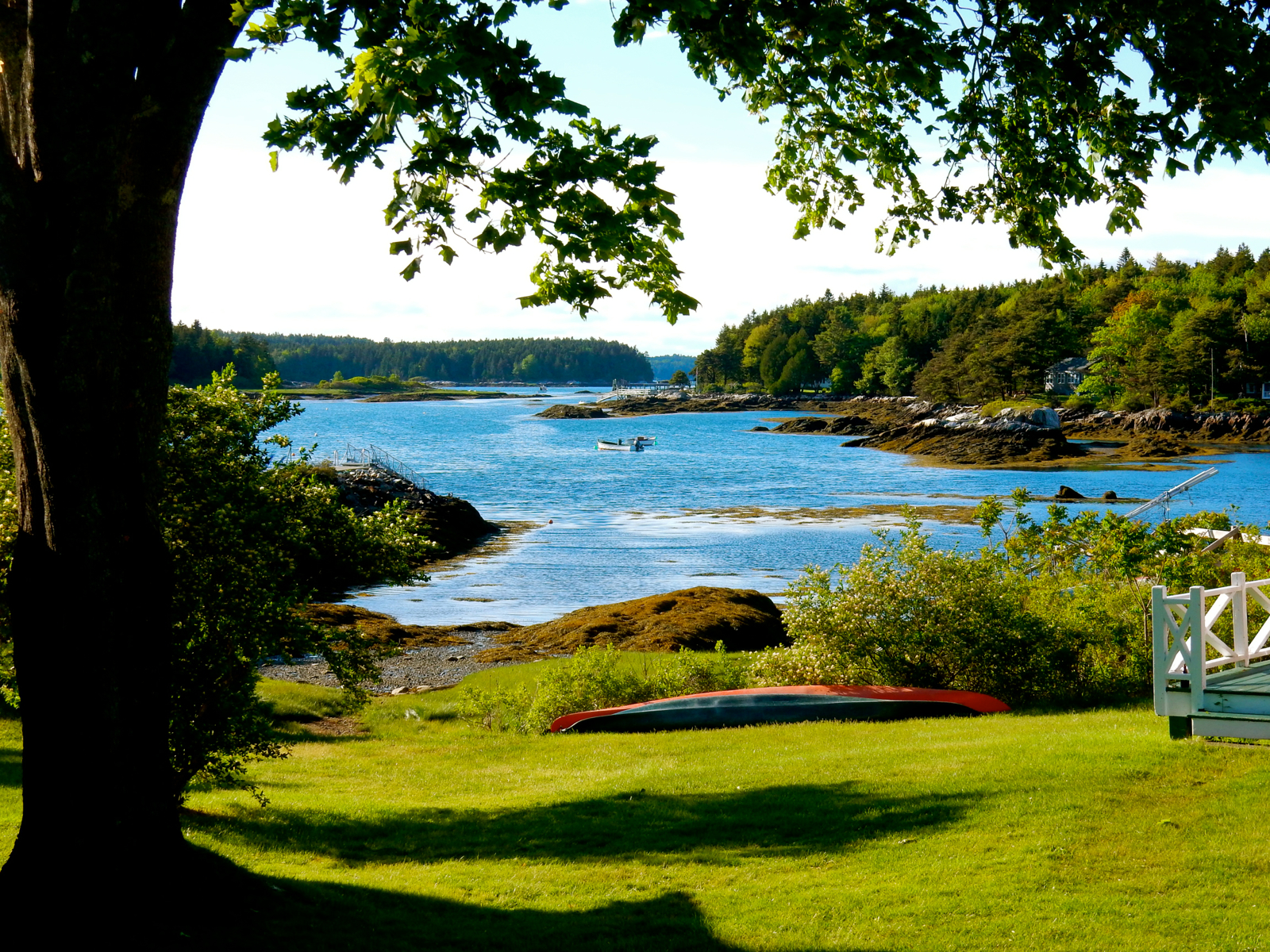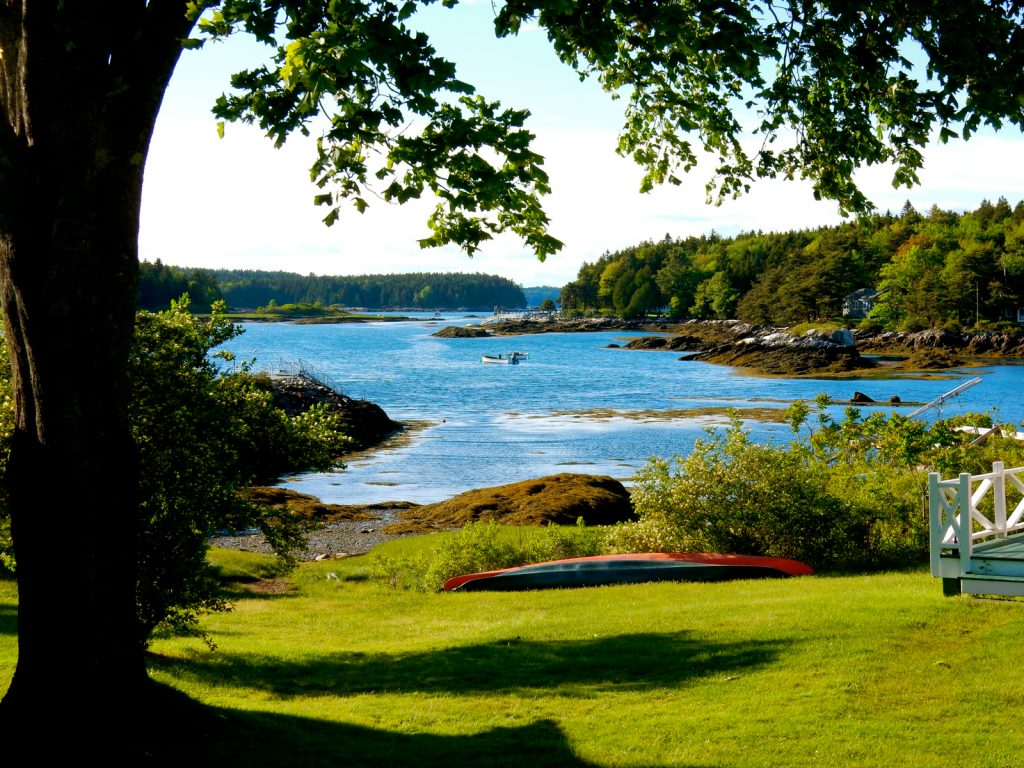 The genuine affability of the staff coupled with a strikingly beautiful setting places this family resort in a category of its own. Other properties like this have shut down or gone corporate. But the Sebasco Harbor Resort is the real deal.
First Impressions of Sebasco Harbor Resort, Maine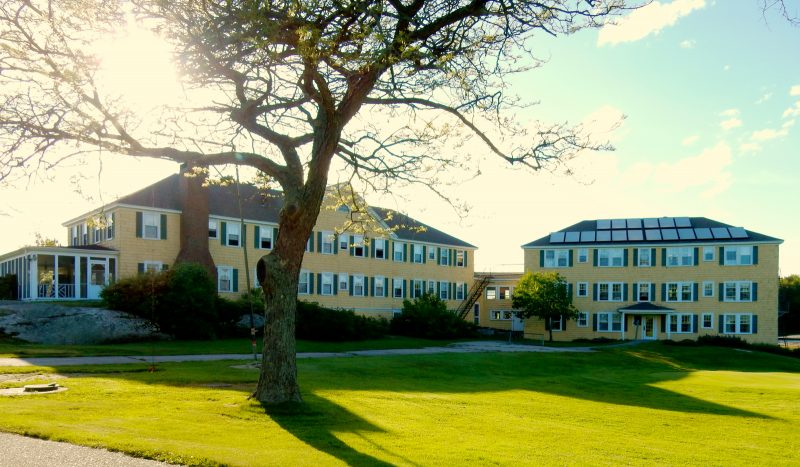 It's like camp – for adults and kids – only with much nicer bunks, I thought to myself as I entered the vast, stunning resort complex. On the waterfront, the setting is gorgeous, with its original yellow inn (Sebasco first opened in 1929) and cottages scattered around the 450-acre property.
I checked in at the well-marked reception building where a lovely staff member pointed me in the direction of my Spa Suite, and then gave me a quick overview of the grounds and programs.
I was having dinner on the premises. Should I change out of my shorts and t-shirt? "Nope – come as you are." Easy peasy. No pretensions. I loved Sebasco right away. (And so did Eleanor Roosevelt, who would stay here on her way up to Campobello Island and sit out on the deck of what is now the Clipper House to write her memoirs).
Rooms at Sebasco Harbor Resort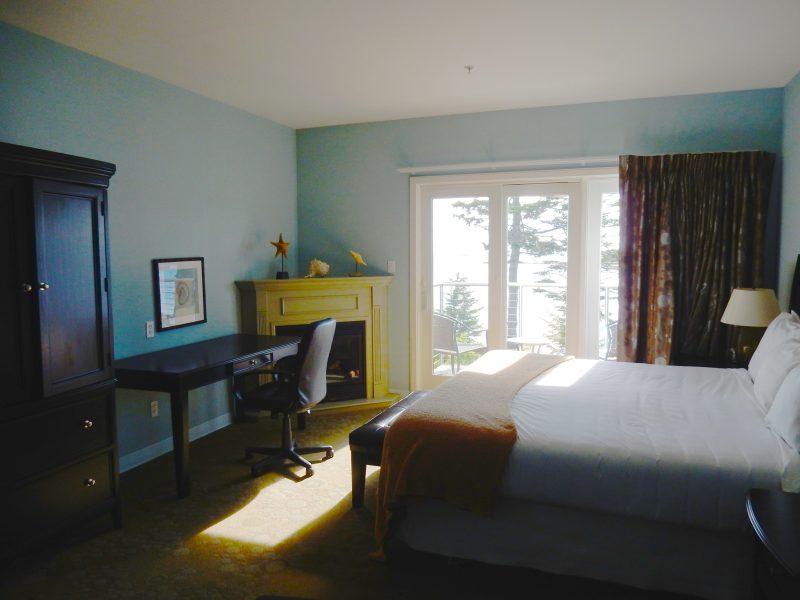 There are 128 rooms of various sizes and levels of comfort (rustic to luxury). I stayed in the Fairwinds Spa building – in a large sweet room with corner gas fireplace, a counter-kitchen and standard, but cute bathroom.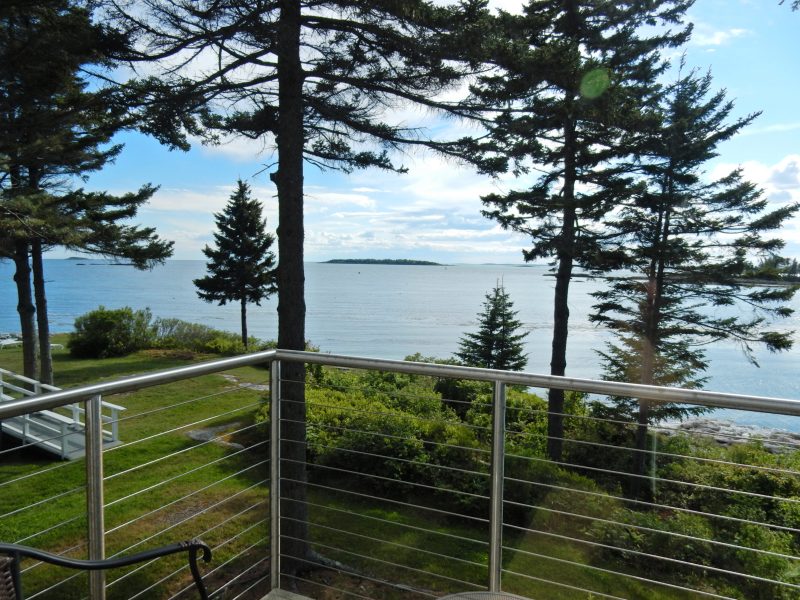 ….and, this balcony and view, which made everything inside irrelevant.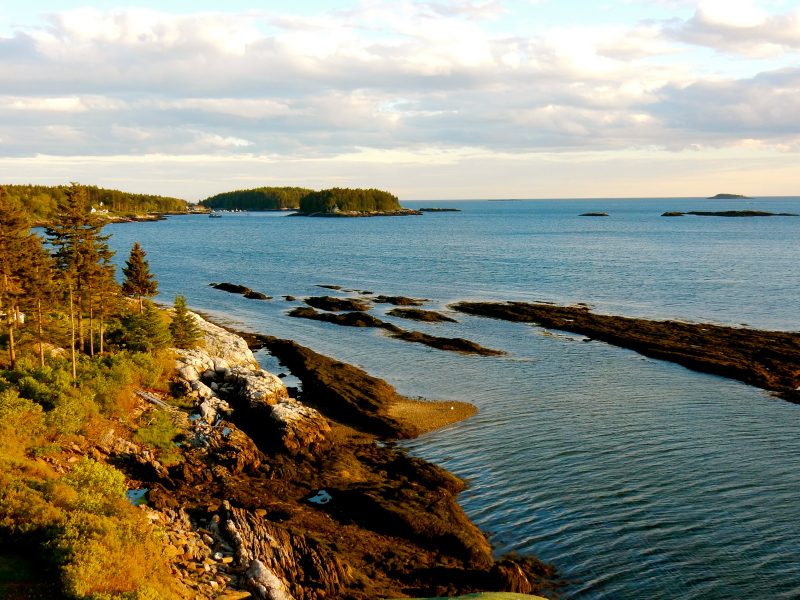 For optimal water views, consider booking a room in the Lighthouse; a bit more rustic, with wood paneled walls, small baths, updated bedding (white duvets and punch-color throws) and the harbor right out your window. Larger families and family reunions make use of whole cottages for privacy.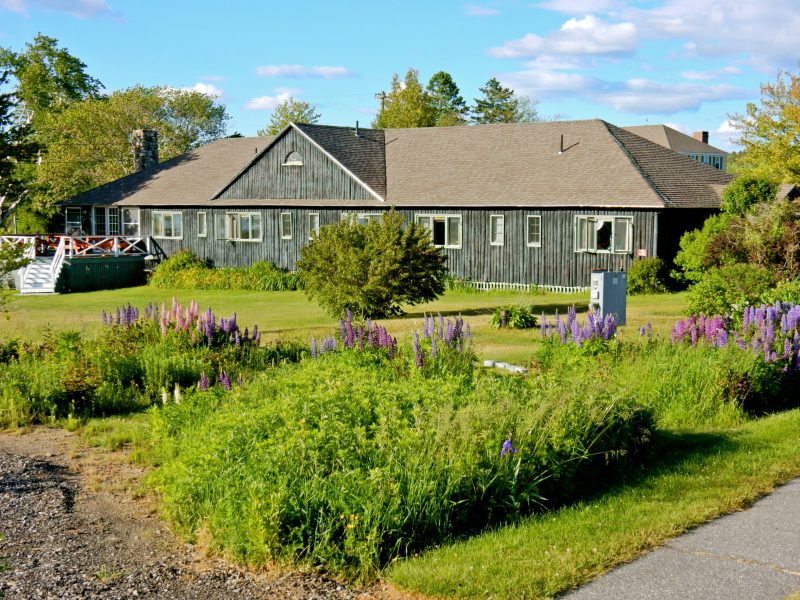 There's such a variety of lodging options, in fact, it can get confusing online. Visitors are urged to call first to discuss needs and expectations. Staff is more than happy to set you up in accommodations to best suit your needs and budget.
Dining at Sebasco Harbor Resort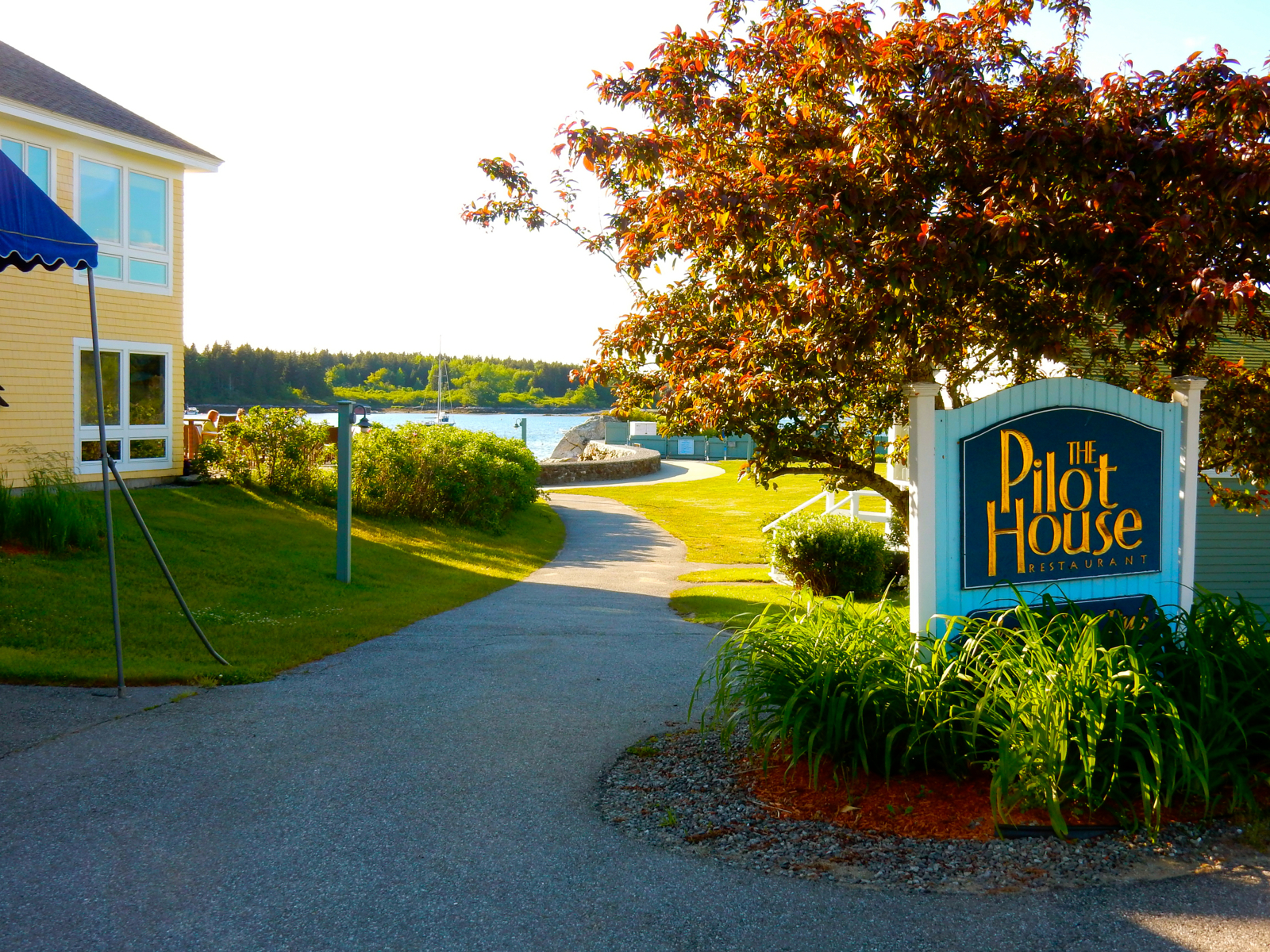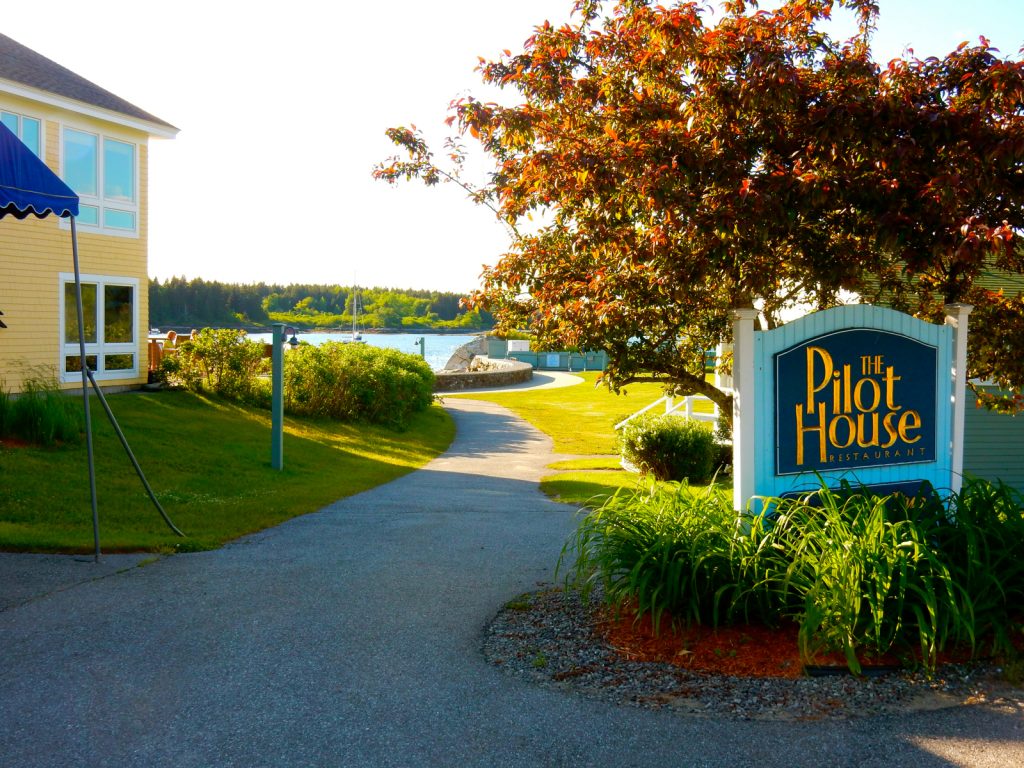 The Pilot House and Ledges Pub are in the same building – but both are where you must be at sunset for Mother Nature's waterfront fading-light show. Striking. (This is a newish Pilot House. The former one, where Benny Goodman used to play in the '30's, was moved uphill and is now the Clipper House).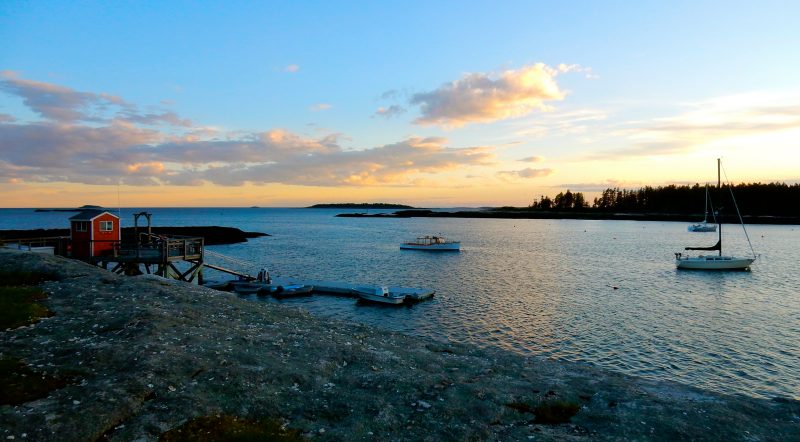 Ground floor Ledges Pub is more casual, but you don't even need to dress up for diner at the Pilot House upstairs. Food is good – especially for a "captured audience" resort like this – featuring "Maine Flavors" like the $26 Lobster Dinner.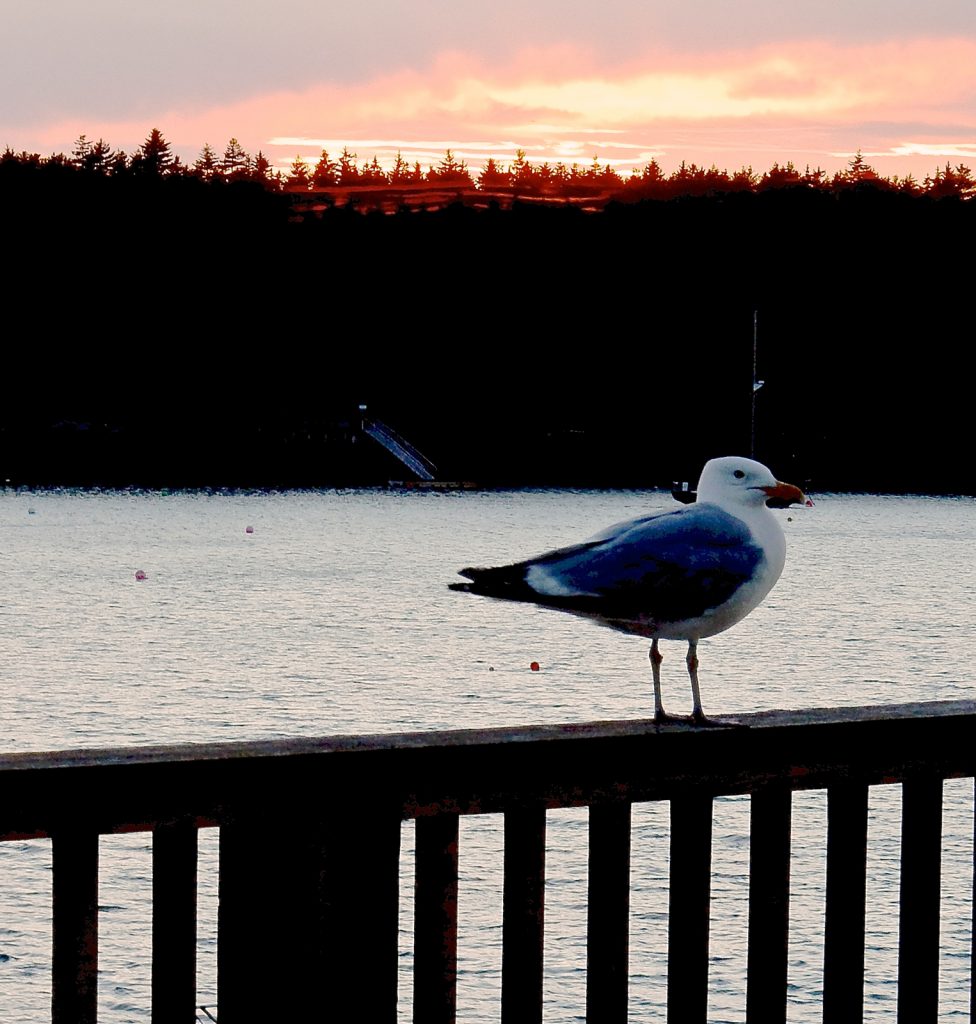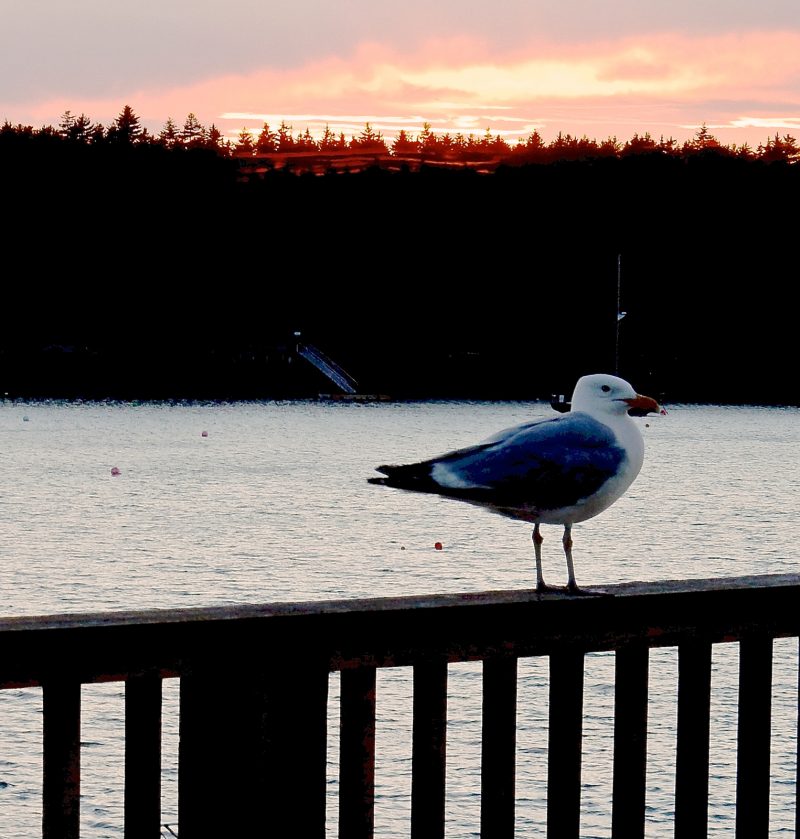 Dine at the Pilot House and it's almost guaranteed you'll meet Fred the Seagull. For 20 years, the "same" seagull (same markings, probably the same family) has been showing up alone right outside the restaurant's window, begging for food. In the summer, kids feed Fred out on the deck, an annual tradition. In fact, Sebasco Resort's best selling T-Shirt reads, "I fed Fred."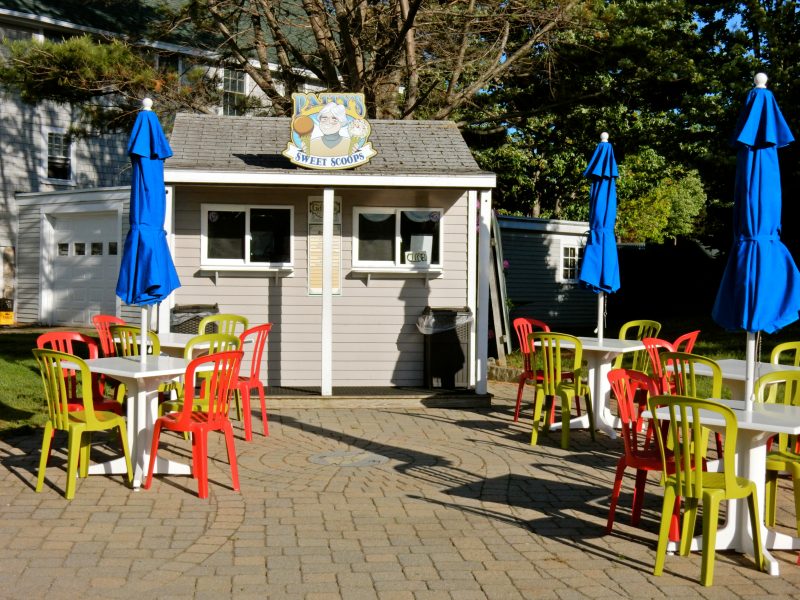 And what would a summer resort be without an ice-cream shop? Little Sweet Scoops hops with activity when the weather warms up.
Amenities
Besides the aforementioned Golf Course and Spa, the Sabasco Harbor Resort offers a full-service Fitness Center on site with free weights and aerobic machines, dry sauna and locker rooms.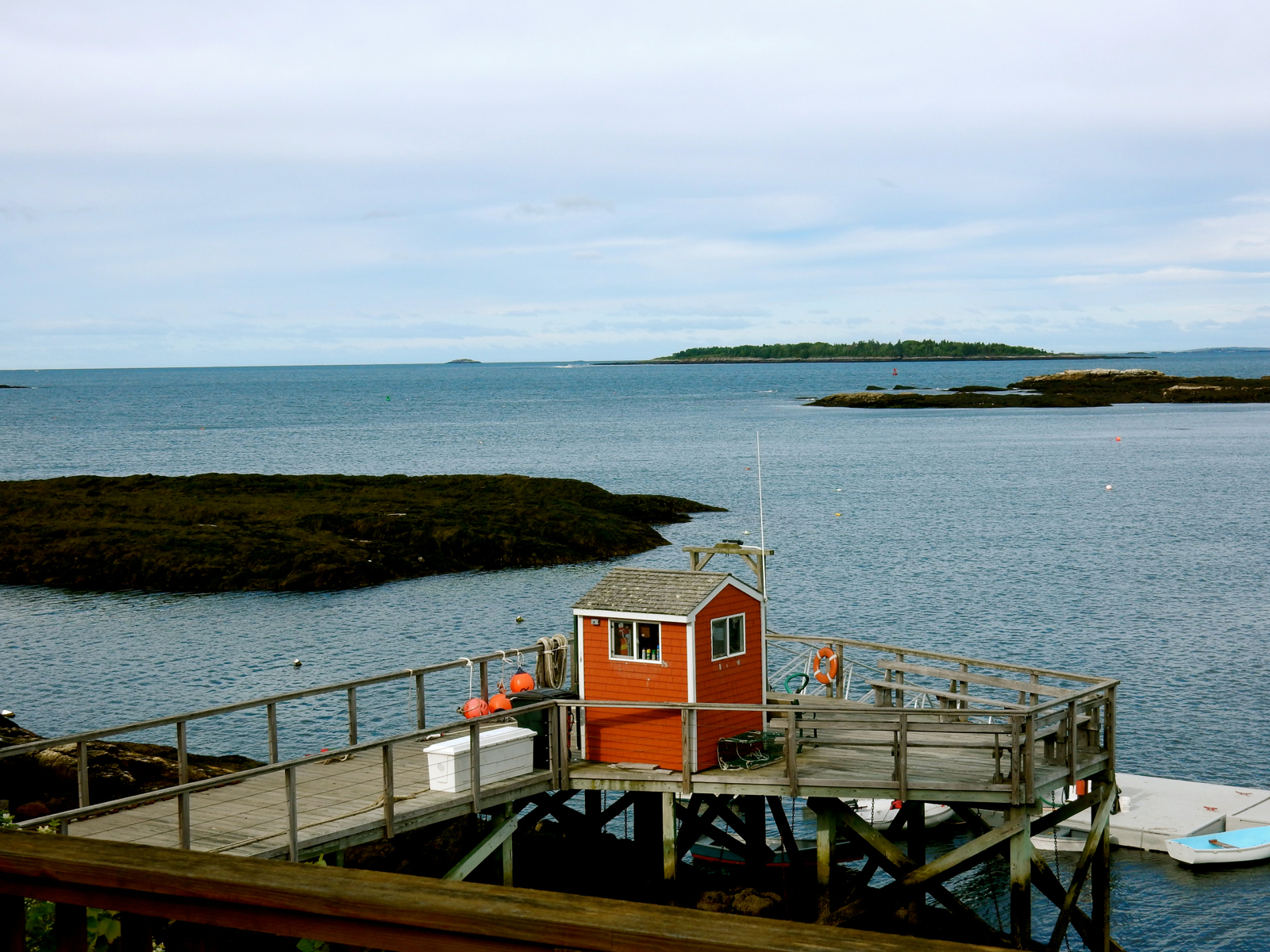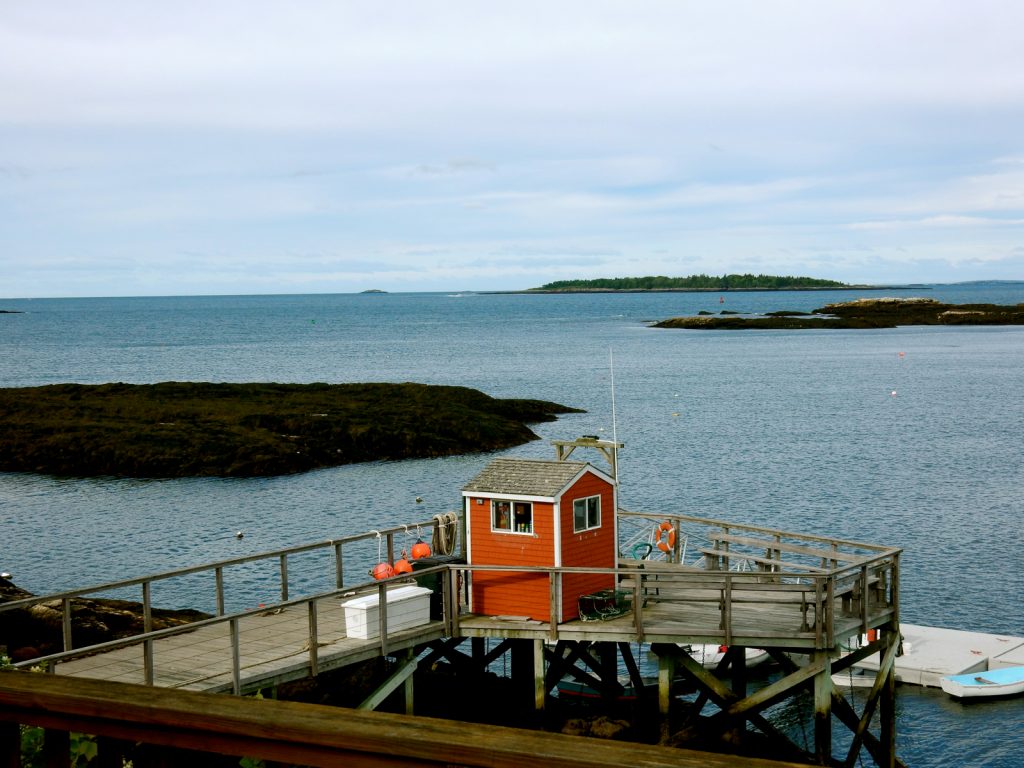 You can also kayak, paddleboard, play tennis, and swim in the warm, protected waters of the cove or in the saltwater Olympic-sized outdoor pool.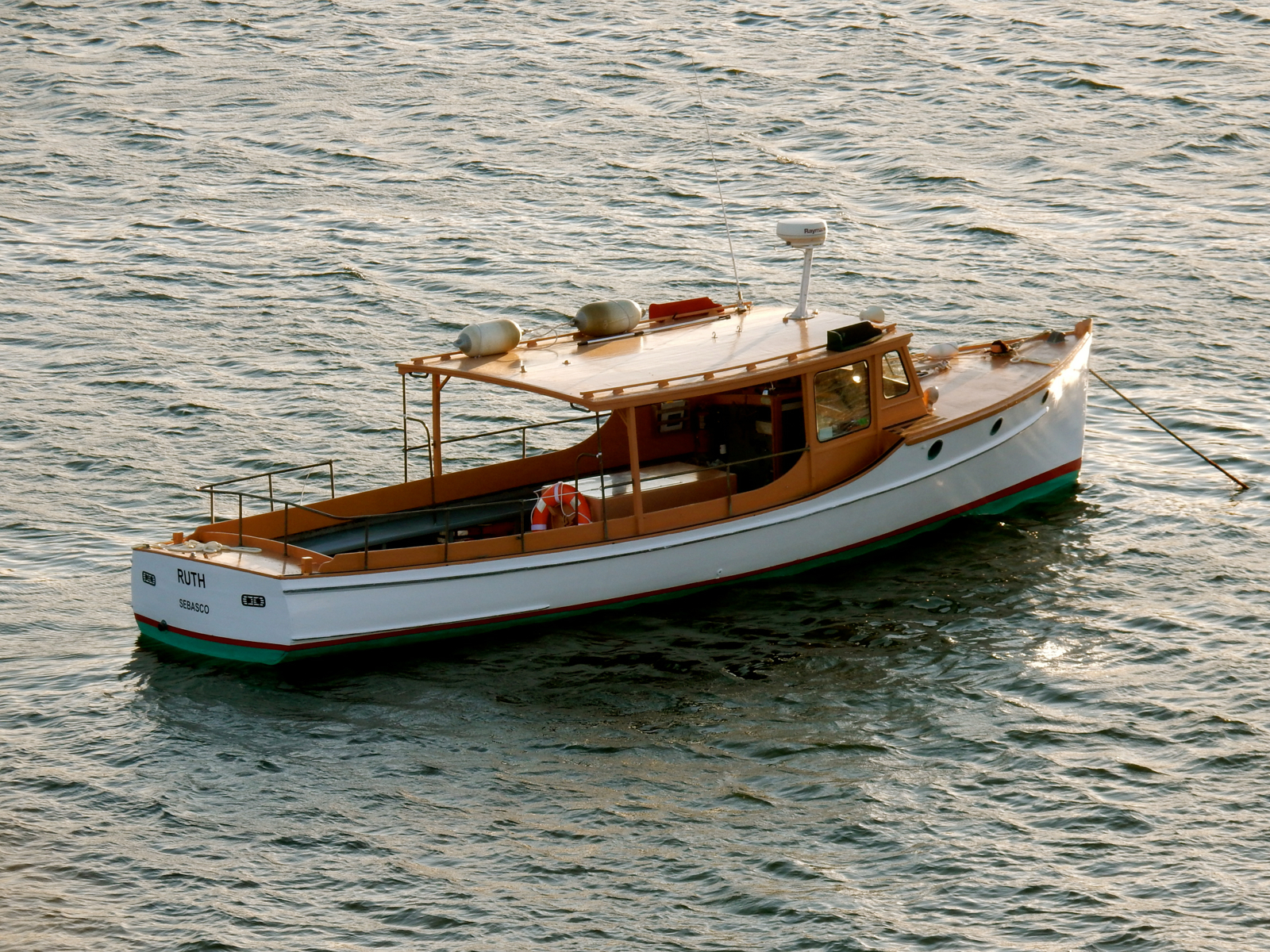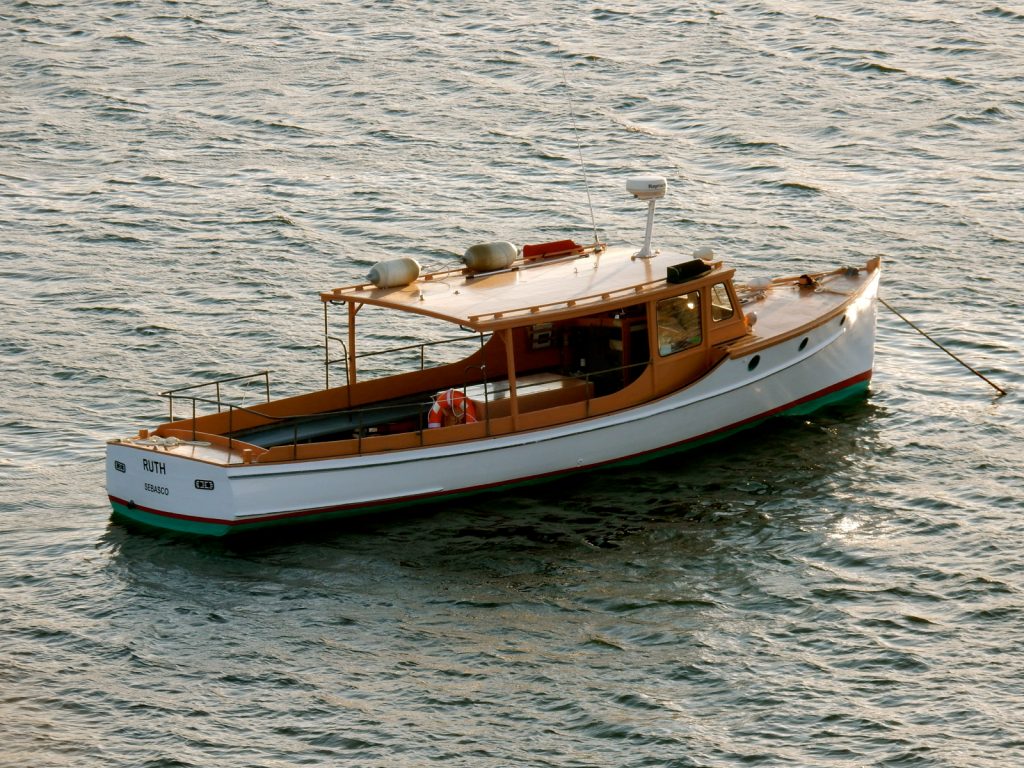 Take a 1 ½ hour cruise on the Ruth – the longest continuously operating tour boat on the Maine Coast. And, like the great multi-generational summer camp it is, you can participate in a number of kid and adult focused activities (e.g. making ice-cream, tye-dye t shirts, wine tasting).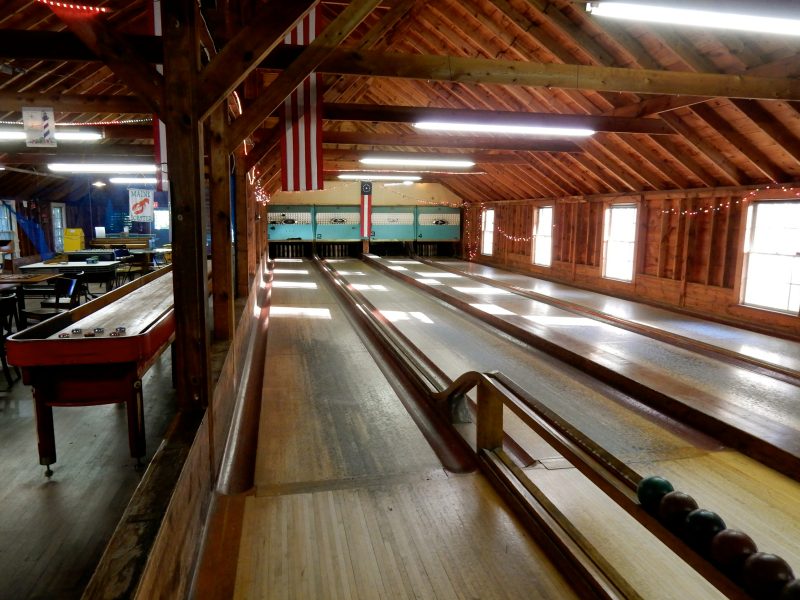 At night, The Quarterdeck Recreation Center opens up, with pinball machines, jukebox and Candlepin Bowling Alley. It's the place to be on warm summer eves.
Just the Facts
Rooms start at $209, and that's in season! Tack on another $60 per person for three meals a day. Fairwinds Spa Suites start at $350 per night. Includes watersports, wi-fi, resort programs. Golf and Spa Services extra.
For more to do and see in Bath, Brunswick and the Phippsburg Peninsula, check out THIS Getaway Mavens Post.