WHY GO: Though Rochester NY is known best for the Erie Canal, George Eastman – of Eastman-Kodak, and several top Universities, a certain powerhouse in the Women's Right's movement lived, worked, and is buried here. Susan B. Anthony was the face of Women's Suffrage in the USA – and a visit to Rochester will not be complete without a tour of her home and gravesite. Anthony is buried near the final resting place of her friend and fellow Abolitionist and Suffragist, Frederick Douglas. Anthony, Douglas, Elizabeth Cady Stanton, Harriet Tubman, and Mark Twain all gravitated to the Western New York region, a hotbed of Civil and Women's Rights activism. It still is. Expand your already broad mind on this Radical Getaway.
What to Do in Rochester NY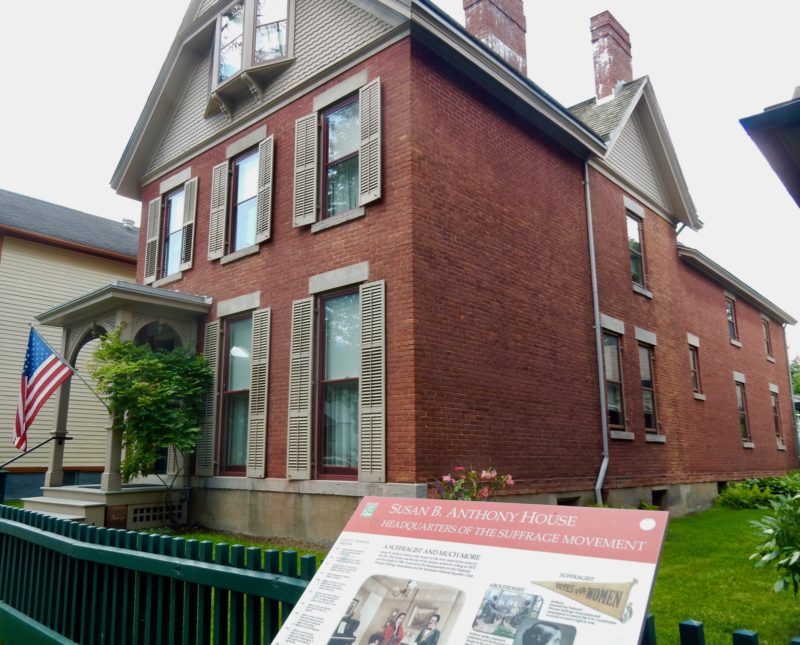 TOUR: Susan B. Anthony's House. On a leafy street lined with tidy Victorian homes, Susan B. Anthony's house has been preserved to honor the face of the Women's Suffrage Movement in the USA. Anthony never married (though she was asked 7 times), never had children, and was the outgoing Yin to Elizabeth Cady Stanton's scholarly, but quiet Yang.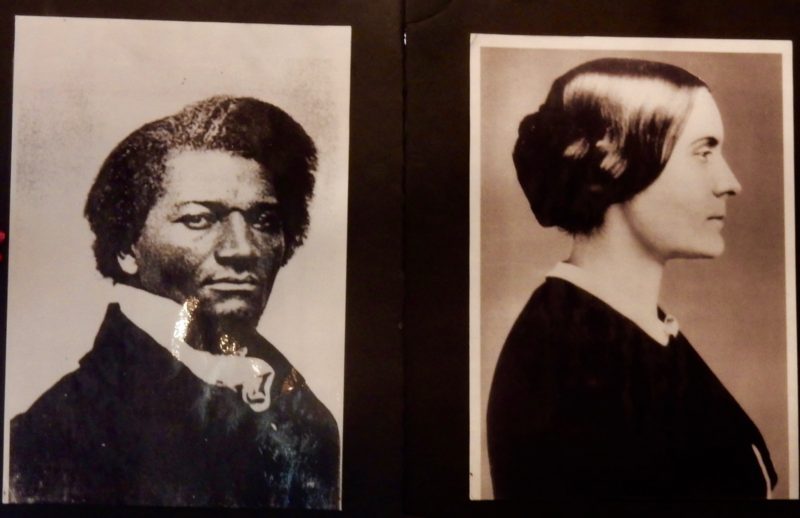 Anthony, born in Adams, MA in 1820, came to Rochester NY with her family as Quaker Abolitionists involved in anti-slavery and Temperance activities. Upstate NY was a hotbed of activists, in fact, as it was just 70 miles from Canada across Lake Ontario, a final stop on the Underground Railroad. Frederick Douglas, who had purchased his own freedom, settled in Rochester after the Civil War, writing his Narrative of The Life of Frederick Douglas: An American Slave. Due to mutual interests, Douglas and Anthony became friends.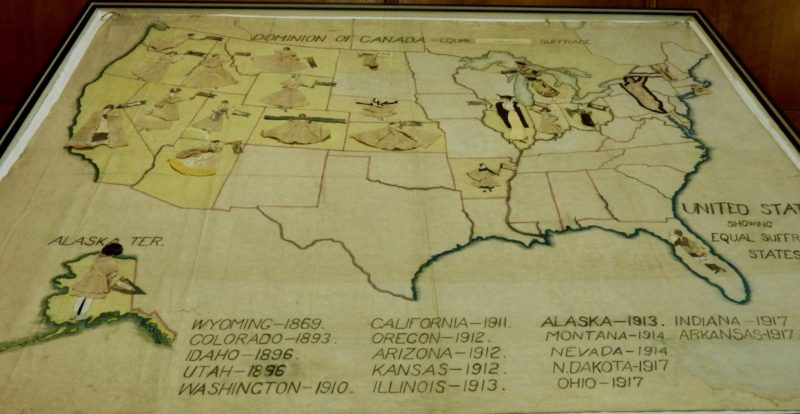 A tour of Anthony's home begins next door where her sister, Hannah, lived. After a short orientation and glimpse at a small exhibit, you'll step on the same bluestone sidewalk, installed in the mid 1800's, that the Anthonys did, and enter Susan's house. Built in 1859, it is not a grand home, but of course its walls hold plenty of tales. Many are told on this tour. Though at the time, women had no financial rights, no control over their own children, and were banned from speaking in public, Susan B. Anthony focused on abolishing slavery and alcohol, not women's rights. All that changed at a chance meeting on a street corner in Seneca Falls NY, where Anthony was breaking the law by speaking out in public against slavery. Amelia Bloomer (inventor of the garment that would liberate women from tight corsets and skirts) introduced Anthony to the quiet thinker and writer, Elizabeth Cady Stanton – a mother of seven children who had written the Declaration of Sentiments – a parallel Declaration of Independence used as springboard for the July 19, 1848 Women's Rights Convention.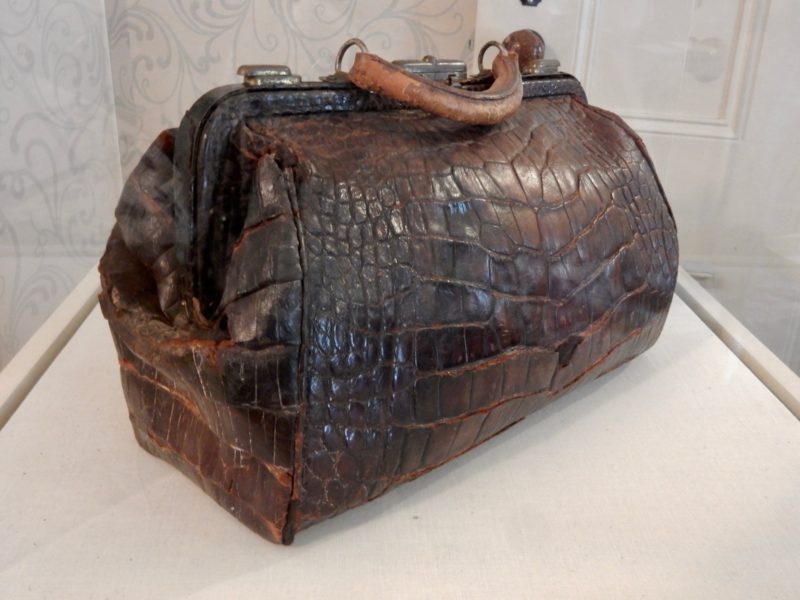 Melding strengths, Anthony and Stanton became a force to be reckoned with. Anthony babysat for Stanton's children while Stanton worked on her inspiring essays and speeches, which Anthony would deliver on tours throughout the country. Anthony's office was on the 2nd floor. From here, she wrote 50 letters a day. Her famous alligator purse is on display – some say it was Susan's signature to quickly identify her in a crowd.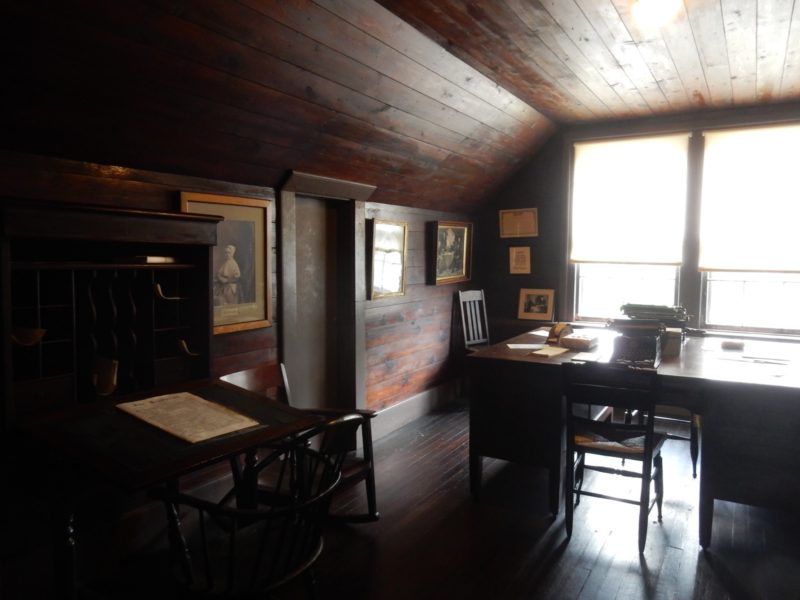 The third floor – dubbed the War Room – has the most residual juju. It was here that some of the most influential women of the day gathered to plot next moves and write burning compositions to inspire and agitate. You can almost feel the energy up here.
Lastly, as you stand in her front parlor, you'll hear how Anthony was arrested in this very room. In 1872, when Black men could vote, Anthony used the 14th Amendment (US Citizens shall not be deprived of life, liberty or property) to argue her right to vote with a young fellow overseeing voter's registration at a barbershop down the street (he relented). Though 15 other women voted (with proper registration) that day, she was the only one arrested. Before her trial, Anthony traveled from town to town, giving her speech, "When is it illegal for an American Citizen to vote?" though on the day of her trial, the judge forbade Anthony to speak on her own behalf. Anthony persisted and spoke anyway, reciting again her "American Citizen" speech to a courtroom packed with reporters. It was a turning point in the Women's Suffrage movement (and yes, her vote for Ulysses S. Grant did count).
Susan B. Anthony never lived to see the passage of the 19th Amendment in 1920. She died at age 86 in 1906, her funeral packed with 10,000 mourners. Open Tues-Sun 11-5, $15 for guided tour.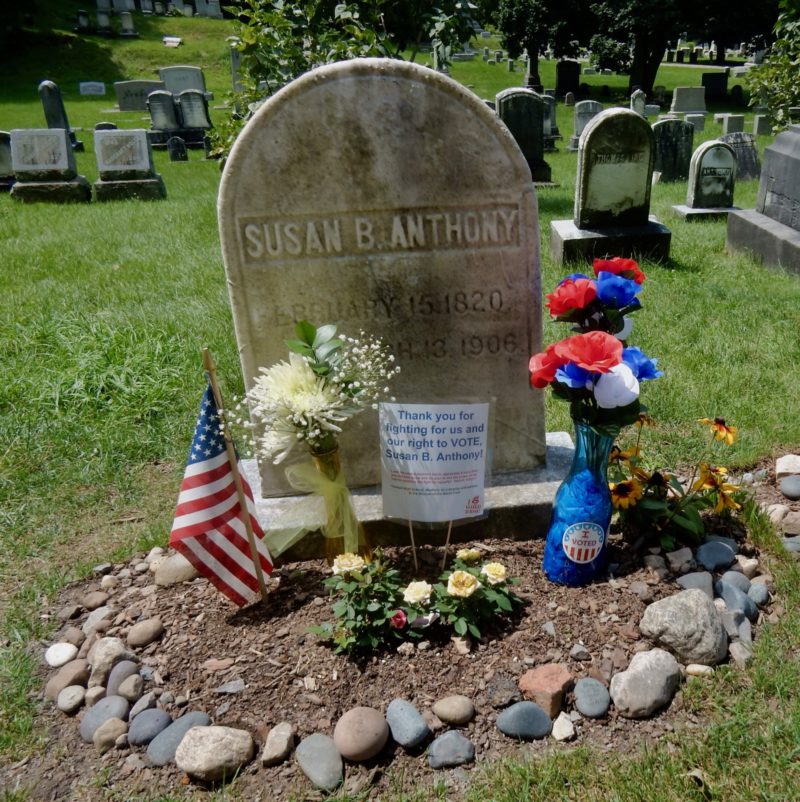 VISIT: Mount Hope Cemetery for the final resting places of two American heroes – Susan B. Anthony and Frederick Douglas. Every four years, on Election Day, several hundred women make a pilgrimage to SBA's grave to place "I Voted" stickers on her tombstone. On Nov. 8th, 2016, so many men and women showed up (some estimate 10,000), it made national news.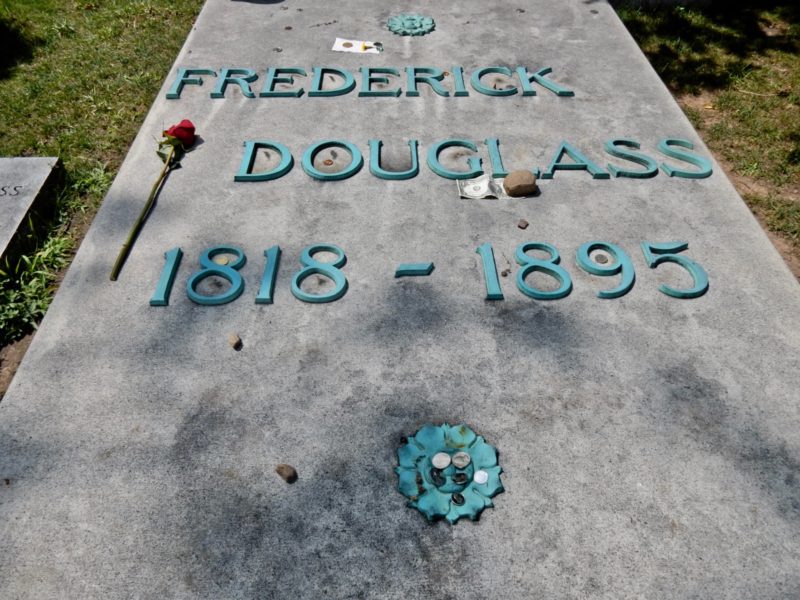 A commemorative inscription near the grave of Frederick Douglas reads: born 1818, died 1895; Escaped Slave, Abolitionist, Suffragist, Journalist and Statesman; Founder of the Civil Rights Movement in America; and, according to the current US President, "an example of somebody who's done an amazing job and is being recognized more and more."
VISIT: Rochester Public Library. Though their stories may be untold, women entrepreneurs of the 1800's came up with practical and liberating advances, some still used today. In 1857, Amelia Bloomer freed women's bodies from harmful constraints with her design for a type of pantaloon, and Martha Matilda Harper invented the reclining shampoo chair and non-toxic hair tonic, opening up the first Beauty Salon for women in 1888. These discoveries and more are part of a temporary exhibit in the Rochester Library.Open Mon-Thurs 9:30-9pm, Fri. 9:30-5:30, Sat. 9:30-1:30, free.
VISIT: George Eastman Museum.  The world's oldest museum dedicated to photography, and one of the world's oldest film archives, recently rescued a treasure trove of Bollywood movies, making it now the repository of the world's largest collection of contemporary Indian films. Located on George Eastman's estate, modern exhibit space flanks the very well-preserved historic landmark house. Self-guided audio tours may be accessed on personal phones, while daily guided tours cover the historic mansion, gallery, and (seasonally) the gardens.
Where to Eat in Rochester NY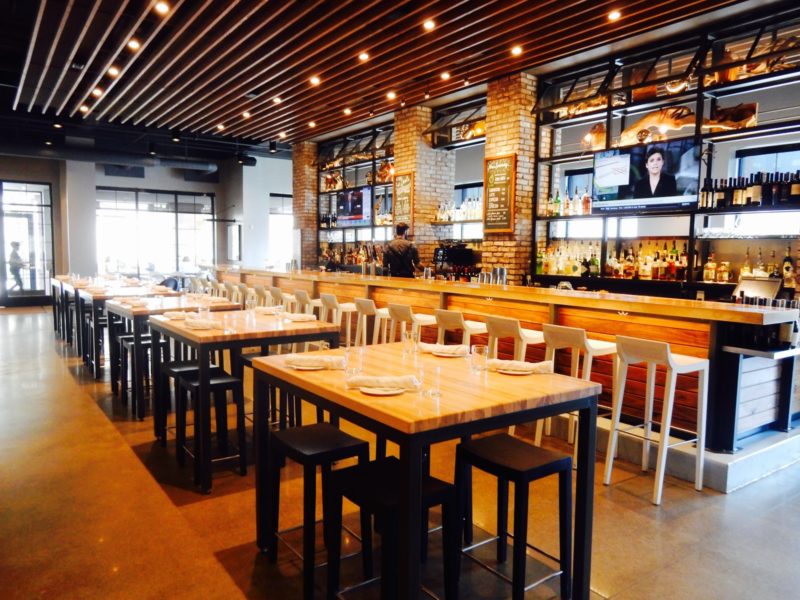 EAT: Grappa/Hilton Garden Inn. This contemporary Italian spot may be situated inside a chain hotel, but it's a worthy destination for those seeking from scratch soup, pastas and other tastes of Italy. Greens and Beans is a standout – a combo of broccoli rabe and cannelloni beans in broth – the perfect lunch.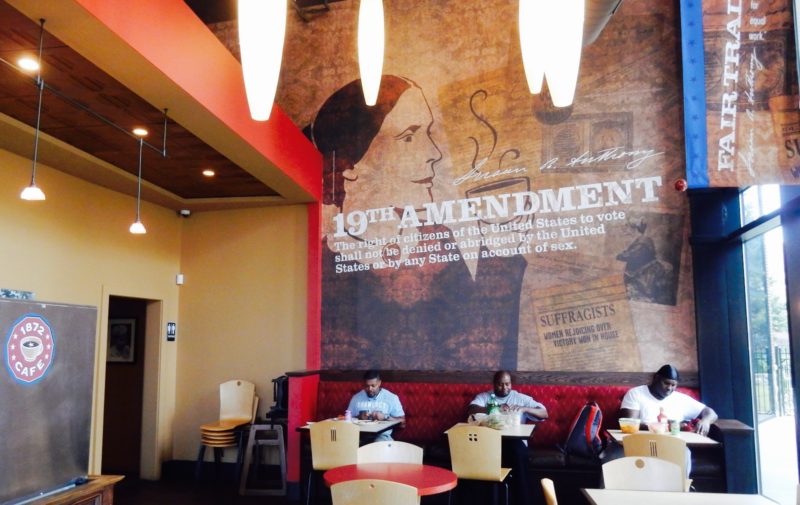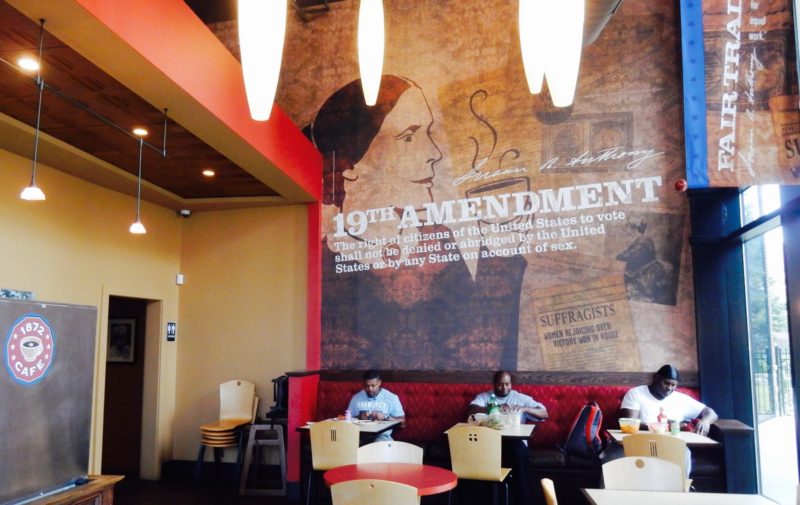 EAT/PHOTO OP: 1872 Café. It's a pizza place named for the year that Susan B. Anthony voted, and yes, the pizza's pretty decent, too.
BREAKFAST: Chit Chat Cafe. Warm and friendly, Rochester's favorite breakfast spot is the kind of place where it's not unusual to see random acts of kindness: on a recent day, a customer paid forward $100, a sum that goes a long way there. Portions are huge, but even so, don't miss out on extra servings of the Cinnamon Swirl Toast.
Where to Stay
STAY: Vintage Gardens B&B, Newark NY. Just 30 minutes from Seneca Falls, and 45 minutes from Rochester, in the small, walkable Erie Canal town of Newark, this exquisite 5-room B&B has a special pedigree. It was the home of Charles Perkins and headquarters of the Jackson Perkins Rose Co. – the floral brokers who brought roses to America. Now a Maven Favorite – read the complete write-up HERE.