Last Updated on
WHY GO: German-born Albert Einstein settled in Princeton NJ in 1933 with a $5000 Nazi bounty on his head. But Einstein lived safe and sound and very modestly in this preppy, Ivy League town until his death at age 75 in 1955. He was far from the only world-renowned figure who lived here, and an engaging walking tour of both the town of Princeton and Princeton U. campus brings you in close contact with a roster of scientific pioneers, ingenious tycoons, "Celebrity Academics" and other brainiacs of the highest order. On this IQ-boosting Getaway, you'll discover one of the world's best sculpture gardens, family owned shops and farms worth patronizing, some incredible US history and naturally, the best places to eat and stay in Princeton NJ.
Best Things To Do In Princeton NJ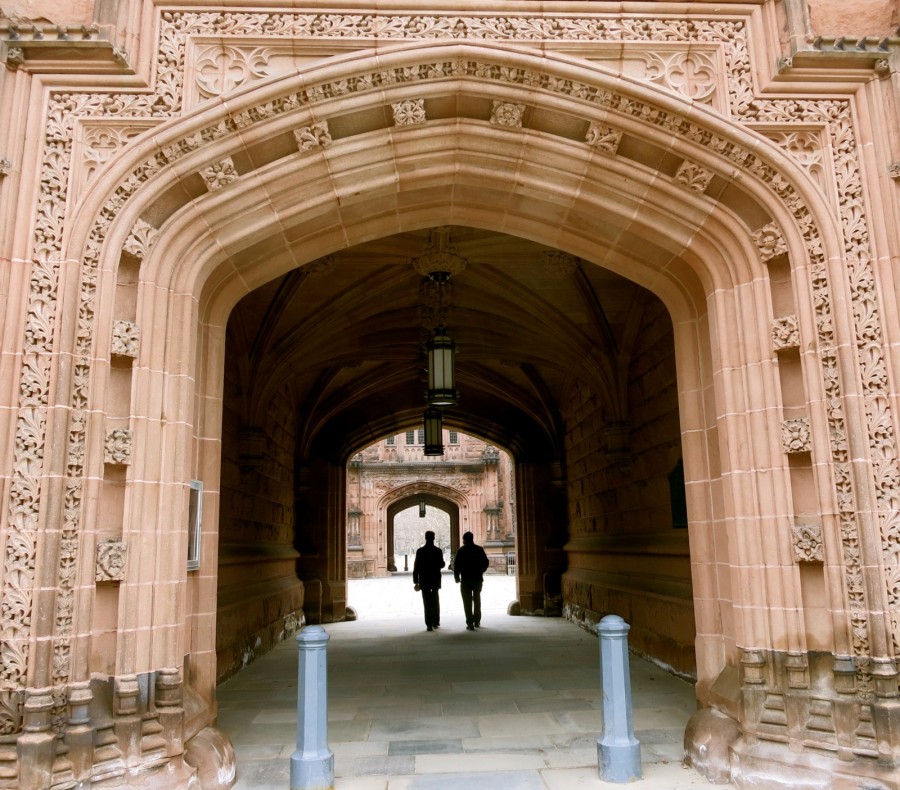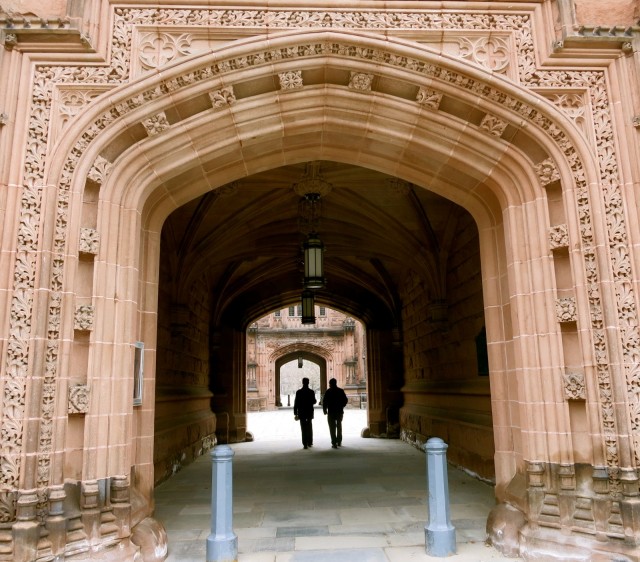 TOUR: Princeton Tour Company: The bubbly Mimi Omieccinski takes you on a 2-hour  "Shameless Namedropping" tour of this tycoon and "Academic Celebrity" studded Ivy League town, including a walk along mansion-lined streets and through the Princeton University campus. You'll walk by Einstein's very modest white home at 112 Mercer St., peek inside the exclusive Nassau club, where women were just recently admitted, and pass Princeton Theological Seminary – where the man we know as Mr. Rodgers once taught. And speaking of teachers, Joyce Carol Oats and "A Beautiful Mind," John Nash, remain on the Princeton U. Faculty.
Princeton President Woodrow Wilson oversaw an expansion in the early 1900's that would give the campus the gothic look of Oxford and Cambridge,  and you might recognize it from several hit movies: A Beautiful Mind, Scent of A Woman, and the latest Tina Fey vehicle, Admissions. But this informative, educational and sometimes outrageous tour will give you a much more insidery understanding of both the Town and Gown sides of Princeton, NJ. $25 per person, Saturdays 1pm-3pm. You can also arrange for a private personal or group tour. 
TOUR: Grounds For Sculpture. The supreme vision of one prolific, extraordinary and eccentric contemporary artist, Seward Johnson, Grounds for Sculpture (GFS) can command the better part of your day (or days, really) as you stumble upon 270 outdoor works, some hidden "like Easter Eggs" in little secret gardens on 42 acres. Founded in 1992 as a non-profit outdoor museum, GFS is now populated by peacocks, statues, and ornaments of all kinds. From a provocative Kiki Smith bronze of a girl squatting and peeing (untitled), to Johnson's favorite installation – a life-size "self-portrait" of himself as Monet painting a Victorian-era lakeside gathering – to wisteria and birch tree lined "allees," on which to meander, all art is framed by nature.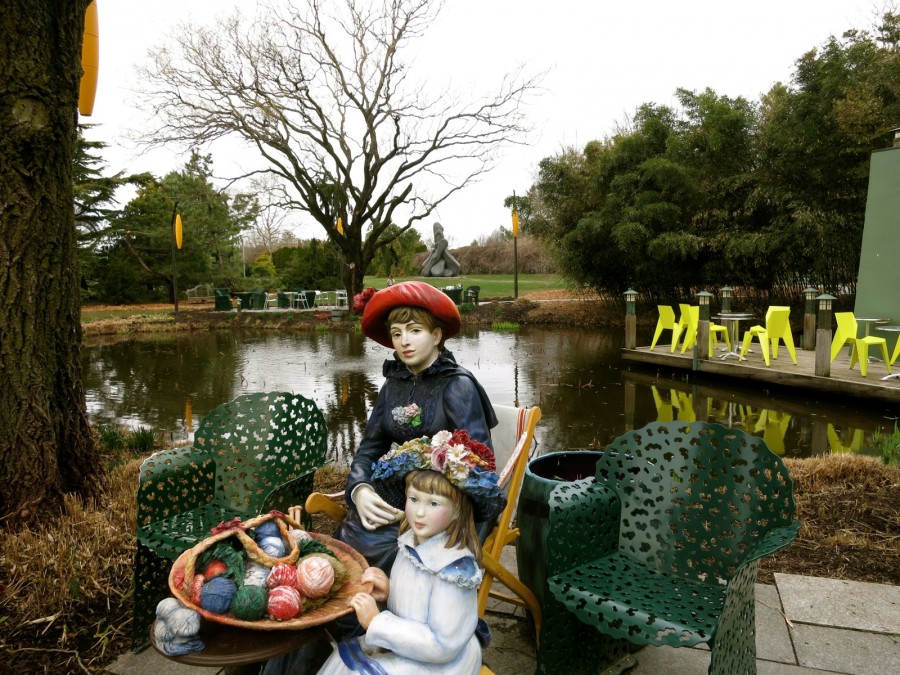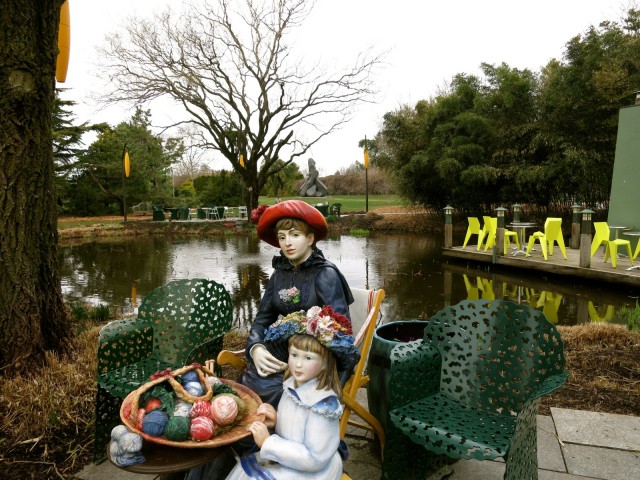 Now with a new Visitor Center featuring several galleries big enough to park a 747, a new Orientation Screening Room, a 9-11 memorial,  and major gift shop, GFS is destined to be a global destination. $15 admission. Free walking tours daily at 3pm. If you live nearby, the $70 per person annual membership allows you unlimited free admission, invitations to gallery openings, and lots of other programs. It's the deal of the century.
VISIT: Terhune Orchards. Gary Mount, his wife Pam and their daughter, Tannwen own this 35 crop 200 acre farm, "five miles from downtown Princeton and in another world."  The Farm Store sells fresh-picked produce, flowers, from-scratch pies, apple cider donuts and other baked delights, and house-made wines. (One package popular with Princetonians is a bottle of wine, flowers and pie delivered right to campus). In addition to the Wine Tasting room (mulled wine in winter, Sangria in summer), you can "pick-your-own" anything in season, including first up in the Spring; asparagus! It's sure to be cheaper and fresher than what you'll find in any grocery store.  Store open 9-5 weekdays, till 6 on weekends. Wine Tasting Fri-Sun Noon-5.
TOUR: Morven Museum and Garden. One of five families to settle Princeton, Richard Stockton – a signer of the Declaration of Independence and his wife, Annis raised six children in this house which subsequently served as the New Jersey Governor's Mansion. An entertaining 45 minute tour will introduce you, through stunning portraits and juicy gossip, to all prominent Stockton's and their mates, including Annis Boudinot, a highly educated poet and early advocate for women's rights, who believed that women were the moral backbone of the fledgling country. One daughter married Surgeon-General, Benjamin Rush, another son, "The Duke," was apparently seen as an object of ridicule by his Seminary students. Grandson Robert Field Stockton fought in the Battle of Fort McHenry (of Star Spangled Banner fame), rose to the rank of Commodore, was namesake of a California town, and designed a cannon that exploded accidently killing the Secretary of State, the Secretary of the Navy and President Tyler's future father-in-law. When the last Stockton died, NJ Governor Walter Edge purchased Morven then willed it to the state upon his death in 1954. It served as the official Governor's Mansion until 1982.  Open Wed-Fri 11-3, Sat/Sun 12-4. 
VISIT: Princeton University Art Museum. Though the Princeton University Museum covers five thousand years of art and all the world's cultures on two large floors, it is surprisingly intimate and beautifully curated, with juxtapositions both experimental and provocative. "Art should be a part of everyday life for everyone," says Director James Steward. Though phenomenal large-scale work is found on the first floor, downstairs, the Medieval Church Exhibit is arguably the museum's most captivating. Stained glass windows, Gothic mantelpieces, sculptures from France, Spain and England – it's no doubt spine-tingling during acapella and Chamber Music concerts held on occasion in this space.  Amble through a display of Japanese "Wit and Humor," Roman mosaics, Grecian urns, Chinese porcelain, and Egyptian artifacts – brought back by students in the Princeton Department of Archeology who have been digging up Cyprus for the past 35 years. Free, Tues, Wed, Fri. Sat. 10-5, Thurs 10-10, Sun 1-5. 
VISIT: Historical Society of Princeton at Updike Farm. "We're in Princeton's back yard, but it's a side that many people don't see," says Eve Mandel, Director of Visitor's Services. One of two Princeton Historical Society's sites, this one is a Wyeth-painting writ large surrounded by farmland. (The Historical Society also maintains the Bainbridge House in town where you can see 65 pieces of Einstein's furniture and other historical artifacts.) The land is so idyllic it's drawn the Bacon Brothers and Marshal Tucker Band for its annual fundraiser in June. New for this year: crops grown in a small community garden will supply the Peacock Inn Restaurant, with proceeds going to those in need. For now, open the first Saturday of each month from 12-4. Free.
VISIT: Princeton Battlefield. According to Kip Cherry, the Executive Director of the Princeton Battlefield Society, this, the first of General George Washington's victories against a well-organized British Army, "the finest army on the planet," was the battle that changed the minds of the French officers who were hesitant to help a ragtag unprepared American militia. Looking much like the farmland it was on January 3, 1777, you can just imagine 1,500 Brits facing 5,500 American soldiers at 6:30am on a field of stubble stiff with frost. Much the information about what happened here was gleaned from letters, diaries and pension applications fifty years later. A spy map scrawled for General John Cadwalader references the "college" – now Princeton University, but not the Thomas Clark House right on the battlefield, used as a hospital after the mêlée.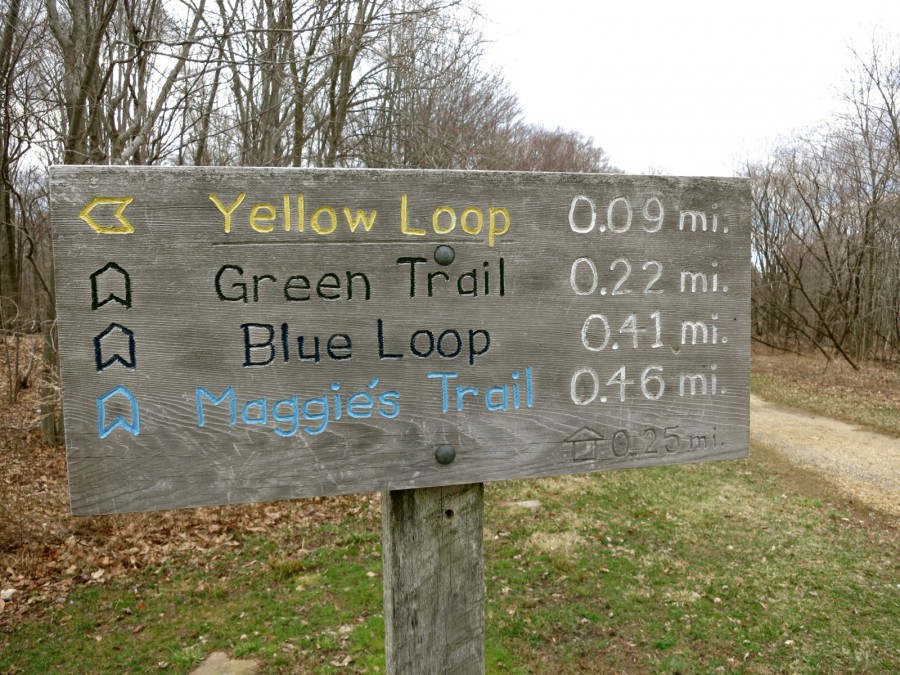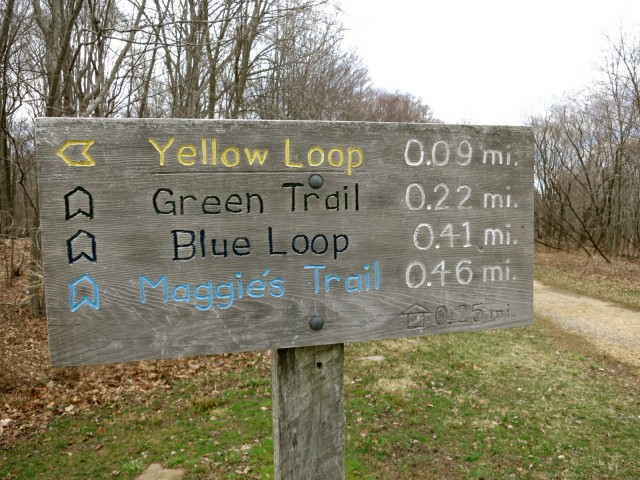 WALK: New Jersey Audubon Plainsboro Preserve. On a thousand acres with a large lake at its center, the Plainsboro Preserve represents Open Space at it finest.  Lots of wildlife – deer, eagles, fox, beavers with an active lodge- titter and twitter around five miles of field and woodland trails. It's a great representation of Central New Jersey wildlife. Go inside the Visitors Center to coo at Ringo – a full-grown Starling who was found as a featherless infant and is wholly imprinted on humans. A wonderful gift shop stocks a range of birdfeeders, feed, local honey and NJ-made crafts. Free, 7am-7pm.  Visitor's Center (with great gift shop) Tues-Sat. 9-5, Sun 12-5.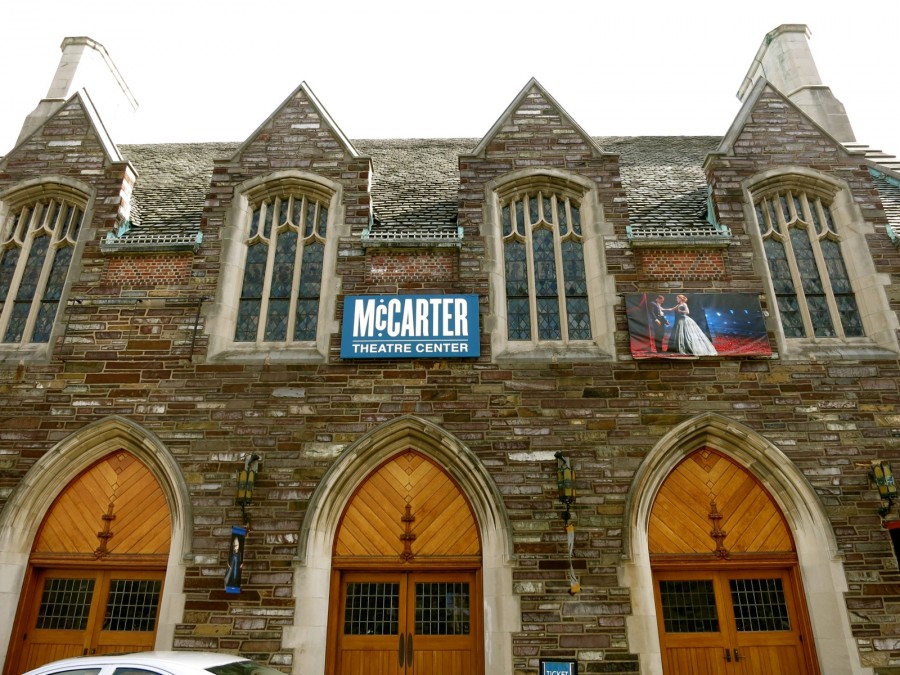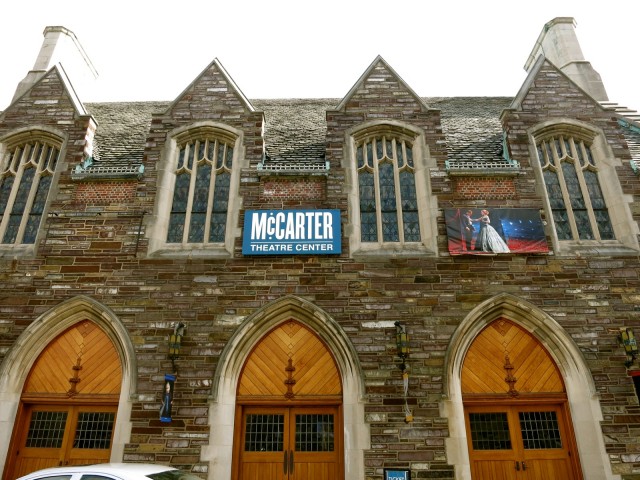 SEE: McCarter Theater. Opened in 1930 as the home of the Princeton U. Triangle Club (a la Harvard Hasty Pudding), the two-time Tony Award winning McCarter Theater now has a relationship with the University but is not part of it. Before heading to Broadway, Thornton Wilder's Our Town had its try-outs here in 1938, and from 1963-1971, John Lithgow's father was Artistic Director. The theater won a Tony for Best Outstanding Regional Theater in 1994 and Best Play (Vanya and Sonia And Masha and Spike) in 2013. Check out the calendar to see what's on the boards when you're in town.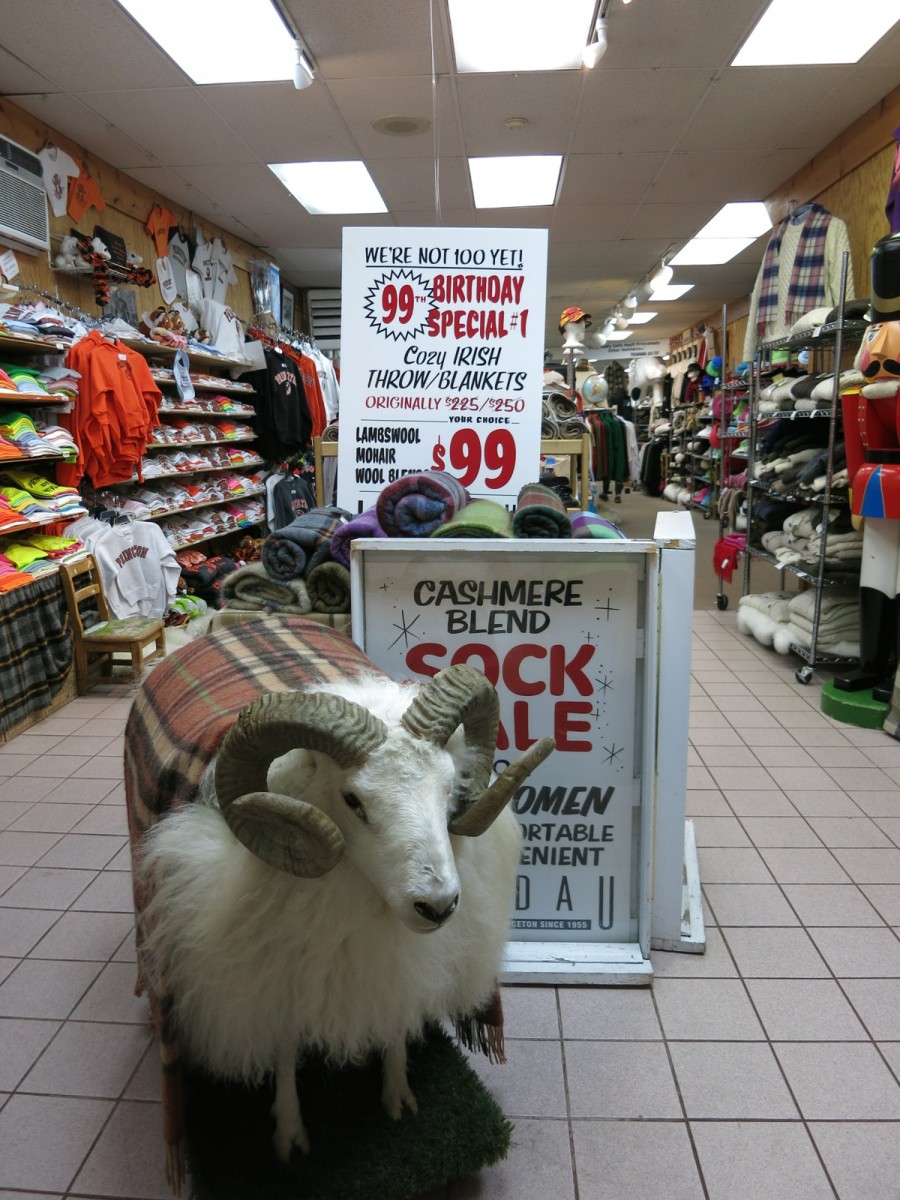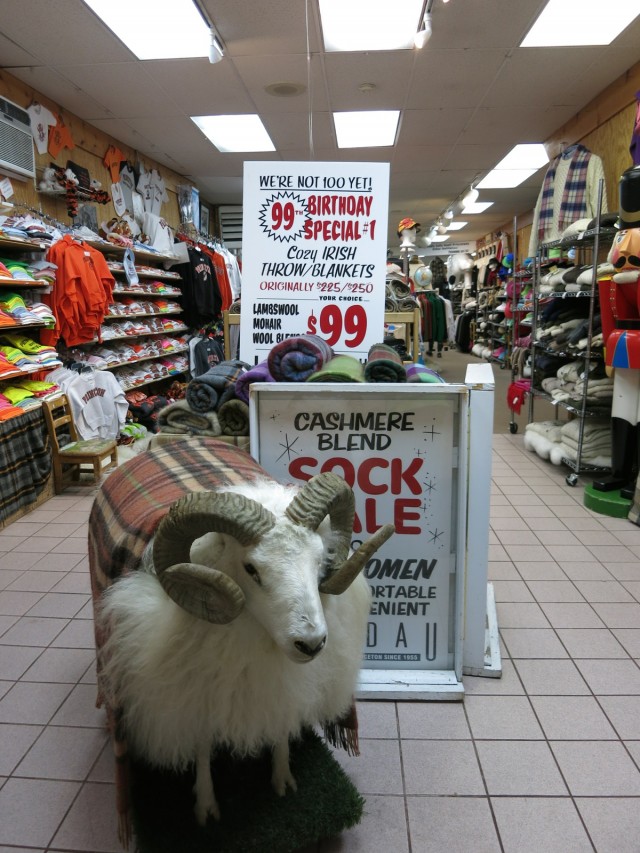 SHOP/VISIT: Landau/Einstein Museum. Walk through this third-generation family owned clothing store to find a wall of photos and letters to and from Albert Einstein in a small corner between the Fisherman Knit Sweaters and Loden Coats – among them Einstein's 1939 letter to FDR impelling him to develop nuclear weapons before the Germans did, and a 1952 letter from Israel Prime Minister Ben Gurion requesting Einstein to accept the Presidency of Israel. Brothers Henry and Robert now run this old-fashioned specialty store, which opened in Princeton in 1955, the year that Albert Einstein died. In 1994 when the movie IQ (starring Walter Matthau) was being filmed, townspeople brought letters and other Einstein memorabilia to be used as props in Landau's front window. The collection proved so popular, the Landau brothers decided to create a permanent exhibition inside the store.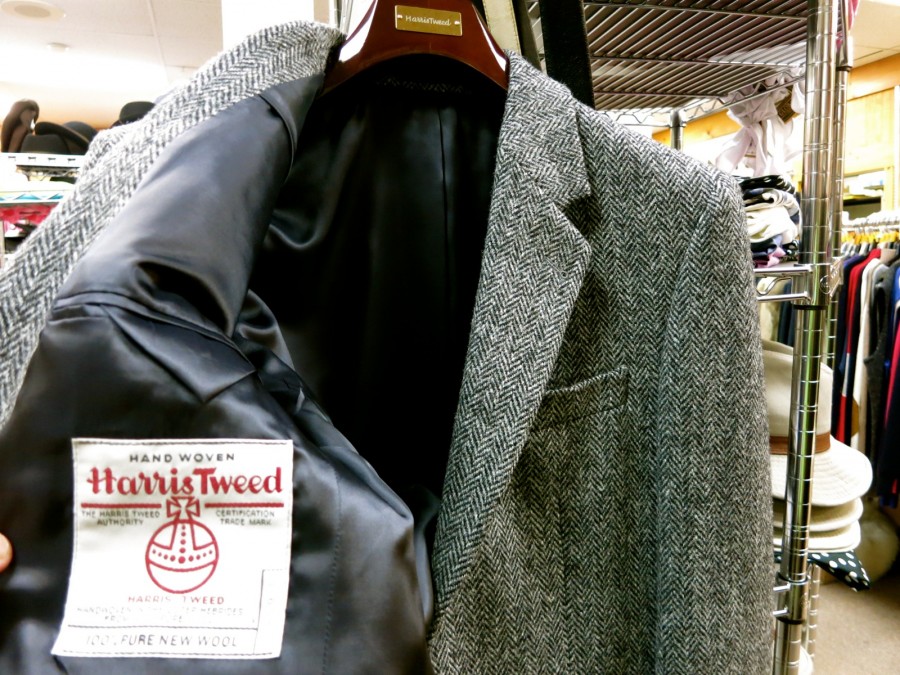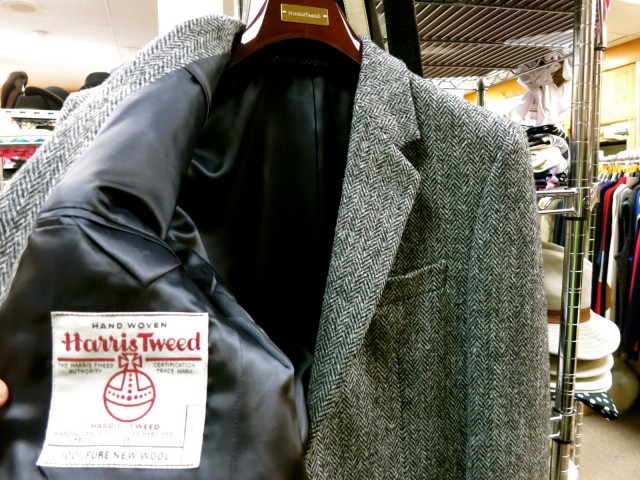 Landau does a brisk business in several classic, "non-trendy" articles of clothing: the soft-as-cashmere Loden Coat ($500-$1500)– made with an ultra light, ultra dense water-resistant wool, authentic "literature professor" hand-woven Harris Tweed jackets ($400: though copied by Ralph Lauren and others, these are the real deal from Scotland), Possum Marino woolens ($275, "they never pill"), and Mohair Throws, aka "Plaids" – those hairy warming blankets seen all over Europe ($99, makes a great wedding gift). Open Mon-Sat. 9:30-4:30, Sun. 10:30-4:30. 
Best Places to Eat In and Around Princeton NJ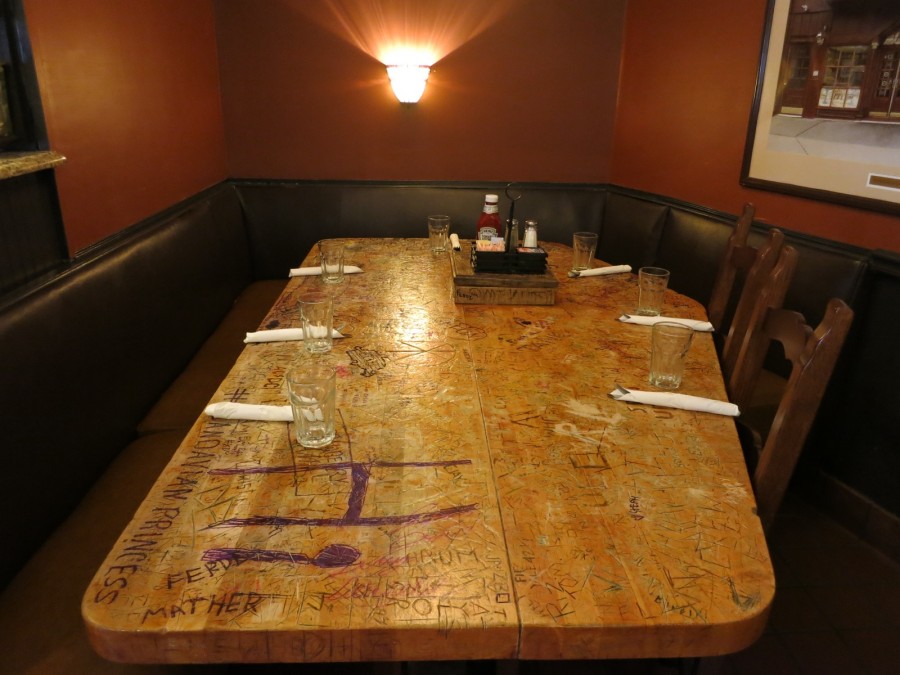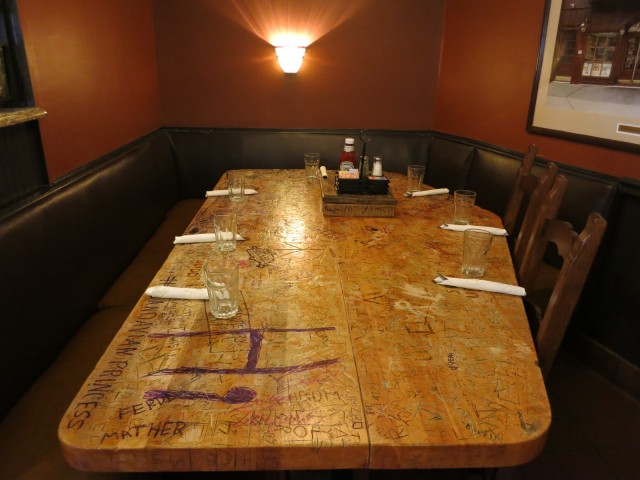 EAT: PJ' Pancake House. Come for burgers or pancakes ("Breakfast All Day") and eat on wood tables carved with initials of Princeton students. Nothing fancy but a local institution. 
EAT: Agricola Eatery. Agricola, which actually has its own 121-acre farm just six miles down the road, is also a NJ Magazine Top 25 Restaurant, with yet another celeb-trained chef, Josh Thomsen, who worked under Thomas Keller at the French Laundry. Both Thomsen and his assistant chef Manlee Sui, treat each and every piece of produce like a prize. "Last year the farm produced 500 lbs of Nappa Cabbage," said Sui. "What to do with that amount of cabbage? We fermented it for a year, and serve it as Kimchee."  Agricola is a veritable cornucopia when it comes to fermented and pickled veggies – put up in colorful jars that decorate one windowed wall. Order the appetizer that highlights the best of these spicy-sweet carrots, daikons, green beans and other "dirt candy," in a perfect sweet and sour balance. And though I practically swooned over the meaty "Mushrooms with Truffle Broth" ($20), it might not be on the ever-changing seasonal menu.  Suffice it to say everything that comes out of the kitchen is not just fresh, but tenderly and expertly cooked.
EAT: Rat's at Grounds for Sculpture. Sounds unappetizing, but Seward Johnson loves Wind in the Willows and had a wicked sense of humor when he named his on-site restaurant, which NJ Monthly state's "Most Romantic." Lakeside, garden sculptures, stunning landscaping and  "Gypsy Wagon" entrance is just the half of it. The "modern take on country cuisine" includes repeat-guest favorites such as "Crispy Shrimp Salad ($18) – addictive,  hearty Short Ribs with roasted vegetables ($23), and a Hot Chocolate Crème Brulee ($9) that brings you back to your best memories of homemade chocolate pudding. But much creamier.
Best Places to Stay in Princeton NJ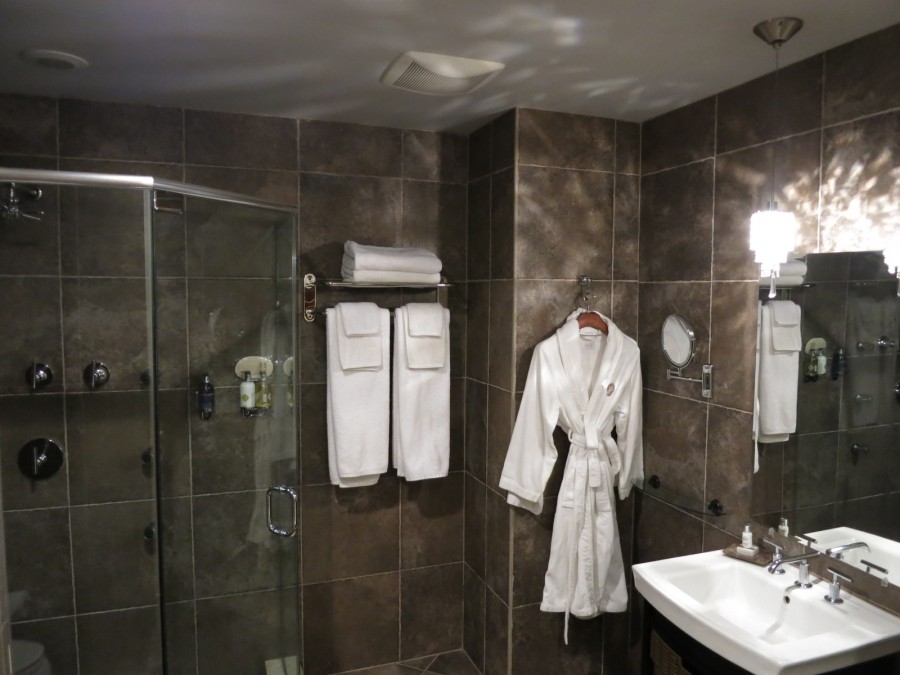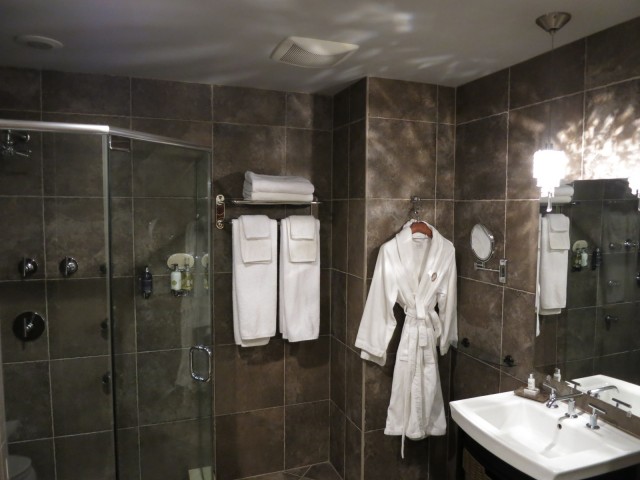 STAY: Peacock Inn.  I don't know what's more impressive – that this 16-room Inn has been redesigned as the only boutique luxury lodging in Princeton – or that Albert Einstein stayed here, and F. Scott Fitzgerald, Ernest Hemmingway and other notables were purported to have raised more than one glass in the basement when it was a speakeasy during Prohibition. Rooms are on the small side, but Japanese-clean design and spa-retreat bathroom more than compensate. Grey stone tiles, multi-head rain shower (with an unusual daisy-shaped showerhead), tiny crystal chandelier over the sink, Molton Brown toiletries – in some rooms the bathroom is almost as large as the bedroom itself. Continental breakfast skews healthy: fresh bagels, Kashi cereal, Chobani yogurt. Rooms and Suites $200-$610 depending on season include full Continental breakfast, wi-fi, parking.
STAY: Nassau Inn. Posing as a 1700's town tavern in the center of town, this Princeton landmark actually extends over a block, with 188 nicely updated rooms and suites. Beige walls, white quilts, granite baths (with Natura products), flat screen T.V. soundproof and quiet, bunking here has been a tradition for Princeton parents and grads since a few years after Jimmy Stewart graduated in '32. The Yankee Doodle Tap Room is perfect for a drink with friends – have a gape at the signed Princeton graduation pictures on the wall: Adlai Stevenson, Jimmy Stewart, Brook Shields, and Michelle Obama included. Rooms range from $200-$500 depending on season.