Last Updated on September 15, 2021 by Editor
WHY GO: If there was ever a city made for wandering, it's Porto, Portugal. Like Lisbon, streets are cobblestone, building facades gleam with colorful tile and the river (here, the Douro) figures prominently.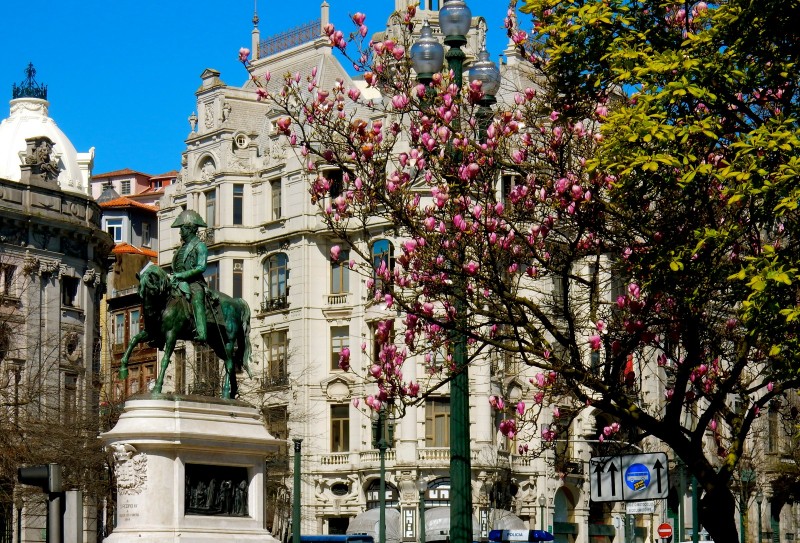 But Porto is much more intimate, and all of that beauty is concentrated in its historic city center. Churches and public buildings are works of art, and at least one bookstore influenced short-term Porto resident, JK Rowling in familiar ways.
(Compliment a stay in Porto with a few days in Lisbon. We spell it out here.)
What to See in Porto Portugal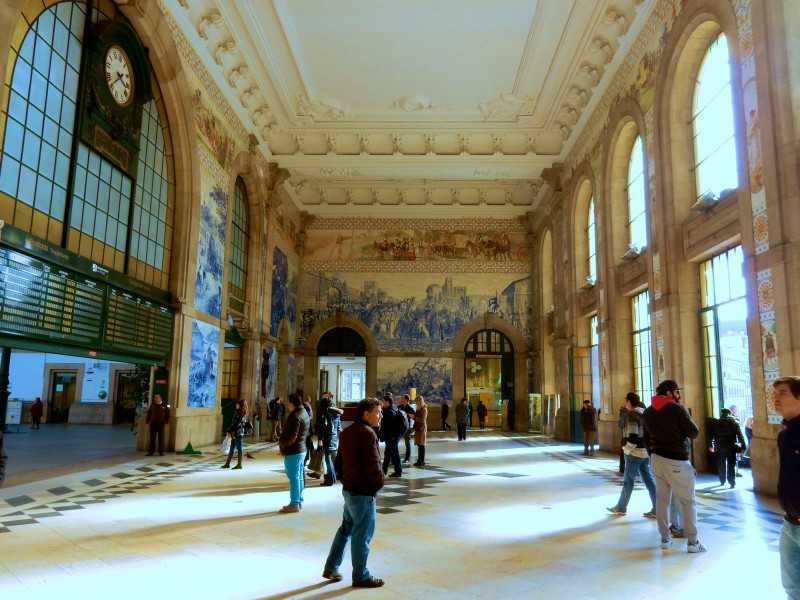 The interior of the Sao Bento Railway Station
Gaze upon the story of Portugal's transportation history in tile. The station vies with New York's Grand Central Station in grandeur – but on a much more intimate and artistic scale.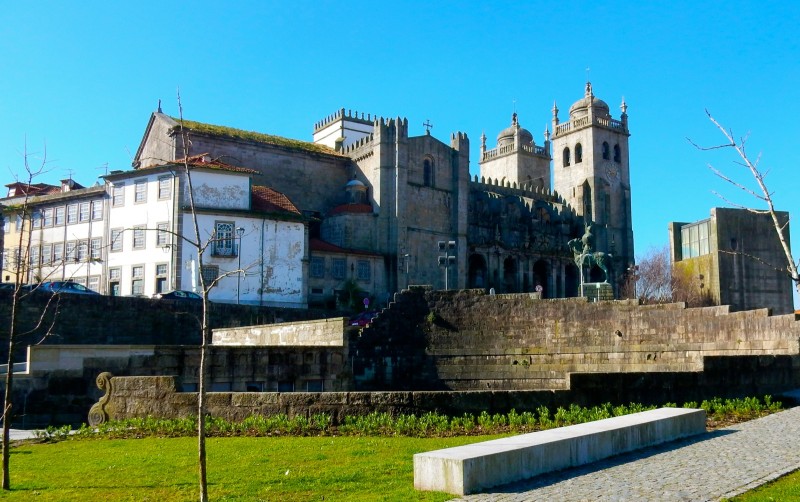 Across and up the hill from the Station, you'll find Porto's central Cathedral
Even if you don't enter, views of the Douro River and terra cotta rooftops are spectacular from the Cathedral's plaza.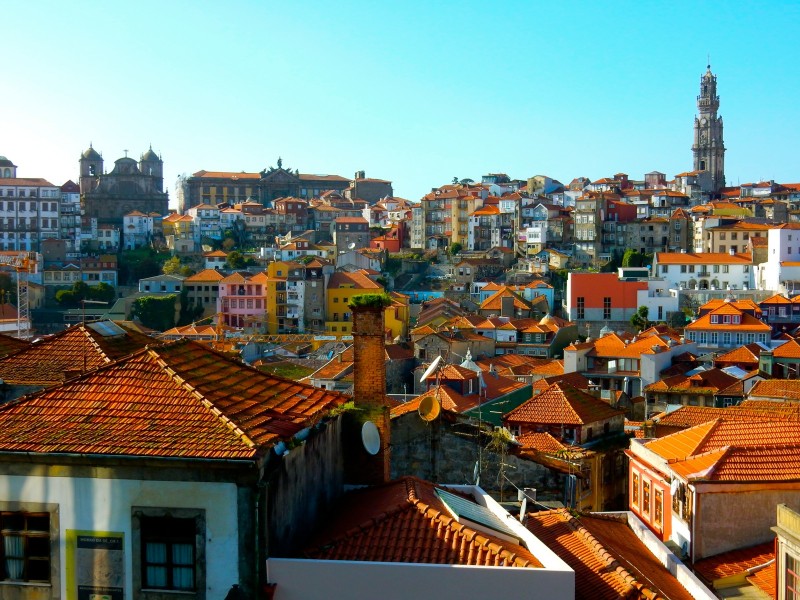 Continue on to cross the river on the Dom Luis Bridge
This double deck metal arched bridge was designed by a partner of Gustave Eiffel. Stay on the walkway, as this is an active light rail bridge.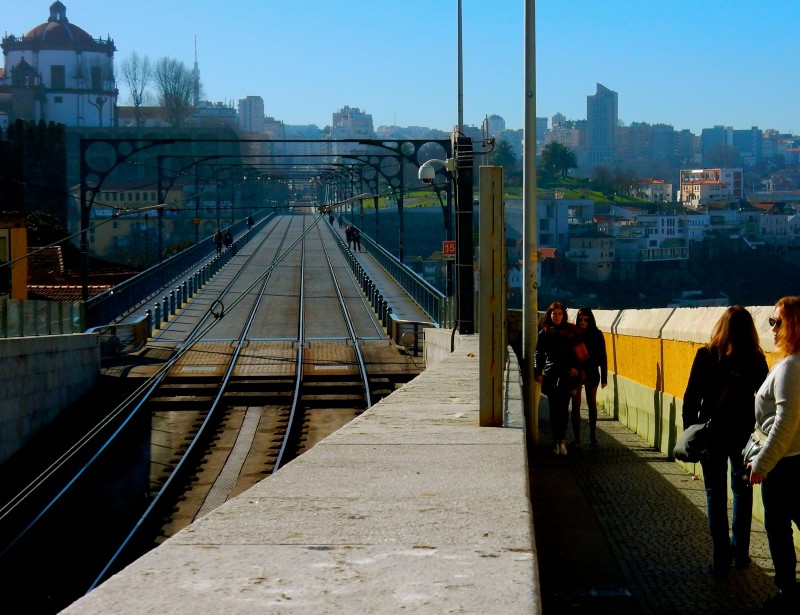 Views from the Dom Luis are spectacular, with panoramas of both sides of the Douro.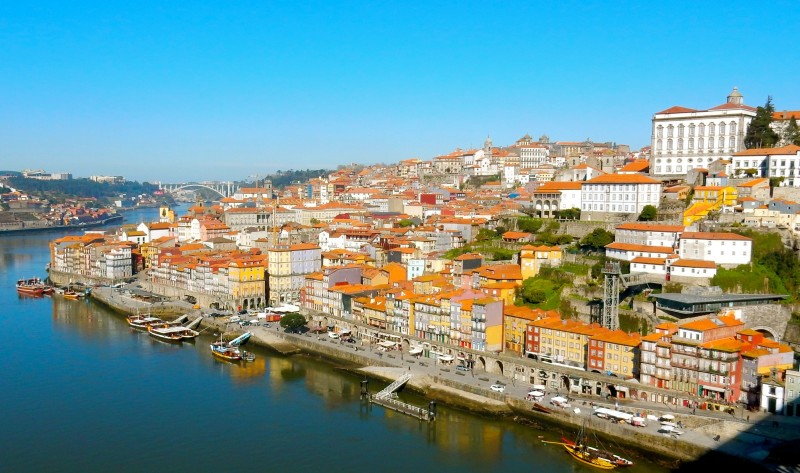 And sometimes you'll be lucky to catch a snippet of real Porto people going about their day.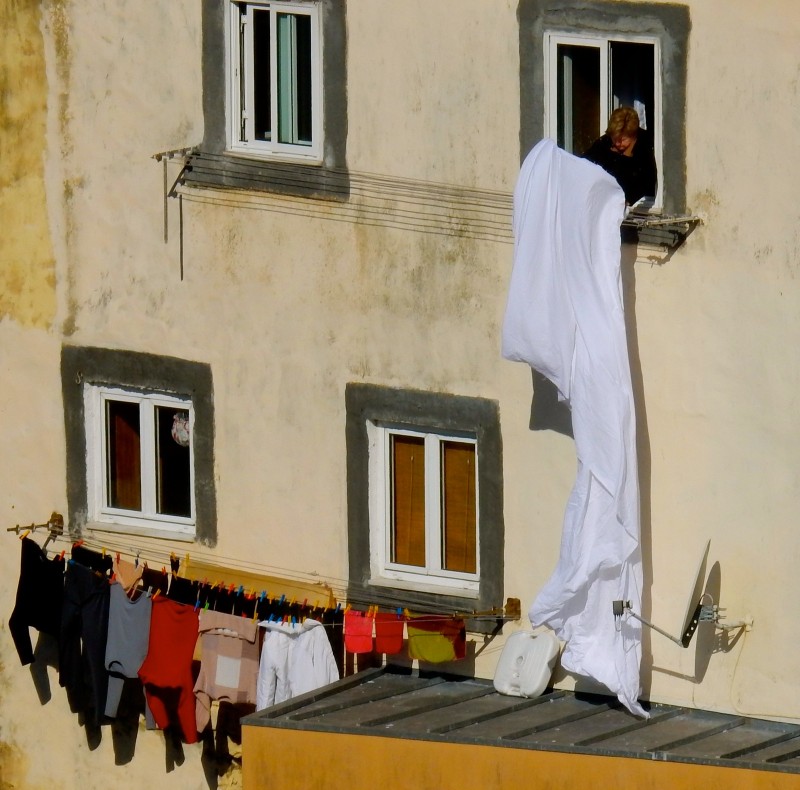 Commerce on the far side of the bridge centered around the wine named for the city: Port. Here, many riverfront storehouses have been left to the ravages of time. Others have been preserved for tourists as places to taste various kinds of Port.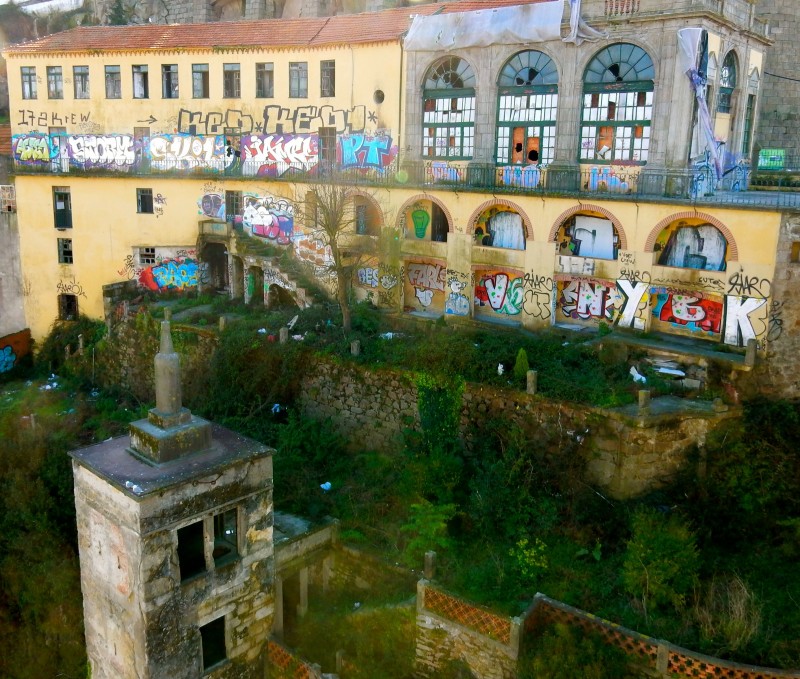 There are some great vantage points from this side of the bridge – so make sure to get off, head a bit uphill and see the bridge from there.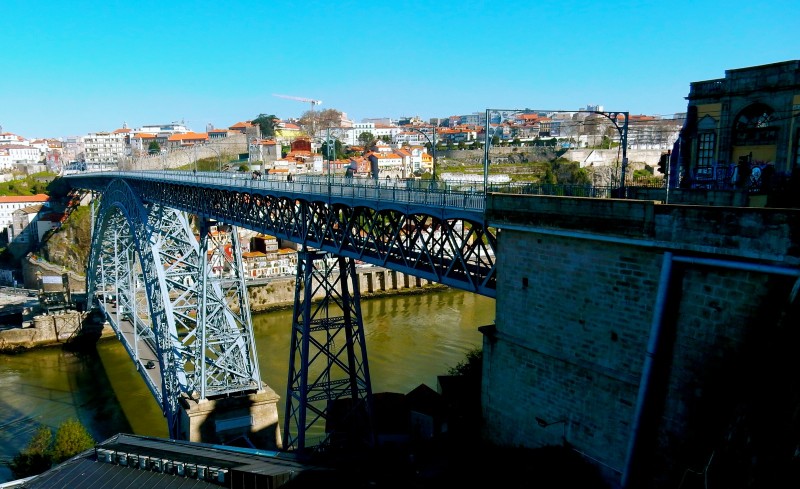 Back over Dom Luis Bridge, pay attention to murals and street-life, which may, in some lucky snaps of the shutter, imitate each other.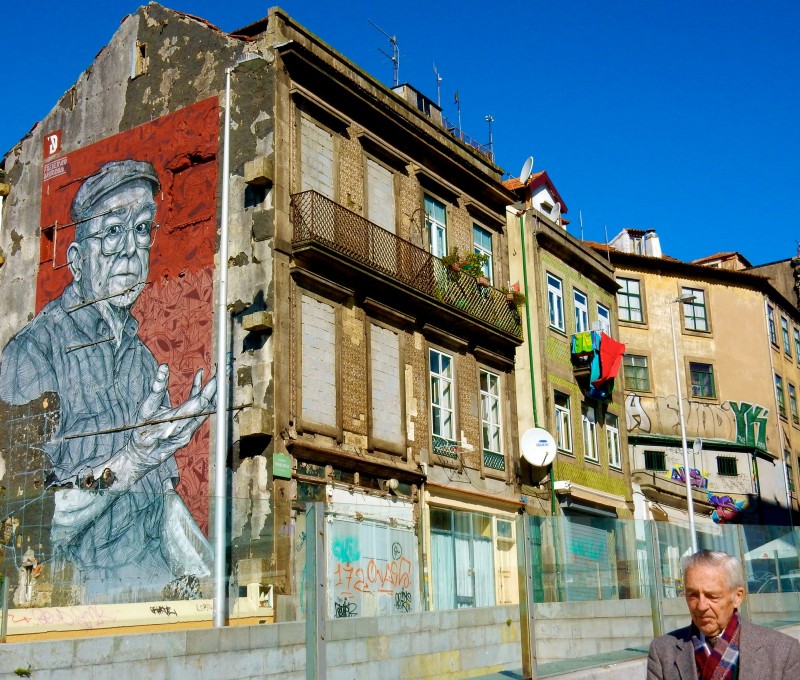 There's a way down to the waterfront across from this mural. It snakes down through houses that cling to the hillside right beneath the bridge. You'll want to take this little path, rather than the larger streets, just for its slice of life aspect.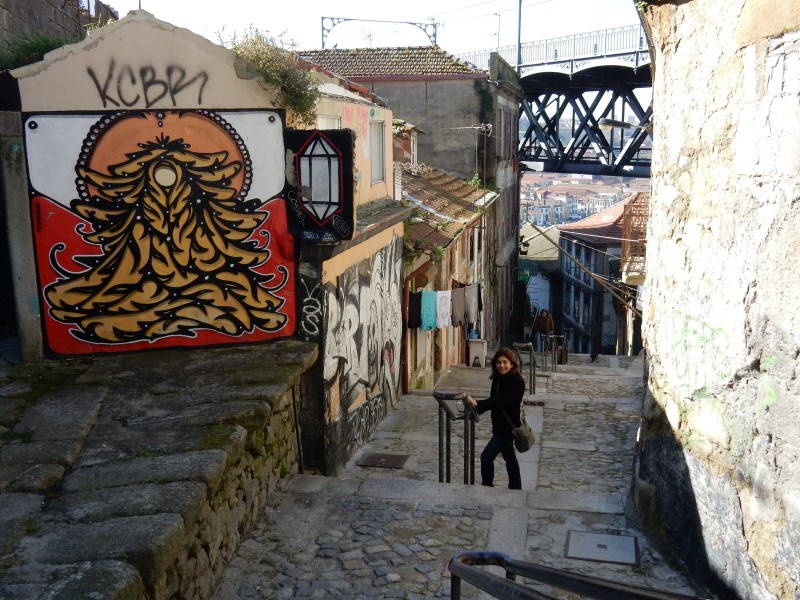 Halfway down, you can get a better view of the bridge's construction – and the fact that it is both a railroad and auto bridge – providing affirmation of its spectacular engineering.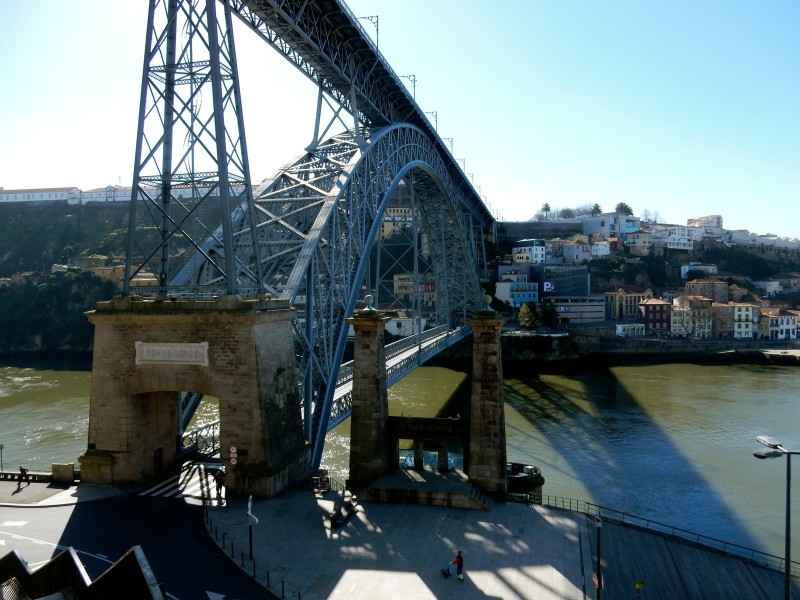 Head down to the riverfront walk
Take time to appreciate the colorful homes and apartment buildings, and grab an espresso or pastry.
If you have a couple of hours, take a small boat cruise (spelled the Ted way, "Cruz"). You'll find plenty of friendly competitors along the bulkhead.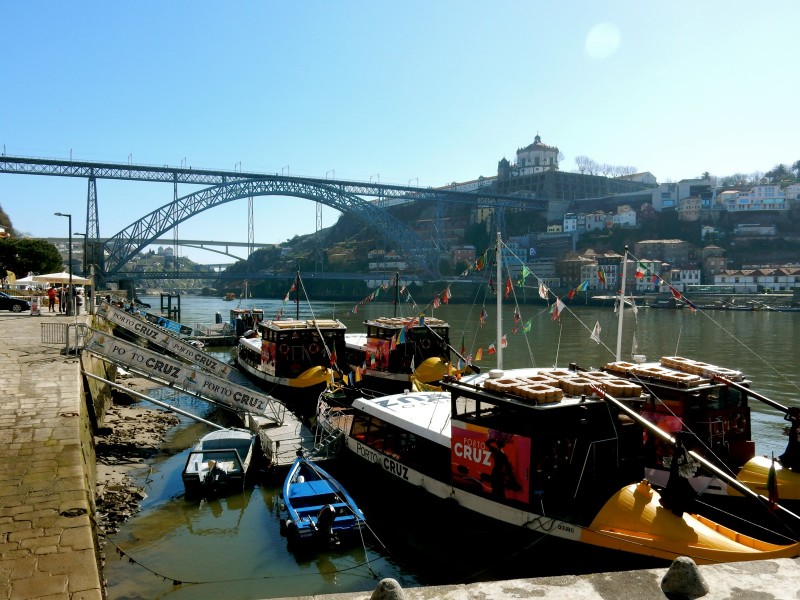 Make your way back up the street that was home to Prince Henry The Navigator, born in 1394.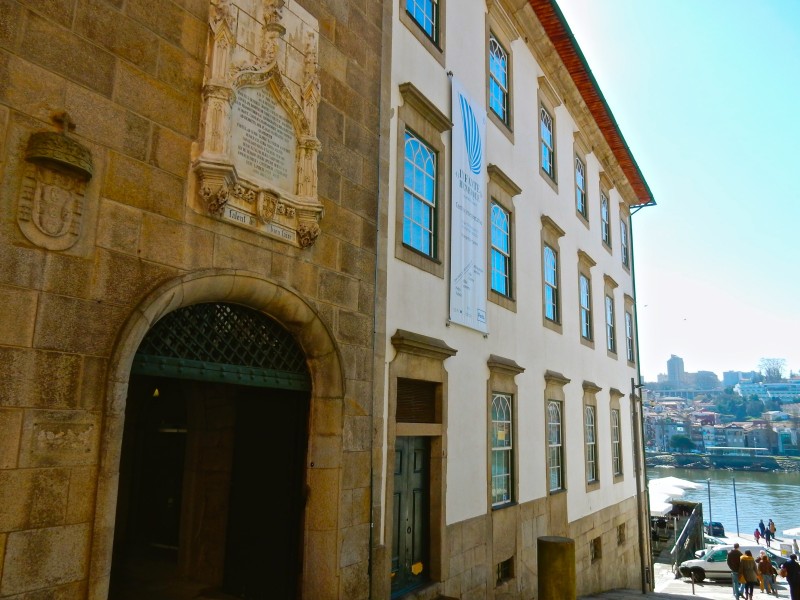 Porto is replete with hidden charms, just waiting to be stumbled upon.
Stop into Casa Das Rolhas (House of Corks)
Casa Das Rolhas has been selling cork bottle stoppers and other cork products for over 165 years (since 1850).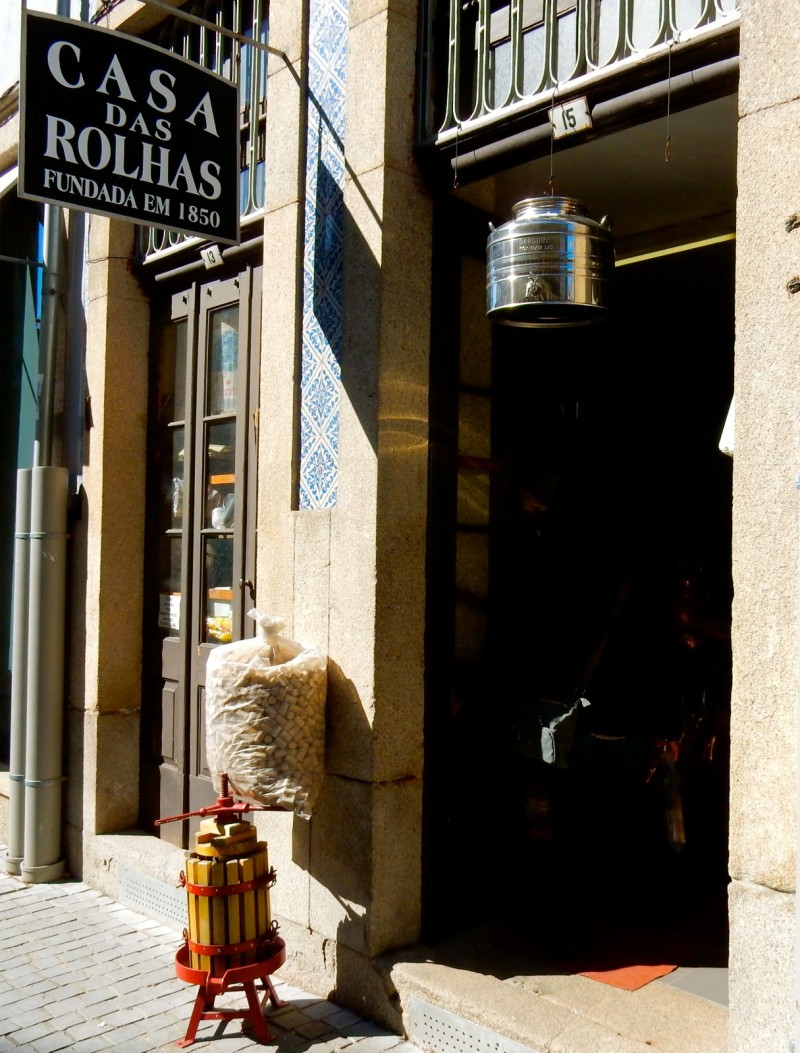 I couldn't resist walking in – and buying five wine bottle tops for one Euro.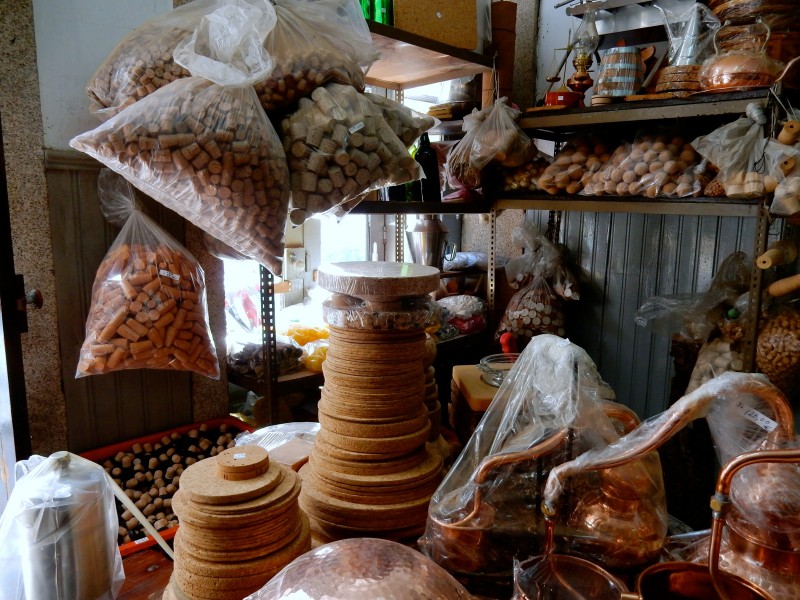 Revel in the exterior and interior beauty of awe-inspiring churches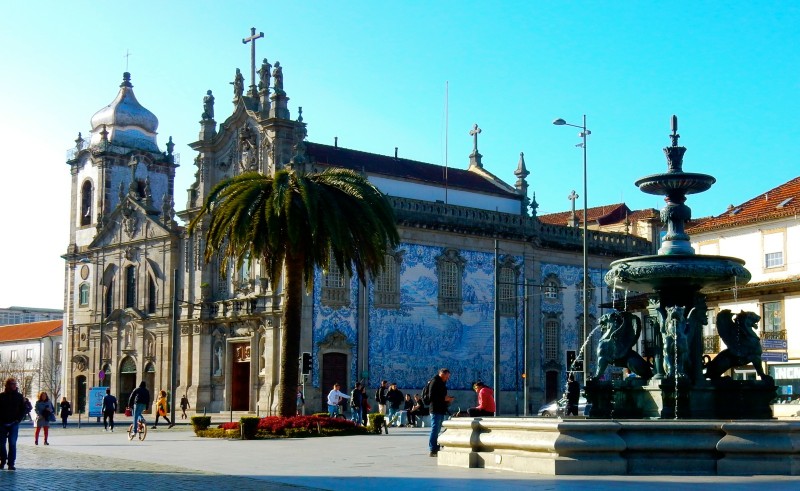 Igreja Do Carmo
Igreja Do Carmo has a traditional tiled exterior that belies the crazy Rococo interior.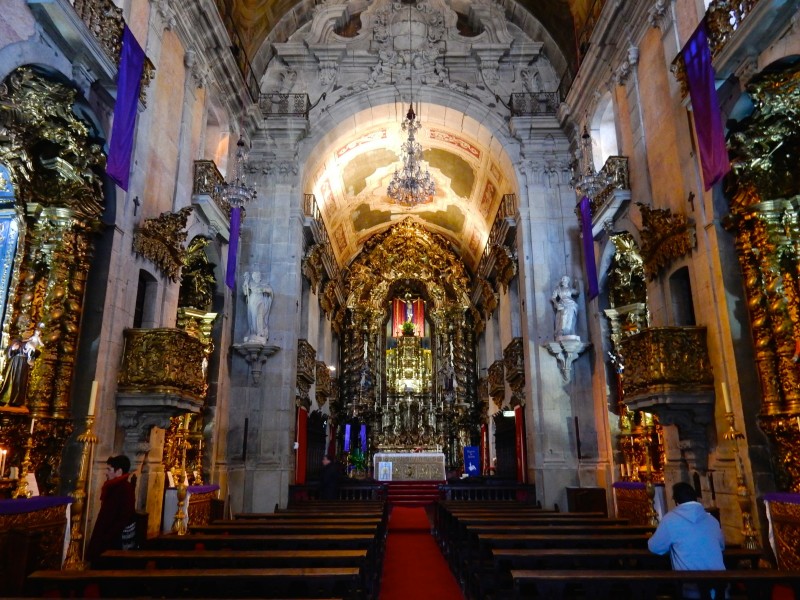 You'll see Jesus both bloody (just be aware, very graphic) and dramatically glowing. Certainly a feast for the eyes.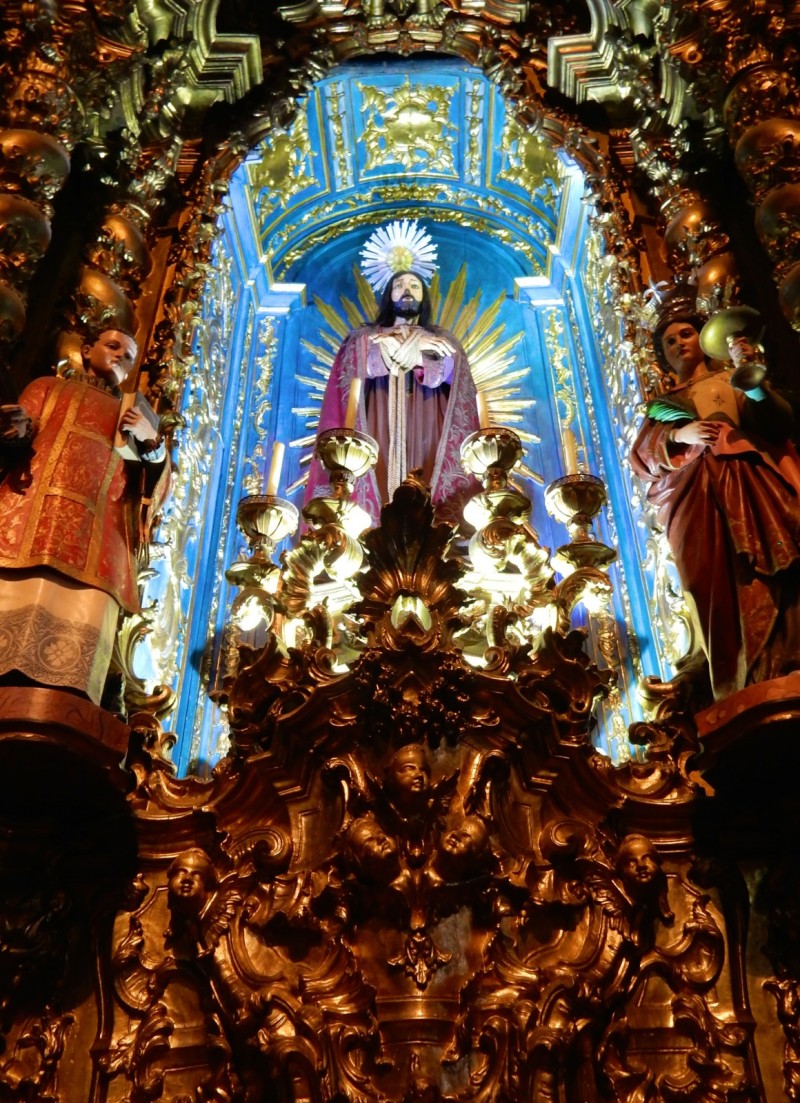 Check out the bookstore that inspired Porto Resident JK Rowling: Livraria Lello Bookstore
Your visit to Porto would not be complete without a stop into the Livraria Lello Bookstore – the place that inspired the Hogwarts Library in the Harry Potter books. It's rumored that while living in Porto for 18 months, JK Rowling came here often.
So many tourists started coming to Porto just to visit this store, its owners began charging 3 euro to enter (which can be applied towards purchase). A small price to pay for such beauty.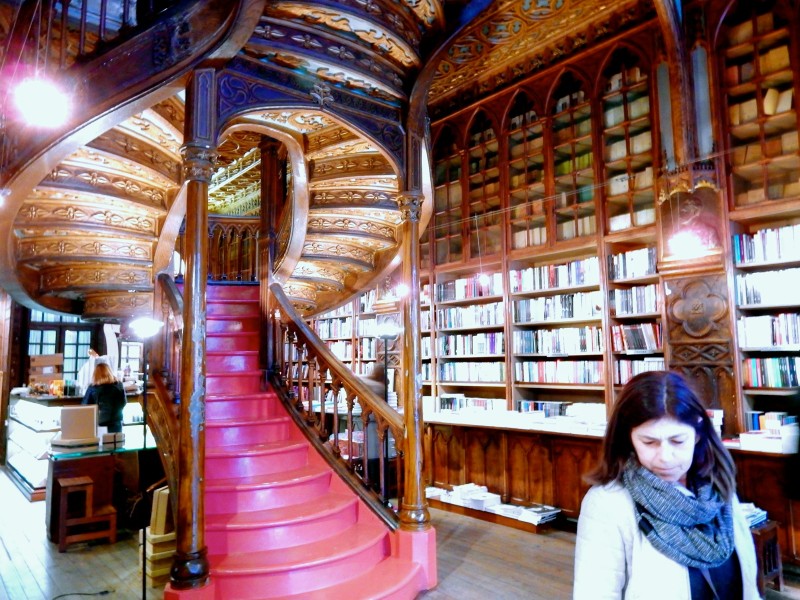 Your walk continues on into the evening, with buildings even lovelier as the sun sets.
Porto's Decoratively Tiled Buildings
Local designers are not adverse to tweaking the traditional blue and white tiles in a vividly modern way.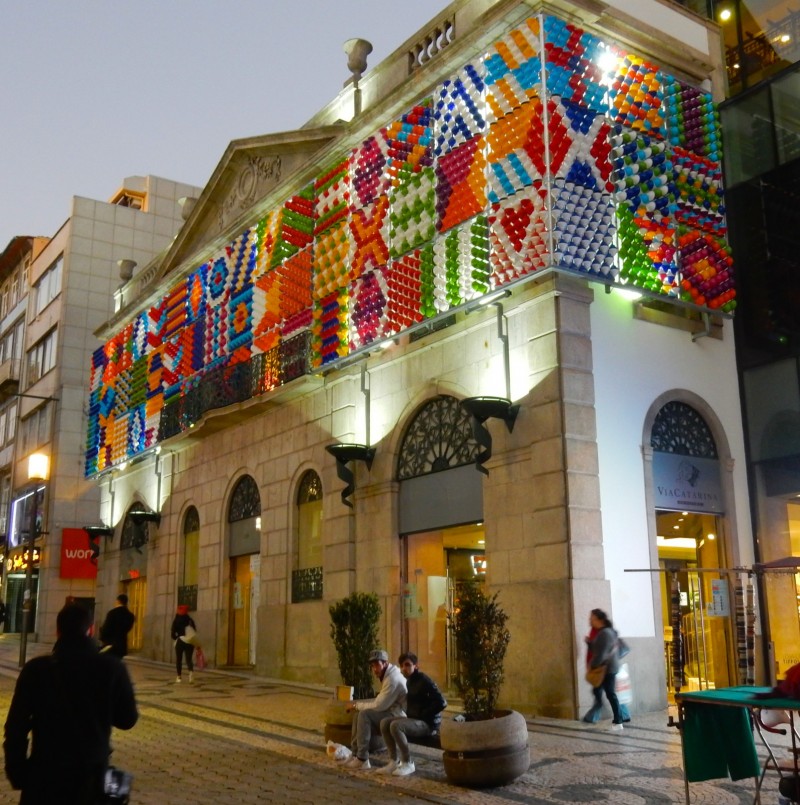 And even Porto's own McDonalds is given regal treatment!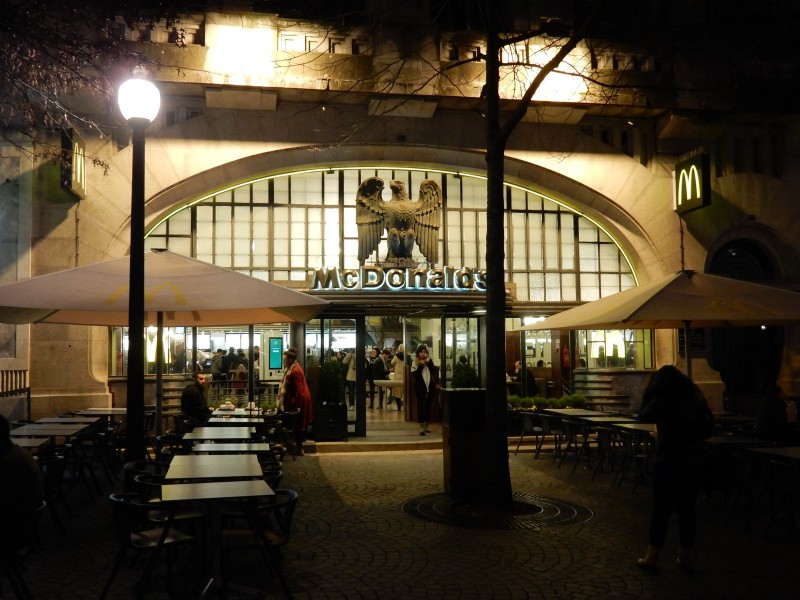 The city, aglow at night, is one of the most romantic on the planet.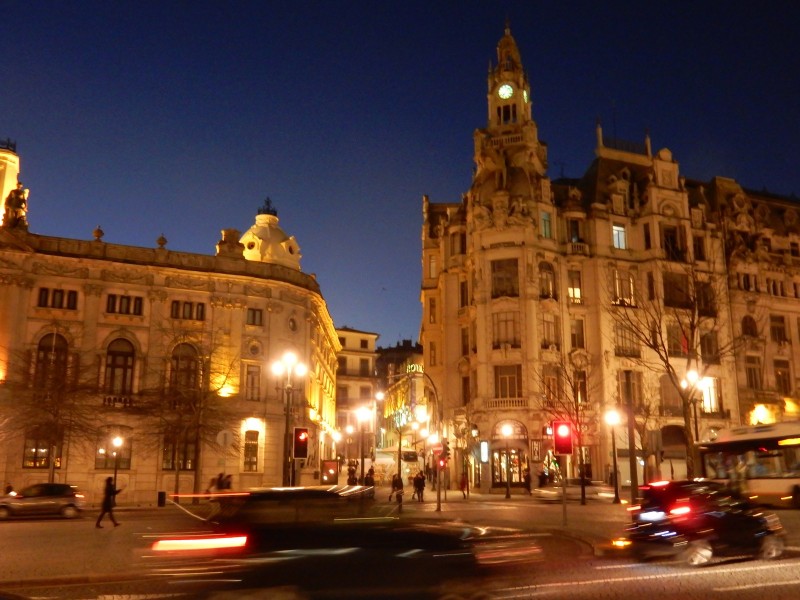 Best Place to Eat in Porto
Obviously, there are many. And yes, I'll mention DOP – though we didn't go there, because we ate at the phenomenal sister property, DOC in the Douro Valley, and I'll be writing about that in the next post.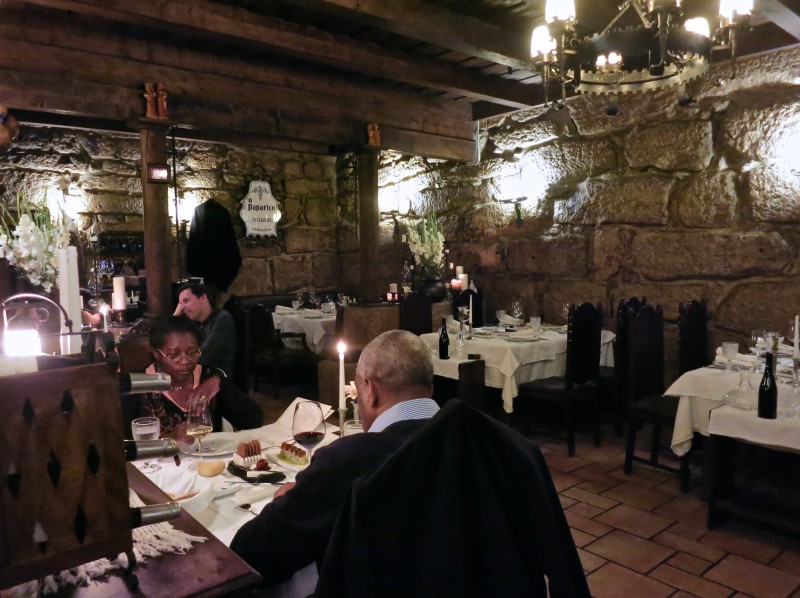 Our hands-down favorite restaurant was O Paparico – about a 20 minute taxi ride in the middle of some nondescript neighborhood way outside of the Historic District.
You may think that your taxi driver has no idea where he's going (there were a lot of one ways and turnarounds on the way), but once you get there and he knocks on the door that has no sign whatsoever, you know you're in the right place. In a repurposed stone livestock barn, O Paparico is as cozy and hidden as a speakeasy.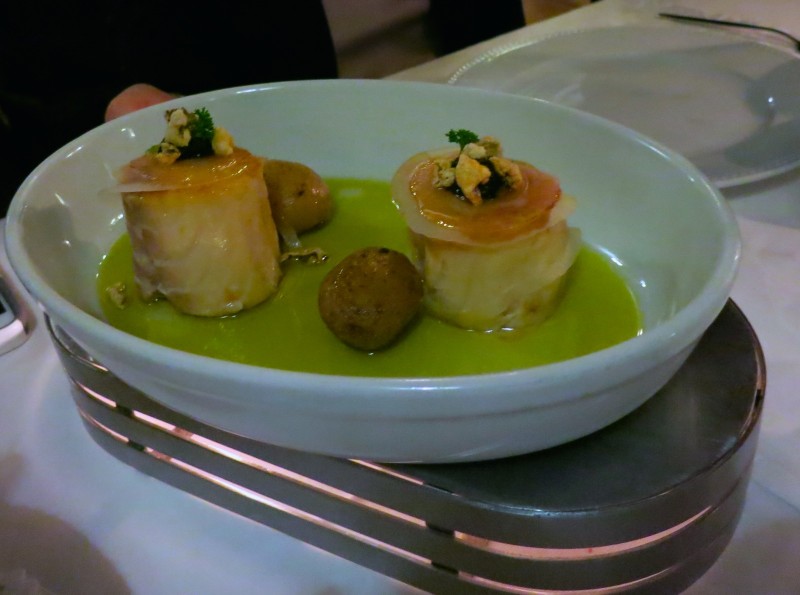 Service, presentation and food are superb at O Paparico. It is a dining experience par excellence. Figure on about 50 Euro per person all in: includes a bottle of Douro Valley wine, starters, main course, dessert and tip.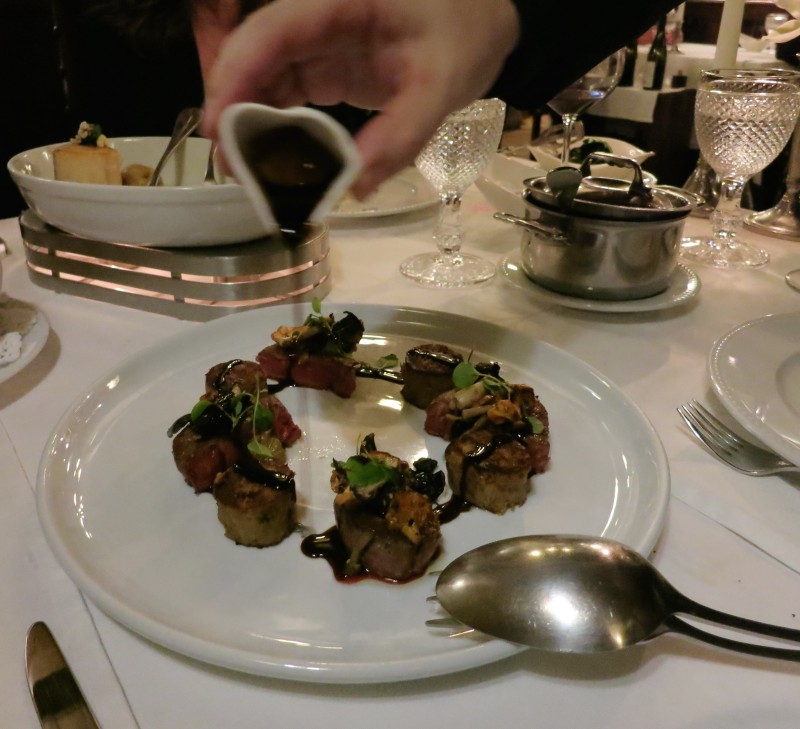 Where to Stay in Porto
STAY: The Intercontinental Porto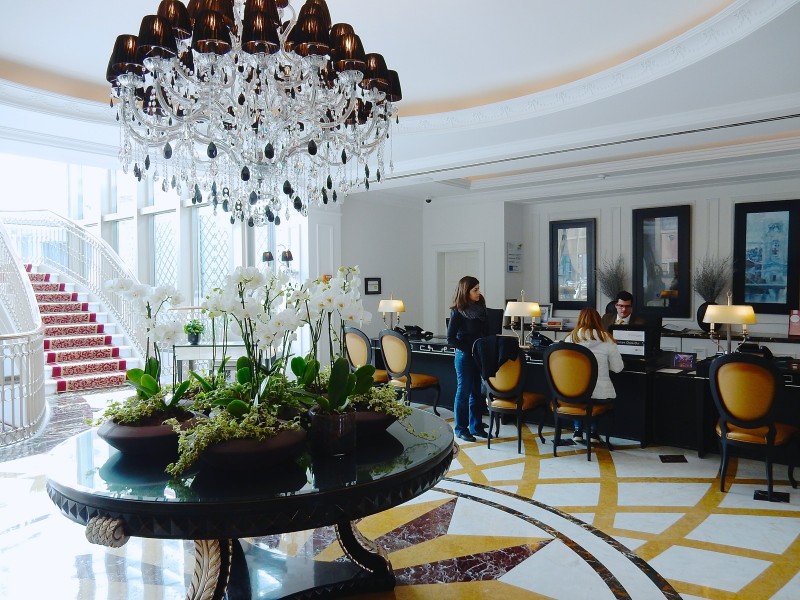 One luxury hotel places you at the center of the Historic District; The Intercontinental Porto.In the central square, it's practically across the street from the Sao Bento Railway Station and a five minute walk to the riverfront.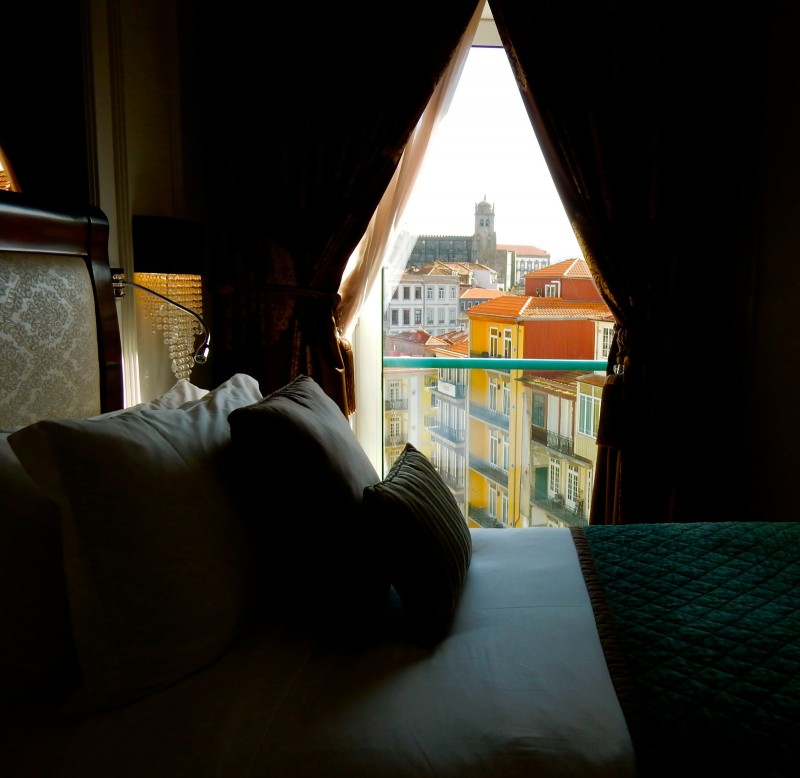 Rooms at Intercontinental Porto are elegantly classy, with great city or courtyard views. And its restaurants are terrific.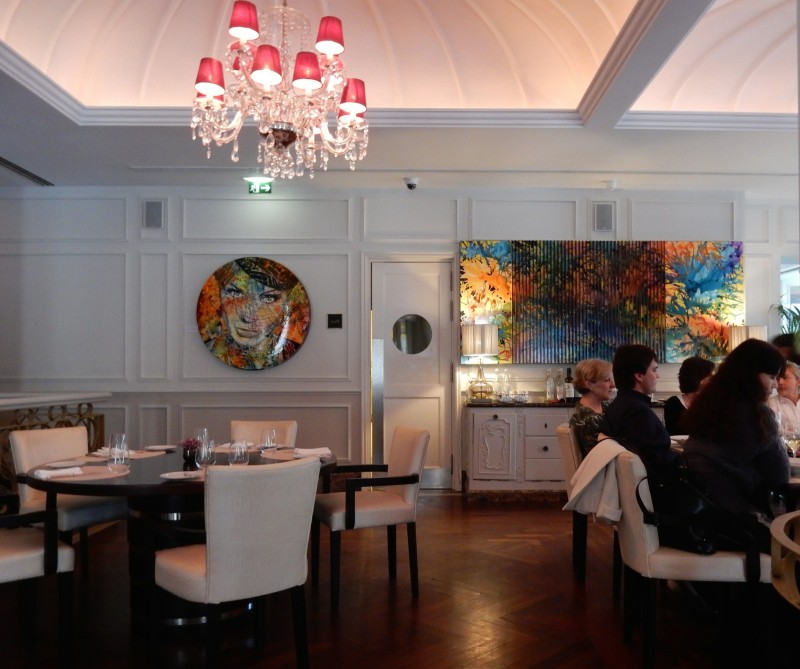 Try lunch at Intercontinental Porto if you've just got one day in town. Lunch and dinner are served in an art-filled room. Breakfast in the morning, included with the room, is served in a stunning sunlit space.
Rooms at Intercontinental Porto from $180 per night.